Ubud is one of the most popular cities for tourists in Bali and for good reason. Surrounded by lush rice paddies and the gateway to the northern roads, it is about two hours from Seminyak (one if traffic permits) and famous for being a spiritual hub.Whether you are looking for monkeys, temples, or nature, Ubud is the place to be. Having visited the city twice, I decided it's finally time to write a guide:
Ubud Activities: best things to do in Ubud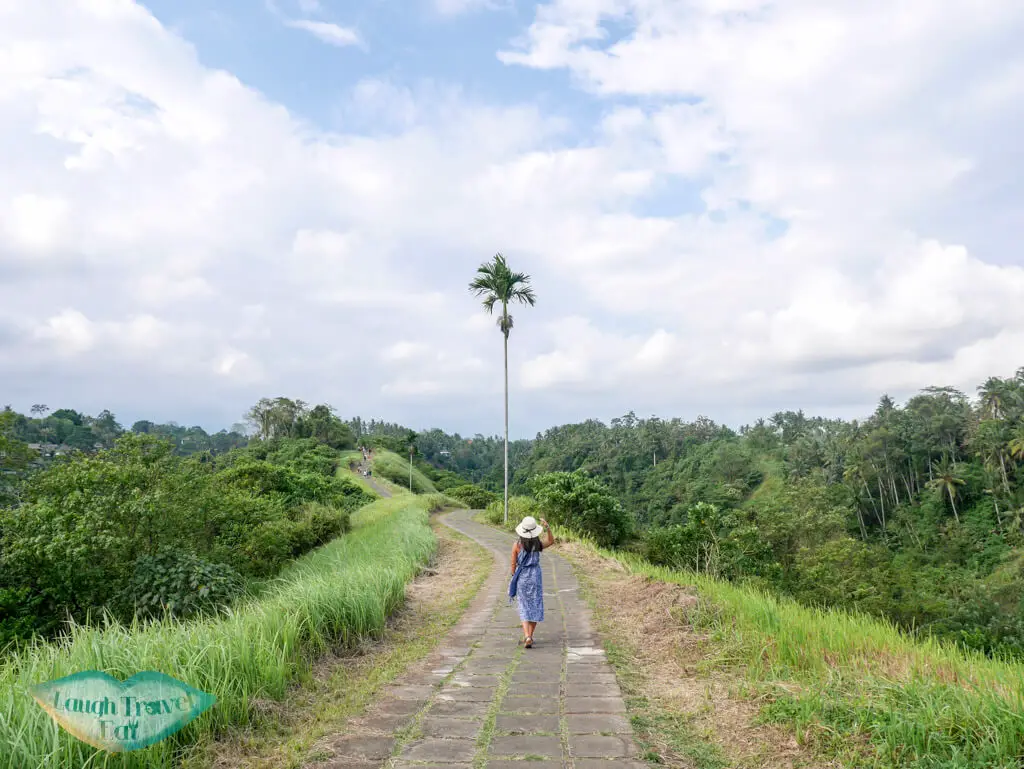 Here are some of the best activities in Ubud that are walkable!
 

Ubud Monkey Forest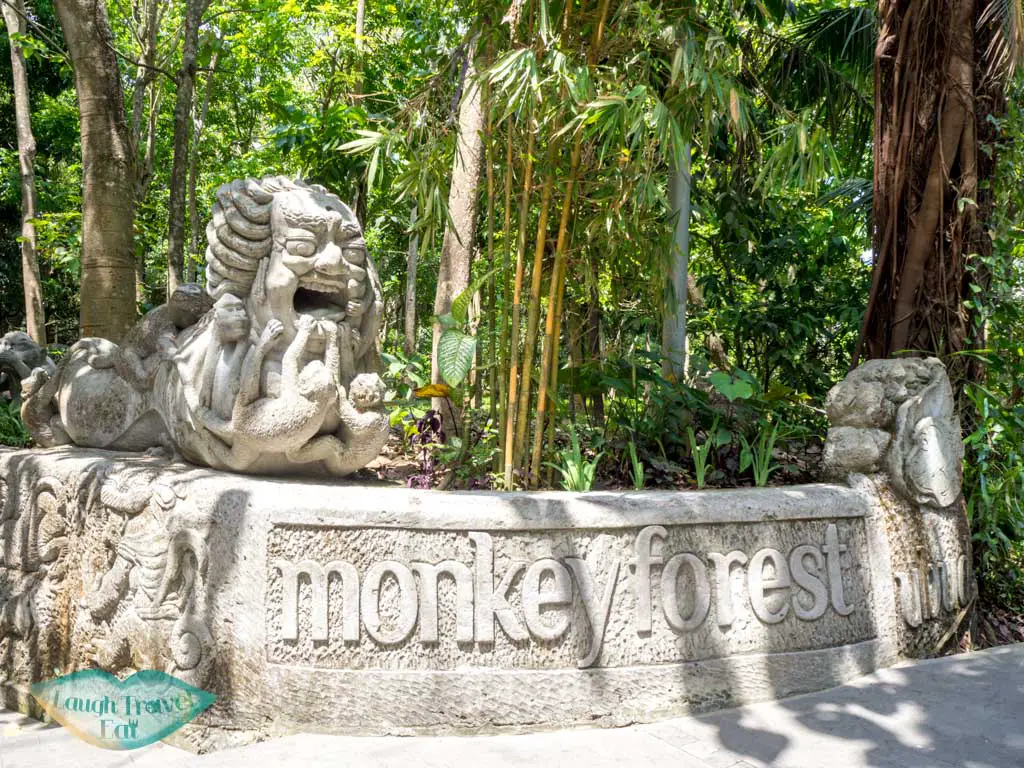 Arguably the most famous place in Ubud is the Sacred Monkey Forest. Located on the southwestern corner of the town center, it is both a temple and a monkey sanctuary of sorts. The monkeys have been living in the area since before the forest existed, and they are free to roam or leave. The entrance and car park are huge, making it hard to miss. The ticket office is particularly impressive, with a modern design, clean bathrooms, and even free payphone for tourists to call their drivers.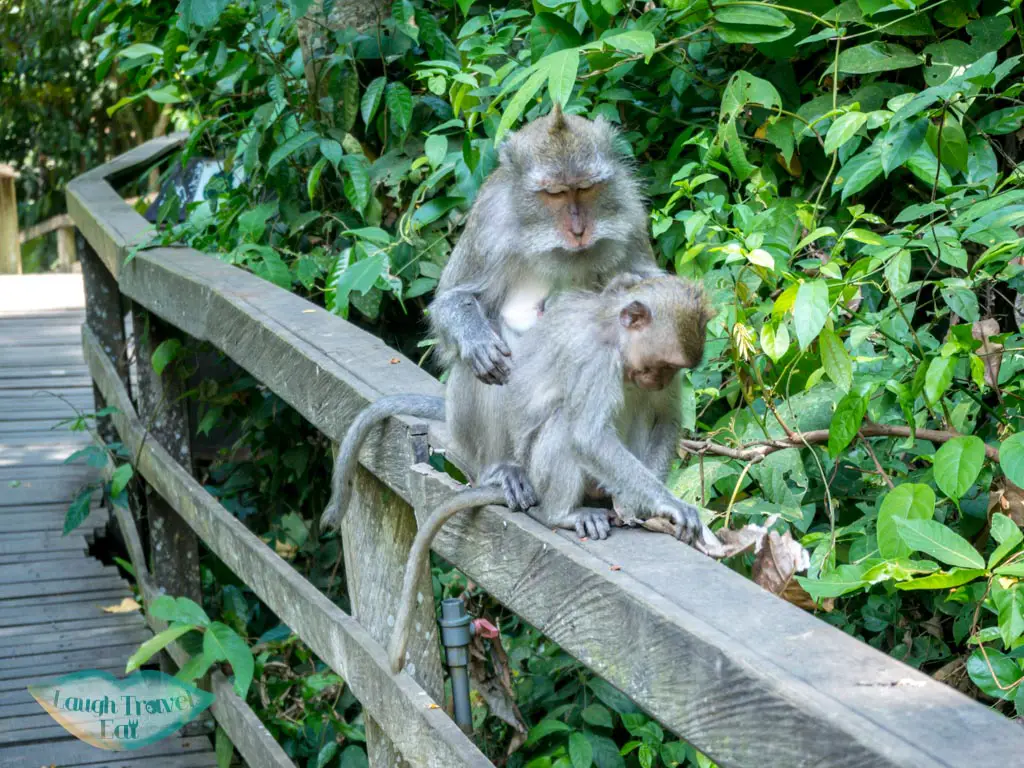 Inside is equally impressive, with a series of structures, 3 temples, and walkways spreading over 12.5 hectares. At the main square, there are staffs there who can help you get a photo with a monkey on you at an extra charge. Or you might get (un)lucky like me and have one climb on you as you bend down to take a photo.

There is a list of rules on how to behave with monkeys by the entrance and around the grounds. The number one rule is don't run, and it's best to not look them in the eyes. The monkeys are extremely comfortable around human and there are more than one incidents where tourists' bags were being opened.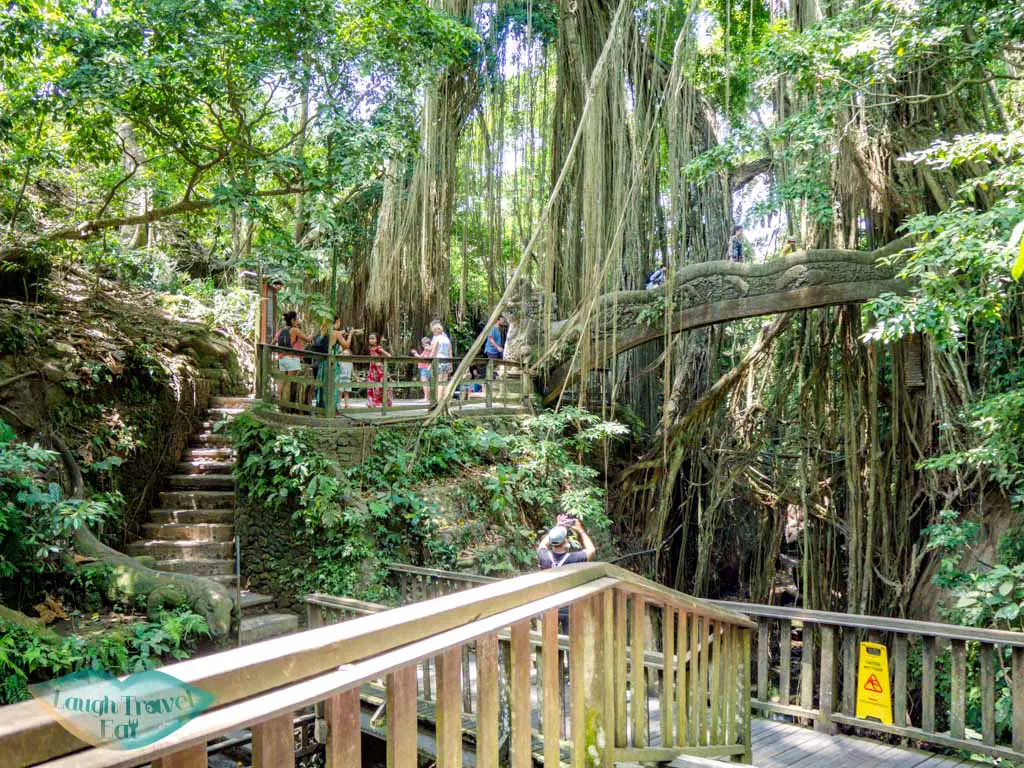 We wandered along the walkway in a roughly circular route, the highlights include the main square, around the reservation (basically a large area of wood), and the stone bridge.In all honesty, as someone who has seen monkeys plenty of times in my life, this attraction didn't particularly entice me. But I'm impressed with how well maintained and laid out it is, as well as how free the monkeys roam.
Admission fee: 50k adults, 40k children
Opening times: 8:30 – 18:00, last ticket sale 17:30
Ubud Palace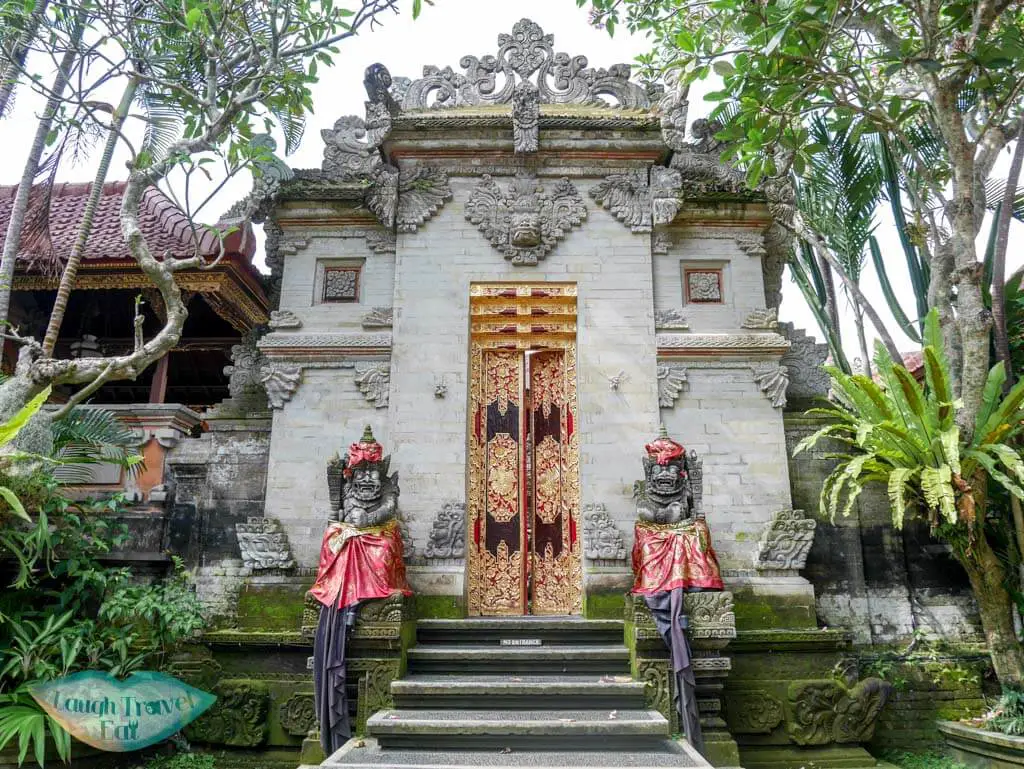 At first glance, Ubud Palace doesn't seem all that different to the other temples with similar architecture. Although you can only visit the front section of the palace, it's worth making a quick visit there to see where the royal family lived. The palace was built in the early 19th century, by the Gelgel Kingdom from Sukawati. They Gelgel Kingdom was in terms founded by nobles who fled from Java to Bali after the collapse of Majapahit Kingdom in the 15th century.
Admission free
Ubud Water Palace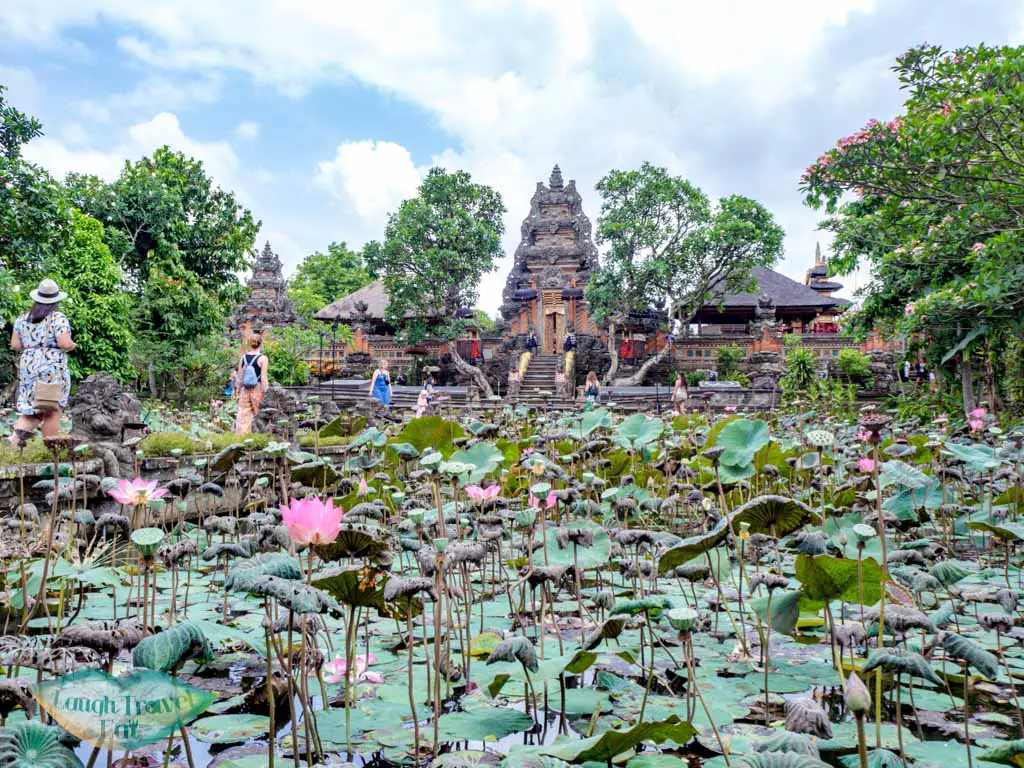 Just down the road from Ubud Palace is the Ubud Water Palace. It is easy to miss the entrance as it is a gate sandwiched between Starbucks and another restaurant. The main highlight is the lotus pond either side of the walkway that leads you to the main building.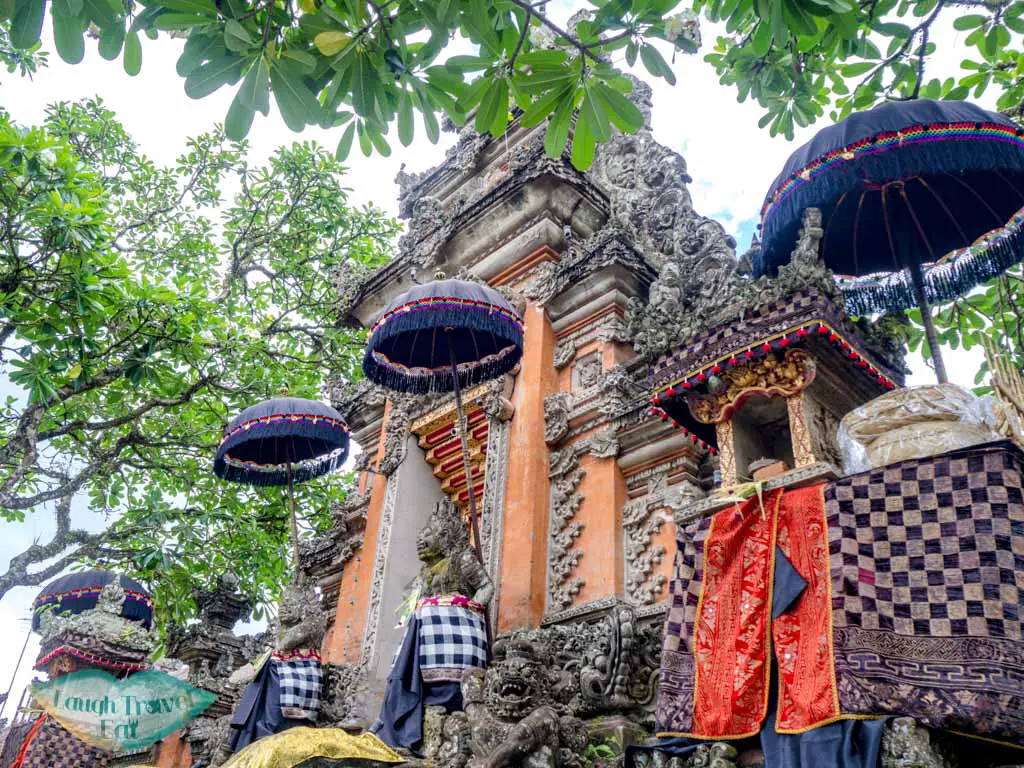 While it is called a water palace, the structure at the end is actually a temple. You would need to have a sarong to enter, and visitors are not allowed to enter via the main gate. While we were there, the locals were preparing for a festival so tourists weren't allowed to venture inside the actual temple.Despite its appearance, the temple was only built in the 50s!
Admission free
Jalan Raya Ubud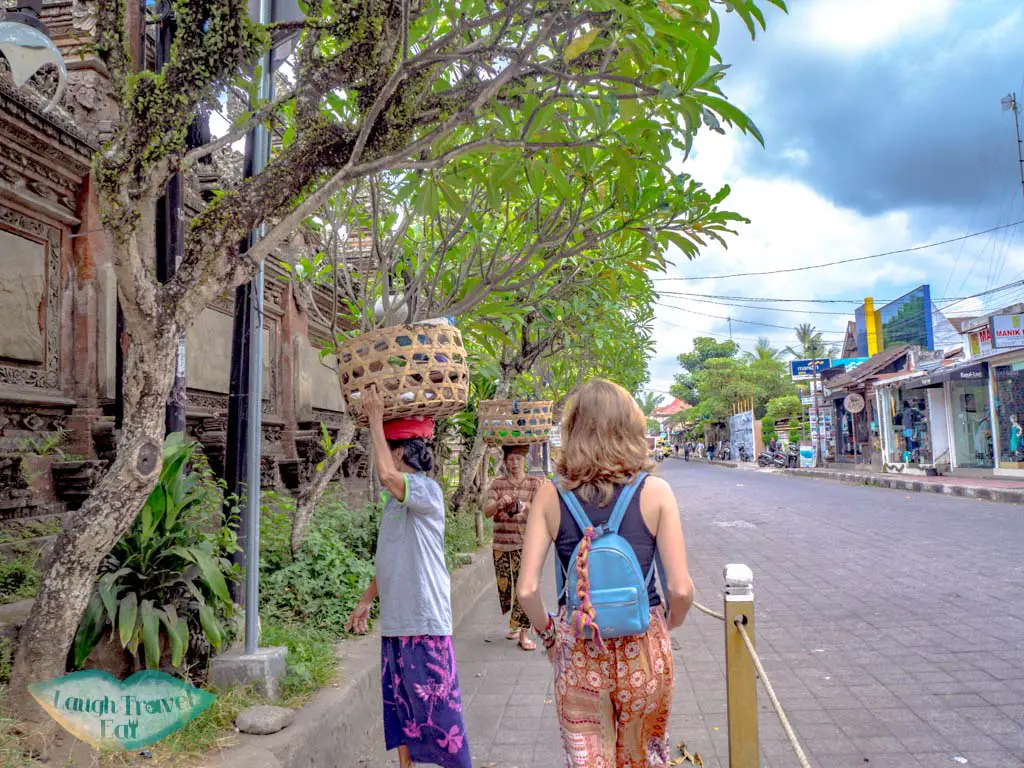 Fencing off the road as pavement The main road in Ubud, it lays horizontal across town with Ubud Palace, Ubud Water Palace, the path leading to Campuhan Ridge Walk as well as the entrance to the Art Market all laying on it.
Jalan Gootama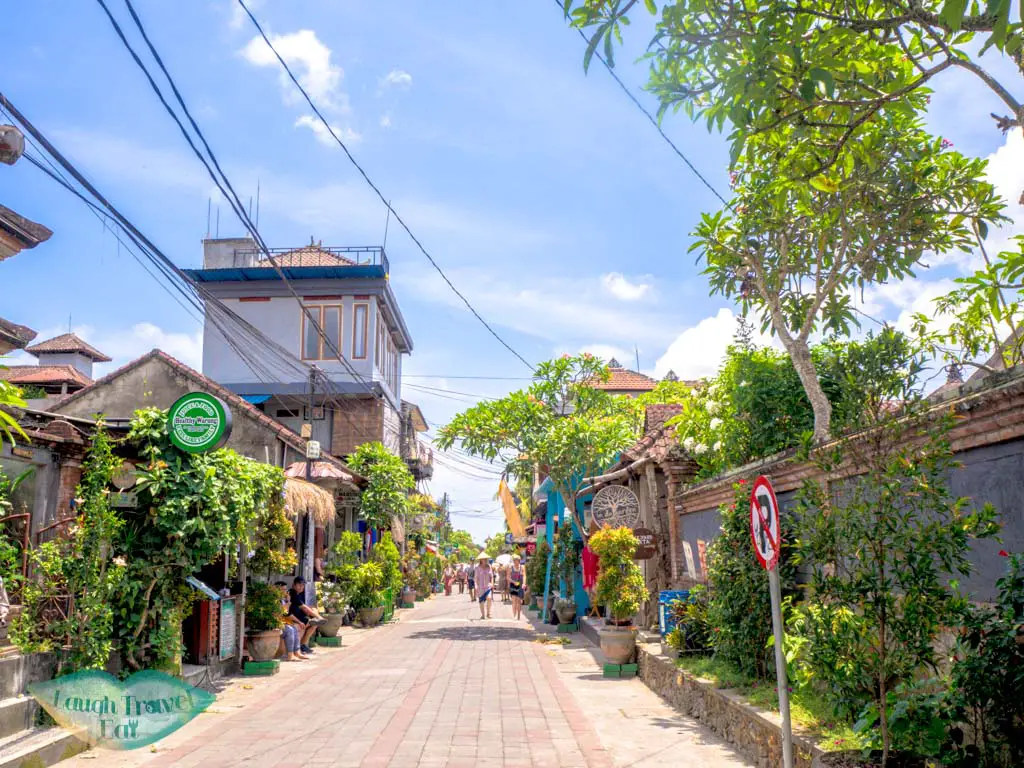 For those looking for somewhere less crowded, Jalan Gootama is a cute, tiled street with quirky hip restaurants as well as traditional warung. The car access to this narrow lane is restricted, giving pedestrians a room to breathe and look around without constant fear of getting run over. Some of the restaurants I love listed in the restaurant section are on this road.
Campuhan Ridge Walk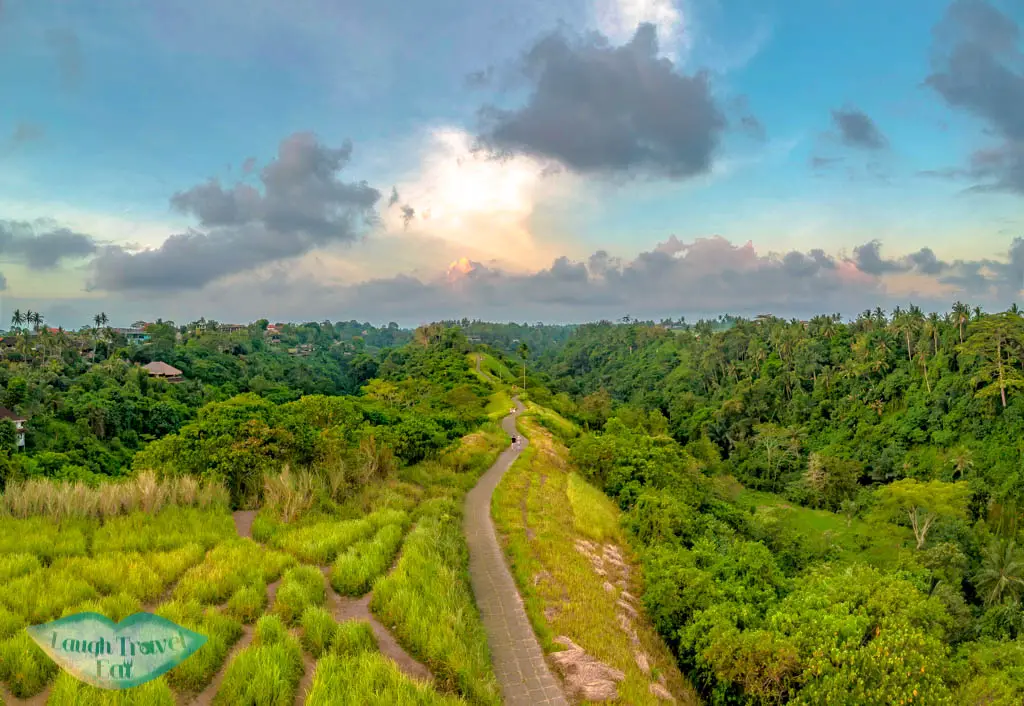 A picturesque path that extends from the western side of the main street to a village in the north, Campuhan Ridge Walk is one of the most popular photo spots in Ubud. to get to the trail start, head west on Jalan Raya, past all the shops and a section of wall. There is a big road that looks a little steep at the northern side, with a bridge at the bottom. There is a staircase next to the bridge and that's the route to take.It'll first take you past a temple before the stairs continue up to the ridge walk. The path is very scenic, next hills and valleys either side and a single palm tree swaying in the middle of the path. The walk from end to end takes about 20-30 minutes. I recommend returning the way you came as it's difficult to get a taxi at the other end due to convoluted roads.
Ubud Art Market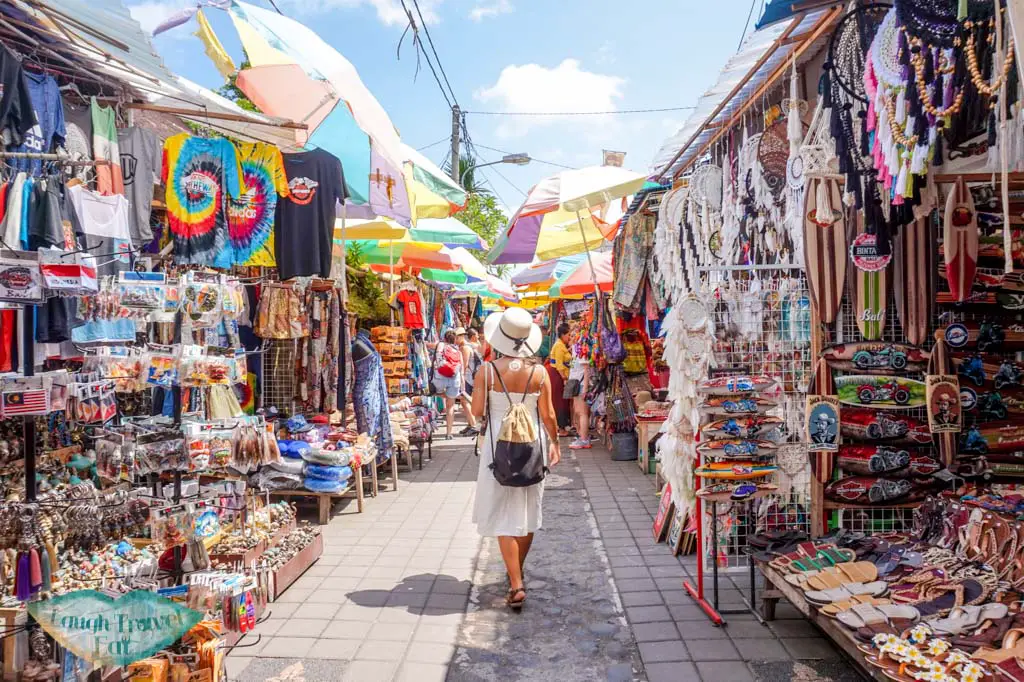 All you souvenir shopping need will be more than satisfied in the Ubud Art Market. Selling everything from the popular ratton bag to artwork, the Ubud Art Market is a sprawling maze of small shops and stalls both indoors and on the streets. If you want to know what the prices of things are, check out my Bali Price Guide for some haggling tips, too.The main market stems perpendicular to Jalan Raya opposite Ubud Palace. It's a straight road with many offshoots, so make sure you leave enough time to explore it properly.
Yoga Barn
For the yogis, there are numerous yoga studios around town and Yoga Barn is one of the largest ones. With a full timetable, classes start as early as 7 and run throughout the day. My sister had attended one class, and she enjoyed the ambiance, however, the class sizes can be quite big. If you are interested in yoga in Bali, read about my yoga retreat experience at a place 30 minutes from Ubud here.
Address: Jalan Raya Pengosekan, Peliatan, Ubud, Kabupaten Gianyar, Bali 80571, Indonesia
Opening times: 7:00 – 21:00
Ubud restaurants
Folk Pool and Garden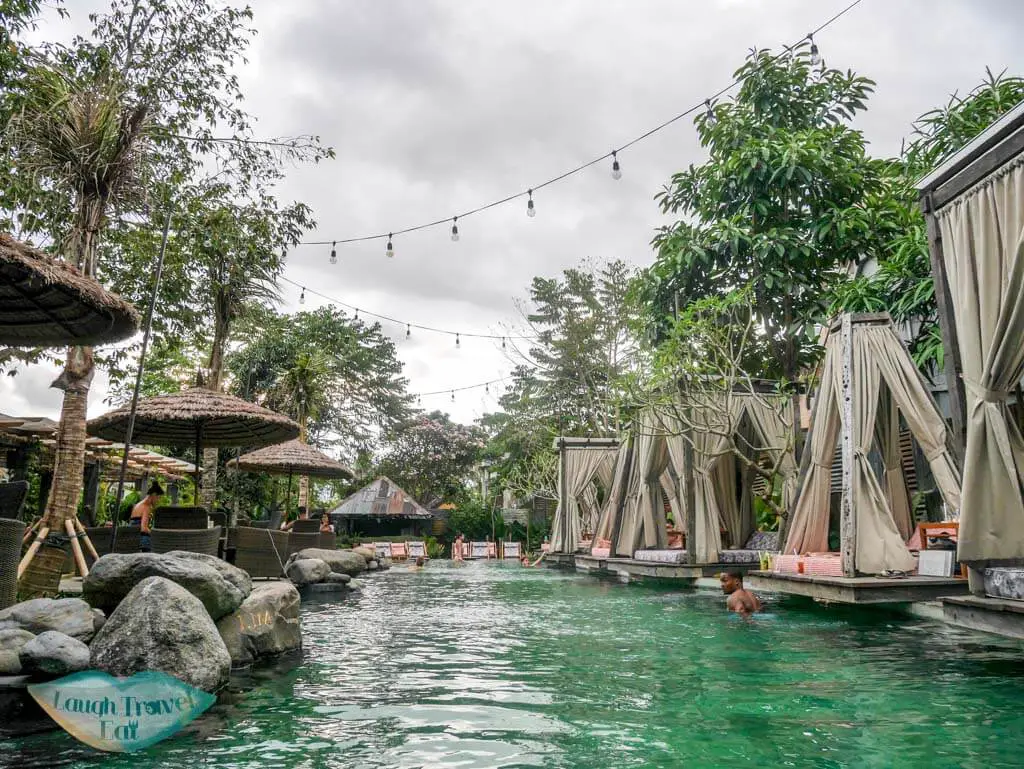 A gorgeous restaurant and pool, Folk Pool and Garden is somewhere where you can eat good food, lay on a pool bed and swim up to a bar and order some juice or cocktail. With a western and Indonesian cuisine both available. The food is on the slightly higher side compared to other restaurants, but it's reasonable with the surroundings. The cost to rent a pool bed is 250k for the whole day, and we shared it between three girls with a little room to spare.
Address: Jl. Monkey Forest, Ubud, Kabupaten Gianyar, Bali 80571, Indonesia
Opening times: 9:00 – 22:00
Toro Sushi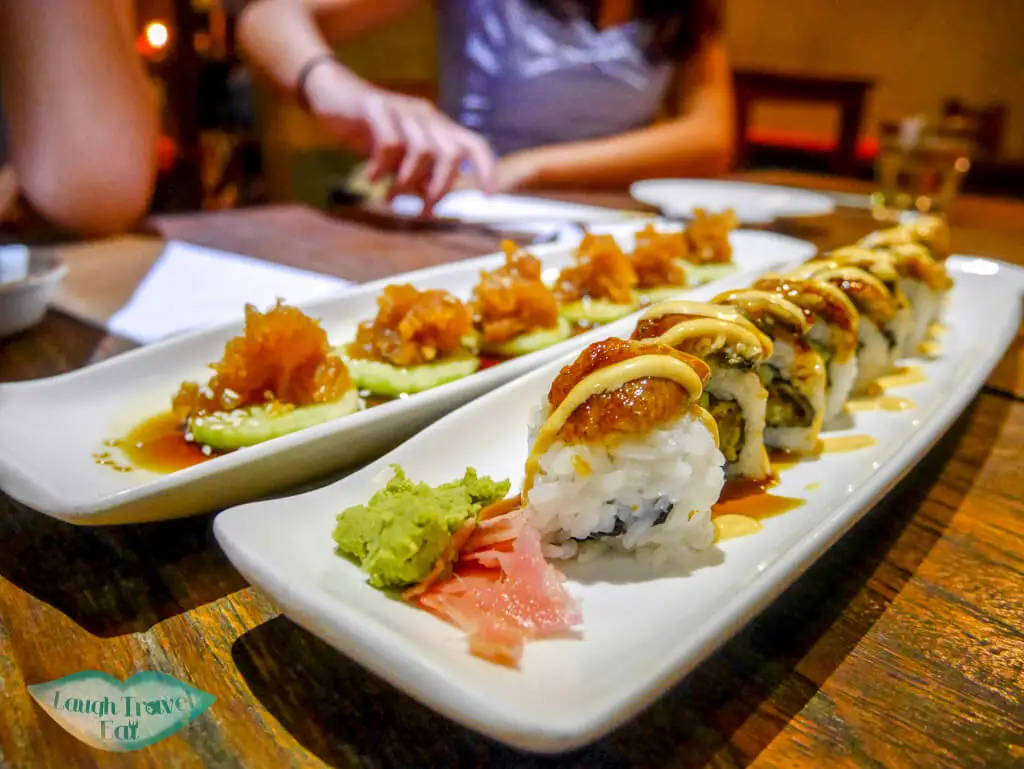 Some amazing rolls Fancy some Japanese food in Ubud? Toro Sushi is the place to be. With a mouthwatering selection of sashimi, rolls, and dons, at very reasonable prices too. Did I mention that the restaurant is really cute?
Address: Jl. Gootama, Ubud, Kabupaten Gianyar, Bali 80571, Indonesia
Opening times: 11:00 – 22:30
Bebek Bengil
One of Ubud's famous dishes is the dirty duck, and that's exactly what Bebek Bengil means. A surprisingly beautiful restaurant, Bebek Bengil is famous for the crispy fried duck, served with a dipping sauce. To eat it, you'll definitely have to get your hands dirty. The ducks are called dirty because they grow up in rice paddies and often has mud on them. We ordered the single portion dirty duck and though it was really good – it is also oily so those with delicate stomach should take care.
Address: Padang Tegal, Jl. Hanoman, Ubud, Kabupaten Gianyar, Bali 80571, Indonesia
Opening times: 10:00 – 22:30
Kokolato – Vegan Gelato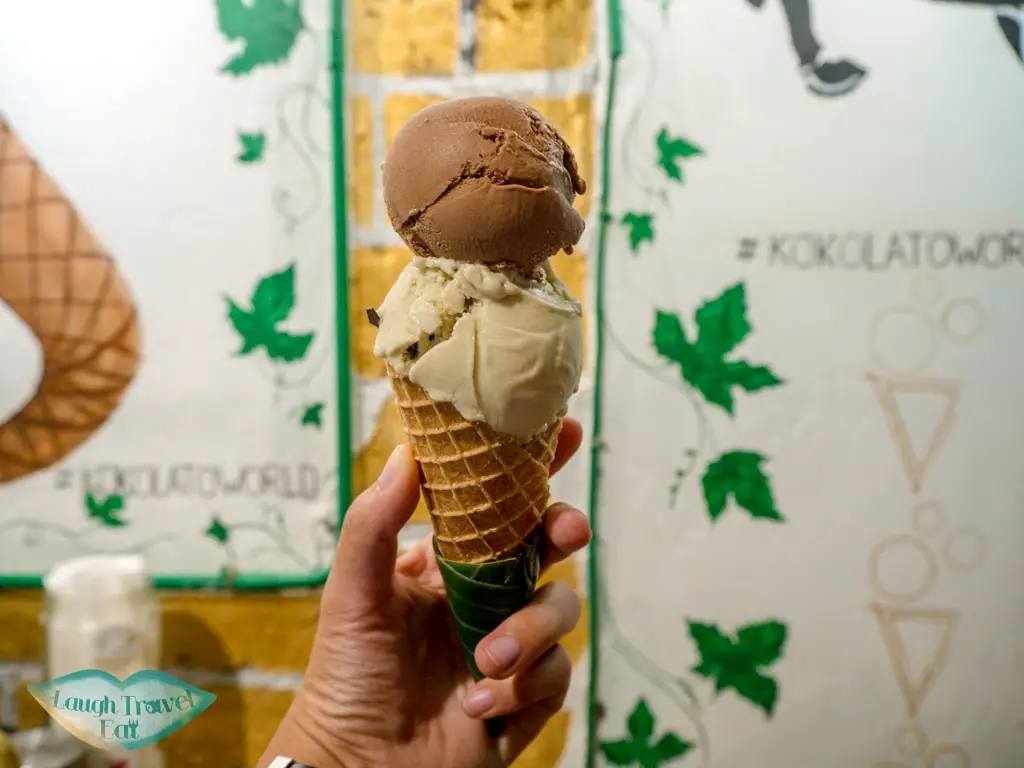 Also on Jalan Gootama, Kokolato is a vegan gelato place that uses coconut milk to make its ice cream. They are absolutely delicious, though the vegan cone is a lot more fragile so be quick when you are eating it.
Address: Jalan Goutama Selatan No. 22, Padangtegal, Ubud, Gianyar, Ubud, Kabupaten Gianyar, Bali 80571, Indonesia
Opening times: 11:00 – 22:00
Ubud Spa
Karsa Spa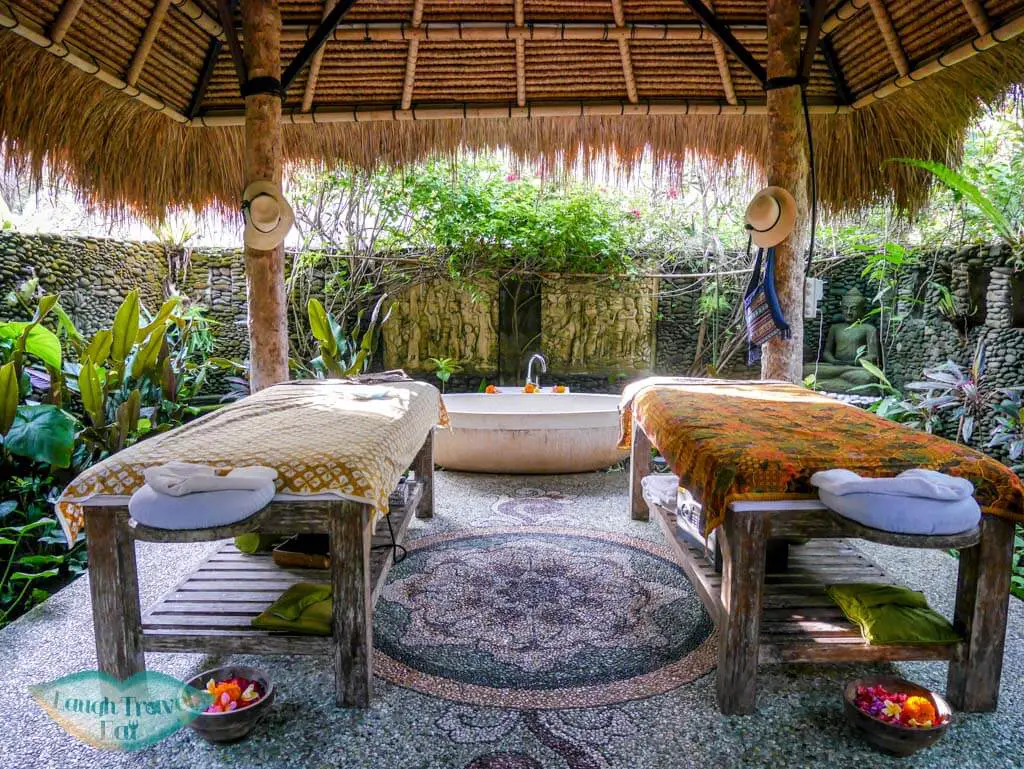 Spa goal in one photo About ten minutes from the northern end of the Campuhan Ridge Walk is the gorgeous Karsa Spa. With rice paddies right by the side and a restaurant close to the road, the serene atmosphere is relaxing even before you reach the spa.I adore the gorgeous semi-open room that we had our massage in. If you are looking for a complete experience with ambiance and serenity, then this really is the place to be.
Address: Jl. Markandia, Banyar Bangkiang Sidem, Keliki, Tegallalang, Kelusa, Payangan, Kabupaten Gianyar, Bali 80571, Indonesia
Opening times: 9:00 – 19:00
Bali Healing Spa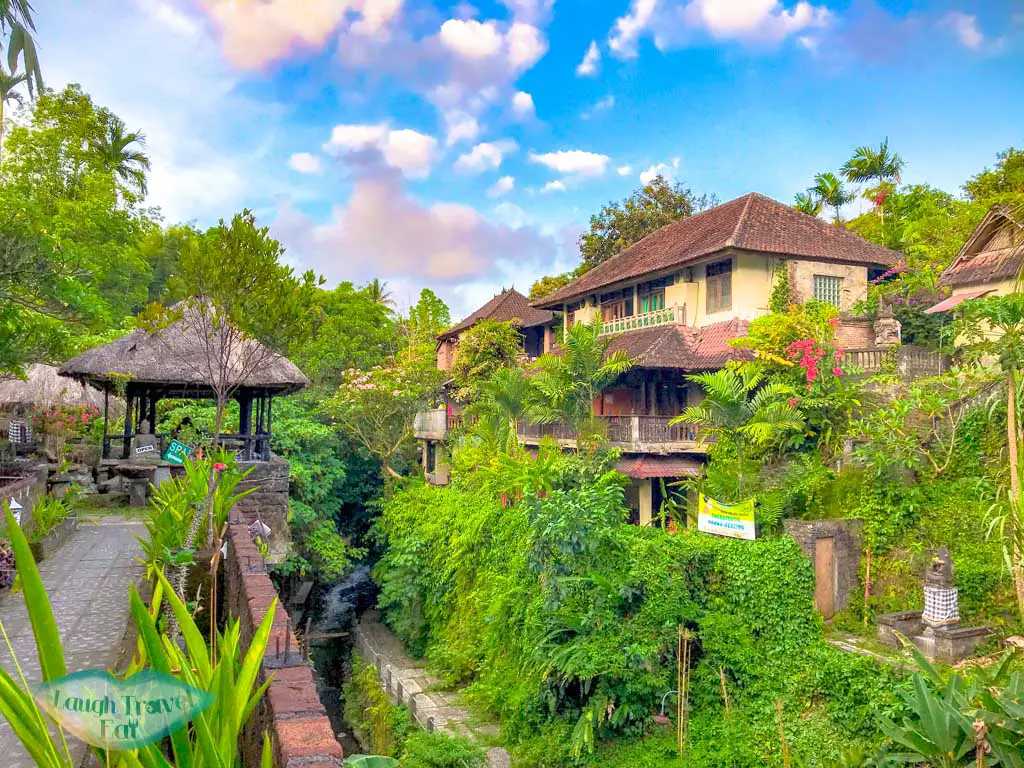 To the left there is a green sign that points to the spa There are two spas of the same name, this one I refer to is opposite the Luna Restaurant. Bali Healing Spa is right by the main street, so easier to reach compare to Karsa Spa and really affordable. Although the cleanliness does seem to be a bit lacking, and the staff speaks just enough English to communicate.I opted for a 4 hand massage and loved it, though the room didn't have a fan or air-con and got really stuffy. They ended up opening the door, which meant that everyone could look in, so definitely a bit weird. Government tax is added at the end so bear that in mind.
Note: I got my hotel to call and book a slot for me. Transport offer is mentioned on the website but they don't seem to do it anymore
Address: Jl. Raya Ubud Campuhan Gianyar Bali
Opening times: 10:00 – 22:00
Day trips from Ubud
If you are basing yourself in Ubud, then you should definitely rent a scooter or book a driver and explore the beautiful countryside near Ubud! Personally, I'm petrified of getting into a scooter accident, so a driver is the way forward. Below, I'll list some of the best attractions to add onto your day trips around Ubud that are within about 1 hour's drive.
Tegalalang Rice Terraces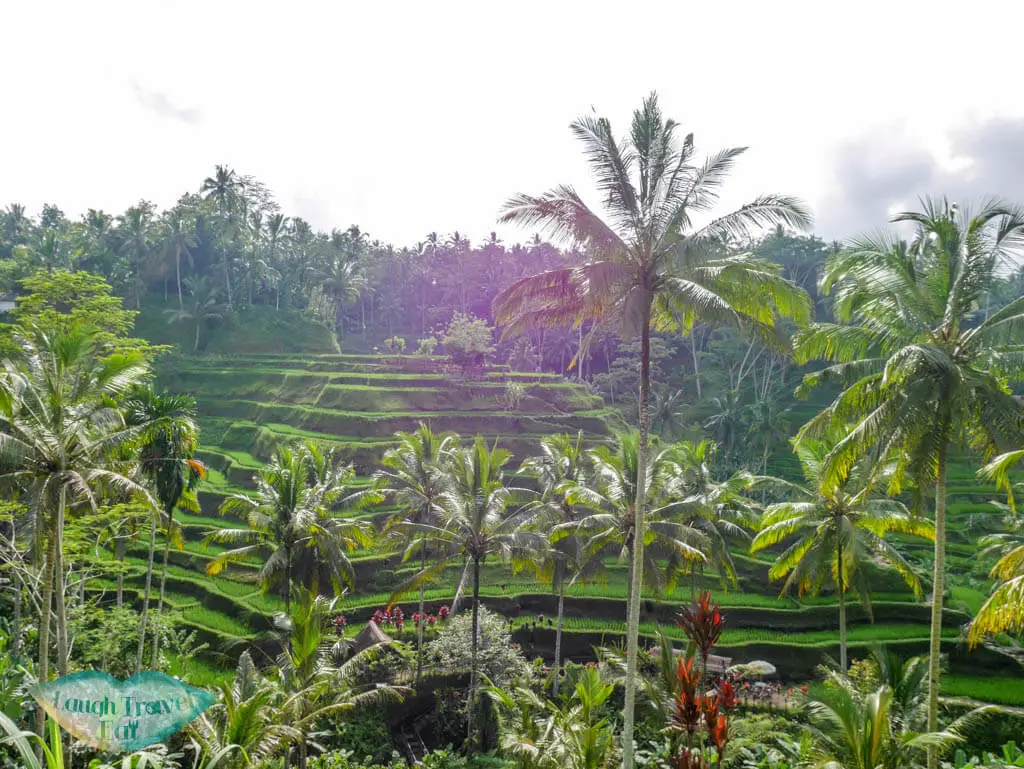 Arriving there bright and early! Tegalalang, aside from being super confusing to spell or say out loud, is arguably the most famous rice terrace in Bali. it is hard to resist the beauty of stepped lush paddies and towering palm trees, which is why it's best to arrive as early as possible to avoid the crowds.You don't technically have to pay the entrance fee to admire the view, since there are many restaurants perched along the road that offers a panorama. Crossing over to the other side also requires an extra charge, with a local guarding by a rickety bridge that connects the two demanding donations.
Tegalalang Market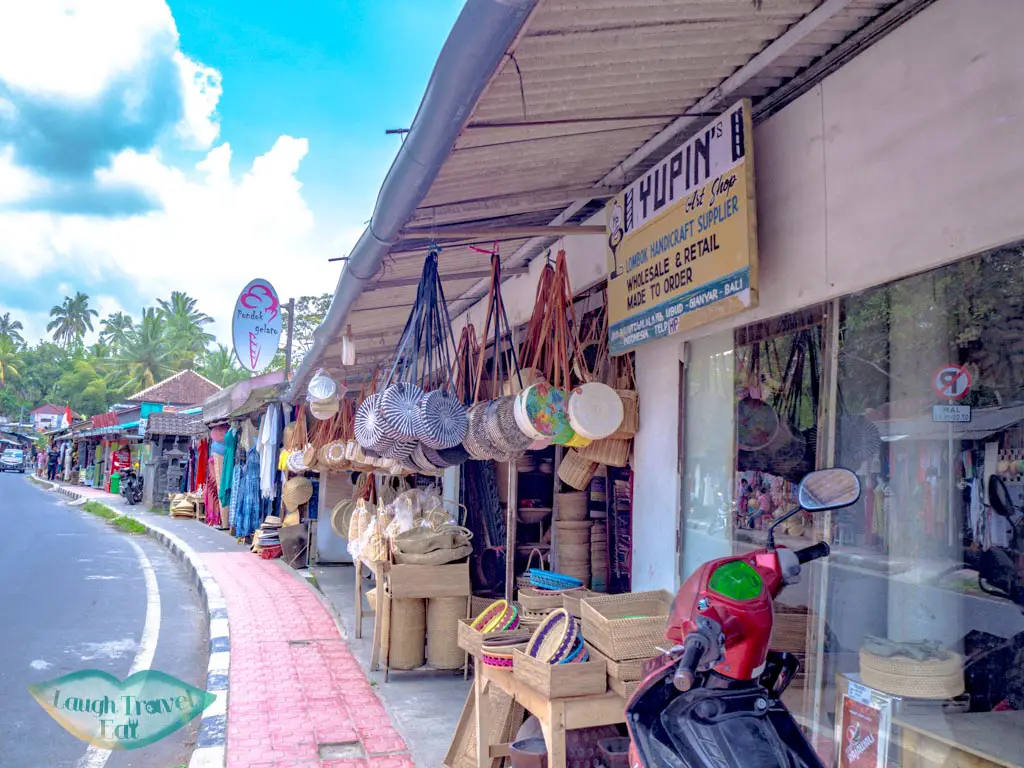 Along the street bordering the rice terrace is the Tegalalang Market. The items sold here can be found in Ubud Art Market, too, but it's likely that the stall owners are more willing to negotiate due to lower traffic. Although on my second visit in 2018 the prices did seem to have gone up regardless.Nonetheless, if you are here for the rice terrace, why not sneak a peek at the shops there?
 

Tirta Empul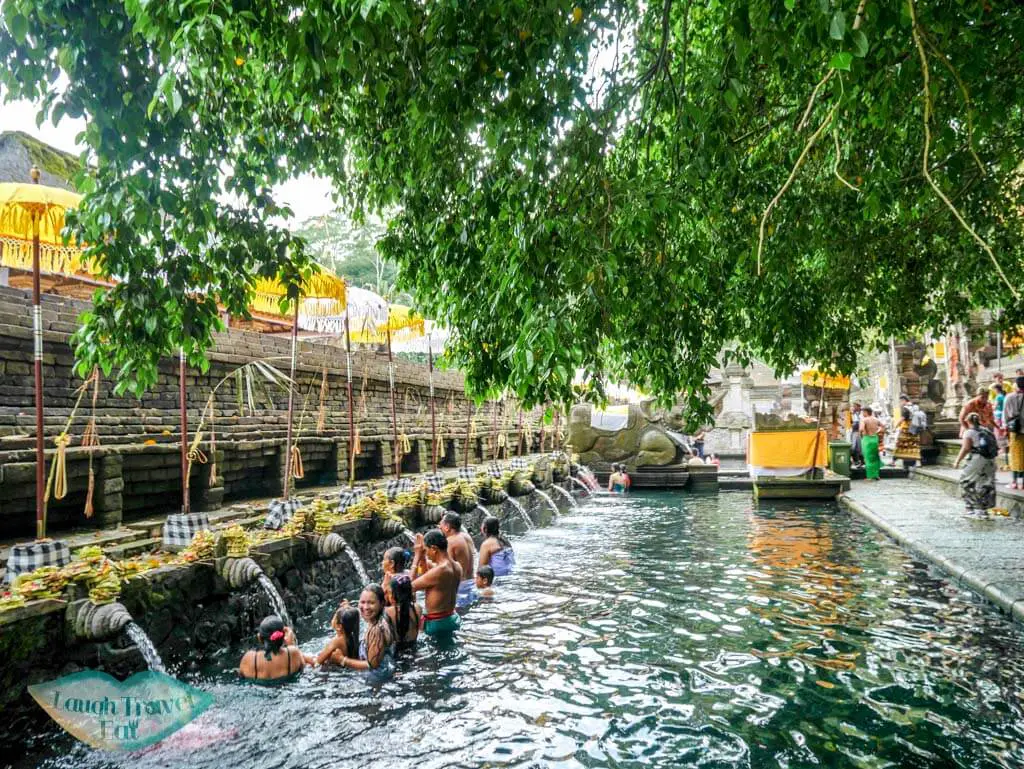 The famous holy spring water temple is a nature next stop for those who made it to Tegalalang. The temple is famous for its pools, where Hindu believers wash themselves as a purification process. Built in the 10th century, the temple's water is fed by an underground spring, though the water quality has become less favorable with contamination.There's natural main temple behind the pool, where you can observe locals praying as well as listen to the musicians play. Remember to borrow a sarong for free at the front as it's mandatory for all visitors.
Admission fee: 30k
Address: Jl. Tirta, Manukaya, Tampaksiring, Kabupaten Gianyar, Bali 80552, Indonesia
Opening times: 07:00 – 17:00
Gunung Kawi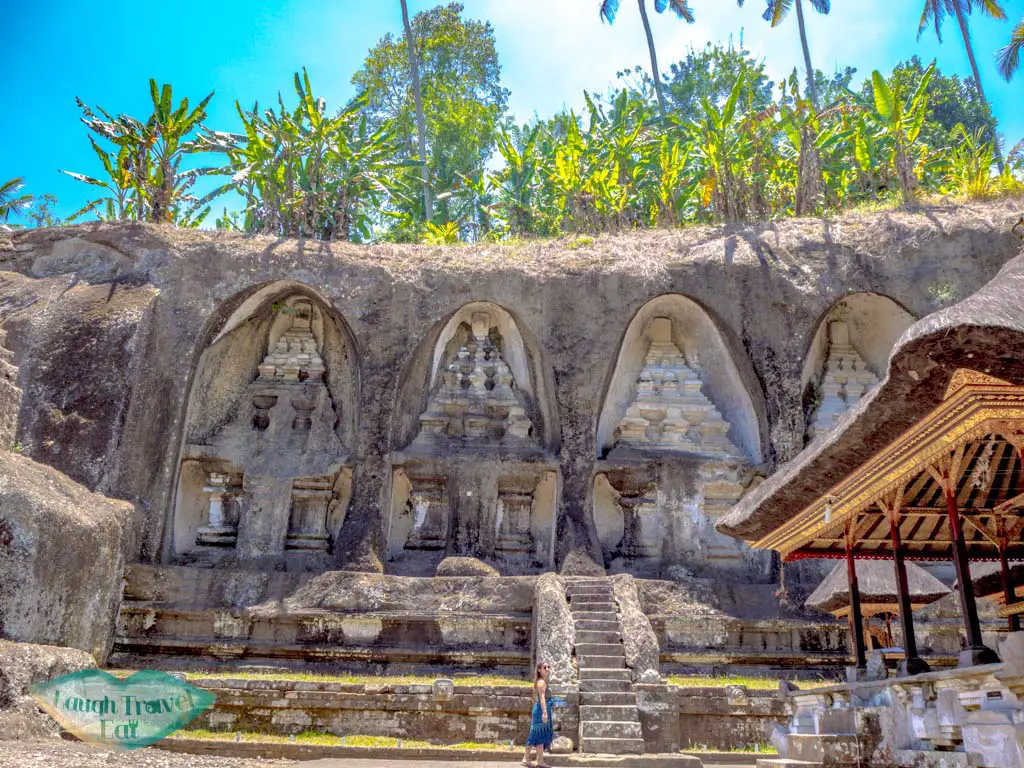 About a few minutes drive and downstream from Tirta Empul is Gunung Kawi. This 11th-century temple is famous for its rock shrine, which stands at almost 7m tall on a rock cliff. They are called 'Candi' and are immediately right of the temple entrance. There are a main cluster of temples too, as well as small waterfalls dotted around.Note that there are a lot of sellers trying to get you to buy their things. Shop around and keep walking to avoid being cornered.
Admission fee: 15k, parking fee 2k
Address: Jalan Ngajum, Wonosari, Sumbersari, Wonosari, Malang, Jawa Timur 65164, Indonesia
Opening times: 07:00 am – 05:00 pm
Gunung Kawi Sebatu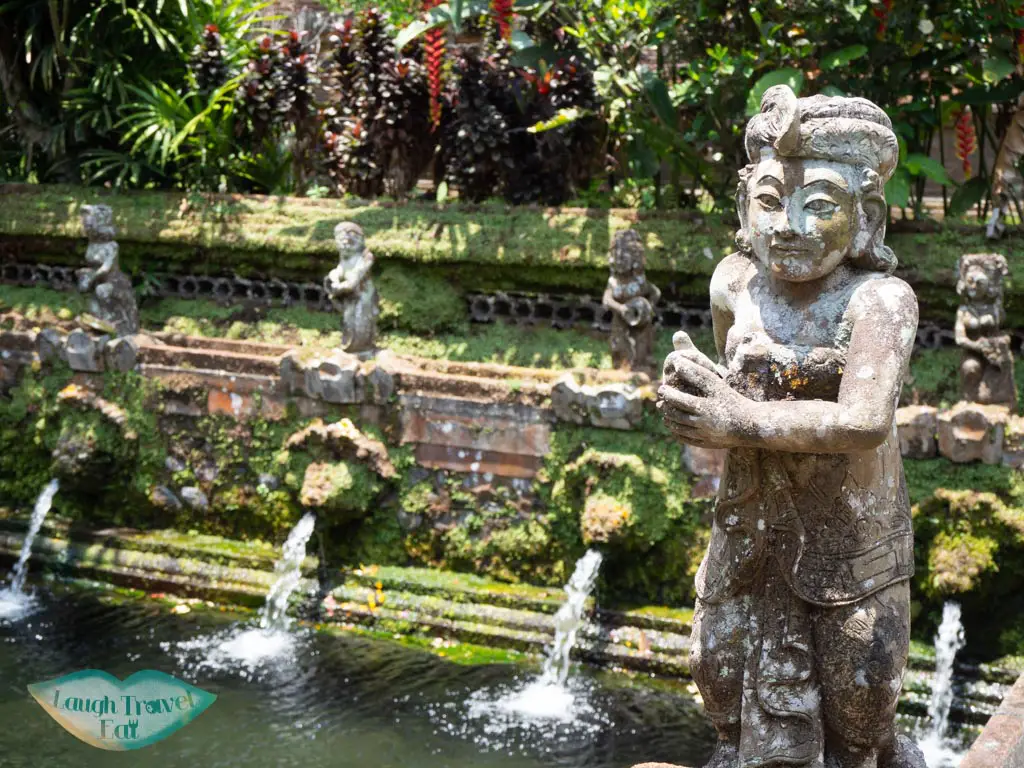 Yes, there are two Gunung Kawi. Gunung Kawi Sebatu is like a smaller version of Tirta Empul. Less crowded than both of the above, it features a beautiful pond full of carp and koi, a courtyard, and the main temple area with the bathing pools. The water temple is dedicated to Vishnu, and that's the most I can find about its history.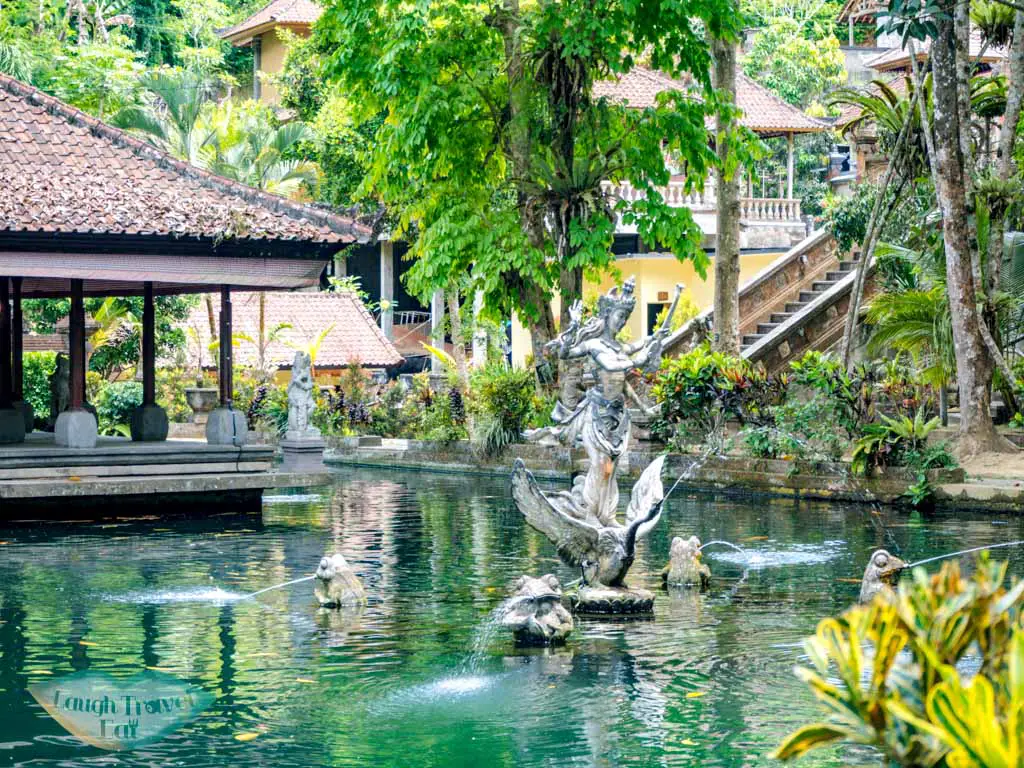 There are two gates that lead up to the main temple area and make for good photos, but my personal favourite is the pond.
Admission fee: 15k
Address: Sebatu, Tegallalang, Gianyar, Bali 80511, Indonesia
Opening times: unsure, but should be the same as Gunung Kawi
Goa Gajah Elephant Cave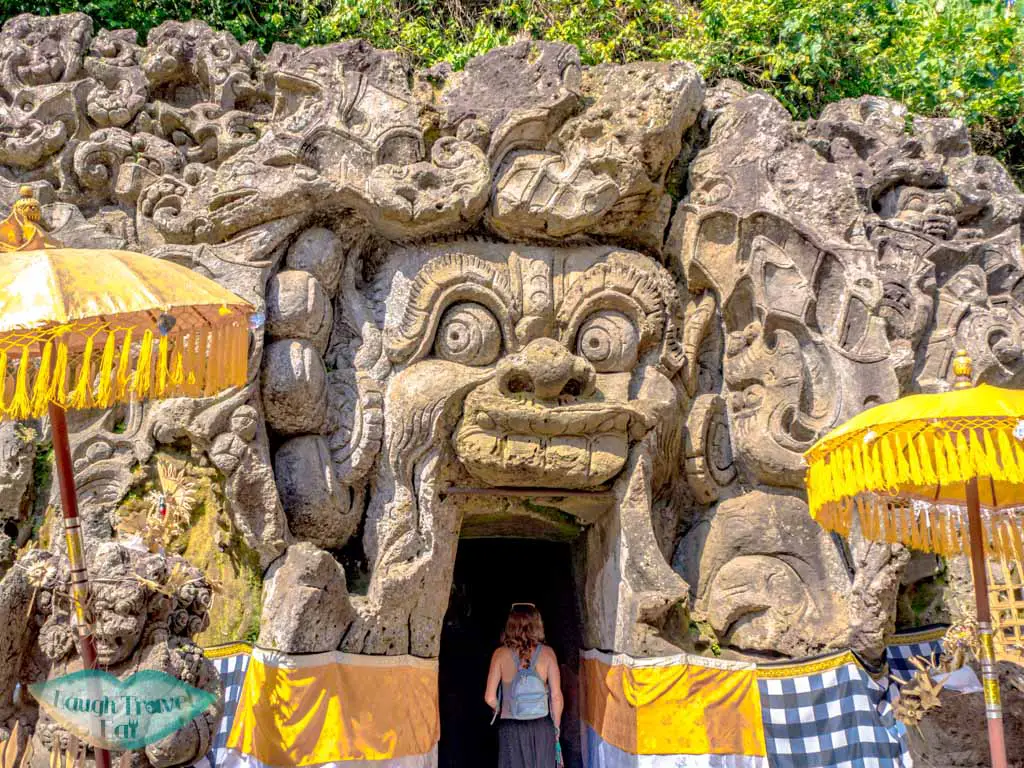 Goa Gajah, also known as the Elephant Cave, isn't so far from the Ubud Center. Despite its name, the temple has little to do with elephants. It is, however, an important archeological site in Bali just south of Ubud. Built in the 11th century, the temple consists of a cave structure, a deep pool in the center that was excavated. The cave itself is not big, with a rough T shape inside that houses three small shrines, one of which to the Hindu god Ganesha that could have given the temple its name.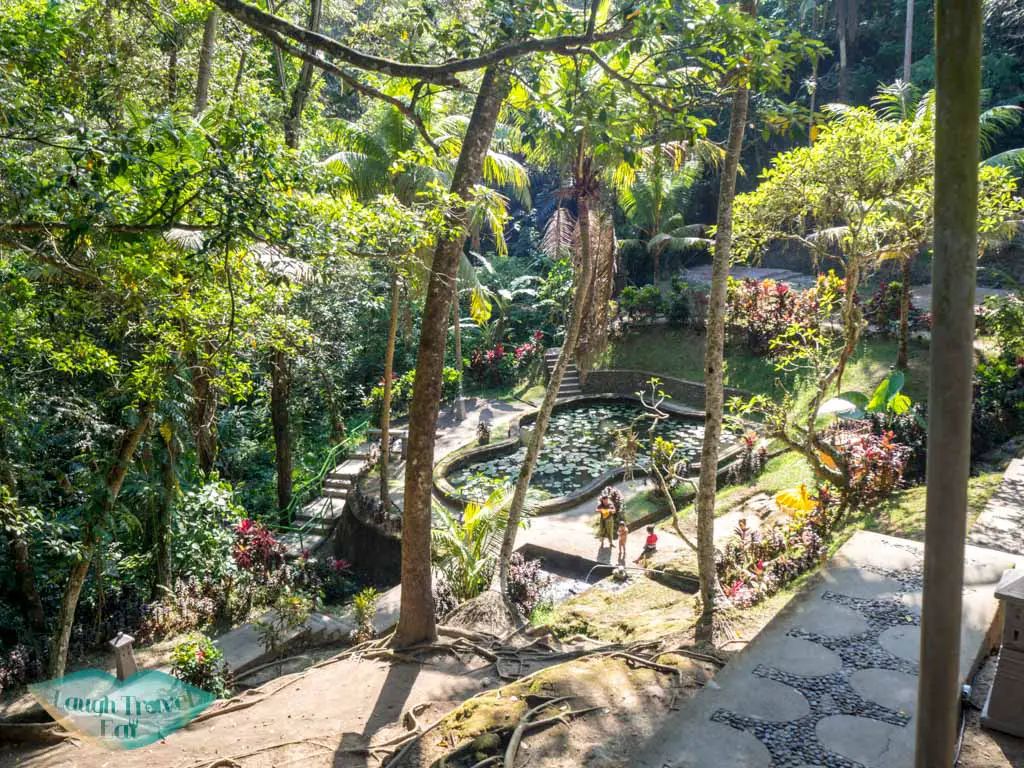 other parts of the temple Despite the interesting history, it is perhaps the least impressive temple on the list.
Admission fee: 15k
Opening times: 8:00 AM – 5:00 PM
Tukad Cepung

About an hour and a bit from Ubud is the Tukad Cepung Waterfall. The waterfall is located inside a small canyon, where sunlight pours through beautifully during certain times of the day. Google map does a pretty good job of directing you to the place, and from the small road just turn right and continue down until you see a carpark.
Address: Jl. Tembuku, Dusun Penida Kelod, Tembuku, Kabupaten Bangli, Bali 80671, Indonesia
Opening times: unknown
Admission fee: 15k, free parking
 

Tegenungan Waterfall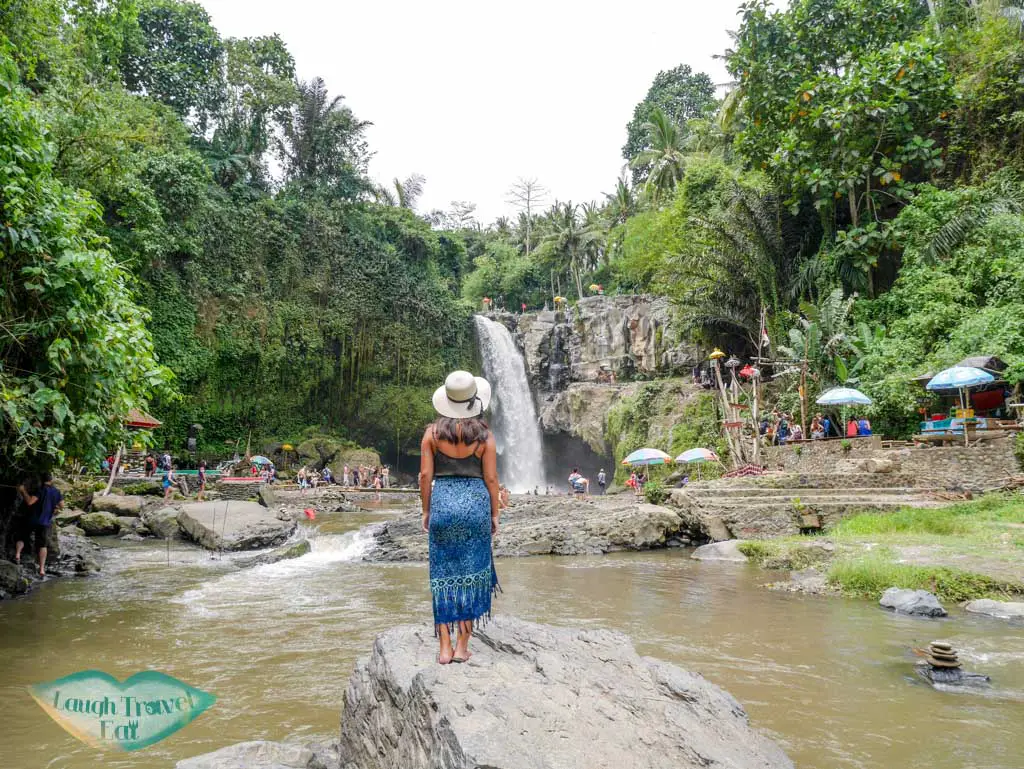 We stopped by the Tegenungan waterfall enroute from Sanur to Ubud Another popular place to visit from Ubud is the Tegenungan Waterfall! Personally, I think it's overcrowded. If you like waterfalls, best to head up north!
Opening times: 6:30 – 18:30
Admission: 15k, parking 5k
 

Hidden Canyon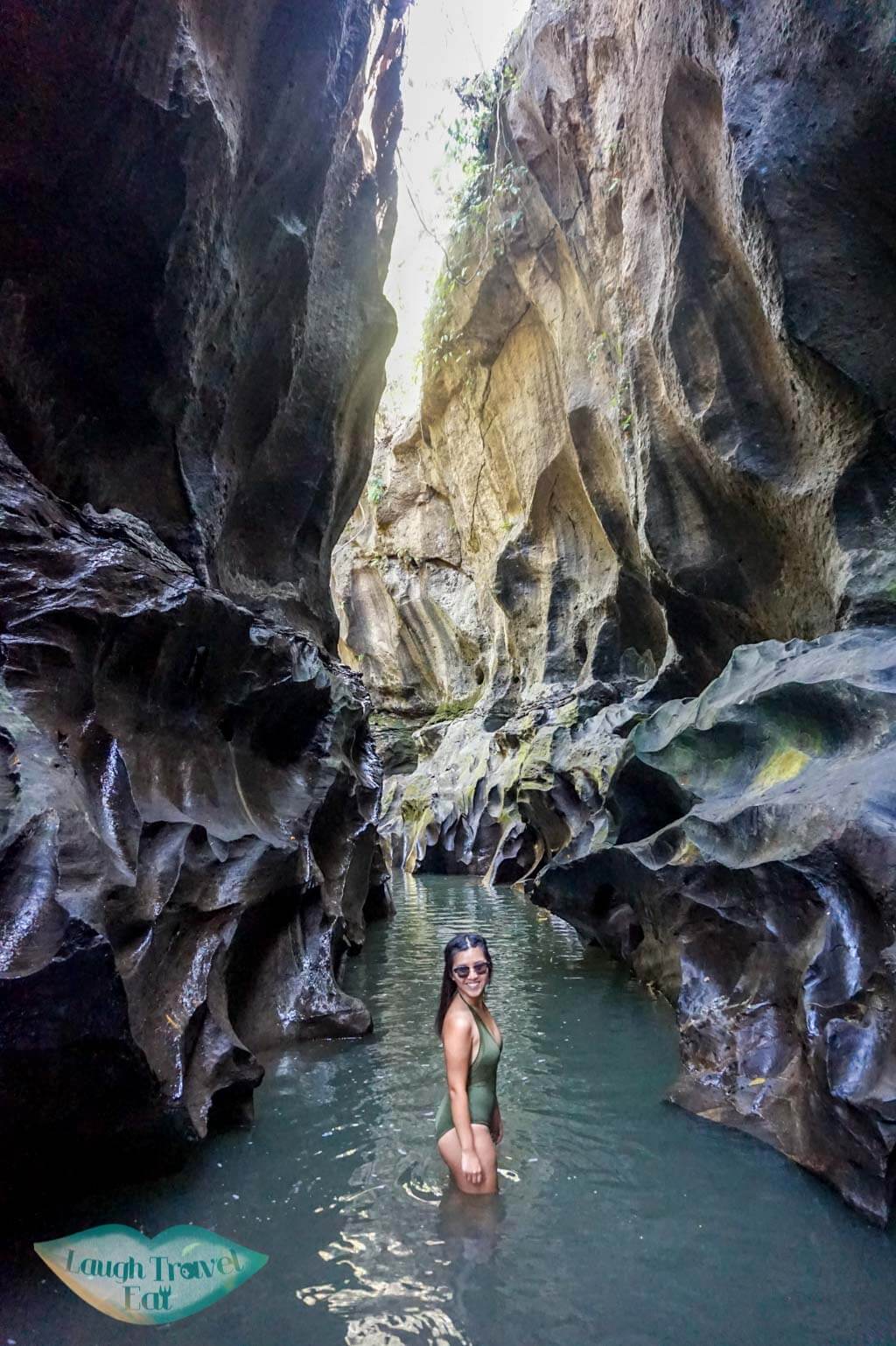 For a more adventurous option, Hidden Canyon is a surreal combination of curved rock and pools. It's not far from Tegenungan Waterfall, and you'll need to get a guide to aid your visit. It had gain popularity since my visit in 2017, and our driver informed us that now it's more crowded but they have also improved the facilities. It's best to wear wet shoes and bring nothing but your camera/phone in a waterproof bag or GoPro, since you'll be doing some climbing.
Admission: 15k per person, a guide is needed for each group (100k)
Address: Jalan Sahadewa, Banjar Wangbung, Guwang, Sukawati, Guwang, Sukawati, Kabupaten Gianyar, Bali 80582, Indonesia
Opening times: 8:00 – 17:00
Sukawati Market
Not too far from Tegenungan and Hidden Canyon is the Sukawati Market. While we didn't have time to visit, it is allegedly one of the cheapest places to buy arts and crafts in the whole of Bali. If you are in the area, it is worth a snoop!
Bali Swing
A popular attraction around Bali is the Bali Swing. It is most famous for its big swing that allows you to soar over rice terrace and makes for great photos. Nowadays, they have expanded with selfie-area for photo-hungry tourists. Personally, 35 USD is too expensive to justify a swing and some photos, especially since there is an alternative further up north that overlooks a lake.
Ubud Bali accommodation: best places to stay in Ubud Bali
Alam Terrace Cottage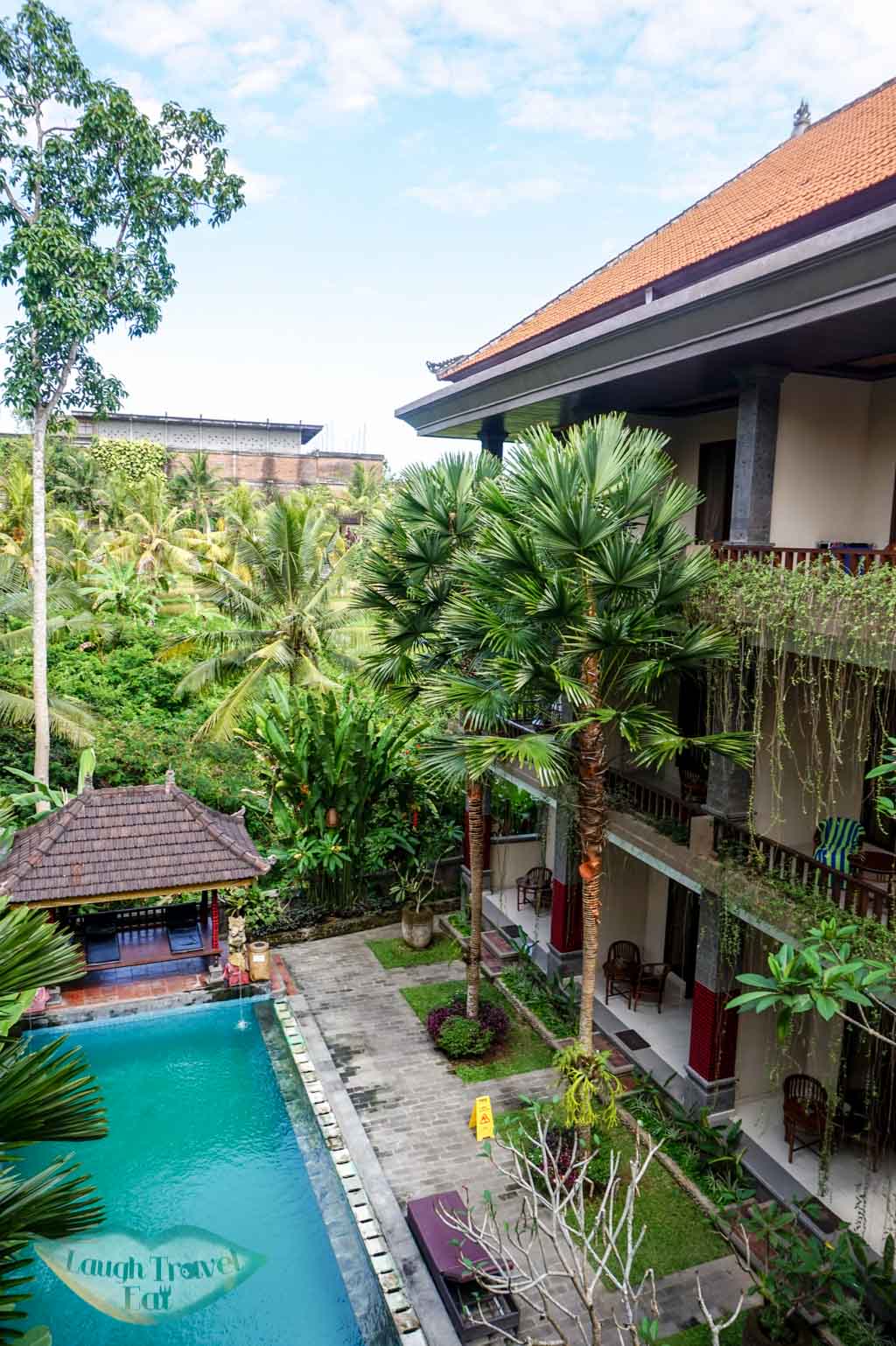 Probably the best place we've stayed in! it's near the main street in Ubud but set back enough that it's not noisy. What we love: the décor, the vibe, and it's the largest room with two double beds. What we didn't love: it is quite dark in the room at night and a car can't go all the way in
Tebesaya Cottage
On our second trip, we decided to try somewhere else and stayed at Tebesaya Cottage two blocks parallel to Alam Terrace Cottages.  What we love: there are two pools, the rooms are very nice and clean. The beds are comfortable and the choices for breakfast are so good that it's ridiculous. They also have free daily afternoon tea. What we didn't love: the roads outside is under construction making it hard to get out. We asked the staff to book us a taxi and they confirmed but he failed to show up. Also, one pool is much smaller than the other.
Sebatu Sanctuary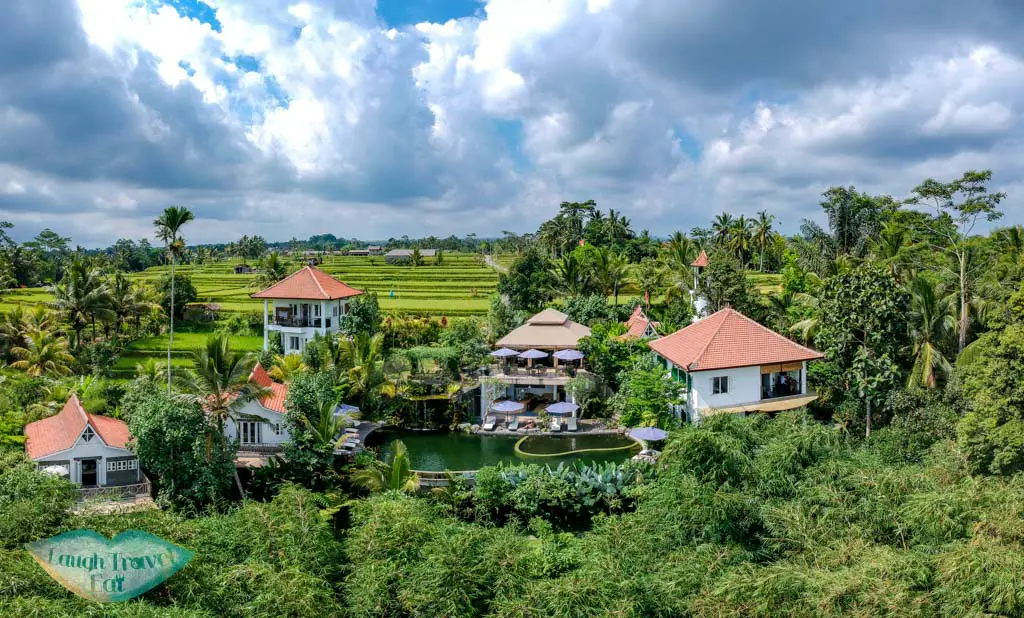 If you are seeking an eco-friendly escape close to nature, Sebatu Sanctuary should be at the top of your list. With gorgeous glamping tents or Javanese villas and environmentally friendly practices, it was a dream to stay at Sebatu. The resort is about 30-40 minutes from Ubud but close to Empul Tirta, and runs a daily shuttle to Ubud. Read more on my wonderful stay there here.
Learn more about Sebatu Sanctuary here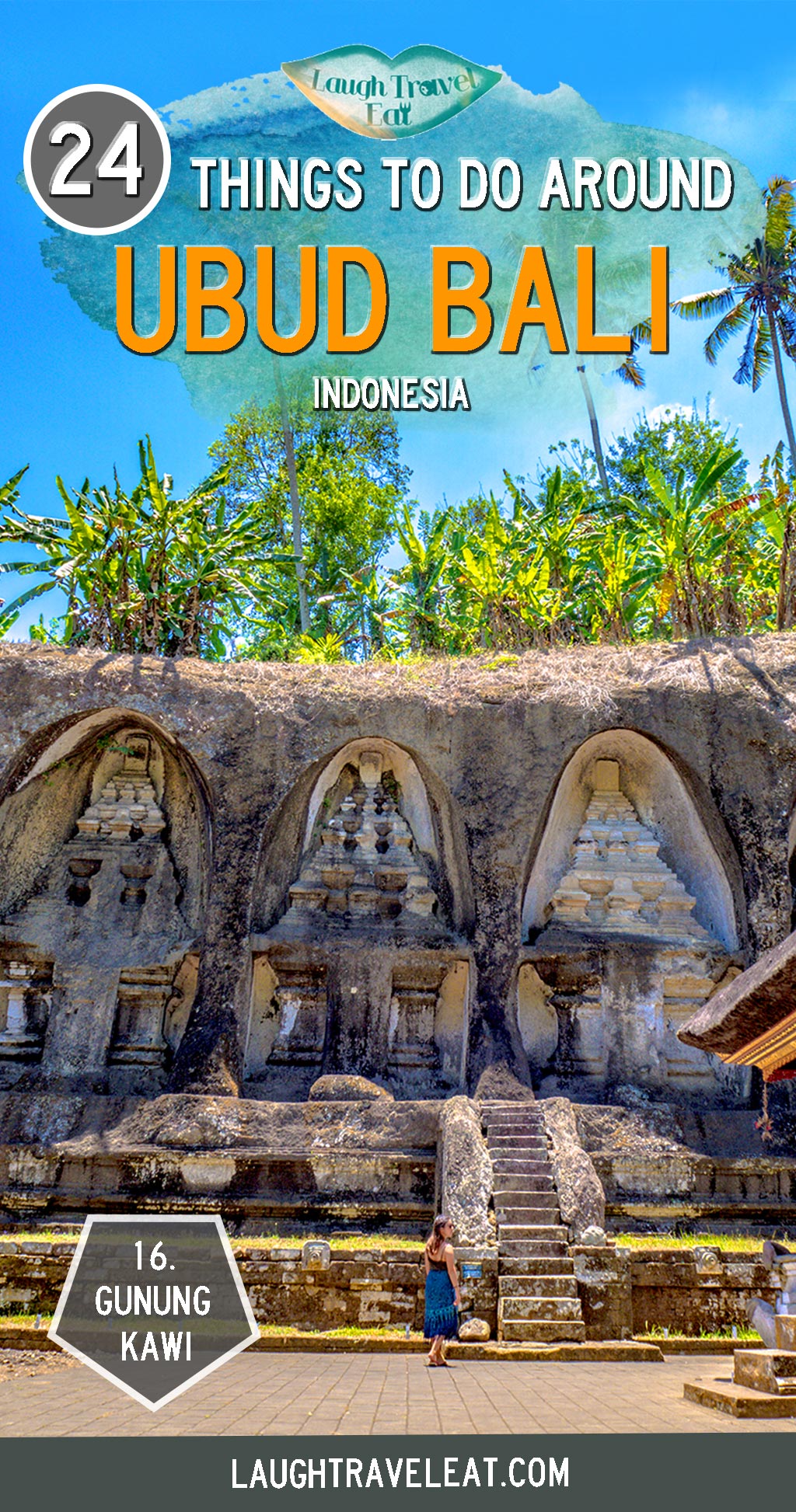 Pin me!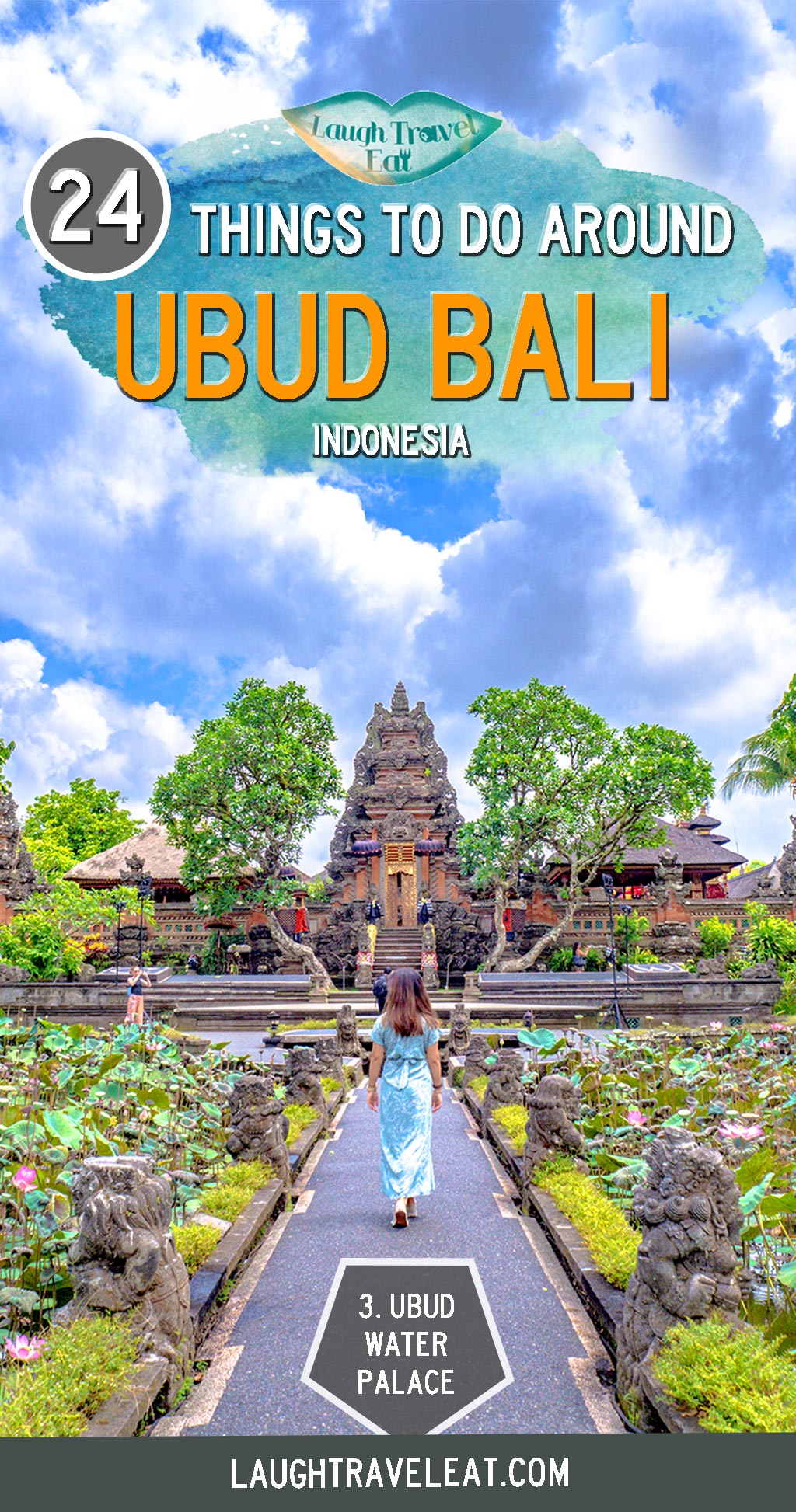 Pin me!