When people talk about Bali, it's often about its surfing, mountains, and waterfalls. Last time, I was able to visit Bali for 10 amazing days but didn't really hit the waterfall area in the north. So this time, I've made it my mission to check out the best waterfalls in the island of the gods after 3 days hiking in Java, and here is the load down:
Things to know about Bali Waterfalls
Most of the waterfalls require negotiating a fair amount of stairs to get to, but they are doable in flip flops most of the time. All of the waterfalls will charge an admission fee, usually around 10-20k rupees. Aside from a few that are sacred to the locals, you are free to swim in the falls, though there won't be lifeguards. That said, most of the pools are shallow and safe.
There is also unlikely to be any changing facilities, so I strongly suggest wearing your swimsuit underneath and bringing a towel and/or sarong. We had left our stuff at the side while swimming without any problem, but do so at your own risk!
Nungnung waterfall Bali

Not dissimilar to the famous Tenganan Waterfall, Nungnung is much further north, smaller but also less crowded.  We were approached immediately upon arriving at the carpark to purchase tickets and parking, and there wasn't an official ticket booth.
The path going down to the waterfall from the car park isn't exactly a walk in the park. We first had to go down a steep concrete to a temple-like entrance that led to a lot of stairs. That said, the path is mostly paved.
The day we visited, the sky was kind of grey and it was still relatively early. The spray from the water was very strong, and it generally wasn't really a place to swim especially if the weather is unforgiving. We were soaked by spray even without getting in, although I eventually did go in and it was freezing!
Opening times: 9:00 – 16:00
Admission fee: 10k entrance each, 5k for the parking
Aling Aling Waterfall Bali
Aling Aling Waterfall is the waterfall to hit for adventure lovers. First thing first, Aling Aling itself is sacred to the local people so you can't actually swim in it. But there are numerous other waterfalls nearby that make up the 'attraction'.
You have the option of choosing a short, medium, or long trek for 125k, 250k, and 500k respectively. We did the short version since we arrived in the afternoon and didn't have much time. The tickets have to be purchased by the car park, so you do need to make up your mind before you head down to the waterfalls.
There wasn't a big difference on paper between the short and medium option, though the later does provide lunch and have a short trek added before. For the long option, it's almost a whole day affair depending on where you come from, with trekking, seeing local farms, villages added on to.
The tickets include a guide, and ours appear almost immediately to guide us through jumping the waterfalls. He led us down the stairs, and to our surprise, there was a changing room!
We were then outfitted with life jackets and left our belongings in pigeonholes. So I recommend that you bring nothing other than your GoPro and leave your things in the car. They also gave us water, in case you wonder if you need to bring some!
For the short trekking (and medium), there are three waterfalls aside from Aling Aling: Pucuk, Kroya, and Kembar. The short trek only takes about 1.5 to 2 hours, which involve jumping off Pucuk (5m), sliding down it, then a small section of sliding, jumping off Kroya (10m) and then Kember (15m).
You don't have to jump off any of them if you don't want to. I ended up doing the 5 m jump just because I figured I should! You can just walk down the waterfall, which I did with the higher ones. You also go back the way you came.
They let us jump around Pucuk after we finished all three before taking us to Aling Aling through a short trek.
Address: Jalan Raya Desa Sambangan, Sambangan, Sukasada, Sambangan, Sukasada, Kabupaten Buleleng, Bali 81161, Indonesia
Opening times: 8:00 – 16:00
Admission fee: 3 levels we did the short version that's only 125k and 1.5 to 2 hours.
Git Git Twin Waterfall
There are actually many Git Git Waterfalls, all of them along the same river but in different parts. The one we went to is the Gitgit Twin Waterfall nearer the Nungnung Waterfall with a neighbouring 'selfie area'. Our lovely driver Dharma has taken us there, and the entrance is signposted and by the main road. There will be 'local guides' that has a spiel of how the money will help the communities, but it is such a straightforward walk down that you don't need to pay them 200k to guide.
There is a ticket booth about a few minutes into the walk down and the entrance fee is 20k.
It is one of the easier waterfalls to reach, though the pool is not very large. The Git Git that's included in the entrance fee is left of the bridge, not the build-up area to the right with selfie areas and a swing, though you can visit these attractions at extra cost.
The twin waterfall is very beautiful, not very large at all but still big enough to swim in. There is a metal handle to help you lower yourself down and get up from the pool, and the water is refreshing. Don't want to get wet? You can just take a photo in front of it or in the shallower pool down from it.
The selfie part is a bit of a tourist trap in my opinion, and we ended up there first since the Gitgit Twin Waterfall isn't as visible. They have the quintessential Bali selfie area, a swing, and a jumping deck. To jump, you'd need to pay 50k, for photos, it's 2k per person, and by then I didn't bother asking the price of the swing!
Address: search for Air Terjun Campuhan as well – it should be near Nungnung (relatively)
Opening times: 8:00 – 18:00
Admission fee: 20k
Banyumala Twin Waterfall
One of the most visitor-friendly waterfalls, Banyumala Twin Waterfall is not hard to reach with shallow water and no strong spray. That said, there are certain parts of the stairs down that are slippery and steep.
The ticket booth is further down the hike, which luckily is marked by banners as we go down from the carpark. It also has one of the biggest pool at the bottom out of all the waterfalls, which means more space to swim. As someone who is just over 5 feet, I was able to stand most of the time.
The area around the waterfall is also less vegetated, with a clearing of sorts that allows more sunlight to filter through. There are a pavilion and several table-like spaces for people to leave their belonging as they go for a swim. Aside from the main fall that stretches across the whole cliff, there are also two smaller one either side.
Address: Wanagiri, Sukasada, Buleleng Regency, Bali 81161, Indonesia
Opening times: 7:00 – 18:00
Admission fee: 15k
Tukad Cepung
Arguably the most photogenic waterfalls, Tukad Cepung is reminiscent of the Hidden Canyon but with a waterfall. It is about an hour from Ubud, and the carpark is just off a small road.
The walk down isn't as bad compared to the rest, with 3 – 4 flight of stairs taking you down to the canyon with a small section of stream sidewalk. The waterfall is to the left at the end, though rays aren't always visible.
We arrived at about 9:30 and there was just a small queue to take the IG photos, but the crowd started to arrive as we left. The water is only ankle height, nowhere deep enough or big enough for a swim. However, the landscape was truly beautiful and I definitely would recommend visiting if you have a driver or is in the area.
Address: Jl. Tembuku, Dusun Penida Kelod, Tembuku, Kabupaten Bangli, Bali 80671, Indonesia
Opening times: unknown
Admission fee: 15k
Sekumpul Waterfall Bali
Originally, we had planned to visit Sekumpul after Nungnung. But our driver Dharma told us that it would still be a bit of a drive, and there would be a lot of trekking involve. Apparently, you'll need a guide to visit, and the waterfall is more difficult to reach.
Here is a guide by Gemma from highlands2hammocks who visited: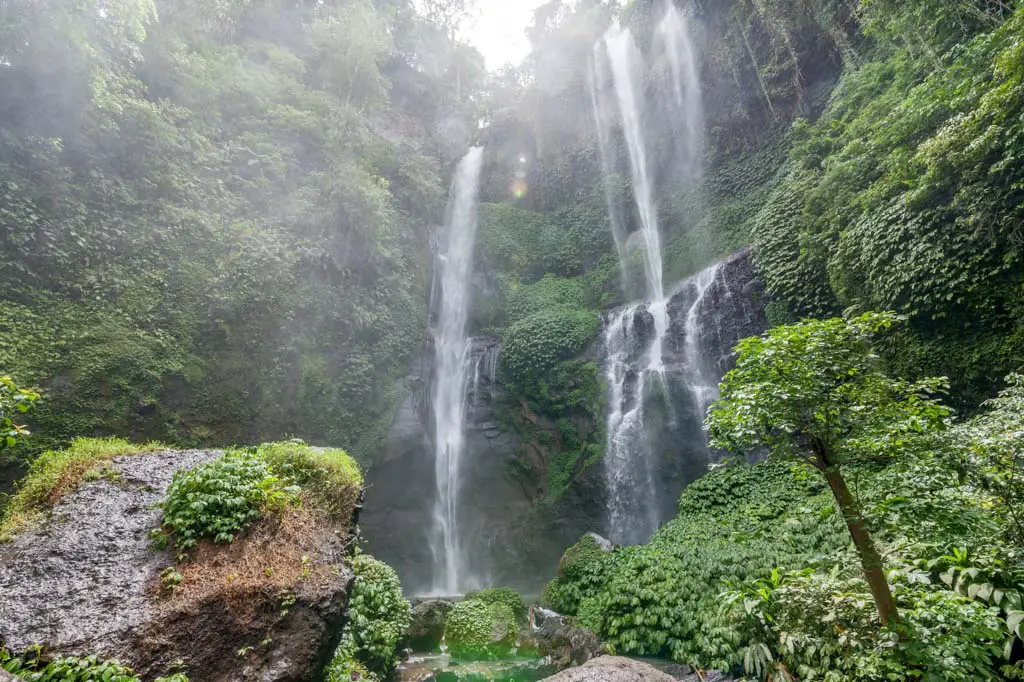 Hidden deep in Bali's northern territory lies perhaps the most famous 
of all of Bali's waterfalls. In the Bulelong regency sits a cluster of 6 
or 7 water cascades, also know as the Sekumpul waterfall.
Although these falls are one of the more difficult to reach out of the 
many hundred that Bali has to show, they are also the most impressive. 
Fed by two streams, the volume of water and the height of the falls 
result in a truly breathtaking natural phenomenon. You can reach these 
falls via a dirt track, several hundred steps and a few stream 
crossings.
The easiest way to reach these waterfalls is buying either renting a 
driver for the day (costing around 500k IDR), or renting a scooter and 
driving yourself (costing around 50k IDR per day).
With regards to price, there is an area of uncertainty about what you 
will have to pay. The Sekumpul waterfalls are known for being 
overpriced, with tour guides overcharging tourists and lying about 
requiring "mandatory" guides.
The correct price for visiting this waterfall is with a guide, 125,000 
IDR, and without a guide, 15,000 IDR
Tibumana Waterfall
By Aurelia from the Daily Travel Pill
This incredible hidden gem near Ubud is slowly becoming one of the top tourist attractions in Bali. Tibumana Waterfall is hidden deep inside the jungle and to get to it, you will have to climb down some stairs and walk on narrow paths. However, once you get to the waterfall, you will be rewarded with an incredible view.
The straight flow of water, combined with the stone walls and the small lake formed at the base of Tibumana, make the entire scenery unreal. The good news is that swimming is permitted as long as you don't get too close to the cliffs.
The entrance fee to this waterfall is 10,000 IDR and to get here you will have to either rent a motorbike or take a guided tour.
Munduk Waterfall
by Jon Algie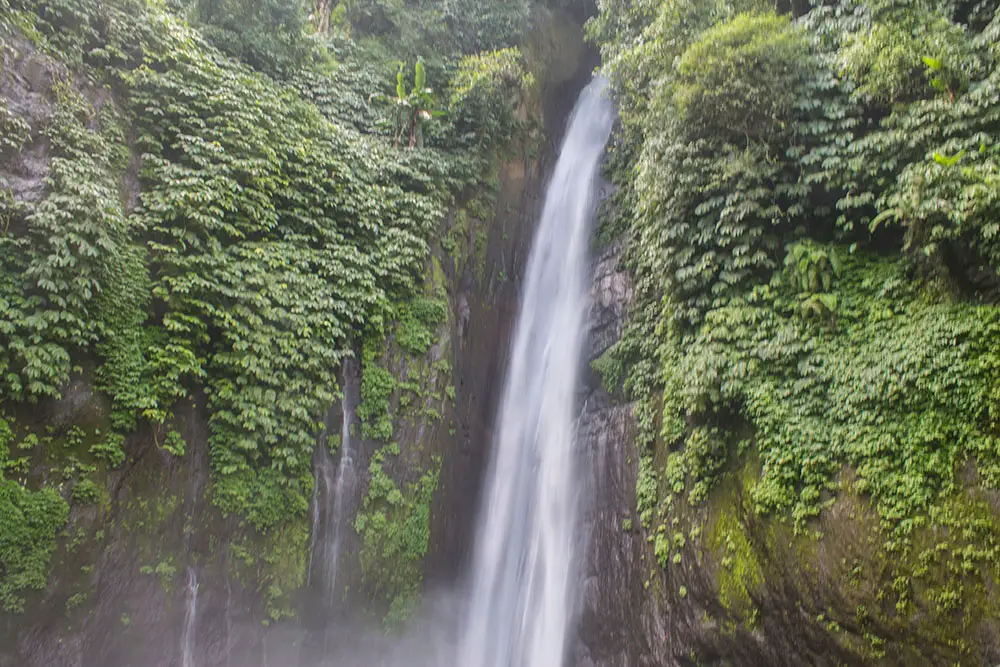 There are several waterfalls a short walk from the town of Munduk, a slightly more off the beaten path alternative to the likes of Ubud. You'll most likely arrive at Munduk Waterfall first, and from there it's an easy walk through the forest to a couple of other beautiful waterfalls.
These waterfalls were almost deserted when I visited – it was a far different experience to some of Bali's more popular waterfalls. What I love most about the waterfalls in Munduk is that you can walk straight to them from your hotel – there's no need to hire a driver or head out on a scooter. There are even a few places to eat along the track!
Tegenungan Waterfall
This was the waterfall I visited on my first trip while we made our way from Sanur to Ubud. While it is definitely one of the largest, bear in mind that it's often crowded as it is the most popular.
The car park is easy to find, though the stairs that go down is also very long. We had visited in early October and I wasn't too impressed by the waterfall at all. Though the scale is large, the water is muddier in colour and there isn't really anywhere to swim. For more details on Tegenungan, read here.
Admission fee: 15k, 5k for parking
Opening times: 6:30 – 18:30