North Bali is a land of mountains and rivers, with beautiful waterfalls and smaller towns. It is not as easy to reach as Ubud or Seminyak, which is why we didn't make it up there on my first visit to Bali. With numerous towns up north, we decided to spend a night in Bedugul to better visit the area around but didn't make it to Lovina. This itinerary is good for coming up or down to Ubud, Seminyak, or any other towns in the south. If you like waterfalls and temples, you'd like this itinerary:
Day 1 – Nungnung Waterfall, GitGit Twin Waterfall, Bedugul
On day one, we began our journey from Seminyak at 8am up north. The traffic is less hectic at the start of the morning, but we didn't reach the first waterfall until 9:45 – the north is indeed far!
For more detailed information on all the waterfalls, check our my best Bali waterfall blog post!
Nungnung Waterfall
A powerful waterfall with strong spray, it's a less crowded, smaller version of the Tegenungan Waterfall. We spent roughly an hour there, counting the trip down and back up, since it really isn't all that swimmable.

I had originally intended to visit Sekumpul Waterfall after, but our driver suggested another which is closer. Since we were all tired from our previous 3 day trip to hike Bromo and Ijen in Java, we decided to take his advice.
Opening times: 9:00 – 16:00
Admission fee: 10k entrance each, 5k for the parking
Gitgit Twin Waterfall

It only took about 30 minutes before we reach the Gitgit Twin Waterfall. We also spent an hour here, not because we couldn't swim inside, but because the pool isn't large. Once more than one group of people arrive, it gets a little crowded!
Address: search for Air Terjun Campuhan as well – it should be near Nungnung (relatively)
Opening times: 8:00 – 18:00
Admission fee: 20k
Bedugul
Located high in the mountains, the climate in Bedugul is surprisingly mild and cool. While the town itself doesn't have a lot of big attraction, though it's worth it to stay there just to be closer to the waterfalls and various other attractions. It is, interestingly, a Muslim town, so prepare to hear prayer bells at all ours.
Lunch at Billy's View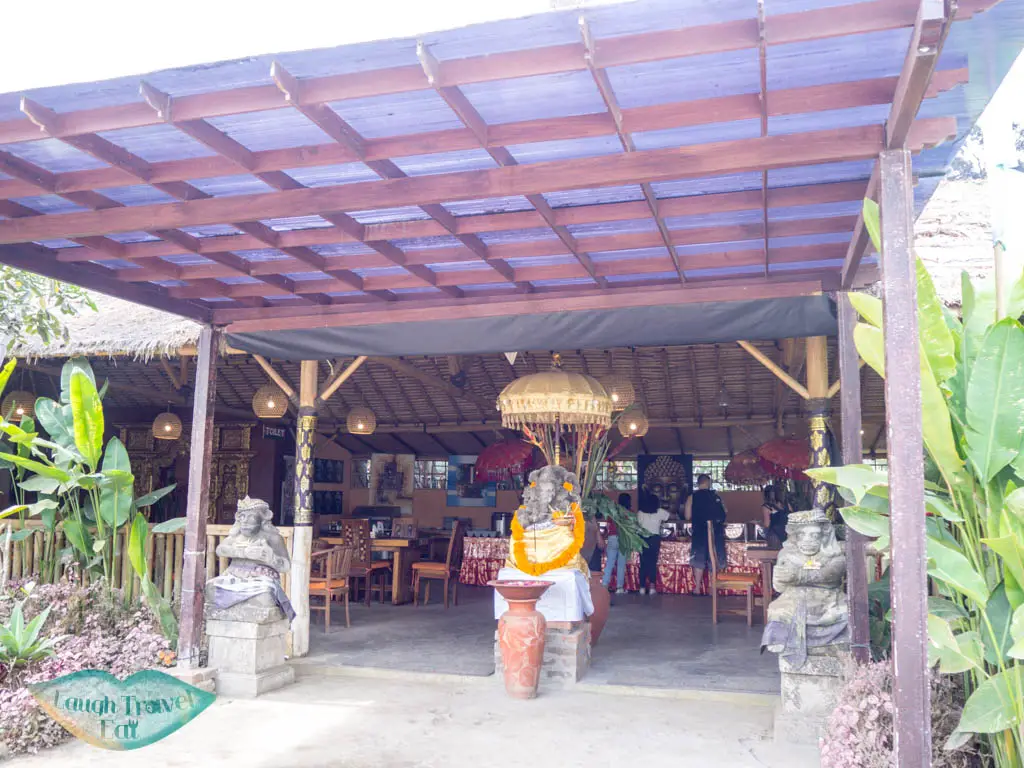 There isn't a lot of restaurant choices in Bedugul, so under our driver's recommendation (and lack of choice), we ended up at Billy's Lake View, which is a buffet restaurant. Our only choice was to paid 125k for the buffet, complete with drinks and dessert. The choices was okay, with plain rice, fried rice, fried noodles and sate (Bali satay) as well as curries. However, it is definitely overpriced.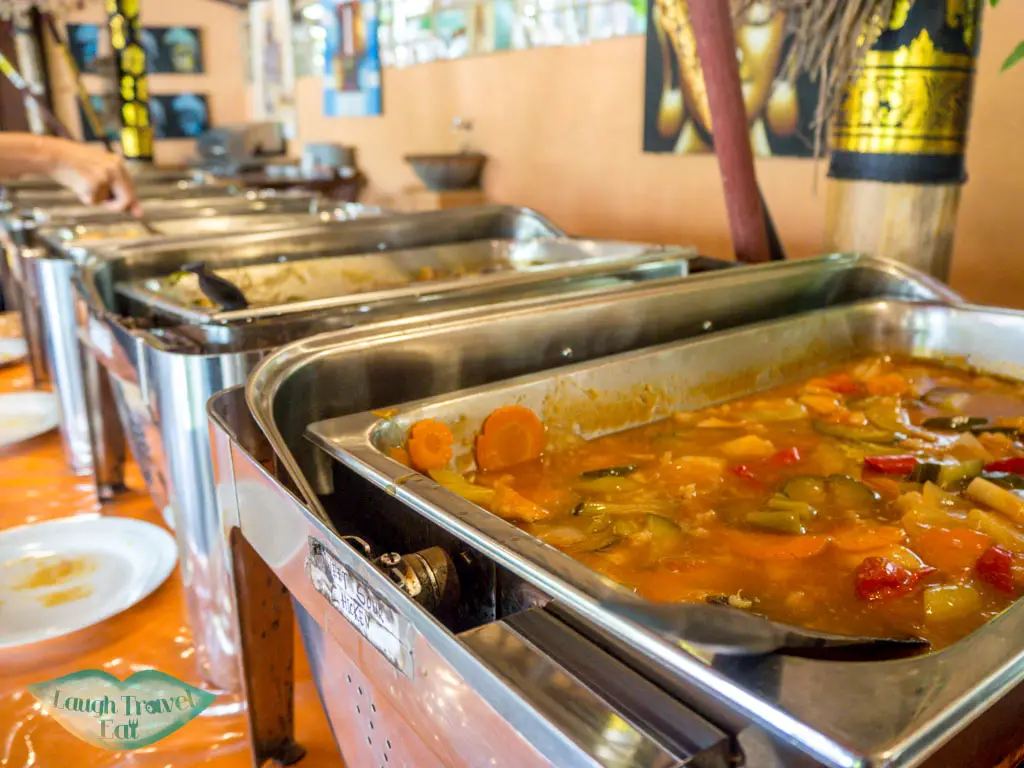 It is right by the lake with a great view, not too far from the Ulun Danu Beratan Temple. But since we decided to do a sunrise mission the next day, we didn't go just yet. If you don't want to visit in the early hours, then it's probably wise to visit it after lunch.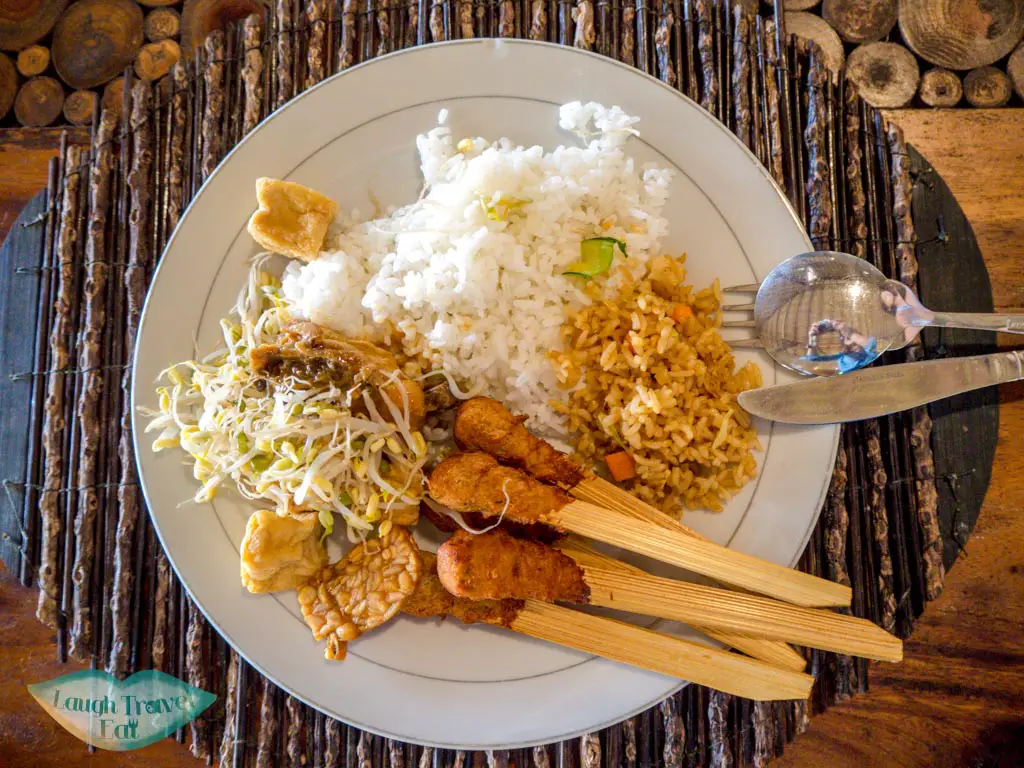 Address: Jl. Raya Bedugul, Candikuning, Baturiti, Kabupaten Tabanan, Bali 82191印尼
Opening times: 8:00 – 18:00
Where to stay in Bedugul
CLV Villa
I normally use Bookings.com to book my accommodation, and there wasn't a lot of choices in Bedugul, who is still relatively underdeveloped in terms of tourists amenities. However, CLV Villa is a surprisingly wonderful stay. The hotel is suitably called villa, as it consists of a row of four different type of villas, denoted by A, B, C, or D and the house number. We had the luck to stay at A4, which is the 4th away from reception.
The A villa is the smallest, and even then it has a spacious living room that joins seamlessly to a dining table and kitchenette. There are two bedrooms, both double room with ensuite bathrooms. The bed are soft, there's even a TV (that's small) and sofa. We also have a small front lawn and there is parking space for those who might have driven up. We suspect that this might be a popular local holiday destination.We were so tired that we just stayed in for the rest of the day. The weather had also taken a turn for the worst, so we figured a rest day is warranted. The room service menu is reasonably, and we ordered our food via the room phone. While the food isn't that good, it's convenient.For breakfast, we have to walk slightly uphill to the restaurant at the end. The choice for breakfast is pretty standard, with fruits, cereals, and some noodles and rice.
Day 2 – Temple and more waterfalls
Ulun Danu Beratan Temple Sunrise

The Ulun Danu Beratan Temple is one of the iconic images of Bali you would see on the internet and on billboards. While the most famous part of the temple remains the three-tiered temple detached from the main ground in the Berata Lake, its grounds contain other structures, too.

The temple opens early, making a sunrise mission possible for those who are willing to get up. The main reason why I opted to stay in Bedugul was so that we can have a short walk to the temple for sunrise. The sun rises across the lake, peeking from behind the mountains and casting a golden glow across. On our visit, the water level was low enough that we could walk around next to the temples. The water is shallow, so you can walk into it if you want. Or you can rent a boat on the other side of the temple to roam on the lake.


Unfortunately, there are no signs or leaflets to tell you the history of the temple, so here are some quick facts: the temple was built in 17th century, with the three towers representing the holy trinity of Hinduism: Vishnu, Brahma, and Shiva in order of sizes.


The entrance to the temple resemble a golf resort, and the surrounding also have some pretty buildings you can take photos of. It is a popular place for Balinese wedding photos too, and we spotted a couple arriving just after us.
Admission fee: 50k
Opening times: despite many of the information online pointing to later opening times, we arrived just after 5am and went right in. 5:00 – 18:00
Hanadara Golf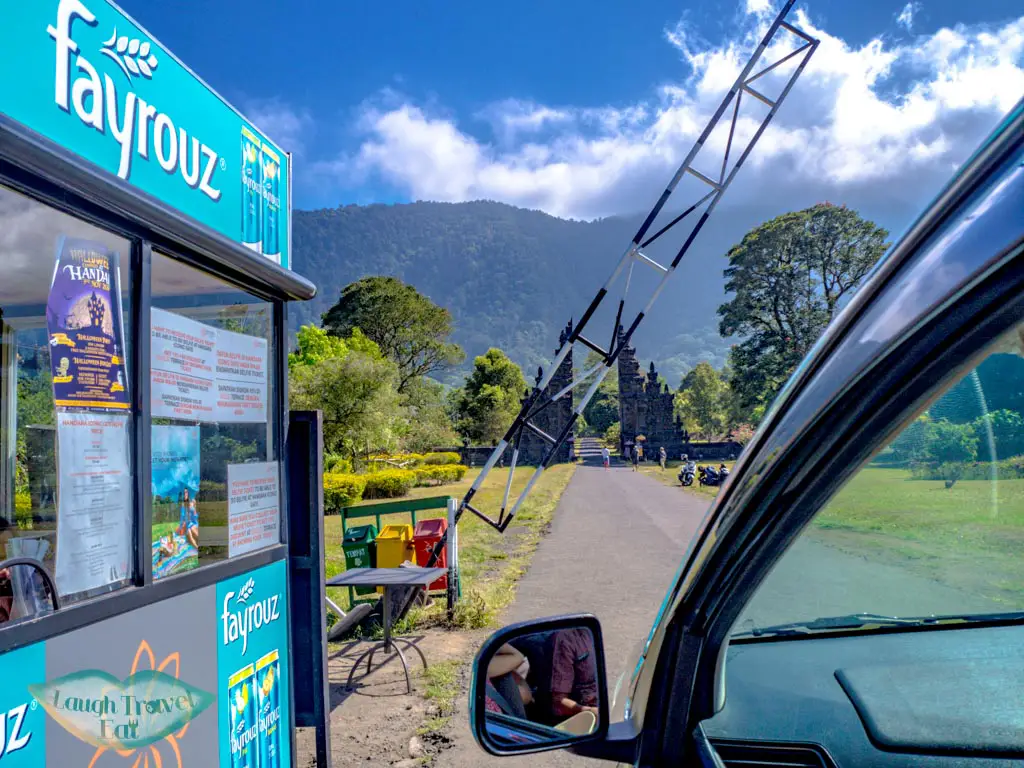 After we had breakfast, we packed and was picked up by our lovely driver Dharma. On our way north, we passed by the famous Gate at the Handara Golf Resort. Unlike how I pictured it, it is much smaller and not too far from the main road. Dharma revealed to us that there wasn't a security box there, nor was there the 50k fee for tourists to take photos.We decided to give it a skip, as paying for a photo in front of a gate seem a little excessive – even if it's for instagram's sake. Which brings us to the next one…
Wanagiri Hidden Hill
Perched along the cliff on the side of the main road, Wanagiri Hidden Hill is almost directly on top of the point where the twin lake is separated. On our way up, we already saw many selfie areas, but this one is the most well-known and established. We were a little reluctant at first, given that it is not dissimilar to the gate at Handara Golf Resort, but we thought might as well since we were there.
With the entrance fee, you get free range on the variety of structures set up for maximum photogenicity. There are staffs there who are ready to help you with light boards, as well as safety with the swing for photos.
There are also a hanging nest, two circular nest thing, and an actual nest as well as a boat. To top it all off, there is also a fun swing that's reminiscent of the famous (and frankly quite expensive) Bali Swing.
Since we are facing the lake from above, the swing has the added factor of appearing to swing higher than it is. We were put on a harness with three hooks onto the swing itself, so as long as you lean back, it's safe. However, the way they swing you up is scary, too, with a man jumping and pulling the handle below the seat with his entire body weight, swinging you out. As someone who is afraid of height, I ended up trying it just because – well – we paid, we might as well play.
Address: Jalan Munduk – Wanagiri, Wanagiri, Sukasada, Pancasari, Sukasada, Kabupaten Buleleng, Bali, Indonesia
Admission fee: 150k
Opening times: 6:30 – 19:00
Banyumala Twin Waterfall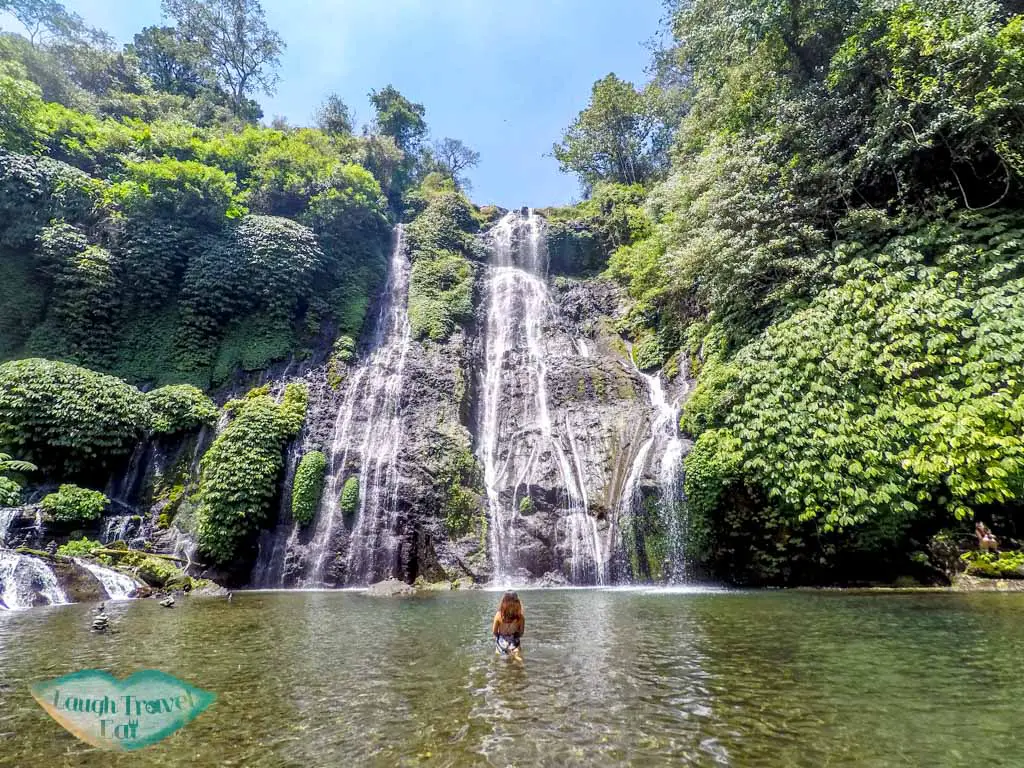 After the photo session, we made our way to Banyumala Twin Waterfall, which is surprisingly nearby and only about 15-20 minutes away. We spent over an hour here as the swimming is the best, before leaving for Aling-Aling.
Address: Jl. Tembuku, Dusun Penida Kelod, Tembuku, Kabupaten Bangli, Bali 80671, Indonesia
Opening times: unknown
Admission fee: 15k
Aling Aling Waterfall
Aling Aling Waterfall is the perfect one for adventure lovers, with three different tour package (see more in my waterfall post). We opted to do the shortest one, as it was already around noon and we didn't want to linger.It still took us about 2 hours, but we did have a lot of fun!
Address: Jalan Raya Desa Sambangan, Sambangan, Sukasada, Sambangan, Sukasada, Kabupaten Buleleng, Bali 81161, Indonesia
Opening times: 8:00 – 16:00
Admission fee: 3 levels we did the short version that's only 125k and 1.5 to 2 hours.We ended up heading straight down to Ubud after Aling Aling, but it was probably better to find something to eat or be prepared with snacks. The drive down from Aling Aling was almost two hours due to its position up north and the winding roads.Note: many do venture to the coastal town Lovina, where it's a popular dive and dolphin spotting spot. However, we ran out of time so we had to turn back to Ubud.