Looking to go from Bali to the Gili Islands? What and where are the Gili Islands? Although often lumped in with Bali, they're actually closer to Lombok and a 2-3 hours ferry from Bali (but only 30 minutes from Lombok). The trio of islands is Gili Trawangan, Gili Meno, and Gili Air in size order.
If you like turquoise water, islands with no vehicle (that's right!), and a laid-back vibe, then you must make your way there!
To see more on what to do around Bali, see my page here.
Gili Islands Essential Information
Want to visit the Gili Islands? First, here are the answers to the frequently asked questions:
How do you get to the Gili Islands?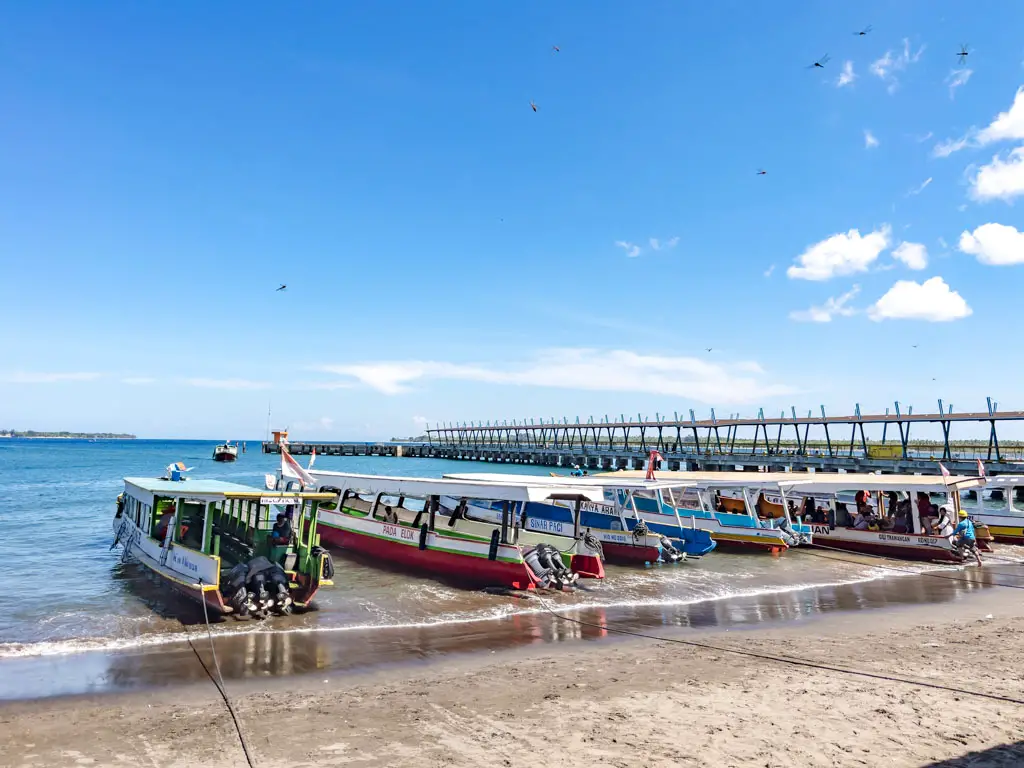 Since the Gili Islands are tiny, the only way to get there is by ferry. I'll cover them in detail in the section below.
How far are the Gili Islands from Bali?
The Gili Islands are about 2-3 hours ferry from Bali. The exact distance is 62 km (38 miles) from the most eastern point of Bali.
When is the Best time to visit Gili Islands?
The best time to visit the Gili islands is during the dry season between April and October. Outside of that, the sea crossing can be turbulent, although there will also be good days. We went in December and the conditions in the sea were very rough.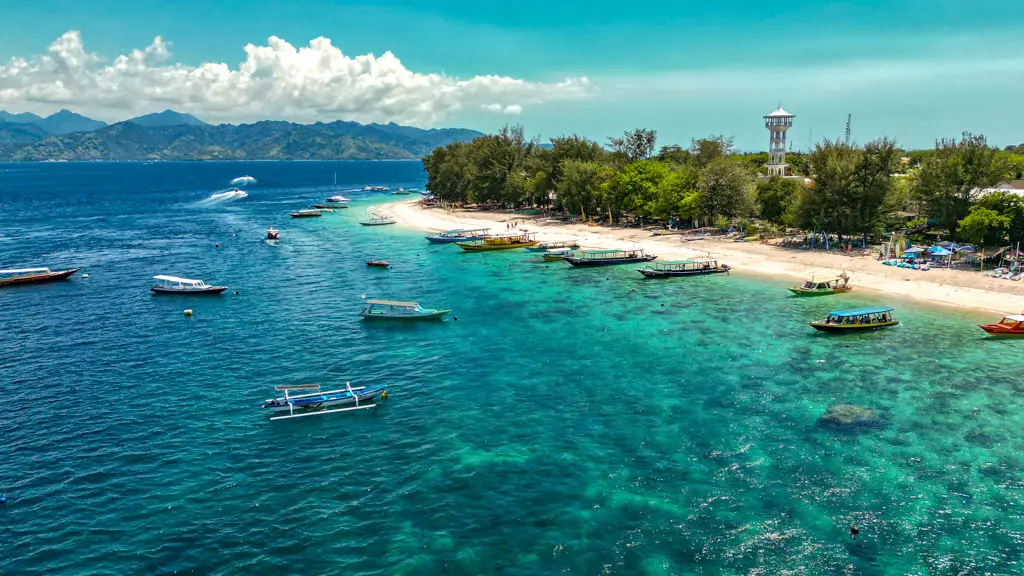 That said, the dry season is also the high season in the area, meaning prices will be higher and the islands will be more crowded. This makes the shoulder season April and October the best time to visit.
Which is better Gili Islands or Nusa Penida?
Having been to both Gili Islands and Nusa Penida, I'd say I prefer Gili Islands to Nusa Penida. That said, it depends on what you want to see. Gili Islands' pro lies in the small size and laid-back vibe, while Nusa Penida has more dramatic landscapes but with rougher roads.
Which Gili Islands should I visit?
There are three Gili Islands and they are all similar but different. Here is a quick summary so you can get a sense of what you might like:


We didn't get a chance to visit Gili Meno, but you can easily stay on any one of the islands and take a day trip there. It depends on your accommodation choice.
How do you get around the Gili Islands?
There are ferries that go between all 3 of the Gili Islands and Lombok every morning and afternoon, with an island hopping special as well.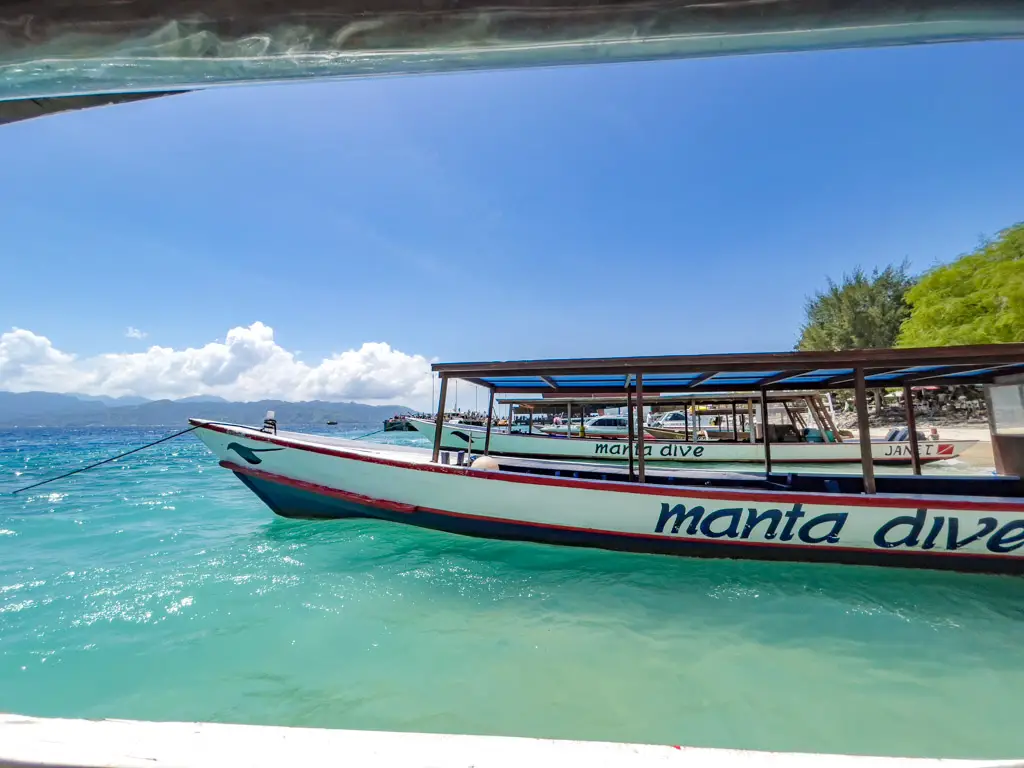 The public boats cost 35-40k rupiah, while the speed boat would be 85k. You can also charter a boat for around 500k rupiah.
Note: You can get tickets at the pier, there's no need to pre-book tickets for inter-island hopping.
You also need to carry all your belongings with you. So if you have big suitcases, it will be a problem.
Getting around Gili Islands
No motorised vehicles are allowed on all 3 of the islands and there are only 3 ways to get around the islands once you arrive:
Horse-drawn carts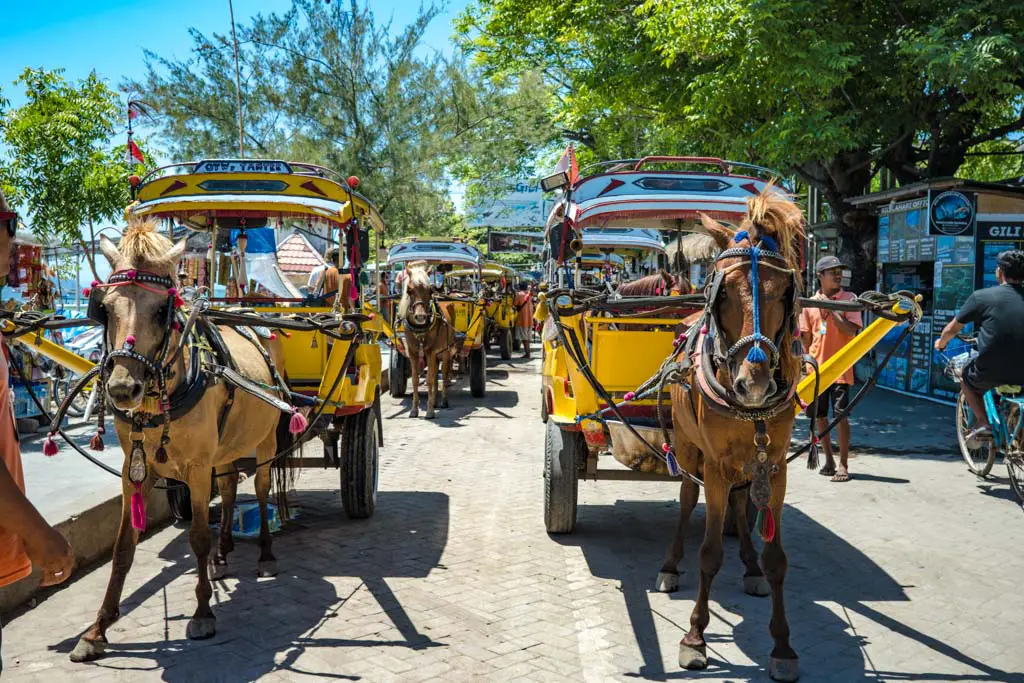 These are the taxis of Gili Islands. I never took one since we booked a hotel right by the pier. A ride costs 150k rupiah per trip no matter where you are going.
Generally, you can hail them very easily by the pier. But if you have somewhere you need to be, it's best to ask your accommodation to book one in advance for you.
Renting Bicycles on Gili Islands
The most convenient way to get around the Gili Islands is to rent a bicycle You can rent both electric or regular bicycles, the former will cost more, of course.
In general, renting a regular bicycle for a day should cost 50k rupiah, a little less if you return it on the same day. Electric one costs about 10 times more but can generally fit 2.
We only rode the bikes on Gili Trawagan and the path ranged from paved to dirt and sandy. There is a stretch on the northern end that is uncyclable due to thick sand as well. Otherwise, it only takes about 30 minutes to circumvent the entire island.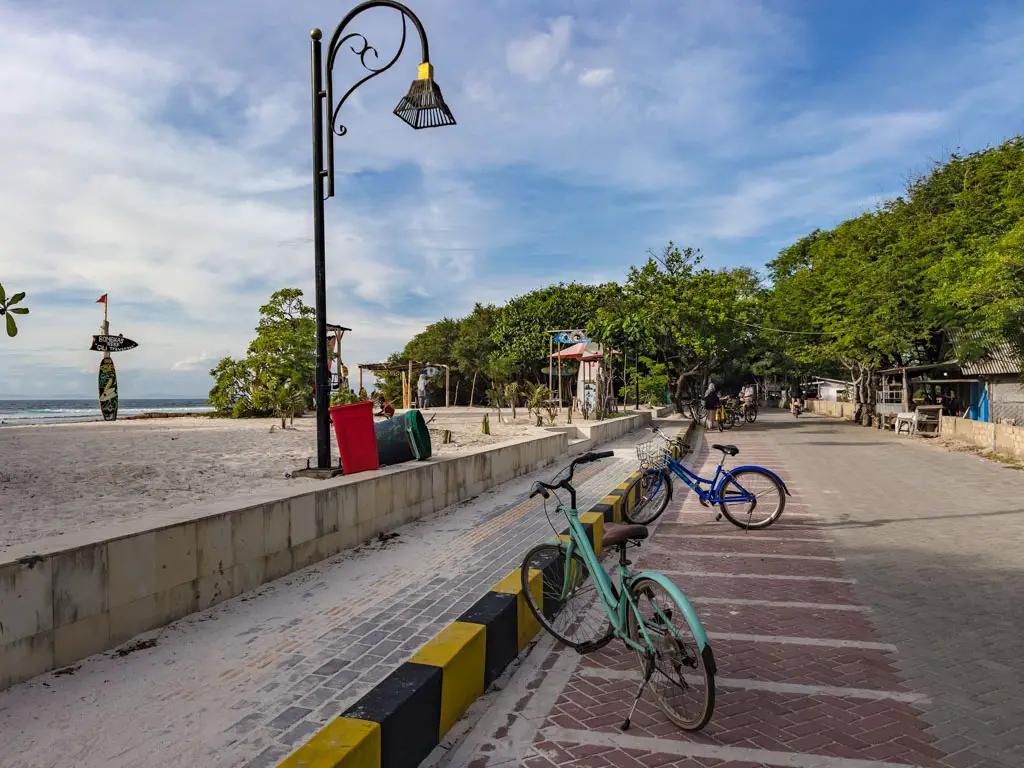 There are also shortcuts from the east to the south side of the island. Those are even less well-paved and you'd need a torch at night.
There won't be any helmets available but the rental should give you a lock. While the Gili islands are very safe places, I'd still recommend locking it to avoid thrift. 
Walk around the GIli Islands
The cheapest and the most relaxed way to enjoy the Gili islands is to walk. You can easily walk around the island. The main roads are easy to navigate and there are numerous short cut too. I'd recommend bringing a torch or using your phone's torch at night to make sure cyclists see you on darker paths.
Bali to Gili Islands
Are you curious about how to get from Bali to Gili Islands? Here are all your questions answered:
How long is the ferry from Bali to Gili Islands?
The boat ride can take 1.5-3.5 hours, even longer during stormy conditions. It also depends on which port you depart from or arrive in Bali.
How do I get from Bali to Gili Islands?
There are a few different ports in Bali to get the ferry. You can generally get a ticket on arrival, but during high season it is best to prebook. I use 12GoAsia to book my transfer around Southeast Asia, but you can also get your accommodation to help you book.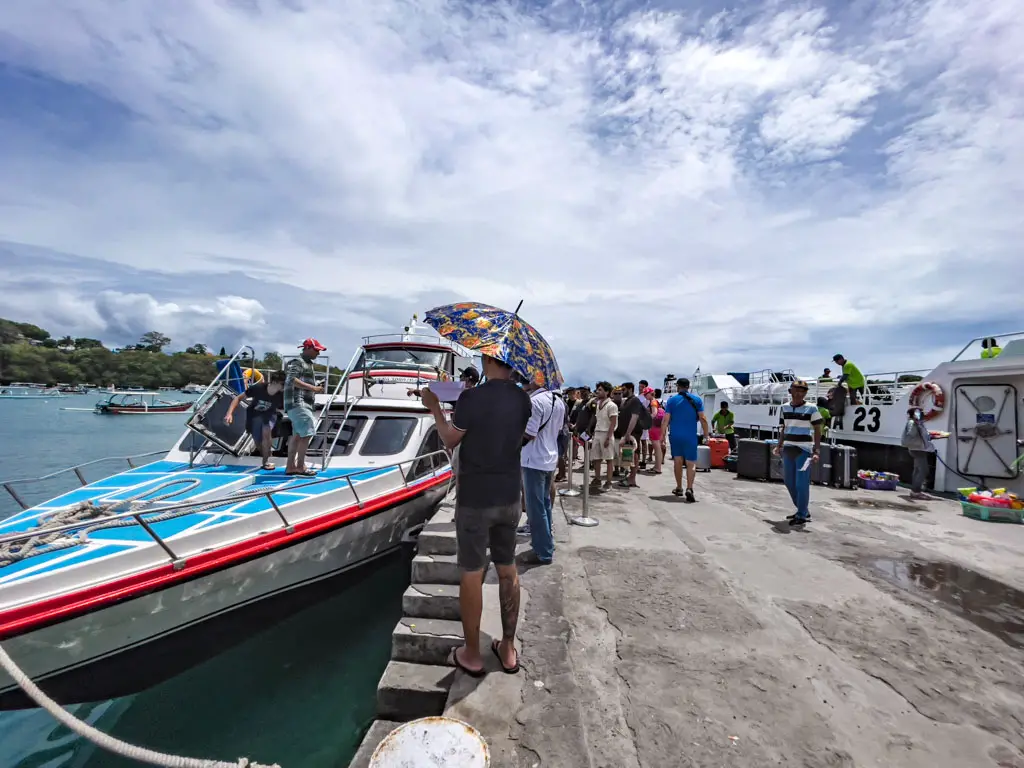 Padang Bai
The most common pier is on the east coast of Bali further north than Sanur. It mostly sees ferries to and from Lombok.

Sanur
Sanur is closest to the popular Nusa Dua and Kura-Seminyak-Canggu regions. It is the most popular port in Bali and is close to Denpasar.

Serangan
Serangan is also close to Nusa Dua and Seminyak area with a known turtle sanctuary. You can also get ferries to Nusa Penida and Nusa Lembongan here.

Amed
Amed provides the quickest crossing as it is on the northeastern corner of the island. 

Nusa Penida
You can combine a trip to Gili with Nusa Peninda but it is further.
Note: If you are heading there from Ubud, the nearest port is Padang Bai. Depending on the traffic, it'll take 2-3 hours to get to the Kuta-Seminyak-Canggu area.
While Sanur and Serangan are closer, traffic jams across Denpasar can affect the actual transfer time.
Gili Islands Hotels
There are some amazing hotel options on all three Gili Islands. So here are my favourite selection that might help you decide which island to stay on.
Gili Trawangan Hotels
Hostels/homestays: Pondok Mariana is a great super-budget choice. Wombat's B&B and Coconut Dream Bungalow are lovely too.
Budget: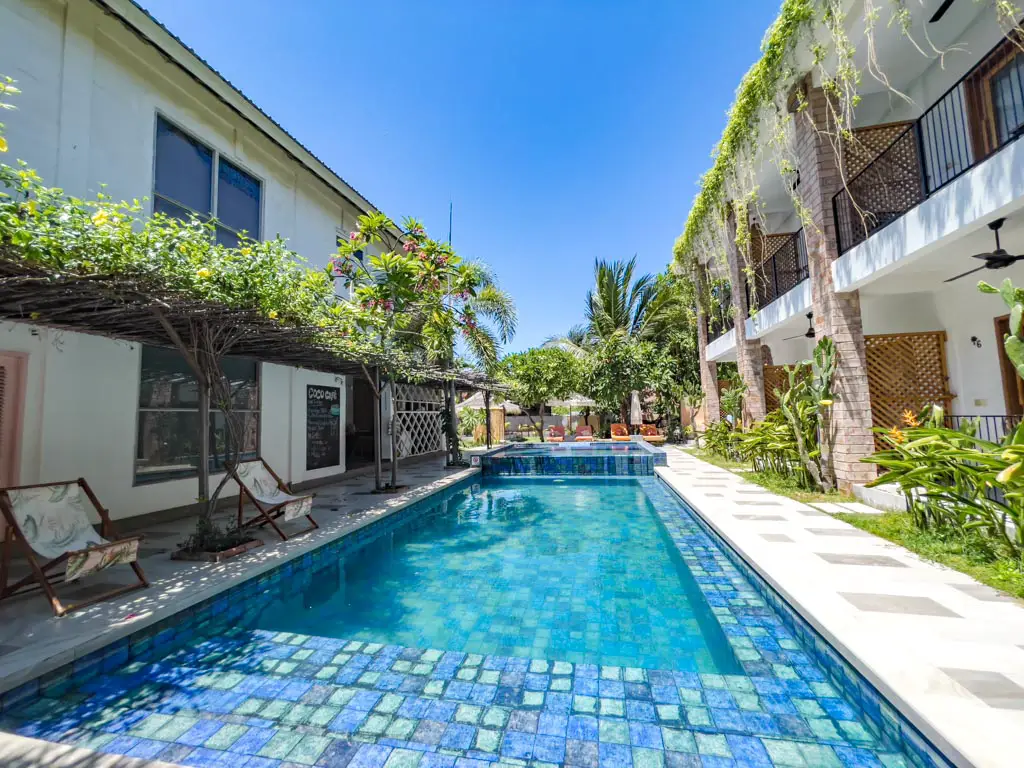 Mid-range: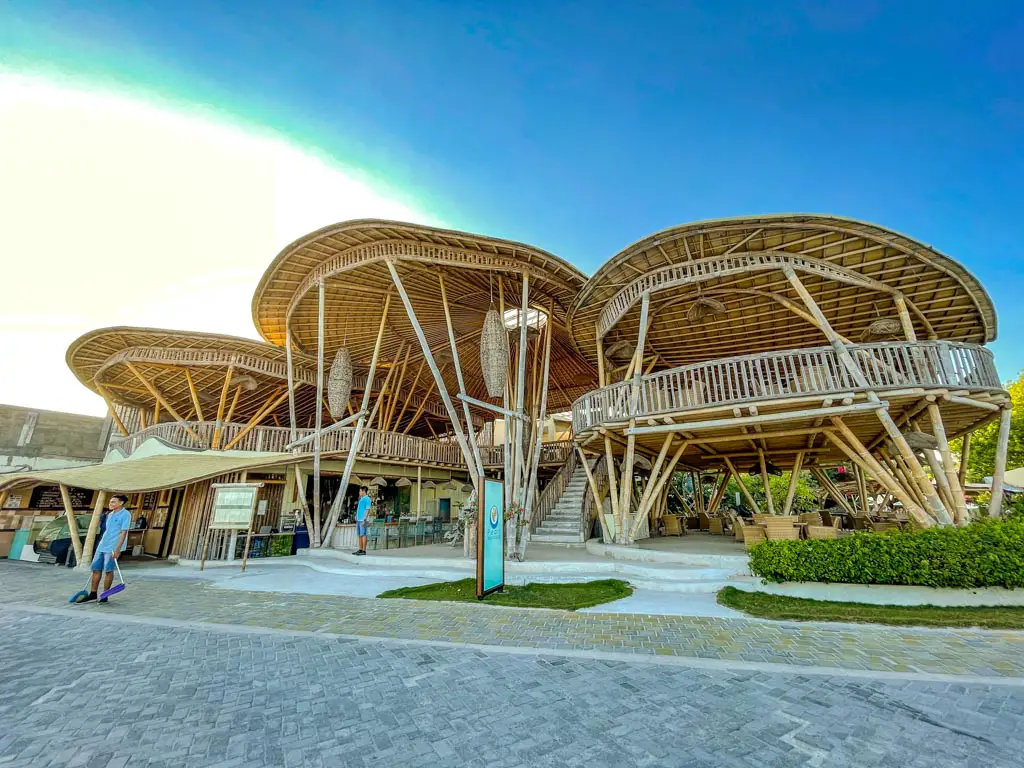 Splurge:
Gili Meno Hotels
Budget: 
Midrange:
Splurge:
Gili Air Hotels
Budget:
Mid-range:
Splurge: