There are plenty of things to do in Gili Trawangan. As the largest of the three Gili islands, it is affectionately known as Gili T and practically surrounded by beaches and great snorkeling spots. If you're wondering what to do, I've got you covered.
To see more on what to do around Bali, see my page here.
Gili Trawangan Essential Informations


Gili Trawangan might be the largest of the Gili islands but it is still barely 6km square in size. The beauty of Gili T is that there are plenty of hidden spots but you can also walk leisurely around (or not) if you want.
Fast Boat to Gili Trawangan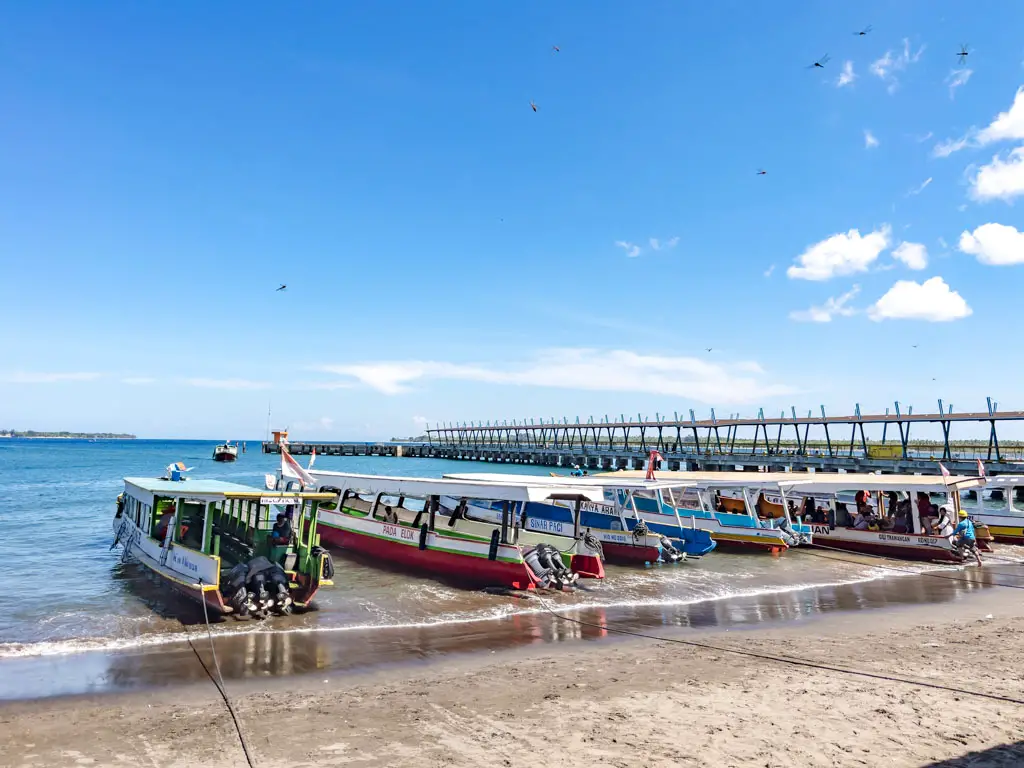 I have a separate guide on getting from Bali to Gili Islands. For Gili Trawangan, it is usually the first stop for all ferries departing to Bali or Lombok.
Bangsal to Gili Trawangan
Bangsal is the port in Lombok that departs to the Gili Islands. The fast boat would stop at Gili Air and Gili Meno first before Gili Trawangan, so you might as well take the cheaper local boat.

You can buy the tickets directly at the port office. Be careful as there will be many vendors trying to offer you tickets as well. They'll also try to convince you to buy a return ticket. You don't have to.
Once you got your tickets, wait under the pavilion until it's time to board. You do have to carry your own luggage up, so it's not ideal if you have bulky items. There will be people offering to carry it for 100k rupiah, which frankly is more expensive than the tickets. We got help from a friendly local, but it was hard to tell who was friendly and who was trying to make money off you.
P.S. you might get wet on the ride!
Bali to Gili Trawangan
From Bali to Gili Trawangan and back is on a proper pier, although you will definitely face a longer ferry trip. There are plenty of speed boat options, most of them heading to Padang Bai in Bali's east coast unless you have otherwise requested or specified.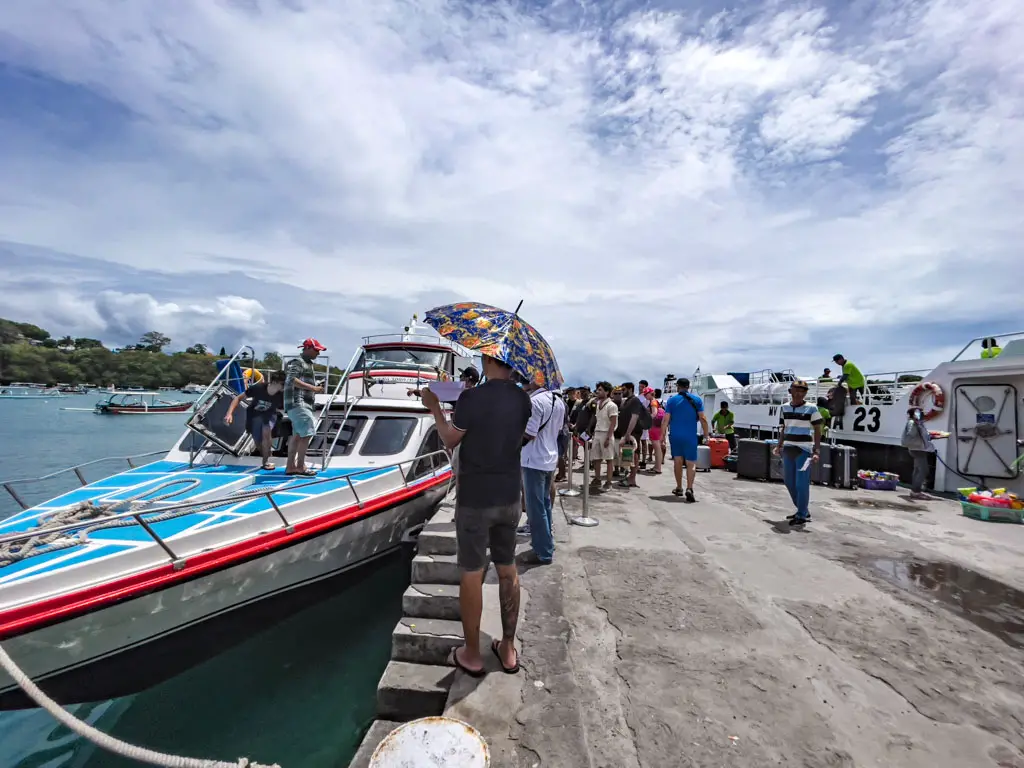 The ferry tickets can be bought on the day or the day before, but they can be in demand during the high season. It's worth booking in advance for that – I frequently use 12GoAsia to book my big transport around Southeast Asia.
See my Bali to Gili Islands guide for more transport options around the Gilis.
Is it worth going to Gili Trawangan?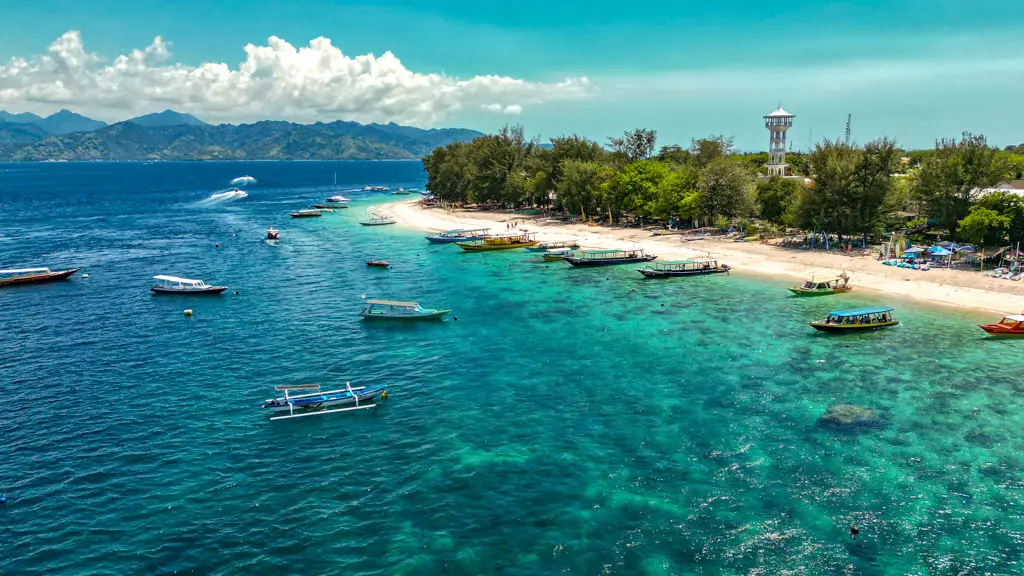 Yes! I had my reservations about the Gili Islands since the island is small and seemed to be more basic, but I loved the laid-back vibe. There are good restaurants, stunning hotels, surprisingly clean water, and an abundance of wildlife. There is something for every price range and a much better island for a chill trip.
How many days do you need in Gili Trawangan?
You can see everything on Gili Trawangan in two days, however, I recommend staying 3 days 2 nights to see the island fully at a relaxed pace. If you plan on doing a proper island hop, then you want at least one full day to go on a boat trip.
We actually stayed 3 nights and left on the morning of the last day and found that quite nice.
What is Gili Trawangan known for?
Gili Trawangan is known for being the largest of the three Gili Islands and the one with the best nightlife. It's the most well developed with options for all budgets and also plenty of good bars and restaurants and decent snorkel and surf spots.
Can you walk around Gili Trawangan?
Yes! It will take you much longer than cycling, but you can walk around the entire island in half a day at a leisurely pace. It is much faster to cycle, of course.
Things to Do at Gili Trawangan
Since Gili Trawangan is the largest island with the most budget options as well, it is the most popular islands for visitors. If you're wondering what activities can a tourist enjoy in Gili Trawangan, you're in the right place:
Gili Trawangan Beaches
The entire island is rimmed by mostly sandy beaches, so there are plenty of spots to hang out. But in case you've particular tastes, here are some descriptions and distinctions:
Northeastern Beaches
These are the stretch of beaches north of the port on the east coast – basically north of the port. There are restaurants sunbeds, umbrellas, and dining areas, but still enough space for you to set camp if you want.

The space gets narrower to the north and there are also speed boats coming and going, so if you are swimming you should pay attention. The trees also provide some shade if you need them.
If you want to rent snorkeling gear (and even GoPro!) – there are plenty of vendors, too.
Southeastern Beaches

If you go south of the pier on the east coast, you're more likely to find resort and restaurants taking up the beach space. You'd see less people snorkeling and swimming in this part as it's more reefy. But it's a good place to find a cute (but likely pricier) sunbed or umbrella to set camp.
Southern surf break

The southern rim of the island is where the best wave is and you'll see a line of surfers. There is a thin strip of beach here, but it's more rocky and reefy. We saw more locals hanging out here and most people are just sitting with beers or chatting with friends.
Southwestern Beaches

The southwestern beaches are where sunset point is and are fairly popular. There is a boardwalk area overlooking the reef part. Once you pass the final curve around, it's a sandy beach with plenty of nice bars and restaurants to watch the sunset from.
Northwestern Beaches

The northwestern beach is similar to the southwestern beaches until you get to almost the northern tip. The center west coast slightly to the east are more chill beaches and you can find many horse riding activities along the west coast during sunset.
Northern Beaches
The northern beaches are by far the quietest. It is also quite reefy but without the surf break. The water is quite shallow here making it harder to swim but it is a good snorkeling spot.
Look for the Gili Swings
If you have googled Gili Trawangan prior to visiting you will probably be inundated with images of the Gili Swings. Sadly, the in water swings are really a thing of the past. There are still some swings dotted around but on the beach, and the only one in the water I found was on the northwestern edge of the island past Mad Monkey Hostel.

It is also half broken and only one swing is still a swing.
To climb on, you need to visit just before or after low tide and be strong enough to lift yourself up (and have someone who can lift you up).
Sunrise in Gili Trawangan
Sunrise in Gili Trawangan isn't nearly as popular as the sunset. The east side is where the piers and most activities are, meaning you won't get a pristine view but you will catch a quieter time of the island. It faces Lombok and you might be able to catch a glimpse of Mount Rinjani on a clear day.
Sunset point Gili trawangan
Sunset is the most popular time to be on the west coast and the stretch on the southwestern side of the island is the place to watch the sunset.

There are plenty of bars and restaurants but the prices are reflective of just how popular this area is. But you can also find the quieter area of sandy beach where you can chill.
What I love the most is that you can see all the way to Bali – to Mount Agung!
Cycling around the entire Island
On a quiet morning, I embarked on a leisurely bicycle ride around the entire island and it took about an hour or so with some stops.

It is almost impossible to ride without getting off, as there are very sandy stretches and the northern part has a slight inland re-route. But it is the best way to see the whole island without taking up too much time.
You can rent a bicycle from any vendors, hotels, or hostels on the island. The price is similar across the board at 50k rupiah for a full day, less if it's returned before the shop closes at 6-7pm. I would suggest you rent from somewhere close to your accommodation to make returning easier.
A lock should also be provided for whenever you stop. Bike stealing is not common but it is better safe than sorry!
Best Snorkeling Spots in Gili Trawangan
You can take a snorkeling day trip that would take you to all the best snorkeling spots in the Gili Islands. But there are also good spots around Gili Trawangan.
That said, if you have limited time and budget and want to see sea turtles, it's best to join the island-hopping snorkeling tour. 
Turtle Shore

Turtle Shore is on the northern tip of Gili Trawangan and is the best place to see turtles on the island. The exact geolocation point was past La Moomba Bar & Restaurant next to Revolution Dive Gili, but that section of the seaside road no longer works – you'd have to cut through by Bleu Verde, I am Colors.
But La Moomba does have a sun terrace where you can snorkel out from, but if you don't have fins it can be a long swim. There isn't so much of a beach on the other side, though. It's more of a market with a derelict concrete fence and then finally a small beach.
We only snorkeled there in the afternoon for a little while and it was harder to head out with the reef being so shallow. You can also rent snorkel gear from the vendors there. They'd also encourage you to snorkel there to see turtles but i think it's not a daily occurrence to spot them there. Most people who do seem to be there in the morning.
Beaches with Turtles to Swim With

This is another geolocation point, this time on the east coast between the northern tip and the pier. It's a better place to snorkel in general with less reef close to strong and milder currents. However, there are also plenty of speed boats zooming in and out, so while we saw plenty of sealife we did not see turtles.
Gili Trawangan Diving
There is a dive center every hundred meters or so on Gili Trawangan which is a testimony to just how good the diving is around the island. A lot of people also take their scuba diving course there.
I don't know much about diving there, so here is a good post I found.
Surfing in Gili Trawangan
It is possible to surf in Gili Trawangan but there is only a limited area on the southern tip of the island. It is a reef break as opposed to a sand break, meaning that the bottom of the sea are reef and not soft sand. It is not the best place for a beginner to learn, but you can get an instructor for 250k rupiah, so it's something you can do if you want.

For those with experience, board rental is fairly affordable at 100k rupiah for two hours. They are all clustered around the south (more eastern) tip of the island. My friend surfed at Ponte Surf and she recommends it.
Horse Riding at sunset
Horse riding at sunset or horse riding in general is another popular sport in Gili Trawangan. There are various options and it can be a fun family activity. You can find rides being offered for a short time on the west coast during sunset for 100-200k rupiah, or you can book an excursion properly.

You can book rides from 30 minutes to a few hours and the price starts at 400k rupiah if you are going in for a longer time slot. Don't worry about not getting photos or videos of you, the horse care-taker would do that for you. Although it's not always perfect, it's pretty good unless you have high standards.
Stud Horse Riding & Rescue
Stud Horse Riding & Rescue started in 2004 and is on the southwestern side of the island set back a little from the coast. It is the most expensive option but it is also the only one that seemed to care more for the horses. 
It costs 350k rupiah for half an hour and we were able to keep our bag at the center where it's locked and safe.
They don't have a website, but you can message them on Facebook or Instagram to book in advance. They are quite popular, so it's worth doing that.
Chill at a beach bar or restaurant
There are so many beautiful beachside restaurants in Gili Trawangan that you just have to go to them. 
Pinkcoco

Pinkcoco is unmistakable as you go past because of the telltale hue and it's a popular place for people to stay as well.
Sunset Kiss Beach Club

The Sunset Kiss Beach Club is the restaurant and bar on a wooden terrace by the walkway that overlooks the reefs and mangroves. They have fire dance show once the sun sets with various sitting arrangements.
The Exile Gili Trawangan
The Exile is one of the more popular places to watch the sunset. The beachside seats are well spaced out and the direction it faces is ideal. However, there are mixed reviews online recently, so remember to check your bill.
The Clubhouse by the Beach

We stopped by the Clubhouse by the Beach on our cycling trip around the island and rested for lunch and a nap/snorkel. There were tables under the tree, sunbeds, and sun umbrellas. You can use the sunbeds and umbrellas if you order and the food choices are a mix of Asian and western food.
The quesadilla and Nasi Goreng we ordered were both good and the prices are reasonable.
Island hop to Gili Meno and or Gili Air
There are ferries every morning and afternoon to Gili Meno and Gili Air, so you can do island hopping by yourself. The tickets are very affordable at around 50k rupiah, but if you are short on time, I'd do a snorkeling tour instead.
We stopped by Gili Air for lunch. They tried to get us to eat at this restaurant but you can go explore and to another. Just make sure to be back at the designated time.
Get a private tour if you're in a group to stay longer in places you like.
Where to eat on Gili Trawangan
Hello Capitano Cafe
One of the cute western cafes along the main pier, Hello Capitano Cafe has salad, smoothie bowls, and light meals. The ground floor cafe has air conditioning, and they have an upper floor that's good for people-watching.
We had a chicken salad and a smoothie bowl for 205k rupiah.
Opening times: 6:30 – 22:00
Jali Resort and Restaurant

The Jali restaurant is basically the front of the resort in a hidden side street of Gili Trawangan's heart. They have a good atmosphere and innovative Indonesian and western food. We once again ordered our beloved combo of burger and Nasi Goreng, topping it off with a delicious carrot cake.
It is quite a popular place to eat so you might want to book or get there early during the high season.
Tiki Grove
Tiki Grove is a Tiki-themed bar and restaurant with Taco Tuesday (where all tacos are discounted). Naturally, wen went there on a Tuesday and watched the sky turn pink over the thatched roof. 
The staff are all really nice and they have a good range of cocktails as well. It's also set in the less developed street that bisects the island so bring a torch and mosquito repellent.
Opening times: Tue – Sun 15:00 – 22:30
Gili Trawangan Night Market
The Gili T Night Market is just across the main pier and is not a large affair compared to other night markets around Southeast Asia. That said, it's a good place to eat as a group. Although I wouldn't recommend it for those with a weak stomach.
You can pick your own seafood and meat to barbecue and you might need to haggle. We opt not to try our luck with the stomach bug during the rainy season. 
Opening times: 18:30 – 1:15
Naty's Restaurant

Naty's Restaurant is one of the many that lined the coastline south of the main pier. It has a really cute set up with table cloth and lanterns, so we decided to stop there for dinner.

We ordered their seafood platter for two and while some of the seafood was a bit dry, it was overall quite nice. We spent 375k rupiah per person.
Opening times: 7:00 – 23:30
Cremoso Gelato

The Cremoso Gelato is located at Pearl Trawangan as well as Cloud9 on the southeast and southwest rim of the island. The gelato are delicious and authentic and a good treat in the heat. 
Gili Trawangan hotels
Hostels/homestays: Pondok Mariana is a great super-budget choice. Wombat's B&B and Coconut Dream Bungalow are lovely too.
Budget: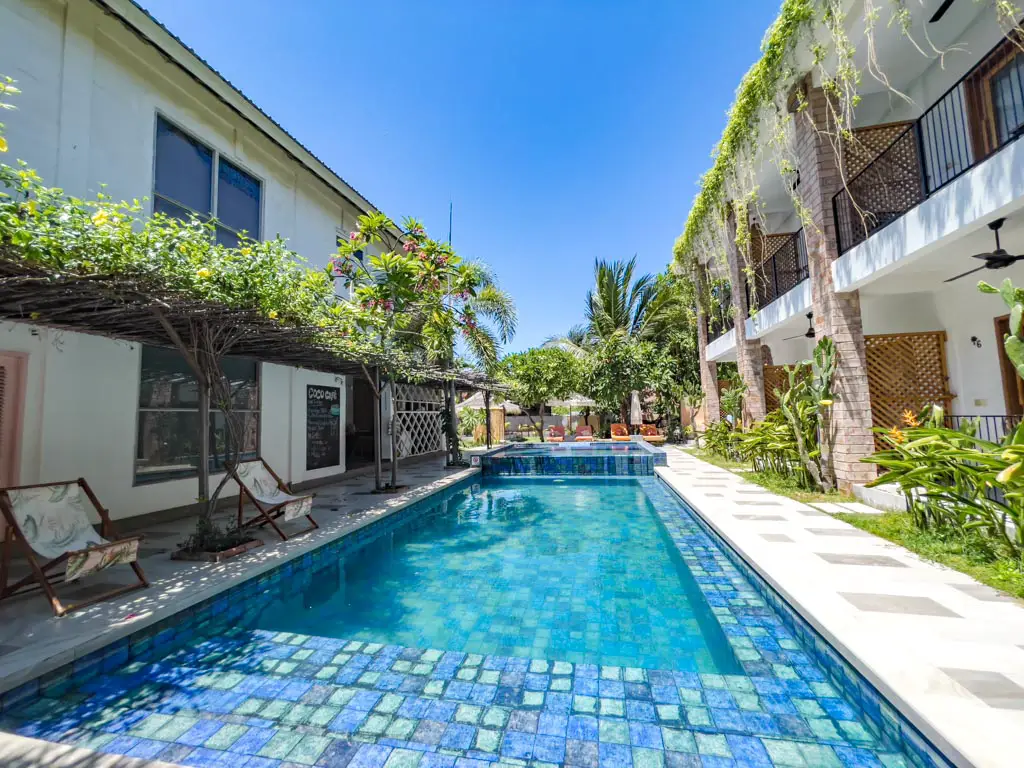 Mid-range: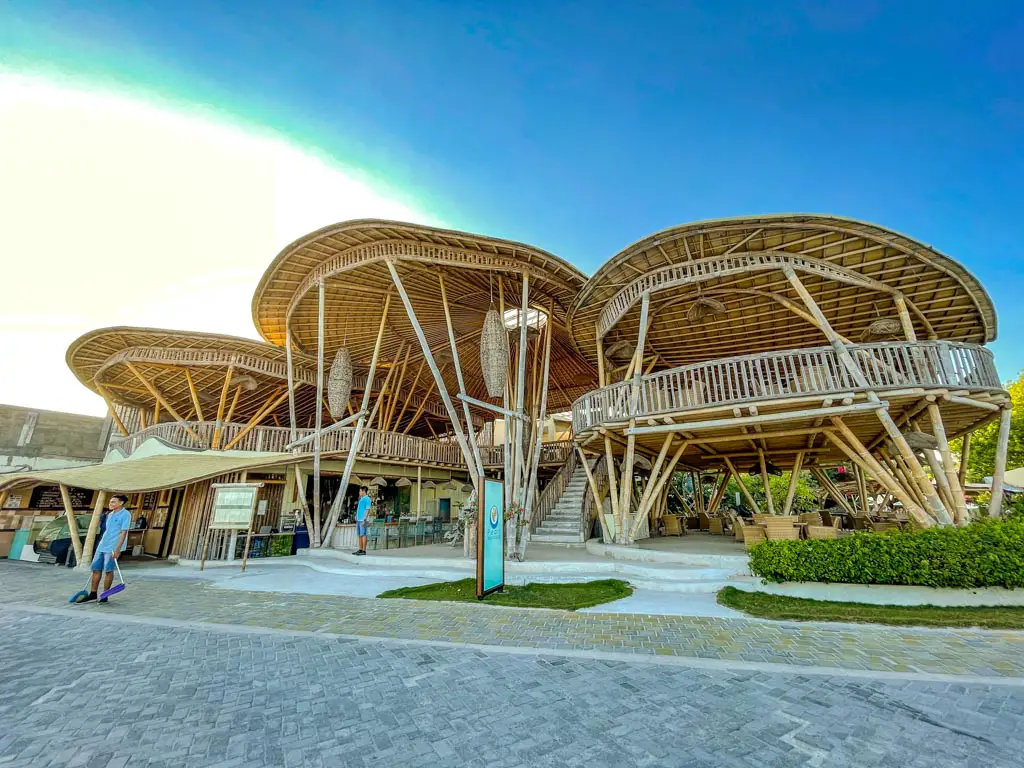 Pearl of Trawangan is on the southeastern tip good for sunrise and also a short walk to sunset.
For the eco-conscious, Gili Eco Villas is on the quieter northern coast of Gili T.
Splurge:
Pondok Santi Estate has individual bungalows, pools, and a slice of private beach.
For somewhere more secluded (but not seaside), MAJO Private Villas is tranquil and well-designed.