If you like strange rocks, then you might know from social media that there is an Easter Island Rock lookalike hiding somewhere on Lantau Island. In fact, it's hidden on a hill near Sunny Bay and the resemblance is uncanny. While the hike is relatively easy and short, finding your way to it can prove to be a bit of a challenge. I do strongly recommend having an offline map or at least following this blog post very closely.
Easter Island Rock Lantau Island Hike Summary

Difficulty: 2/5 – trail is overgrown
Time taken: 2-3 hours
Pros: quirky rock and an off-the-beaten-path trail
Cons: The trail is overgrown and can be confusing
Starting point: Sunny Bay MTR
Ending point: Discovery Bay
Easter Island Rock Hike
The starting point for the hike is Sunny Bay and the ending point is Discovery Bay. And I don't recommend doing it in reverse.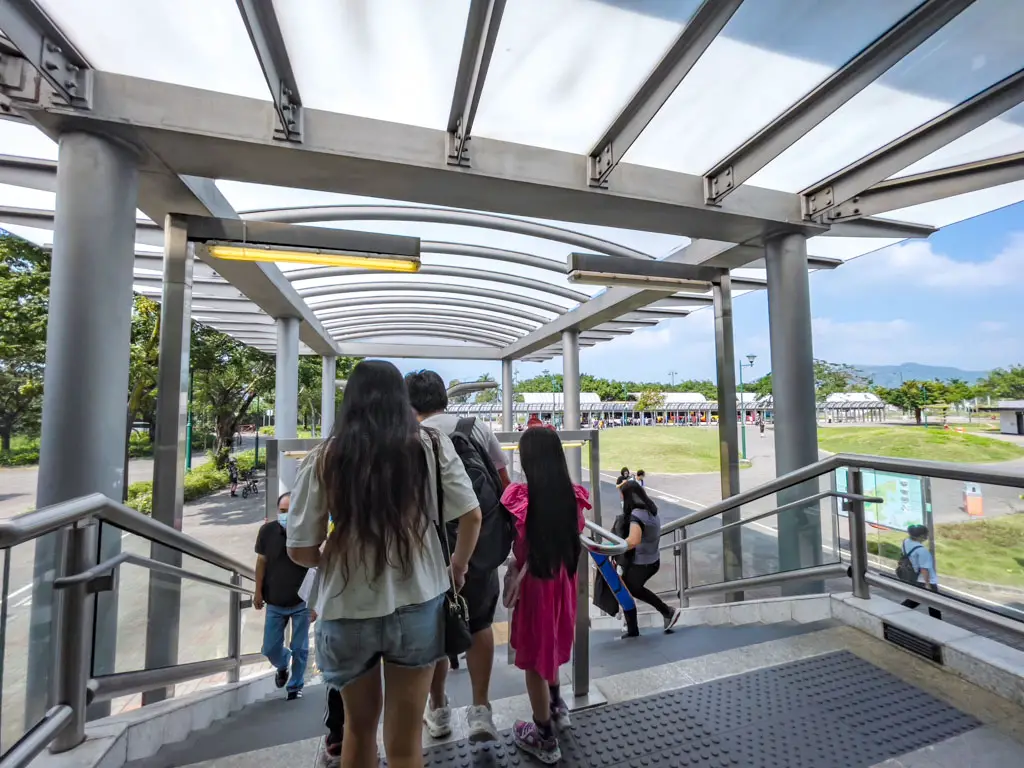 To get to Sunny Bay, you can take the Tung Chung line, which is probably the best way.
Sunny Bay MTR to Easter Island Rock Trail Start
From Sunny Bay MTR to the trail start involves quite a bit of walking on the road, so the hike is not recommended for kids.
From the MTR walk towards the public bathroom and continue down until you see another building. Turn right and then left, following it to the underground tunnel.
The tunnel is quite long, follow the ramp down and then take the stairs up to the main road.
From the main road, turn right, then cross the road.
There is a short stretch of pavement before we ended back up on the main road. There are frequent buses breezing past, so make sure you stick to the edge.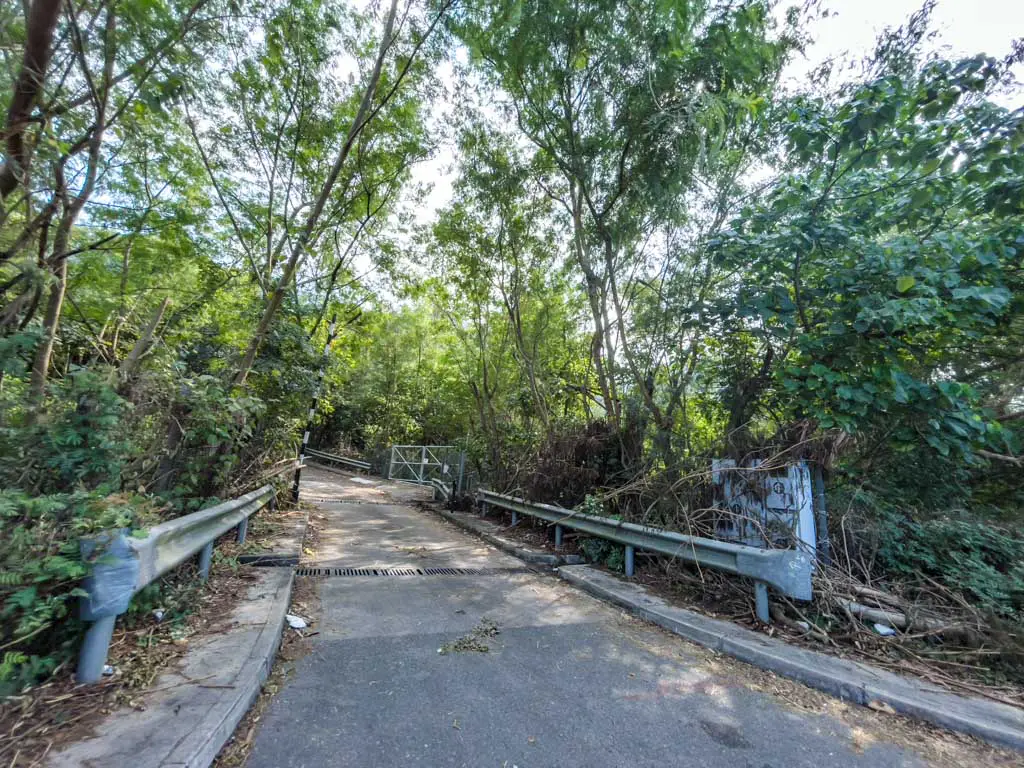 We passed through a tunnel and carried on. Once you see this junction, turn left to go up the road.
The road is a bit steep and we followed it until we reached a bend just before the Sunny Bay Water Storage. This is where the trail starts.
Seeking the Easter Island Rock
Go over the fence and follow the drain up to this point, then take the trail to the right. There should be ribbons to follow.
It's a hike in the jungle but there are red ribbons marking our way, making it easy to follow. And the vines and trees are very pretty.
The Easter Island Rock looks uncanny, and we reached it relatively quickly.
Fun pose idea: pretend to be a dribble from its nose!
Easter Island Rock to Sam Pak Shan
The trail continues in front of Easter Island Rock to the right, and it's a climb up still. As you go up, you can see the view of Sunny Bay behind you!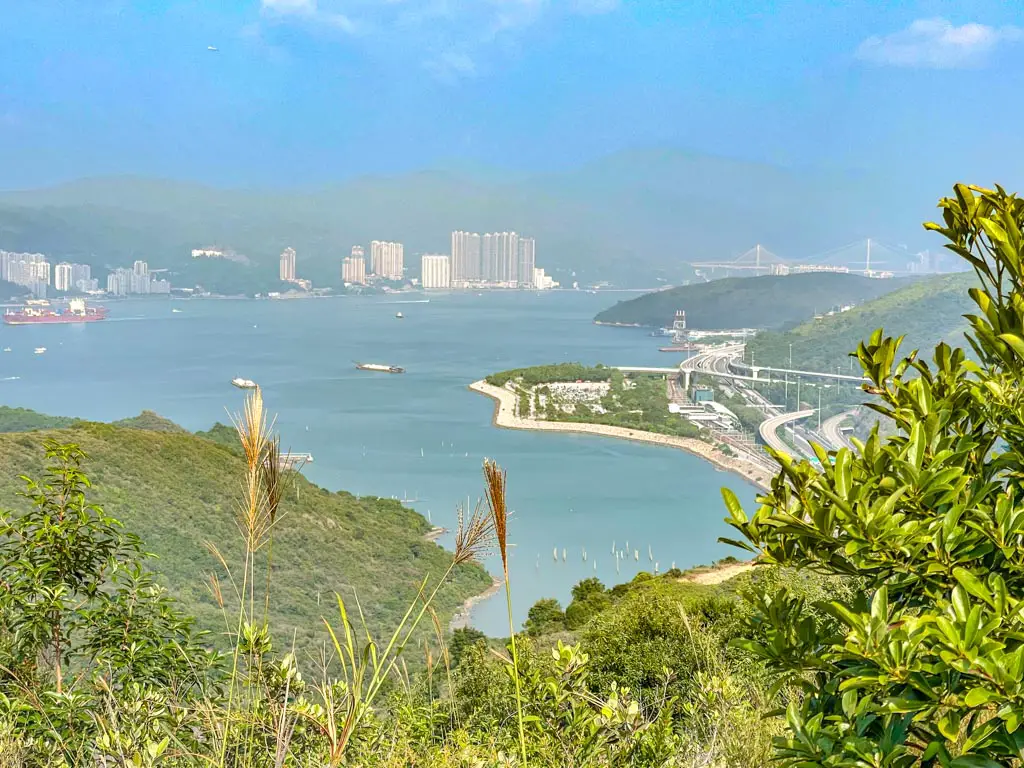 There is a cluster of rocks that can be said to resemble dinosaur eggs. Either way, it's a good landmark to know that you're on the right track.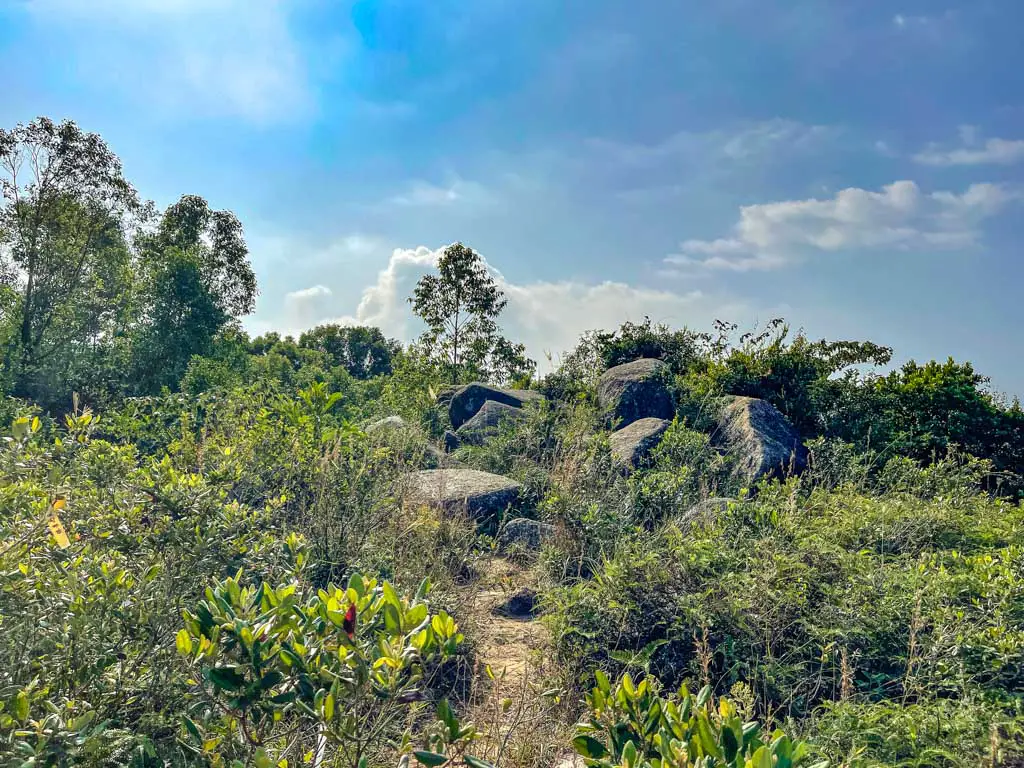 We continued up until we can also see towards Discovery Bay as well. And from there we emerged from the bushes.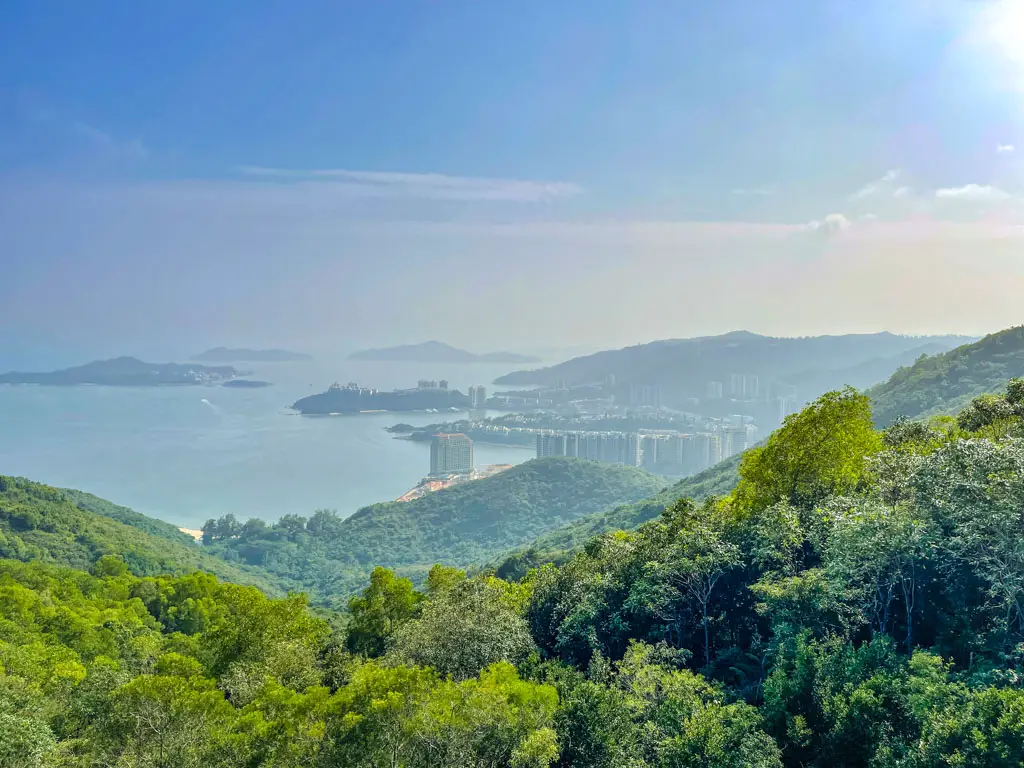 The trail gets easier to follow and then we reach Sam Pak Shan, which stands at 291m high (aka not that high).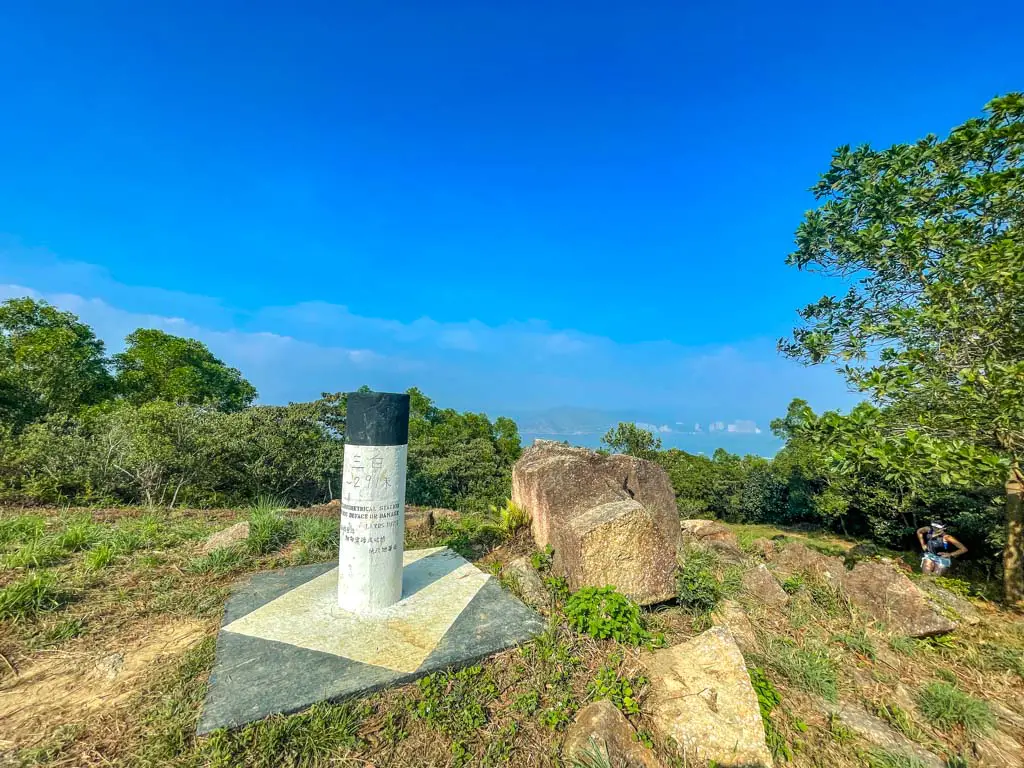 After the summit, it was a mostly flat walk to Tai Che Tung at 302m, with a nearby radio station and helipad.
Tai Che Tung to Yi Pak Au
It was a gentle but then less gentle downhill hike from Tai Che Tung to Yi Pak Au. There are some rocky parts, so good shoes are necessary.
Watch out for Yi Pak Au as the main trail continues towards Lo Fu Tau.
Yi Pak Au to Discovery Bay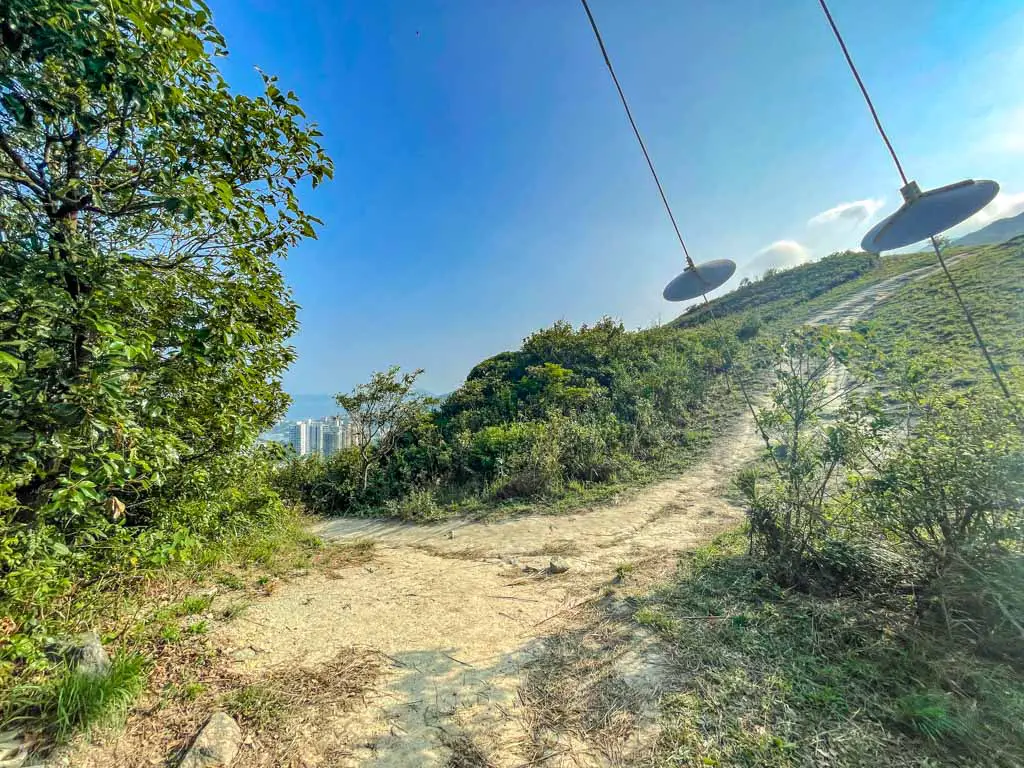 Turn left at Yi Pak Au and follow the trail down. It is a lot steeper and still very rocky.
The trail then goes along a drain then becomes stairs, exiting at the back of Neo Horizon.
Getting out of Discovery Bay
From Neo Horizon, it's a short walk to the DB North (about 15 minutes). There is a bus station across where you can get the bus to Tung Chung to Discovery Bay Pier.