Traveling across Europe by train… it sounds so romantic, but is it really? There are many night trains routes that can take you from one point of Europe to another overnight, so you can wake up in a new city without spending extra on hotel and arriving right in the center.
While I wouldn't call it a romantic journey, it's definitely a more carbon-friendly way to travel and saves you a night of hostel. On my recent 6 weeks trip, I took 3 night train and here's what I've learned:

What routes are available?
There are many night train routes all over Europe, you can find a full list here. You can practically travel across Europe to major cities exclusively via night train! I ended up taking these three routes:
Munich to Venice
Bologna to Vienna (although the train starts in Rome)
Vienna to Krakow (the train ends in Warsaw)
How to book a night train?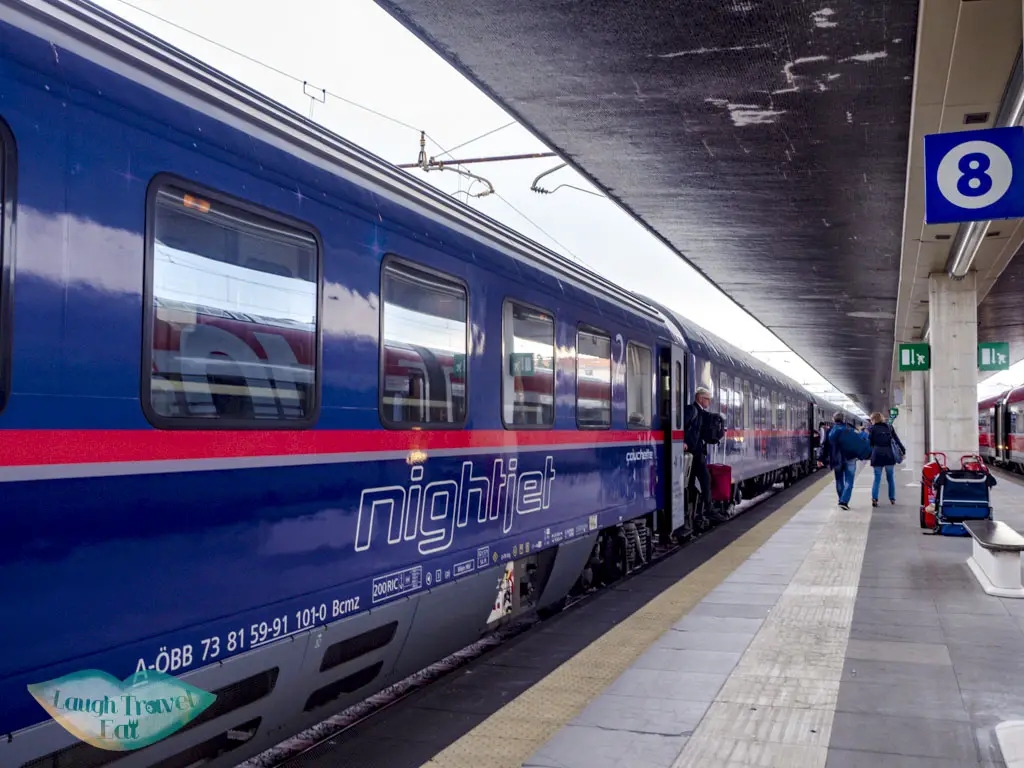 I would suggest booking directly on the service provider's website, especially if you want a particular class or type of seat. All three of the routes that I took are on the OBB line, and I was able to specify what level berth I like. I could also pay with Paypal, so that was pretty handy!

There are usually different types of seats available, from regular second class cabin to first class private cabin with bathroom. It's best to book as early as possible because they do run out of seats early on and the prices increases quickly. In general, this is what you get:

Second class cabin – on the OBB Night Jets these are EuroTrip movie type cabin with two three-seaters facing each other. Not the best unless you are know each other
Couchette – gender separated with six beds, three each side. It's the most economical way to get a flat bed
Sleeper cabin – three bed in a cabin with their own wash basin, all along one wall
Bunk bed private cabin – with own bathroom that has a shower
Single room with shower and bathroom
If you don't want a bed, you can get away with a seat for as little as 20-30 euros if you book in advance.
The cheapest I got for the couchette was 69.90 euros, booked around 2 months before the trip.
Believe me when I say that you definitely should plan ahead as the second overnight train I booked jumped to 89.90 euros when I was deliberating between the dates I want to travel in. And they do sell out.
Is it included in the Eurail Pass?
While it is included in the Eurail Pass, a reservation is needed for most night trains and you probably need to pay an added fee depending on which type of seats you want. It's best to check the individual route as the method of reservation is different.
What's in OBB couchette:
The second class couchette on OBB Nightjet is the most affordable and comfortable way to travel. There are three beds each side, a total of six in a triple bunk. There is only a narrow path between the two sides with a movable ladder in front of a small table.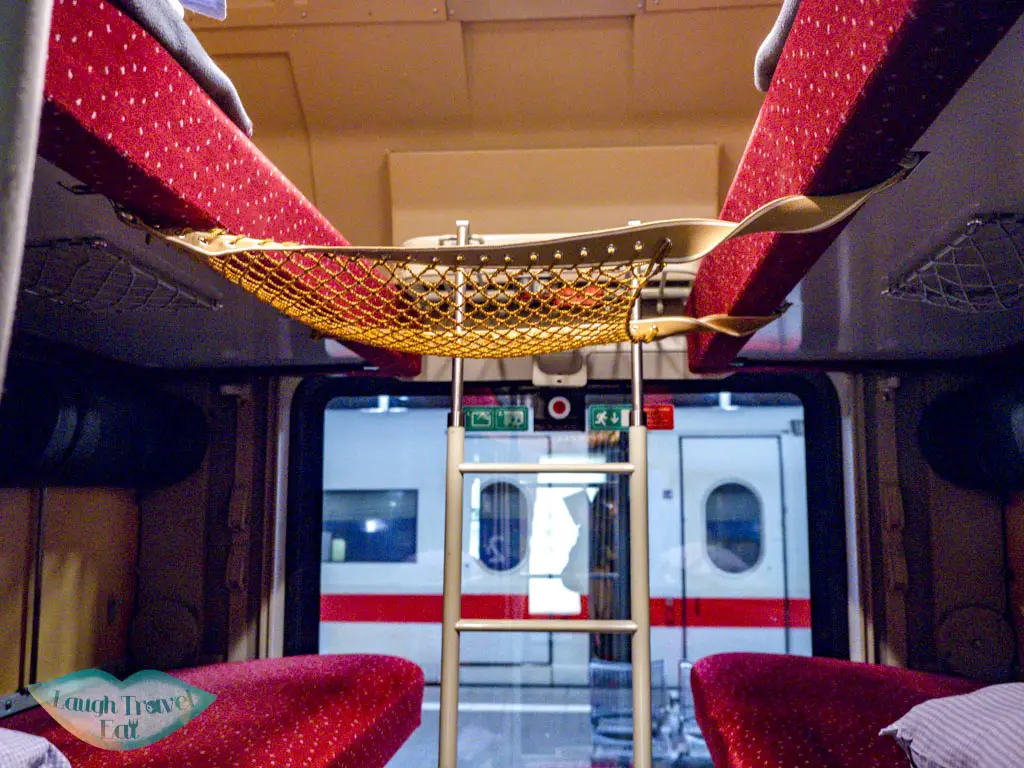 There is a net hanging between the top beds, which can be for storage but perhaps also to help prevent falling as there's no railing – hence I try to request lower bunks.
The space between the beds isn't big enough for you to sit up, so it's pretty much only for laying down. A blanket, sheets, and a pillow (albeit very small) is provided.

What's it like in OBB sleeper cabin:
The sleeper cabin has three beds only, but also a triple bunk. It has more space to store luggage, although that would take up a folded seat in front of the table/wash basin.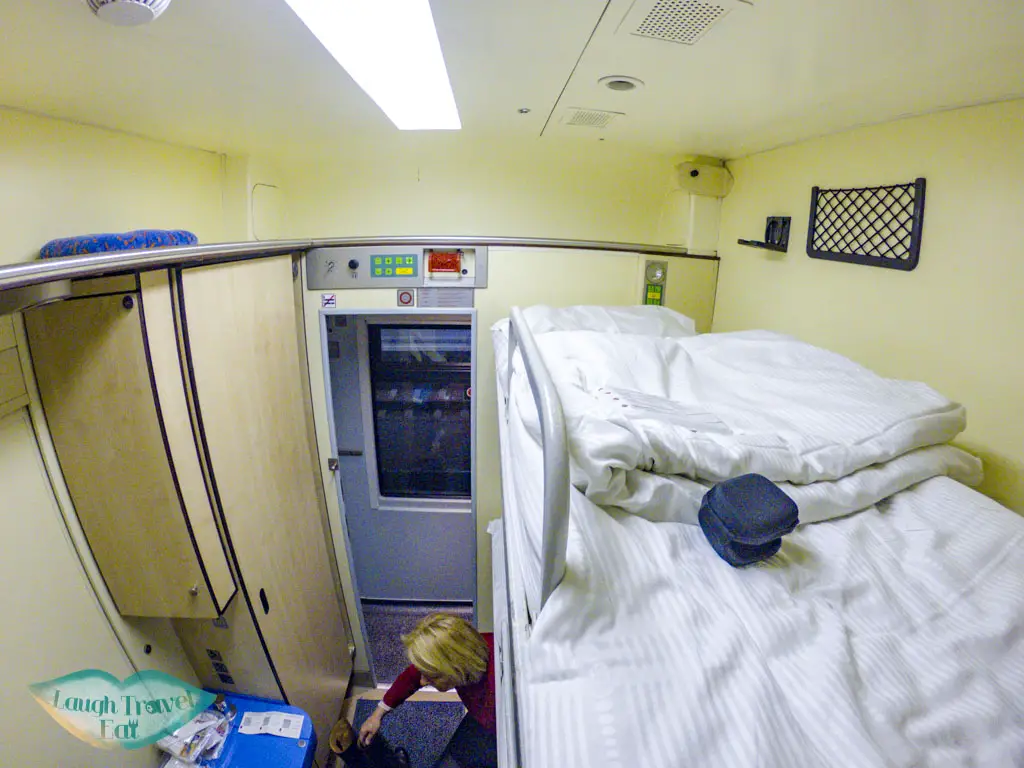 There is no ladder, so it's fortunate that I was able to climb up, if you are older or isn't keen on climbing, this isn't a good option. On the other hand, they have a small railing this time but there's also a gap on the side of the bed that I didn't like.
But the beds are already made, there's a proper pillow and duvet, but it took me a while to figure the bedside light and it wouldn't stay on after the lights are turned off.

Couchette or Sleeper?
Personally, I actually prefer couchette for both value for money and sleeping. The main difference between the two, save for the price and lower density (6 beds vs 3 beds) is the bed itself.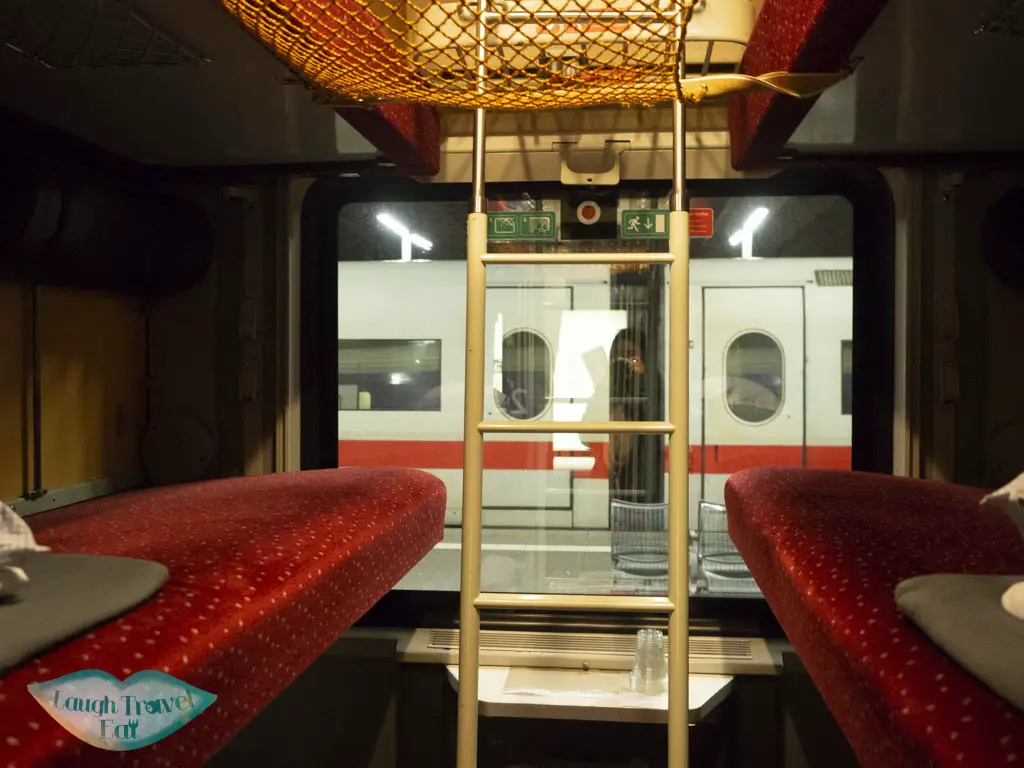 Couchette is a couch seat while sleeper cabins are bed. However, strangely the bed has a giant gap between it and the wall that makes it difficult to put things by the side of bed and to turn.
While the sleeper cabin has a wash basin, the narrow space and the configuration meant that using it is pretty impractical. As you need to flip open the lid, which acts as the table for our breakfast boxes, and the water is almost guaranteed to spray to the lower bunk.

Summary of taking the night train across Europe
What's provided:
For couchettes and sleeper cabin: bed sheets, pillow, blanket or duvet, and breakfast
There's 2 bathrooms per carriage, usually an extra washbasin closet
Pros of night train:
No need to go to the airport and go through security
More environmentally friendly
Save one night of hostel
Cons of night train:
If you have large suitcase, it's not ideal
No shower unless you have a private cabin room
No way to lock your belongings somewhere if you are sharing a cabin with strangers (although personally I didn't have any issues)
Common issues:
Unless you are at the starting station, the train is likely to be late arriving
The train is frequently late so budget in an hour or two extra on arrival
The train often splits direction midway e.g. from Bologna, half the train goes to Munich, the other half to Vienna, so you need to pay attention when you get on
The easiest way to figure out if it is the right train is with the train time
You should definitely print your tickets 
Your carriage and bed number is already on your ticket, you should check it and make sure to get on the right one and find your own bed. I almost got confused and settled in someone else's bunk
Route review
Munich to Venice
As the starting station, it was easy for me to locate my train, which consists of two parts: the first half goes to Vienna and Prague, the second half to Venice. Watch for the sign at the door that declares the carriage's destination and make sure you know your cabin and bed number.

The train arrives at Munich before 11 so giving everyone enough time to get on and find their carriage and seats. Tickets are checked almost immediately after the train starts moving. The staff will also asks for your breakfast preference between tea and coffee. He also informed us that breakfast would be at 7am.

The bed is a little hard but otherwise perfectly comfortable. Since there's a lack of space to put my other bags, I ended up having them all on the bed and it was alright for me, but I'm relatively small so it worked out well.

There are blinds to the window and curtains on the door to keep the lights out. There's a bathroom and two washbasin rooms by the door for the whole carriage. Which did get a bit busy but remains relatively clean.

Breakfast was two rolls with butter and strawberry jam. Tea was lemon green tea. We were asked to fold the blanket and hand in the sheets for the staff.

The arrival time on my ticket says 8:24 but the train didn't get to Venice Santa Lucia until 9ish, so I recommend leaving some buffer time for whatever activities you plan next.

Bologna to Vienna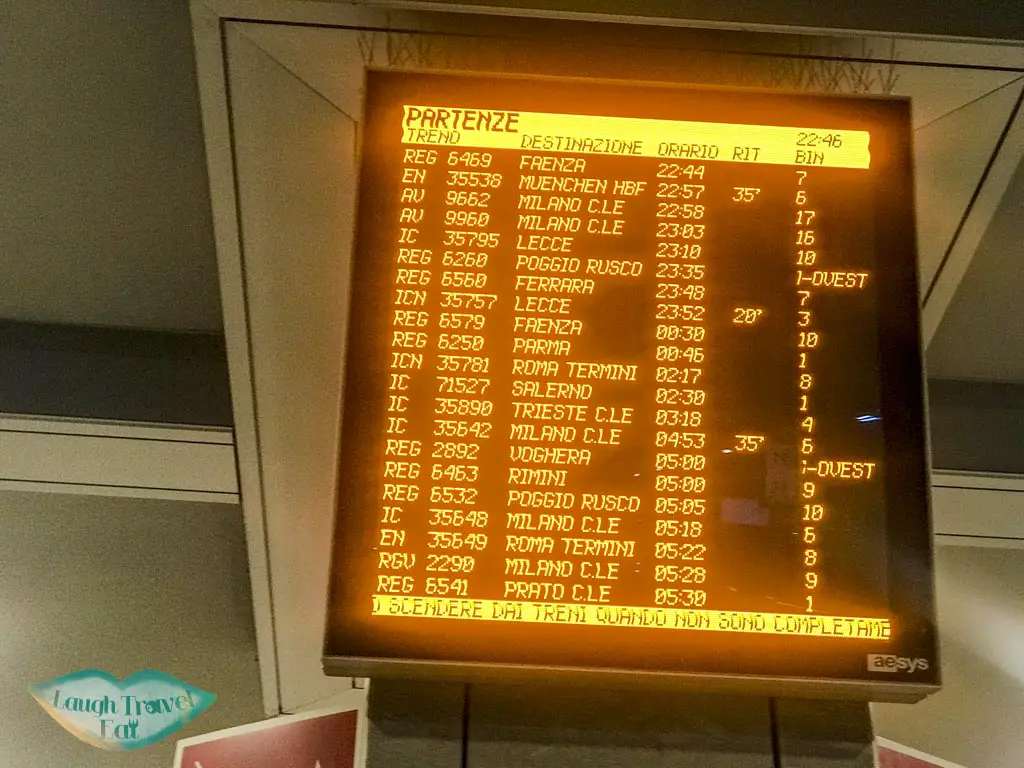 Since I'm getting on in Bologna and not the starting station Rome, the train only has about 5-10 minutes in the station. However, my problem started earlier than that as the train schedule display is different – instead of Vienna, it's to Munich. This is when I realised that most night trains splits to two different destinations.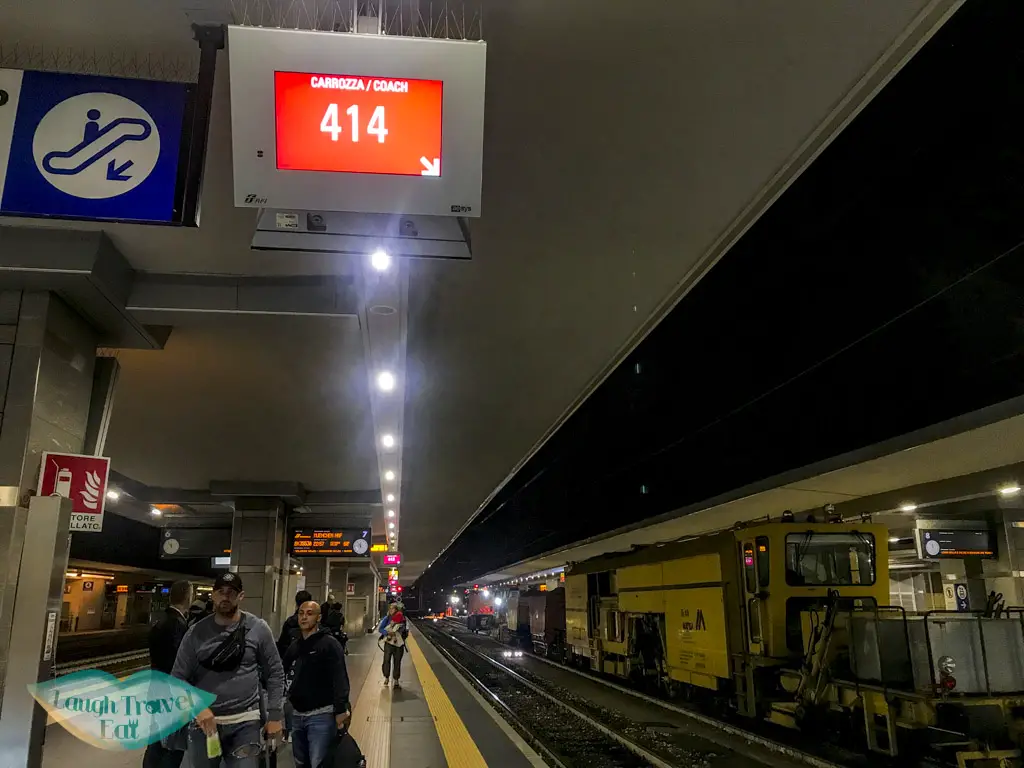 After confirming that it is the right train, I went to the platform and saw that the train is already 35 minutes delay. In the end, it was over an hour late. When I got on and found my cabin, it was almost full and the other ladies already sleeping, so I quietly got ready and went to sleep, too.
The whole journey operated the same as my trip before, though we were very late arriving given the delay in Italy already. We were about two hours late in total, if not more. This cut down on the little time I had in Vienna but I managed to make the most of it.

Vienna to Krakow
The only night train I took that wasn't delayed, Vienna was the starting point for the train as well, so I was able to get on quickly. As I was staying in a three people sleeper cabin this time, it's much more spacious.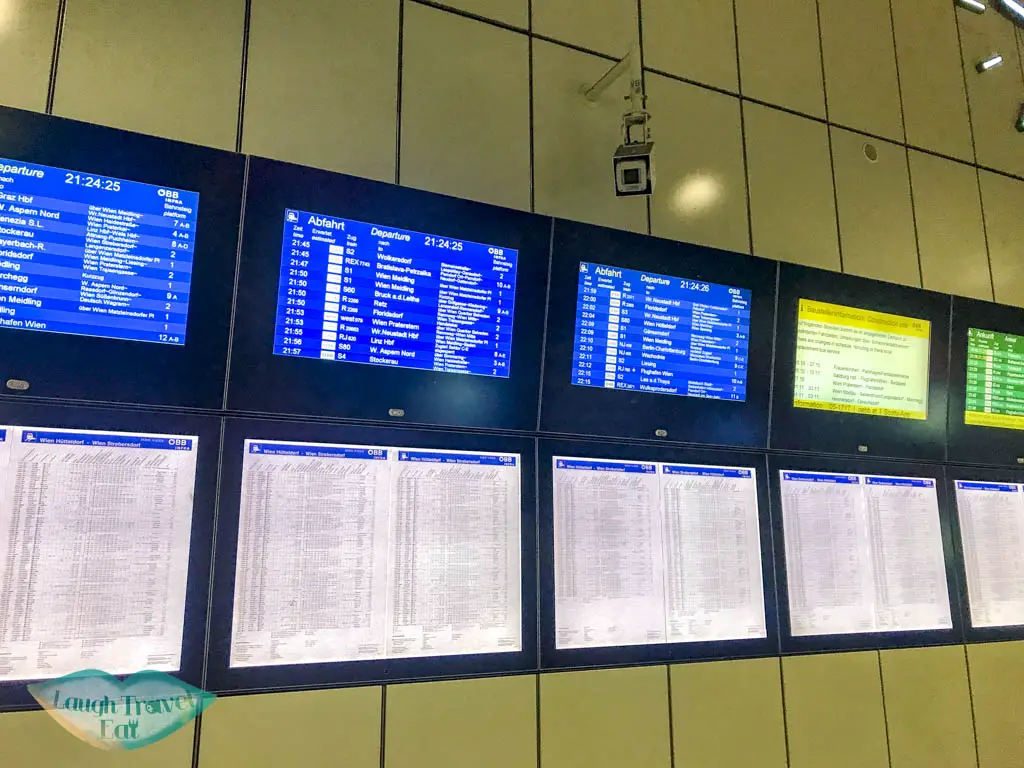 This time, I wasn't getting off at the end stop and the carriage staff woke us up with breakfast about 30-40 minutes before we pulled in. I arrived before 7, and it was an easy walk to my hostel in Krakow.