Last updated on March 1st, 2019 at 08:37 pm
 Edinburgh is a beautiful historic city rich both in culture and history. As the capital of Scotland, there are no questions that it is the busiest hub in Scotland and makes for a perfect weekend trip for those living in the UK. A mere 5 hours train ride from London and a short flight to many different locations in Europe, it's a great place for a stopover as well.
>Psst – if you are a Harry Potter fan, then I've got this guide to Edinburgh's HP spots for you!
Old Town of Edinburgh
The Old Town of Edinburgh refers to the oldest part of the city, and the most prominent road is the Royal Mile running from Edinburgh Castle down to Holyrood Palace, and it's certainly easiest to explore the Old Town by going down the Royal Mile.
Edinburgh Castle
Edinburgh Castle is situated on the Castle Rock, and can be view in the skyline from around Edinburgh. The Castle Rock was formed by the ice movement from the last Ice Age, with the resistant volcanic rock on the steep side protecting the softer sedimentary rock behind, resulting in the craig and tail formation (steep cliff on one side, gentle slope down on the other).
The fortress we see today mostly date back to the 16th Century (except for St. Margaret's Chapel), but Royal residency can be traced back as far as the 12th Century.
Address: Castlehill, Edinburgh EH1 2NG, United Kingdom
Opening times: Daily 9:30 – 18:00
Admission fee: Adults £16.50, Concession £13.20, under 15 £9.90
St Gile's Cathedral
Dedicated to St. Giles who is the patron saint of Edinburgh and played an important role in Scotland's religious history.
Address:High St, Edinburgh, Midlothian EH1 1RE, United Kingdom
Opening times: Mon – Fri 9:00 – 19:00; Sat: 9:00 – 17:00; Sun: 13:00 – 17:00
Admission free
There are a lot of photogenic buildings and side street along the Royal Mile, so take your time wandering down this street and take lots of photos!
Holyrood Palace
Holyrood Palace sits at the end of Royal Mile, and is the official home of the British monarch in Scotland (and the Scottish monarch before that). The palace dated back to the 17th Century, with notable residents such as Mary, Queen of Scott.
Tickets to the palace cost 12 pounds, and includes entry to the ruins of Holyrood Abbey.
Don't forget to check out the Scottish Parliament Building on your way to Holyrood!
Address: Canongate, Edinburgh EH8 8DX, United Kingdom
Opening times: Daily 9:30 – 18:00
Admission: Adults £12, Concession £11, under 17 £7.20
New Town of Edinburgh
The new town was completed in the 1820, and designed by James Craig, who was only 26 when he won the competition for New Town's design. It was proposed due to overcrowding in the Old Town part of Edinburgh, and the smell and diseases associated with over crowdedness was driving the worthy away.
I won't go into details with the sights around New Town (as there are quite a few). Edinburgh has done a good job with tourist information, and there's information board on almost every street and crossing to point you in the right direction. Notable sights I recommend are the Scottish National Gallery and Calton Hill.
Scottish National Gallery
I am not an art lover, but I think it's worthwhile to head to the Scottish National Gallery, especially if the weather turns sour or it's too bitterly cold outside. The building itself is very artful itself, and housed arts from the Renaissance up to the 20th Century.
Address: The Mound, Edinburgh EH2 2EL, United Kingdom
Opening times: Fri – Weds: 10:00 – 17:00; Thurs: 10:00 – 19:00
Admission free
Calton Hill
If you google pictures of Edinburgh, one of them would definitely include this classic shoot from the Calton Hill (see below). It offers an excellent vantage point to admire Princes Street, as well as Arthur's Seat and Edinburgh Castle.
Edinburgh Seaside
The main attraction by the sea is the Royal Yacht Britannia, and you can get from Edinburgh centre to the yacht by taking the bus (Bus 22, 11 and 35 all goes to the Ocean Terminal, which is where you need to get off).
I didn't pre-book tickets as I went during low season, but it is advisable to pre-book tickets during the high season to avoid the queue.
The Yacht provides an interesting insight into the lives of the Royal Family, so for those who love the Queen, I definitely recommend a visit! An audio guide is provided with the purchase of a ticket, and provides detailed information throughout the whole visit.
Address: Ocean Dr, Edinburgh EH6 6JJ, United Kingdom
Opening times: 9:30 – 16:30
Admission: Adults £15, Concession £13.50, under 17 £8.50, under 5 free
Edinburgh Ghost Tour
Because I was a naïve girl who believed that I am not scared of anything, I signed up for the Double Dead Walking Tour with the City of the Dead, even though I was traveling solo. Luckily I met another girl who also signed up solo so we stuck together for the whole trip.
The Double Dead Walking Tour includes two part (hence Double Dead), and includes two of the most haunted location in Edinburgh. First, you get to visit the South Bridge Vaults (they have a key and we do go deep within the bridge!). This is followed by the , so haunted that the authority put in a gate to safe guard the publics against the area.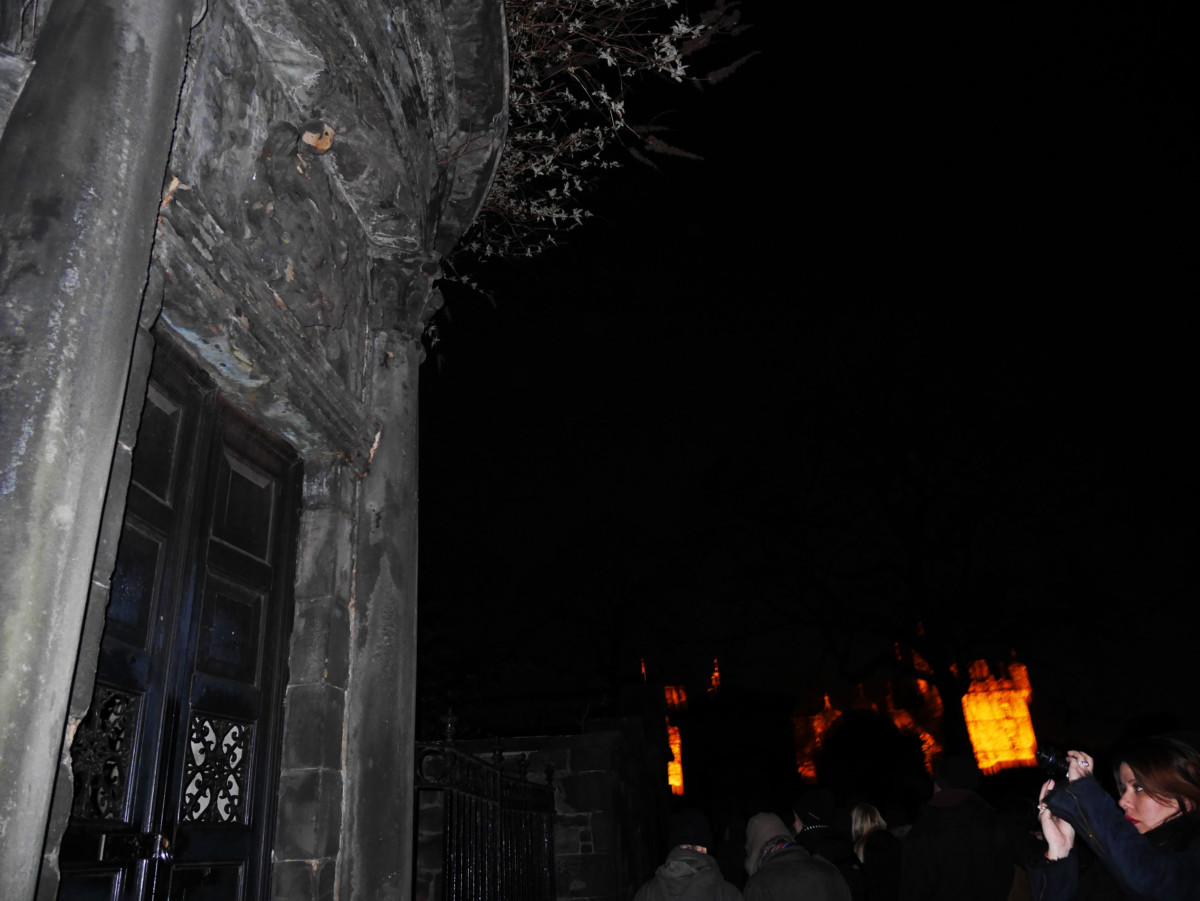 You can either purchase the tickets online or at the ticket booth outside St Giles' Cathedral on the Royal Mile.
Arthur's Seat
Edinburgh's geological history gave rise to two distinctive features: the Castle Rock we talked about earlier on, and Arthur's Seat. Arthur's Seat is what's remain of a volcano more than 251 million years ago, and its present shape is due to erosion by glacier from the last ice age.
One thing I love about Arthur's seat is its proximity to the city, offering an easy choice for people who wants to escape into nature for a while. Follow the Royal Mile to Holyrood Palace and you will be at the foot of Arthur's Seat.
Hutton section
For the geologist out there, Arthur's seat is where the famous Hutton Section is. Nowadays we know that igneous rocks form from molten rock cooling, but back in the 18th Century, the consent was that they precipitate out of water. Hutton Section shows clear penetration of granite into pre-existing rocks, and contribute to Hutton's belief in what we now know as the truth today.
Breakfast place in Edinburgh
Hula Juice Bar and Gallery
Since I was visiting Edinburgh during the winter, I wanted a hearty breakfast to start off my day. Hula Juice Bar and Gallery is closed to the hostel I am staying, nestled in the beautiful Victoria Street (which is JK Rowling's inspiration for Diagon Alley!), its bright shop front is hard to miss.
I went twice within my 4 days in Edinburgh for breakfast, and my go-to combo is the pesto chicken and sun-dried tomato bagel and a carrot juice (6.75 and 2.75 pounds respectively). They are also vegetarian and vegan-friendly!
Address: 103-105 W Bow, Edinburgh EH1 2JP, United Kingdom
Opening times: Daily 8:00 – 18:00
Clarinda's Tearoom
Now one simply cannot go to Scotland without trying the Scottish breakfast! There are a lot of restaurants and cafes offering traditional Scottish breakfast. I went to Clarinda's Tearoom at the end because of its cute interior decoration, and its proximity to Arthur's Seat and Holyrood Palace (where I went for a walk in the morning!).
Address:  69 Canongate, Edinburgh EH8 8BS, United Kingdom
Opening times: 10:00 – 16:30
Accommodation in Edinburgh
I stayed at the Castle Rock Hostel*, which is just a staircase (albeit a bit steep) from the Edinburgh Castle, and close to Victoria Road and King's road. This is a great budget option and also allow you to meet fellow travelers, and the location is also extremely convenient.
I stayed in the female dorm for 12, which is always a great option for solo female travelers. One thing I do have to say is that your experience will vary greatly depending on your roommates- of the 3 nights I stayed there, there was a few inconsiderate girls who thought it's okay to talk and pack loudly when people are sleeping.
*(this is an affiliate link: if you buy through this I will get a % of the sale at NO COST to you)