Da nang to Hue is a popular route for many and for good reasons. Hue was the capital of the last dynasty in Vietnam while Da nang is the largest city in central Vietnam and is also home to an international airport. There are many ways to navigate this two hour journey (but probably longer as this is Vietnam), especially with the famous Hai Van Pass between, which offers a spectacular view of the coast. Here are some options for you, no matter your budget:
Hai Van Pass
The Hai Van Pass is a stretch of 21 km scenic coastline road that straddles the Bach Ma National Park. it was also the historic natural boundary between the Dai Viet (Vietnam) and Champa Kingdom (historic relics include My Son Sanctuary). The best way to experience it is by taking the actual pass, although you can also see the view if you take the train. Note that some buses or private car options forego Hai Van Pass and take the tunnel instead, but that would make it faster.

RoadTrippers Vietnam
I was hosted by RoadTrippers Vietnam but all opinions are my own

Nam
To fully enjoy the scenery of Hai Van Pass and make the best out of this commute, join RoadTrippers Vietnam on a Jeep tour. The trip technically starts from Hoi An to Hue (or the other way around), but you can contact them regarding pick up/drop off in Danang.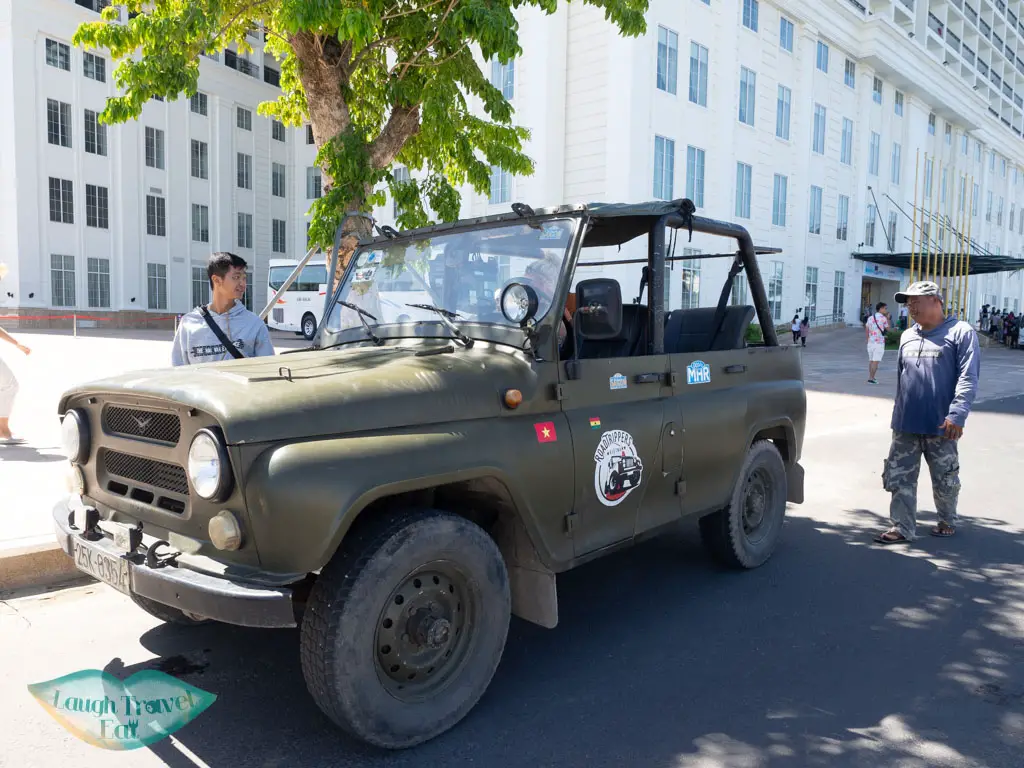 While some would suggest doing it on motorbike, I took a bus through Hai Van Pass before and the roads are steep, full of big vehicles, and steep, so I think an open top Jeep is a much nicer alternative.
There were only two of us on my trip. I contacted them beforehand and arranged to be picked up at my hotel in Danang.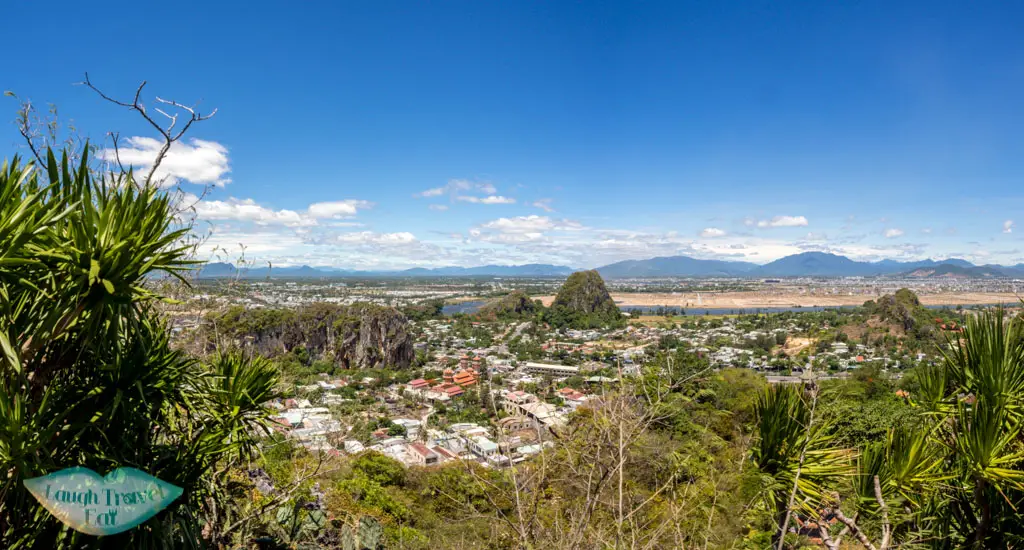 I took the tour from Danang to Hue, and before they get to me they stopped by Marble Mountain. The stops are flexible and the Jeep picked me up at 9:30 as opposed to 10 since they skipped the Marble Mountain.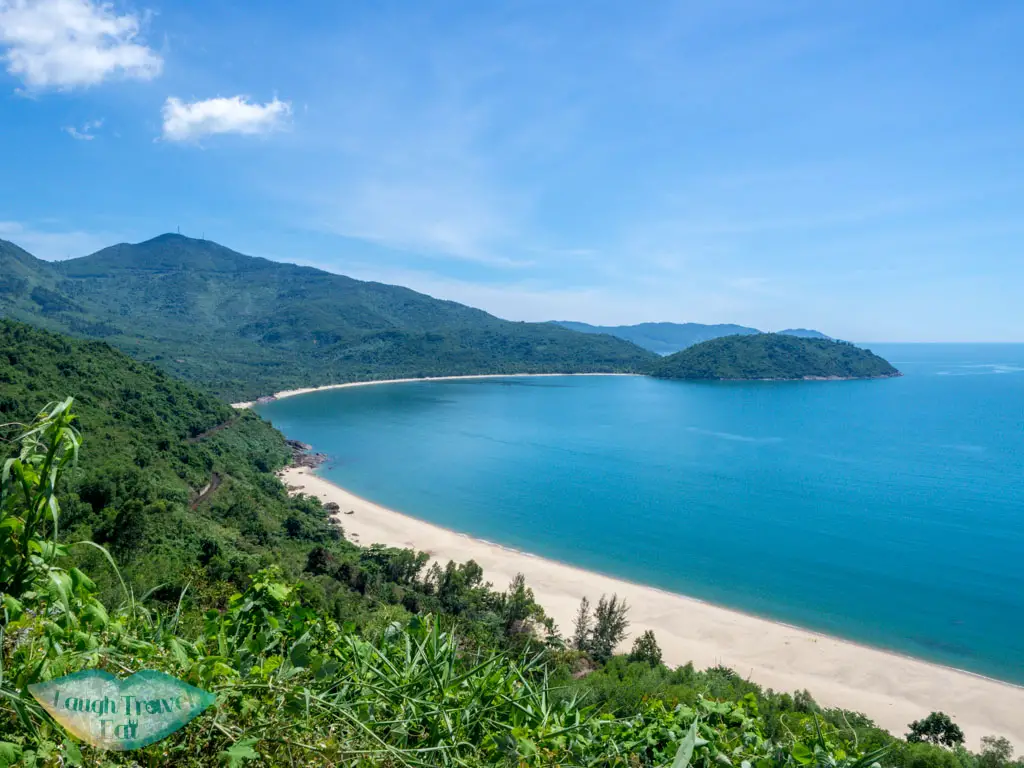 There was only me and another girl that day and It was almost like a private tour! We first stopped by two viewpoints along Hai Van Pass, the first one shows the beautiful beaches and the next – turtle rock – is the perfect view point of Da nang. We had a drink there (at our own cost) before driving down the windy roads.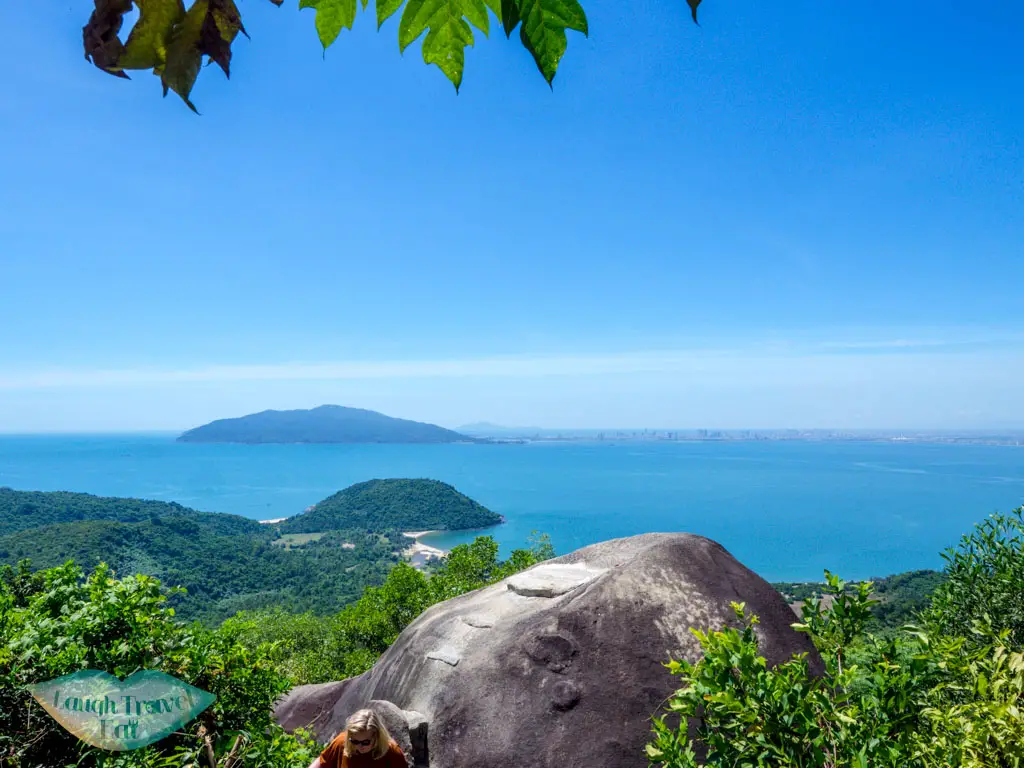 I honestly enjoyed the Jeep because otherwise I probably will be playing on my phone. That said, it can get really sunny. If you burn easily, it's best to wear a cover up and reapply sunscreen.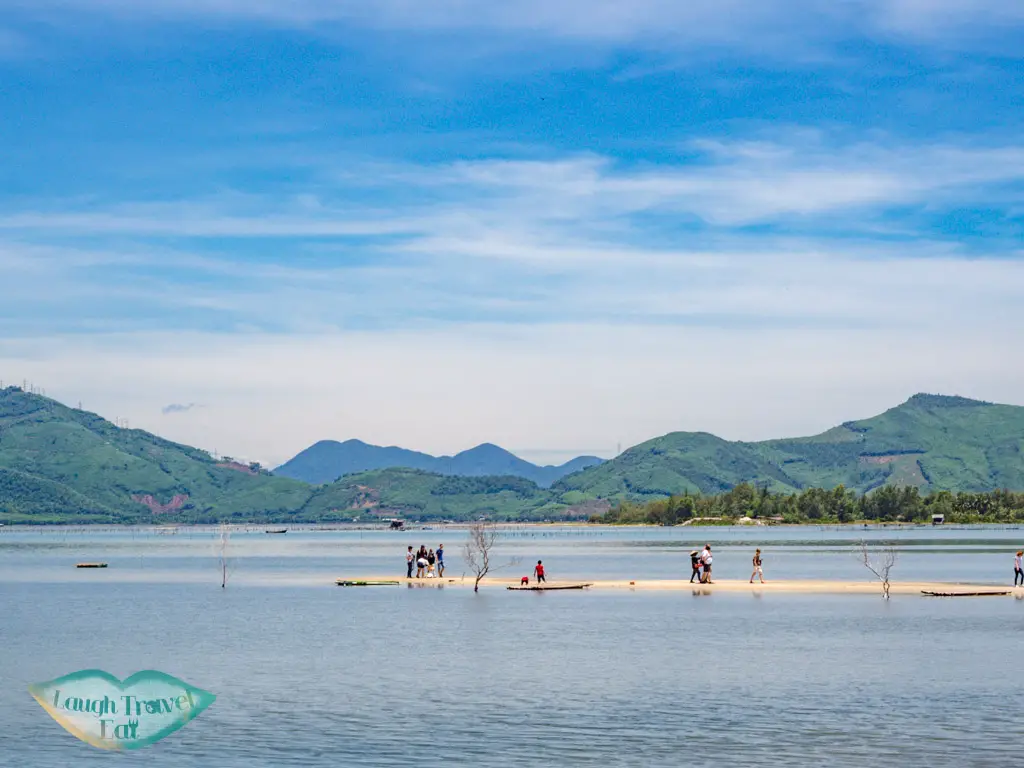 After the Hai Van Pass stop it was straight to our lunch spot at a local seaside restaurant in Lang Co. This area is home to some of the most pristine beaches in Vietnam and the sand are surreal. But it was still pretty warm! We had a few choices for lunch, mainly between seafood or vegetable fried rice or noodles. It wasn't amazing but not too bad either.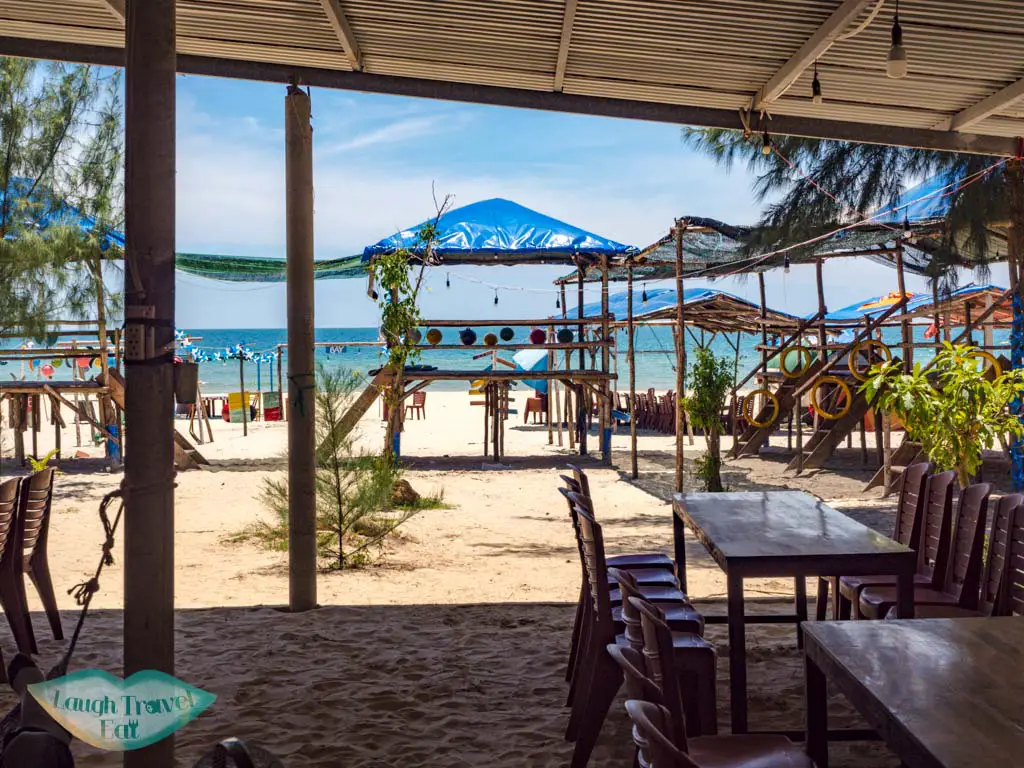 It was here that we ran into people going the opposite way – there were two Jeep of them, so seemingly more were going the reverse route?
There is a changing room and bathroom at the restaurant. We spent about an hour there and then went on our way. We passed through big roads and country lanes, seeing rice paddies, roadside shops, and villages, giving us a glimpse of Vietnamese countryside life.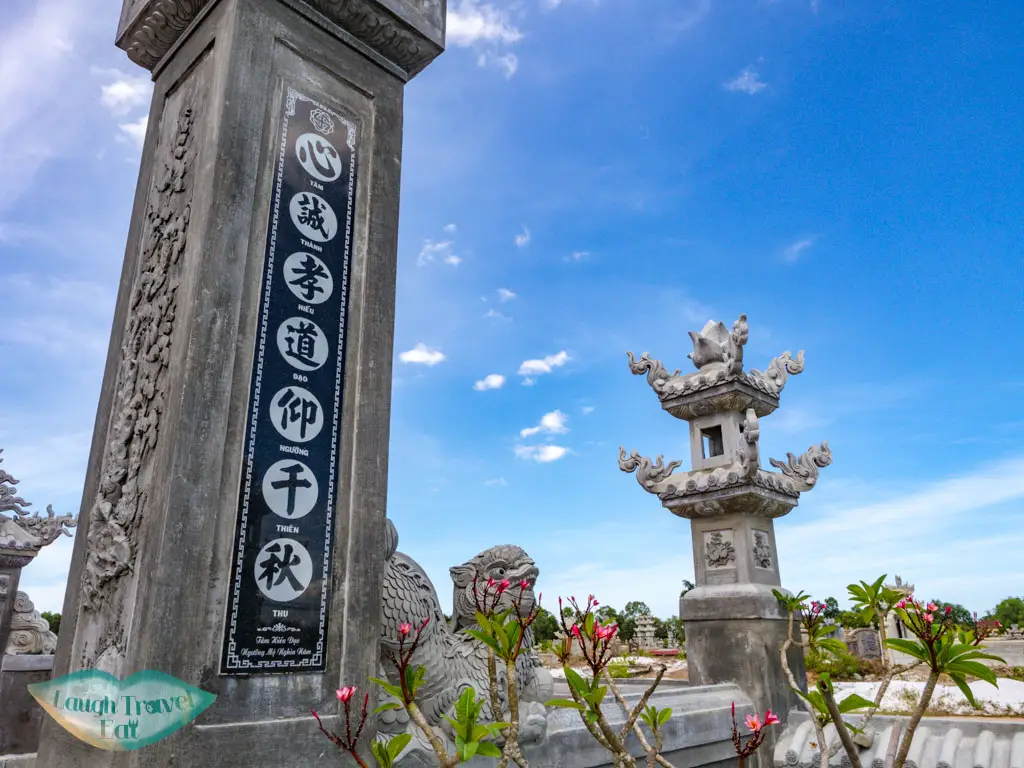 Our final stop is at a Vietnamese cemetery. According to our CEO (chief entertainment officer), there are plenty of land in Vietnam and people can be buried anywhere. The graves are ornate, bearing some similarity to Chinese mountain graves but more like mausoleum. It's a dedication to one's family and can cost as much as 11,000 USD.
After the last stop, we were dropped off at our hostel in Hue. We arrived at around 2pm, a little earlier than expected but it gives us time to explore the city in the afternoon! The luggage was stored at the back of the van and it might not be the best way to travel if you have large luggage. Contact them and see whether they can accommodate it on your date.

Motorbike yourself
If you are comfortable on a motorbike then self-driving the Hai Van Pass is definitely an option. There are also companies that can take you across but again, your luggage count would be limited.
Note: I've heard that they can arrange to strap your luggage (even big ones) on and transport, too.
Bus from Da Nang to Hue
There are numerous tourist buses that runs between Da Nang and Hue. We actually took one tour from Hue all the way to Hoi An by TNT tour, which stopped at Lang Co Beach, Thanh Toan Tile-roof bridge, Hai Van Pass, and the Marble Mountain. It only costs 12 USD and the van wasn't packed to the brim, which made it enjoyable (note that my experience was back in 2016 and things can be different).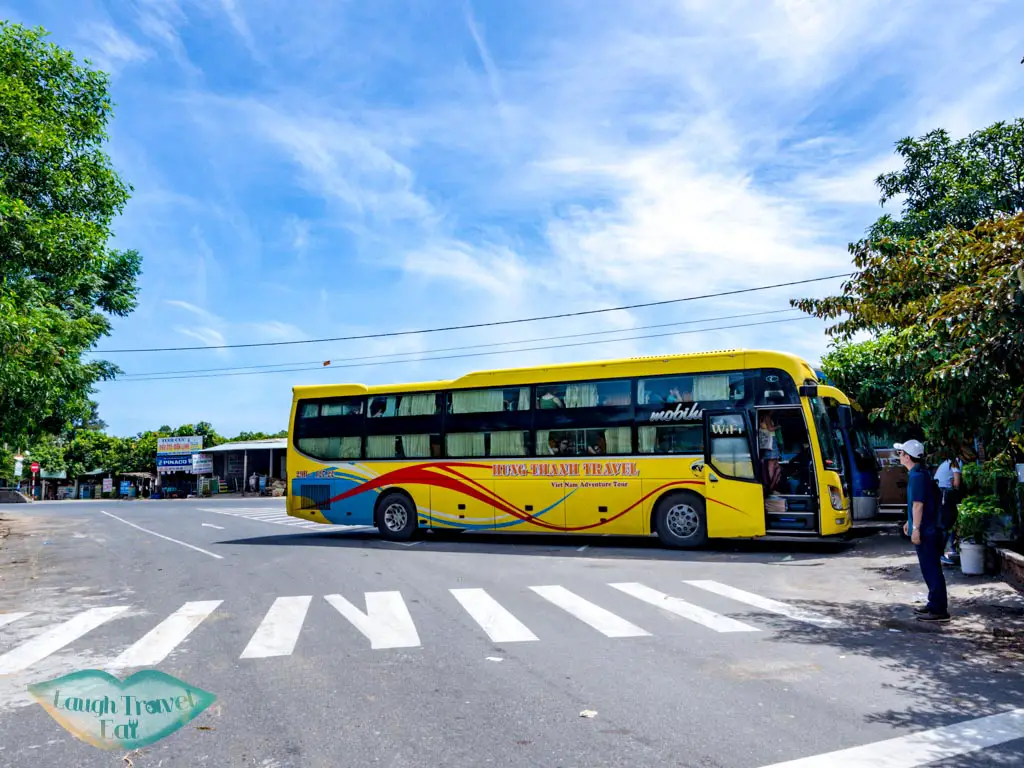 Direct options are available such as a shared limousine that takes you from Hue or Danang to your hotel. However, you'll have to make your own way to the departure point in your departure city, but it is only ~8 USD. You can also use the above price point as pointer and ask your hotel/hostel to arrange transport for you. Their schedule is below:
Da Nang to Hue route: 7:00am, 10:00am, 12:00pm, 2:00pm, 4:00pm, and 6:00pm
Hue to Da Nang route: 7:00am, 8:00am, 8:30am, 11:30am, 1:30pm, 3:30pm and 6:00pm
In terms of buses, there are usually one morning and one afternoon departure at around 9am and 2pm. Be sure to inquire which bus you get on as many report unfavourable experience on Hung Thanh Bus. Here are two that are good:

The Sinh Tourist: 9:15 am or 14:30 (~130 000 VND)
Da Nang bus stop: 16, 3 Thang 2, Thuan Phuoc, Hai Chau, Đà Nẵng
Hue bus stop: 38 Chu Văn An, Phú Hội, Huế
Hanh Cafe: 9:00 or 14:30 pm  (~110 000 VND)
Da Nang bus stop: 1133 Ngô Quyền, Sơn Trà, Đà Nẵng
Hue bus stop: 28 Chu Văn An, Huế, Tỉnh Thừa Thiên – Huế
Note: I'd personally either take the TNT bus or the Limousine. I booked through my hostel for around 140k dong. The night bus logistic arrangement was horrific and the 2 hour journey took 4+ hours. I was dropped off at a random street in Danang so you might as well take the train or Limo.
Train from Da Nang to Hue
There are 4 trains per day between the two cities and you can check the schedule on Vietnam Railways website. I won't recommend buying on the official site as the prices are somehow grossly inflated. If time permits, you can purchase tickets at the station, however, to avoid the train time of your choosing being sold out you can also get it on 12GoAsia.
There are different prices for different seating options, here's a quick overview from cheap to expensive:
Hard seat no air con
Soft seat with air con
Hard bench with air con
Soft bench with air con
Sleeper options (4 or 6)
Da Nang railway station address : 791 Hai Phong street , Thanh Khe  District , Da Nang City
Hue railway station address : 2 Bui Thi Xuan Street, Hue City, Thua Thien Hue Province

Private Car
My friends and I needed to travel from Da Nang airport to Hue on our arrival date and back in 2016 there were limited options and information. Private car was our only option and truth be told, it wasn't that expensive, particularly if there are a few of you to share. Our journey back in 2016 was done by booking with Hue Private Car but honestly Klook has made it so much easier to book and not have to pay in local currency.