As the capital of Vietnam, there are plenty of things to do in Hanoi and even more places to visit in Hanoi. Hanoi is a vibrant city and an important one throughout the history of Vietnam. With chaotic traffic, Chinese communal houses, and beautiful French colonial buildings, there is much to love about Hanoi and much to see.
If you are wondering what to do in Hanoi or Hanoi photography spots, then you're in the right place.
>If you are looking for a food guide, I've got you covered, too!
Hanoi Guide and Essential Information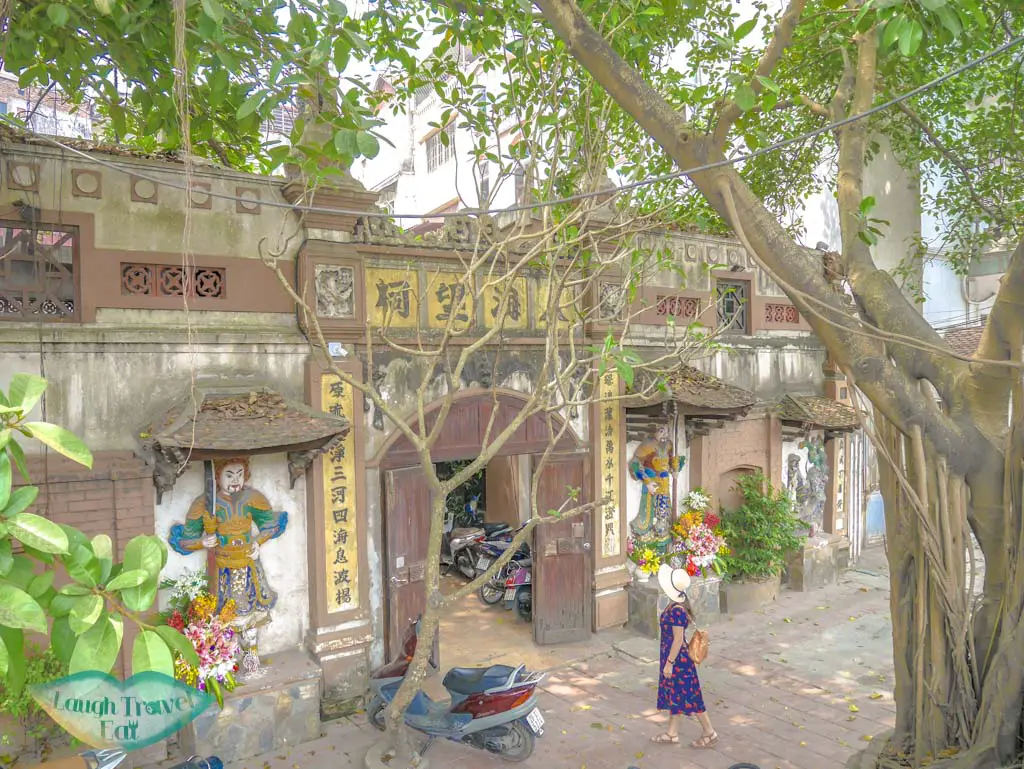 Hanoi is a big hub and even though I've visited before, going back after a few years was still a fresh shock. Here is some essential information on Hanoi to make sure you're well prepared for your visit.
For a more comprehensive guide, check out my Vietnam survival guide.
Best time to visit Hanoi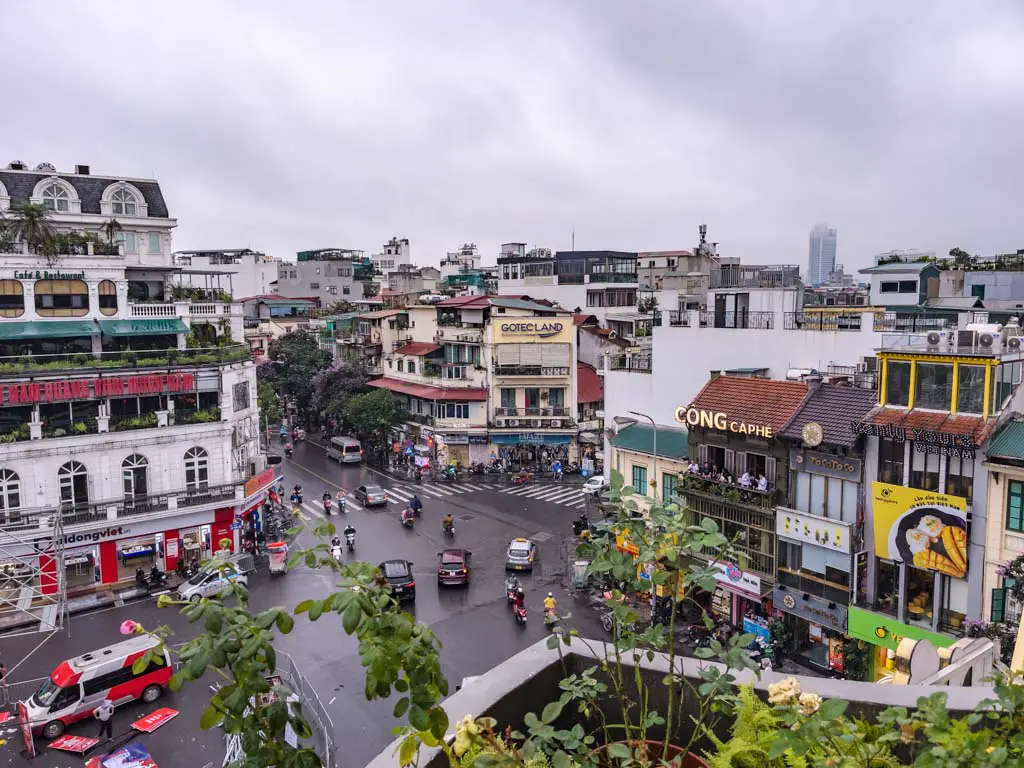 It's great to visit Hanoi year-round with amazing street food and architecture. But it's probably better to avoid the rainy season as it can be unpleasant to be in the rain.
The official rainy season is from June to October, although it can get pretty humid and rainy from April onwards. 
How many days do I need in Hanoi?
You can spend weeks in Hanoi and still find plenty of things to do – mostly to do with eating, of course. Even if you are short on time, I recommend spending 3 days in Hanoi so you have time to eat, sightsee, and enjoy an egg coffee.
Is Hanoi safe for Tourists?
Yes, Hanoi is safe for tourist! Unlike Saigon (HCMC), there are minimum cases of motorbike snatching. Just be aware of general scams and tourist traps, and you'll be fine.
The most immediate danger is crossing the road. The pavement is generally used as motorbike parking spot or an extension of a cafe or restaurant. Just keep your pace steady and listen for beeping from drivers who don't want to avoid you.
How do you get around Hanoi?

The key is to avoid cars, but motorcycles will avoid you as long as you maintain a constant speed. For other means of transportation, there's really only Grab left. You should get the app for Vietnam if you haven't already. A ride from one place to another within proximity of the Old Town should cost around 25,000 dong.
The fastest method is really Grab bike, but it can be daunting for those who've never say ok the back of one before.
Helmets are provided for the passenger and here are some tips on using Grab in Southeast Asia.
Hanoi airport to old quarter
Your hostel or hotel is likely to be able to book you a taxi around 15 to 20 USD, but you can also use Grab or Uber to book a taxi to your accommodation directly. It would likely to be cheaper that way and there are numerous drivers waiting around the lobby that asks you to use Grab to hire them! So that might be a good alternative.
My grab taxi from airport to the old city was 380,000 Dong. But on my way to the airport, I booked through my hotel Golden Moon Suites and it was only 250,000 dongs.
26

Best Things to Do in Hanoi Vietnam
There are so many places to visit in Hanoi. From the essential tourist sights and some off the beaten path things to do in Hanoi, here are 26:
Hoan Kiem Lake
At the center of Old Town and Hanoi, Hoan Kiem Lake is without a doubt the heart of Hanoi. The most iconic spot in Hanoi, the lake itself is not very big, but according to the legends, it is where the turtle god appears and is home to a unique specie of large softshell turtles.
It is said that Emperor Le Loi was given a sword by a turtle god in the lake, previous named 'Green Lake', and was able to defeat the Ming army. The turtle god came back to him when he was out boating, asking for the return of the sword and thus the name Hoan Kiem (returning sword) became the name of the lake.
Ngoc Son Pagoda
Ngoc Son Pagoda, or the Ngoc Son Temple, is a place of worship in the middle of the lake. It houses the Turtle Tower where the body of the turtle from the legend of the Hoan Kiem Lake is kept. It's a popular spot for locals and tourists alike and the red bridge that links to the island is a great photospot. There is also a more established one that you can visit on the Jade Island near the northern shore.
Tran Quoc Pagoda
Tran Quoc Pagoda is another frequently used landmark used to depict Hanoi. With its yellow entrance and tall red Pagoda, it's also a major photography attraction.
Located on the Kim Ngu islet on Tay Ho (the west lake), it is a Buddhist temple and the oldest of its kind in Hanoi. Built during the Ly Dynasty in the 6th century, you can find many traditional Chinese characters around the temple.
The pagoda was originally named 'Starting Realm' temple, then 'Pacification of the Realm" and "Guardian of the North', with its current name means 'Stabilising and holding the Realm'.
There are two parts to the temple once inside the entrance. The big pagoda is the resting place for the ashes of monks, and the main part of the temple is at the back along with the Bodhi tree. The tree grew from a branch from the original where Buddha reached enlightenment, a gift from the visiting India Prime Minister in 1959.
Address: Thanh Niên, Yên Phụ, Ba Đình, Hà Nội 100000
Opening times: closed on Sunday
No Admission fee
Thang Long Citadel
While the capital of the last dynasty in Vietnam is in Hue, Hanoi was actually the seat of power before the Nguyen moved south. Thang Long means 'rising dragon', a majestic citadel built by the Ly Dynasty in the early 11th century and in used until 1810. However, much of it was destroyed during the French Occupation, and only a few gates and buildings are left standing.
The citadel was declared a UNESCO's World Heritage Site in 2010, and is now a popular photography spot for local students. The excavation of the citadel is ongoing, but currently, you can only visit a few spots. The most notable are the:
Flag Tower
North Gate
You can view the north gate from outside and actually see the two cannon ball mark left there during the war with France.
Tip: Enter through the car park to visitor center to buy tickets. The other gates are for exit only.
Tip 2: there isn't much left, so expect to spend an hour to two at most, and there will be a lot of people on weekend taking photos
Address: Số 19C Hoàng Diệu, Quán Thánh, Ba Đình, Hà Nội
Opening times: Closed on Monday 8:00 – 17:00
Entrance fee: adult 30,000 dong, concessions 15,000 (student/ 60+)
Ho Chi Minh Mausoleum
The final resting place of Ho Chi Minh, the MCM Mausoleum is a national monument that reflects the most important recent history of the country. For those who might not know, Ho Chi Minh is the chief figure in the establishment of the Democratic Republic of Vietnam. He was the first president until his death in 1969, and the mausoleum was inaugurated in 1975.
A black and red modern structure, the mausoleum is a stark contrast to the surrounding French building, its style inspired by the Lenin Mausoleum in Moscow. However, there are more to Ho Chi Minh's Mausoleum. There is a park behind it and it's free to see the area with the one pillar pagoda.
But to see Ho Chi Minh's residence, tickets are needed and you need to purchase and enter the path at the northern end – as it is a one-way street.
You can visit the silt house of HCM as well as the cars that serviced him.
Address: Hùng Vương, Điện Bàn, Ba Đình, Hà Nội
Opening times for HCM's silt house: closed Monday and Friday 8:00 – 11:30, 14:00 – 18:00
Admission fee: 40,000 dong
Train Street
Can you imagine what it would be like if a train passes right outside your door?
It's a reality in Hanoi!
The Train Street usually refers to a specific stretch south of the Hanoi Station, but it actually stretches along the north as well. However, the schedule for the one to the south is more well-known and it is where the 'Instagram shots' are taken.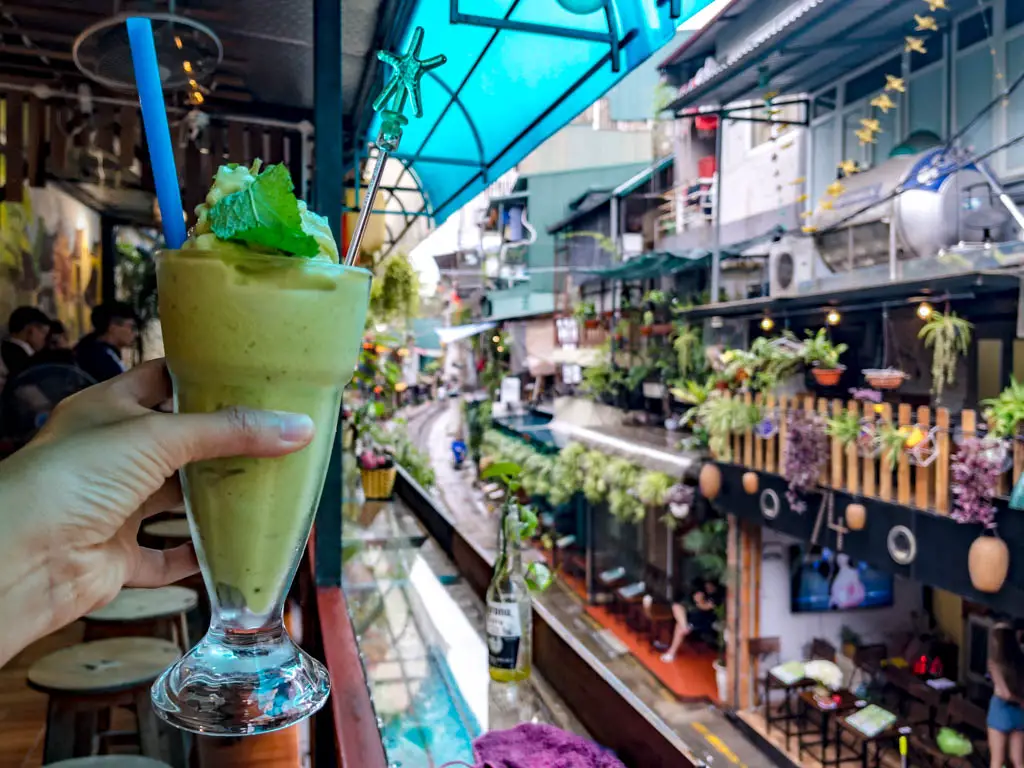 NOTE: due to the onslaught of tourists who walk in front of trains, the street was closed down and only reopen in early 2022 nearby the city where there are many cafes.
Here is the train schedule:
Weekdays: 19:05, 19:15, 19:40, 20:20, 21:05, 21:40, 22:00
Weekend: 7:45, 8:50, 9:20, 11:30, 15:20, 16:20, 17:30, 18:15
There is not much space for the train to pass through already, so it's important to stick to the right side entering the street as the left side has even less room. I witness a girl trying to get a shot in front of the oncoming train and it was a scary experience for everyone watching, especially since she didn't move until screamed at by a local woman. Please don't be that person and stay safe as you wait for the approaching train!
While I'm unsure about the train schedule north of the station, the street is also very pretty and right along a road:
Hanoi Public Art Project
For fans of street art, you don't want to miss this wall! It is an art project between Korea and Vietnam, aiming to create art that resonates with the city. A lot of the walls are interactive, making it another prime photo spot.
Address: Phùng Hưng, Hàng Mã, Hà Đông, Hà Nội, Vietnam
St Joseph's Cathedral
St Joseph's Cathedral is the Roman Catholic cathedral in Hanoi and the largest in the area. Consecrated in 1886, it is built in the Gothic Revival style by the French. The square around the church is European-like, with the French colonial building and flower pots, if not for the many motorcycles and the children playing games. The red flowers in the stone pot by the side of the road makes for a particularly good photo prop.
The Cathedral is built atop the Bao Thien Pagoda that dated back to the 11th century and is similar in style to Notre Dame with two bell towers of 31m tall. It is an active church and mass is served regularly. There are many delightful cafes around the area if you want to sit and watch the world goes by. I particularly enjoy ShareTea!
Address: 40 Nhà Chung, Hàng Trống, Hoàn Kiếm, Hà Nội 100000
Temple of Literature
Unlike the temple of literature in other countries, this Confucius temple is also the first university in Vietnam. The temple is well preserved and sign-posted, with detailed signpost about the different part of the temple.
It was built in 1070 by Ly Thanh Tong emperor as a university as well as exam hall for scholars and sages of the time and remained in use for over seven centuries by successive dynasties. There are five gates and courtyard to the temple, and only scholars of a certain standing can pass through one to another.
Address: Hồ Giám, Văn Miếu, Đống Đa, Hà Nội
Opening times: Sun – Fri 8:00 – 18:00, Sat: 8:00 – 21:00
Admission fee: adult 30,000 dong, student (ID required) 15,000 dong, Under 15 free
Taoist Temple Quan Thanh
We came across this beautiful temple on our walk down from Tran Quoc Pagoda to the Ho Chi Minh Mausoleum and was immediately drawn to its architecture. A temple dedicated to the Taoist god XuanWu, the god of the north, it was built in the 11th century.
Its most impressive feature is the gate, with traditional Chinese characters written across.
Address: Thanh Niên, Quán Thánh, Ba Đình, Hà Nội
Admission Fee: adult 10,000 dong, children 5,000 dong
Hanoi Opera House
A majestic beige yellow and white rectangular building by a roundabout, the Hanoi Opera House might just look familiar to some of you! This early 20th-century building is modelled after Opera Garnier in Paris, and is currently in use.
Address: 01 Tràng Tiền, Phan Chu Trinh, Hà Nội
Hanoi Night Market
The night market runs from Friday to Sunday in Hanoi, starting at the northern shore of Hoan Kiem Lake at Tonkin Free School Square, extending northwards on Hang Giay Street. While it is a designated pedestrian zone, don't be surprised if a motorbike or ten breezes pass you as you make your way down the street. It also goes pass Đồng Xuân Market, which is roughly where the market ends, too. It's a good place to buy sunglasses, souvenirs, but nothing crafty or artistic. You'll also find street food vendors selling mostly grilled meat.
Around the lake, there's a different kind of activities. From karaoke to fire-breathing dance, there are a kaleidoscope of shows going on, but in particular, I love the traditional Vietnamese games that is being played. Skipping ropes, dancing between bamboo stick, it's fun to watch and cheer people on!
Ho Tay
The west lake, also known as an expat area, is a large lake northwest of the old city. It's popular for many expats and rich locals, given the tranquility and great view.
You can rent a bicycle and cycle around the lake, and there are many cafes you can stop by. While most drivers are used to cyclists, I wouldn't attempt this unless you're at least a proficient cyclist!
Vietnamese Women's History Museum
The Vietnamese Women's History Museum is a great place to learn about the culture and history of Vietnam through a female lens. It has 5 floors with a lobby and ticket table at the bottle, the rest each one dedicated to a different topic:
Marriage and birth
Womens life
Women in history 
Womens fashion
It was particularly fascinating to see the difference in custom in the many ethnic groups. And the women in history floor shine a light on the role of women during the Vietnam War.
Address: 36 P. Lý Thường Kiệt, Hàng Bài, Hoàn Kiếm, Hà Nội, Vietnam
Opening times: 8:00 – 17:00
Entrance fee: 40,000 dong
Lockers are available but most of the locks are broken, so check before you leave your things in there.
Đồng Xuân Market
The Dong Xuan Market is on the northern end of the Old Quarter and built in the 1889 under the French administration. It's a covered market that spills out into the streets around it, selling both fresh produce and general dried goods.
It works primarily as a wholesale market but is also home to small vendors. This is not a place you go to buy souvenir, unless you're looking for food or fake goods. But it's a good places to visit in Hanoi to get some sauces.
There are also plenty of street food stalls and street photography opportunities. If you can wake up early, definitely go on an early morning Hanoi market and street food tour to see Hanoi's local market scenes.
Long Bien Bridge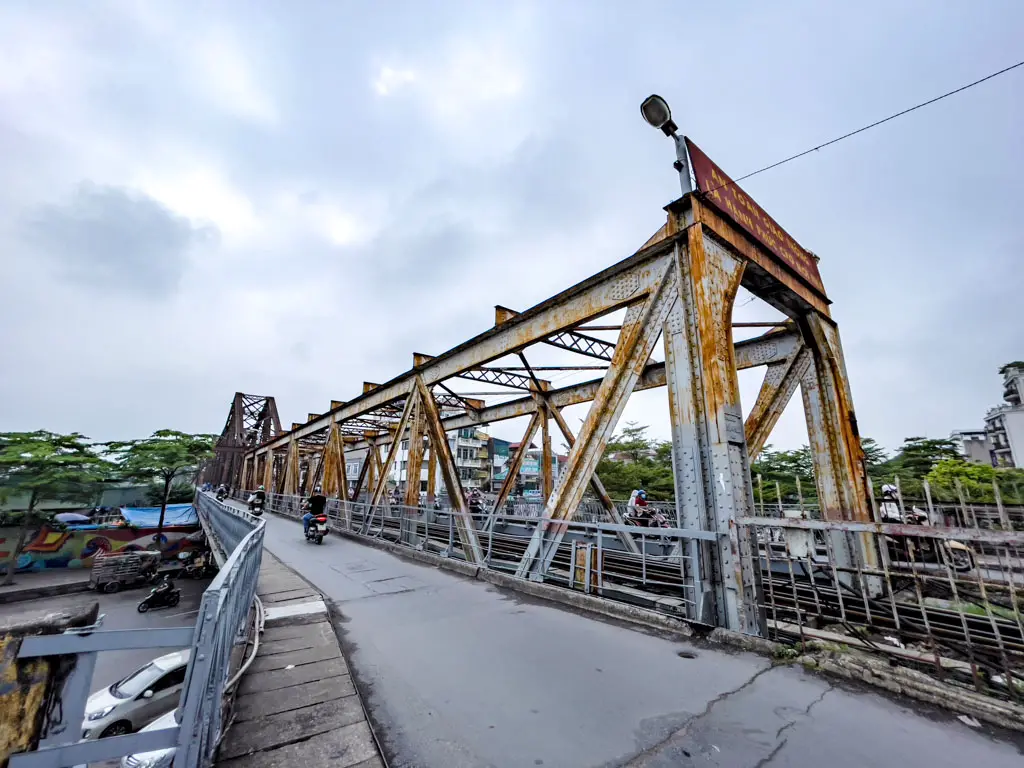 The Long Bien Bridge spans across the Red River and is a cantilever bridge that connects to the Long Bien district. There is a train track in the middle and it was finished in the early 20th century by French architects.
It was heavily damaged during the Vietnam War but repaired. It's a little scary to walk across it if you're afraid of height since the pedestrian path is essentially metal bar lids. But it does offer a glimpse of Banana Island and the Red River, and a good place to see the sunset.
Banana Island
Banana Island is an island in the shape of a banana on the Red River. It's an agricultural island and you can walk down to snoop around from the Long Bien Bridge.
There is a small floating village and plenty of crop fields of corns. It's a very off-the-beaten path destination to visit and worth a stop by if you feel like a longer walk while crossing the Long Bien Bridge.
Hoa Lo Prison Museum
The Hoa Lo Prison Museum is only the gatehouse of what was once the infamous Hanoi Hilton. The name translates as a fiery hell hole, and itt was built by the French colonists for political prisoners, then by the North Vietnam administration for American prisoners of war, before being demolished in the 90s.
You can see what the prison condition was like during the French occupation and even the guillotine room. The name Hanoi Hilton was dubbed by the American POWs as a joke between them.
Address: 1 P. Hoả Lò, Trần Hưng Đạo, Hoàn Kiếm, Hà Nội, Vietnam
Opening times: 8:00 – 17:00
Vietnam Museum of Ethnology
Although it's not in the city center, those who are interested to learn about Vietnam's diverse ethnic communities shouldn't miss the Vietnam Museum of Ethnology. It was opened in the 90s with recreation of various traditional houses and also artifacts.
Entrance fee: 40,000 dong
Address: Đ. Nguyễn Văn Huyên, Quan Hoa, Cầu Giấy, Hà Nội 100000, Vietnam
Opening times: Closed Monday, 8:30 – 17:30
Beer Corner
When you walk past it during the day, the intersection between Luong Ngoc Quyen and Ta Hien just seems like a wider than usual crossroad. Come the evening, however, vendors from the nearby pubs and bars start putting out plastic chairs that spill out into the road and taking over.
This is the famous beer corner where you can find some of the cheapest beer in the whole world. Whether you want to opt for Bia Saigon or Biere Larue, you can find them here for sure.
Ceramic Street or Mosaic Wall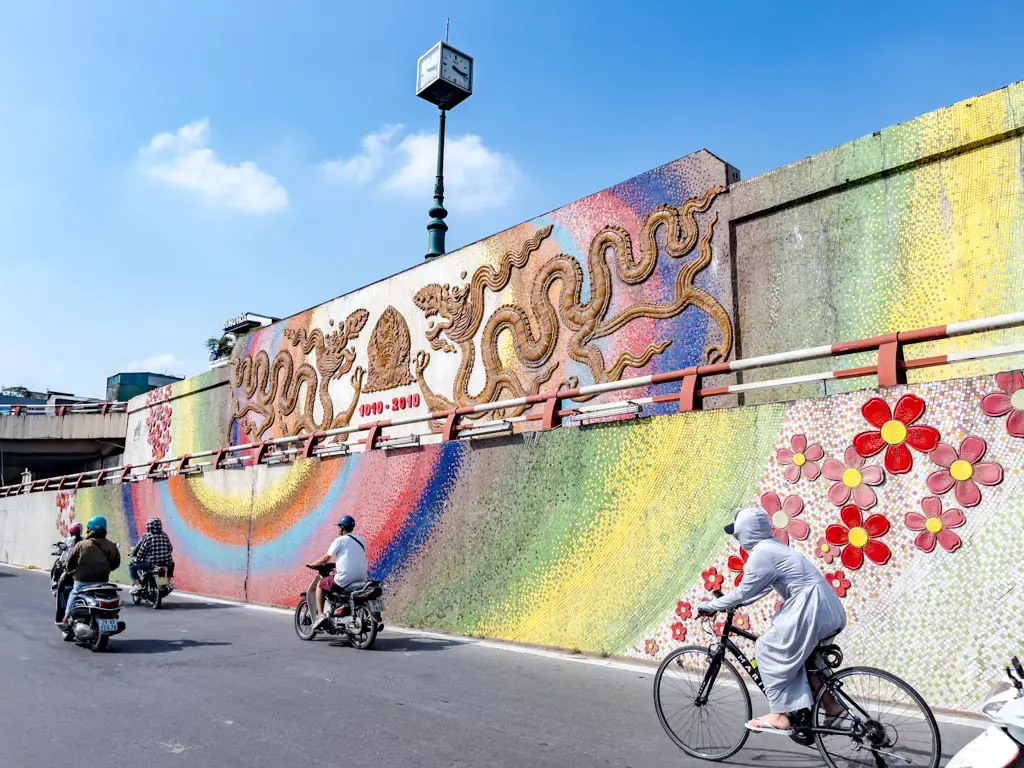 The ceramic street is sometimes called the mosaic wall and runs along the main road that cuts through the east side of the old quarter, parallel to the Red River. The scenes depict various Vietnamese religion, history, and landmark, although you would have to brave the traffic and cross the road to get close to them.
Go Vintage Shopping
There are quite a few good vintage shops in Hanoi and you might want to get something unique for yourself or a fashionista friend. Here are two places that is in the Hanoi Old Quarter:
Chan Con Cong – Vintage Store
The two-storey vintage shop is named after the traditional Vietnamese floral blanket. It's close to the Beer Corner and has a good selection with a sales rack. The prices are cheaper than western standard and you won't find the quintessential Southeast Asia pineapple shirts and elephant pants here!
Address: 37 Đào Duy Từ, Hàng Buồm, Hoàn Kiếm, Hà Nội, Vietnam
Opening times: 9:00 – 21:00
House of Vintage Jewelry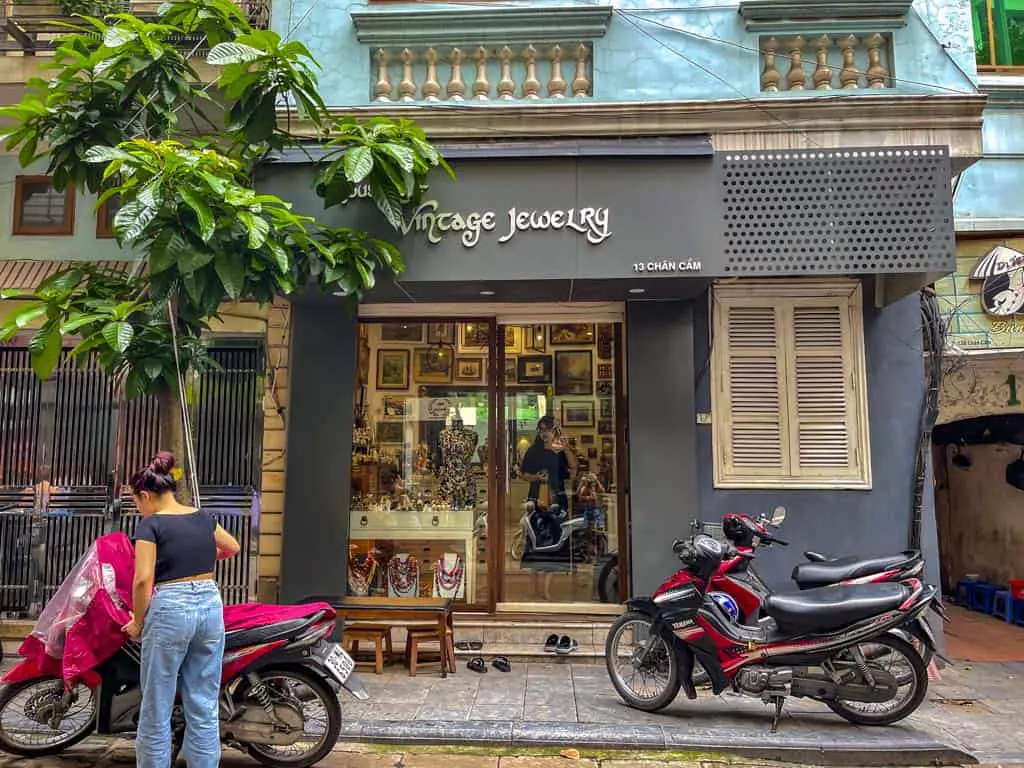 A surprisingly small shop in a quiet street near St Joseph's Cathedral, this is the place to go if you like to dig for treasure. While the collection doesn't look like much, every single drawer inside the shop is home to various trinkets and jewelry.
They sell everything from pins to earrings to necklace, and even cufflinks!
Address: 13 P. Chân Cầm, Hàng Trống, Hoàn Kiếm, Hà Nội, Vietnam
Buy Sustainable Souvenir
There are many souvenir shops and good places to shop in Hanoi. Most typical shops sell postcards and knickknacks. But if you want something more functional from a reputable source and sustainable, here are the top picks:
Maison Marou
A chocolate chain in Vietnam that only source cacao from the country, they sell single origin chocolate treats in beautiful design and wrappings. 
Opening times: 9:00 – 22:00
Address: 91a P. Thợ Nhuộm, Trần Hưng Đạo, Hoàn Kiếm, Hà Nội 100000, Vietnam
Vietnamese Coffee
It's a little harder to determine where the coffee comes from, but there are several coffee vendors dotted around the city and you can also buy them at some cafes. Vietnam is famous for their coffee so it's a good souvenir to get.
Collective Memory – The House of Curios
Collective Memory aims to sell fair trade and local artisan products that would fit right in at your home. So find yourself a new purse, tea towel, or ceramics to bring home.
Address: 12 P. Nhà Chung, Hàng Trống, Hoàn Kiếm, Hà Nội 10000, Vietnam
Opening times: 9:30 – 19:00
Visit Mao Book Store
Mao Book Store is hidden on the first floor of an old house near the Hoan Kim Lake. It only sells Vietnamese books as far as I can tell and is popular among the locals, especially university students.
The most photogenic part is the spiral staircase that leads up to the second floor. Remember to follow the rules and take off your shoes before you enter.
Address: No.5 Dinh Le street, Hoan Kiem, Hanoi – follow the blue bookstore signs
Opening times: 9:00 – 21:00
Rent an Ao Dai and take some photos
If you want Instagram shots of yourself in Hanoi, then you might just want to rent an Ao Dai. They are the traditional dress of Vietnamese, a long cheongsams with splits on both sides worn over satin long trousers, which is generally white or in a contrasting colour.
I opt for a private Instagram tour with Ao Dai rental option and my guide David took me around town, hitting different photogenic spots. This is a good choice for a solo traveler or if you are short on time and want to hit every spot in town.
You can also just rent an Ao Dai and roam the Old Quarter yourself!
Go Cafe Hopping
Coffee culture is popular across Vietnam and there is no shortage of cafes in every single corner of the capital. Almost every cafe has WiFi and you'll find locals sitting there for hours with a drink, chatting or watching the world goes by.
There are quite a few chain cafes such as Cong Cafe, Aha Coffee, Laika Cafe among others. Here is a list of my favourite cafe in Hanoi.
Eat Street Food in Hanoi (or take a Street Food Tour!)
I love the food in Hanoi so much that it's a separate post. I highly recommend taking a street food tour if you have time, otherwise I also have a full list of recommendations.
Bun cha, pho, banh mi, xoi, there are just some of the things you must try.
Day trips from Hanoi (1600/35)
If you want to take a day trip or even a weekend from Hanoi, there are quite a few choices for you. The obvious choice would be Ninh Binh, but if you can spare an extra day, I've added three other places:
Ninh Binh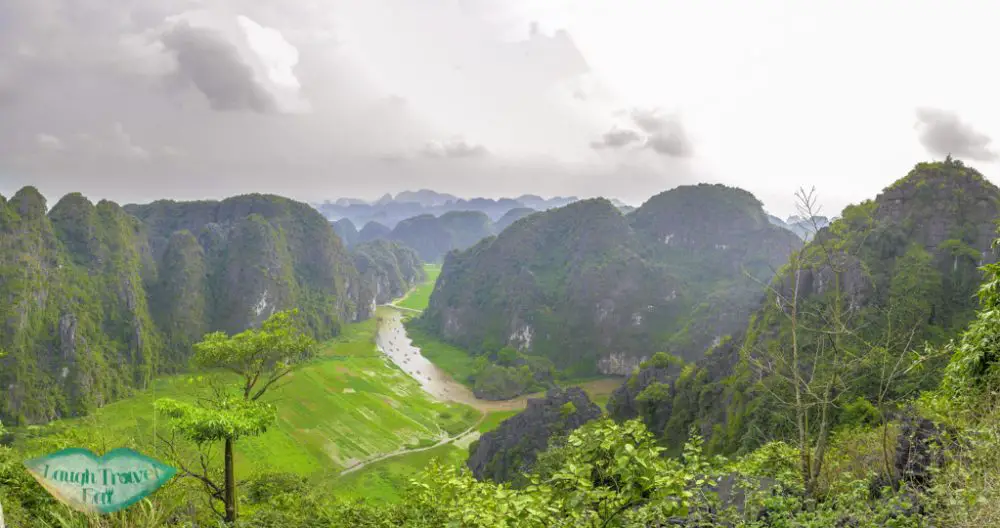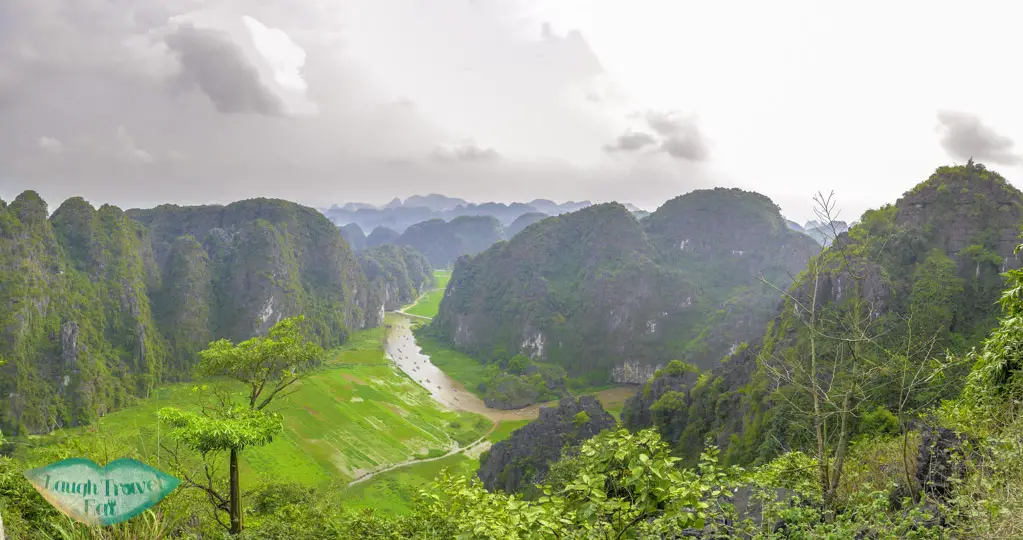 Ninh Binh is only 2 hours south of the capital and is known as the Guilin of Vietnam because of the beautiful karst mountains cut through by rivers. It's also home to the oldest capital of Vietnam: the Hoa Lau ancient capital and as the filming location for the movie King Kong.
Halong Bay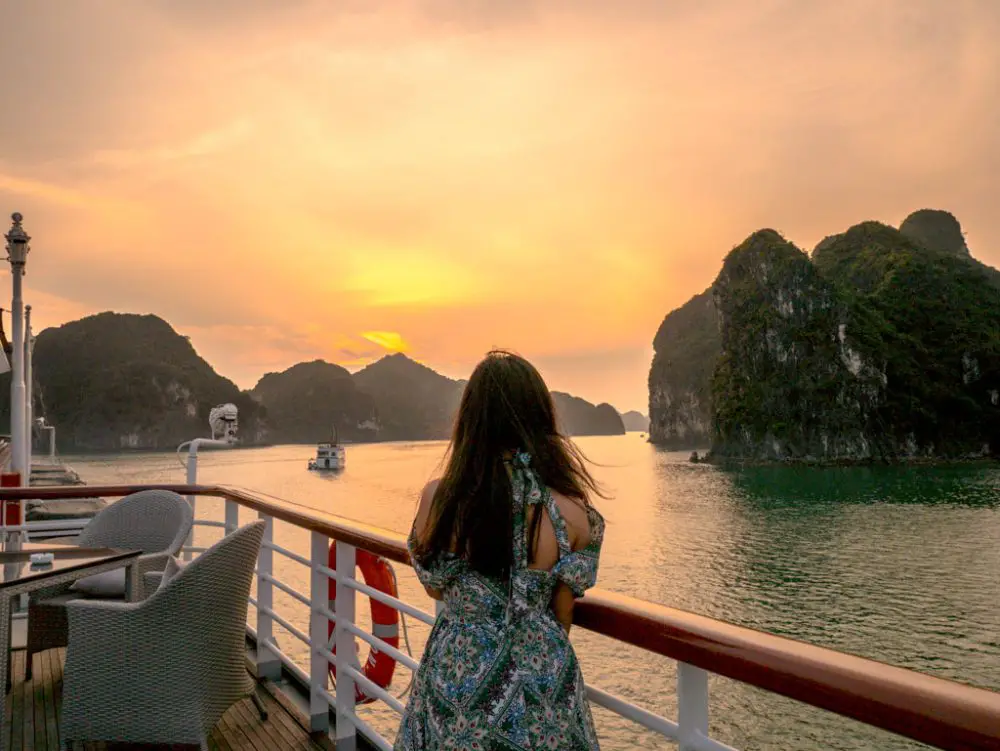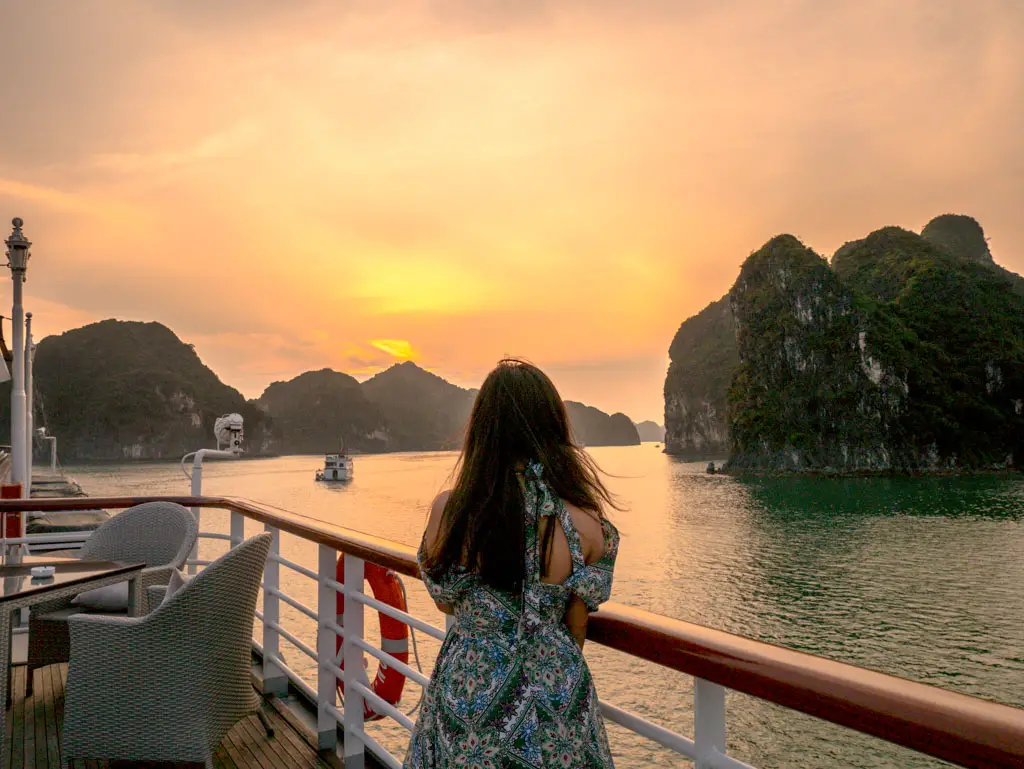 A much more popular alternative is Halong Bay, although I won't encourage you to take a day trip there as an overnight cruise is the best way to admire the UNESCO World Heritage sight. It's the sea version of Ninh Binh and one of the top things to do in Vietnam. 
Sapa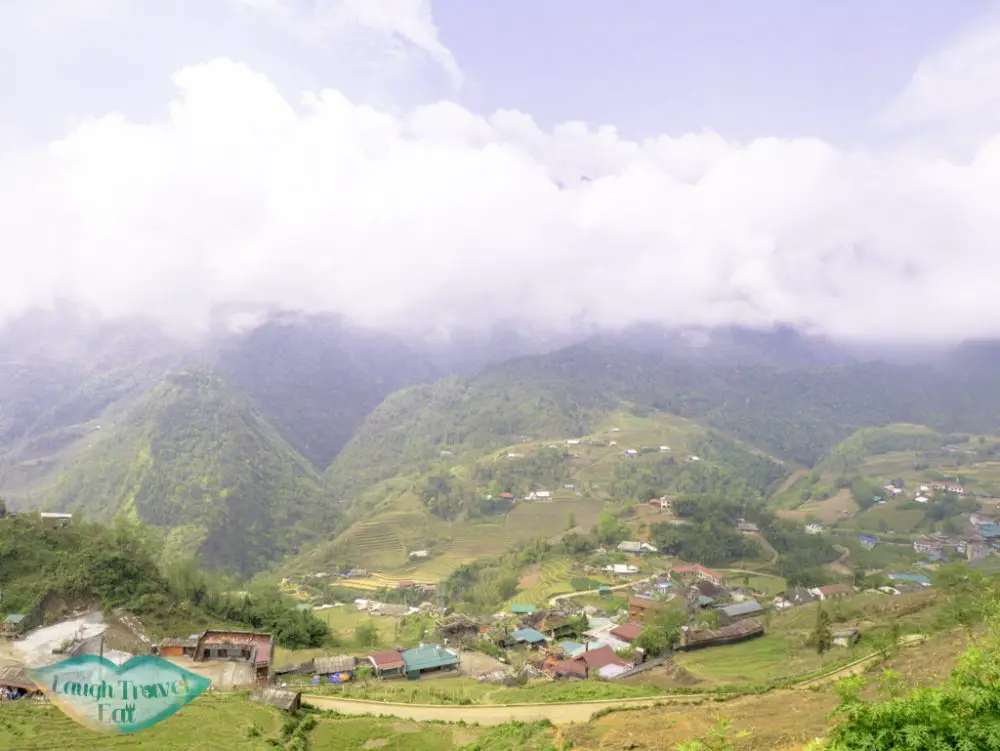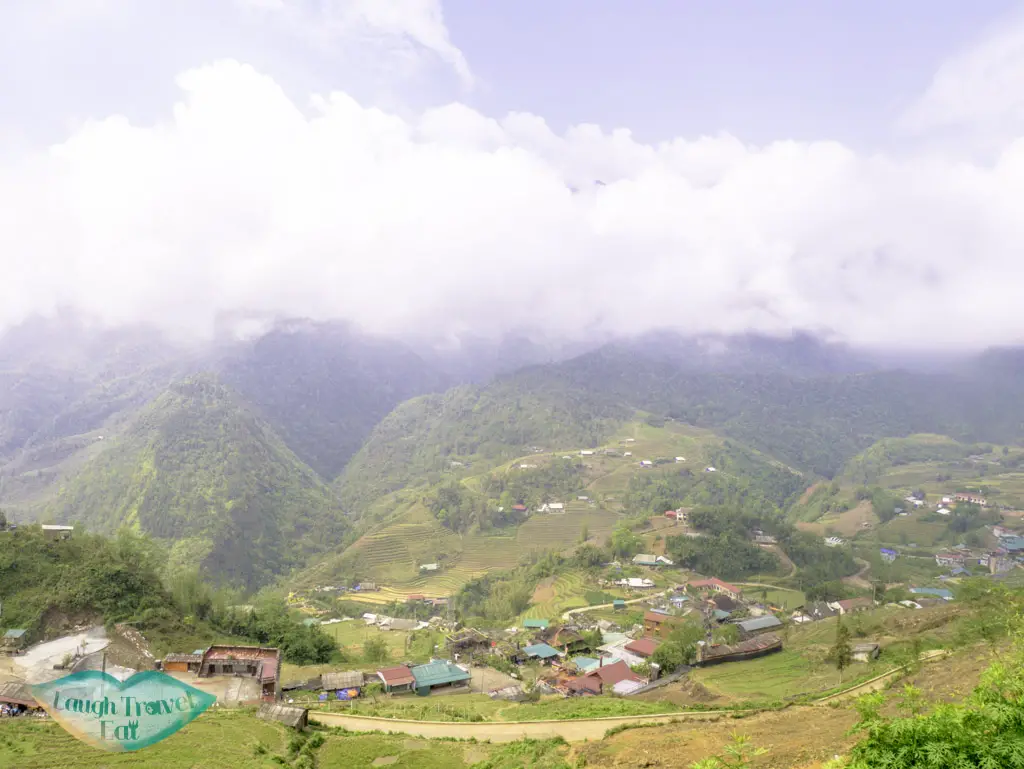 Sapa is another popular place to go, home to the highest mountain in Vietnam as well as ethnic minorities. However, it's a much longer journey to get there and impossible to do as a day trip. But it's definitely worth a visit if you like hiking and culture.
Ba Be Lake

A more off the beaten path choice for those who love nature and don't want to travel too far is Ba Be Lake. It's famous for the beautiful lake views and it's still underdeveloped in terms of tourism so you get to see how the local people live.
Where to Stay in Hanoi
It's best to stay in the old town part of Hanoi, where it's most walkable and central. There is no shortage of hotels in that area, but here are some of the ones that I've seen or stayed in.
Budget:
Nexy Hostel is a modern, clean and sleek hostel near the Hoan Kiem Lake. Every bed has a curtain for privacy and they have a little terrace, too.
Hay Hostel has both dormitory and private room, and I am particularly in love with their triple rooms! Aside from problems with transport booked with them but the hostel itself is great.
Midrange:
Golden Sun Palace Hotel is located between Nexy and Hay Hostel and a decent hotel with good breakfast. The only drawback is that it's directly opposite a school which can get busy and noisy!
Splurge:
La Siesta is a gorgeous hotel near Tranquil Books & Coffee, beautifully modern and stylish with a great reputation.