As one of the biggest cities in central Vietnam, it's no question that there are plenty of restaurants and cuisine to try in Da nang. Since my first visit in 2016, Da nang has transformed from a city in development to a full fledged metropolis with many more dining options. What I love about it is that not only does it have cool, modern international restaurants but you can still find cheaper-than-cheap local and street food. Here are some of my top picks:
> For what to do in Danang, check out my 3 day itinerary
Vietnamese Food
Con Market Food Court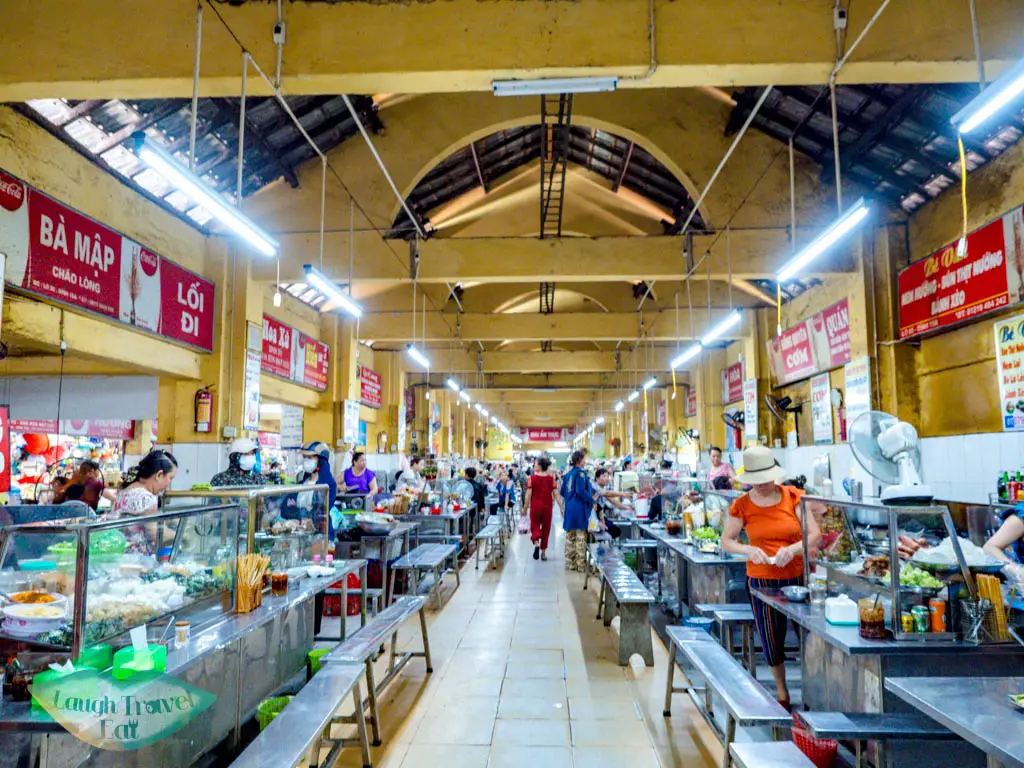 Jump into the deep end of the local food scene at the Con Market Food Court! It is a covered open air area with three rows of shops and a central walkway, serving up a variety of local cheap eats.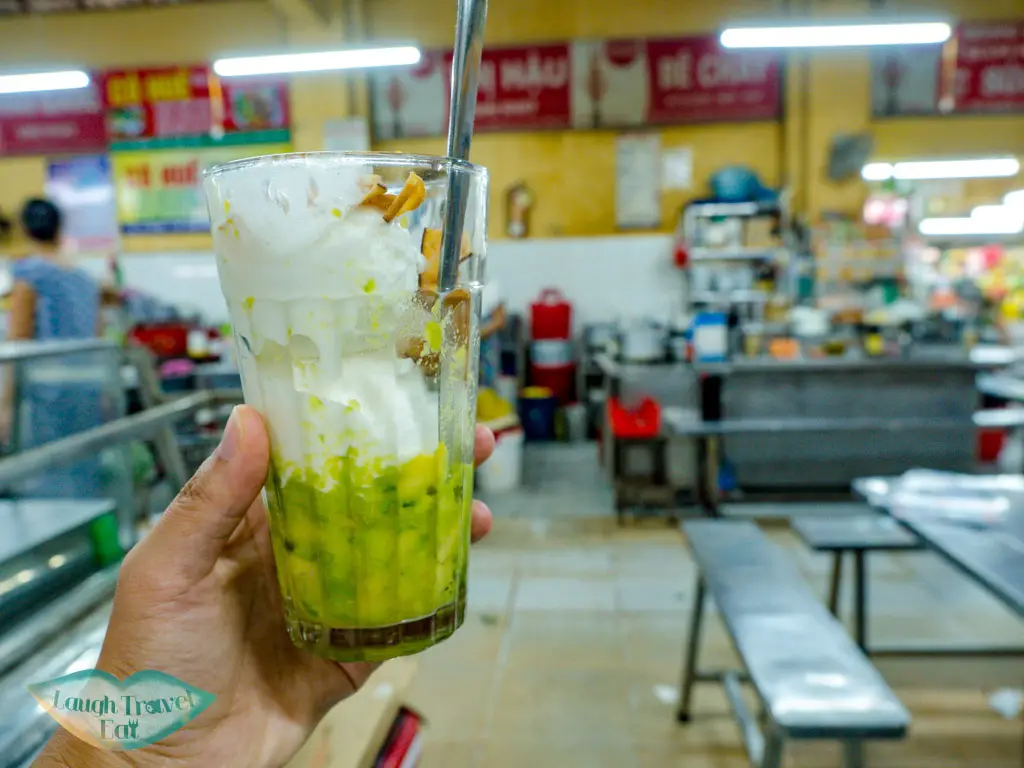 It can be difficult to decide what to eat and which stall to eat at! I ended up getting a Kem Bo – avocado ice cream – at a stall with English menu and Banh Beo – rice cake with Vietnamese sausage and fish cake – at another for 20k dong each.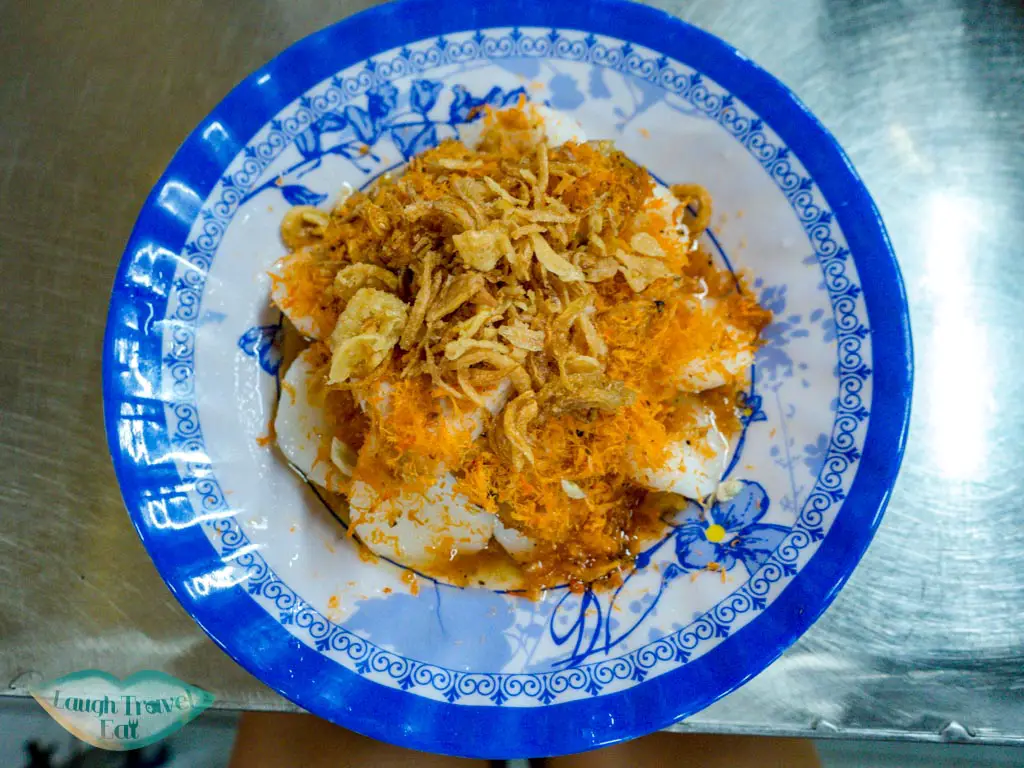 Address: 269 Ông Ích Khiêm, Hải Châu 2, Hải Châu, Đà Nẵng 550000, Vietnam

Bun Cha Ca Hon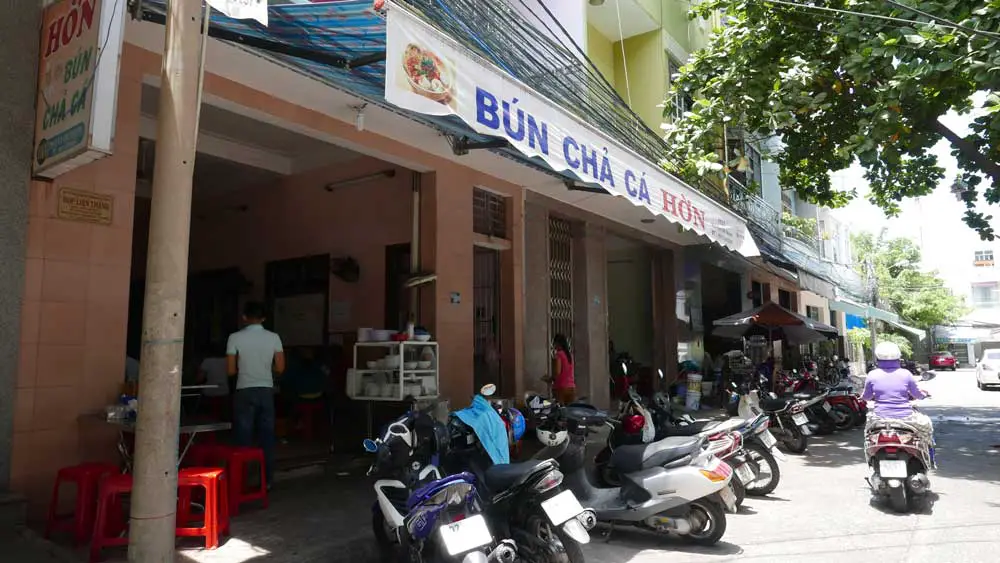 Bun Cha – aka fish noodles, is of course an important part of Danang's food scene. And it's at Bun Cha Ca Hon that I've had one of the best and cheapest noodles I have ever had. Costing amere 25,000 dong (equivalent to 10 HKD or 1.5 USD) – this local store is worth every penny. It isn't easy to find, hidden in a sidestreet with a deadend, but the flavoursome soup, chewy fishcake and abundant greens and lime are just what you need after roaming the downtown!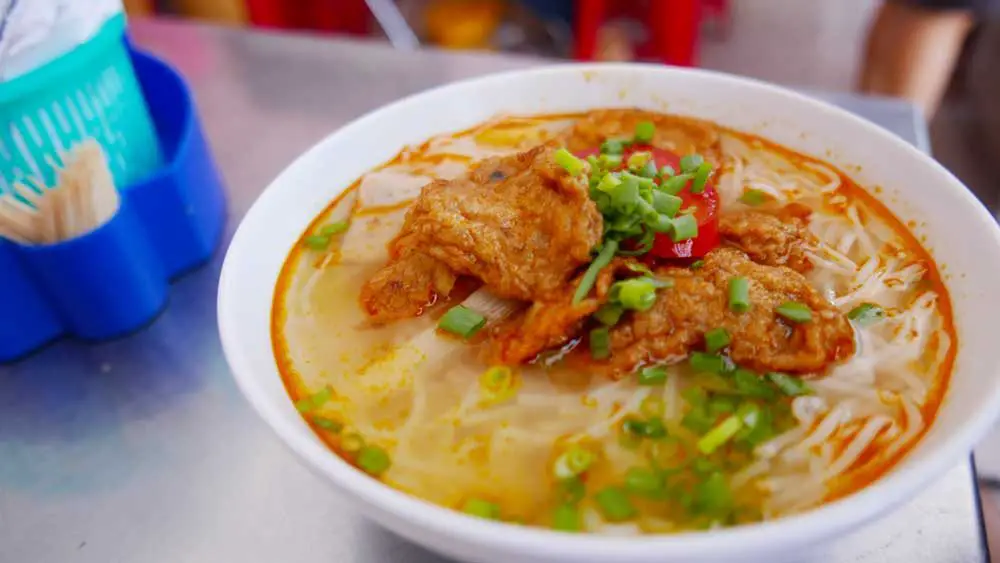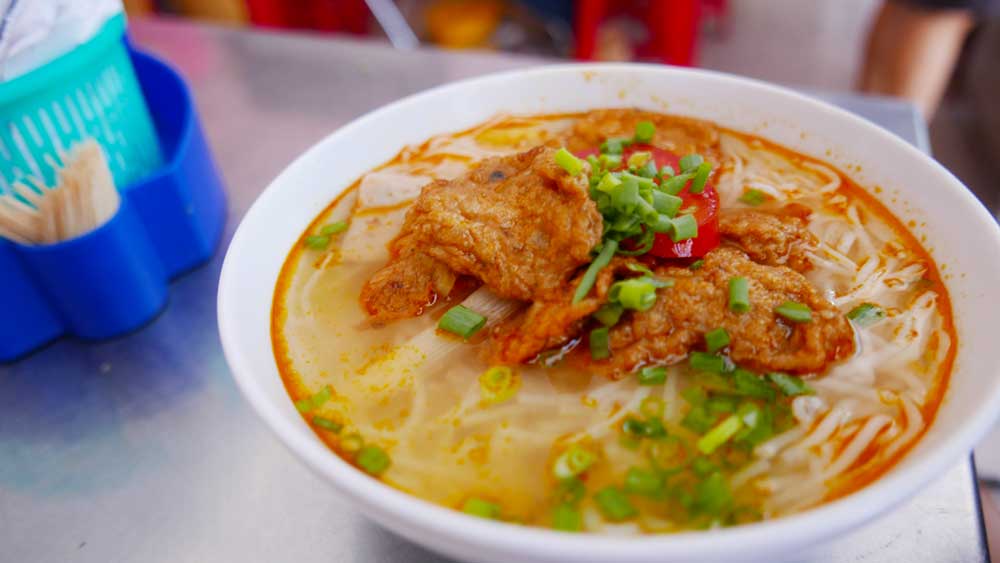 The cheapest noodle on offer at 25k is the Small Fish Bales, they also ave crab, big fish sauce, tuna, and mackerel from 30-45k dong. Soft drinks are 10k and various other drinks from 7-15k.

Address: 113 Nguyễn Chí Thanh, Hải Châu, Đà Nẵng, Vietnam
Opening times: 6:30 – 22:30
Mi Quang A1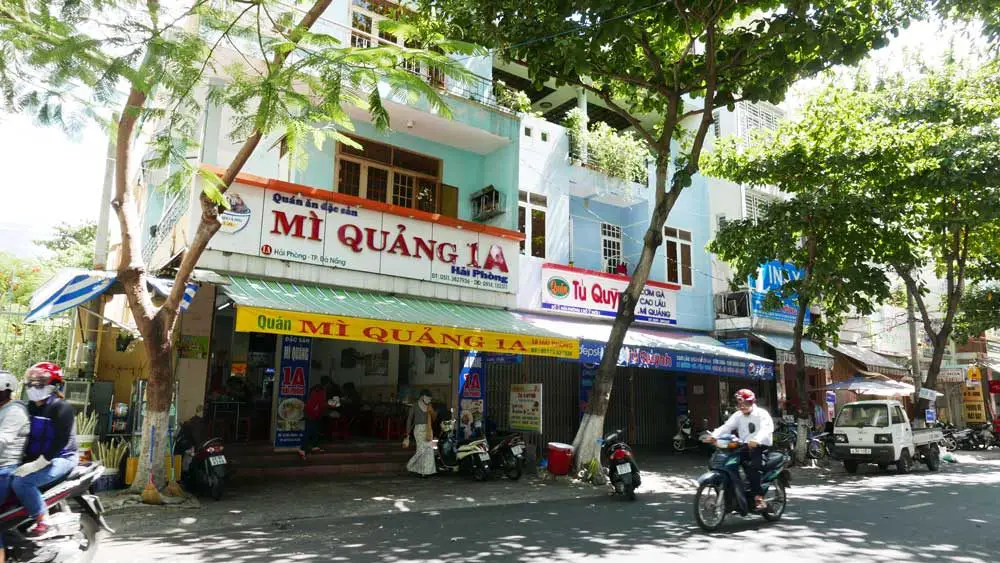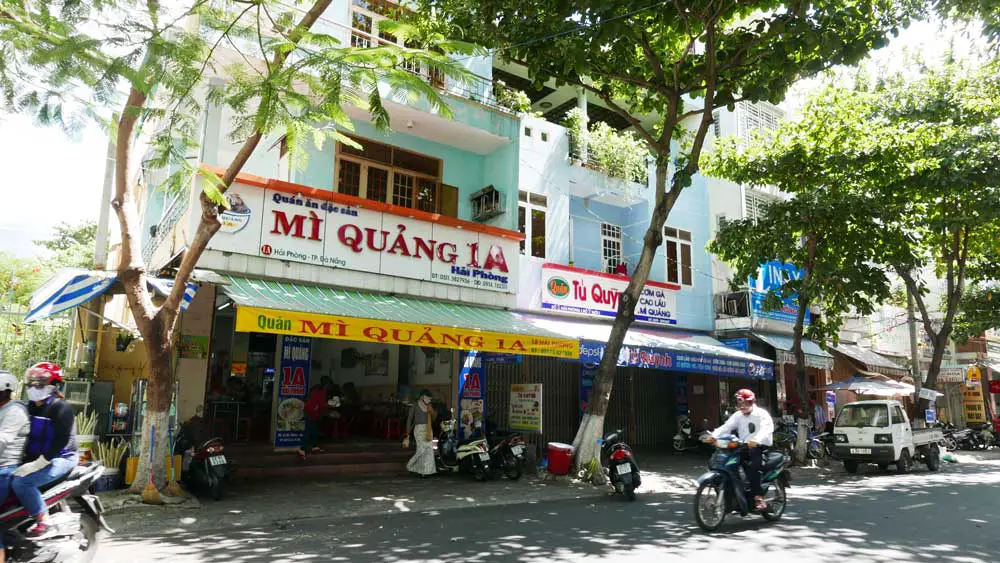 Mi Quang is a central Vietnam favourite – it essentially just means rice noodles with little broth and a variety of toppings, most usually meat and shrimps with greens. A1 is a famous (for tourists) Mi Quang shop downtown, at a great price. They have an English menu and a choice between five noodle dishes: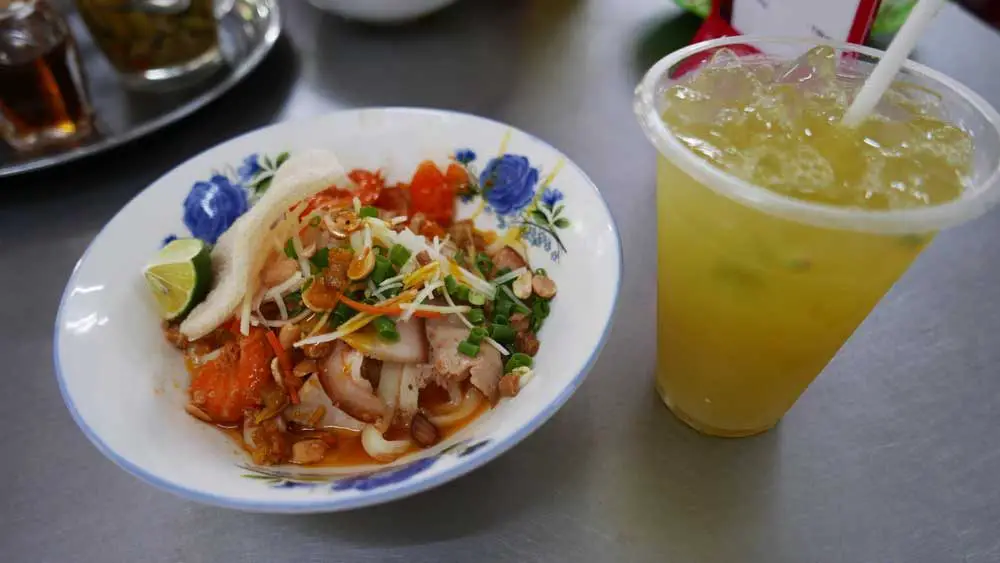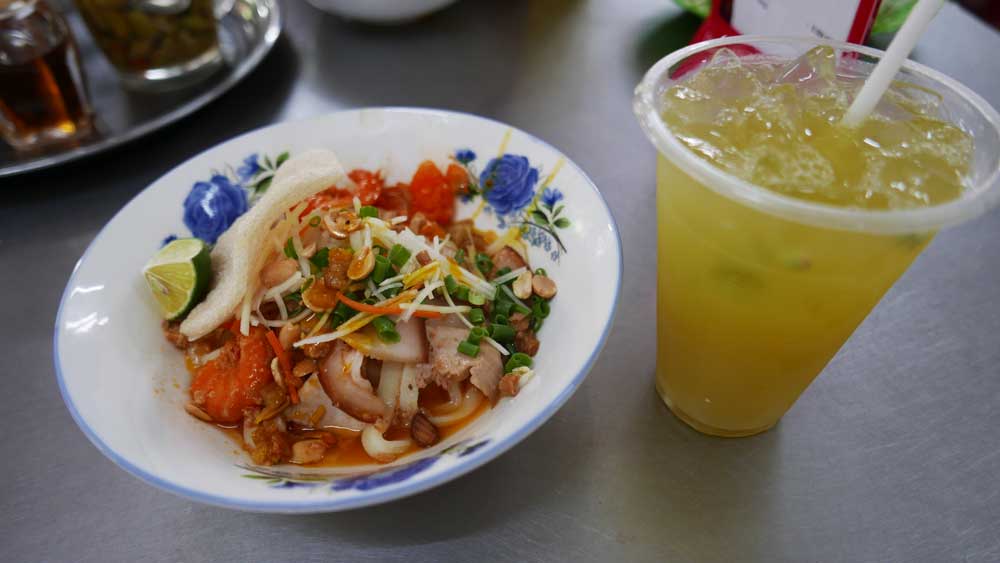 (prices from July 2019)
Pork and Shrimp (30k)
Pork, shrimp, and egg (35k)
Chicken (35k)
Chicken with egg (40k)
Special: pork, shrimp, chicken, and egg (45k)
Locals eat here, too, so you know that it's actually decent. But you'll be sitting without air con and on mostly communal long tables. They have a variety of juices (8-20k), soft drinks (10k), and beer (10-20k) on offer, too.
Address: 1 Hải Phòng, Hải Châu 1, Đà Nẵng, Vietnam
Opening times: daily 6:00 – 21:00

Hải Sản Cua Biển 1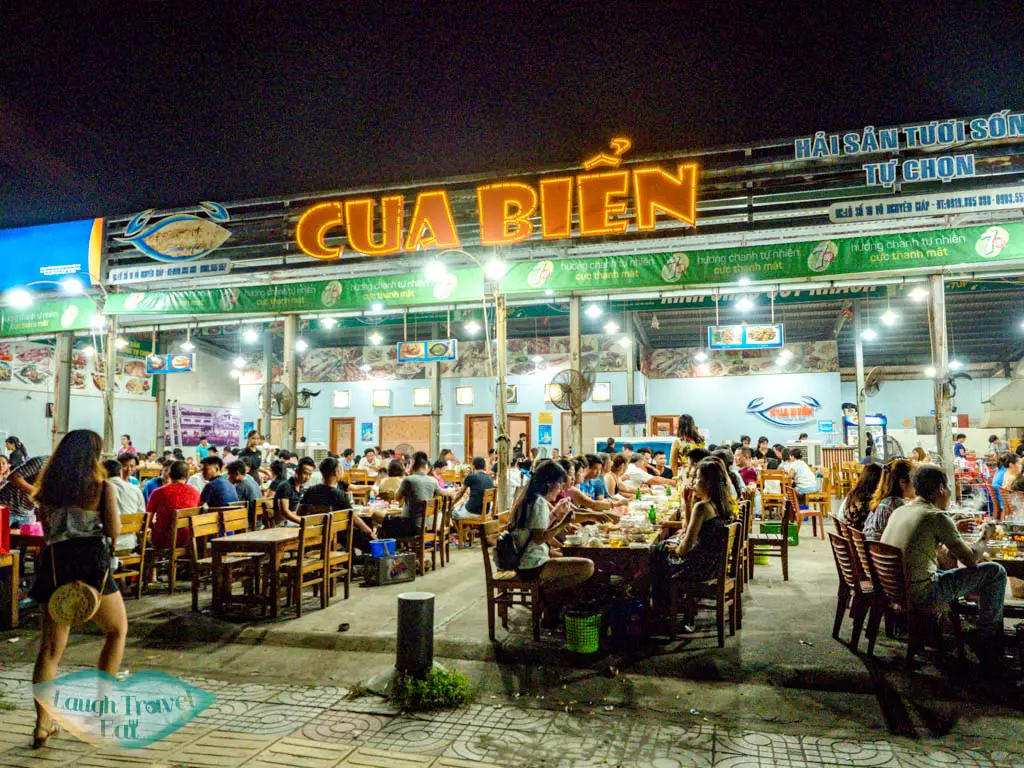 Towards the northern end of My Khe Beach is Cua Bien seafood restaurant. Their signature dish includes clay pot crabs with glass noodles and salted fish fried rice, among other fresh seafood choices.

The staff there speaks a limited amount of English but was able to provide an English menu when asked. But don't forget that this is a pick your own seafood place so get to the plastic tubs and pick the freshest catch.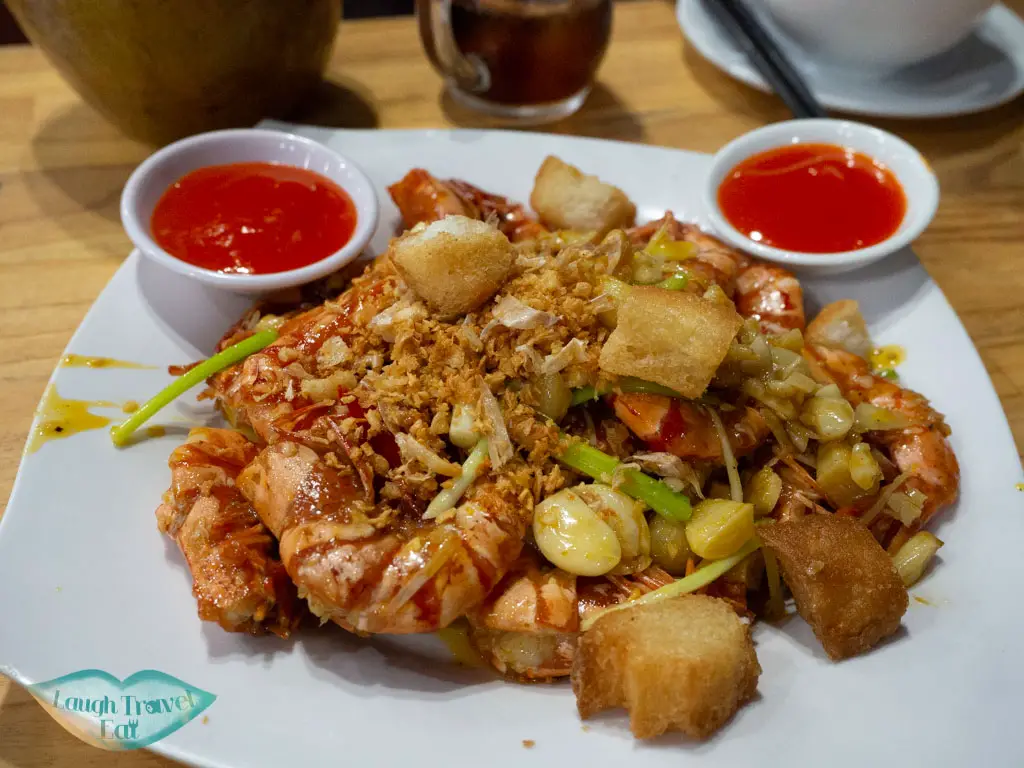 We ordered a glass noodle crab clay pot, morning glory, and half a kilo of grilled shrimps between 3 for less than 1,000k dong, so around 40 USD in total.
The restaurant also has soft drinks and there are vendors coming in and out selling coconuts and other snacks, which is apparently common and tolerates.

Address: Lô 10 Võ Nguyên Giáp, Mân Thái, Sơn Trà, Đà Nẵng 590000
Opening times: 11:00 – 23:00
Quan b man b seafood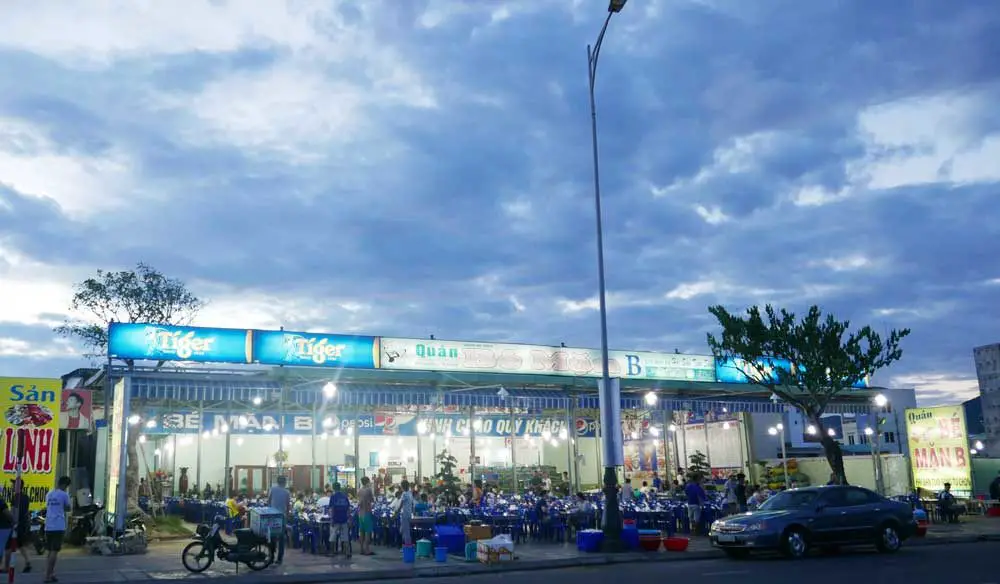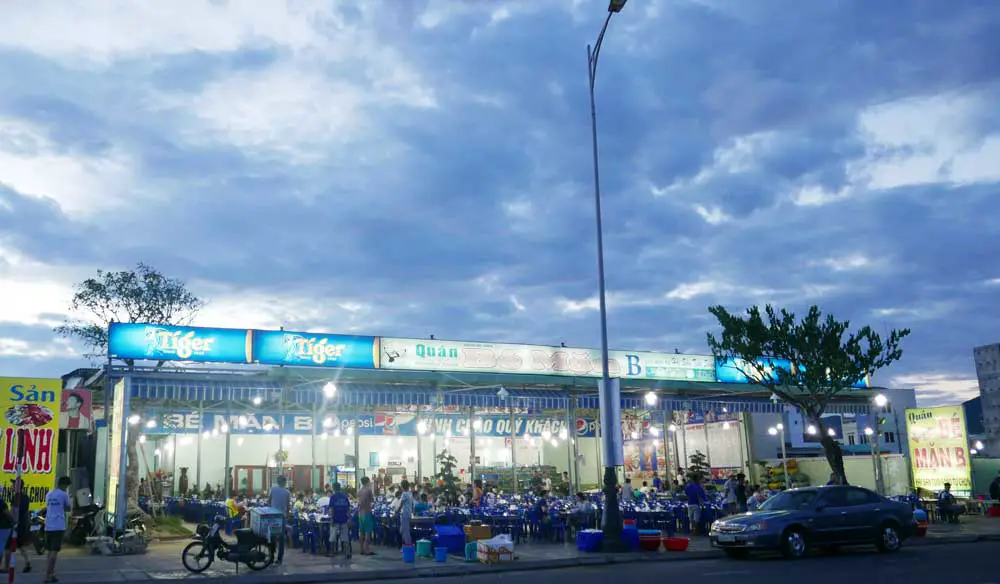 A seafood place near the beach, we strolled along the seafront in the late afternoon to this joint for some fresh seafood. You get assigned a table number and a staff will accompany you to pick some fresh seafood. The prices, per kilo, is listed on a giant board on the side, though we did have to rely on the staff to translate.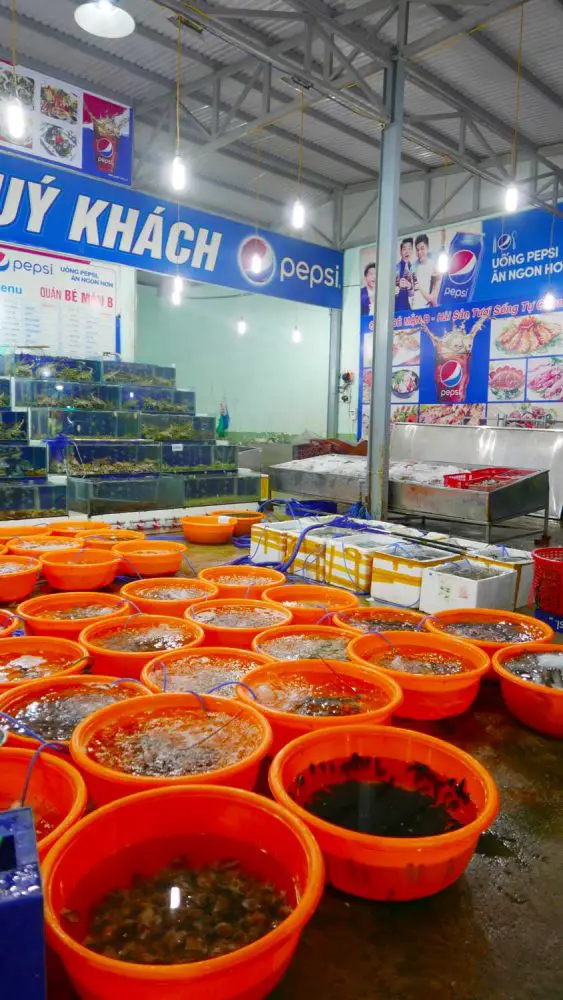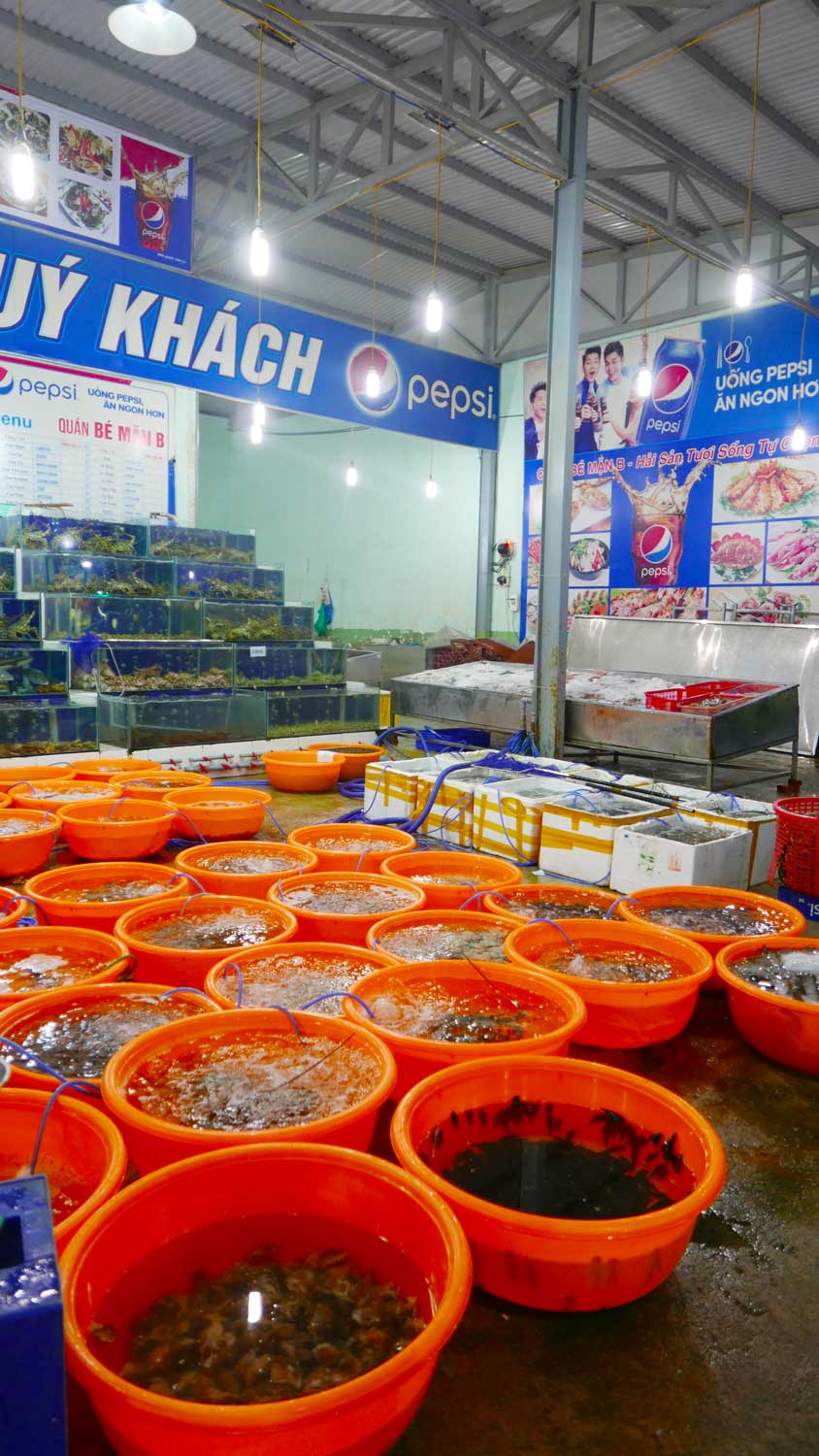 Their most famous dish is the seafood hotpot, but we got excited by the prospect of mussels and shrimps that we ended up blowing all our money (an equivalent to about 50 USD in total) on half a kilo of each. They were delicious – I guess I would just have to return one day to try the hot pot!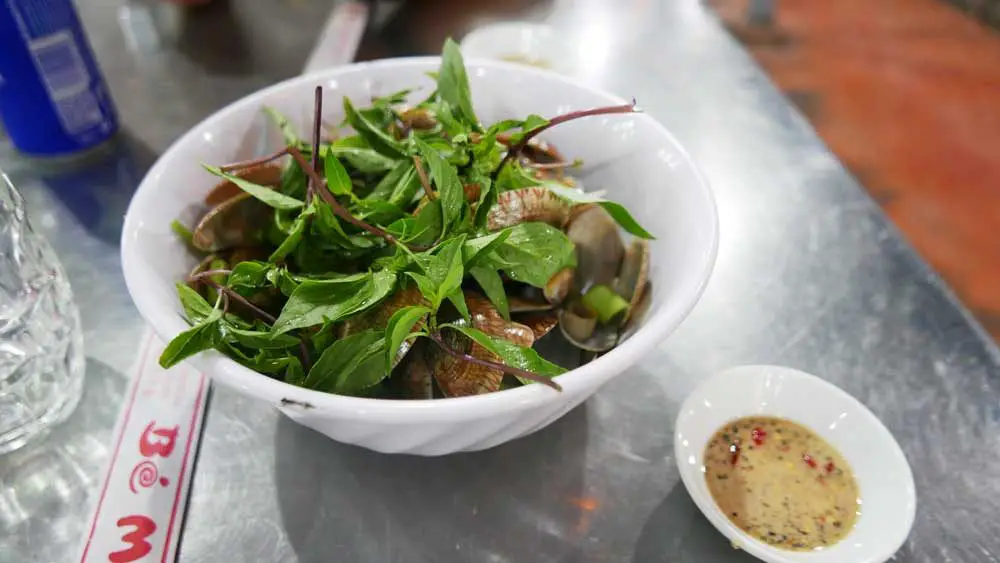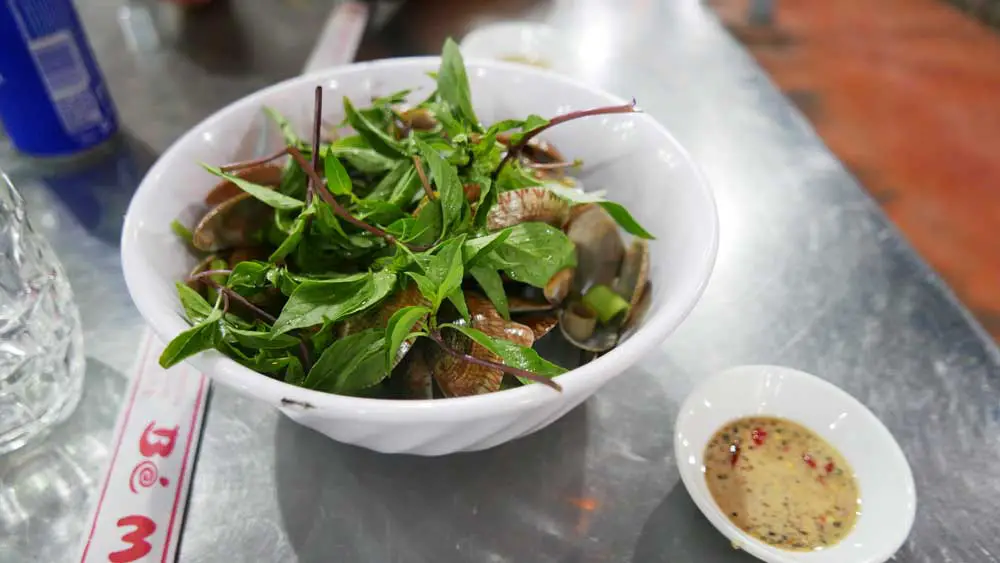 Half a kilo of mussels, with dips!
 Pro tip: get the hotpot!
 Address: Lo 13 Durong Hoang Sa – Da Nang, Da Nang
Opening times: unclear

Nem Restaurant (Belle Maison Parosand Danang)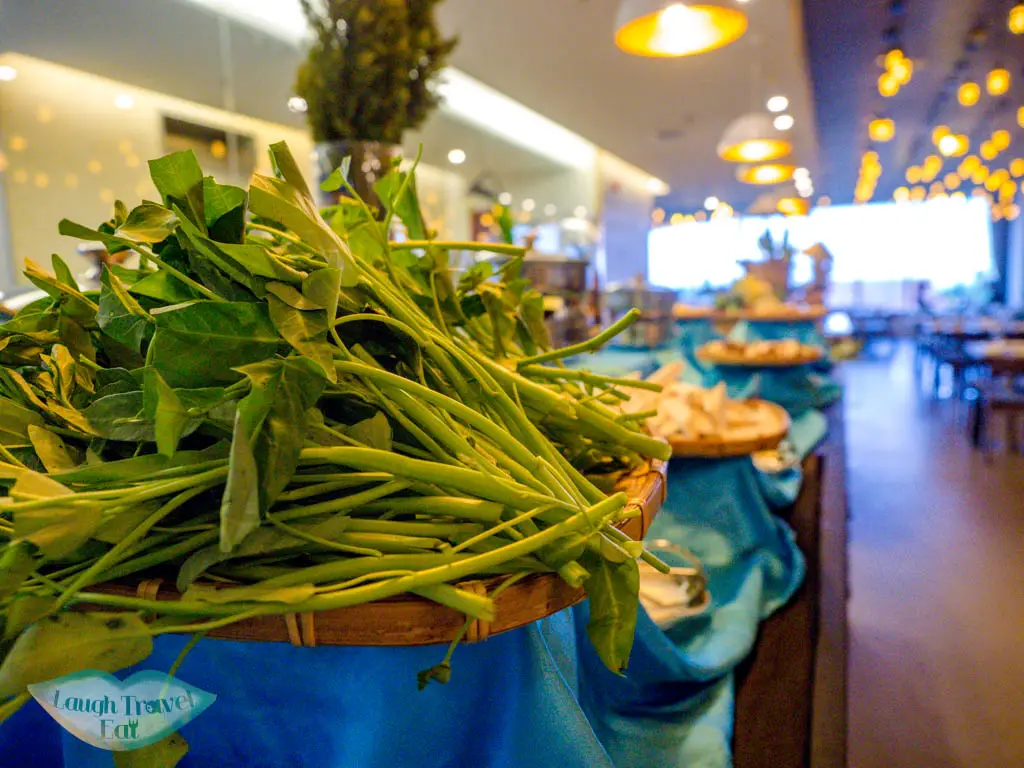 A Vietnamese focused restaurant in the Belle Maison Parosand Hotel, Nem is a good option for those who want to dine in a nicer environment.
Cao Lau

Spring rolls
They offer live cooking demos on Banh Xeo (Vietnamese pancake) and Cao Lau, and set menus for those who want a taste of Vietnamese food. Set 1 is a 5 course dinner at 199k per person, while set 2 is 7 course at 399k per person.
Pork satay

Salad
Fish

corn soup
There is also hotpot nights at 350k dong every Friday. It's buffet style with a good selection of meat and seafood.

Address: lv 3, 216 Võ Nguyên Giáp, Phước Mỹ, Sơn Trà, Đà Nẵng 550000, Vietnam
Opening times: 6:30 – 10:00, 18:00 – 22:00

Non La Restaurant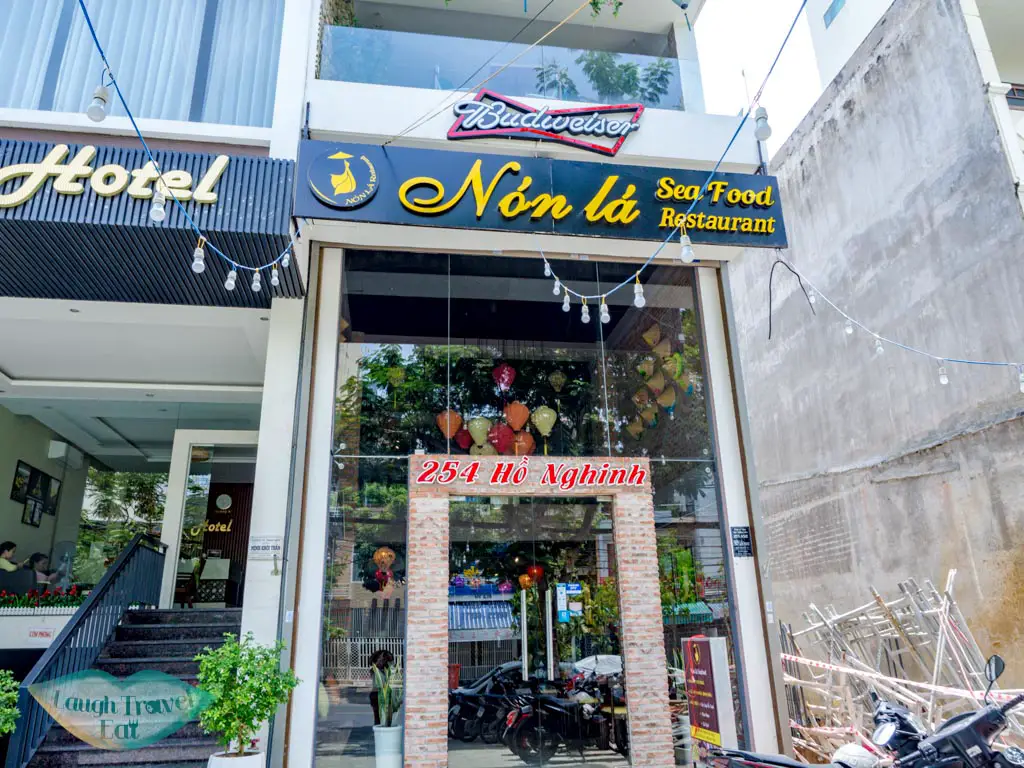 Not a fan of open air seafood places? Non La Restaurant is close to the beach front of My Khe beach with tasteful decorations and air con.
They offer fresh seafood (but no pick your own) as well as Vietnamese dishes but at a heftier price tag than the ones mentioned before. They have three set menus, two for Vietnamese food and one for seafood. I decided to treat myself with the seafood spread and it was delicious!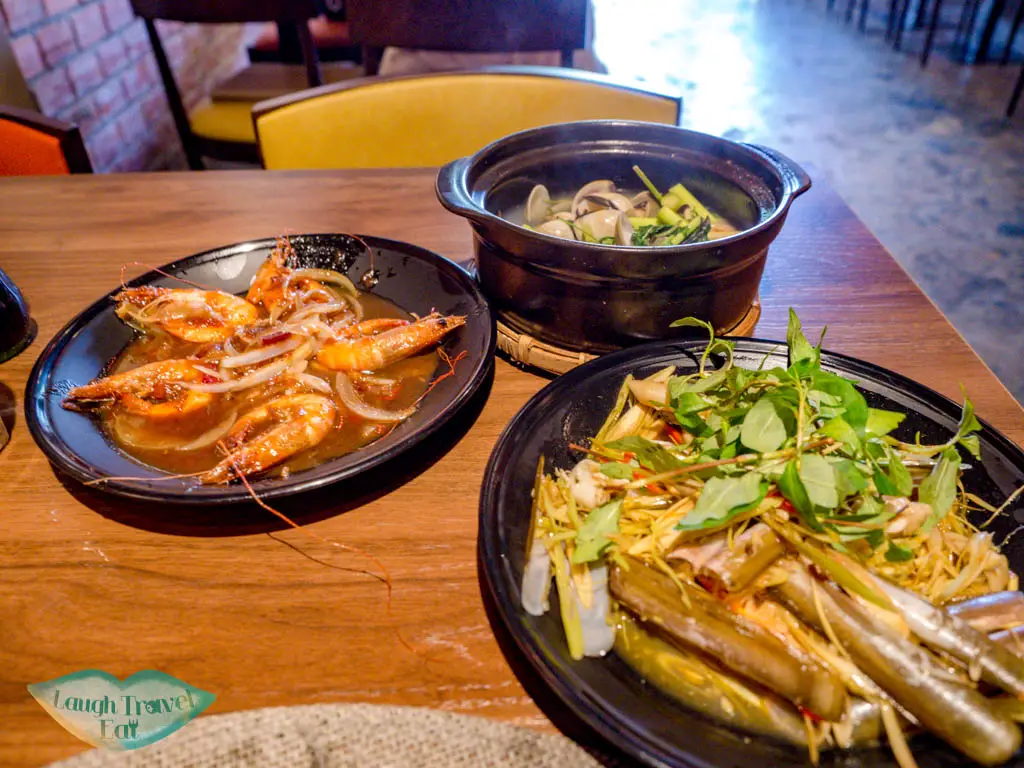 Af 550k dong I had a starter of shrimp in tamarind sauce, steamed clams, and razor clams. Main consist of a 250g grilled lobster with cheese and morning glory.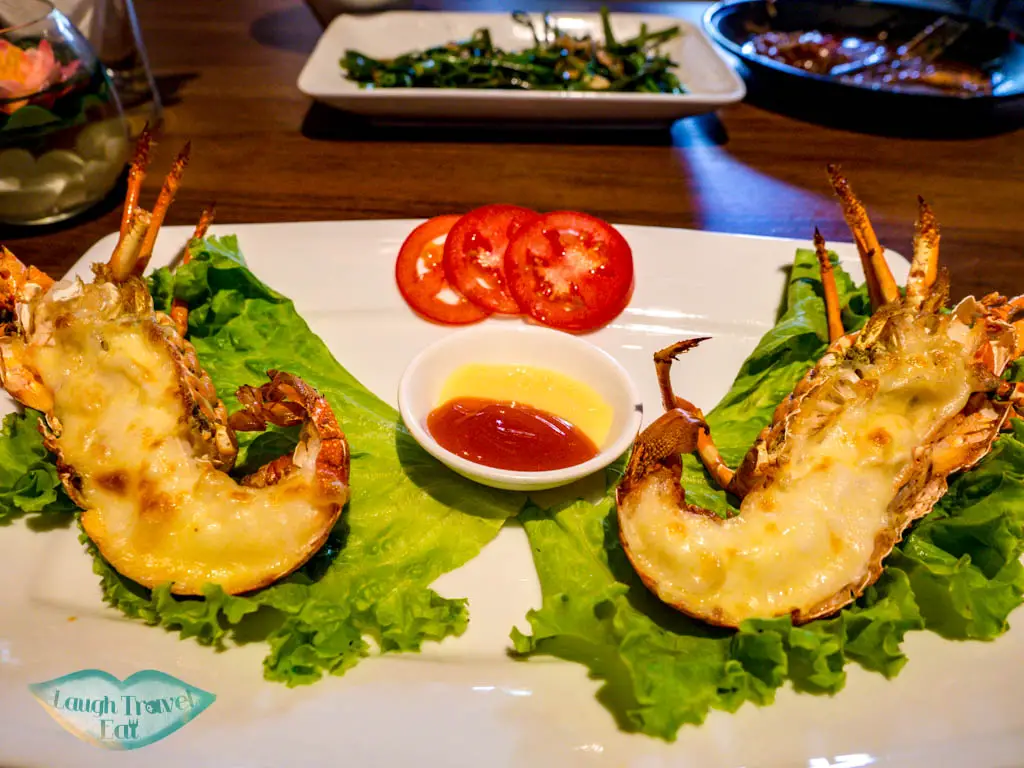 I was pretty stuffed at the end and recommend you go in there with an empty stomach.

Address: 254 Hồ Nghinh, Phước Mỹ, Sơn Trà, Đà Nẵng 550000, Vietnam
Opening times: 11:00 – 15:00, 17:00 – 23:00

International Food
F29 Sky Bar Restaurant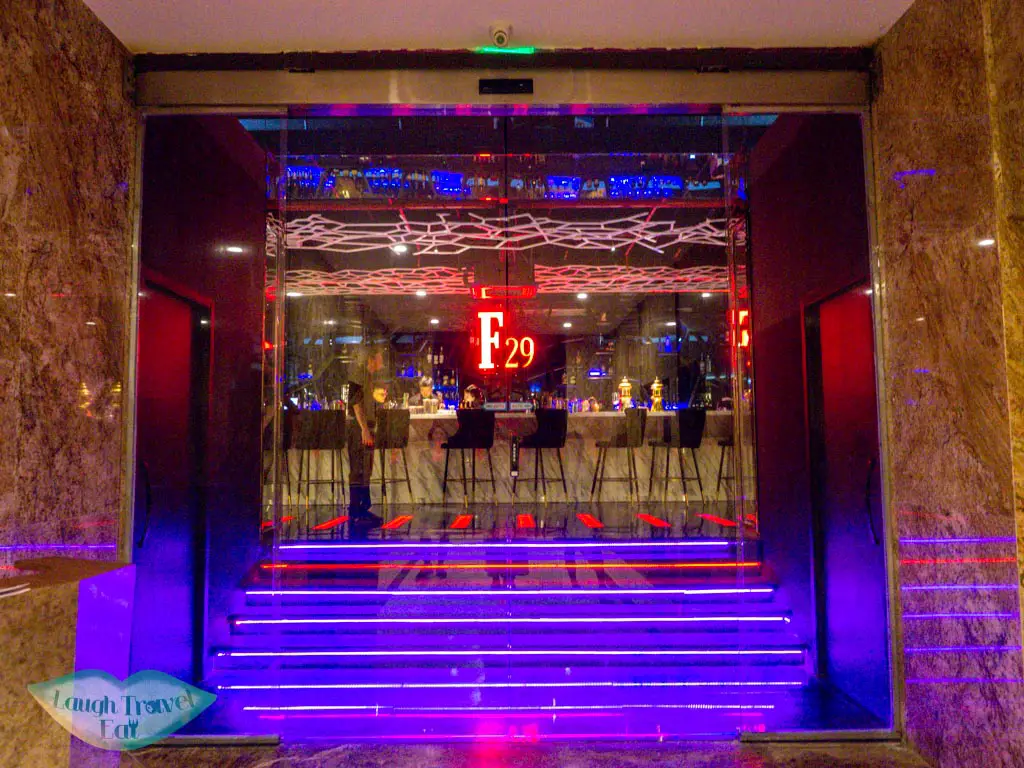 For a truly spectacular experience, head to the coolest sky restaurant in town: the F29 Restaurant in Danang Golden Bay Hotel. F29 serves the finest French cuisine in addition to the best night view of the city.

While the prices are higher than all of the others, the food is actually very affordable compared to the same type of restaurants in other cities. We ordered Salmon Carpaccio (320k/13.7 USD) and Burrata salad (330k/14.2 USD) to share as starters.
For main I had the Scallops (420k/ 18USD), my sister had the Linguine Prawn (440k/ 18.9USD), and my mum had the slow cooked veal (470k/ 20.25USD). The portion size is pretty similar across the board, but we were reasonably full since there was a complimentary bread platter!
Lastly, we finished off with a raspberries pistachio tart (158k/ 6.8USD). We also tried their mocktails (all 140k/6 USD) which are quite refreshing.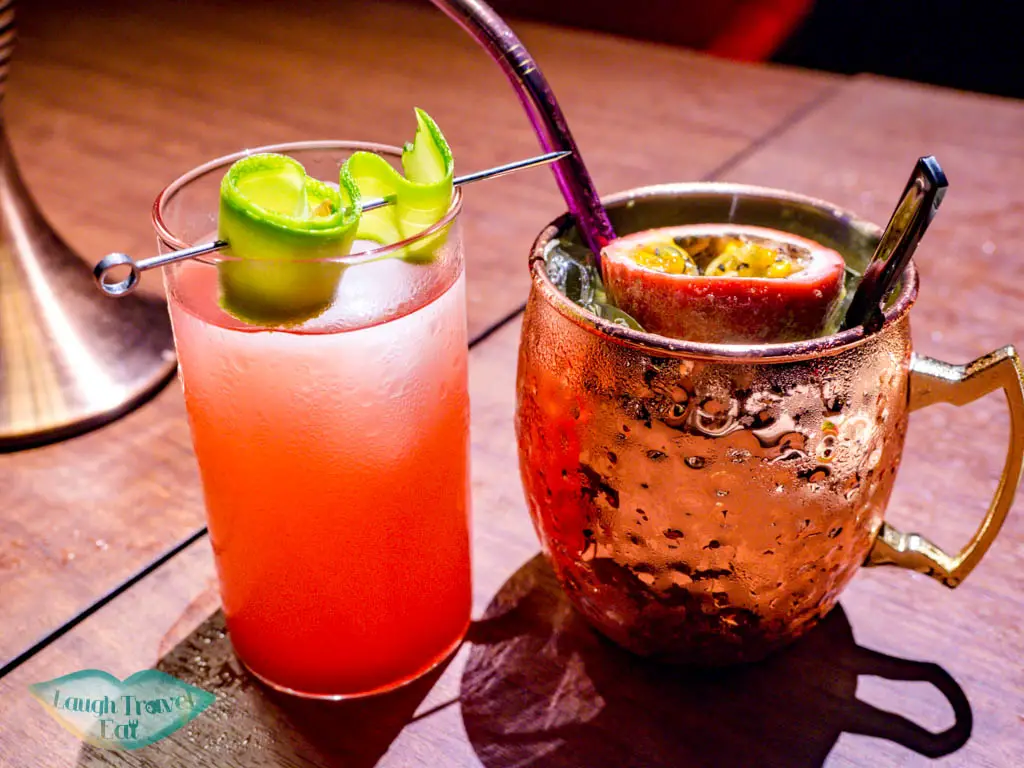 Note: they have a 20% off bill for now so get it while you can!
Address: Lv 29, Lô 01-A1, Lê Văn Duyệt, Nại Hiên Đông, Sơn Trà, Đà Nẵng 550000
Opening times: 10:00 – 23:00

Pizza 4P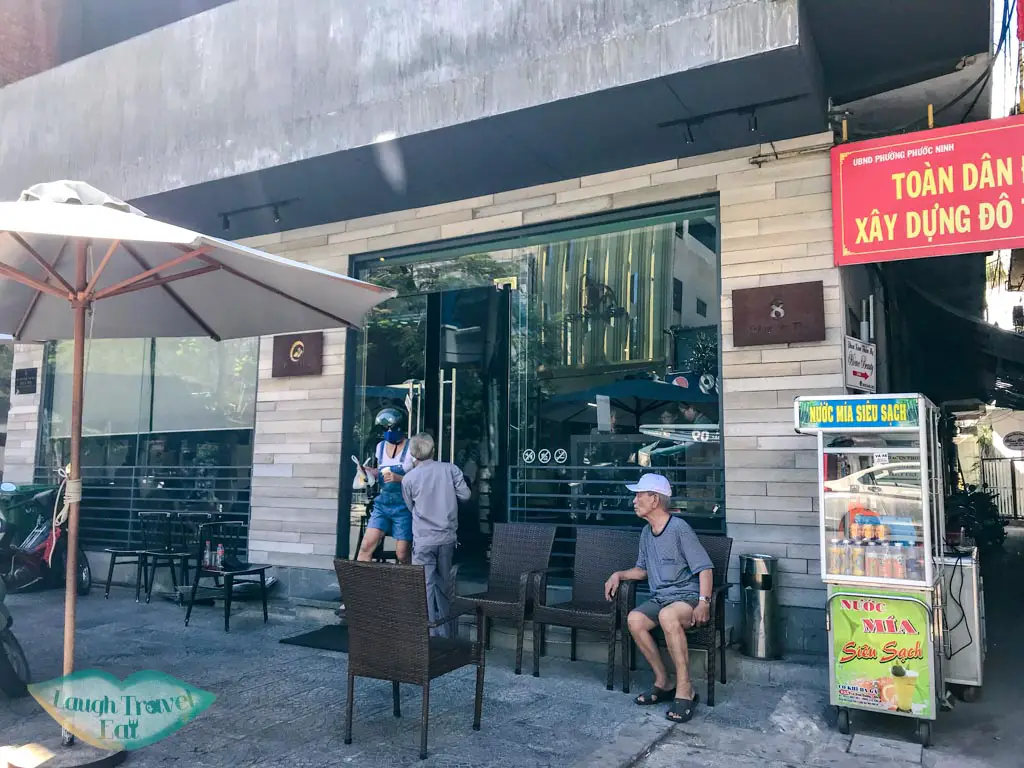 Pizza 4P is arguably my favourite pizza restaurant of all times. It is a chain that's also available in Hanoi and Ho Chi Minh City, with their own dairy farm in Dalat where cheeses are made.
Be warned that the Danang branch is very popular and it's best to reserve a table 2 days in advance. Otherwise expect to either turn away or wait for over an hour.
Address: 8 Đường Hoàng Văn Thụ, Phước Ninh, Hải Châu, Đà Nẵng 550000
Opening times: Mon – Thurs 10:00 – 22:00; Fri 10:00 – 22:30 ; Sat – Sun 9:00 – 22:30

Sky View Restaurant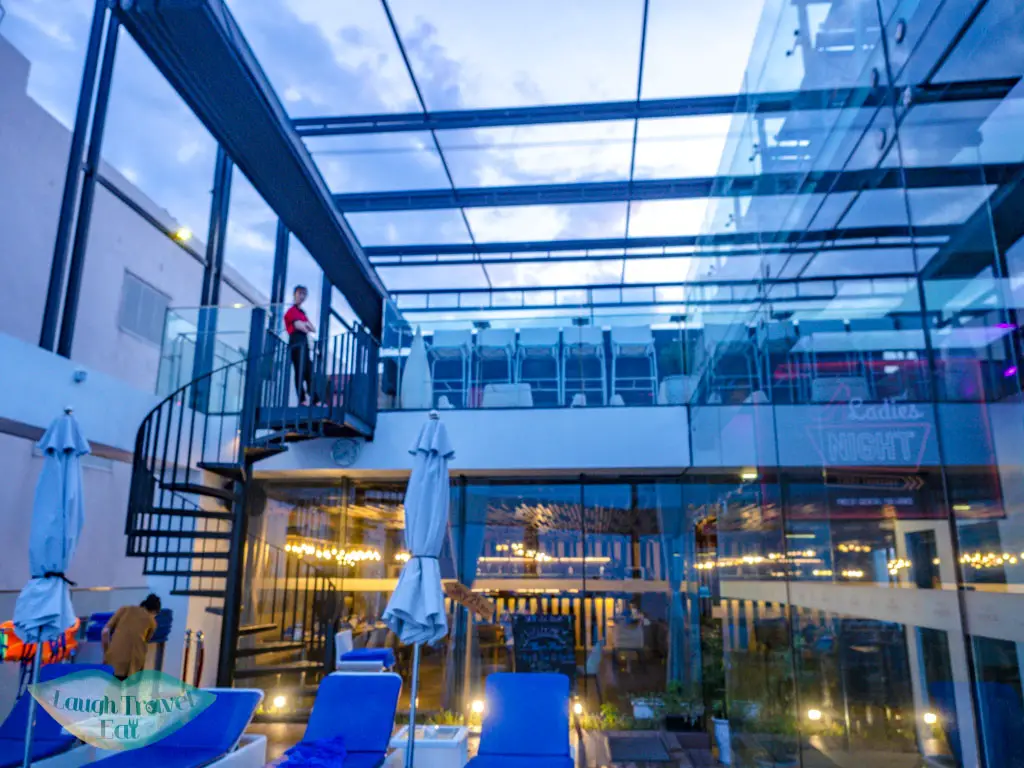 The rooftop restaurant at Belle Maison Parosand Hotel, Sky View Restaurant serves a combination of Vietnamese and international dishes with a focus on seafood.
The most popular is their seafood buffet (350k with unlimited drinks!) that is only available on certain days – best to check with the hotel.
Their usual menu can be found here, I had their French set menu with 5 course and really enjoyed it! Overall, a good place to dine if you are looking for a little stylish escape.
Address: lv 19, 216 Võ Nguyên Giáp, Phước Mỹ, Sơn Trà, Đà Nẵng 550000, Vietnam
Opening times: 11:00 – 23:00

Danang Cafes
Cộng Cà Phê
The Starbucks of Vietnam, Cộng Cà Phê is of course also present in Danang. This one we went to is by the river with two floors, in its usual moody rustic vintage style.
My only complaint about this place is that they allow indoor smoking.
Address: 98-96 Bạch Đằng, Hải Châu 1, Hải Châu, Đà Nẵng 550000
Opening times: 7:00 – 23:30

The Local Beans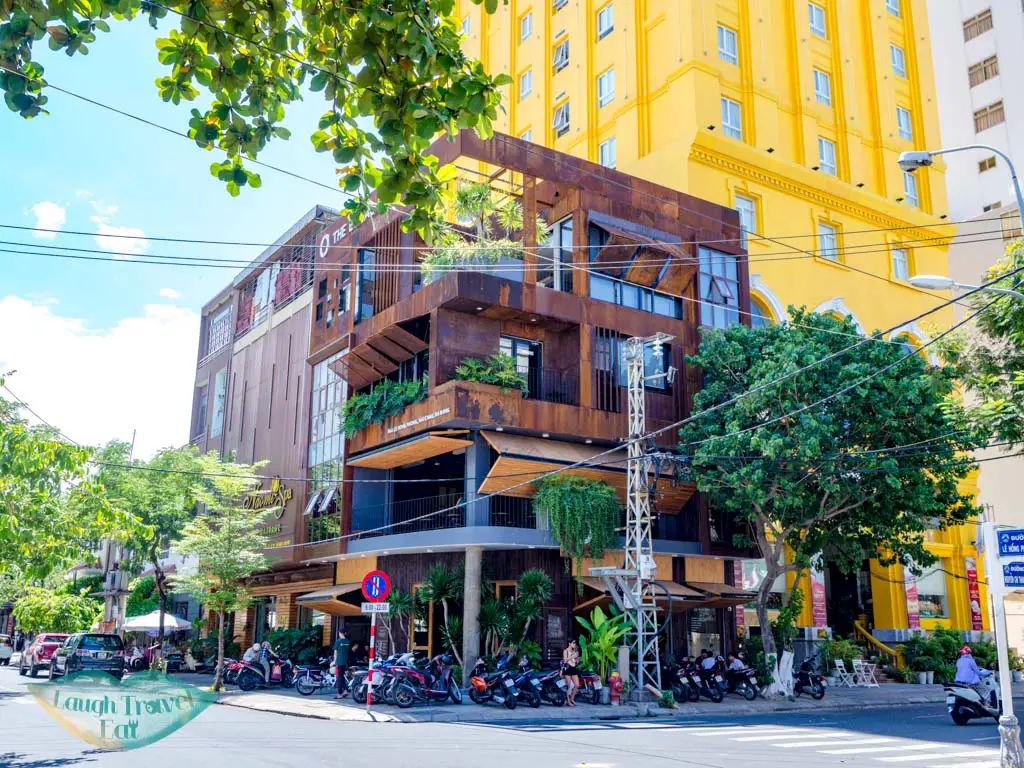 We stumbled across this gorgeous cafe while wandering around downtown Danang. It is a cafe and I working space rolled into one with affordable and good beverage and snack options.

The simplistic design and use of wood gives it an airy vibe with shade covers to block out the sun. The cafe is on both the ground and first floor, with the coworking space above.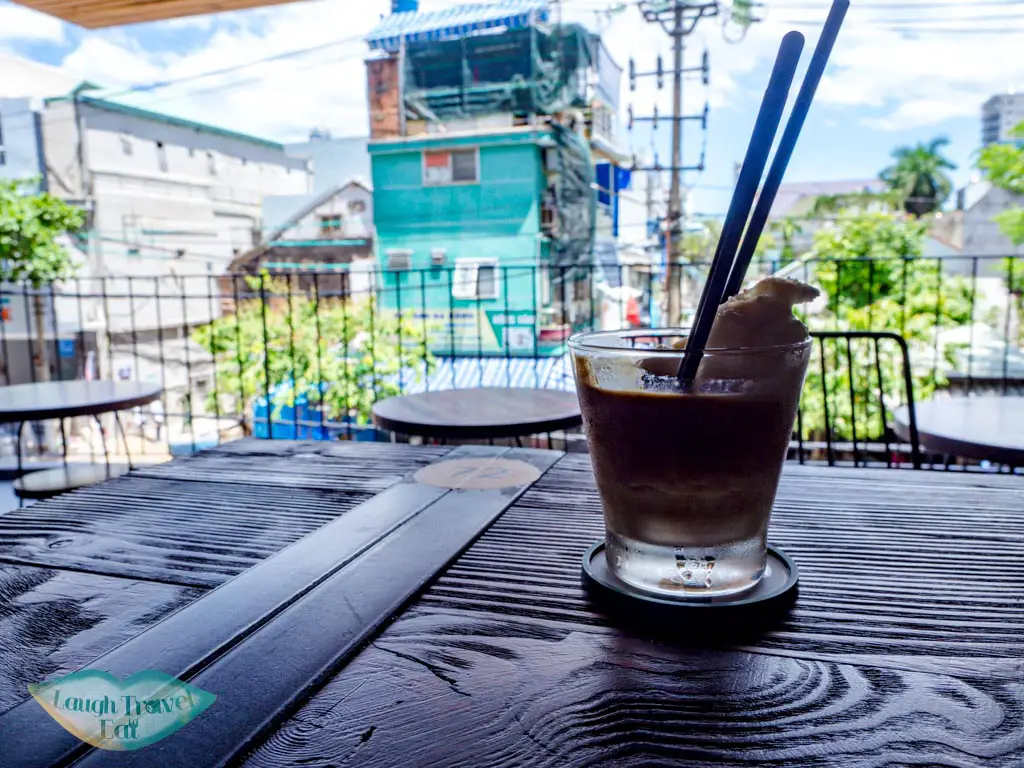 We ordered a tea, a soda, and a coconut coffee and they are all pretty good. With free WiFi and socket space, it makes for a good stop for digital nomads, too.
Address: 56A Lê Hồng Phong, Phước Ninh, Q. Hải Châu, Đà Nẵng 550000
Opening times: 6:30 – 22:30

Aroi dessert cafe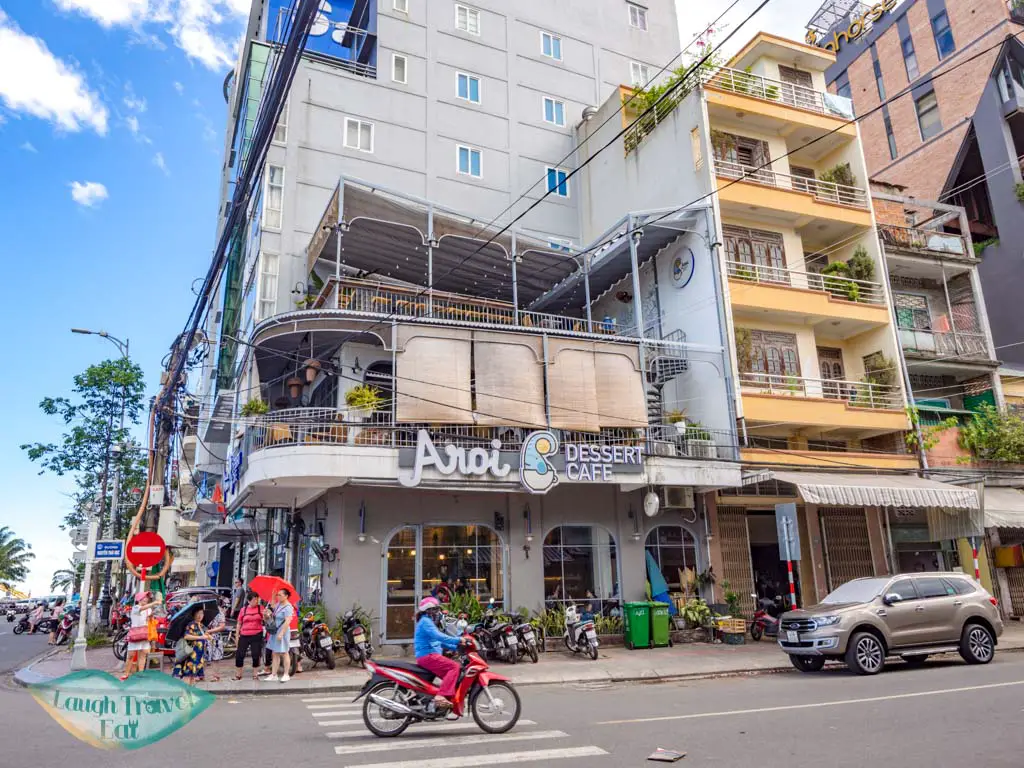 A riverside three storey cafe with both air con and terrace seats, it's no wonder that Aroi Dessert Cafe is popular. It is just around the corner from Han Market, offering coffee, bubble tea, and quirky desserts.
The top floor gives a good view of the Han River and the Dragon Bridge, too. The drink prices are quite fair, ranging from 30k dong upwards.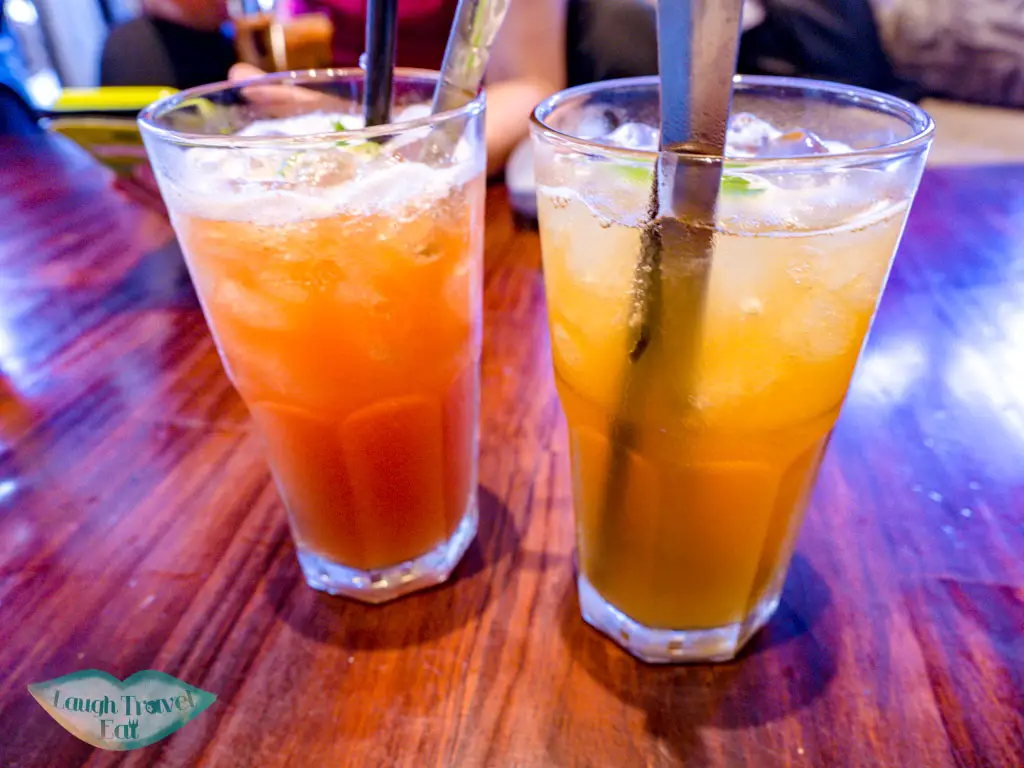 Address: 124 Bạch Đằng, Hải Châu 1, Hải Châu, Đà Nẵng 550000
Opening times: 7:00 – 23:00

Danang Souvenirs & Cafe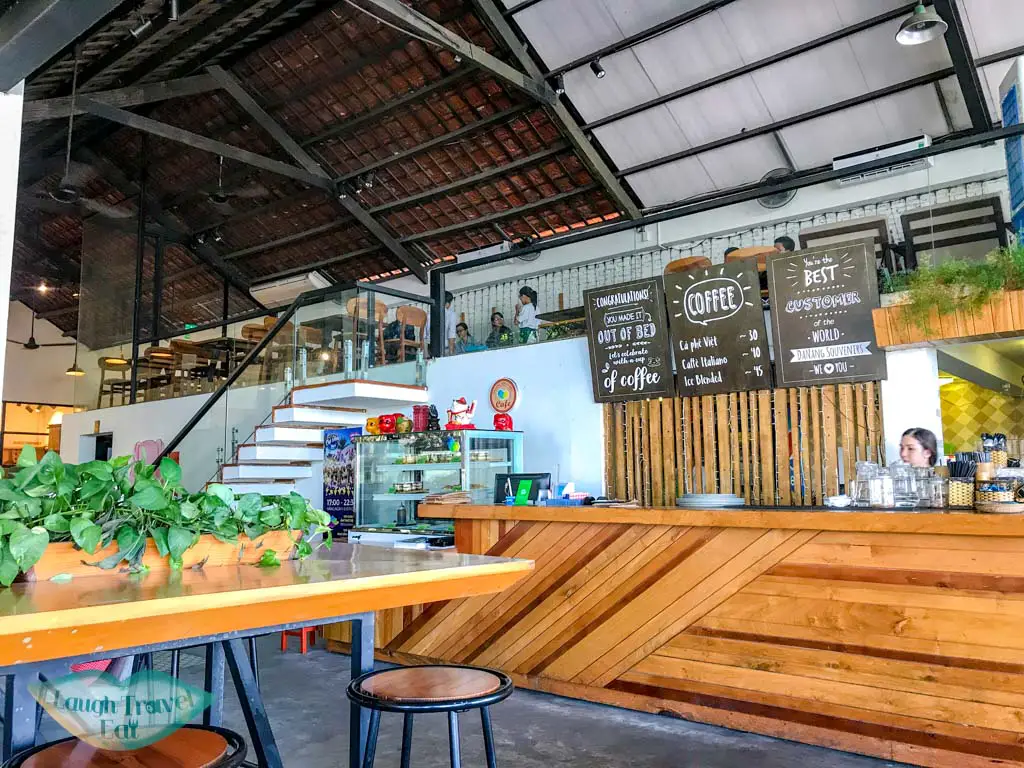 To the northern end of downtown is the Danang Souvenirs & Cafe. I personally didn't find the souvenirs that interesting but the cafe has cute tiles and a loft floor.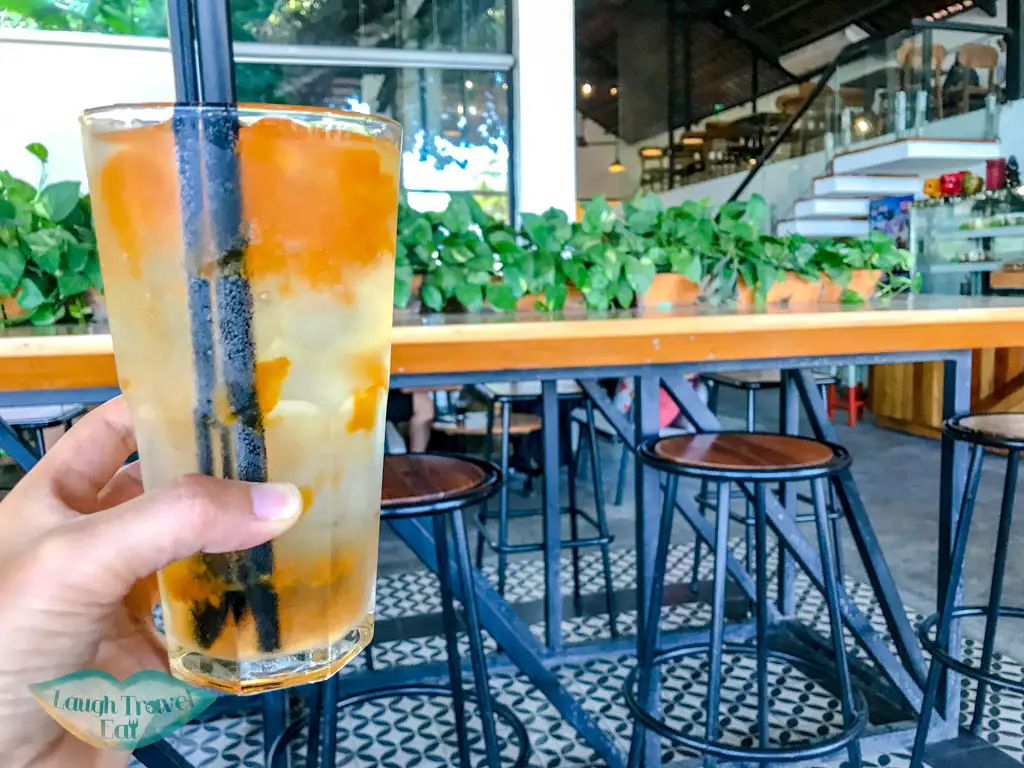 While there's no air con, the breeze from the river is good and their bathroom is clean and western style. I ordered a peach soda, which is mostly syrup but refreshing in the heat, at 40k dong.
Address: 34 Bạch Đằng, Thạch Thang, Hải Châu, Đà Nẵng 550000, Vietnam
Opening times: 7:00 – 23:30