Southern Vietnam has been visited by millions of people, with cities such as Saigon, Mui Ne, Dalat being a favourite among travellers. But did you know that there are wineries in this region? That's right, you can combine your southern Vietnam trip with Vietnamese wine! While wine in Vietnam seems like an odd concept, we mustn't forget that the country was occupied by French for almost two hundred years, and they've certainly learned a trick or two.
Having already visited northern and central Vietnam, I was excited to discover the southern part of the country with Vietnam Wine Tour, who had packaged an amazing week of sight-seeing for us beginning and ending in Saigon. They are very accommodating in fitting in sightseeing and wineries for us, making sure that we are able to see everything! Here's a review of our tour:
>Learn more about Vietnamese Wine here
*note: the trip was hosted by Vietnam Wine Tour but all opinions are my own
Day 1: arriving in Saigon
The first day was for arriving at Ho Chi Minh City. I ended up having a visa problem and couldn't get on a flight – to avoid my mistakes, see my Vietnam Survival Guide.
Day 2: Drive to Mui Ne
Bright and early, we started our drive to Mui Ne. It is about 4 hours by car, and the roads are in great condition. Our lovely tour guide Rose picked us up at our hotel and chatted with us about the trip as well as Vietnam on our way.
We got hungry along the way and made a lunch stop at a little restaurant by the road. The food isn't amazing, and perhaps you might be better off getting food at a service station but we were too hungry!

We arrived at SeaLink Resort right by the sea in the early afternoon. The resort is absolutely beautiful and our first winery visit is also on property.
RD Wine Castle
Our first foray into the Vietnamese wine scene was gentle because the RD Wine Castle is a Vietnamese owned company that grows and produce wine in Napa Valley, California. The wine castle, which resembles a medieval French chateau, was built to introduce their wine to Vietnamese. Inside, we learned about the company's history through a short video, then we tried their selection of wine.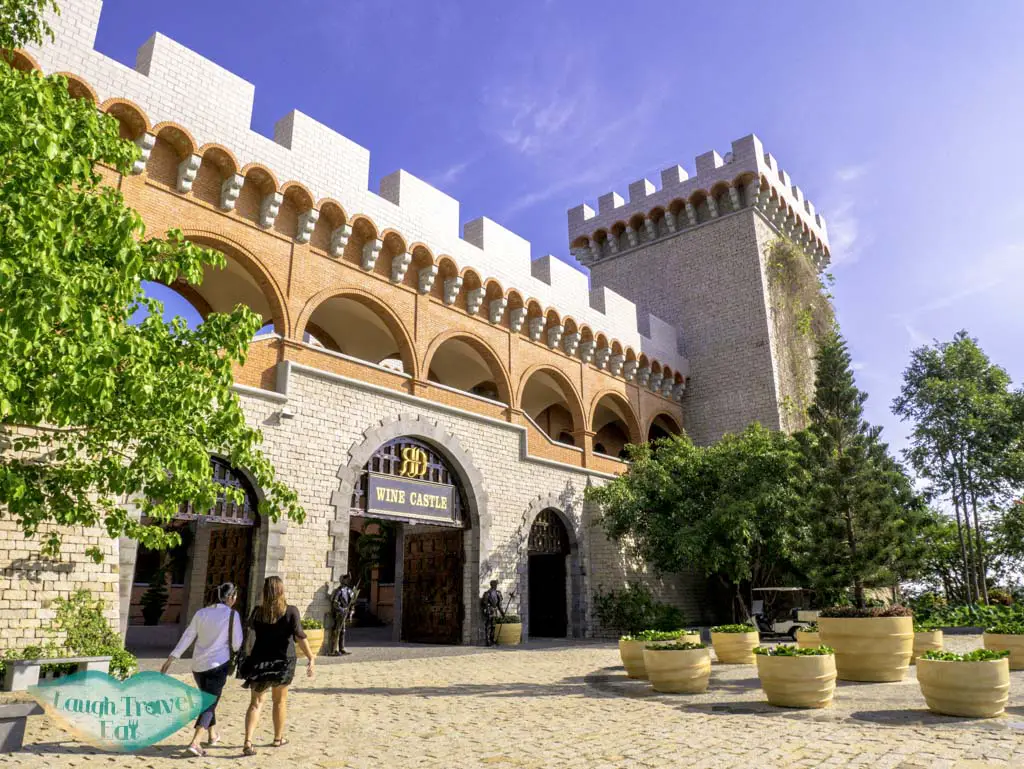 Starting with a Moscato while watching the video, we then sampled their wine from the dining room, trying their Sauvignon Blanc, Cabernet, Syra and Merlot. My personal favourite is the Moscato, but then I'm always partial to white!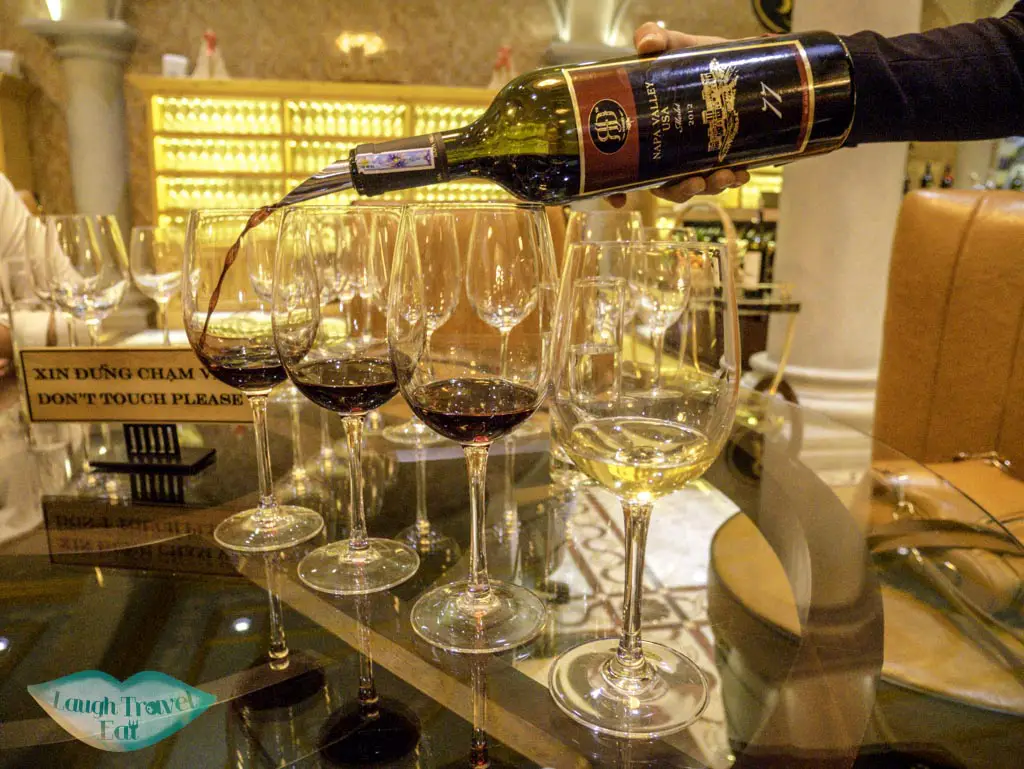 We then return to the resort to relax by the beach. Dinner at the resort restaurant is reasonably priced and quite tasty!
Day 3: Mui Ne and drive to Ninh Thuan
Red Sand Dune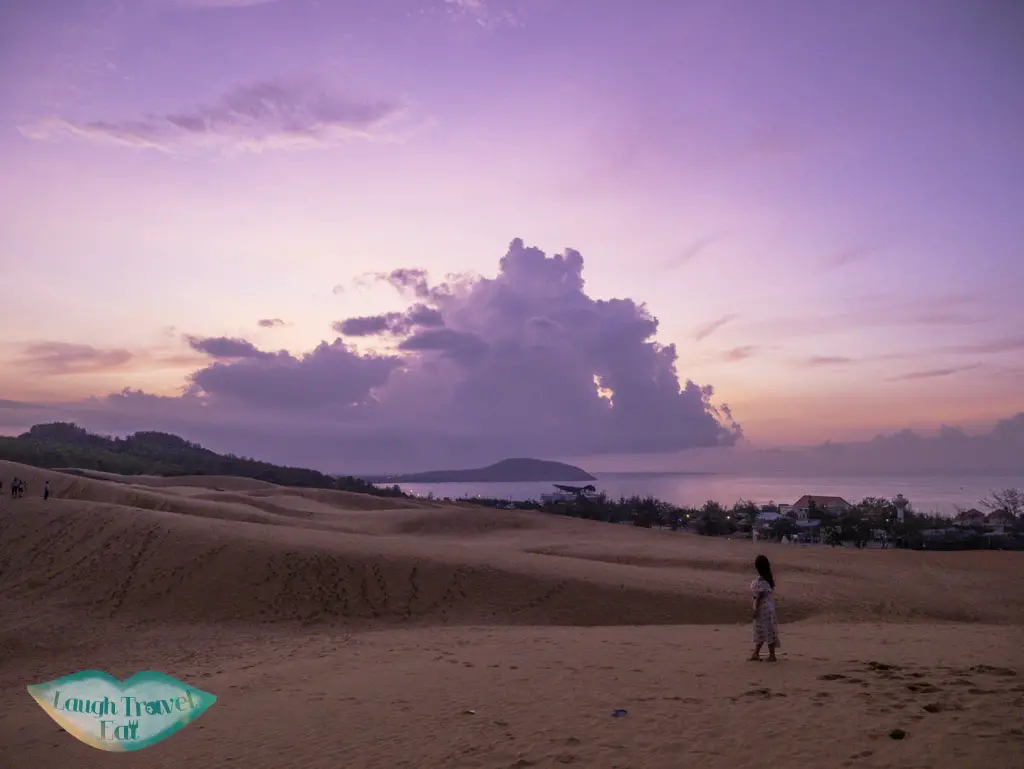 We started the day super early to head to the famous red sand dune for sunrise. The red sand dune is a curious sight, rolling on for hundreds of meters right by the main road. In the early hours, there are only a handful of groups there, and the lights and colours are simply stunning.
There are local ladies around the dunes selling food as well as sheets for you to slide down. Since we were wearing dresses, we decided against sliding down – but running down the dune was equally fun!
Seafood market
Once the sun is up and we had finished our photo shoot, we moved into the fishing market. The busy stretch of beach isn't far from the red sand dunes, and you can see the flurries of activities even from afar. Morning is their busiest time, with the fresh catch being taken in and the sorting of seafood happening right on the beach.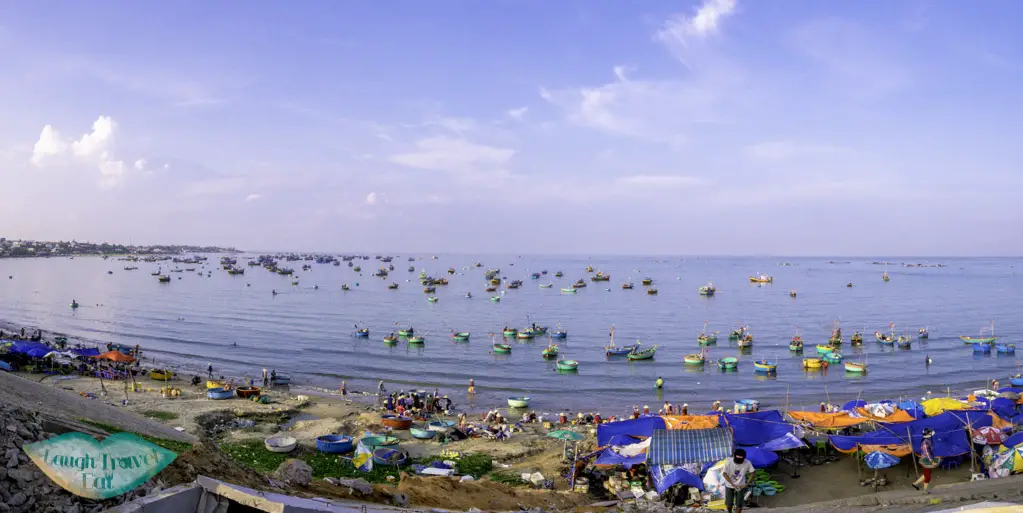 You can purchase seafood right then and there, and they will cook it for you to eat or take away. The prices here are a fraction of what a restaurant will charge you! We ended up getting some crabs and also bought some drinks from a local lady.
Fairy Stream
The last stop of the morning is the Fairy Stream. Famous for its red and white cliffs and the rusty shallow stream, it's a pleasant walk along the river to enjoy the sceneries.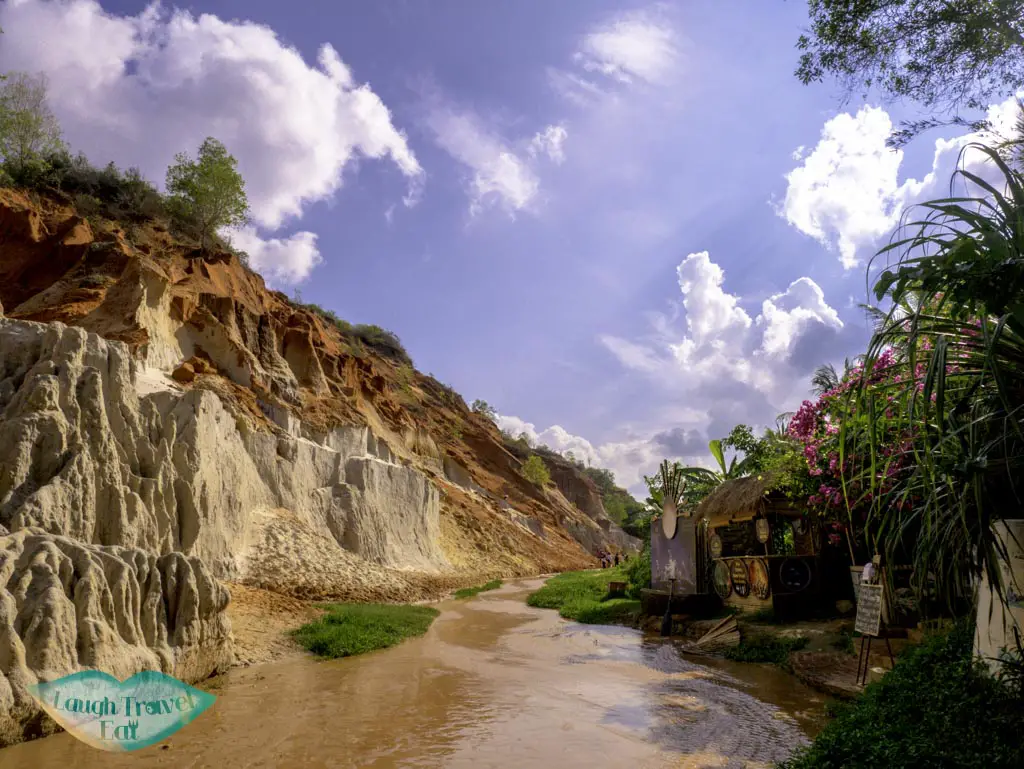 After that, we returned to our hotel for breakfast at around 9 am. We decided to enjoy the pool and the beach some more, setting off after lunch to the White Sand Dunes.
White Sand Dunes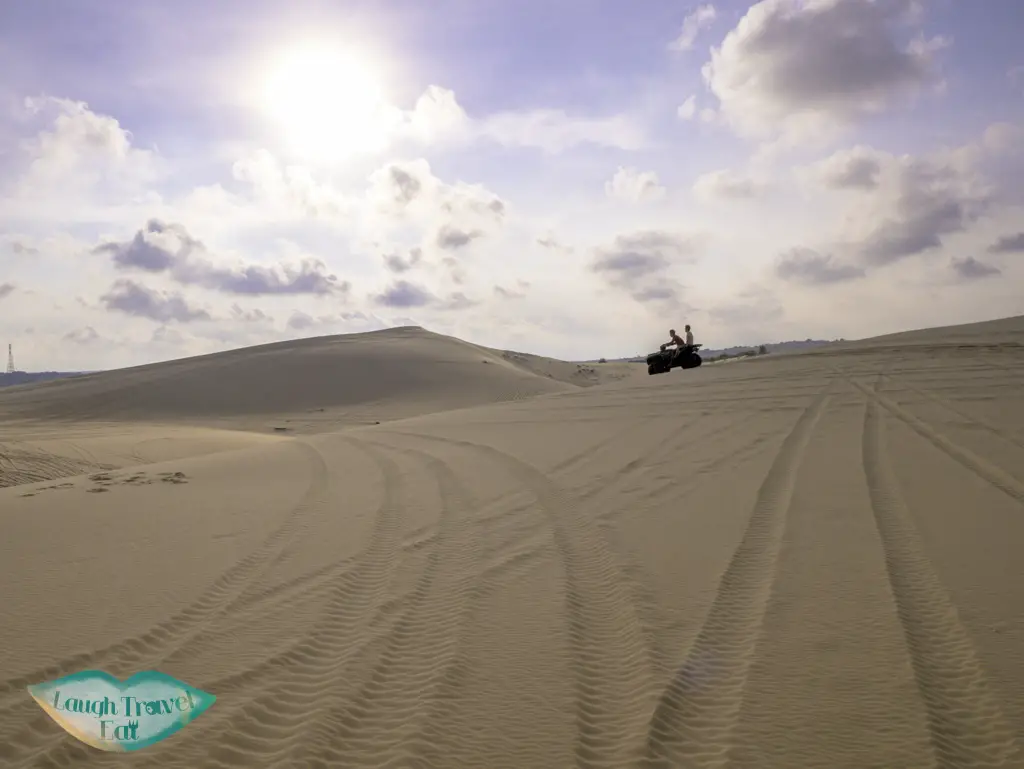 The White Sand Dunes are a little further from Mui Ne town centre, about 45 minutes drive from our hotel. This time, an entrance fee is required and it was a shock to see how much bigger it is compared to Red Sand Dunes. We decided to not go on the quad bike since we mostly just wanted to take photos, but later we did see an accident on it – so be careful!
The sheer size of the dunes makes it feels like you are in the middle of nowhere!
Ninh Thuan
Because we left in the late afternoon, we didn't get to our hotel – the Long Thuan Resort – until dinner time. We grabbed a Banh Mi in the town center and headed to the hotel.
Day 4: Ba Moi wineries to Dalat
Thien Thao and Ba Moi Winery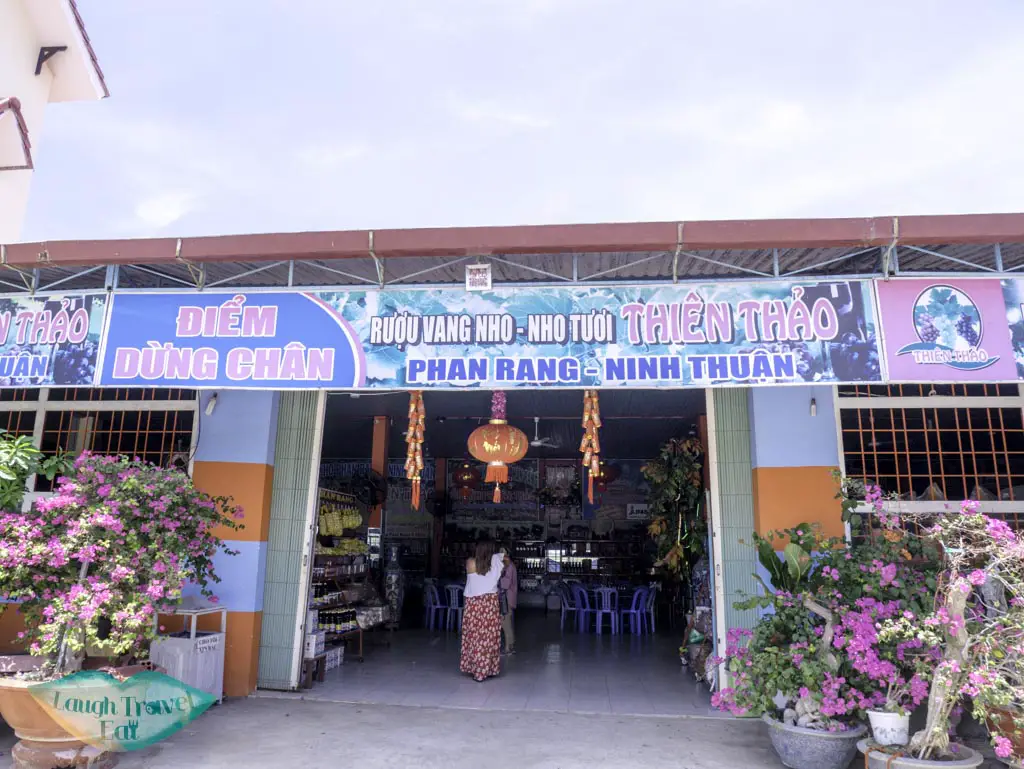 We started the day later at 10, giving us some time to enjoy the resort as it is right next to the beach. We then set off to visit the two wineries at Ba Moi: Thien Thao and Ba Moi Winery Farms. Ninh Thuan is a fertile province with ideal conditions for growing grapes, and both wineries have their vineyard right behind their store.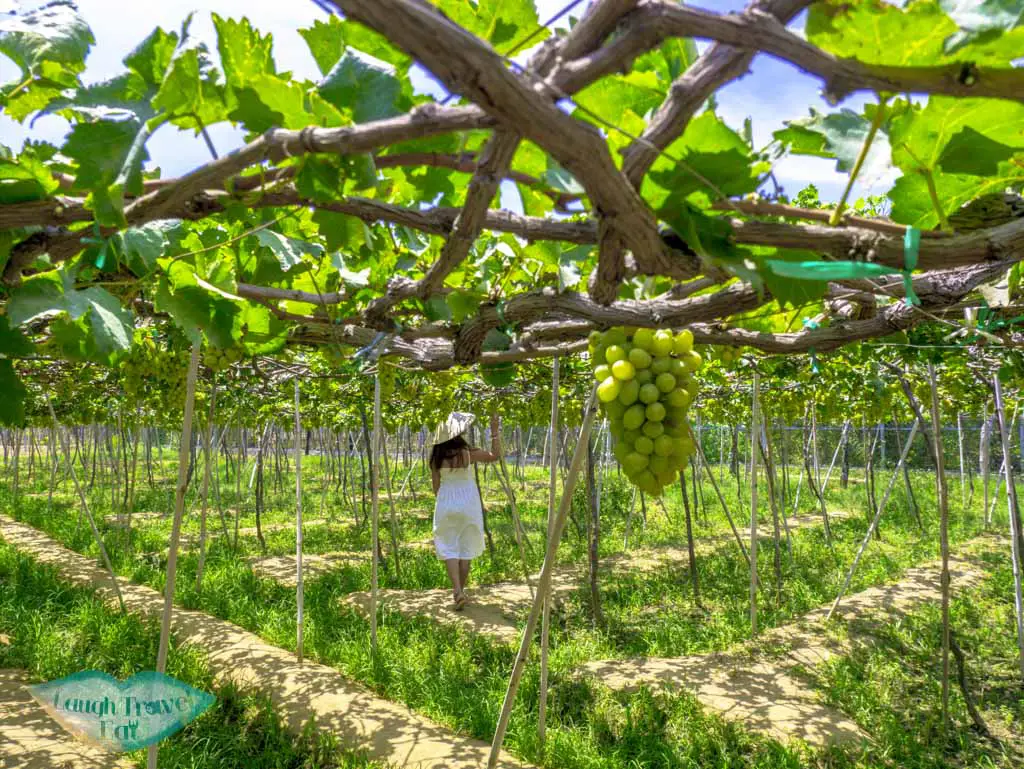 Both wineries sell a similar range of product, with grape syrup that's popular for all ages, a lightly fermented drink, and house red and white. Admittedly, the wine is not the best, but the grape syrup and fermented drink are lovely at both. We were unable to try the wine at Ba Moi Winery as they had a bad harvest this year and did not produce enough wine to sell.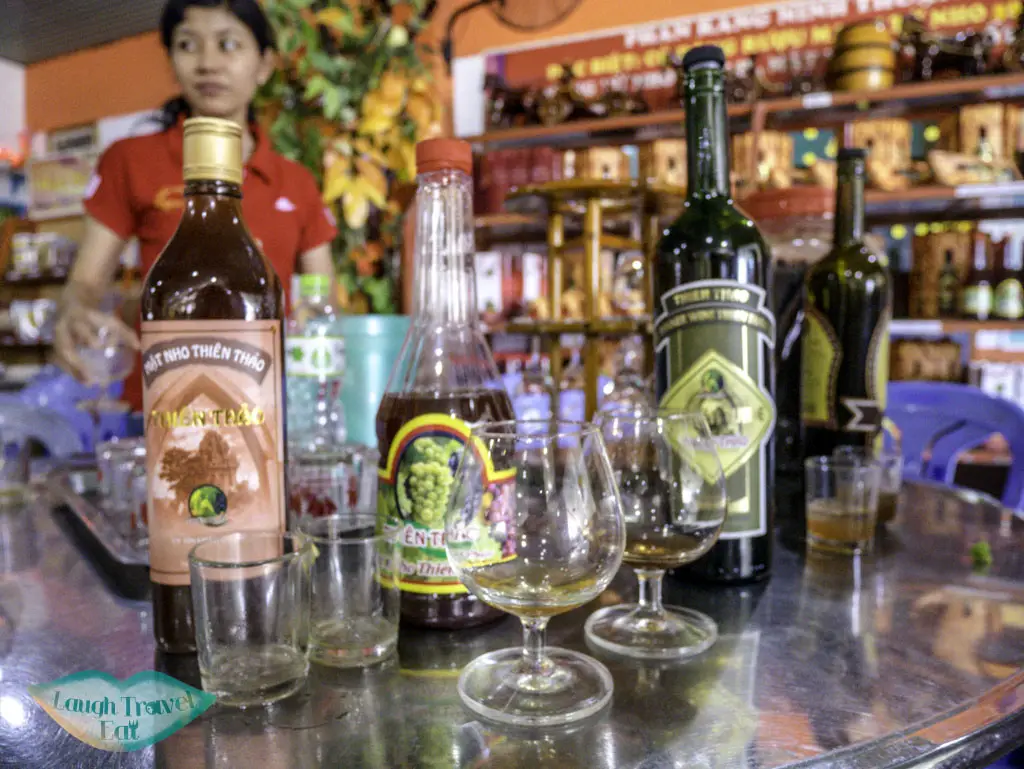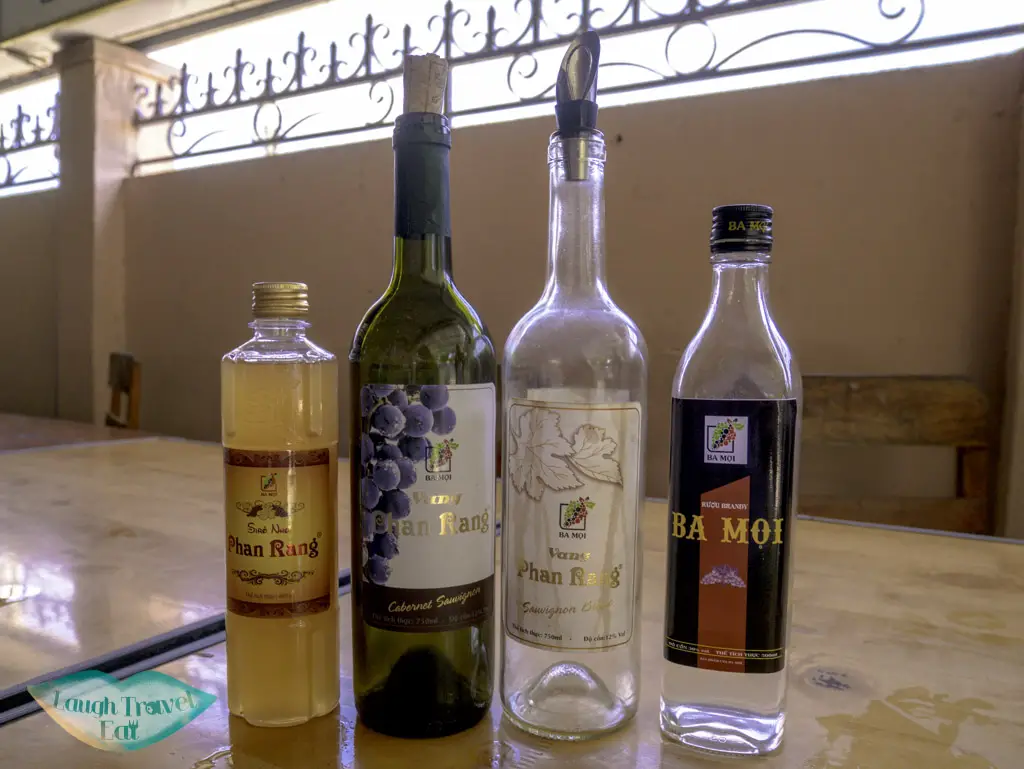 Drive to Dalat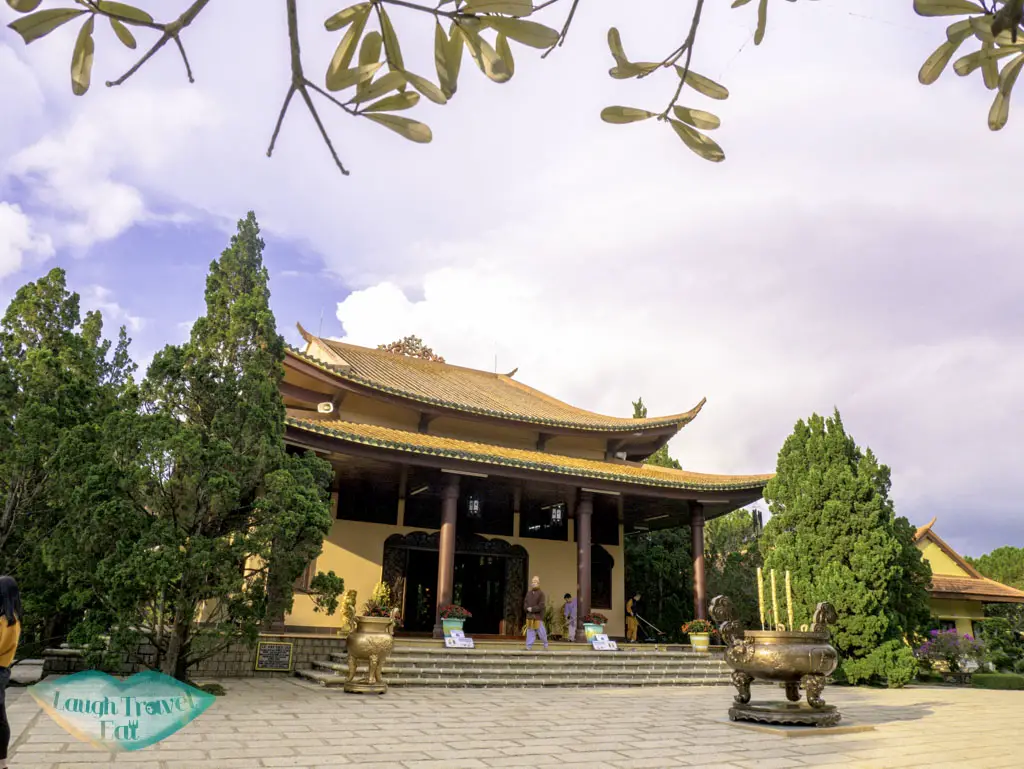 We then started the drive up to Dalat through the mountain pass. We made good time and was able to reach the region before 5, giving us a chance to visit the Trúc Lâm Temple. It's a Zen Buddhist Temple with beautiful gardens. The temple follows the path of the Tran Dynasty emperor who abdicated to become a Buddhist monk.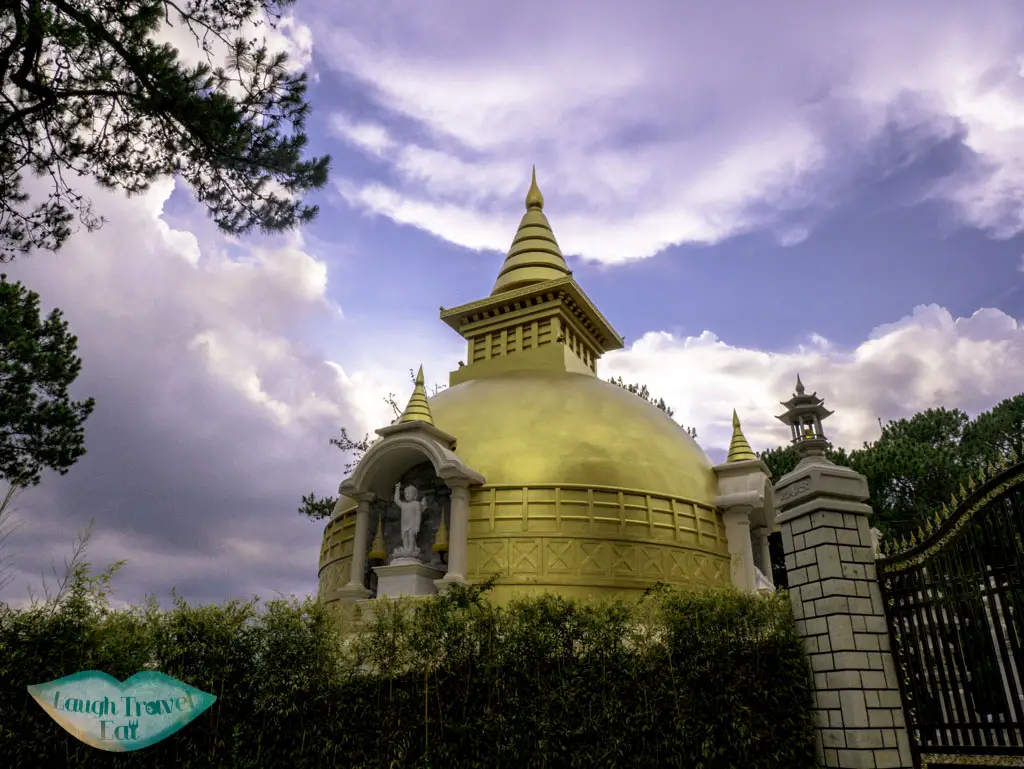 Our hotel is by the lake in Dalat, offering a wonderful view from its balcony. In fact, it almost looks like Austria or some mountain resort town in Europe. We ventured to the beautiful lotus flower building which happens to be a huge mall with a supermarket and food court!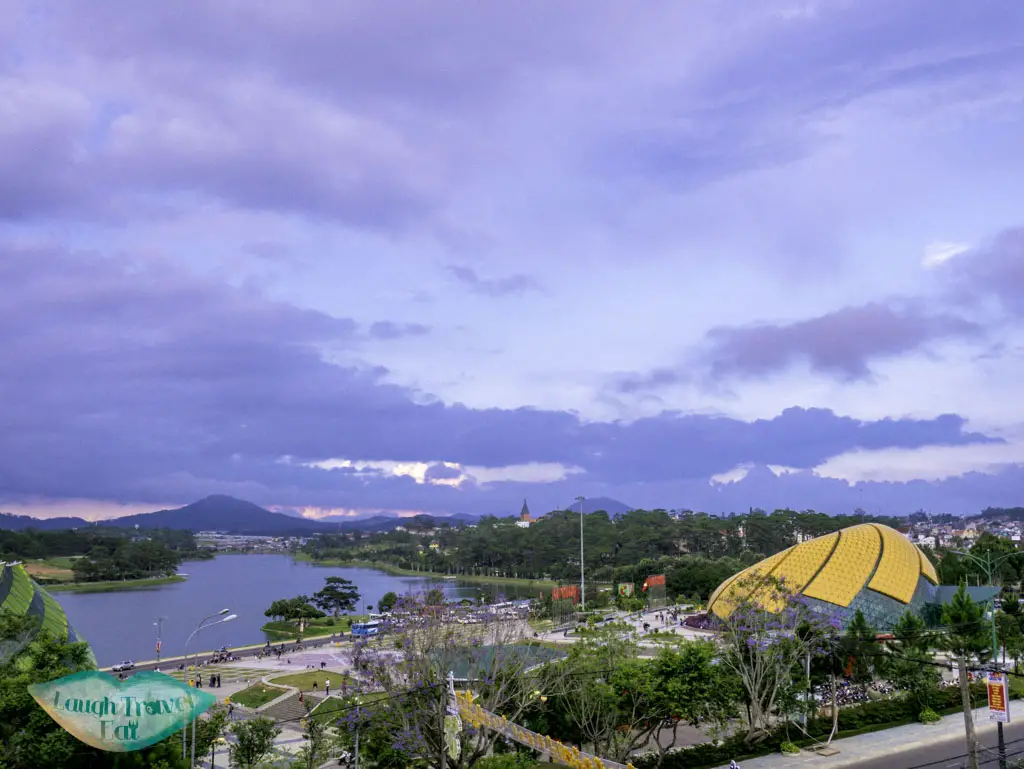 Day 5: Dalat wineries tour
Dalat Beco Winery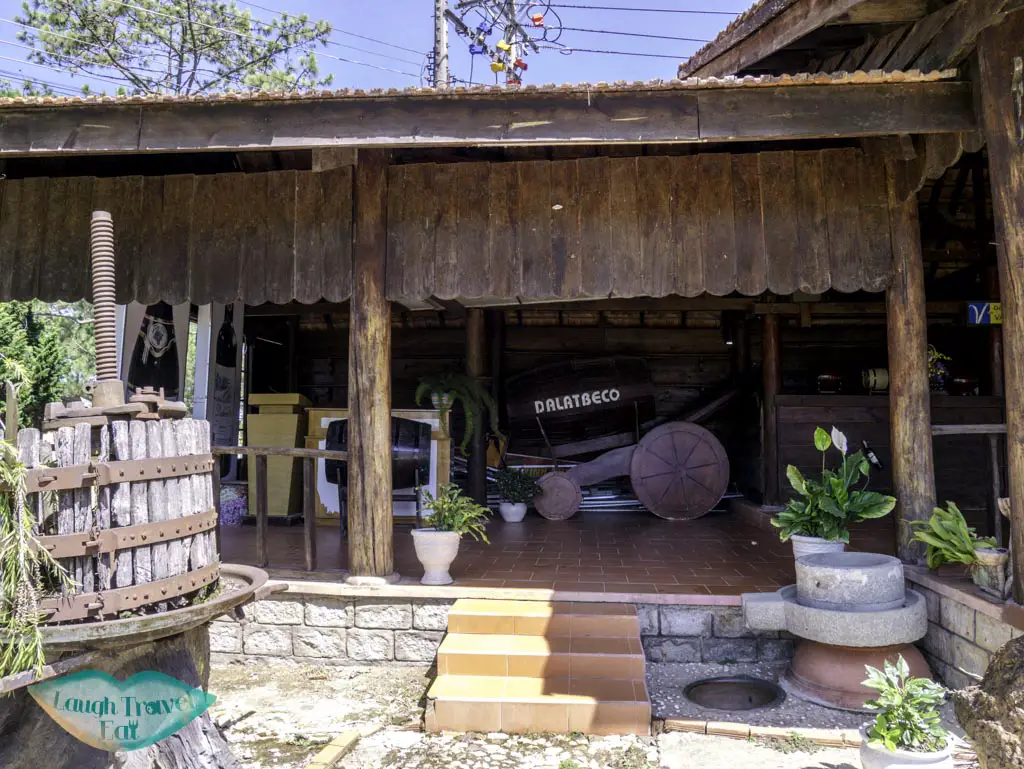 The day started off with a visit to the Dalat Beco winery, and we were able to visit the factory briefly before heading back down to the showroom. They make a variety of wine for local and export, and here we found the best White Wine of the trip: their export white.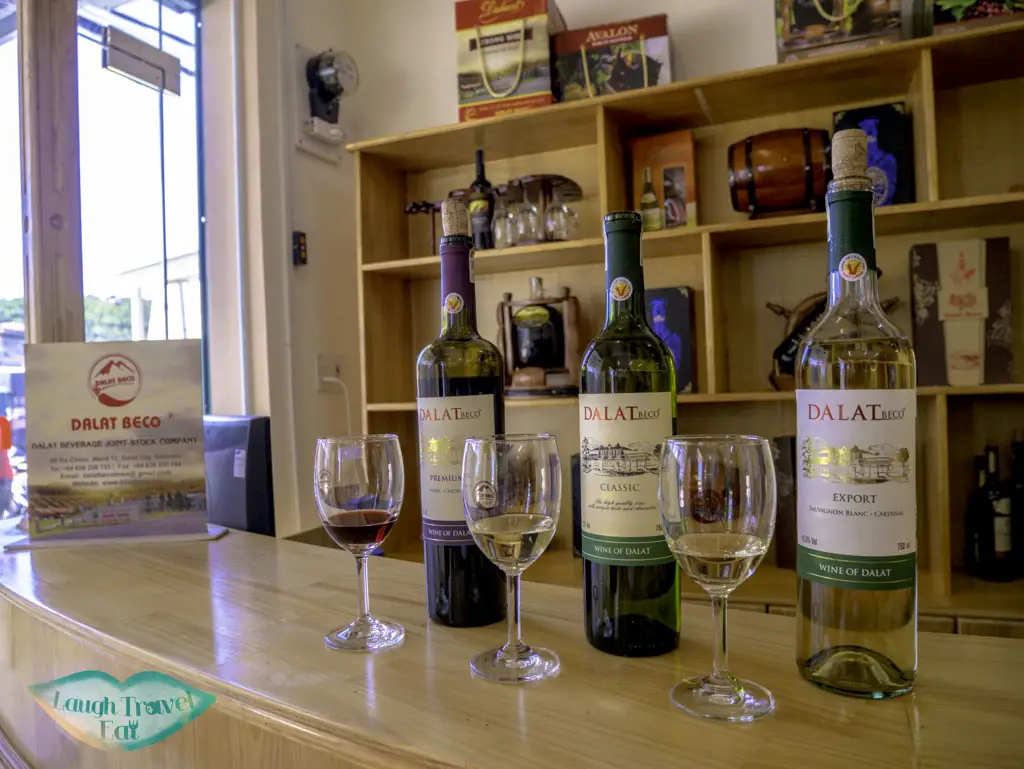 Linh Phuoc Pagoda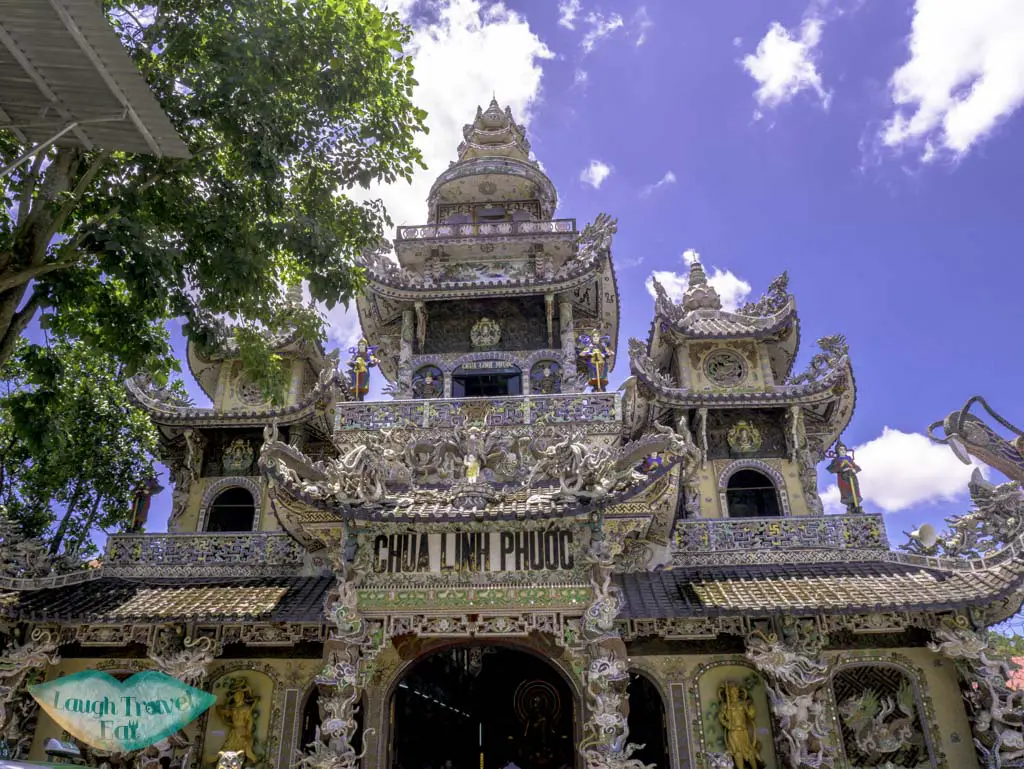 Next stop is the famous Linh Phuoc Pagoda. Made with glass bottles and broken pottery in the 1950s, it's a kaleidoscope of pastel colours that is a feast to the eye. The pagoda wasn't very famous until a renovation project in the early 200 called for the relocation of their burial ground. One of the monk's body hadn't decayed at all since his passing a few years ago, and since then it became a place of worship as it is believed that only highly enlightened monks' body won't decay.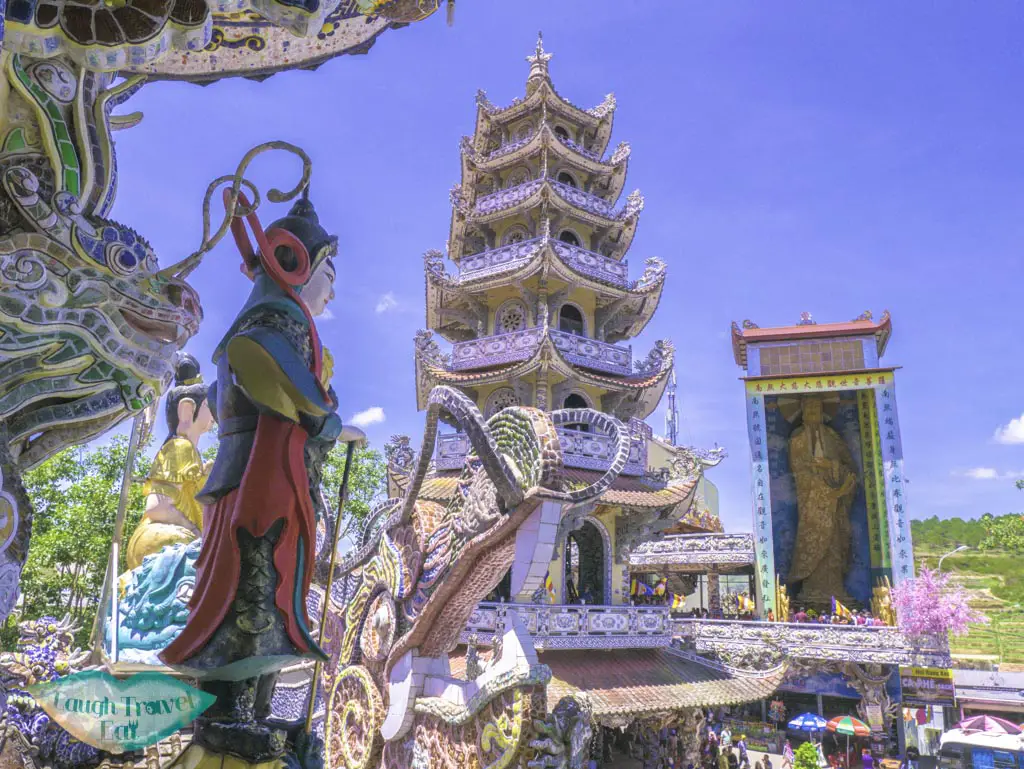 Visitors can write their wish on a yellow note and glue it on the bell, then ring it for fulfilment.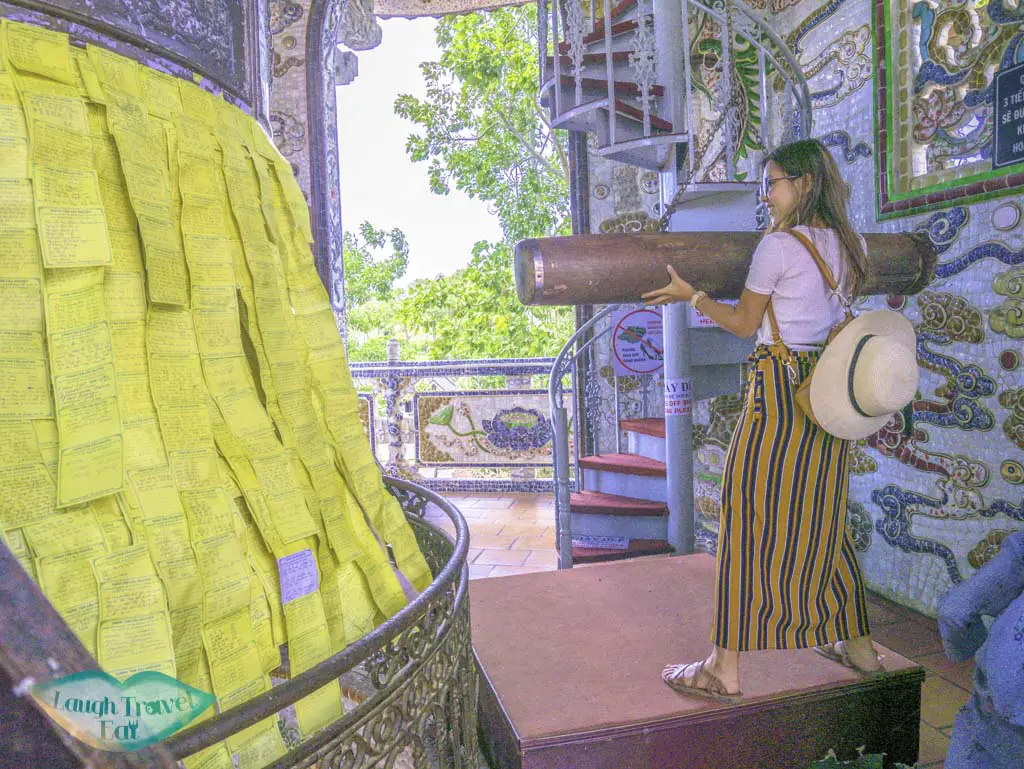 Even if you are not religious, the architecture of the temple is something to behold. Don't miss going through hell in the basement!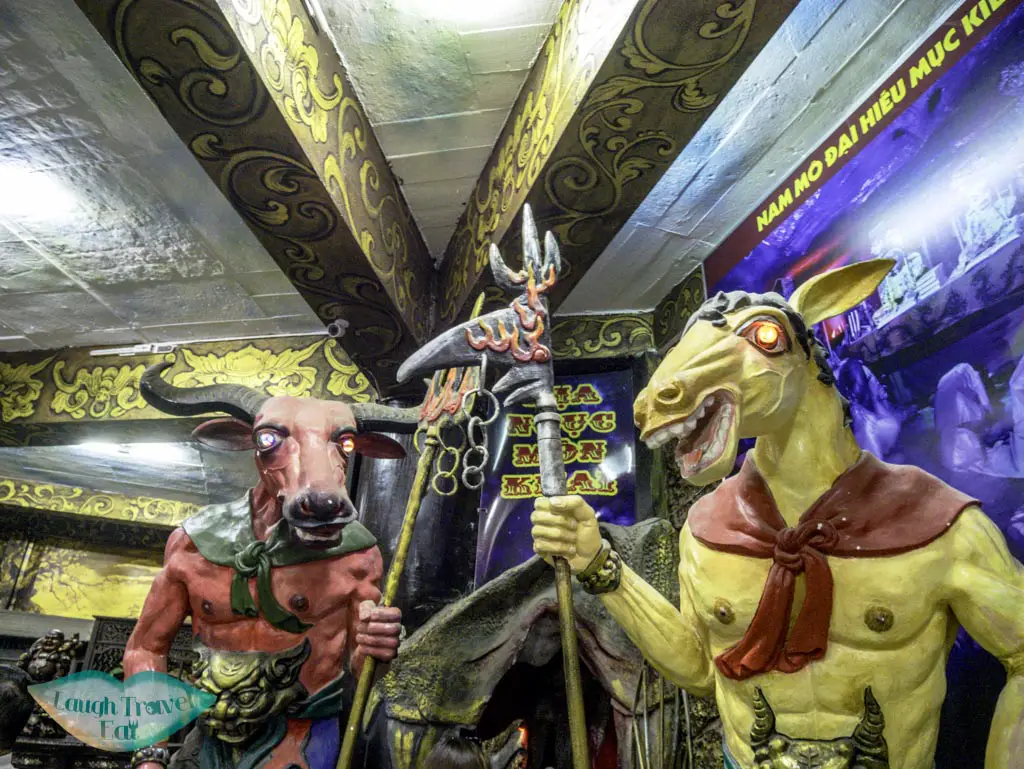 Statue of Gold Buddha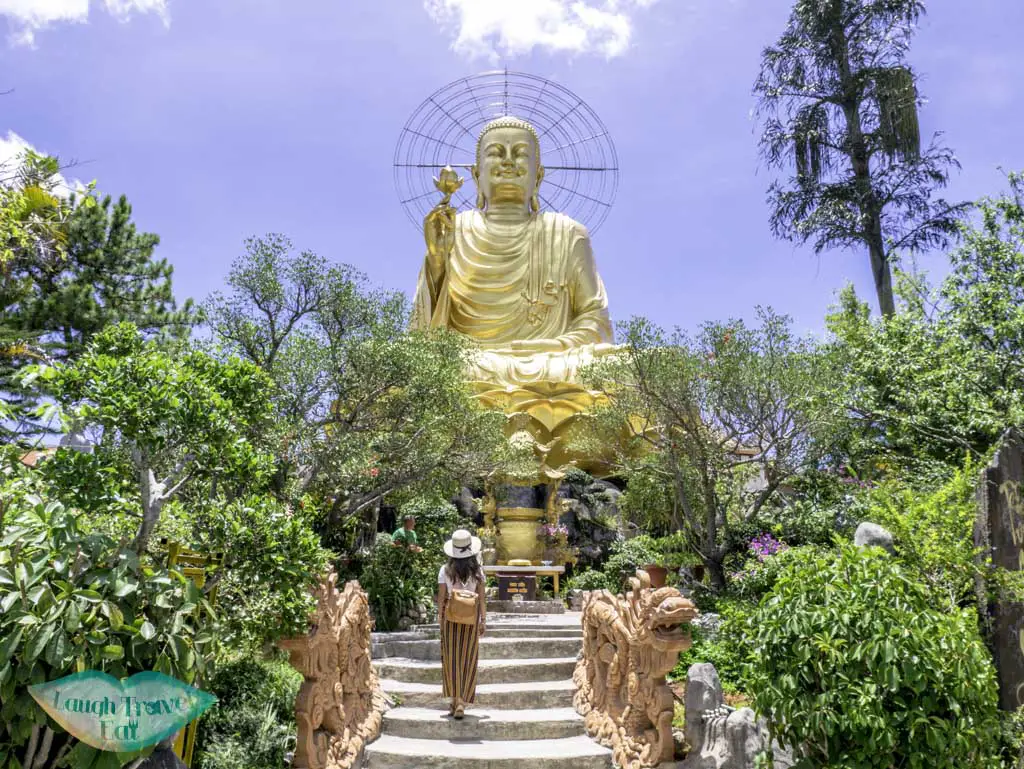 As we drive back out, we decided to visit the Statue of Gold Buddha at Thien Vien van Hanh. the statue is so big that it was visible from the road, and it was worth the detour to admire it up close. Thien Vien van Hanh is the temple attached to it, however, there isn't much information on it, only that it was also built in the 50s.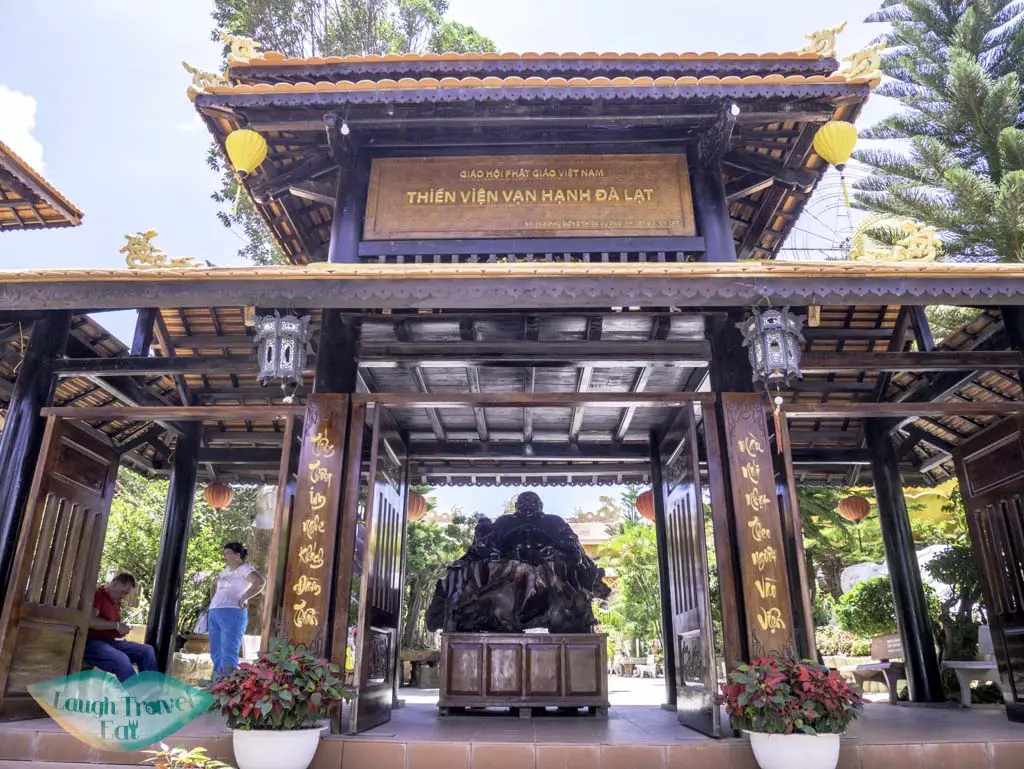 Vinh Tien Winery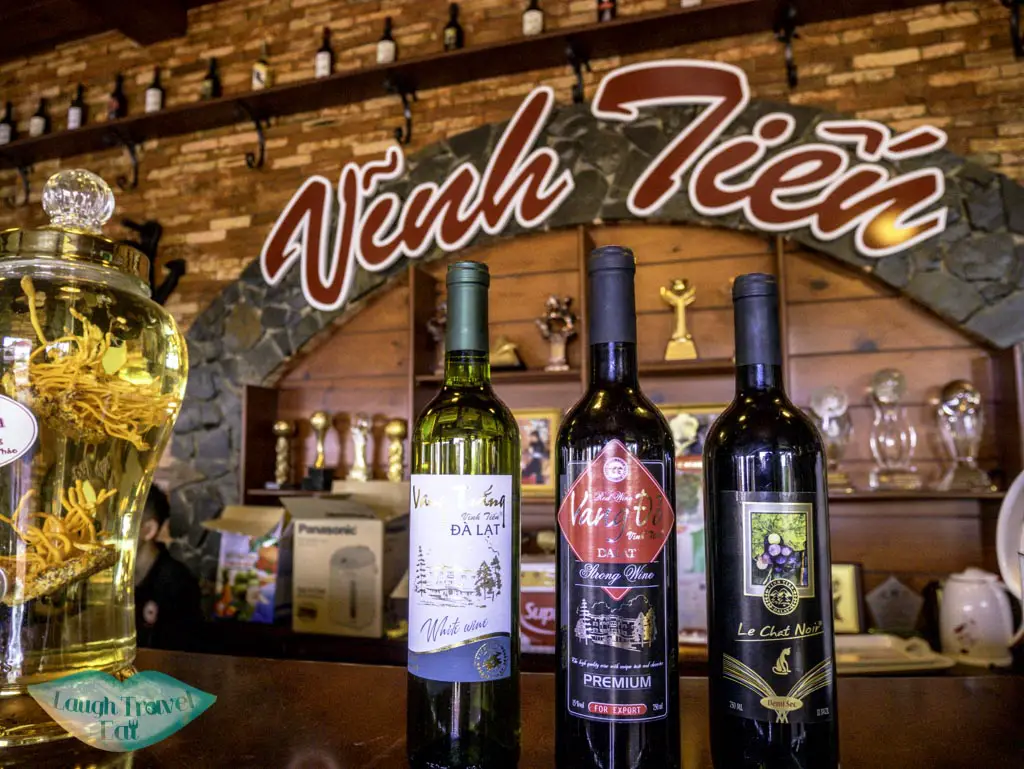 The last winery of the trip is Vinh Tien Winery. They are a bright pink building complex in Dalat and found our favourite red – a sweet wine – here. They also make artichoke tea which is pretty amazing.
Crazy House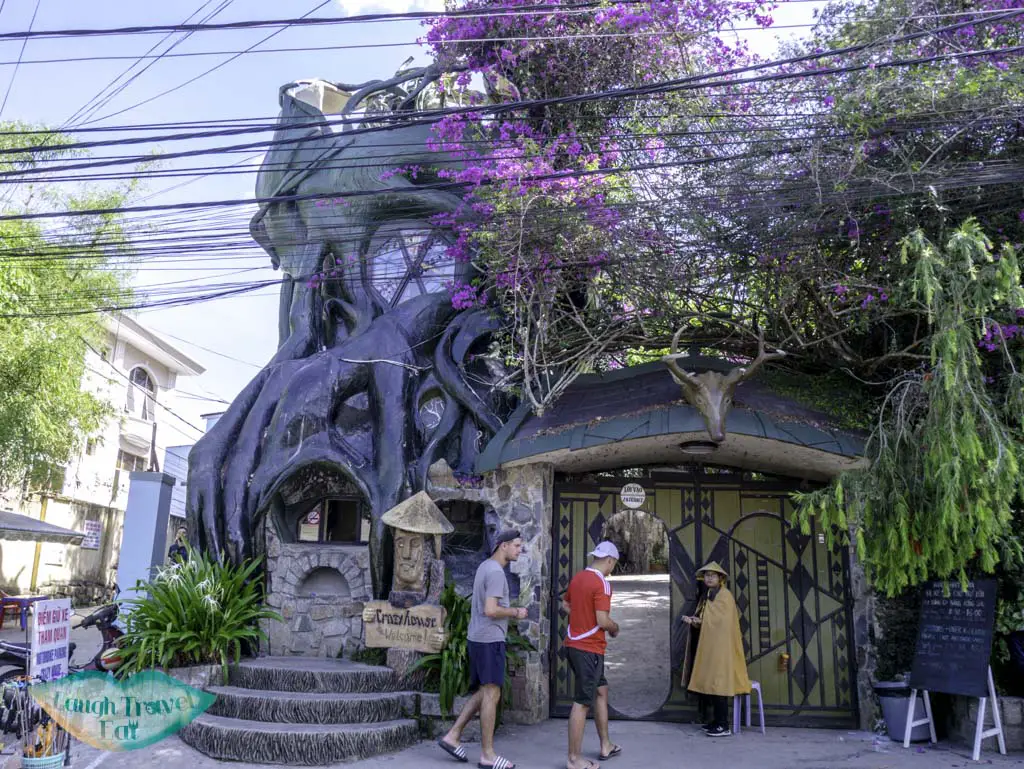 Since it was still the early afternoon, we decided to go to Crazy House. It is one of the top 10 weirdest building in the world and also a hotel. The architecture reminds me of Gaudi in Barcelona, but much more abstract. You can even walk atop the roof and down along a skywalk!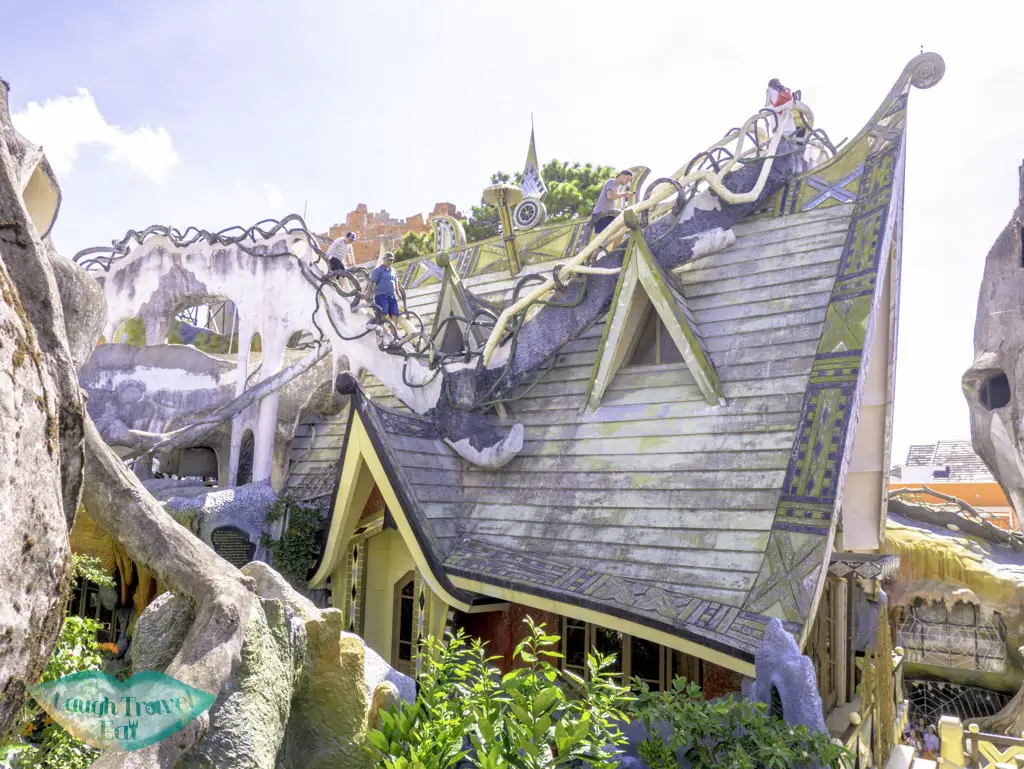 We then returned to town and I ended up at the night market and got a 'Dalat Pancake' for dinner. It is a rolled rice crepe with egg and an assortment of toppings such as sausage, spring onions and some sauce. They also sell strawberries by the cup, too, but they aren't very sweet in May.
Day 6: Dalat to Saigon
The day was mostly dedicated to driving back to Saigon. However, we were able to make a pit stop to Pongour Waterfall. With a continuous sheet of water cascading down the rock face, we visited during a drier time and was able to get close to the waterfall. The entire area can be flooded during the rainy season!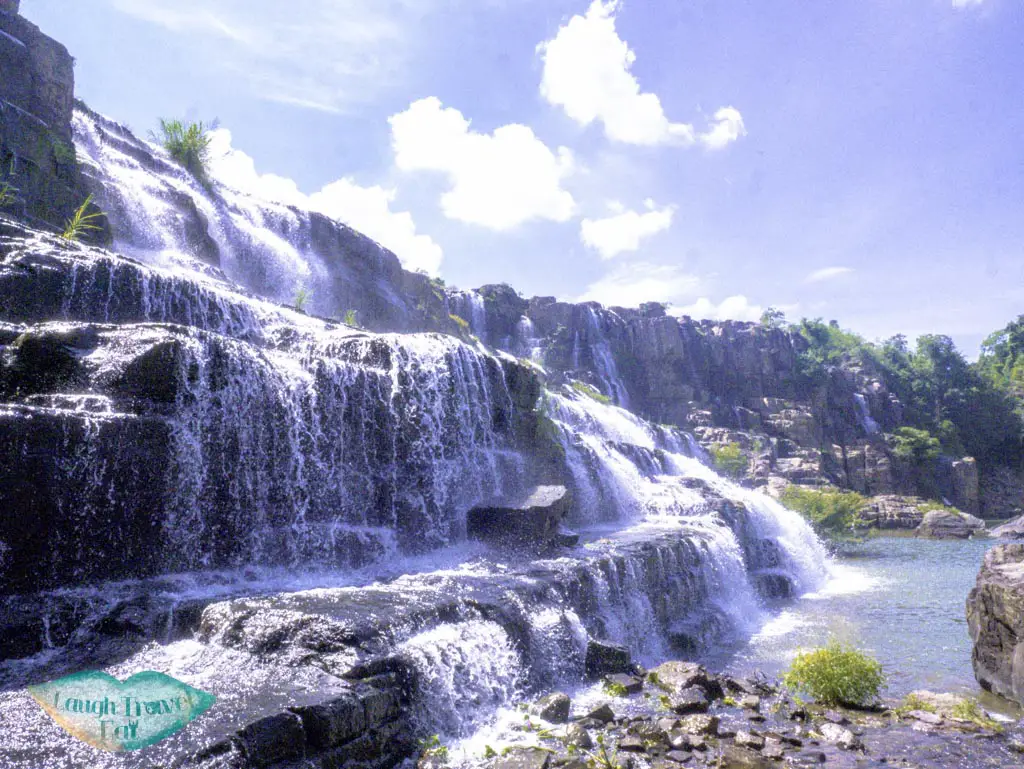 The drive back to Saigon lasts about 6-7 hours but we made good time and arrived around 4pm. The rest of the day was free to explore Saigon, aka Ho Chi Minh City at our leisure – more on HCMC coming soon!
Day 7: departure – but we stayed on instead!
Vietnam Wine Tour conclusion:
We had a great time on the tour and the wine adds a nice flare to it all. However, if you are looking for a wine tasting oriented tour like in Napa Valley, France, or Italy, this won't live up to it. But if you are looking for good local wine and to see southern Vietnam, it's perfect! For more information on the tour – visit Vietnam Wine Tour's website.
Note: I was hosted by Vietnam Wine Tours but all opinions are my own. Thank you Lola from Miss Filatelista for taking the photo of me at the Red Sand Dunes, Big Buddha in Dalat, and Ba Moi Winery.