Phong Nha-Ke Bang National Park is known for its caves. Located about 5 hours from Hue on the northern tip of Central Vietnam, it's best known for being home to the largest cave in the world.
While there are a lot of tours and caves in the region, there are only 4 most visited caves in Phong Nha that are suitable for all ages and physical level: Phong Nha Cave, the Tien Son Cave close to it, Paradise Cave and the Dark Cave. All the other caves would require a much pre-booking and tours aren't cheap, either! But if you are interested, I've blog post coming out soon about them.
If you want to know what else there's to do in Phong Nha, check out my ultimate guide.
Phong Nha Cave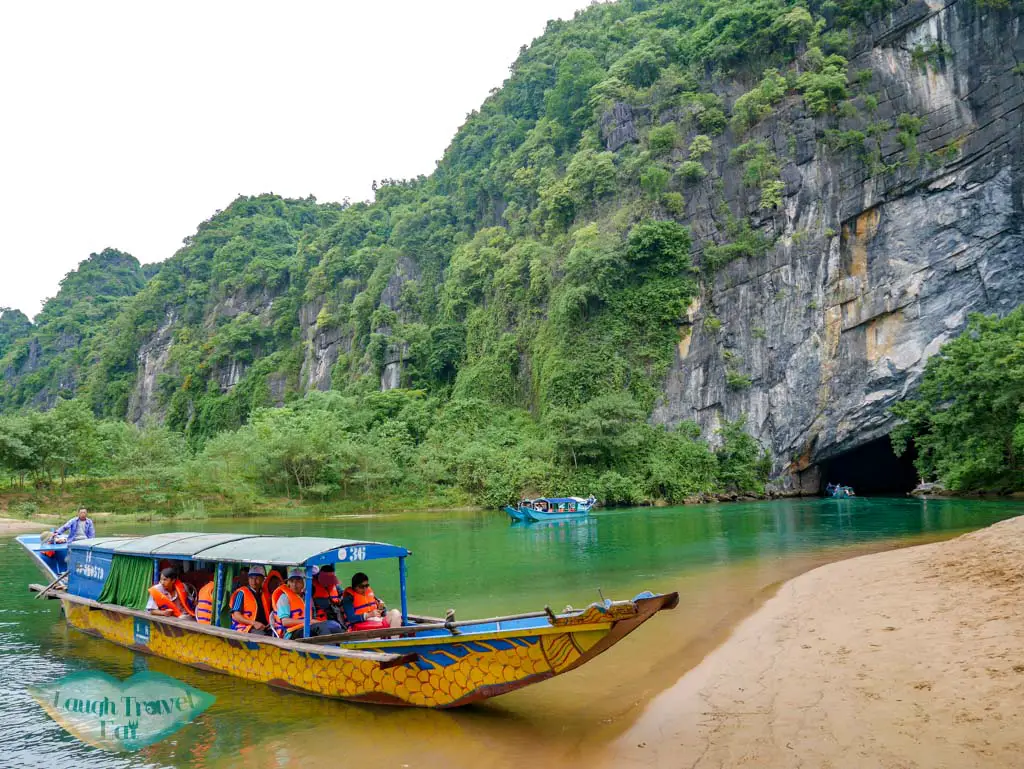 By far the easiest and popular cave to visit, Phong Nha Cave is situated on the River Song Coa and by the town itself. Over 7,000 m long with 14 grottoes, it has an underground river that is 13,969 m long running alongside the stalactite and stalagmites. Only 1.5 km of the 44.5 km passages explored are open to tourists, and the cave is famous for the many shapes of stalactites and stalagmites ranging from tree-like to cloud-like.
The more imaginative of us would even see phoenixes and horses. Originally I was afraid that the cave will spot some coloured lighting that plagued many monuments; however, I was glad to only see natural lights.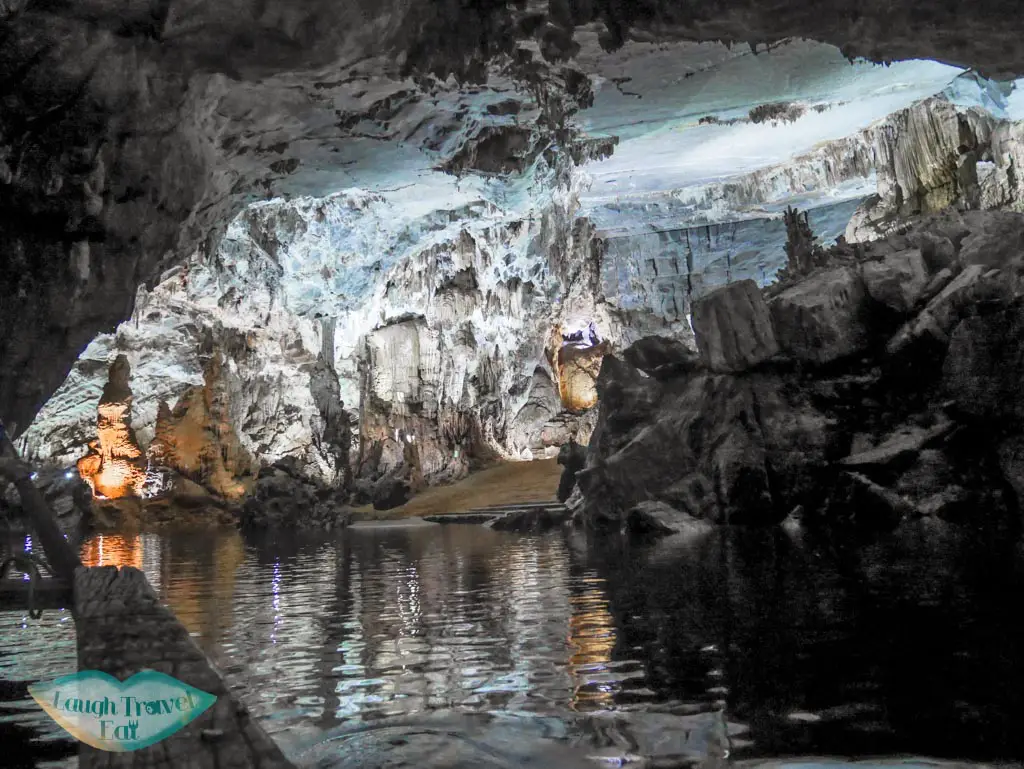 A scenic boat ride from the tourism center is the way to visit the cave, giving you a glimpse of the local life and countryside before you enter the cave. The ride to the cave lasts about 25 minutes, and when you reach the entrance, the engine has to be turned off and steered by man to avoid pollution.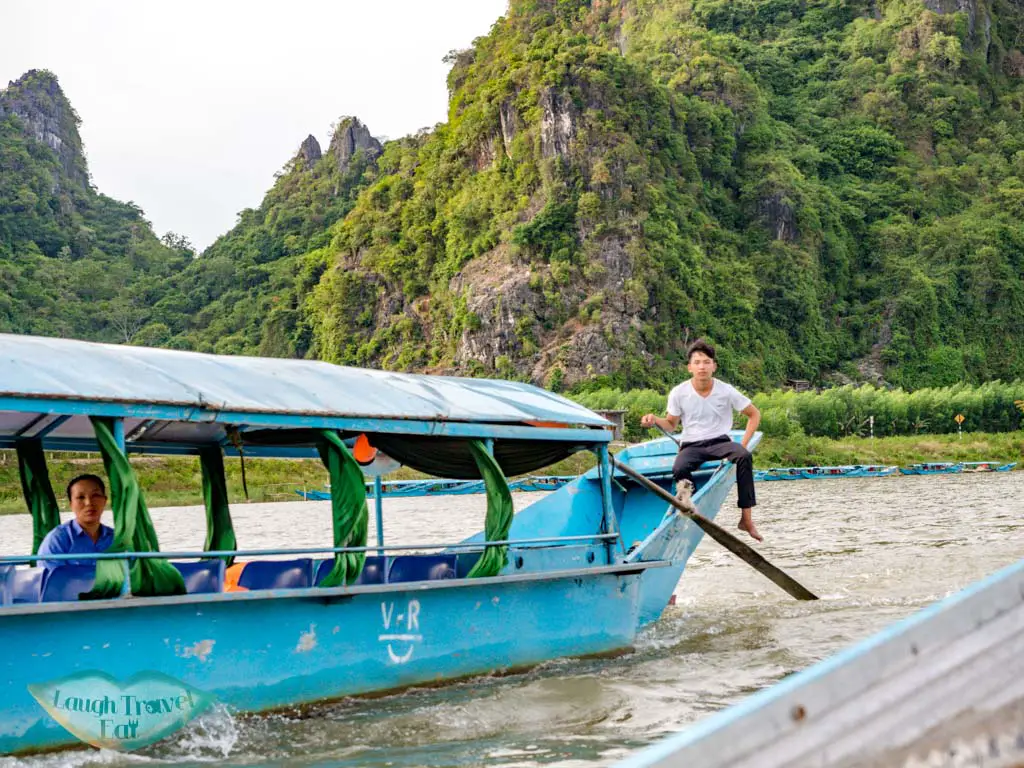 The ride inside the underground river was a beautiful experience – the metal top of the boat was removed to avoid scrapping lower ceiling and you disembark on a small route close to the entrance/exit to get a closer look at the stalactites and stalagmites.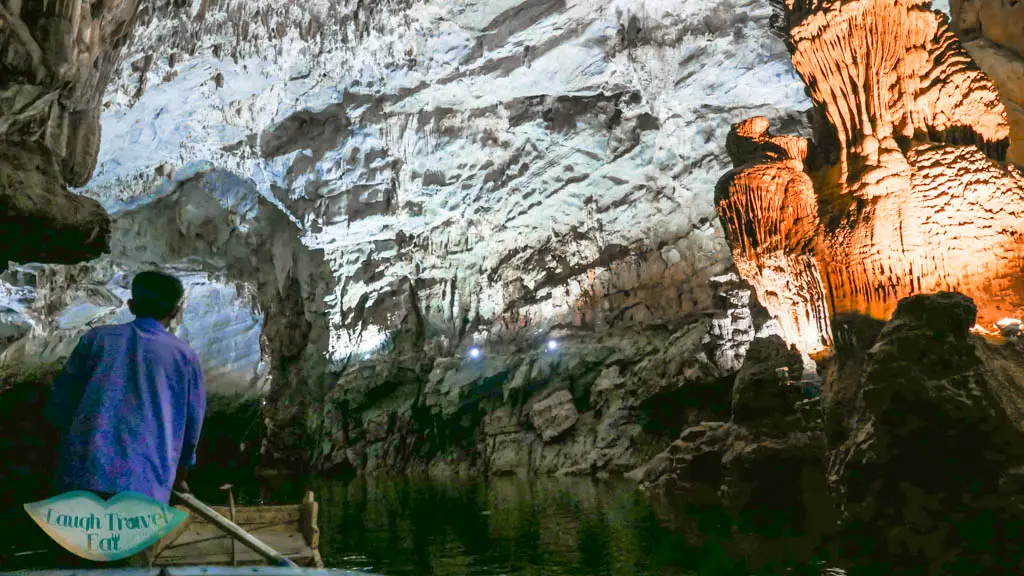 There is also a cave god temple which I didn't have time to visit due to being on a tour. There are a bunch of souvenir shops around too, but the prices would be inflated.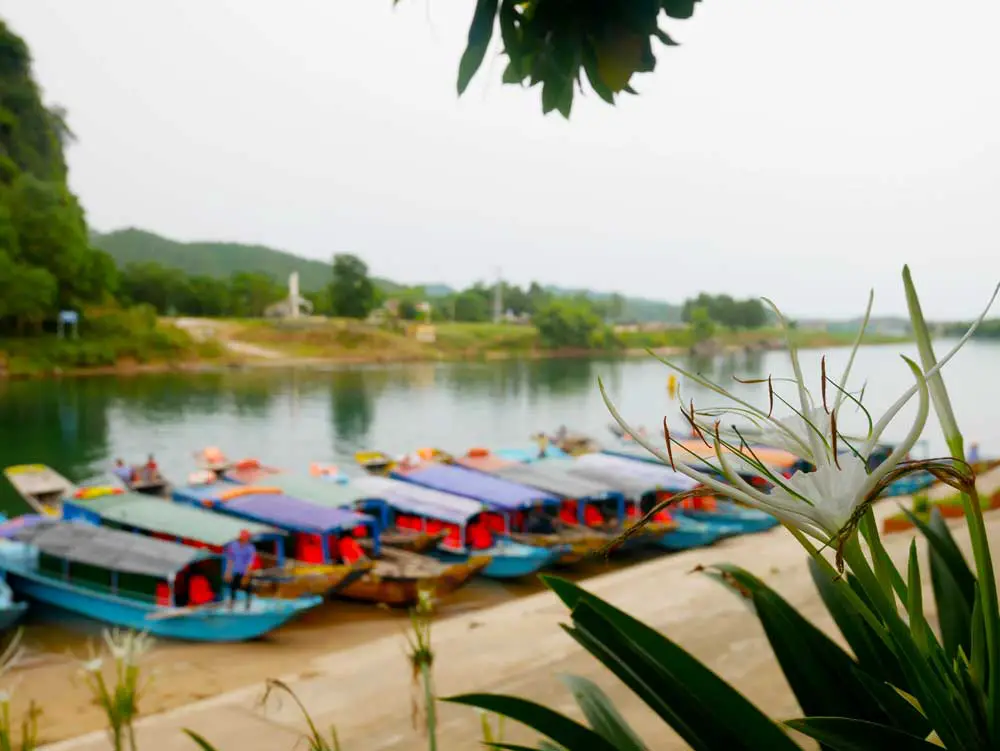 Pro tip: don't take any tour from Hue to see the cave, instead go there by yourself and gather enough people to rent a boat together. You can also drive straight to the cave entrance (motorbike or bicycle only).
The entrance

ticket office where you can wait for more people to get a boat together
Address: ĐT20, Phong NHA, Sơn Trạch, Bố Trạch, Quảng Bình, Vietnam
Duration: 2.5 – 3 hours
Price: 150,000 entrance fee, boat rental 360,000 for 14 people. It inflates more every year.
Tien Song Cave
The oldest discovered cave in the region, many skip this cave as it is said to be extremely similar to Phong Nha Cave. The two are in the same site, with Tien Song Cave is actually about 1,000m higher than Phong Nha Cave and requires a lot of stairs. if you have the time, do visit as the view is said to be great from the entrance. Unfortunately, I didn't have time since I was on a day tour.
Pro tip: You can combine the two visits for an extra 40,000 vnd.
Entrance fee: 80,000 vnd, the boat is the same as Phong Nha Cave. Can be added with Phong Nha Cave tour for 400,000 boat fee total
Paradise Cave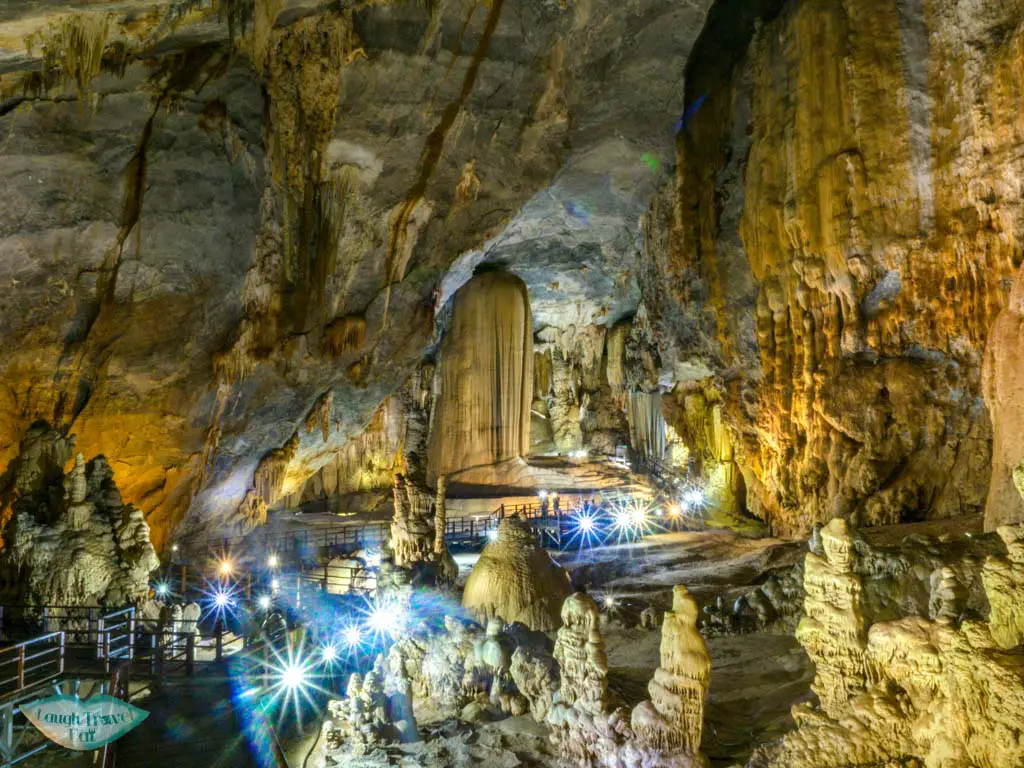 Truly living up to its name, the Paradise Cave was discovered in 2005 and opened to the public in 2010. The cave is situated 200 m above sea level and 25km south of town. You'd need to trek up a fair amount of stairs to get to it, but you can save some time by taking the electric buggy for 2 km to the foot of the stairs.
There are two paths you can take: one is a straight flight of steep stairs, the other a longer, gentler inclined road. It is worth noting that there are other ways to visit the Paradise Cave – however, these kayaking or trekking tours will be more expensive.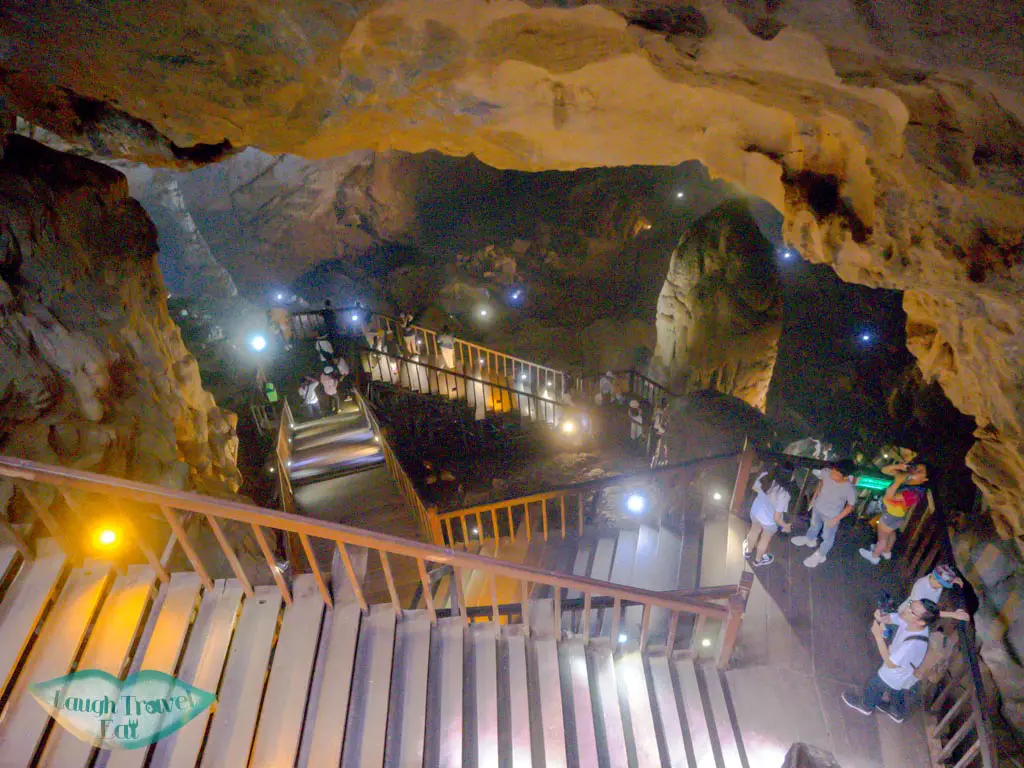 The wooden stairs that lead down to the cave and the walkway are surprisingly well done. The cave is illuminated by white lights, coupled with the undulating ceiling and elegantly shaped stalactites and stalagmites; it is almost like you have entered another universe. All I can say is that the cave truly deserves its name.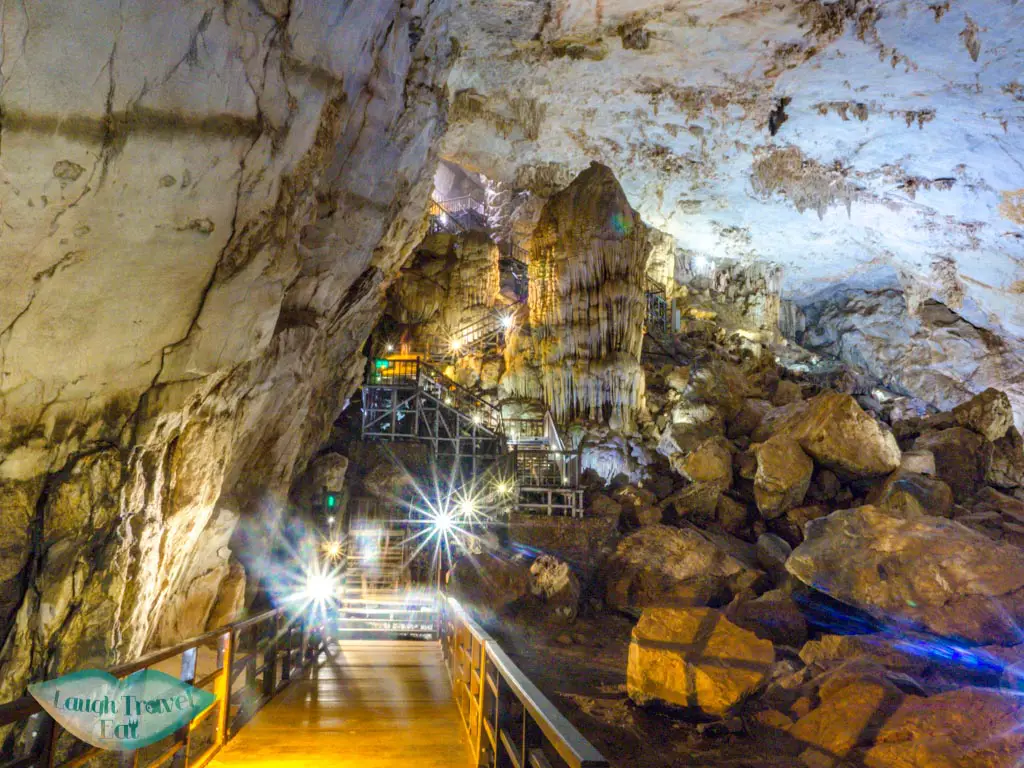 The pathway reaches a dead end and you do need to return the way you came. The visit can be done in an hour, though budget more time for getting to the cave entrance itself.
Address: Km 16 đường Hồ Chí Minh Nhánh Tây., Sơn Trạch, Bố Trạch District, Quang Binh Province, Vietnam
Opening times: 6:30 – 17:00 summer; 7:30 – 16:30 winter
Admission fee: 20,000 vnd for entrance, buggy
If you want to explore Paradise Cave further, then the 7 km adventure tour is the one.  This tour requires booking one day before with a minimum of 2 people and involves swimming in the Son Chay River. It is more expensive at 2,500,000 dong per person.
Dark Cave Phong Nha (Hang Toi)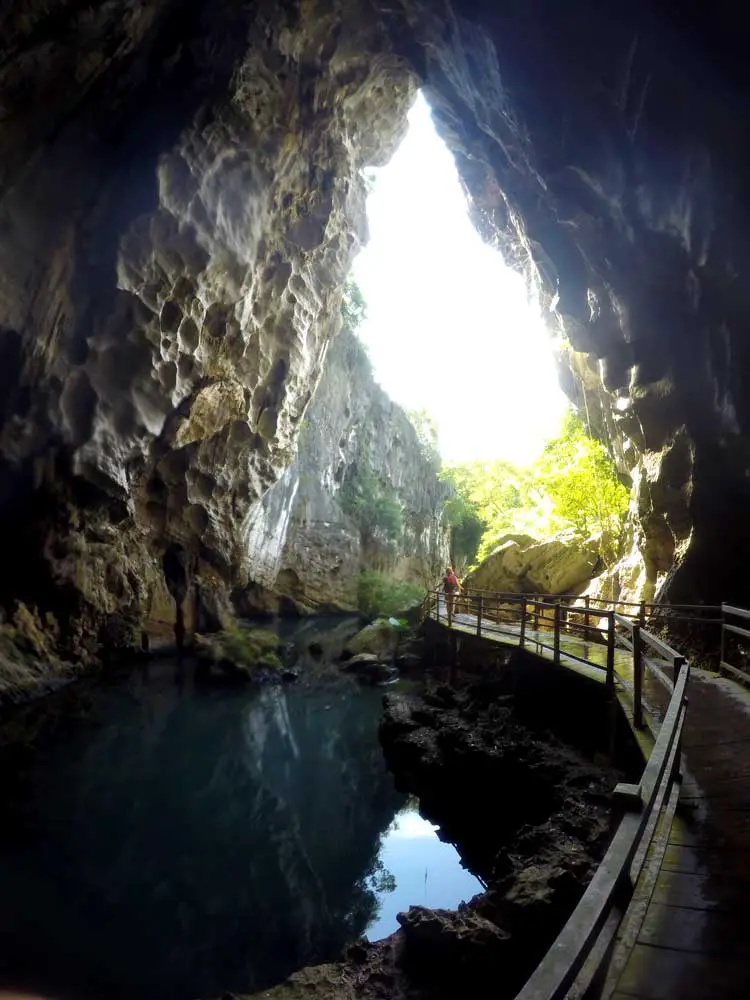 15 km south of Phong Nha town, the Dark Cave is the most popular and adventurous of the three frequently-visited caves. Upstream from Phong Nha Cave, it is 5,258 m long and 83 m high. The cave front is exactly how I picture a secluded cave would look like, and the crystalline river something out of a fairy tale.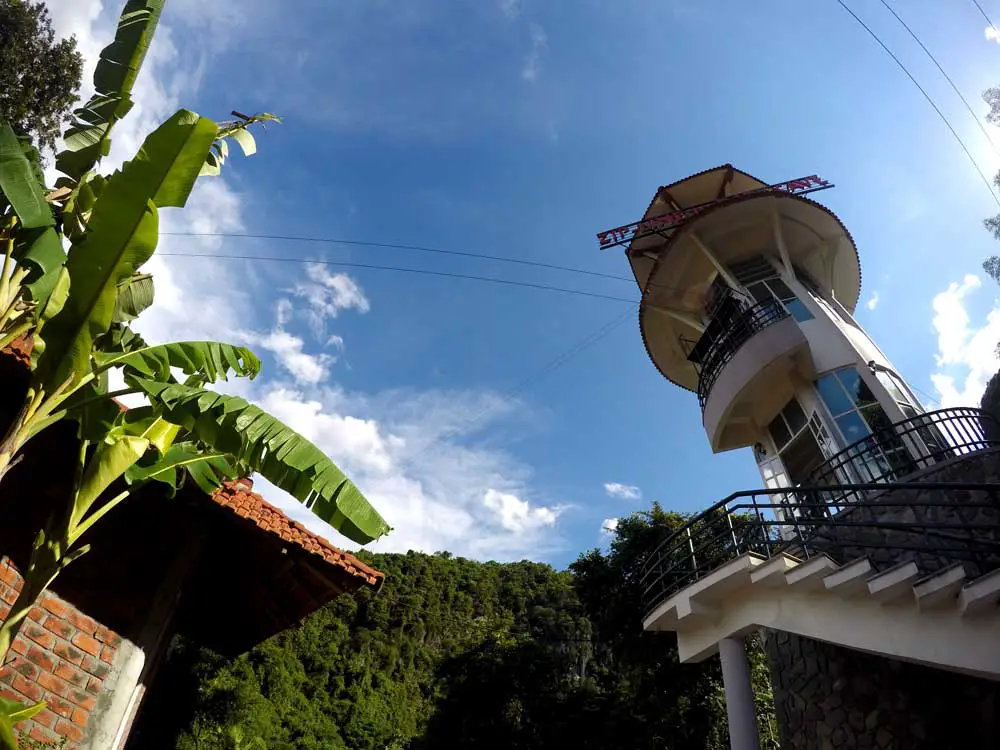 In truth, this is more of a fun half-day out than a proper cave tour. While the entrance fee is the highest out of all three, there are good reasons for it.
The fee involves:
Ziplining from the lighthouse to the cave entrance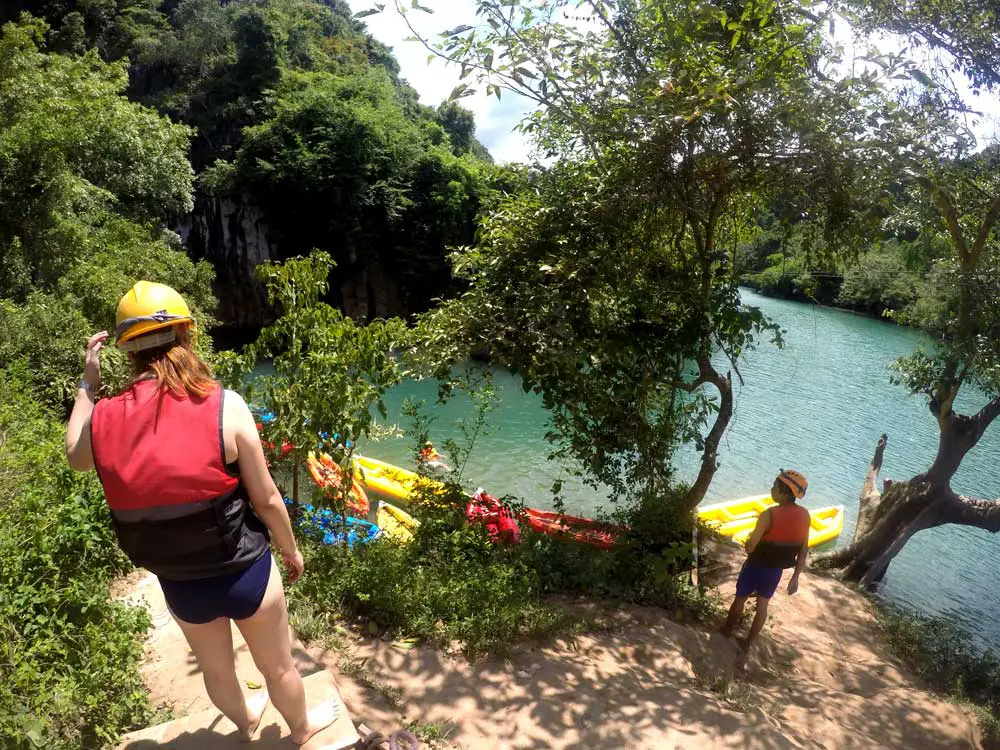 Swimming from the end of zipline to the cave entrance, which is about 20m. the water is refreshing and cool.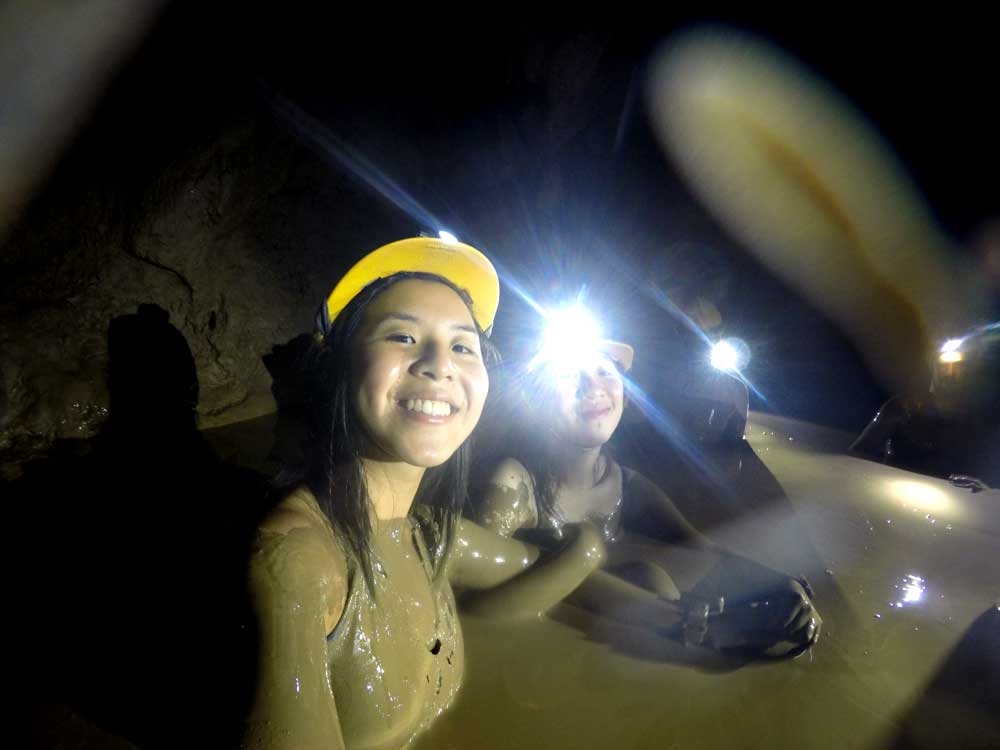 Trek barefoot with helmet and head torch through the cave in the dark, and experience the weirdly buoyant and supposedly beneficial mud bath.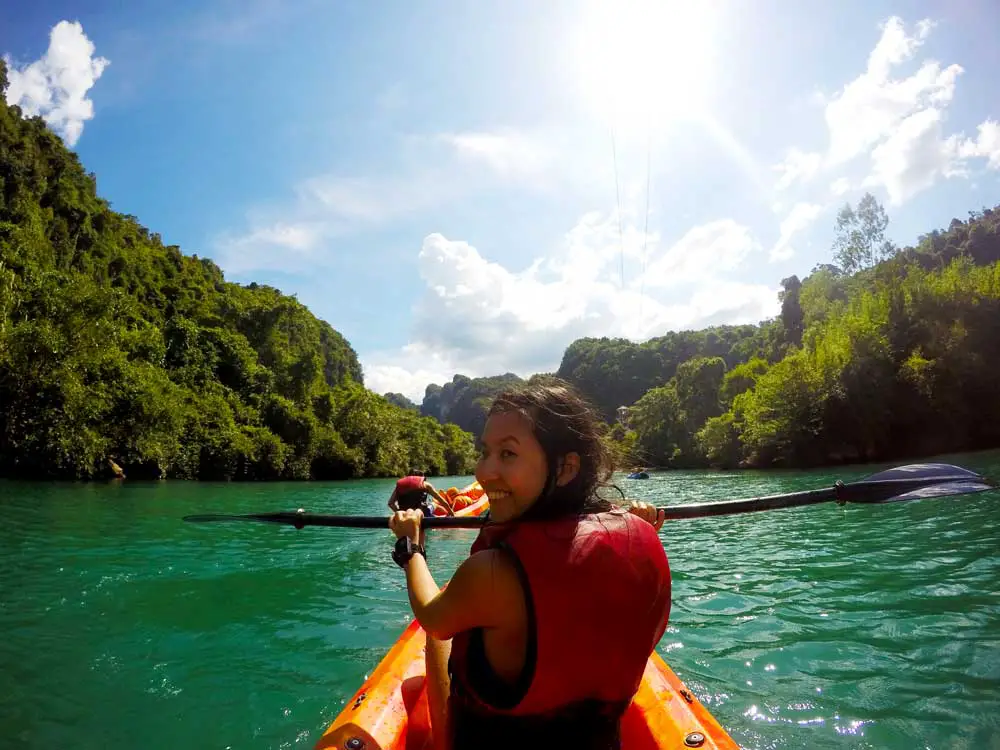 Kayak your way back to the entrance, but not before you wash yourself clean.
Enjoy the water sports and zipline facilities.
Overall, I genuinely enjoyed the Dark Cave, though it is worth noting that the mud does stain anything that is white. You won't need anything other than swimwear and maybe your go pro for this trip. If you are bringing any valuables, be sure to either go with a tour or a lockable vehicle, as their lockers have a bad reputation.
Address: Sơn Trạch, Bố Trạch District, Quang Binh Province, Vietnam
Admission fee: 15/3 – 15/9 450,000; 16/8 – 14/3 250,000 per person from the tourism center via dragon boat.
15/3 – 15/9 270,000 ; 16/9 – 14/3 170,000 for regular access
Tra Ang Cave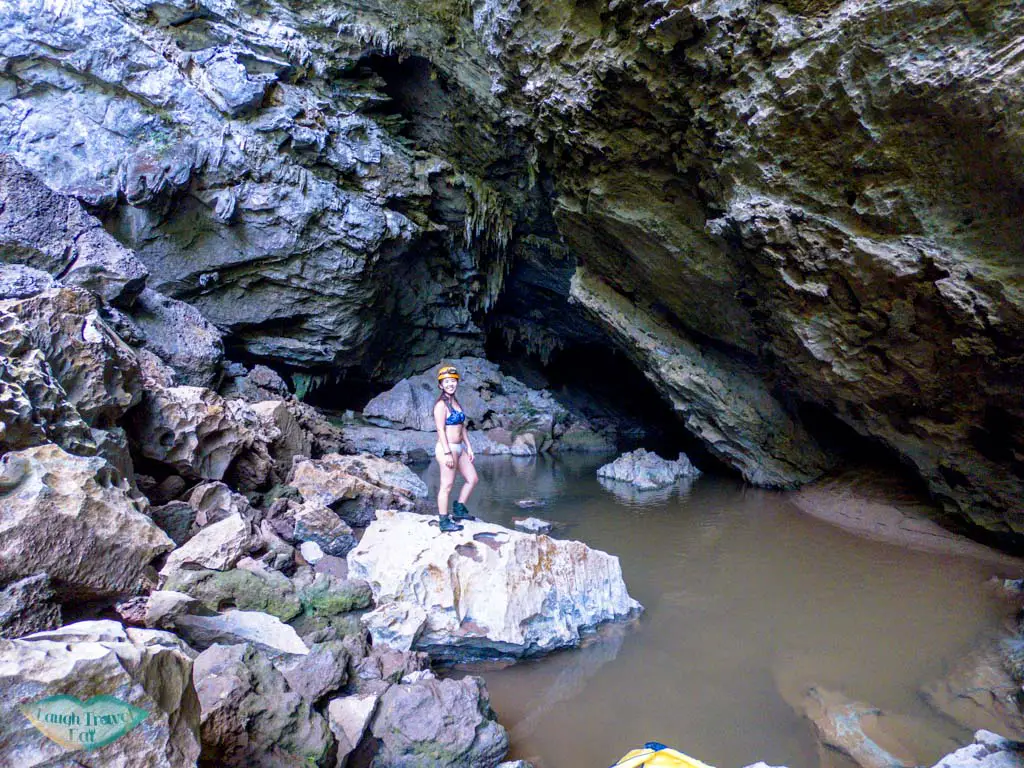 Tra Ang Cave was only newly opened to public in August 2016 and can be visited with two different day trips by Jungle Boss. Why is it worth visiting? If you like cave, cool water, and swimming in the dark, this is for you!
Elephant Cave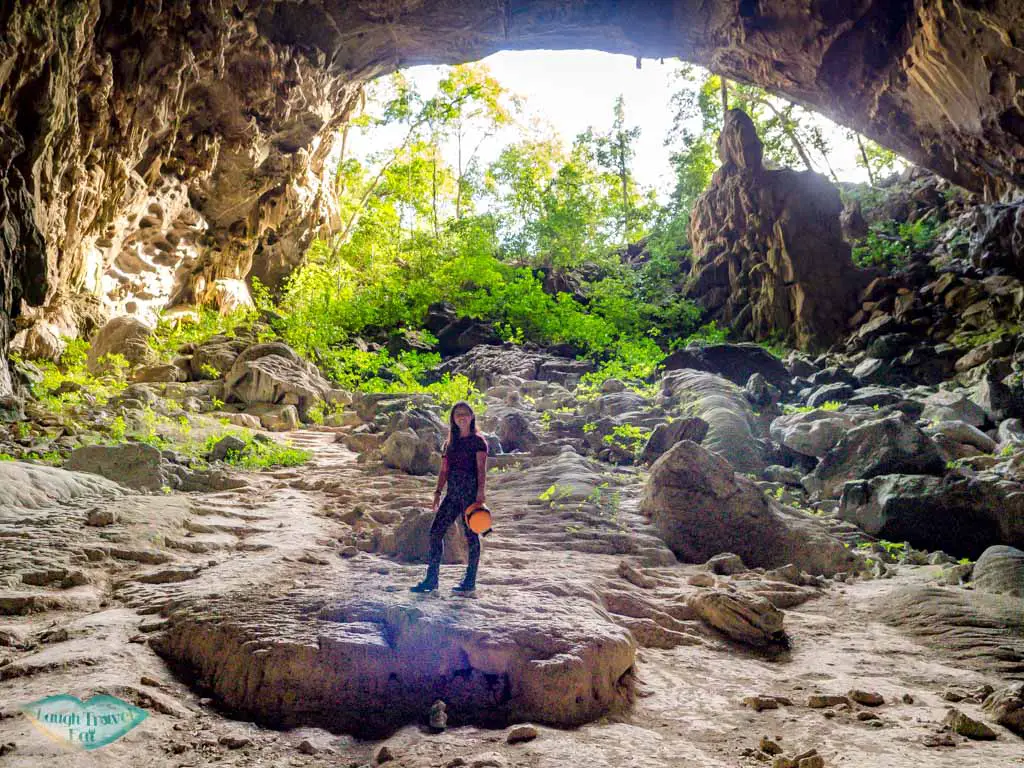 One of the easier to reach but spectacular cave, Elephant Cave is also run by Jungle Boss and can be visited on a day tour or a 2D1N trip. It's amazing to be the only group there at the time and enjoy it!
Hang En Cave (Swallow Cave)

photo credit: Flickr Creative Commons / Hugh Derr
If you are not that hung up on the title of visiting the largest cave in the world, or simply doesn't have enough money in the budget to swing it, than Swallow Cave is a good option. Even though it isn't the largest cave, it is still 1,645 m long with three mouths to enter and exit from.
Since the cave isn't close to the town, you will have to hike in and out of there via the Ban Doong Village. The tour will include one night in the cave, but fear not, there will be porters to do all the heavy lifting.
Son Doong Cave

photo credit: Flickr Creative Commons/ vtoanstar
The largest known cave in the world (for now), although our tour guide assured us that a larger new cave was discovered nearby, it is the most famous attraction in the entire national park. Twice the size of the previous largest cave: Deer Cave in Malaysia, it was discovered by a local farm in 1991, but only properly explored by the British Cave Research Association in 2009.
It boasts an impressive array of records, with the tallest known stalagmites at 70m, a giant calcite wall named the Great Wall of Vietnam and two dolines (collapsed cave ceiling) that permit the growth of vegetation inside the cave.
Tours are currently operated by Oxalis only, and cost a small fortune (a whopping 3,000 USD). Tour schedule and numbers are limited, so if you do intend to visit, you need to plan well in advance and avoid the rainy season.
For more information, visit Oxalis official website. Or better yet, here's my friend Mike's experience in Son Doong Cave.
An extra cave!