Sailing along the beautiful Halong Bay on a cruise seems like a scene out of a movie, and my time with the Paradise Cruise certainly felt like it. Halong Bay is famous for its beautiful karsts mountains dotted around the bay, so much so that it even became a UNESCO nature heritage sight in 2000. However, a lot of experiences I see online regarding the cruises seems to be a hit or miss situation. Luckily, our experience with Paradise Cruise had been amazing, and here's all the details you need to know:
Halong Bay Cruise need to know


There are numerous cruise itineraries when it comes to sailing around Halong Bay, but it can be split into three main routes: Bai Tu Long Bay, which is to the north of the main Halong Bay, Halong Bay itself, and the part close to Cat Ba Island.
It is well known that the main part of Halong Bay has become over saturated by day trippers and tourism in general, with pollution ruining the scenic landscape, so it was out of the equation. The other two, though different, share many similar features and are like sister cruise lines, hence it really comes down to the individual carrier you want to pick.
Some would even forego a cruise altogether and head to Cat Ba island and then book a day trip. But a cruise experience is really what I was looking for, because who can beat being in the middle of the bay during sunset and sunrise?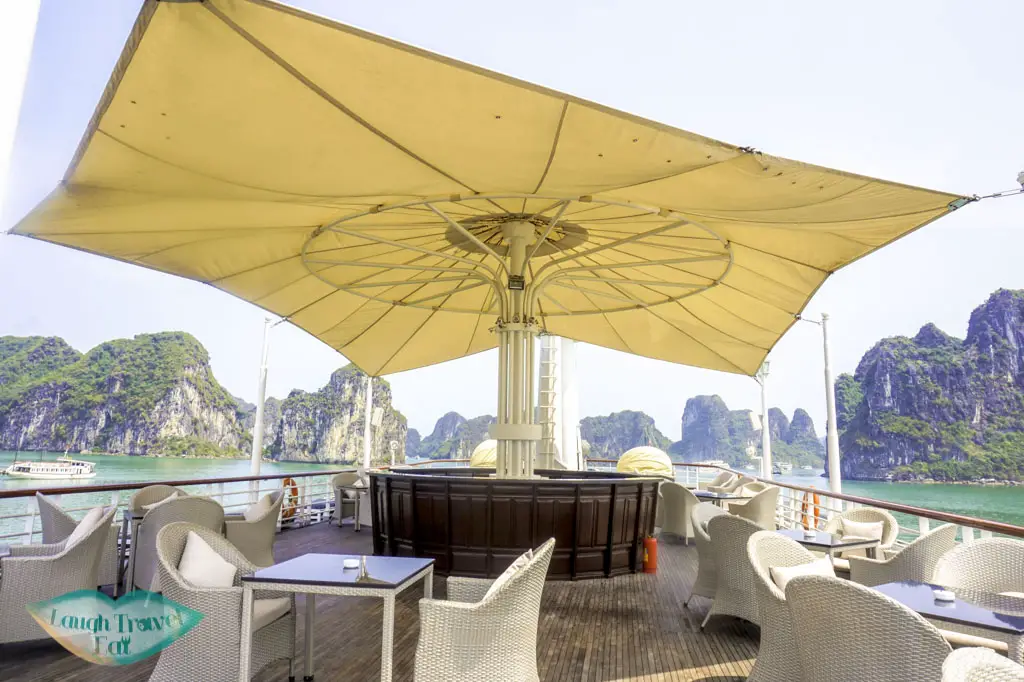 Halong Bay Cruise recommendations: why Paradise?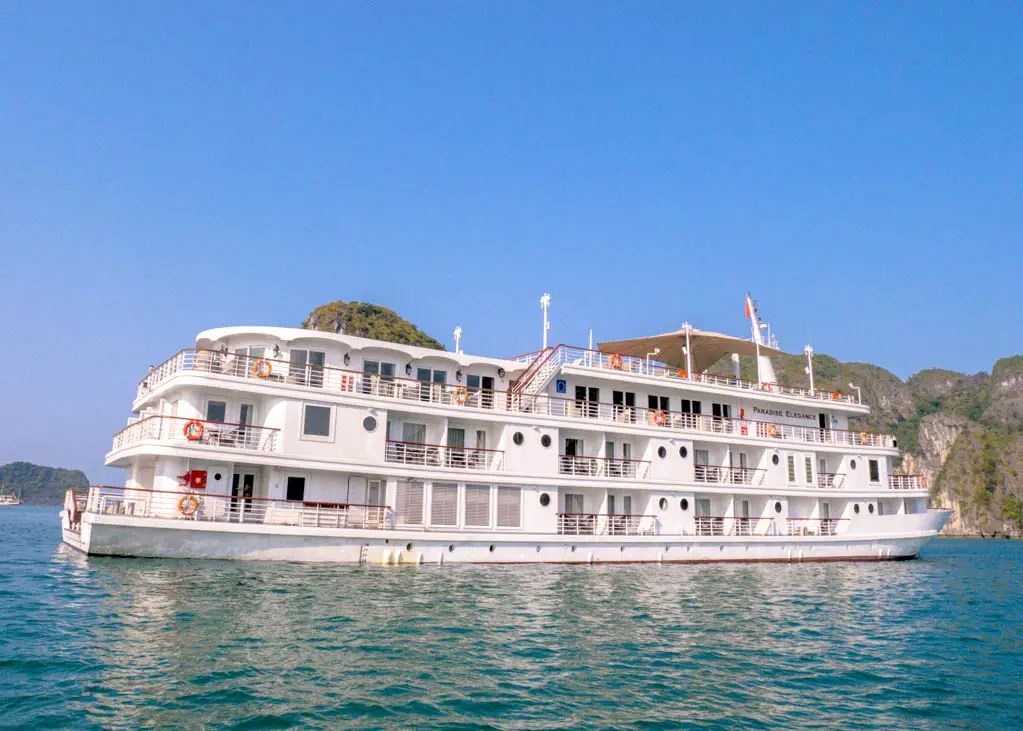 Paradise Elegance is only one of the lines operated by Paradise Cruise, who has a fleet of 3 ships. I mainly chose Elegance because of its itinerary and its affordability as a luxury cruise. I figured: if I were to go to Halong Bay on a cruise, I might as well do it in style!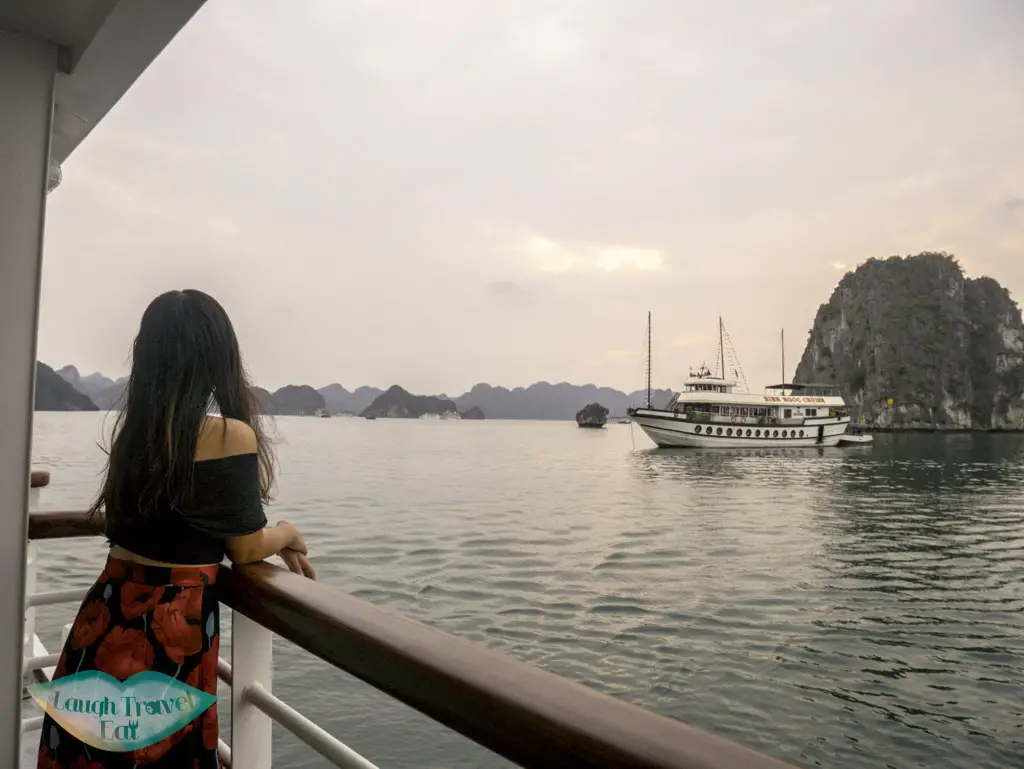 For those of you who are fond of lists, here's why I chose Paradise Elegance:
All rooms have a balcony so there's always a (private) place to sit and watch the bay goes by
Great reviews online
The ship looks very pretty with a sundeck
It doesn't look overcrowded at all
offers dedicated pickup service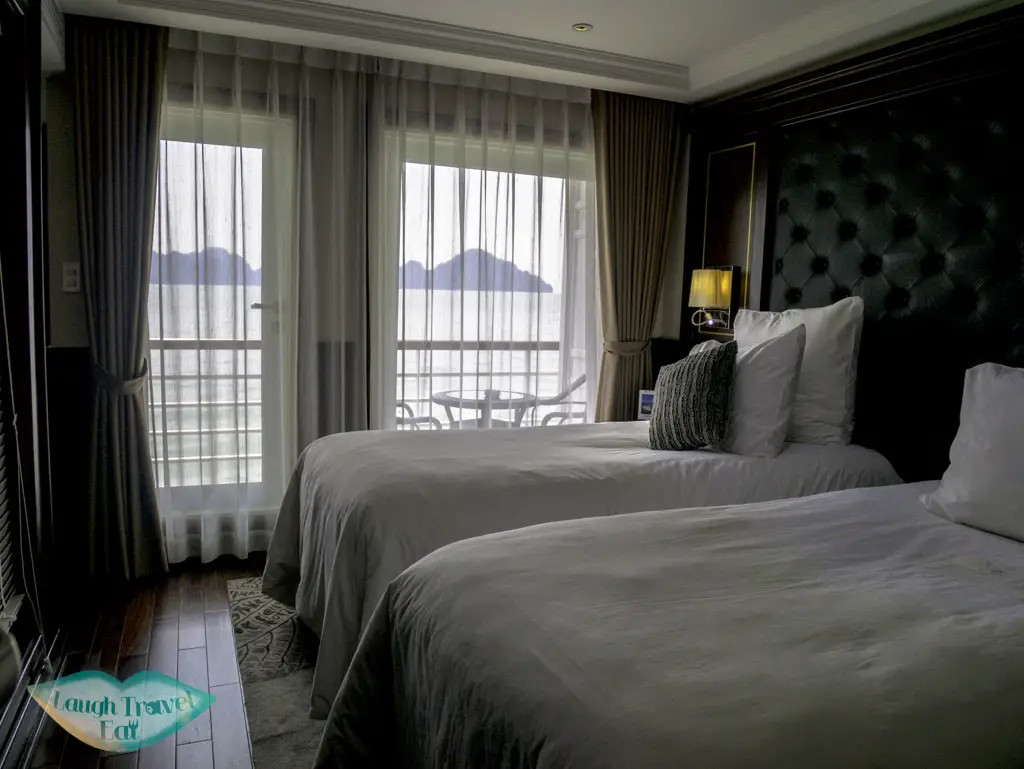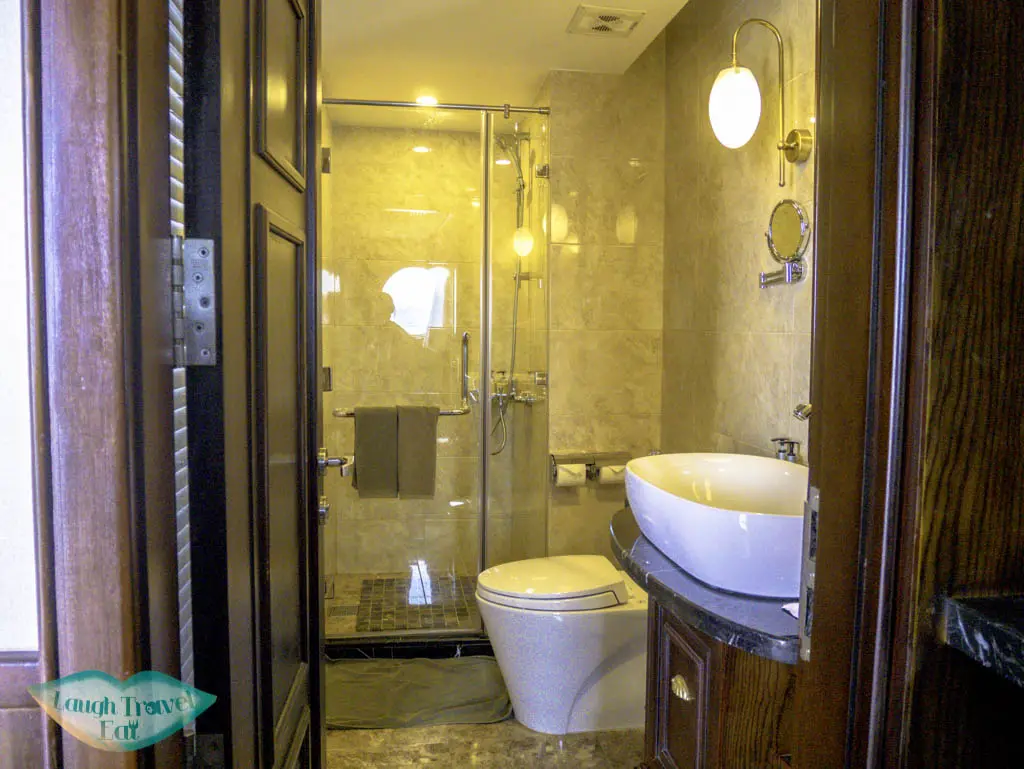 For Paradise Elegance, you can go for 2 nights or 3 nights, with the main difference being that you won't visit the floating village if you are only on for 2 days. Also note that while it says 2 days and 3 days, it's more like 24 hours and 48 hours of time on board. You can find the cruise itineraries below:
Halong Bay 2 night cruise
Day 1:
From Hanoi to Halong Bay
The pickup window for the cruise is from 7:30 onwards, and it is inside a spacious 7 seater limousine in two-two-three configuration. There is USB port to charge your phone as well as water, which is super handy.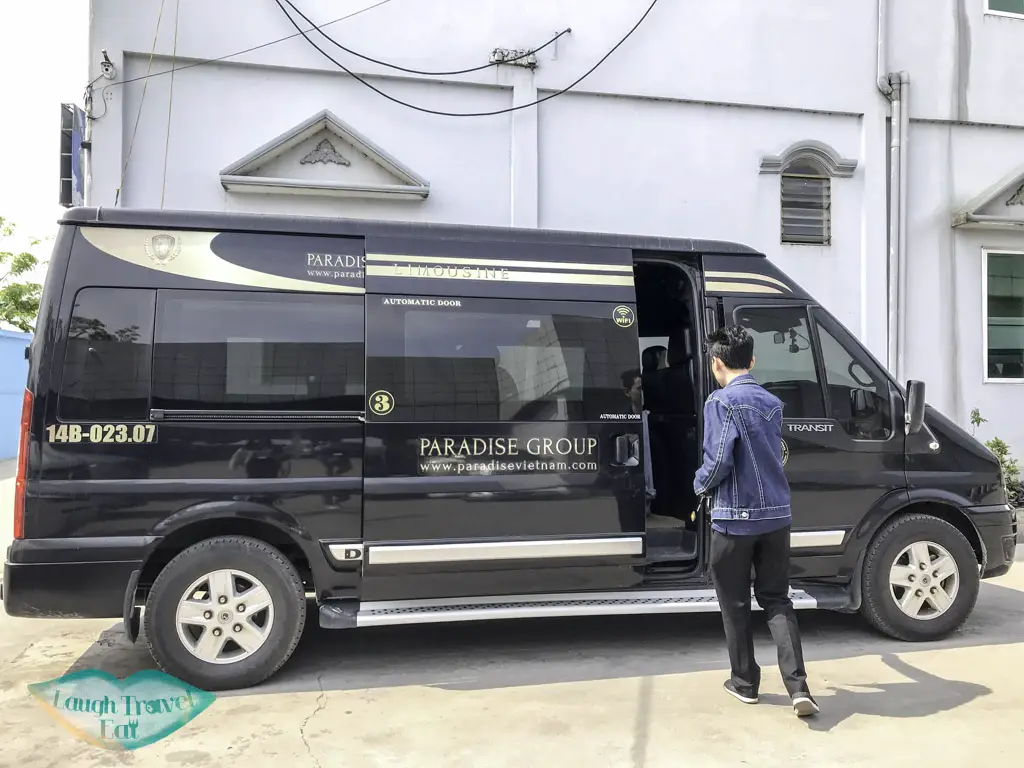 On average, each car picks up around three to four group of people, so the time spent around isn't so long. The journey is relatively smooth in Vietnam standard, but still quite bumpy. There is also a 20 minutes break at a shopping centre along the way. The prices for food are quite inflated, but you can at least use the bathrooms for free.
Getting on Paradise Elegance
We got to the port just before 11:30. We then 'checked in' there and got our wristbands, as well as making sure that our luggage is properly tagged. Sadly, it isn't time to get onboard yet, but we were treated to a small snack buffet as we waited at the Paradise Hotels.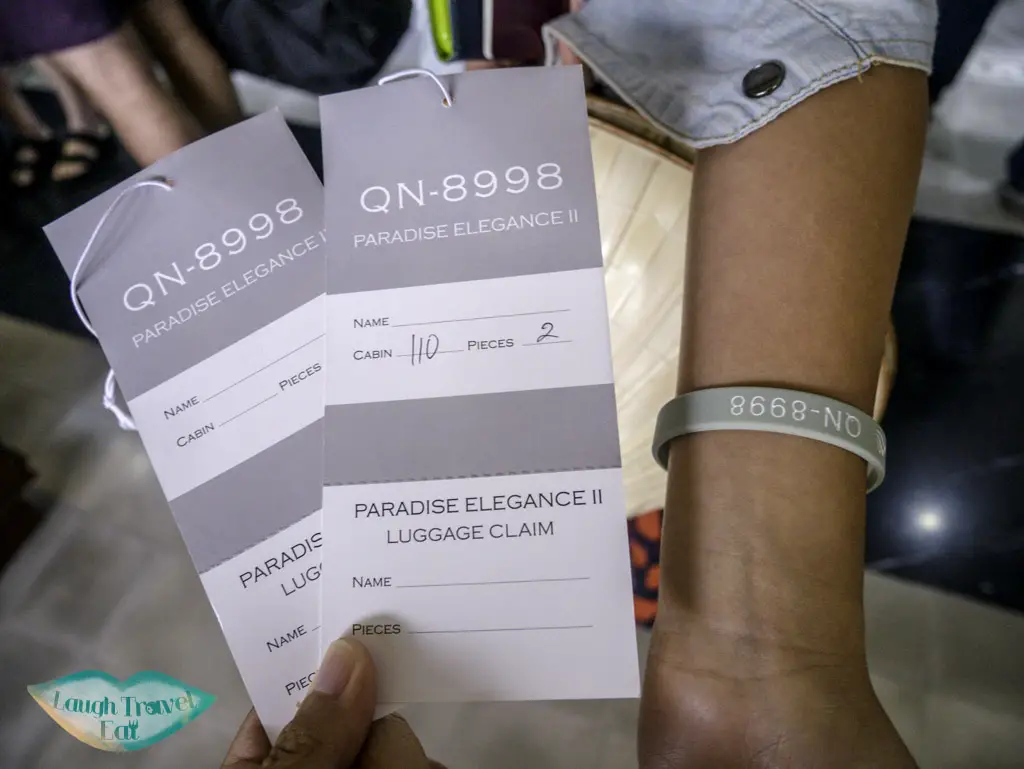 After about an hour, we were put on golf carts that took us the rest of the way to the ship. Everyone was directed to the dining room and we were given a warm welcome by the staff.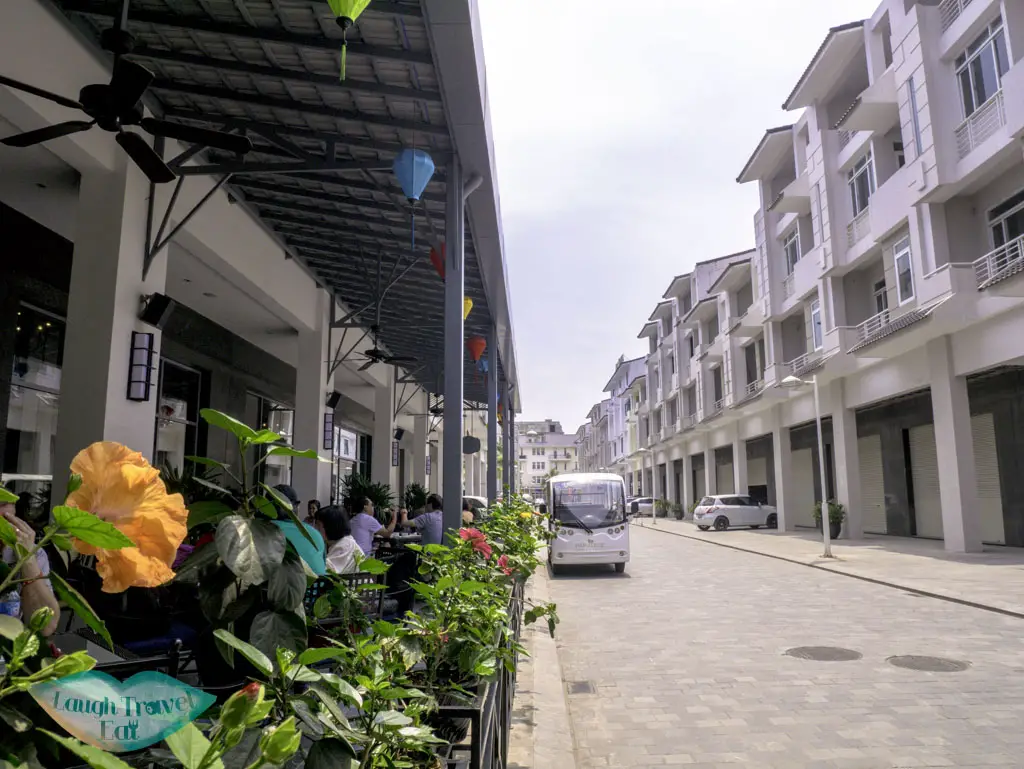 Lunch on Paradise Elegance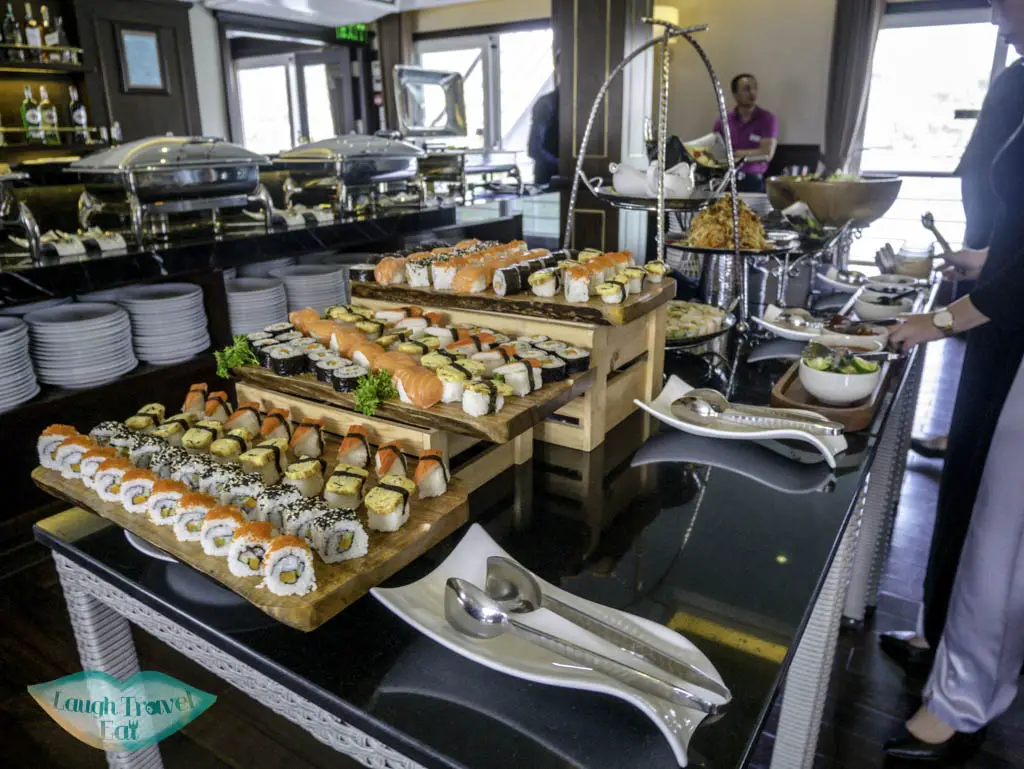 Lunch was a buffet style affair, and we were scattered to check in before going back up to eat.
Sung Sot Cave
The first stop was to Sung Sot Cave at 14:30, meaning that if you don't dilly-dally at lunch, there is time for a quick photo shoot on the sun deck, which is exactly what we did!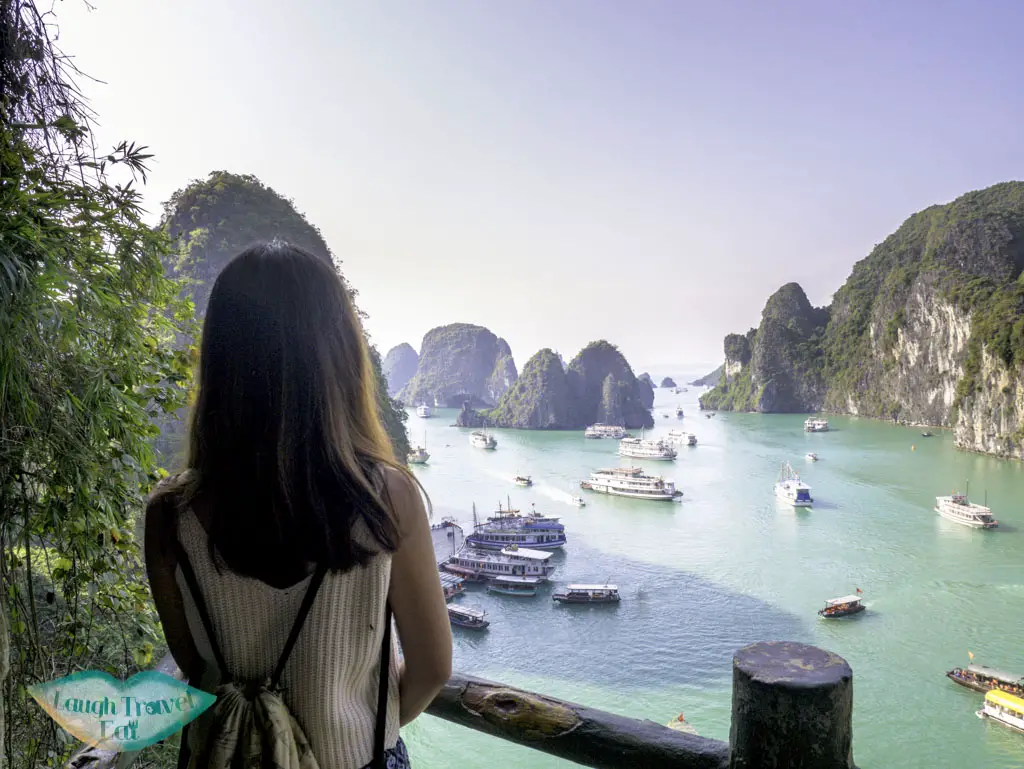 There are a fair amount of people that are also headed to the cave, and having been to Phong Nha, I had very little expectation for the cave, but I was surprised (also, Sung Sot means surprising!).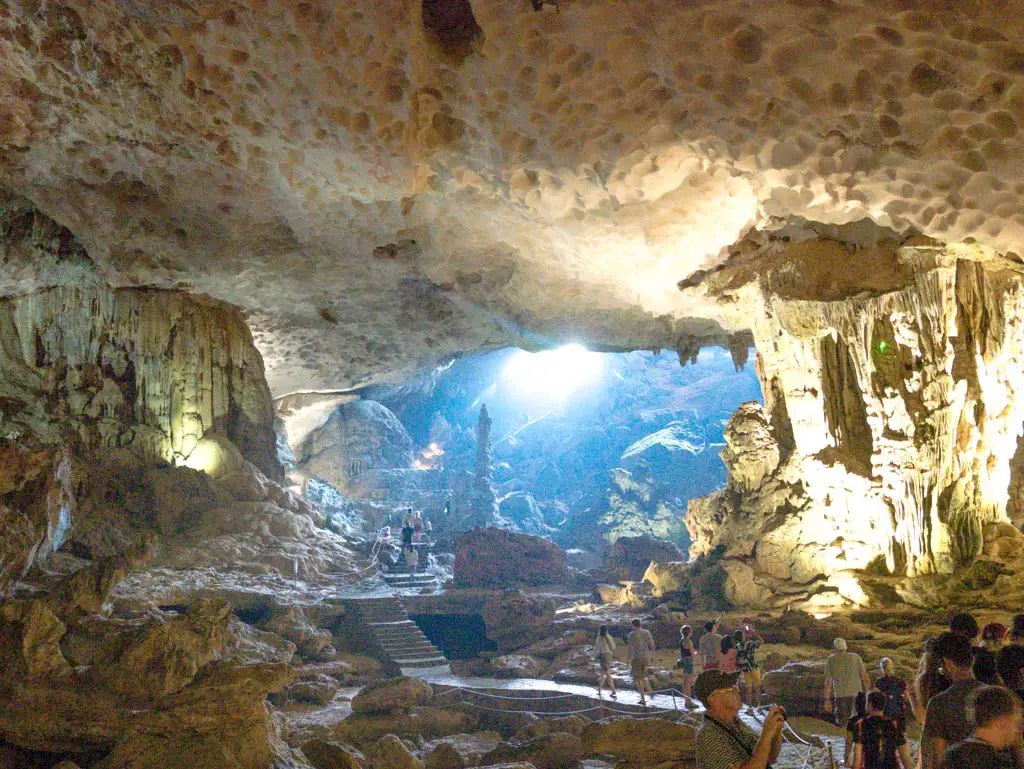 With the natural light streaming in from the cave entrance, it looks ethereal, almost like a scene out of Lord of the Rings or even Guardian of the Galaxy. While we did have a guide, with a total of seventy-odd members on board, we didn't really stick to the group to listen to her. In fact, there are so many guides that we just listened in on others!
The visit lasted roughly an hour and we were back on board, where afternoon tea is served. It's actually a nice spread, but we weren't all that hungry after a big lunch.
Pearl Farm visit

Next on the itinerary is the Pearl farm visit at 16:30, which only lasts about half an hour really. There's also the option to kayak for a fee of 20 USD per kayak, but if you are on the 3 days itinerary, you have an included excursion the next day.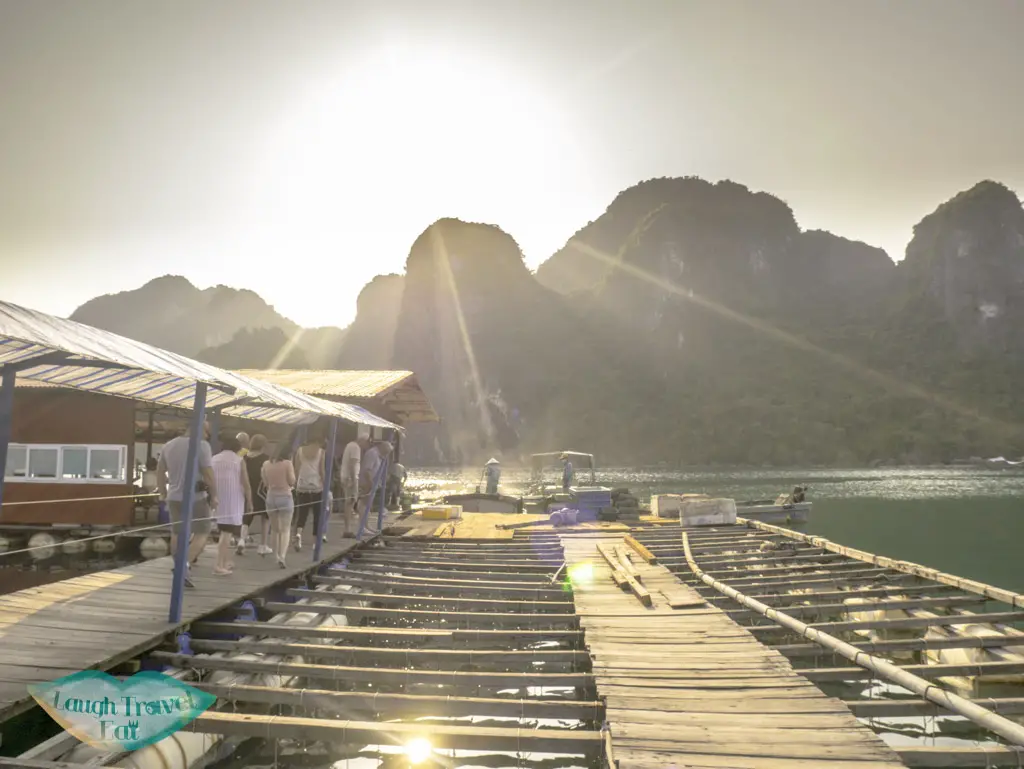 The pearl farm visit was informative in the process of pearl farming for those unfamiliar with the concept. It features a technique pioneered by the Japanese and the explanation and demonstration were interesting to see.
Of course, there is the option to buy pearls, but you are not pushed to purchase.
Evening on Paradise Elegance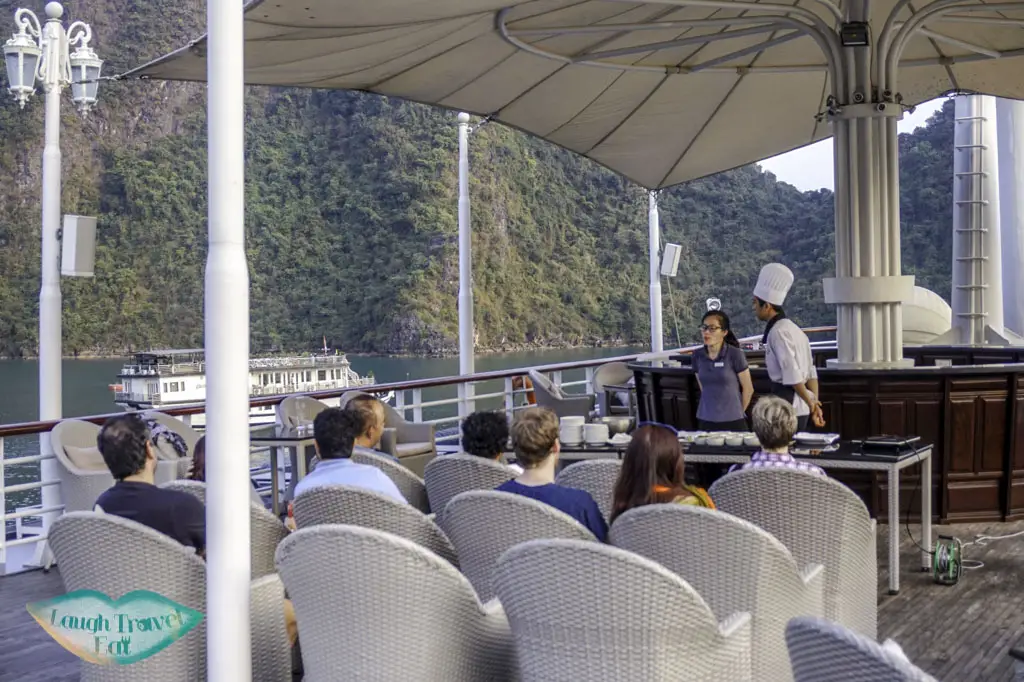 There is a Cooking demonstration – usually spring rolls – at 17:30. The cruise from pearl farm to where we are anchoring for the night is a scenic one, and we were lucky that no one else seemed to be feeling the need to take photos on the sundeck! So we went all out. If you want to take time lapse, this is a good time to do it, too!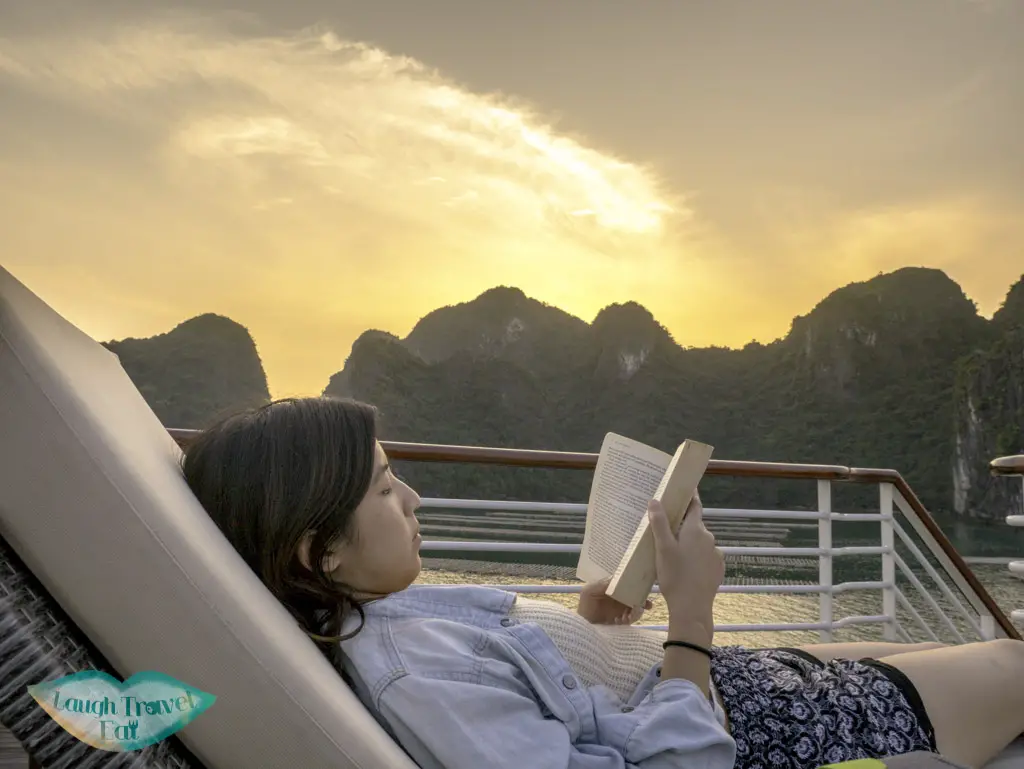 A la carte dinner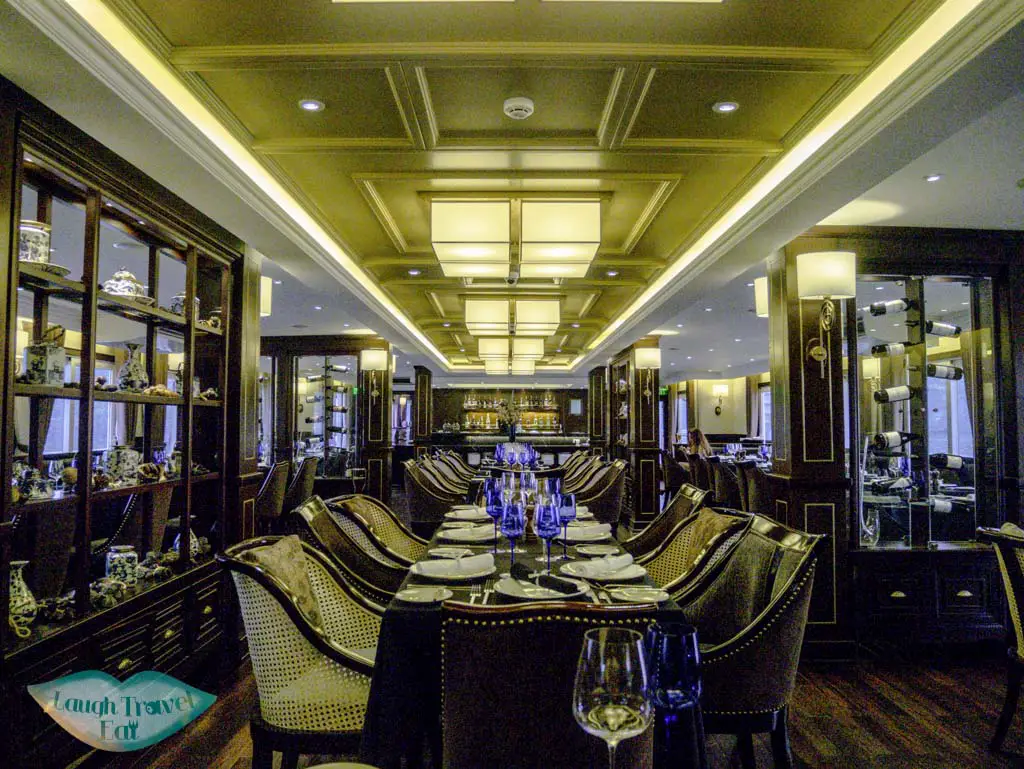 We were given a choice to choose our own time for dinner from 19:00 to 22:00, which was asked during lunch. They have two menus, one western, one Vietnamese, but we are free to order whichever we choose and from whichever side. So we ended up with three desserts, figures!
Initially, we thought the portion size was a bit small, but given that there is starter, soup, main, and dessert, you do end up being quite full. If not, you are free to order more – free of charge!
Drinks, however, are charged separately.
Here's the menu we had:
I really loved the Australia grill beef – naturally!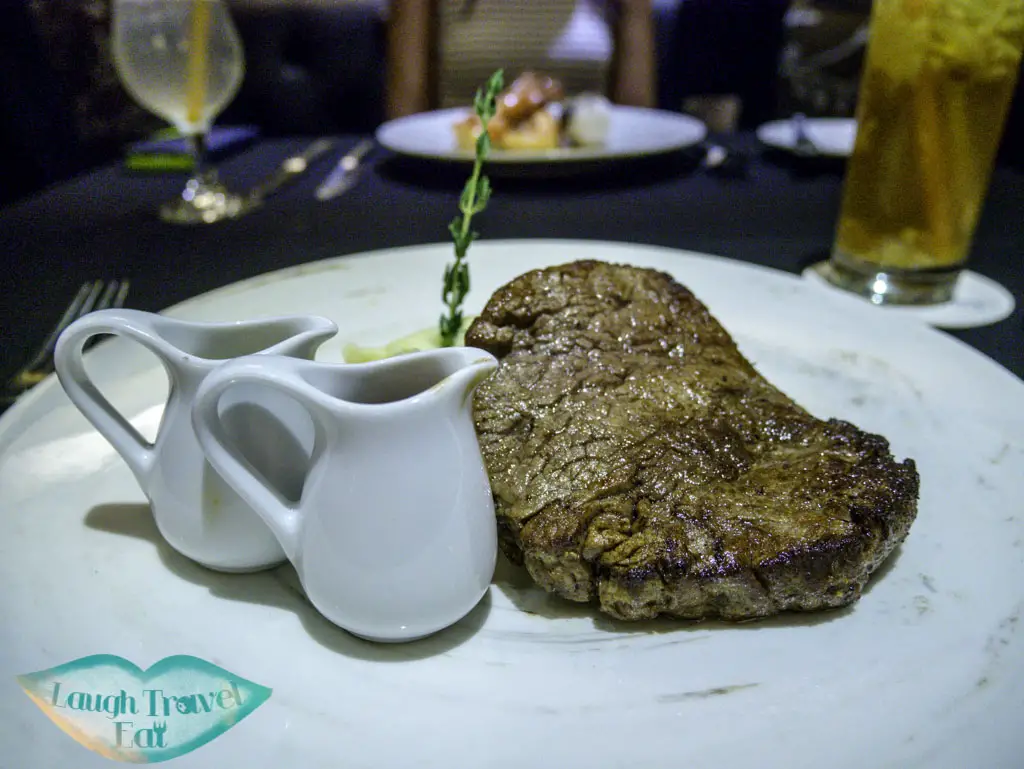 Day 2:
For the early birds, they have Tai Chi on the sundeck at 6:30. We actually ended up waking up before 6 in hopes that we would see a glorious sunrise. However, the weather wasn't on our side and it was more of a pink sky only phenomenal. Then, naturally, we went back to bed!
We had a false alarm as the intercom sounded for passengers to gather for the 7:00 visit to Titop Island. That turns out to be for the people who are on the 2 day 1 night cruise only!
The full breakfast at 8:00, a comprehensive spread of Vietnamese and western food with delicious pastries. I practically ate half the pain au chocolate they have! There's also a choice of carrot, passion fruit, or watermelon juice, which I was very impressed with. You can also order eggs! Their Egg Benedict was so-so, but with so much on offer in the buffet, freshly cooked eggs are more of an accompanied!
Titop Island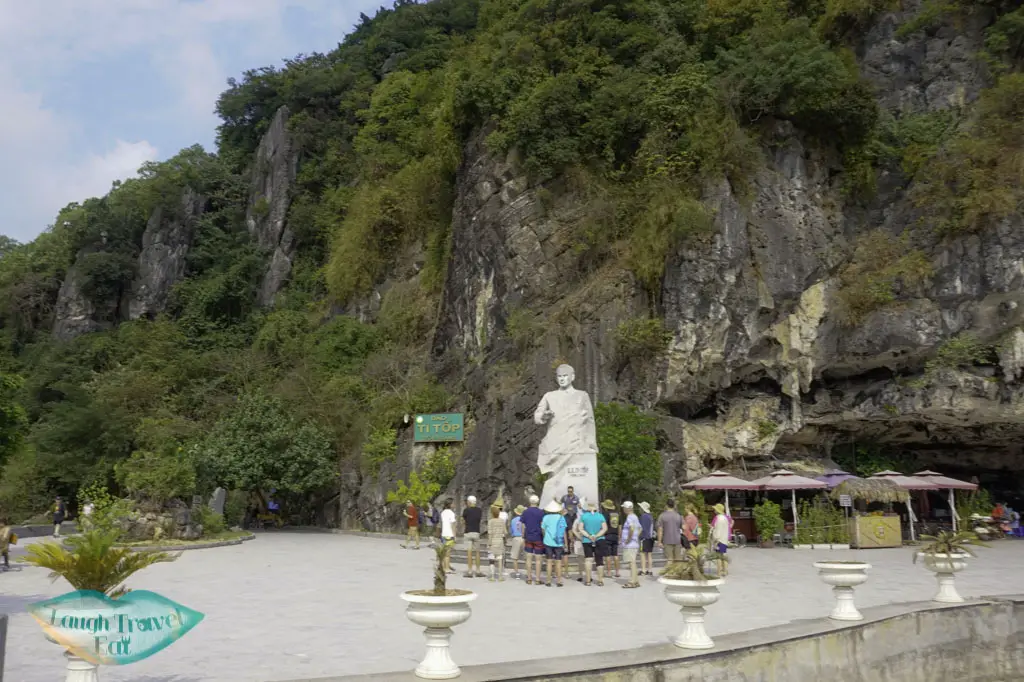 The visit to the Titop Island is at 9, and the visit is only for an hour. Titop Island is named after the Russian Astronaut, and in truth is a rather small island. The entrance fee is included in the ticket, and we aren't the only cruise group to arrive. The main attraction is the viewpoint at the top with 400 odd stairs. It isn't nearly as hard as it looks, though the steps are steep and narrow.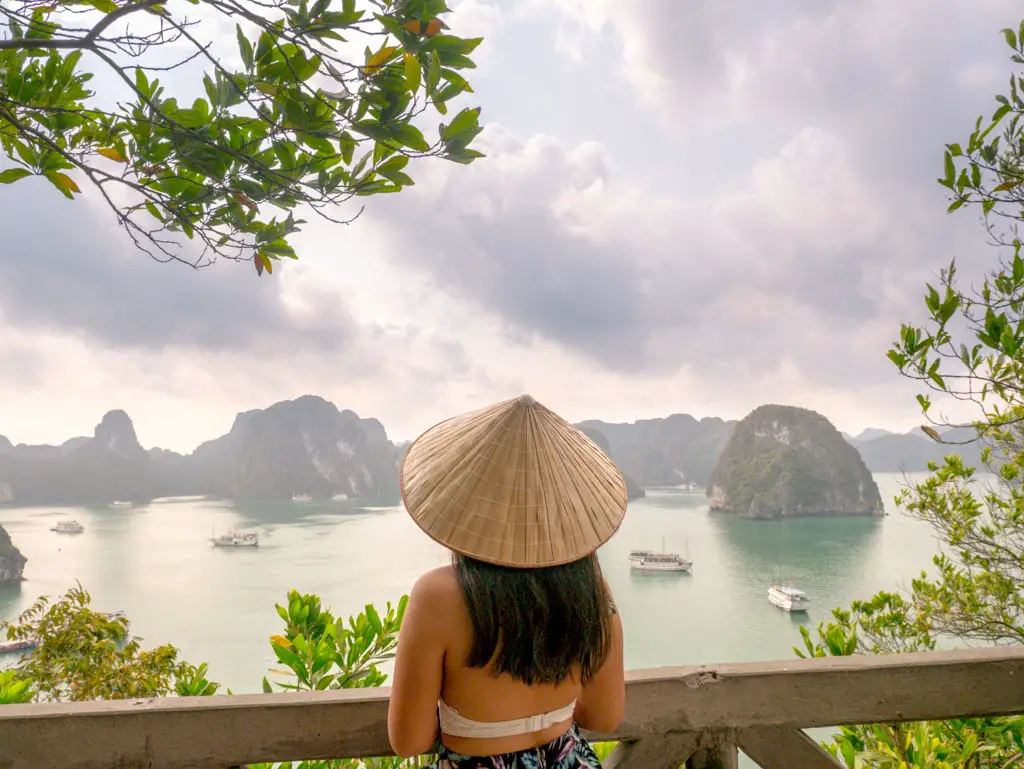 Alternatively, you can stay on the beach. Paradise Elegance crew has kindly provided us with towels to lay down should we need them. Personally, I didn't fancy going into the water since it doesn't look particularly clean, but many did. If you want to venture up then down, it's easily doable in 40 minutes, leaving you another 20 on the beach.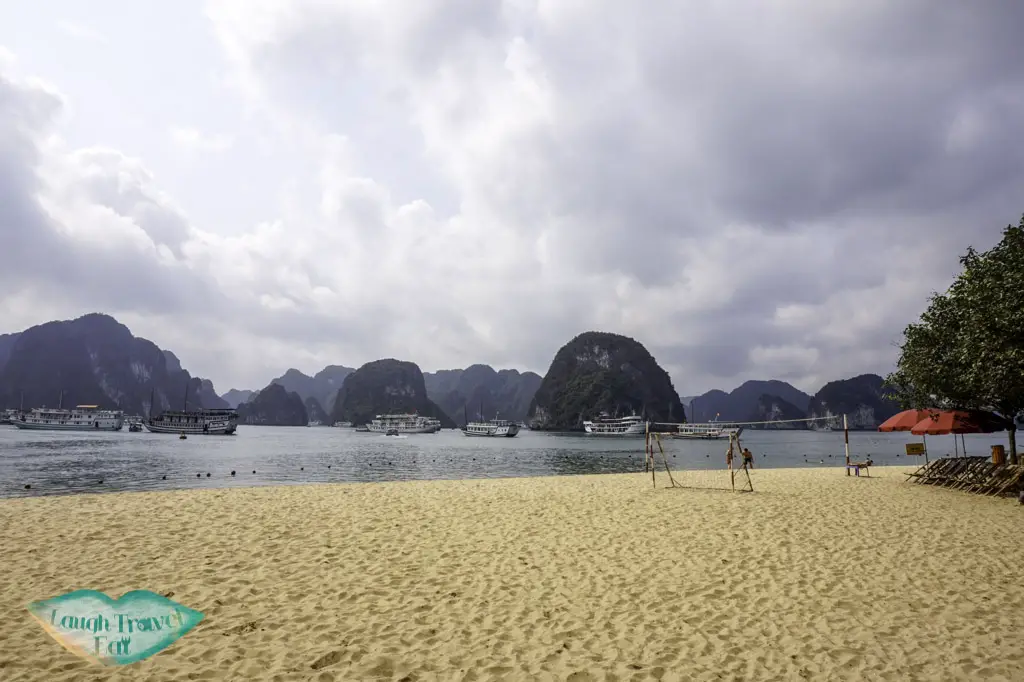 Paradise Explorer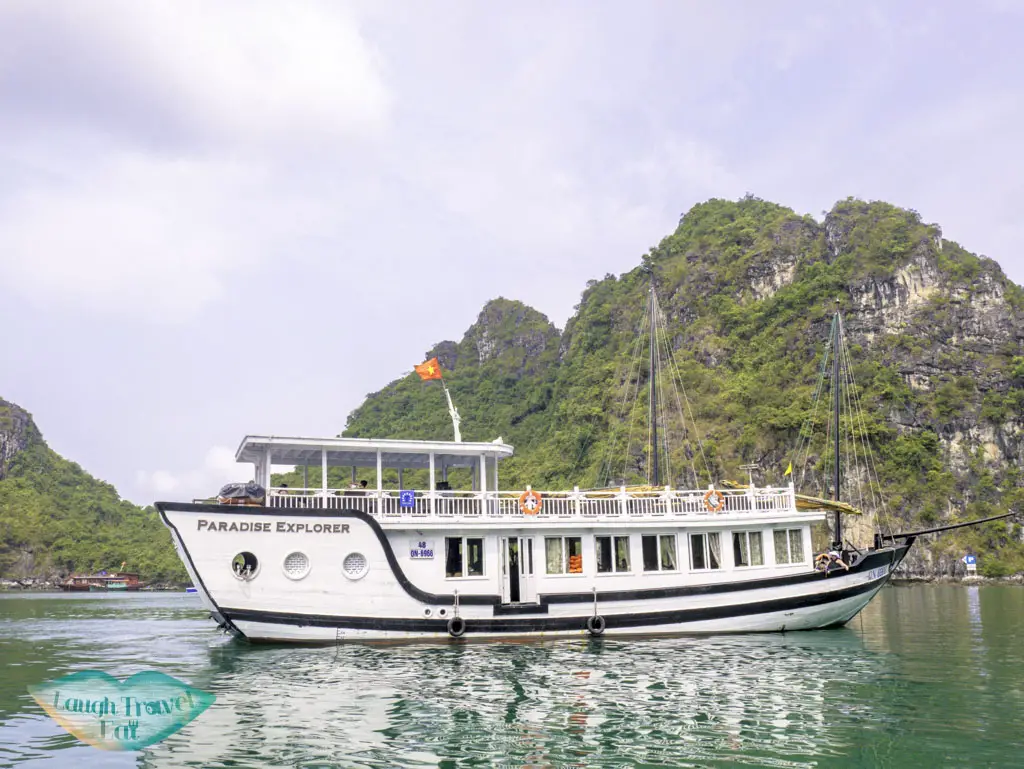 Instead of going back to Elegance, which is on its way to send the 2 days 1 night people home, we boarded the smaller Paradise Explorer and set off to our next destination. We got to a cute bay for our kayaking excursions: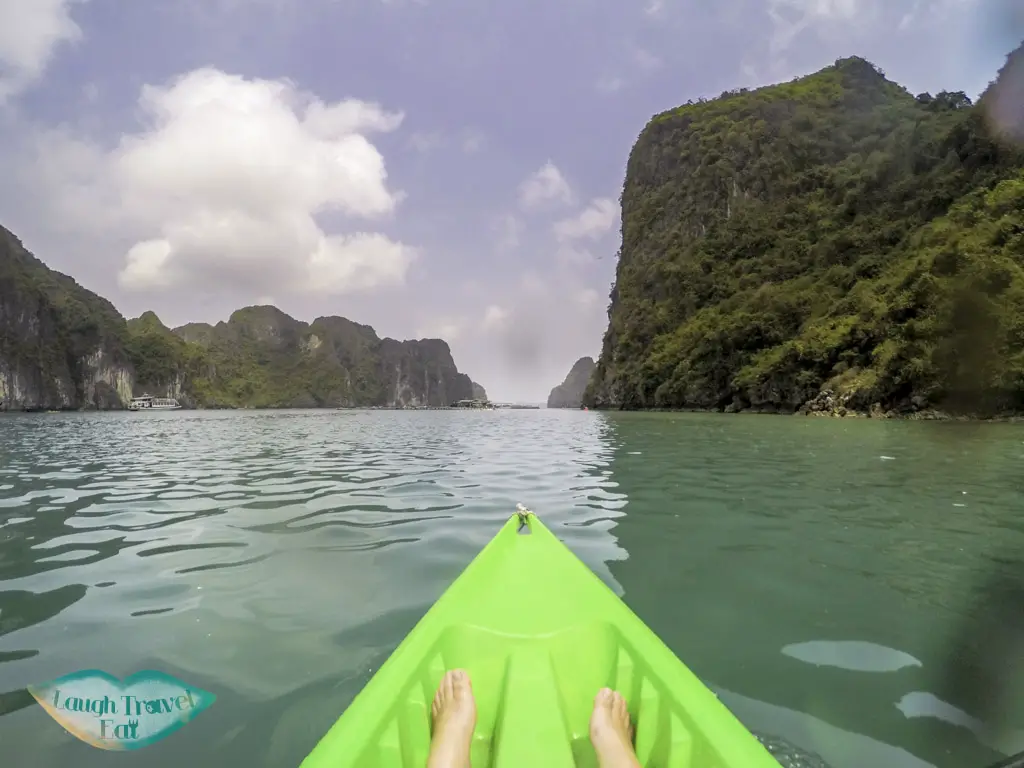 I've checked the time stamps on my video to verify that we set off to kayak at 11 and we had about 40 minutes to go around the little bay. There isn't much to see in the bay itself and the amount of rubbish around was saddening to see.
That said, we found a few cute cove and the view of the karst mountains are still lovely!
Vietnamese lunch on paradise explorer
We got back to the boat by 12:00 and a hearty Vietnamese lunch was served. We ate with a lovely Australian couple, cruising along the bay. There is also a sundeck onboard the Paradise Explorer. While it doesn't have as much room as Elegance, there is still plenty for the gang.
Floating Village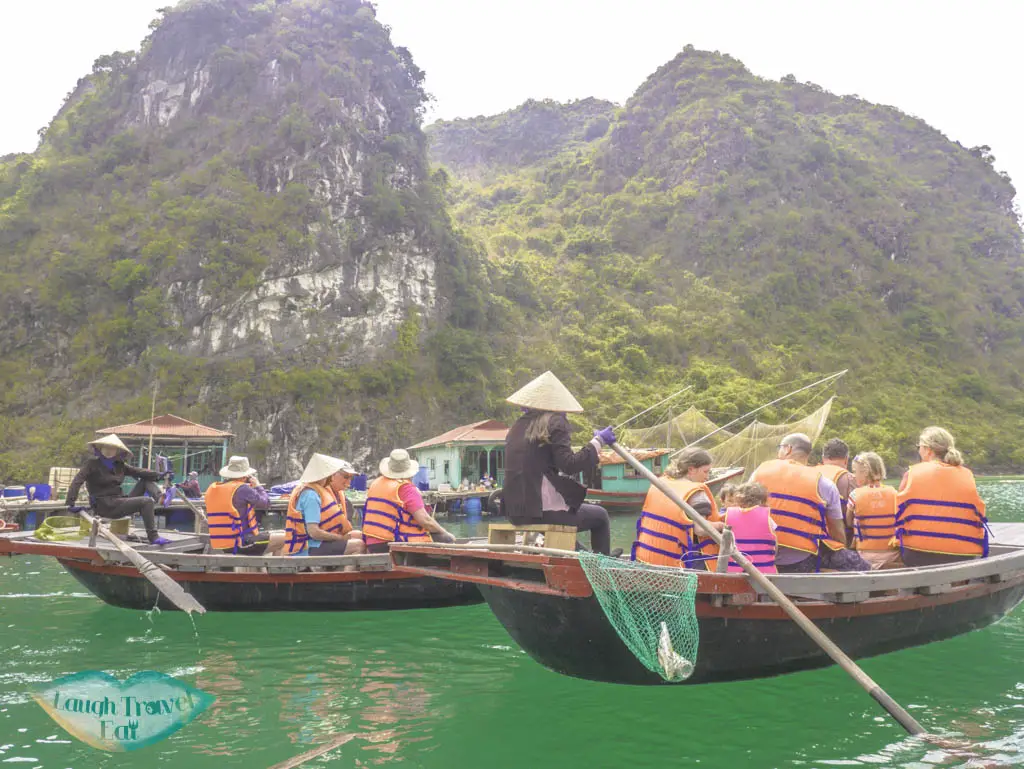 After lunch at around 13:20, we arrived at the floating village. I didn't even realise there are floating village in Halong Bay, though we were told that they are dying out fast due to government incentive to move them on land and the fact that young people move away for good. We were rowed by some ladies on a wooden boat, and it was interesting to see how they hung kerosene lanterns on their boat.

The village isn't all joined together, either, but seem to have formed some kind of a floating cluster with about 5-6 houses connected together, along with some fish farms.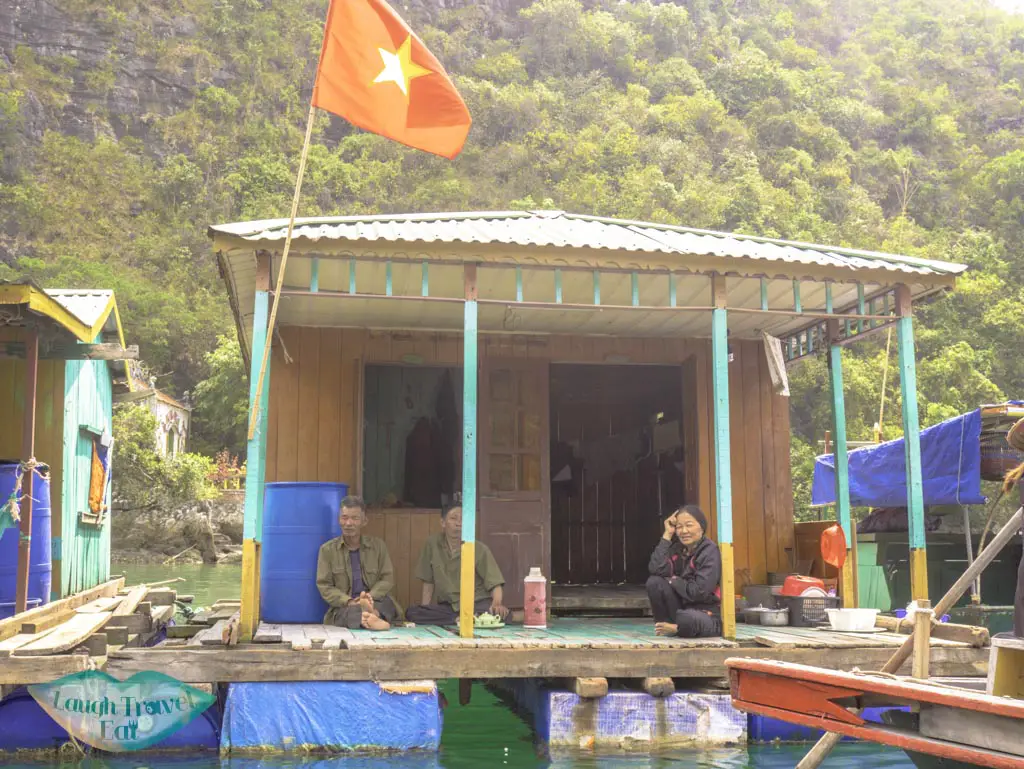 We spent about 35 minutes doing an inner circumvent of the floating village before going back to the Paradise Explorer. Then, it was time to go back on the beautiful Paradise Elegance!
Afternoon tea and free time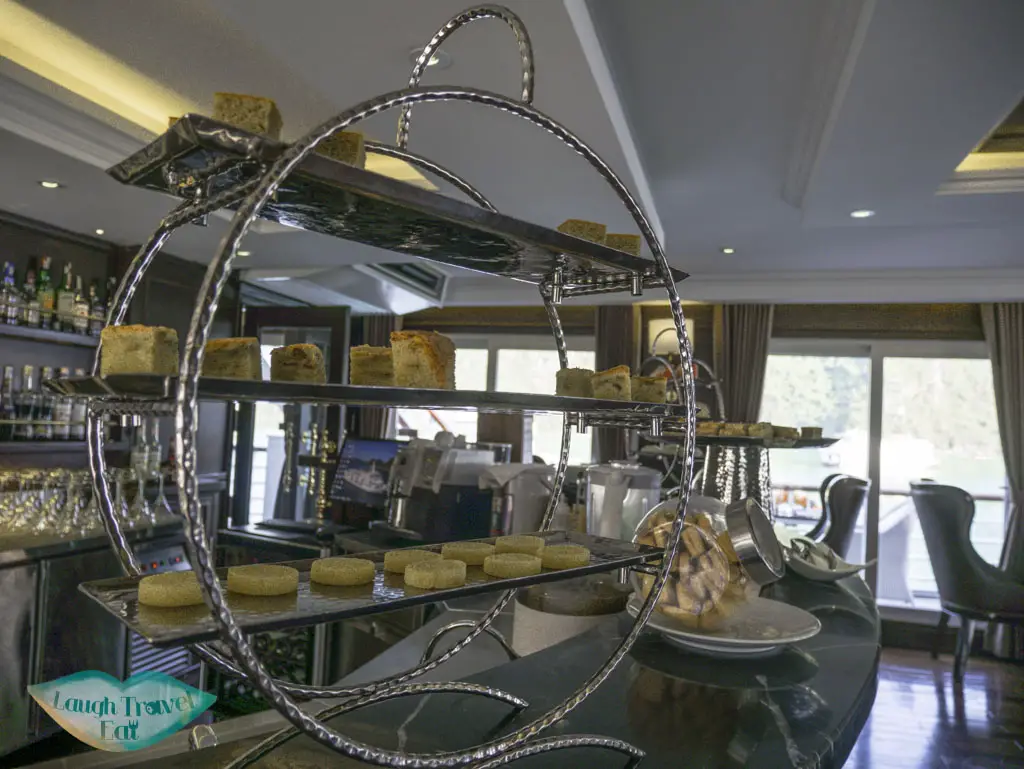 We got back on the ship at 15:00 and just in time for afternoon tea! The cruise has picked up a new batch of 2 days 1 night cruisers and this time, there are more who decided to venture to the sundeck. There is, again, the cooking demonstration. We used the free time to sit on our balcony and enjoy the view, but the sunset is best enjoyed on the sundeck!
Dinner on Paradise Elegance
Dinner is exactly the same as yesterday. I had to order the Australian beef again, but there are enough things on the menu that we could probably have it for another night and not be bored. We tried the Halong bay fish fillet this time and it was amazing!
The movies on the TV were the same as yesterday and played on a roll, so we watched a movie on my hard drive – fittingly Kong: Skull Island – perfect for being in Halong Bay!
Day 3 on Paradise Cruise
The last morning onboard was really just that! We had some time to get breakfast, packed, and enjoyed the sundeck before it was time to go.
During the trip, we are asked to sign a payslip whenever we order drinks and everything is tallied up then to be paid at the reception.
They do add a 10% service charge and 5% tax, so do bear that in mind!
It can get a little chaotic with everyone trying to pay at the same time, so be sure to keep an ear out to the intercom. You give the room key back after you 'checked out', but you can leave your luggage outside your room door to be collected.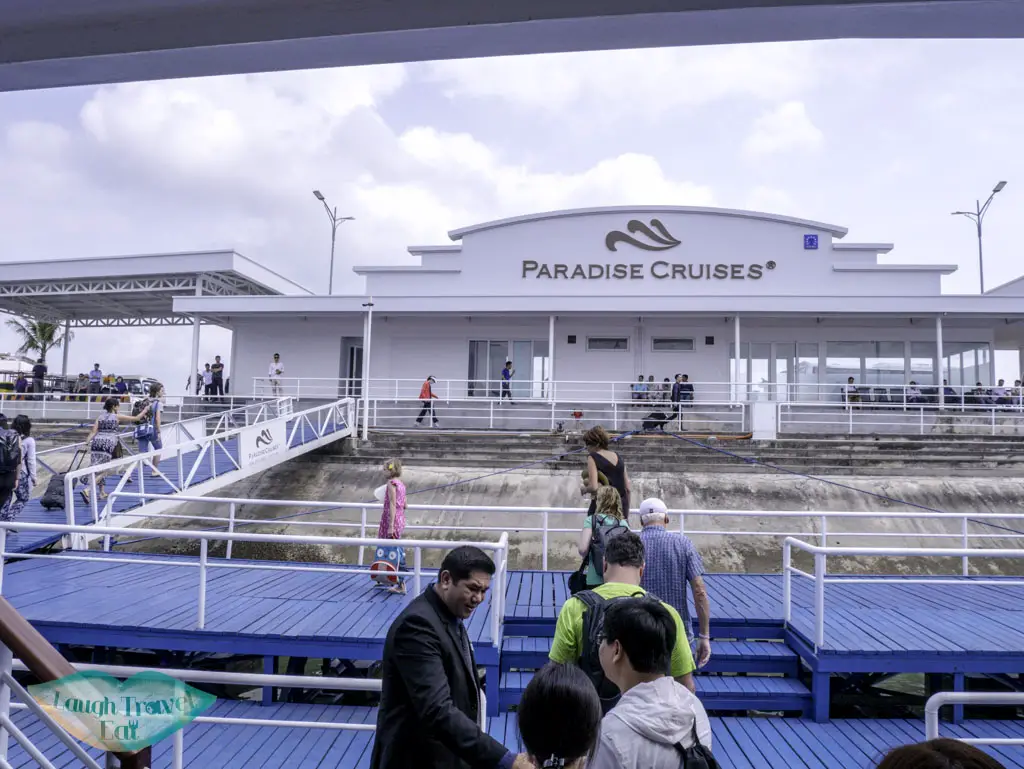 We were early in getting back to the harbour and arrived by 10:00. The golf carts/electric buggies were a little late in picking us up, but we were soon ushered to the same hotel again.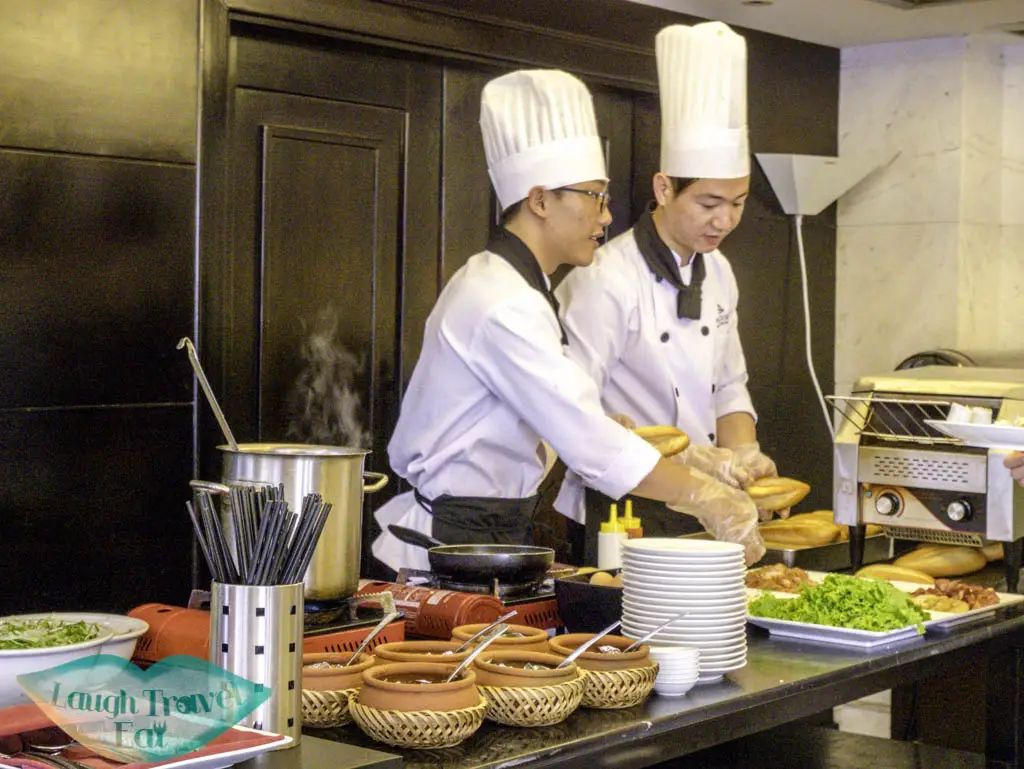 Lunch wasn't served until 11:30, and drinks are charged extra again. However, the rooms do provide 2 bottles of waters for free and they also give you one for excursions, therefore we didn't feel the need to order extra.
We had Banh Me and Pho for lunch, but to be fair, I ate so much for breakfast that I was hardly hungry!
Picked up at 12 to go back to Hanoi
During the time we waited, a staff came to check our name and our hotel drop off, then told us which bus number to get on. We grabbed our luggage outside the lobby, found our bus, and was soon on our way back to Hanoi. It made the same stop it did when we came and is overall a pleasant trip.
Halong Bay cruise 2 days 1 night
For the 2 days 1 night trip, they would visit the Titop island for an hour in the morning at 7:00 before coming back for the 8:00 buffet breakfast. Then they will be on their way back as the rest of us went to Titop Island and stay abroad the Paradise Explorer for the day until the ship comes back with the new batch.
Halong Bay Cruise with Paradise Elegance summary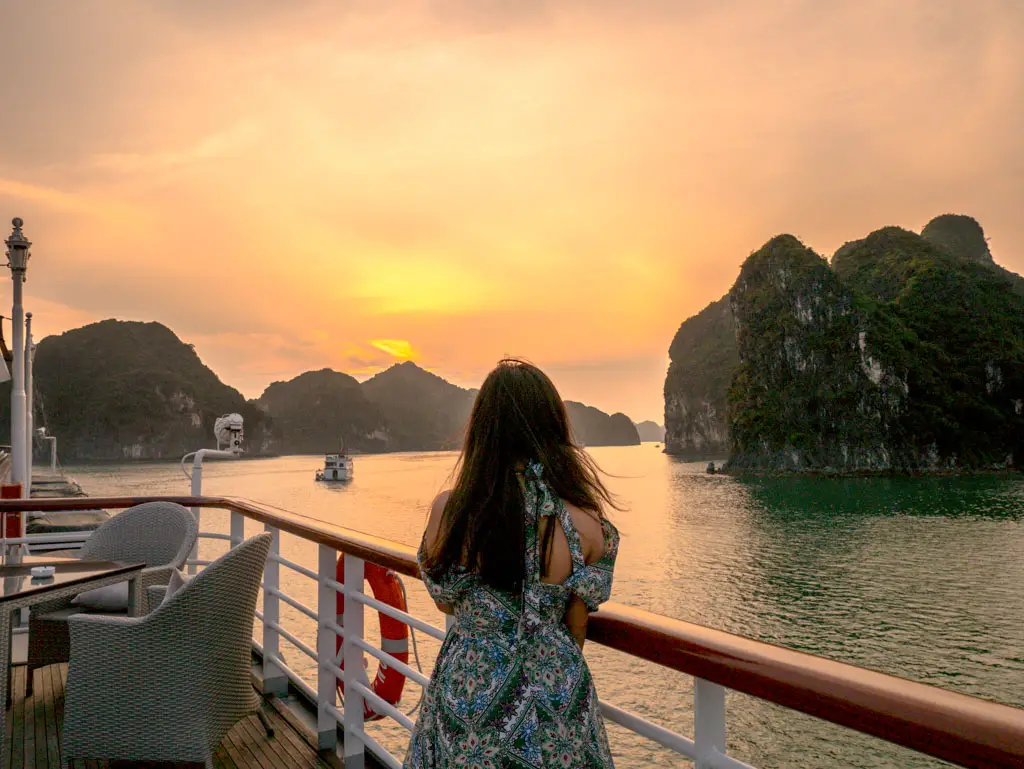 In all honesty, the highlight of a Halong Bay cruise is exactly that: being on a beautiful ship cruising the spectacular landscape of Halong Bay. Which means being on a nice cruise kind of does make or break the trip.
Paradise Elegance is a wonderful ship and it had 100% made my Halong Bay Trip, but here's both sides of the argument:
Pros:
Nice sun deck with sun loungers
Very beautiful and clean, with balcony for each room
The bathroom is also very functional with amenities such as toiletries and hairdryer provided
Amazing food, I had definitely eaten too much
Great service, staff are all very kind and helpful
Big TV with entertainment system. You can also bring your own movies on a USB stick
Very comfortable bed
Well organized tours and activities most of the time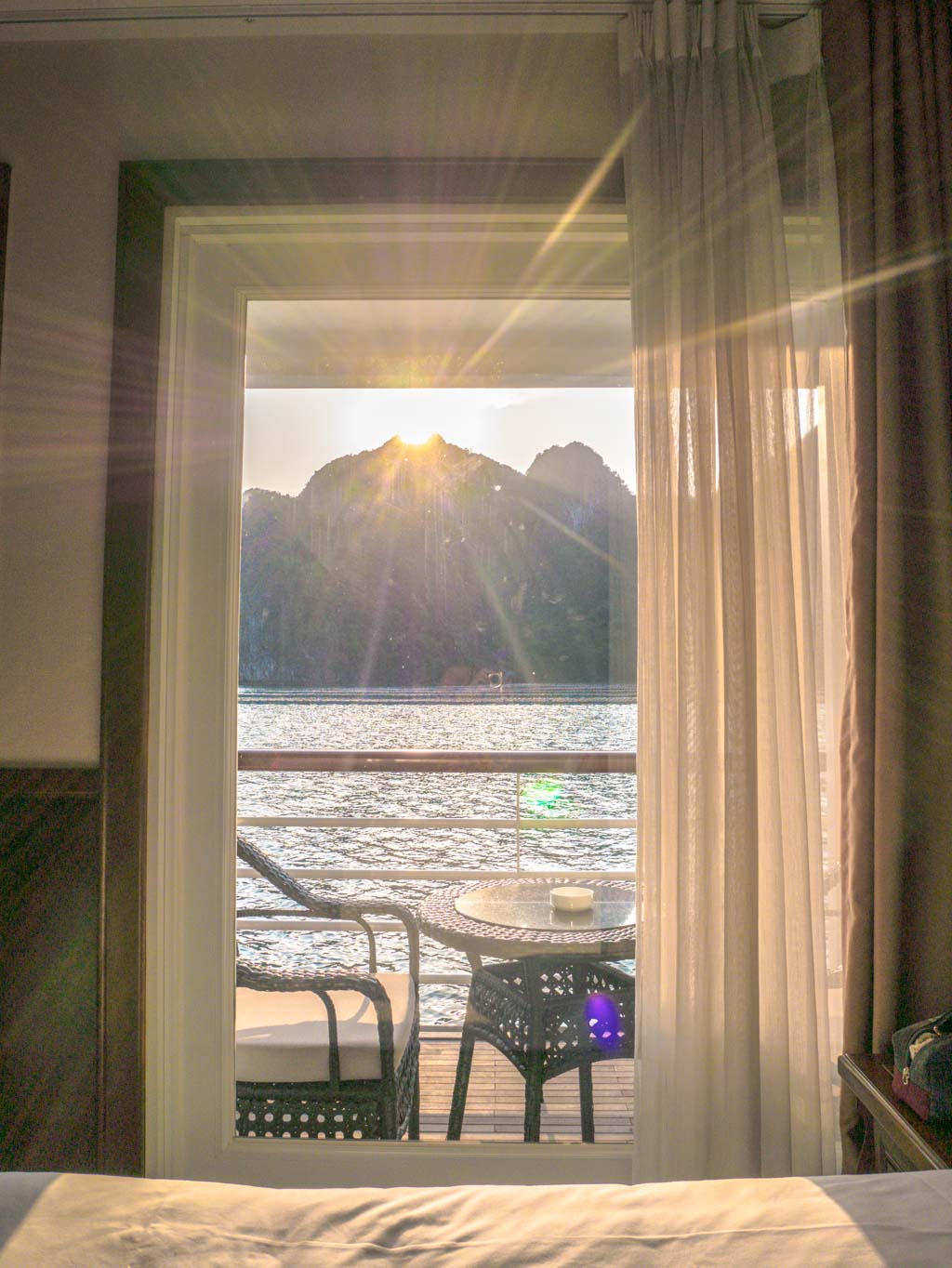 Cons:
Drinks are quite expensive and you are frequently asked to order
Luggage handling isn't the best, my suitcase had a dent, but we had a word with the staff and they made sure it would be better
The WiFi was none existence, with only brief moments during the evening in restaurant and deck. But the mobile data signal was equally lacking in places, so it is probably a global thing
The 2 days and 3 days itineraries are simultaneous and can be confusing
Waiting game for getting on and off is strong, but snacks are provided
Personally, I would do the 3 days 2 nights itinerary because it gives you two chances at seeing the sunset if the weather doesn't cooperate. It also means that you are not constantly rushing around, given that you have to go through a 4-hours drive one way already. The floating village, which I didn't find as interesting as the one in Siem Reap, is also something that's fast disappearing and worth a look at.
Note: I was hosted for the trip but all opinions are my own