Paradise Cave in Phong Nha, Vietnam is named so for a reason. Discovered in 1992 by a local hunting in the forest, it has since become one of the most popular caves to visit in the Phong Nha Ke-Bang National Park. It is the longest dry cave in Asia at 31.5km long with its first 2 km fitted with a wooden walkway for visitors to admire the stunning stalactites and stalagmites. I was completely in awe of it on my first visit in 2016 and didn't realise that you can do a day trek inside, which prompted my return in 2019. Here is a complete guide on visiting Paradise Cave:
How to get to Paradise Cave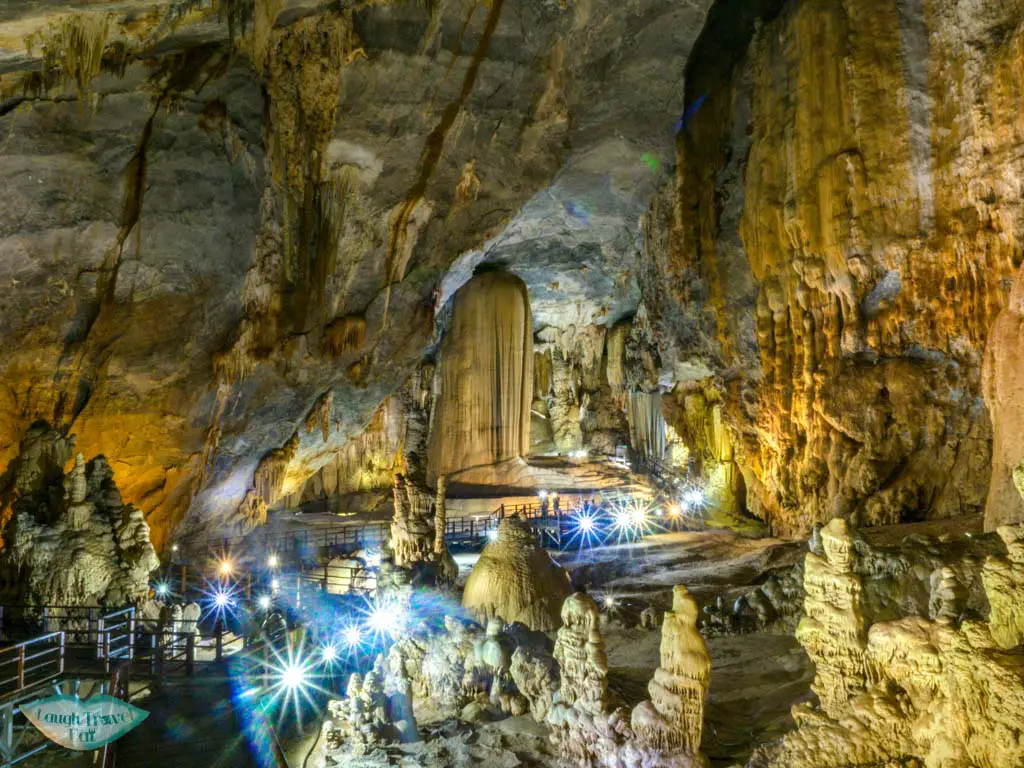 Paradise Cave, although in Phong Nha Ke-Bang National Park, is about 20km away. It is one of the caves that you can visit without needing a tour or guide. Here is a quick look at the ways to visit Paradise Cave:
Rent a motorbike and drive there. I'm unsure of the cost of renting a motorbike in Phong Nha but this is a good option if you want to spend the rest of the day going around Bon Lai Valley
Get an Easy Rider (~300k return) or a private car (~700k return)
Join a day trip – either with Dark Cave or Phong Nha Cave with Phong Nha Discovery, or Tra Ang Cave with Jungle Boss.
My first visit to Paradise Cave was with the Phong Nha Discovery Tour in 2016 that head to Dark Cave in the afternoon. However, if you want a more adventurous and off the beaten path experience, Tra Ang Cave is stunning.
>More on traveling in Phong Nha here.
Visiting Paradise Cave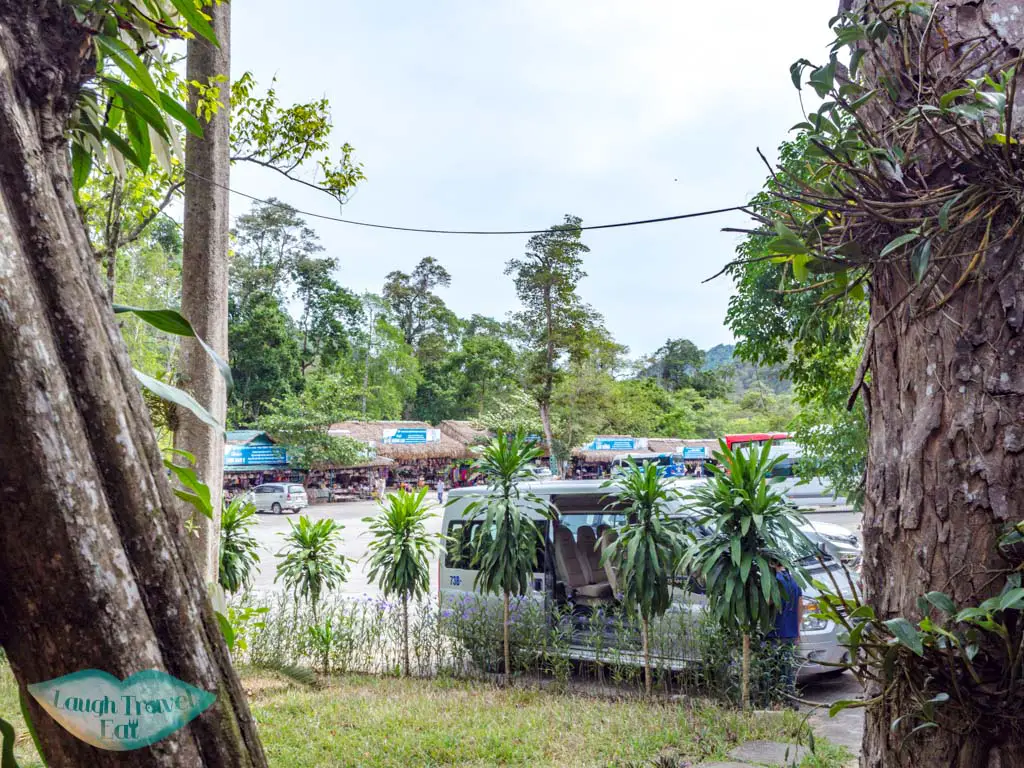 Paradise Cave is marked on google map and easy to find. If you are driving there, you'd have to pay a parking fee as well. Tickets are purchased on the way to the cave, where there is a ticket barrier. It's a 15-20 minutes walk to the stairs that lead up to the cave entrance, and you can opt to pay and take a golf cart to the base of the stairs.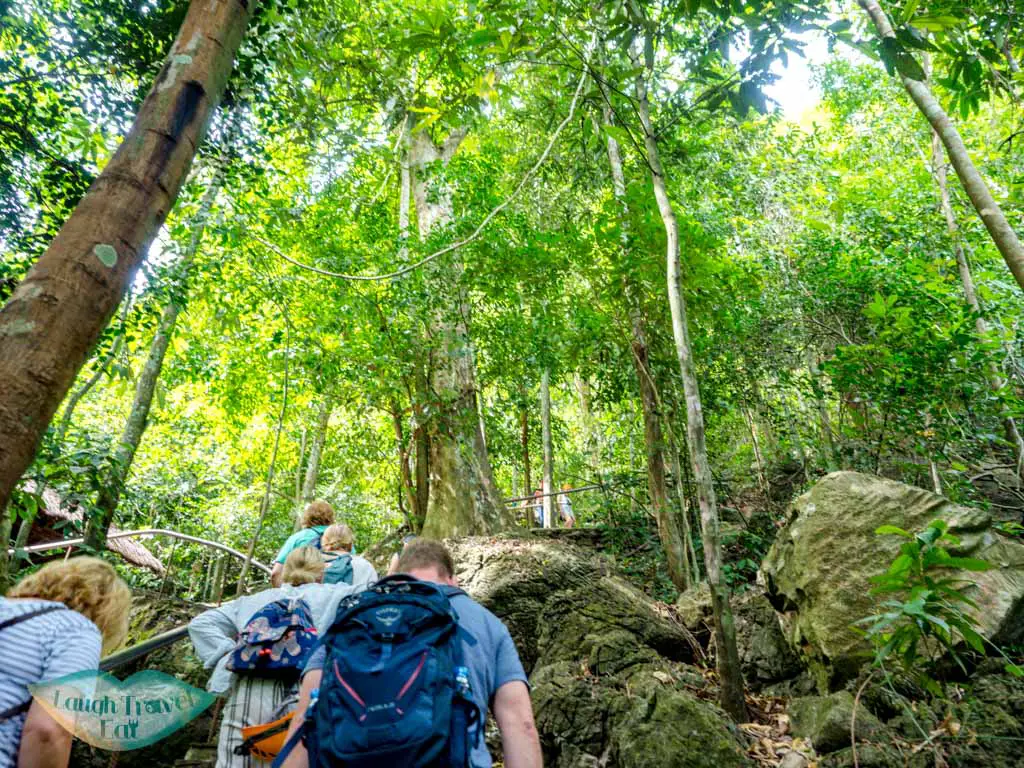 There is also an easy and hard mode for the stairs. The harder route is all stairs but faster, the easy one is inclined walkway.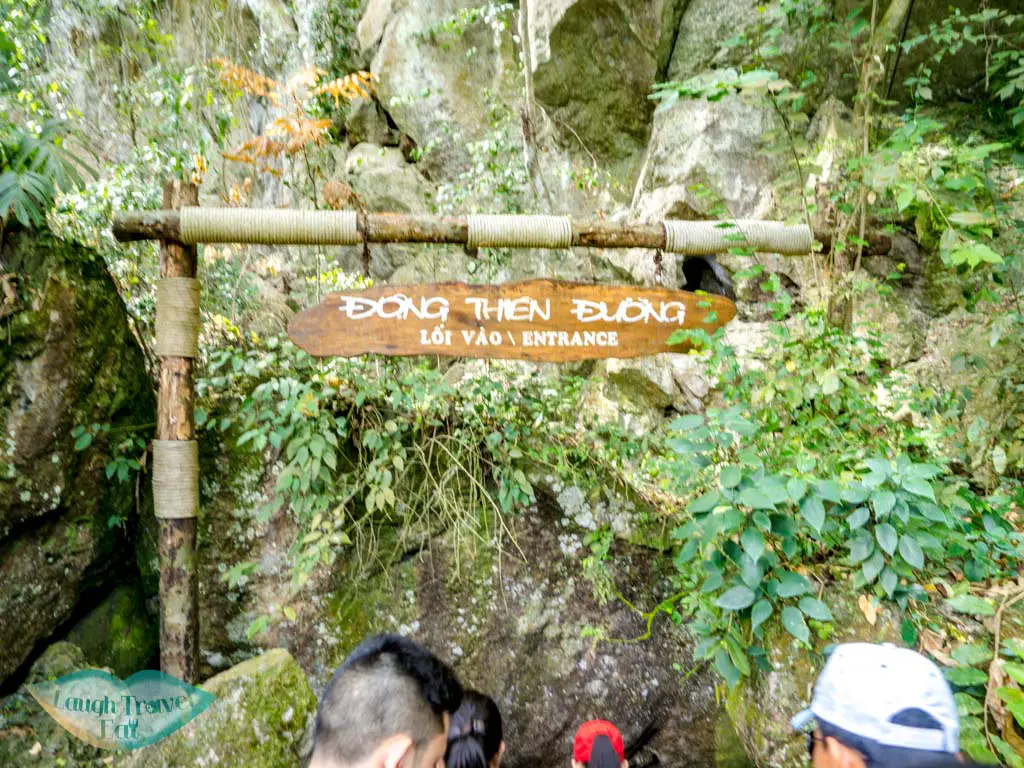 Once you get to the cave entrance, which is much smaller than you expect, you'll find a little rest stop with a snack shop. There is a map of the cave on the side, too. This area tend to be more crowded as a lot of local tourists like to take photos at the cave entrance.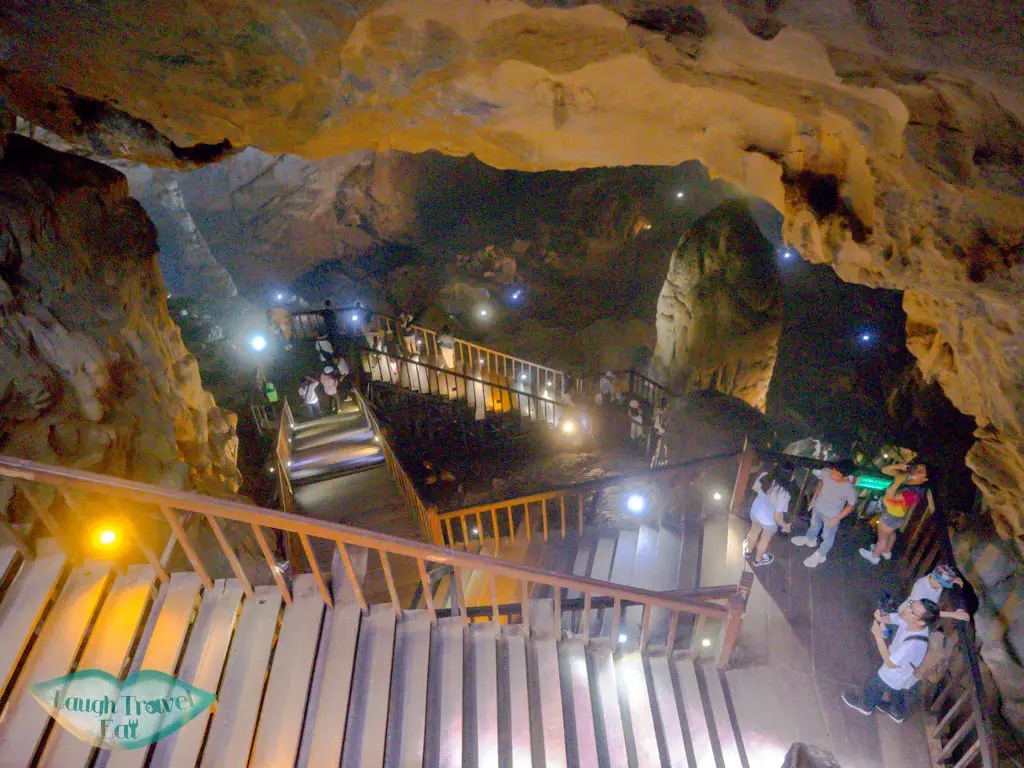 The cave entrance lead straight to a set of stairs that zig-zag down into the cavernous cave. Lights are strategically placed along the fence and in the cave, allowing visitors to admire the stunning stalactites and stalagmites. The walkway are roughly 2km long and a dead end, so you go out the same way as you come in.

While it doesn't take long to make your way up and down, it's also easy to stop every ten steps to take in the beauty around you.
Tip: if you want to take good photos in the cave, it might be worth having a tripod and use manual setting to lower the ISO to avoid grainy shots.

Tip 2: it tends to be the most crowded between 9am to noon as most group tours come here first and then head to the Dark Cave. It's less crowded towards the afternoon.
Ticket: 250k
Parking fee: 5k for scooters
Golf Cart: 60k one way

7 km adventure trek in Paradise Cave
If you want to see more of the Paradise Cave and get adventurous, then the 7km trek is for you. There is a limit of 15 people per day who are allowed to enter, although the day I went there were only 6 of us. It takes visitors deeper into the cave beyond the walkway, reaching the doline at the 7km marker (but no further).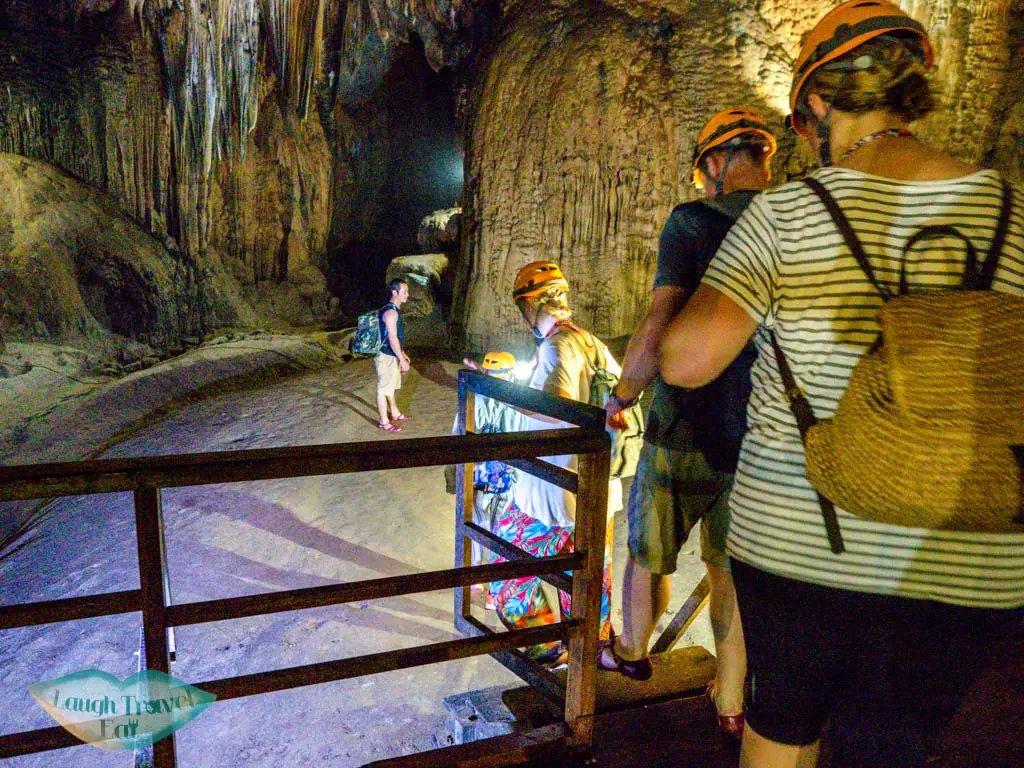 However, during the wet season it might be impossible to reach further than 4 km as the underground river will fill up. According to our guide, they often have to swim and sometimes kayak.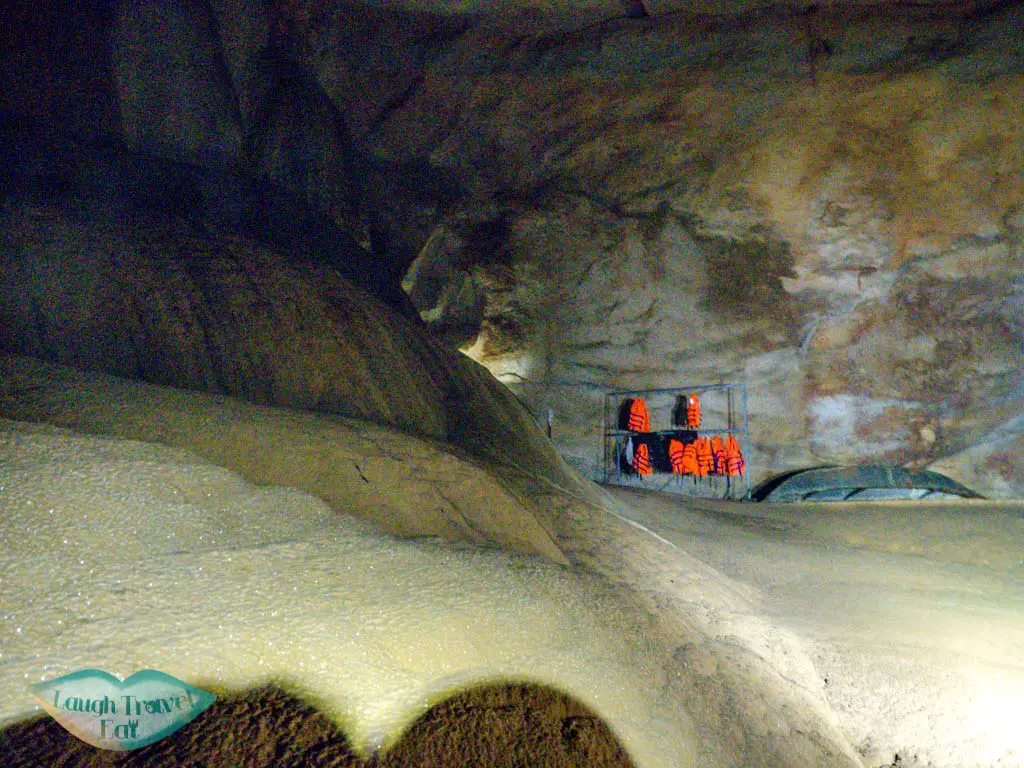 Fortunately for us, July is in the dry season and we only had to walk across calf-deep water briefly. But the view is SO worth it: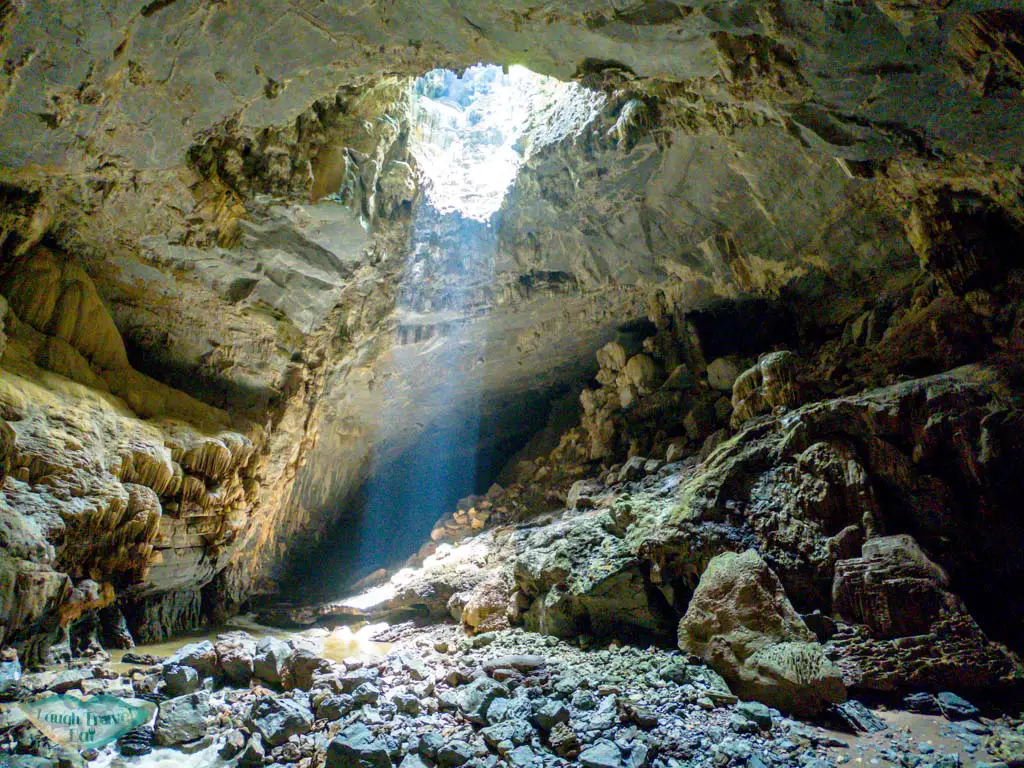 Note: it's 7km to the doline so it's a 14 km walk!
Initially, I was unable to book a tour on the Paradise Cave 7km trek at my hotel (Hang En Hotel) as they said there isn't enough people to form a tour. But I was determined so I went to Easy Tiger Hostel (they are run by Visit Phong Nha and therefore have a bigger presence in town) who were able to get me on.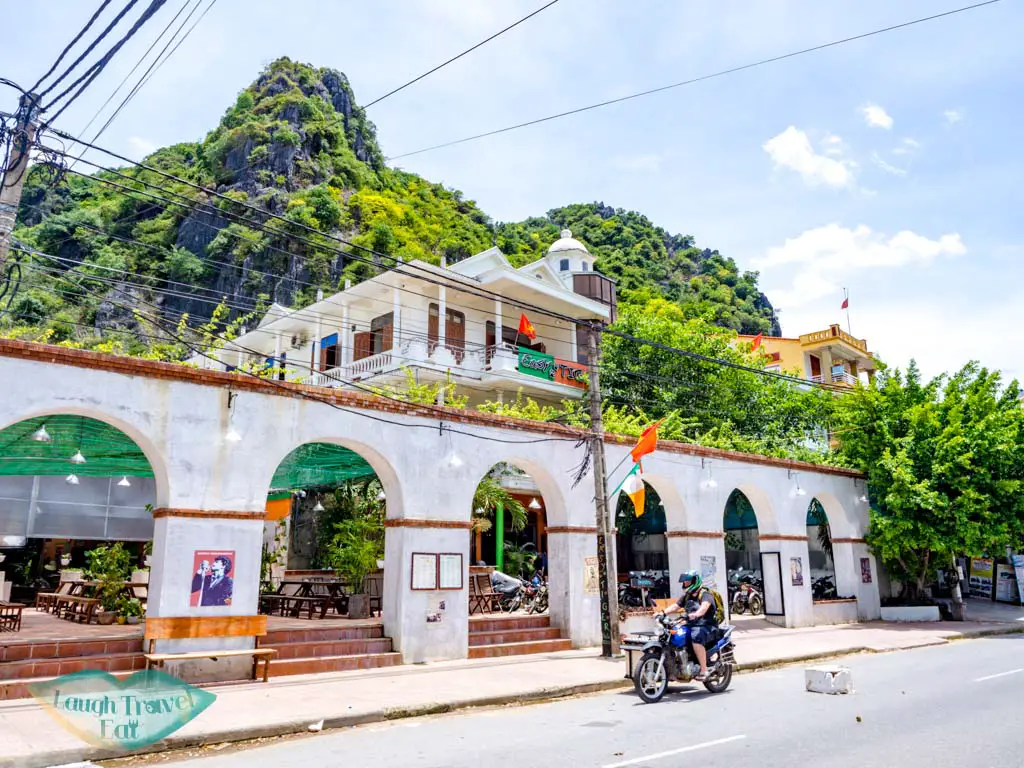 The tour costs 115 USD or 2,650,000vnd which include transport – however, it seems that you can also book directly at Paradise Cave for 2,000,000 vnd but you'd also have to get yourself to and from the cave. From what I know, you have to book the tour in advance (at least the night before).
So I was picked up in air conditioned van around 8 at the hostel. The tour starts at 7:45 but they picked up the family I hiked with at Phong Nha farmstay first. It's about 20-30 minutes drive to the Paradise Cave and we passed by rice paddies and karst mountains en-route. A good time for a power nap if you need one!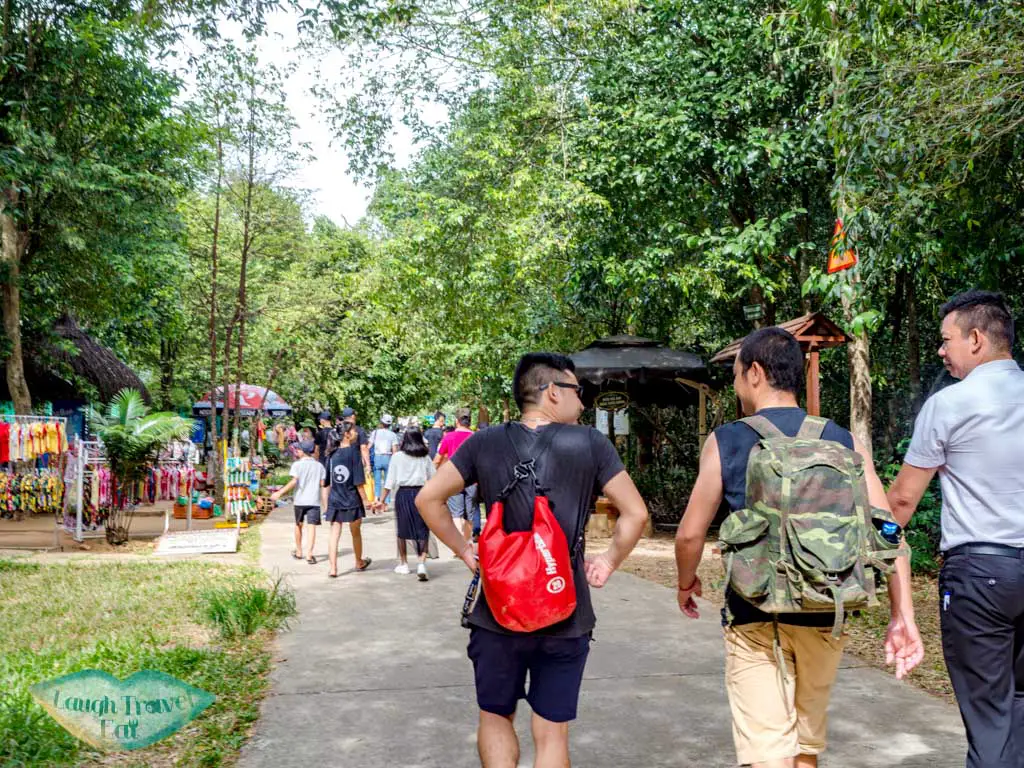 The van dropped us off right by the office which is adjacent to the restaurant. Our enthusiastic guide – Loc – was there to greet us. We were given a quick safety briefing, time to use the bathrooms, two bottles of water and a hard hat with head torch. Loc told us that since it's dry season, there's no need for waterproof bags, but I advise you to use one just in case!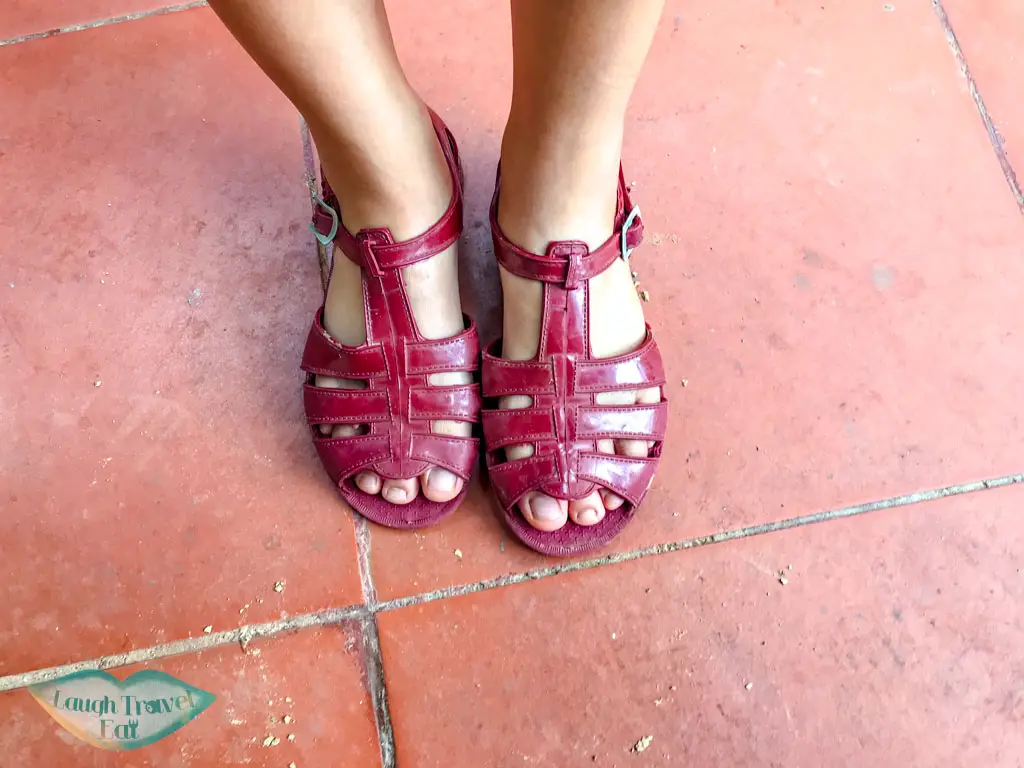 We were lend shoes but they only have sizes between 36-45 and are plastic sandals. If you have your own shoes it'd be good. They were reasonably good but after a while I definitely felt like my own shoes would have been better.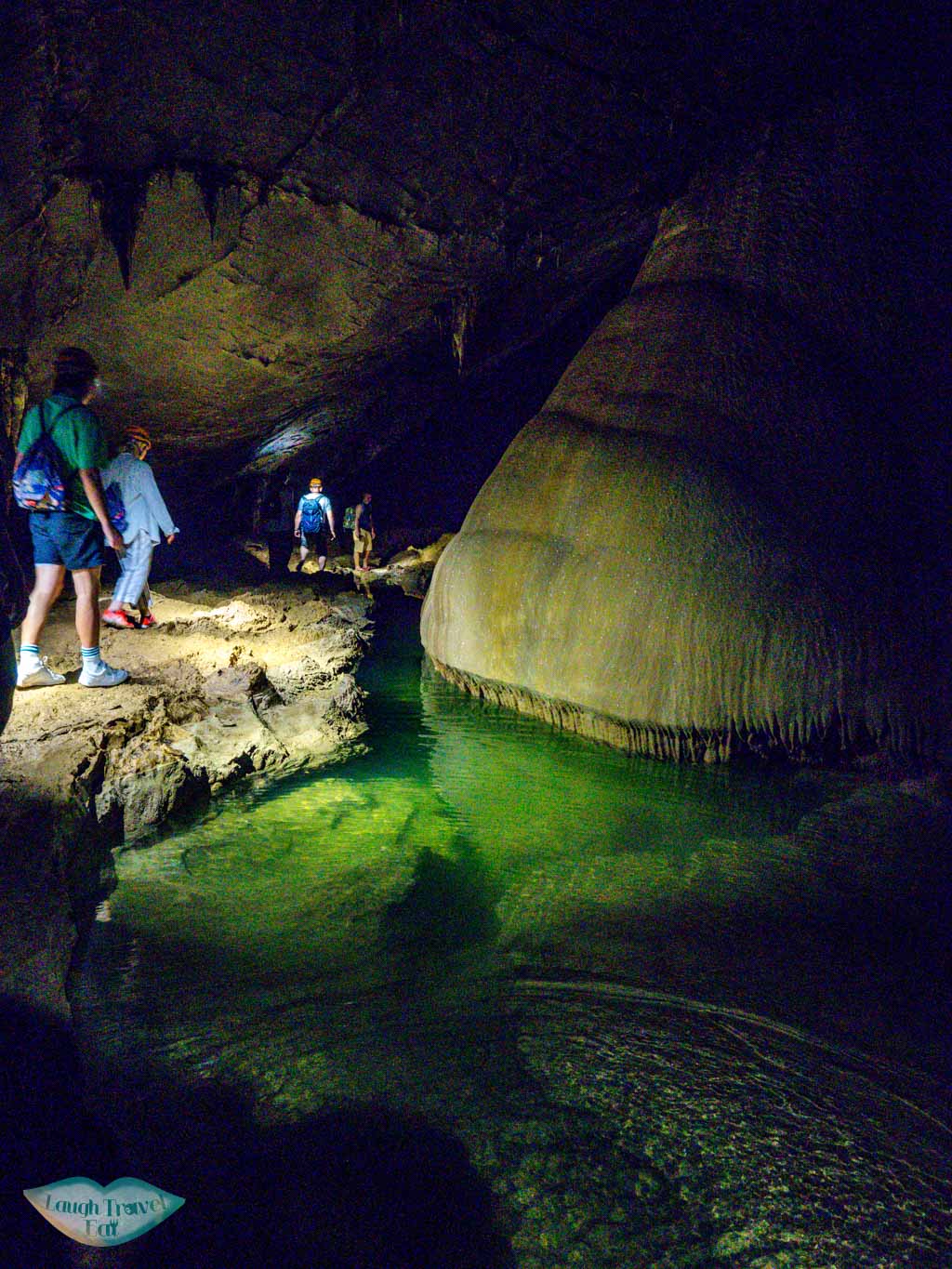 Aside from Loc, we also have a porter who carried our lunch for us. The group of us set off after we all got our water, hard hat, and shoes. The 7km trek includes golf cart transfer to the base of the stairs, so that was a small perk.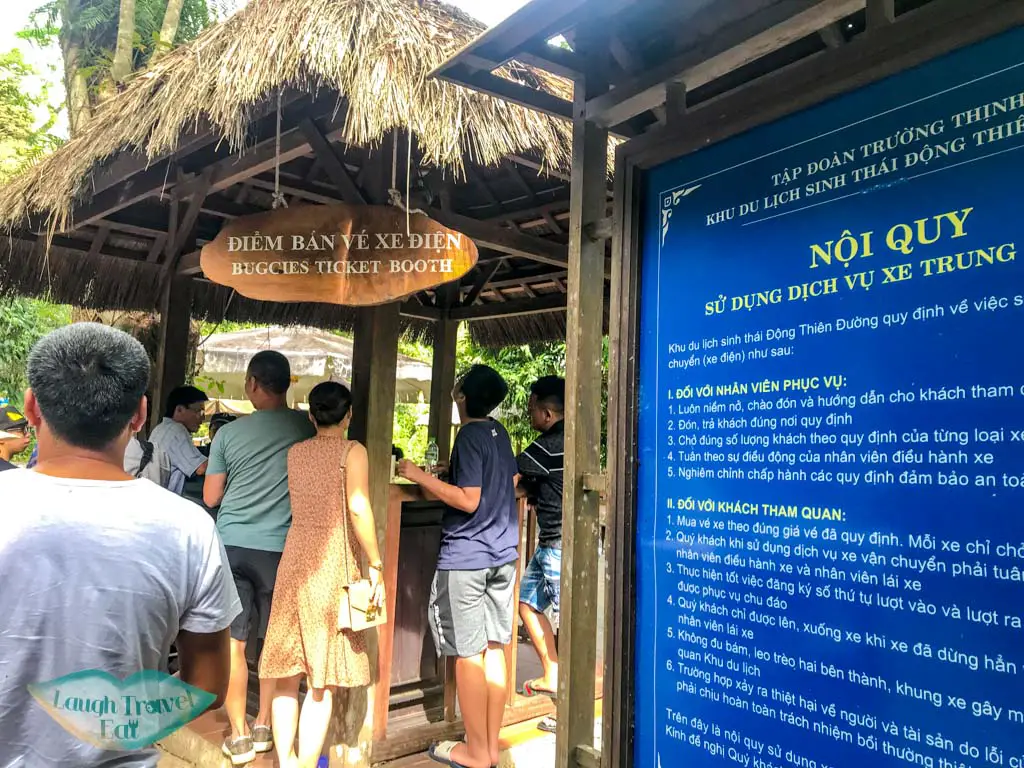 The group opted for the harder stairs up and then we were given some time to rest by the map in the snack shop. Loc gave us a little briefing on the Paradise Cave. we were at Entrance 2, and there are 3 entrance to Paradise Cave in total. Entrance 1 is deep in the jungle while Entrance 3 is in Laos, but only a small opening where the river go through. He explained that the first 4 km of the trek is easy, then the last 3km would involve some climbing.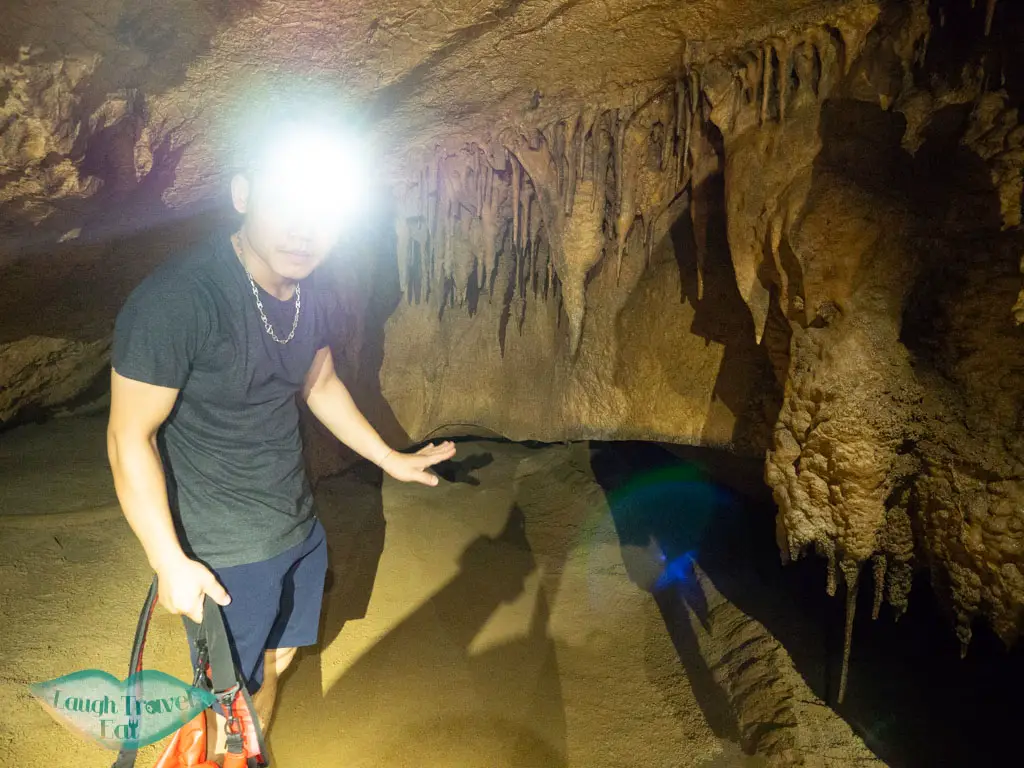 Our guide Loc was amazing and hilarious. He tricked us with making us crawl under a low archway when it's not necessary, take us around when we can go straight, and we even turned off our head torch and walked in darkness for a while.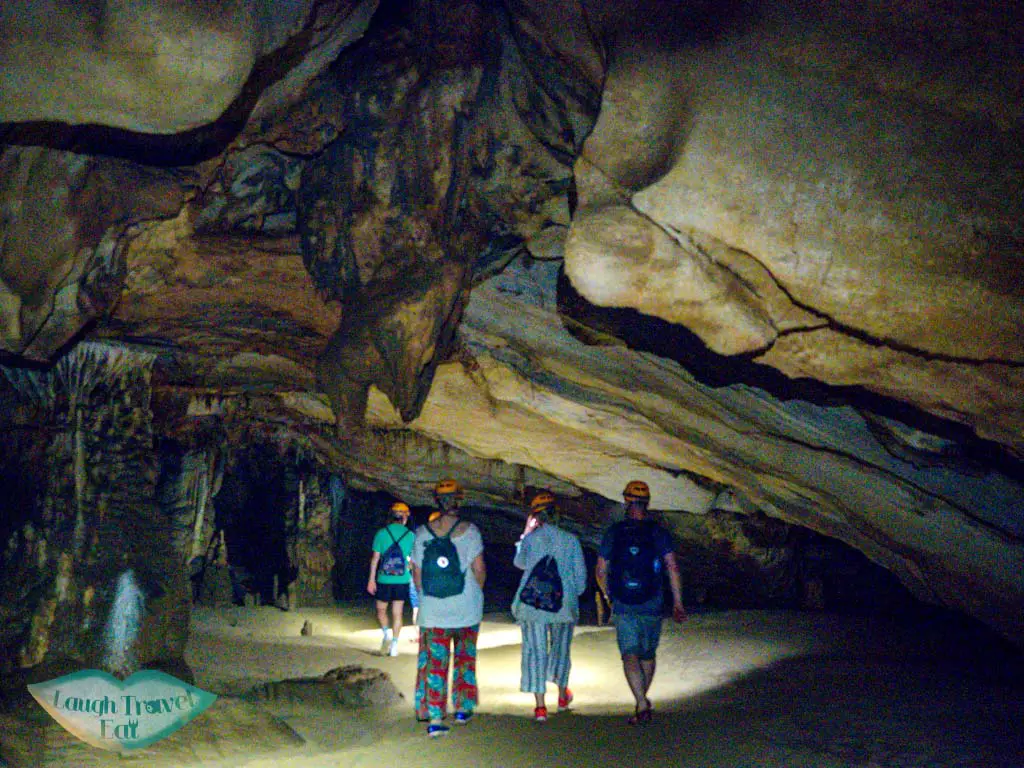 It was strange and almost sci-fi like to walk inside a cave where the only lights come from our head torch. Some parts of the cave are as big and as vast as a small stadium, but there are also parts where we had to duck and shuffle through.
Loc and our porter also helped us tons, there were two points where they use their feet as anchor for us to climb past and they even carried some of us across the river so our shoes don't get wet!
fallen stalagmites

Pretty sure these are coral fossils, known as crinoids
Loc pointed out some unique features of the cave to us. Fallen stalactites and stalagmites, points where they are growing or have joined into a column. We even came across crickets and one scorpion along the way!
cricket

scorpion
We made our way to the 7 km mark quickly as the key to seeing the beautiful strand of light at the doline is to arrive before noon. It was a spectacular sight to see with sunlight streaming through the doline, casting a warm glow on the inside of the cave and river below.
This is also where we had lunch. It was a simple lunch box of spare ribs, egg, and morning glory with rice. They even had soy sauce for us.

After a few photos and admiring the view for about an hour, we started to make our way back. It was definitely easier to get out than it is to get in. We made our way back to the walkway at around 2pm, but it took me another half an hour to get out since I took the chance to get some shots!
We took another break at the snack shop before getting back to the entrance and to our van. It was also possible to leave some items on the van so don't forget to get them back if you did. I forgot but thankfully I called them up and they delivered it back to me in the evening.