Are you wondering about the food in Hanoi? Don't fret because the capital of Vietnam is a foodie's paradise. While I am no stranger to Vietnamese cuisine, having visited Hue, Danang, and Hoi An before, I still found many foods that I hadn't tried before.
Having visited Hanoi a couple of times, I was armed with the determination to sample as many dishes as possible and learn a few tricks. So now here's my guide to the best restaurants in Hanoi and some lovely little Hanoi cafes you can find WiFi/work out of.
>For what to do and see in Hanoi (especially for first-time visitors), see my post here.
Hanoi Food Guide
Is there street food in Vietnam? Is street food popular in Hanoi?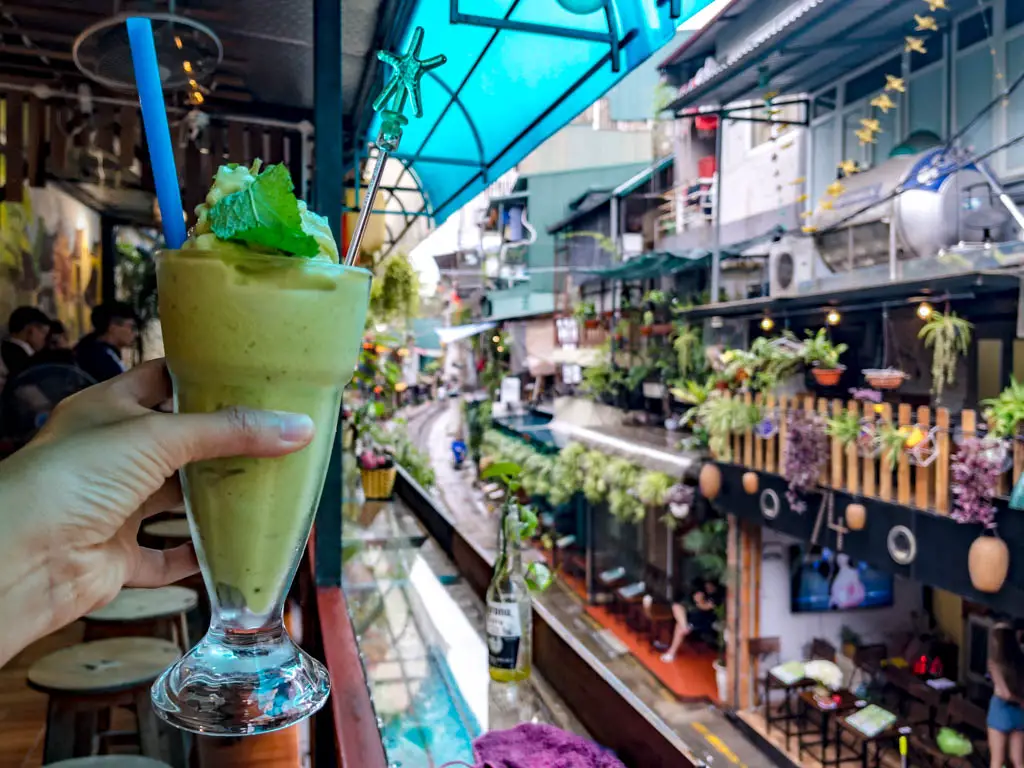 Yes, you'll find street food carts and tiny little stands scattered around the streets of Hanoi as well as small holes in the wall.
Some of these street food stores spill out onto the pavement, and Vietnamese people tend to sit on low stalls so be prepared to get close to the ground! 
However, that is technically illegal and on the rare occasion the police pass by, follow the locals and grab your food and jump up.
Can you eat street food in Vietnam?
For the most part, it's safe to eat street food in Vietnam. If it's your first trip to Southeast Asia or you have a delicate stomach, stick to the soup noodles and avoid drinks that are not bottled.
The most common stomach issues are from drinking something with questionable ice.
What is Hanoi famous for?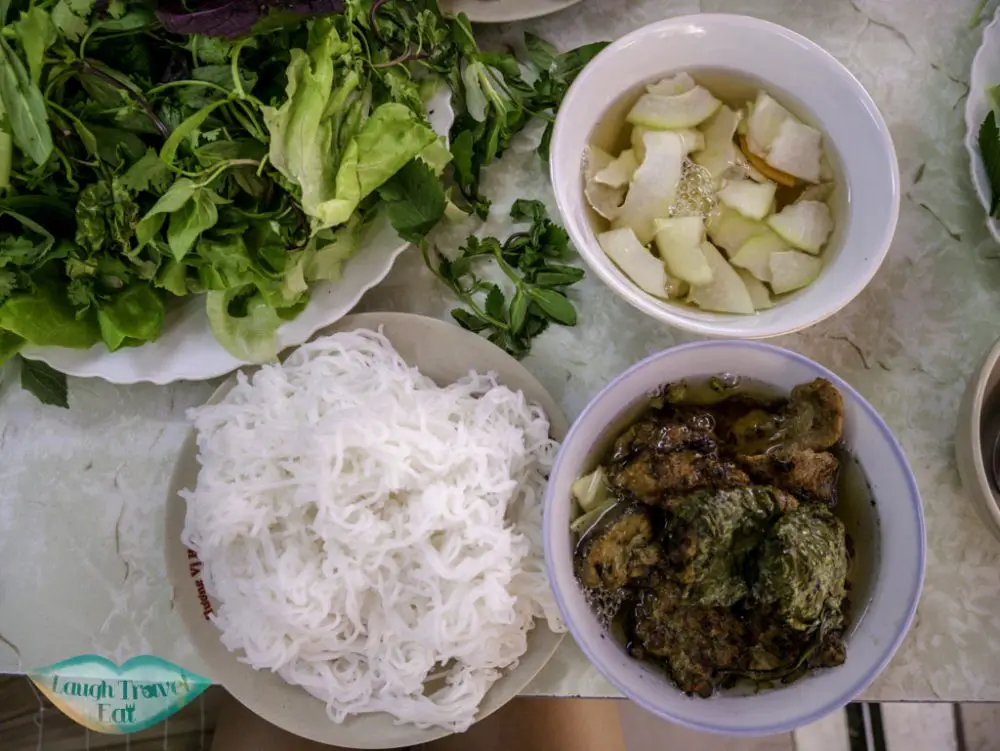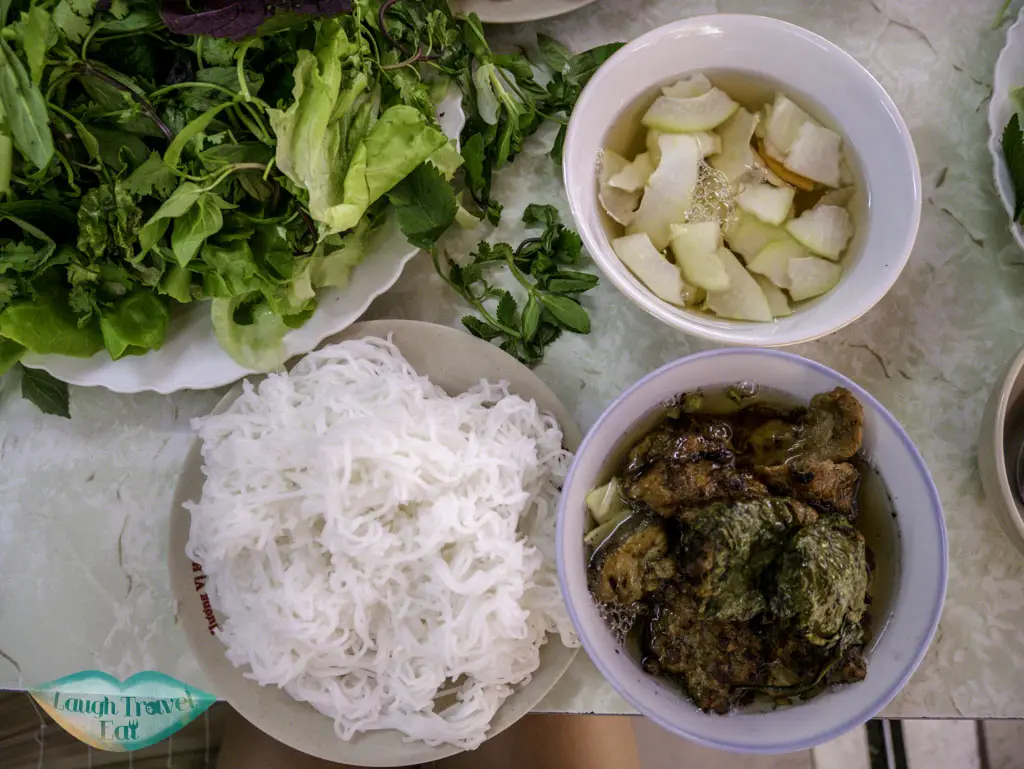 Hanoi is famous for many things, but in terms of food it'd be Bun Cha, and for drinks it's the egg coffee(more on them below on Hanoi street food to try).
11 Hanoi Street Food To Try
What are the top popular street foods in Hanoi? You've come to the right place. I've spent a few weeks combined eating my way around Hanoi, and here is the top street food you must try:
Bun Cha Hanoi 
The number one must try in Hanoi is the Bun Cha. They're charcoal grilled pork patties and bacon bits served in a special sauce that compliments the meat. It's served with rice noodles and tons of fresh greens.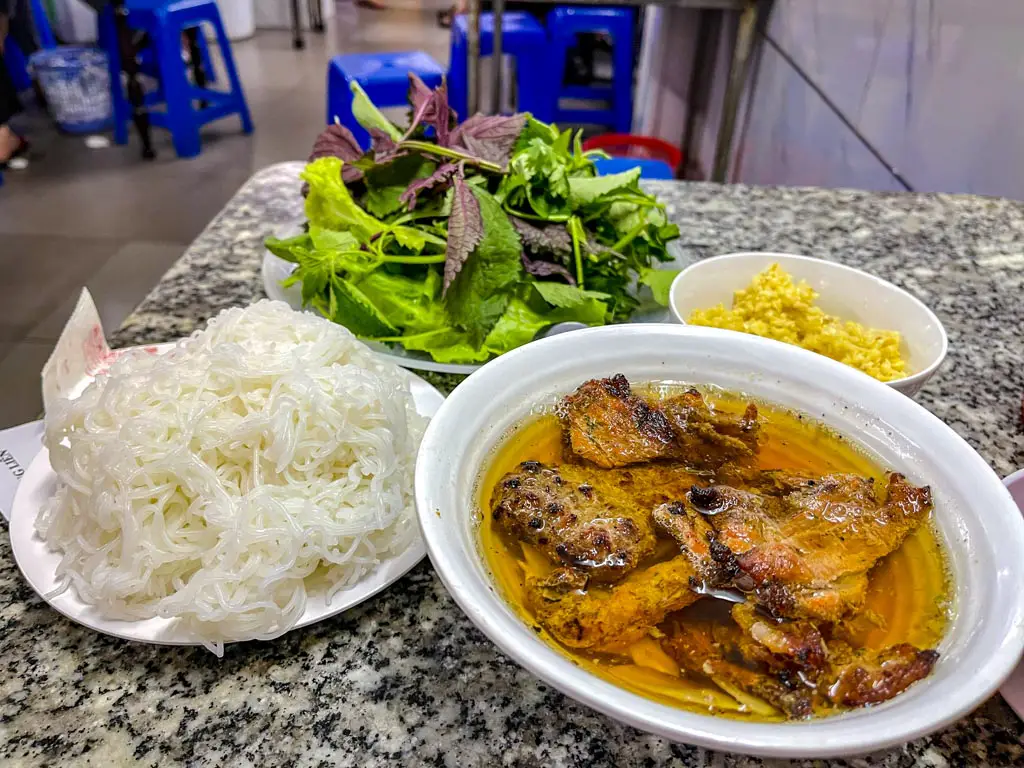 This dish is eaten for breakfast, lunch, and dinner. Some places serve the meat in sauce, others leave everything separate. Here are the places I recommend getting them:
Bun Cha Dac Kim
Address: 1 Hàng Mành, Hàng Gai, Hà Nội, Vietnam
Bún chả Hương Liên
Address: 24 Lê Văn Hưu, Phan Chu Trinh, Hai Bà Trưng, Hà Nội, Vietnam
Egg Coffee
The iconic egg coffee of Hanoi tastes more like a dessert than a coffee. It's sweet, creamy, and decadent, even for someone who normally don't enjoy coffee.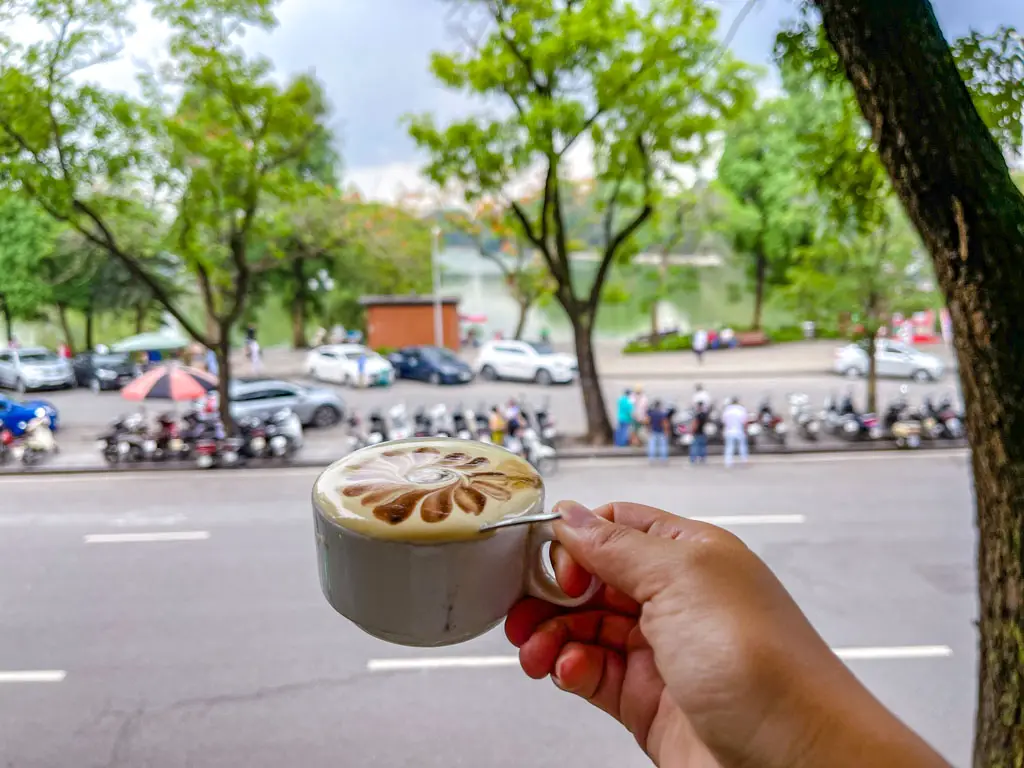 Almost every coffee shop should serve egg coffee, which is a Hanoi specialty. It is said that the drink was created when milk was scarce but eggs were not. It is a strong sweet treat, so make sure you don't overindulge.
PS egg coffee is best enjoyed hot!
Here are some great places to get egg coffee in Hanoi:
Dinh Cafe
Address: 13 Đinh Tiên Hoàng, Hàng Trống, Hoàn Kiếm, Hà Nội, Vietnam
Opening times: 7:00 – 21:30
Cafe Giảng
Address: 39 Nguyễn Hữu Huân, Lý Thái Tổ, Hoàn Kiếm, Hà Nội, Vietnam
Opening times: 7:00 – 22:00
Bun Bo Nam Bo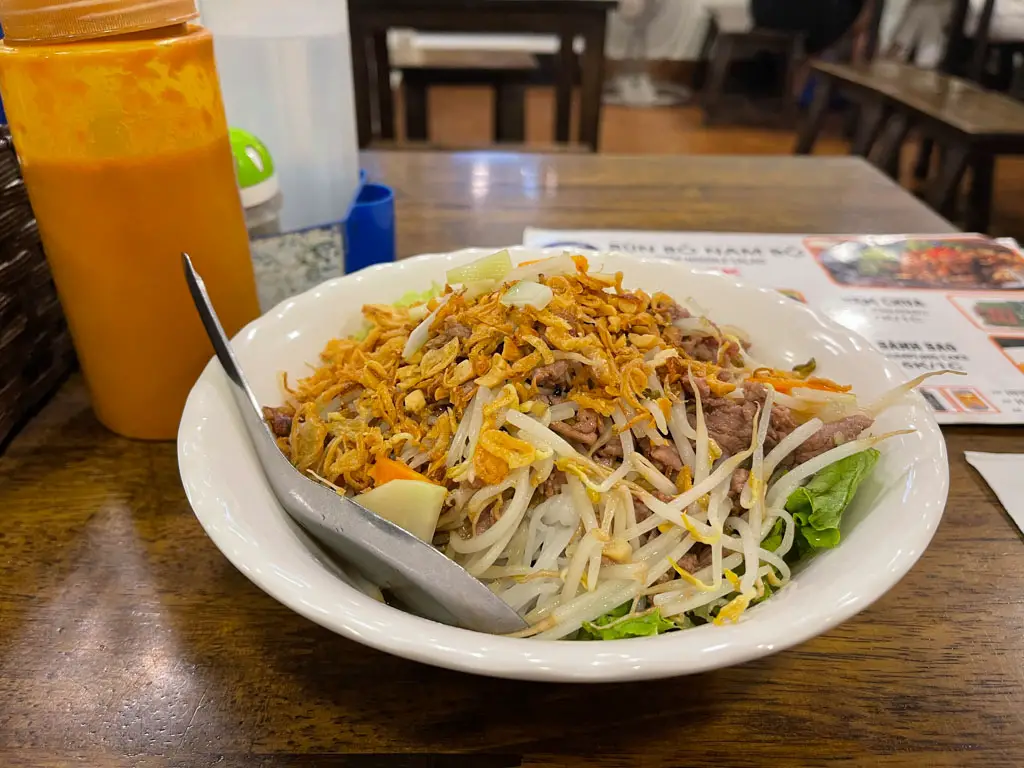 Bun Bo Nam Bo sounds like a fun mnemonic and it's actually a dry beef noodle salad dish. There are plenty of greens, plenty of rice noodles, peanuts, beef, all mix together with a little sauce.
It's quite filling and delicious, perfect for a hot day when you don't feel like eating a hot bowl of noodles.
Best place to get Bun Bo Nam Bo
Bún Bò Nam Bộ Bách Phương
Address: 73-75 Hàng Điếu, Cửa Đông, Hoàn Kiếm, Hà Nội, Vietnam
Pho
Pho is the quintessential Vietnamese dish that everyone knows. The beef rice noodle is just as popular in its homeland and can be found across the city.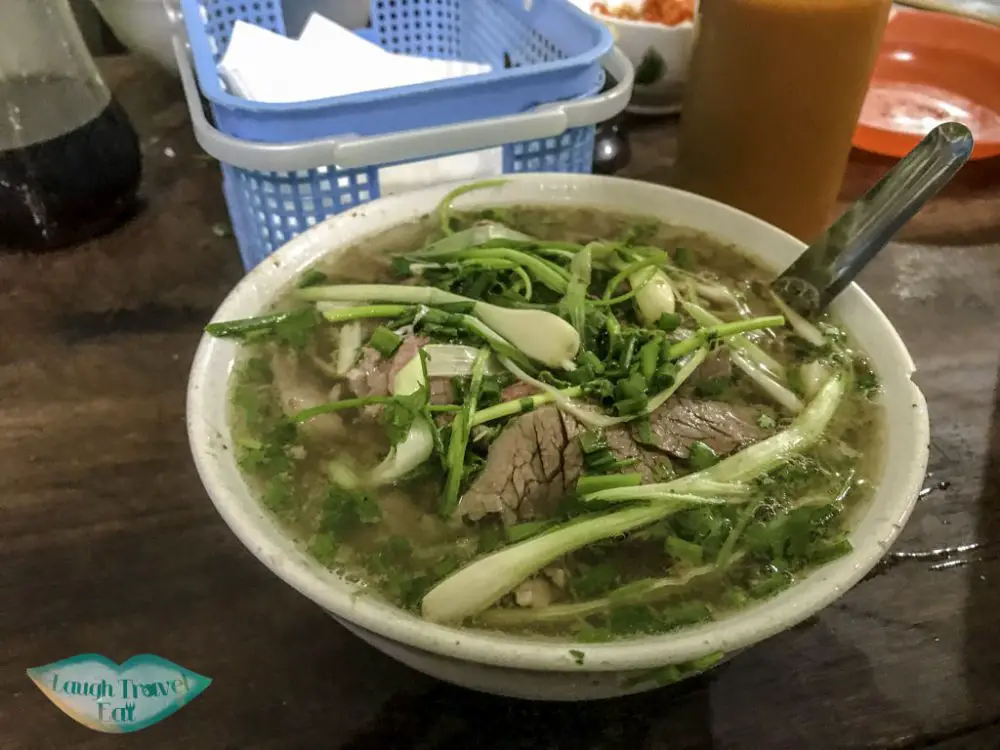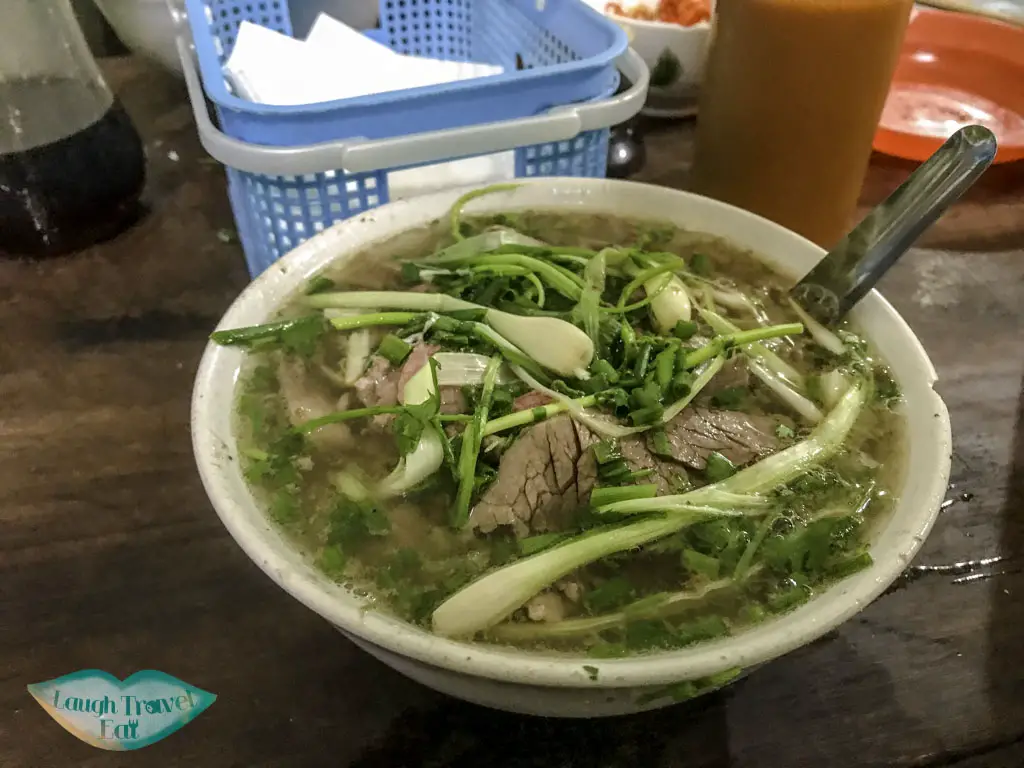 But pho actually doesn't just refer to beef rice noodle soup. It's also the term for the rice noodles. If you see Pho Ga, that's chicken rice noodles!
Best place for Pho in Hanoi
49 Bat Dan – Pho
Address: 49 Bat Dan, Hanoi
Banh Mi
The Vietnamese baguette sandwich is also easily found throughout the city. The classic iteration contains pate, sometimes with pork, with mint, coriander(cilantro), and cucumber.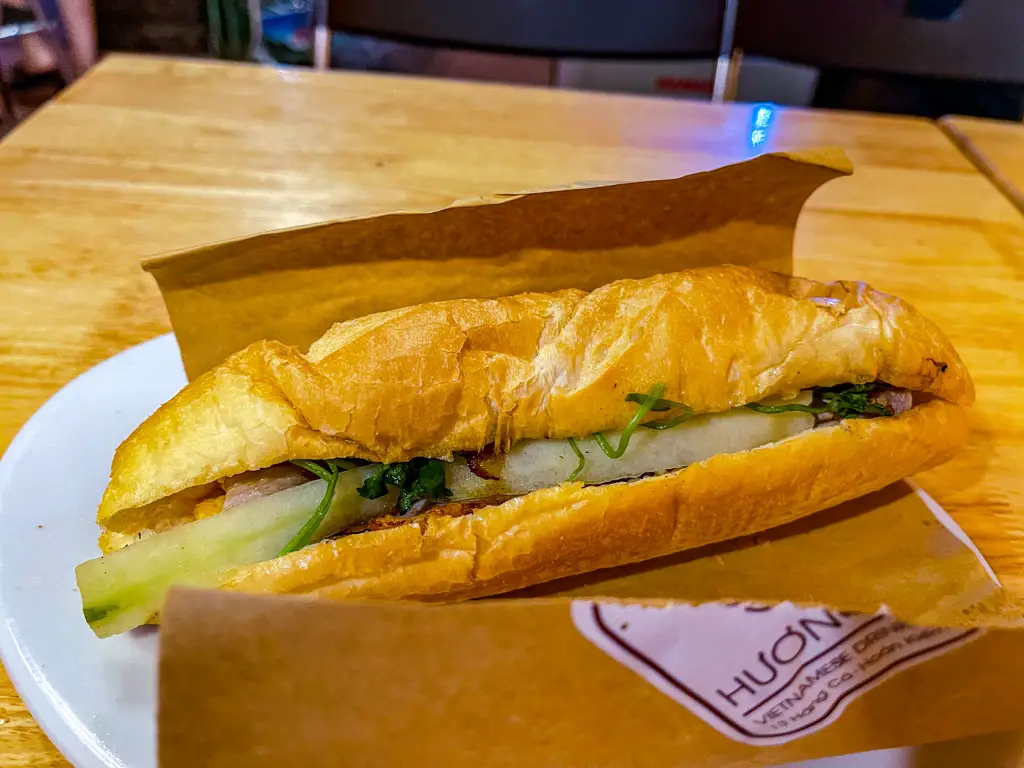 Nowadays, you can find more inside such as Vietnamese sausage, grilled meat, and eggs. Most places have a few options for you to choose from.
Best places for Banh Mi in Hanoi:
Banh Mi 25
Address: 25 P. Hàng Cá, P, Hoàn Kiếm, Hà Nội, Vietnam
Xoi 
Xoi is sticky rice in Vietnamese. It's a popular breakfast dish and can be bought for a very cheap price from street vendors and also in street food stalls.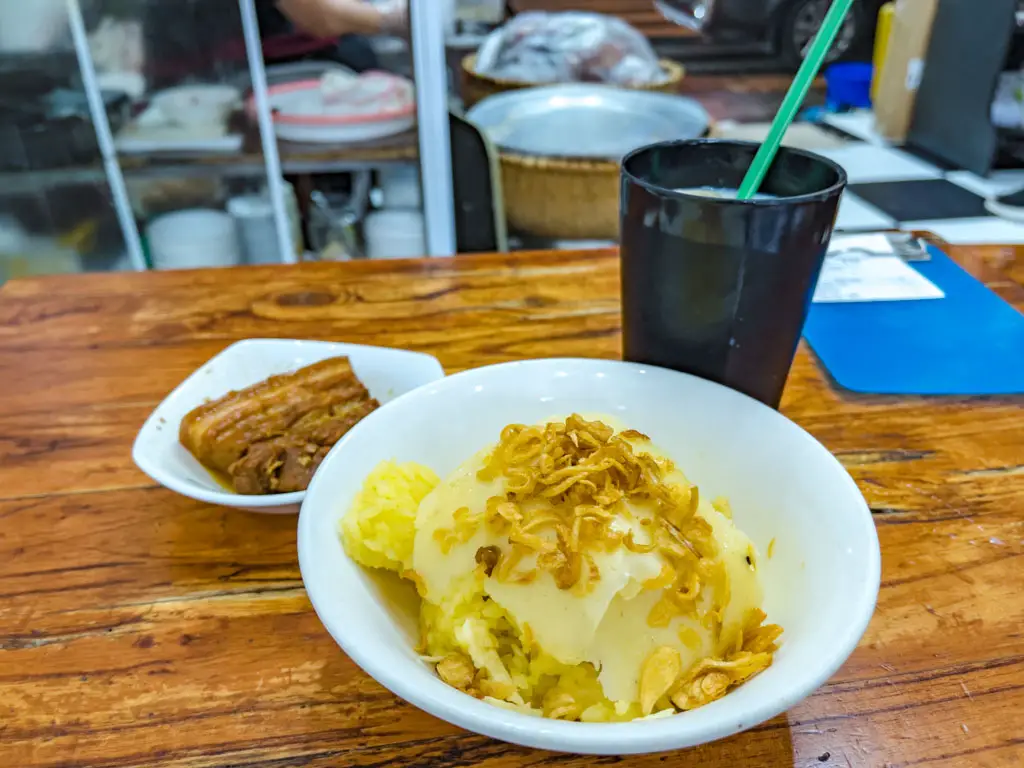 They usually have one or two (sometimes more) toppings or side dishes for you. On the streets, it's usually peanuts and or monk beans. In small restaurants, you've meat options.
Best places for Xoi in Hanoi
Quán Xôi Cát Lâm
24B Đường Thành, Cửa Đông, Hoàn Kiếm, Hà Nội, Vietnam
Bánh Cuốn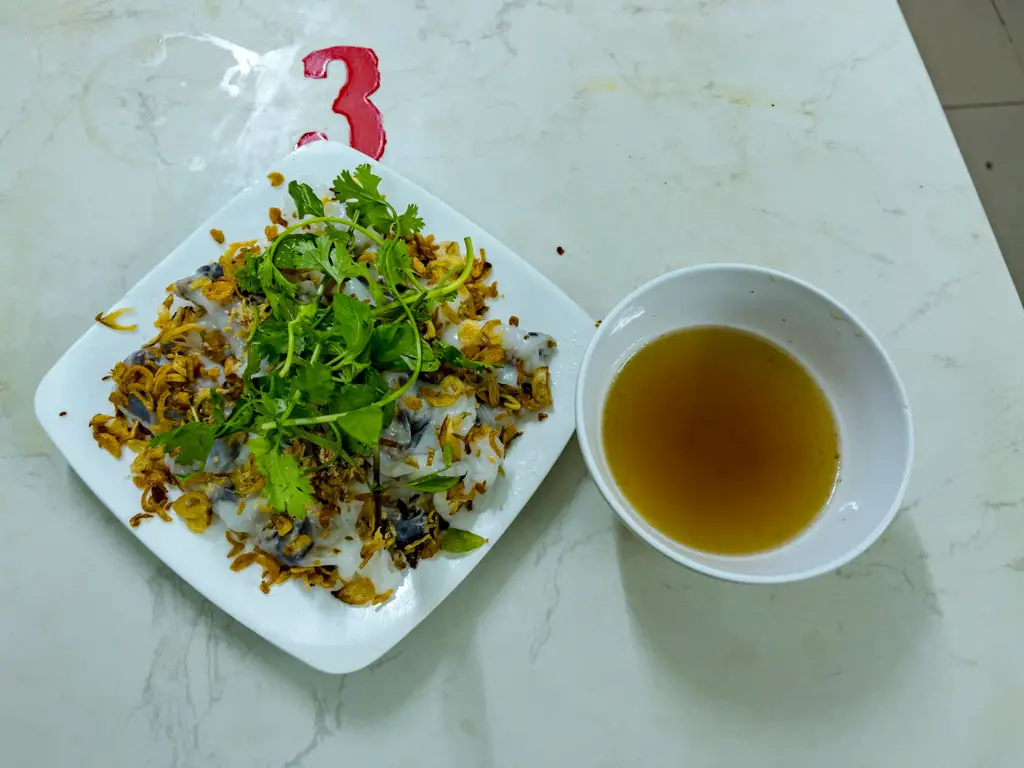 A cousin of rice noodles, Bánh Cuốn is akin to the dim sum cheung fan with rice noodle wrapping around toppings of choice. It's usually steamed and topped with fried shallots and accompanied by a Vietnamese dipping sauce.
Best places to try Bánh Cuốn in Hanoi:
Bánh Cuốn Gia Truyền Thanh Vân
Address: 14 P P. Hàng Gà, Hàng Bồ, Hoàn Kiếm, Hà Nội, Vietnam
Opening times: 6:30 – 22:00
Che – dessert sweet soup
Che is the general term used to describe the sweet soup dessert in Vietnam. It's both similar and different from the Chinese version, with the basic components being the same but made in a different way.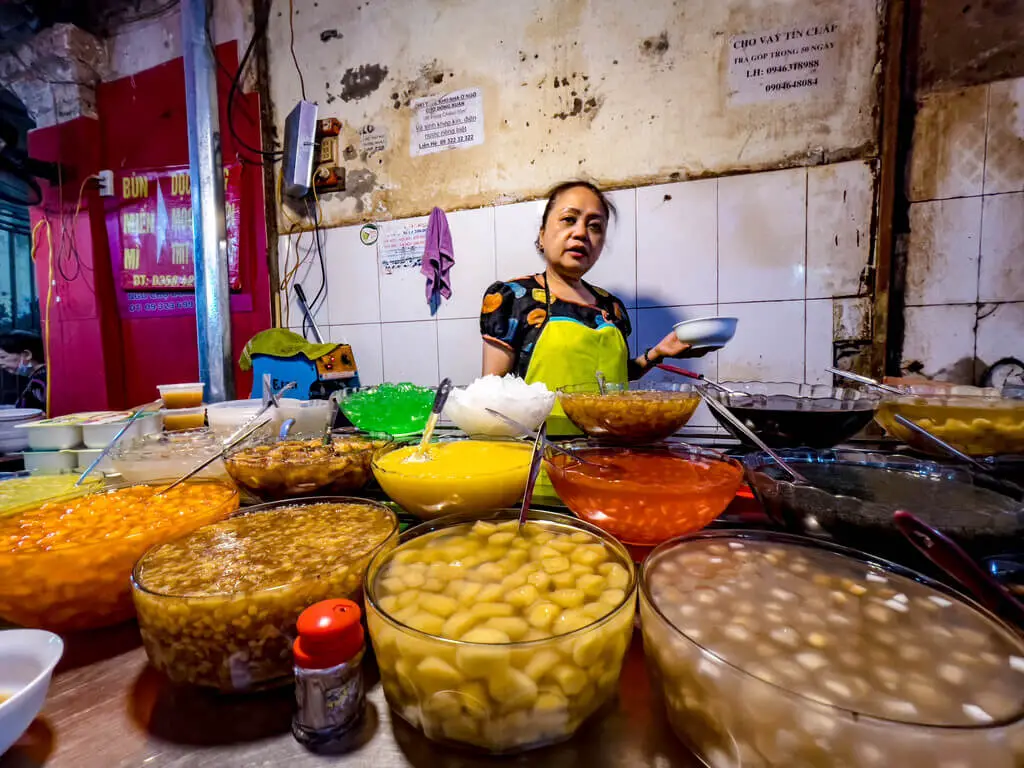 You'll also find ice in them along with tapioca, water chestnuts, and you're able to mix and match!
Best places to try Che in Hanoi:
Around Chợ Đồng Xuân there are many affordable street food stands.
Ngoc Mia – Sugar Cane Juice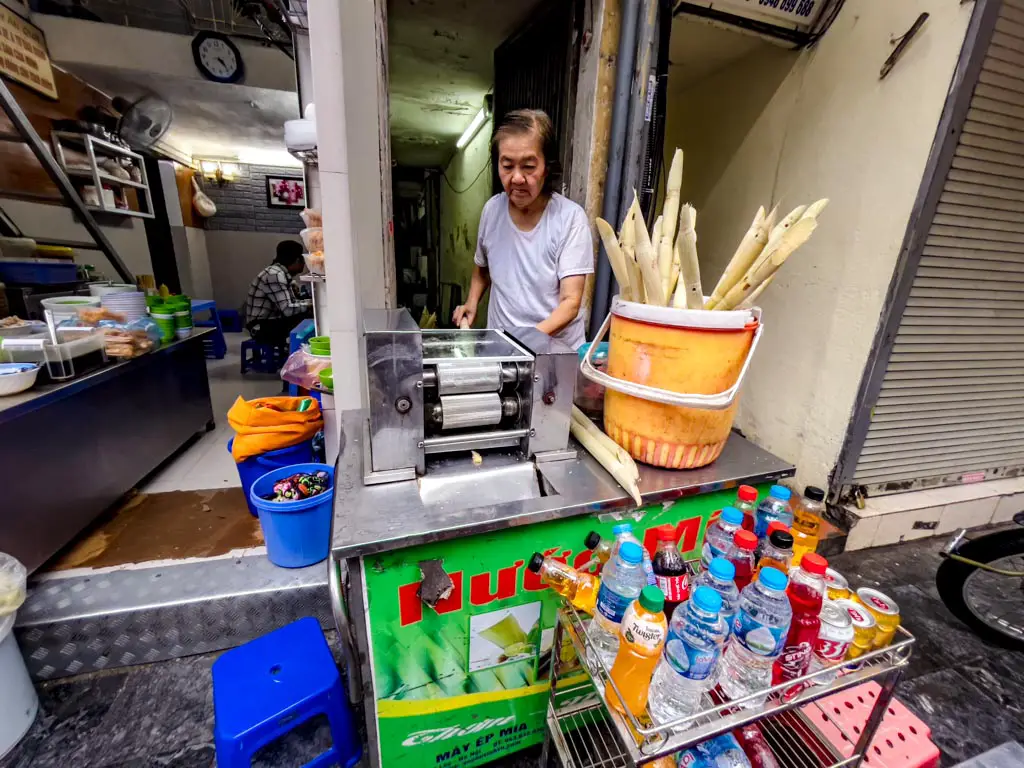 Ngoc Mia means sugar cane juice and it's easily spotted on the street. A cup should set you back 10,000 dongs which is X dollars. It's refreshing on a hot day out and you get to see it made right in front of you.
Yoghurt Coffee
Aside from egg coffee, Hanoi also has yoghurt coffee. It's coffee poured over frozen yoghurt which mixes to an almost frozen yoghurt like treat.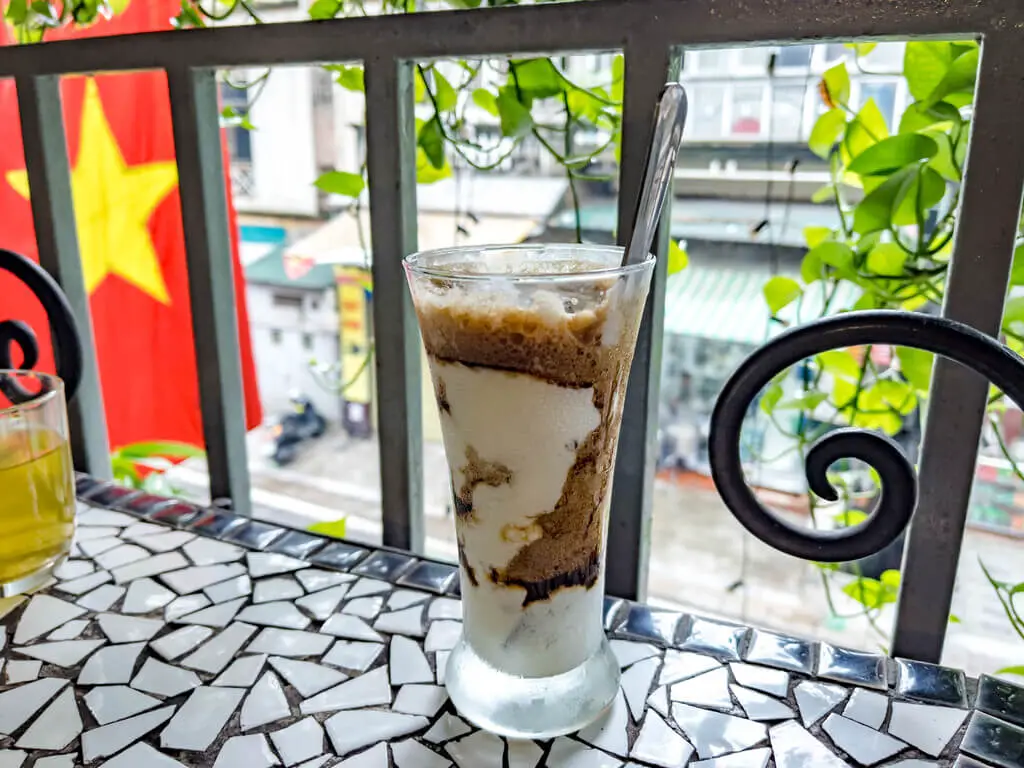 It's a good alternative for younger visitors and a cold alternative.
Best places for yoghurt coffee:
Cafe Duy Trí
Address: 43A P. Yên Phụ, Yên Phụ, Tây Hồ, Hà Nội, Vietnam
Black sticky rice with yogurt
For a proper dessert with yoghurt, Vietnamese like to eat it with black sticky rice, sometimes fermented and sometimes with ice. I do surprisingly enjoy it. While it's frequently made in households, it was a little harder to find in restaurants.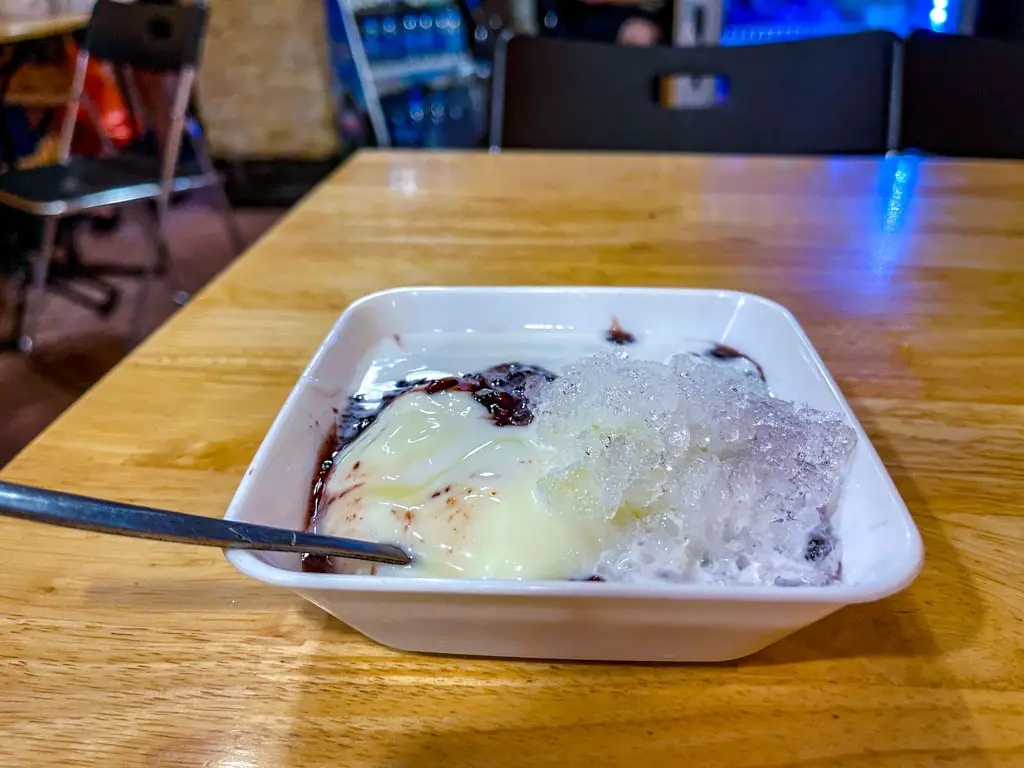 (I have yet to find the 'best' place for black sticky rice with yoghurt, but Hương Việt restaurant has it on the menu)
Address: 13 P. Hàng Cá, Hàng Bồ, Hoàn Kiếm, Hà Nội, Vietnam
Bonus: Best Ice Cream in Hanoi
If you make a stop at the Tran Quoc Pagoda by the West Lake, don't miss the Kem Ho Tay Ice Cream place across the road! I had their matcha one and it's almost like a granita mix ice cream.
Note: the google map location for it isn't right. It's directly across from the pagoda but it is a bit of a scary crossing.
Hanoi Street Food Tours
For a true glimpse into the heart of Hanoi's food scene, the market and street food tour by A Chef's Tour is a must do.
It's a struggle to get up for the 4am start, but by Hanoi food market's standards, we were already running late.
Chef Duyen picked me up by my hotel right on time and whisked me off to the still bustling flower and food markets to see how the local restaurants and resellers buy their food.
She has moved to Hanoi in 1999 at the age of 16 and worked at the market before putting herself through culinary school and now runs this tour and also home cooking classes.
As the market wind down, locals start opening up their own market on the street and we sampled street food from stalls that aren't on google map.
My highlight includes this best banh mi, Xoi (sticky rice), and the eel soup with glass noodles!
Tour time: 4:00-8:00
Cost: 75 USD
Best Hanoi Restaurants
There are a lot of restaurants and street food stands in Hanoi, so much so that I think I can spend years there and not eat through all the restaurants. But we all know that not all of them are created equal, so here are some of my favourite from the time that I had:
Pizza 4P

Hanoi
Ok, you might be a bit confused as to why a pizza place has made it to the top of Hanoi must eat, but its place is well earned! With local farms in Vietnam, Pizza 4P makes their own cheese that is mouth-watering. In fact, this place is often so busy that you are recommended to book a table a day ahead.
We did just that and enjoyed their burrata and parma ham pizza, and the four cheese pizza immensely. So much that we went back!
Address: 24 Ly Quoc Su Street | 2 Ngo Huyen Street
Opening times: 10:00 – 23:00
P.S. there is another Pizza 4P near the west lake as well as other parts of Vietnam
Bun Cha Dac Kim
While I still prefer Mrs Hang's Bun Cha, I couldn't very well make it at my hotel so I ended up at Bun cha Dac Kim. They only really serve Bun Cha, and the tables are already equipped with heaps of greens for you to mix in. Their portion sizes are quite generous as well, but there is limited seating inside the shop, so you might end up sitting at the low tables on the street!
Price: 60 000 dong for Bun Cha, but you can pay 80 000 for a set with spring rolls.
Address: 1 Hàng Mành, Hàng Gai, Hoàn Kiếm, Hà Nội
Opening times: 9:00 – 21:00
Bún chả Hương Liên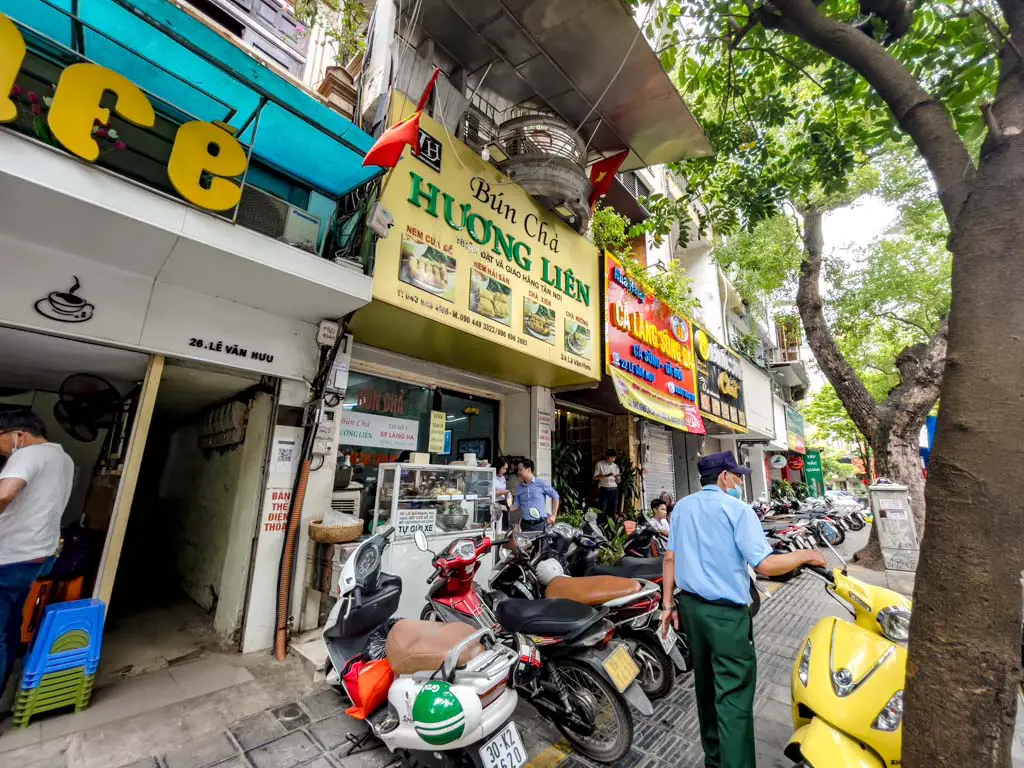 Another bun Cha place to try is the one that got famous from Obama's visit. Bun cha Huong Lien is a little south of the Hoan Kiem Lake and bustling with locals and visitors.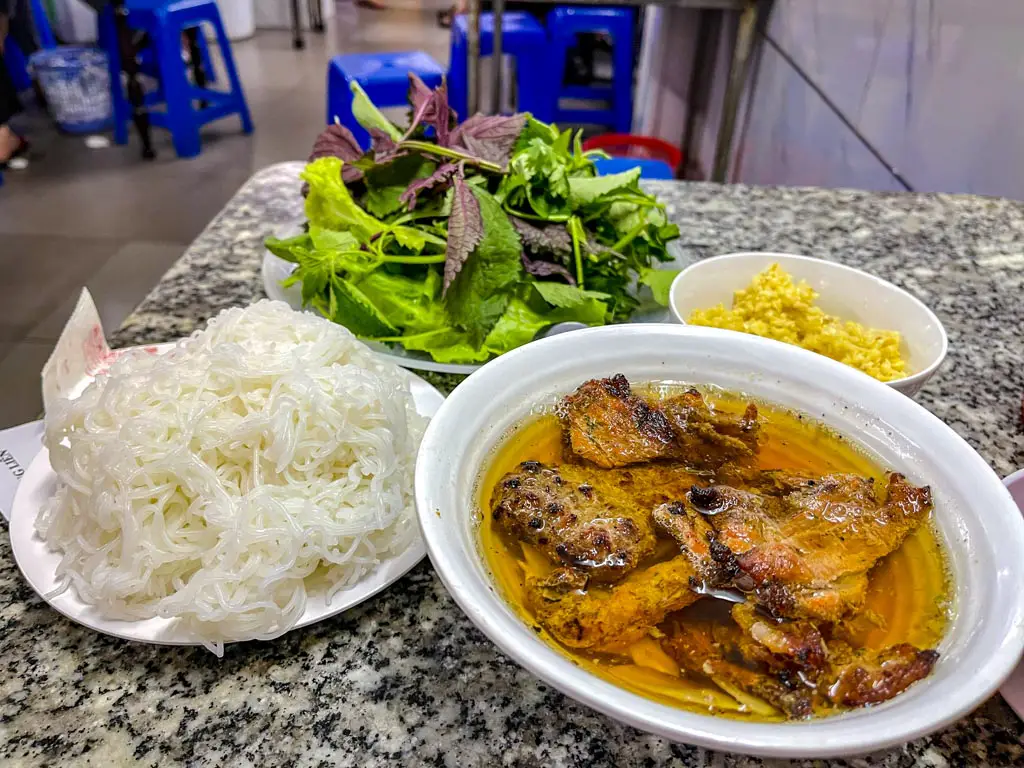 They serve their bun cha meat directly in sauce, along with a healthy heaping ot rice noodles and fresh veggies. I don't think it's particularly better than Dac Kim, but it might be worth a visit if you're in the area.
Address: 24 Lê Văn Hưu, Phan Chu Trinh, Hai Bà Trưng, Hà Nội, Vietnam
Opening times: 8:00 – 20:30
49 Bat Dan – Pho
Don't even look at other places if you want to eat Pho in Hanoi because no place can compare to 49 Bat Dan Street. Despite there always being a queue, it is worth it, especially at the reasonable price of 50,000 dong. The rare beef is perfect, with the soup flavorsome and the noodles just the right texture. They open early in the morning but do a siesta in the afternoon, so plan to go for breakfast or dinner!
Address: 49 Bat Dan, Hanoi
Opening times: 6:00 – 10:00; 18:00 – 20:30
Bún Bò Nam Bộ Bách Phương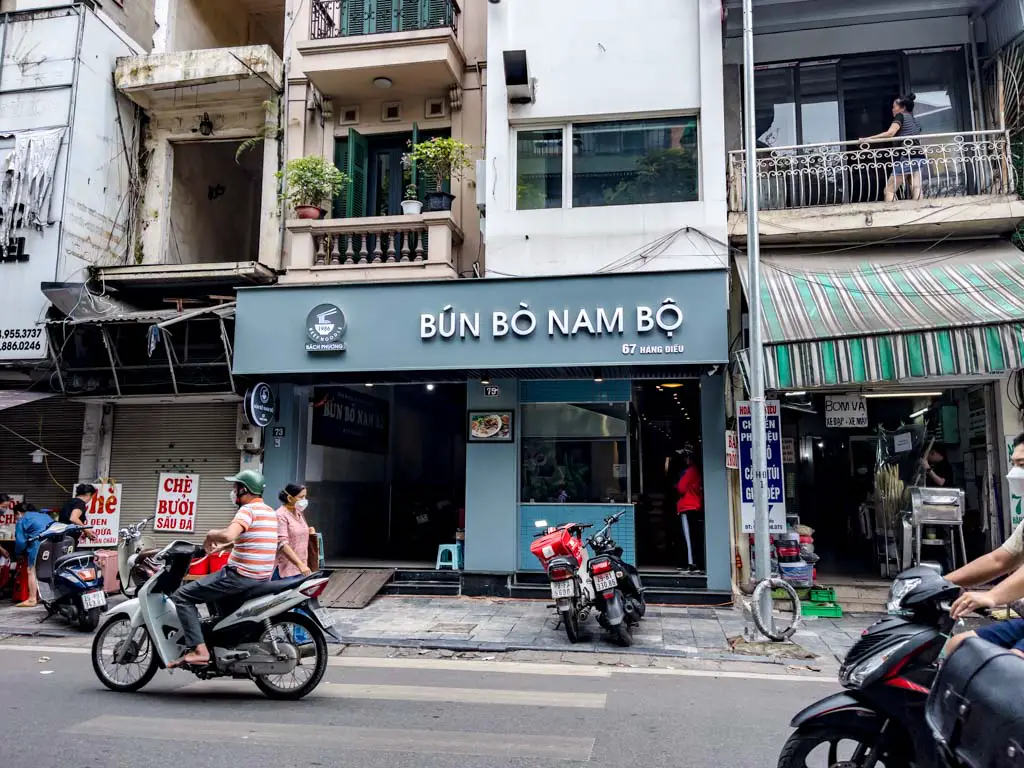 A street food store with a more modern shopfront, I walked by Bun Bo Nam Bo Bach Phuong a few times without realising that it's a must-try.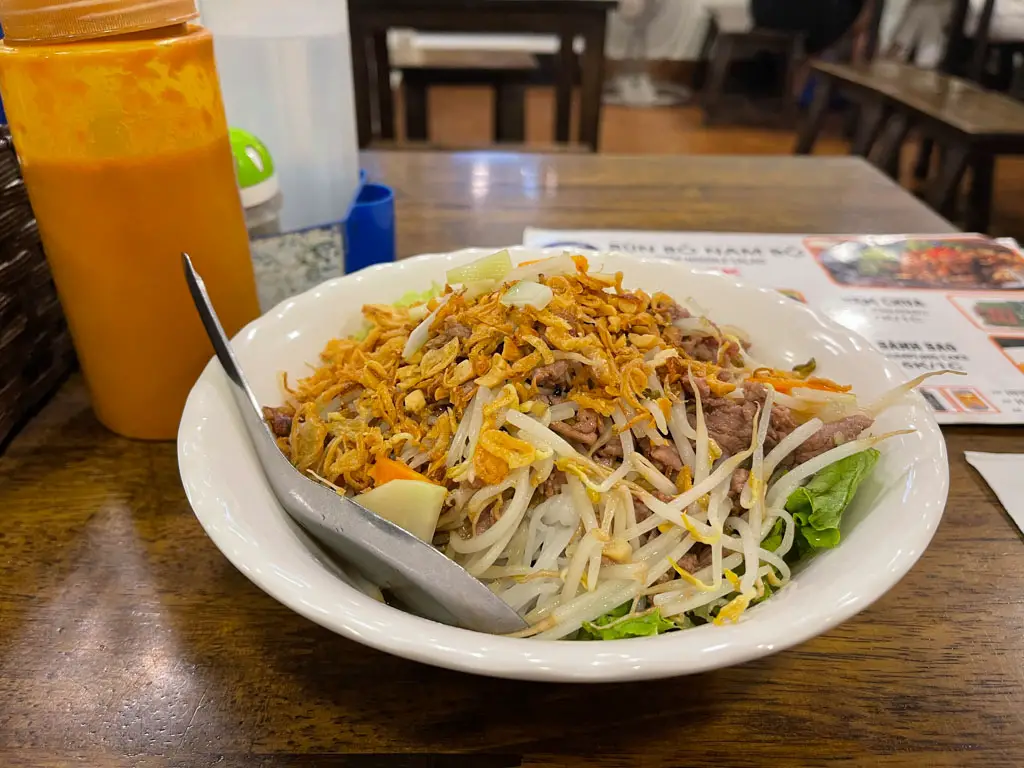 At the recommendation from by food tour guide from A Chef's Tour, I finally ventured inside and tried the delicious beef noodles salad. It's popular with locals, too, but luckily the menu is in English.
Address: 73-75 Hàng Điếu, Cửa Đông, Hoàn Kiếm, Hà Nội, Vietnam
Opening times: 7:30 – 22:30
Cha Ca Thang Long
Want to try something a little different from Bun Cha? Cha Ca is the dish to try. Another Hanoi specialty, it's a mudfish noodle completed with a hot plate where the fish is fried! All the fish bones are removed so it's kids and bone-weary adults-friendly, and the seasoning is just on point. You then mix in peanuts, mint, coriander, and fish sauce and eat it with rice noodles.
The restaurant is often busy so expect to wait a little while if you go during peak time. But it's well worth waiting for!
Address: 19 – 21 – 31 Đường Thành, Cửa Đông, Hoàn Kiếm, Hà Nội, 越南
Opening times: 10;00 – 21:30
Bún cá Sâm Cây Si
Another dish that I hadn't tried before, Bun Ca means fish noodles, and they are absolutely amazing at Bun ca Sam Cay Si. The fish are fried to crispy deliciousness, and the broth surprised me with the inclusion of pineapple giving it a good sweetness and tartness. It's a refreshing hot noodle dish that makes it easy to eat even in hot weather. Though not unique to Hanoi, it is a northern Vietnam dish that you should definitely try!
Address: 5 Ngõ Trung Yên, Hàng Bạc, Hoàn Kiếm, Hà Nội, 越南
Opening times: 7:00 – 17:00
Quán Xôi Cát Lâm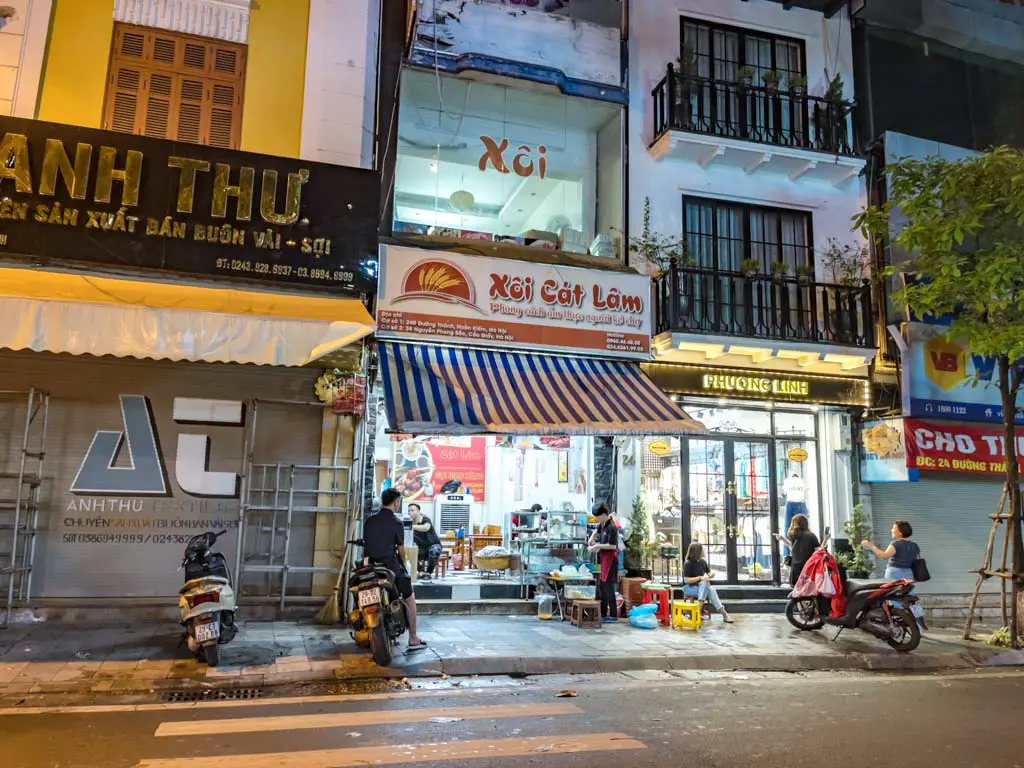 Across two roads from the Bun Bo Nam Bo place, Quan Xoi Cat Lam is open almost all day long for all your sticky rice needs. They have a variety of side dishes to choose from, whether it's tofu, fishcake, or meat. For me, one side dish is enough but if you come with friends you might want to share.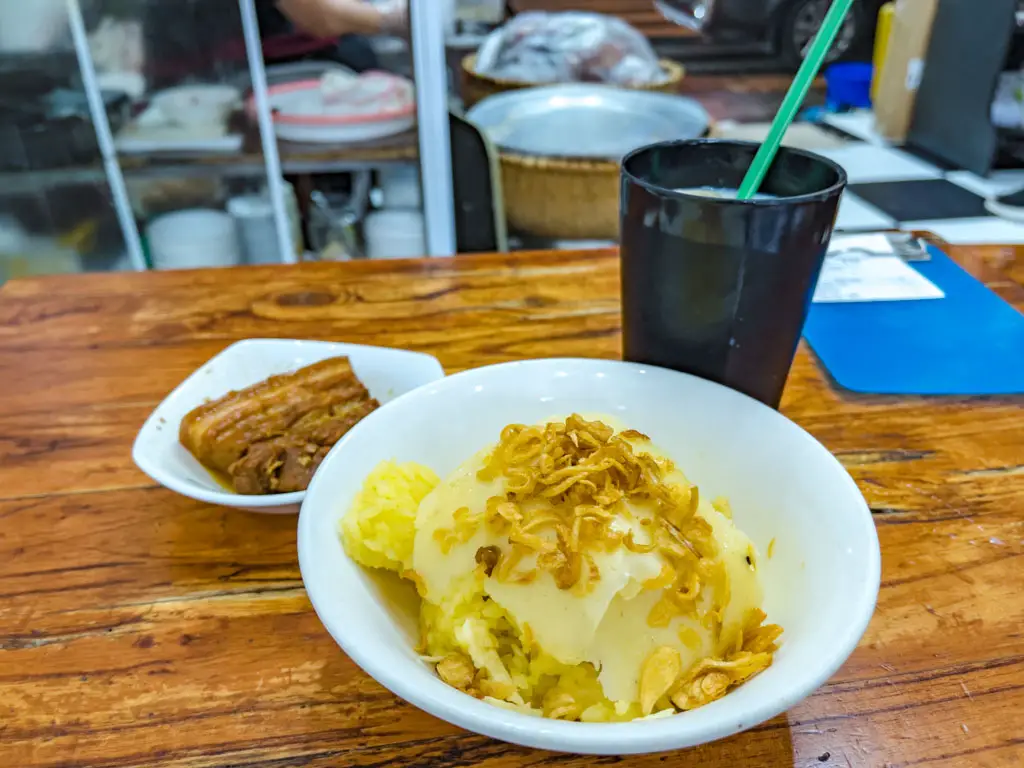 The sticky rice comes with monk bean and fried shallot, and is a filling meal that is best washed down with a glass of cold soy milk.
Address: 24B Đường Thành, Cửa Đông, Hoàn Kiếm, Hà Nội, Vietnam
Opening times: 7:00 – 23:30
Bánh Cuốn Gia Truyền Thanh Vân
For some no-frills Banh Cuon, the cheung fan of Vietnam, Banh Cuon is a good choice. You can choose between chicken or pork fillings, and its very affordable at 40,000 dong. Although I did get hungry later iin the day!
Address: 14 P P. Hàng Gà, Hàng Bồ, Hoàn Kiếm, Hà Nội, Vietnam
Opening times: 6:30 – 22:00
Chopsticks
The perfect place to ease into Vietnamese cuisine, Chopsticks is a more western geared restaurant. It is also great if you are looking for a place with a nice ambiance and clean bathroom since it's beautifully decorated with friendly staff. I had my first Bun Cha here, and though it's not as nice as the other two places, their rice-paper spring rolls are fantastic!
Address: 15 Đào Duy Từ, Hàng Buồm, Hoàn Kiếm, Hà Nội 100000越南
Opening times: 12:00 – 0:00
Bahn Mi 25
While some might say that it has become too touristy, the crunchy French bread and flavourful fillings of Bahn Mi 25 still stands strong.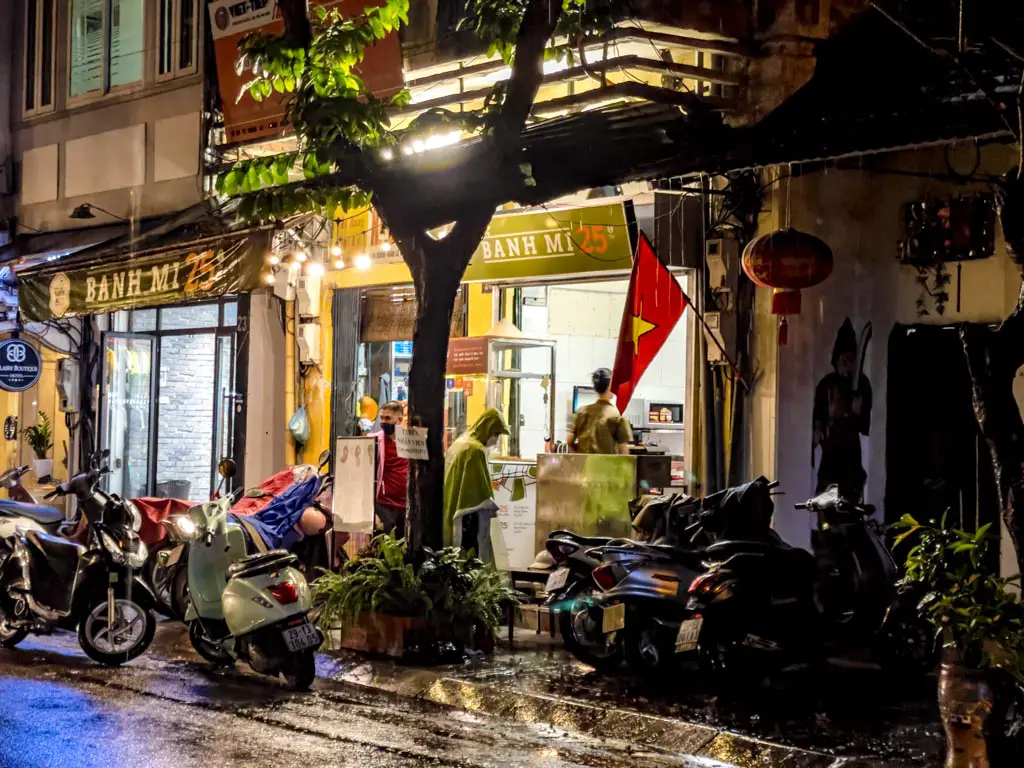 The portion is arguably smaller than others, but when a Bahn Mi costs around 40,000 Dong, you can simply order another one.
I had a lovely avocado smoothie that wasn't overly sweet and their beef mushroom Bahn mi at the cute little seating area across the street. 
Address: 25 P. Hàng Cá, P, Hoàn Kiếm, Hà Nội, Vietnam
Opening times: 7:00 – 21:00
Ky Dong Restaurant
Dry noodles, soup noodles, and any kind of noodles are what you'll find in Ky Dong Restaurant. It's cheap, filling, and no frills, and I really enjoyed their mixed dry noodles.
Address: 11 P. Tống Duy Tân, Hàng Bông, Hoàn Kiếm, Hà Nội, Vietnam
Opening times: 6:30 – 21:00
Hương Việt
I have to admit, the main reason I went to Hương Việt was because they have a selection of Vietnamese desserts on top of the food. It's a tiny restaurant with only a handful of tables, but the menu is in English and comprehensive.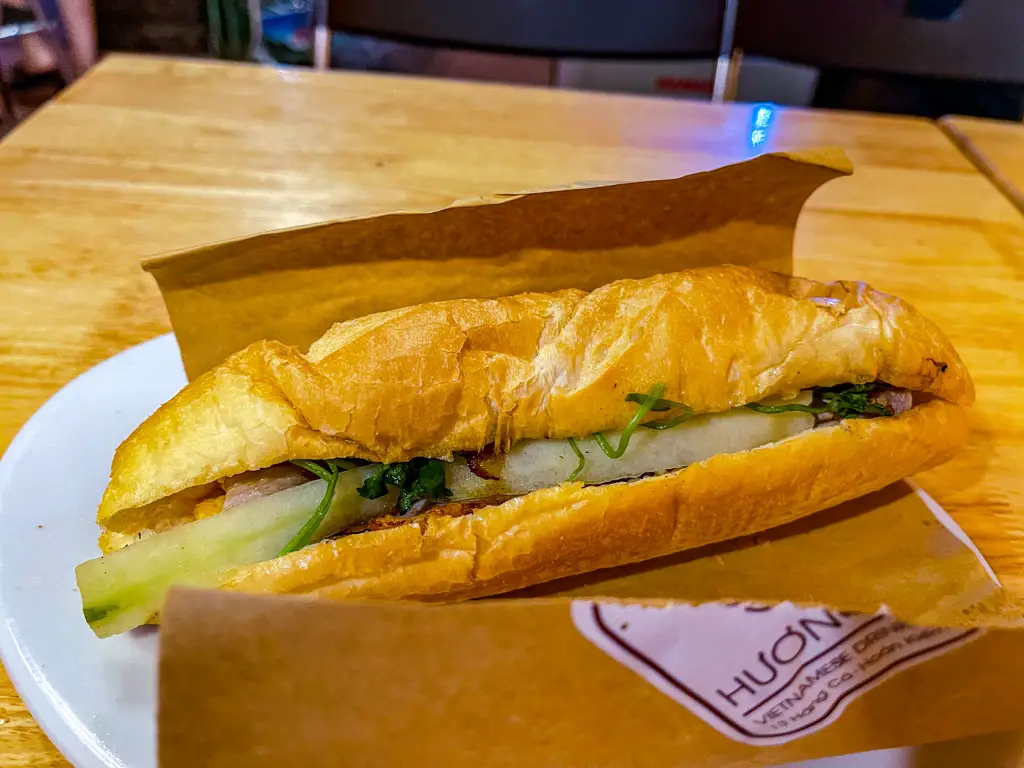 I opted for the Banh Mi, but they also had Pho, fried rice, Bun Cha, and spring rolls. I also had black sticky rice with yoghurt here, which is pretty tasty.
Address: 13 P. Hàng Cá, Hàng Bồ, Hoàn Kiếm, Hà Nội, Vietnam
Opening times: 7:00 – 21:00
Hanoi Bars and Drinks
Skyline
Recommended by Flo from YogaWineTravel, Skyline Bar is a beautifully decorated rooftop bar that offers a decent view of Hanoi's skyline, overlooking both the Hoan Kiem lake and Hay To, the west lake.
The drink prices do reflect the ambiance and the sceneries, though I think it's worth it for a nice and relaxed evening. I mean, have you gotten a look at this fairy light set up on the tree?
Address: 38 Gia Ngư Street, Hàng Bạc, Hoàn Kiếm, Hà Nội 110201
Opening times: 10:00 – 23:30
Mojito Bar & Lounge Restaurant
Have you ever tried Pho Cocktail? Is that even a thing? I was in Hanoi at the same time as my favourite Youtuber CupofTJ, who hosted a small meet-up at Mojito Bar & Lounge. There, they serve a Pho Mojito that really does taste like a mix of Pho and Mojito, and the way they make it looks like some kind of a fire show.
Tip: the bar is only on the first floor, it's another one if you go up.
Address: 19 Nguyễn Quang Bích, Cửa Đông, Hoàn Kiếm, Hà Nội
Opening times: 17:00 – 0:00
Hanoi Cafe and Tea shop
Hanoi's coffee and tea culture are widespread. Almost every cafe and tea shop is equipped with an abundance of seatings and WiFi, optimal for those who want to rest their legs and connect online. After asking a local – Angie from Backstreet Academy – she told us that Hanoian loves to chillax, hence it's almost customary for each cafe or tea house to have seating, or else no one would go!
Since I was in Hanoi for an extended period of time, I ended up visiting quite a few places to chill and to do some work, and below are some of my favourite:
Con Ca Phe
The Starbucks of Hanoi, Con Ca Phe is a local chain that has the cutest deep green shop front. With dozens of locations, it's a sure choice and they usually have plenty of places for you to sit!
You can see a list of their locations here.
Tranquil Books & Coffee
True to its name, Tranquil Books & Coffee is a serene and secluded spot not too far from the Mojito Lounge & Bar. It's the absolute best place to work – thanks MilesofSmiles for the recommendation – since they have outlets inside and out, and for UK plugs, too!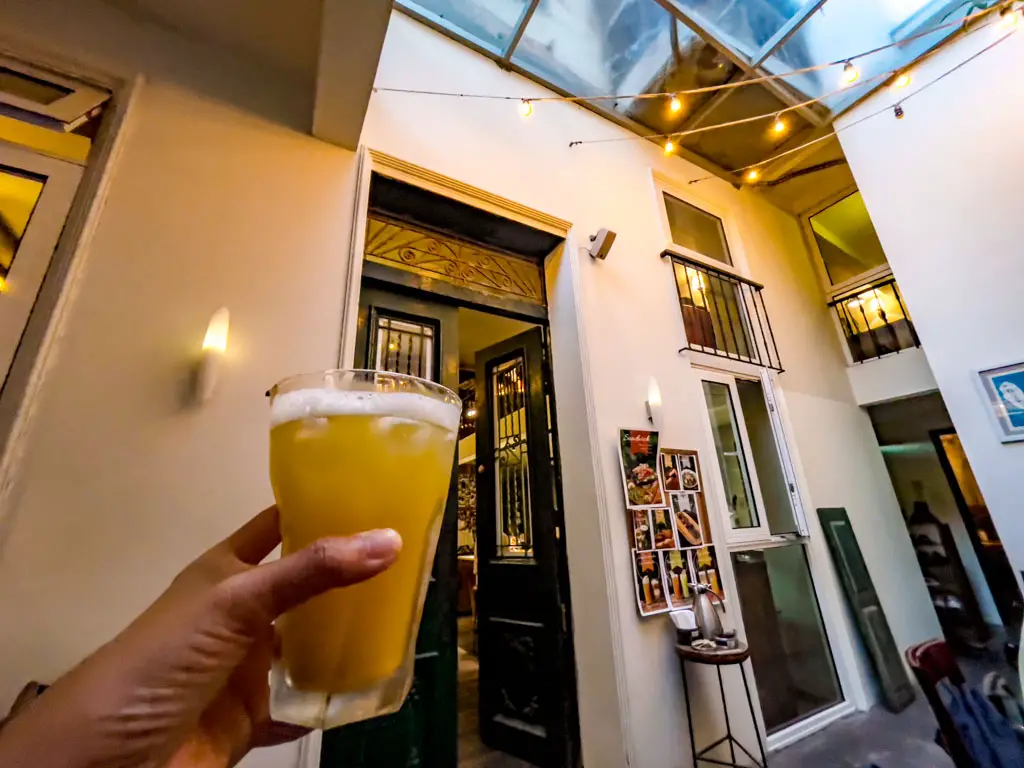 They serve a variety of coffee and there is a wide selection of books that you can read. They also run events, too, written on a blackboard outside the shop.
I spent two mornings working there outside and it was quite lovely!
Note: if you do choose to sit outside, there might be smokers
Address: 5 Nguyễn Quang Bích, Cửa Đông, Hoàn Kiếm, Hà Nội
Opening times: 8:00 – 23:00
The Note Coffee
With thousands of notes plastered over almost every surface in the cafe, the Note Coffee is at a prime location just across from Hoam Kiem Lake and a cute place to chill. With good WiFi and outlet, it's also a place where you can work.
There are notes on each table for you to leave your own one, and I had fun looking at what other people wrote. I left a list of food recommendations there, but it's likely to be covered up already!
The only drawback of this place is that the notes aren't exactly the cleanest, so if that's something that bothers you, you might not want to visit.
Address: 64 Lương Văn Can, Hàng Trống, Hoàn Kiếm, Hà Nội
Opening times: 6:30 – 23:00
Loading T Cafe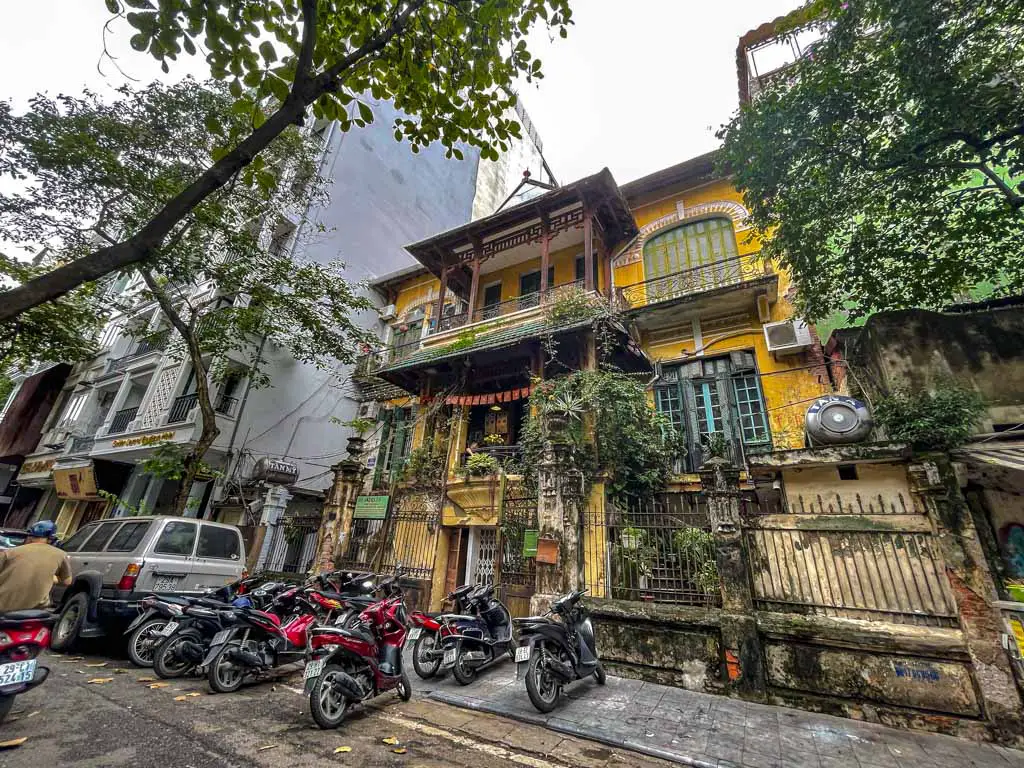 Hidden inside a colonial building, the Loading T Cafe provides a gorgeous French vibe that makes you feel like you're in a European common room.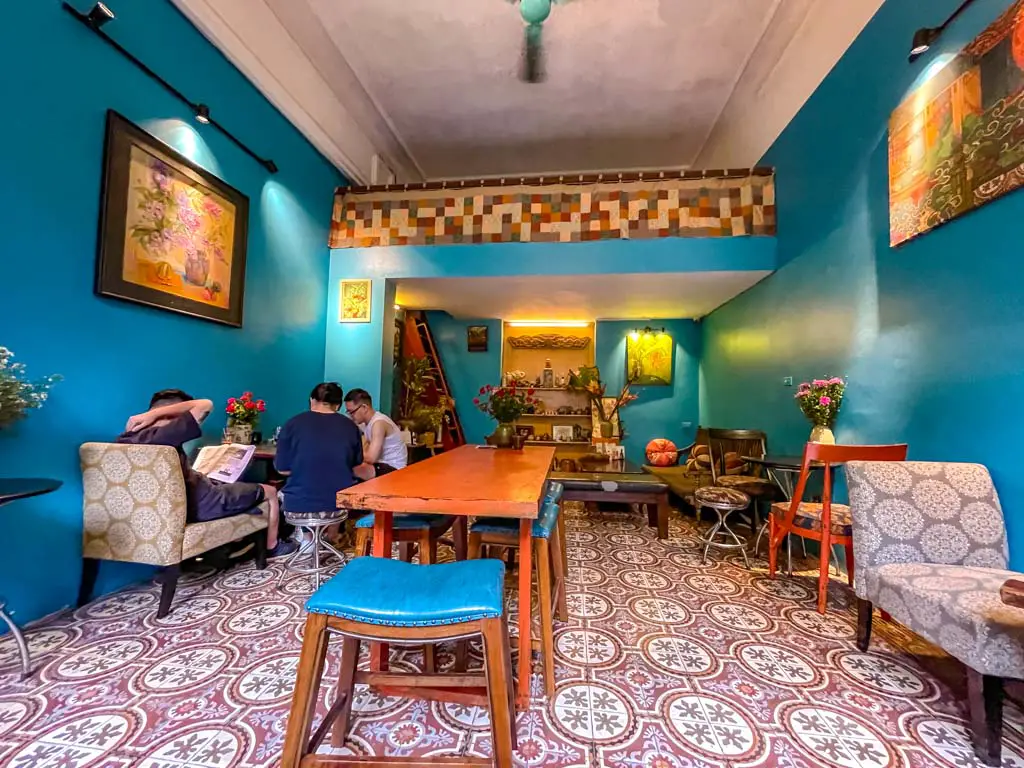 While the prices are pricier than most, the strong wifi and great ambience is worth the extra money.

The egg coffee I ordered also came with a side of tea, and it's a lovely place to read a book or get some work done.
Address: 8 P. Chân Cầm, Hàng Trống, Hoàn Kiếm, Hà Nội, Vietnam
Opening times: 8:00 – 22:00
Laika Cafe
Another coffee chain on the list, the Laika is like to recommend is right on the northside of Hoan Kiem Lake.
While they never have any egg coffee (for some reason), you can't beat the view of the lake from the vantage point. There's decent wifi as well but snatching a table right by the lake can be a difficult task!
Address: level 4 and 5, 1 Đinh Tiên Hoàng, Hàng Trống, Hoàn Kiếm, Hà Nội, Vietnam
Opening times: 7:00 – 23:00
Manzi Art Space and Cafe
Another cute building but less hidden, Manzi Art Space is an art cafe with a gallery of local art waiting to be admired and even taken home.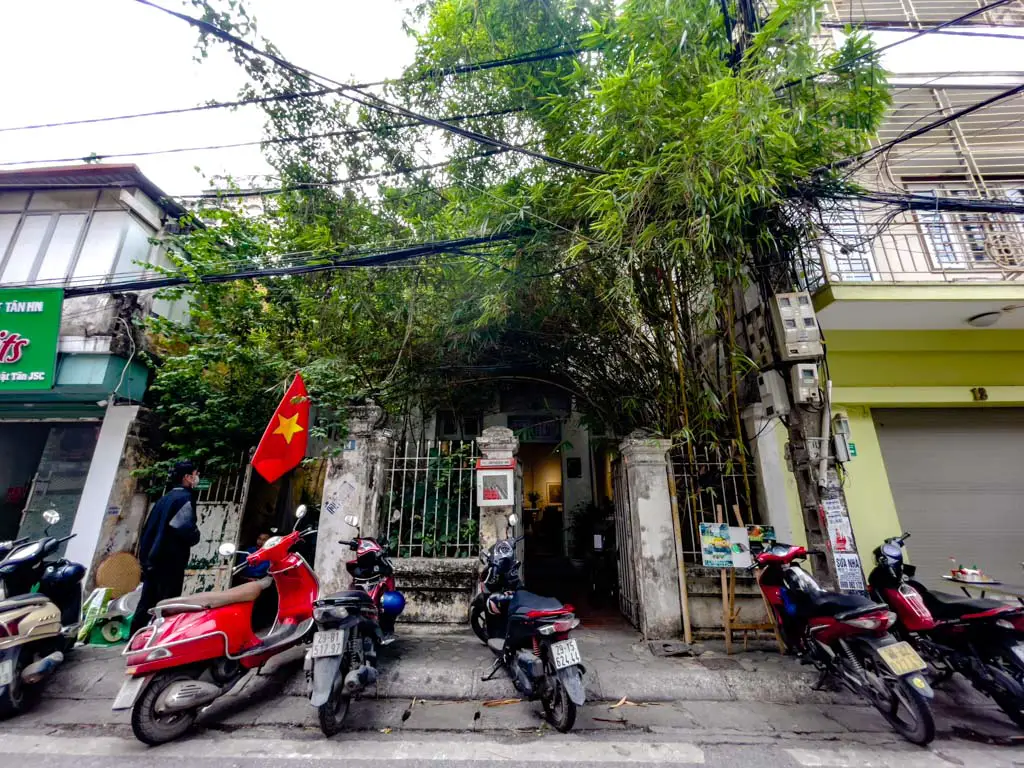 There is a downstairs and upstairs, with tables more suited for laptops downstairs. 
Upstairs, it's more spacious with low tables and sofa, which is good for chatting with friends and reading.
Address: 14 P. Phan Huy Ích, Nguyễn Trung Trực, Ba Đình, Hà Nội, Vietnam
Opening times: 8:00 – 19:00
Mansion Marou
A must visit for chocolate lovers, Mansion Marou is the perfect place to unwind surrounded by chocolaty aroma.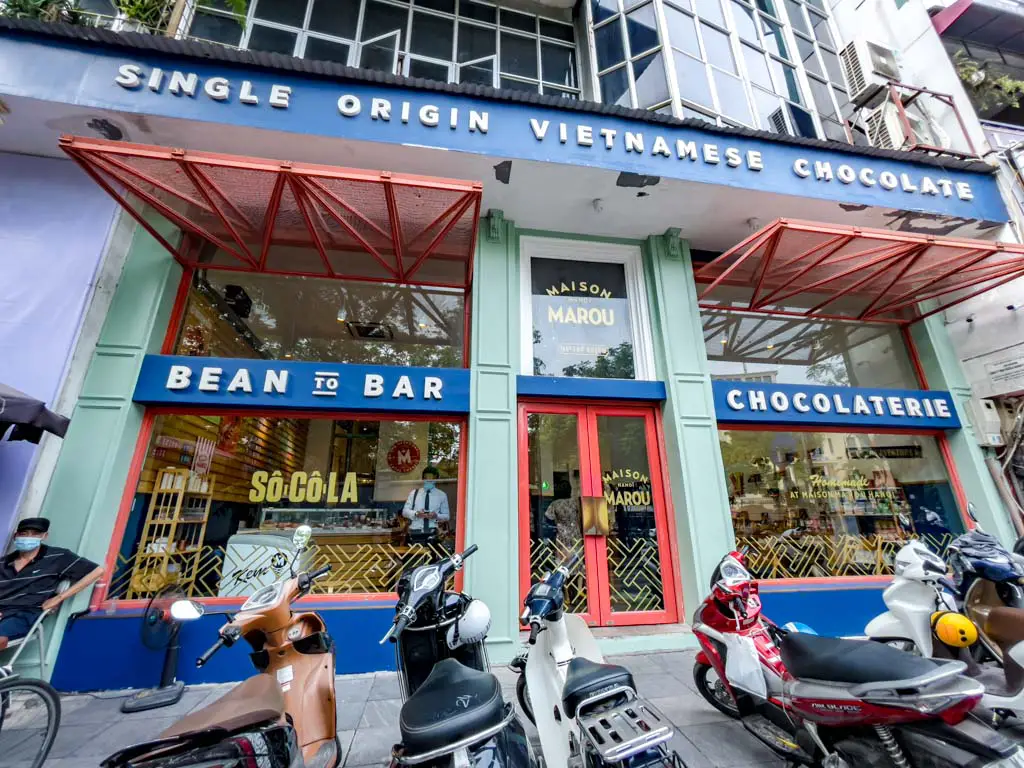 All the cocoa are single origin from Vietnam, and you can head to the back of the cafe and watch chocolate goodness being made. They also have a shop across from the cafe counter where you can get souvenirs.
I tried their signature hot chocolate and tiramisu and both were delicious. The only downside is that together they were too rich for me!
The cafe also accepts card payment, so a good option for those who want to go cashless.
Address: 91a P. Thợ Nhuộm, Trần Hưng Đạo, Hoàn Kiếm, Hà Nội 100000, Vietnam
Opening times: 9:00 – 22:00
Royal Tea
It's not truly a post on cafe and tea houses if I don't include some bubble tea places. Unlike the ones in Hong Kong, their Vietnamese counterparts have plenty of seatings and WiFi too! Royal Tea is one of my favourite in Hong Kong but they only have one store there, whereas Hanoi has a few dozens. Their cheese cap tea is the best and I naturally stopped by one to have some!
You can find a list of their addresses here.
Like Con Ca Phe, ShareTea has its own sets of decorations across all the shops and their balcony are the cutest! I saw one across from St Joseph's Cathedral and for once I actually make it back there to do some work as I had promised myself!
There are fewer outlets, but the view is great.
You can find a list of their addresses here