Ba Be Lake in Northern Vietnam is a lesser-known national park with a tranquil lake fed by 3 rivers and surrounded by karst mountains. It's a more off-the-beaten-path Vietnam National Park to visit with the opportunity to stay with the local people and trek around the farmlands, too.
See my guide to Hanoi here and what to eat here!
Ba Be Lake Essential Information

Ba Be Lake is not as famous as Sapa or Ha Giong, but it's nonetheless a great destination in Northern Vietnam to visit.
The area is home to ethnic minorities. The Tay people mostly settled around the lake, while the Dao and Hmong people made their homes in the mountains. 
Let's dive into some frequently asked questions about Ba Be Lake:
Where is Ba Be Lake?
Ba Be Lake is located inside the Ba Be National Park about 6 hours north of Hanoi in the Bắc Kạn Province. 
How long should I spend in Ba Be Lake?
Since Ba Be Lake is a little far from Hanoi, you want to at least do a 2 day 1 night trip. The general recommendation is to stay 3 days 2 nights, so you can have one full day there.
When is the best time to visit Ba Be Lake?
There are pros and cons to visiting Ba Be Lake in the dry and wet season.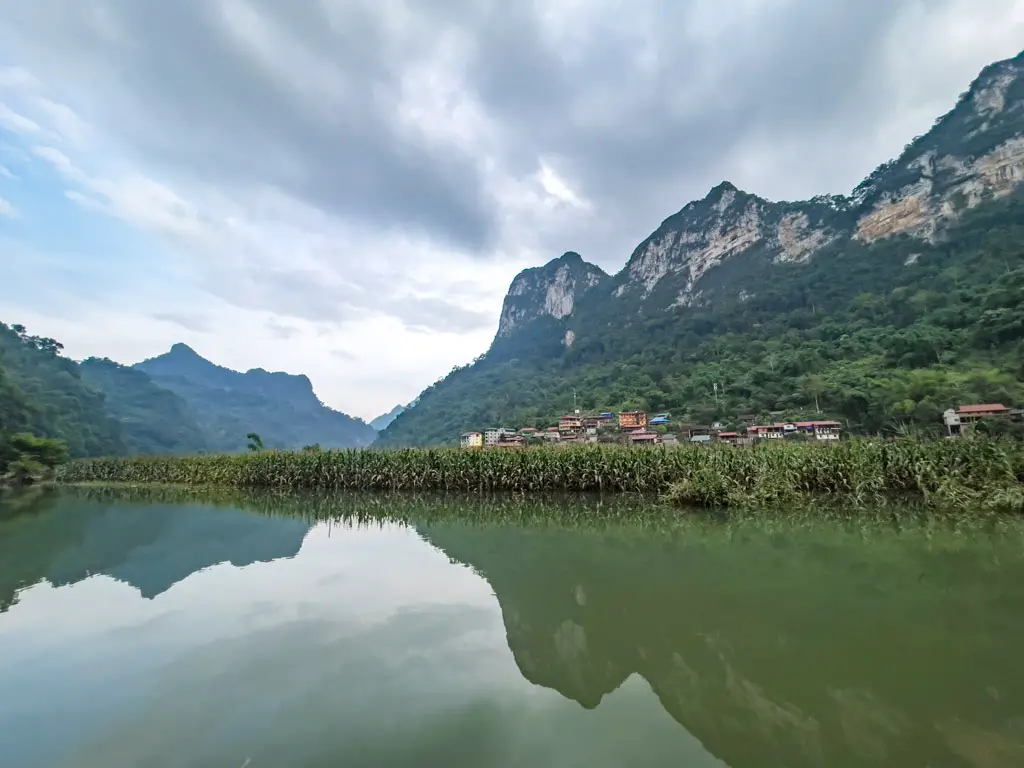 During the dry season (November to April), trekking is much more pleasant and there's less chance of heavy rain washing rubbish into the lake. Although the water level might be lower.
However, in the wet season (May to October) the higher level of the lake and river means you can take a boat trip starting at one of the rivers by the village (which I think it's the prettiest part).
How to get to Ba Be Lake?
There are no trains up north, but the road is relatively well paved. The bus or van journey up to Ba Be Lake takes 5-6 hours depending on traffic and weather conditions. 
It's best to book a tour or arrange with your hotel or homestay for transport as you'd want to be directly dropped off. Ba Be Lake is relatively big and you don't want to be stuck on the wrong side.
What is there to do in Ba Be Lake?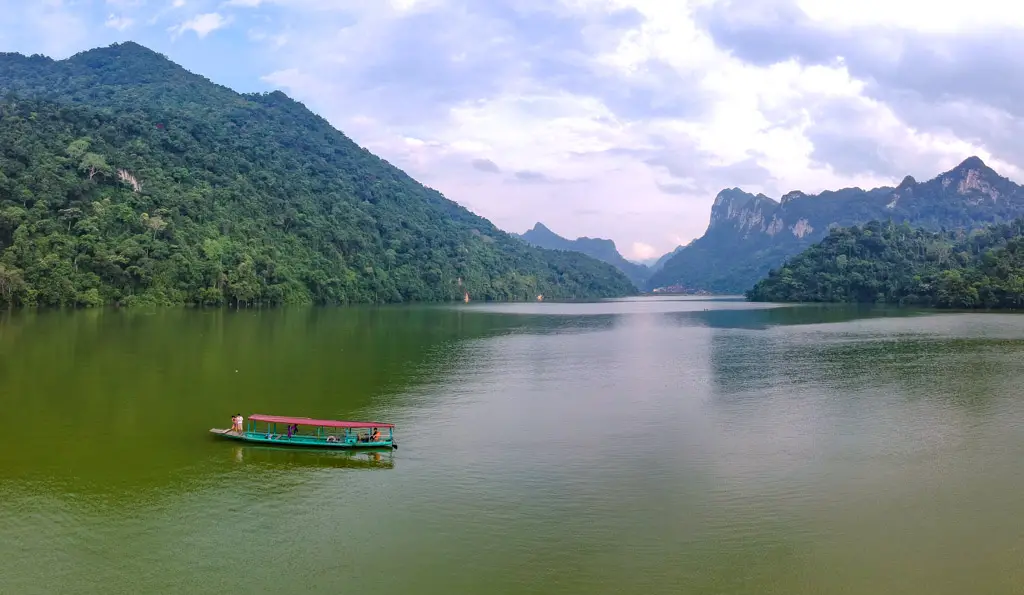 Ba Be Lake is the only natural lake in Vietnam surrounded by karst mountains. The area has long been home to ethnic minorities who mostly farms rice and corn. This led to a diverse landscape suitable for cycling, swimming, hiking, and kayaking. And you can visit and or stay with the Tay or Hmong people.
How big is Ba Be Lake?
Ba Be Lake covers 500 hectares of ground and is in an extended triangle shape. On each end is a river flowing into the lake and several small rock pools, too.
Ba Be Lake View Homestay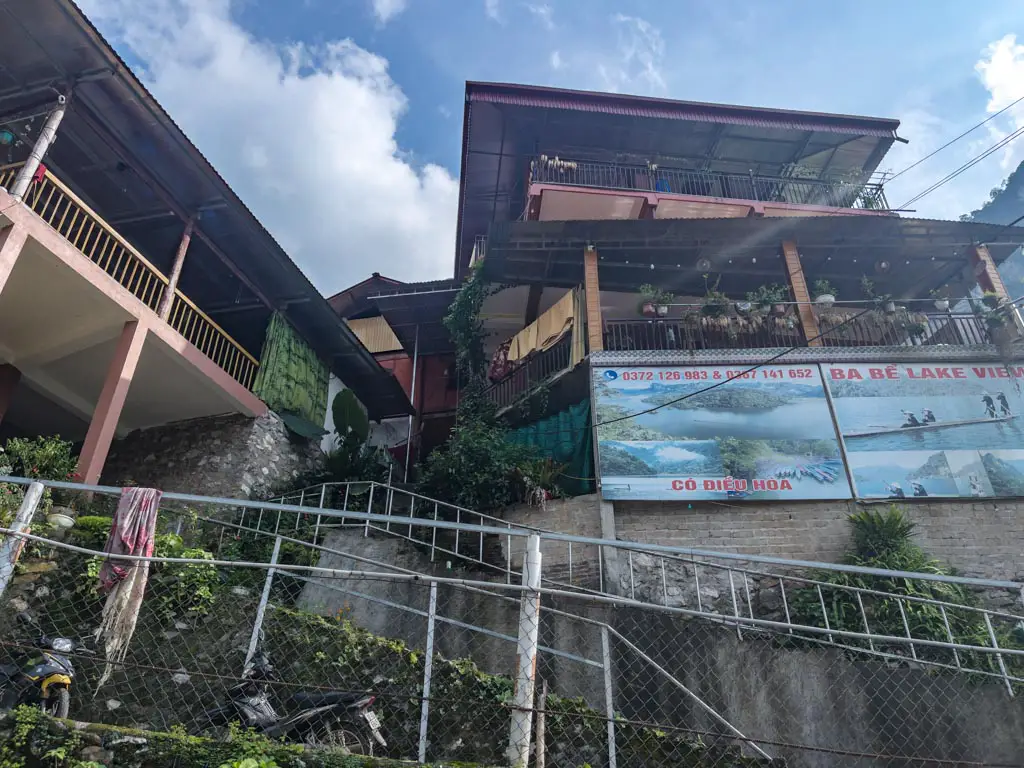 The Ba Be Lake View Homestay is at the highest point of the village along the river Leng on the southwestern edge of Ba Be Lake.
The homestay is run by Tay villagers and they have air-conditioned rooms and a more rustic basic room with shared bathrooms.
It's right by the mountainside and their terrace faces the lake with the most beautiful view. Lunch and dinner are eaten with the family. There's usually a soup dish, vegetables, meat, and also eggs when they realise that I love eggs.
See them on Tripadvisor and their website
Find them on Facebook and Instagram
Book a stay on Bookings.com
Ba Be National Park Attractions
Ba Be Lake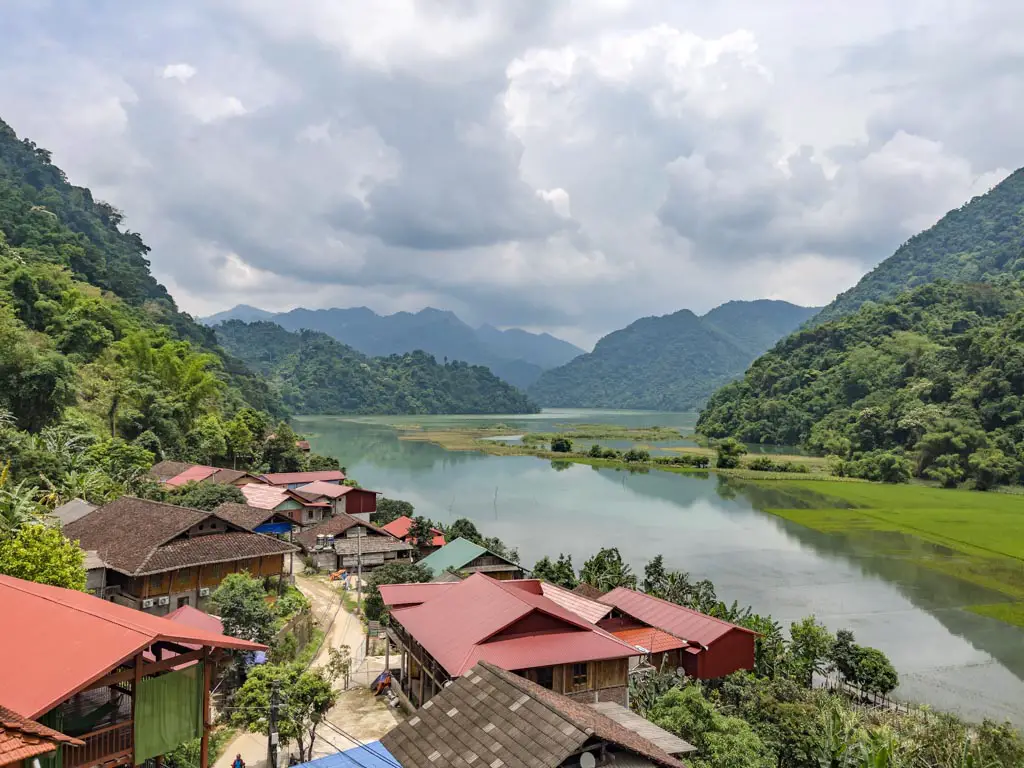 Ba Be Lake itself is definitely the biggest attraction in Ba Be National Park. But there is more than just cruising around to do on the lake, although that is pleasant enough already! Here are the top attractions on Ba Be Lake:
Fairy Lake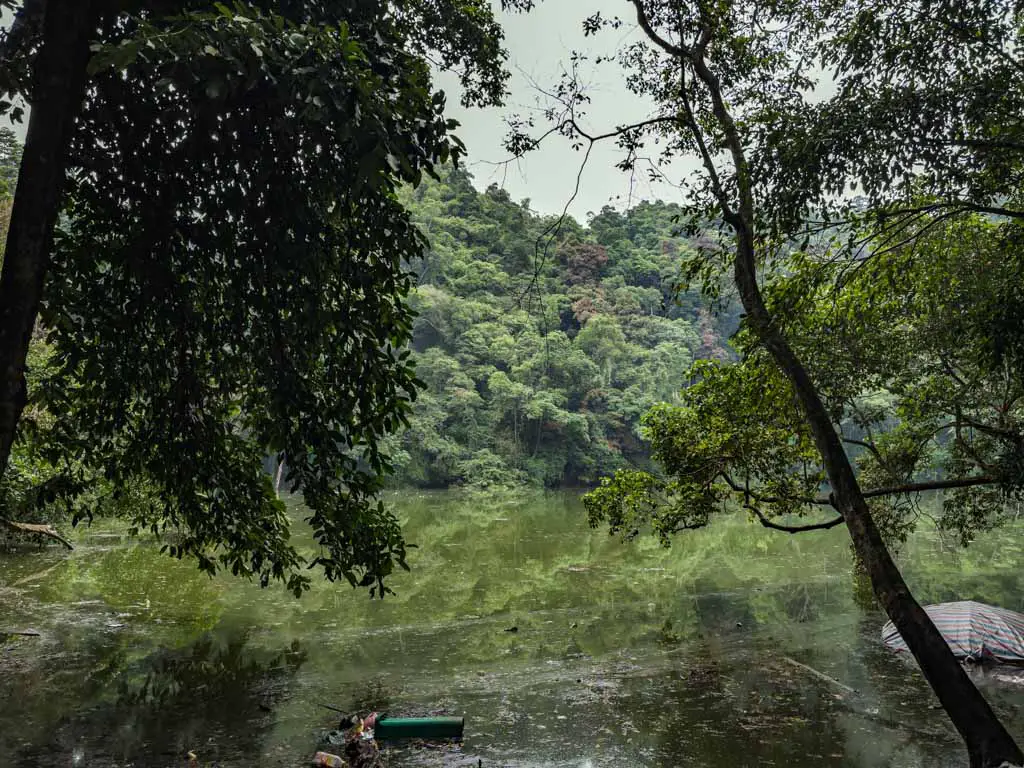 Fairy Lake is the most famous rock basin pools by Ba Be Lake. It's technically not connected to the lake, located north of the tip of Ba Be Lake by the river. There are many local vendors from the Hmong village across the mountain selling herbal teas, peanuts, and various food items. There are also plenty of snails (still alive)!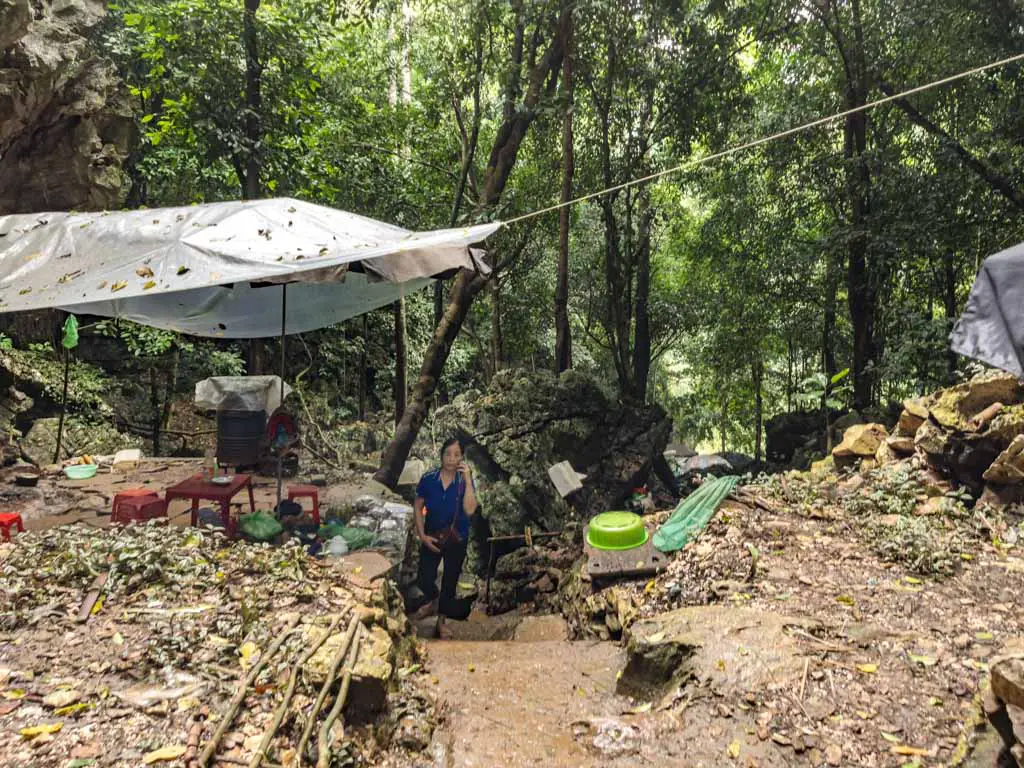 The rock pool was not at its best on my visit, having been flooded after heavy rain and filled with rubbish. My guide told me that they used to have bamboo rafting there but those were destroyed under the heavy rain.
An Ma Shrine
The An Ma Shrine is located on an island roughly in the center of Ba Be Lake. Although the site of worship is not new, the temple we see was only built in 2006. Before that, it was just a small shrine at the back of the temple.
It's a popular place of worship for local people and they hold a festival here on the 6th of the second month in lunar new year. But in general, it's well visited on the first day of every lunar month.
Hua Ma Cave
The Hua Ma Cave is located next to the river Leng and is also known as the Suspension Cave. While the cave entrance has been noted by the locals for a long time, the dark interior did not invite any explorer until the early 21st century. The cave was explored in the early 2000s and opened to visitors in 2007.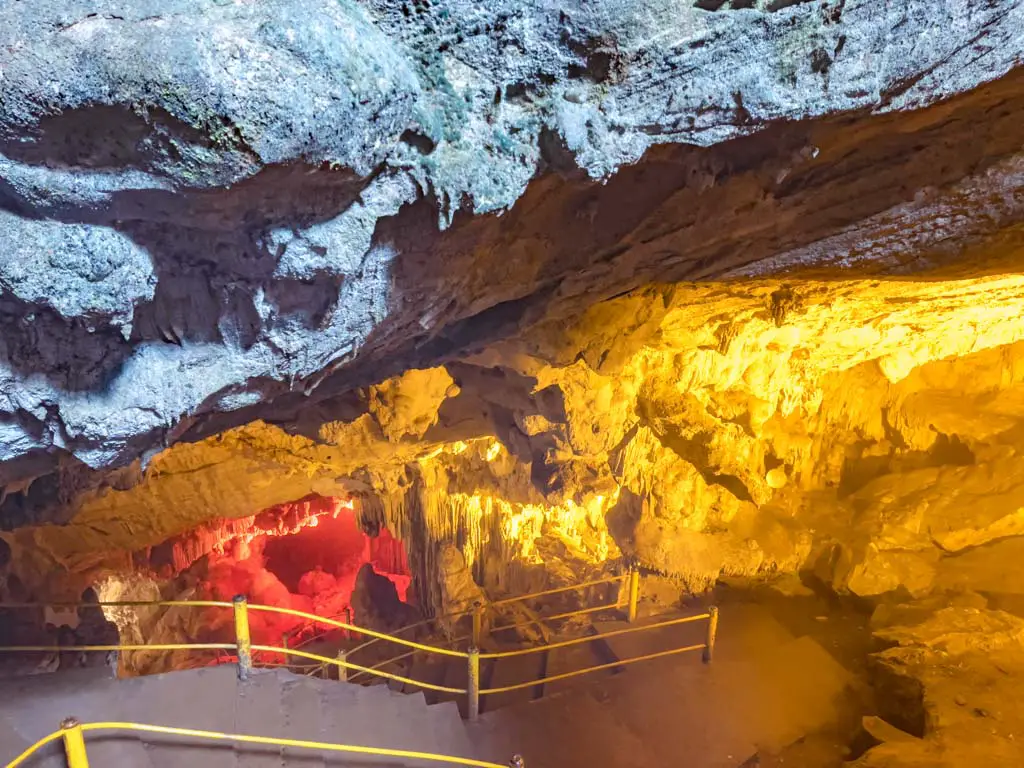 Although it can't compare to the series of caves in Phong-Nha Ke Bang National Park, the Hua Ma Cave itself is a surprisingly deep and wide cave, extending over 700m. It's a 300m climb to get to the cave entrance and a descend into the cool, damp air of the cavern.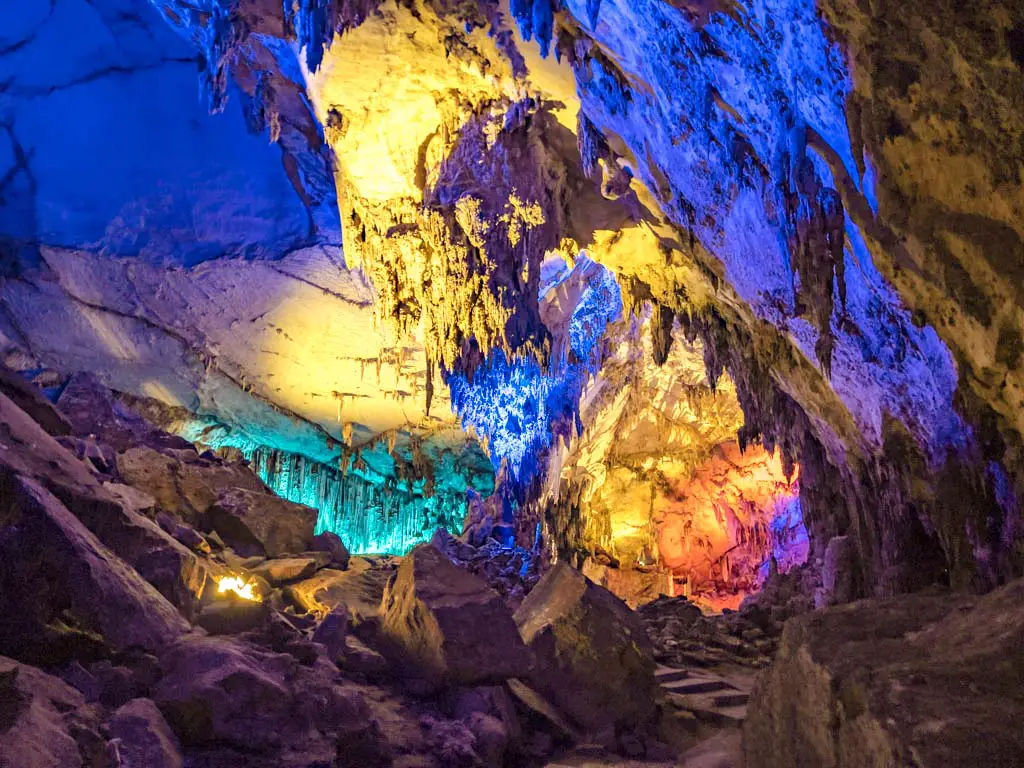 Unfortunately (or fortunately), the new lighting installed in the cave in 2020 is now multi-coloured, which has the tendency to make it looks like a Stranger Things location or Halloween haunting ground.
Thac Tat Ma Waterfalls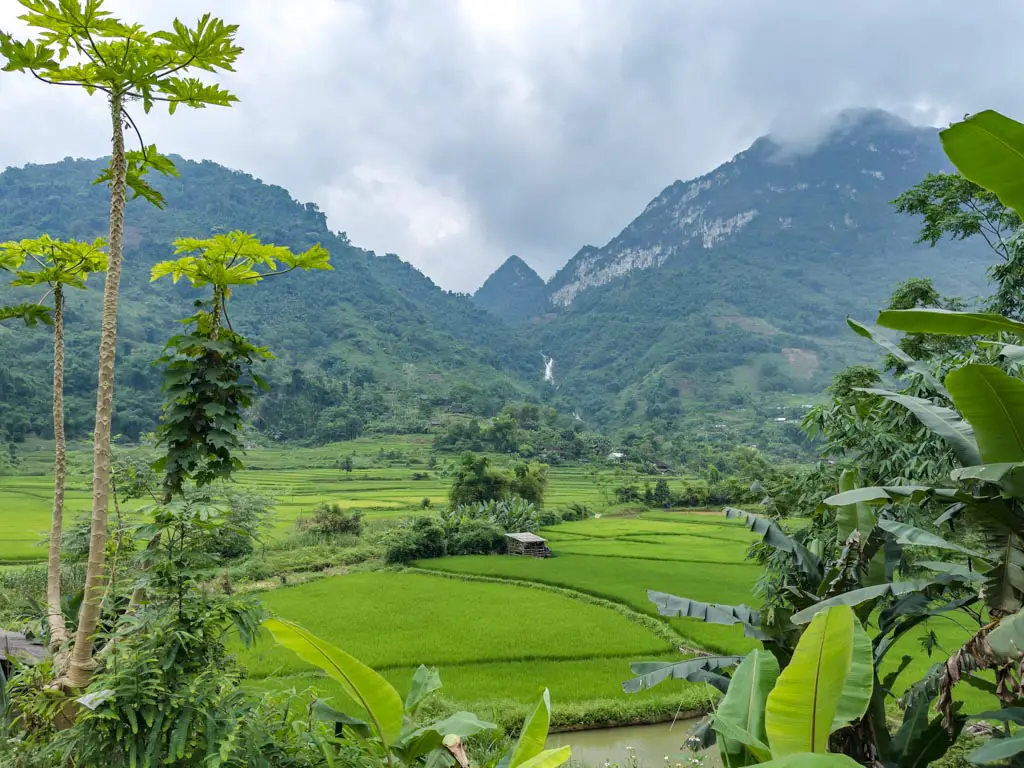 The drive leading up to the Thac Tat Ma Waterfalls reveals a gorgeous value and a thundering stream of water cascading down to the flatland. It is a popular waterfall for locals in the summer, and it's a surprisingly easy hike from a dirt-parking lot.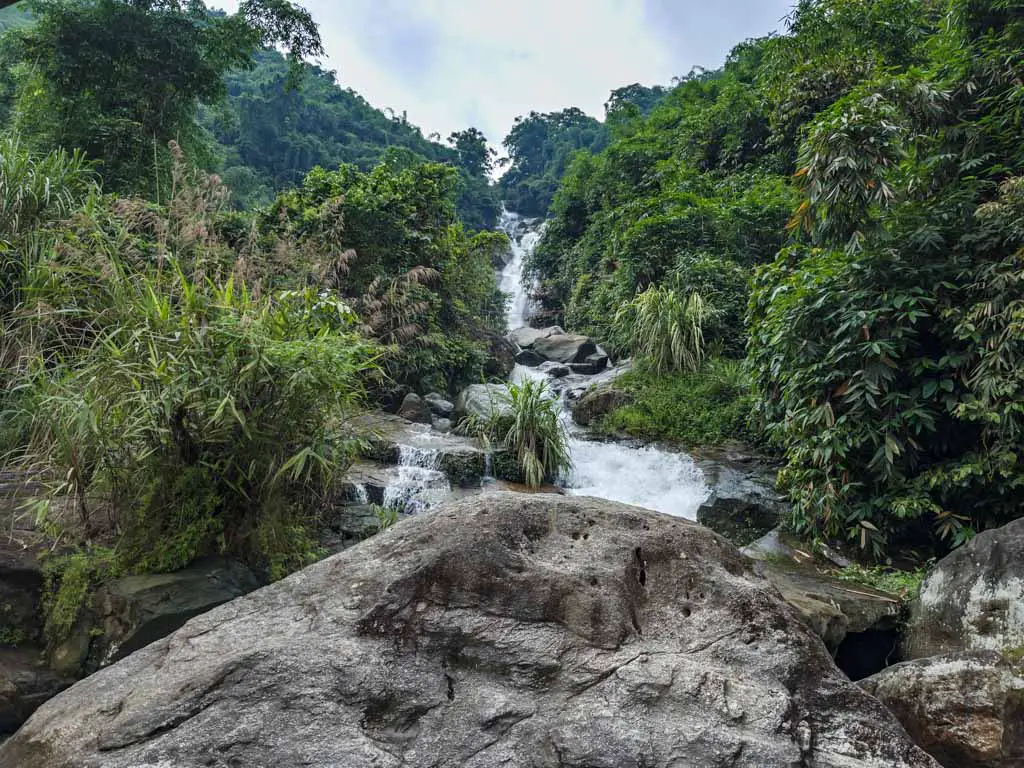 That said, during the wet season, it's at its full strength and one must be careful when taking a dip. The local Tay people would build a bamboo bridge to cross the upper part of the waterfall, but that can be washed away during heavy rain or flow.
Trekking in Ba Be National Park
The Ba Be National Park is full of gorgeous farmland across mountains and valleys. You can also visit the various ethnic villages that have been cut off from the rest of the world until recently.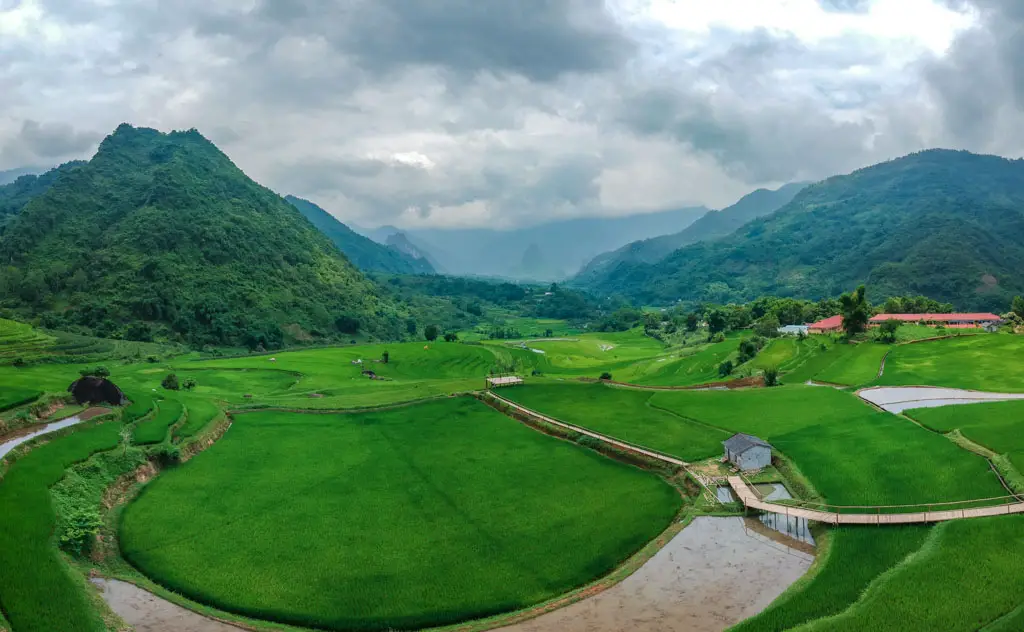 You would absolutely need a local guide while hiking in the area, as the trails are not well mapped and you can easily get lost on an offshoot. There is still a good deal of wildlife in the area who are generally quite shy. They could create paths that look like a trail but aren't!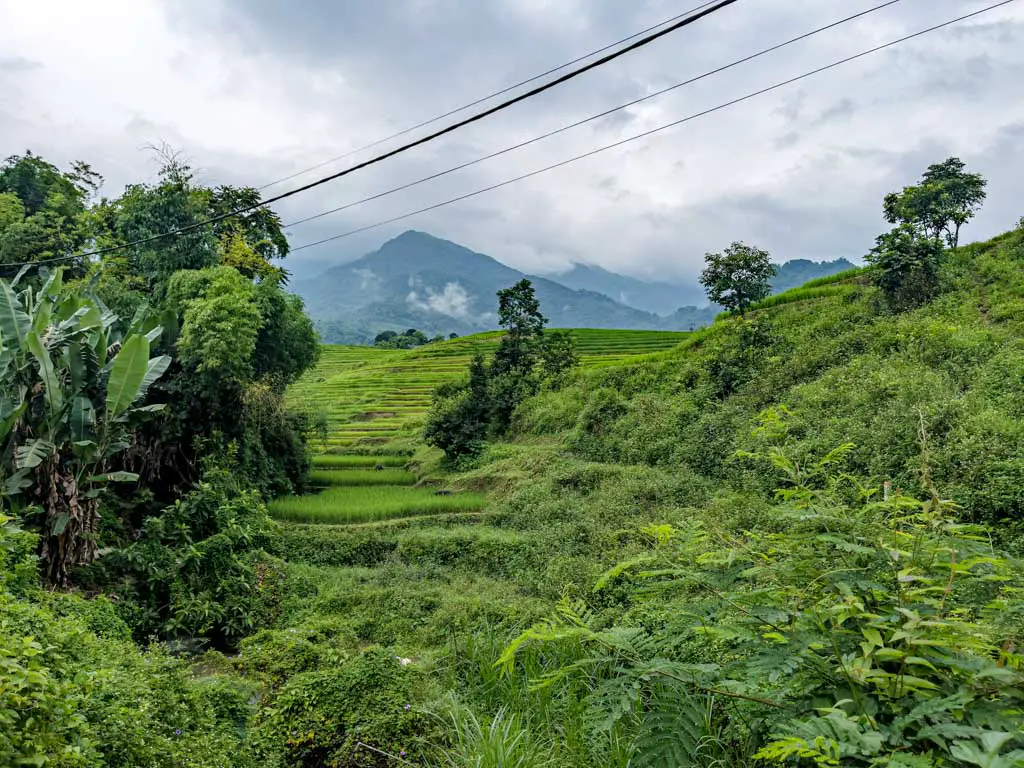 Plus, the trails are not marked on google map and only local guides know where the best spots are!
Ba Be Lake Tours
As mentioned before, since Ba Be Lake is still not well developed for international tourism, it's best to book a tour when you visit.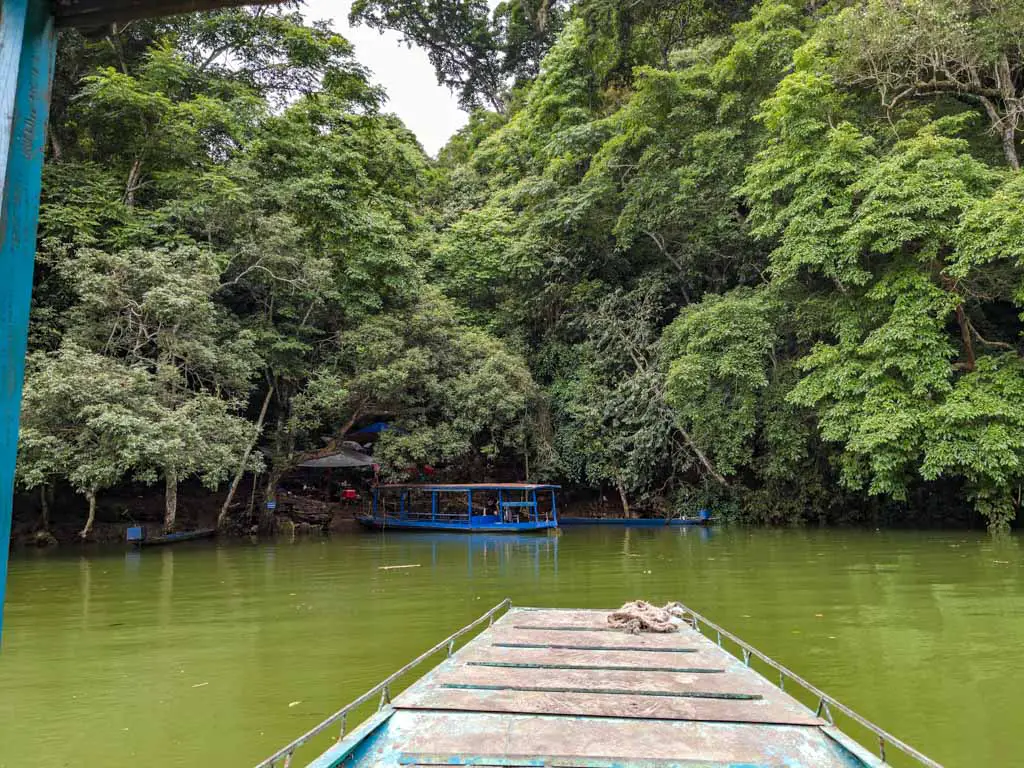 The most common ones are 2D1N or 3D2N, depending on the time you have. Given that it takes 5-6 hours to drive one way, you would only have two half-days in Ba Be National Park.
Here are the sample itineraries of what the Ba Be Lake tours would be like:
Ba Be Lake 2 day 1 night tour
Day 1: Hanoi – Ba Be Lake – Boat Trip – Swimming
Day 2: Cycling – Visiting Cave – Hanoi  
Ba Be Lake View Homestay Price: $90. All included
Ba Be Lake 3 day 2 night tour
Day 1: Hanoi – Ba Be Lake – Boat Trip – Swimming – Kayaking
Day 2: Ba Be National Park Full Day Trekking
Day 3: Cycling – Visiting Cave – Hanoi
Ba Be Lake View Homestay Price: $130/person. All included
My experience on a Ba Be Lake 3 day 2 night tour
Booking the Ba Be Lake Tour with Ba Be Lake View Homestay
Ba Be Lake View Homestay has an active Facebook account as well as a proper website with email. I contacted them via email and they responded quickly in English.

The price includes everything and Viet, the booking agent, let me know the time and place for pick up. I was traveling solo and left my big luggage at my Hanoi hotel and set off bright and early on day 1.
Day 1 of Ba Be Lake 3 day 2 night tour
Transport to Ba Be Lake
My pick-up time for the local bus was 6:20 am in front of the Hanoi Opera House. Although the Old Quarter of Hanoi was quiet, it was easy to get a Grab car to the Opera House.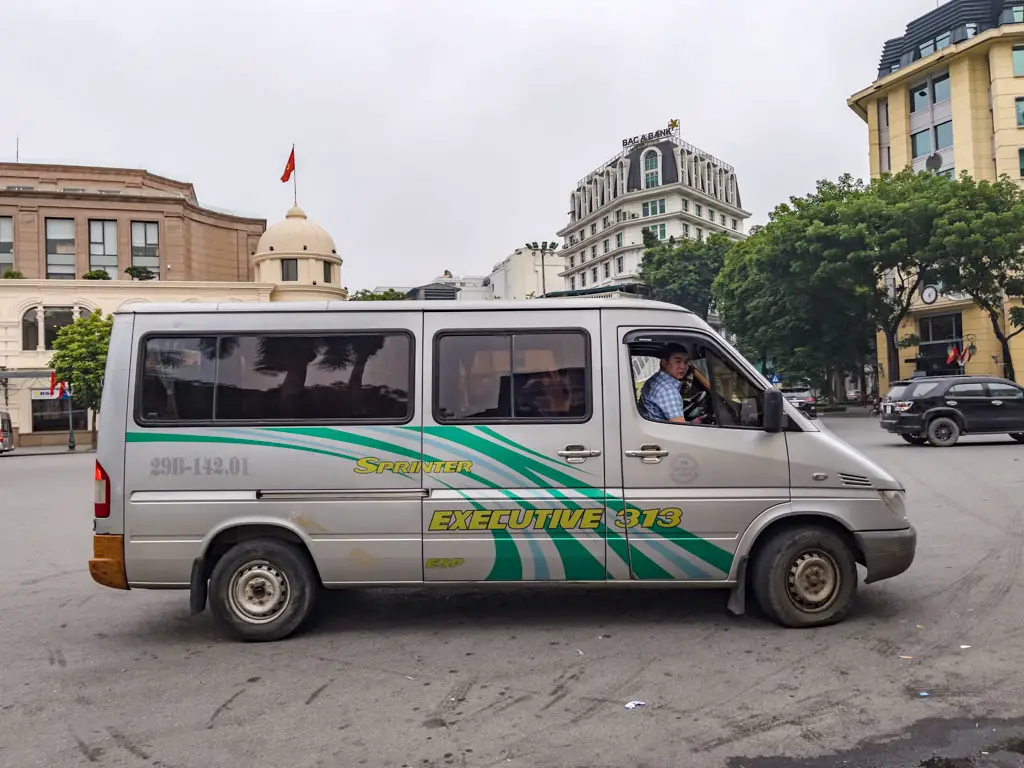 I arrived early and there were already plenty of people waiting for their transfer. I was given the license plate number and spotted my van before 6:20 and hopped on.
It was a local van that stopped along the way to pick up people and parcels. Not everyone was headed to Ba Be, as the van drove through Thái Nguyên and Bắc Kạn.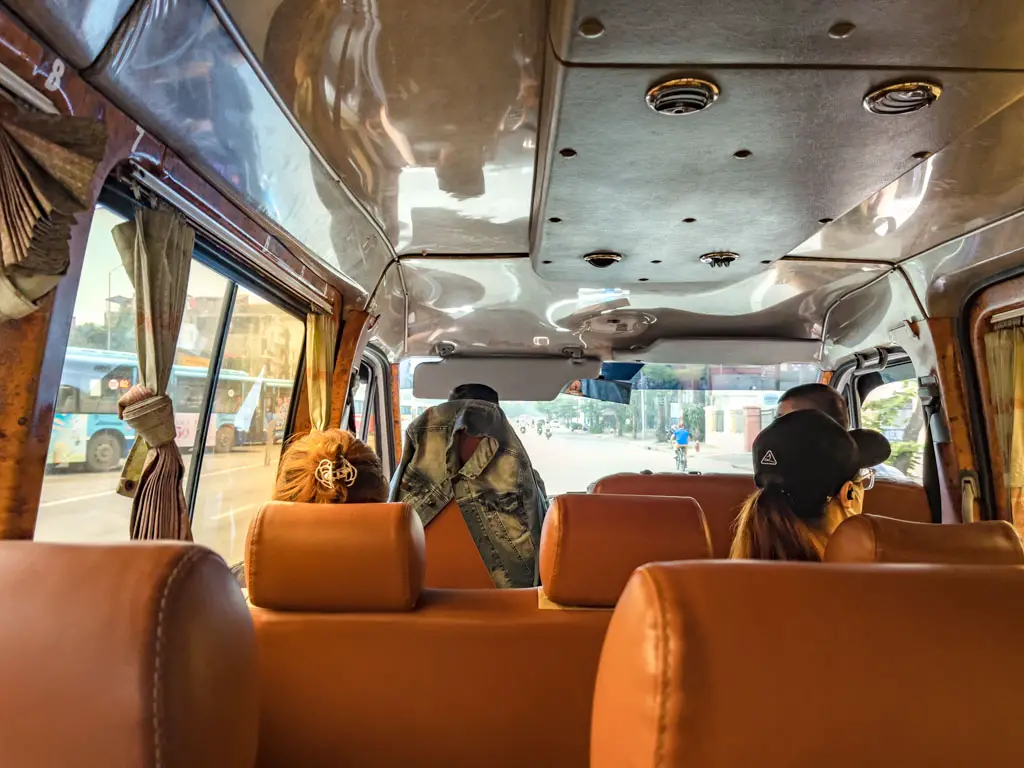 The driver was very energetic and engaged the other passengers in conversation while I mostly just tried to sleep. There was one rest stop about halfway where you can get food, and drinks, and go to the bathroom.
Lunch at Ba Be Lake View Homestay
I arrived at the homestay just before noon and checked into my room as I waited for the family to prepare our lunch.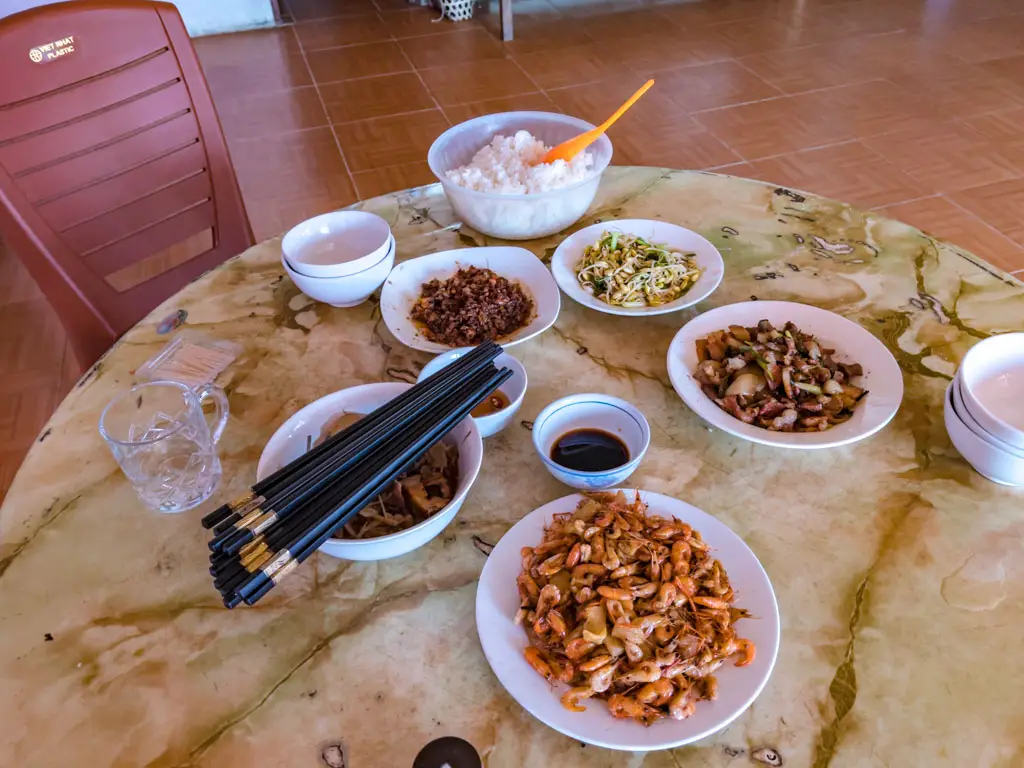 The view was amazing and I couldn't stop admiring it! The family didn't speak much English but it was a lovely lunch with local dishes with river shrimps, vegetables, meat, and rice.
Ba Be Lake Boat Trip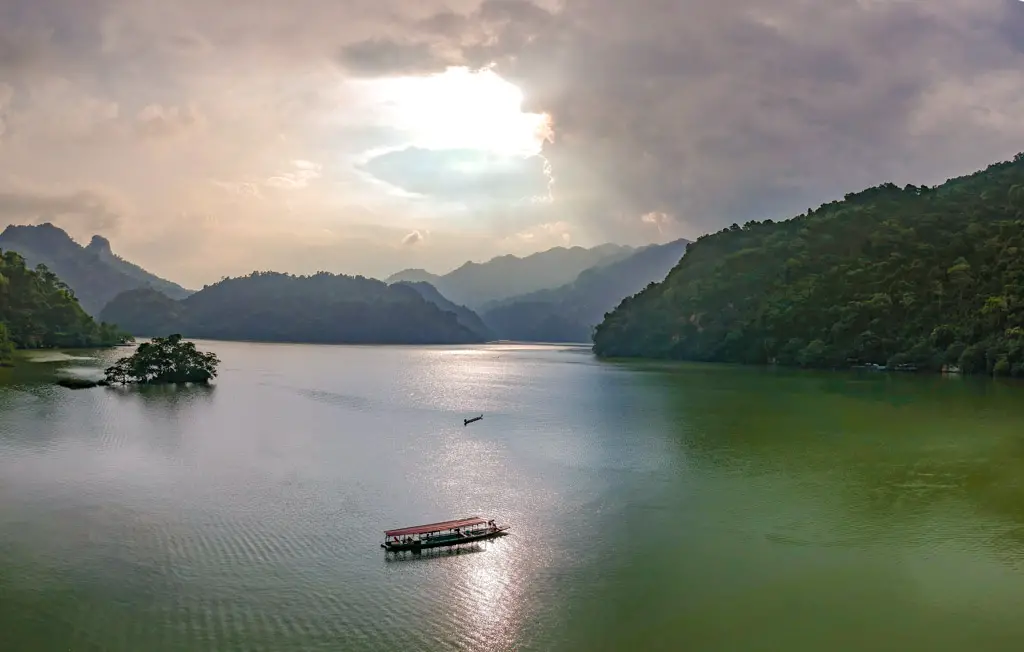 My guide came back to pick me up at 2 pm, giving me some time to rest from the early bus ride. We walked down to the riverside of the village as the river water level was high enough to take the boat to the lake.
We visited all the big attractions on the lake: An Ma Temple and Fairy Lake. It was a gorgeous trip and my favourite is the scenic ride back to the village.
It's safe to swim in the lake and it was refreshingly cold! We got back to the homestay just before 6 pm and just in time to watch the sunset.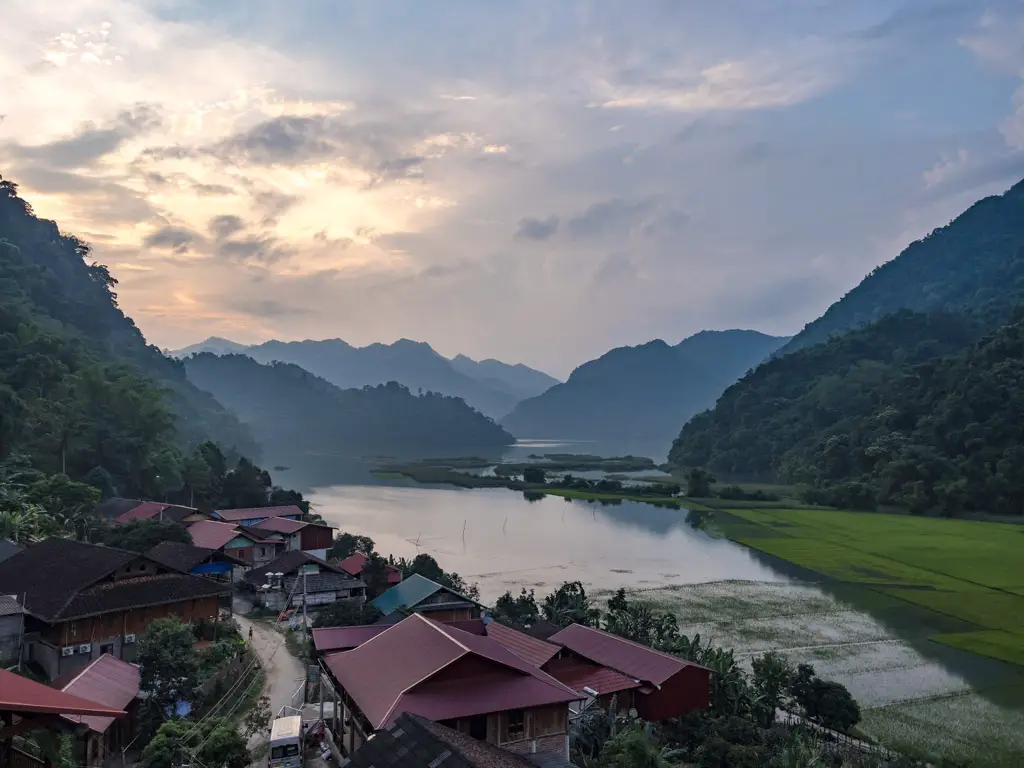 Dinner at Ba Be Lake View Homestay
I had time to shower and change before dinner, and we ate downstairs at 8 pm as there was a big local group arriving.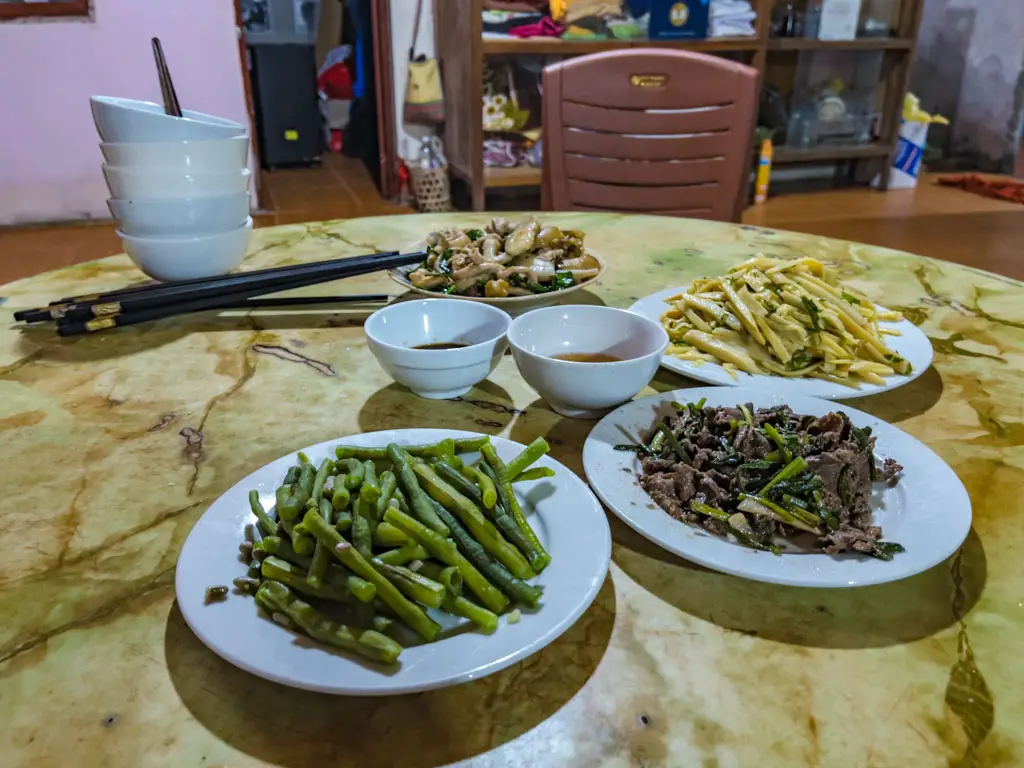 We had 4 dishes and one of them was bamboo shoot which I really enjoy!
Day 2 of Ba Be Lake 3 day 2 night tour
Normally, today would be a day of hiking but we had to change our plans due to heavy rainfall. Here's a quick overview of the hiking:
From the homestay, guests usually hike 5-6 km to another village, then across the mountain to see rice paddies, and then at the top to see some viewpoints.
Lunch would be at a Hmong village before crossing another mountain, passing some corn fields and rice fields to another Hmong village with a school visit.
If guests are tired, they can rent a boat to go back in the summer but it's not possible in the winter.
Breakfast at Ba Be Lake View Homestay
I woke up before 7 am and it was a beautiful misty morning. I had pho ga (chicken rice noodle soup) for breakfast and my guide came to get me at 8:15 to let me know the ground was too wet from heavy rain earlier in the week to hike.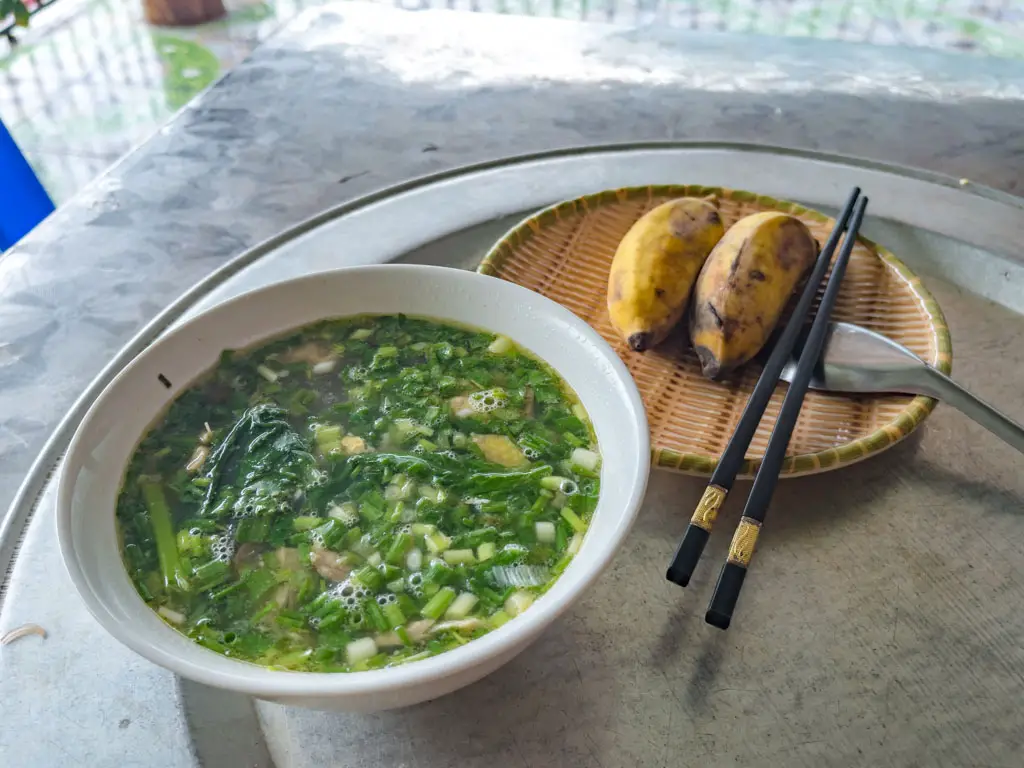 We agreed on cycling instead and he set off to fetch the bicycle and set off at 9 am. We cycled on the main road past rice paddies surrounded by the karst mountains.
Cycling around Ba Be National Park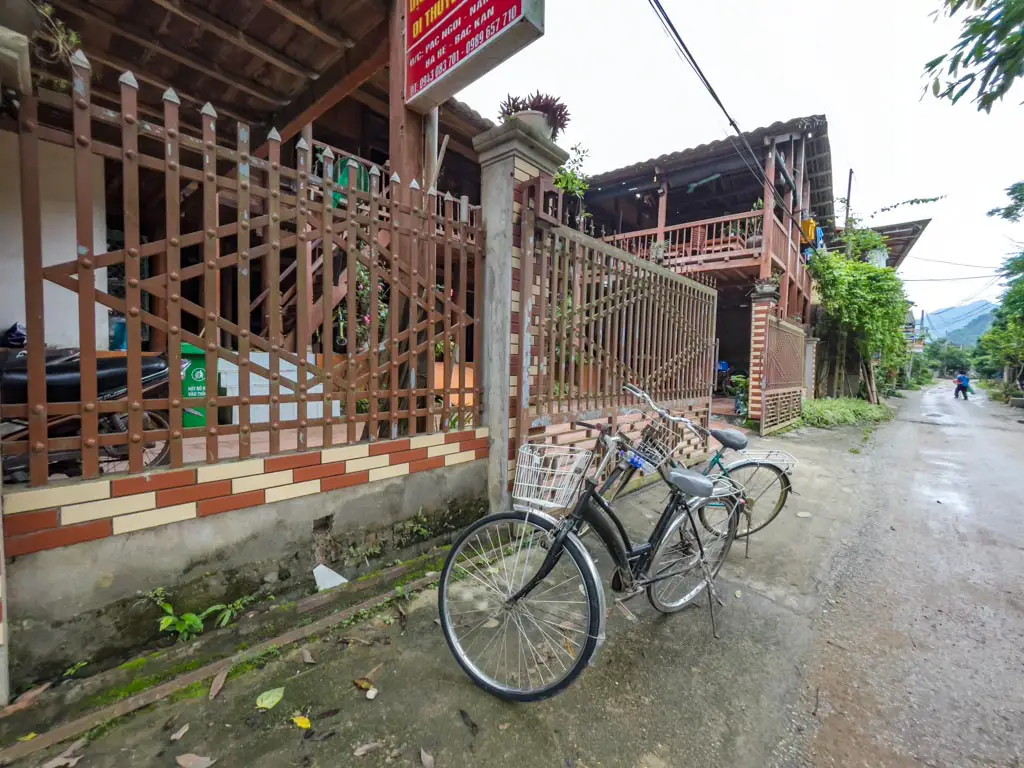 We stopped at a village to look at the local market, and my guide Tuoi knew everyone!
We only stopped for a while and left our bicycle at a local shop and headed out on a hike.
Easy hiking in Ba Be National Park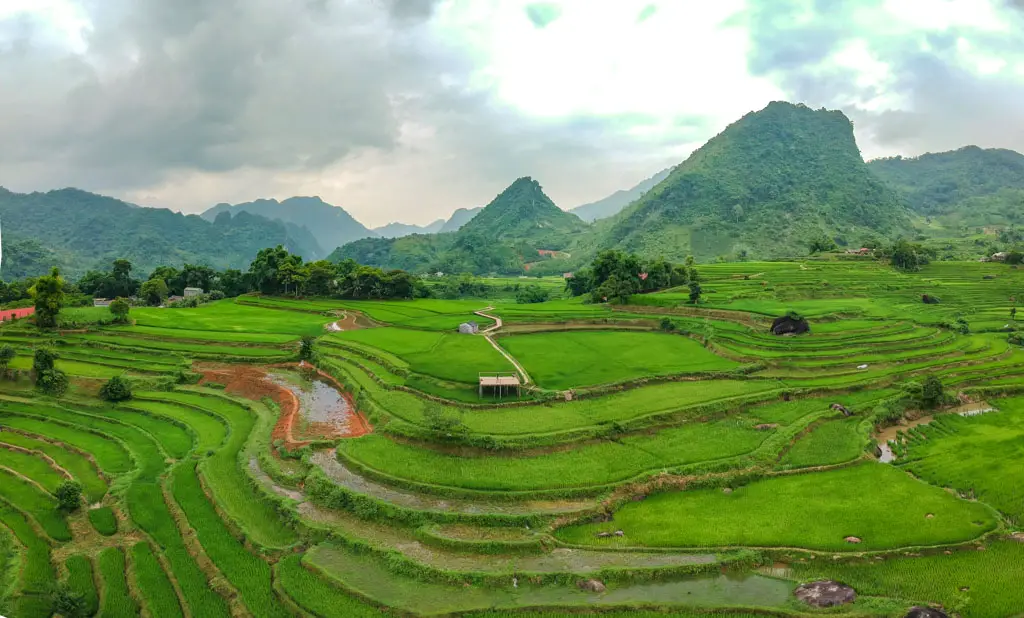 The hike was all along the paved road, first along the main one, then veering into a village. I really enjoyed seeing the countryside and the bamboo bridge and platform! We did also stop by a waterfall and it felt good to dip my feet in the water.
We then hiked back to the village and got on our bicycles to go to Hua Ma Cave, where we passed by on the cycle over.
Lunch by Hua Ma Cave
We had lunch at the local restaurant by Hua Ma Cave, a hearty plate of fried rice and there was a water filler.
Hua Ma Cave
The hike up to Hua Ma Cave was about 300m. My guide got us tickets, and we walked up the mossy ramp and then the stairs.
Entering the cave was like going into an air-conditioned space that is much cooler and comparatively less damp. I was not a fan of the multi-coloured lighting but the cave itself is beautiful.
It was empty and the only group we saw headed out when we went in!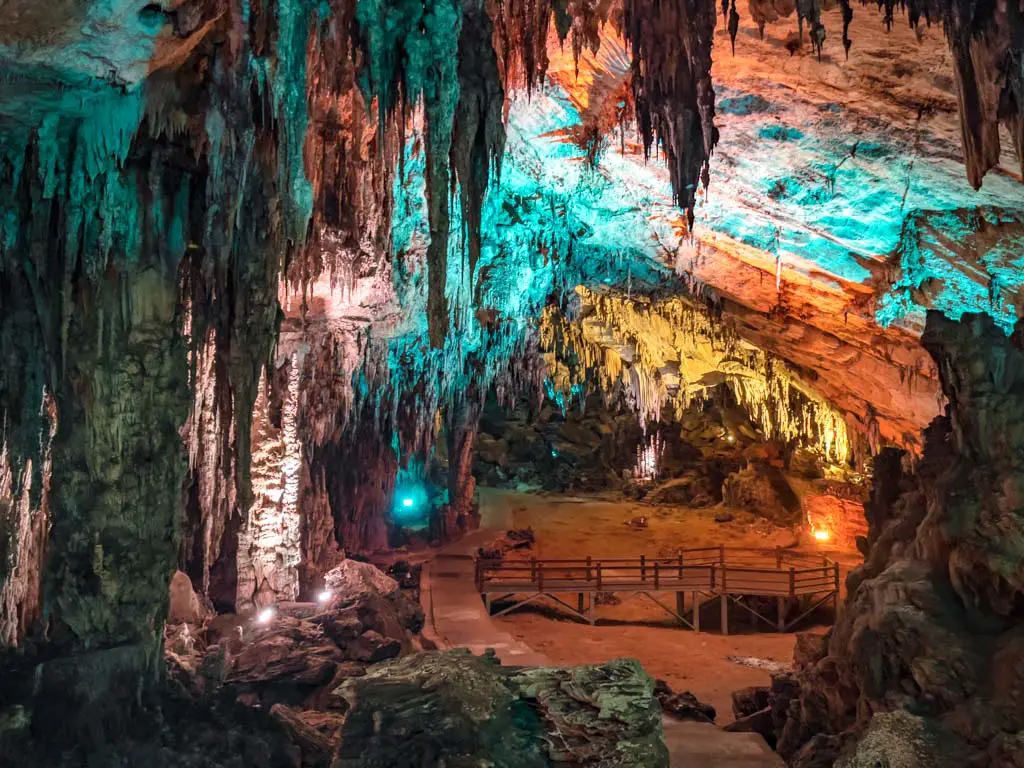 After the cave visit, we went back to our bicycle and headed home, getting back before 4 pm. I initially was going to go kayaking, but the kayak was filled with water from the heavy rain before! So I settled for another late afternoon by the view.
Dinner at Ba Be Lake View Homestay

Dinner was earlier today at 7:20 pm and I really enjoyed the mushroom soup they made an omelet for me! 
Day 3 of Ba Be Lake 3 Day 2 Night trip
Normally, cycling would be on day 2, and day 3 is cycling and the Hua Ma Cave visit. But given that I did that yesterday, we discussed it and agreed on going to the waterfall.
Breakfast at Ba Be Lake View Homestay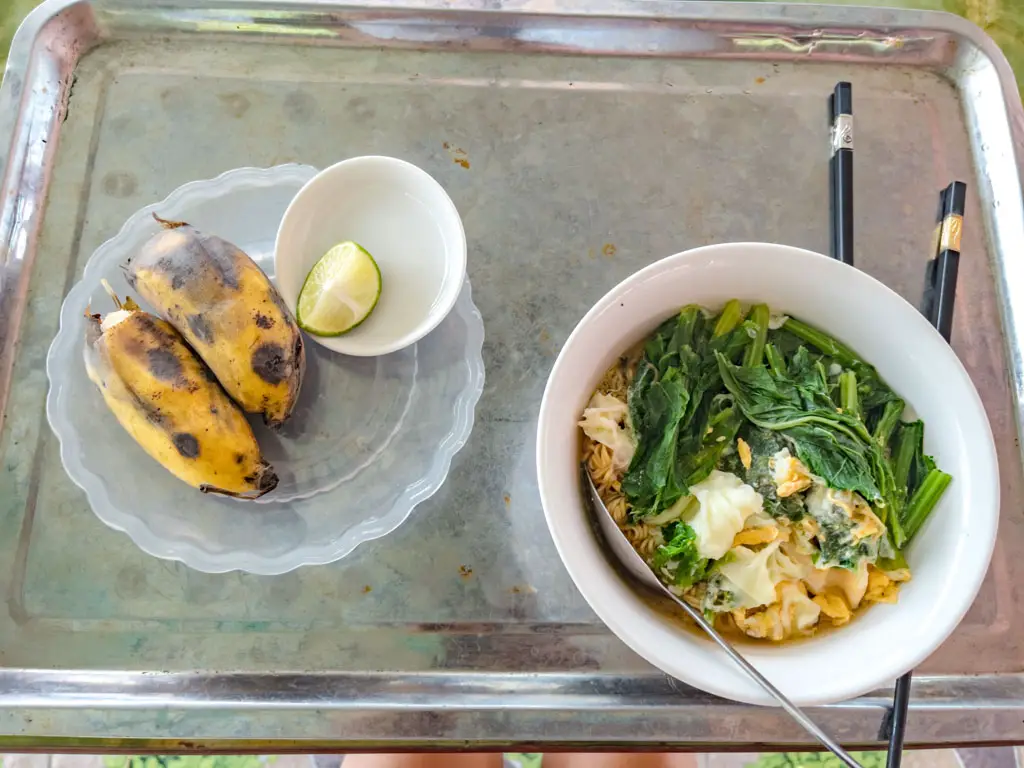 The family generally gets up well before me, so they bring me a bowl of noodles and bananas. This time, it was a slightly spicy instant noodle that was quite nice.
Thac Tat Ma Waterfall
My guide came to get me just before 8:30 and we set off on his motorbike to the waterfall. It was a lovely and easy walk up from the parking lot, and we stayed by the waterfall to enjoy the place.
Lunch at Ba Be Lake View Homestay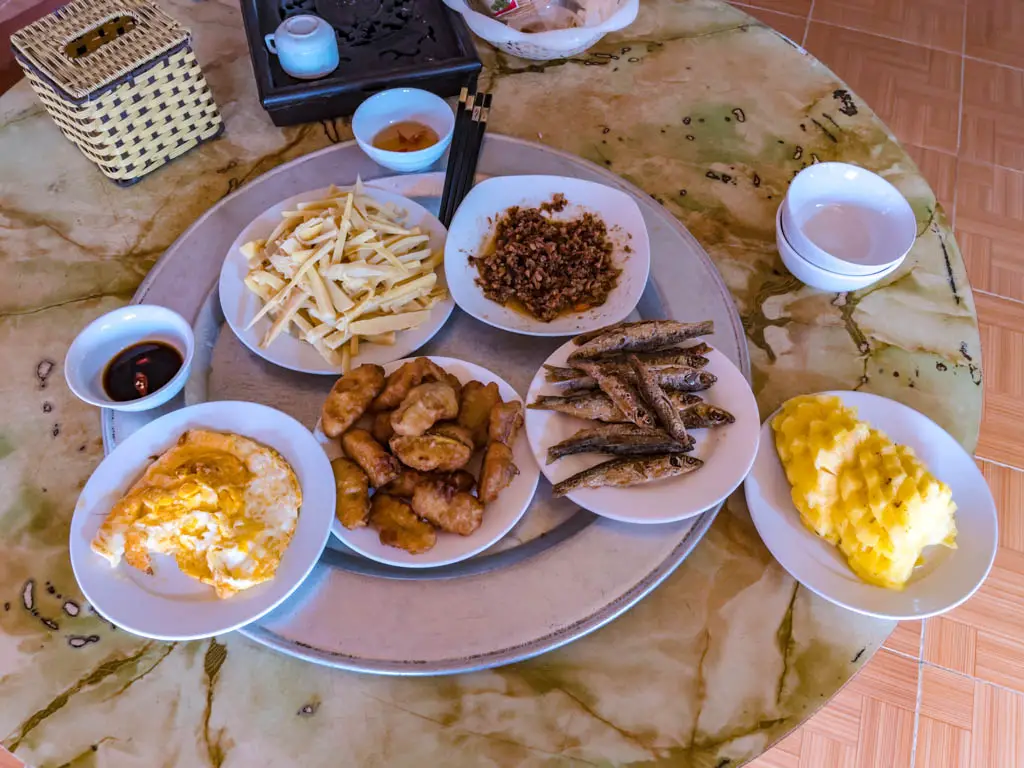 We got back at 10:45, giving me time to chat with my guide and pack before lunch. It was only me and Lien, the lady who runs the homestay, and she had a plate of mango for me! 
Departure for Hanoi
My van came at exactly noon and it was the same guy who drove me up! He was still relentlessly energetic and it was a full ride back to Hanoi.