Sai Kung beaches are among the best in Hong Kong and if any of you follow me on Instagram, you will know that it's the most beautiful part of Hong Kong. Sai Kung is located in the easternmost region of the New Territories and surrounded by ocean, it is dotted with protected marine area and islands. Hence, the quality of sand on a Sai Kung beach is unrivalled. I have already covered what a boat trip is like, as well as the famous Four Consecutive Pools and Falls, here, let's talk about the best beaches in Sai Kung
>More on Sai Kung town and surrounding sights here
Half Moon Bay (Hap Mun Bay)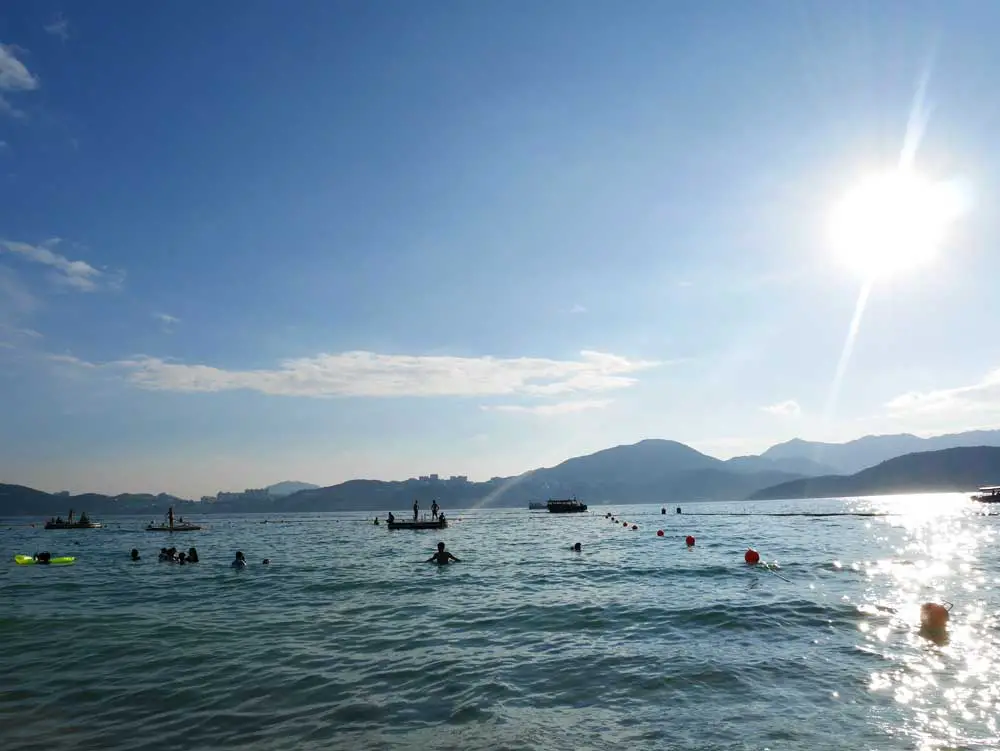 One of the most popular Sai Kung beaches, Half Moon Bay is a government beach comes equipped with lifeguards, showering facilities, umbrella rental, a snack bar as well as top notch water quality.
It can get quite busy here during weekends and public holiday, so definitely head there before 1pm if you want to snag a spot on the beach.
Despite the clear water, many don't venture out to the end of the shark net so you can swim undisturbed.
How to get there: Kaitou by the Sai Kung Public Pier costs 40 HKD return.
Note: it is a government regulated beach with lifeguard on duty and a changing room with shower. It is currently closed due to COVID-19.
Sharp Island (Kiu Tsui Beach)
Although this might be confusing, but Half Moon Bay is also located on Sharp Island, but the place that is referred to as "Sharp Island" is northwest of the Island and known for its geological and geographical features.
Most famous for its tombolo, which connects Sharp Island to a smaller one during low tide, and it is the main attraction. The tide usually goes out around noon, but if you go before, the water is the clearest and it definitely makes a better photo. There is a lovely little beach between the pier and the tombolo where you can relax. Note that this is not a government regulated beach.
Sharp Island used to be on the edge of a caldera 140 million years ago. The rock types feature volcanic debris and silica rich viscous lava, which for those who aren't geological savvy, means pink coloured rocks with wavy patterns. The pineapple rocks are an attraction in itself too, a result of weathering and exfoliation of the rock.
The other side of the island faces the lighthouse, and is a pretty great photo spot:
How to get there: you can also reach Sharp Island via Kaitou by the Sai Kung public pier for 30 HKD.
Hoi Ha Wan
One of the marine parks in Hong Kong, it is also known as Jone's Cove and is on the northern end of Sai Kung. A kayaking and snorkelling hotspot, Hoi Ha is among the best place for watersports beginner due to its sheltered bay.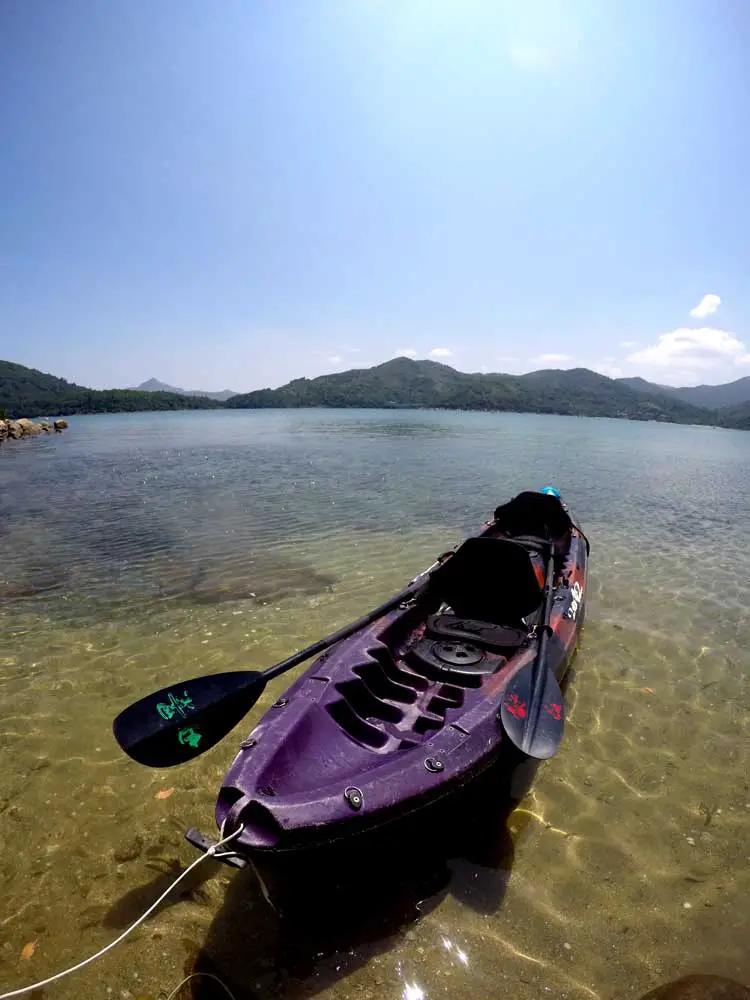 From Hoi Ha, you can rent a kayak (see my kayaking guide here) and head off to the protected areas for a good snorkel. While I wouldn't say that they are an official Sai Kung beach, there are plenty of small sandy bays you can dock on for a quick break. The best area is by the pier, straight out from the beach, and you'll be wise to wear or rent wet shoes to avoid stepping on sharp objects.
How to get there: The green minivan route 7 from the Sai Kung Pier. The ride isn't short either, and during weekends and public holidays, it is normal to wait for 2 minivans before you are able to get on.
Long Ke Wan
Long Ke Beach is probably my favourite among all the Sai Kung beaches. I almost thought I was in the Philippines or something. Despite its remote locale, it is a popular spot with the long stretch of beach and doubles as a campsite as well.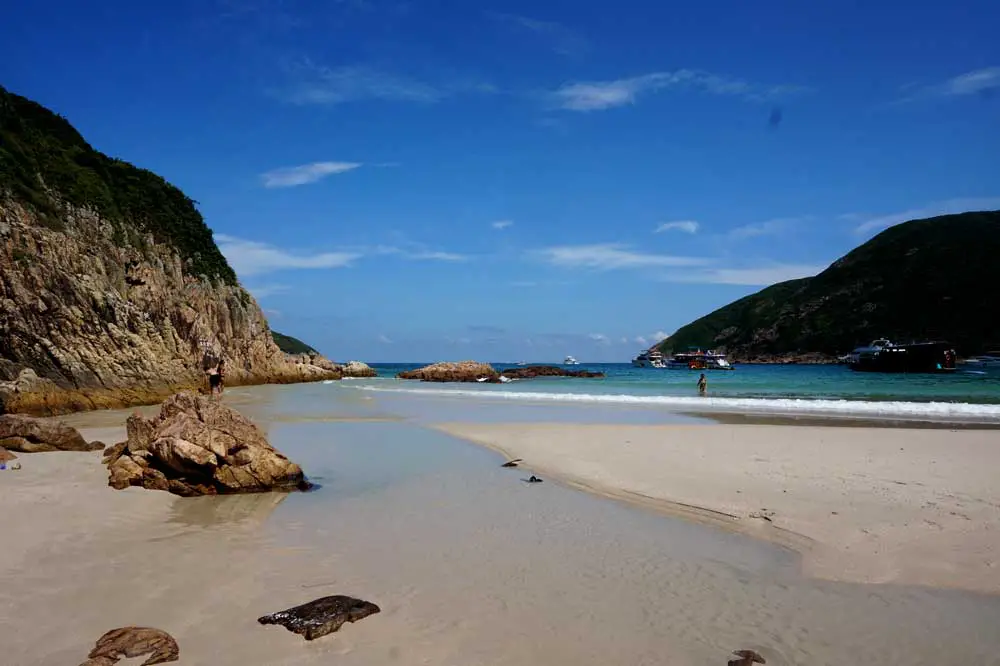 With no refreshment point, you must bring your own drinks and food and either hike in from the East Dam or take a speedboat from the Sai Kung pier for 160 HKD. I thoroughly recommend planning your day ahead as taxi fare from East Dam back out can be significantly higher in the evening with taxi drivers raising the price.
Sai Wan Beach
Not to be confused by the Sai Wan on Hong Kong Island, Sai Wan Beach in Sai Kung made a brief appearance as the starting point for the Four Consecutive Pools and Falls. Perhaps not as beautiful as Long Ke Wan, this Sai Kung beach is much less crowded and home to several snack shops.
How to get there: take a taxi or the N29R minivan to Sai Wan Pavillion and hike in.