The Dolomites in northern Italy is a hiker's paradise with its jagged mountain and stunning lakes. However, it is a massive area and that makes it fairly difficult to decide where to go and what to see. 

With plenty of photos plastered over Instagram such as Lago di Braies and Tre Cime, I did my best to put together a six day itinerary that can cover both the insta worthy and lesser known hikes. In the end, I picked Cortina d'Ampezzo and Ortisei in Val Gardena as two bases and here is my itinerary: 

Renting a car for the Dolomites
The Dolomites region for this itinerary is towards the northeast, between Trento, Innsbruck, and Venice. The nearest international airport would be Munich, Innsbruck, and Venice. While the latter two are similar in distance to either Ortisei or Cortina d'Ampezzo, it is much cheaper to rent a car in Italy as opposed to driving across the border.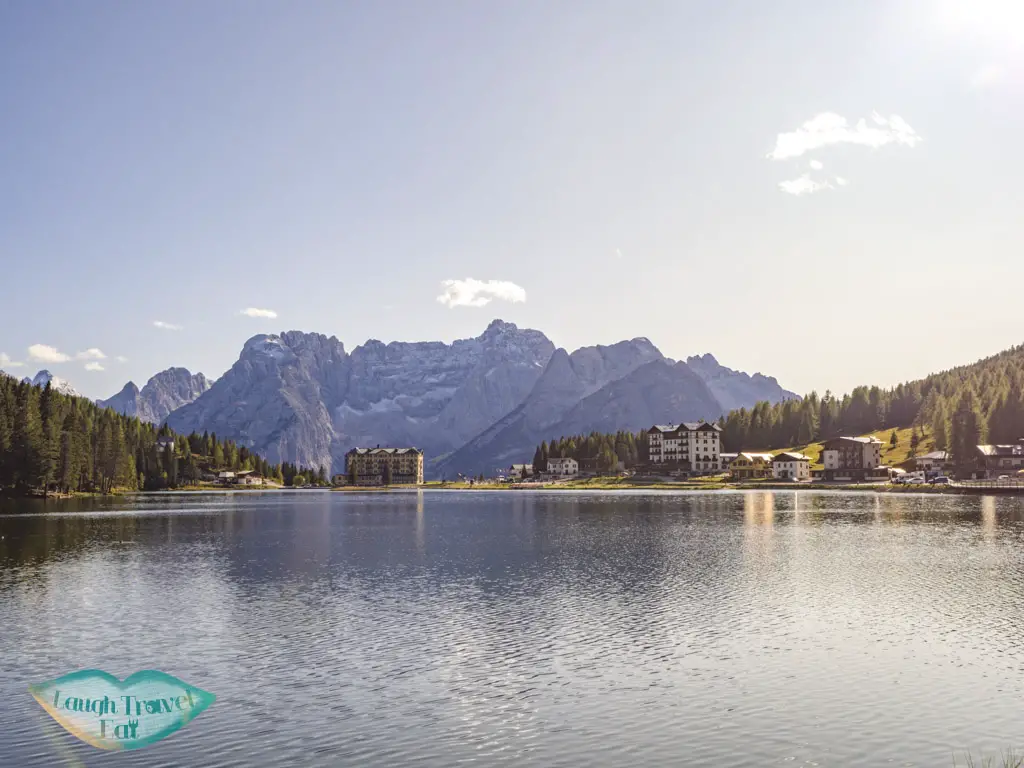 A cheap option would be to rent from a car company with shuttle service to Venice's Marco Polo airport. However, I suggest choosing a reputable one as opposed to the cheapest one. We went with Gold Car who all but forced their extra insurance on us. After reading some stories online about deposit being kept when they didn't buy the insurance, we opted to pay the extra (which makes it not cheap) for peace of mind and to avoid later problems.

It is a little pricier to rent from the airport direct, but might save time as we had a problem finding the correct transport van to reach the car rental site. 

Driving in the Dolomites
For the most part, the most important thing to be careful of when driving in the Dolomites is the hairpin roads. If you're there towards winter, there's also a chance that there would be ice or snow or the road.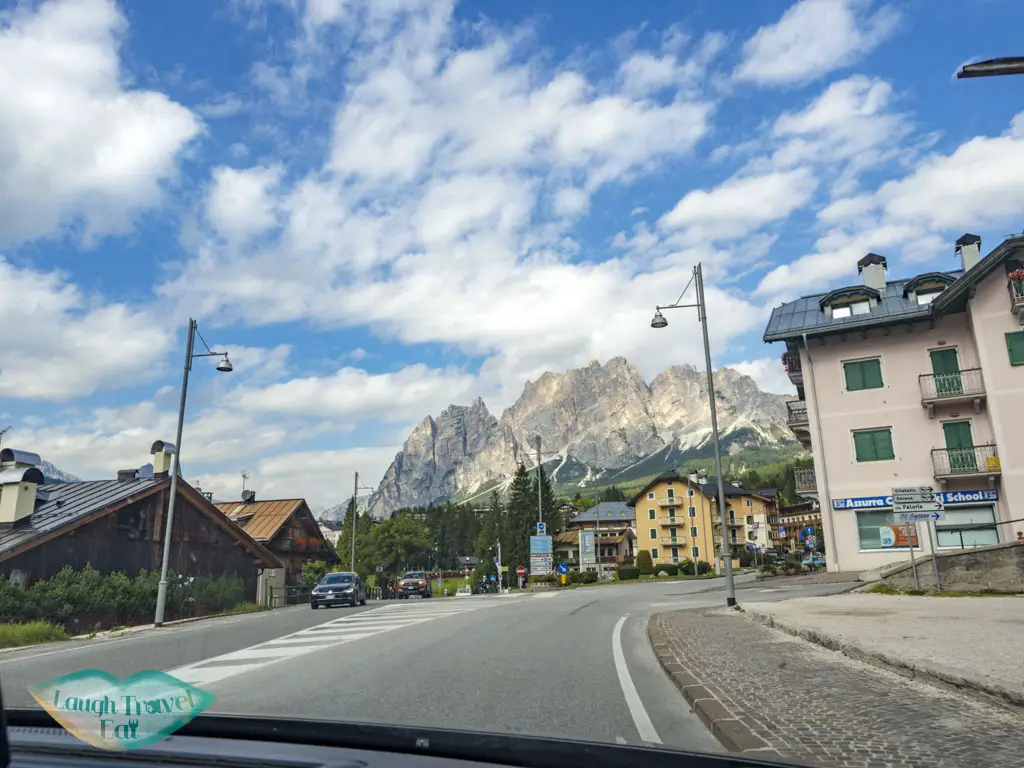 The traffic is usually pretty smooth, and parking not a huge issue but I did go during the shoulder season in early October. Contrary to other experiences in Italy, most drivers were polite and cooperative on narrower roads. Do budget in more time when returning or leaving from big cities, especially leaving or arriving from Venice.
There are two big gas station near the Venice Marco Polo Airport where you can fill the tank back up, as required by car rental companies.

The best time to visit the Dolomites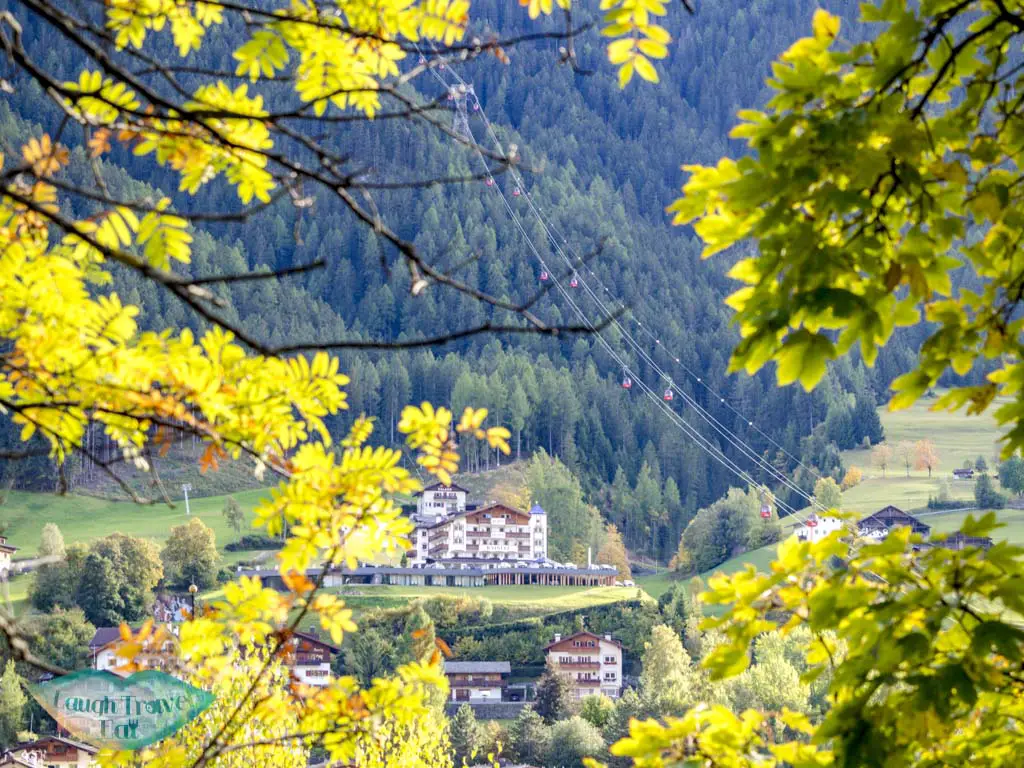 For hiking, the season can start as early as June, though in high altitude you might still see some snow. July and August are the high season, so make sure you book accommodation in advance and try to start your day earlier for popular spots in case parking spots run out. If you are heading there in fall, I recommend planning an extra day as a spare in case the weather changes, as it gets rainy from October. The leaves will start to turn yellow and red during October, but it'll also be colder so bring warm layers.

Things to know for the Dolomites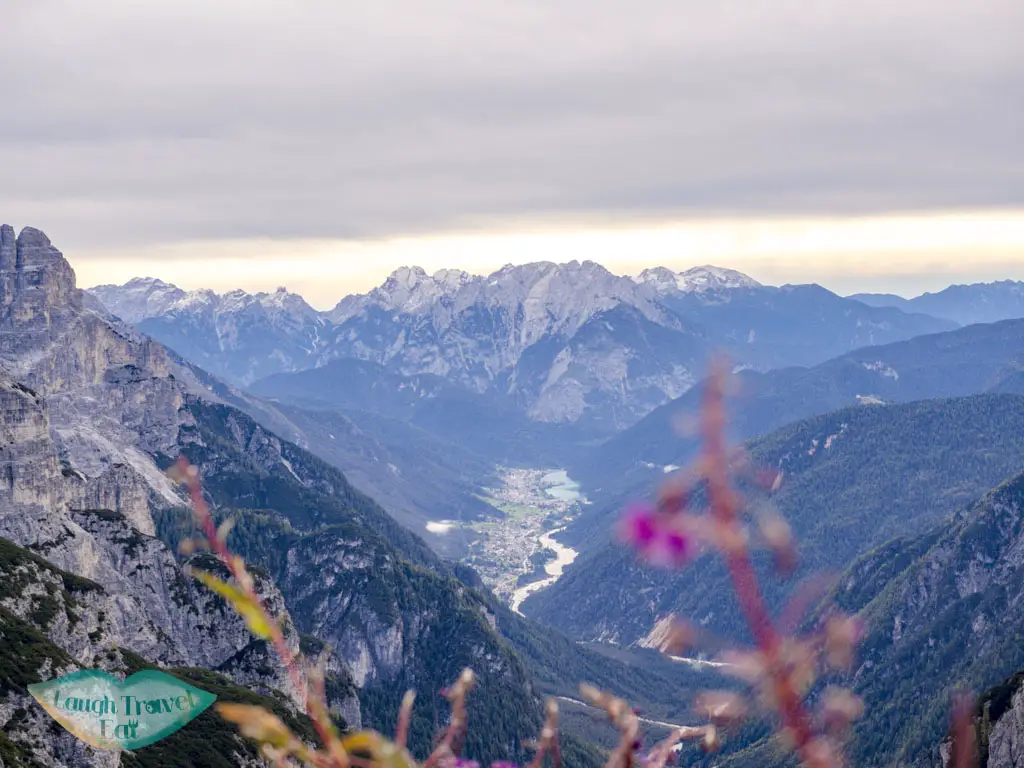 During the shoulder season from mid September until skiing starts, a lot of the huts will close along with restaurants. 
Most restaurants close for a few hours between lunch and dinner, and often close for a day on Sunday or Monday.
Essential items for hiking: layers, waterproof, head torch, and enough water
The area we visited is close to the Austrian border, hence most places also speaks German in addition to Italian.
Tap water is safe to drink, though many prefer to buy bottled water at the supermarket.
There's zero hostel in the area since most of them are ski towns, and the hotel amenities are more antiquated with small TV and outdated decor. Though not necessarily bad.
Student discount is available for most cable car, so be sure to bring your ID.
As with most places in Italy, tap water is not often given and a cover charge is charged per person. 
Day 1 – arrival and Lake Sorapis
Drive up from Venice to Cortina d'Ampezzo. The drive is just over two hours and there is a tolled highway that would cost you 8 euros. You'll get a ticket upon entering the highway and when you put it back in the machine on exit, it'll let you know the charge. It's all machine automated, and you can use cash or card.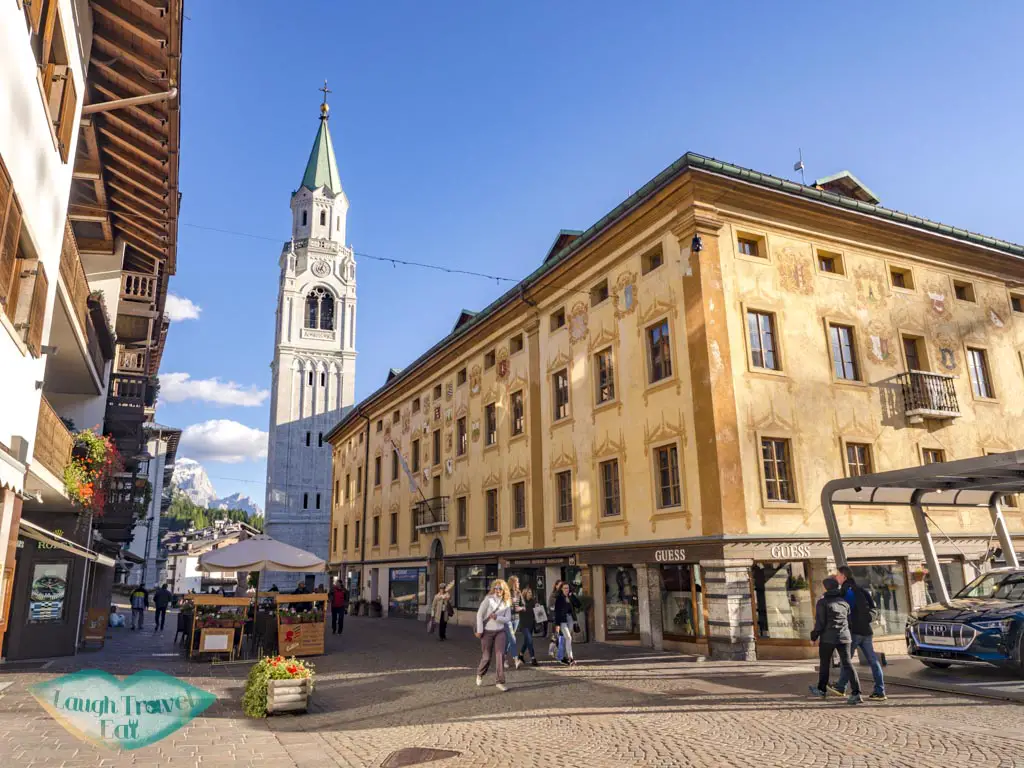 We checked into our hotel Ciasa Lorenzi and got changed to our hiking gear. We stopped by town to grab a sandwich before making our way to Lake Sorapis for a quick afternoon hike! 

Lake Sorapis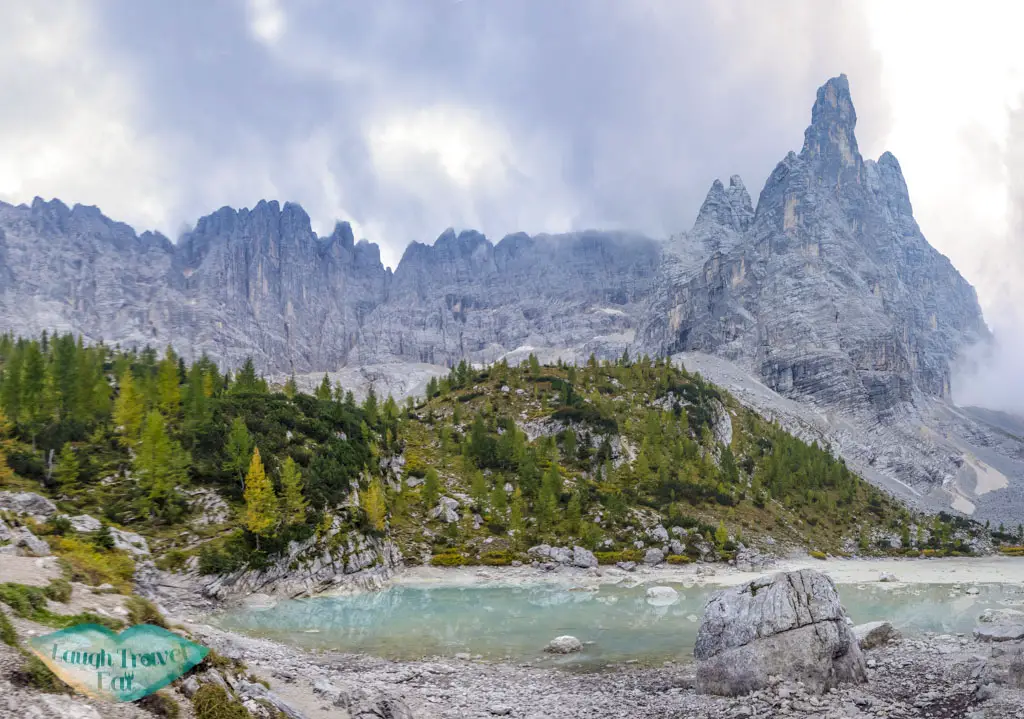 A gorgeous powder blue lake surrounded by mountains, Lake Soprais is an easy to reach hike from Cortina d'Ampezzo at twenty minutes' drive away. The trek takes about 4-5 hours round trip, returning the same way you came. The hike itself takes you through the forest and the latter half with a gorgeous view of the mountains.

Ristorante 5 Torri
As we had a late start, we finished the hike late and went to Ristorante 5 Torri for dinner. We ordered a pizza to share , which was not bad.
Address: Largo delle Poste, 13, 32043 Cortina d'Ampezzo BL, Italy
Opening times: daily 12:00 –15:00, 18:30 – 22:30

Note: depending on what time you get in, you might want to take an extra day here for Lake Sorapis, and also hike Lago Fedèra in the afternoon.

Day 2 – Lago di Braies and Tre Cime
Lago di Braies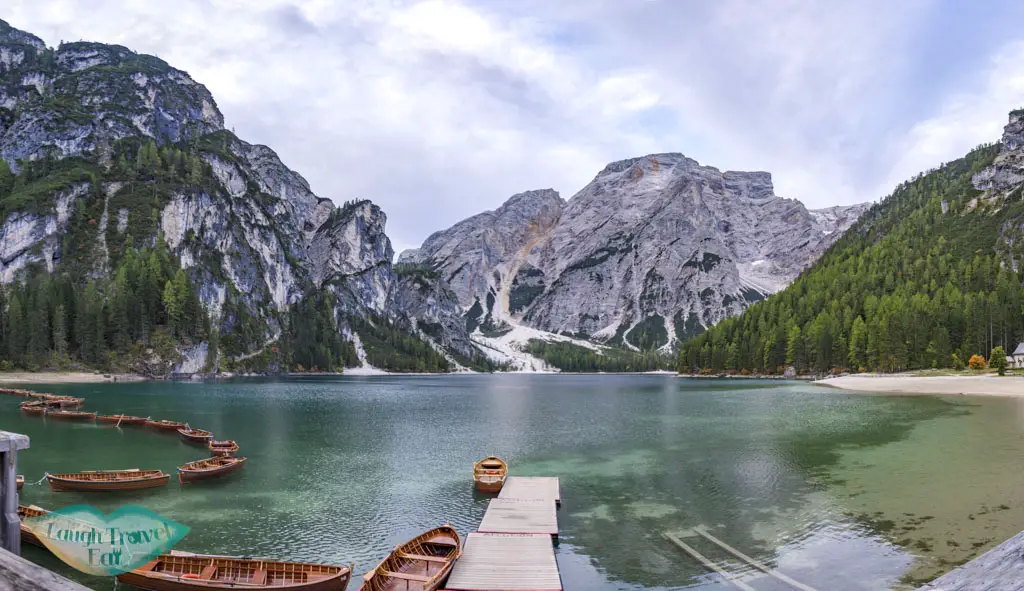 The famous lake is only an hour's drive from Cortina d'Ampezzo, mostly along the highway. If you're going in the autumn or spring months wrap up because it can get cold! Set the GPS to the hotel by the lake and take the first car park, which is the cheapest at 6 Euro parking fee.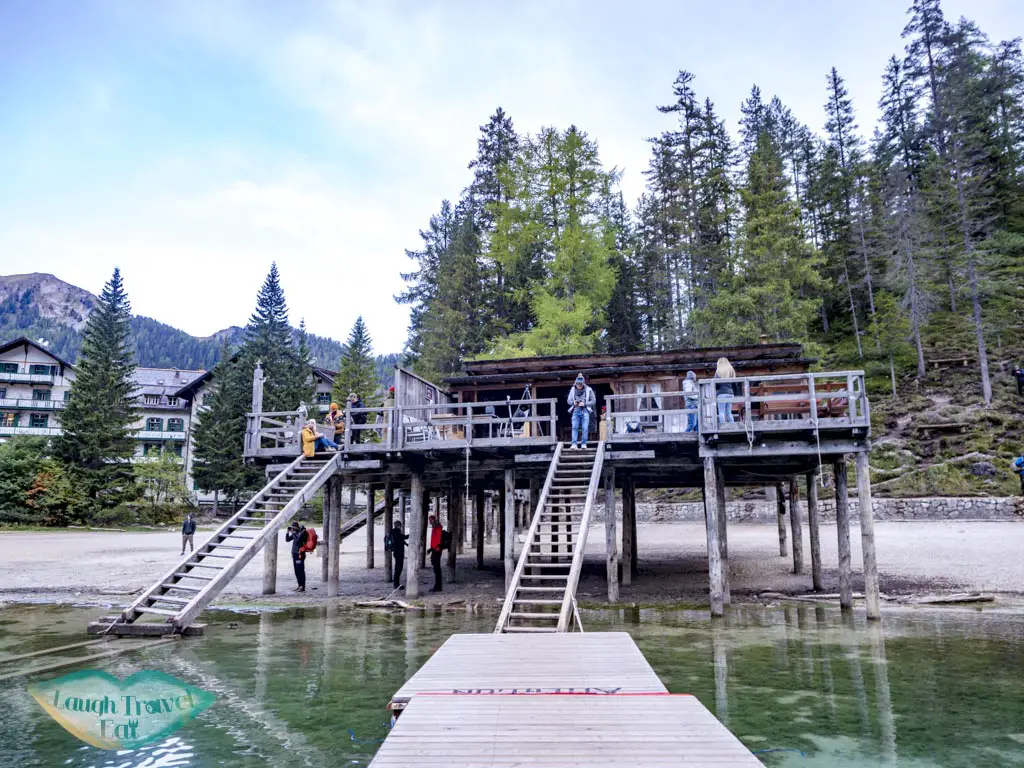 We were a little disappointed since the water level is low. The best photo point is on the pier where they rent out the boat, and of course, in the boat, too. You can also walk around the lake, although given the low water level, we decided to skip it. Personally, I don't think it's necessary to go during sunrise as the crowd is pretty big during that time, and the boating pier doesn't open until later in the day (at 10am in October).

Tre Cime

After Lago di Braies, we made our way to Tre Cime, which is named after the three distinctive peak that the route circumvene. It is a popular hike, but traffic remained relatively smooth. Do note that to go up to the car park at the starting point, it costs 30 Euros and there is a manned ticket barrier at the base.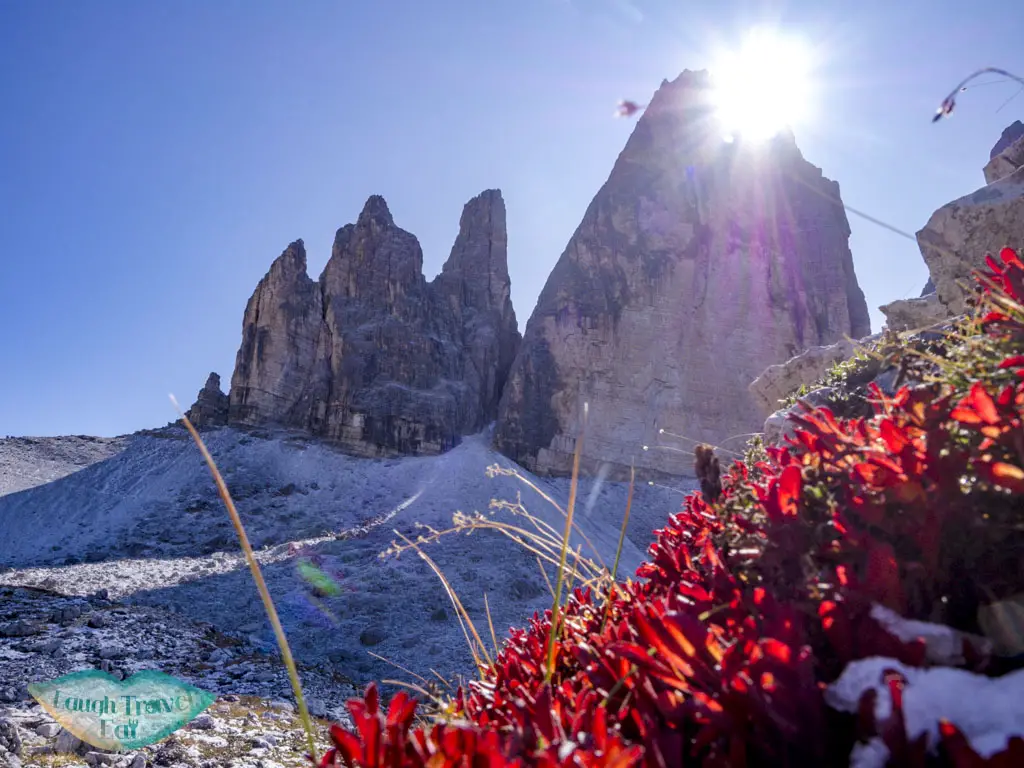 Should you decide that you don't want to pay, you can also hike up. But be warned that it would add at least 2 hours one way with a lot of elevation gain. The hike took about 5-6 hours, so be sure to bring enough water and snacks.
Lago Antorno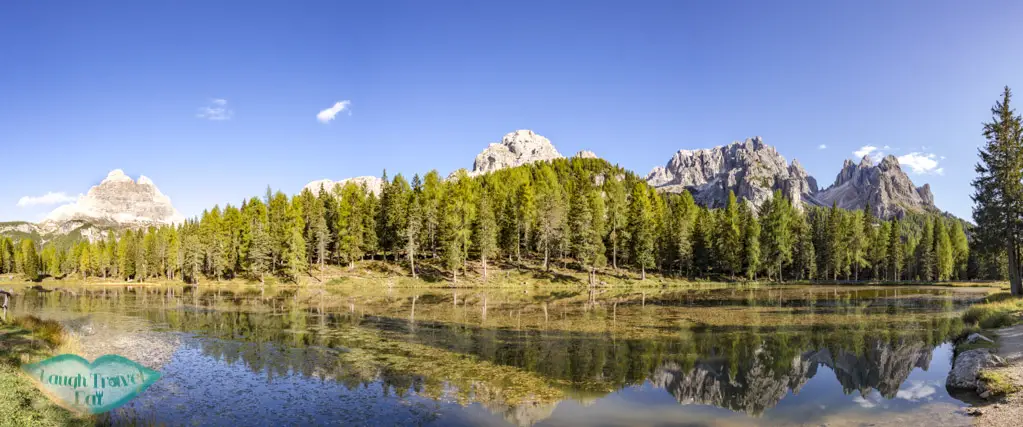 On our way down from Tre Cime, we stopped briefly to admire the small Lago Antorno. There is a restaurant in front of it and some people start their hike up here (respect).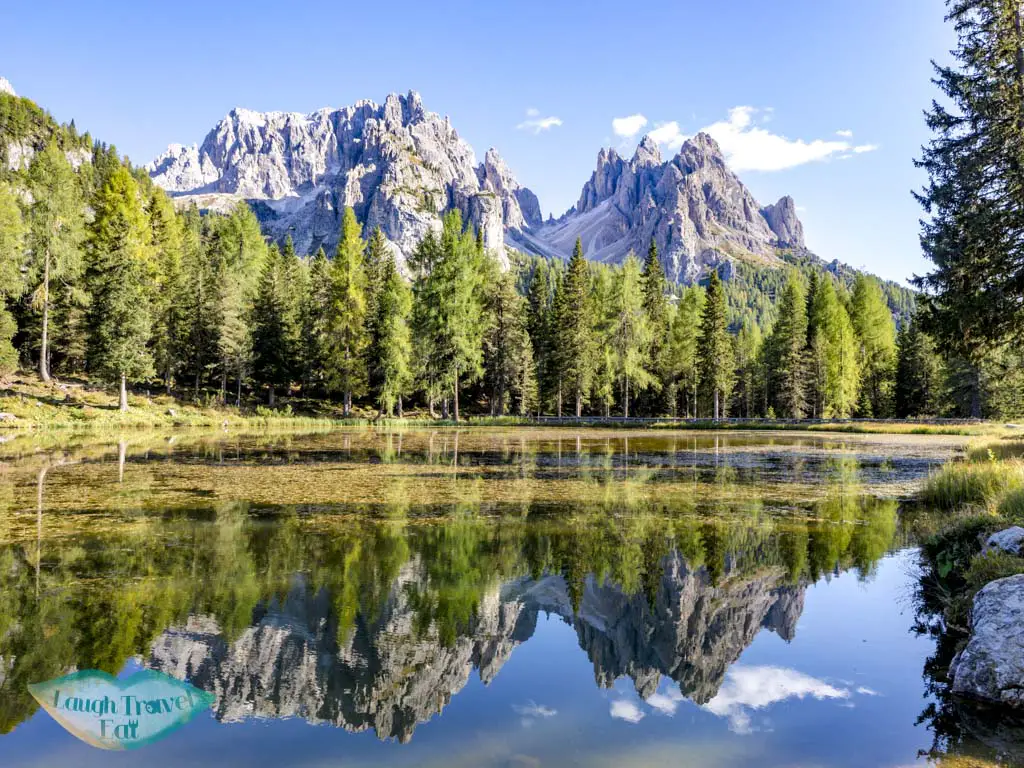 As it was autumn, parts of the lake is covered by fallen leaves, but you can also see a clear reflection of the mountains in the clearer part. We just parked the car at the side of the road for a quick stop, as many people did.

We had dinner at the hotel when we got back since we were tired from all the hiking.

Day 3 Lagazuoi and move to Ortisei
Lagazuoi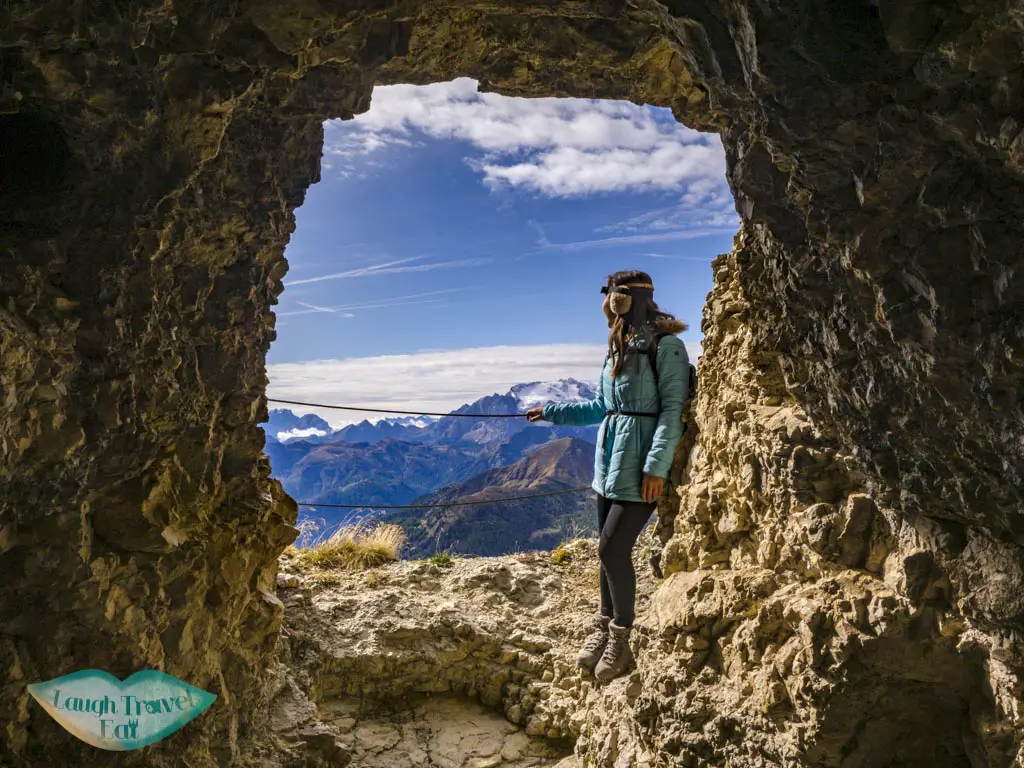 The Lagazuoi tunnels are a remnants from WWI only 30 minutes' drive from Cortina. It has views, WWI history, as well as many trails to explore aside from the tunnel. A cable car connects the car park to a short distance from the rifugio at the top, which can shorten the hike by about 90 minutes. To do a full circuit with the use of the cable car, it took us around 5 hours.
Lake Valparola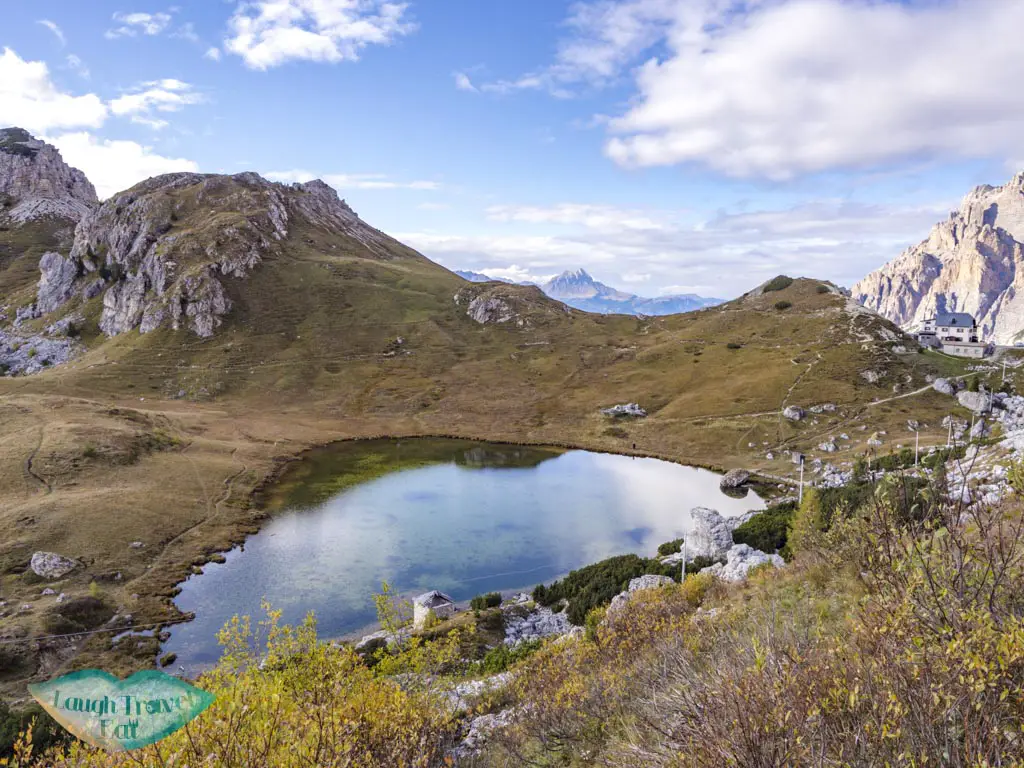 As we drove west from Lagazuoi, we saw this pretty little lake and couldn't resist a stop. There are plenty of room by the roadside for a quick stop before the restaurant hut.

Drive to Ortisei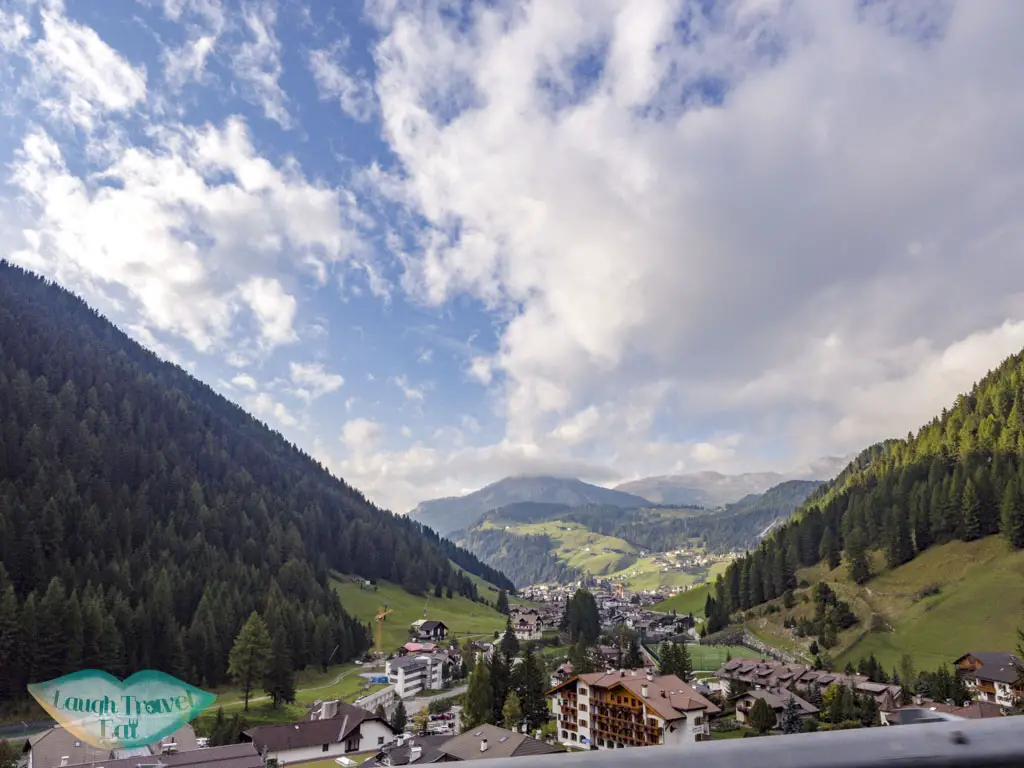 The drive from Lagazuoi (or Cortina d'Ampezzo) to Ortisei in Val Gardena is one of the most scenic drives in the Dolomites. The one hour drive from Lagazuoi goes up a hill then down the Gardena Pass, giving a sweeping view of the Val Gardena valley. So get your camera ready for the spectacular drive.

Ortisei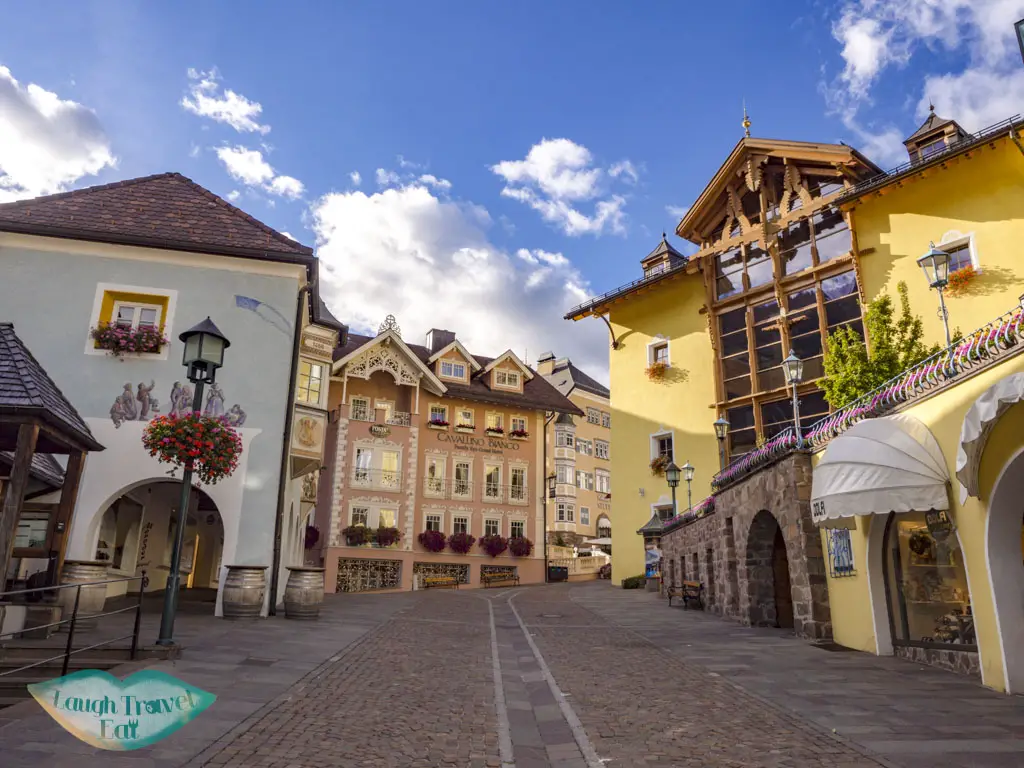 There are many towns and cities in Val Gardena, but we went with Ortisei because of its central location and proximity to Seceda. It's bigger than Cortina d'Ampezzo, but a similar layout with a main town square and churches. We stayed at the Hotel Dolomiti Madonna, which has free parking for guests and is near the main roundabout in town.

Restaurant & Pizzeria Cascade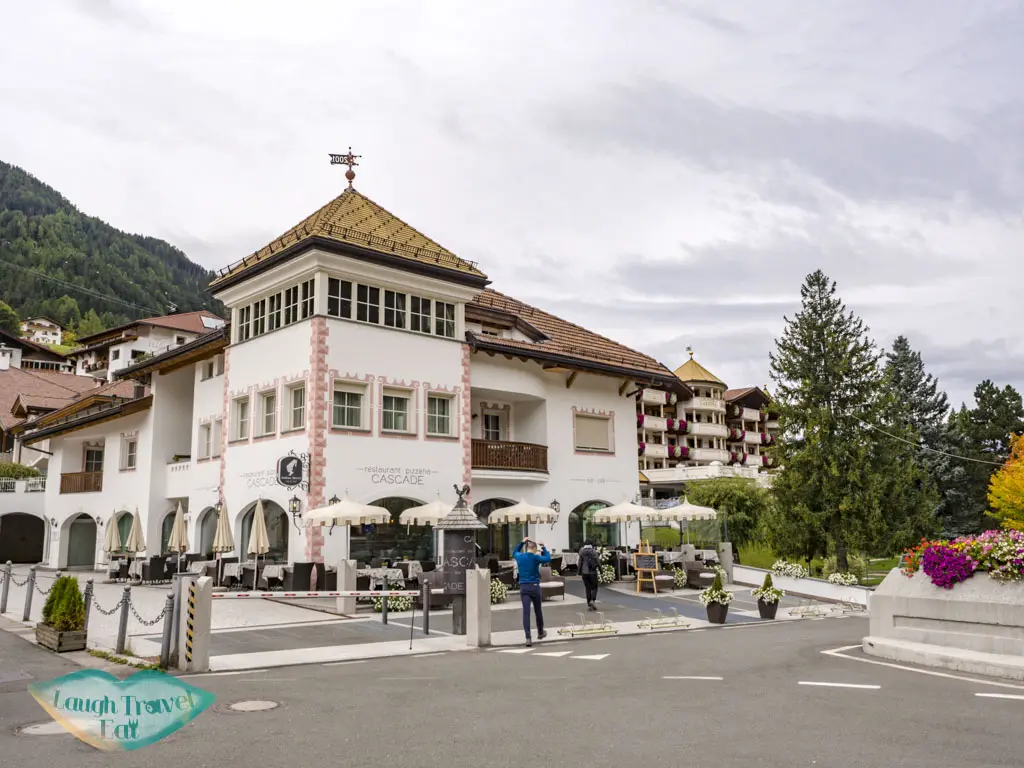 We had dinner at Restaurant & Pizzeria Cascade which is only 5 minutes walk from our hotel with a beautiful modern glass design. Their pasta is better than their pizza in my opinion. Especially the ravioli with beetroot!
Address: Strada Promenade, 1, 39046 Ortisei BZ, Italy
Opening times: 7:00 – 0:00

Day 4 Zanser Alms
Chiesetta di San Giovanni in Ranui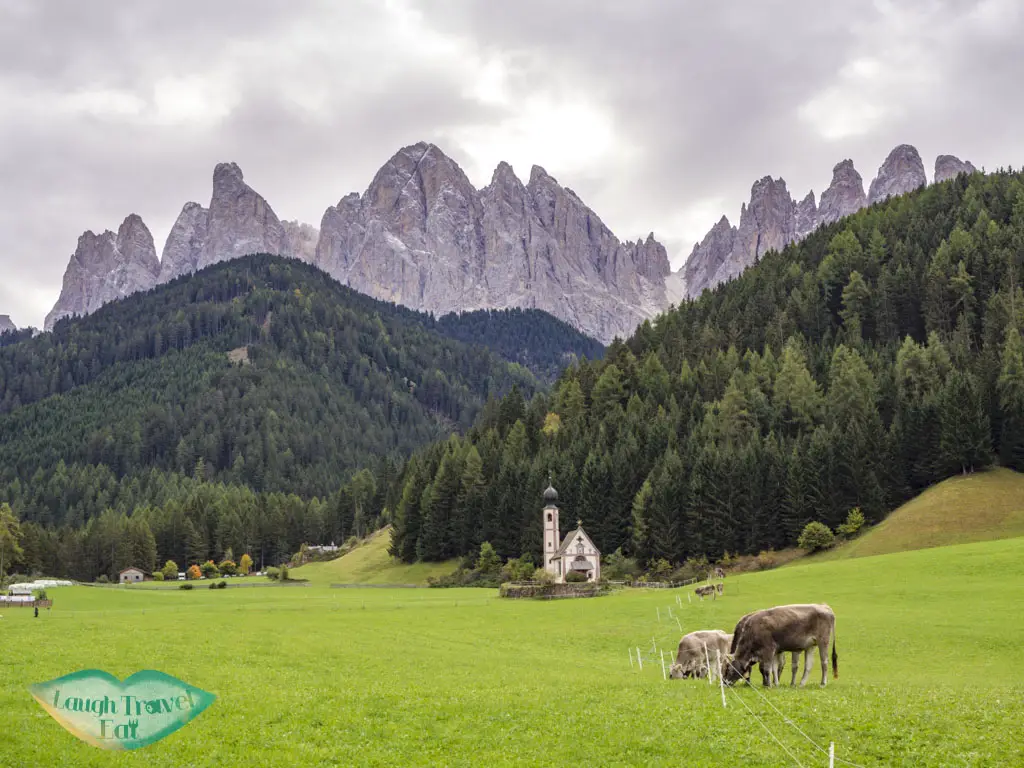 Another insta famous location, the Chiesetta di San Giovanni is enroute to our hiking route of the day, hence we paid a stop to it. There is a car park just by the last junction before the church by the bus stop. It's a 5 minutes' walk to the entrance, but by the side of the road just across from the car park is a little area by the fence where you can see the church along with the cattle nearby. The church is much smaller than I thought, and the mountains behind it definitely make for a dramatic photo.
To actually enter the area, you need to pay 4 euros to pass the metal gate into the church. I decided that it wasn't really worth it and we left. When we were driving back down, there is actually a spot where you can stop for a little while to get a good vantage point of the church from a higher spot and from afar:

Zanser Alms – Adolf Munkel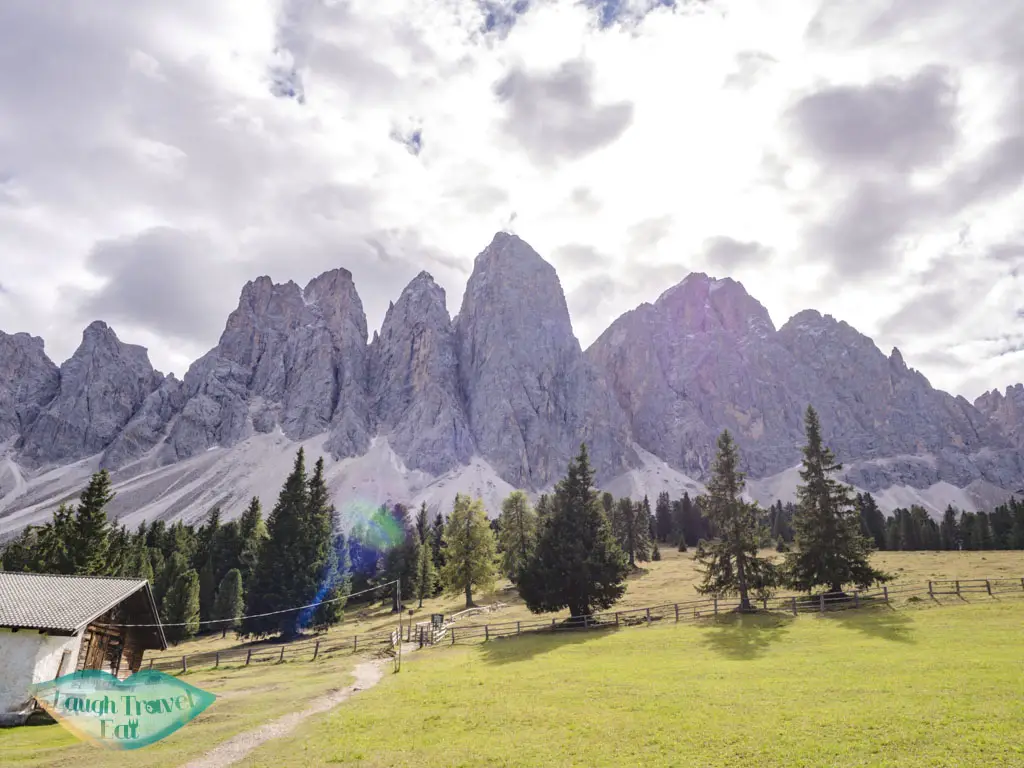 Another quite popular hike, the Adolf Munkel trail in Zanswer Alms is well facilitated and perfect for family or those with pets. The trail takes you through woods and grassfield to Geisler Peaks (also known as Odle Peak) and back. They have a huge car park and various trails dotted with restaurants. The trails are relatively well marked, however, since it is a circular route with a sprawling car park, finding the starting point isn't as easy.

My suggestion is to start with trail 6 across from the restaurant hut. I used OSMand – an offline map – to keep track of where I am on the route. The trail is relatively easy with great views, and there are two restaurants, one near the start and one near the end where you can have lunch. This is a shorter trail and take between 3-4 hours, depending on whether you stop for lunch. 

Parking was 6 euros
Ristorante Stua Zirm
Dinner at a cozy family restaurant with handwritten menu. We had gnocchi and ravioli respectively, and though they were not amazing, it was a good and homey meal.
Address: Via Stufan, 123, 39046 Ortisei BZ, Italy
Opening times: closed Monday, 10:00 – 21:00

Day 5 Seceda
Seceda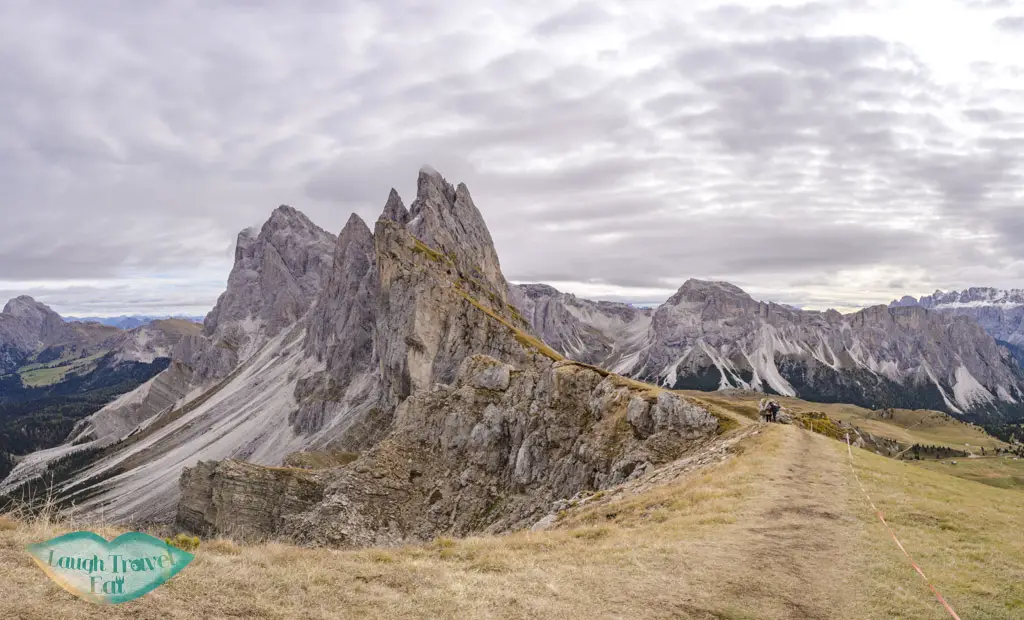 Seceda's iconic mountains and proximity to Ortisei is the main reason why we chose Ortisei as our base. Our hotel is only a 5 minutes walk from the escalator that takes us to the cable car station. It is, however, rather pricey at 32 Euros return, 24 one way, but without cable car, the hike up is 4 hours!

The cable car journey is split into two, first to an intermediate station via small ones, then a big one that departs around every 15 minutes to Seceda. A hike and photo taking should take around 3-4 hours, so you should have a free afternoon to explore Ortisei as well, which is a pretty little town. The main street has a gelato shop, and there are two churches in town to visit.

Restaurant & Pizzeria Cascade
Dinner at here again, because I just can't get enough of their beetroot ravioli!

Day 6 leaving the Dolomites
The drive from Ortisei to Venice takes 3-4 hours, and if you have time, you can stop by Trento, Lake Garda, or Verona. Depending on how you arrange your car rental, dropping it off at Verona might be an easier and faster option.

Lake Carezza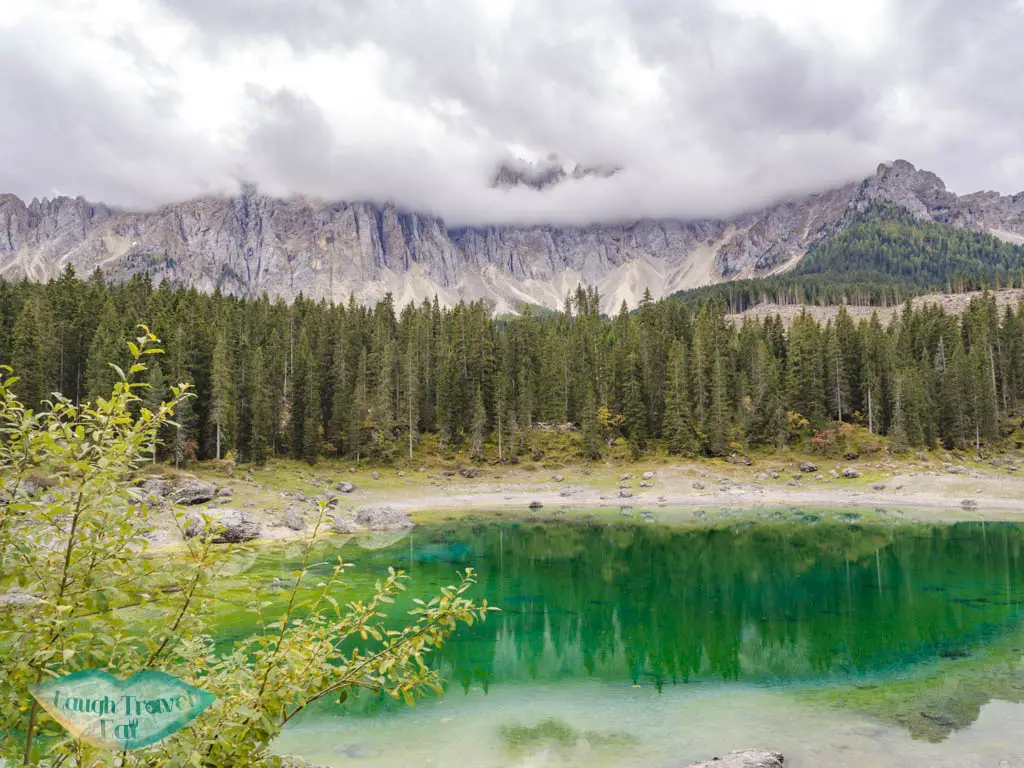 On the drive down, Lake Carezza is a beautiful lake worth stopping for. Especially since parking is only 1 Euro per hour. The lake doesn't require any hiking to get to, as there is a tunnel from the car park that takes you straight to the lake with a viewing platform.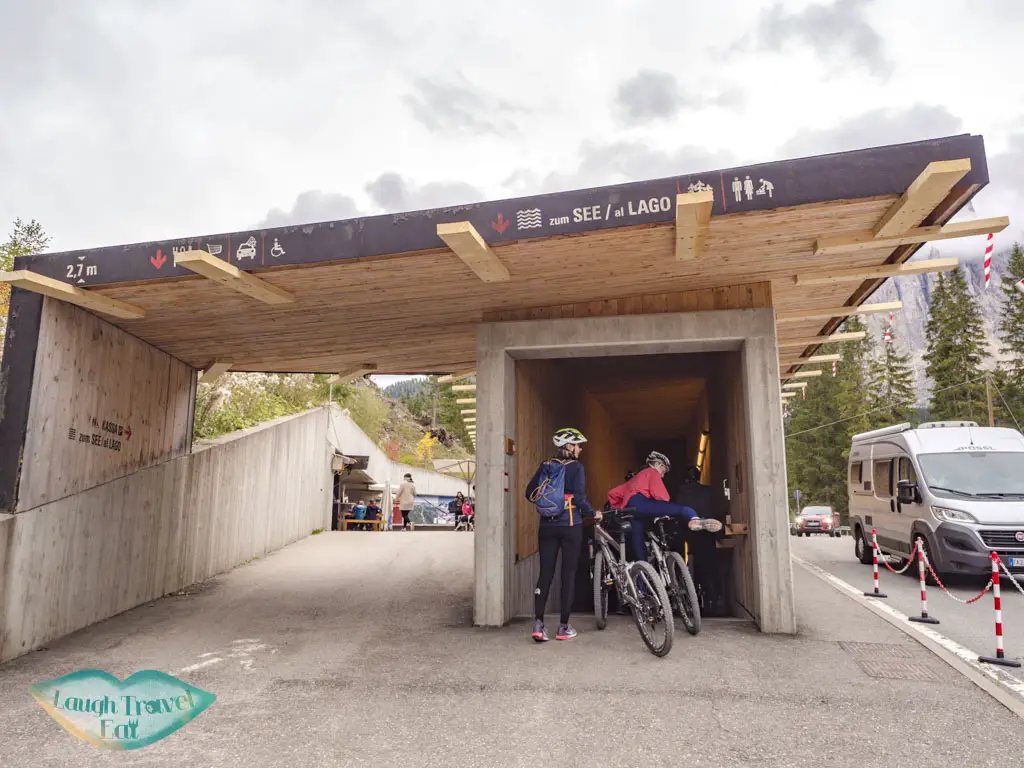 A perimeter walk only takes 20 minutes, too, and you get to admire the crystalline blue and green of the water. However, on my visit (Oct 2019), many of the trees on the surrounding hill were fell and the water level was low due to a dry autumn, but it still doesn't diminish the serene beauty of the lake.