Hosting one of the most renowned Opera Festival in the world, the annual Verona Opera Festival happens in Verona is held in the Roman Amphitheater with seating for all budgets and style. There's no arguing that the fantastically preserved Roman arena is the perfect place for such an event to take place, and every summer a series of operas would descend to the City of Love luring hundreds and thousands of fans to witness its magic.
Even though I am not a huge fan of operas, I wanted to experience an event at this ancient Roman Amphitheater and timed my volunteering schedule at Club di Giulietta so that I could hit the Opera Festival as well.
The Verona Opera Festival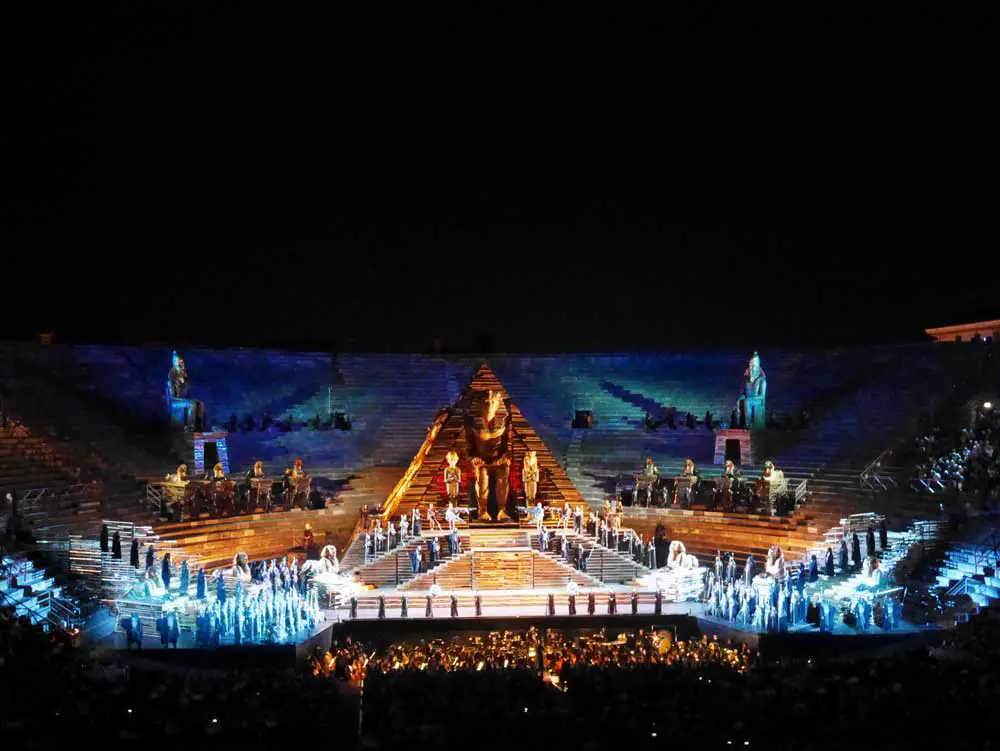 The annual summer spectacle started in 1913 to celebrate Giuseppe Verdi with a production of Aida, and had since been an annual summer of operas by various companies until 1936 when the current organization was founded. The dates for the Opera changes every year, and for 2015 it was from August to September. Typically, the festival has six shows that come on in rotation; each performing a handful of times before the next is up. Often the cast changes as well from the beginning to the end of the season, so if you are looking for a particular show or even singer's performance, you should double check in advance on their official website.
Bookings tickets for Verona Opera Festival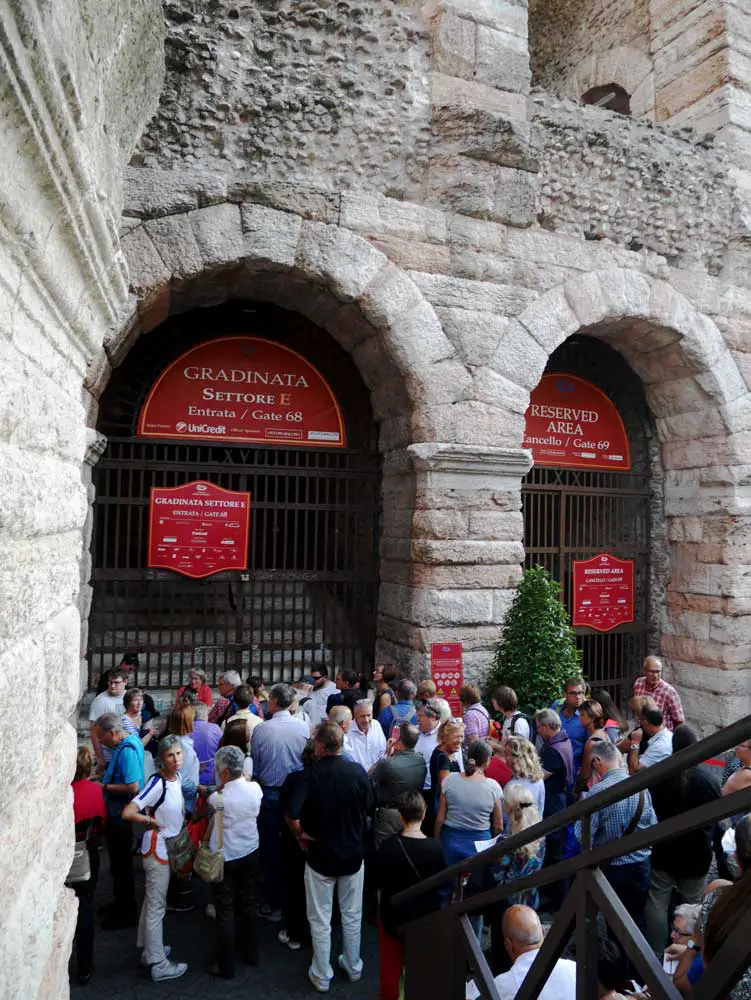 You can book the tickets online via the official website, although there is a small booking fee involved.
There are also plenty of tours that offer opera experience packages, including accommodation and dinner etc, however, these can cost a small fortune. One of the better ones online is by Get Your Guide.
If you are planning on going to the Opera Festival, here are some tips for you!
Tips for attending the Verona Opera Festival
Best place to sit in Verona Opera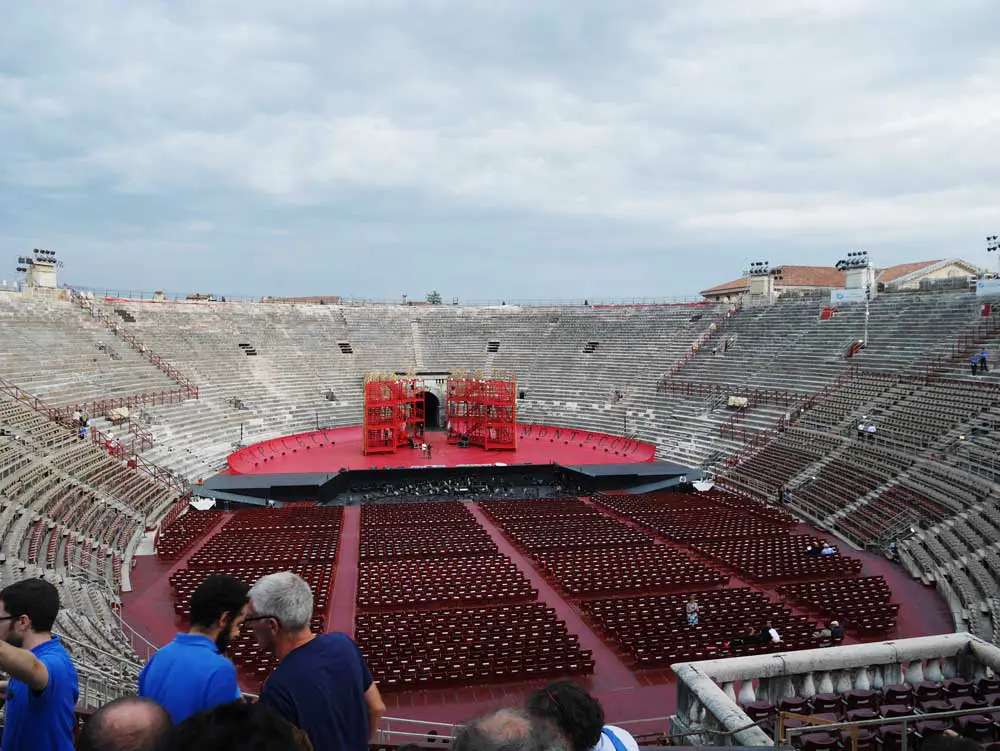 A Roman amphitheater that can seat up to 30,000, there are a lot of seats for you to choose in the Verona arena. There are three main distinctions: floor, elevated and stone steps with prices in that order.
Within each sector, there's the distinction between front facing and side facing, and the price would also reflect that.
Now for the ground seating, prices can be upwards of 148 euros, while the stalls are between 123 – 92 euros, and the stone steps 25 – 22 euros.
What to wear to the Verona Opera
Most people are dressed in smart casual (or even casual, casual) on the stone steps and stalls, but I did see some decked out in evening attires at the front. It is a relaxed affair but definitely avoid flip flops and shorts if possible, especially if you are seated on the stone steps. The steps aren't that even and it's not comfortable to sit on it flesh on stone.
Make sure you have a way home
The Opera usually ends late. Most of the shows start around 21:00 and lasts three hours, meaning that by the time it finishes, it'll be midnight and none of the buses would be running. If you are not staying in the city center, then you should secure yourself a ride home and taxis would be in high demand. In fact, I ended up cycling back to my AirBnB – it was safer than I could hope for so I did it again.
Weight up your expectation and budget
As I had said, stone steps are by far the cheapest way to see the opera. Now before you jump onto them – you need to know that they are unreserved seats and you sit on the actual stone steps of the arena, which are uneven and without back support. You will also be barely able to see the performers' faces or make out any finer details on the show since you will be pretty far away. Not to mention the fact that you will literally be sitting in front of someone's feet.
Bring 'em cushions
If you do decide to go for the stone steps, or even the stalls, you would want to bring a cushion or rent one. I do believe it's only 5 euros or so and it makes a world of difference to your poor bottom.
Food – because you will be hungry
While the arena had a no food and drink policy, there's no bag check or strict reinforcement of this rule. Since the show lasts for three hours, and you will probably be there for longer if you want to grab a good seat for the unreserved section, you should grab something to eat or drink. If you don't know any good places to go, my foodie's guide to Verona would be of some help.
Arrive early if you want a good seat
If you are going for the budget seat arrangement, then it'd be wise to arrive there as the doors open or even beforehand. There are several gates that the unreserved can enter through, try to aim for the entrance directly opposite the ticket office or the one that's to its right when facing the arena. Those two are the most central spot.
Tips: if the opera is popular e.g. Aida, go earlier to queue, if not arriving on time should suffice
Candles – light them or leave them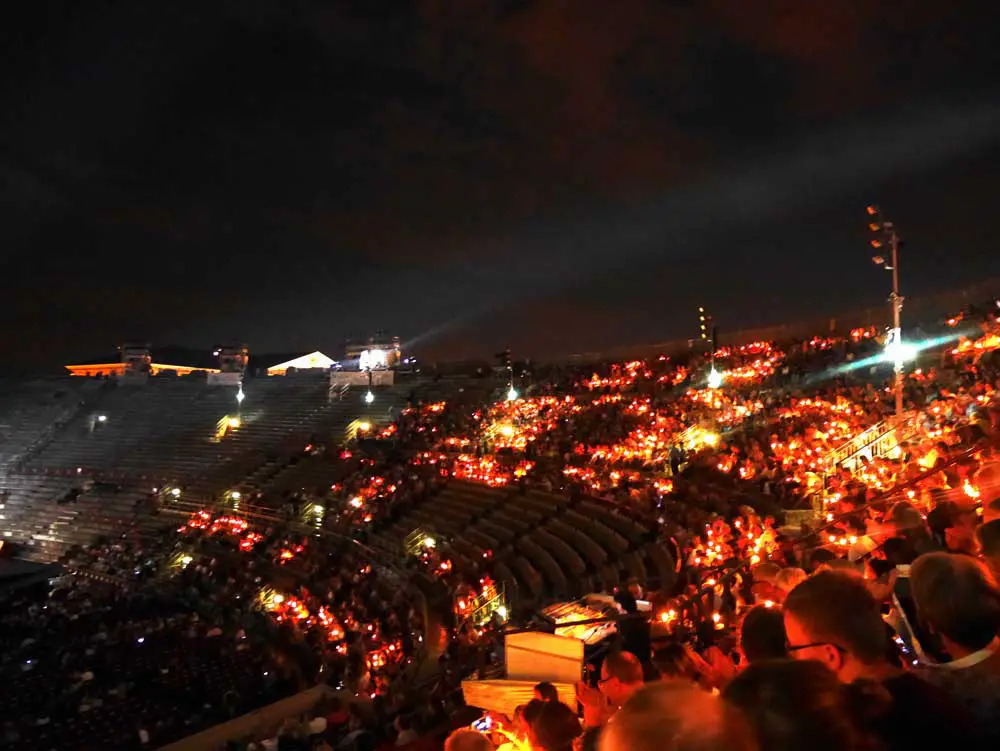 When you enter the arena and head on up, there will be an attendant handing out small candles. These are to remember the days before electric lights when the audience would light the candles in the arena to see the performances. If you don't plan on lighting them, you don't have to bring them.
Bring a pair of binoculars
As I said before, you cannot see much of what's going on if you are seated on the stone steps. So bring a pair of binoculars or buy one before you go in if you want to see the show better.
Download the script on your phone
If you are not the most opera-literate person – like me – you might want to download the script on your phone so you can follow the story. Most of the operas are in Italian or French, which means that I understood nothing if it wasn't for the script I had on my phone.
They do sell paper copies of it around the arena, but the truth is that it'll be too dark for you to see. Not to mention that it'll cost a small fortune.
Go to the bathroom first
There are bathrooms around the outside of the amphitheater that you can go to, and they open as soon as the doors open – which is around 18:00. Do go to the bathroom, then before you go, as it is a pain to try and get out of your seat during intermission, run downstairs and back up again.
Be considerate
You will be in close proximity to the people in front, behind, and next to you. So do your best to be considerate and try not to talk, shout, sing along or kick those around you. All of the above had happened to me – and it wasn't nice.
Where to stay in Verona
If you are staying for a few days for the festival, then you should definitely try to find somewhere near the arena because some shows can end quite late! Since the arena is in the historic center, it makes for a good base to explore the city, too. Here are some suggestions:
Budget: Dreaming Verona Rooms is a good budget stay, although soundproofing isn't so good.
Mid-range: Hotel Al Castello is highly rated but they only accept cash payments. If you like spacious rooms, check out Relais La Torre Guest House.
Splurge: stay right by the arena with City Centre Rooms and Apartments in one of the quirky modern rooms. For a touch of understated luxury, try Arena Luxury Rooms.