Cortina d'Ampezzo is one of the best bases in the Italian Dolomites, especially in the summer for hiking. It's a short drive to the famous Lago di Braise as well as the Tre Cime hike, with many stunning treks in the area around. Not to mention cozy alpine style houses and delicious food waiting for you in the restaurants. Here's a guide to staying, eating, and hiking Cortina d'Apmezzo in the summer:

Venice to Cortina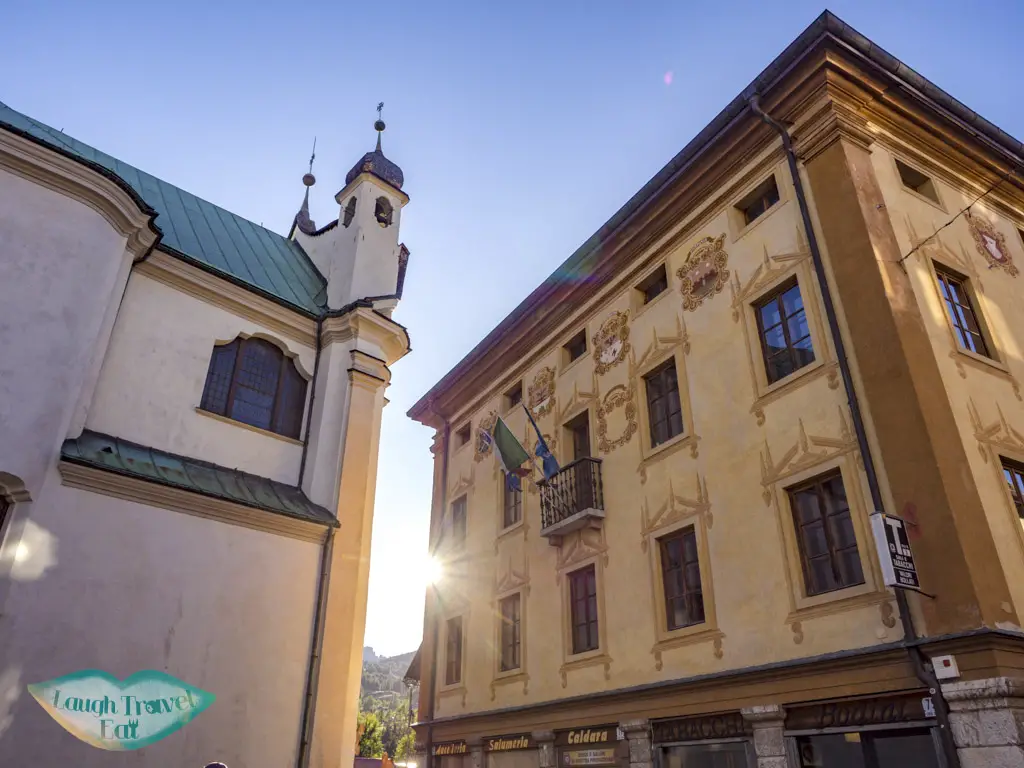 The best way to explore the Dolomites and to reach Cortina d'Ampezzo is renting a car and driving there. The nearest big hub is Venice, which is 2 hours drive away. You can rent a car cheapest either at the Marco Polo Airport or Treviso Airport.

Note: you'll go up a tolled highway which costs 8 euros (so if you return your car in Venice it'll be total 16 euros)

Cortina d Ampezzo hiking
Although the town is the most popular in the winter, there are great hikes around within Cortina region or just a little out. Here are my top favourites:

Rufigio around Cortina is opening up from Mid to end of June 2020 – more hiking information are added which you can find here. If you enjoy multi-day hikes, here is a new week long trek that takes you around some of the most beautiful parts!
Lagazuoi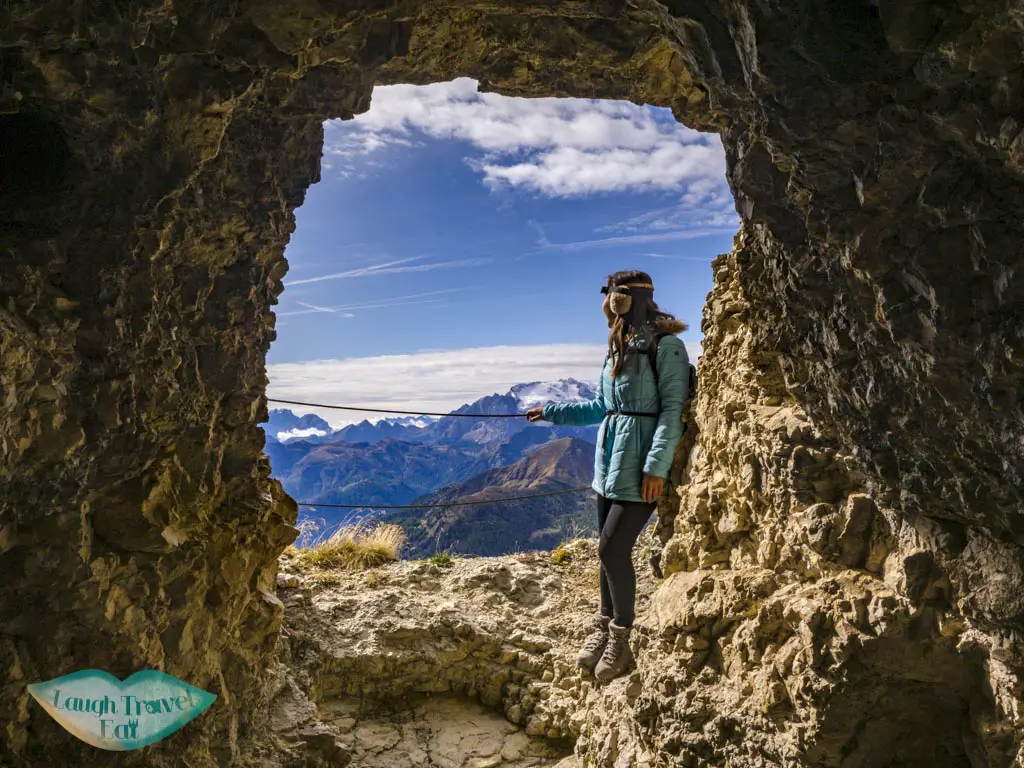 About 40 minutes southwest of the city, Lagazuoi is both beautiful and historically significant. It was the front line between Austria and Italy during WWI where mining warfare was employed. What is mining warfare? It was an effort to reach the enemy side but also potential attack point, and you can visit the tunnels! Nowadays, there is a cable car that can get you up there, but you can also save some bucks and hike up.

More about visiting Lagazuoi here (coming soon)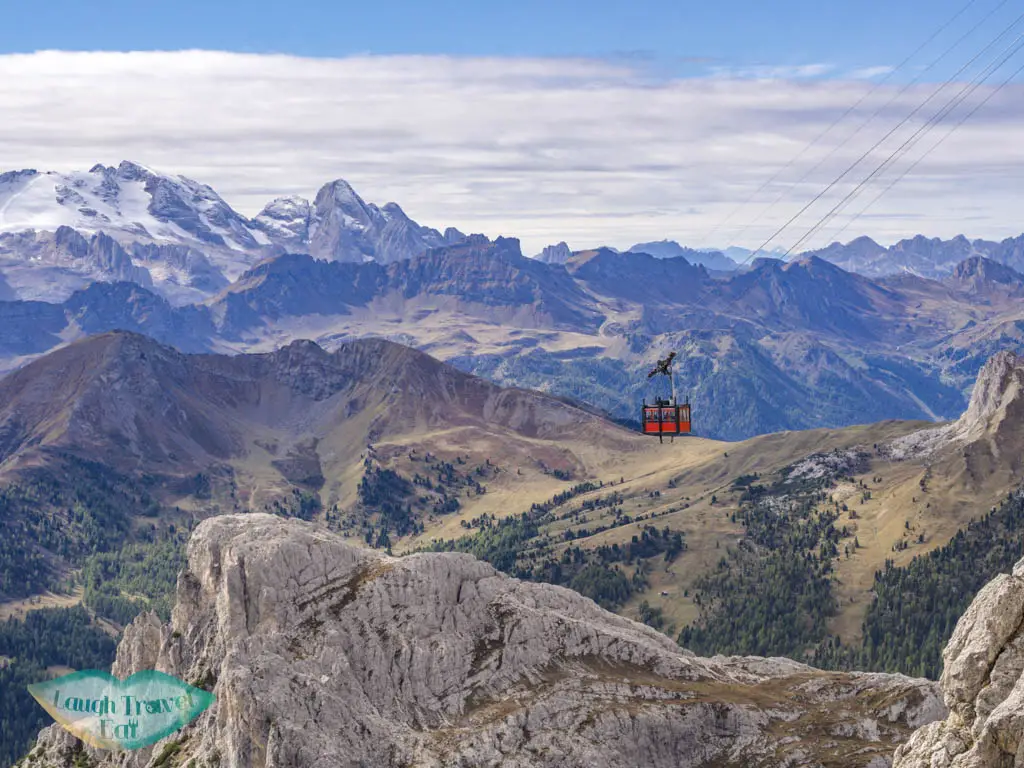 Note: you're recommended to have a helmet and head torch to enter the tunnel, however, we've encountered people with neither. I highly recommend having at least a head torch as it's slippery and dark inside.

Free parking 
Cable car cost: 11.6 euro one way, 16 euros return.

Lake Sorapis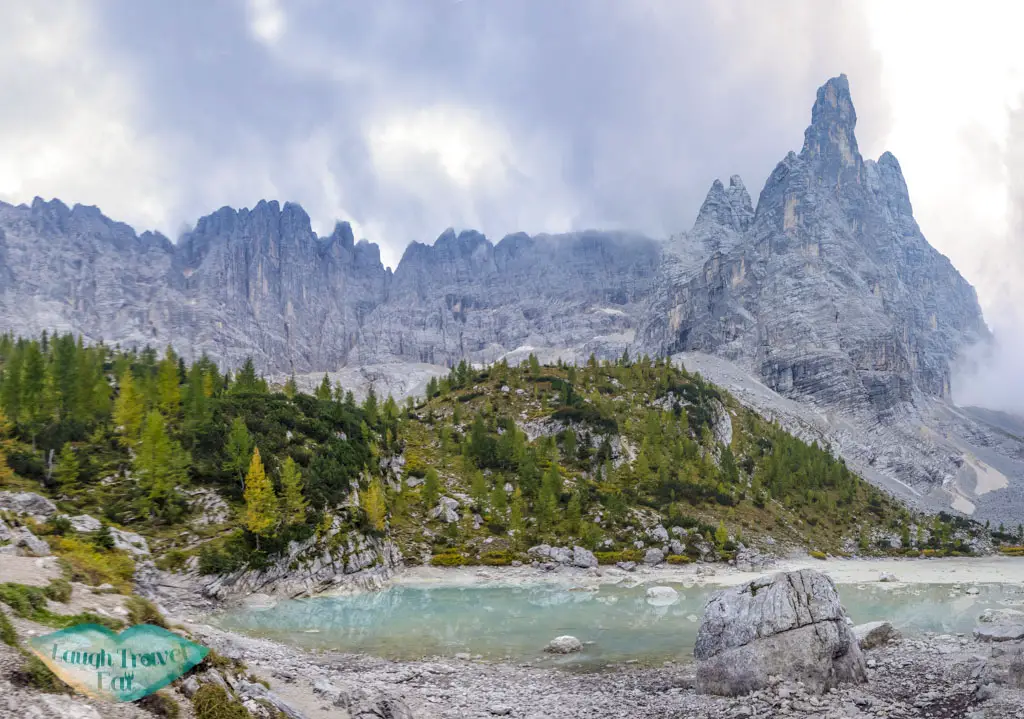 The most famous hike in Cortina is Lake Sorapis, and its trail start is only 20 minutes drive away. The hike takes 4 hours roundtrip, heading in and out the same way. The last stretch towards the lake involves some sheer cliff walk and metal stairs, but overall not too difficult if you're careful. The destination is Lake Sorapis itself, with a beautiful powder blue colour and the ragged dolomite mountains as a backdrop. A refuge (aka a hut) by the lakeshore is operational during the summer months for those who want somewhere to stay, but before to check its opening months and availability.

Tre Cime

Arguably the most famous hike in the area, Tre Cime might not be within the Cortina region but it's only an hour's drive away. The name derived from the three peaks that stands in the center of the hike, with hikers doing a loop around it known as the Tre Cime Lav .
It is located higher and takes longer than the other hikes on this list, so pack warm layers and bring some snacks. The usual time it takes is around 6 hours. More on hiking Tre Cime here.

Cost: 32 euros for driving up and park, you can hike up but I highly recommend you to pay and go up.

Lago Di Braies 
One of the most iconic lakes in the Dolomites is Lago di Braies. The crystal blue of the water and the snowy mountain backdrop makes it a photograph heaven.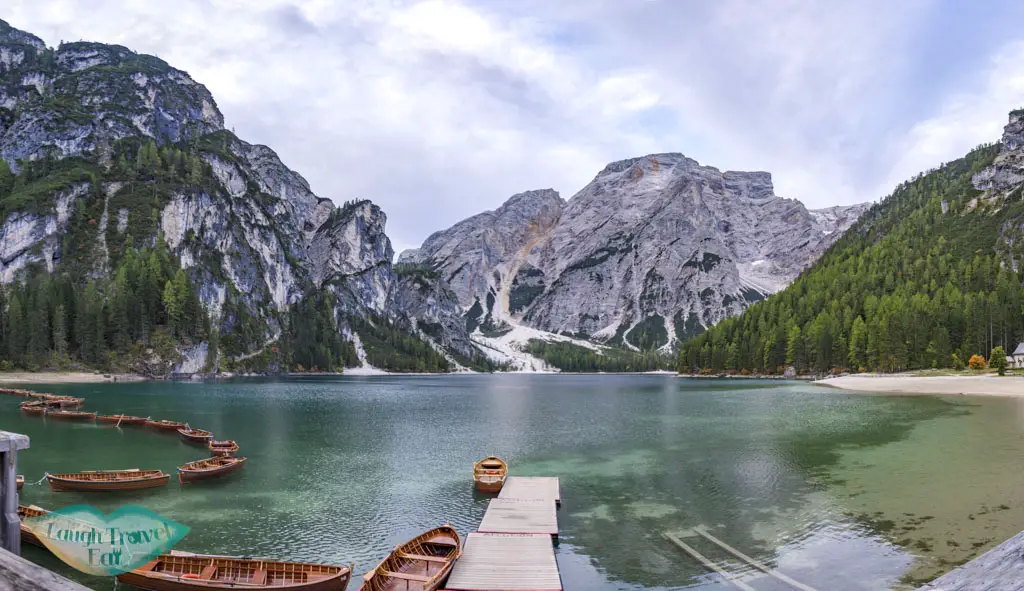 As I visited after a dry autumn, the water level was low and admittedly the only good photo spot is from the pier, which is not open until 10am. If you do choose to attempt sunrise, our experience shows that there's plenty of people already, so a sunrise mission really is not necessary unless you want the change in colours (which we didn't get anyway). For those who are keen on going but don't fancy driving, there's a hotel right by the shore.

Note: the drive is about an hour from Cortina, and the parking furthest from the hotel is the cheapest (6 euros). Bathroom is available but costs 50 cents at the car park.

What to do in Cortina d'Ampezzo
Roam the town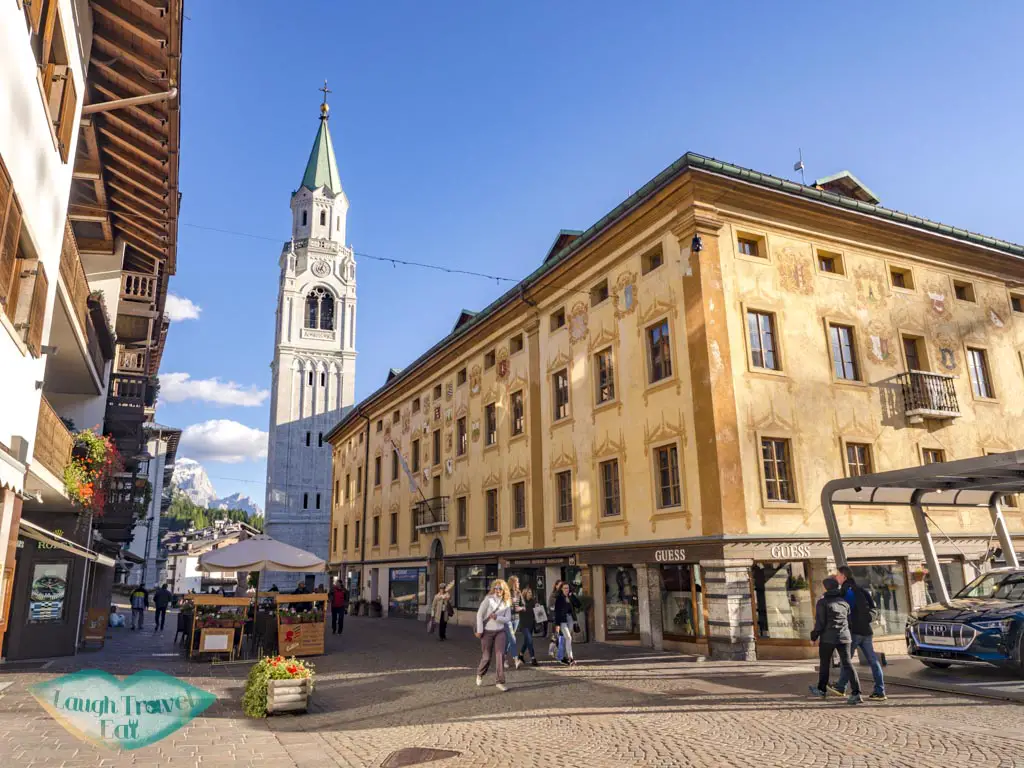 Cortina d'Ampezzo is a beautiful small town and worth taking the time to roam its streets. The town's main road, Via Italia It has a long history that stretches back to the Middle Ages, and spent the chief of its time under the Austrian Emperor. The main town isn't big, it's easy to walk around everything in less than an hour.

Basilica Minore dei Santi Filippo e Giacomo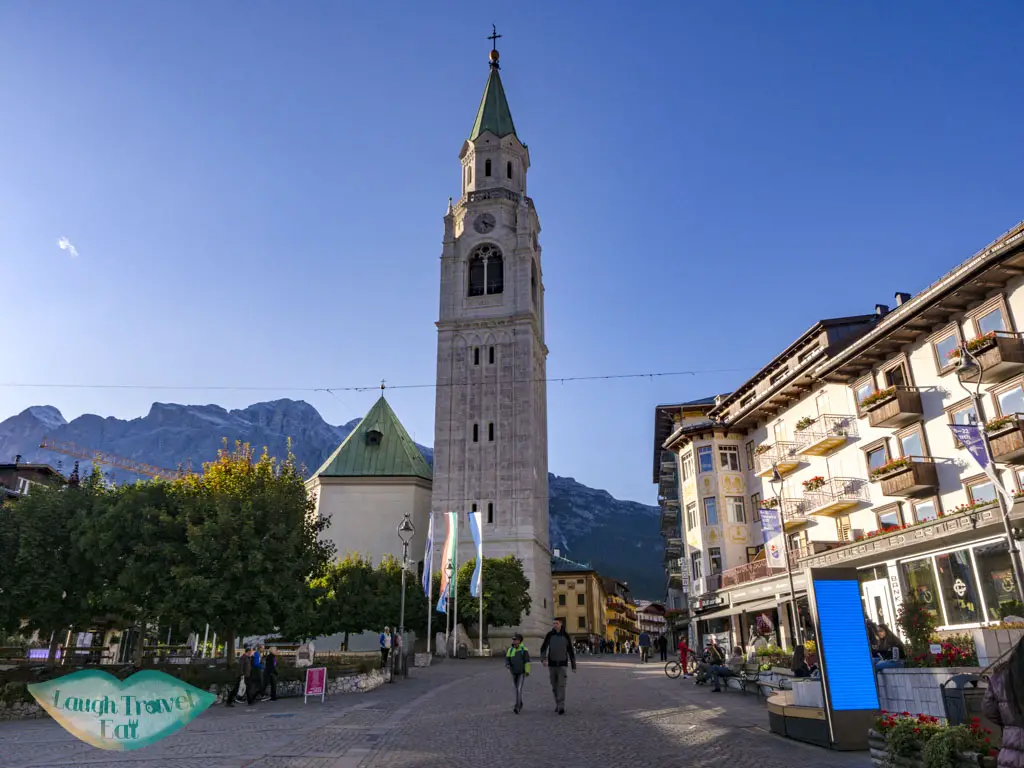 The town has a church that dated back to the 13th century, but the current one you see in the city center is from the 18th century and built atop it as well as a 16th century old church. The Baroque Basilica is dedicated to Saint Filippo and Giacomo and best viewed from the street beside the main road, but the tower can be seen from all around town.

The tower is distinctive with its green roof and stands at just above 65m tall, built in the mid-19th century in Gothic style. The white stones are mined from the Dolomites (hence are limestone).

Rinaldo Zardini Palaeontology Museum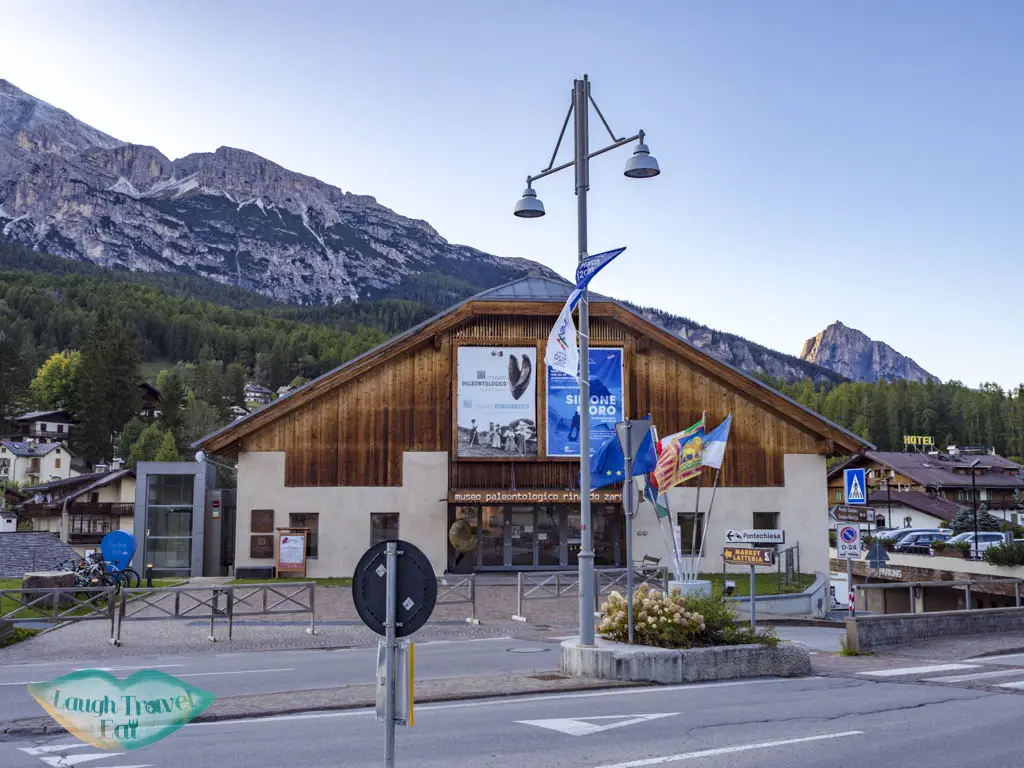 If you're interested in fossils and natural history, this is the museum for you. Located on the southwestern corner of town, the Paleontological Museum is a standalone building featuring a collection by Rinaldo Zardini, which the museum is named after. The collection includes fossils, rock samples, and would be of interest to those who are geology fans. However, note that some of the descriptions might lack English translation.
Address: via Marangoni, 1, 320
Opening times vary according to season, check here
Admission fee: 7 euros, reduced 5 euros. You can get a combined ticket with Ethnographic Museum and Modern Art Museum for 10 euros

Mario Rimoldi Modern Art Museum
It might seem strange to find a modern art museum in Cortina d'Ampezzo, but the Mario Rimoldi Modern Art Museum boosts a collection of over three hundred artworks. The collection was donated by the widow of Rimoldi. It includes pieces from italian painters such as Filippo De Pisis and Felice Carena.
Address: Corso Italia, 69, 32043 Cortina d'Ampezzo BL, Italy
Opening times vary according to season, check here
Admission fee: 8 euros, reduced 5 euros

Regole of Ampezzo Ethnographic Museum
The last of the three museums run by Le Regole d'Ampezzo, it features culture and society studies. This gives you a glimpse of the Cortina's society and how the area and its nature are developed. 
Address: via Marangoni, 1, 32043 Cortina d'Ampezzo BL, Italy
Opening times vary according to season, check here
Admission fee: 7 euros, reduced 5 euros

Cortina Italy Restaurants
Ciasa Lorenzi
I never liked hotel restaurants, but Ciasa Lorenzi serves up delicious food that's value for money. They have a menu that cover both Italian and general western cuisine with generous portion size. We've eaten there 3 times and enjoyed their pasta and meat dishes.

It's popular with other tourists and locals, with Aperitiv and live music events too. 

La Tavernetta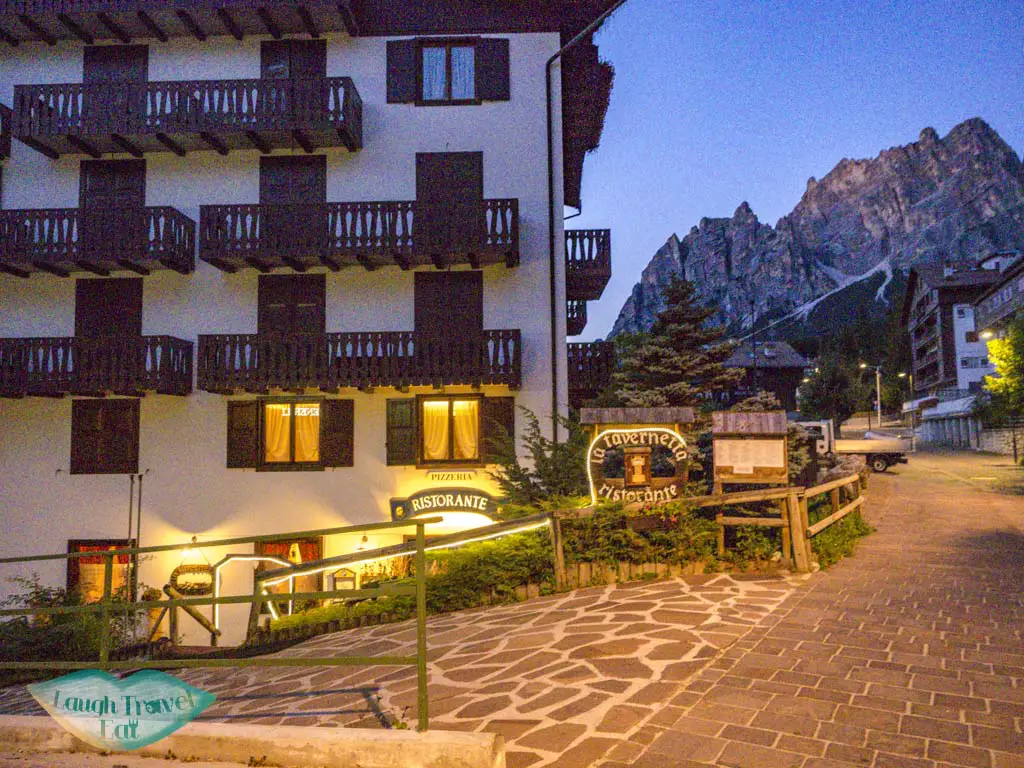 A hidden basement restaurant along a tiny street parallel to the main road, La Tavernetta is homey restaurant serving a good variety of Italian food. We spent about 32 euros for a meal for two. My friend had their pasta, while I have the ox cheek. The pasta portion is smaller than Ciasa Lorenzo's, but it made for a nice change.
Address: Via del Castello, 53, 32043 Cortina d'Ampezzo BL, Italy
Opening times: closed Tuesday 19:00 – 22:00

Cortina d Ampezzo Hotel
Ciasa Lorenzi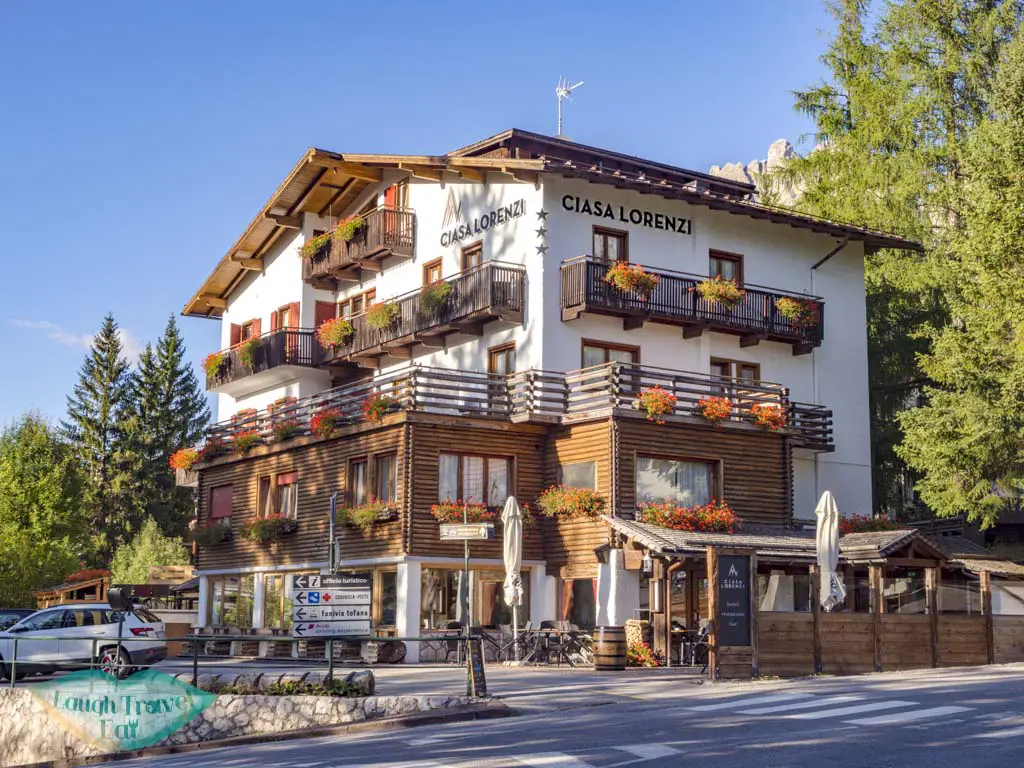 A quaint three storey chalet style hotel along the highway on the northern side of town, Ciasa Lorenzi not only has a great onsite restaurant but free parking for guests, too.
There is a lift for luggage, although if you're at the top floor you do have to hoist them up half a floor. There are plenty of wardrobe space (perhaps for the skiers?) inside the room and we even got a balcony facing the town.


The room we got is actually a two bedrooms connected by a shared bathroom. WiFi was fast, water pressure good and temperature hot.
Breakfast is served in the restaurant with a delicious array of savour pastries, bread, cereals, nuts, and granola, yogurt, fresh honey and orange juice.
Address: Via Cantore, 1, 32043 Cortina d'Ampezzo BL, Italy
Opening times – check and contact them for the most accurate time