Last updated on May 3rd, 2019 at 04:27 pm
Palermo, the capital of Sicily nestled in the northwest corner of the island brimming with 2,700 years of history. Founded by the Phoenician in 734 BC, it's been under the rules of the Carthaginians, Roman Republic, Roman Empire, Byzantine Empire, Arabic rules, Norman conquest, then forming the Kingdom of the Two Sicilies before unified with Italy in 1860.
Famed for its history, culture, food, and art – I have to say my first impression of the city isn't the best. Its streets are dirty and full of litters and the atmosphere did not make me feel safe. There was a sense of derelict and neglect in the air; however, none of these could obscure the history and beauty of the city with so much history. Even though it was at the bottom of my list compare to the Aeolian Islands, Taormina, and Catania, there are still moments when my breath was taken away:
Things to do in Palermo Sicily
Here are my top 5 of Palermo, but if you want a full guide of the city, here's more on what to do in Palermo.
Fontana Pretoria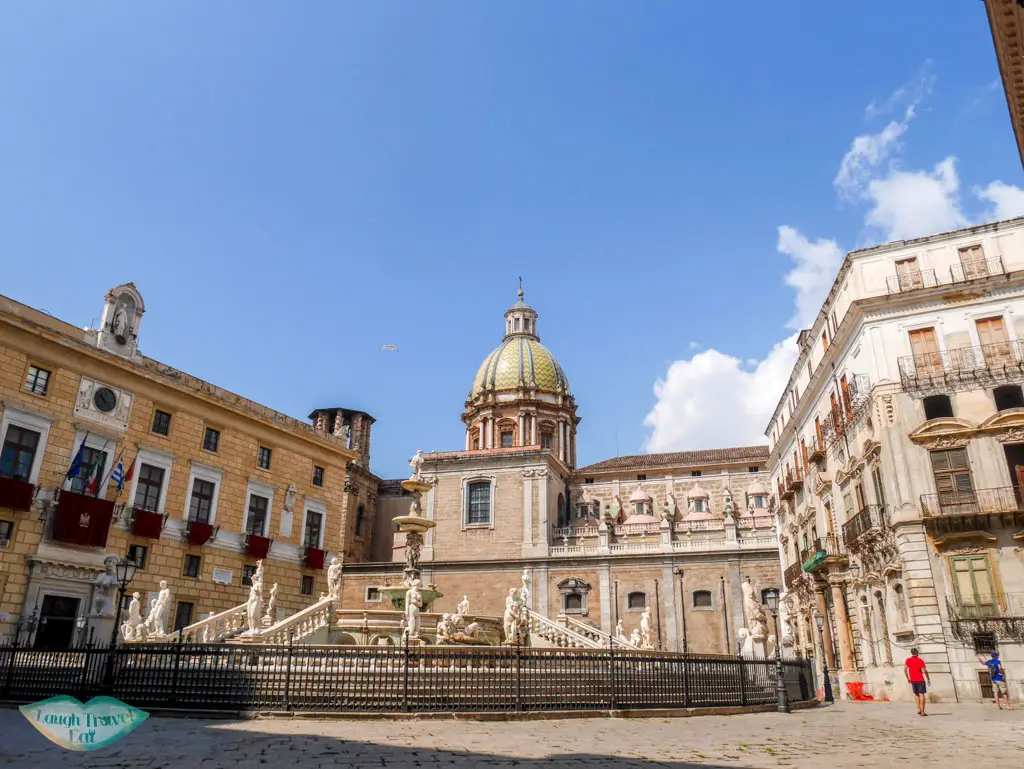 Located in a piazza of the same name, Fontana Pretoria is located almost in the dead center of the city and is a masterpiece made by Francise Camilliani, a Florentine Sculptor in the 16th century. It is interesting to point out that the major pieces were not originally created for this purpose, but for a member of the de Medici family, who sold it to the Palermo Senate when he realized he couldn't afford to maintain it.
Fenced off for protection, you can admire the forty-odd figures of mythical beasts, gods and goddess that are sculpted in the Renaissance Florentine style that had only been recently restored.
Address: Piazza Pretoria, Palermo, Italy
No admission fee
Palermo Cathedral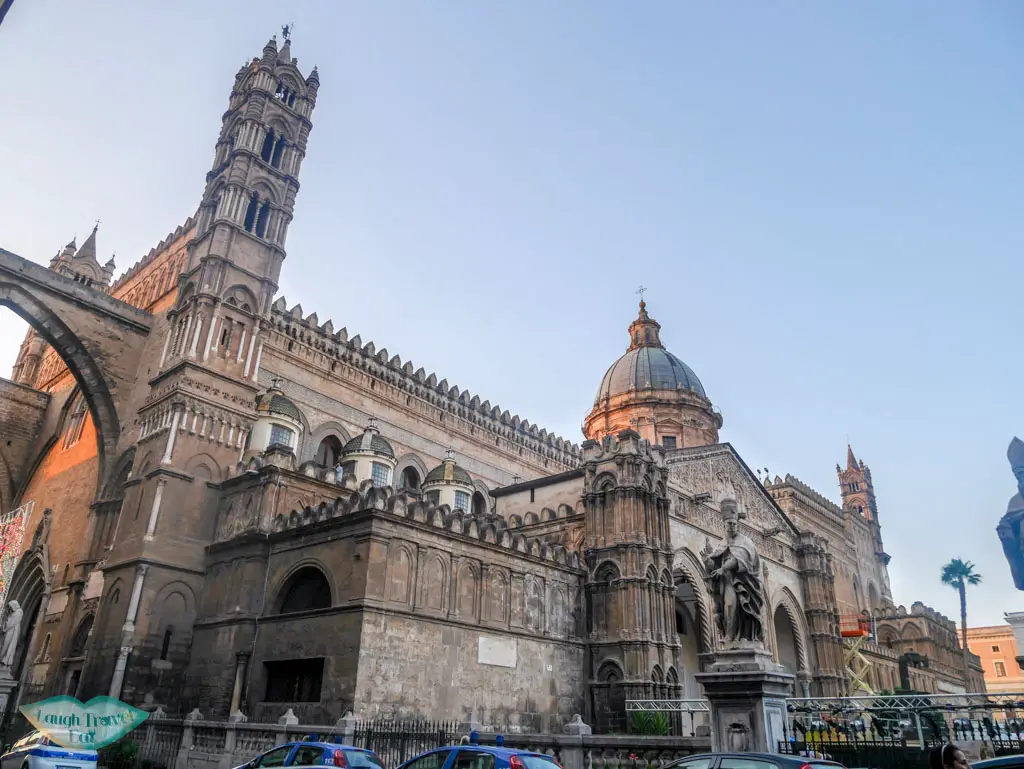 A palace-like cathedral with its own courtyard, the Palermo Cathedral is definitely an eye-catching sight with its brick-red façade and the odd mix of styles that is the result of being added to and altered over the years. Erected in 1185, it's a mix of Norman, Moorish, Gothic, Baroque, and Neoclassical style that is completed in the 18 century.
The beautiful small green domes of the side cupolas are of baroque style, while the eye-catching portico with its three arches made by Domenico and Antonello Gagini is of Gothic-Catalan style. The main façade, connected to the Archbishop's Palace by arcades, was built in the 14th and 15th century and my head was dizzy just spinning around taking everything in.
We didn't end up visiting the inside of the church due to the cathedral being set up for a function the next day, but the exterior was enough to blow me away.
Address: Corso Vittorio Emanuele, 90040 Palermo, Italy
Opening times: 7:00 – 19:00 daily
Admission fee: free, but 5 euros for the terrace
Cappella Palatina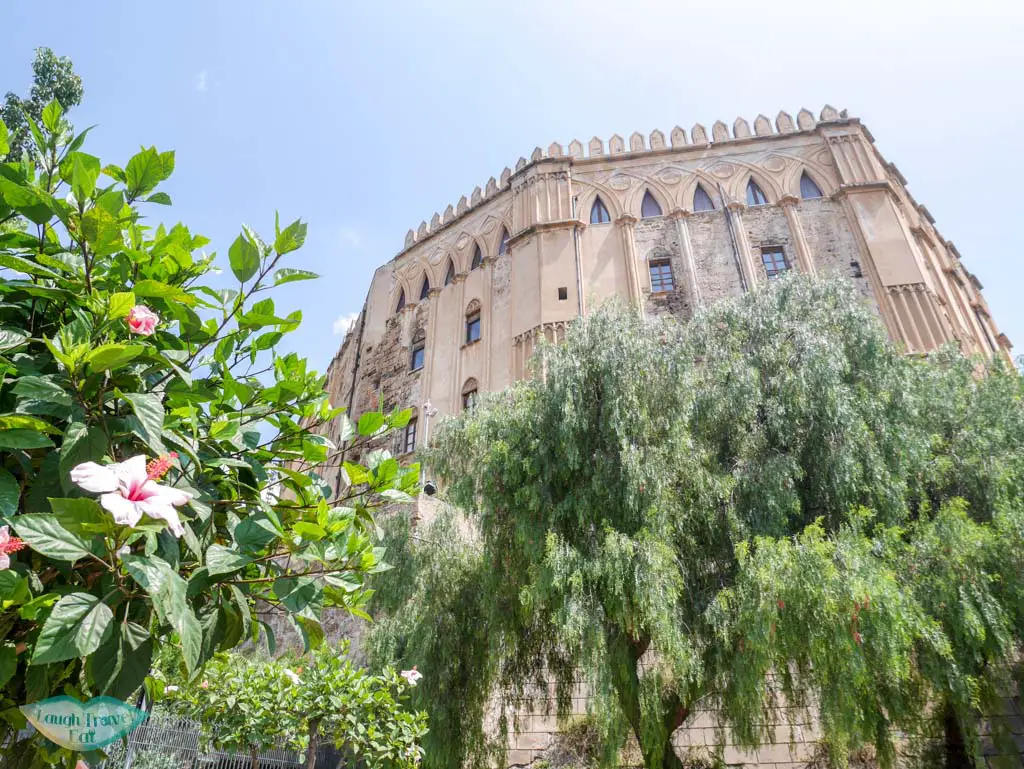 Located on the ground floor of Palazzo Reale, Cappella Palatina is the royal chapel of the Norman kings. Most famous for the golden mosaics that covered the entire chapel, it was built in 1132 and took 8 years to finish.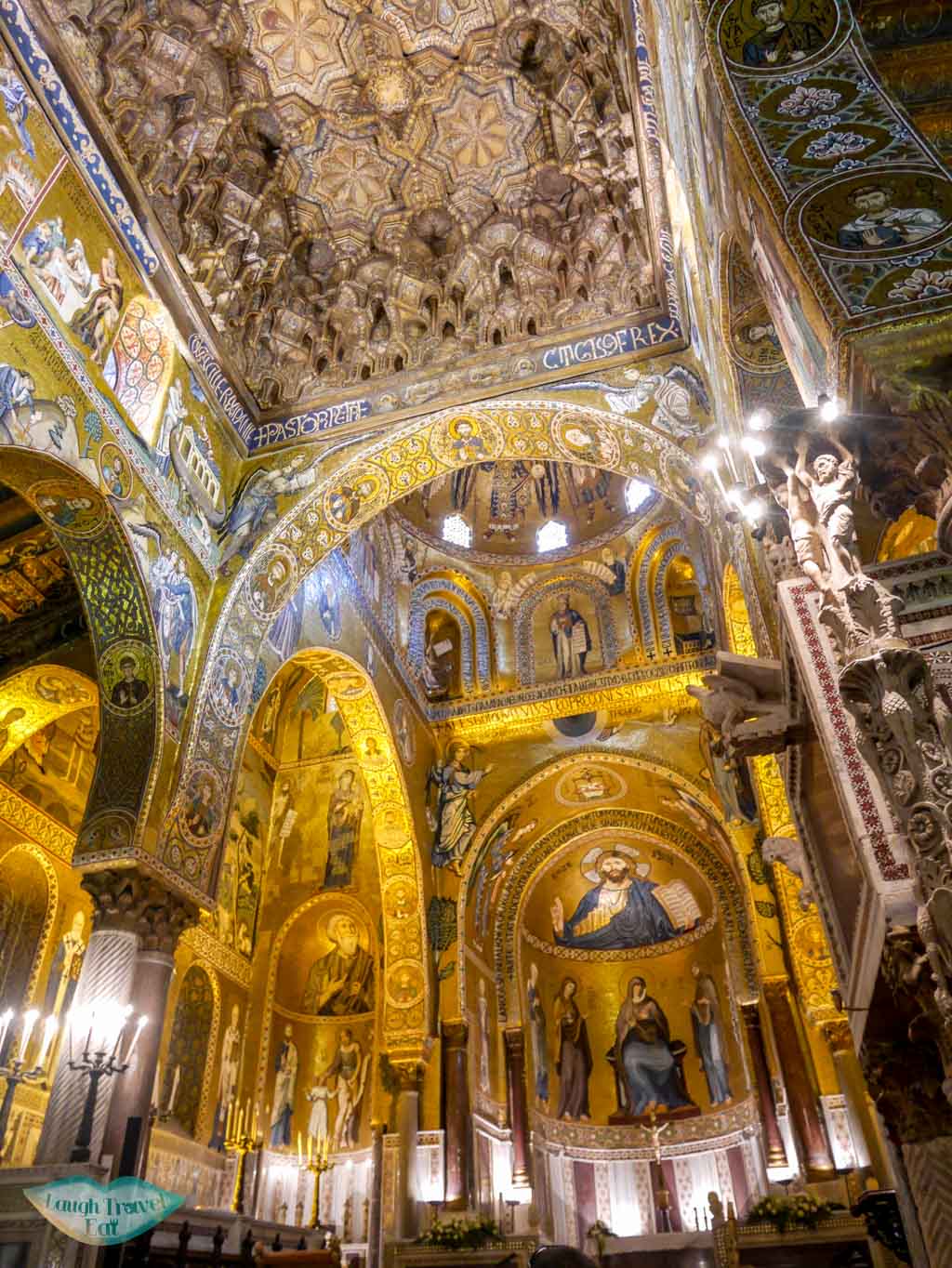 With Norman architecture, Arabic arches and muqarnas and Byzantine domes and mosaics, the mixture of styles are oddly harmonious in the chapel. Ranging from 1140 to 1170, the oldest mosaics are believed to be those on the ceiling, done by Byzantine masters as opposed to the local craftsmen in the later ones.
There is often a long queue for entry to this chapel and you are allowed to take photos inside with the flash off. The mosaics along the outside of the chapel are very beautiful too, with action-packed scenes of Romans nestled behind brick arches.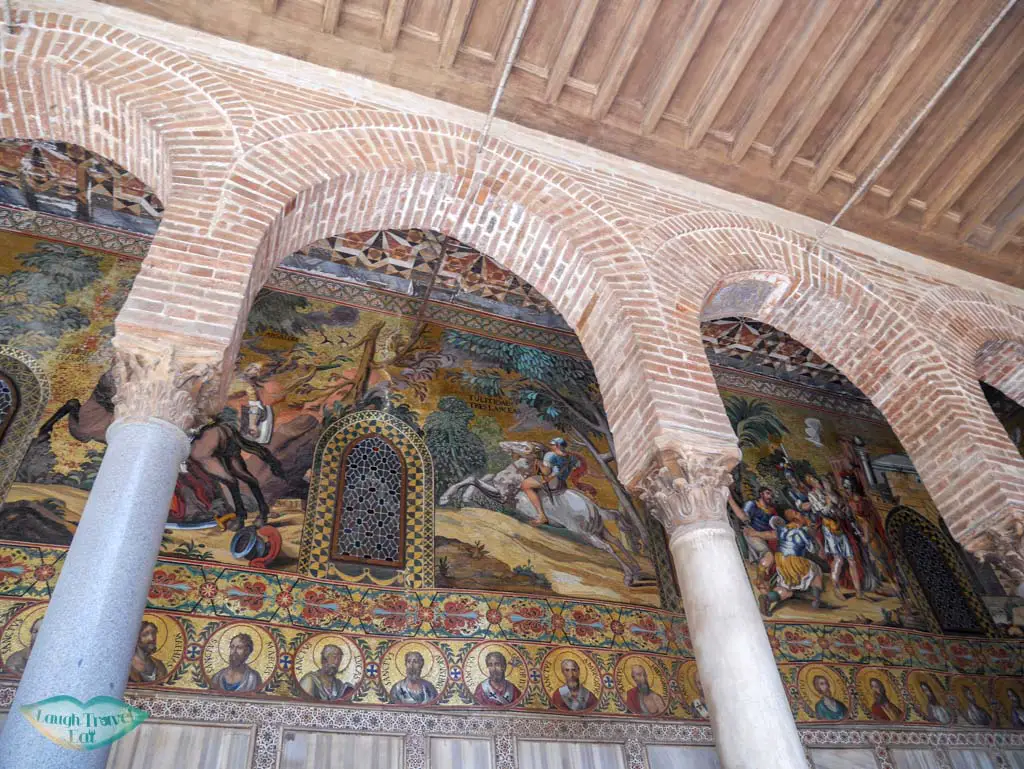 Address: Piazza Indipendenza, 90129 Palermo, Italy
Opening times: Mon – Sat 8:15 – 17:40; Sun and holiday 8:15 – 13:00
Admission fee: There are several packages:
Exhibition, Palatine Chapel and the Royal Apartments (Fri – Mon): Adults: €12 Reduced: €10 Exhibition and Palatine Chapel (Tue – Thu): Adults: €10 Reduced: €8
Villa Giulia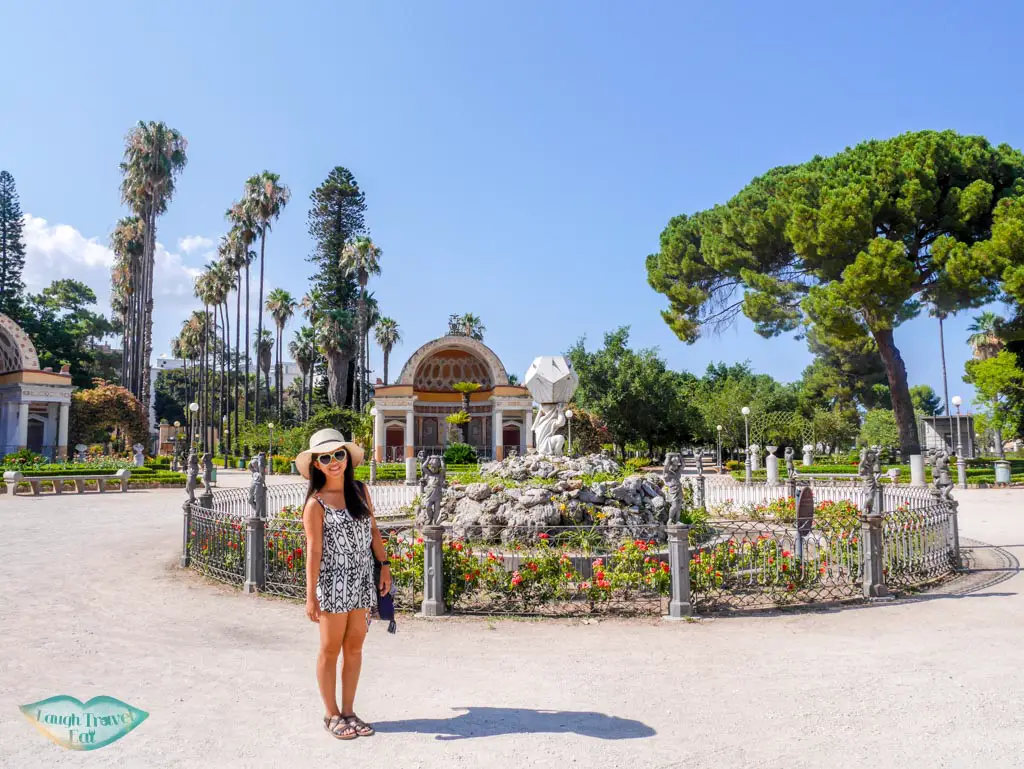 Named after the wife of Viceroy Marcantonio Colonna, the Prince of Stigliano, this beautiful park situated not too far from the sea front. Also known as Villa del Popolo or Villa Flor, the park was completed in 1778 and enlarged in 1866, designed by Nicolo Palma.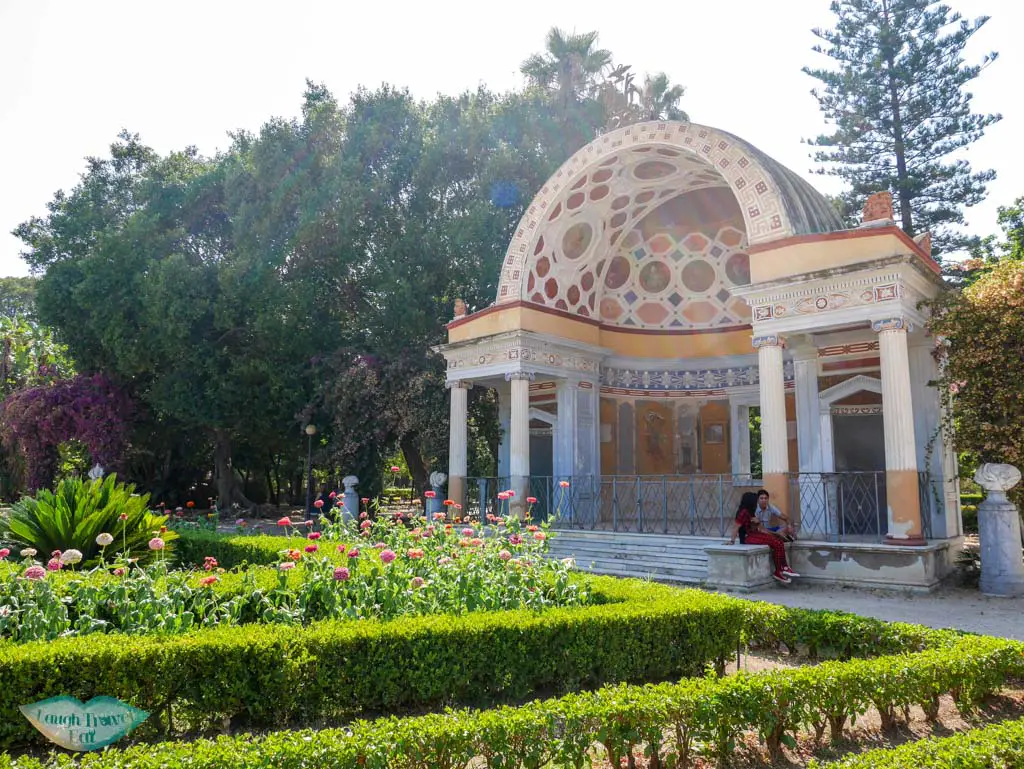 The highlights of the park are the four exedras surrounding the central dodecahedron fountain; these four semi-circular recess bright with mosaics, with their semi-dome providing ample shade and are fairly popular photo spots.
Address: Via Lincoln, Palermo, Italy
FlaM Osteria Contemporanea
What's a top 5 in a city without the mention of a restaurant? Tucked away in one of the hidden corners of Palermo is the FlaM Osteria Contemporanea. A modern Sicilian restaurant, it's got some raving reviews on Tripadvisor that we couldn't wait to check it out.
The food was an absolute treat to both the eyes and taste buds, although it would be nice if the portion size is slightly bigger. We ordered a macaroni wrapped in lasagna dish and a mixed tuna dish and they were both delicious.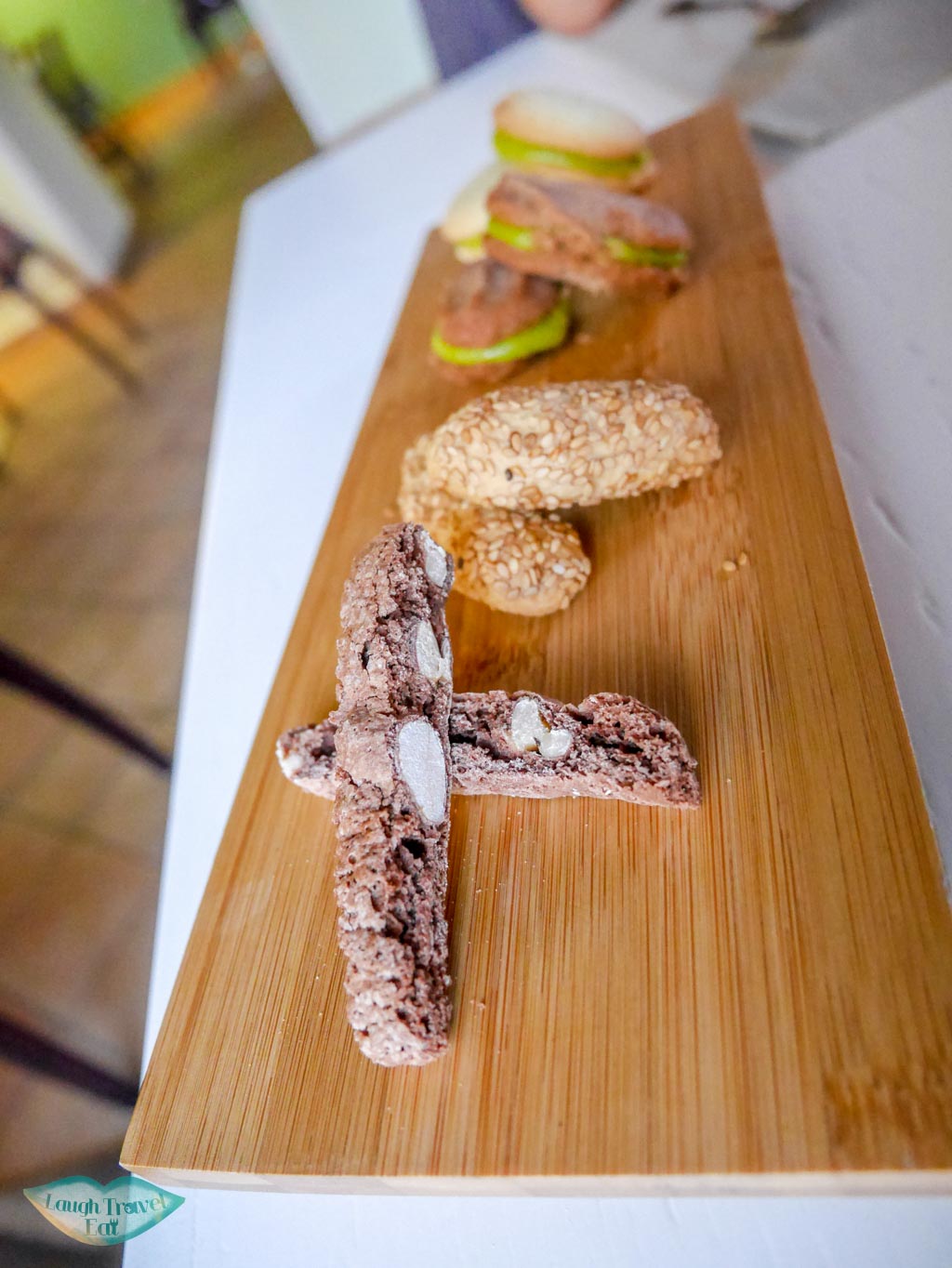 But that's really a common point among all contemporary restaurants. We got served bread as well as a nice little selection of dessert for free, and the service was excellent and I can't complain about anything.
Address: Via della Vetriera, 1, 90133, Palermo
Opening times: 12 – 15:30, 19:30 – 23:30 Closed Tuesday
Where to stay in Palermo
Budget: B&B Gallidoro is located smack in the downtown area with clean rooms and highly rated staff, though it might be a bit noisy at night. For something more modern but equally central, try LeCupole. If you are a fan of terraces and Meditteranea vibe, check out Demetra Rooms as well.
Mid-range: For some grandeur, stay at Grand Hotel Et Des Palmes in the middle of historic center, though it is a bit aged. Il Giardino di Ballarò and the Palermo Gallery are great alternatives for those who love interior design.
Splurge: If a pool is essential for you, then treat yourself at L' Hôtellerie B&B or Grand Hotel Villa Igiea Palermo – MGallery by Sofitel. The latter is a bit further from the center but the rooms and views make up for it!