A city buried by the eruption of the volcano Etna 17 times, Catania is the second largest city in Sicily. Founded in the 8th century BC and home to the first university in Sicily, its unique combination of history, geology, and pleasant weather makes it a hotspot for tourists.
Having spent three days there – I had to admit that even though I am not the biggest fan for the cleanness of the Sicilian cities, Catania has a certain charm about her. It's more put together than Palermo and more lived in than Taormina. Here I bring to you my top 5 of the city!
Piazza Duomo
Fontana dell'Elefante
The soul of the city, Piazza Duomo is a must-see not just because of the Duomo, but rather the symbol of the city: the elephant obelisk called u Liotru. Having been around since the 13th century and placed on this very spot in the 18th century, the beautifully sculpted lava elephant is tied to a noble man Heliodorus. Legend has it that he turned to magic when denied bishophood in the 9th century and was burned at the stake.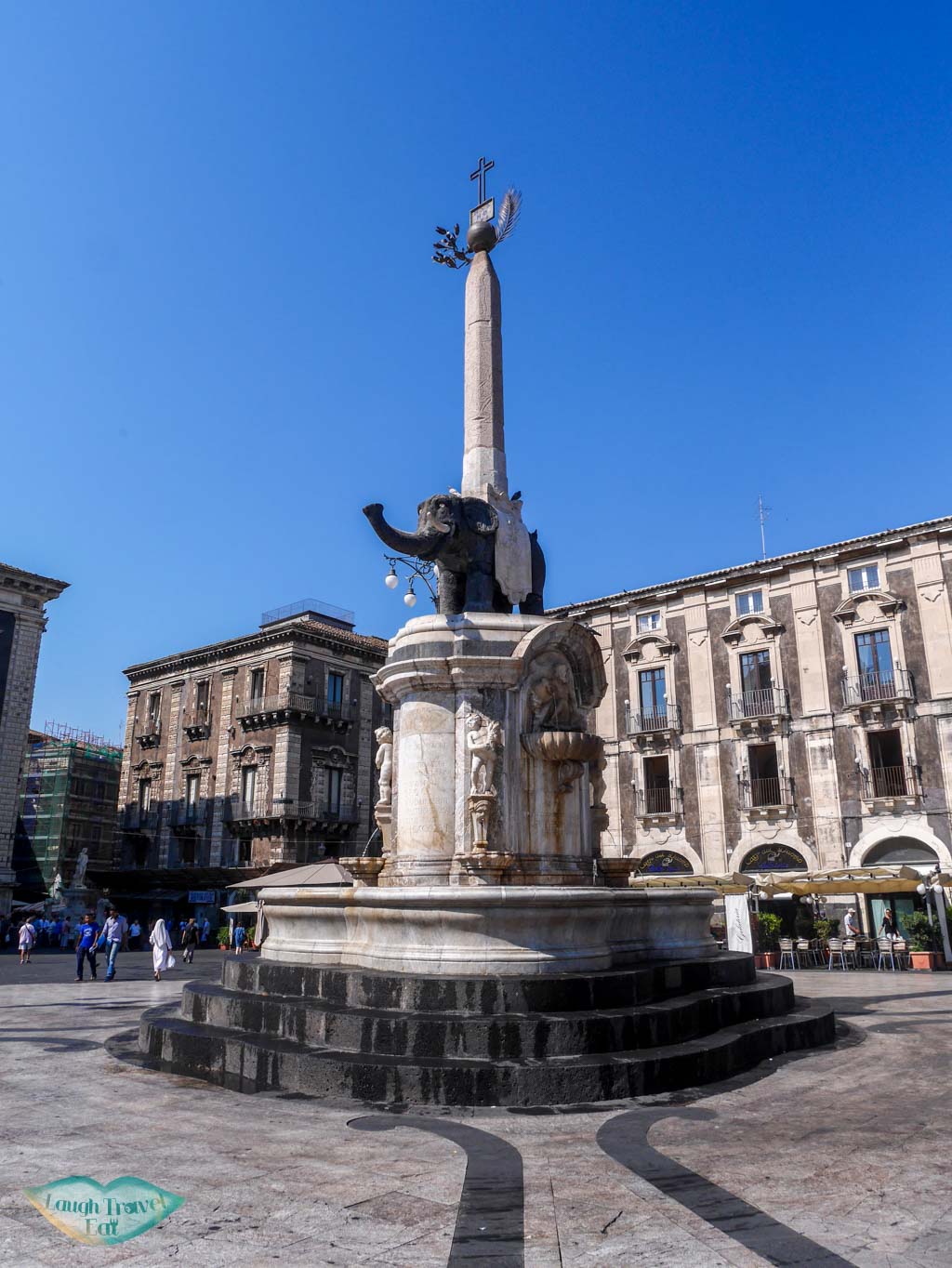 However, the more likely explanation, given that the obelisk is from Egypt, is that the fountain is a symbol of military victory over Africa invasion or a good luck charm against the eruption of Etna volcano.
Duomo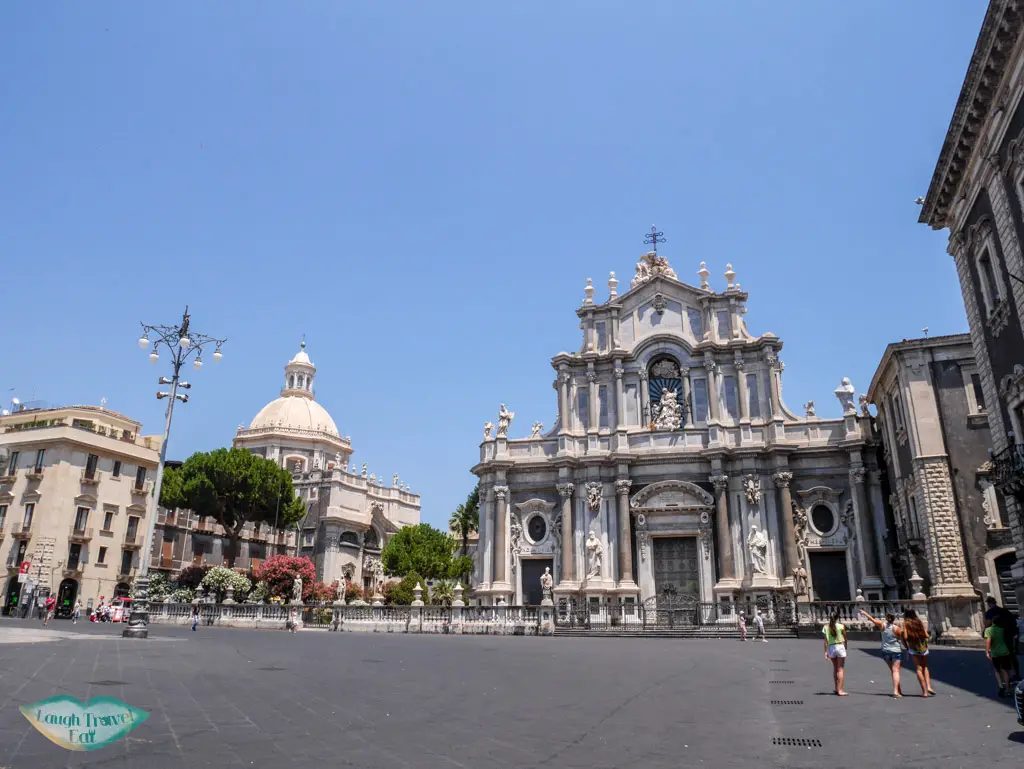 A Roman Catholic Church built atop the ruins of an ancient Roman Achillean Baths, the Duomo signified the transition of Sicily from under the rule of Islamic empire into Roman Catholic in the 11th century. Destroyed by the volcano several times, the current Baroque façade is from 18th century, with the dome dating even later.
Dedicated to Saint Agatha, the elongated church with its three levels narrow upwards structure, dome and bell tower makes for a beautiful sight.
Address: Via Vittorio Emanuele II, 163, Catania, Sicily, Italy
Opening times: 7:30 – 12:00, 16:00 – 19:00 daily
Admission fee: adult 6 euros, reduced 3 euros
Aci Castello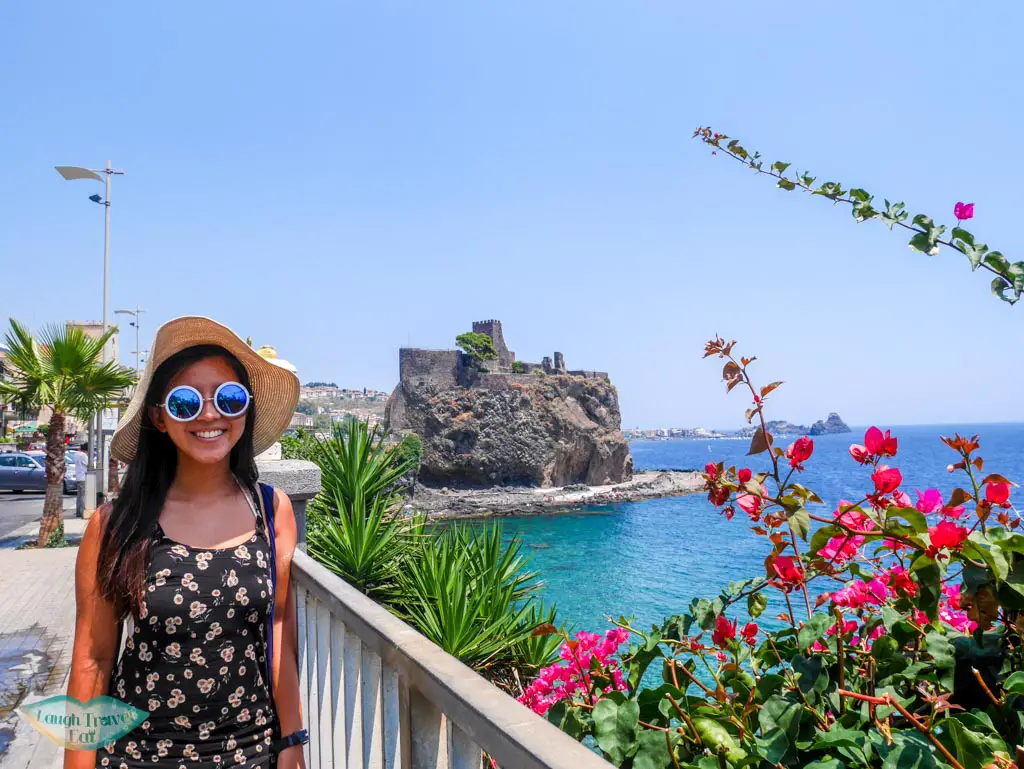 Technically not in Catania, this castle on the rock is situated in a nearby small town that you can reach via local bus or a tourist bus. Built by the Normas in 1076, there was actually an even earlier fortification dating back to the 7th century. It merges seamlessly into the rock it perches on and now serves as a museum.
The town itself is fairly small, but because of our early start we ventured into one of the small cafés and had brunch.
Opening hours: 9:00 – 13:00, 15:00 – 17:00 winter time; 9:00- 13:00, 1:00 – 19:00 spring time; 9:00 – 13:00, 16:00 – 20:00 summer time (subject to variation)
Admission fee: children under 6 go free, 7 – 10 years old 1 euros, student 2 euros, adult 3 euros, 65 and above 1.5 euros
Palazzo dell'Universita
If you are a mosaic lover then you would definitely have to visit the University of Catania. Founded in 1434, it is actually the 29th oldest university in the world and 13th oldest in Italy. The seat of the university was moved to Palazzo dell'Universita in 1690s.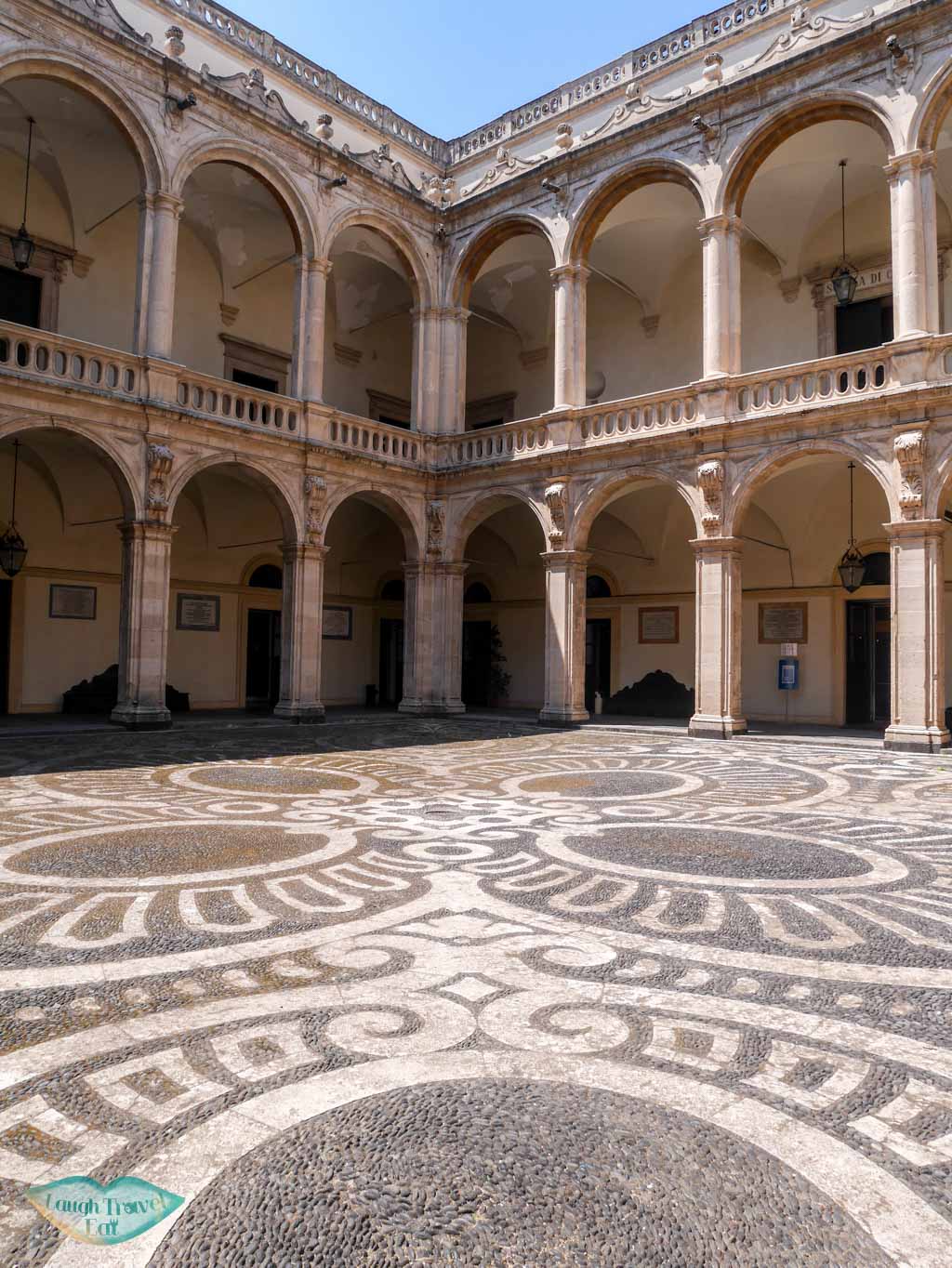 During the day time, you can wander into the building and admire the mosaic floors, as I did with several other groups of tourists. Do bear in mind that there are actual students and classes around.
Address: Via Roccaforte, 95124 Catania, Sicily, Italy
Opening times: during school hours
Admission fee: Free
Monastero dei Benedettini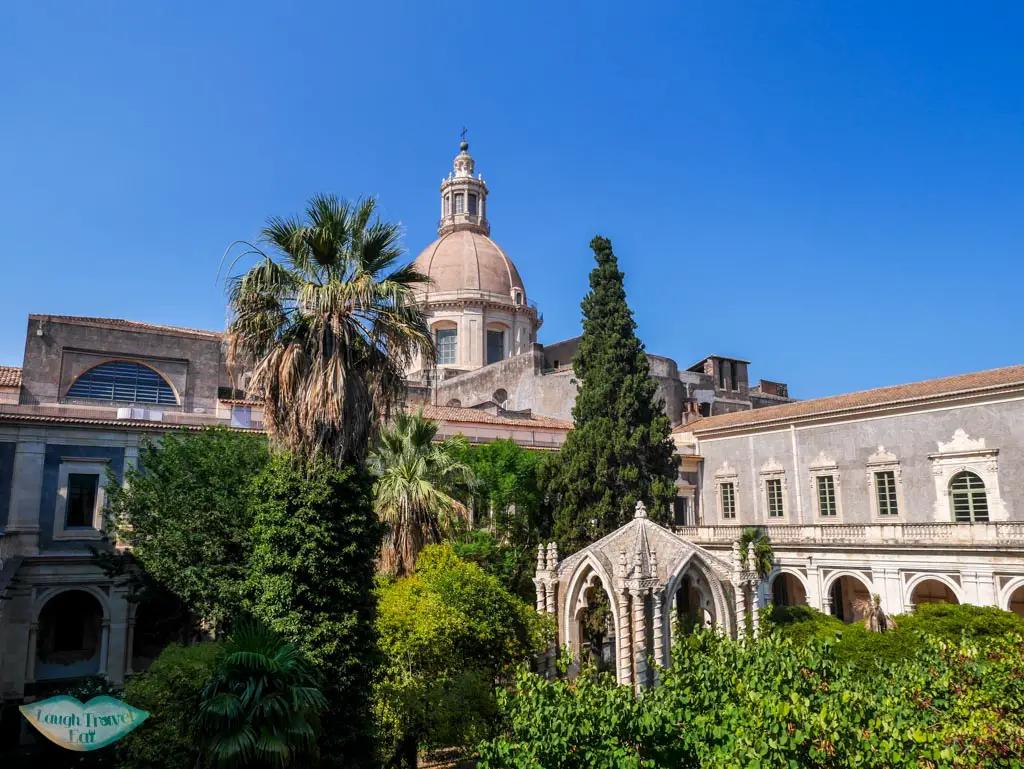 The Benedictine Monastery of San Nicolo l'Arena, now home to the humanities department of the Catania University is an UNESCO world heritage site. Built in the 14th century, its extensive grounds and the beautiful interior is free for the public to visit. Constructed in 1558, it is the second largest monastery in the world.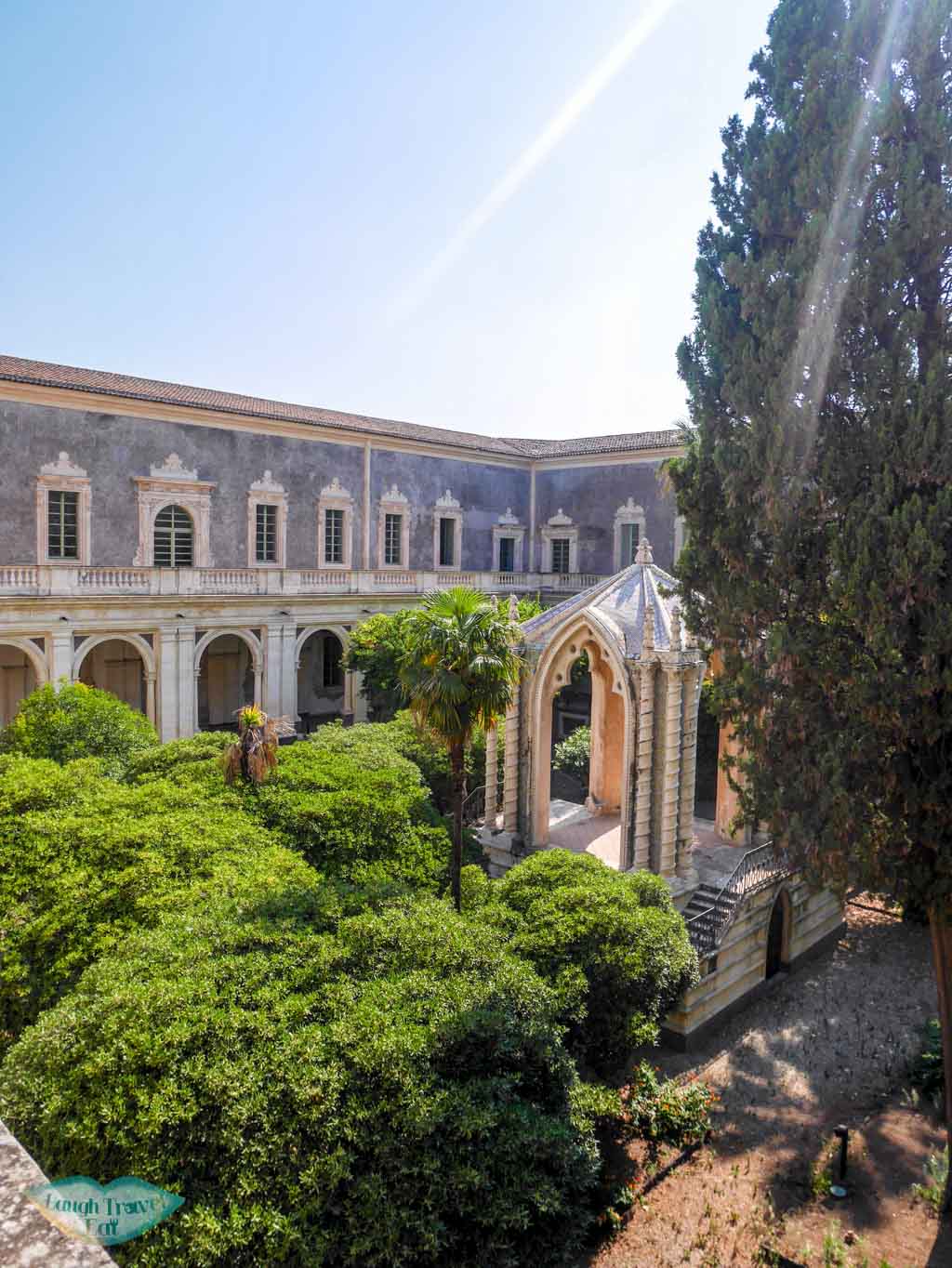 The gardens are not open to the public (however they might be accessible if you go with a walking tour), but you can admire it from the first-floor balconies above. My sister and I actually ended up walking into a corridor of study tables and tip toed through! 
You can take a guided tour, which takes place hourly, for 5 euros to get the best information as well as a comprehensive tour around everything.
Address: Piazza Dante 32, 95100 Catania, Sicily, Italy
Opening times: During school hours
Admission fee: Free, guided tours are 5 euros
And that Burger restaurant…
Yes, I know that we are in Italy, and yes, a burger isn't exactly Italian food, but it was pretty good and reminded me of good old London.
Located in a street full of other restaurants, I really like the vibe of everything as well as the super chic outdoor seating. Plus, FUD restaurant uses local ingredients and Sicilian beef as well – so don't feel too bad about wanting to eat here.
They also have several types of organic lemonade for you to choose from and I was kind of sold on the spot, again.
Address: Via Santa Filomena, 35, Catania, Sicily, Italy
Opening times: 12:30 – 15:30, 19:00 – 01:00 everyday
Where to stay in Catania
There is no shortage of places to stay in Catania, and of course, it's best to stay in the old city center for convenience. Here are some top choices:
Budget: for a budget stay it's best to stick with B&B, B&B Palazzo Tornabene is clean and neat. A little pricier, B&B Sciara Larmisi has stunning tiled rooms and a beautiful terrace.
Mid-range: UNA Hotel Palace has a gorgeous design and located in a historic 20th-century building.
Splurge: just a stone-throw from the Duomo, Duomo Suites & Spa has funky rooms and a rooftop! If you like sleek modern design, then Duomo Suites & Spa