I had visited Verona for two brief days during April 2015, when I had been rather convinced that I had seen the best that the city of love has to offer, including chasing after Romeo and Juliet's foot step as well as using the Verona card to its max. However, during my month-long volunteering at Club di Giulietta – I had spent my free time exploring the city and found some Verona secret spots that deserve a visit.
Forte Sofia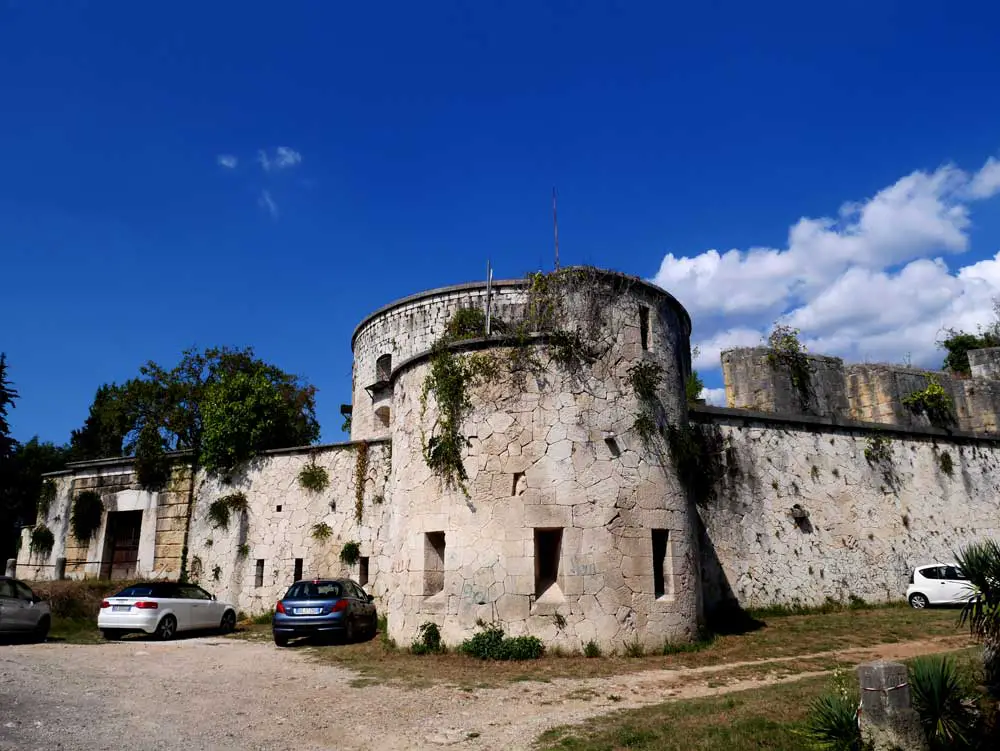 North of the River Adige's horse shoe bend, around the old city center of Verona, sits Forte Sofia perched on the San Leonardo hill. It's a relic from another era, sitting abandoned and surrounded by parked cars on a little hilltop. Made up of stone, this fortress was built by the Austrians in 1838, hence it is also known as Werk Sofia – name after the Archduchess Sophie of Bavaria.
It has its own moat, which is now dried up and covered by vegetation. The fort was built for war purposes and held up to 150 infantrymen and 24 gunners, with 14 guns smooth bore. Since it had fell into ruin you cannot visit the inside of the forte, but you can get a pretty clear view of it from the front and there's an equally abandoned park opposite.
Address: 37128 Verona VR, Italy
Santuario Nostra Signora di Lourdes

Not too far from Forte Sofia is the Santuario, also known as Fort San Leonardo. Perched even higher up on the San Leonardo hill, it's no wonder that it inherited the namesake. It is visible from Ponte Pietro from a distant, and more tourists have ventured to this off the beaten path site in Verona. In fact, when I was in Verona the first time around, I had spotted it from Castel San Pietro and wondered what this building was. 
While it had looked further away from the centre perched on a hill, but it's really at most a half hours' walk from the city centre.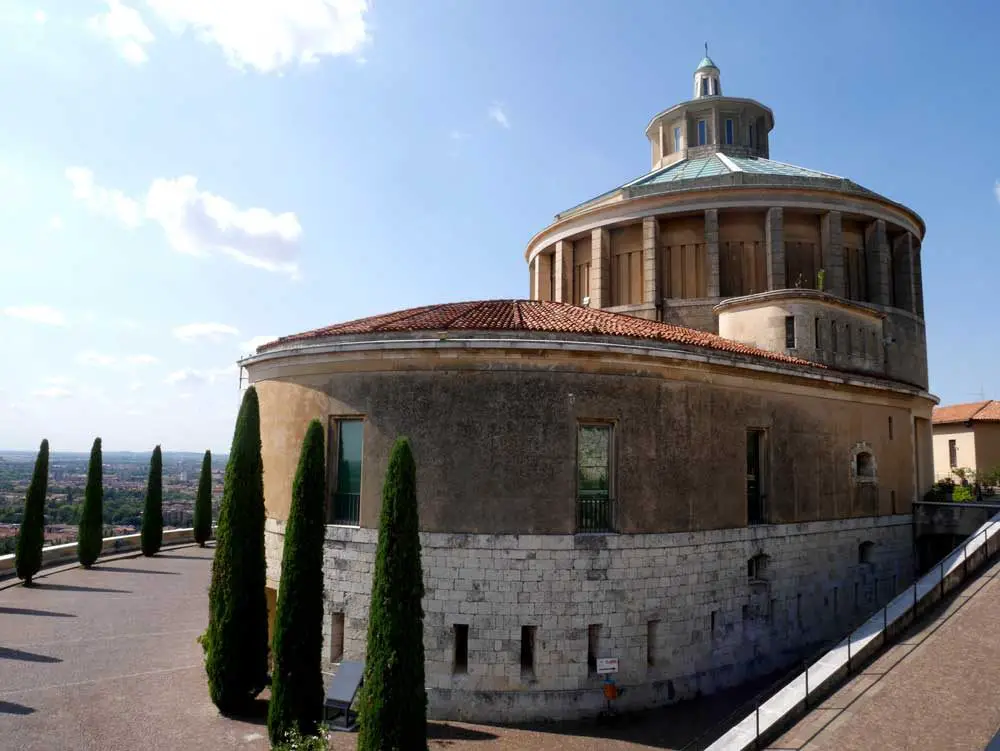 The Santuario was built in 1838, it's another relic from the Austrian occupation. Like Forte Sofia, it was of military origin, but in 1952 it was granted permission to turn into a sanctuary for the congregation of Stimmatini. Undergoing a complete transformation, its outer façade remained with an added dome while the interior was redone to suit its new purpose.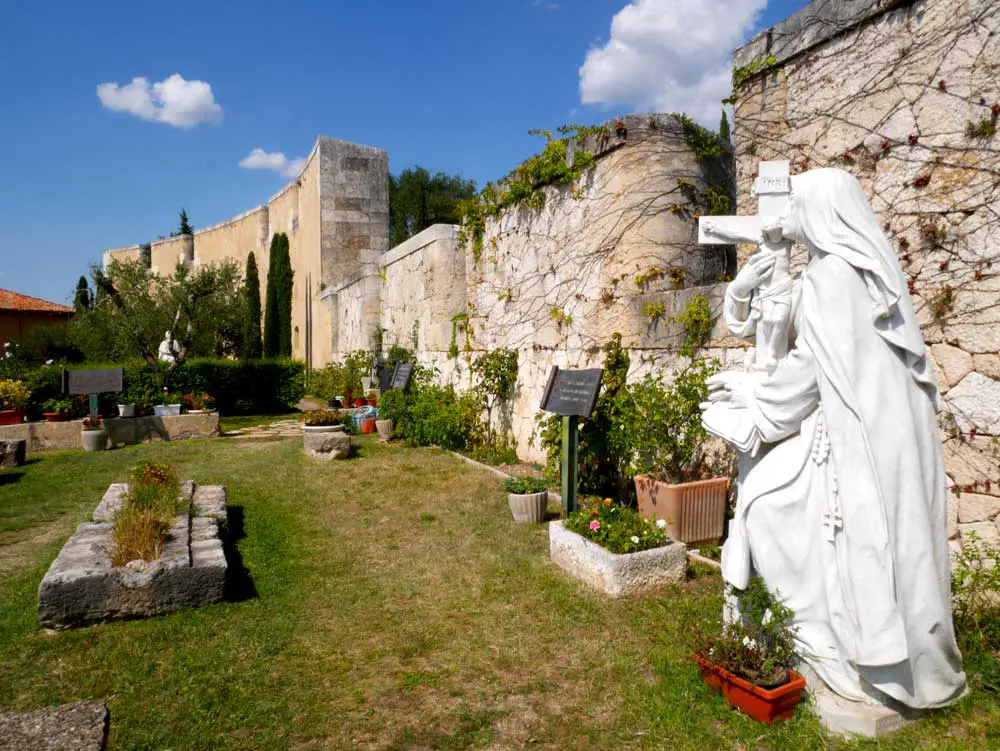 What's more is that it boost one of the best, unobstructed view of the City of Verona, arguably better than the view from Castel San Pietro as there are plenty of trees in front of the latter. You can visit the grounds of the Sanctuary during daylight hours, which house a delightful small garden – however, the interior is closed during service hours and comes with a strict dress code.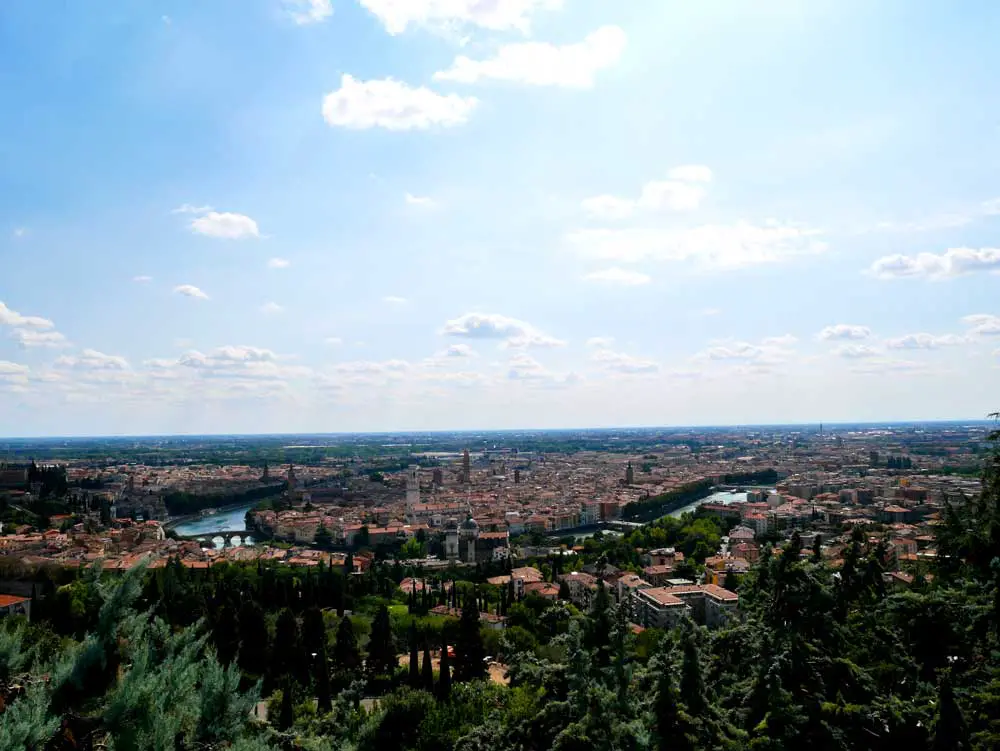 Address:Viale dei Colli, 27, 37128 Verona VR, Italy
Tip: take the hiking path up or down – it gives the best view
Hiking around the city wall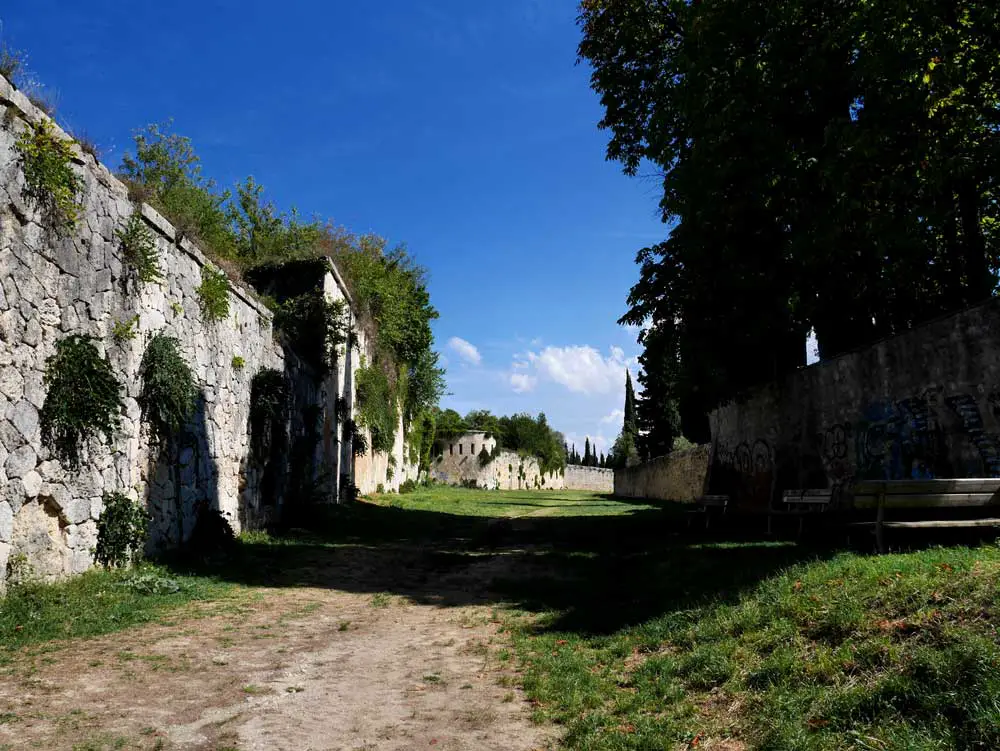 Verona's hidden treasure, the ancient city wall has a history as far back as the Roman times. It is only natural that Verona has a city wall that's built by the early settlers. Being a protective measure, the walls were further fortified and expanded during the Middle Ages, and most of it remains today.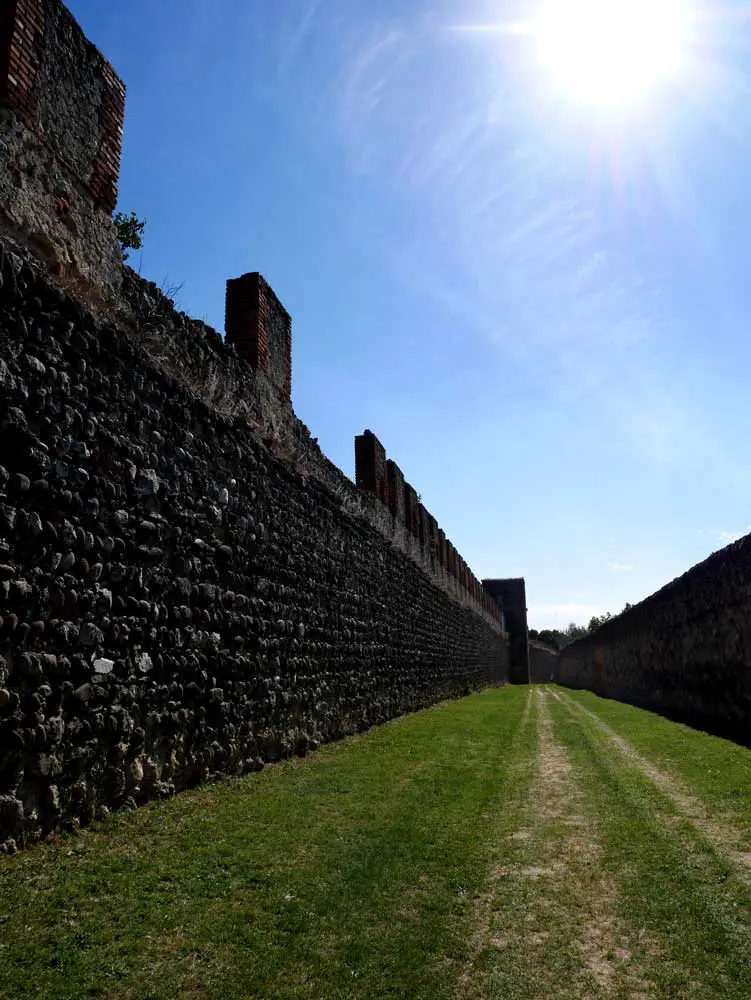 While some of them are well maintained and seen daily by visitors and locals alike, there are parts where the walls are situated in less passed-by areas. But that doesn't mean that they are not there. Having explored most of Verona's hidden treasures, I decided to hunt for the city walls and found myself in the most peaceful and quiet place in the northern section.
Hiking up some roads and disused paths, you get to walk along some history of Verona that isn't advertised out. I felt as though history had stood still and silent along the route, with overgrown vegetation being the only thing that marks the passing of time. It felt serene to be there, despite the occasional graffiti, and you would spot an old guard tower or two.
Where to go: Start from Castel San Pietro and go to the back onto via Castel San Pietro, pass the camping site and continue north and you will find the wall.
(refer to the map for more detail on the route)
Porto Vescovo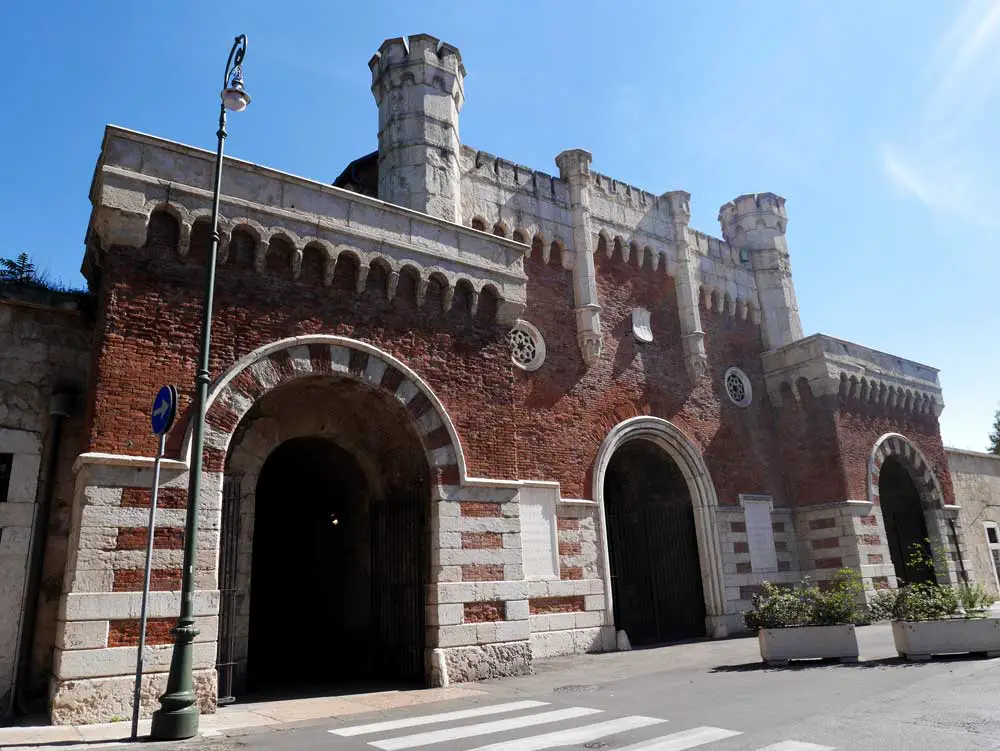 Southeast of the old city center of Verona, and the location of the other train station, Porto Vescovo is named after the gate out of the city wall in that region. A part of town where few tourists venture to, my hike along the city wall took me there. If you are in Verona and just wanted to get away from the tourists (trust me, even towards the end of September the place is still swamped) – then there's no better place to go.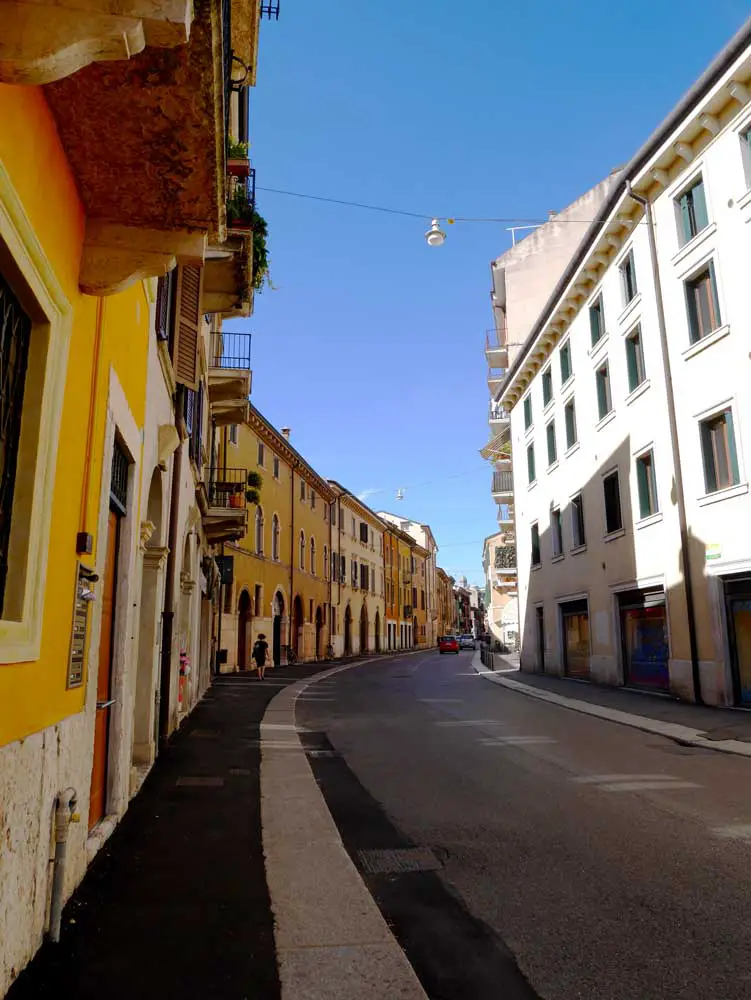 The gate itself is an impressive sight, a mix of brick and white that's sandwiched between two busy roads with traffic pouring in and out of the city. There are also many hidden restaurants and little churches that you can visit.
Address:37129 Verona VR, Italy