Volcano. That one word oozes adventures all by itself; in fact, no other words describe climbing up Stromboli at night better. There aren't a lot of places in this world right now where you can climb up an active volcano at night and see an active eruption safely, but in the Aeolian Islands, you can do just that.
Excursion Stromboli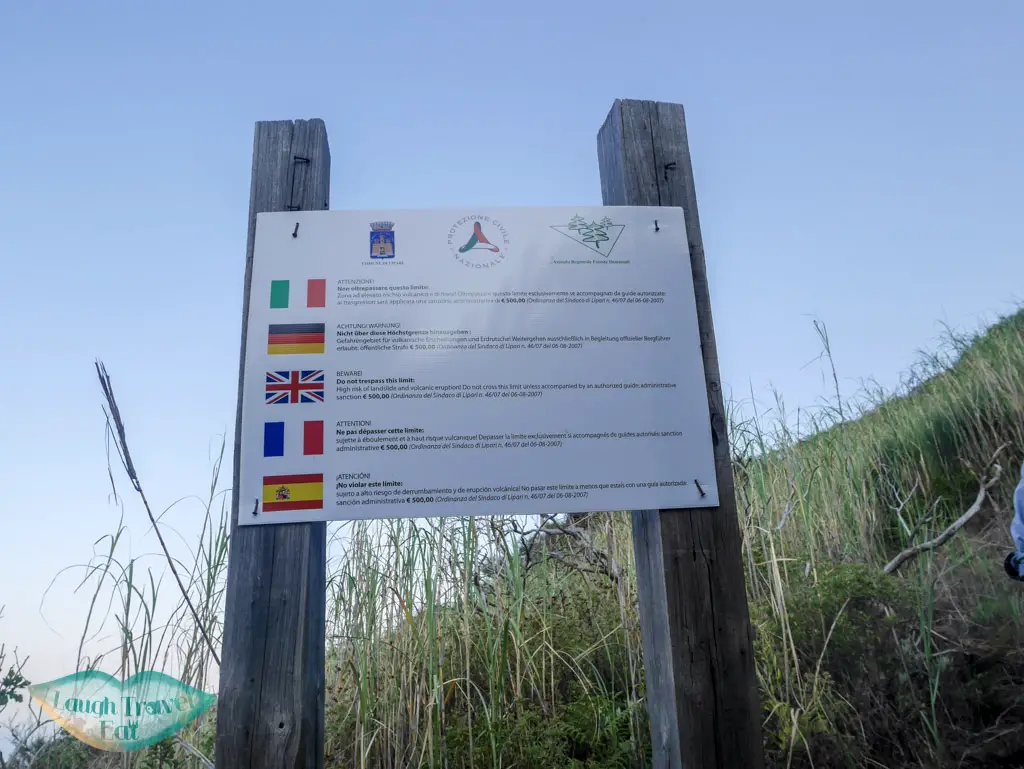 To go up the volcano, however, you would need to join a tour. The volcano of Stromboli is a nature reserve area and you can only summit accompanied by a licensed guide. If you don't, you will get fined or worse, get lost in the wild.
The tours depart at different times depending on the season and the temperate of the day and of course, coordination with the other tour groups. But usually it would be from 16:30 to 18:00; you first go to their office to check-in and the tour will make sure you have all the equipment for the climb.
Equipment you will need:



Most tour companies offer to rent your hiking boots and flashlight (for a price, of course), so you don't have to bring your own if you don't want to. There's also the obligatory hard hates, and be sure to grab a walking stick made of bamboo for free, it will help you immensely.
However, what you should bring with you is dinner and a jacket, because it gets cold up there and you will need some food to refuel.
If you have a tripod – bring it because you will need it for your camera to get a good shot of the eruption. If you are not a big photographer, then don't sweat it.



Hiking gaiters would be great too, if you have any – because the amount of sand and pebbles that would get in your shoes are astonishing and makes your journey very uncomfortable.
The climb to Stromboli
I was originally against climbing up Stromboli at night, preferring to watch the eruption abroad a boat from the sea. However, though the climb was tedious and long, it wasn't particularly hard with frequent breaks.
The climb started with proper paths through the village and stairs, but it quickly transitioned into black volcanic sand and ash. It's very difficult to walk up, but the tour guides made sure the children and people who are slower walkers at the beginning of the group so that everyone is kept at a reasonable pace.
It's a steep, long journey up that can take up to 4 hours depending on speed and break frequency. We arrived at the first crater about half an hour before sunset and saw our first eruption! It happened about 30 seconds after we took this photo and missed a shot at the eruption because we were taking a photo for others.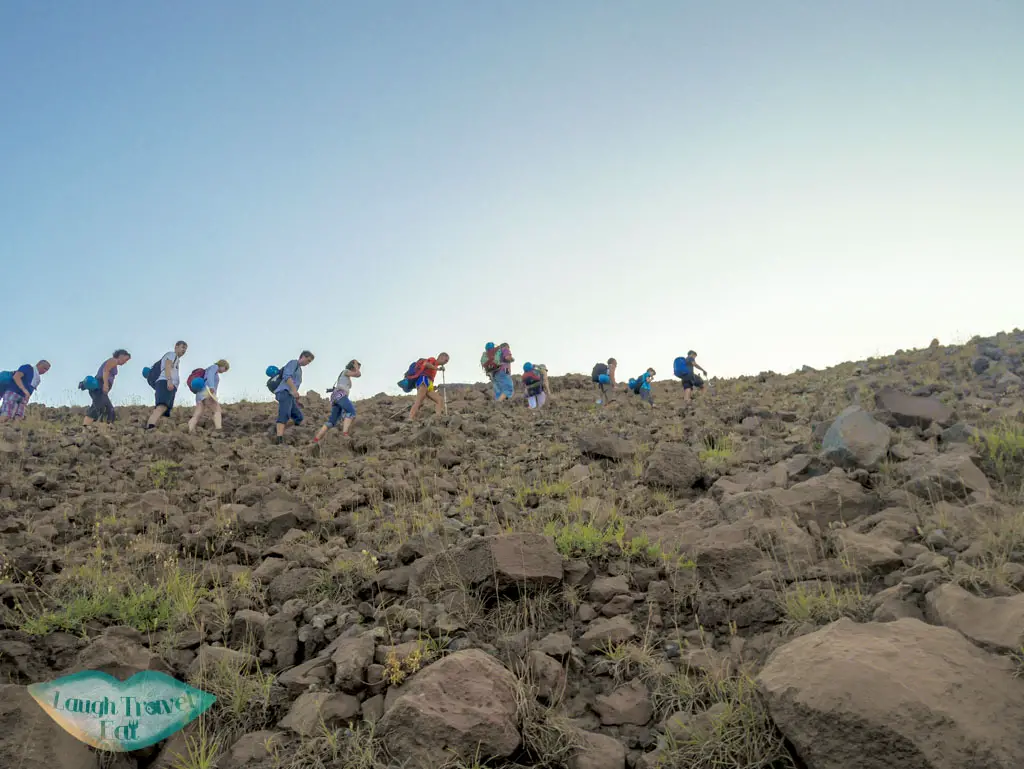 We were then led to the second crater, pass a group that arrived earlier and sat down facing the volcano to have our dinner.
We stayed there and kept an eye out for any eruptions; we could also see the boats in the ocean where people are also waiting for the dramatic scene. Not sure when an eruption would happen and afraid that we would miss something, I stuck my action camera between my knees so that it's recording the crater the entire time. (Click here to see the video with the eruption at the end)
It's actually quite difficult to gauge how far you are from the volcano when it turns completely dark – but you can definitely see the eruption so much more clearly. After an hour or so we moved on to the third crater, and it was actually rather confusing as to who to follow given that there were a few other tour groups as well – so make sure you don't end up in the wrong group.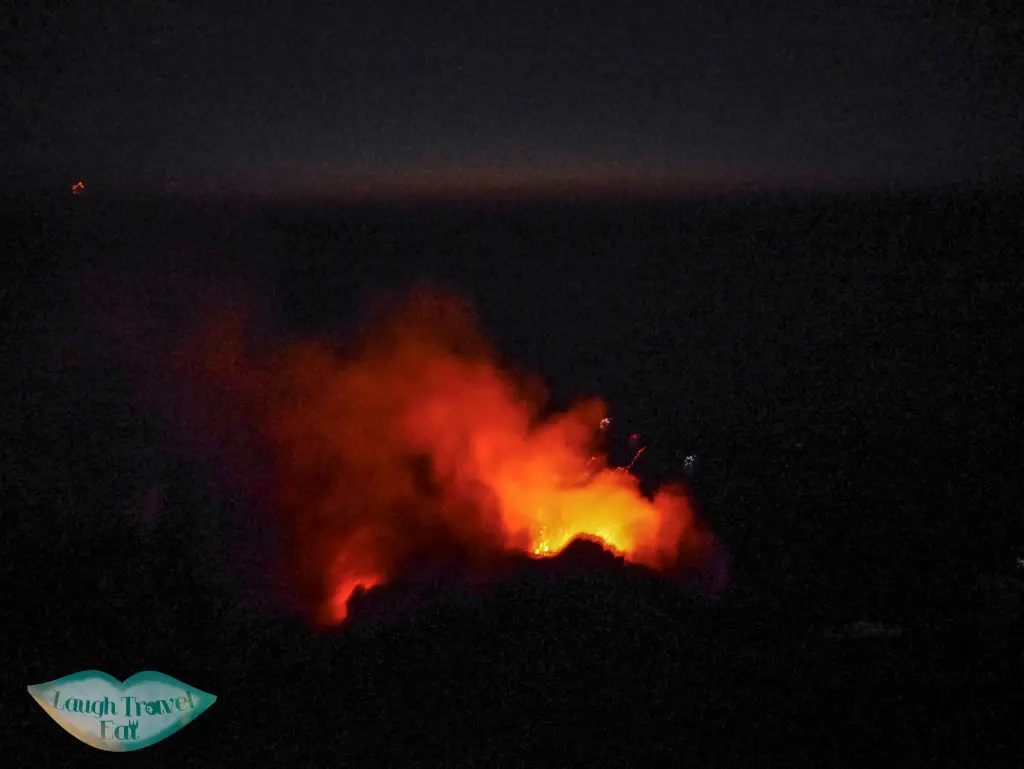 It was at the third crater that we saw the biggest eruption of the trip, where I finally managed to take a photo with my uncooperative camera. We stayed there for a little longer before we were finally herded off to descend in complete darkness.
(The glittering dots at the background are boats with tourists taking photo in flash…haha)
The return journey took longer than I thought – with everyone sliding and fumbling down the ashy paths with their head torch. We were given face masks to wear – and for good reason. With so many people storming their way down, the amount of dust and ash that we kicked up into the air actually reduce the visibility even more. Even though it was suffocating to wear it, we kept it on so that we wouldn't breath in a whole lot of ash.
We didn't end up getting down from Stromboli until midnight. Those of us who needed a boat ride home was led back to the pier and, man, were we tired. We didn't end up getting home until 1 a.m. and we had an early ferry ride to take back to the mainly.
The verdict on the Stromboli hike
It was most certainly an experience of a lifetime to be able to climb up an active volcano and witness a live eruption. If there was anything that I would do differently, it would be to stay the night of the climb on the island so that we could rest easy after the climb.
Where to stay on Stromboli:
Budget: Hotel Ossidiana Stromboli is close to the beach and the ferry port and extremely affordable!
Mid-range: Agriturismo SoleMare boasts a beautiful terrace and is near the beach, too.
Splurge: treat yourself and stay at Il Gabbiano Relais in Stromboli with an outdoor pool, luxurious rooms and breakfast in bed!
If you missed the previous ones, here are the link:
Part III Panarea-Stromboli (for those who don't want to hike up)