Last updated on July 31st, 2020 at 10:27 am
Lake Sorapis is famous for its gorgeous powder blue colour and the hike is a relatively straightforward 4 hour with a trail start within half an hour from Cortina d'Ampezzo. It is a popular hike worth the hype, with a decent view of the surrounding mountains along the hike that ends at the lake. Here's how to get there and hike it:
Summary of Lake Sorapis Hike
Closest town/city: Cortina d'Ampezzo, which is a twenty minute's drive away. The city itself is 2 hours' drive from Venice.
Time needed: 4 hours round trip, returning the same way as you go in. If you plan to eat and take photos, budget in more time
Pros: gorgeous lake, great view of surrounding mountains
Cons: parking space is limited and it's a relatively popular trail so there are plenty of other hikers 

Difficulty: you'll need proper hiking boots, preferably waterproof ones, as there are some streams to cross. The streams might be much bigger depending on recent rainfall, which in turn also affect the lake water level. There's a sheer cliff section but a wire is installed along the cliff wall for holding onto, and the path is still reasonably wide. Expect to go uphill a fair amount going in.

How to get to Lake Sorapis
There's no public transport to reach the train start, so driving is the only way. Parking space is limited so you should either arrive early or late to ensure there's a place to park. It's on the side of the road in front of a trail sign post and pasture.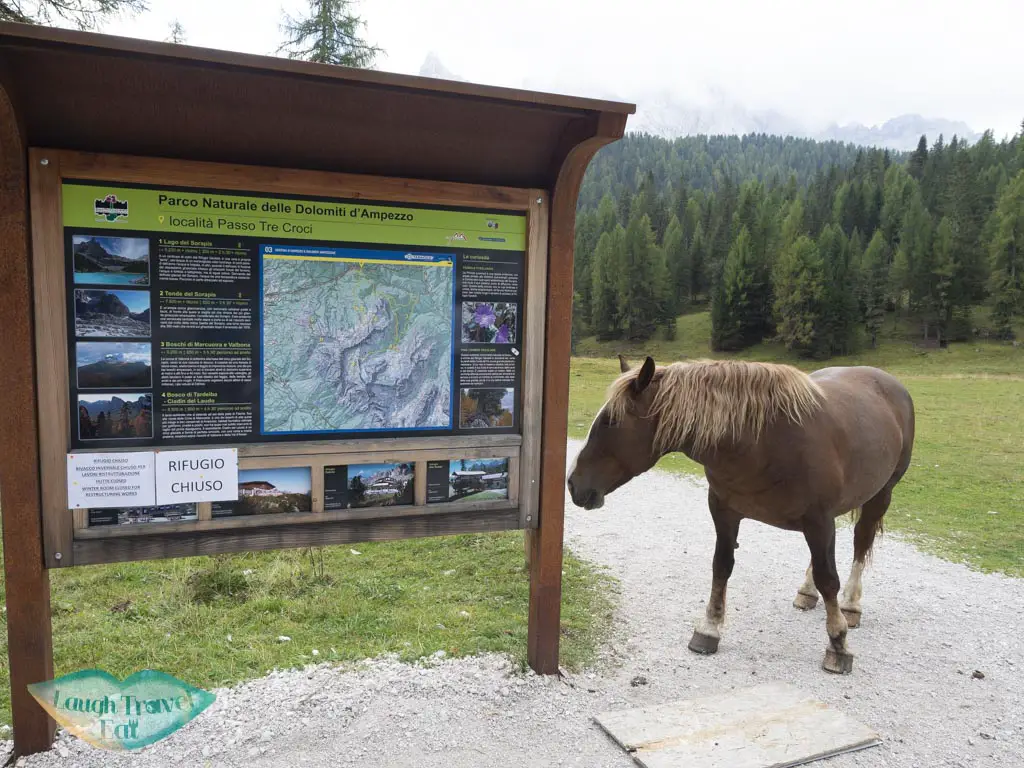 Note: we ended up doing the hike in late afternoon and hiking out in the dark with head torch. It's totally doable but only if you are and experienced hiker.

Lake Sorapis hike
The trail starts at the pasture by the roadside where hikers can park their cars. As there is no proper car park, it can be easy to miss the trail start, There's some horses grazing when we were there as well as an information board. Aside from Lake Sorapis, there are three other possible trails. The length, elevation gain, and estimated time it'll take to get there is on the signboard, however the description is in Italian.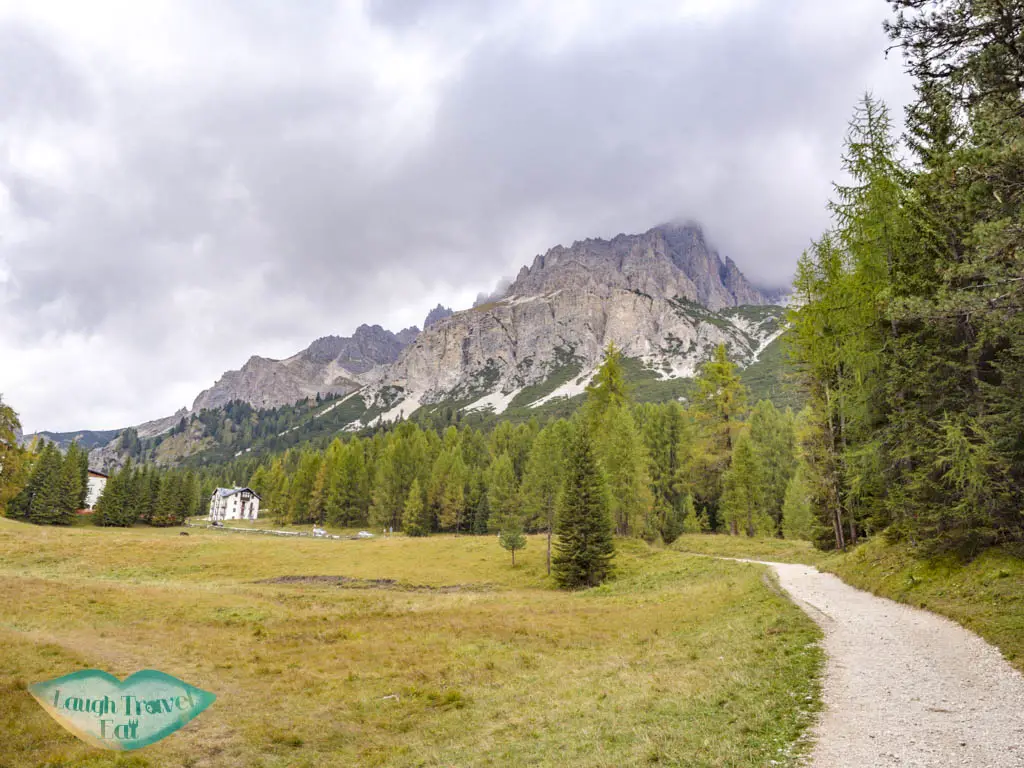 Note: I highly recommend downloading an offline map app to make sure you have a reference point. I use OSMAnd since 2015 on my first solo hike in Slovenia and love using it since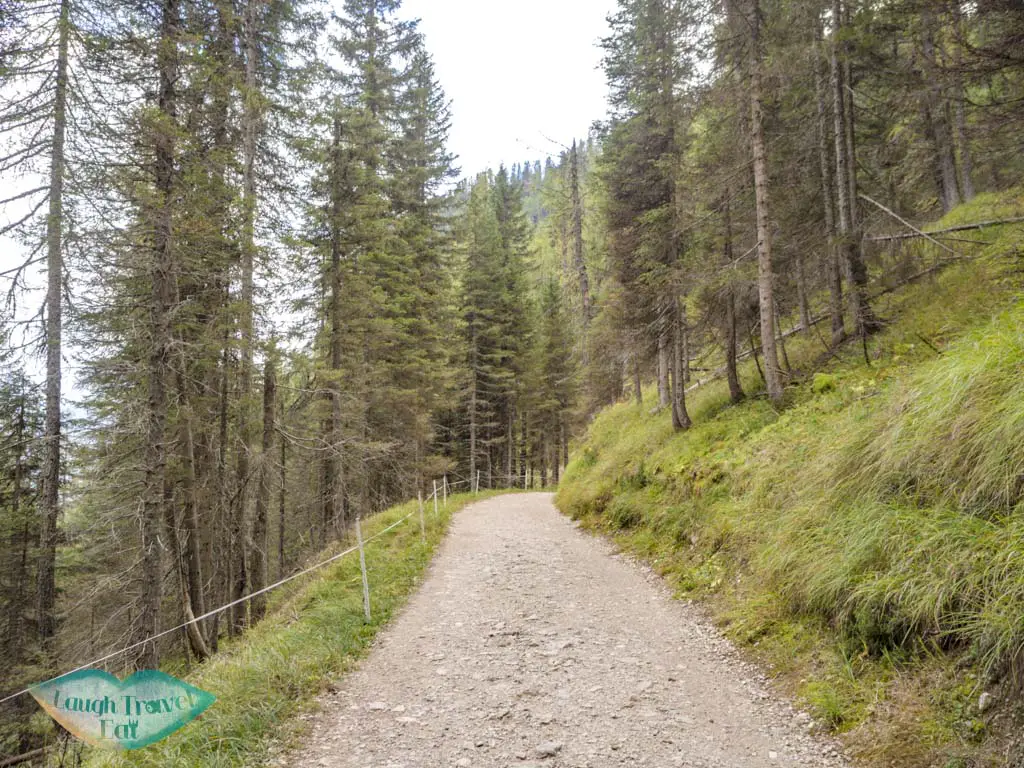 The start of the trail features a wide gravel road that was easy to follow with little elevation change. We reached a section where there is low rope hanging across the entire path, presumably to stop any horses from wandering further, which marks the end of the easiest stretch.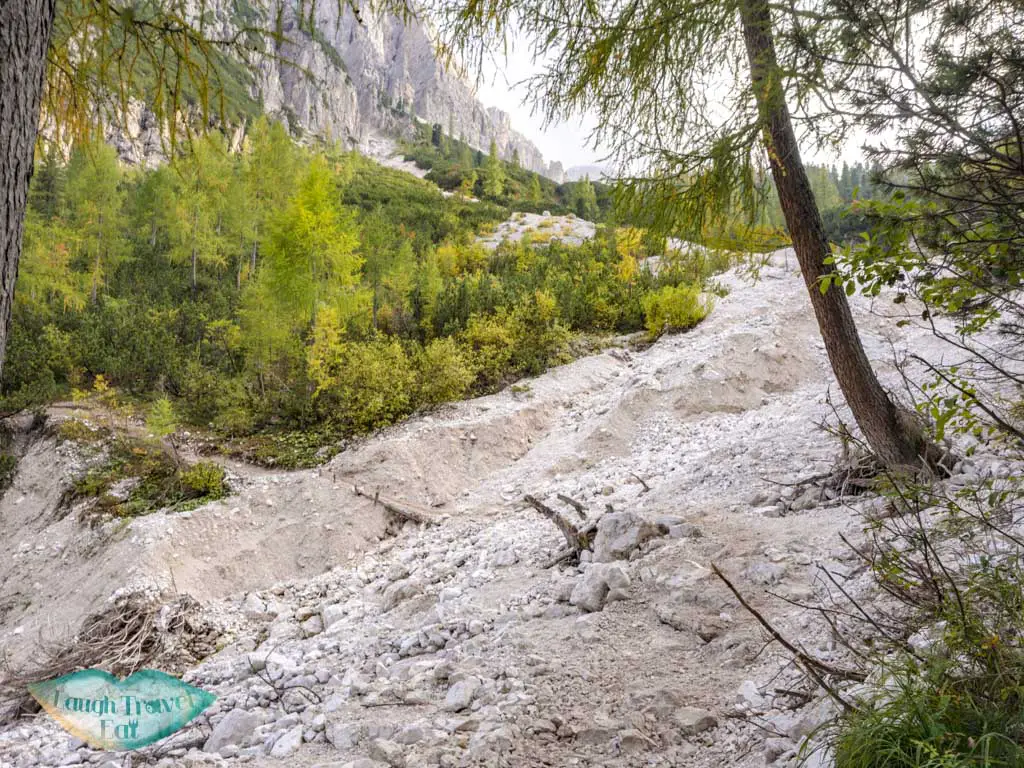 The trail narrowed slightly and dips down before going into undulating landscape, after about another 15-20 minutes we reach our first stream. Since it was mostly dry, it wasn't difficult to cross.

The second stream was wider, with more water, and after crossing it the path becomes more steeply inclined up. It was after this comes the first fork. There are signposts on the tree indicating that the right path is the one that'd lead to Lake Sorapis.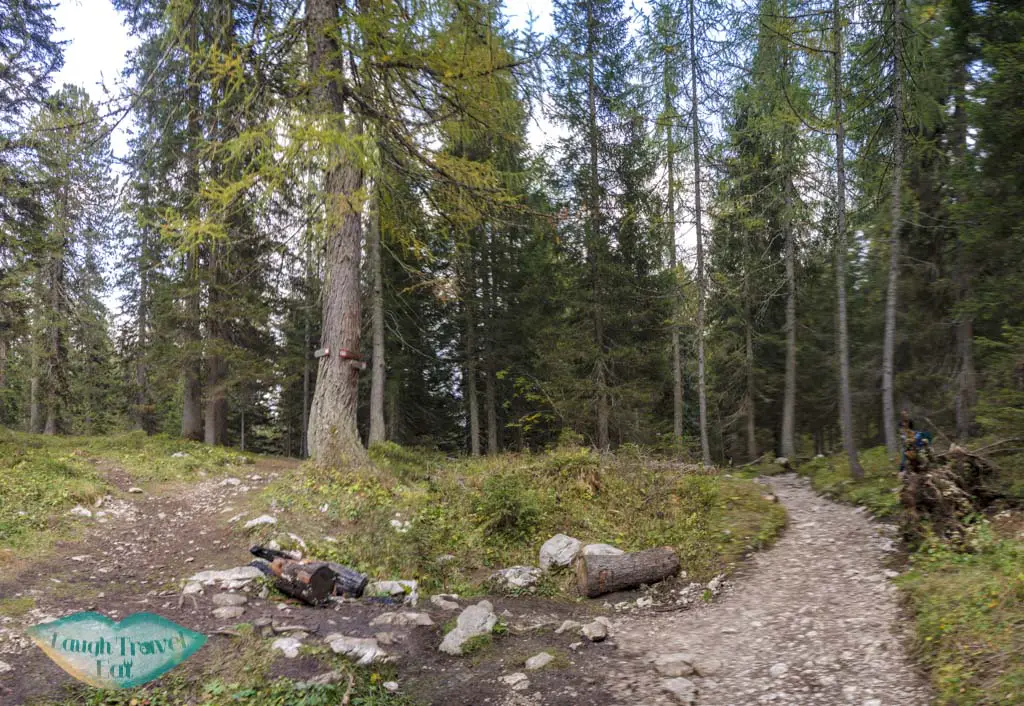 The path took us into the forest for a while, with great views of the mountains further on as the trees cleared.
The uphill continued until we reach the part that involves metal stairs.
We were aware that there's a section that's more dangerous, but aside from being wary about the footing on the wet metal steps.
The trail with the sheer drop wasn't too bad since it was reasonably wide and equipped with cable to the side.
Next up is an intersection, which means you are very close to the lake. Go left, and then you'll find another sign post at the end of the trail.
The refuge – rifugio in Italian – (which is a restaurant and often times also serves as a mountain hut) is to the left, but the lake is forward.
Just before the gorgeous Lago di Sorapis is visible, one last sign warn visitors not to swim (please do respect that as it is damaging to the environment).
As it had been a dry autumn, it took us a few more steps before we saw the lake. However, the colour is as pretty as the photos, so we snapped some shots before heading out the same way that we came.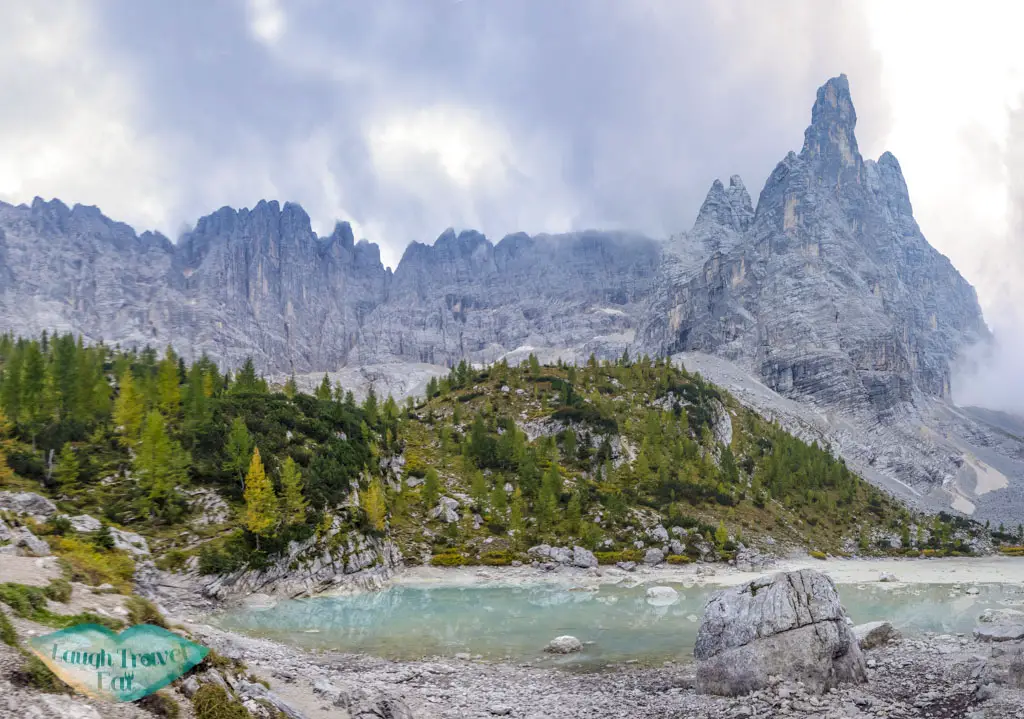 Note: if you do plan on staying at the Rifugio Vandelli, it's best to check beforehand as we met hikers who had gone in only to find that it has closed. Most of them only operates during the summer season, which means that by the end of September and early October only a few are still operational. You can check for its operational status here.