Last updated on April 20th, 2019 at 07:22 pm
With sprawling canals, charmingly paved squares and balconies brimming with geraniums and heartsease, there is virtually nowhere in Venice that wouldn't make a good lunch spot. However, there are corners more enchanting than others and I would like to raise you my four favourite outdoor restaurants out of my three days of dining in the city of water.
Il refolo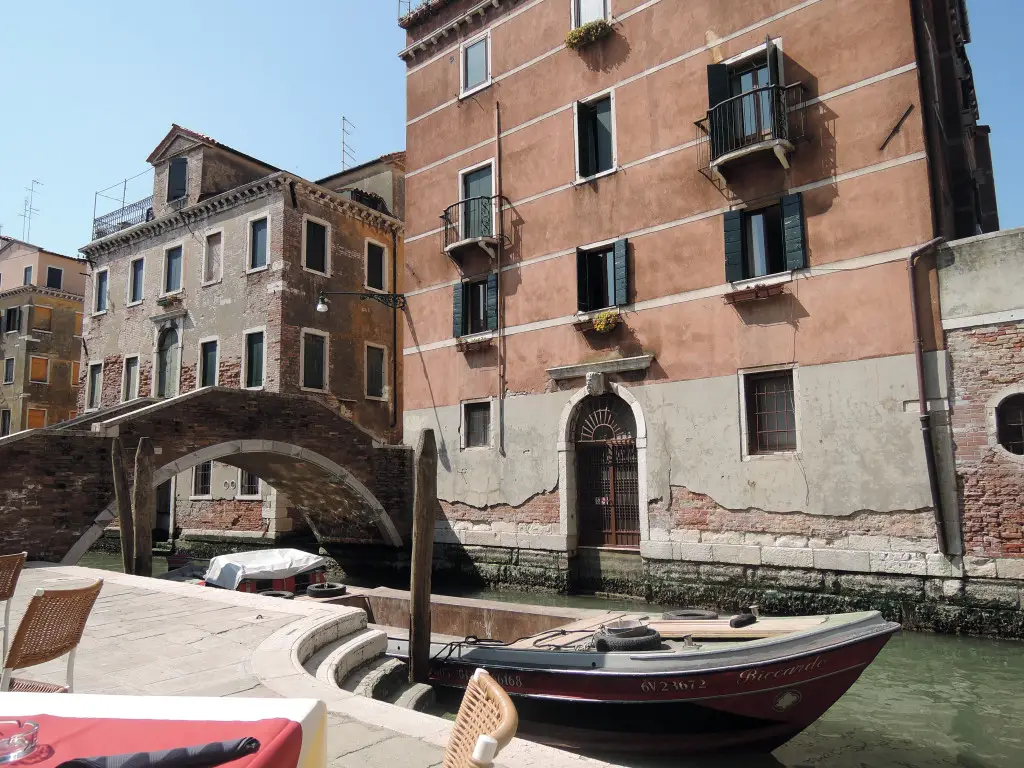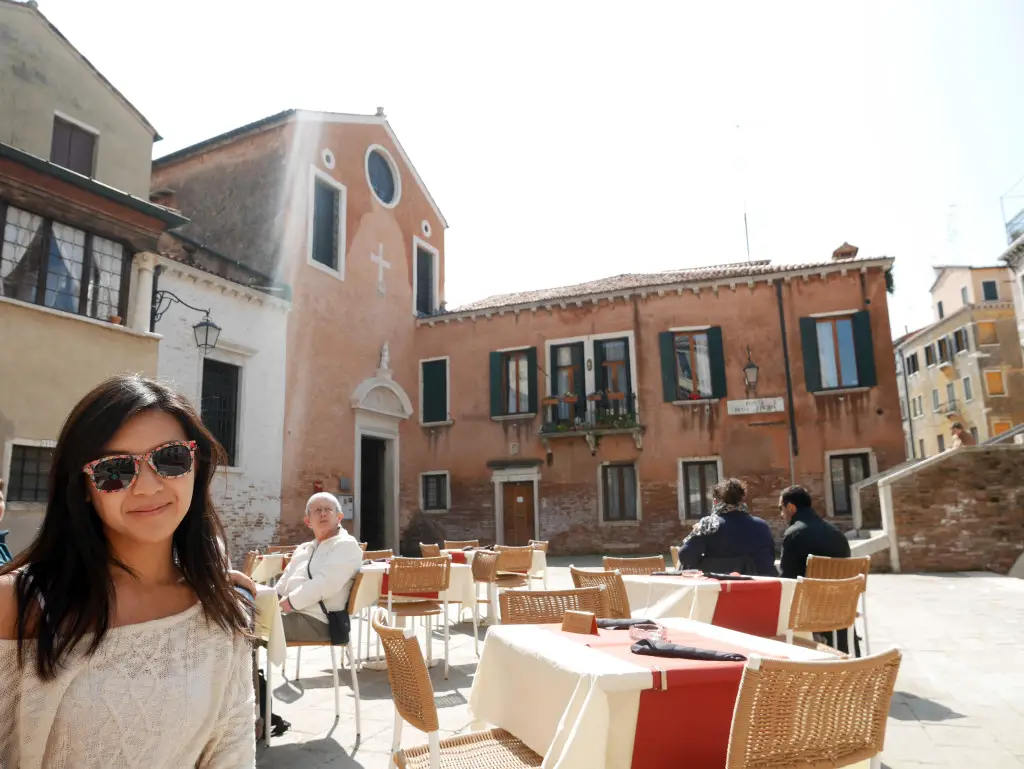 Recommended by the guidebook my sister picked up from the library, Il refolo sat next to the canal on the back side of Church Cattolica Parrocchiale S. Giacomo Dell'Orio, away from the hustle of the main square. With several dozen tables sat across the deserted little square and music drifting from the main square, it's the perfect place to order a glass of wine and watch the occasional boat tootled down the canal. Entrance to church in the background.
Starters are around €12 to €15, with pizzas and pasta from €10 to €17 which are extremely affordable. Mains with meat and fish are more expensive, averaging around €19 to €23. Desserts, in my opinion, are a bit expensive costing €7, and drinks are €3.5 upwards. I actually ended up ordering a glass of white wine because it only costs 50 cents more than soft drinks.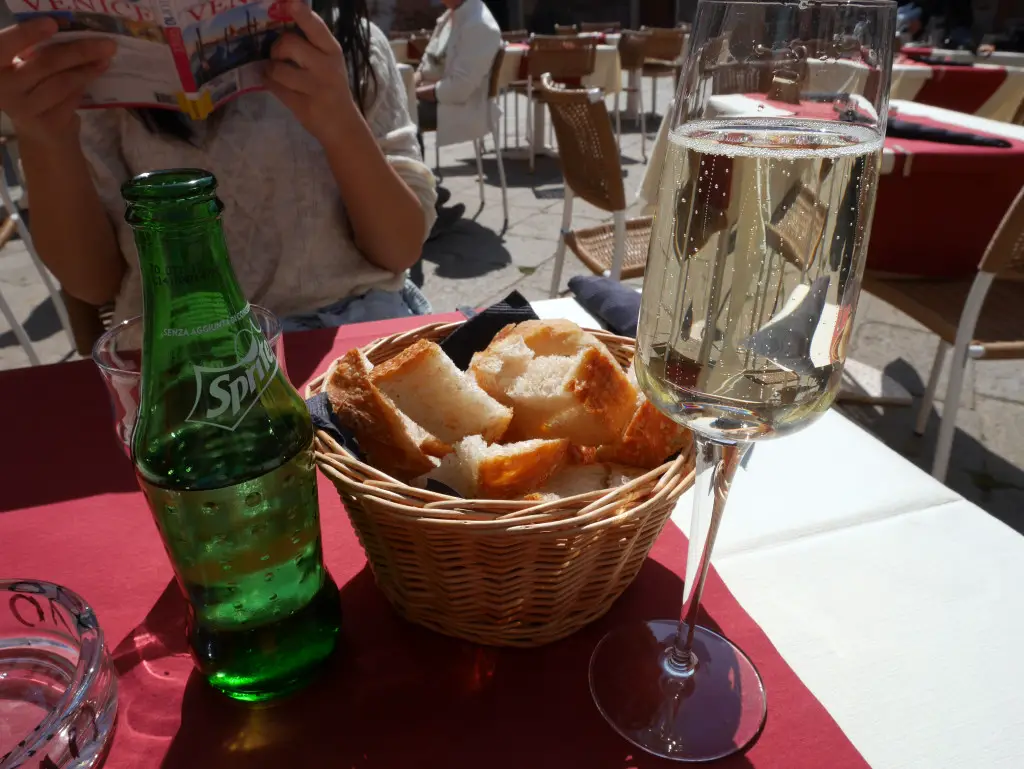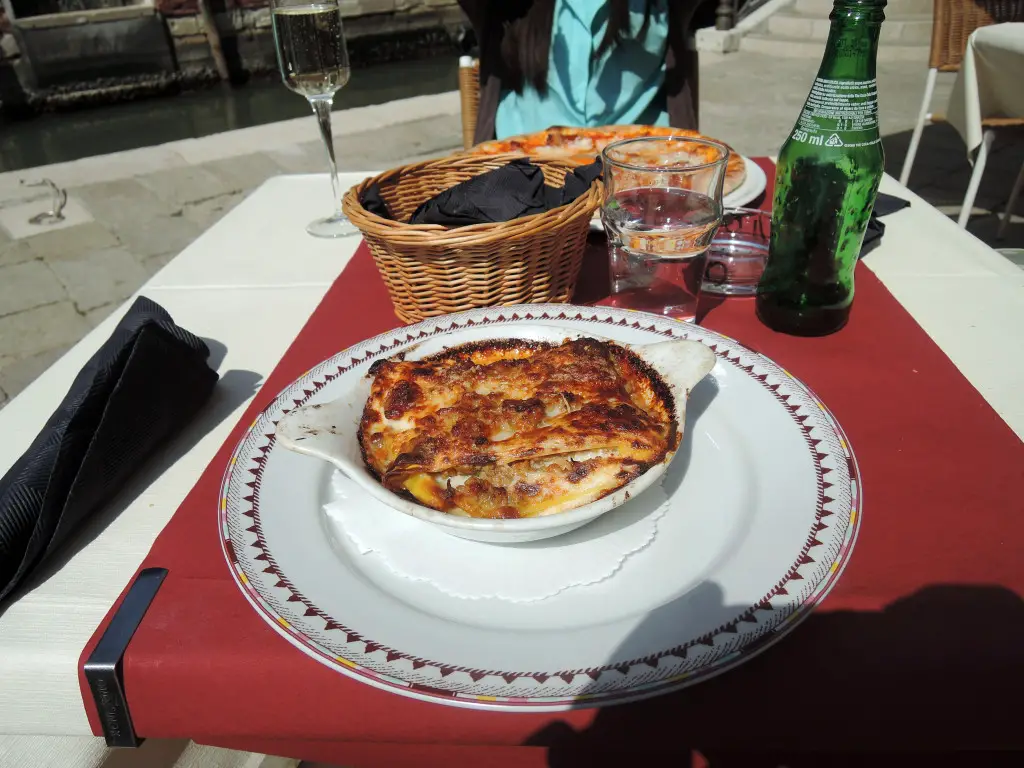 As with most Italian restaurant, free bread is offered. We ordered pizza Carbonara (€14) and Lasagna (€17) to share and some of you might want to know that they do charge a 10% service.
Address: Santa Croce 1459. Campo San Giacomo del'Orio, Venice, Italy
Opening times: Mon – Sun 8:00 – 22:00
Website: www.ilrefolo.it
Telephone: 0415240016
Ristorante della Conchiglia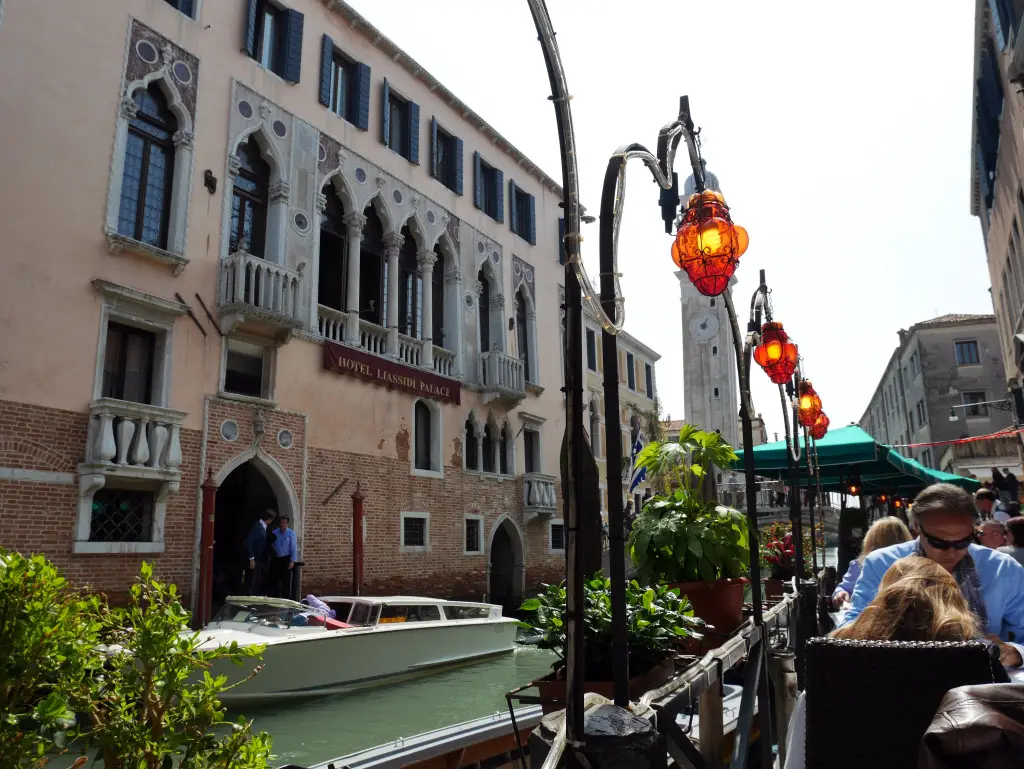 Not all tourist menus are traps, especially when restaurants are vying for your attention next to one another along a busy canal.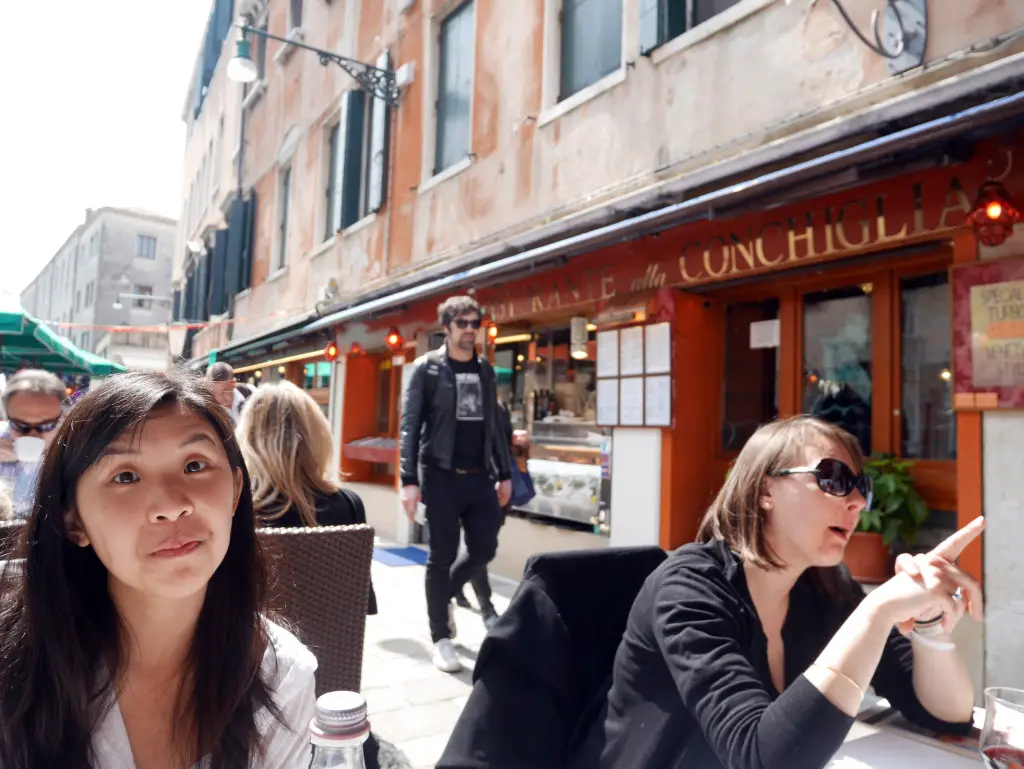 If you ask me where the prettiest canal side restaurant is, it would definitely be Ristorante della Conchiglia on Rio de S. Lorenzo. With pretty wooden fence lined with potted plants and iron-wrought dangling lanterns, it's without a doubt the most romantic and picturesque setting.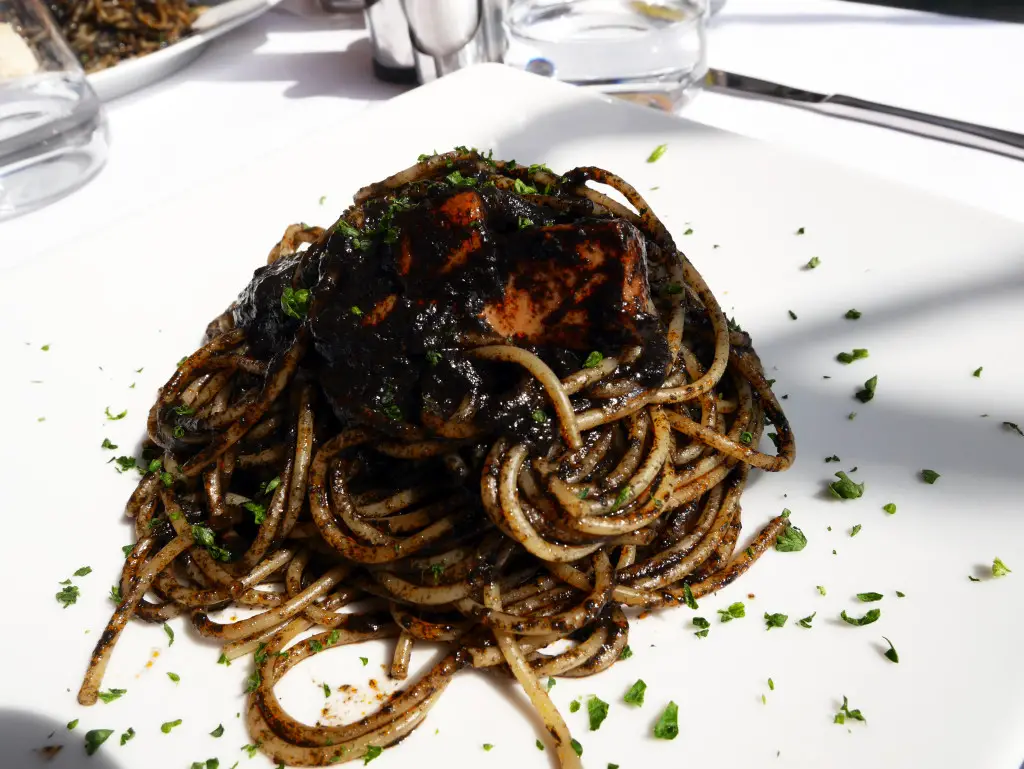 The tourist menu they offer is of great values too, with the two of us paying a total of €38.5 for a three-course menu of ample choice and water. Less of a starter and main situation, you get two small mains with dessert. The black cuttlefish spaghetti was excellent, but the calamari and sea bass we shared for the second main was mediocre. The salad they offered was essentially a bowl of washed lectures and the desert was suspiciously like store brought crème bulee. However, given the price and the view – I would definitely recommend this place for a relaxed lunch or evening.
Address: Fondamenta San Lorenzo n° 4990 | Venezia, 30122Venezia, Italia
Opening times: daily 12:00 – 22:00
Website: https://www.ristoranteallaconchiglia.com/index.php/it/#_=_
Telephone: +39.041.5289095
a Beccafico Ristorante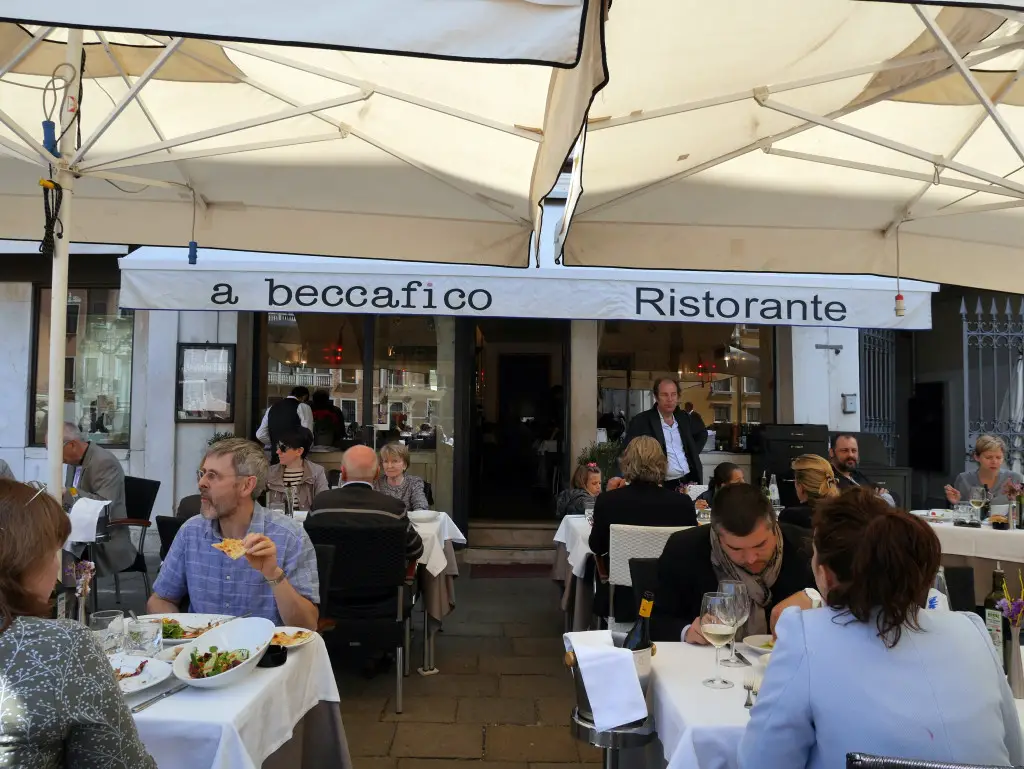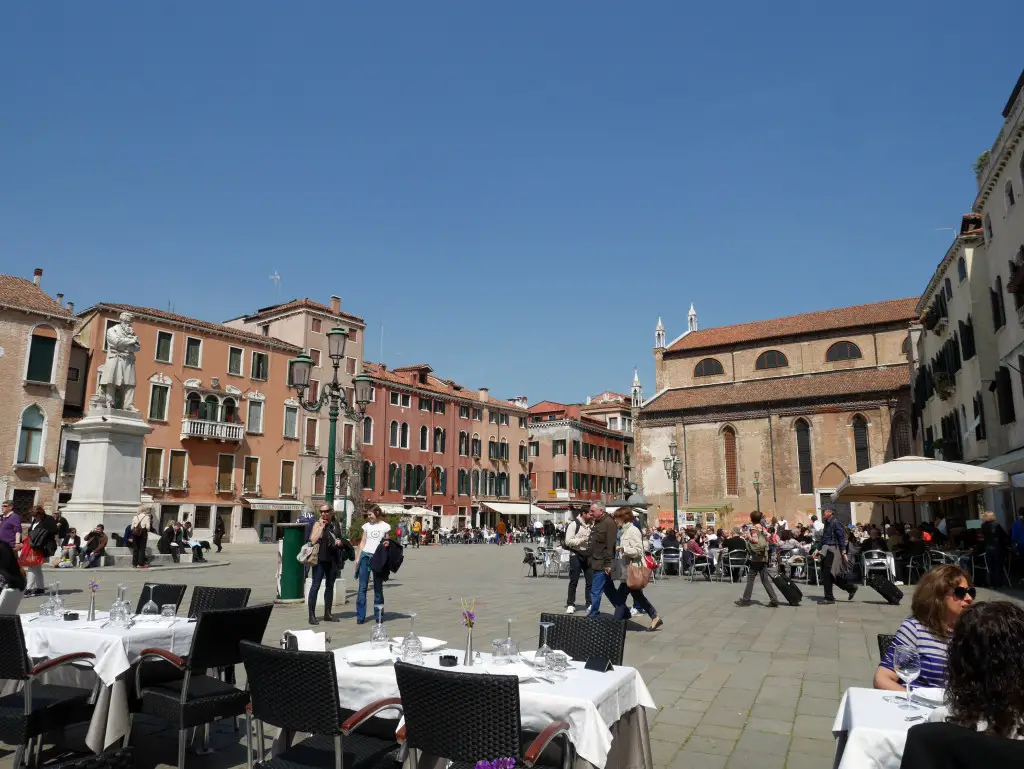 When my sister got the guidebook from the university library, it came with a restaurant card inside – a Beccafico Ristorante. Intrigued by this breadcrumb, we headed there on our last full day for lunch. It's situated in the beautiful Santo Stefano's Square, facing the statue of Niccolo Tommaseo, an Italian linguist, journalist and essayist. With a neat set of outside tables under a much needed white umbrella, the restaurant is more on the high-end side, but the food is definitely better.
We were given free starters: tomato salsa on bread. For the main meal, we ordered a seafood pasta and sea bream; I don't remember the individual price, but we ended up paying about €30 each for the two courses and water.
If you are a fan of fish and staying somewhere you can cook, you should check out the Rialto Market where they sell the freshest catch!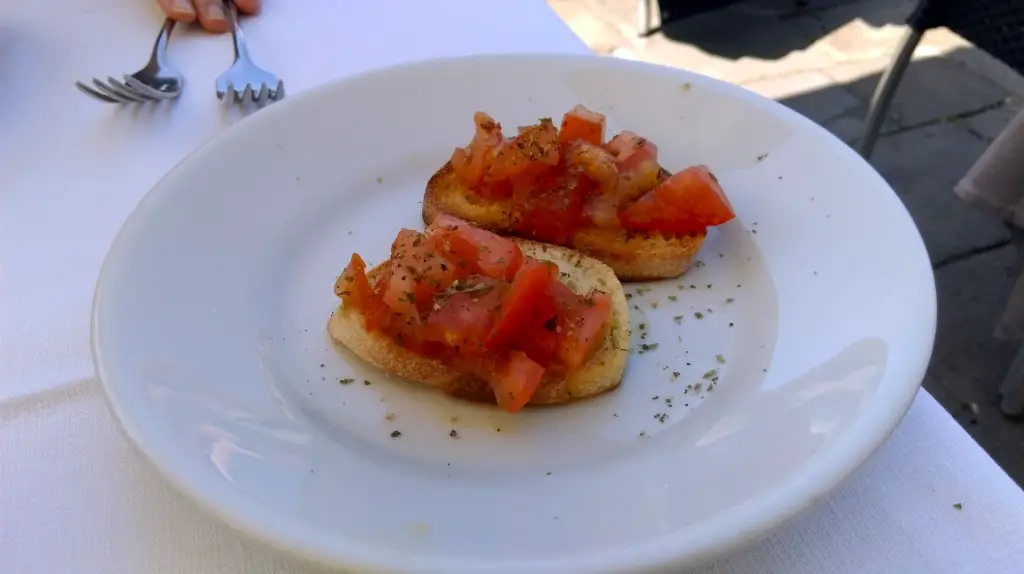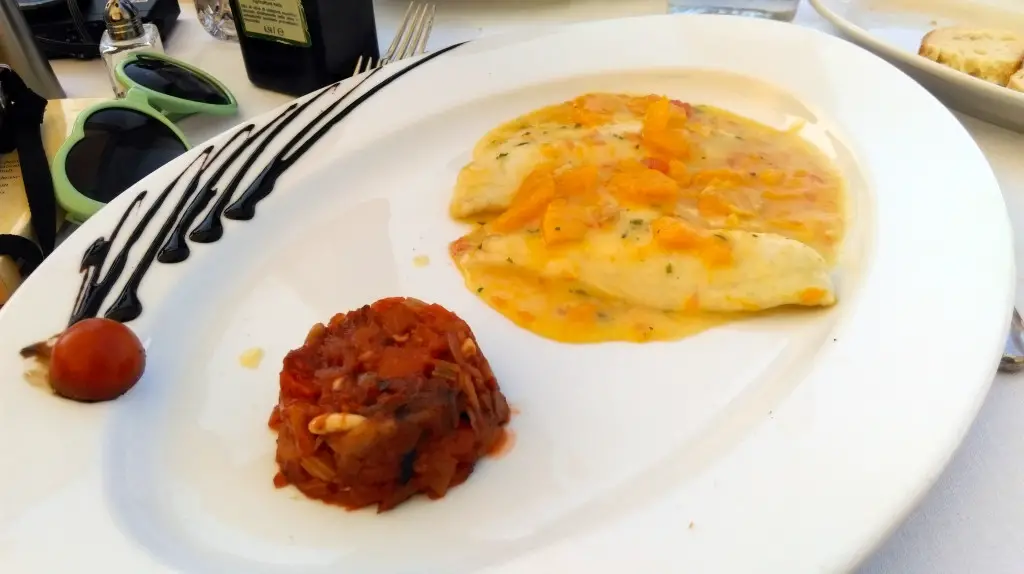 Fruity sea bream 🙂
Address: Campo S. Stefano, 2801, 30124 Venezia, Italy
Opening times: Daily from 12:00 – 15:00, 19:00 – 23:00
Website: www.abeccafico.com/
Telephone: Campo S. Stefano, 2801, 30124 Venezia, Italy
We Crociferi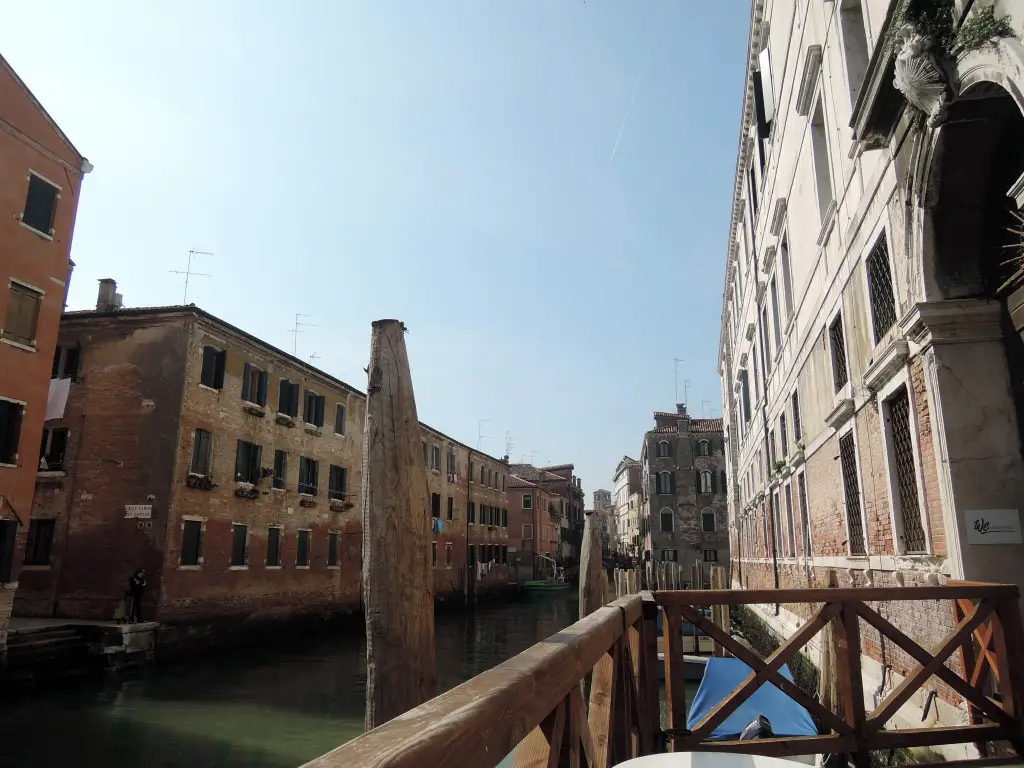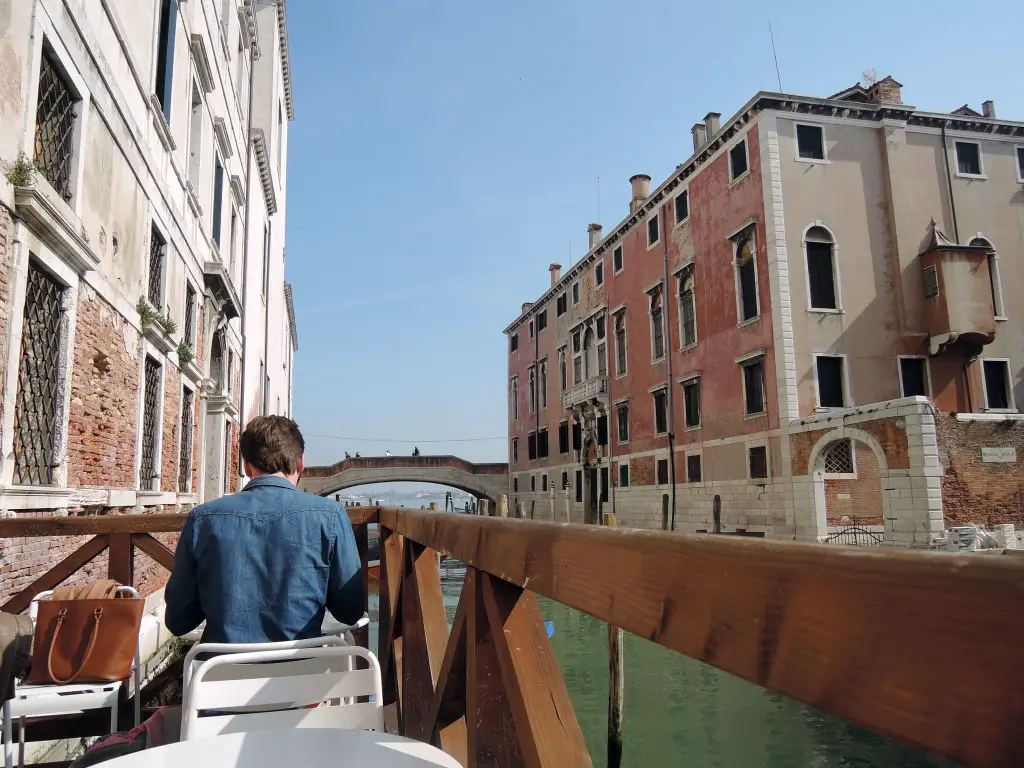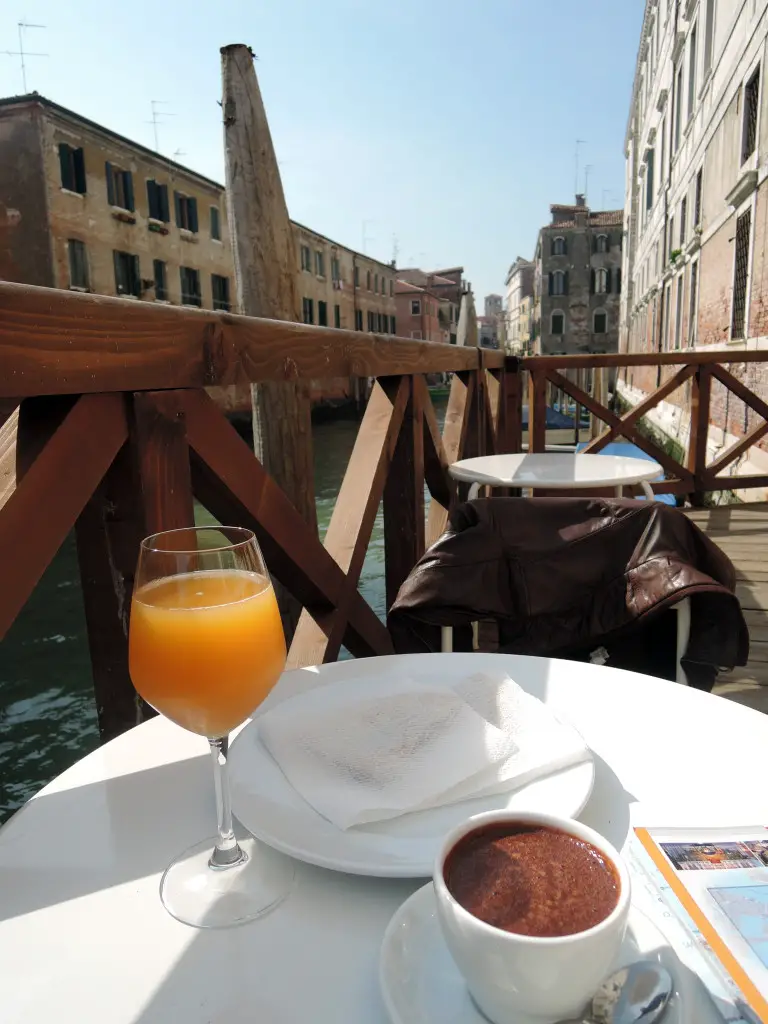 A magnificent chance found at the north end of Venice, We Crociferi is a gorgeous little café hidden in a courtyard that is easy to miss. Apart from the affordable prices, its main selling point is the balcony they had at the back perched on the side of a canal, looking out to the North Adriatic. The canal is relatively quiet with a serene feel, perfect for a pit stop to plan your next leg of the journey. I had a Belini for €6 (which is a lot cheaper than the other bars and cafes) and my sister a hot chocolate for €3 which she later regretted because it was a hot day. We shared a Panini with Parma ham and cheese, which was €9.
Fun fact: it is also a boarding school and you can rent a room there! I thought it was a university at first.
Address: Campo dei Gesuiti, Cannaregio, 4876, 30121 Venezia, Italy
Opening times: daily 12:00 – 23:00
Website: www.we-crociferi.it/
Telephone: +39 041 528 6103