A well-known holiday destination for British, Taormina is my second favourite stop in Sicily right after the Aeolian Islands. There are plenty of things to do in this gorgeous town situated strategically on a hill overlooking the Gulf of Naxos. It is known as The Pearl of the Ionian Sea. Even though the prices in Taormina are higher than the rest of Sicily – but that doesn't diminish the fact that it's an amazing place to visit.
History of Taormina
I don't do this for every short guide, but Taormina deserves one. It was inhabited even before the Greeks arrived to Naxos in 734 BC, and was under the rules of Romans, Byzantines, Arabs, Normans, Swabiansm Crown of Aragon, France and eventually became a popular tourist resort in the 19th century.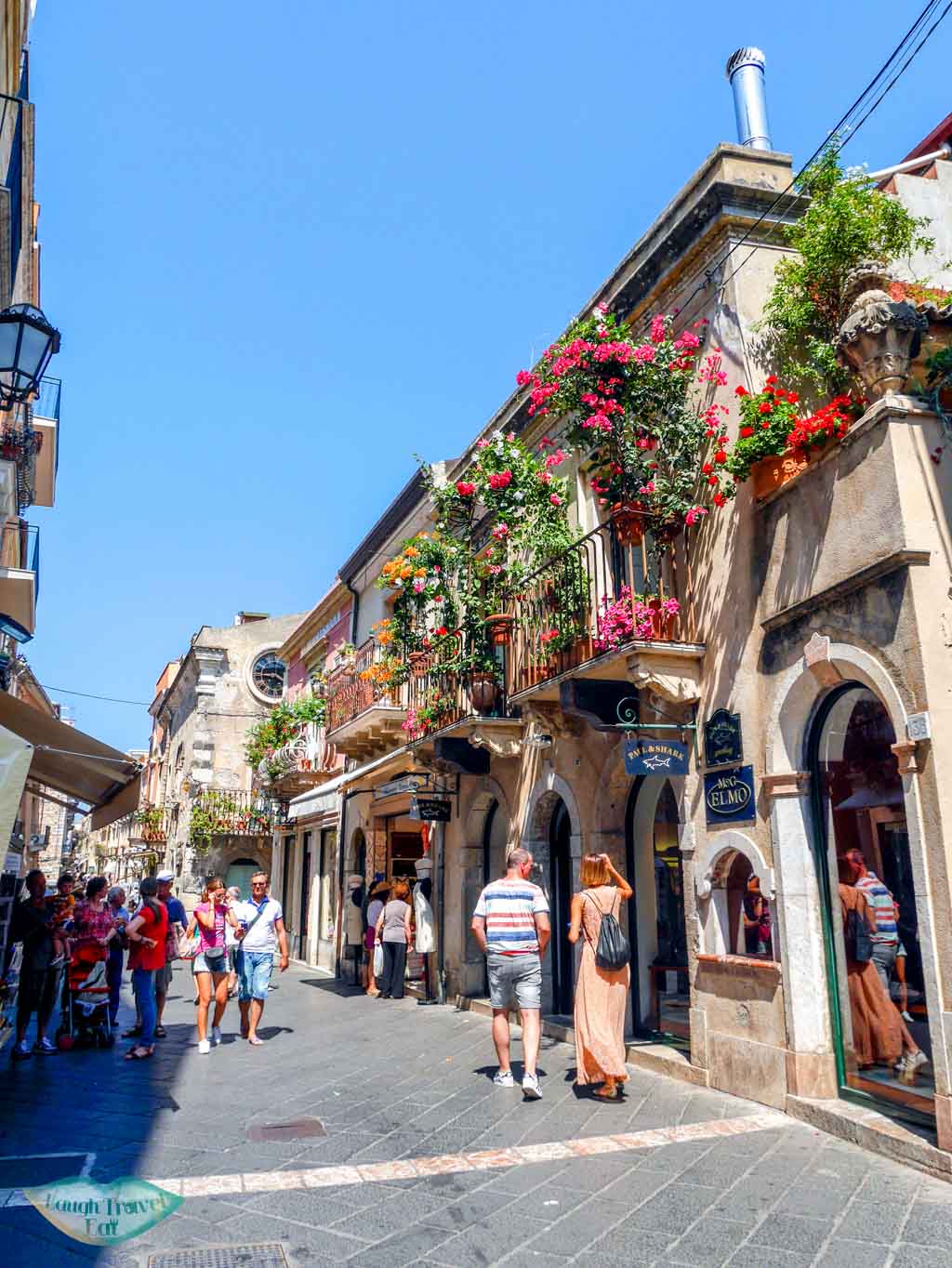 It became a popular spot for wealthy British, many settling in Taormina – notably Florence Trevelyan, who in the late 19th century and built some of the popular attractions in Taormina. Many celebrities, such as Oscar Wilde, Johann Wolfgang von Goethe, Elizabeth Taylor, and Nicholas I of Russia also visited Taormina, making it a hotspot for tourism and still continue to be one today.
Get your free map to Taormina here
Taormina things to do
The Ancient Theater (or the Amphitheater)

Without a doubt the number 1 attraction in Taormina, it's one of the best-preserved amphitheaters around the world. Add into the fact that it's built on a hill overlooking the Gulf of Naxos, you get two birds with one stone when you visit this gorgeous ruin. The central part of the proscenium (the back wall of the stage) is broken – offering you a glimpse of the bay beyond.
It was built in the 3rd century by the Romans but believed to be resting atop an older Greek theater and the second largest in Sicily after the one in Syracuse. To this date, it is still used for performance ranging from theatrics to opera.
Address: Via Teatro Greco, 98100, Taormina, Sicily,Italy
Opening times: Daily 9 – 19:00
Admission fee: 8 Euros for adults, 4 for students
Website: https://www.teatrogrecotaormina.com/concerts/events.html
Taormina Cable Car and Isola Bella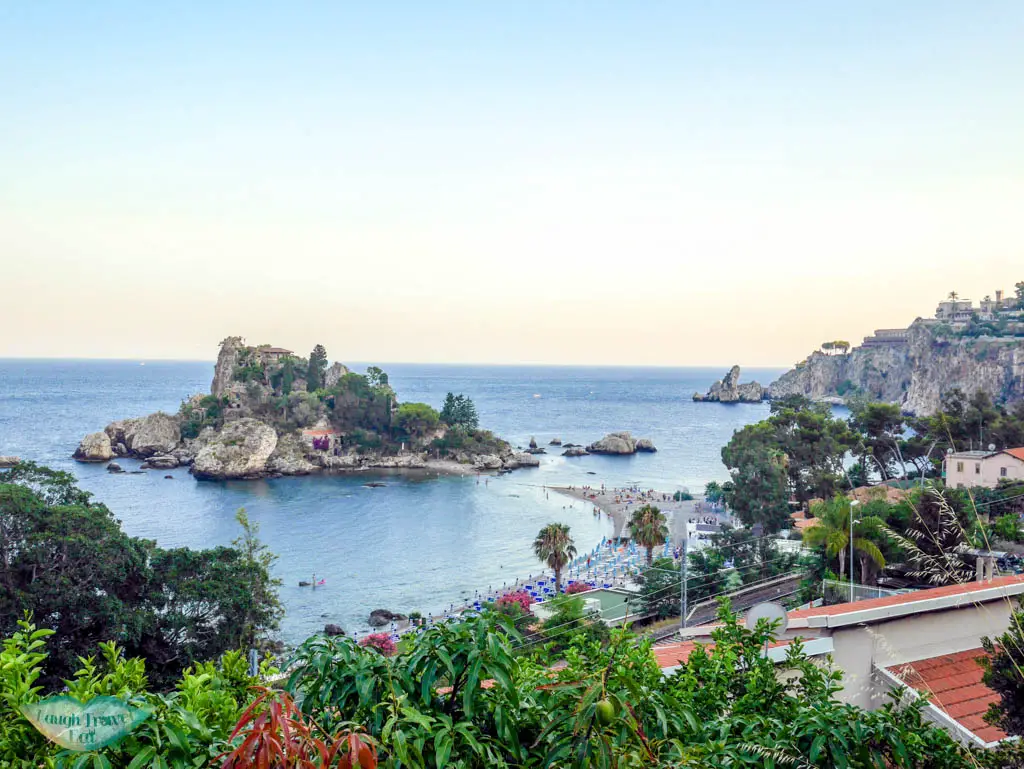 A small island located in a small bay near Taormina, Isola Bella is the second most popular destination after the amphitheater. Owning its unique architectural buildings to Florence Trevelyan, the island had been in private hands until 1990 and is now open to the public for visit.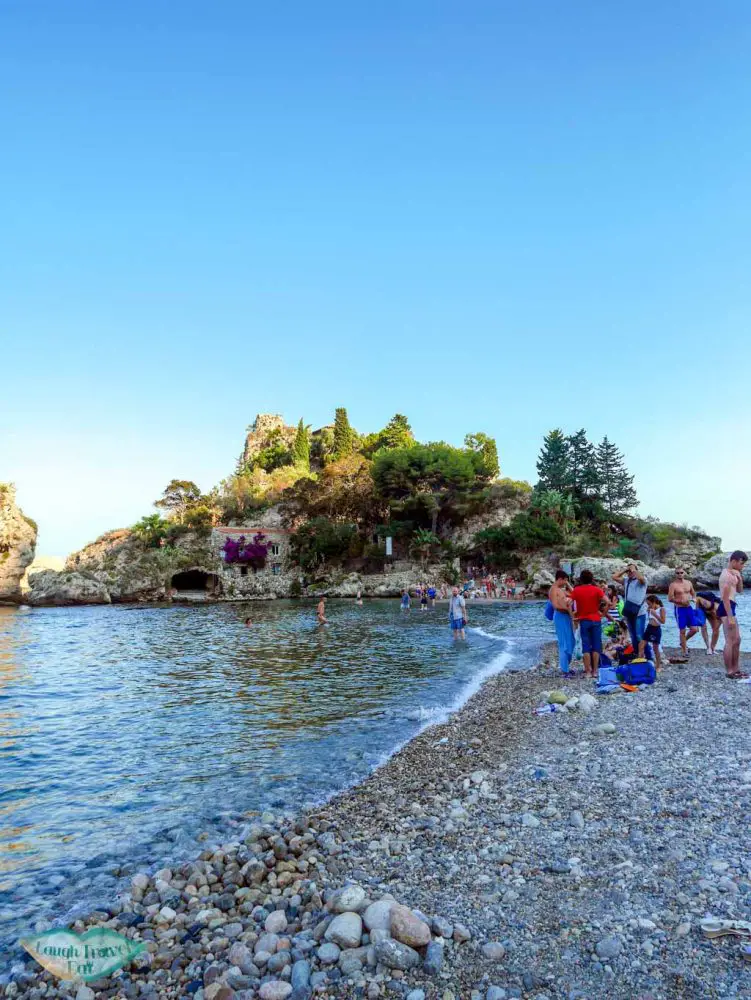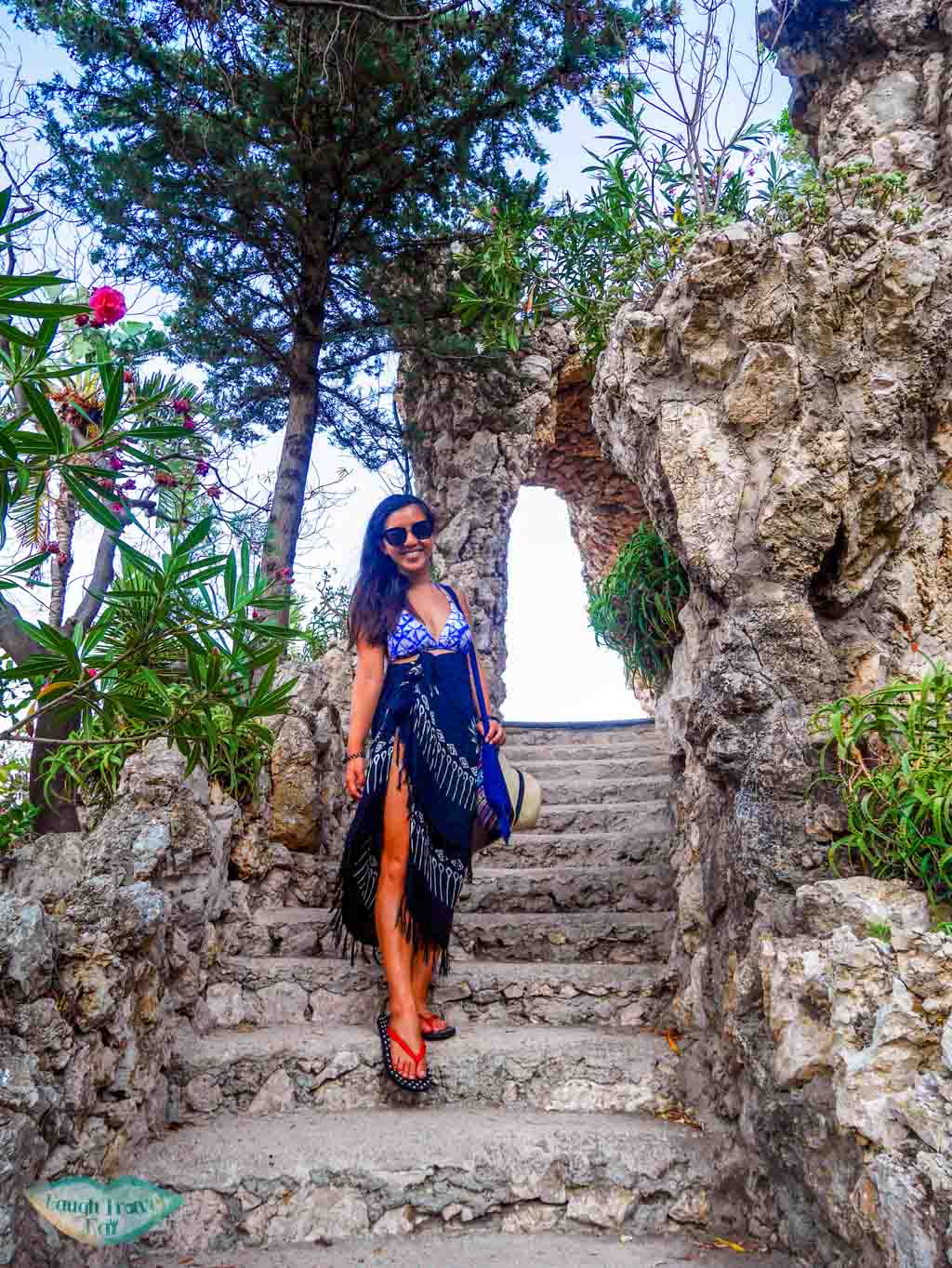 Connected to the mainland by a narrow path that's often covered by the sea up to the ankles, it makes for a marvelous view from afar as well as a visit. It is known for its unique architectures:
The best way to get to and from the beaches near Isola Bella and Taormina is by cable car – which isn't all that pricey and a much faster way than suffering through the traffic down the meandering mountain road.
Address: Isola Bella, 98039 Taormina, Province of Messina, Italy
Opening times: Tue – Sun 9:00 – one hour before sunset Cannot admit more than 15 people at one time
Admission fees: adults 4 euros, 18-25 EU citizens 2 euros, EU citizens under 18 free
(tickets include a visit to Museum and Archeological sites of Naxos within 3 days)
Garden of Villa Comunale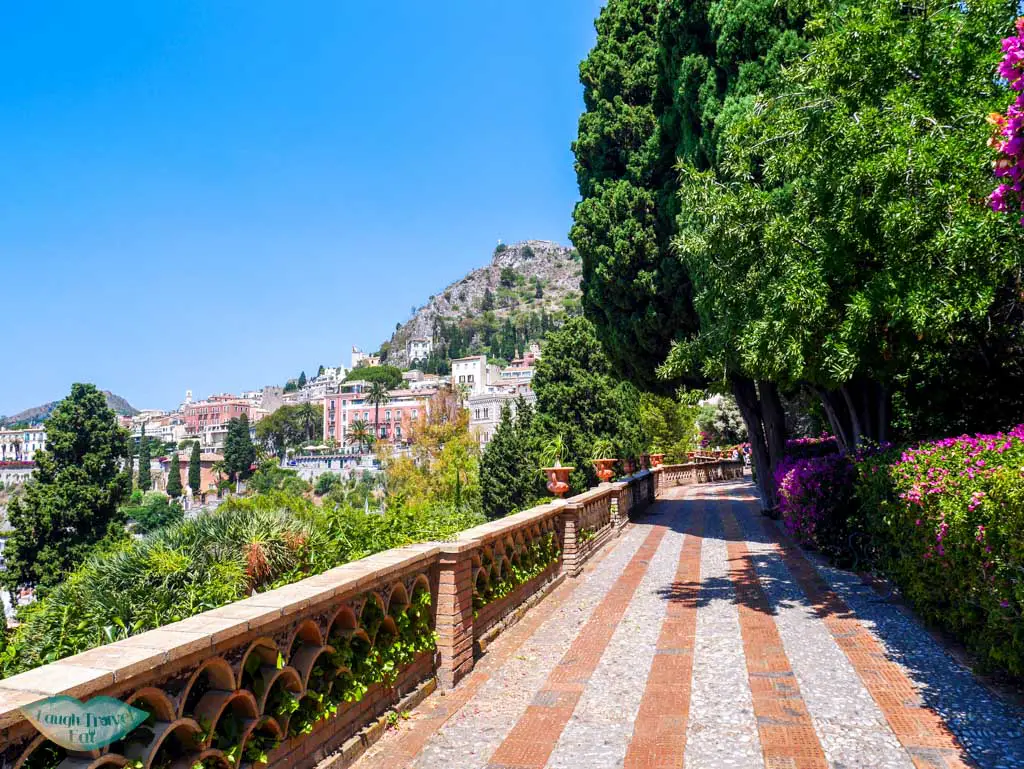 Another contribution to Taormina by Florence Trevelyan, the Garden of Villa Comunale was given to the city after her death. Covering an area of 22,400m2 , this irregularly shaped park is home buildings similar to the style on Isola Bella, the quirky structures are upon the highlights of the garden, as well as the amazing views.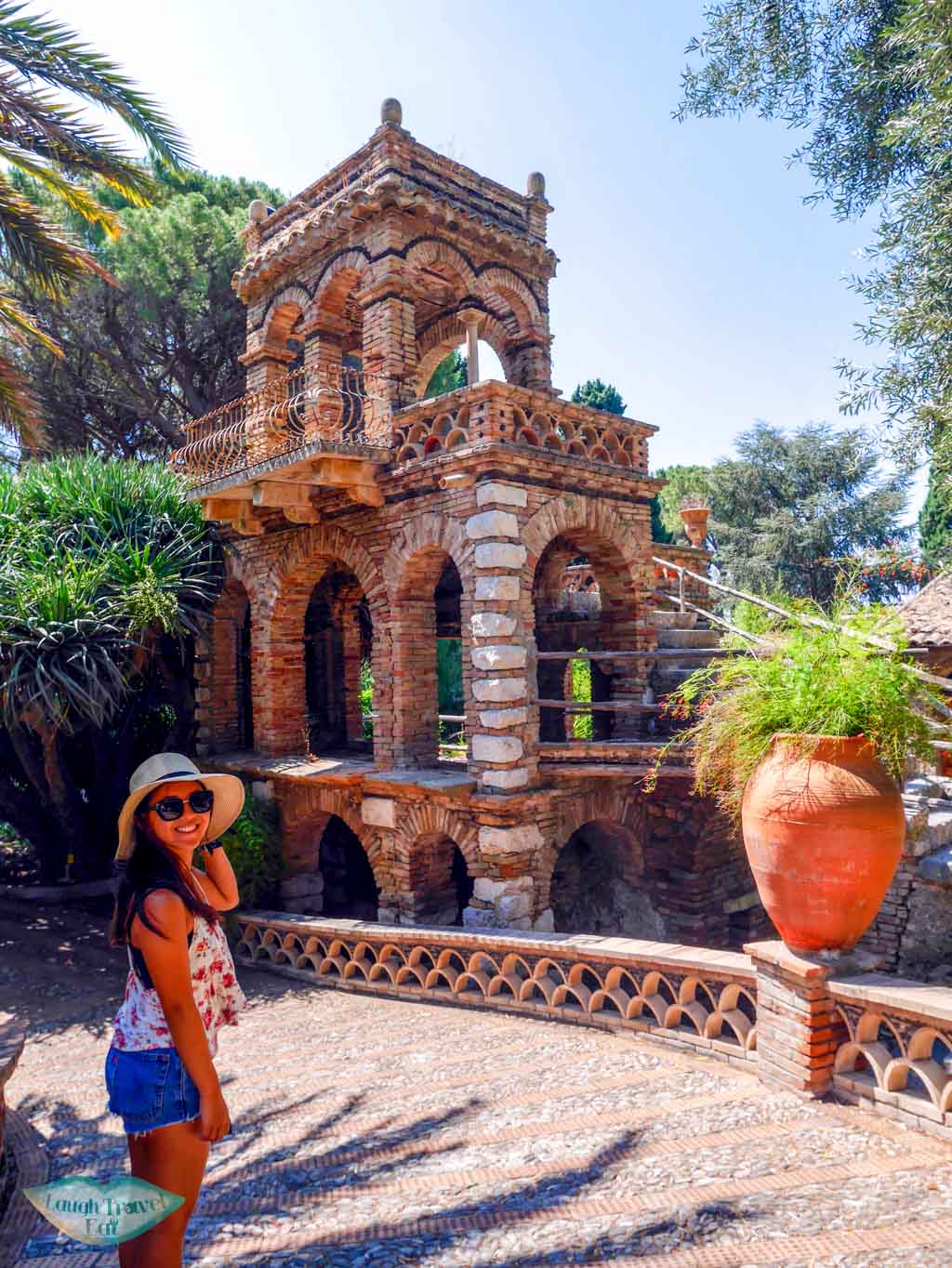 The garden has two levels and consists of many bricks-paved stairs and winding paths. Also refer to as the Communal Garden; there is no entrance fee to this beautiful park so there's no excuse not to visit.
Address: Piazza Vittoria, 80121 Napoli NA, Italy
Opening times: Unsure – assume daylight hours
Admission fees: free
Old town of Taormina
Corso Umberto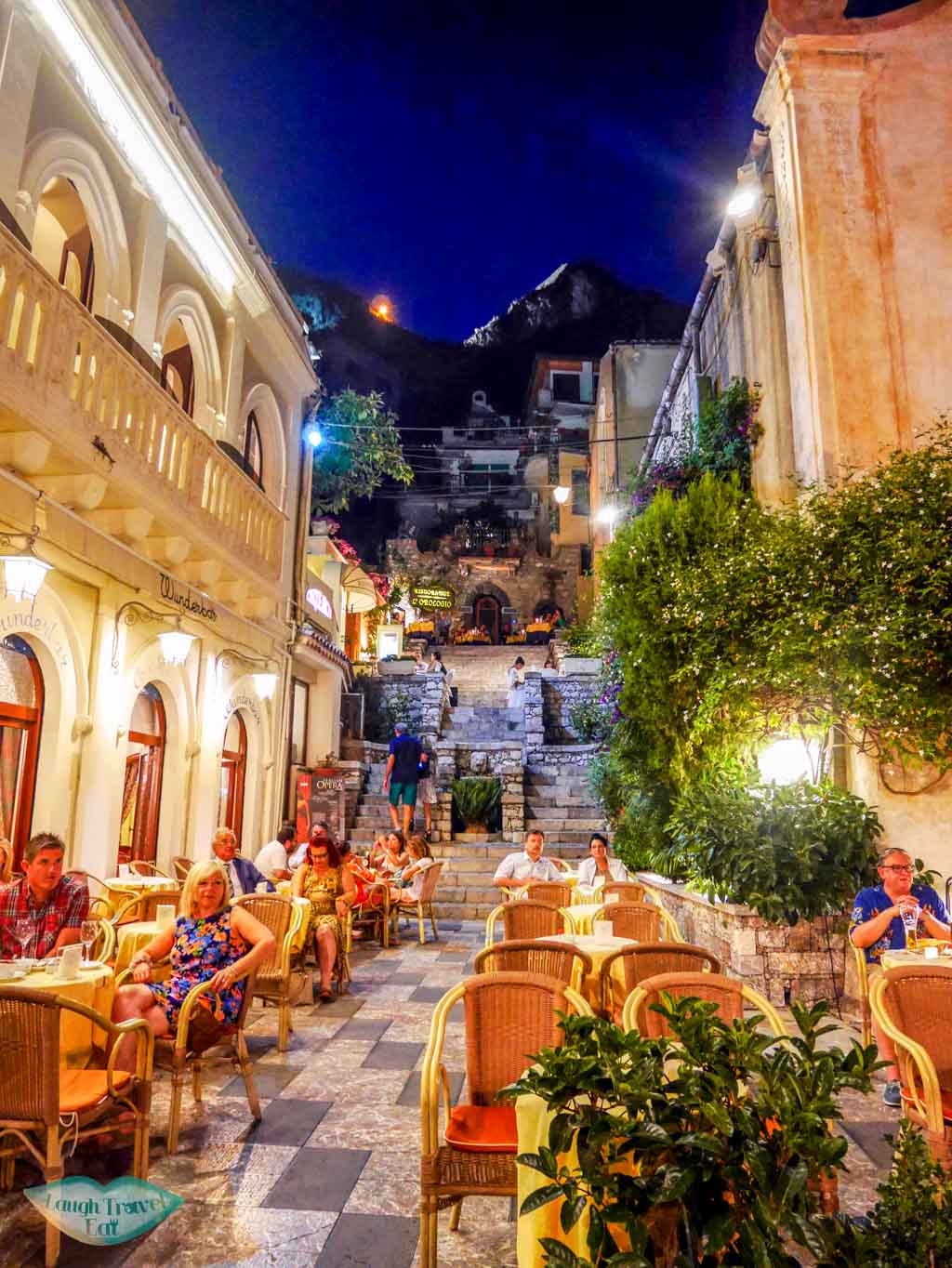 The historic town of Taormina is still pretty much alive and in use today fill with winding cobblestone streets, hidden alleys and stairs. Corso Umberto is the main street that connects the Old town from Porta Messina to Porta Catania.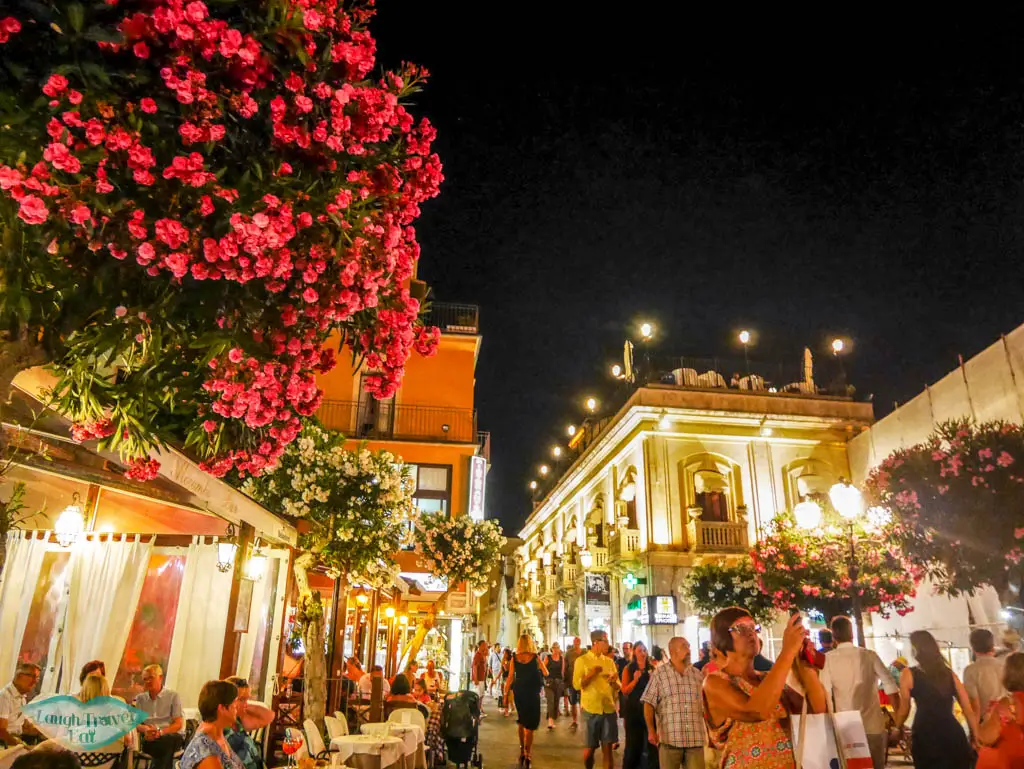 It's undoubtedly busy, however the evening vibe in the streets are wonderful. Not to mention the fact that it takes you past all the major attractions:
Piazza IX Aprile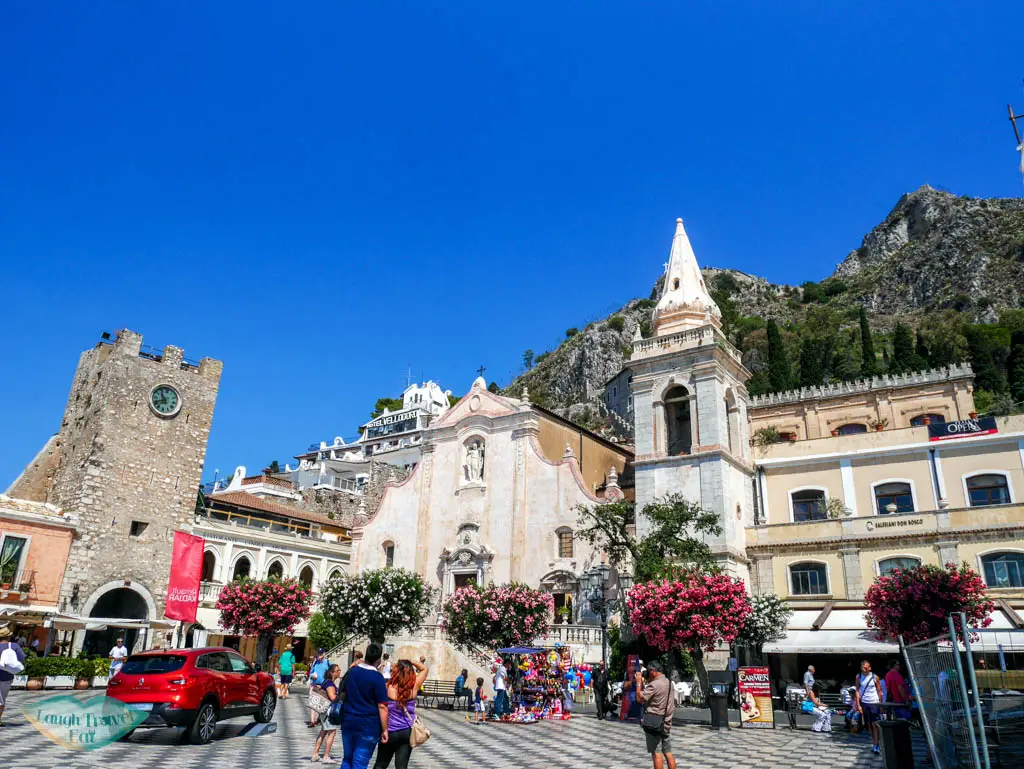 A bustling square right in front of Chiesa di San Giuseppe, the Piazza's beautiful tiled floor, combined with the dramatic rising rocks behind the church and the epic sea view on the other side gives this square a unique charm. Vendors, cafes and tourists milled about around the square and if you are lucky, you will get to see a wedding taking place!
Chiesa di San Giuseppe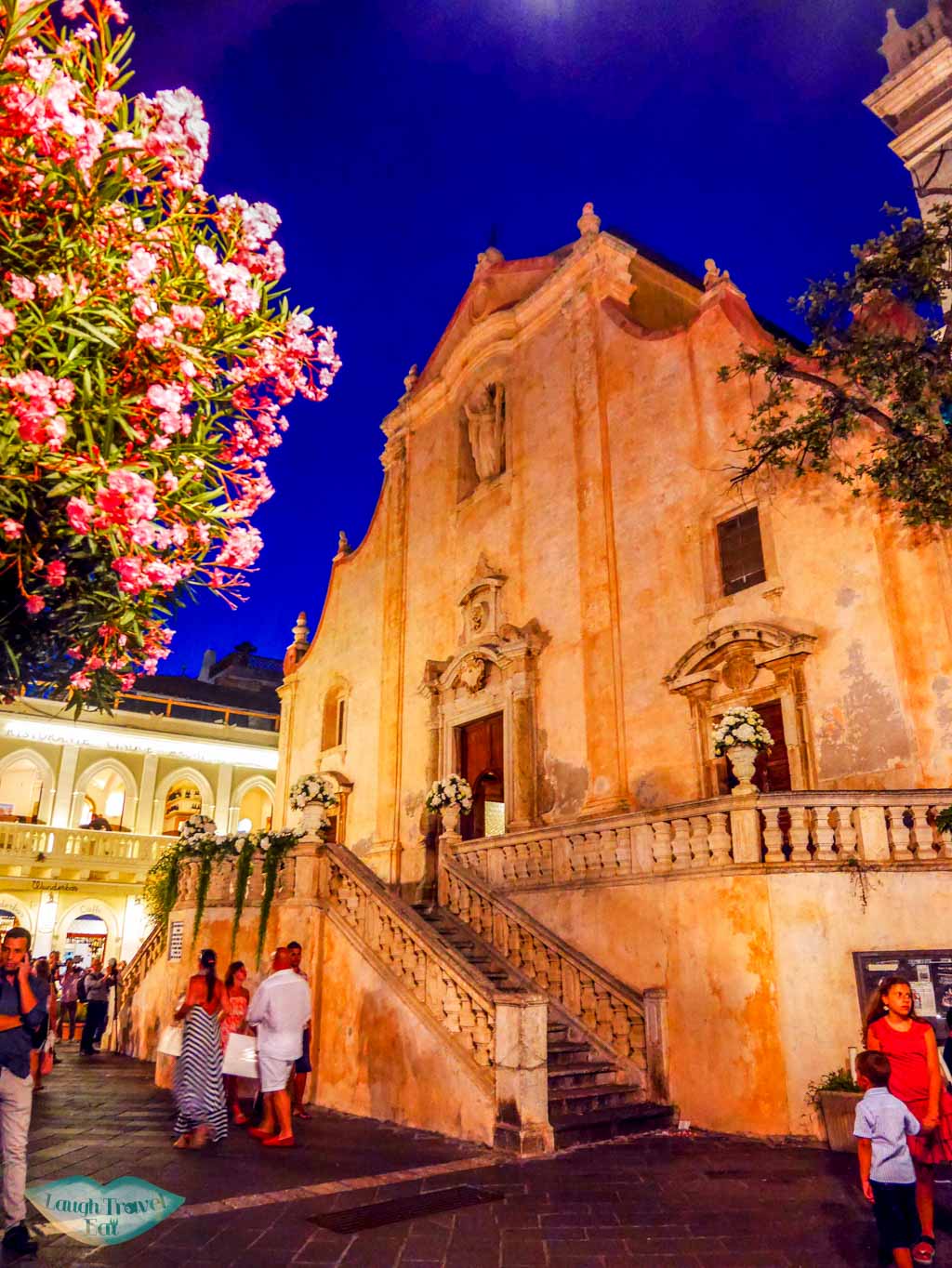 We arrived just in the evening just in time to see a wedding procession taking place in the church! With a romantic pastel coloured Rococo façade and a simplistic but elegant staircase, it's no surprise that Chiesa di San Giuseppe is a popular wedding venue. The fact that it looks out on the Piazza IX Aprile is also a bonus.
Address: Corso Umberto, 98039 Taormina ME, Italy
Opening times: 9:00 – 19:00
Admission fee: free
Dumon of Taormina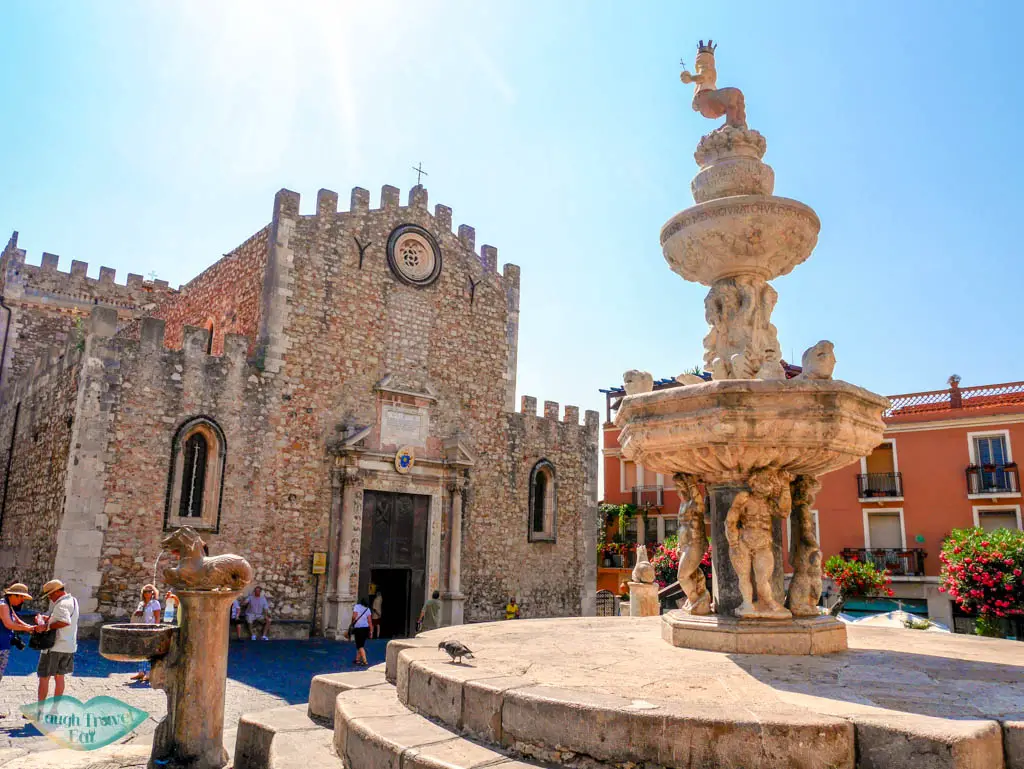 Built in the 13th Century, this medieval church was built atop the ruins of another dedicated to St. Nicholas of Bari. Its castle-like façade combine with the picturesque fountain set in front of it made for a stunning view. In the evening there is often street performance going on, and the church looks even better in the twilight.
Restaurants in Taormina
Andreas Ristorante
Located directly across from Villa Comunale, the Andreas Ristorante makes for a perfect lunch or dinner stop. A modern restaurant serving contemporary Sicilian cuisine, we were offered brain up front and like always, I was sold. My sister ordered seafood pasta and I ordered the mix seafood grill – and both were excellent. They didn't skimp out on the portion and the service was attentive and kind.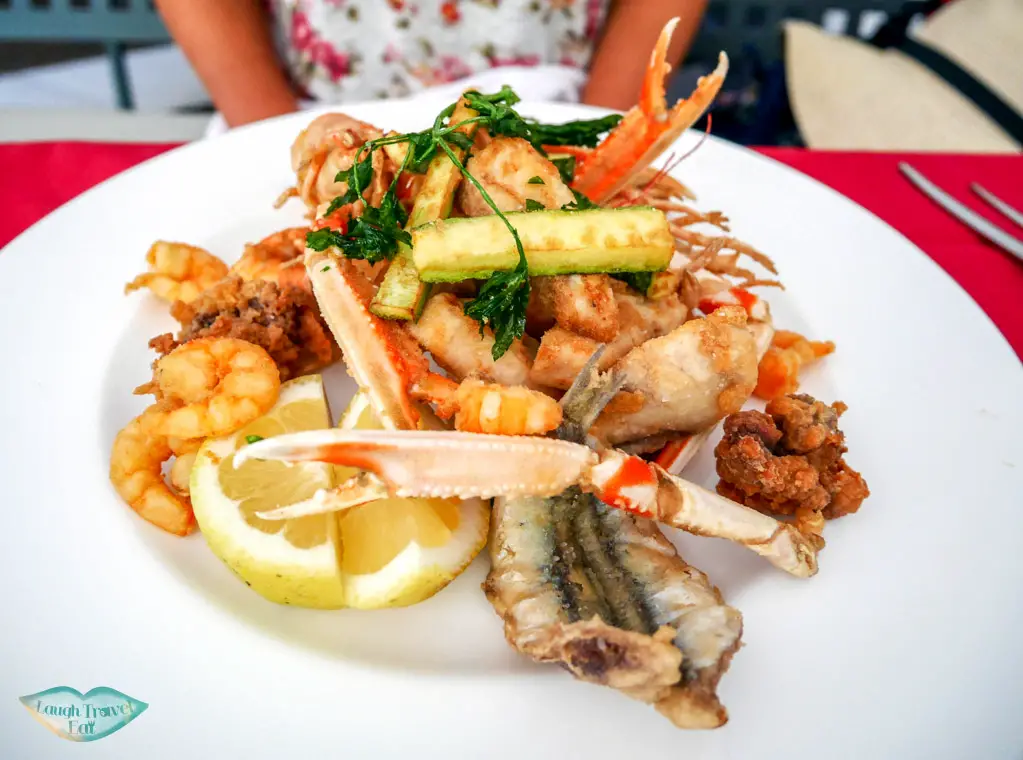 Address: Via Bagnoli Croci, 88 | Di Fronte Alla Villa Comunale,98039, Taormina, Sicily, Italy
Ristorante Da Iovanni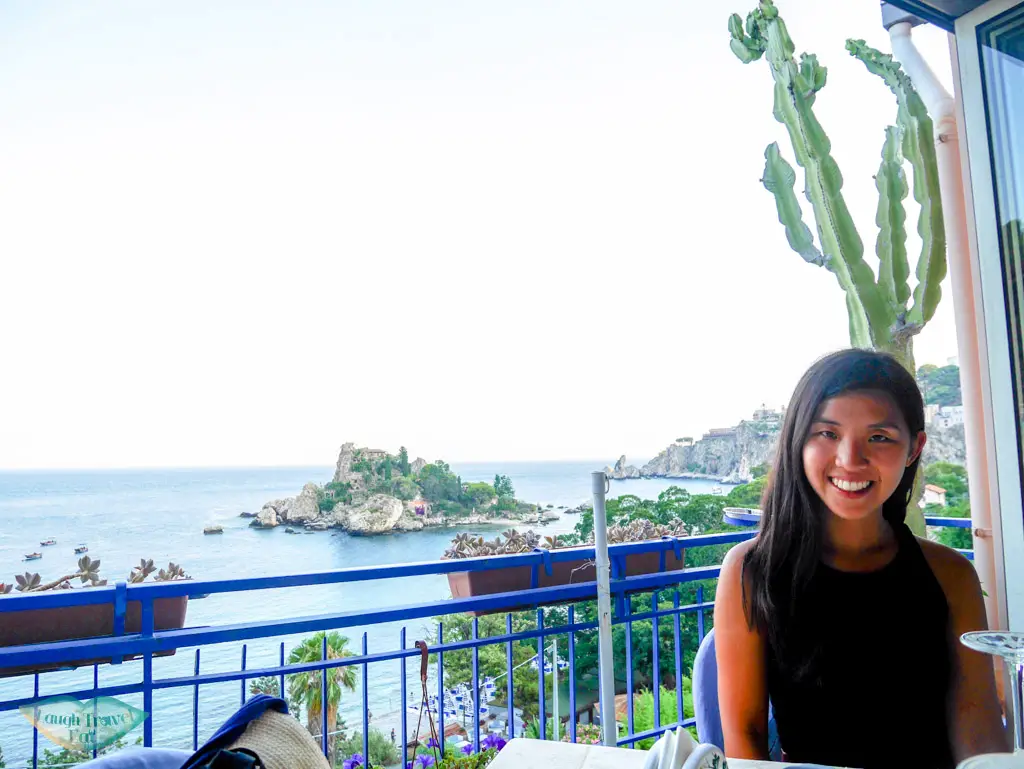 If you are down near the coast visiting Isola Bella – then you might just want to stop by this restaurant. Though the food isn't as good as Andreas', the view made up for it. Facing Isola Bella fully, the terrace setting was stunning and we couldn't bear to move away. The pasta we ordered tasted good and the price was reasonable (I believe to be around ten euros) given its location.
Address: Via Nazionale, 105, 98039 Taormina ME, Italy
Where to stay in Taormina
Budget: For a beautiful balcony and budget stay, don't look further than Hostel Taormina (but there is a long stair!)
Mid-range: Prefer apartments? Then Taormina Center Apartment is great for a small group. If you want somewhere more secluded, the designs of Casa Turrisi is gorgeous.
Splurge: A repurposed local house, Cielo di Taormina is centrally located with a gorgeous terrace. For the more refined, Hotel Villa Schuler is a luxurious stay right at the heart of Taormina.