The Lagazuoi is one of the best day hikes from Cortina d'Ampezzo in the Italian Dolomites. While the view is undeniably spectacular, it is more famous for its historical significance during WWI. As the frontline during WWI between Austria and Italy, both sides employed mining warfare and today you can visit the tunnels where the soldiers dug and spent a long period of their time. It has the added bonus of being only 30 minutes from Cortina d'Ampezzo with a free car park. Here's how to do a day hike there:

A summary of Lagazuoi hike
Difficulties: 3.5/5 – as some part is quite steep and on the edge of a cliff
Time taken: 4-6 hours, depending on whether you take the cable car
Gears needed: headtorch to go in the tunnels and ideally helmets, too
A short history on Lagazuoi during WWI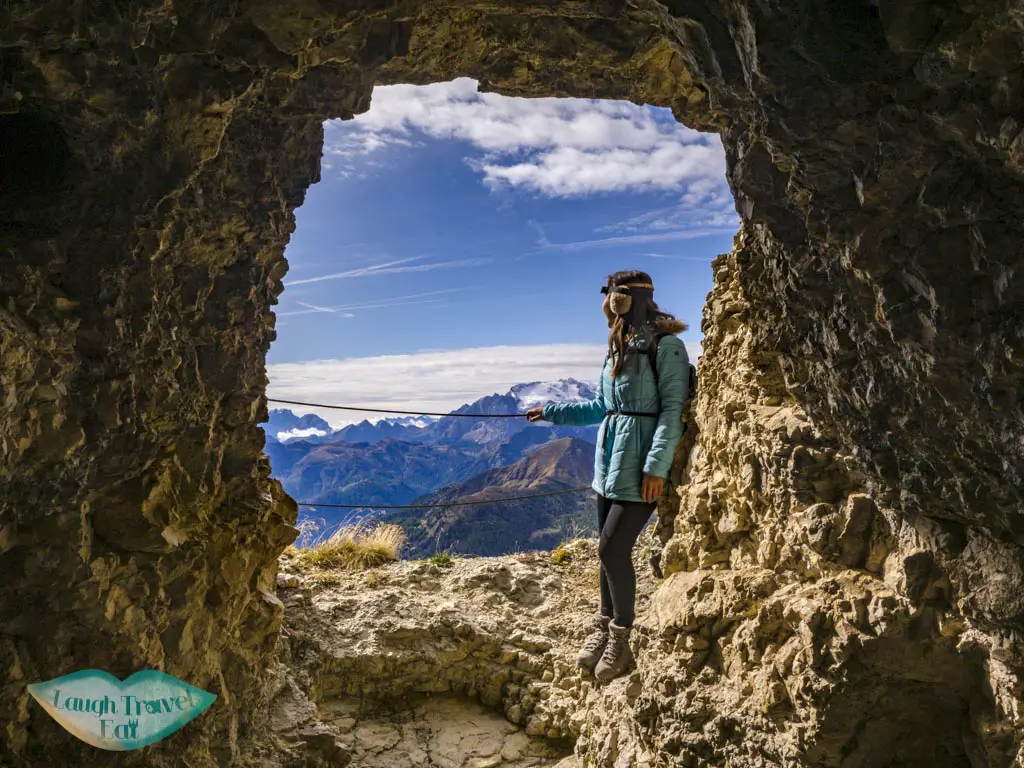 The mining warfare of WWI involves the soldiers from both sides digging the tunnel to go under through 'no man's land' to reach the other side, or to place bombs so they can cause the ground to collapse under the marching troops. However, there wasn't actually much fighting during the period and of the 22 thousand people killed, over 70% was due to the cold, hunger, or even falling over, as opposed to the fighting itself.

Getting to Lagazuoi
From Cortina d'Ampezzo, take the highway heading west and it'll pretty much lead you straight to the Lagazuoi car park along the SR48. It is just by the connection with SP24, and well signposted, so it'd be difficult to miss! Especially since you'll be able to see the cable car to your right as you near (if you are driving from Cortina d'Ampezzo). It should take around half an hour, parking is free and there seemed to be ample space for all the hikers.

Note: there's a free bathroom just under the cable car station!

Lagazuoi Cable Car (2109 m)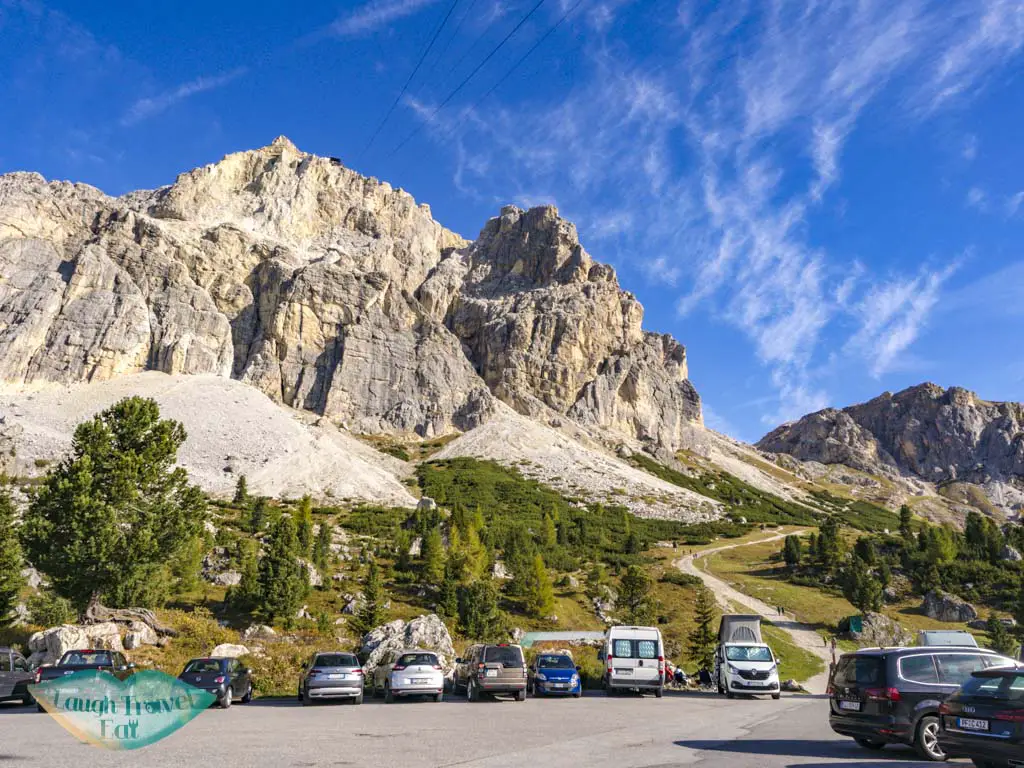 The most time efficient and speedy way to visit the Lagazuoi is to take the cable car up and/or down. Otherwise, the hiking trail that goes up starts at the back of the car park and takes about 2-3 hours to reach the summit.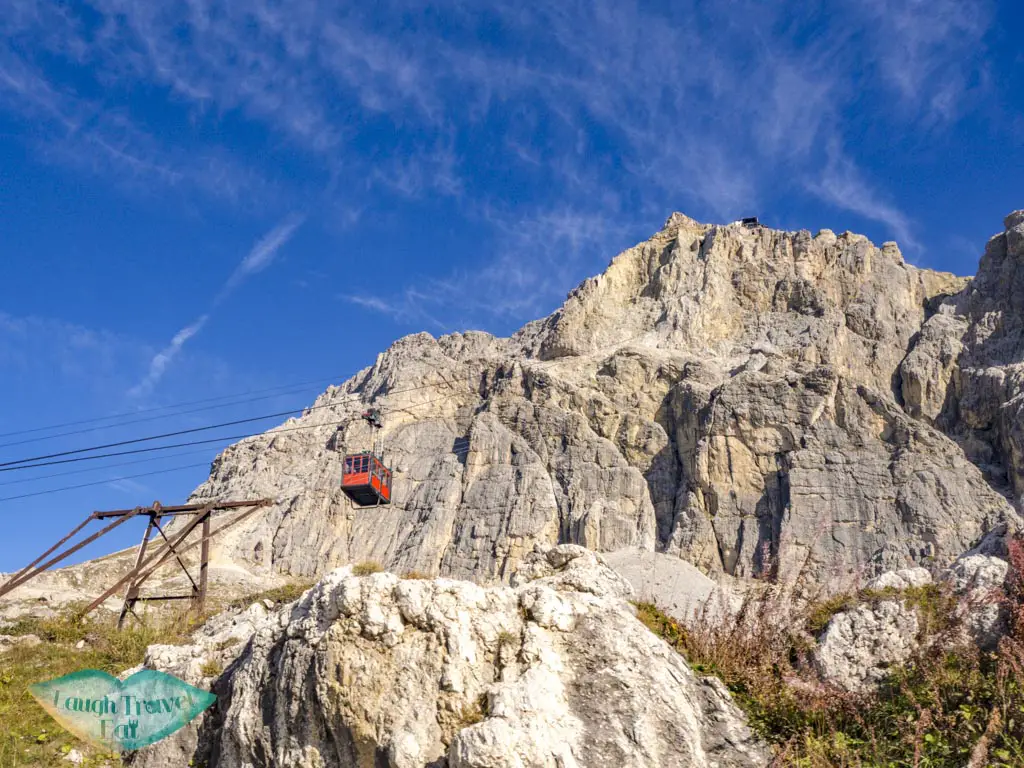 They offer seasonal tickets – likely geared at skiers and snowboarders, but since this is about day hike, here's the price table (as of October 2019):
Adult: 11.6 one way, 16 return
Children: 6.4 one way, 8.6 return
(you can also get group tickets for 15+ people at 9 one way, 12.6 return)

There is a bathroom and a waiting room at the cable car station that's free to use!

Note: my return ticket was hosted by the Cortina Tourism Board but all opinions are my own

Rifugio Lagazuoi (2750m)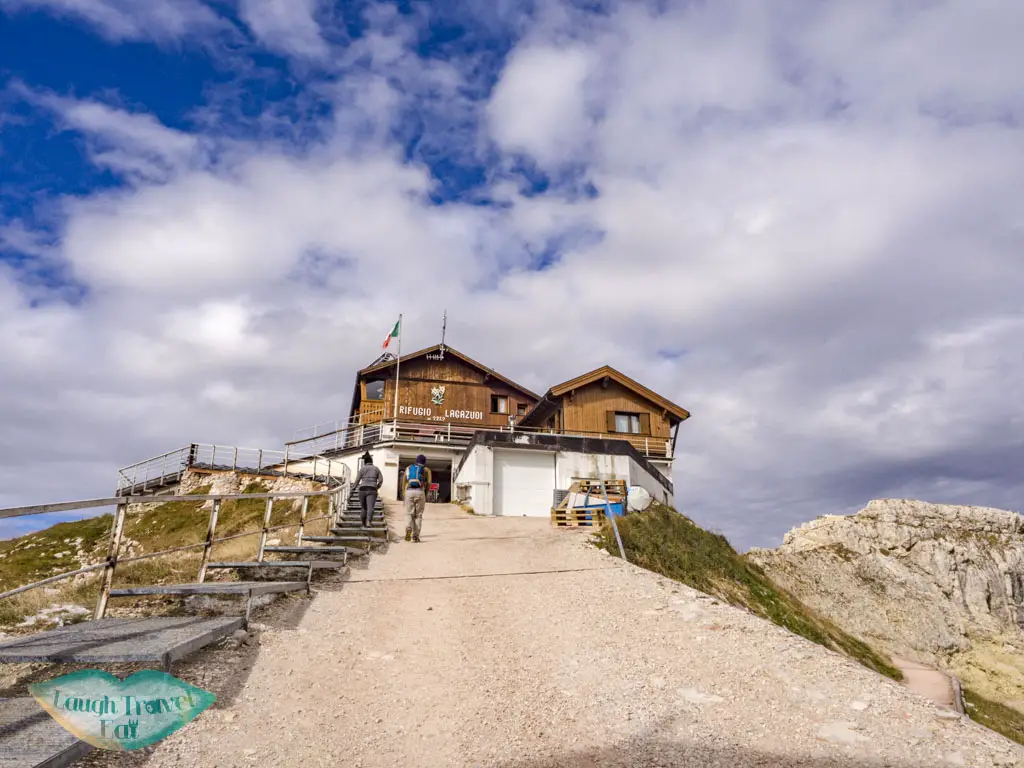 The cable car is a big, sturdy kind that runs about every 15 minutes or so, whizzing you up 600 m plus to Lagazuoi. But it's not quite the refuge yet, which is a short flight of stairs up.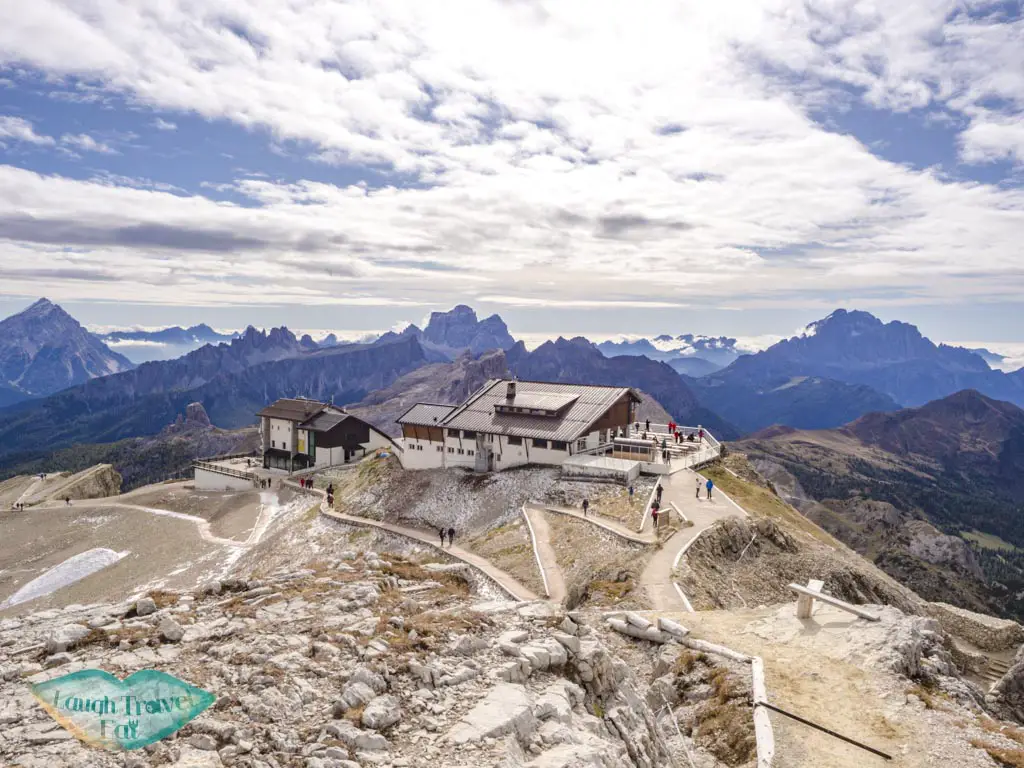 You can stay at the refuge or just dine here, but know that food is more expensive since it is up in the mountains. You can check their website for more information as their hours and operation capacity is seasonal.
Either way, the terrace in front of the refuge offers a stunning panorama of the mountain across the pass.

Austrian troop way


From the refuge, you can continue up along the Austrian troop's way. As by there you are already close to the highest point, it doesn't take long to reach. There is a cross towards the end of the route that commemorate the Austrian soldier, and you can hike a little further to a dead end up the Lagazuoi Piccolo (2778 m).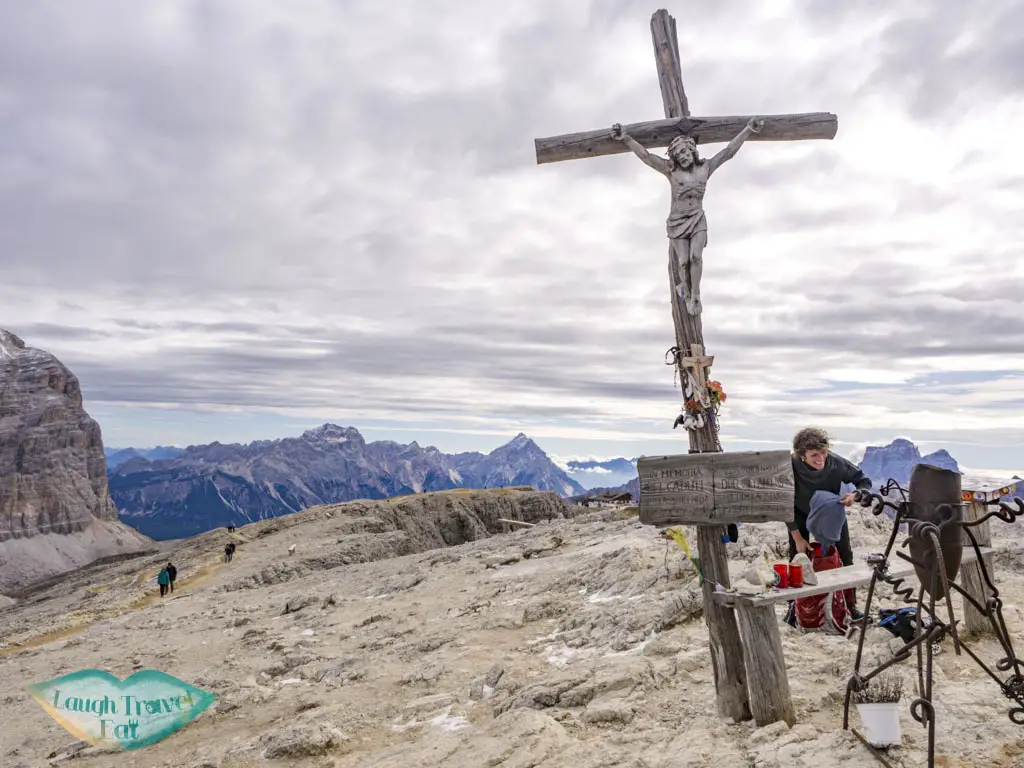 Lagazuoi tunnel

The Lagazuoi tunnel route entrance is well signposted from the cable car station, although you are not encouraged to visit if you don't have a head torch or helmet. If you aren't very tall and is cautious, I think that it is possible to go without a helmet, and I have seen people without either on my way through, though that is NOT recommended.
Via ferrata equipment for the route down is also encouraged, though in the dry season, the trail condition wasn't too bad. The initial descent is steep but is made easier with the metal wire meant for via ferrata clips.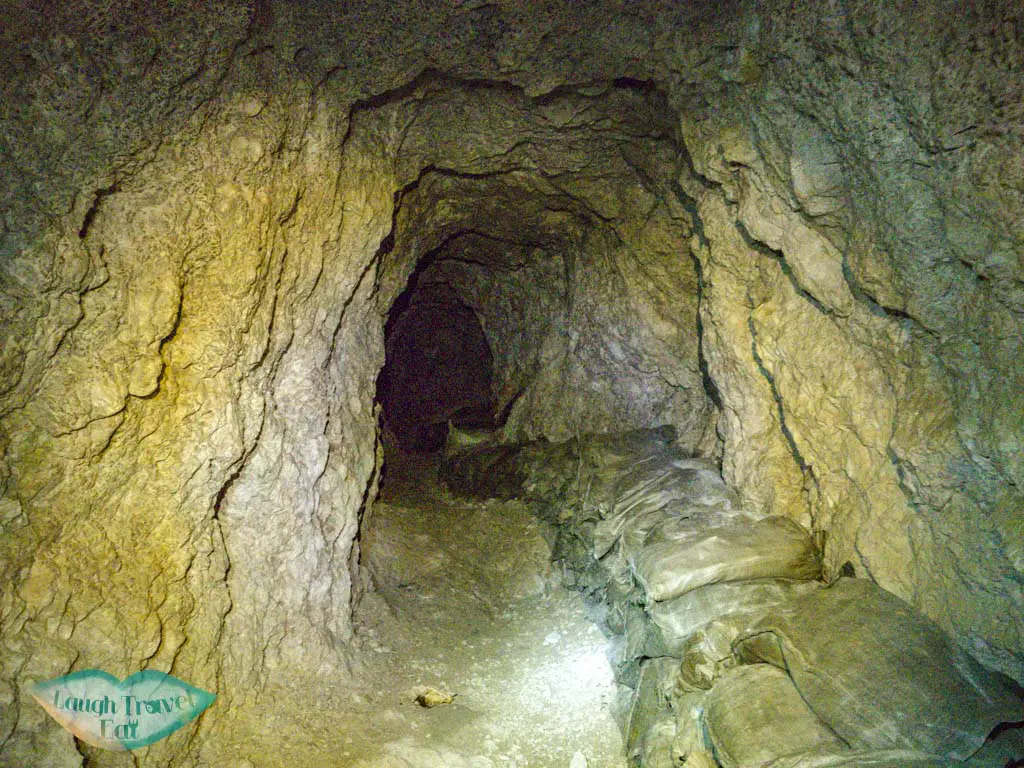 The entrance to the cave is marked by a door, and from there it's a virtually endless flight of stairs down. There are the occasional shaft that opens to the outside allowing in lights in additional to some information signposts. According to one that I read, those are the result of soldiers digging in the wrong direction.
It takes about 30 minutes plus to get out on the other side, and there's a section that's pretty long and without any light in. We almost panicked but luckily ran into more people who assured us that, yes, there is an exit and it isn't that far away.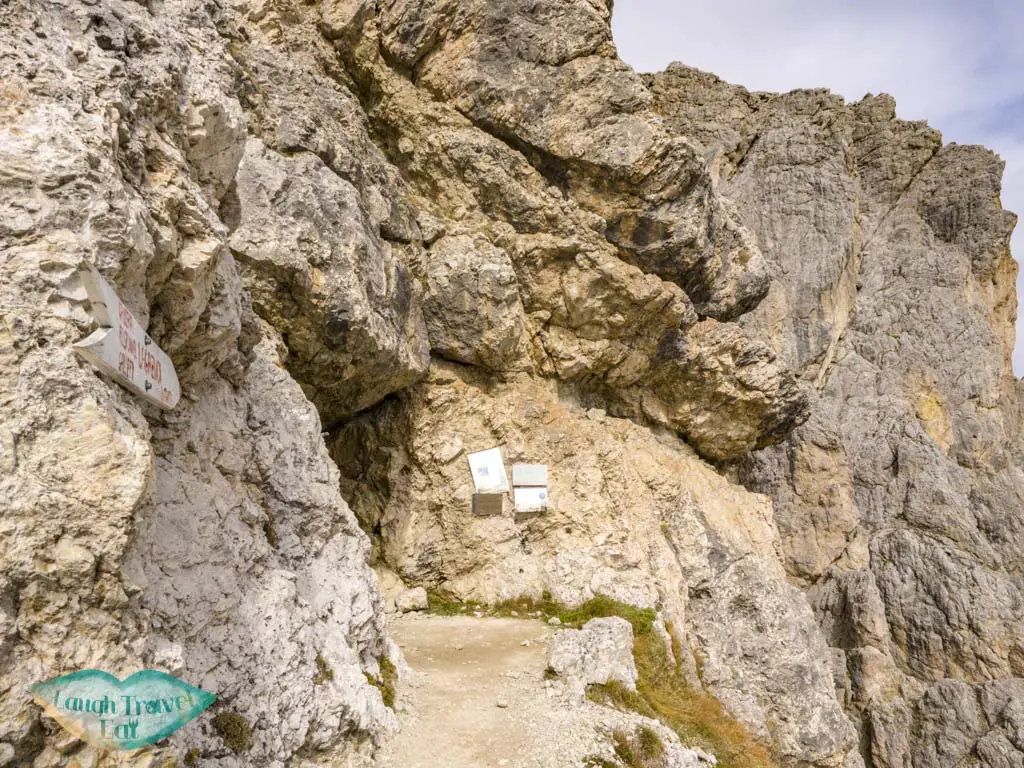 As the mine is basically a route straight down, that took us to about halfway between the car park and the cable car station. It was a bit of a struggle deciding whether we should go down or loop back up, but at the end we decided that a circular route is a good route. There are several paths and I highly recommend having an offline map (as usual – and my recommendation is OSMAnd).
The route we decided on loops up towards Forcella Travenanzes, which is also a giant ski slope in the winter. Hence we picked the one that isn't a ski slop! The initial part took us past some more vertical hills with metal stairs and wooden planks, but before long we were crawling our way up a zig-zag path up. 
Note: you can do this hike in reverse but I would do it this way because going up the stairs in the tunnel is harder 

Forcella Travenanzes (2507m)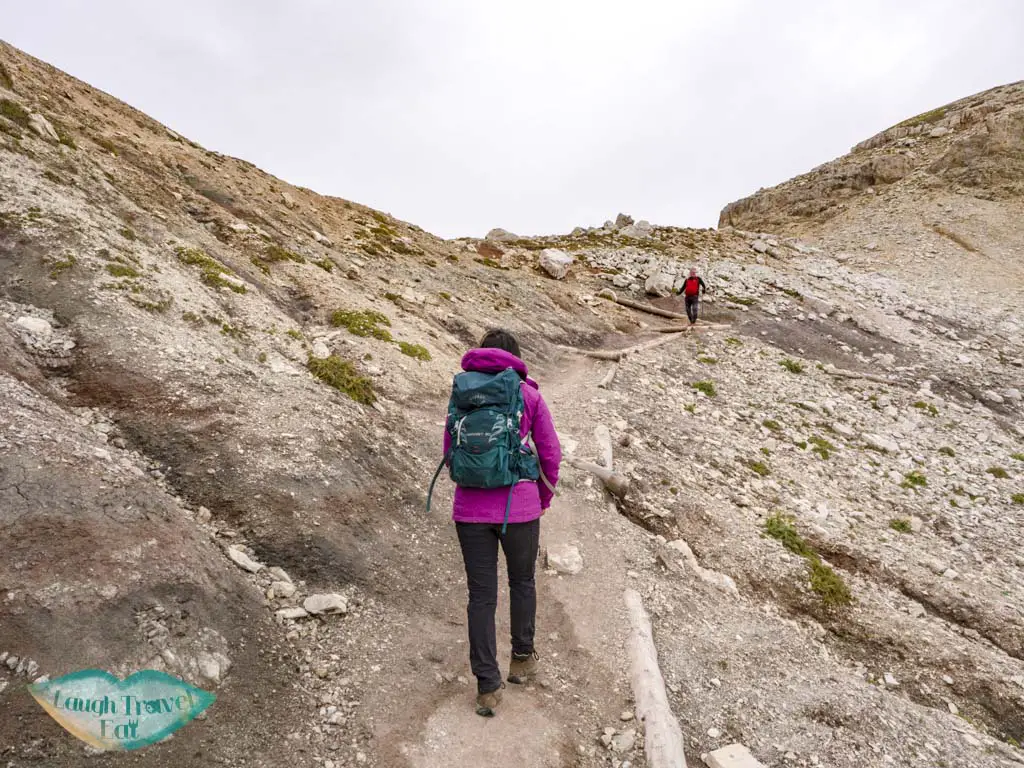 We thought about going straight west up the ski slop since it will take us on a straight path to Forcella Lagazuoi, but the view at Forcella Travenanzes was spectacular!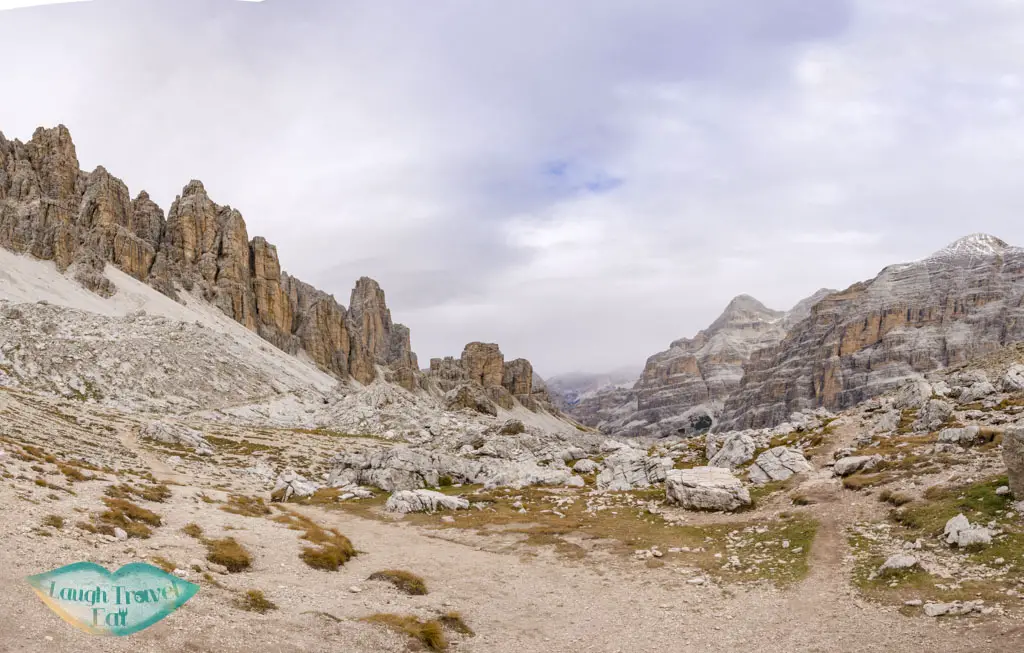 It also snowed a little (it was only the first week of October), and there's already a thin layer on the ground from yesterday night.
From here, it's an inclined upward path under another imposing mountain to Forcella Lagazuoi.
The cable car station became visible as we made our way up, which showed us that we still have a long way to go!

Forcella Lagazuoi (2572m)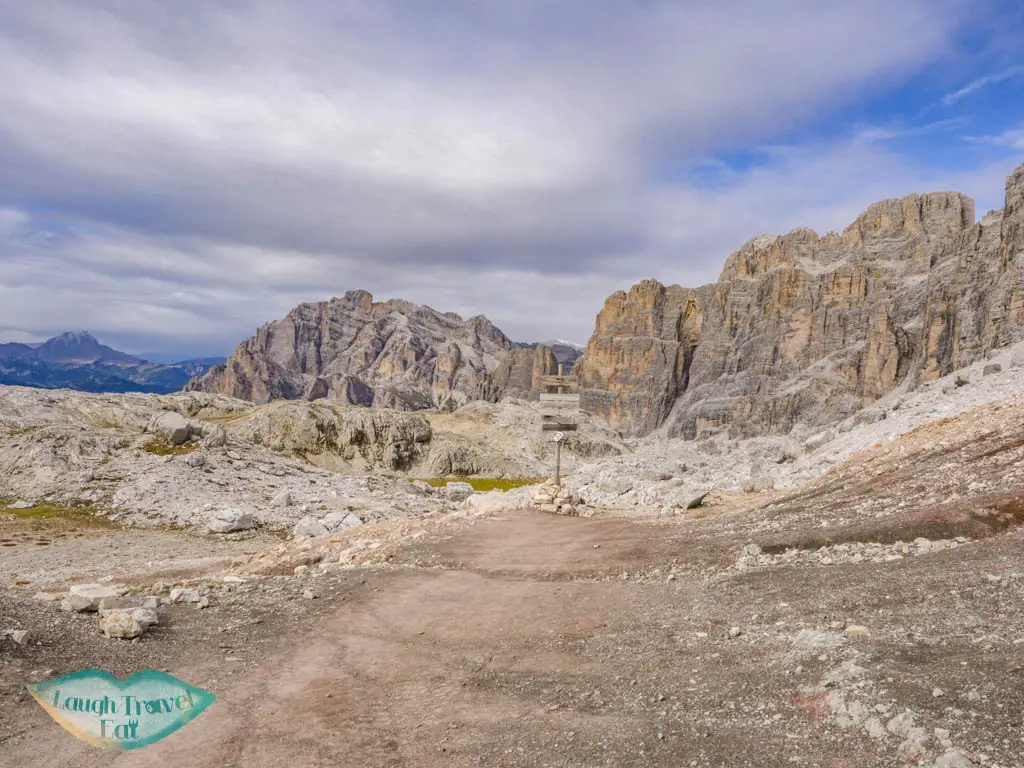 Not as spectacular as Forcella Travenanzes, the Forcella Lagazuoi is the valley that we saw from the cable car station. It is an almost 30 zig-zag (yes, my friend counted) up, which is actually not as bad to walk as it looked. It takes us up the thrusted peak of the ridge that would lead us there. Did I mention that it makes for a dramatic photo?
Once we get to the cable car station, it's just an easy ride back down to get back to the car!