3 weeks Europe Itinerary: South of France, Cinque Terre and Sicily
3 weeks in Europe isn't nearly enough.
After all, Europe is full of amazing countries, cities, and natural wonder, and backpacking across this vast continent can be challenging in the sense that you might end up missing out on some gems. Our time and money are limited, but the world is huge. When deciding on places to visit for my graduation trip round two, given the 10 days I've already spent in Croatia, my sister and I have narrowed it down to three regions: South of France, Cinque Terre, and Sicily. After some excessive planning on my sister's part, with detailed spreadsheet (get it free here!) and research, we finally decided on the itinerary. Below is the no details left unspoken guide:


>For a list of travel resources we use, go to my recommendation page:
>Note: I have written about a lot of the places already, so I won't repeat the information but will link to them instead.
>Want to know how we planned the trip? The process is revealed in our trip plan blog post.
Southern France itinerary 6 days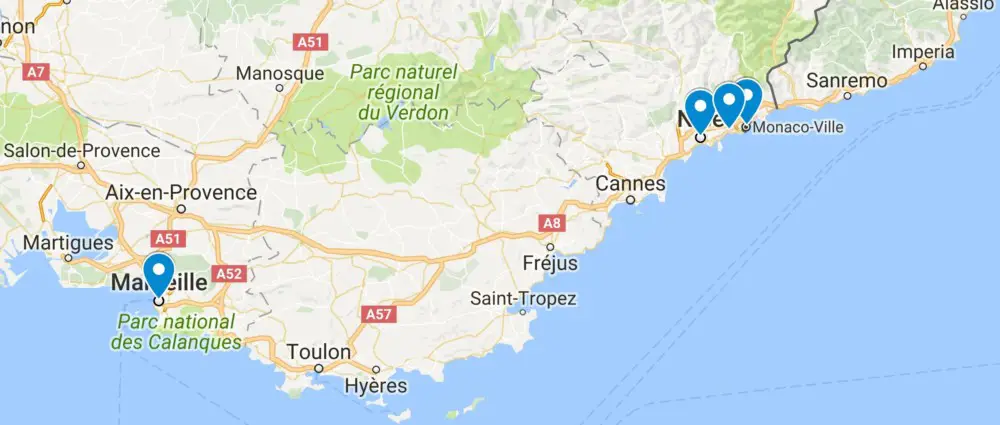 For some reason, south of France is high on my to-visit list even though I don't know much about it. It's probably because of the new train by Eurostar from London to Marseille, although after it being cancelled, we ended up flying out instead. After evaluation distances, price, and attractions, we opted to stay 2 nights in Marseille before moving on to Nice for 3 nights.
Day 1: Arrival in Marseille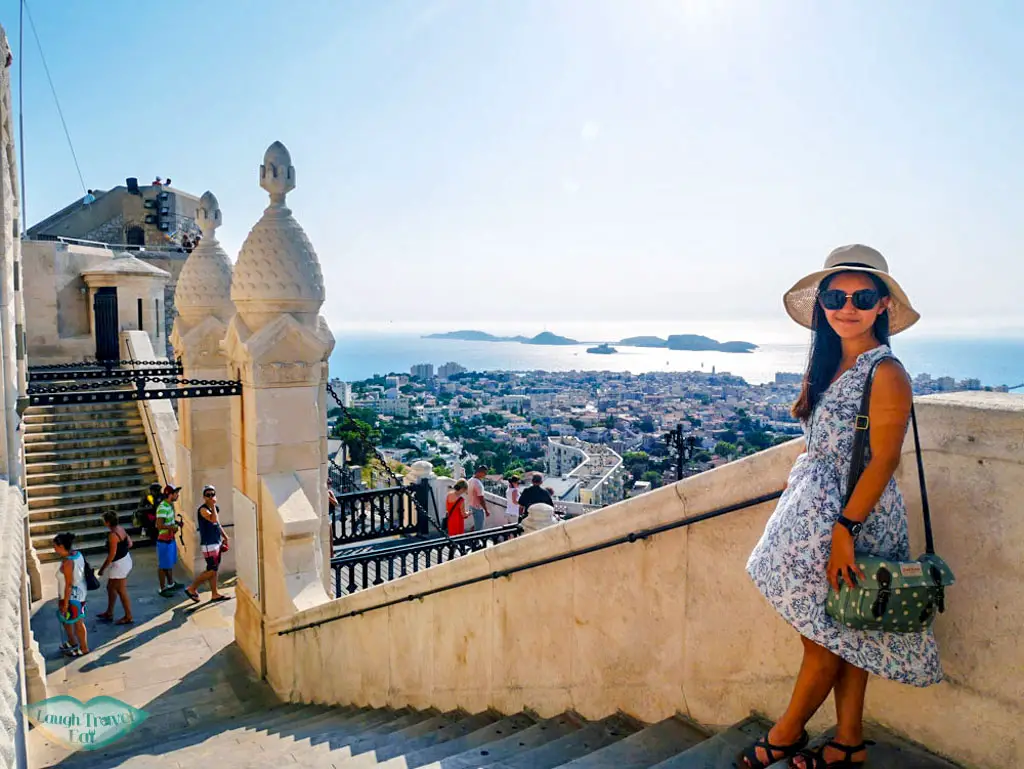 Our flight arrived in Toulon from the London City Airport (which is surprisingly nice) in the early afternoon
We ended up taking a taxi to town because of awkward bus scheduling.
We quickly dropped our bags off at our Airbnb and head to the Notre Dame de la Garde via bus 60 near the Old Port (more information on Marseille can be found in this blog post).
We found a supermarket on our way back and brought food for dinner and pack lunch tomorrow. After that, we headed to the port to admire the evening light before going back to our AirBnB.
P.S. Marseille is not a very safe city, so we try to avoid walking around in the dark.
Day 2: Hiking in the Calanques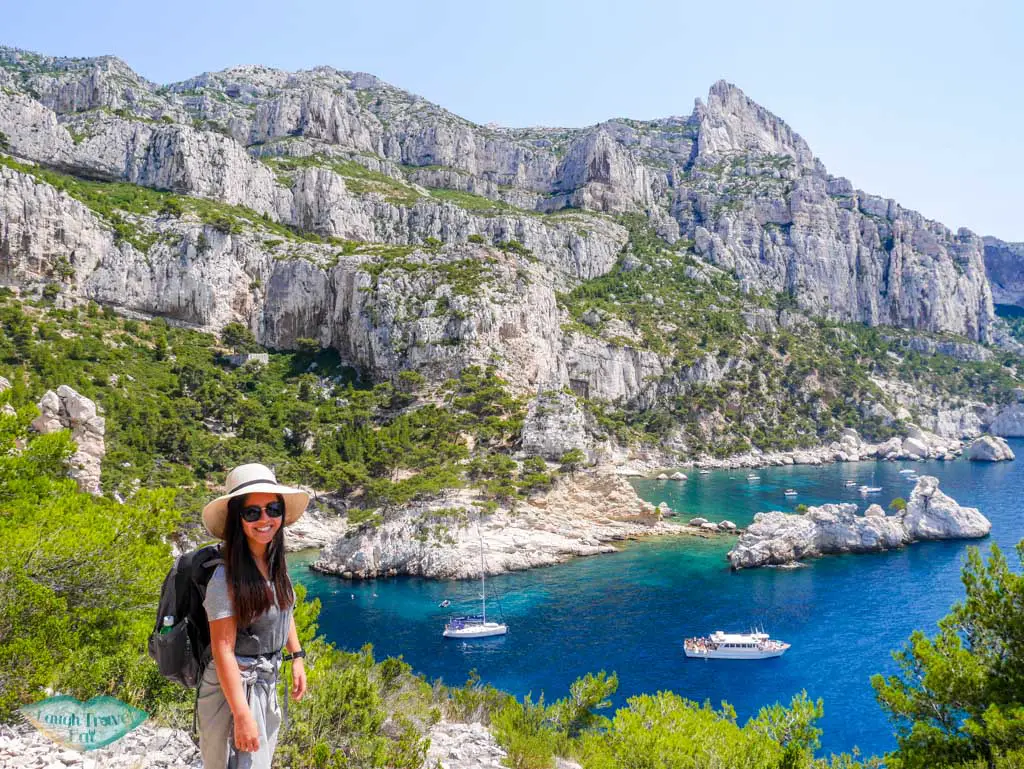 We took bus 21 to Luminy from Pierer over there with pack lunch and went for a hike and swim in the Calanques – a stunning national park
We spent most of the day there. The hike along the national park requires proper footwear, and you should have working google map or offline map with you.
We set off around 9 in the morning and was able to enjoy some peace and quiet before people arrive en mass, so definitely try to get there early.
You can download the entire itinerary for FREE
Day 3: Roam around the Marseille town and head to Nice
We head out to hit all the spots we haven't visited yet: the Palais Longchamp, Marseille Cathedral, and the nearby Fort St Jean.
There aren't much to see in Marseille, which is why I refer to it as a day trip destination.
We managed to get around completely on foot, but there is a lot of walking involved.
The train fare from Marseille to Nice is strangely expensive, so we used Bla Bla Car to get from Marseille to Nice, arriving late at night. We did run into some traffic jam, but it should only take 2 hours.
Due to the time it took to get to Nice, we ended up grabbing dinner at McDonalds (please don't judge us!).
Day 4: Explore Nice
Our AirBnB is located north of the train station, so after breakfast, we headed down the Avenue Jean Medcin towards the coast. It's an amazing wide street with trams, traffic, people, shops and malls!
We walked past the Place Massena and Miroir D'Eau, too, both of which are famous attraction in Nice.
The Old Town of Nice is close by the coast, east of Place Massena. We roam the winding streets and admired the Renaissance buildings. Nice is famous for its soaps, so we brought some in the markets.
Staying in the Old Town for lunch, we ate at Olive and Artichaut. It's a tiny but absolutely amazing restaurant with an open kitchen!
We took a bus up to Boron Hill and visited its abandoned Fortress. It isn't easy to get to and there aren't much to see either, so this one can be skipped. However, it does offer a good view on Villefranche.
We took a bus back to the English Promenade and have a swim there to cool off – it can get pretty hot in the summer! I honestly can't for the life of me remember what we did for dinner, however, there are no shortage of choices in Nice.
Day 5: Castle Hill and Old Port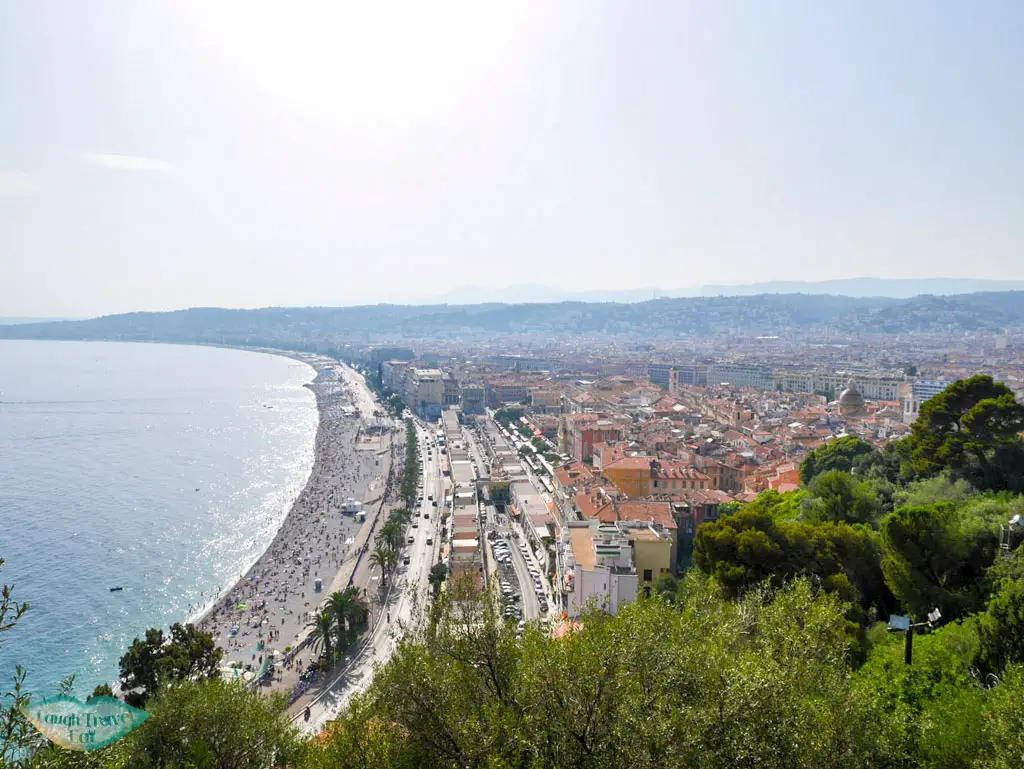 We paid a quick visit to the Russian church, however, it was under renovation so no visitors were allowed. We admired the architecture from outside and snaps some shots.
Since we had no luck with the church, we decided we deserve a break and took the free elevator up to Castle Hill and enjoy the spectacular view of Nice. There are some ruins and parks on top of Caste Hill too, and would make a great picnic spot.
We went towards the Old Port and had lunch at Chez Pipo, which serves up some great chic pea flour pancake. It's a famous joint so expect to queue.
We then have a look around the Old Port area before heading back to pack for the night (don't remember what we did for dinner)!
Day 6: Day trip to Eze and Monaco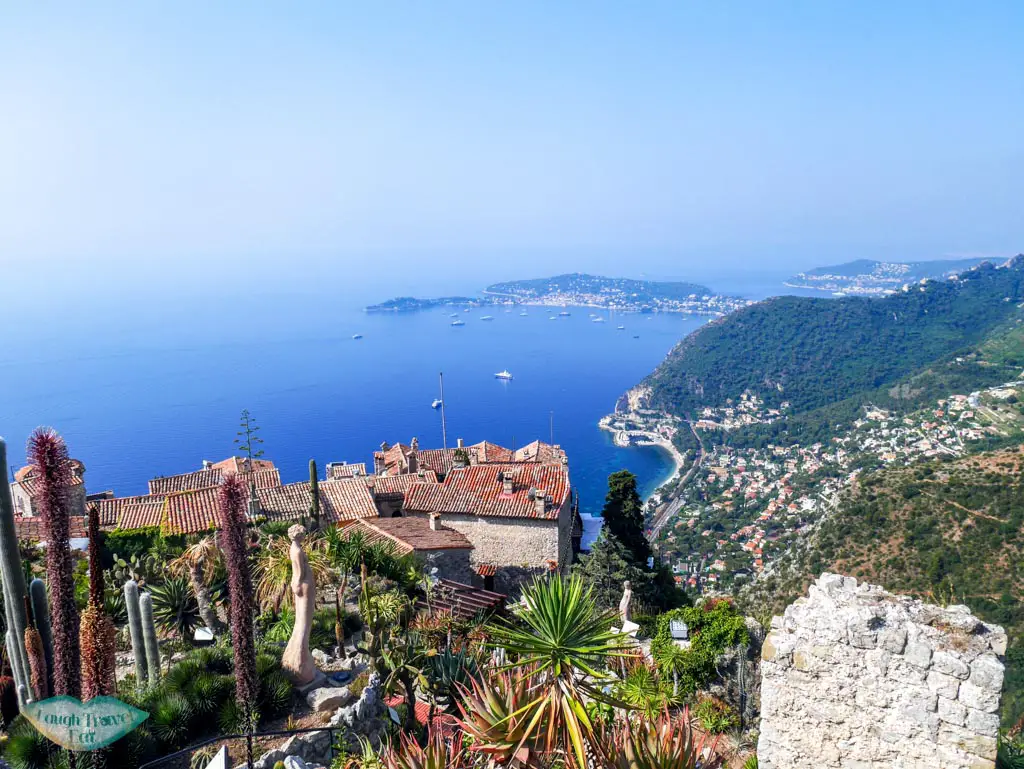 We took the bus from Nice and spend a few hours in Eze before heading to Monaco. I wrote about the trip extensively here.
The key point is that you must get an early bus to Eze before all the tourists descend from the nearby towns. If you want more time to explore each place properly, then do split it into two days. However, if you are short on time like us, you can definitely pick some top sights and get it all done in one day.
The AirBnB we stayed at are near the train station
Return to top
Cinque Terre (5 days)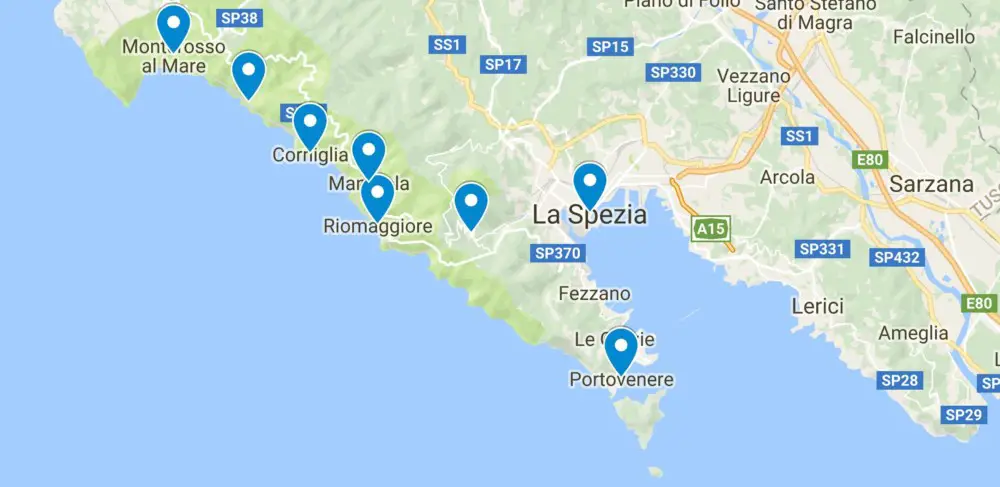 Cinque Terre s so insta-famous that everyone must have seen its photos somewhere before. The term actually means "Five Lands" and it represents, you guessed it, five towns. The 5 towns are: Monterosso, Vernazza, Corniglio, Manarola and Riomaggiore. I won't go into more since I wrote about it extensively in my Cinque Terre guide. But here's exactly what we did everyday:
We stayed at Ostella Tramonti in Biassa
Day 7: train from Nice to La Spezia, evening in Riomaggiore

Due to the high cost of accommodation in Cinque Terre, we end up booking a room in a hostel in Biassa, a town nearby.
We arrive in La Spezia by train from Nice (yes, all the way with one change and a minor hiccup, tickets were around 20 – 30 euros from what I remember. We changed in Genoa), which funnily enough, took us past the Cinque Terre. From there, we got a local bus to Biassa.
After dropping our things off at our hostel, we took its free shuttle to Riomaggiore and walked around the small town.
We grabbed a seafood cone from Mama Mia and headed down to the pier to watch the sunset.
Day 8: A quick overview of all 5 towns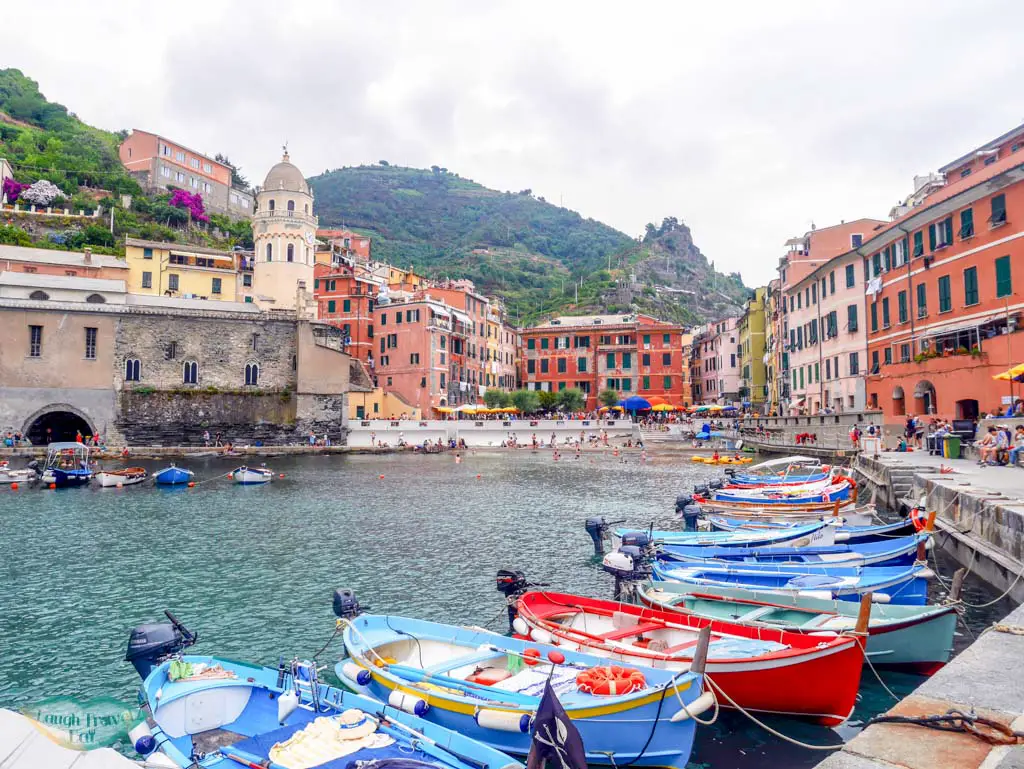 We started the day hoping to hike around Vernazza, but among meeting a girl whom we clicked with, we decided to hang out with her instead.
First thing first: our hostel provides a free shuttle service to Riomaggiore for guests staying for over three nights, otherwise it's 1,5 euros per trip, which is where we met her.
We also got the Cinque Terre Pass, which provide 5 days of train travel and include entries to the Cinque Terre hiking trails since we are there for 4 days.
We took the train to Monterosso and grabbed a quick pizza and had a swim on the beach. Even though it isn't the nicest beach, it is the best one out of Cinque Terre.
We then hiked to Vernazza. A word to the wise: it's easier to do it from Vernazza to Monterosso. The path is pretty narrow in places, but it offers a great view to the towns.
We explored Vernazza and had a fried seafood cone there before taking the train to Corniglia.
Corniglia is the only town in Cinque Terre that doesn't border the sea but, instead, set atop a hill. You will need to climb a lot of stairs to get there and it is not as interesting as the other towns.
After that, we visited Manarola quickly before taking the train and then shuttle back to hostel from Riomaggiore.
It was by far our busiest day.
Day 9: Roam around Manarola and Riomaggiore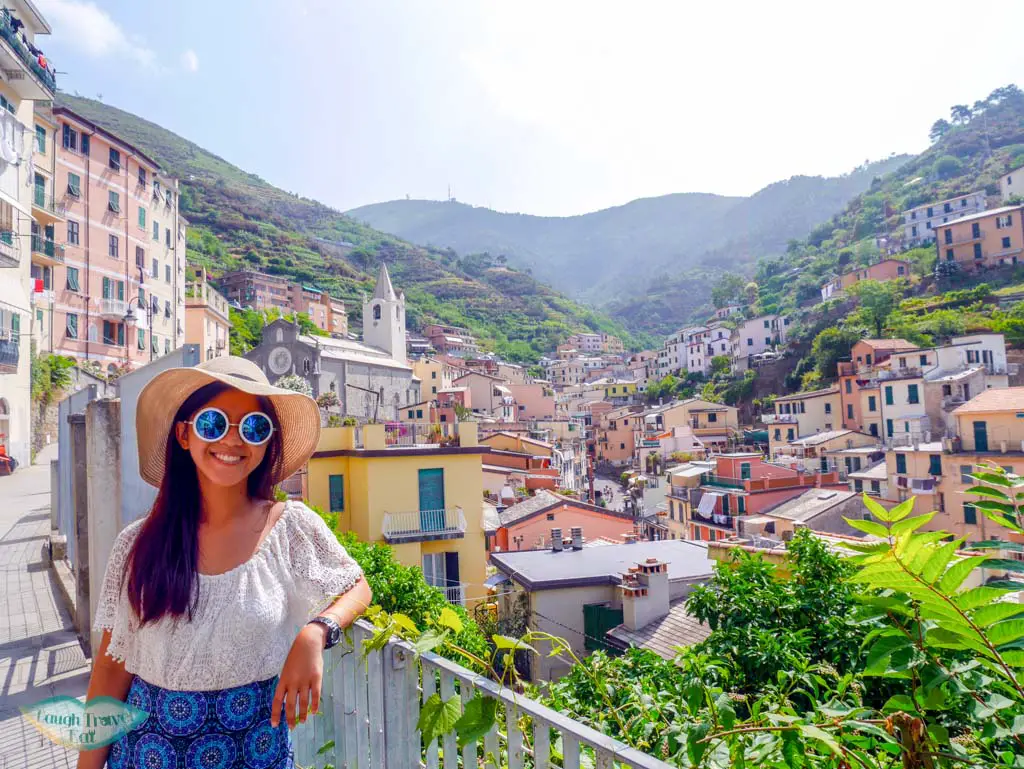 We decided that we like Manarola and Riomaggiore best so we split the day between the two.
After exploring Riomaggiore some more and taking a swim in their out of sight beach.
Then we headed to Manarola for lunch, eating at Ill Porticciolo, and explore the town, too. If you stay for sunset, you can get a great shot of the town.
Day 10: Hike to Portovenere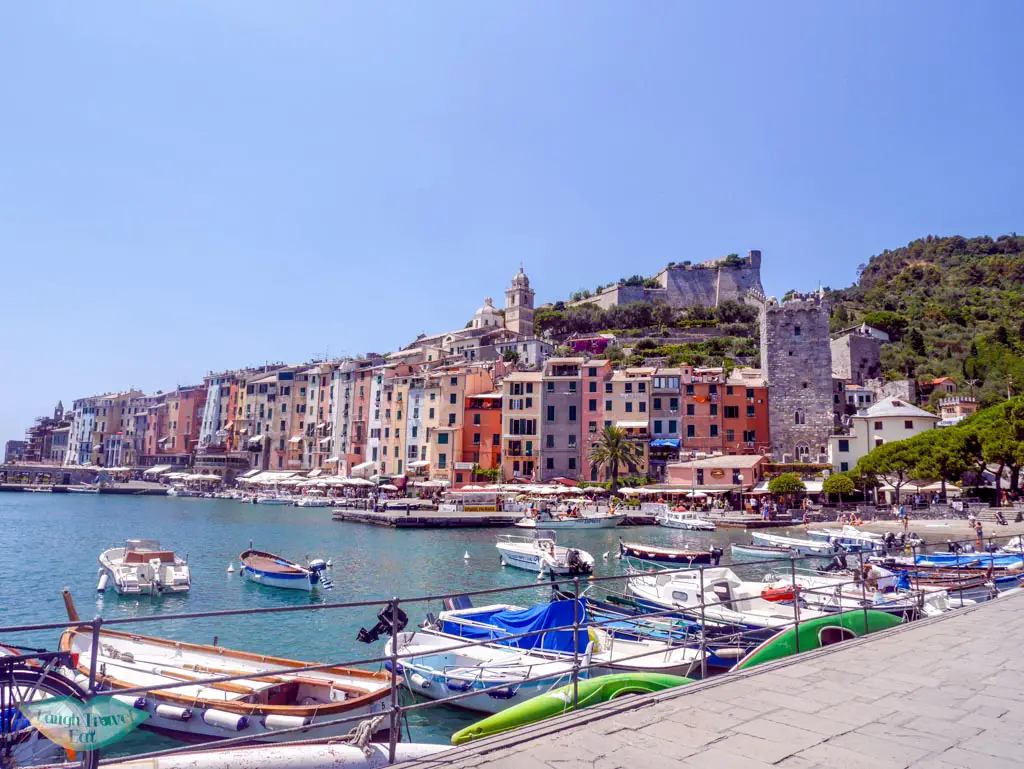 Since most of the trails were closed during our visit, our hostel staff suggested that we should take a hike to Portovenere and take the boat back.
It's a three-hour hike one way, leaving us plenty of time to explore the town itself before taking the late afternoon boat back to Riomaggiore.
It not only has the same colourful buildings as Cinque Terre, but also a lot of other sights. Some notable ones are Dorian Castle and its old Town. You can read more about the hike and Portovenere in my hiking guide.
We had a light dinner consisting of lemon beer and seafood cones.
Day 11: half day at La Spezia and head to Pisa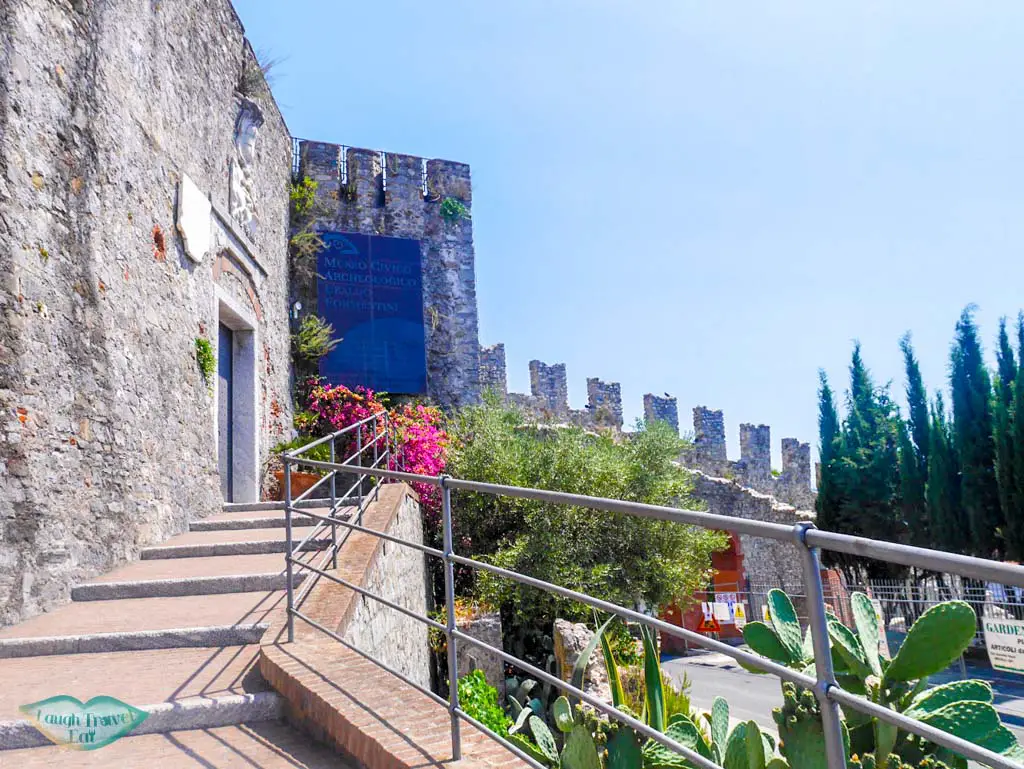 We checked out of our hostel in the morning and took the bus back to La Spezia. We were able to leave our luggage at the train station and set off the see the limited sights around town before boarding the train to Pisa.
La Spezia is a relatively new town and aside from Castello di San Giorgio and its sea front promenade, I would say there isn't much worth seeing. Hence, you can always head to Pisa early and explore its many sights. We had visited Pisa a year ago, which is why we explored La Spezia instead. Trains in Italy is pretty straightforward, just make sure you validate the ticket.
Sicily itinerary 10 days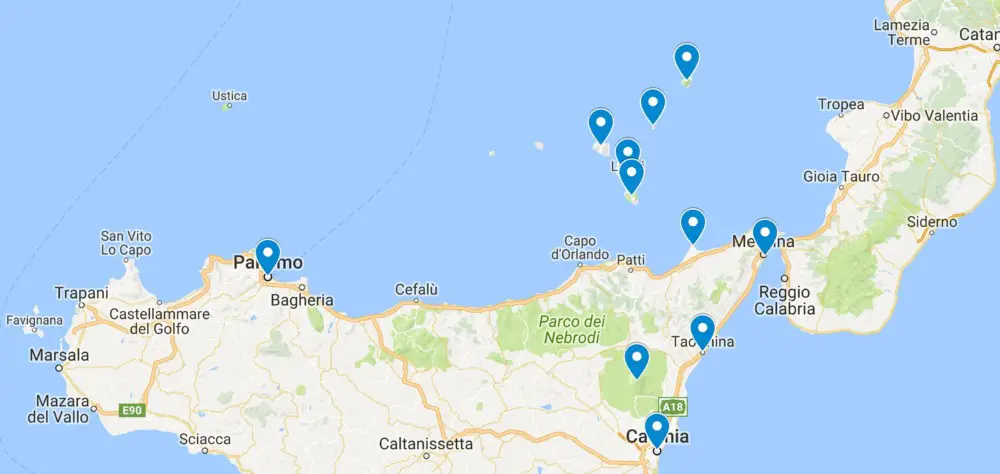 Sicily is on my sister's wish list and I must say, it's breathtaking. Admittedly, some part of it are a little derelict, but the history, charm and delicious cuisine make up for it all. We stayed in the northern part of the island, since the southern part requires renting a car and neither of us know how to drive. The main spots we hit were Palermo, Aeolian Islands, Taormina and Catania.
Day 12: Fly from Pisa to Palermo

Our flight leaves early from Pisa and we arrived in Palermo in afternoon. To avoid morning rush, we stayed at a B&B near the Pisa airport and walked over in the morning.
The transport from the Palermo airport to town is pretty straight forward and we took their metro. Our first impression of the city isn't great, as the streets are dirty and run down. After checking into our AirBnB, we visited Palazzo Reale, Santa Maria, Church of Geso and Seanze al Genio. You can read more about the top 5 sights I visited in Palermo here.
Day 13: Sailing in Palermo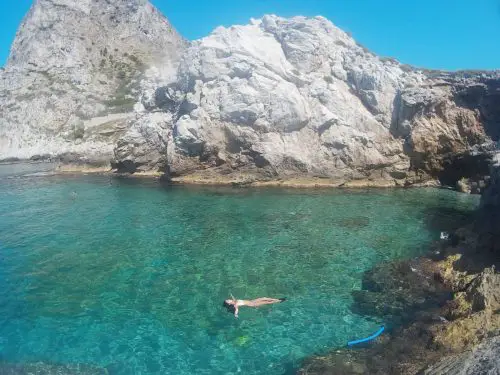 My sister booked us a boat trip after seeing many glowing reviews on Tripadvisor. While it was a fun day out and we had the boat all by ourselves due to the other family canceling, there isn't much to see around Palermo.
My advice is to move straight on to the Aeolian Islands and save your budget on boat trips there.
In the evening, we quickly visited the Duomo, the only spot we didn't get to yesterday and then had dinner at a top Tripadvisor restaurant that was disappointing. However, the weather was glorious and we did get some good shots.
We stayed at an AirBnB (cheap but kind of dirty) in the center
Day 14: head to Lipari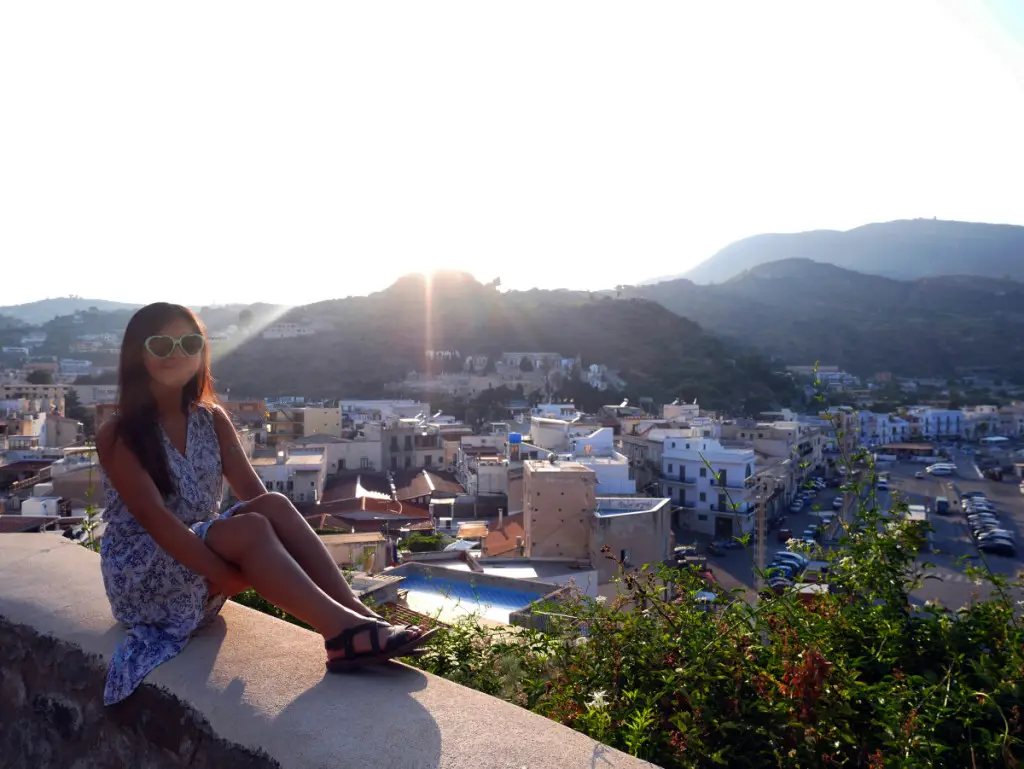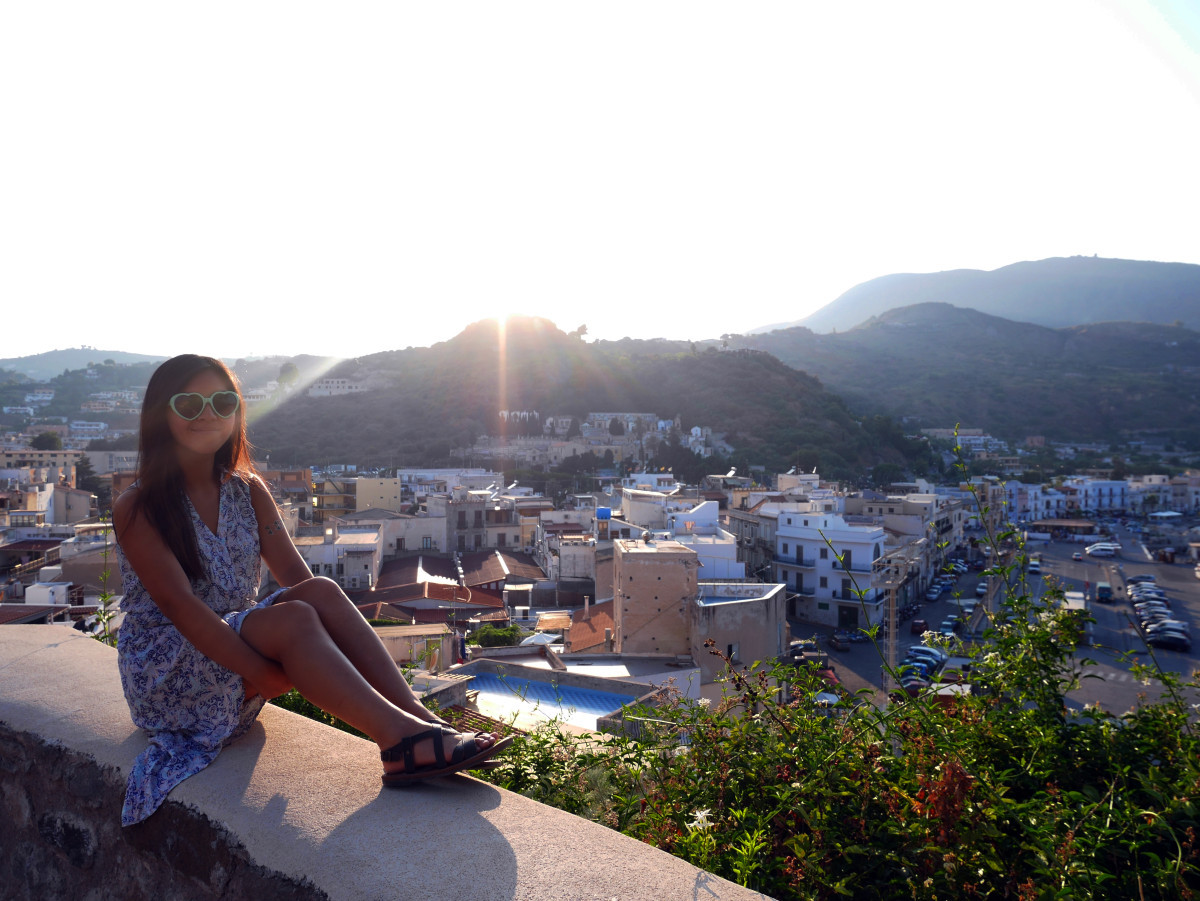 We took the train to Milazzo where our ferry to Lipari departs. The ferry stops by Vulcano first and Lipari is the second stop.
We get to Lipari in mid-afternoon, quickly checked into our AirBnB (which turns out to be horrible and we switched to a hotel later) to explore boat trip options in town.
We managed to explore the biggest town in Aeolian Islands a little and decided on a boat company to tour with. More on everything in my Aeolian Islands Ultimate Guide.
Day 15: Vulcano boat trip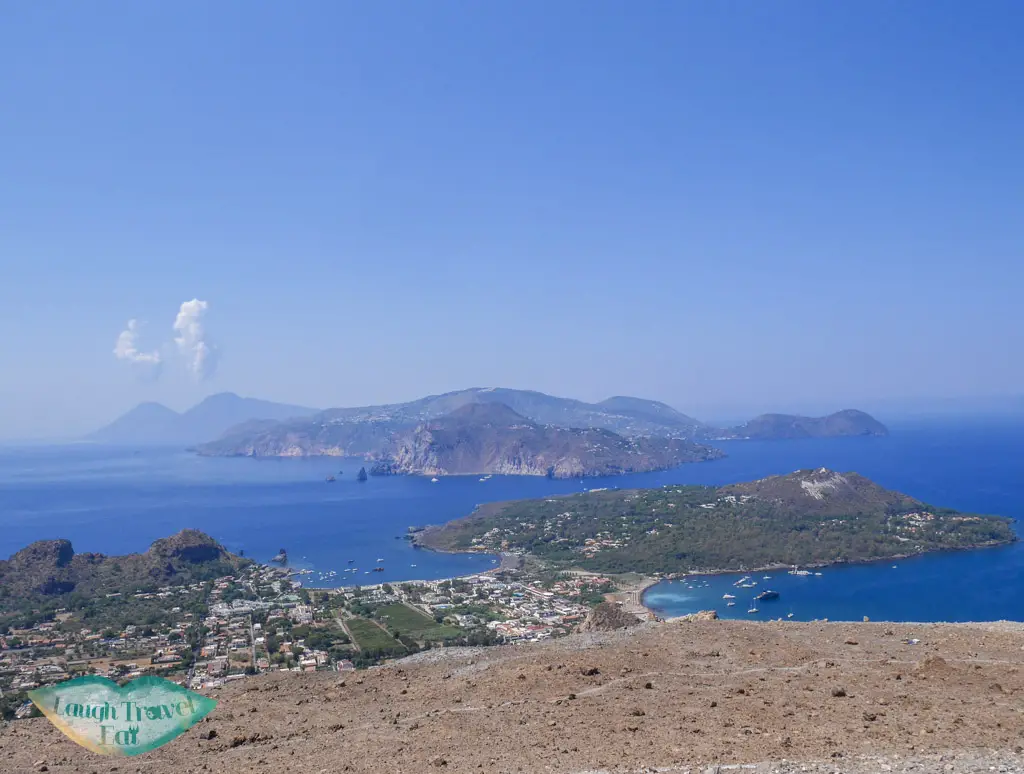 The three boat trips we took in the Aeolian Islands are the highlight of my entire trip, hands down. Not only is our captain funny, the boat isn't full to the brim like others in high season and we had plenty of space to sit and enjoy the sea breeze. 
We head out around 9 in the morning, sailing around several spots that are only accessible by water and then stopping at Vulcano for a few hours.
We had a quick lunch and braved the heat to the Vulcano volcano (that rhymes!) – more in my Vulcano boat trip post. I would definitely recommend bringing your hat and hiking shoes as the sand are scorching and there are no cover.
We return to Lipari around 17:30.
Day 16: Lipari and Salina Boat Trip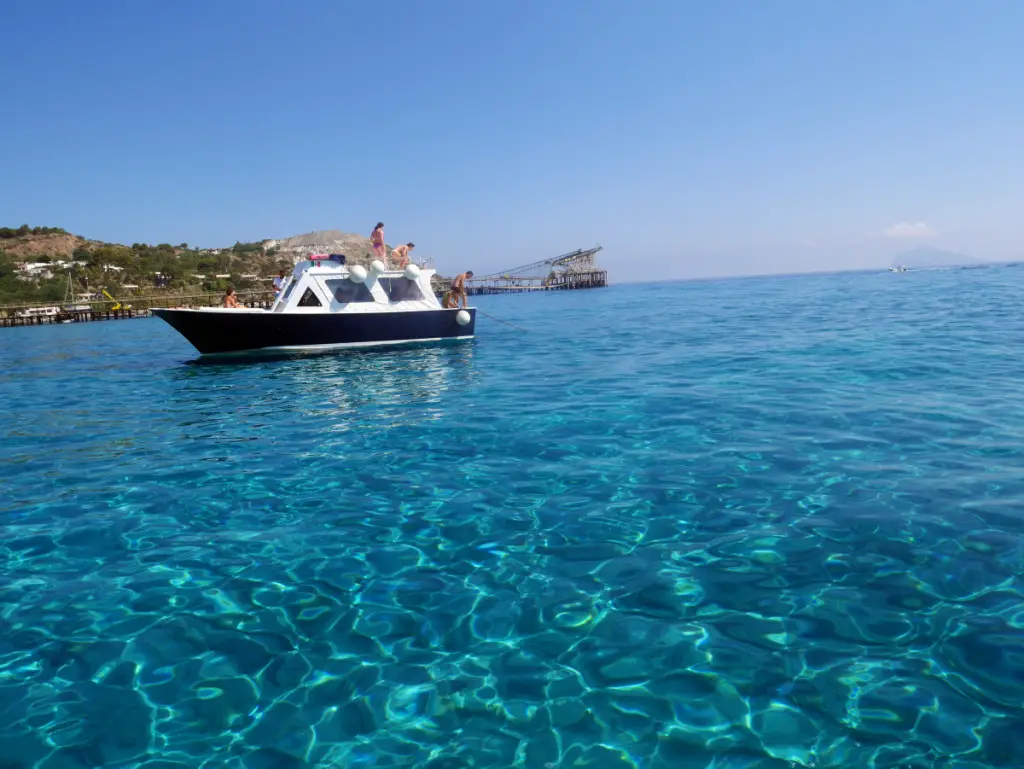 We continued to take boat trip with the same company, and a note to the wise: most boats do different trips on different days, so make sure you ask around.
We circle around Lipari first before heading to Salina. We had a great time with the captain and the crew and celebrated one of the traveler's birthday.
One thing to note is that we didn't stop by the main town in Salina but the smaller one, but the restaurant we were recommended to was excellent. You can read more about this second boat trip here.
Day 17: Panarea and Stromboli Night h

ike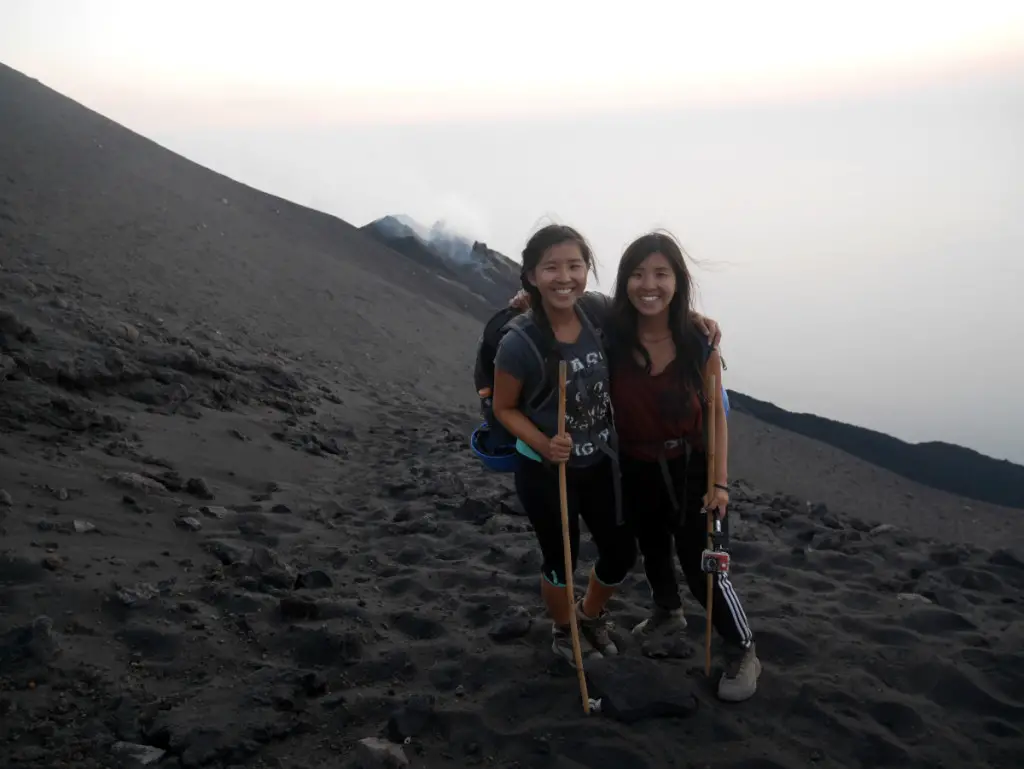 Unfortunately, because we want to hike up Stromboli, we are unable to do this boat trip with the boat company. There are only two stores and one tour that do the hike on a biweekly basis from Lipari, so we are all herded on a huge boat.
Panarea is famous for its one bay that's a UNESCO protected site and we stopped briefly for a look. Then we were taken to the bay behind it for a swim, but with so many people on the boat it was a difficult affair.
We were taken to the only town in Stromboli to fill our bellies before we all gathered for the night hike.
Despite being previously tentative about hiking up a LIVE volcano at night (I am pretty lazy), it was an experience of a lifetime and I must thank my sister for making me do it. The hike itself isn't as brutal as I feared, and the tour guide adjust the speed to a bearable level given there are children in the group.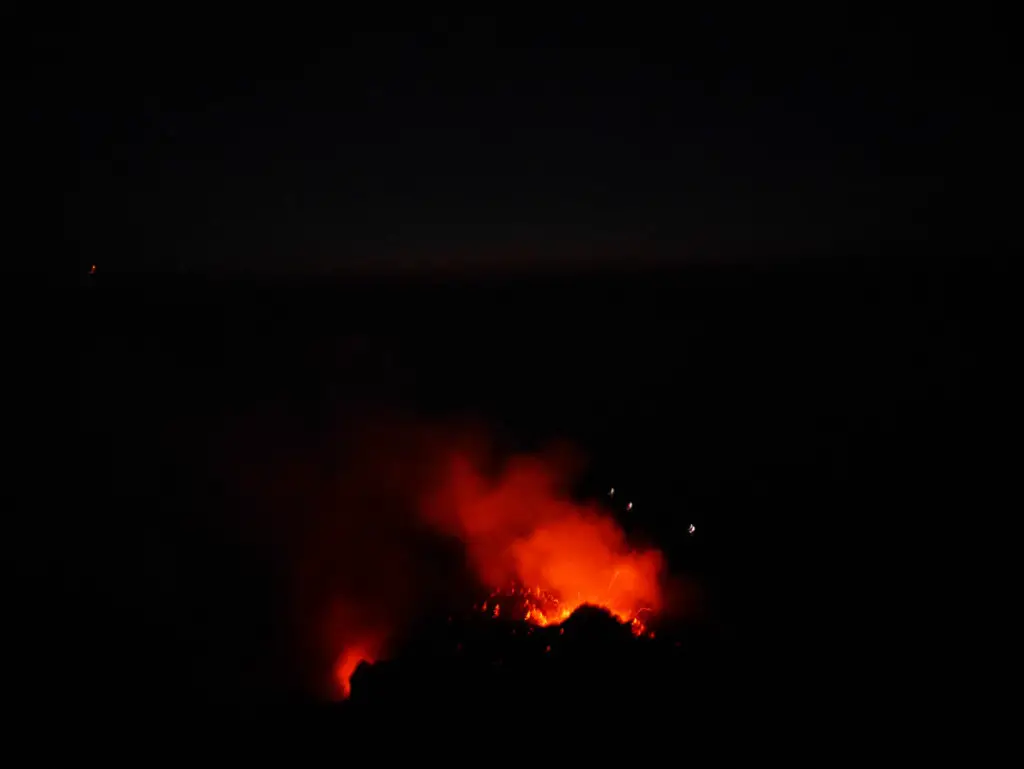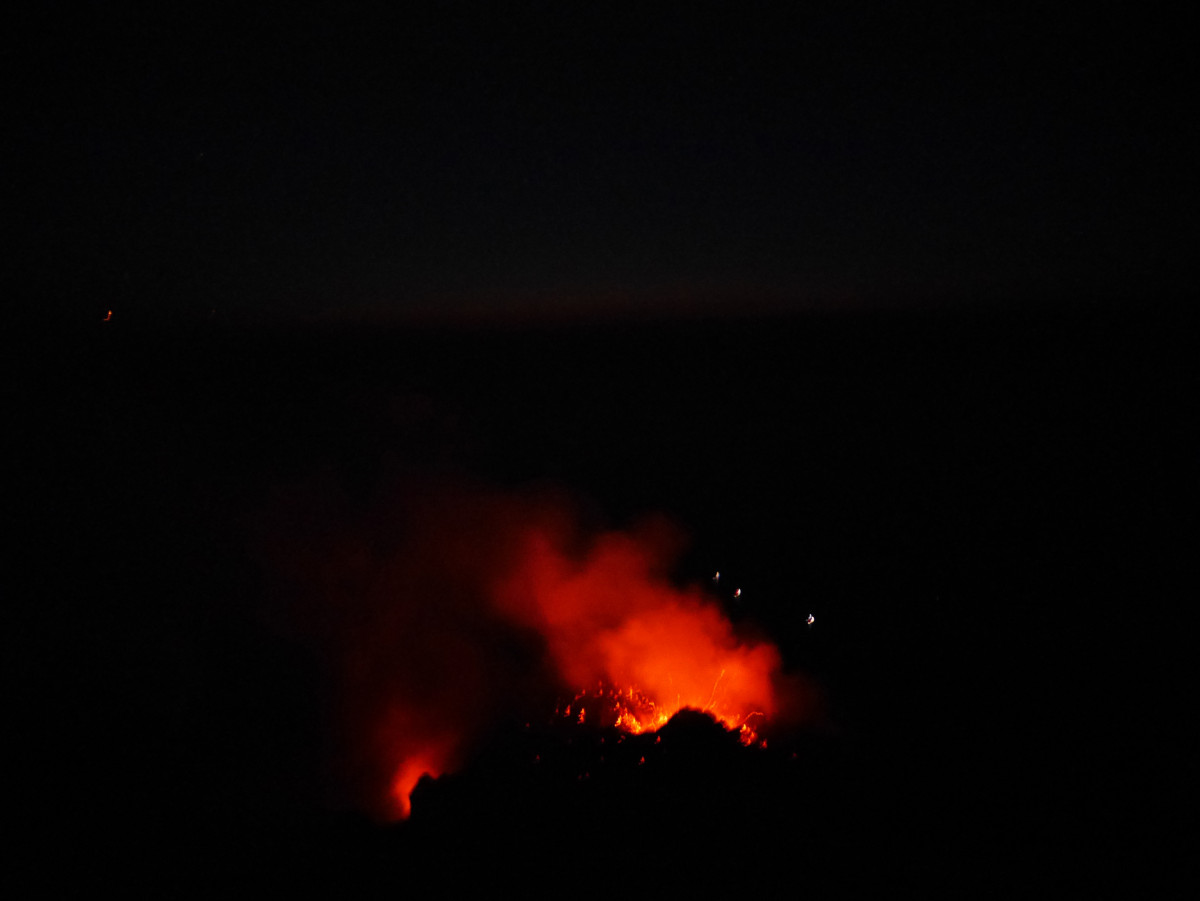 We arrived at sunset and ate some snacks we purchased earlier (a must – you won't get back till midnight and there won't be any shops opened), perching on the edge of the hill top and gazing towards one of the crater and the ocean.If you are a photography fan, remember to bring a tripod to capture the magic. I am not a very good photographer and only managed to snap one good shot:
Going down was difficult and we had to cover our faces because of the dust. We didn't get back to Lipari until 1am since we had to take the ferry. It was a mad rush to get clean and pack to leave the next morning.
Best place we stayed at throughout the trip – Hotel Residence Mendolita
Day 18: Head to Taormina and Isola Bella

We took the ferry back to Milazzo where we had a quick lunch before boarding the bus to Taormina. Everything is straight forward, though because we arrived during siesta hours most of the restaurants are closed. We ended up eating in McDonalds (cue gasps of horror), but it actually wasn't bad. At least they had air conditioning.
We arrived in Taormina in the afternoon and wasted no time in dumping our bags at the hostel.
We caught a glimpse of Isola Bella on our bus ride and after visiting the amphitheater, which is the highlight of Taormina, we raced down there via the cable car.
After a quick swim, we ate dinner and return to the town center and roamed around the beautiful street.
Day 20: Roam around Catania
We spent the morning rounding up any sights that we missed (more in this short guide to Taormina) and had lunch in this gorgeous little restaurant opposite the Communal Garden, mentioned in my short guide to Taormina.
We got lucky and were able to hitch a ride with our AirBnB host at Naxos, which is a short bus ride down from Taormina.
Some of the highlights we visited are the Catania castle, university, Benedictine Monastery – you can see my top 5 of Catania here. We had dinner at FUD burger, which though not very Italian, tasted awesome!
Day 21: Visit the nearby towns Aci Castello and Aci Trezza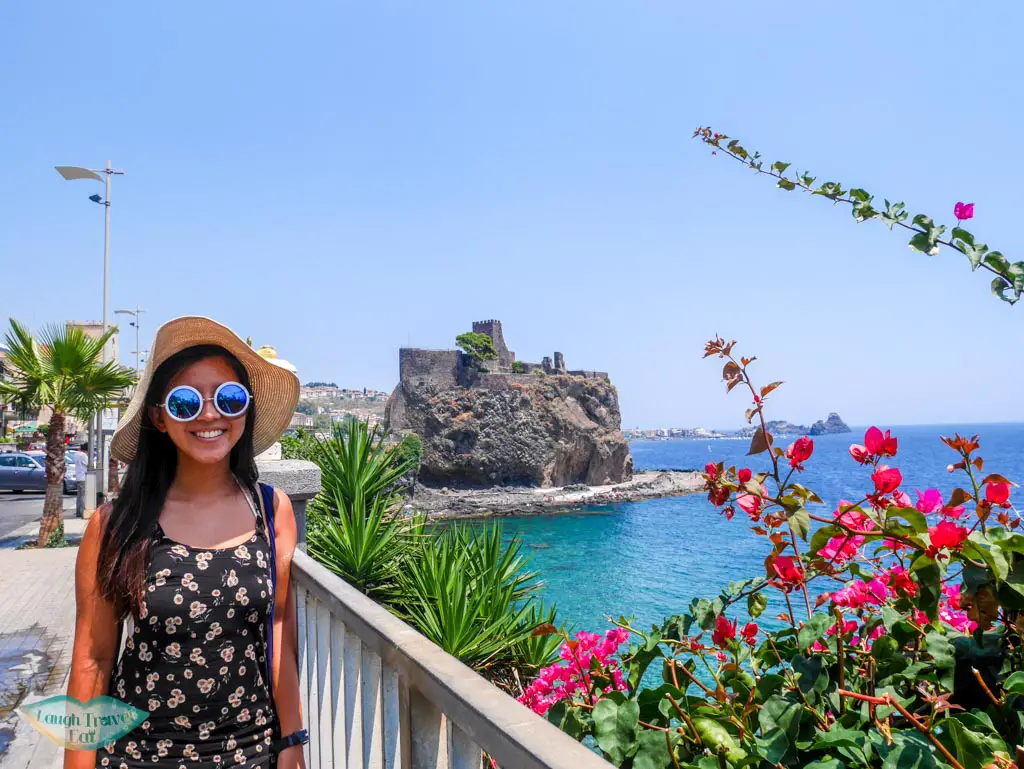 After sieving through the options we had (which is none), we ended up taking the tourist bus to visit Aci Castello as it's the only way for those without their own means of transport.
Aci Castello is a ruined castle in a nearby town and our pass give us a day access to get around with its service. Due to ill timing, we weren't able to visit the castle, though we did had a quick breakfast there.
We then moved on to the next town Aci Trezza with its famous Cyclopean Rocks and swum around there before returning.
It was a quick trip and a bit tight around the schedule due to the bus, but it was the best we could do in that situation.
We then had dinner at Mc Turlddu, another highly recommended restaurant on Tripadvisor. It wasn't the best meal we had, but it was pretty good. One pet peeve: it doesn't open until19, but it doesn't disclose that information online.
Day 22: Mount Etna day trip and fly home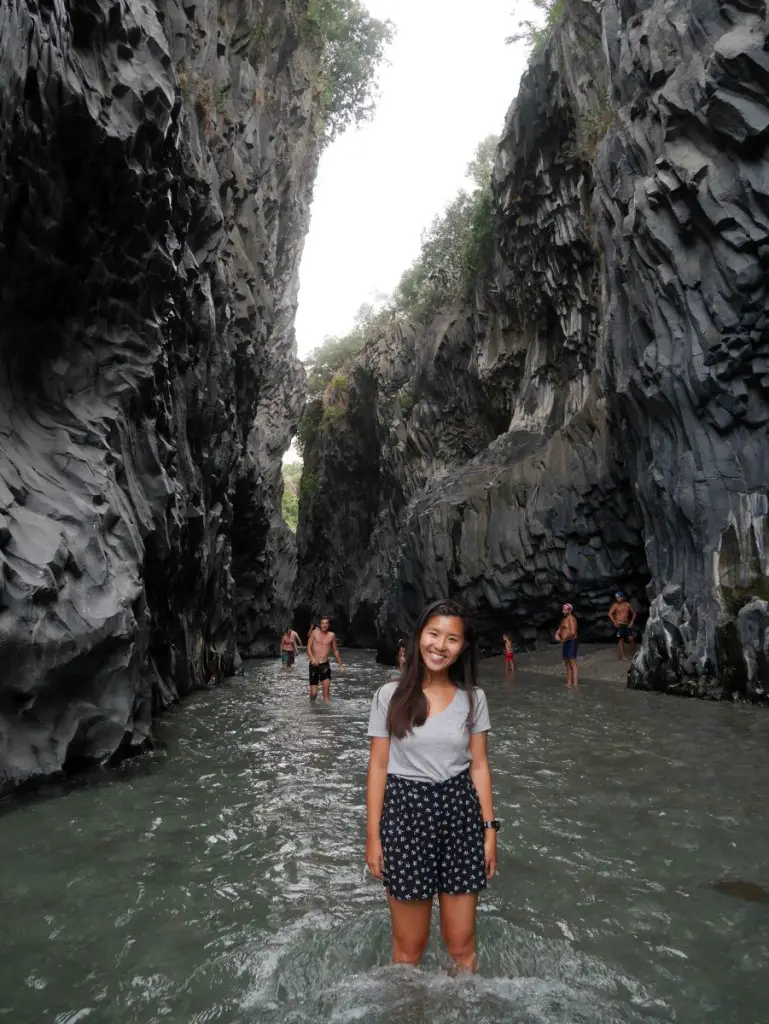 Mount Etna is one of the most famous volcanoes in the world, and frequently featured in Greek mythology. We booked a day tour to visit Mount Etna itself as well as some nearby attractions.
Our day tour only involves going around the car park level area in Mount Etna, which already has some small craters and lava tubes.
Then we also visited the Alicante Gorge, which is the highlight of the trip. You can read about our adventure in Etna here.
After we return to Catania, we picked up our luggage and headed to the airport. Aside from a hiccup where the airport bus didn't show up and we had to take the taxi, we got back to London in one piece.
A lovely rooftop center AirBnB, but TONS of stairs
In honesty, the trip can be separated into three smaller trips as well, and I think we have genuinely got the best amount of time to spend in each location. Though for the Aeolian Islands and Taormina, one can always do with more time.
*some of the accommodations linked are affiliate links.