Last updated on September 27th, 2018 at 10:33 am
Made famous by the National Geography winning photo, Kowloon Peak and its Suicide Cliff is a popular night hike destination in Hong Kong, with many people flocking over there for an insta-famous shot. As part of the mountains that separate New Territories from Kowloon, it faces the Kwun Tong district and on a clear day, you can see all the way to Hong Kong Island. Hence, it offers an unrivaled view for night shots as well as day shots, and we plan to make the best of both world by heading up in the afternoon and going down in the evening.
Before hiking Kowloon Peak
Footwear: First thing first, you must wear good footwear for the hike. The route we took is the shortest and the easiest, ranking a three out of five stars in terms of difficulties in many Hong Kong hiking forum and websites. However, it includes a steep ascent and your shoes must have a good grip. The best thing to do is of course to wear hiking shoes.
Bring water: I recommend bring at least 1 L, if not 1.5 L of water plus sports drinks. It is a 2.35 hours hike, however, the ascent drains a lot of energy.
Gloves: there are certain parts of the trail where it's best to have gloves, any will do so grab a cheap pair at the local market.
Bring a torch: if you have one, a head torch is best. However, your phone can be pretty good as a flashlight, too.
Windbreaker or extra layers: it can get pretty windy so it's best to bring layers to keep warm.
Small towel: you will be sweating a lot. I know I did.
Starting and ending point for Suicide Cliff hike
For the quickest route, you need to head to Kwun Tong MTR, go out from exit D down the stairs and take the first left turn to the mini bus stop.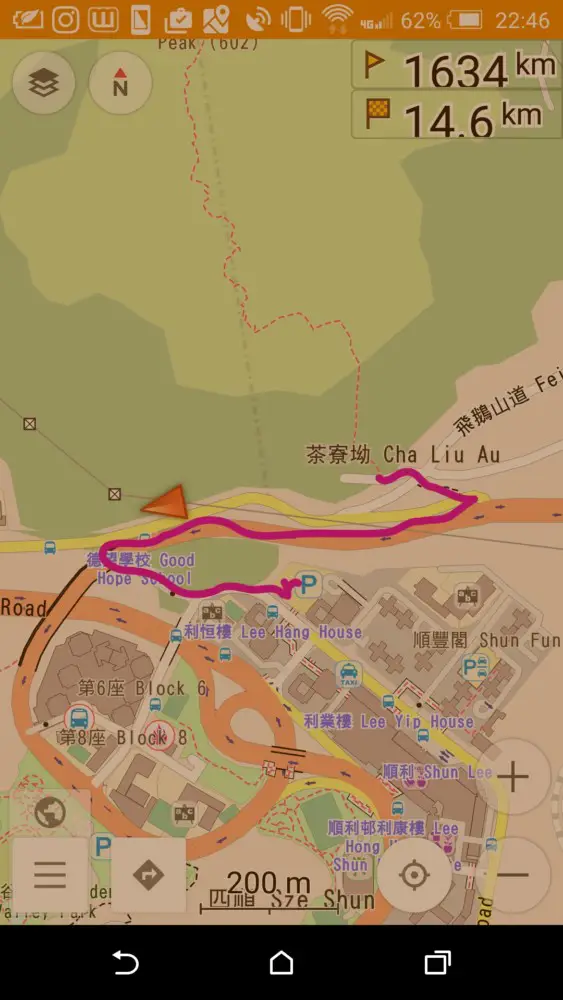 Take the minibus 47 to the end stop, which is a housing estate called Lee Hang House. From there, we have to walk past a parking lot and take a flight of stairs up to the Clear Water Road, then taking the next split up Fei Ngo Shan Road. Because Google Map isn't very detailed: here's a screenshot from my OSMand Map. The main road is where we will get back to as well to end this short loop.

From there on, it's a steep climb up to the first viewpoint.
Hiking up to the first viewpoint

The first part of this trail is among the vegetation, so be prepared for some scrambling. It's best to take it slow and steady. There are plenty of scenic spots once you get out of the vegetated zone, but the first view point is a little further up.

Unfortunately, I haven't marked its geolocation (too tired!) – but you can probably find it through these photos:

Second viewpoint (the Suicide Cliff!)
This is further up the trail and off to the side, and it's where the award-winning photo took place. It definitely looks more dangerous than it is, being sloped as well, but it fitted the whole group of us on top with no problem. If you plan on taking night shots, do bring a tripod and set up on the trail. You can get all round good shots from afar or on the rock. But the darker it gets, the harder it is to actually see who is in that photo!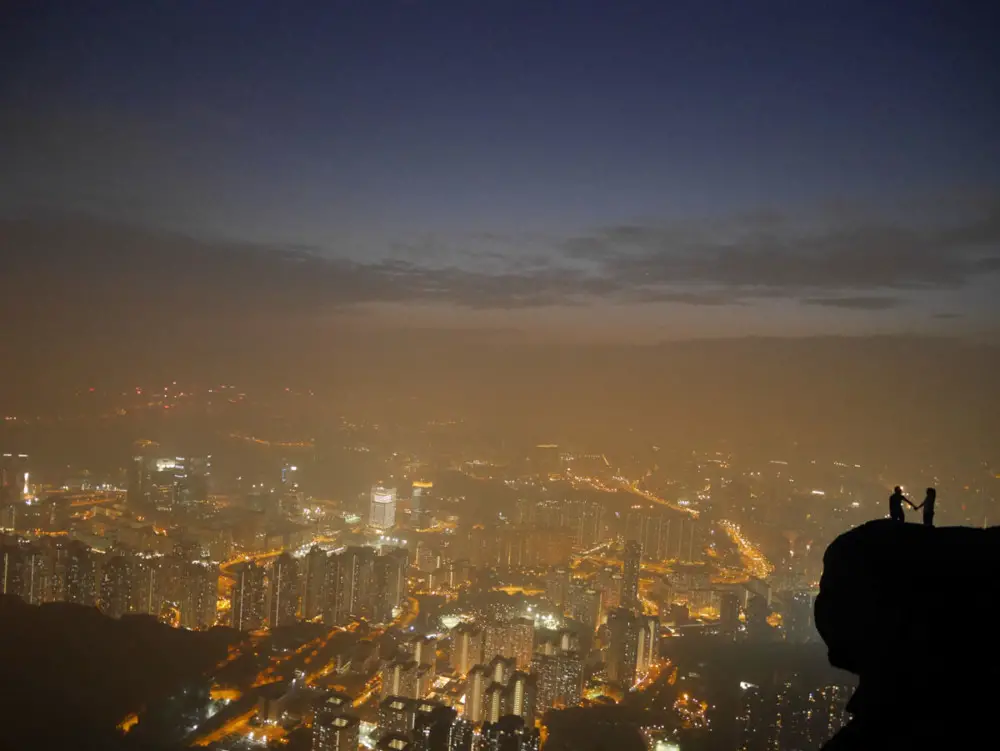 We definitely spent way too long taking photos here!
Kowloon Peak


By the time we started hiking again, it was dark. The view of the city is better as you go higher, but there is no significant difference. For orientation, we need to head towards the tower and pass it, so don't worry too much.

Getting back down
We need to take the trail in front of the Helipad that takes us down and east to the Fei Ng Shan Road. It's a lot of stairs, but it shouldn't be a big problem. You MUST have some kind of flashlight or torch for this because the staircase down has a lot of rods poking out and you don't want to trip over them.
Once you get down, simply head south (right) down the road and back to the housing estate.