Made famous by the National Geography winning photo, Kowloon Peak and its Suicide Cliff is a popular night hike destination in Hong Kong, with many people flocking over there for an insta-famous shot. As part of the mountains that separate New Territories from Kowloon, it faces the Kwun Tong district and on a clear day, you can see all the way to Hong Kong Island. Hence, it offers an unrivaled view for night shots as well as day shots, and we plan to make the best of both world by heading up in the afternoon and going down in the evening.
Before hiking Kowloon Peak
Footwear: First thing first, you must wear good footwear for the hike. The route we took is the shortest and the easiest, ranking a three out of five stars in terms of difficulties in many Hong Kong hiking forum and websites. However, it includes a steep ascent and your shoes must have a good grip. The best thing to do is of course to wear hiking shoes.
Bring enough water: I recommend bring at least 1 L, if not 1.5 L of water plus sports drinks. It is a 2.35 hours hike, however, the ascent drains a lot of energy.
Gloves: there are certain parts of the trail where it's best to have gloves, any will do so grab a cheap pair at the local market.
Bring a torch: if you have one, a head torch is best. However, your phone can be pretty good as a flashlight, too.
Windbreaker or extra layers: it can get pretty windy so it's best to bring layers to keep warm.
Small towel: you will be sweating a lot. I know I did.
Want a video guide, too? Here's my Suicide Cliff hike vlog
Getting to Suicide Cliff trail start
For the quickest route, you need to head to Kwun Tong MTR, go out from exit D1 down the stairs and take the first left turn to the mini bus stop.
go left after you descended the stairs
Take the minibus 47 to the end stop, which is a housing estate called Lee Hang House.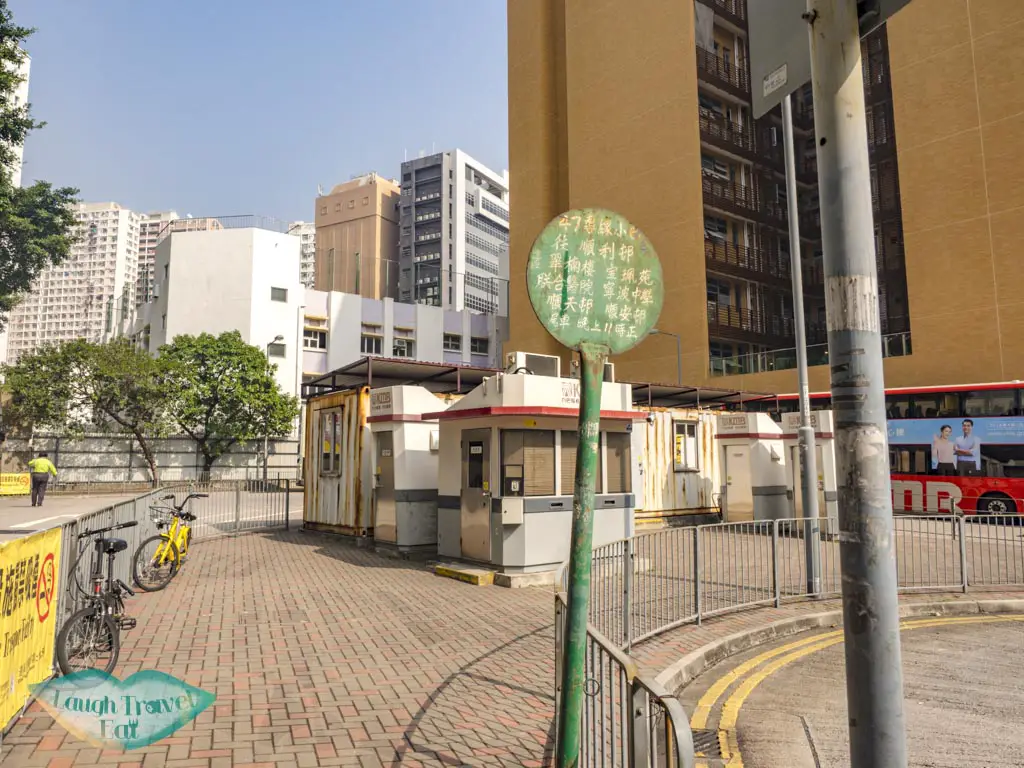 From there, we have to walk past a parking lot and take a flight of stairs up to the Clear Water Road, then taking the next split up Fei Ngo Shan Road.
Head straight

the follows the bend left
Because Google Map isn't very detailed: here's a screenshot from my OSMand Map. The main road is where we will get back to as well to end this short loop.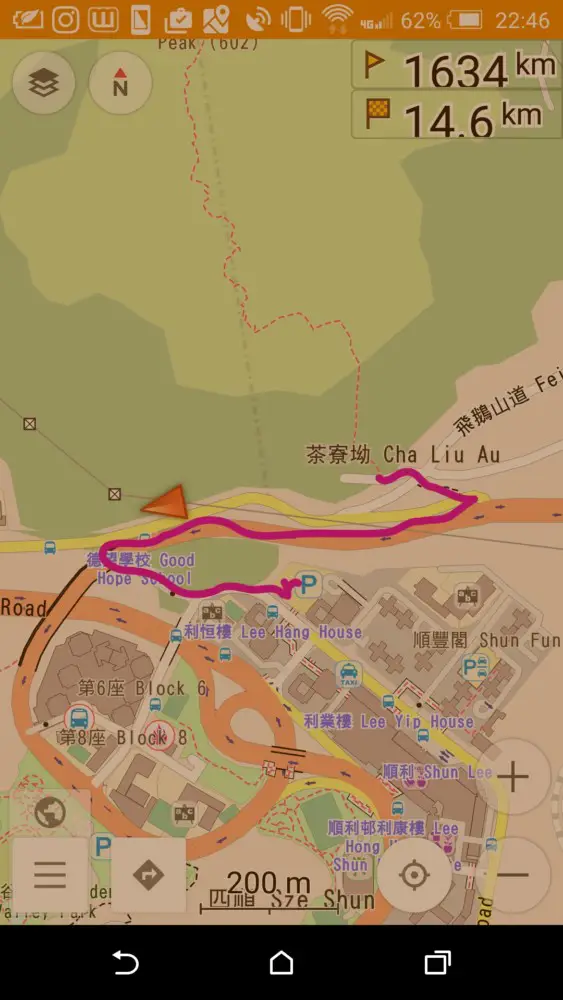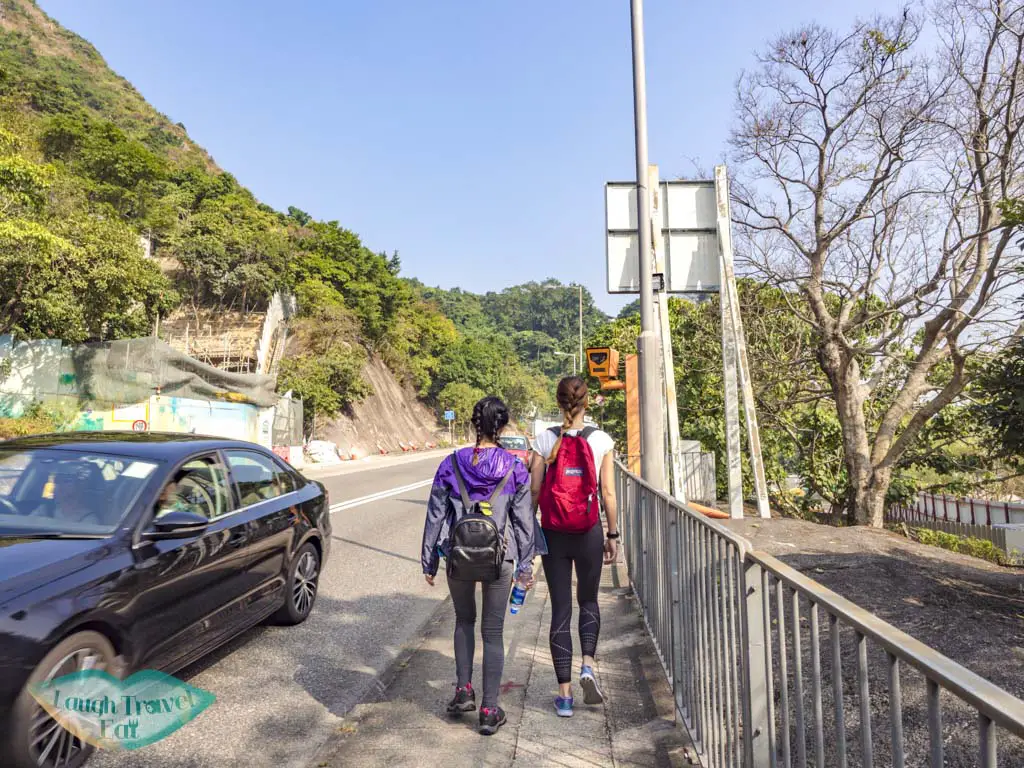 Continue until you see a kind of crossing with traffic light, then cross the road and head onto Fei Ngo Shan Road.
Then take the first left, which is a dead end leading to someone's house, but the trail start is hidden there in plain sight!
From there on, it's a steep climb up to the first viewpoint.
Hiking up to Suicide Cliff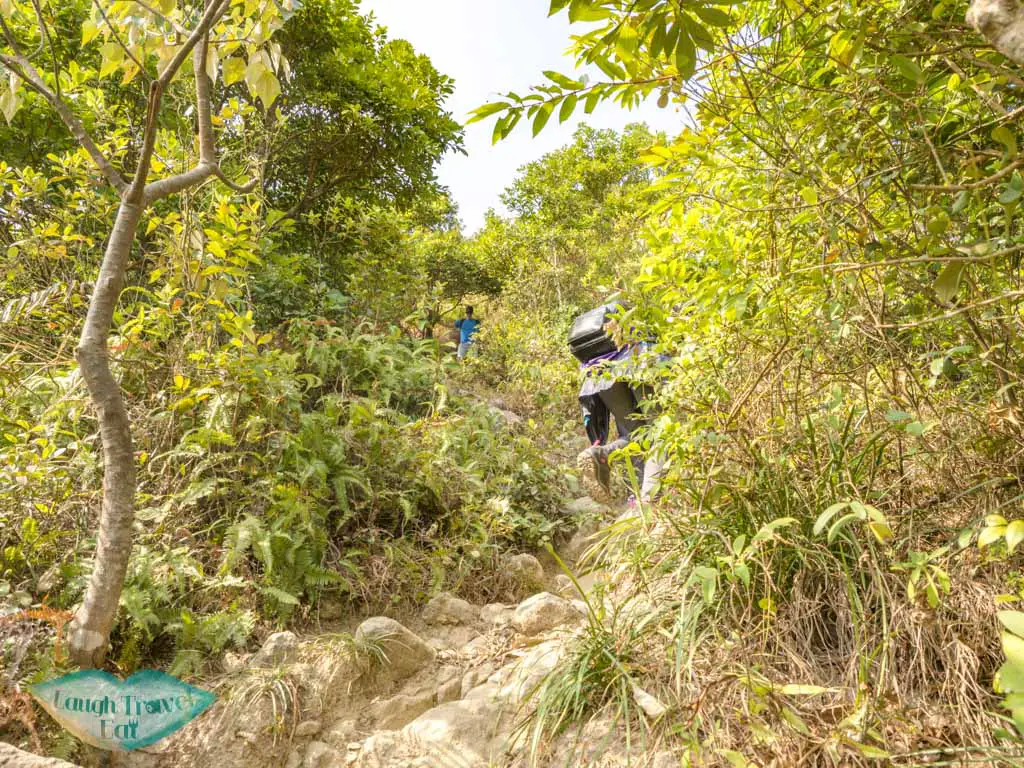 The first part of this trail is in the vegetation, so be prepared for some scrambling. It's best to take it slow and steady. There are plenty of scenic spots once you get out of the vegetated zone, but first you'll encounter a split in the road. Take the left.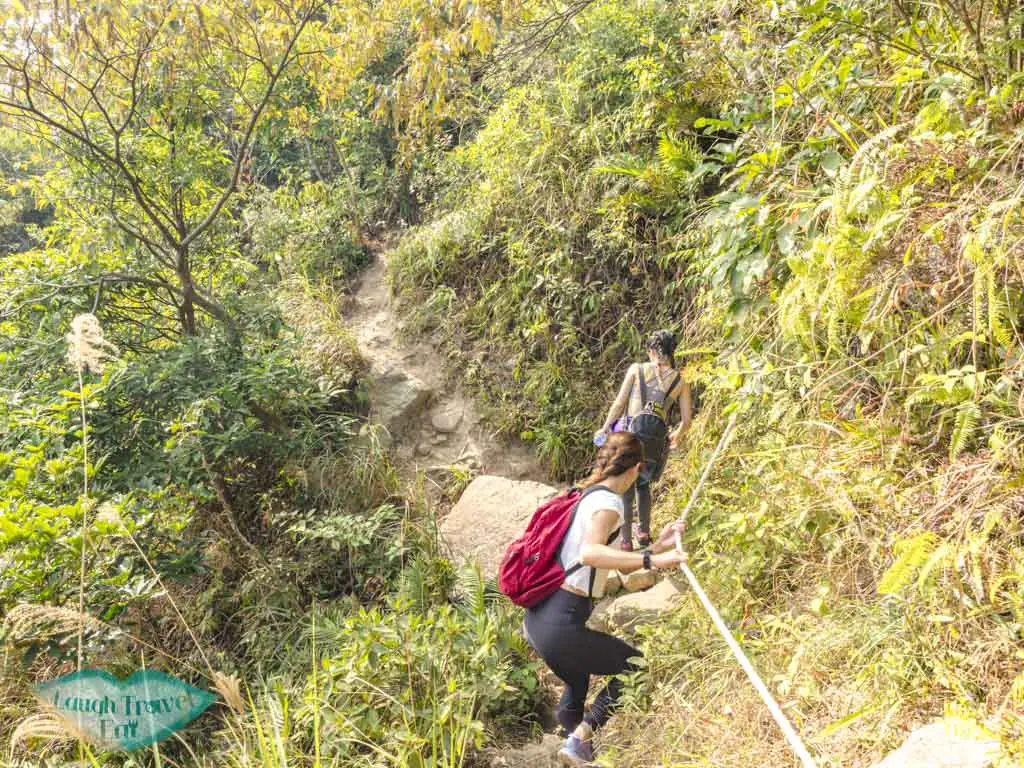 Since my last hike in 2016 (!), the there are additions of ropes that aid going up. Be very careful as the ground is slippery. I strongly advise against going down this way! We ran into a few groups who does, but seen the following photos and understand why I don't think it's a good idea at all.
ropes !
After that, we are out in the open. It can get really hot so bring a hat
This stretch can feel like a never-ending struggle up (because it is), so take your town and pick safe places to rest. Once you see that giant rock outcrop, you are nearly at Suicide Cliff!
Suicide Cliff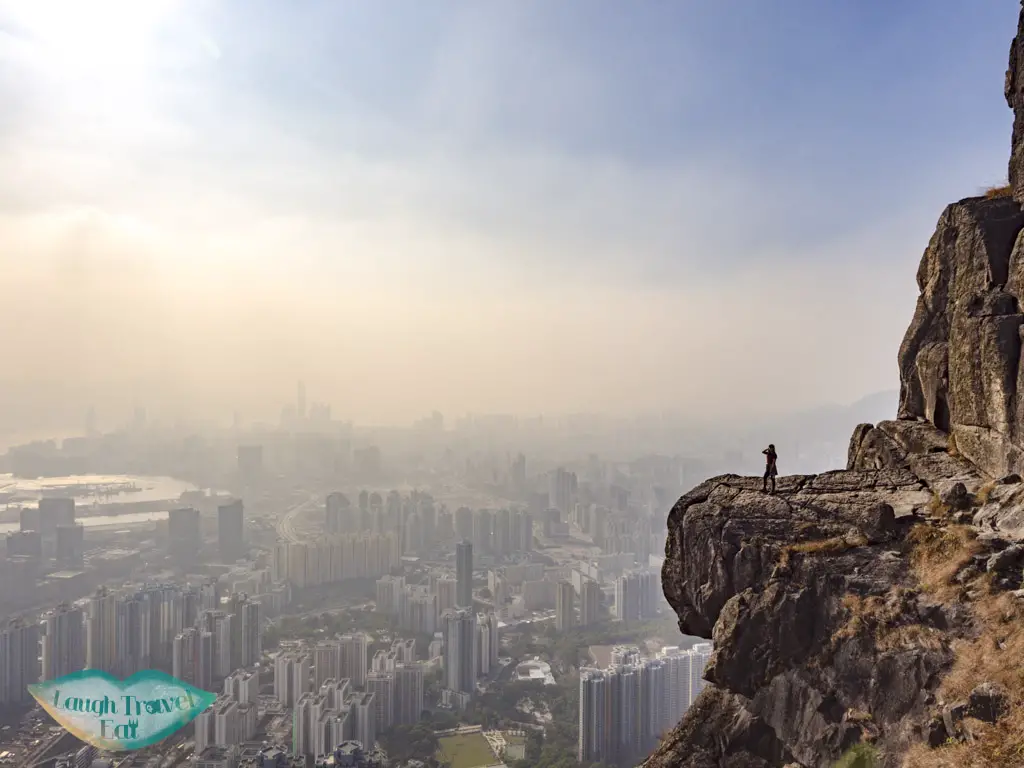 Suicide Cliff is left of the main trail and hard to miss. Made famous by an award-wining photo on National Geographic photography competition, the cliff is named for its sheer drop and not because there were suicides here.
The rock platform, while wide, is sloped hence it's best to be careful when standing on it. If you plan on taking night shots, do bring a tripod and set up on the trail. You can get all round good shots from afar or on the rock. But the darker it gets, the harder it is to actually see who is in that photo!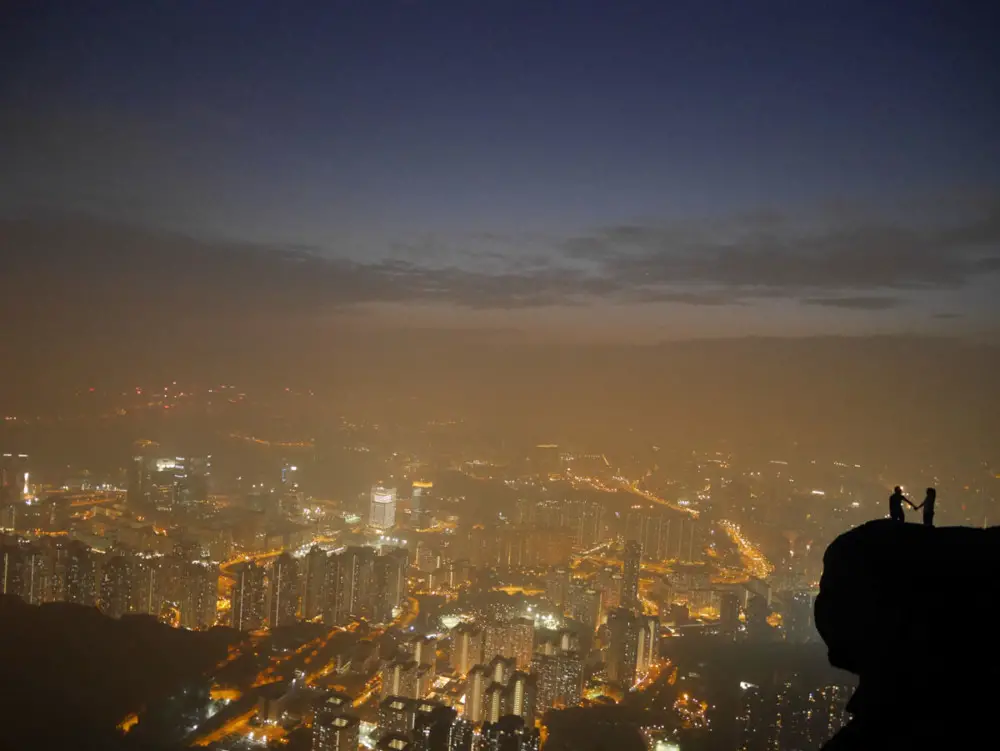 We definitely spent way too long taking photos here! There can be a bit of a queue, but be patience and wait for your turn. The path to get onto Suicide Cliff is not very narrow, but it definitely is a steep drop on one side!
Kowloon Peak
From Suicide Cliff, we continued up towards Kowloon Peak. The hike was done in December and there are still some silver grass~
Above the suicide cliff, the rocks might not be as dramatic or large, but the view is even better since it's unobstructed!


These photos are from my most recent hike when we descended before dark. So you can get a better view and idea of the route as well. From the above view point, continue up (but it's not as steep). Pass by another giant boulder outcrop and go right, you should see the transmission tower atop Kowloon Peak.
Head towards the transmission tower and it'll take you to the stairs. at the end, you'll be at the highest point of Kowloon! And there's the quintessential black and white pillar marking it so.
Getting back down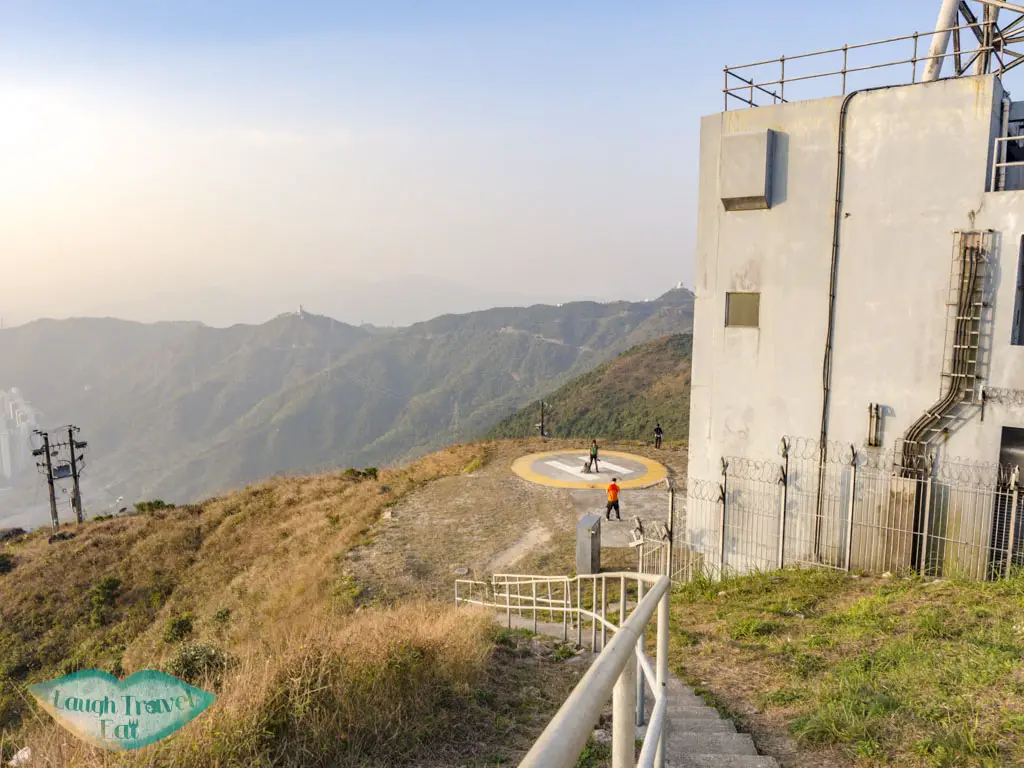 Head down towards he Helipad where there's a trail to its top left that wold lead us down to Fei Ngo Shan Road.
look out for the stairs on the right of the trail, because if you miss it, you'll end up going to Middle Hill and you'll have to go all the way to Shatin Pass Road!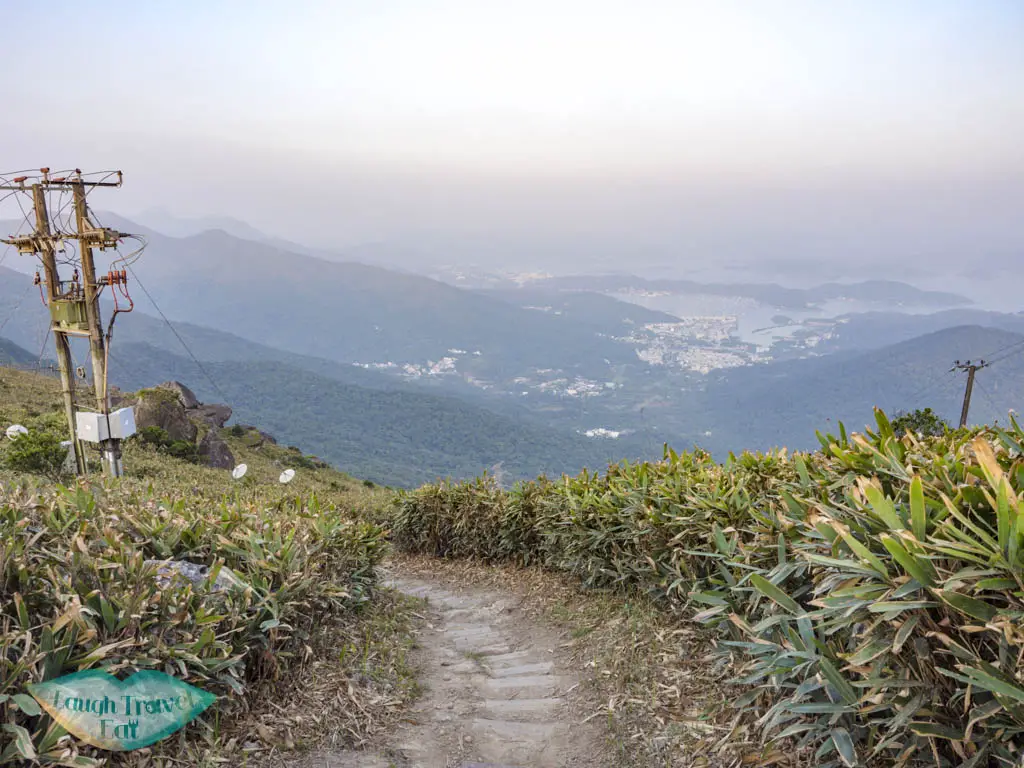 The staircase down is long, and you MUST have some kind of flashlight or torch for this because the staircase down has a lot of rods poking out and you don't want to trip over them.
Once you get down, turn right and walk down Fei Ngo Shan Road. It'll take you back to Clear Water Bay Road in about 20-25 minutes. The first part of it has no pavement, so watch out for cars!
To leave, you can go back to the housing estate, or there is a bus and minibus station. They either go to Diamond Hill or Choi Hung Estate, both a short bus ride away (but faaaarrr if you walk).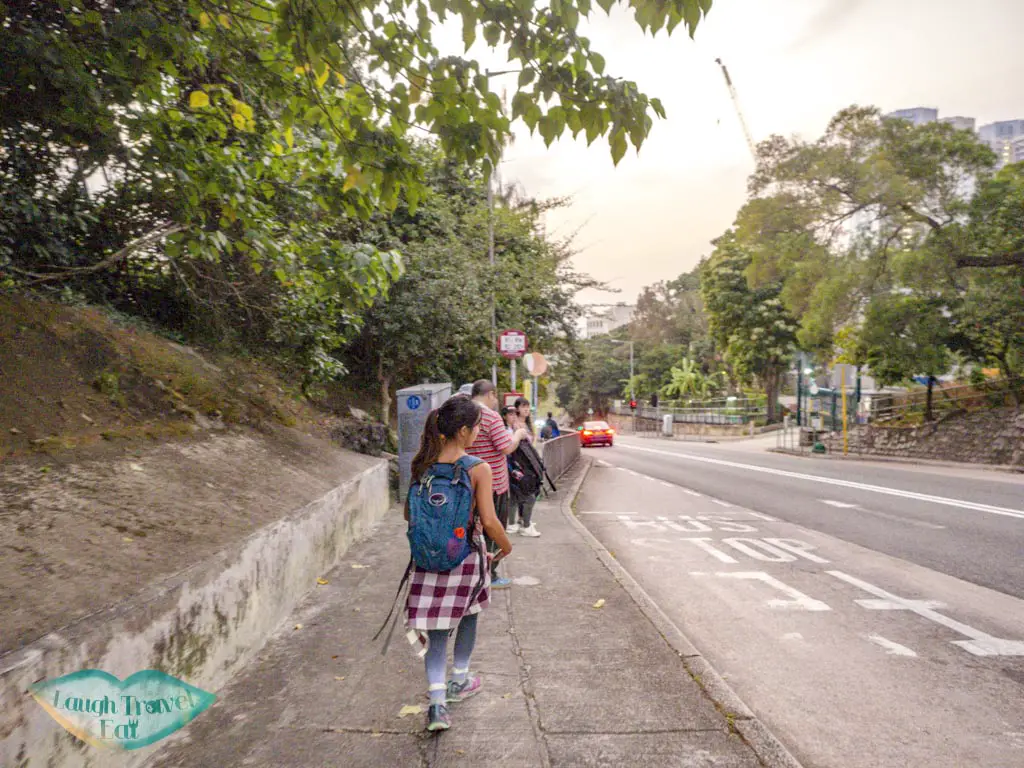 We took the minibus 11 to Choi Hung, since it came first!