Looking for an itinerary for Krabi? There are endless things to do in the area as Krabi is known for its karst mountains and beautiful beaches. The area sits on the west coast of Thailand in the Andaman Sea. It's across from Phuket and a great alternative since it's easier to get around its main attractions. I spent four days in Krabi and then went back for a week because I loved it so much! While Krabi is smaller than Phuket, there are still several areas and here is all you need to know:

Essential information for Krabi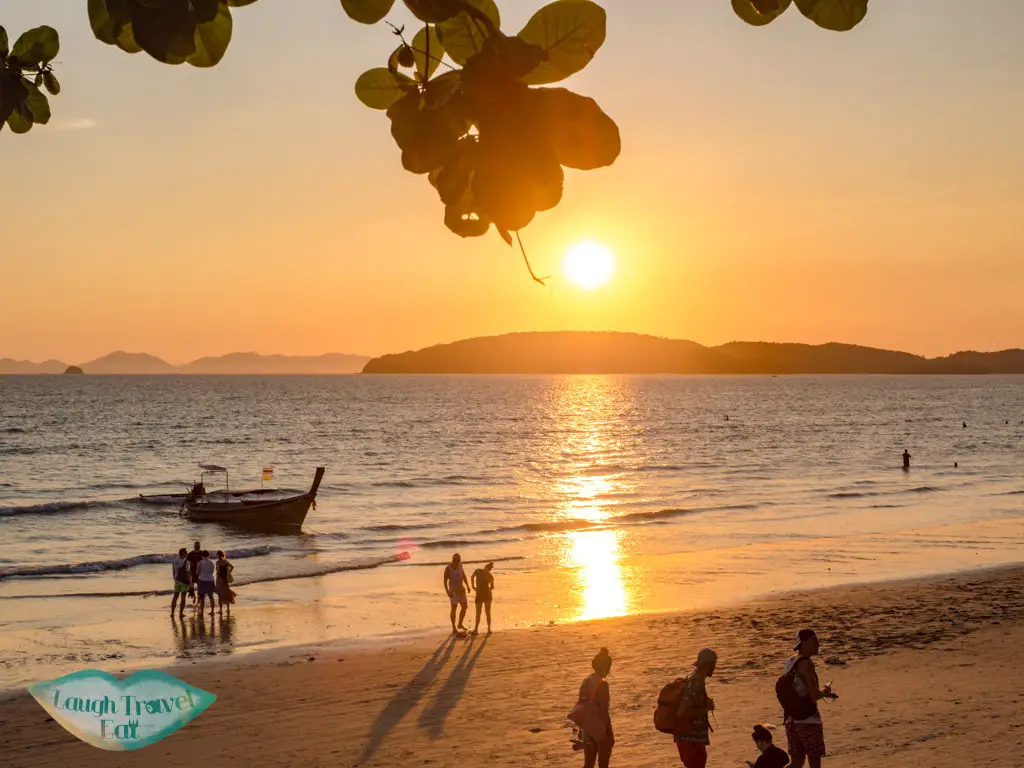 The region of Krabi includes three main areas for visitors: Ao Nang, Krabi Town, and Railay.
Ao Nang – Most people opt to stay at Ao Nang as it is the most convenient and close to the beaches.
Krabi Town – is the main town but not much to do there except for the weekend night market.
Railay – is not an island but is only accessible by longtail boat, 150 baht one way from Krabi Town to Railay east and 100 baht one way from Ao Nang to Railay West; but it is the most scenic.
Getting to Krabi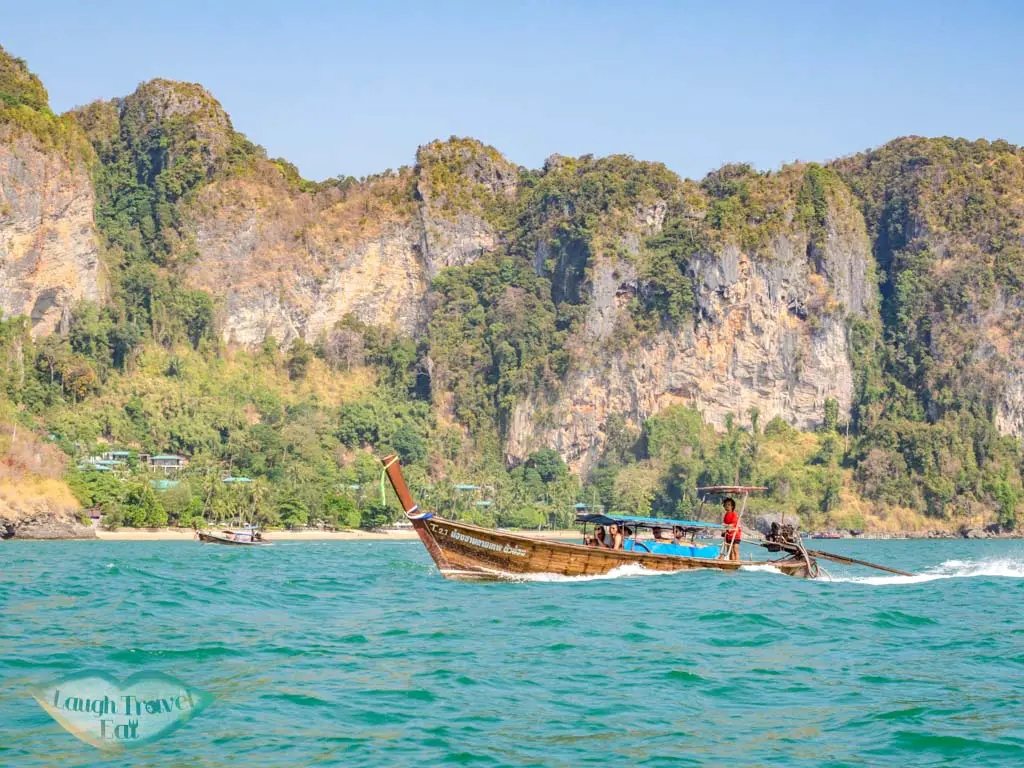 Krabi has its own international airport that services mostly domestic flights from Bangkok and Chiang Mai, but also from Qatar and other international destinations.
It's also easy to reach from nearby cities such as Phuket, Khao Sok, and Phang Nga.

Getting around Krabi
For the most part, it's best to either stick to the beaches, join a day tour, or rent a motorbike to get around Krabi, but there are, of course, options.

Local Bus in Krabi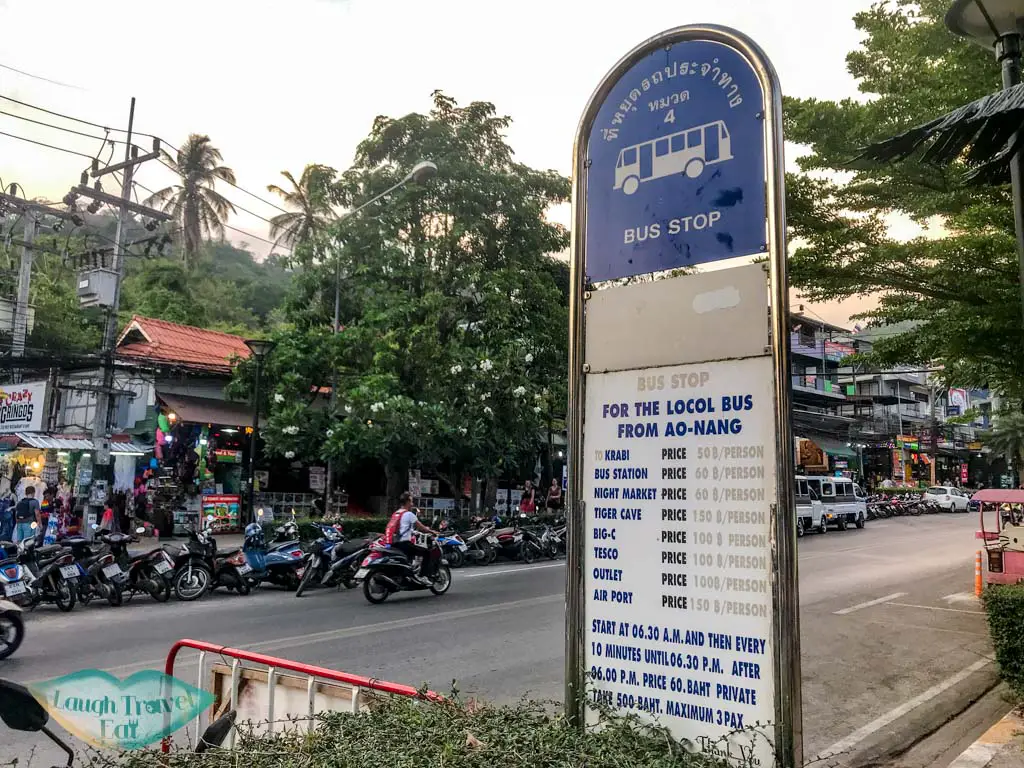 There is a local bus that operates between 6:30 to 18:30 to various top attractions and even the airport. It's supposed to run every ten minutes until 18:00 but I had personally never taken it. Here is the bus stop that I saw:

Tuk Tuk in Krabi

The tuk tuk in Krabi is not the same as the ones elsewhere in Thailand. Instead of having a seat at the back, these are sidecars! The prices are more expensive, usually starting at 100 baht even for a short journey and it's up to your negotiation skills.
It might be easier to get a private car for the day if you are a group of friends who want to visit nearby on-land attractions.
Longtail boat in Krabi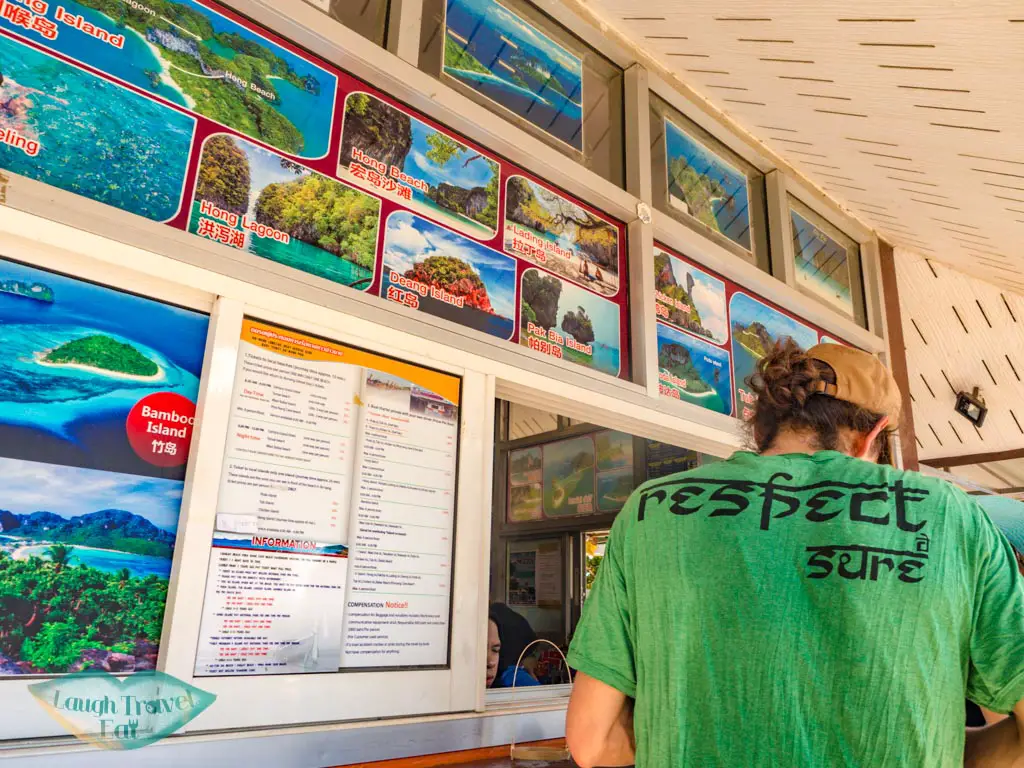 The main mode of transportation to various beaches and islands is the longtail boat. Prices are standardised and tickets can be purchased at the counter at the end of the main street to the left by the beach.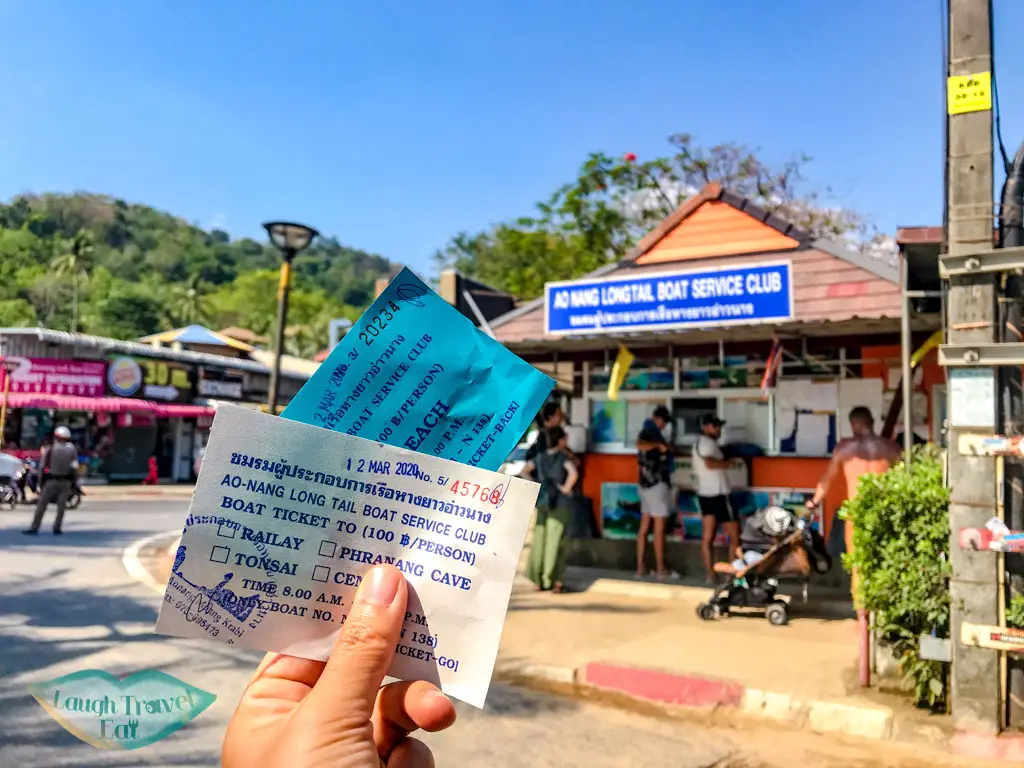 Tickets start at 100 baht per trip to Railay and you can also rent a whole boat for the day to head further afield with friends.

There are shared transfer options in some hostels or tour agencies to some harder to get to attractions. It's more suited to solo travellers and those who don't want to join a tour. I stayed at Sleeper Hostel and saw they have shared transfer to the Tiger Temple and the Dragon Crest Mountain.
(A lot of them weren't running when I visited in May 2022, but hopefully with tourism picking up they'll be back!)

Grab in Krabi
There is Grab service in the area, but in practice, our attempt to use both the transport and food delivery service has been a miss rather than a hit. A friend we met there had to rent a scooter because she couldn't get a Grab back from Krabi Town.
Note: you might have better luck with Grab bike but it's safer to rent a scooter
Renting a Scooter in Krabi
The general price for renting a scooter is 200-250 baht. There are both dedicated rental places and tour agencies who offer bikes.
We rented for one day with the tour agency right in front of our hotel, who held the passport as the deposit and we returned it 24 hours later with the same level of gas.
In general when renting:
Take photos of the bike
Ask for helmet
They generally only offer third-party insurance so make sure your own travel insurance cover accidents
While they most likely won't check, you're not covered by your insurance if you don't hold a permit that allows driving a motorbike
There are quite a lot of gas stations dotted around and filling a tank from half to full should cost around 200 baht.
Laundry in Krabi
The general price is 40 baht per kilo no iron none express, and goes up to 80 baht for express with iron. The tour agency outside our hotel on the main road also offered laundry services, which was convinient.
Itinerary for Krabi: 3 days, 5 days, and 7 days
I'd be suggesting combinations for Krabi itineraries with details on the attractions and day trips below:
3 days in Krabi
If you only have 3 days, the best itinerary for Krabi would be staying on Ao Nang Beach and doing day trips: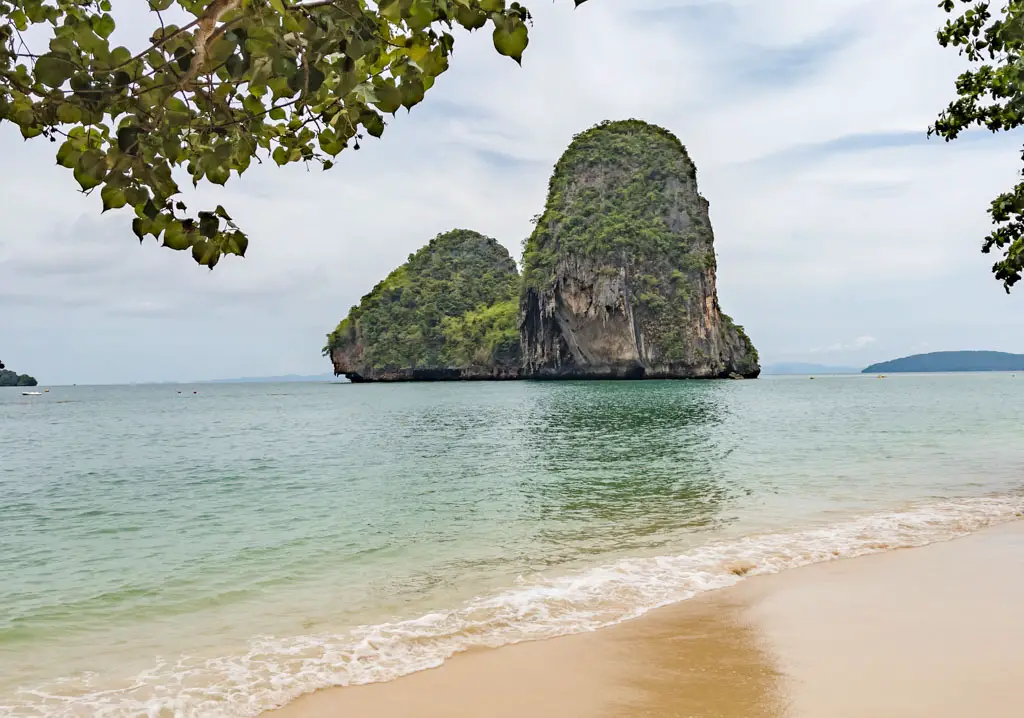 Day 1: Railey Beach with rocky climbing or chilling on the Phra Nang Beach before dinner at one of the restaurants in Ao Nang
Day 2: Take a day trip to Koh Phi Phi or 4-island
Day 3: depends on how much time you have, hike the Dragon Crest Mountain or do mangrove kayaking in Ao Thalane
5 days in Krabi
For 5 days in Krabi, you have more time to take day trips and relax in Ao Nang. You can split your time between Ao Nang and Railey.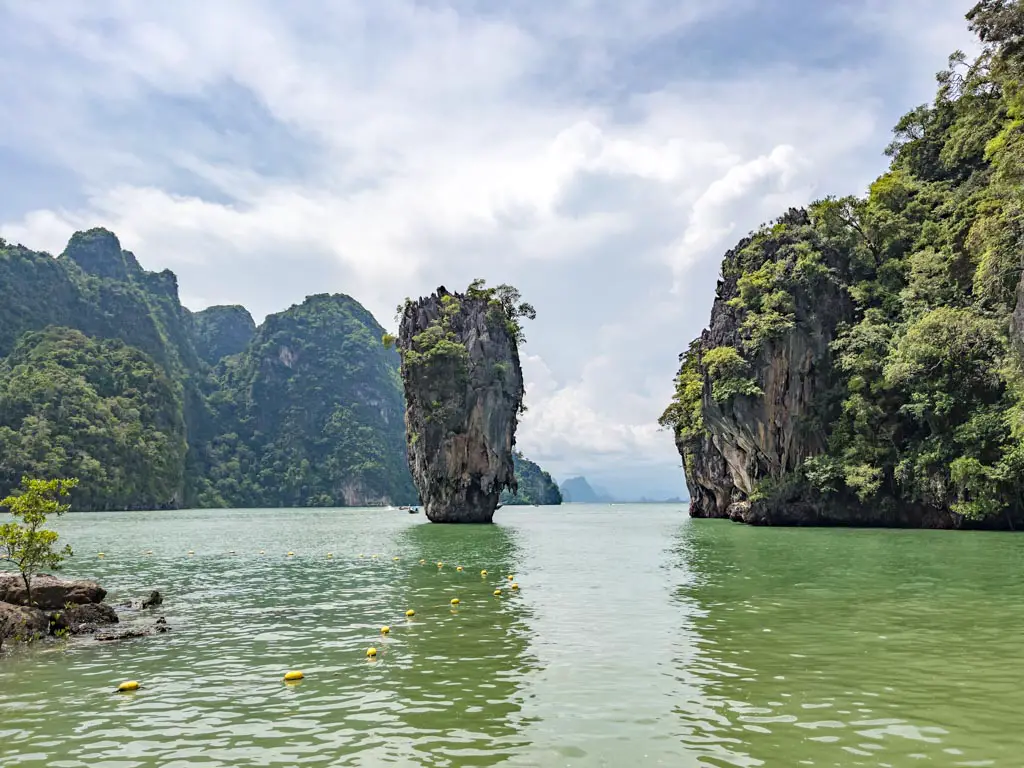 Day 1-2 – stay at Railey and spend the half day relaxing, half day climbing to Railey Viewpoint and Princess Lagoon. Spend the second day doing half day rock climbing before transferring to Ao Nang
Day 3 – Koh Phi Phi Day Trip
Day 4 – 4-island Day trip or Phang Nga Day Trip
Day 5 – sea kayaking at Ao Thalane or Dragon Crest hike
7 days in Krabi
With a week in Krabi, you can do everything above and more! This is what I did and here's the itinerary: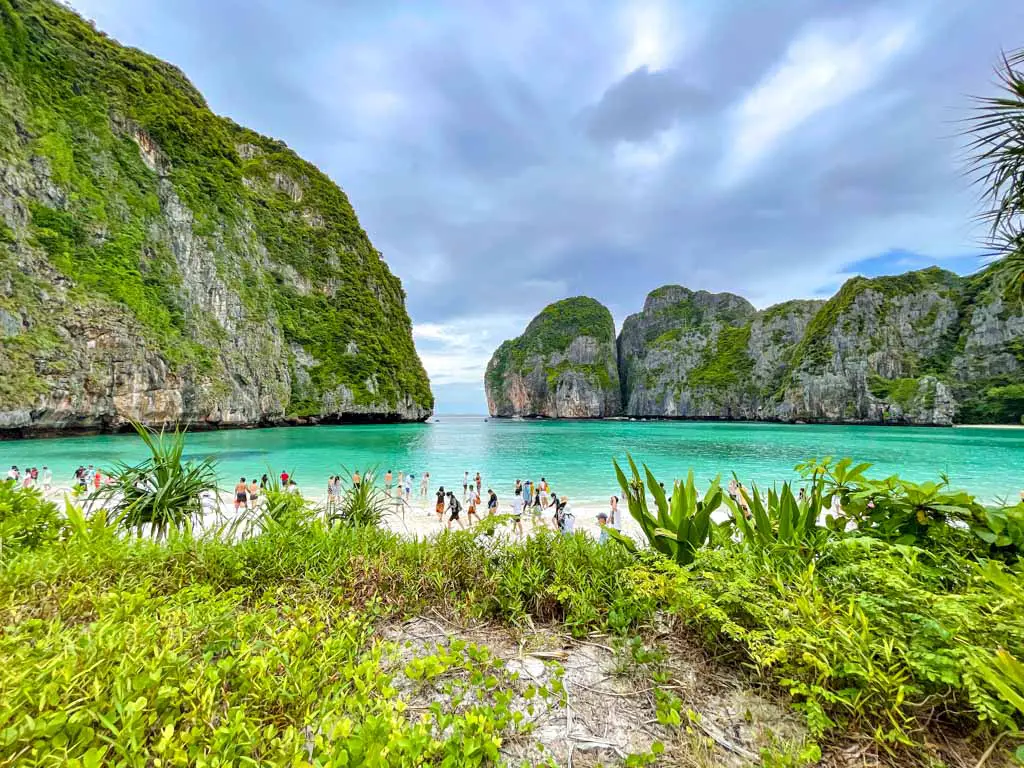 Day 1-2 –  stay at Railey and spend the half day relaxing, half day climbing to Railey Viewpoint and Princess Lagoon. Spend the second day doing half day rock climbing before transferring to Ao Nang
Day 3 – Koh Phi Phi Day Trip
Day 4 – 4-island Day trip
Day 5 – Phang Nga Day Trip
Day 6 – Dragon Crest hike and night market at Krabi if it's a weekend
Day 7 – morning kayaking before leaving
Feel free to mix and match the days!
What to do in Krabi and Krabi Attractions
Out of all the places I've visited on the trip, Krabi has one of the most varied activities from beaches to mountains. I'd spend 1 day at the hotel and then the beach, and another full day in Railay.
I'll be covering the day trips further down, but here are some attractions:

Ao Nang Beach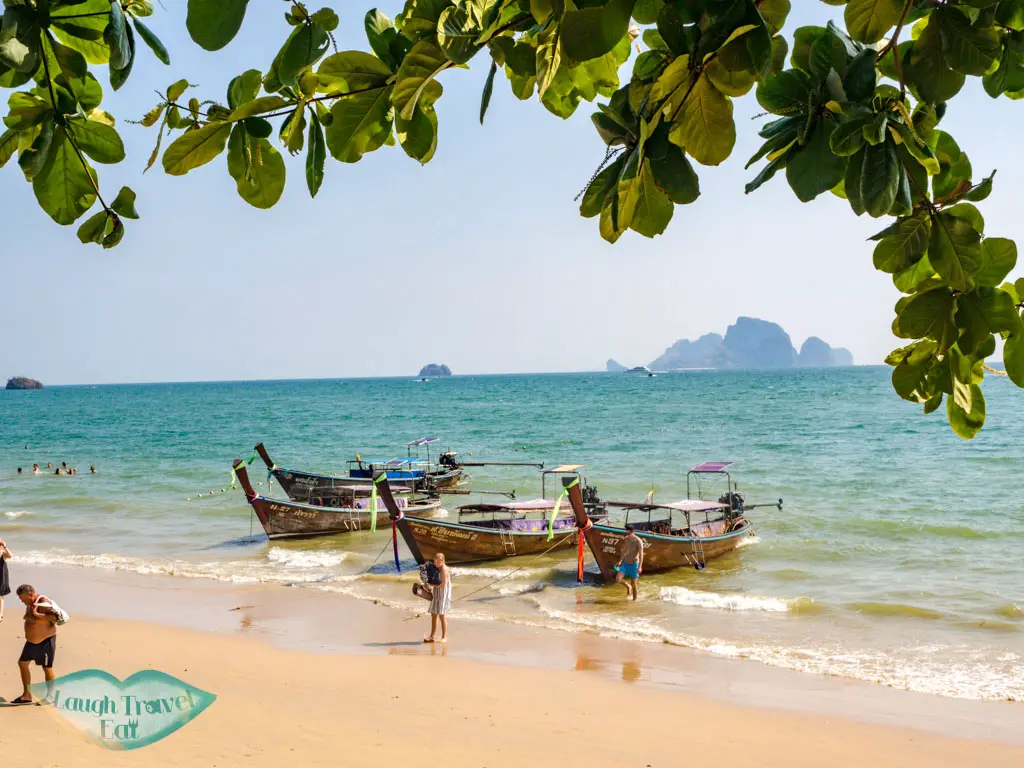 The main beach in Ao Nang, it's a busy place with many longtail boats shuffling people back and forth to Railay. The beach is fairly long and easy to find at the end of the main street. It is often fairly crowded, too.

Railay Beach


The prettiest beach in my opinion, Railay Beach is one cove south of Ao Nang but only accessible via longtail boat. With towering karst cliffs on both sides, it paints a dramatic scene with white sandy beaches and bobbing longtail boats.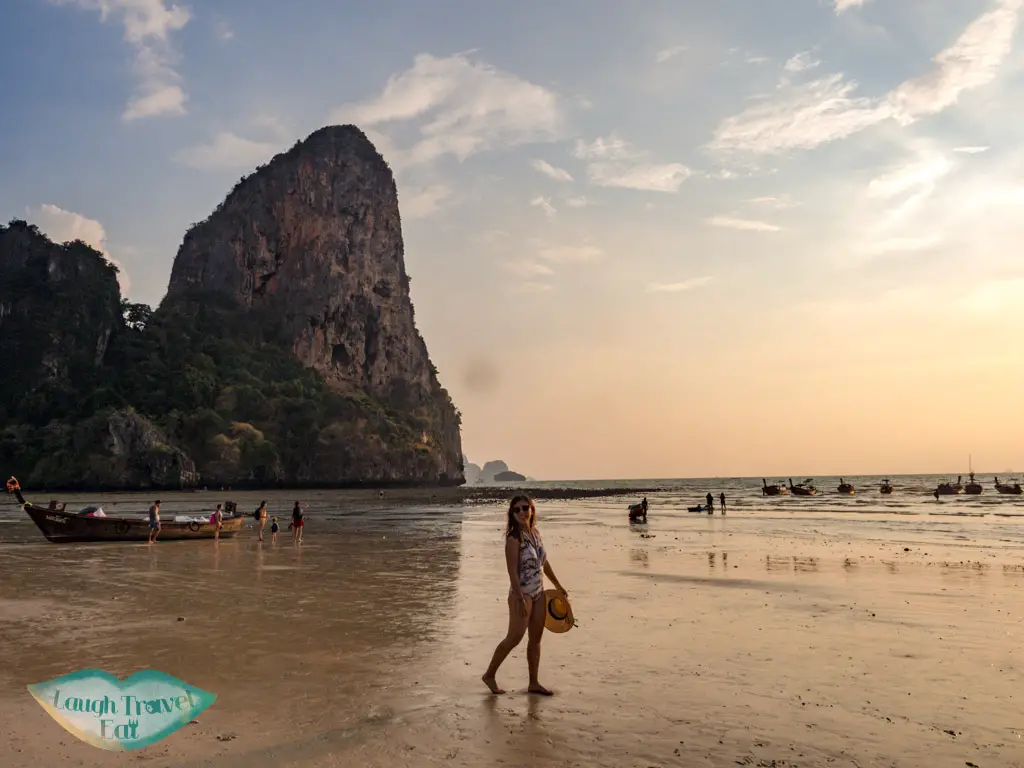 The beach almost disappears during high tide, but during sunset it extends down with little crowd as people either head back to Ao Nang or to their hotel.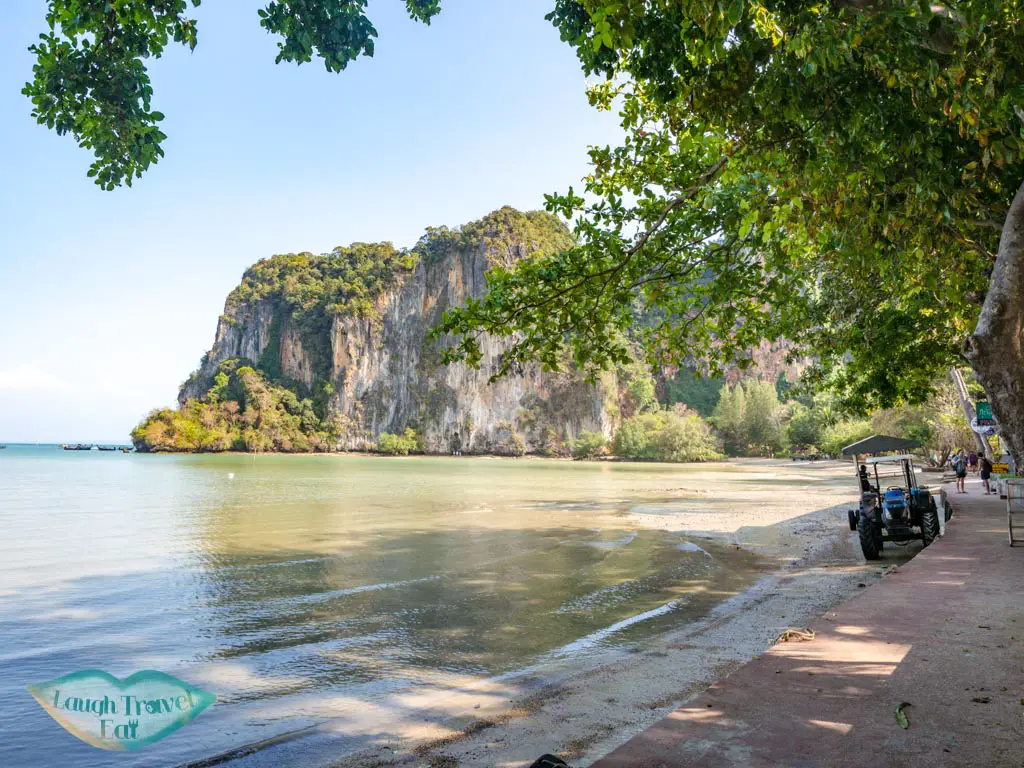 Do note that when Railay Beach is mentioned, it's almost always referred to as the Railay West Beach. The eastern beach is less pretty with a floating pier that service boats from Krabi Town. It's also popular for rock climbing in its southern cliffside.

Rock climbing in Railay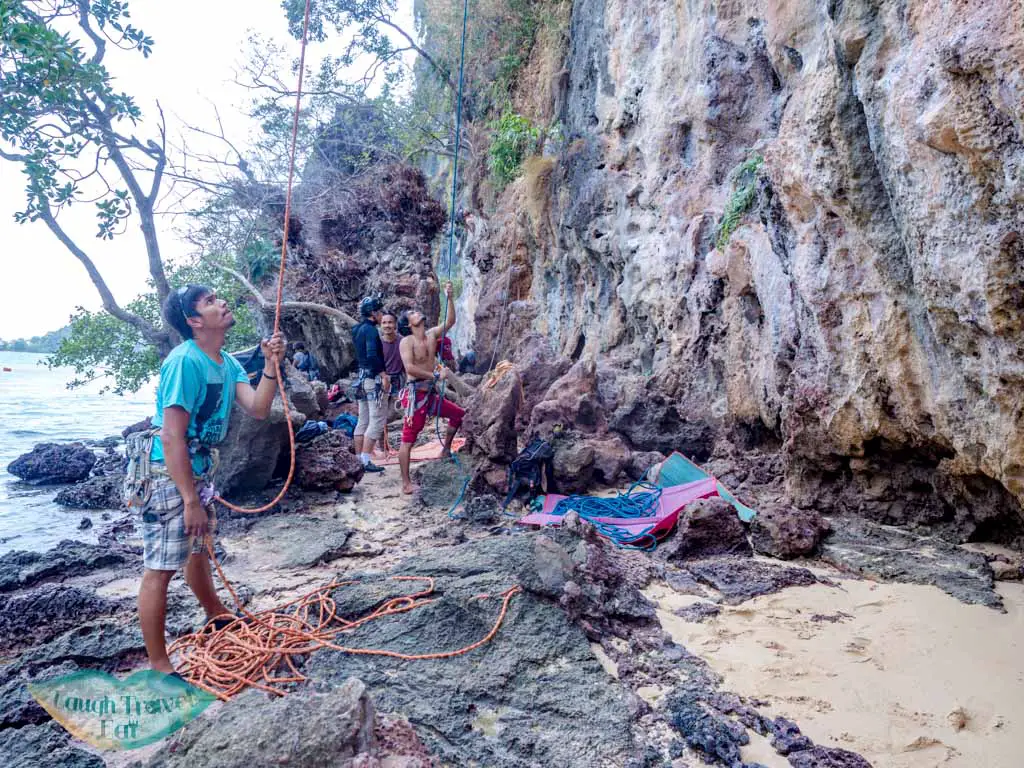 One of the most popular activities in Railay, rock climbing for both beginners and the experienced is possible in Railay. I did a last minute half day beginner package with Shadowrock Climb and ended up exactly where I saw the rock climbers in Railay East. You can either do it in the morning or afternoon, as during high tide, usually around midday, the water goes right up to the cliff so it's impossible to not get your feet wet.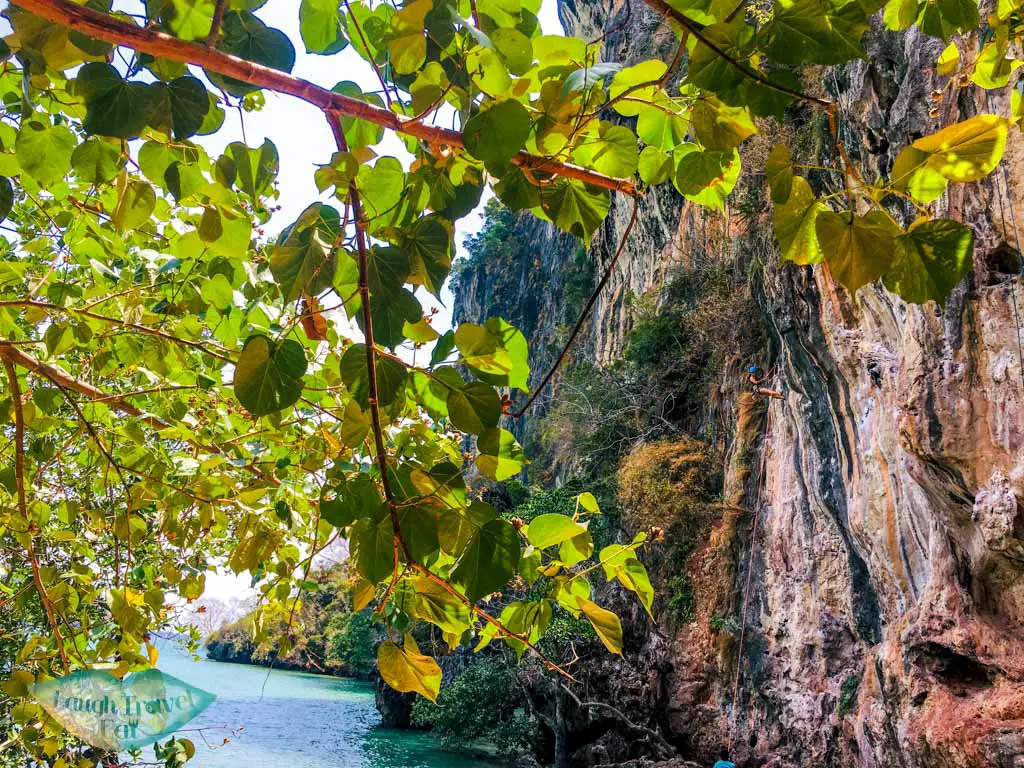 You are likely to be able to get 3-5 climbs in, depending on your arm strength and energy levels. I did, at one point, ask myself why am I putting myself through this as I froze several meters off the ground looking like a stuck bat. But it's not like bouldering since there's a spotter (not sure of the official term) below so if you did slip up, they got your back. Getting down is also easy since you basically rapple back.
The day-long excursion for the experienced also go to some pretty beautiful places or you can just rent equipment with friends and find somewhere to climb.
A half day tour booked in Ao Nang or Railay costs around 900-1000 baht, similar to online prices. On my next visit, I asked to do the half day climb + Bat Cave experience, where our guide took us through the cave and we rappel out of the cave and land on the West Railey side.

Phra Nang Cave Beach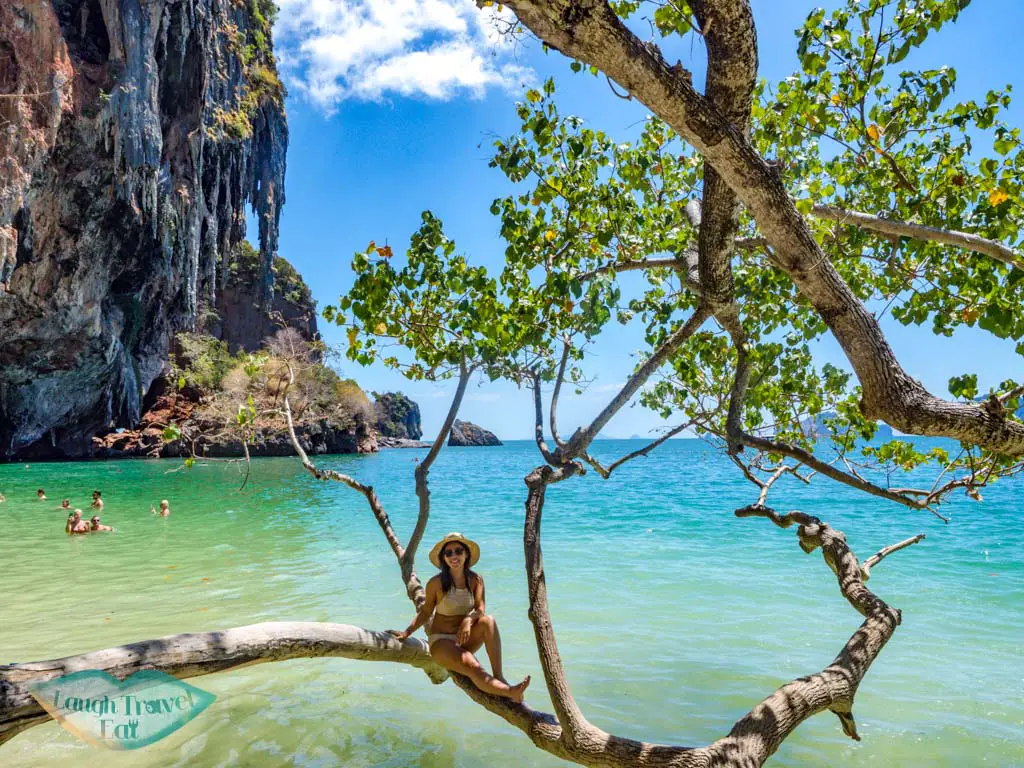 The southernmost beach of the three, the beach is accessible by foot from Railay and best go during low tide in the early morning or evening.
That's because during the day it's popular for day trips to visit and you have to walk in water if you visit during high tide. It's also nicknamed Penis Beach as there are two shrines with penis sculptures of various sizes in the caves.
Bat Cave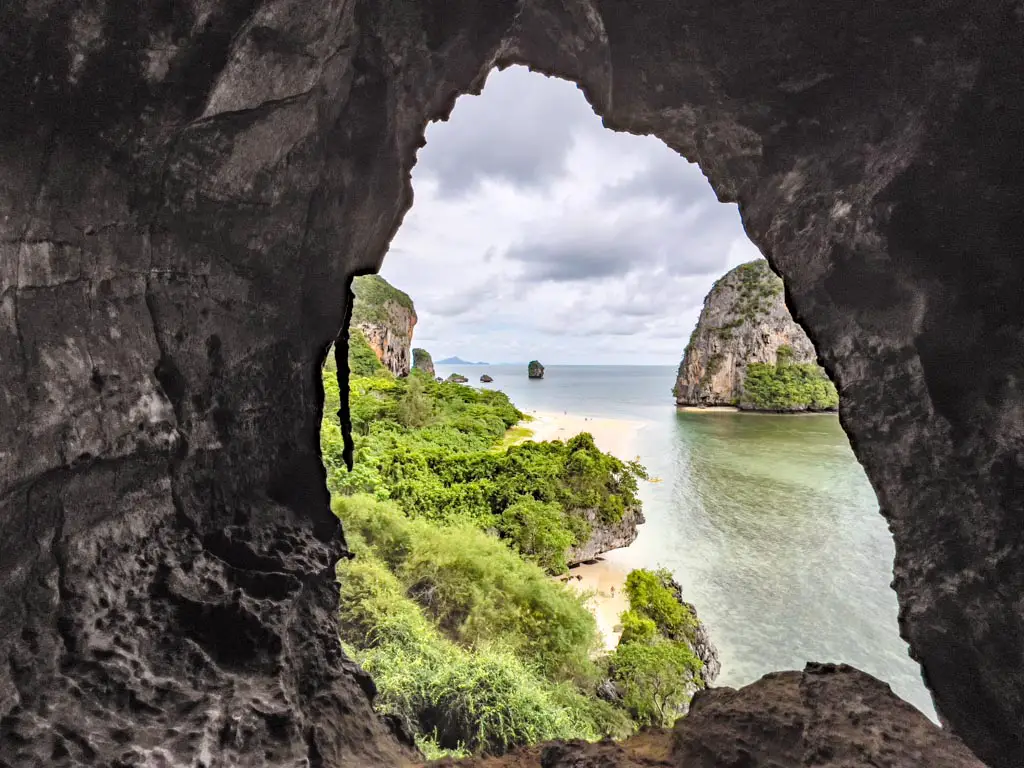 At the end of the Phra Nang Cave Beach is the Bat Cave, which is a slightly rickety climb up on mud and the occasional bamboo ladder.
While I don't recommend doing it in flip-flops, it's certainly possible with a little rock tunnel leading to a photo spot with the view of the beach behind.
You'd have to return the same way if you were here on your own. We joined a rock climbing tour that lead us through the cave, spotting some very real bats, and rappel out the other side on the end of Railey Beach.

Railay viewpoint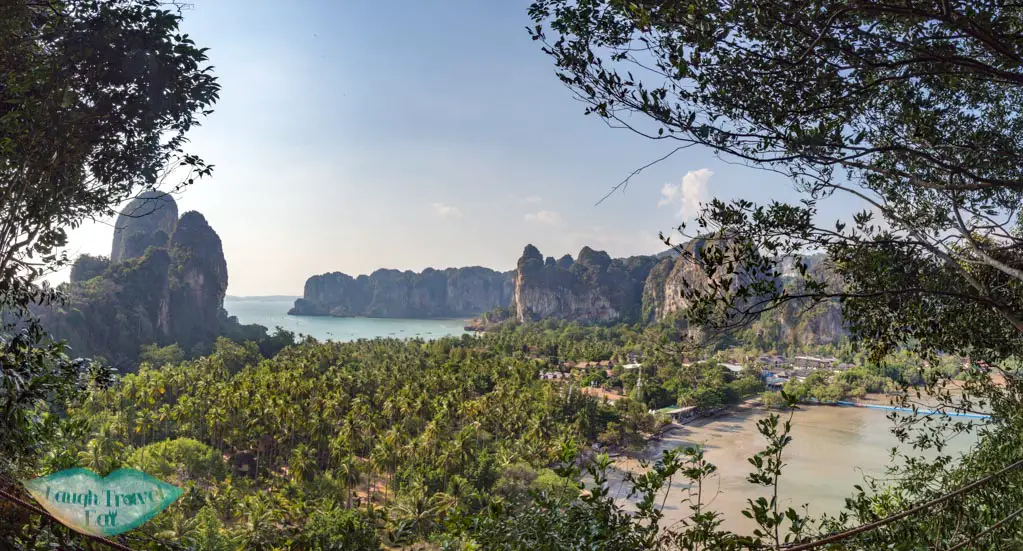 A little way from Railay East near where rock climbers are is precarious path that leads up to the best viewpoint in the area: Railay Viewpoint. It does look harder than it is with many successful climbers navigating up in flip-flops.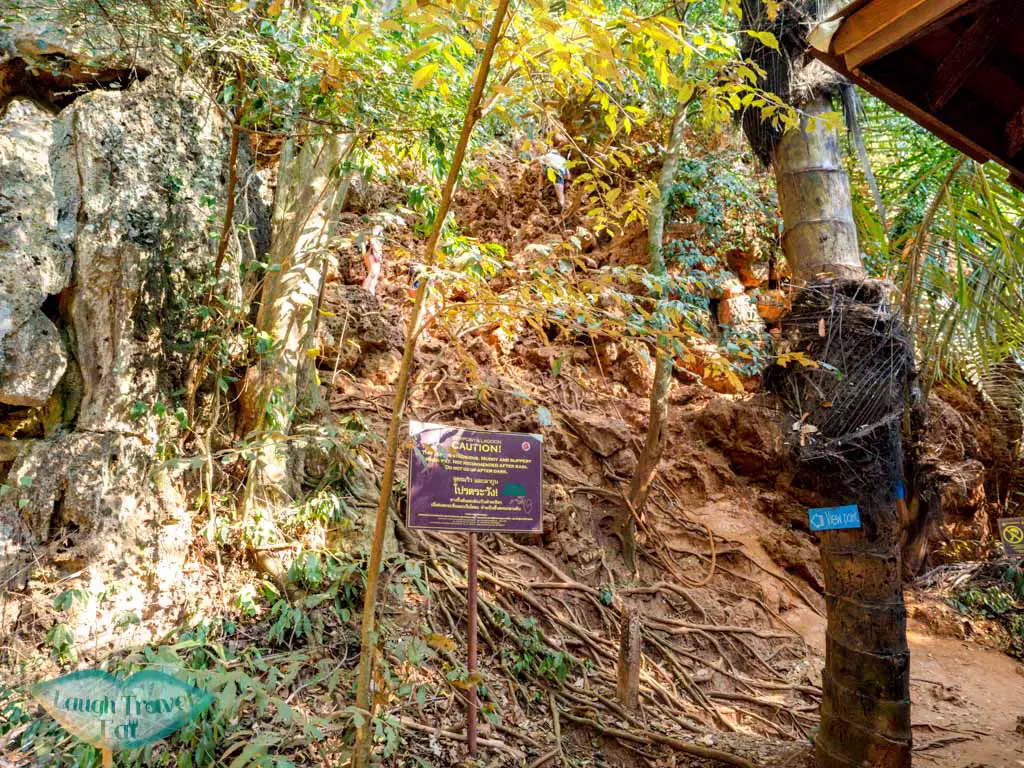 That said, it's definitely not a good idea to go there after there has been some rain and it is still by no means a challenge. But ropes are installed along the way to aid your ascent and descent. The red mud along this trail also stains, so be sure to wear your least favourite clothings and shoes.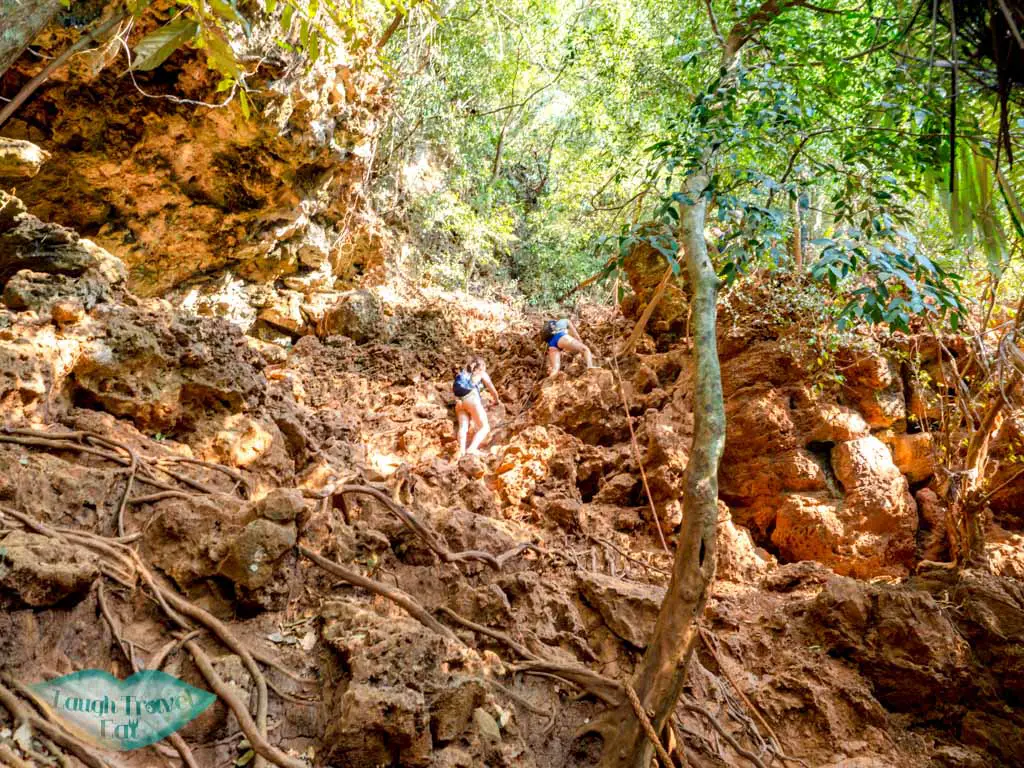 The viewpoint only takes about 20 minutes to reach and gives you a panorama of both Railay East and West, as well as the cliffs beyond. It's not a very big space, so take your photos and move along for the next batch of hikers.

Princess Lagoon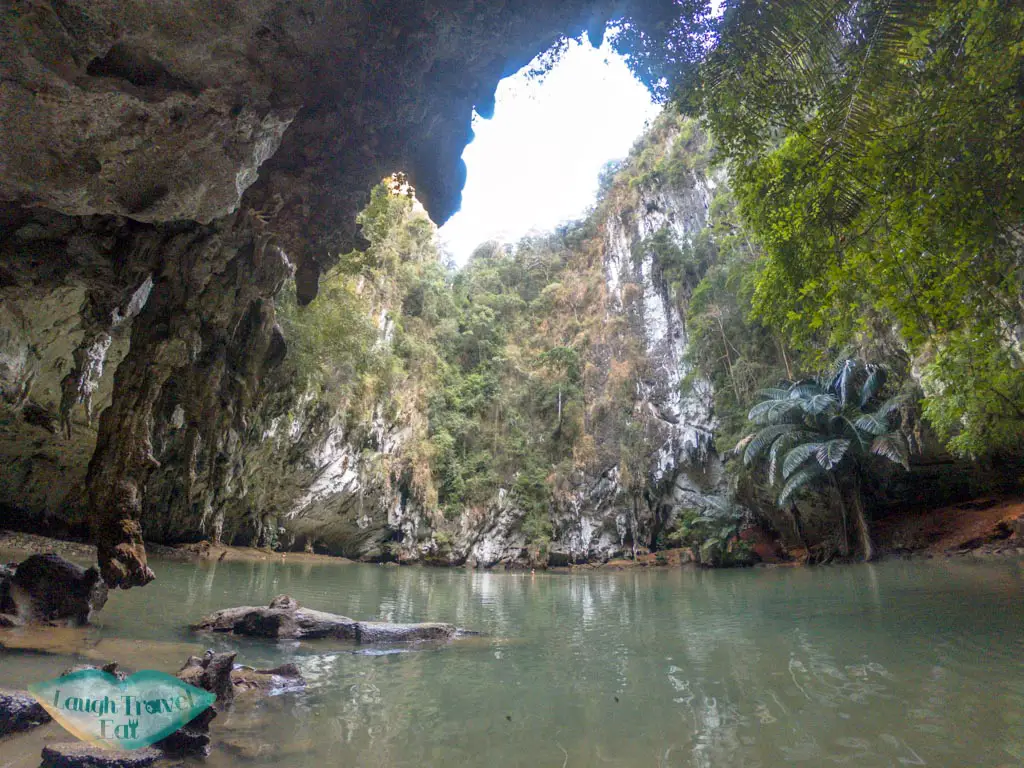 The trail extends from Railay Viewpoint to the Princess Lagoon, but the trail is way harder with some steep descent. If the trek up to the viewpoint is already difficult for you, I don't recommend continuing on as it's basically a one way route in and out with plenty of people.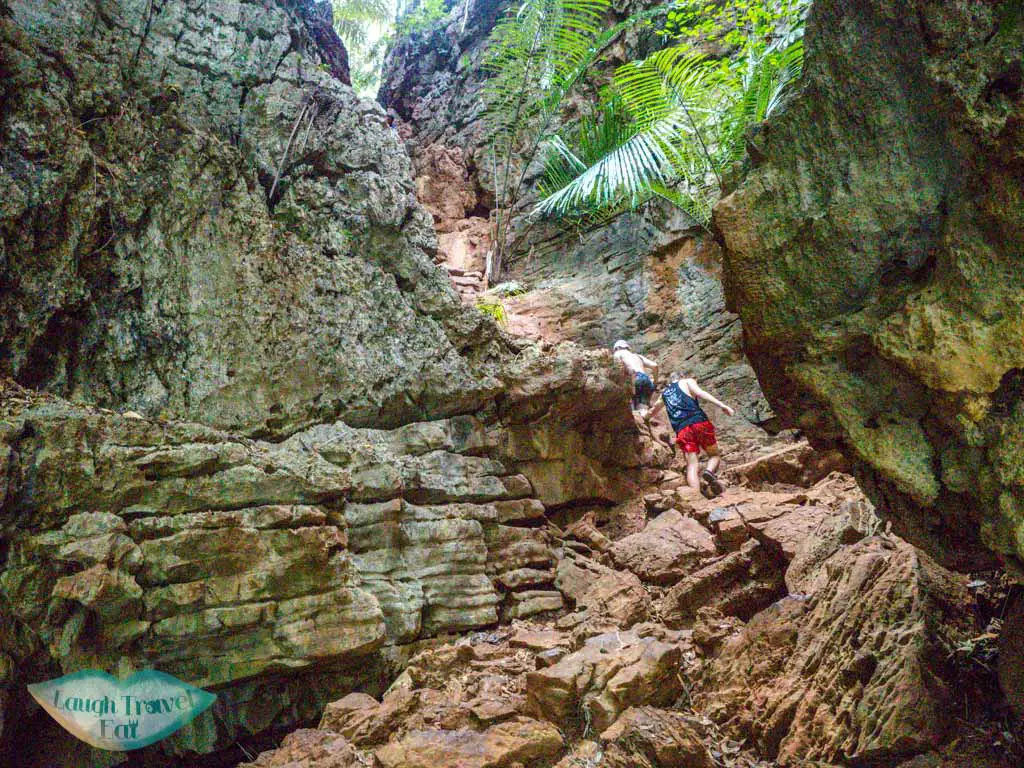 The lagoon, though pretty, is nothing special. The rocks on the shore are also very pointy so best to have wet shoes and not go barefoot.

Ao Thalane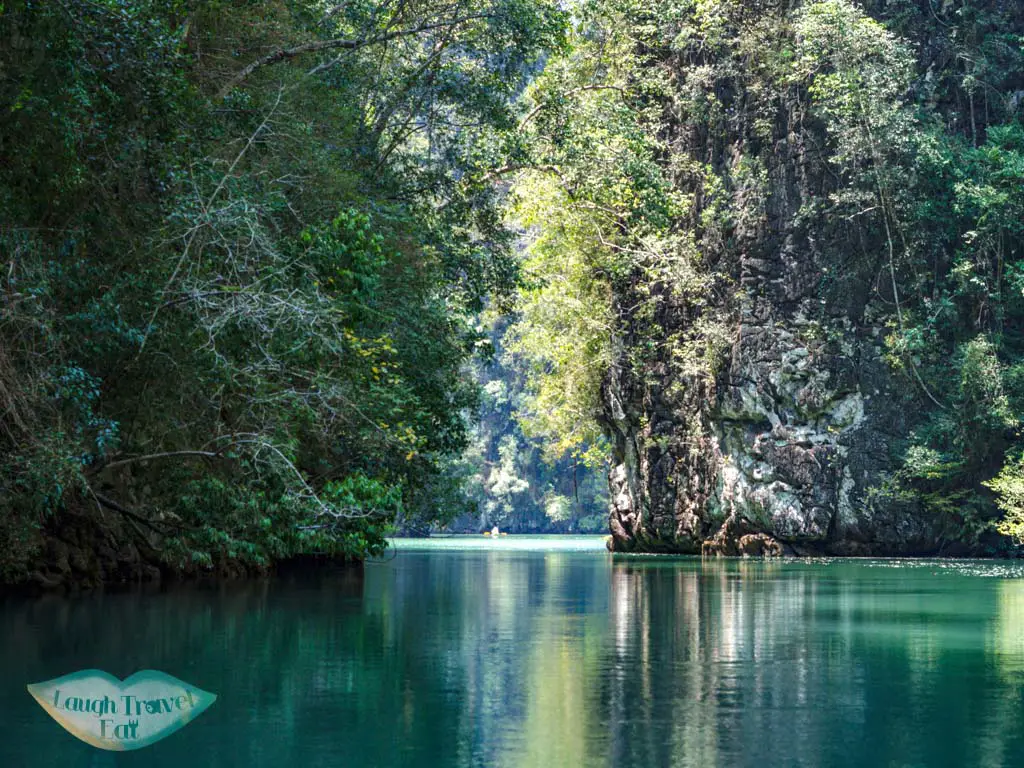 About an hour northwest of Ao Nang (and further from Krabi Town) is the Ao Thalane area with mangrove forest and limestone gorges. 
Most people explore on sea kayak, I went here on an electric longtail boat on an exclusive excursion by The Pavilions Anana Krabi. I return for a kayaking trip in May 2022 which was fun. It's much less crowded compared to the other places mentioned and serene. 
The area used to be home to many factories but most were destroyed in the 2004 boxing day tsunami and only a few families remained in the area.
You can opt for morning or afternoon kayaking, there's also a sunset option. However, how far you can go is dependent entirely on the tide so you might want to check it to maximise your trip.
While wildlife spotting is not guaranteed- we did see a few water monitors swimming around.
Note: most operators seem to use a double kayak. For solo travelers, best book ahead as the guide can take one person on his.
Dragon Crest Mountain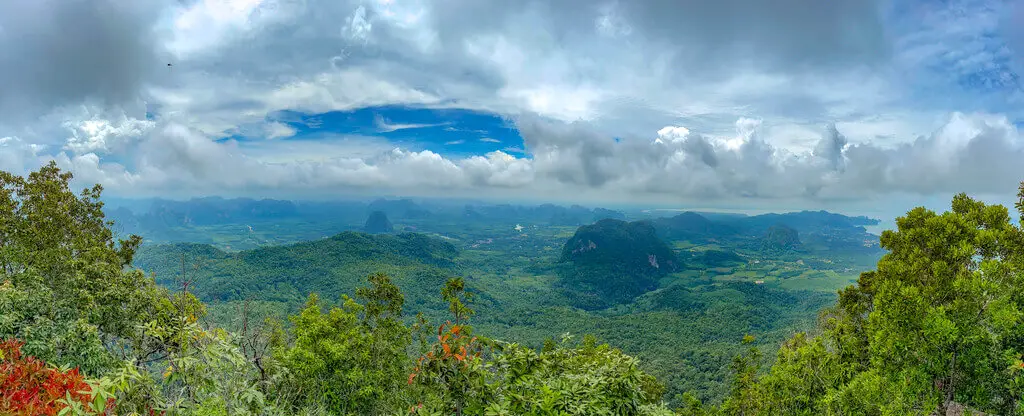 A popular hiking trail, the Dragon Crest Mountain is also northwest of Ao Nang but south of Ao Thalane. It offers a splendid view of the jungle with various viewpoints. The average time it takes to hike the entire trail is between 3-5 hours, but be sure to get there early to avoid hiking in the hottest time of the day.
There is no public transport option over, so people either hire a songthaew or taxi together or rent a motorbike. My hostel offers 350 baht drop off and pick up at set time.
(Note: on my visit in April 2022 they've stopped offering the shuttle service)
Opening times: 8:00 – 15:00

Day trips from Krabi
4 island hop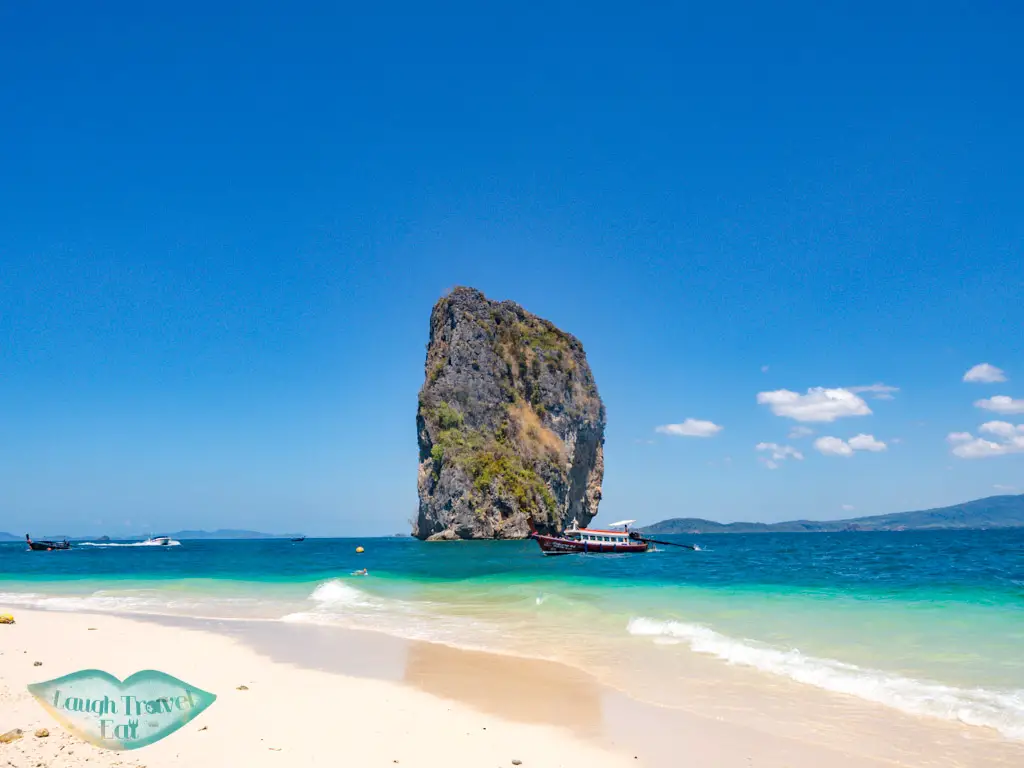 One of the most popular day trips from Krabi is the 4 islands hop to see:
Tup Island
Chicken Island (Koh Gai)
Poda Island
Phra Nang Cave Beach
If there is enough of you and you want to have your own schedule, you can rent your own longtail boat by Ao Nang Beach. But if you are solo or want to be on a speedboat with snorkeling gears provided, a day trip is the best option.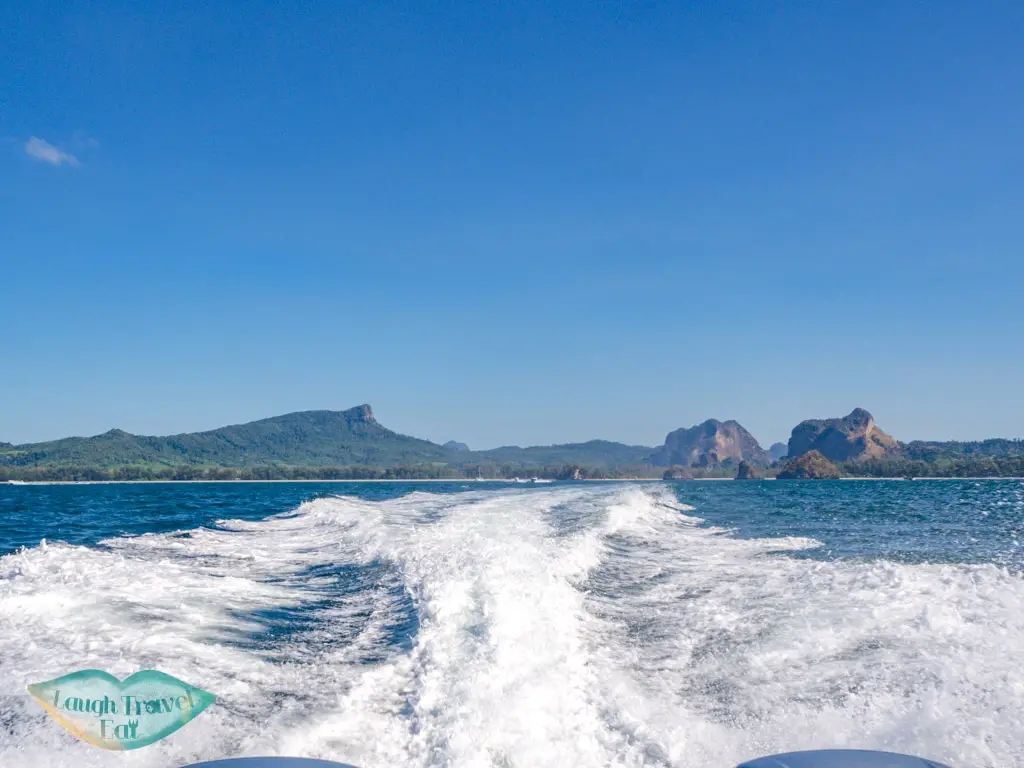 I booked this trip leaving from a private pier on a speedboat by Klook and it was good value for money. Especially since it includes lunch. That said, being on a day trip means you will be among the tens of other trips also taking place, but it's inevitable!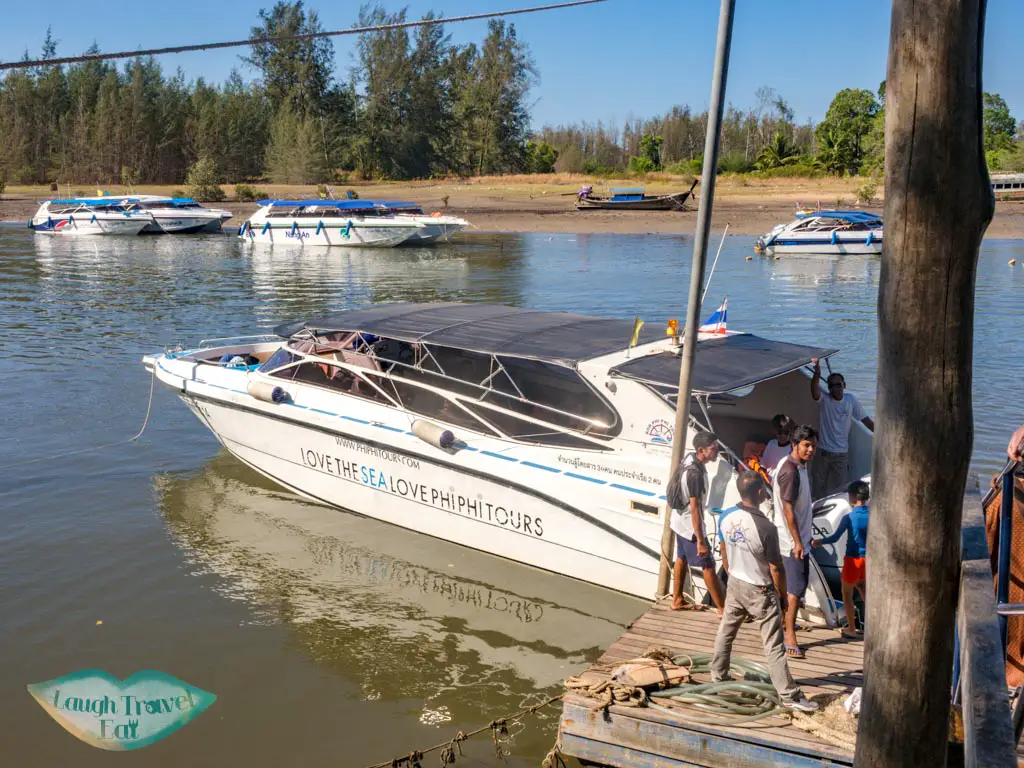 For the speed boat tour, the pickup time is between 8:00 – 8:45. I was finally picked up around 8:30 am and was the first to be picked up. The whole songthaew of us then reached the private pier by the tour operator before 9. We then checked in with the staff and the space has a buffet spread and bathroom. Eventually, we set off at 9:20 on a speed boat. There was enough space for everyone and it was comfortable – and our guide was nice and funny.

First stop is Tup Island with a sand bank linking it to another island and beautiful water. We had just under an hour there to take photos and swim. Then we go past the Chicken Island to a snorkeling spot.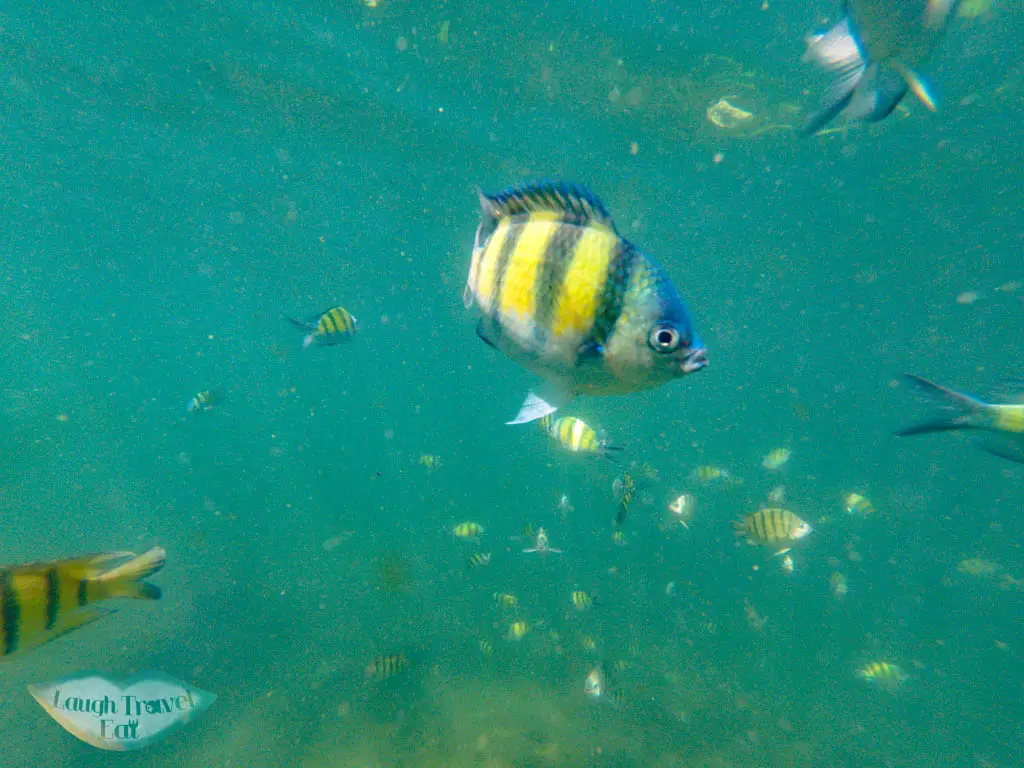 I'm particularly impressed with our individually wrapped snorkel mouthpiece, especially since I was there during the early times of coronavirus. It was a decent snorkeling spot, but the water is a little murky.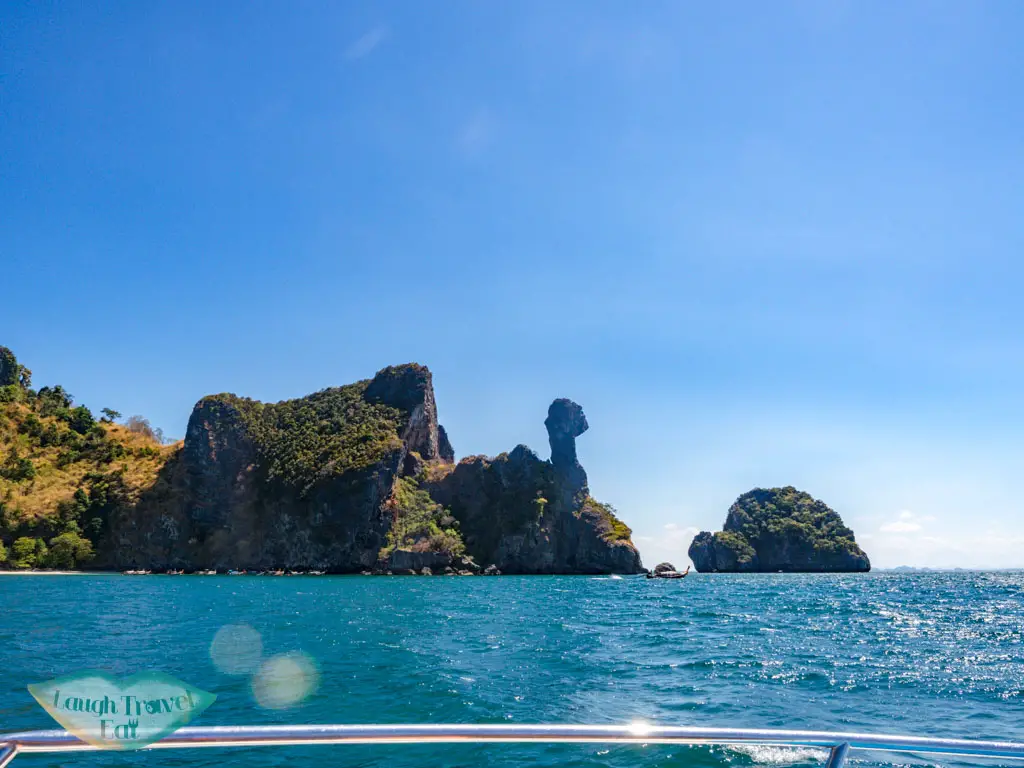 Third stop is Poda Island where we had a buffet lunch of curry, rice, and fruit, and free time to tan and swim.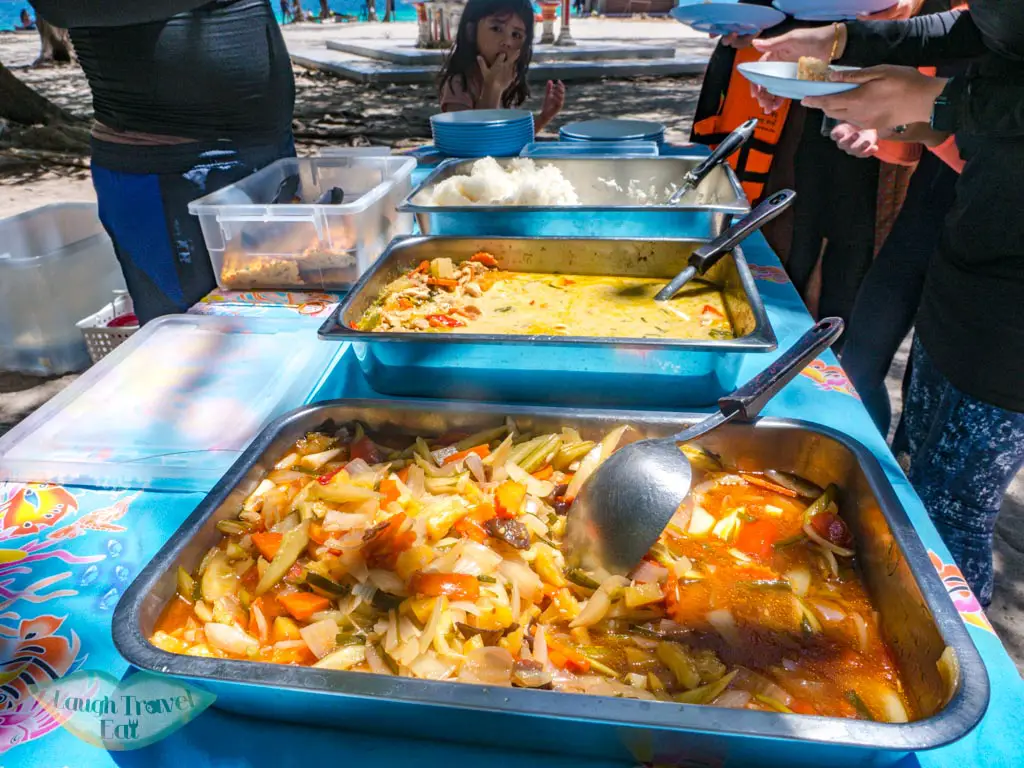 Final stop is Phra Nang Cave Beach, which is a little too busy for my liking. The return to the private pier and transfer back was seamless and overall I would highly recommend it.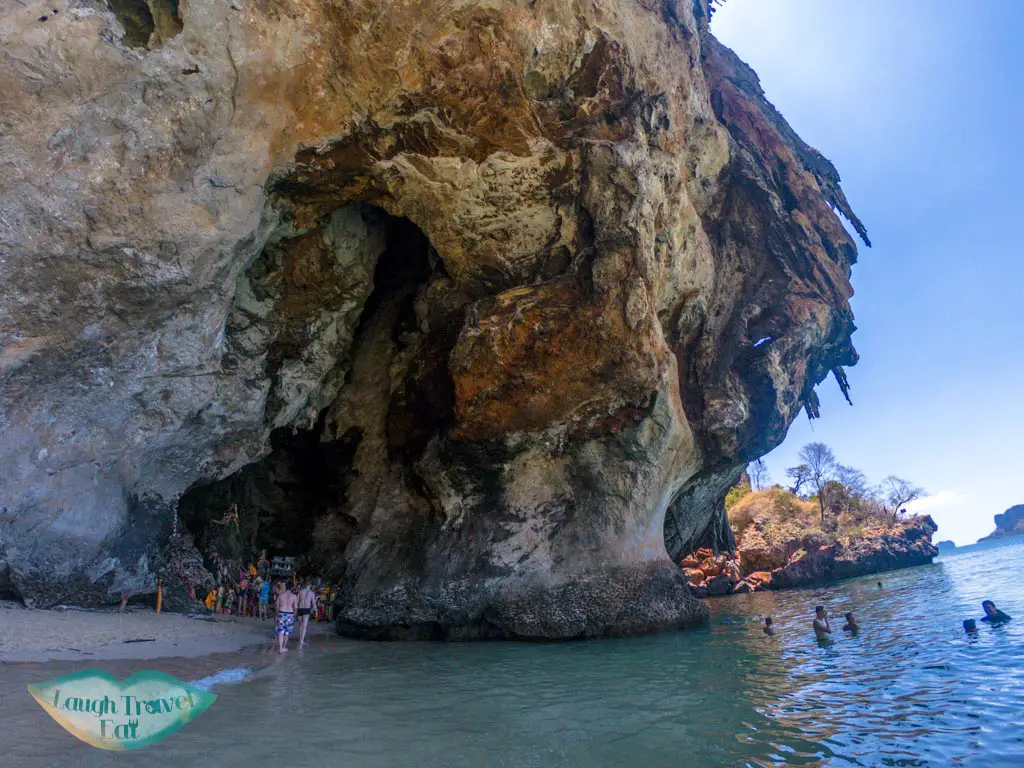 Note: Remember the extra 400 baht national park fee, which you can also pay on Klook for convenience. And no drone is allowed in the national park.

Hong Island
Another day trip option is Hong Island, which is further from Ao Nang but has better water and more suited for those who want to snorkel.

Phi Phi Island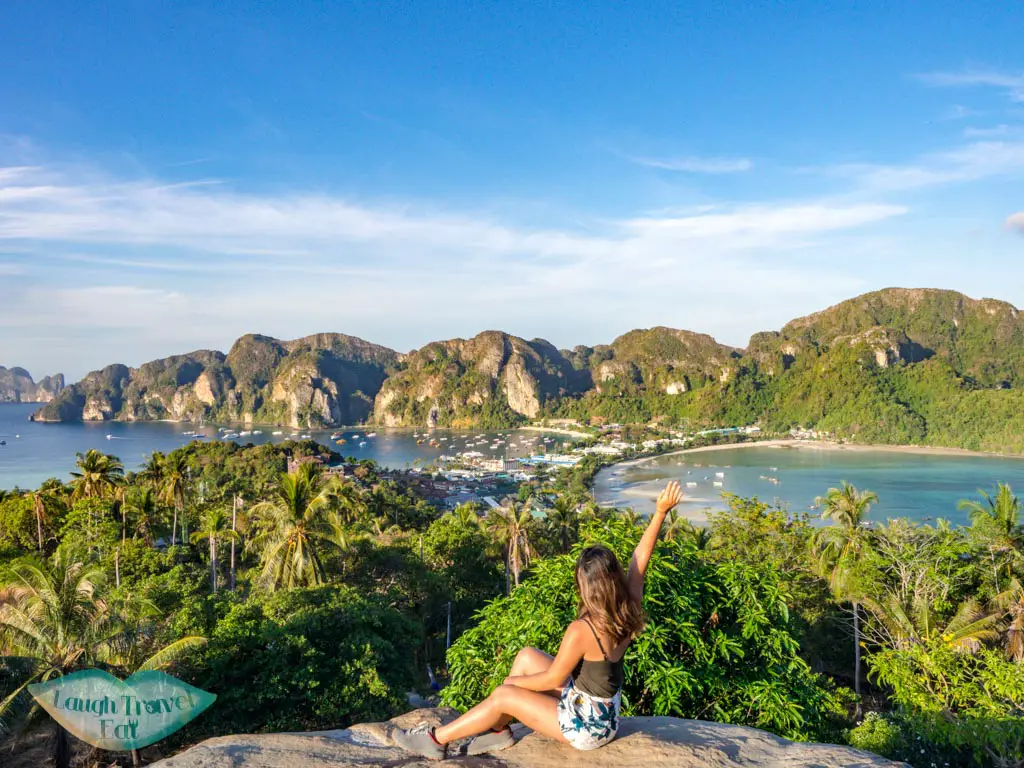 You can also do a Koh Phi Phi islands day trip from Ao Nang and Krabi, which will take you to all the famous spot if you can't make it for a stay there. But I highly recommend giving Koh Phi Phi a day or two.

From Krabi, it's best to join a speed boat tour as otherwise it'd be a long day and a long ride to Koh Phi Phi. With the reopening of Maya Bay in 2022, here's a list of spots in order of visit: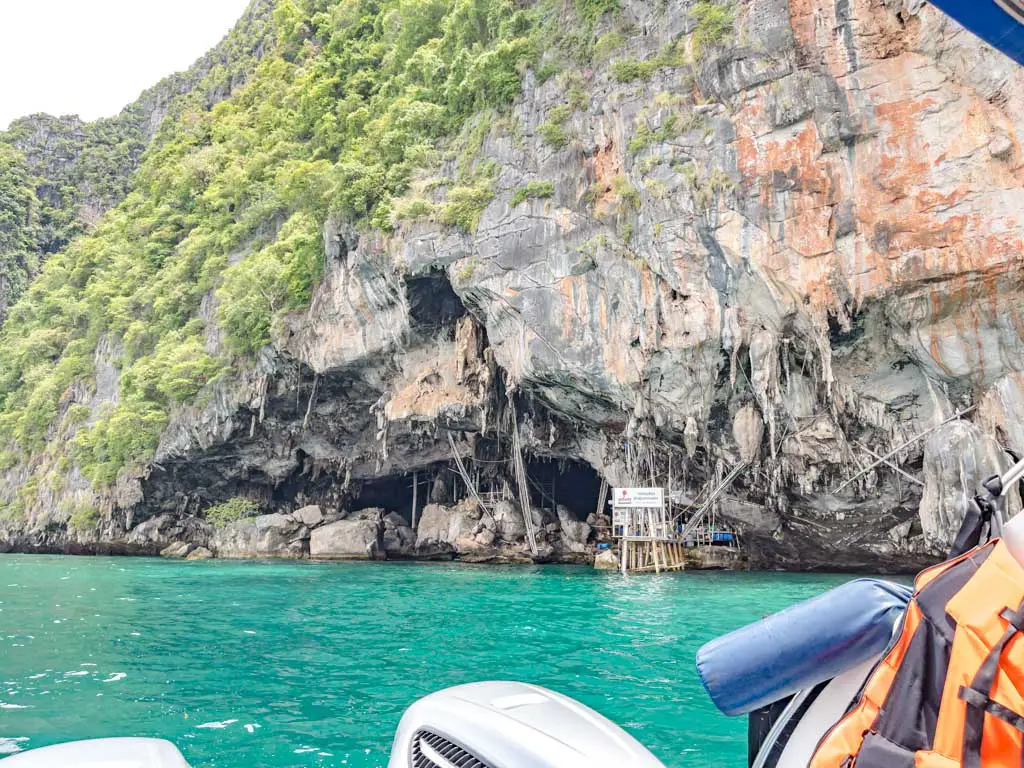 Maya Bay – you're currently not allowed to swim there but it's gorgeous to walk along and take photos
Pileh Lagoon – we had about 30 minutes to swim and relax 
Viking Cave – this is more of a stop by 
Snorkeling – the speedboat stopped at a bay not far from Viking Cave and it was an amazing spot to snorkel
Koh Phi Phi Don – the main island where we had an hour or so to eat and explore. Buffet lunch is included and surprisingly delicious
Bamboo island – we had about an hour to relax and snorkel
I booked the Sea Eagle tour through Klook. While there's a bit of waiting around, it was overall a pleasant trip with our tour guide Sali being a great photographer.
Tiger Cave Temple
Sat atop a mountain northeast of Krabi Town, the Tiger Cave Temple is named after the tiger prints in the cave, though some say that a tiger actually lived there. Visitors must climb a long flight of stairs to reach the top where a huge Buddha statue and the tiger cave awaits. People usually combine a visit here with the Emerald Pool.

Emerald Pool
As you can gleam from the name, the pools in the forest southeast of Krabi are known for its emerald colours. It's a hot spring as well and there is another blue pool further up a short walk away.

James Bond Island Day Trip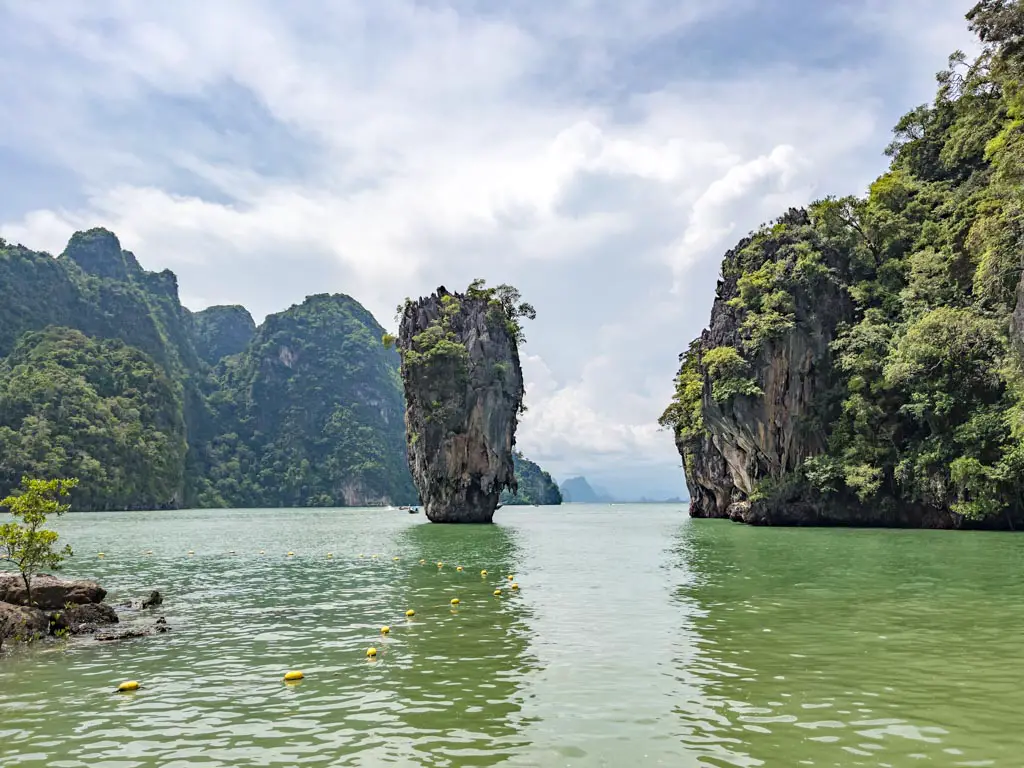 The lone hanging limestone island in Phang Nga Bay is made famous by the James Bond movie and a great day trip option as well. It is a little further than the others, with the ride over taking almost two hours.
It's still a great day trip that you can do from Phuket as well. You can also stay in Phang Nha but there's limited transport options there.
The trip took us to 4 spots:
Monkey Temple
Monkey Temple aka Wat Suwan Kuha known for the monkeys that live there. But the temple itself is set in a natural cave and is a wonderful sight to visit and see.
Koh Panyee
This is the floating Muslim village where we had lunch.
They're most famous for the floating football field and if you hurry after lunch you might just make it. Do note that this is actually a no-drone zone. If you do fly it, it's at your own risk.
James Bond Island
The movie has turned the tiny island that faces the lone-standing iconic karst island into a popular tourist spot.
There are two viewpoints up a small hill and overall a cute but maybe touristy photo stop.
Talu Cave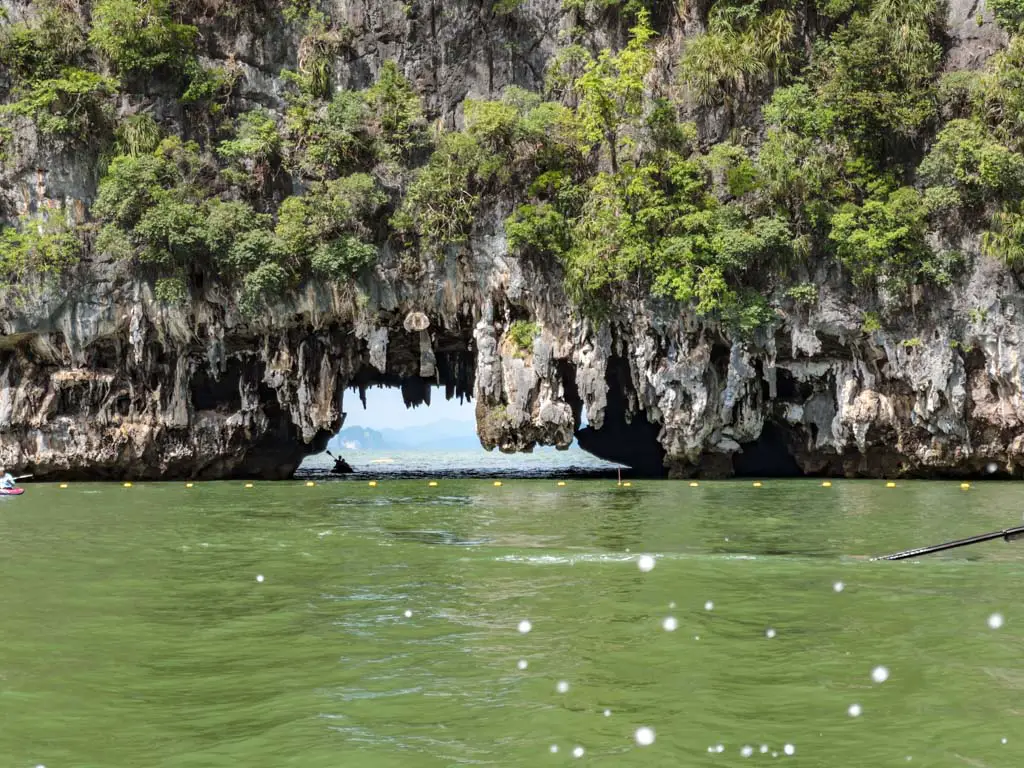 This is more of a sea kayak trip and we didn't opt-in for the activities. You can add 300 baht and go. We did see it on the long tail boat and it pales a little in comparison to the mangrove kayak.
I'd recommend doing it from Krabi as traffic is not as bad as in Phuket and people tend to live on the same street on Ao Nang so it's not a long pick up process.
We booked this with a roadside travel agency for about 2000 baht per person. But we'd have preferred to book online but we were too last minute.
Krabi Town Night Market
The Krabi Night Market runs Friday to Sunday in Krabi Town. It's not a big night market, mostly centered around food with a few other stalls thrown in the mix. If you're stopping by other cities like Bangkok, Hua Hin, and Chiang Mai, I wouldn't bother going out of your way to visit.
But there is live entertainment from local singers in the center with seatings. So if you're driving yourself, it's worth a visit.
Most tour agencies offer shared transfers that pick you up at 6pm and then back at 9pm. This leaves you over two hours there which is a little too long.
Time: Friday – Sunday 18:00 – 21:30
Fee: 200 baht transfer roundtrip with tour agency per person
Ao Nang Restaurants
The Main Street of Ao Nang is lined with restaurants and cafes, but for the cheaper and more local restaurants, you'd have to go north or west.
If you want to grab something quick and be done, there is a small night market at this coordinate and you'll generally find some stalls outside a convenience store.
Muslim Street in front of the Mosque
There is a row of street food stalls that spring up in the evening in front of the main mosque in Ao Nang and stays there well into the night rain or shine. Chicken kebab, meat satay, roti, fruit shakes, it's a miniature food market that serves up all you want for cheap.
Tan Hostel & Cafe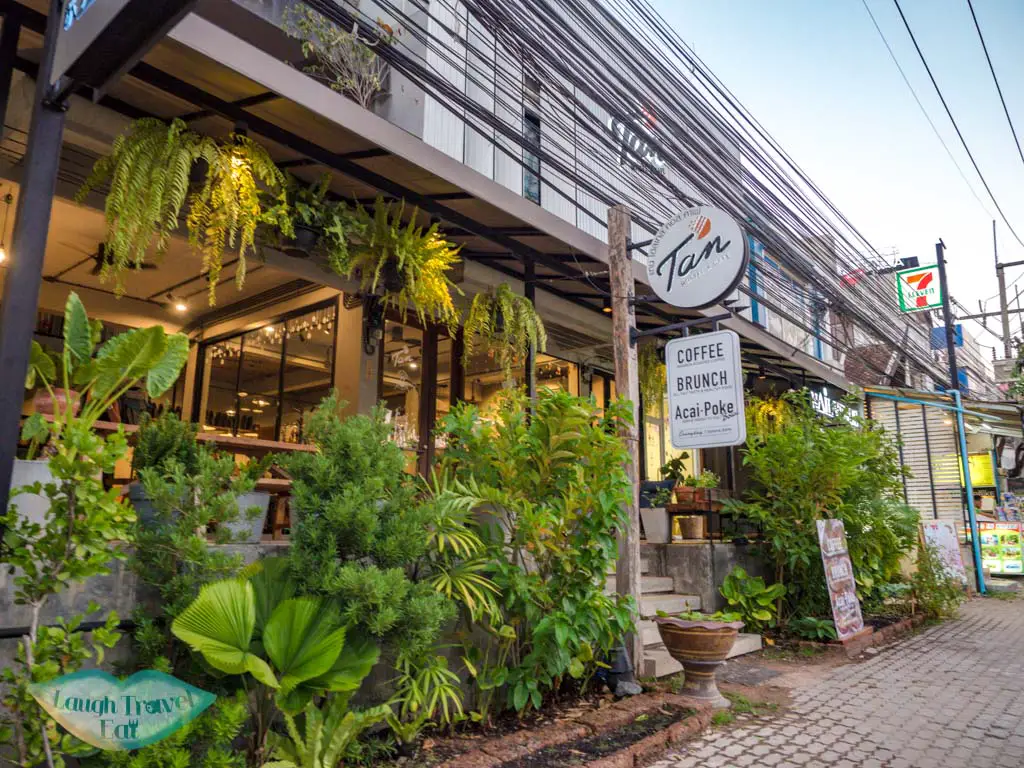 They offer some weather style brunch, juices, and coffee. Prices are a bit expensive in Thai standard but it's good quality and taste. The waiting time for the food is long but there's free water and WiFi.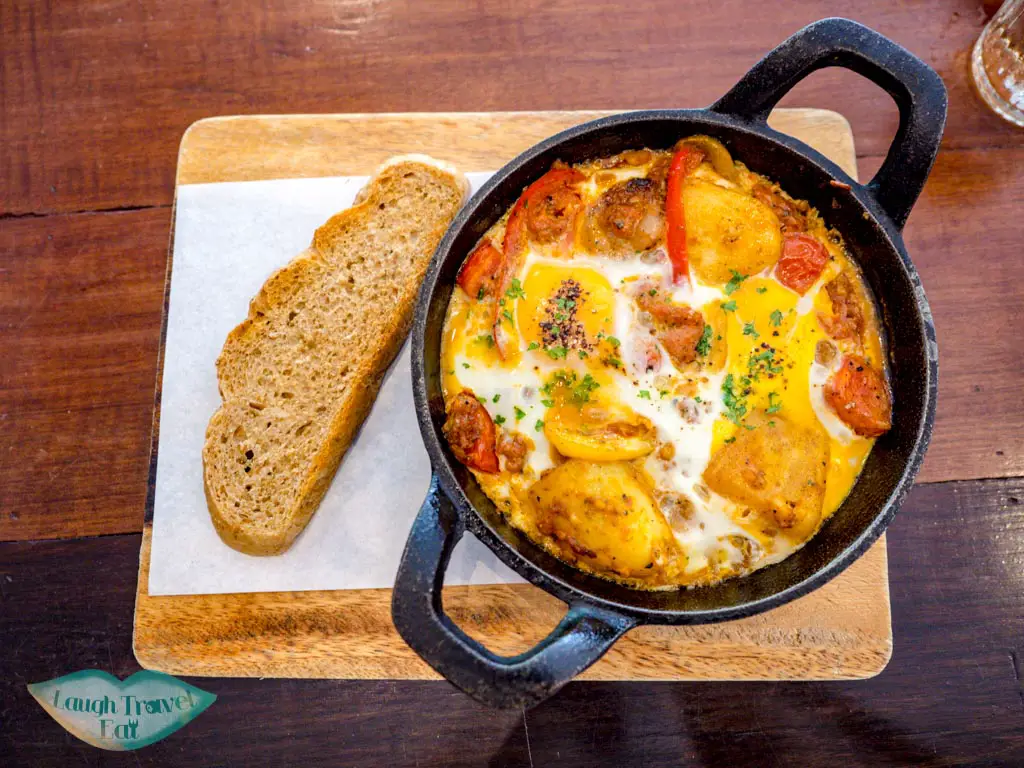 Address: 249/3 ม.2 อ่าวนาง เมือง Krabi 81180, Thailand
Opening times: 7:30 – 18:30

D&E's Jungle Kitchen (currently closed due to COVID)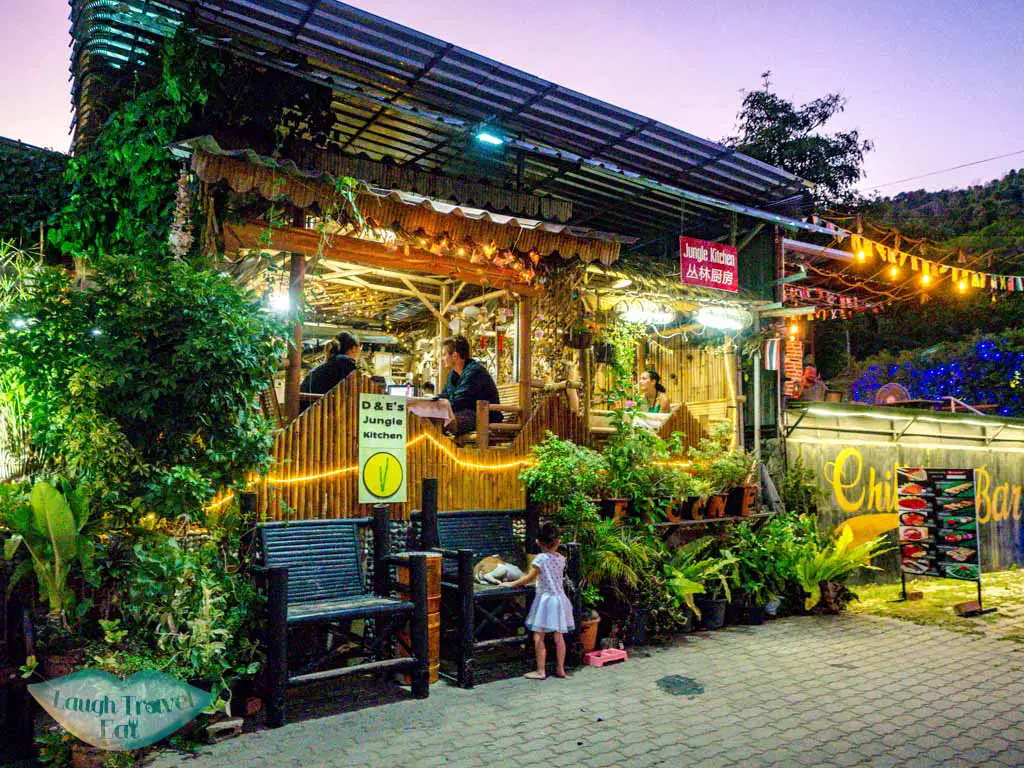 As a general rule, the further away from the beach you go, the better value for money the food becomes. D&E's Jungle Kitchen is one of the best places to find good thai food for cheap and I wasn't disappointed. I had a thai style stir fry with rice for about 120 baht.
Address: 33 อ่าวนาง เมือง Krabi 81110, Thailand
Opening times: Mon – Sat 11:00 – 14:00, 17:00 – 22:00
Go Deng Noodles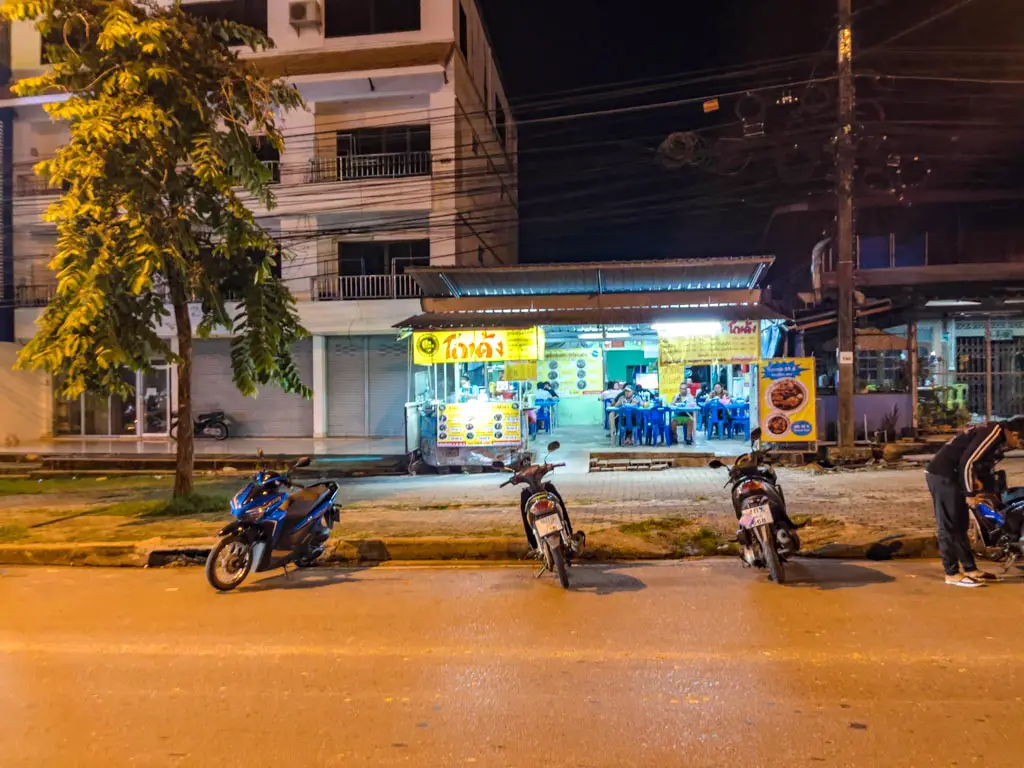 A Thai friend told me that Go Deng means beef meatballs, and this is apparently a chain of street food across the country.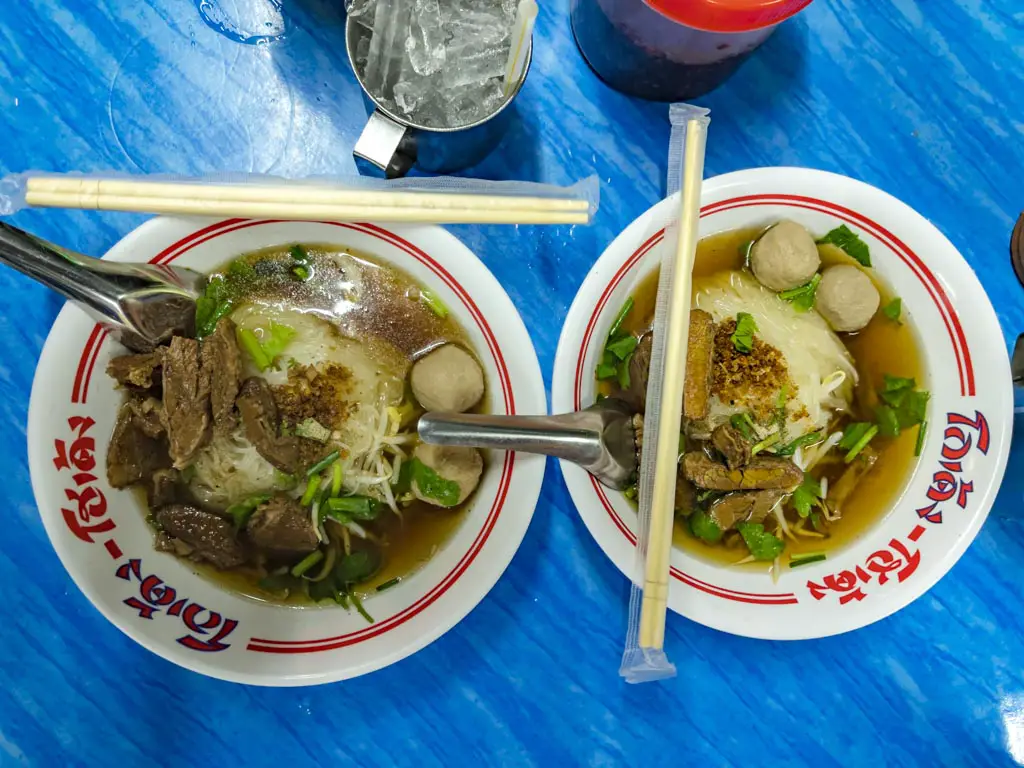 That said, if you're not fussy, it's a value for money place to eat that's frequented by locals, too. A bowl of braised beef noodles with meatball costs 50 baht and you can free water with ice.
Address: Thailand, 238 4203, Ao Nang, Mueang Krabi District, Krabi 81000, Thailand
Opening times: daily 15:00-22:00
Banana Ao Nang 
If you're looking for cheap and fast meal, Banana Ao Nang is a little far north but a tasty and safe choice. A smoothie and a basil stir-fry with pork cost 95 baht which is very affordable for Ao Nang.
Address: 45/2 Moo 2, Ao Nang, Krabi Town 81180 Thailand
Opening times: 10:00 – 22:00
Ton Ma Yom Thai Food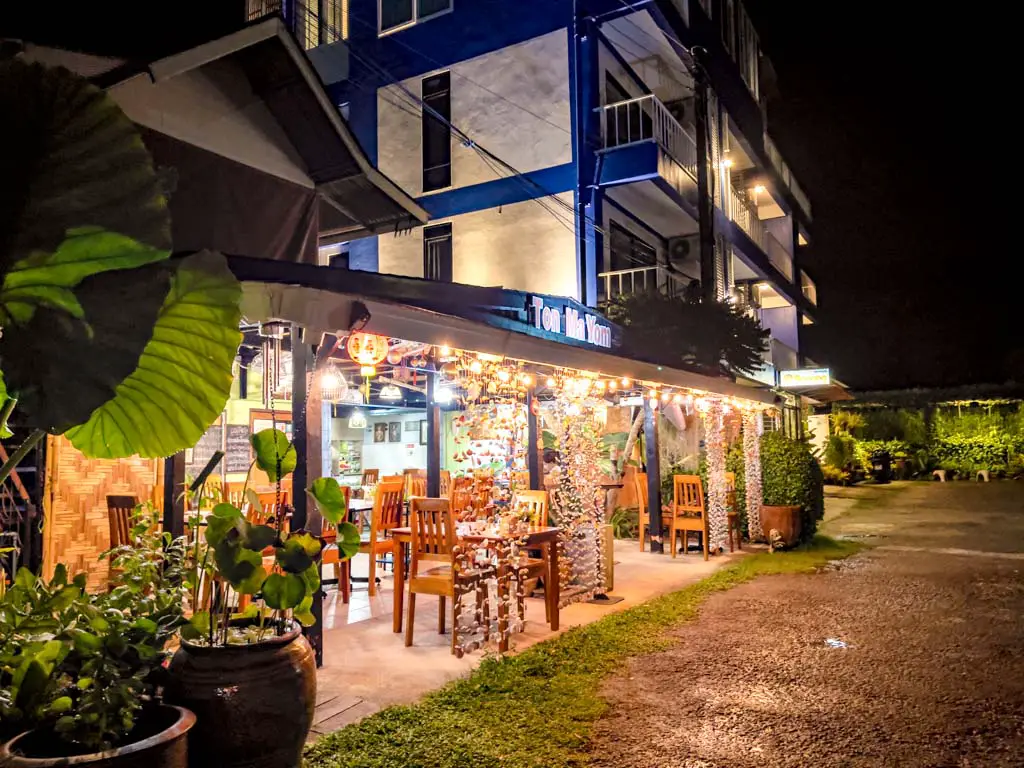 Hidden in a backstreet on the northern edge of town, Ton Ma Yom Thai Food is a solid choice for those who want a group meal or a variety for their meal. Their extensive menu covers the whole spectrum of Thai food, with a reasonable portion size for the price.
I had the fried rice and it was pretty good.
The one negative thing I'd say is that there's an extra 17% charge. 
Address: 262/7 Leela Valley Aonang Soi.11 road, Krabi 81180, Thailand
Opening times: close Monday, 9:00-14:00, 17:00-21:00
Cafe 8.98 Ao Nang
If you fancy some western food at a place with wifi and open for long, this is a solid choice. Arguably the most crowded restaurant I've seen along the entire street.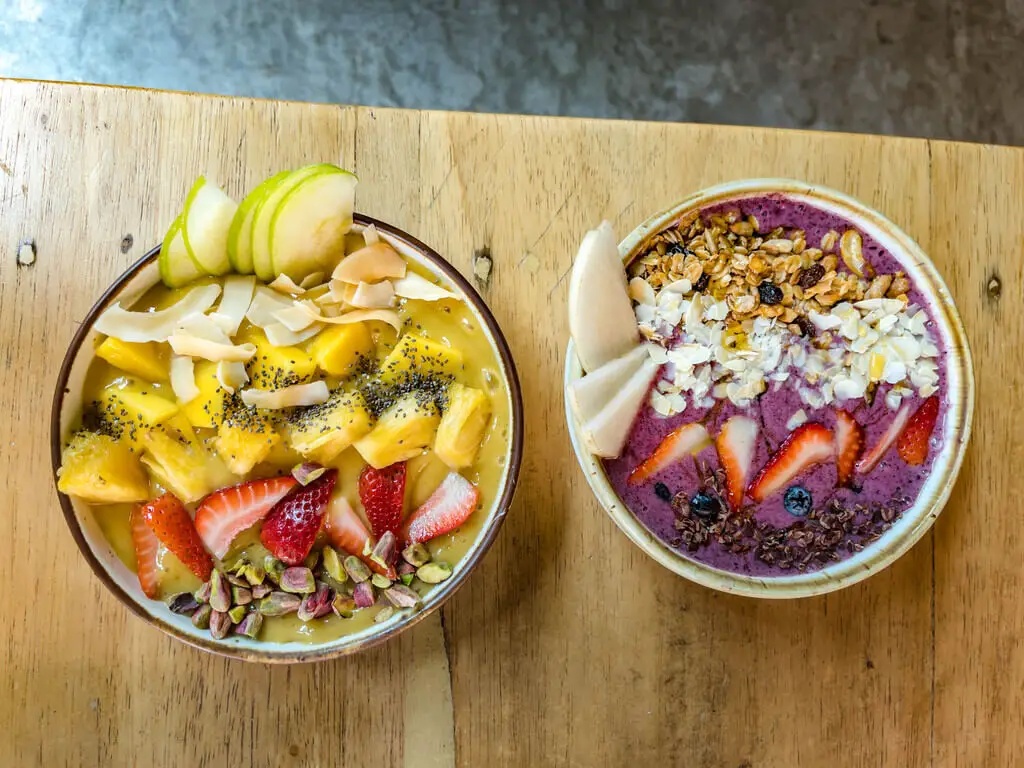 I tried their smoothie bowl and pasta m and both are fairly good. Expect to pay more than you'd at a local restaurant but it does have a good ambiance and service.
Address: 143/7-8, Ao Nang, Muang, Krabi 81180, Thailand
Opening times: 7:00 – 23:00

Where to stay in Krabi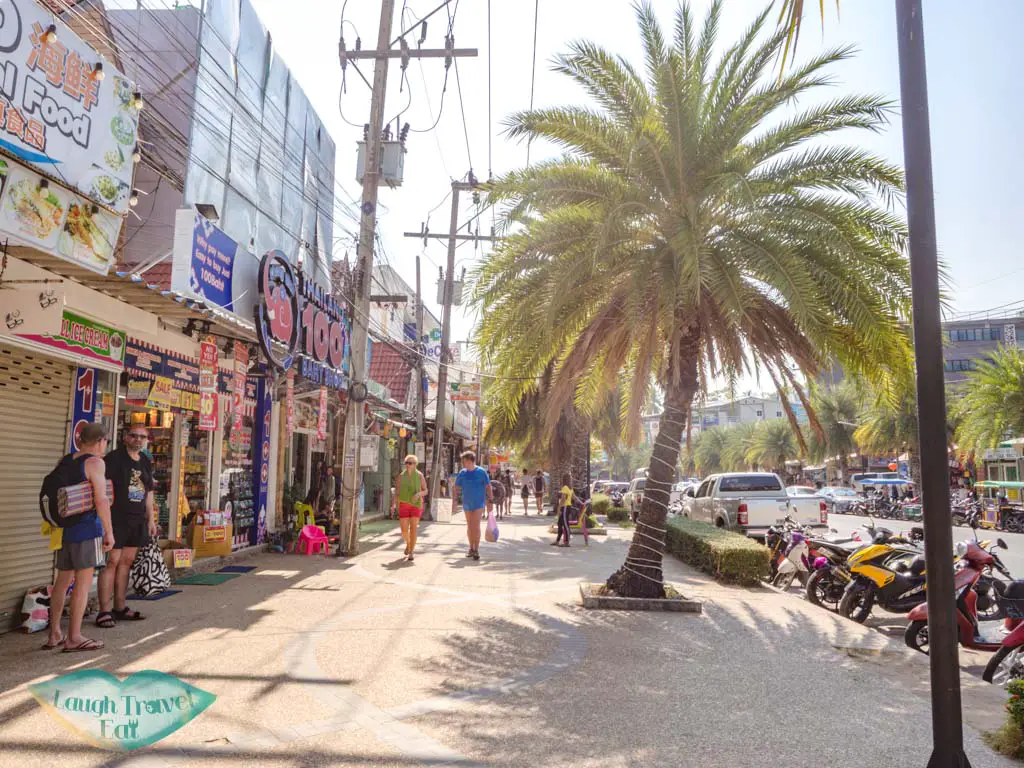 Depending on how long you have in Krabi and whether you are just visiting as well, Ao Nang is arguably the most convenient choice. You can visit both Krabi Town and Railay easily and most tourist amenities cluster around here.
However, if you are looking to be by a beautiful beach then Railay is the better choice. Bear in mind that the longtail boat ride over requires walking into the ocean and you often get splashed during the 15-20 minutes ride.

Best place to stay in Ao Nang
Budget: if you like aesthetic hostels with great common areas, TAN Hostel x Cafe is perfect. If you like a less crowded dorm and don't mind walking further from the beach, a friend I met highly recommend @Ao Nang Guesthouse
Note: I stayed at Sleeper Hostel which I didn't enjoy, however, they have a great range of activities and transfer options if you are looking for those.
Midrange: Ava Sea Resort is along the high street of Ao Nang with beautiful mountain views, modern rooms, and a balcony. For something a little more secluded and homey, check out Mini House Aonang.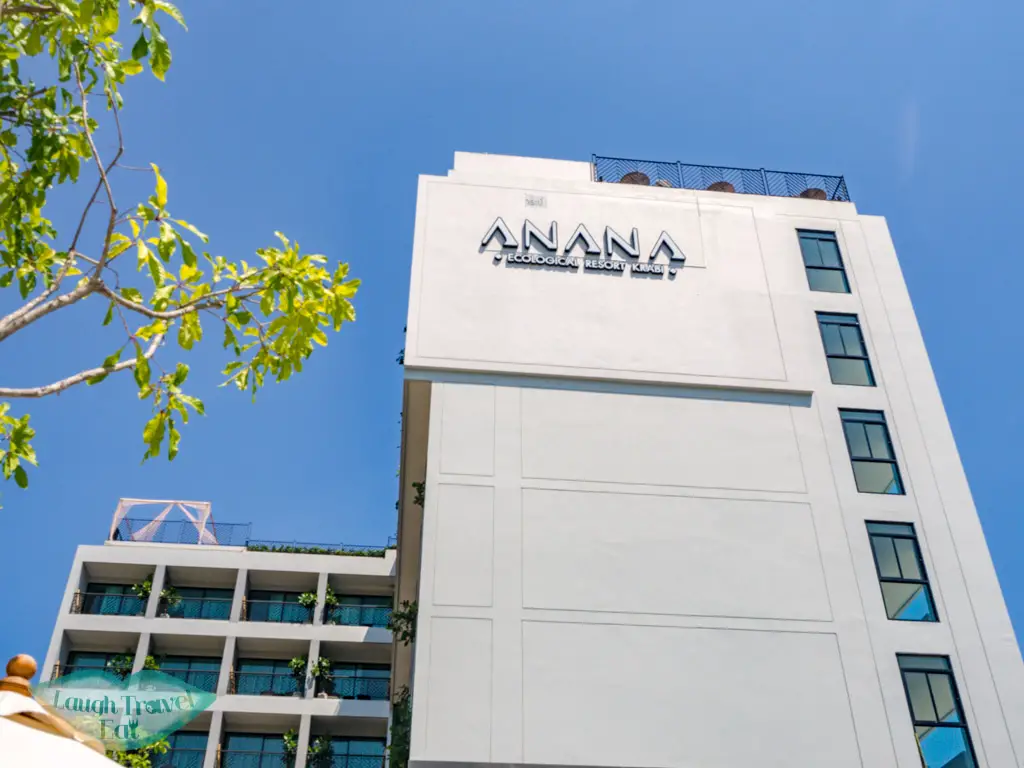 Splurge: Pavilions Anana Krabi is my top choice not only because it's beautiful and comfortable, but also because it is a sustainable resort. But if you are looking for something even fancier and secluded, try Aonang Fiore Resort

Best place to stay in Railay
Budget: Railay Garden View Resort is a rustic place with a sweeping view and basic amenities, but you do get to stay in a hut in the forest near the monkeys. Note that there is no hot water or air con.
Midrange: Railay Princess Resort & Spa is close to both Railay East and West with many facilities in the resort and nearby. Rooms can be a bit dated, so check your booking and request.
Splurge: Railay Village Resort is perfect for those looking for a spa room or even private pool villa and faces Railay West. For a true eco-experience, Rayavadee is the go to.