Last updated on May 14th, 2020 at 10:35 am
If there is one thing you can do in Khao Sok National Park, make it the Cheow Lan Lake overnight tour. Formed as a result of the building of Ratchaprapha Dam in the 70s, it is surrounded by beautiful limestone mountains, formations, and hidden caves. The overnight lake tour takes you into the jungle, caves, and staying in an overwater raft house. Here's all you need to know about the Cheow Lan Lake tour:
Booking Cheow Lan Lake Tour
There isn't a lot of information online about the overnight lake tour, but the ones I did find all recommend the Smiley Lake House. You can book in advance on their website, which means you don't have to pay in local currency and cash on arrival.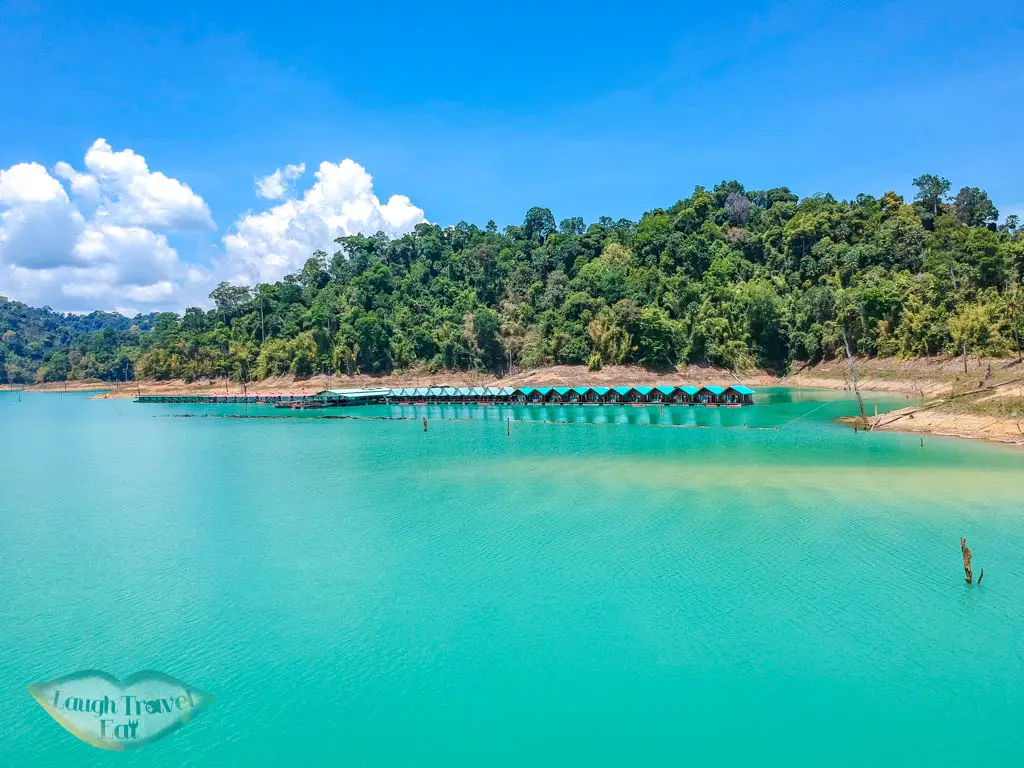 I booked my tour through my hostel in Khao Sok – the Jungle Hostel, after I found out that it's too Smiley Raft House as well. The price is the same no matter which one you book. The price is 2,500 Baht and includes 2 lunches, 1 dinner, and 2 breakfast along with transfer to and from your hostel.

Note: the national park fee 300 baht is NOT included, as well as a pier fee of 20 baht

Essential packing list for Cheow Lan Lake
Padlock
Waterproof bag*
Smaller waterproof bag for electronics or just your phone*
Swimsuit
Sarong and or towel
External charger
Charging cables – there are plugs and USB ports in the dining room the charge things
Sunscreen
Mosquito repellent
Wet shoes*
Socks is also useful*
Flip flops
Cap or hat
Sunglasses
Any camera gear or GoPro
1 set of clothes to change
Raincoat* or a jacket in case it rains 
Headtorch is optional as the tour provided too*
Note: I recommend wearing shorts and maybe even a t-shirt over your swimsuit for both cave excursions to minimise the chance of getting cut on rocks.

As I stayed at Jungle Hostel, the owner Sunny lend me everything that I didn't have, which are marked with an *

Smiley Lake House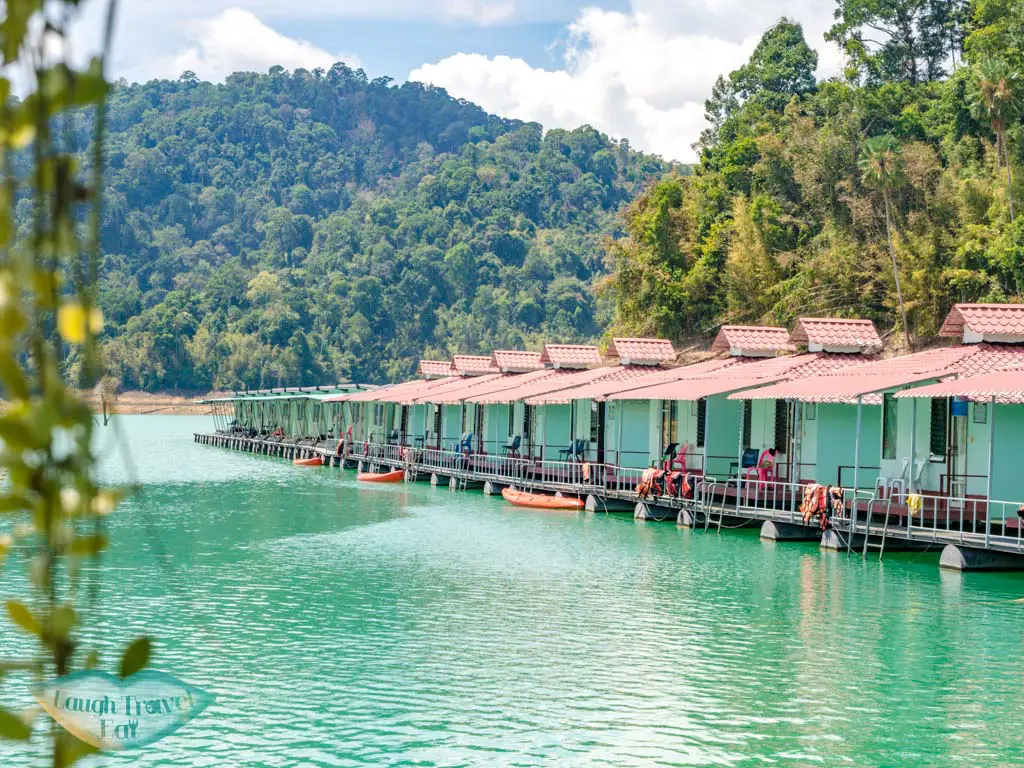 While it's not luxurious by any means, the Smiley Lake House is well equipped and tidy for an accommodation floating on a remote lake in a national park.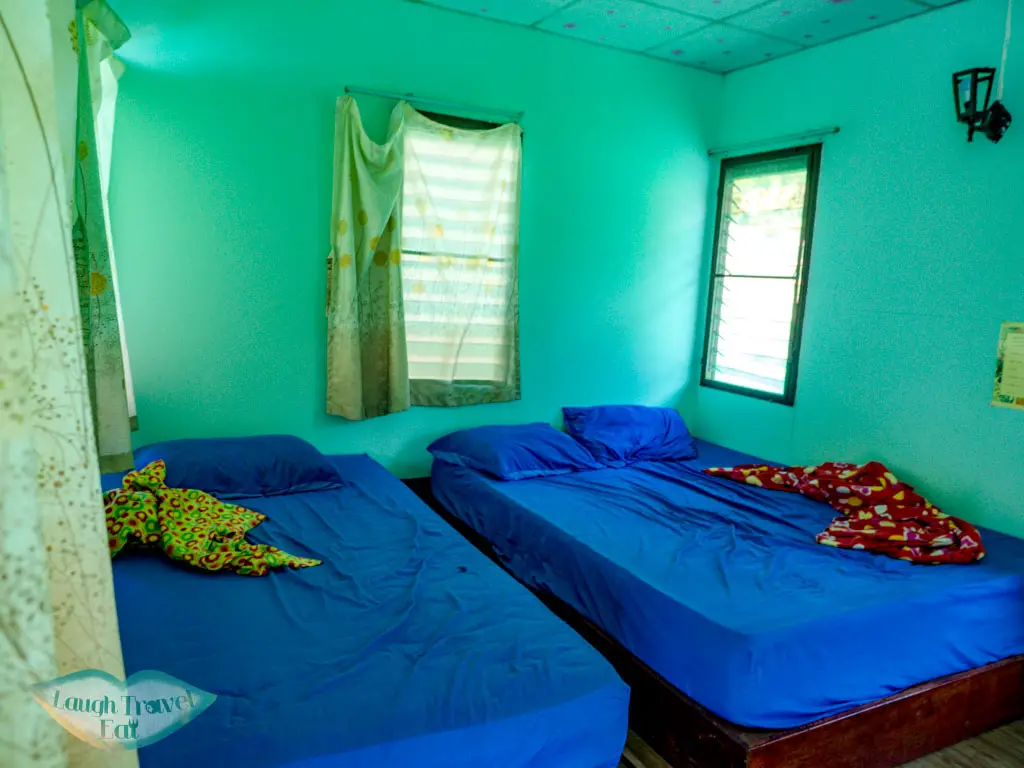 Rooms are basic but it is clean with pillow, blanket, and a very basic bathroom that you can take a shower in. I did rinse off but didn't wash my hair because it's too late in the day.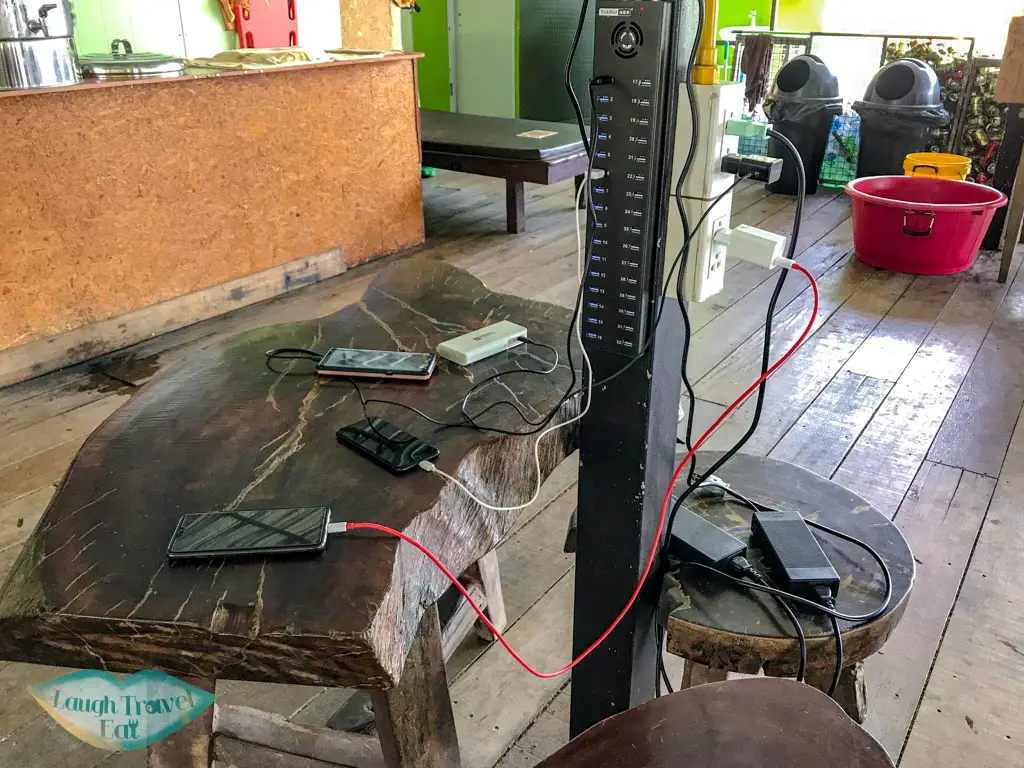 You can also charge your devices here in the dining room. There is no WiFi, but I was using the ALS service and had reception intermittently at the lake house.
Cheow Lan Lake Tour vlog:
A picture paints a thousand words – here's a vlog on the Cheow Lan Lake Tour:
Day 1 on Cheow Lan Lake Tour
At the Jungle Hostel, Sunny gave me a voucher for breakfast at the Jungle Resort down the road, which has some hot food such as French toast. We were due to leave at 9am and Sunny lent us all the equipment such as a wet bag, shoes, socks, waterproof phone case, raincoat, and headlamp.

Market stop for any essentials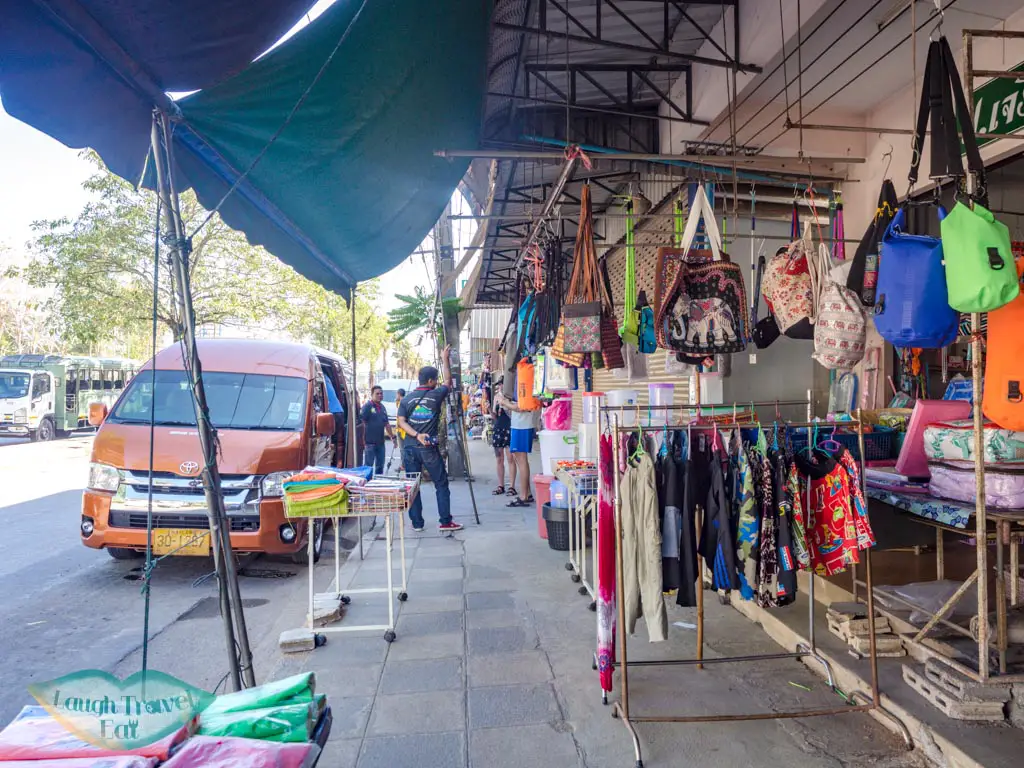 We first made a stop at a market where we can get equipment and snacks. Since we already had everything, I ended up using the bathroom at a shop (for 10 baht) and getting a thai milk tea for 25 baht.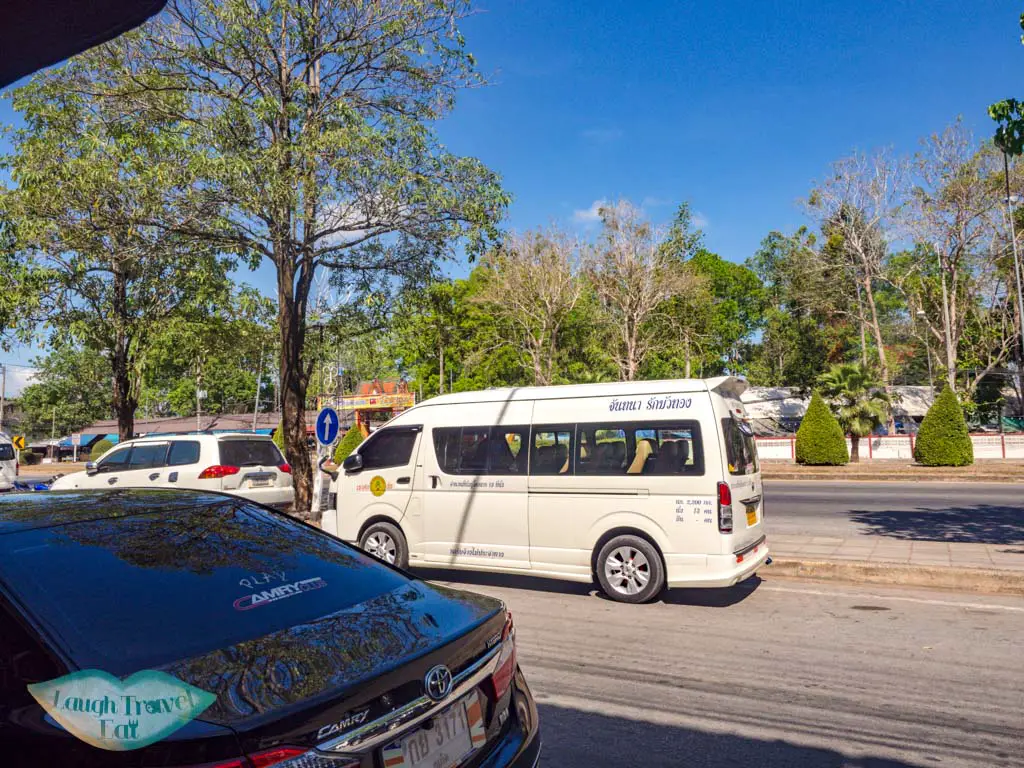 The stop was around 15-20 minutes and there were many other minivans headed to the pier by Ratchaprapha Dam.

Longtail boat ride to Smiley Lake House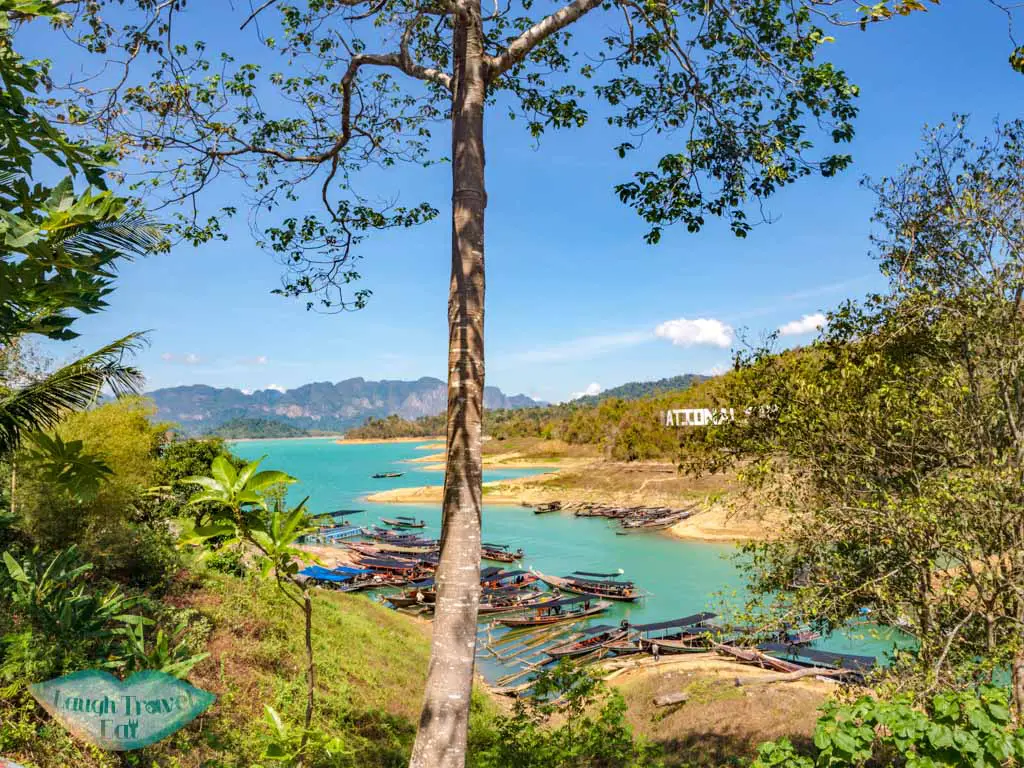 The minivan dropped us off in the carpark and we were shepherded towards the pier. First, however, we needed to pay the fees – 20 for pier and 300 for national park. If you like signs, there's one for Khao Sok National Park with sculptures of the signature hornbills either side, too.

We watched the longtail boats come and go until our guide Kiki finally called us over to board. We were first asked to show our national park ticket, then the pier ticket, before heading down.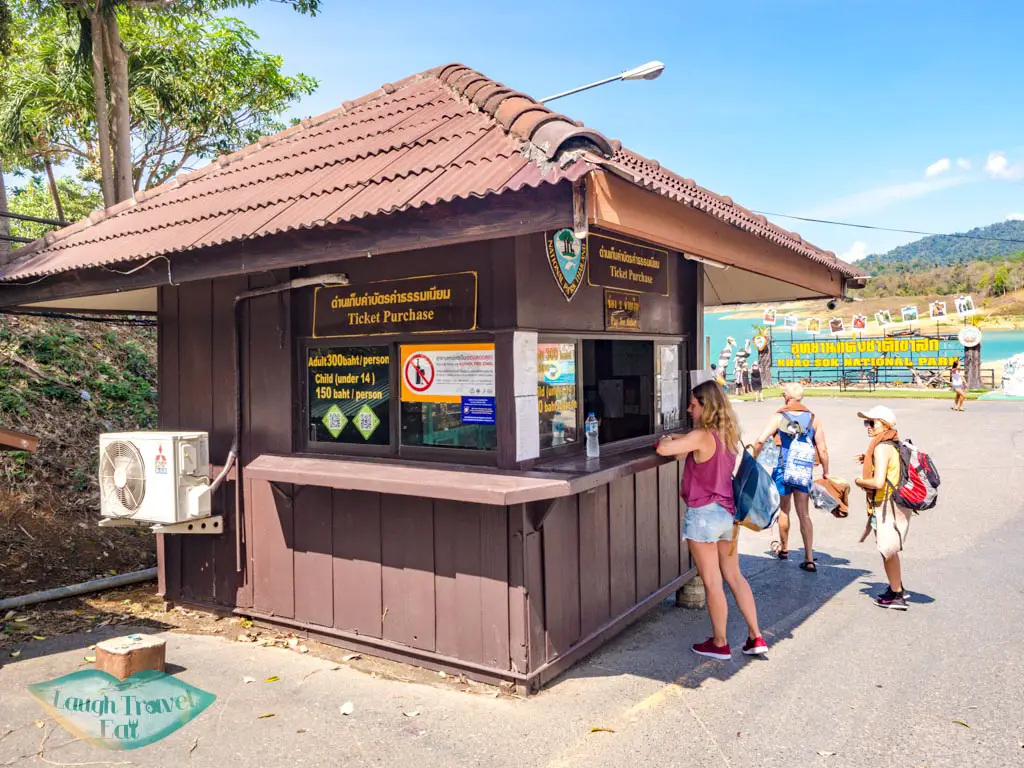 Cheow Lan Lake is huge and the Smiley Lake House is about an hour away. I donned a life jacket and began the journey whizzing past karst mountains.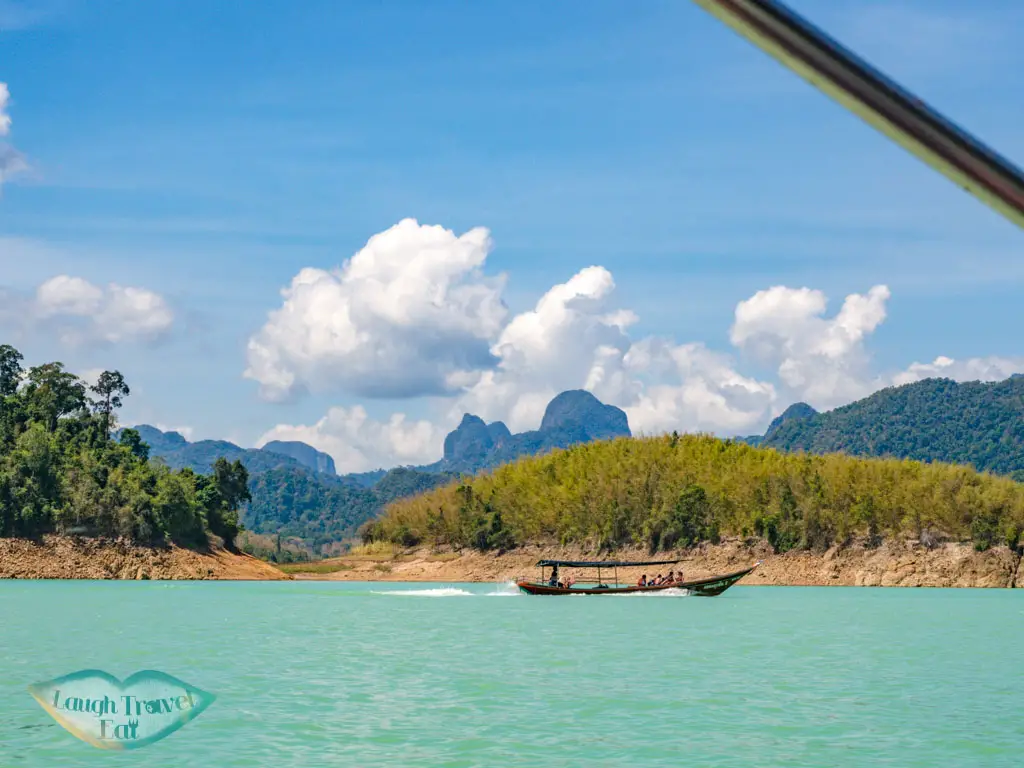 Pro tip: the engine is quite loud so you might want to try to sit in the front. By the time we arrived, it was around noon.

Free time to kayak and swim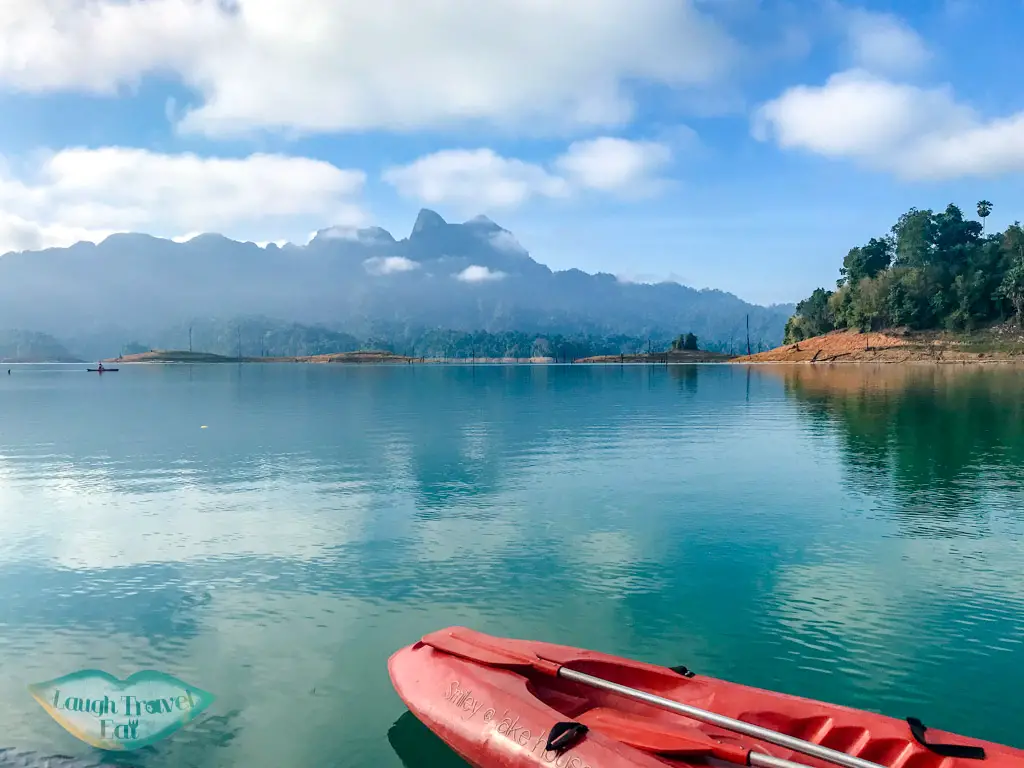 With an hour of free time, I made use of the free kayak rental with my new friend Polina and we set off to a small island in front of the lake house. It's harder to get around than expected for a lake, with waves from longtail boats often causing us to change direction.

Buffet lunch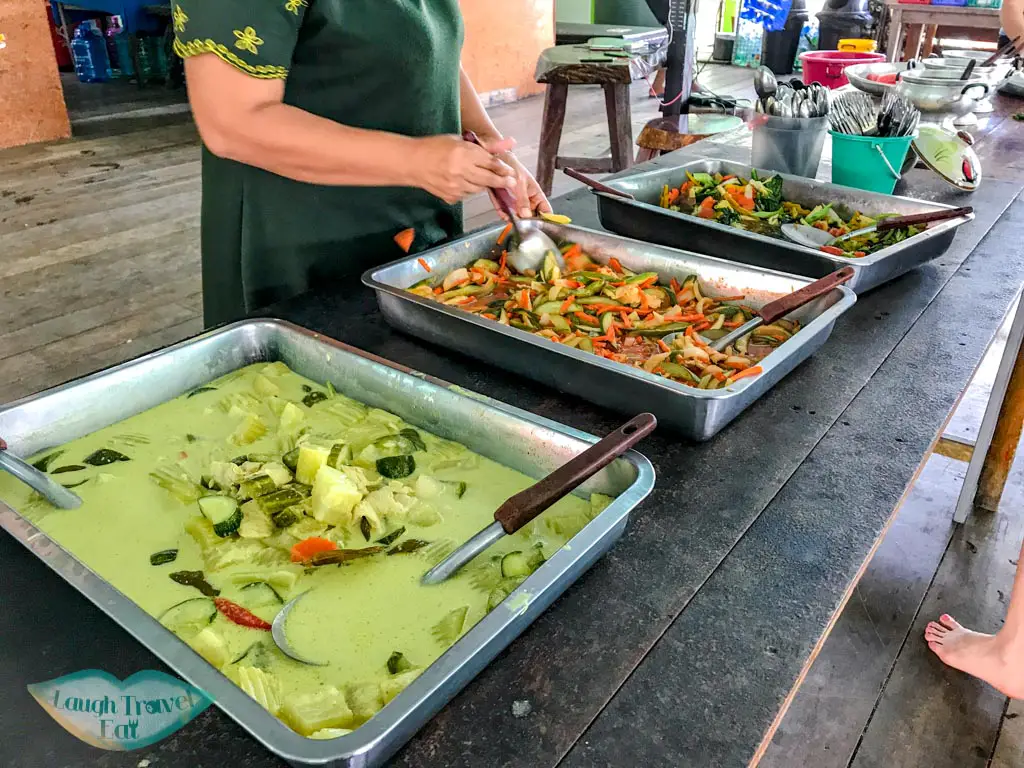 We got back just in time for the buffet lunch at 1pm, which consisted of rice, green curry, and vegetables. There are a few dishes separately for vegetarians, too, and free refills for cold water. You can buy other drinks such as soda, beer, and cocktails at the bar. We didn't linger too long since we had to pack our bags for the cave trip at 2pm.

Trek to Nam Talu Cave
Tip: ONLY bring your essentials as even with a wet bag, you things will get damp. And wear wet shoes!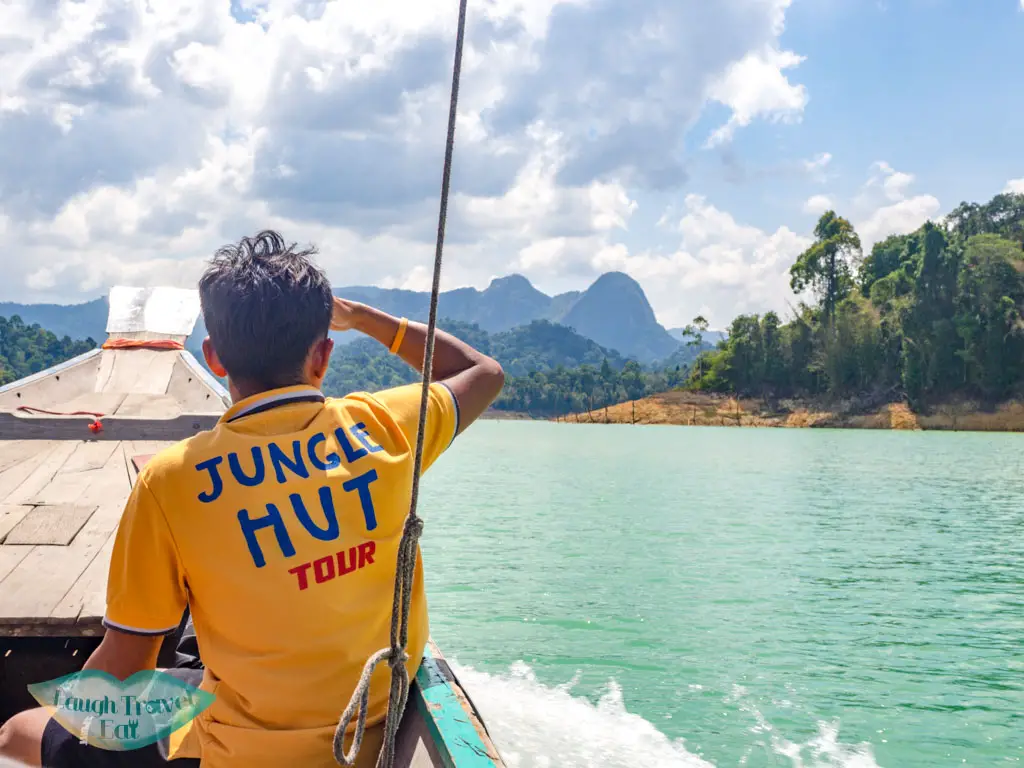 We gathered at 2pm and boarded the longtail boat again to Nam Talu Cave. It's only about 20 minutes and we docked by a slippery slope and made our way into the jungle.
The small path then runs parallel to the river for a while until we reach the jungle. A signboard outlines the path to Nam Talu Cave as well as what you might see along the way.
While our guide Kiki wasn't the most instructive, he was completely in his element in the jungle. He caught a flying chameleon (which we let go), and spotted a snake sleeping atop a tree.
The trek itself isn't anything out of the ordinary outside of the wildlife spotting. As we near one of the entrances to the cave, the path is riddled with pointy rocks so be careful.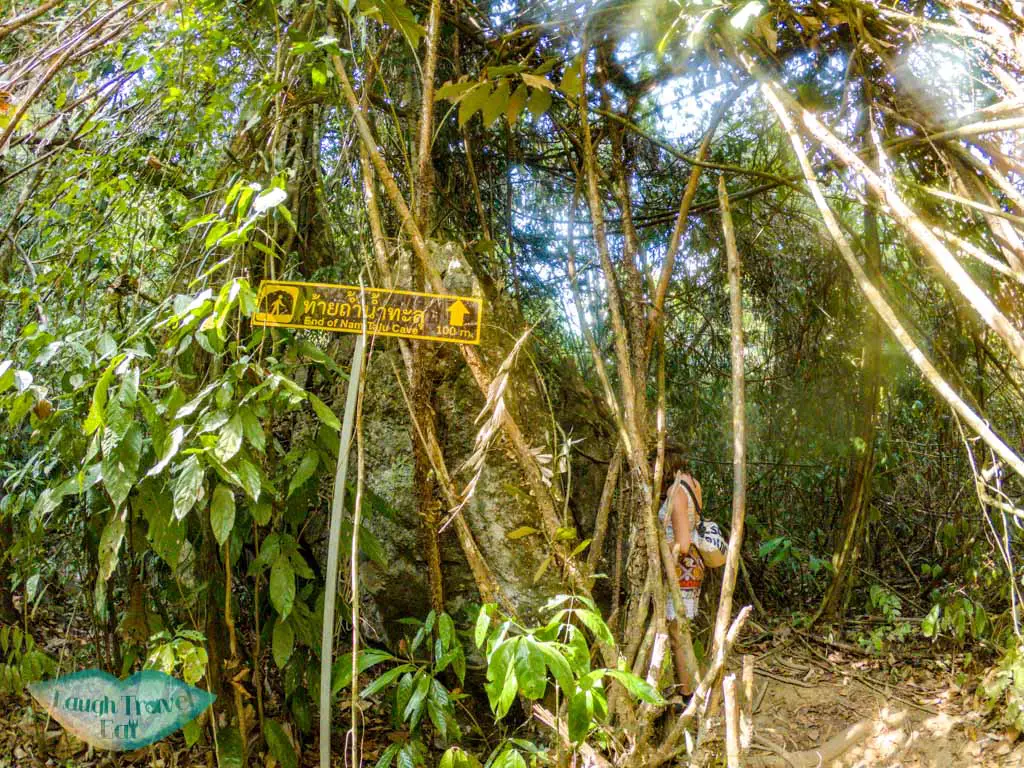 We stop by a small river where those who don't want to go into the cave can stay. There is a little waterfall hidden in a corner as well. Be careful if you want to climb up as it's slippery. To my surprise – more than half of the group stayed behind and the rest of us purged on!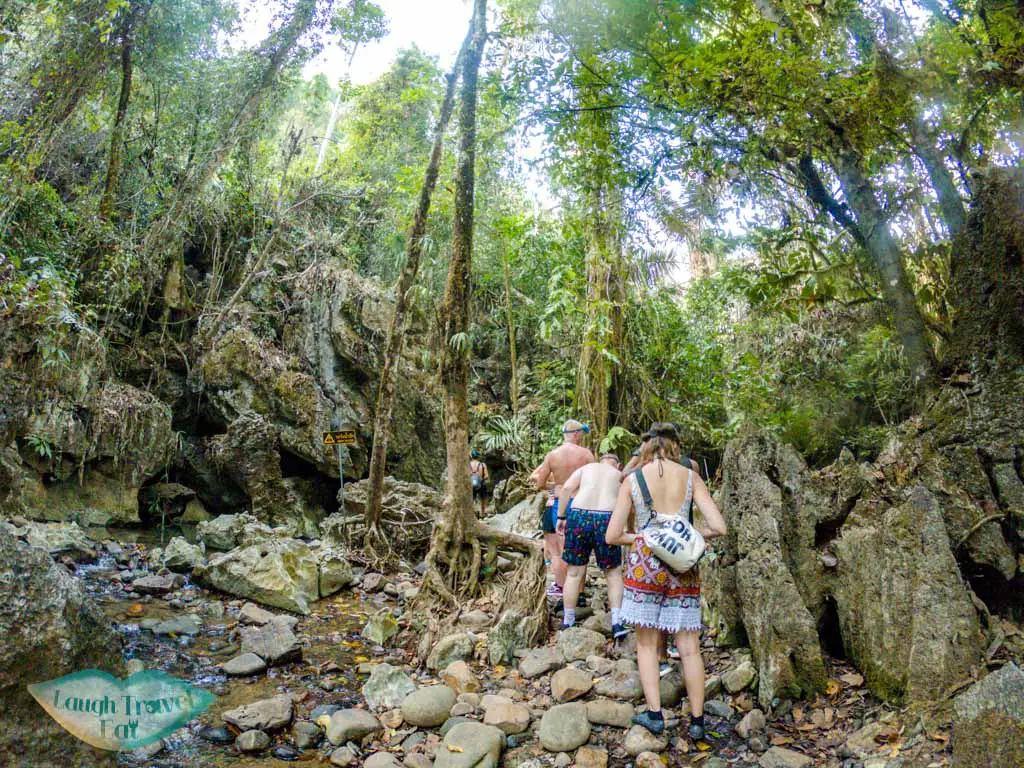 I had my reservations about the cave as I had visited some spectacular ones in Phong Nha, Vietnam. I'm happy to report that I was proved wrong. It involved a combination of walking, swimming, and a little bit of climbing with Kiki helping us over particularly difficult parts.
Along the way there were plenty of limestone features like the shiny silicate wall and ripples bedding. There's even more wildlife – crickets, spiders, frogs, and bats!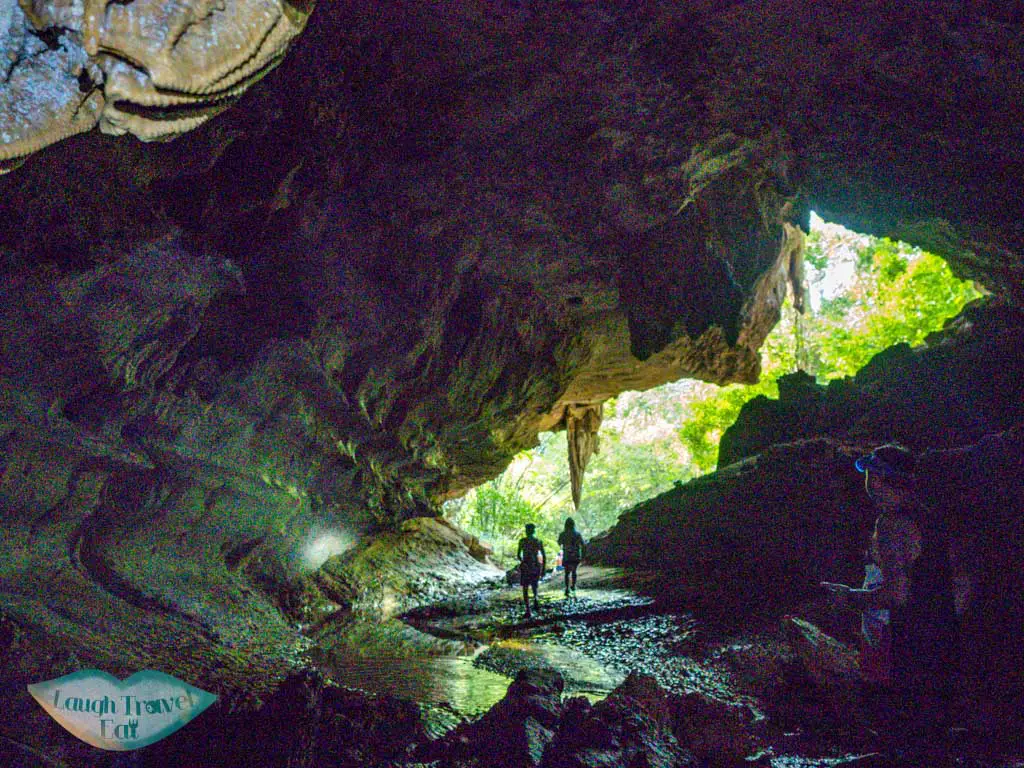 It was difficult to recall how much time had passed but when we finally made it out the sun was starting the set.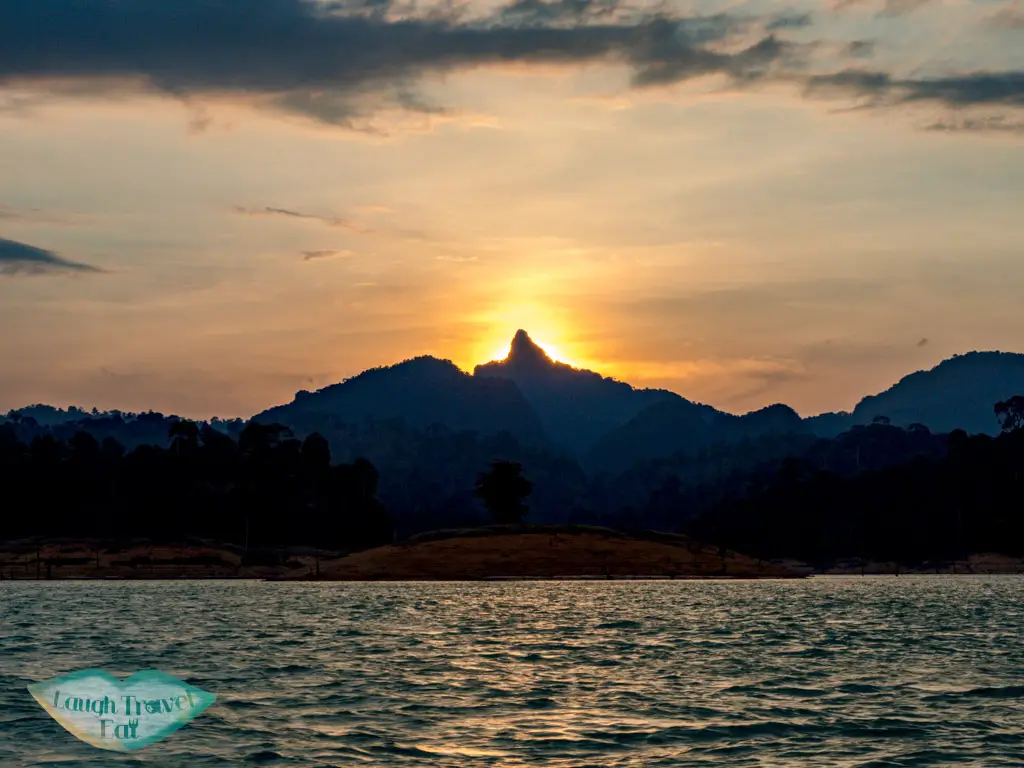 We were treated to an amazing view as the longtail boat took us back to the Smiley Lake House. Since the lake is surrounded by karst mountains, the sun disappeared earlier than the sunset time.
We made it back to the lake house at 6pm and had an hour before dinner. Many decided to kayak but I was so tired that I just splayed out on the deck to enjoy the last of the daylight.

Dinner at Smiley Lake House
Dinner is another buffet spread, this time it's yellow curry instead of green. We also got a fried fish to share between the table and fruits as well at the end. Some people then stay up to chat, but I was so tired that I went to bed by 8:30pm.

Day 2 on Cheow Lan Lake Tour
Morning safari on Cheow Lan Lake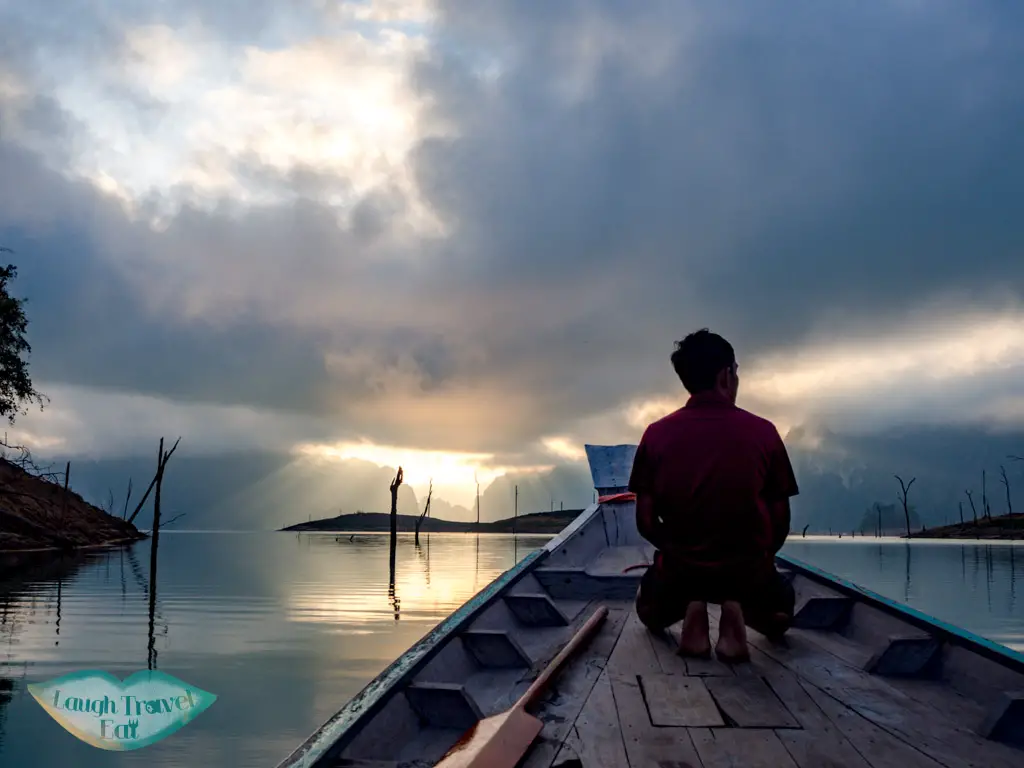 It's an early wake up call as we gather at 6:40am for the morning safari. It's completely optional and a few people in the group skipped it to sleep in.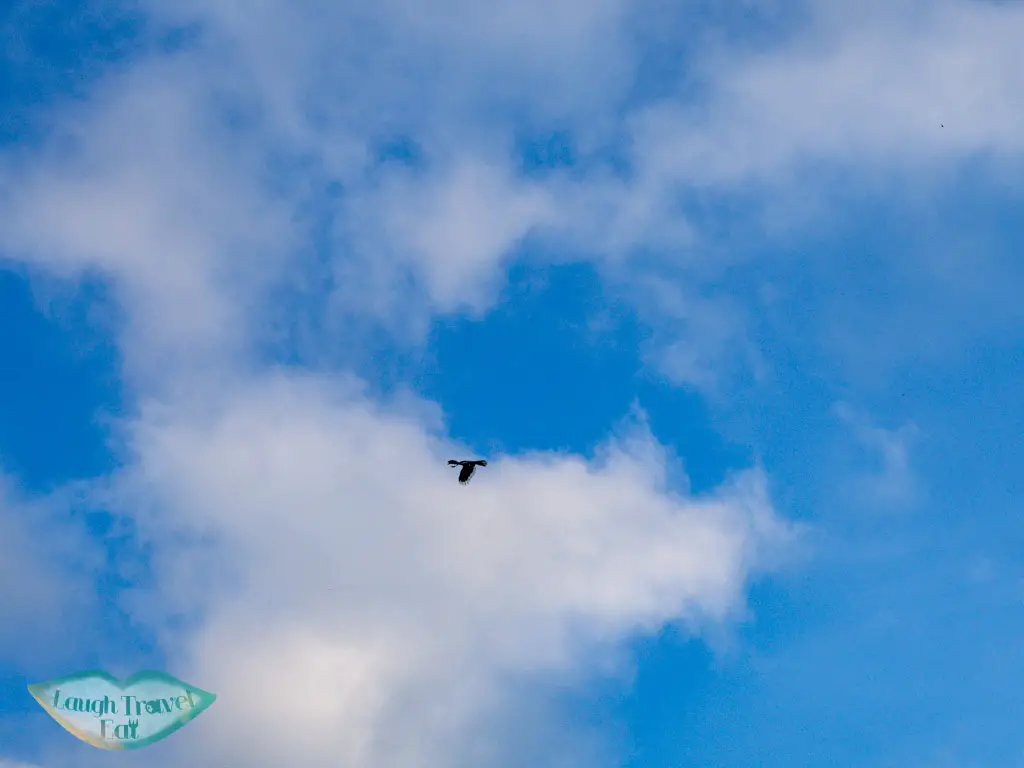 Without a binoclinus and or zoom lens, it's difficult to spot the wildlifes – and we saw monkeys and hornbills but quite far. However, the sunrise was spectacular and worth the early wake up call. Overall, it took under an hour with Kiki trying to call for more monkeys.

Breakfast and free time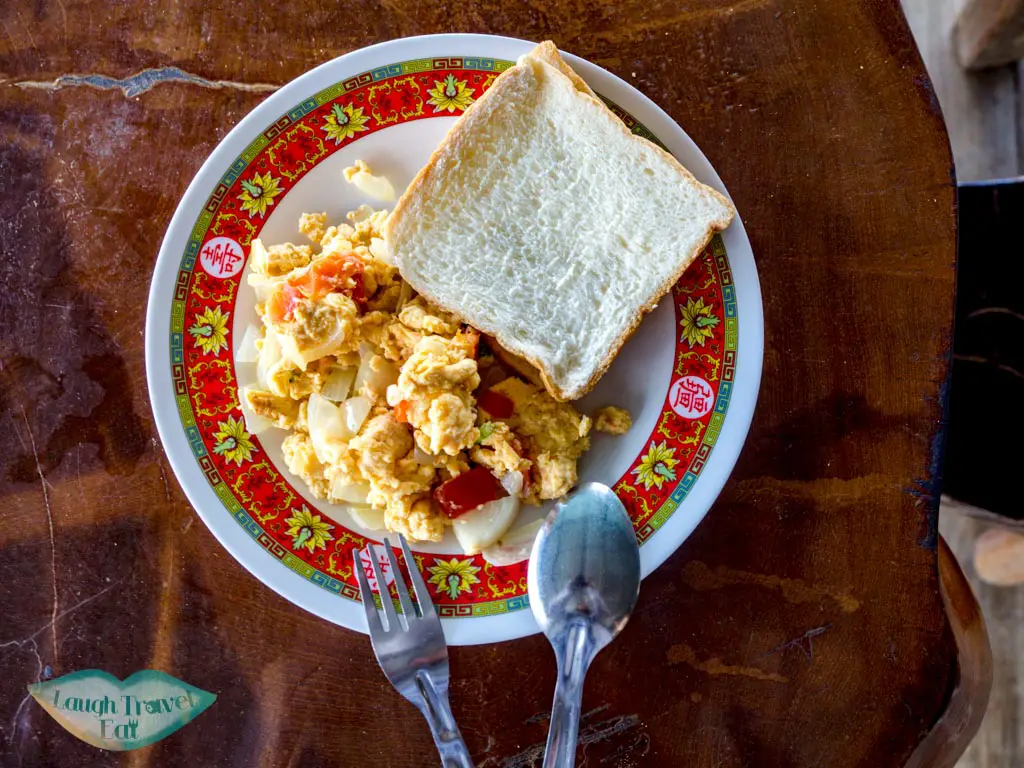 Breakfast starts at 8 with a fried egg dish, bread, and a selection of jams and sauces. I don't love it but I can't fault it. It was then time to pack up as we leave the lake house at 9am sharp.

Pra Kay Petch Cave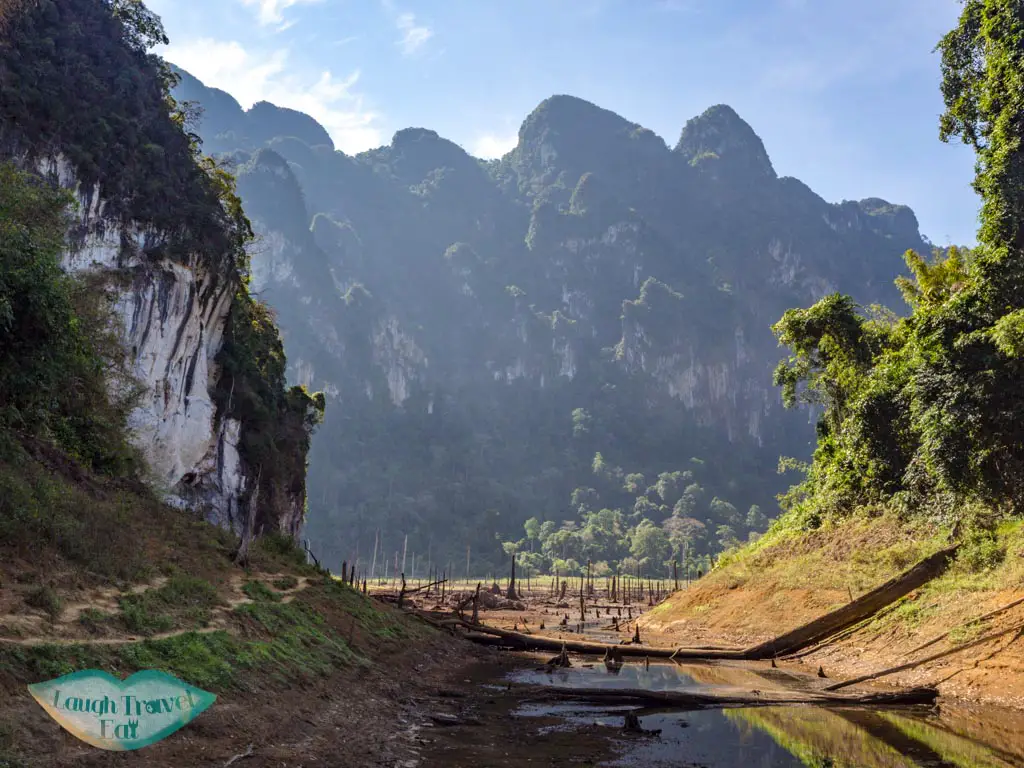 Another day another cave – we set off to Pra Kay Petch Cave, which is a dry cave. It's not as exciting as Nam Tula Cave but closer.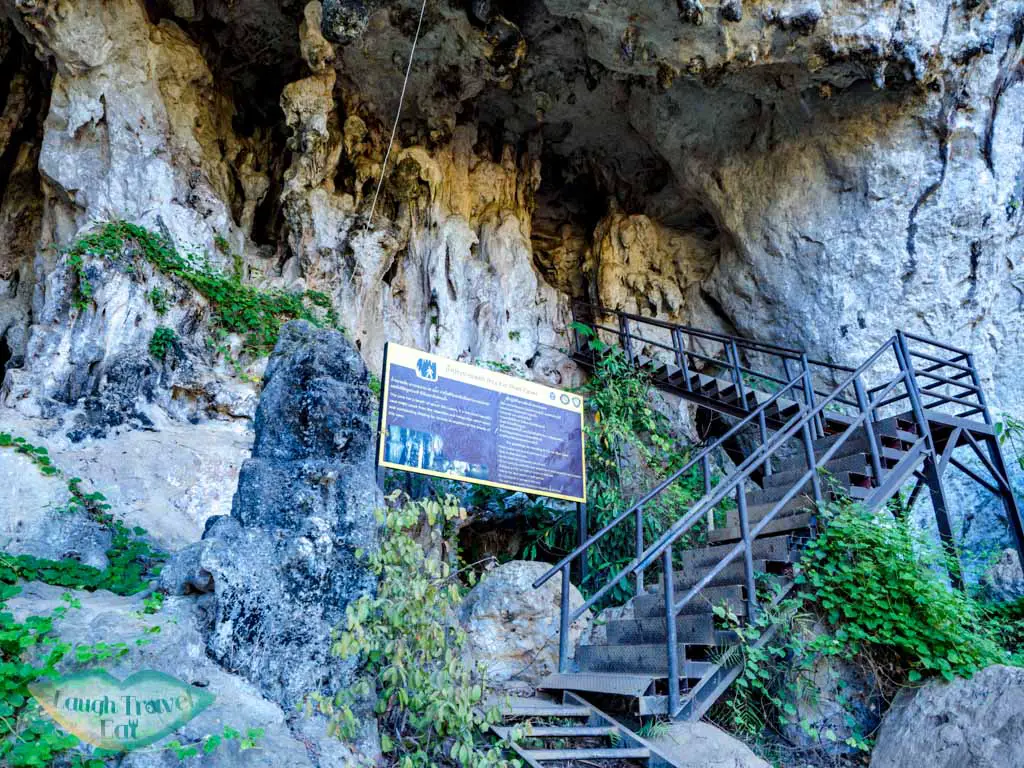 To get there, we went through a swamp type of landscape that has dead trees, which gets flooded during high water level and is pretty cool
The cave itself is ok, easier to visit and smaller than the other. We can only go about 100 meters in but there are also spiders and bats. There's some good photo spots as well.
Three brothers photo spot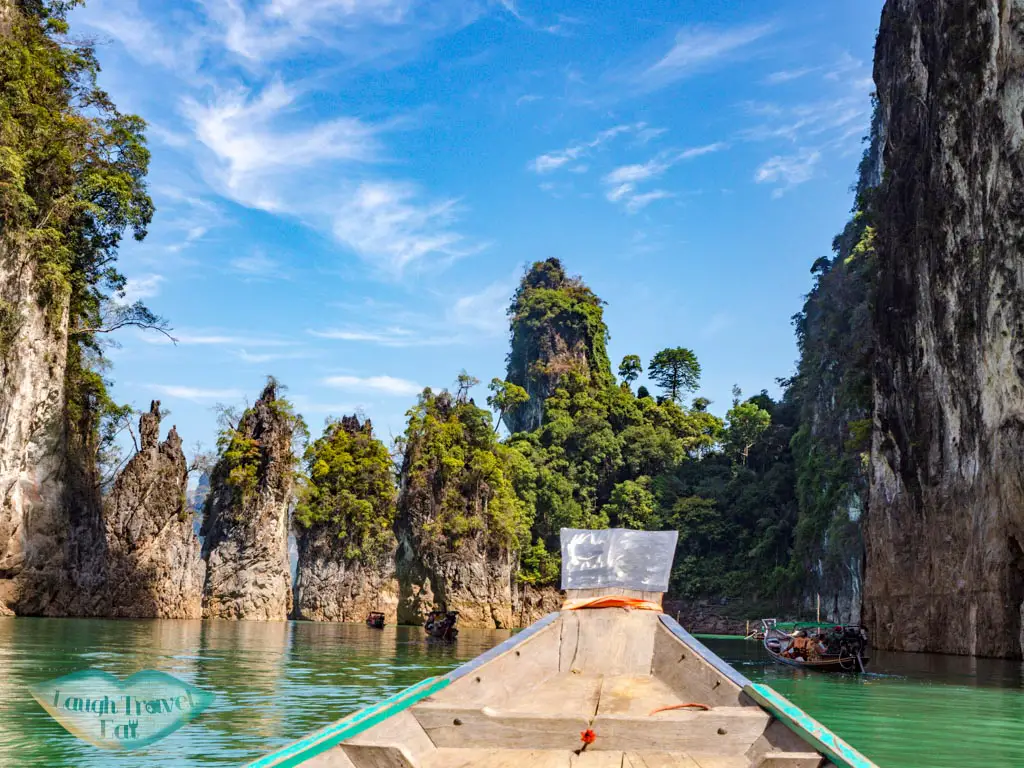 I sincerely hope that I hadn't remember the name wrong, it's either the three brothers or the three stooges. But it's basically these three karsts that forms a trio in the lake. We stopped for a quick photo before heading on our way.

Picnic lunch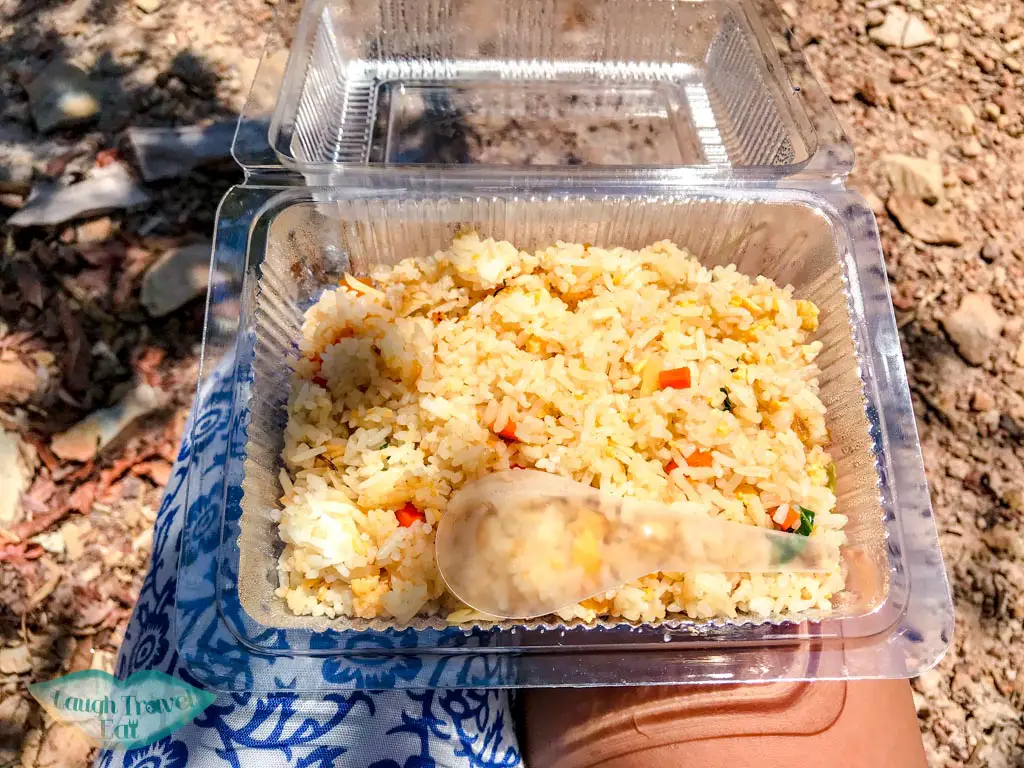 We then went to a random island where we swam for a bit and had lunch. It was a simple box of fried rice but I liked it, and there was pineapple afterwards. It's not the best of stops and it seemed like we were simply abandoned there for a while.

Back to Khao Sok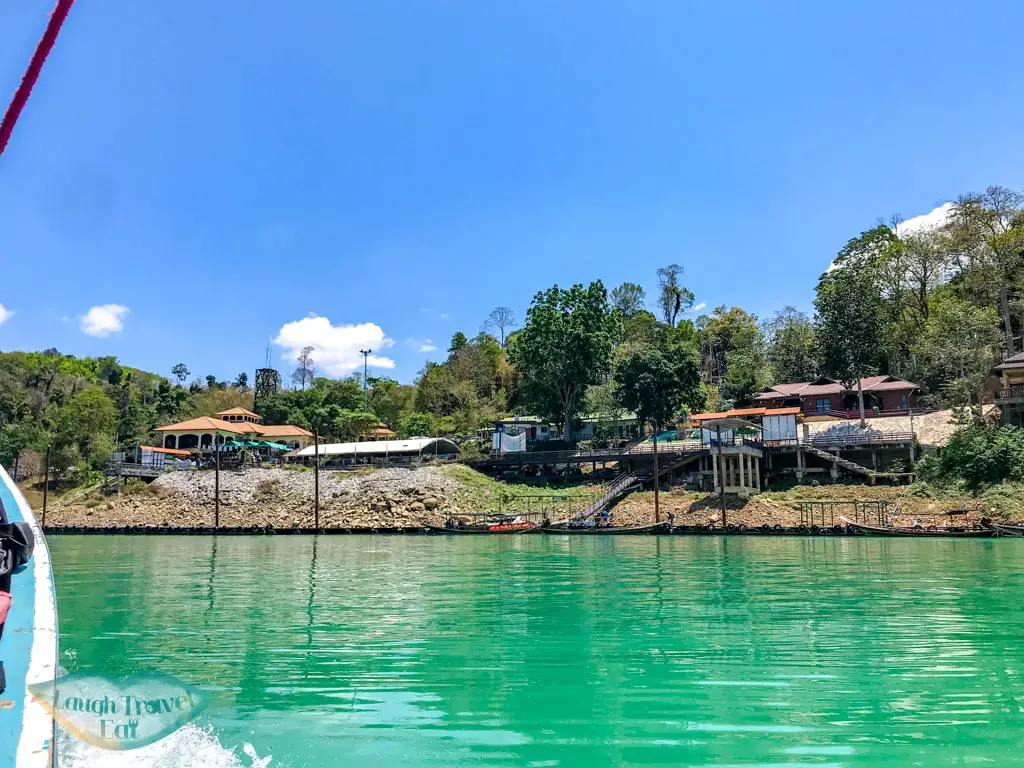 An hour later we were picked up to go back to the city. There were some random stops along the way but we got back around 2-3pm. It was the perfect time to settle back into the hostel and hide from the sun.

Verdict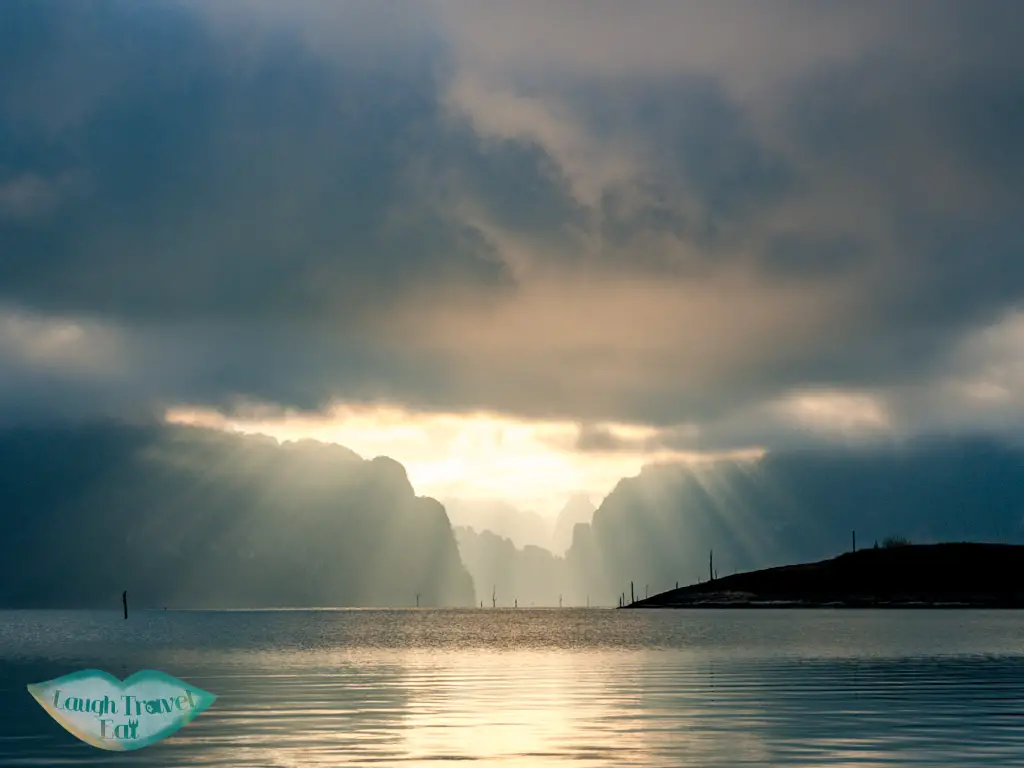 Overall, I highly recommend doing the tour to see the sunrise and sunset landscape and the Nam Talu Cave. However, understand that the guides aren't the best and it is not well organised. Then and again, food was good, I had data now and then at the lake house in a remote national park, so that's not bad.

I think the main difference is that the big group, which I assume booked directly with Smiley, has a better guide, but we have a smaller group.