Cheow Lan Lake, also spelled Cheow Larn Lake, it's the destination for Khao Sok overnight lake tour and a must-visit spot for those visiting Khao Sok National Park. It's called the 'secret garden of Thailand' and is home to one of the oldest evergreen forests in the world.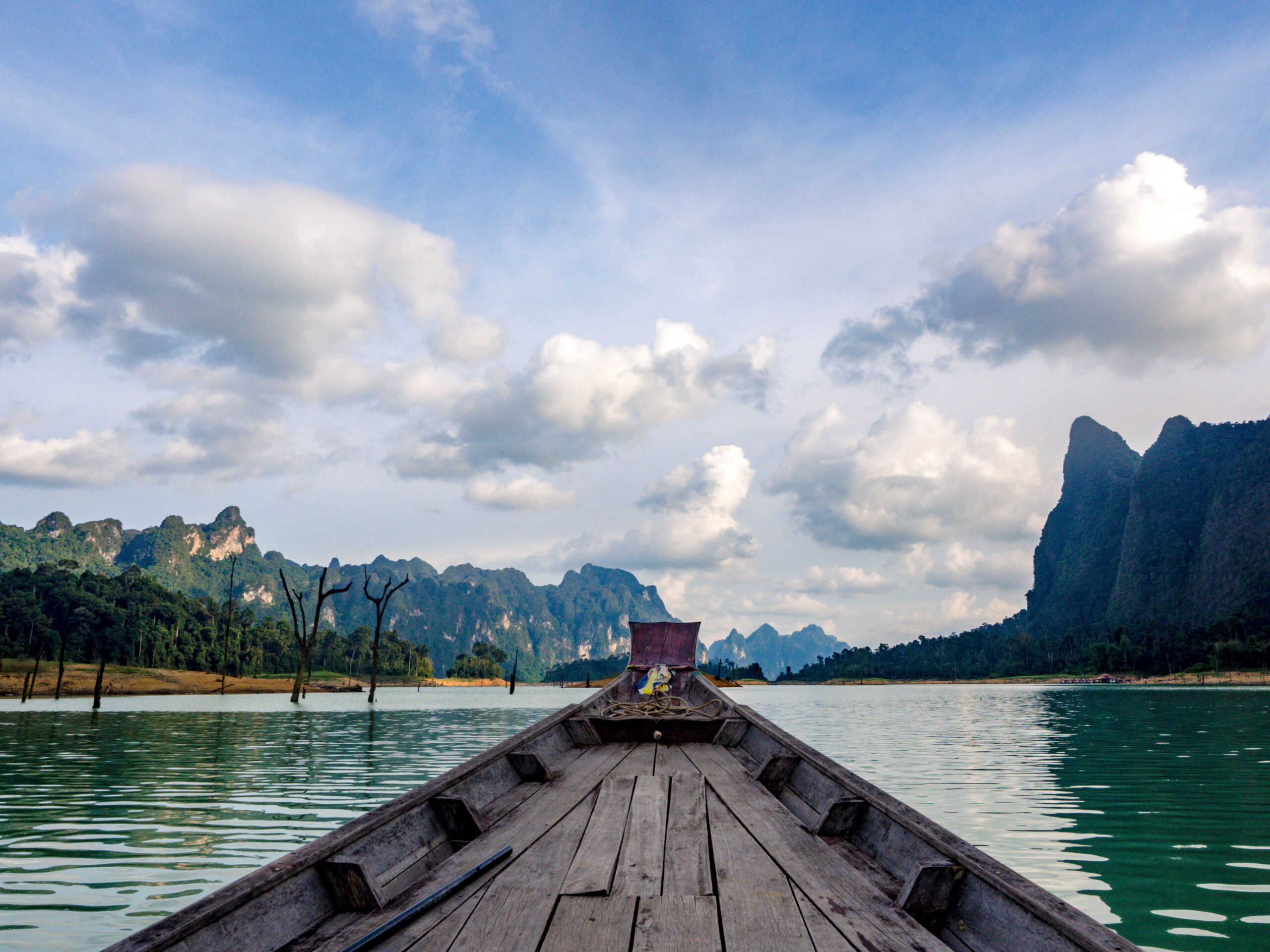 The lake was created as a result of the building of Ratchaprapha Dam in the 70s, it is surrounded by beautiful limestone mountains, formations, and hidden caves. There are many tour options that would take you into the jungle, and caves, and staying in an over-water raft house for a Cheow Lan Lake overnight tour is the best choice. Here's all you need to know about the Khao Sok Lake Tours:
Essential information on Cheow Lan Lake
Cheow Lan Lake covers 185 km2 and the access point to it is Ratchaprabha Pier on the southeastern corner of the lake. The many inlets that extends out are called Khlongs, the Thai word for river, with intricate cave systems and hikes – more information on them under attractions. First, here are some essential information.
Where is Cheow Lan Lake?
Cheow Lan Lake is located in the south of Thailand, north of Phuket at the end of the narrowest part of the country. It's in the Surat Thani region about 1 hour drive east of the city and 1 hour from the Khao Sok town to the west. It's part of the Khao Sok National Park that covers the entire forest around it.
How do I get to Cheow Lan Lake?
Getting directly to Cheow Lan Lake is different to going to Khao Sok, which I've covered in the guide here. There are no public transport that goes straight to Cheow Lan Lake, but there is a parking lot.
The best option is to:
Fly into Surat Thani airport
Take an overnight train to Surat Thani (possible from Bangkok and Hua Hin)
Take a bus to Surat Thani
Then arrange a private transfer or pick up from your accommodation or through your tour agency. Khao Sok Lake Tour arranged for me to be picked up after my night bus to Surat Thani so I can start the trip right away.
For the most part, there are shared transfer options to Khao Sok directly – one of my go-to is 12Go Asia which allows me to book the transfer online.
What lives in Cheow Lan Lake?
There are plenty of fishes in Cheow Lan Lake, and the area is home to many different species of birds and other wildlife. The most notable are elephants, hornbills, monkeys, and the more rare tigers, leopards, gaurs,, gibbons, tapir, and even sun bears.
Can you swim in Cheow Lan Lake?
Yes, it's allowed and safe to swim in Cheow Lan Lake. All tours allow for some time to swim in the lake or kayaking. These are the only two activities you can do in Cheow Lan Lake without a guide accompanying you.
What is there to do in Cheow Lan Lake?
Aside from swimming, there is still plenty to do in Cheow Lan Lake. Aside from the longtail boat ride, there are caves and hikes dotted around the vast expanse – more in the attraction section.
Can I fly my drone in Cheow Lan Lake?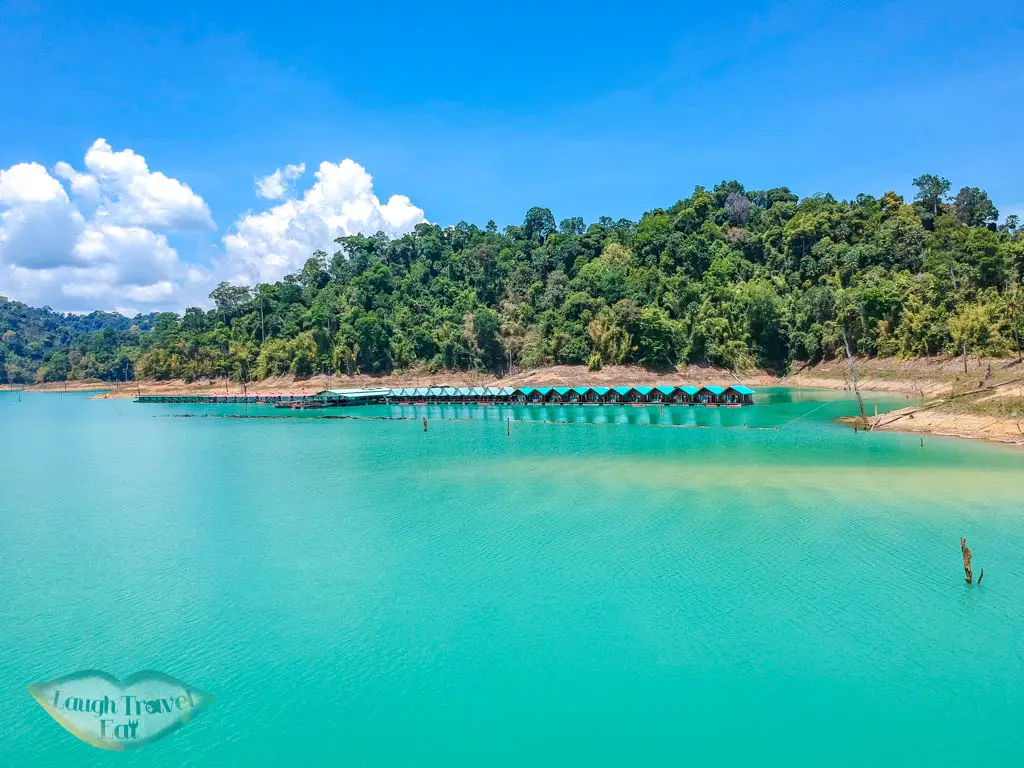 For now, it's still possible to fly your drone in Cheow Lan Lake. However, the satellite position can be off after heavy rain, so you should fly with caution.
Is everything included in the Cheow Lan Lake Tour?
For both join-in tours and private tours, they should include:
Round trip transfer to and from your accommodation in Khao Sok
Longtail boat ride to and from floating lake house and boat safari
An excursion (or two) around Cheow Lan Lake
Drinking water – but you should buy extra if you know you need more
Lunch, dinner, breakfast – drinks are usually charged extra
They don't include the national park and pier fee, which is 300 baht and 20 baht per person respectively.
When is the best time to visit Cheow Lan Lake?
The lake is open year-around, and there are pros and cons to visiting during the rainy season and dry season.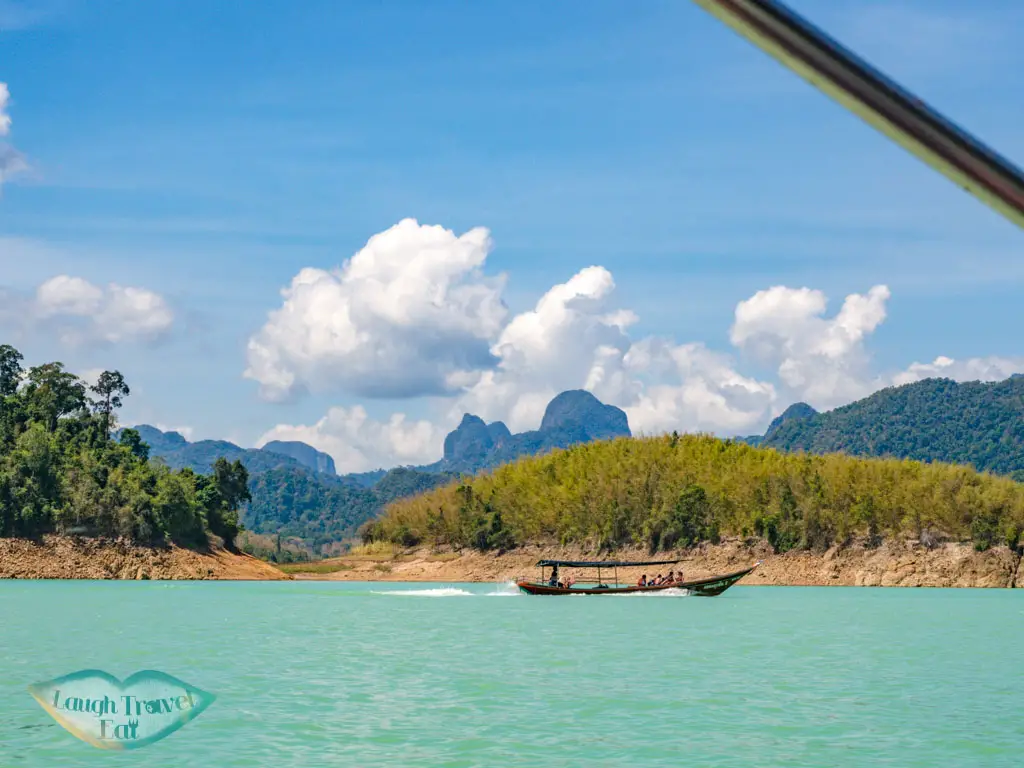 The water level is higher and the scenery greener in the rainy season between late April and December, although the rain tends to be heaviest between May and October.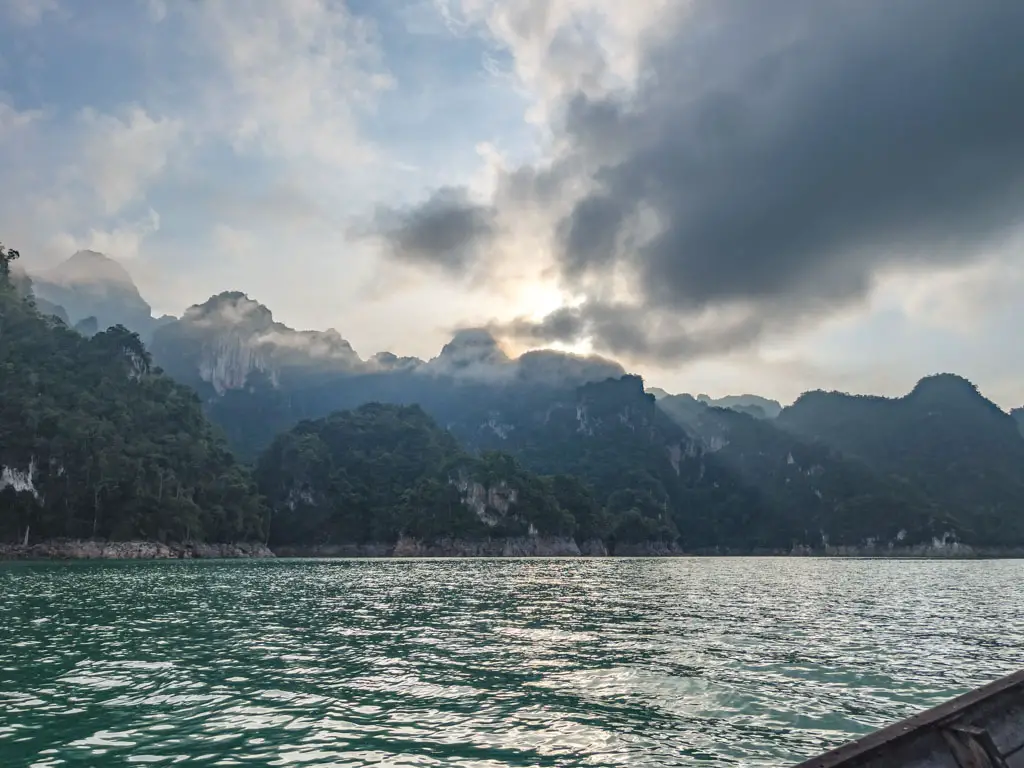 However, in the dry season, you're more guaranteed good weather and sunset sunrise. I visited in March and once in May, and the weather in March was significantly better.
Why you should do a Cheow Lan Lake Overnight Tour
Unless you are pressed for time, otherwise, I would recommend taking the overnight lake tour instead of a day trip. A day trip costs around 1,500 baht, not including the National Park and boat fee, which means for 1,000 more, you can stay on the lake and have extra time to spot wildlife and admire the sceneries.
What is a Cheow Lan Lake Overnight Tour like:
Usually, people stay one night on one of the many floating lake houses on Chiew Larn Lake. Here is what a tour is like:
Day 1: morning departure to the pier. The transfer from Khao Sok main town to the pier is over an hour, so guests generally leave in the morning.
A 7-11 or market stop on the way over for a bathroom break and to buy water or snacks to bring
Longtail boat ride from the pier to the lake house, which takes around 1-2 hours depending on the location of the lake house
Arrive at the lake house to check in and have lunch
Free time now or after the excursion to kayak and swim
Afternoon excursion to one of the many caves and trails around Chiew Larn Lake*
Evening safari to spot the many animals around the lake
Dinner at the floating lake house
Day 2 early morning safari (you can opt-out and sleep in)
Free time and check out
Some tours include an extra excursion and lunch on the lake or visit a spot on the way back to Khao Sok
Return to Khao Sok
*the excursion differs depending on the season and the weather, more on it below
Booking Cheow Lan Lake Tour
There isn't a lot of information online about the overnight lake tour, although you can book various accommodation directly on different booking platforms. However, do note that most of these do not include activities or request additional charges for them.
For a proper tour, there are two ways to do it: book via a tour agency or at your hostel or hotel on arrival. It depends on what kind of experience you want to have. I have done both and here is a quick breakdown:
Chiew Larn Overnight Lake Tour with agency
An agency can arrange a Chiew Larn overnight lake tour plus a visit around Khao Sok National Park that is catered to your preference. Khao Sok Lake Tour arranged my May 2022 trip back to the Khao Sok area with a specific focus on local communities and also making it easier for me to take photos and videos.
I'll go into more details about the overall itinerary in my Khao Sok post. For the lake tour, they're able to include a seasonal hike to the coral cave as well as an evening and morning safari. Lunch, dinner, and breakfast are also included, and we stayed at a lake house with air conditioning.
The tour cost depends on the accommodation of your choice, but it would be around 7000 baht as all transfers are private with a private tour guide as well.
Cheow Lan Lake Overnight Lake Tour with Hostel/Hotel
One of the more highly recommended places online is the Smiley Lake House. You can book in advance on their website, which means you don't have to pay in local currency and cash on arrival.
I booked my tour through my hostel in Khao Sok – the Jungle Hostel, after I found out that it's too Smiley Raft House as well. The price is the same no matter which one you book. The price is 2,500 Baht and includes 2 lunches, 1 dinner, and 2 breakfasts along with transfers to and from your hostel.
After the tour – I think the main difference is that the big group, which I assume booked directly with Smiley, has a better guide, but we have a smaller group.
Essential packing list for Cheow Lan Lake
Padlock (especially useful for budget huts)
Waterproof bag*
Smaller waterproof bag for electronics or just your phone*
Swimsuit
Sarong and or towel
External charger
Charging cables – there are plugs and USB ports in the dining room the charge things
Sunscreen
Mosquito repellent
Wet shoes*
Socks are also useful*
Flip flops
Cap or hat
Sunglasses
Any camera gear or GoPro
1 set of clothes to change
Raincoat* or a jacket in case it rains 
Headtorch is optional as the tour provided too*
Note: I recommend wearing shorts and maybe even a t-shirt over your swimsuit for both cave excursions to minimise the chance of getting cut on rocks.
For the trip I booked with Jungle Hostel, the owner Sunny lend me everything that I didn't have, which is marked with an *. However, depending on the season you go and which hike they take you on, wet bags and wet shoes might not be necessary.
Cheow Lan Lake Hotels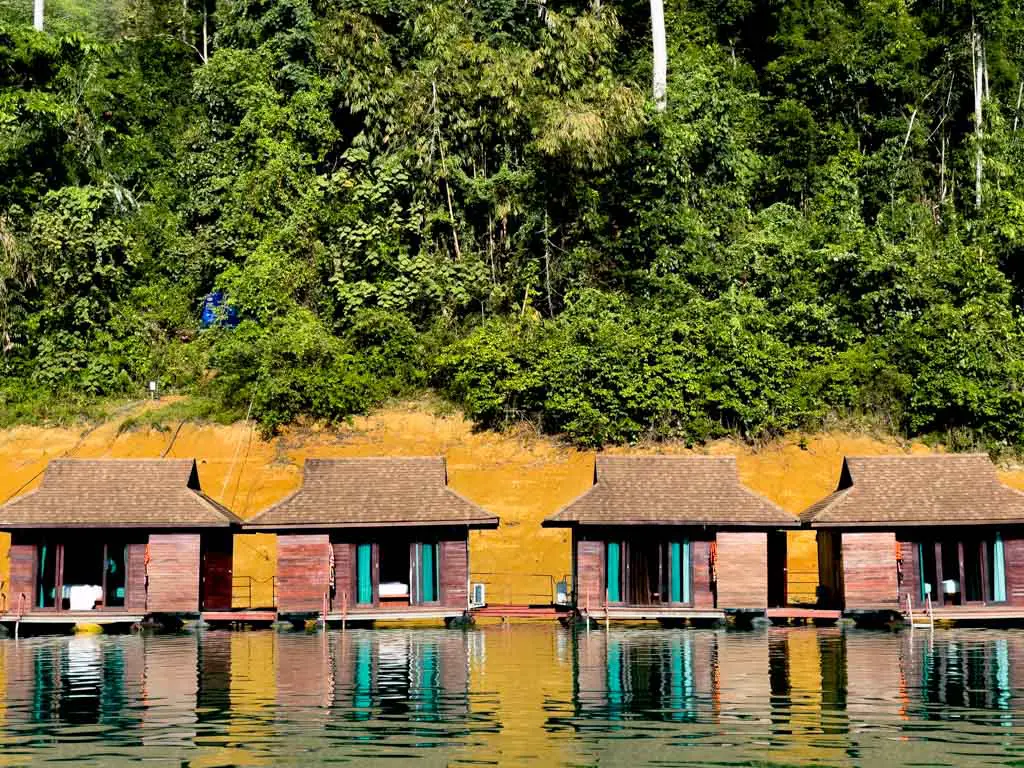 The Cheow Lan Lake hotels are perhaps better known as Khao Sok floating bungalows and are more rustic because of the remote location. You can't pick which lake house to stay in if you're joining in through your hostel. Although you can ask around but that could be time-consuming and logistically difficult. There are 16-19 floating lake house spread across the Cheow Lan Lake and here is a basic overview of the lake house types:
Basic Floating Lake House
Most basic floating lake house are on a share basis, meaning you'd have to share with someone from the tour if you're a solo traveller. I was lucky and met a girl from my hostel who I got on with and we shared a room on the tour.
They're usually simple bamboo huts with two mattresses on the floor and a fan. There is no outlet in the room but there should be a charging station at the dining room where you can charge your devices.
Some floating lake houses have shared bathrooms some have private ones, it depends on which one you end up at.
Smiley Raft House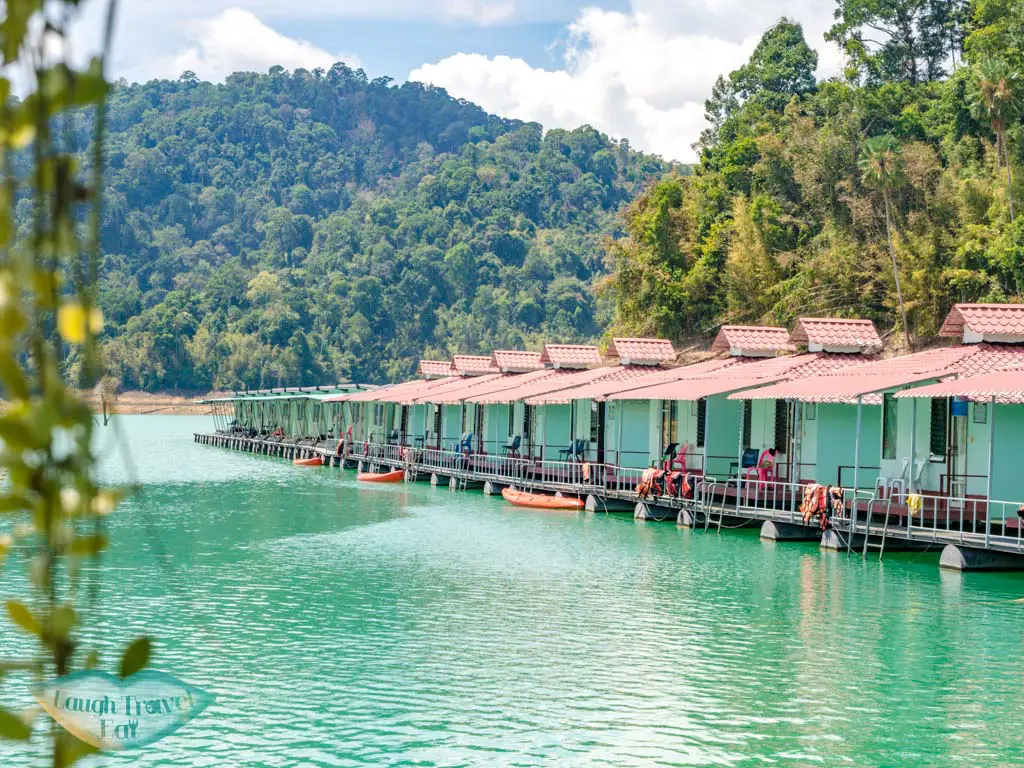 While it's not luxurious by any means, the Smiley Lake House is well equipped and tidy for an accommodation floating on a remote lake in a national park.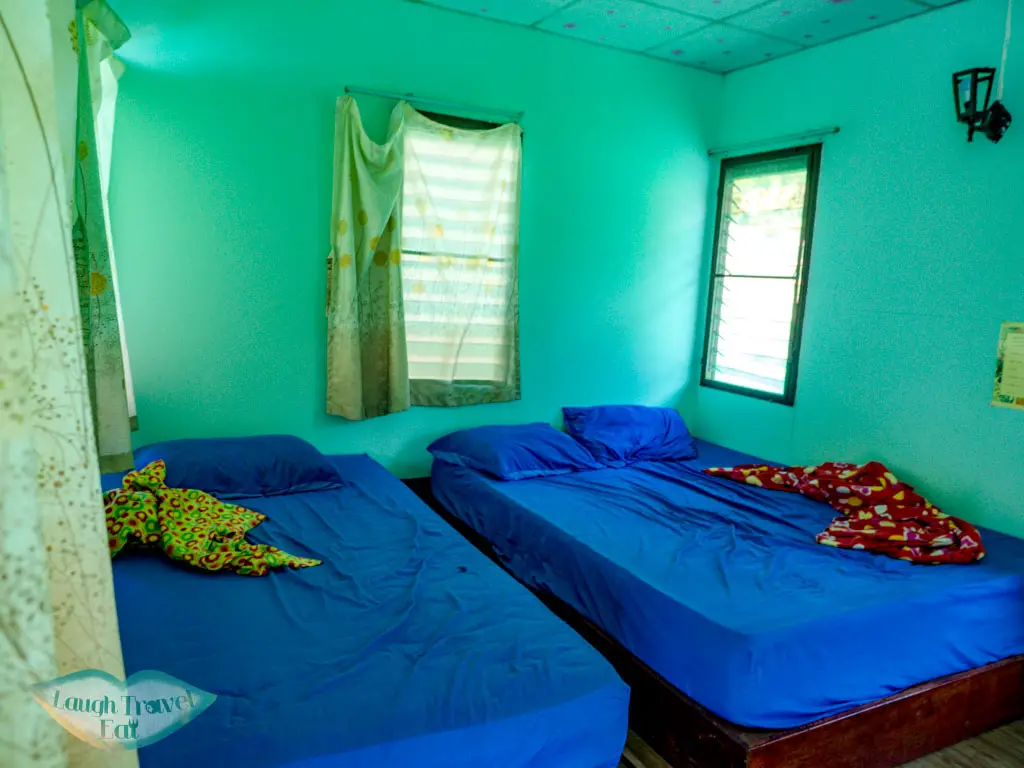 Rooms are basic but it is clean with pillow, blanket, and a very basic bathroom that you can take a shower in. I did rinse off but didn't wash my hair because it's too late in the day.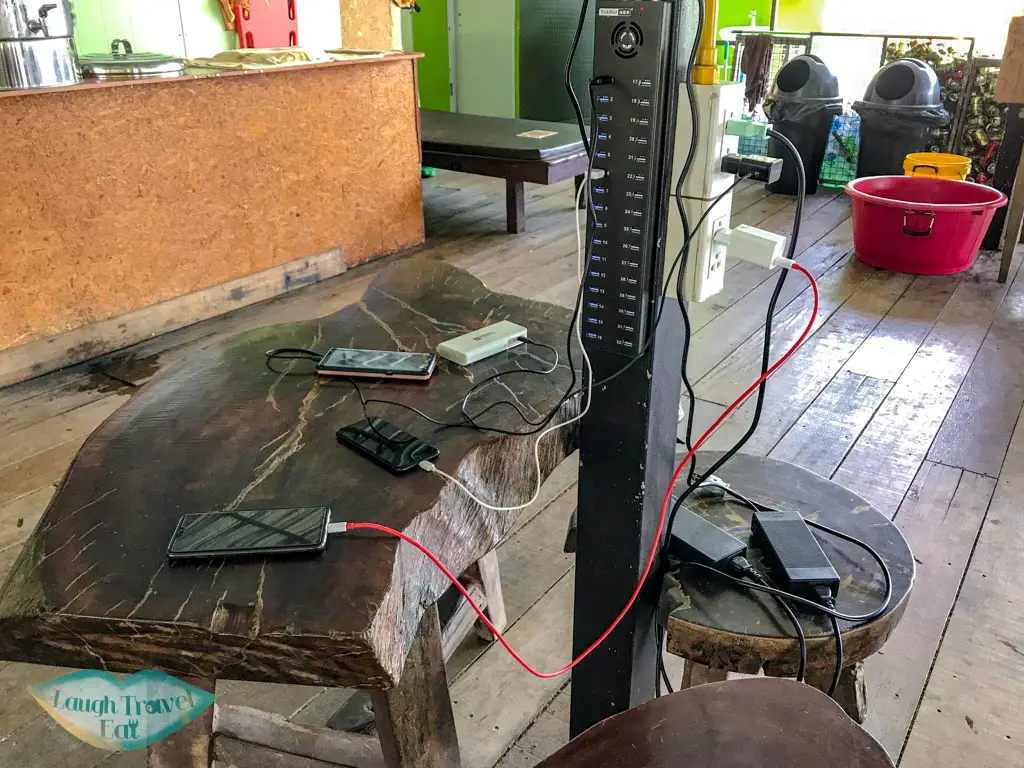 Luxury Floating Lake House
There are quite a few luxury options for floating lake house, and some have air conditioning and some don't. For the most part, unless you go to the ultra-luxury option, electricity is only available through the night. Here, I'll cover two that I have personally visited.
Laguna Chiew Larn Lake

One of the few lake houses that offer air-conditioned rooms, Laguna Chiew Larn Lake is popular with Thai tourists as well because of it. The rooms are individual wood villas with storage space, sockets, and an elevated area for the mattress.
Each hut has a private deck with a swim ladder to go into the lake but no railings, and you can see the other decks clearly.
Prai Wan Floating Lake House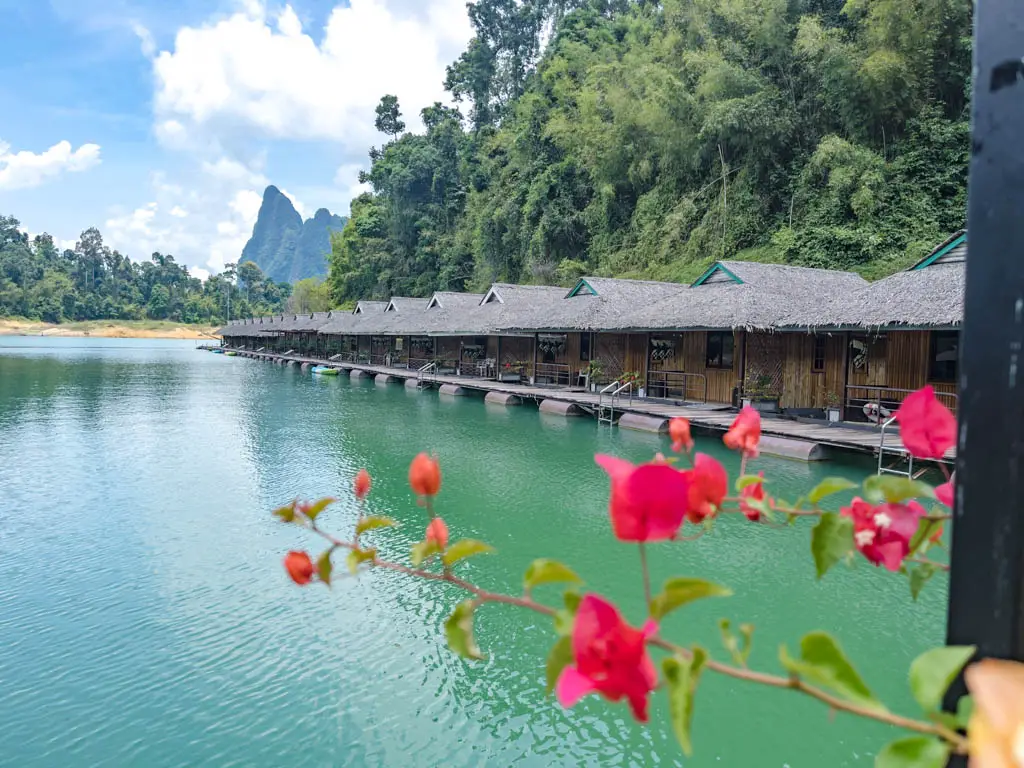 Prai Wan Floating Lake House is a beautiful resort with a better equipped bathroom as the showers are actual showers instead of just shower heads. The huts are also decorated better with actual beds and more spacious.
They do not, however, have air conditioning, but the temperature in Cheow Lan Lake tends to be cool in the evening so you shouldn't need air con.
Attractions and Excursions on Cheow Lan Lake
All Chiew Larn Lake Tour includes at least one hike to a cave and a boat safari. Sitting on a long-tail boat and cruising around the turquoise lake is an experience in itself, which is a good motivation to book a private tour so you can enjoy the experience better.
I haven't been to every single attractions, caves, or hike on the lake, as there are many places on the west side that is more than two hours ride on longtail boat. The notable attractions that are missing from the list is the Cheow Lan Lake Viewpoint hike and Bang Hoi waterfall.
Note: depending on your experience, it's nice to tip your long-tail boat driver at the end of the trip. I suggest 100-200 baht if you're on a private tour. On a group tour, you can put together a pool of tips.
Guilin Viewpoint (The Three Brothers)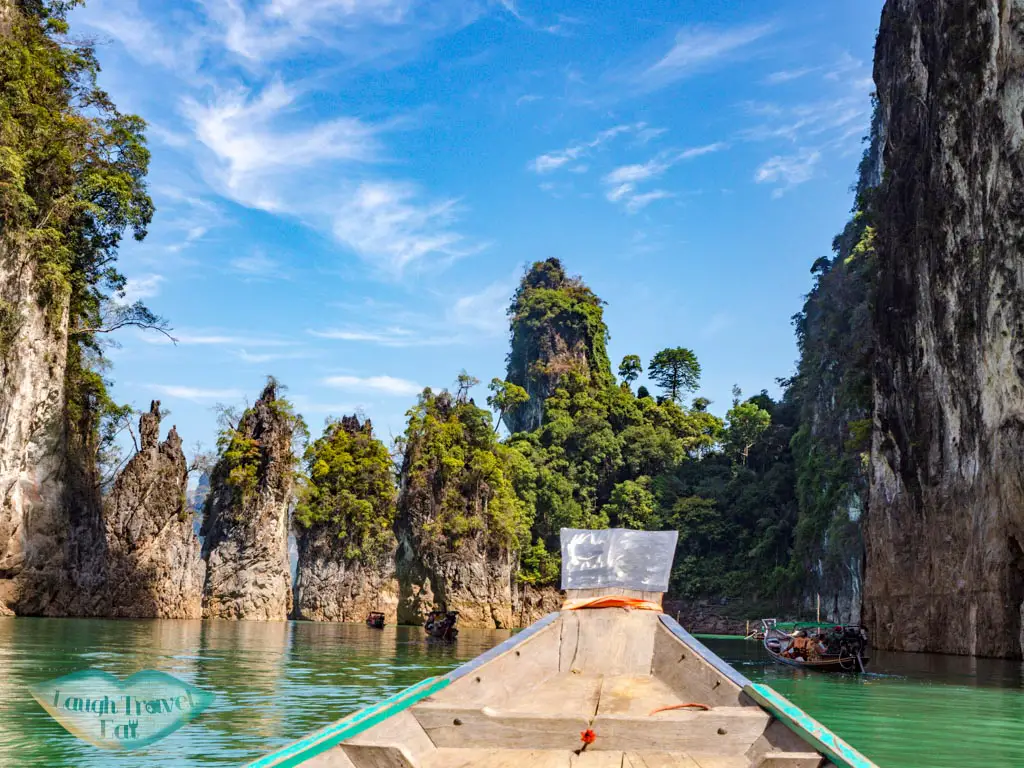 The famous Guilin Viewpoint refers to a small cove with a few smaller limestone stacks sandwiched between two higher ones, which is reminiscent of Guilin in China. It's a popular photo spot and all tours stop by here either on the way in or out.
Nam Talu Cave
The Nam Talu Cave is one of the most popular and more adventurous excursions in Cheow Lan Lake.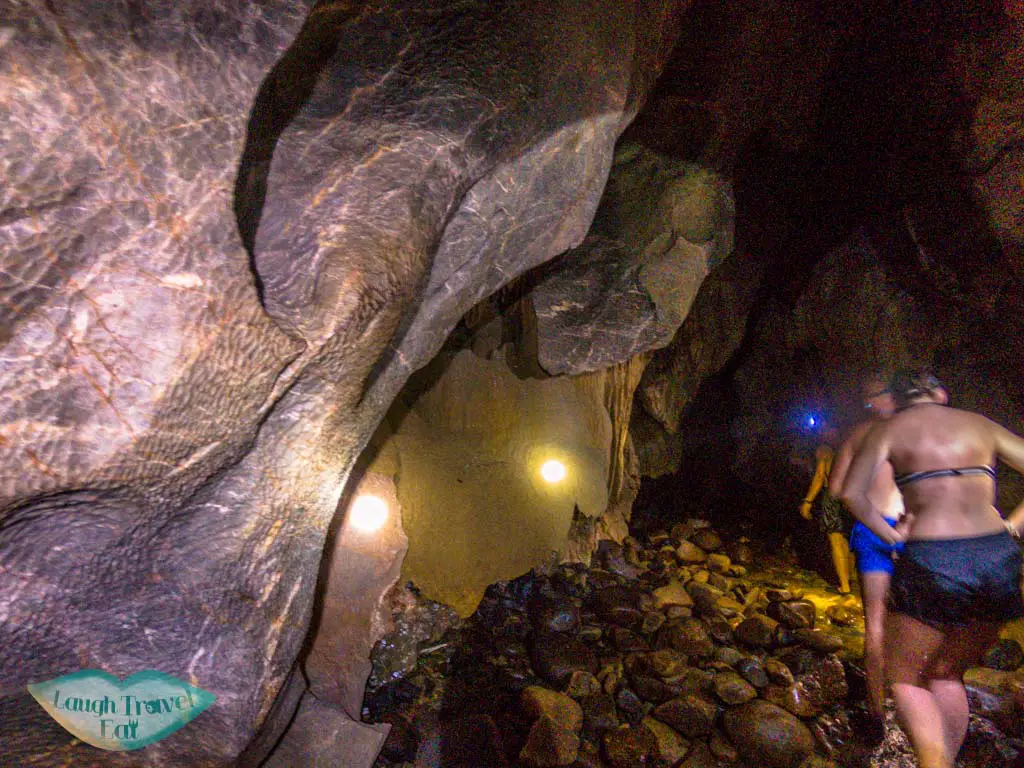 It's on the south side of the lake and involves a one hour hike through the jungle to reach the cave, which is parallel to a river with a waterfall near its entrance. It's only accessible in the dry season as the caves get flooded with heavy rain. Expect to swim at certain points of the hike inside the cave.
There is a surprising amount of wildlife considering how many tourists visit the cave and forest.
Coral Cave (Pakarang Cave)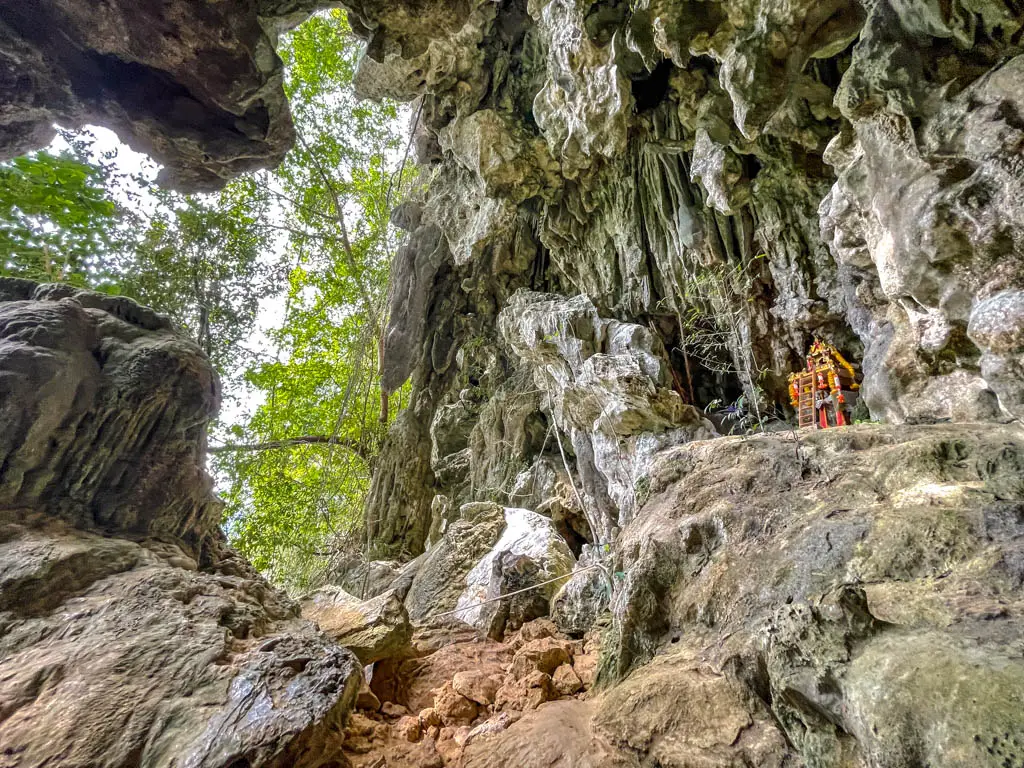 Coral Cave is on the north side of the lake not too far from Prai Wan Resort. To get to the cave, it's a 40 minutes hike into the jungle with the remote possibility of spotting some wild elephants and the more likely chance of seeing some monkeys.
At the end of the hike, which was mostly flat, a bamboo raft awaits to take you to the cave entrance. The cave is called Coral Cave because some of the stalagmites and stalactites there resemble corals with their texture. 
It's a short climb from the bamboo raft into the cave, which isn't very big but with many interestingly shaped formations. In particular, there is one that looks like an elephant!
Pra Kay Petch Cave
The Pra Kay Petch Cave is a dry cave that is a short hike through a dramatic swampy landscape of dead trees, which gets flooded during high water level and is pretty cool. The cave isn't as exciting as Nam Talu or Coral Cave but there are a lot of spiders and bats inside.
Evening and Morning Safari on Cheow Lan Lake
The evening and morning safari on the lake is the best time for spotting animals because the temperature is cooler and there is still some light. The area is home to hornbills, monkeys, elephants, and plenty of other animals.
While there's no guarantee in wild animal sightings, depending on the weather, you'll be sure to see some spectacular sceneries. On my first trip in March 2020, we had beautiful weather for sunset and sunrise, but only saw a few hornbills from afar.
On my second trip in May 2022, the weather was less ideal but we saw a group of elephants playing in the water and mud.
Food on Chew Lan Lake Tour
Some of you might be worried about the food on a floating lake house, but they are surprisingly delicious with a good variety.
While options are more limited, both of my trip serves similar food of curries, but Laguna Chiew Larn Lake had set meals for both lunch and dinner and only buffet for breakfast.
More photos of the food in the experience recount below:
Budget Cheow Lan Lake Tour Experience (March 2020)
Cheow Lan Lake Tour vlog:
A picture paints a thousand words – here's a vlog on the Cheow Lan Lake Tour:
Day 1 on Cheow Lan Lake Tour
Breakfast in the Morning
At the Jungle Hostel, Sunny gave me a voucher for breakfast at the Jungle Resort down the road, which has some hot food such as French toast. We were due to leave at 9vam and Sunny lent us all the equipment such as a wet bag, shoes, socks, waterproof phone case, raincoat, and headlamp.
Market stop for any essentials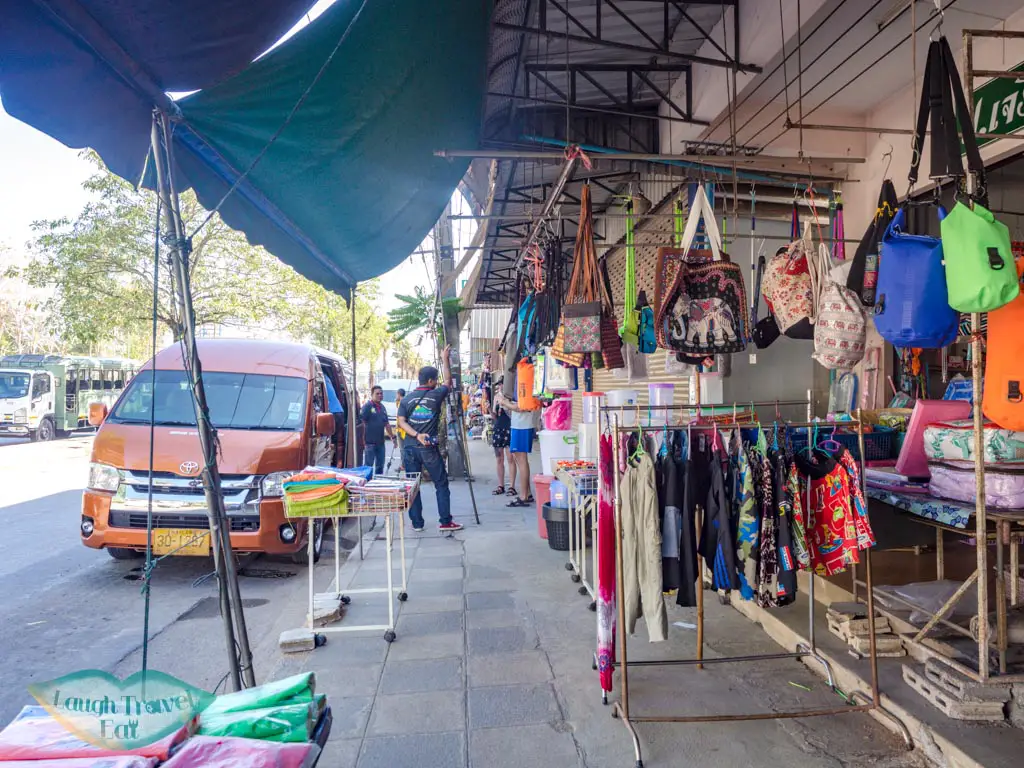 We first made a stop at a market where we can get equipment and snacks. Since we already had everything, I ended up using the bathroom at a shop (for 10 baht) and getting a thai milk tea for 25 baht.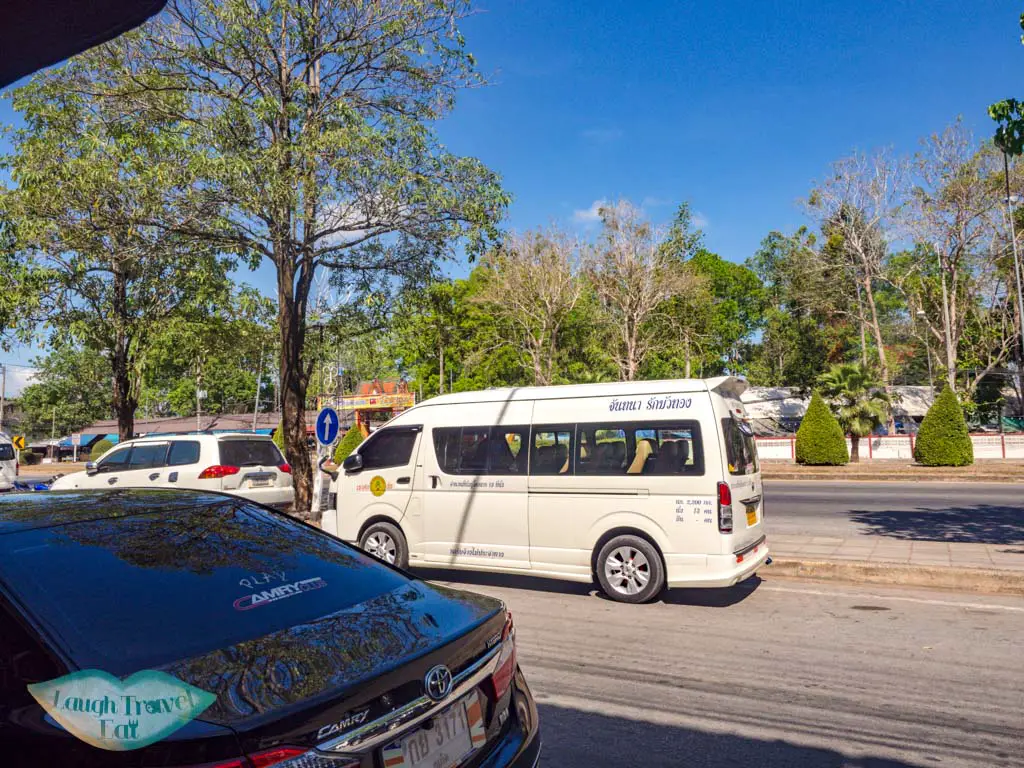 The stop was around 15-20 minutes and there were many other minivans headed to the pier by Ratchaprapha Dam.

Longtail boat ride to Smiley Lake House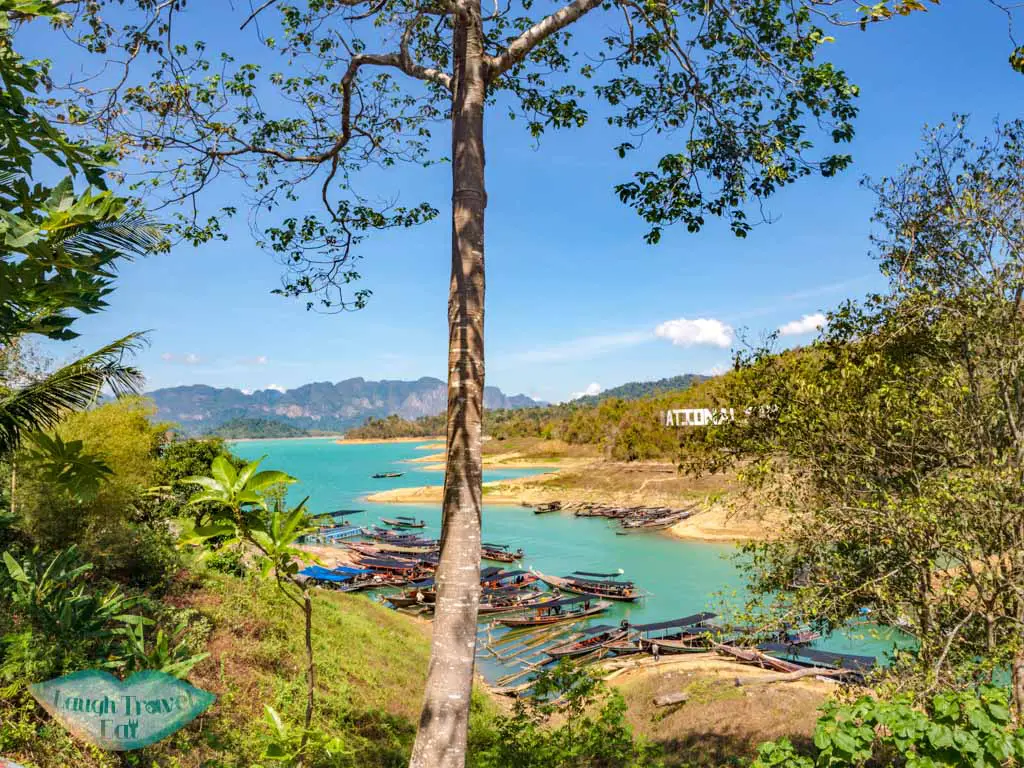 The minivan dropped us off in the carpark and we were shepherded towards the pier. First, however, we needed to pay the fees – 20 for pier and 300 for national park. If you like signs, there's one for Khao Sok National Park with sculptures of the signature hornbills either side, too.


We watched the longtail boats come and go until our guide Kiki finally called us over to board. We were first asked to show our national park ticket, then the pier ticket, before heading down.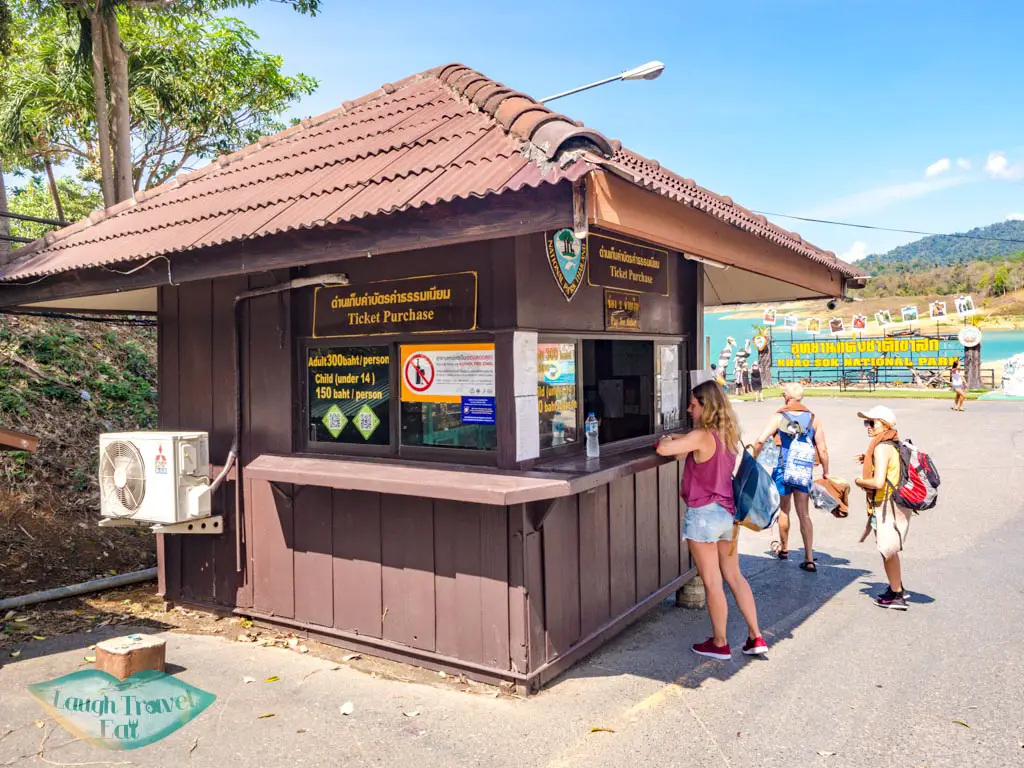 Cheow Lan Lake is huge and the Smiley Lake House is about an hour away. I donned a life jacket and began the journey whizzing past karst mountains.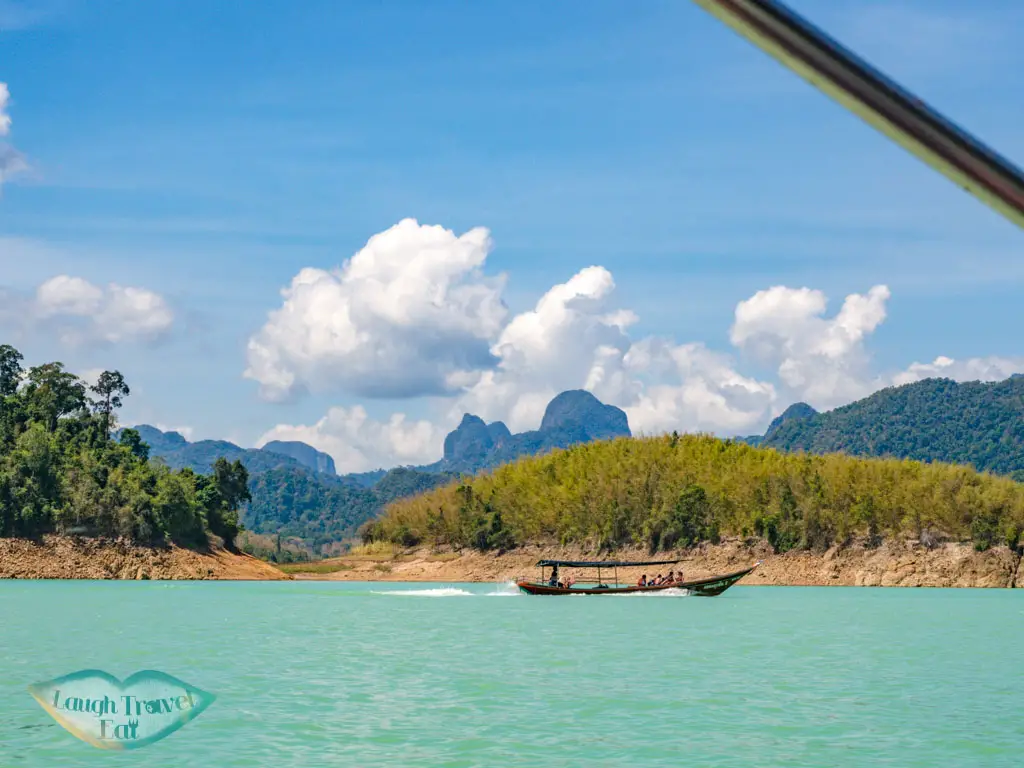 Pro tip: the engine is quite loud so you might want to try to sit in the front. By the time we arrived, it was around noon.

Free time to kayak and swim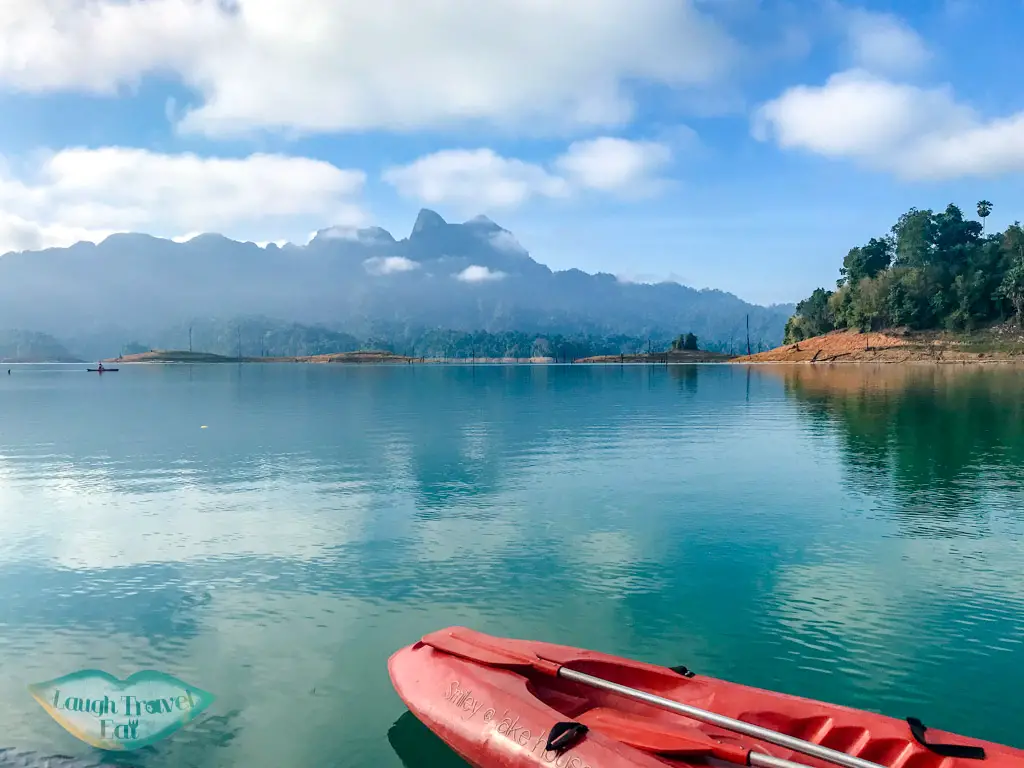 With an hour of free time, I made use of the free kayak rental with my new friend Polina and we set off to a small island in front of the lake house. It's harder to get around than expected for a lake, with waves from longtail boats often causing us to change direction.

Buffet lunch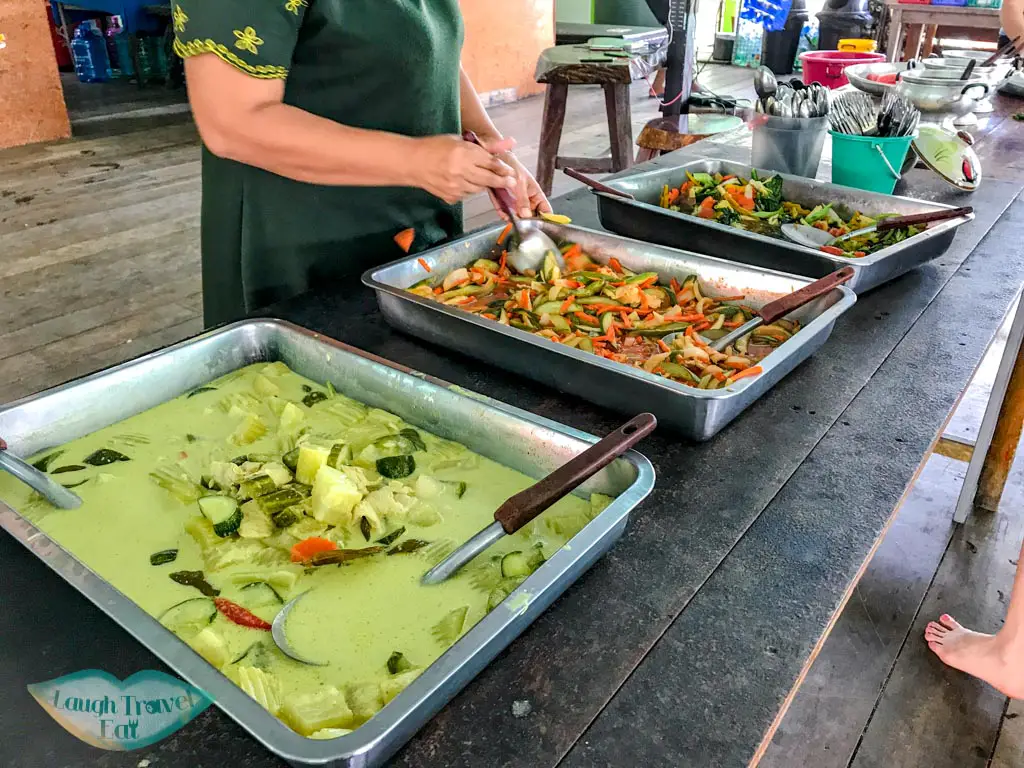 We got back just in time for the buffet lunch at 1pm, which consisted of rice, green curry, and vegetables. There are a few dishes separately for vegetarians, too, and free refills for cold water. You can buy other drinks such as soda, beer, and cocktails at the bar. We didn't linger too long since we had to pack our bags for the cave trip at 2pm.

Trek to Nam Talu Cave
Tip: ONLY bring your essentials as even with a wet bag, you things will get damp. And wear wet shoes!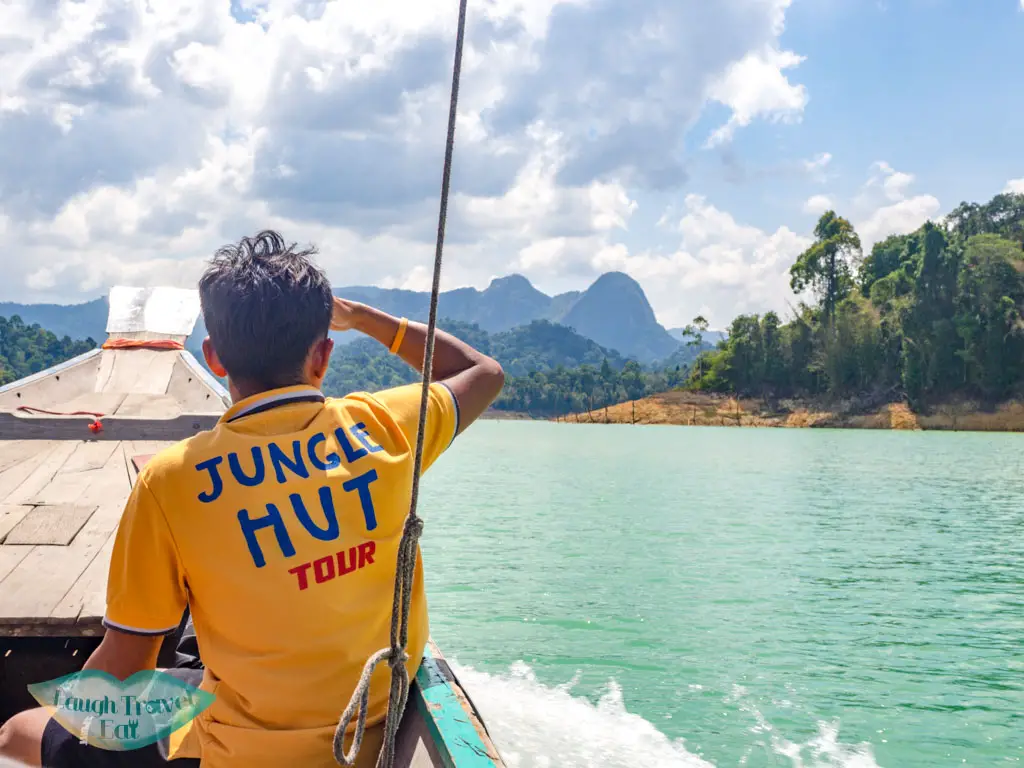 We gathered at 2pm and boarded the longtail boat again to Nam Talu Cave. It's only about 20 minutes and we docked by a slippery slope and made our way into the jungle.
The small path then runs parallel to the river for a while until we reach the jungle. A signboard outlines the path to Nam Talu Cave as well as what you might see along the way.
While our guide Kiki wasn't the most instructive, he was completely in his element in the jungle. He caught a flying chameleon (which we let go), and spotted a snake sleeping atop a tree.
The trek itself isn't anything out of the ordinary outside of the wildlife spotting. As we near one of the entrances to the cave, the path is riddled with pointy rocks so be careful.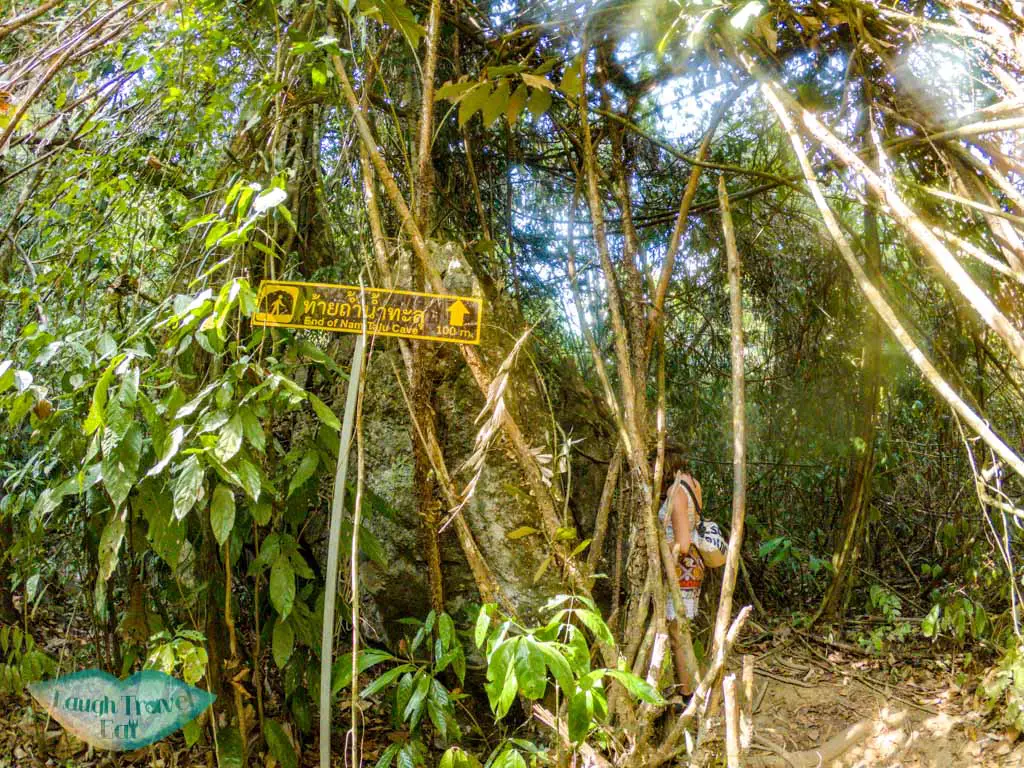 We stop by a small river where those who don't want to go into the cave can stay. There is a little waterfall hidden in a corner as well. Be careful if you want to climb up as it's slippery. To my surprise – more than half of the group stayed behind and the rest of us purged on!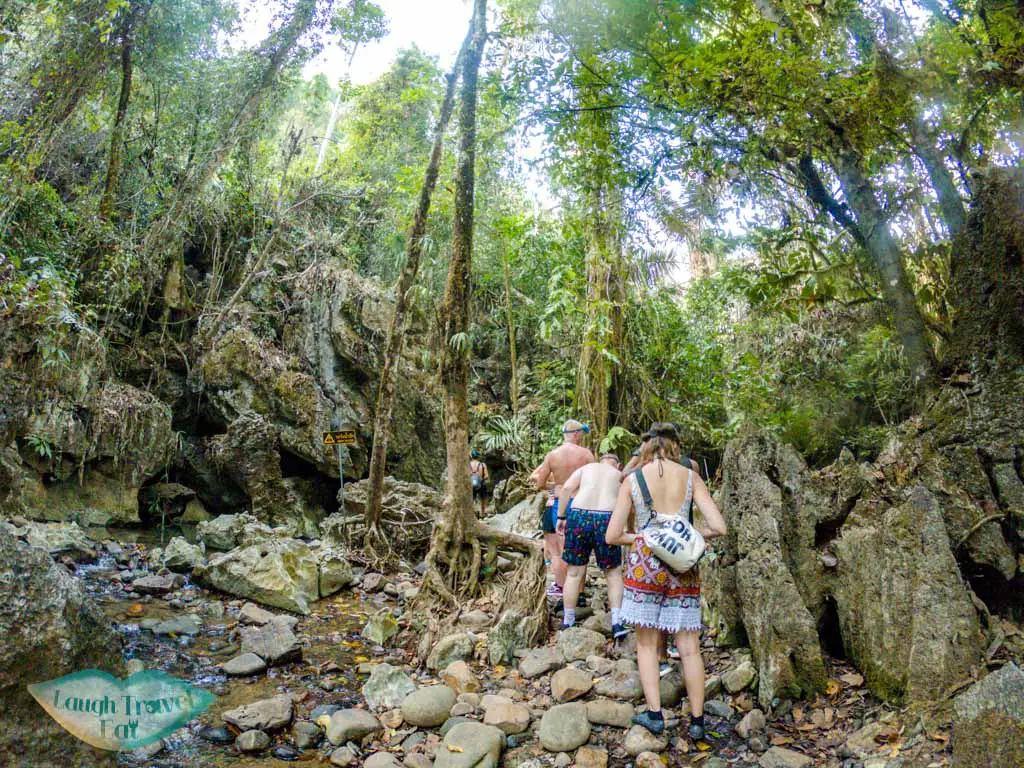 I had my reservations about the cave as I had visited some spectacular ones in Phong Nha, Vietnam. I'm happy to report that I was proved wrong. It involved a combination of walking, swimming, and a little bit of climbing with Kiki helping us over particularly difficult parts.
Along the way there were plenty of limestone features like the shiny silicate wall and ripples bedding. There's even more wildlife – crickets, spiders, frogs, and bats!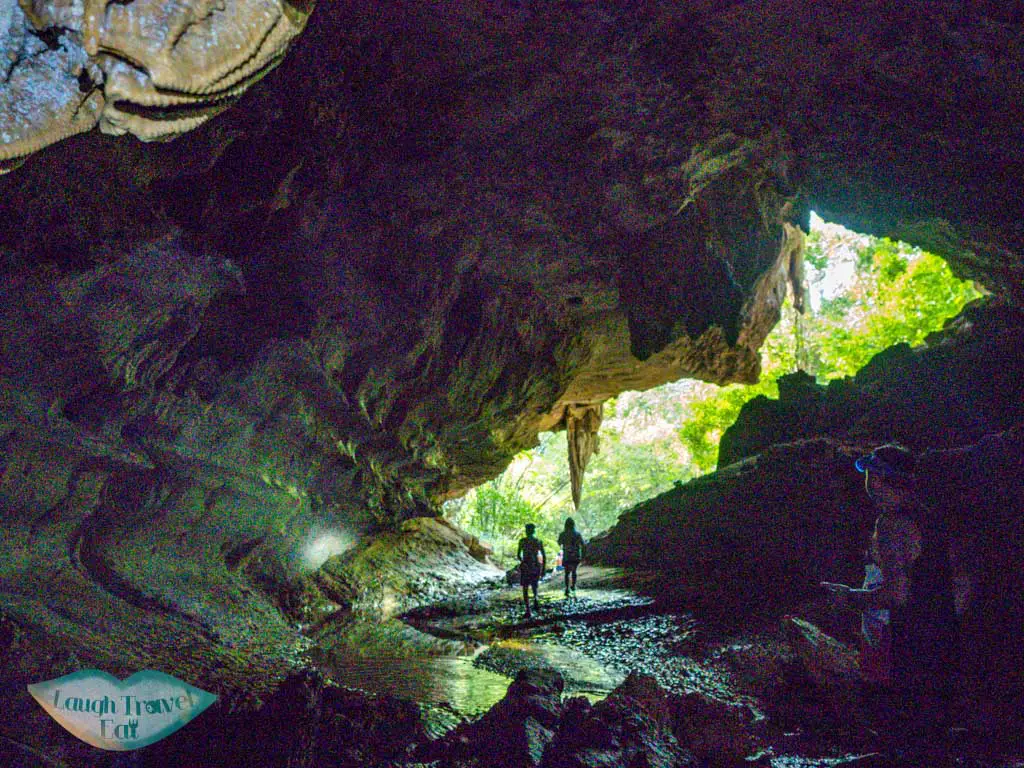 It was difficult to recall how much time had passed but when we finally made it out the sun was starting the set.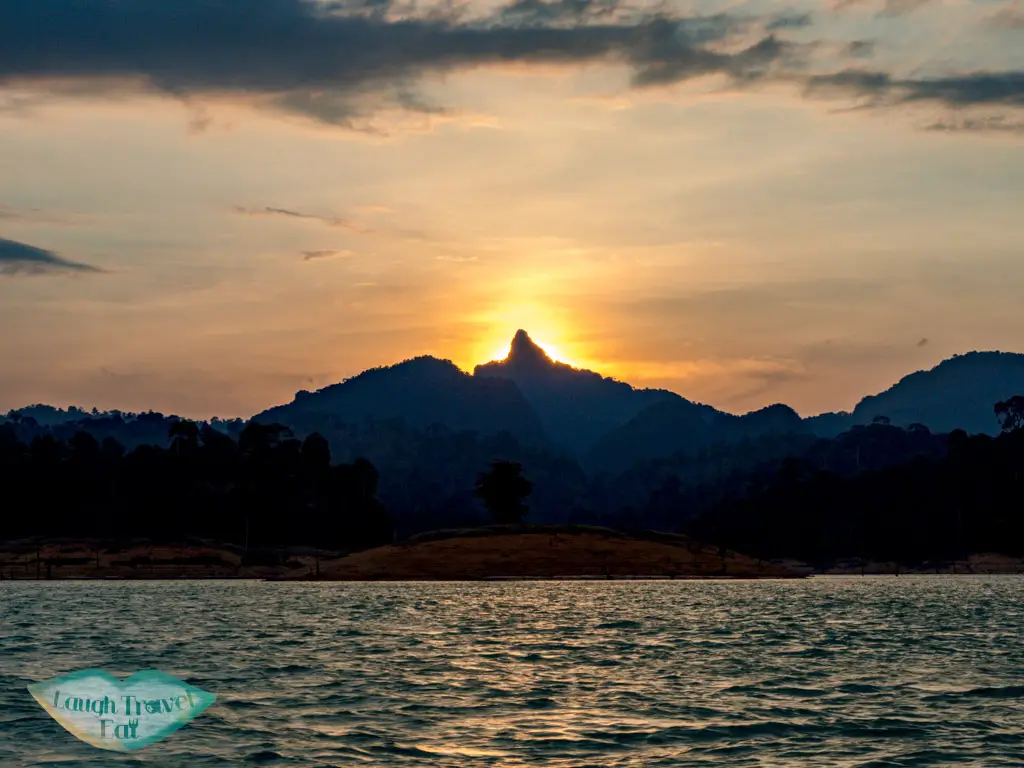 We were treated to an amazing view as the longtail boat took us back to the Smiley Lake House. Since the lake is surrounded by karst mountains, the sun disappeared earlier than the sunset time.
We made it back to the lake house at 6pm and had an hour before dinner. Many decided to kayak but I was so tired that I just splayed out on the deck to enjoy the last of the daylight.

Dinner at Smiley Lake House
Dinner is another buffet spread, this time it's yellow curry instead of green. We also got a fried fish to share between the table and fruits as well at the end. Some people then stay up to chat, but I was so tired that I went to bed by 8:30pm.

Day 2 on Cheow Lan Lake Tour
Morning safari on Cheow Lan Lake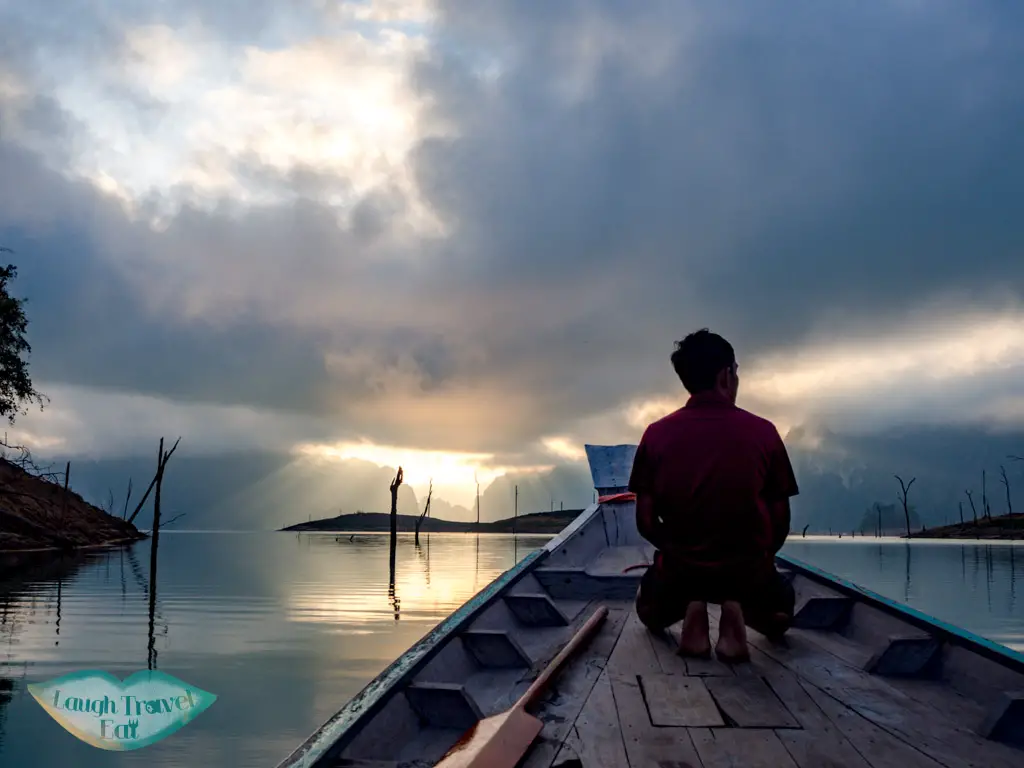 It's an early wake up call as we gather at 6:40am for the morning safari. It's completely optional and a few people in the group skipped it to sleep in.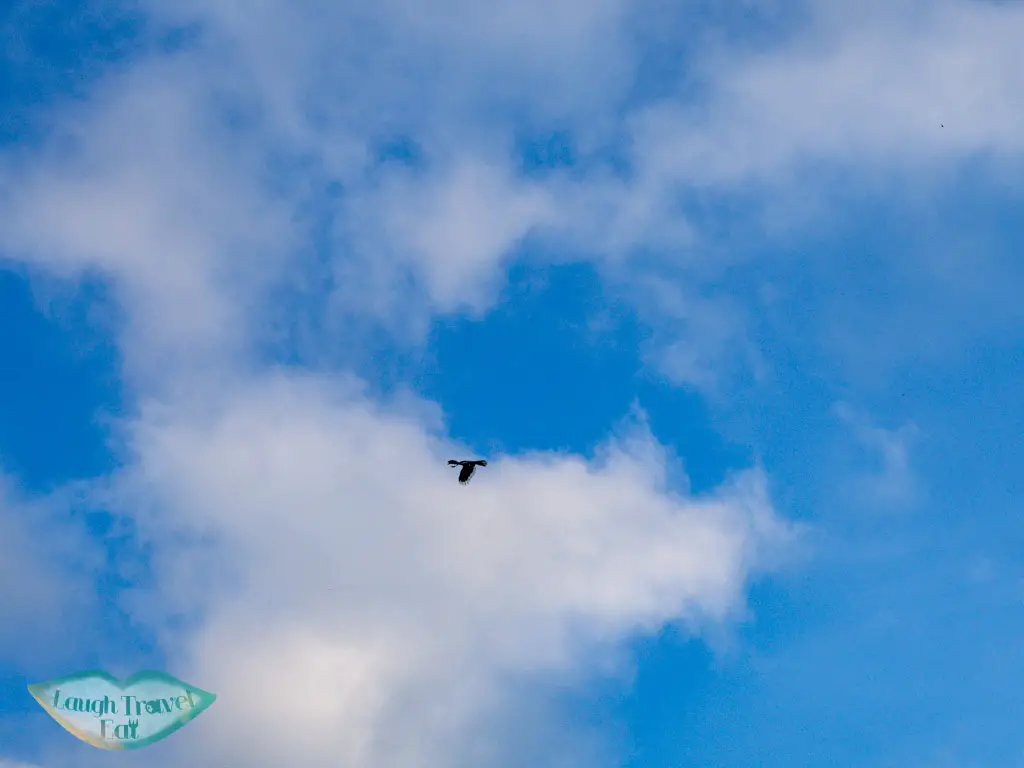 Without a binoculars and or zoom lens, it's difficult to spot the wildlifes – and we saw monkeys and hornbills but quite far. However, the sunrise was spectacular and worth the early wake up call. Overall, it took under an hour with Kiki trying to call for more monkeys.

Breakfast and free time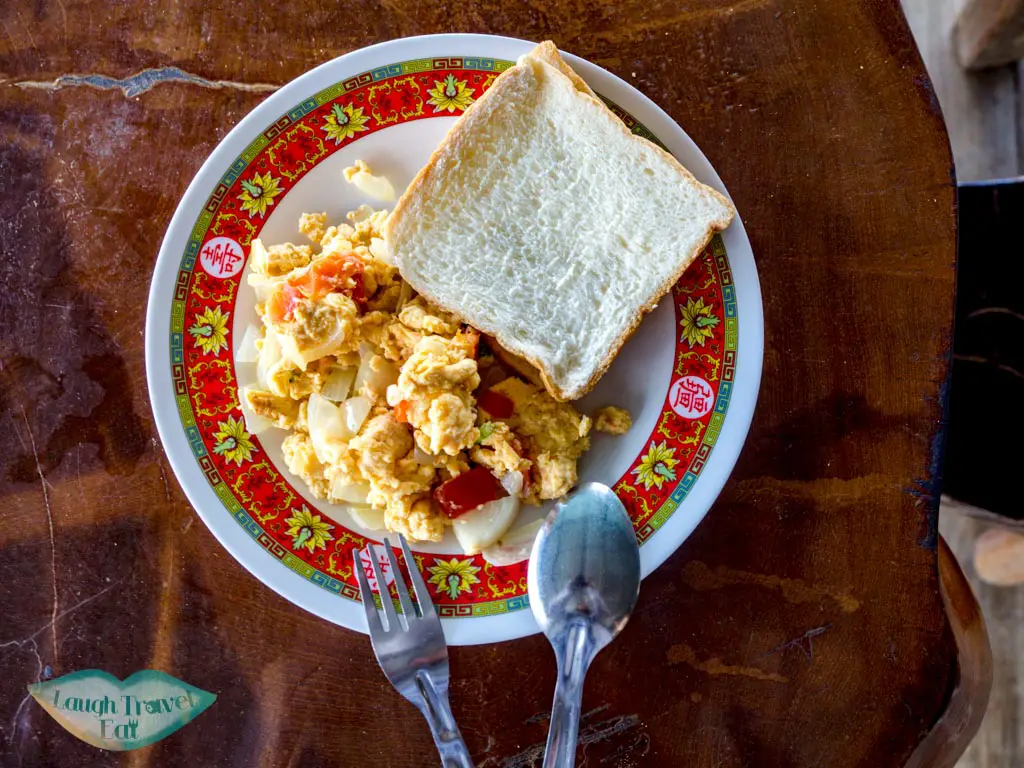 Breakfast starts at 8 with a fried egg dish, bread, and a selection of jams and sauces. I don't love it but I can't fault it. It was then time to pack up as we leave the lake house at 9am sharp.

Pra Kay Petch Cave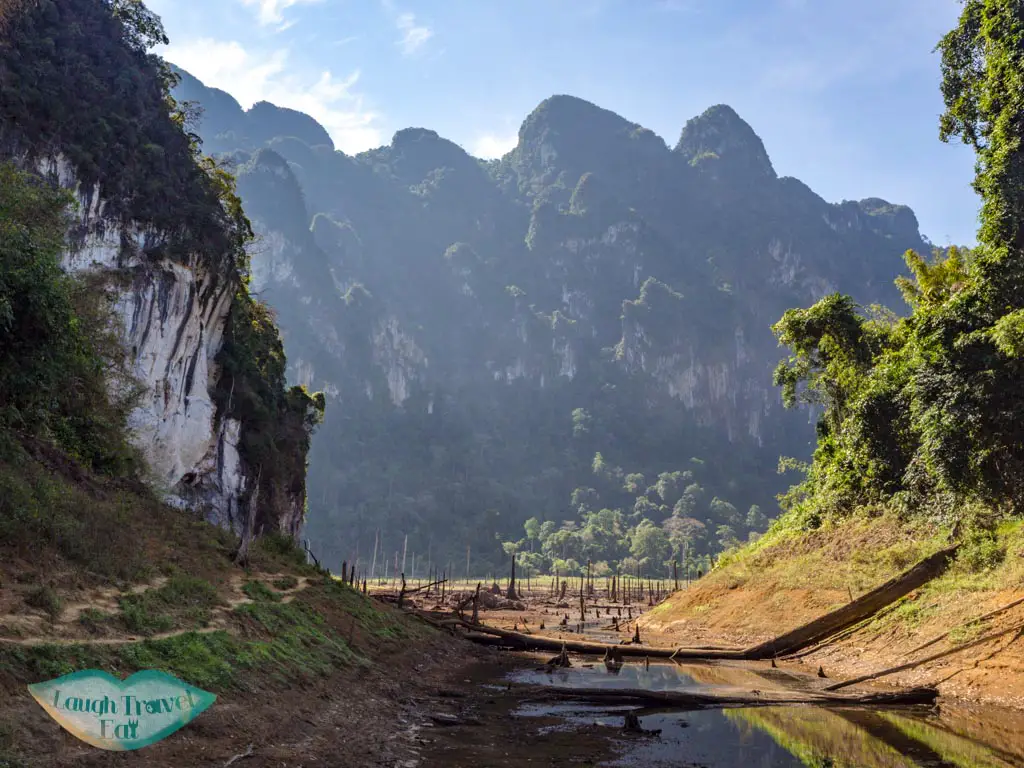 Another day another cave – we set off to Pra Kay Petch Cave, which is a dry cave. It's not as exciting as Nam Tula Cave but closer.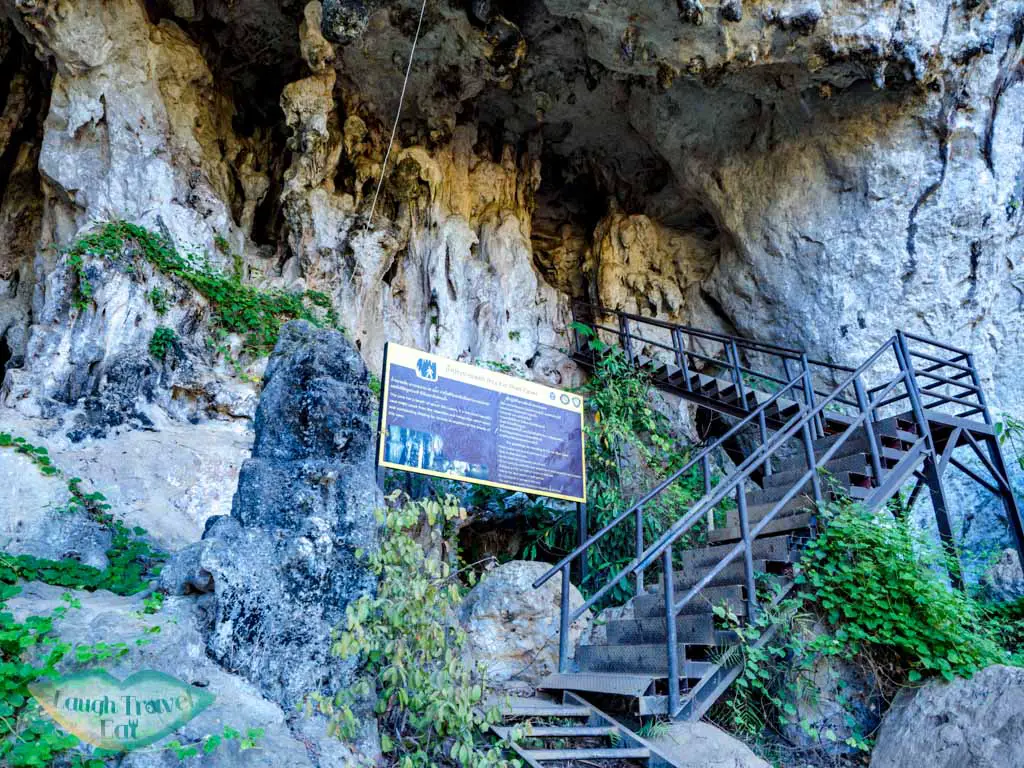 To get there, we went through a swamp type of landscape that has dead trees, which gets flooded during high water level and is pretty cool
The cave itself is ok, easier to visit and smaller than the other. We can only go about 100 meters in but there are also spiders and bats. There's some good photo spots as well.
Three brothers photo spot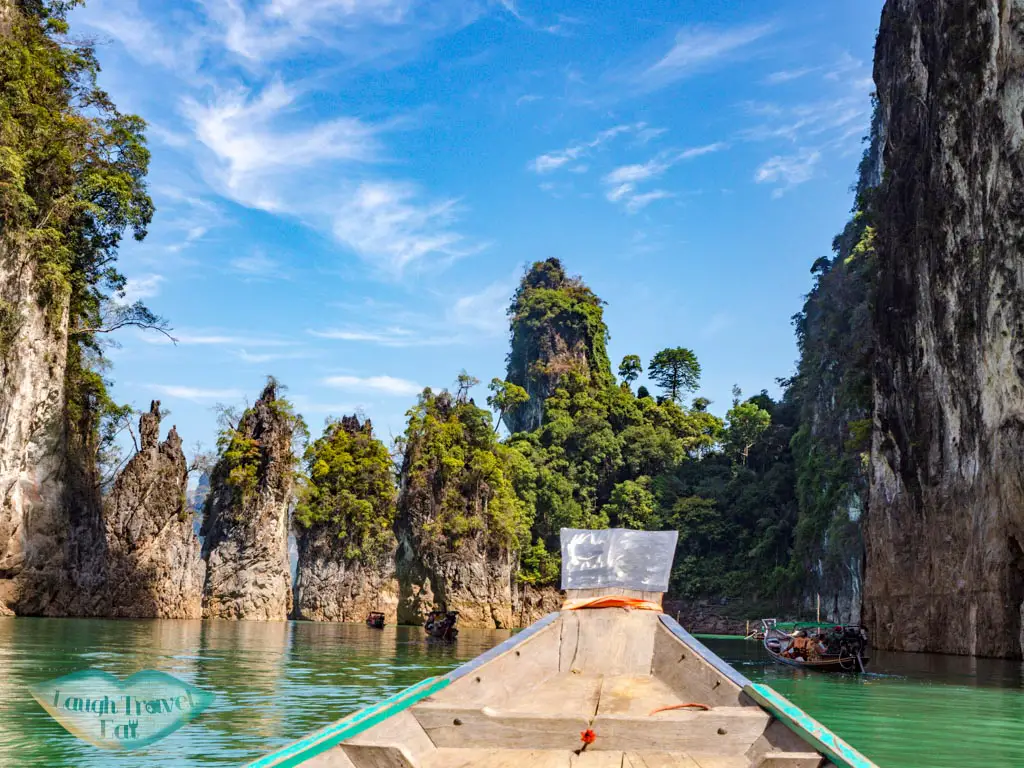 I sincerely hope that I hadn't remember the name wrong, it's either the three brothers or the three stooges. But it's basically these three karsts that forms a trio in the lake. We stopped for a quick photo before heading on our way.

Picnic lunch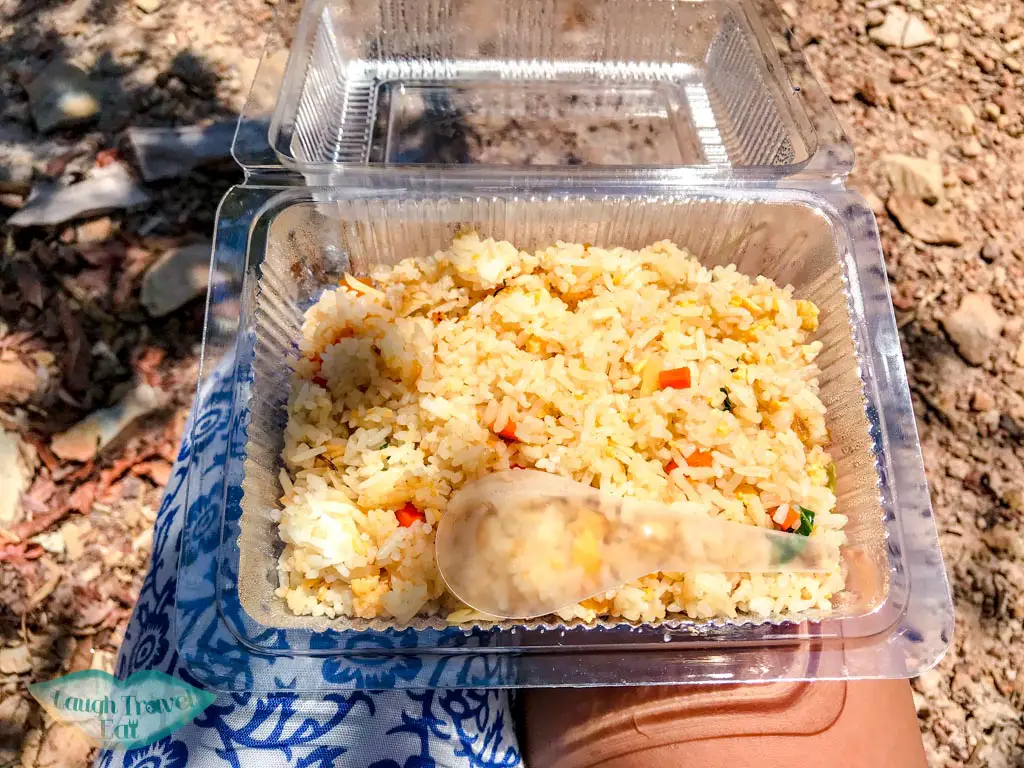 We then went to a random island where we swam for a bit and had lunch. It was a simple box of fried rice but I liked it, and there was pineapple afterwards. It's not the best of stops and it seemed like we were simply abandoned there for a while.

Back to Khao Sok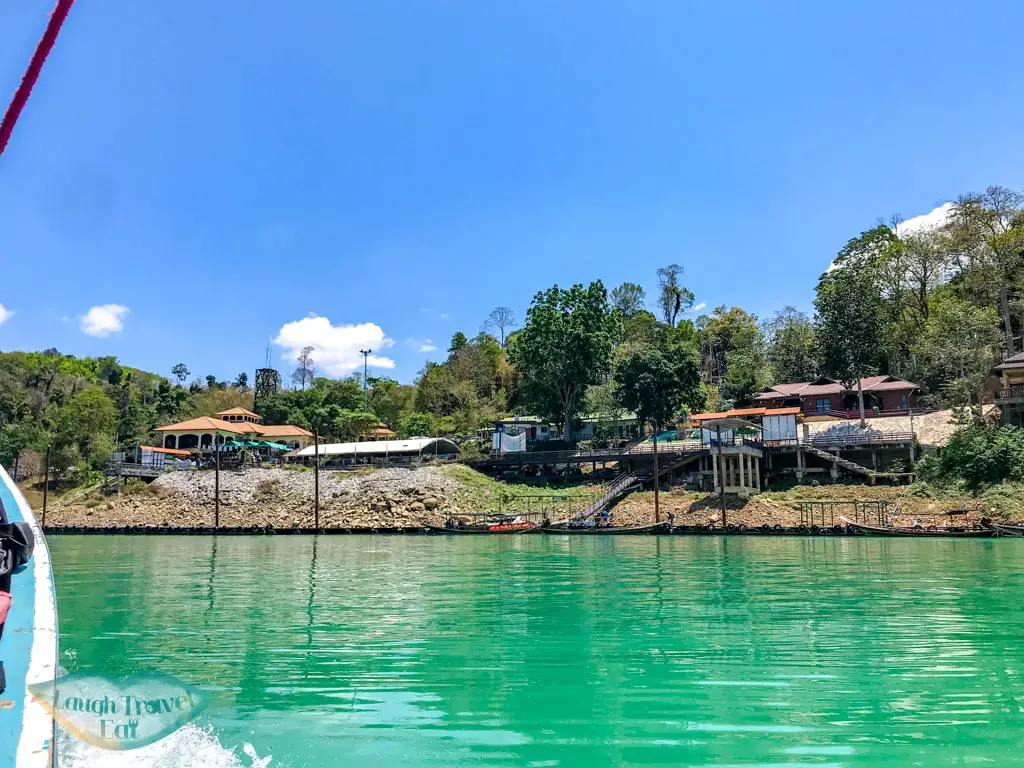 An hour later we were picked up to go back to the city. There were some random stops along the way but we got back around 2-3pm. It was the perfect time to settle back into the hostel and hide from the sun.

Verdict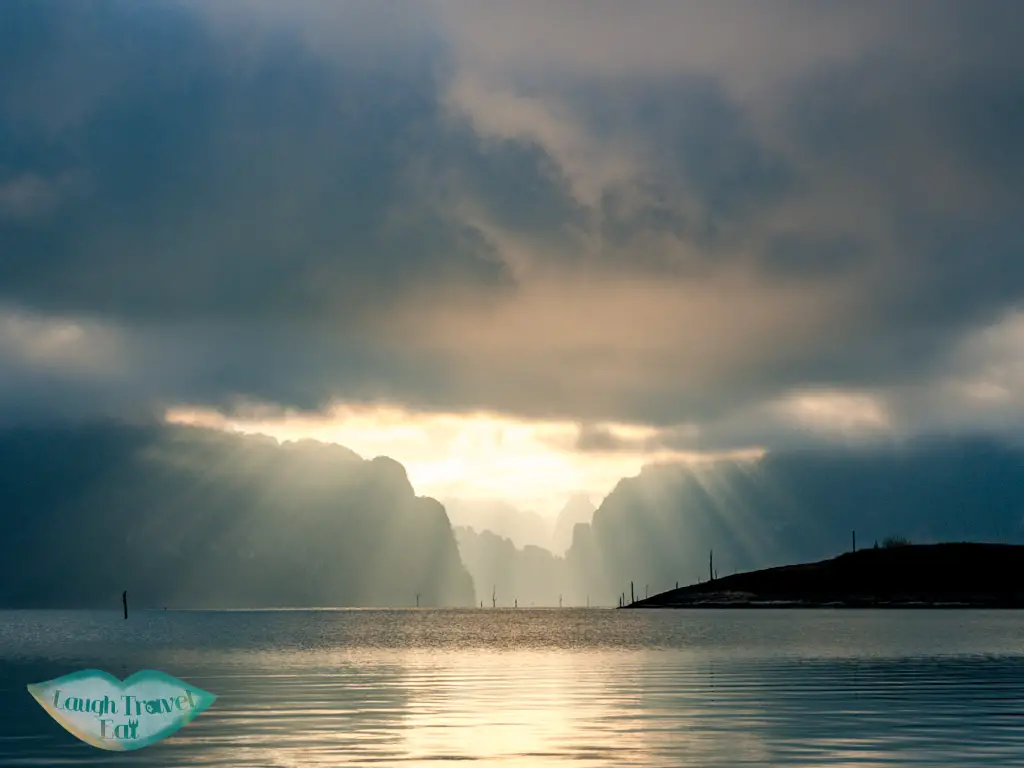 Overall, I highly recommend doing the tour to see the sunrise and sunset landscape and the Nam Talu Cave. However, understand that the guides aren't the best and it is not well organised. Then and again, food was good, I had data now and then at the lake house in a remote national park, so that's not bad.

I think the main difference is that the big group, which I assume booked directly with Smiley, has a better guide, but we have a smaller group.
Private Cheow Lan Lake Tour Experience with Khao Sok Lake (May 2022)
Our tour with Khao Sok Lake was 3D2N, and we spent the first day visiting a lovely farm stay and community weaving project. Since we were on a private tour, everything was more relaxed and flexible than a group tour.
Chuen, our lovely guide, is the most amazing human who is from the weaving collective we visited and knew so much about the forest. She was born in one of the villages that got flooded by the building of the dam and this was her backyard growing up.
Day 1
Khao Sok Lake Office and Convenience Store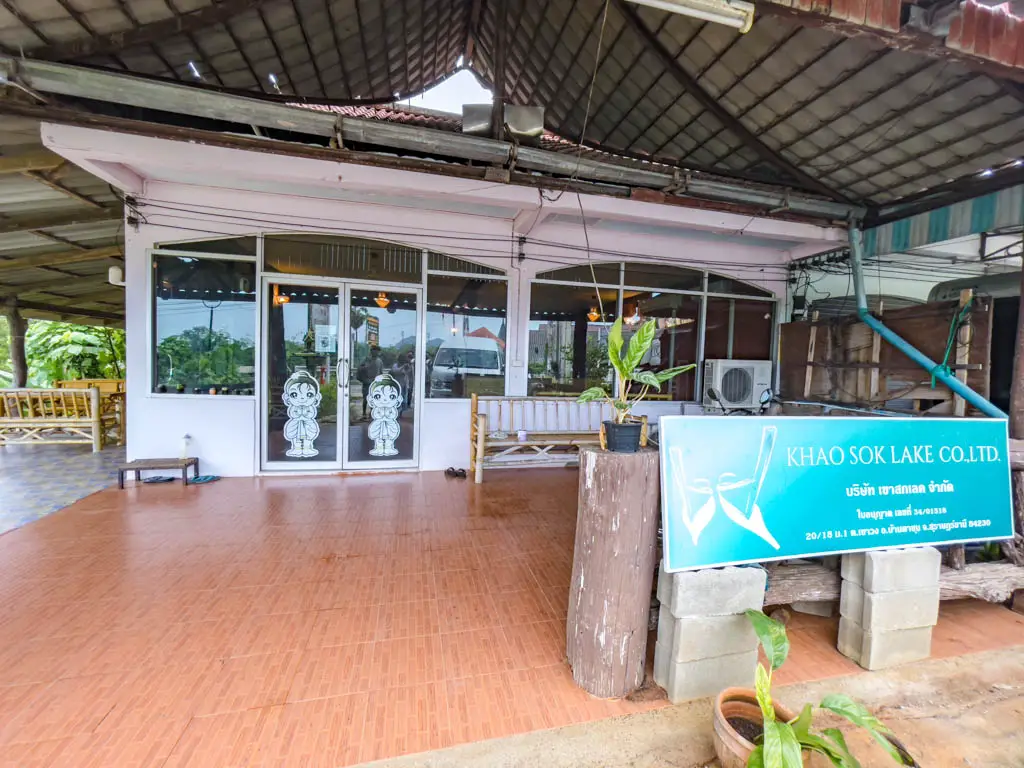 Our driver picked us up from our hotel and we stopped by the Khao Sok Lake office enroute to pay our fees. They have a bathroom there so it was a good stop and save you a few baht.
We did stop by a 7-11 to get some water and snacks at Chuen's advice.
Longtail boat ride to Laguna Resort
The pier looks the same as my last visit with a new waiting area that has a bathroom. There is also now a vending machine for the national park tickets, although we had to hand the money to the ranger to get it, so I'm not sure why it's a machine.
A private tour means the longtail boat only had us and our guide, and it was nice to be able to spread out and admire the scenery without peering over other people's head like I did last time.
Guilin Viewpoint
This time we stopped by the Guilin Viewpoint as well as pausing at various pretty spot for photo on the ride to our floating lake house. For some reason, I remembered the stacks to be taller but they were still very picturesque.
Check in at Lake House and Set Lunch
We arrived and checked into our floating lake house before heading over to the main area for lunch. I quickly changed into my hiking outfit and unpacked a little.
The set lunch consisted of rice with three dishes and a soup. There was a vegetable dish, chicken dish, and an omelette. I have to admit that the omelette was the best because they just really know how to fry it!
We also have a side of watermelon as dessert, of course.
Coral Cave hike
It was a short longtail boat ride to the start of Coral Cave hike. There is a ranger station there and apparently wild elephants had trekked all the way here to drink water just last month. However, our 40-minute hike wasn't very fruitful in terms of animal sighting, but Chuen showed us plenty of cool plants and animal tracks.
The hike is mostly flat with some uphill and downhill. When we got to the other side of the hill, there is a ranger station with some floating huts for the bamboo raft ride. One of the waiting huts have photos of local fauna, which was fun to see.
The bamboo raft is similar to the one I had done in Chiang Mai, a long and narrow structure with some low benches. One of the rangers steered us over to the cave, where we climbed up to go inside.
Chuen was able to point out not only the elephant-like stalactites but also plenty of other structures and it was a fun time roaming and spotting things.
We returned the same way we came and started our evening safari on the way back, since it was getting late anyway.
Evening Safari
Our longtail boat driver and Chuen, who are much more attuned to nature, took us around the lake in search of wildlife. We saw hornbills flew by when suddenly we turned into a little cove and saw a group of wild elephants!
This was definitely the highlight of our day despite the amazing view of the lake, since we tried to spot wild elephants in the Kui Buri Park in Hua Hin but didn't see any.
Set dinner
After staying and watching the elephants for a while, we returned to the floating lake house for dinner and to turn in for the night.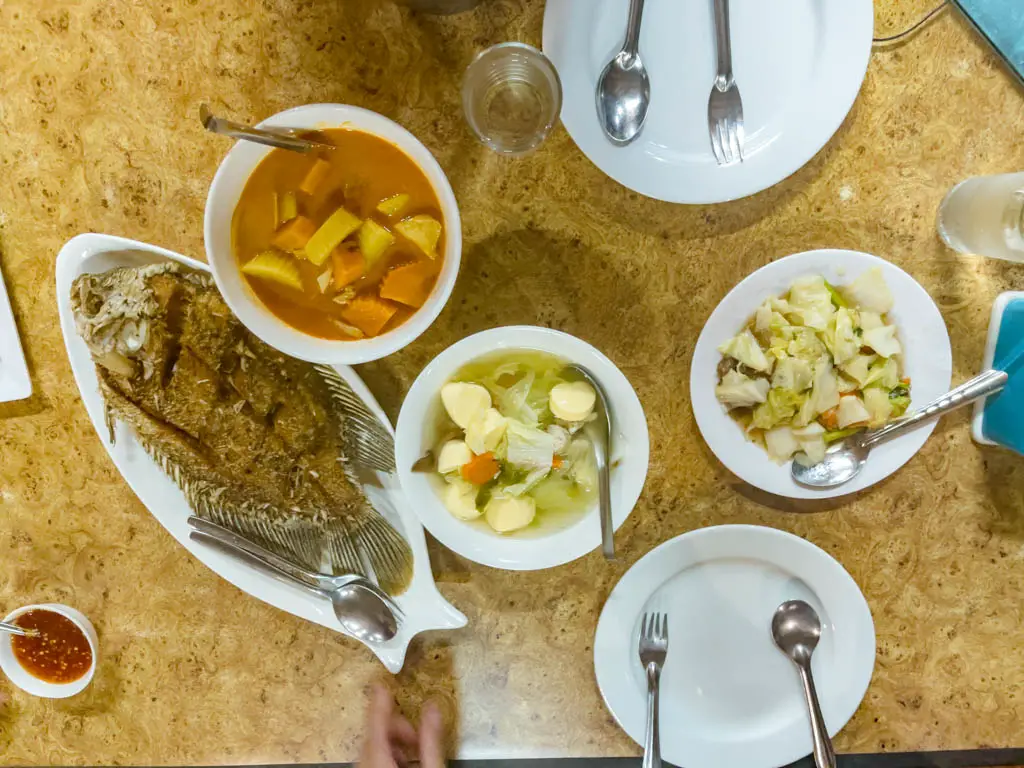 This time, we have a whole fried fish to ourselves, a red curry dish, tofu soup, and veggies. With rice and also fruits for dessert, of course. Everything was very delicious, even if we had to brave the rain to get food.
There was also a big thunderstorm that night and it was pretty cool to watch the lightning streaking through the sky.
Day 2
Morning safari
We had set a time for morning safari at dinner and set off at 7 am into the lake. While the sunrise is earlier, the karst mountains mean they peek out to the lake at a later time.
Although we didn't see any animals, we did see the sunrise and also climbed our guide Chuen's favourite island, which was pretty fun if not a little difficult in flip flops.
Breakfast and Check Out
The check out time for the floating lake house is generally at 9. Given that most morning safari sets off at 6:30 – 7 am and lasts for an hour, it's a reasonable time and also accounts for a stop along the way back.
We enjoyed the last longtail boat ride out and met back up with our driver at the pier. Our private tour didn't stop by any extra locations on the lake, because we're visiting a few spots on the way back.
Ratchaprapha Dam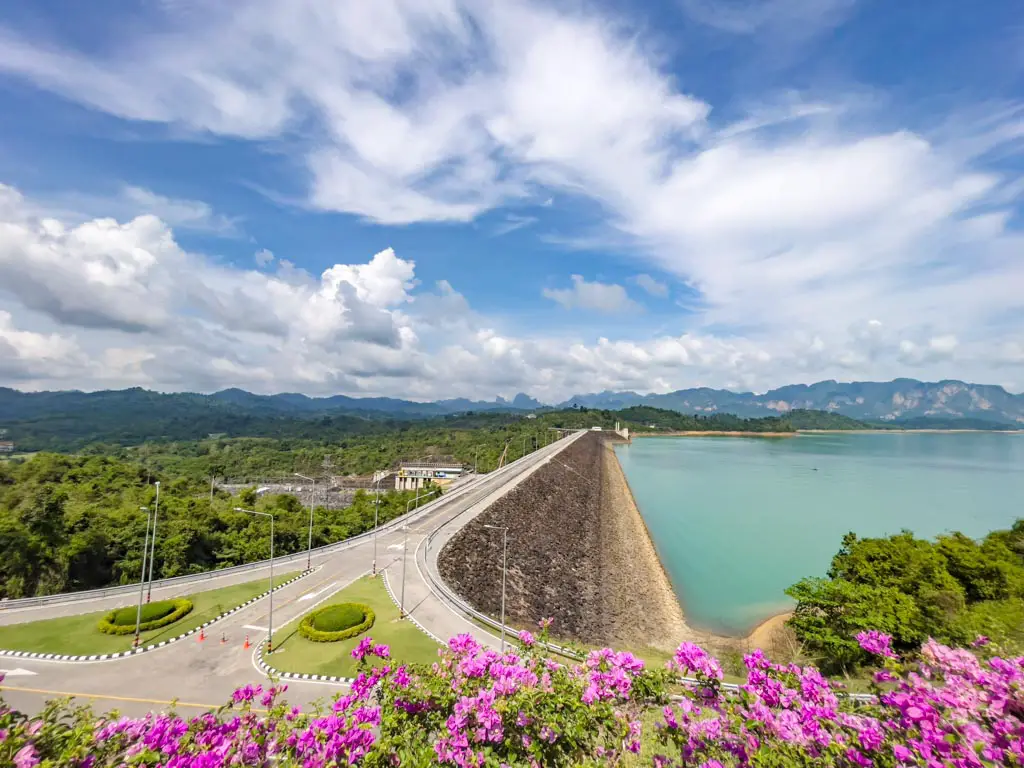 We could see the dam on the longtail boat ride back, but Chuen instructed the driver so we could stop at park overlooking the Ratchaprapha Dam.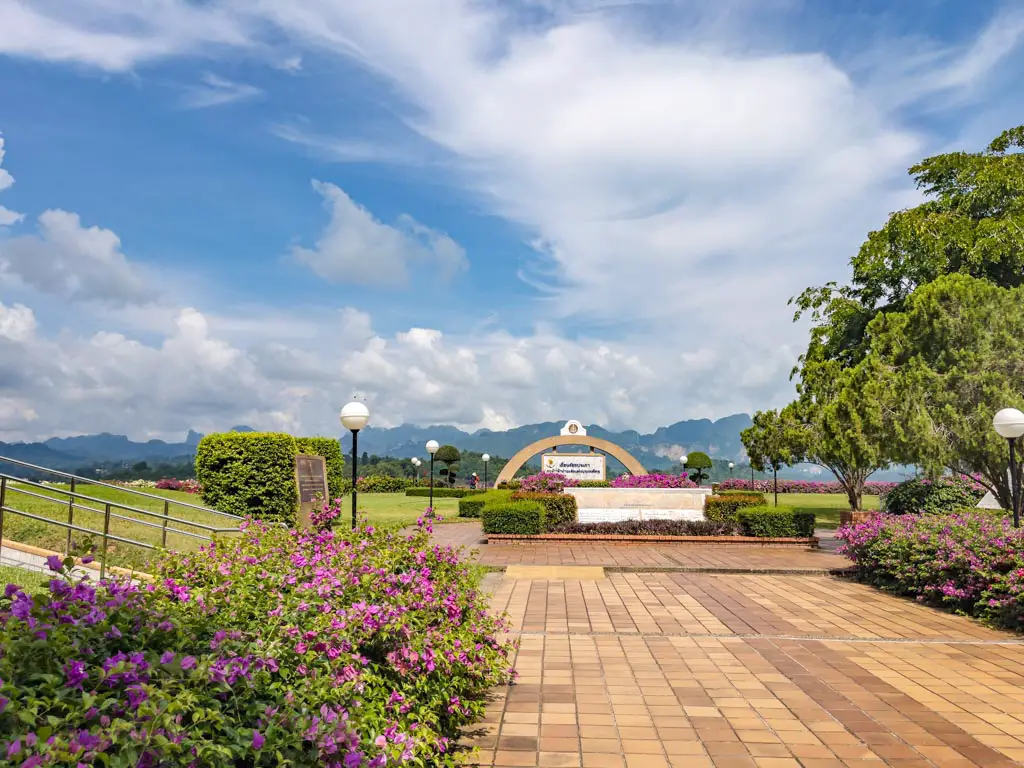 It's a small park area with a stone that commemorated the day King Rama IV and the Queen visited.
Khao Pang
The sister village to Chuen's home village, Khao Pang was not flooded with the building of the dam and flourished down river from the lake. It's famous for the hanging bridge that connects the two sides of the village, with a view of a 'heart-shaped' mountain.
There is also a local market there well worth a visit to sample the local snacks and drinks. We got a cool bamboo cup that serves herbal tea drink – I had the turmeric and it was refreshing in the heat. There's also the spicy thai sausage and little coconut pancakes.
Return to Khao Sok
We returned to Khao Sok in the afternoon after a fun two days! And I wouldn't hesitate to head back out to Cheow Lan Lake again.