Are you looking for the best Chiang Mai Massage places? Because so am I! If you ask me what my favourite thing about Thailand is, it would have to be Thai massages.
In particular, Chiang Mai has the most affordable Thai massage across the board. I practically find myself wandering into a massage parlour twice a week to get the knots in my shoulders worked out. While the prices have slightly increased slightly, 250 baht is still the average price. Here is where to find best massage in Chiang Mai Thailand under 300 Baht.

I've personally tried all these places (more than once) – last visit was May 2022.
FAQ on getting massages in Chiang Mai
How much does a massage cost in Chiang Mai?
In my experience, a Chiang Mai Thai massage costs 250 Baht. This is for one hour and a full body massage. There are places that would charge higher because of ambiance, better environment, and more skilled technicians.
Chiang Mai is the place to get cheap Thai massages – it's usually pricier in the south.
What is a Thai massage?
Thai massage has a long history in the country and is known for being therapeutic. It's a dry massage and the recipient is still wearing clothes and the masseur applies pressure that also helps you stretch.
Do they have other massages?
Absolutely! Most places also offer oil massage and some even specialised ones like bamboo massage. Most of the massages, including Thai massage are full body massages.
Do I need to book in massage,?
Yes and no – it really depends on how popular the place is. For the list below, I would say only Lila Thai and Green Bamboo needs a booking, perhaps 1-2 days in advance. Especially if you want anything longer than one hour.
What type of massage should I get?
The standard/go-to massage, in Thailand, is obviously Thai Massage! For the uninitiated, it's a dry massage.
What should I wear then?
Most massage places will have clothes for you to change into for Thai Massage. The only exception on the list is the last one.
Should I avoid bringing valuables?
If you can, it's ideal. Otherwise, I have gotten massages with a bag full of camera gears and some cash. They should let you keep the bag in the same room or under the massage table.
The Best Chiang Mai Massage Places
There are some amazing massage places in Chiang Mai for all budgets. This list is mostly for cheap Thai massage in Chiang Mai, but I also tried some foot massages as well.
Lila Thai Massage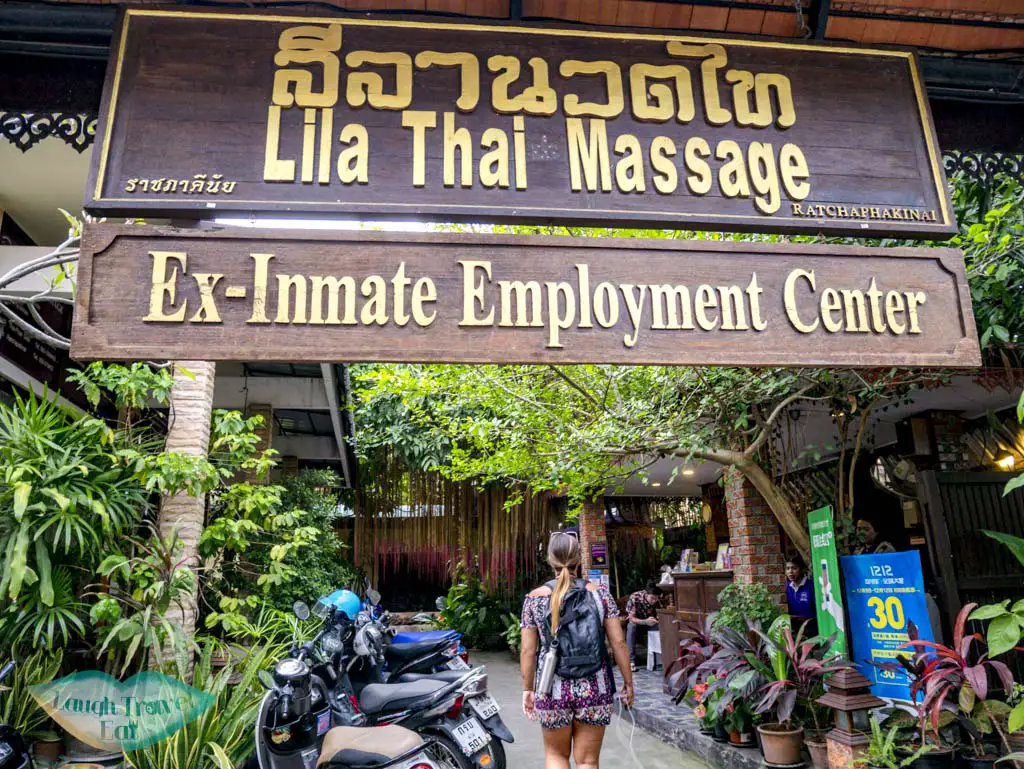 A chain worth visiting that's both serene and value for money, Lila Thai Massage employs and trains female ex-inmates (many of whom often take the fall for a male family member). They have several locations across town and all of them are decorated with a Lanna style, and not at all a cheap experience.
My favourite branch is the Ratchapakhinai with dangling tree roots. They give you a foot bath first before you change for the massage. The rooms are dark with soft music playing with attentive masseuse.
It's one of the best massage in the center of Chiang Mai old town.
Cost: 300 Baht for 60 minutes Thai massage
Address: various, check their website here. Online booking available.
Note: my favourite branch is:
38 Ratchaphakhinai Rd, Phra Sing, Mueang Chiang Mai District, Chiang Mai 50200, Thailand

Daracha Massage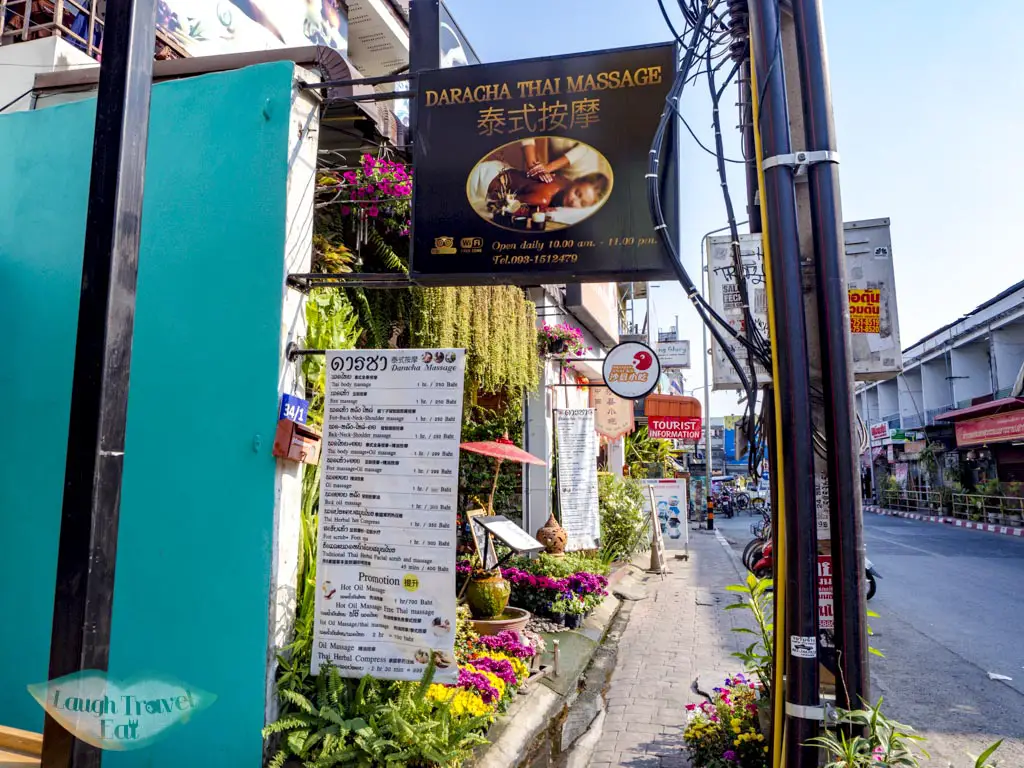 Located near the south gate, Daracha Massage is a small massage place that I keep going back to. There is only one room but each massage bed is curtained off.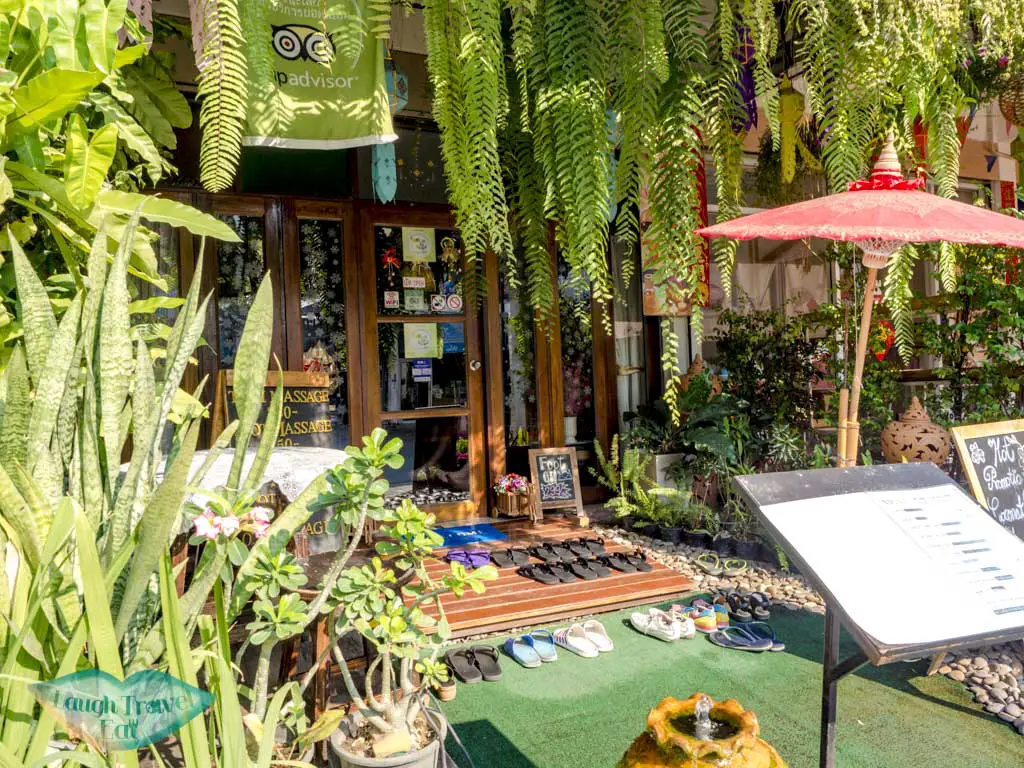 I love that it's fuss free and the masseuse here are all aunties that know how to hit your pressure points. If you do oil massages or scrub, there are rooms upstairs. This is my top pick for Chiang Mai Thai massage.
Thai Massage: 250 Baht 60 minutes
Address: 45 Prapokkloa Rd, Phra Sing, Mueang Chiang Mai District, Chiang Mai 50200, Thailand
Opening times: Mon – Fri 10:00 – 23:00; Sat – Sun 9:00 – 23:00

Green Bamboo Massage Chiang Mai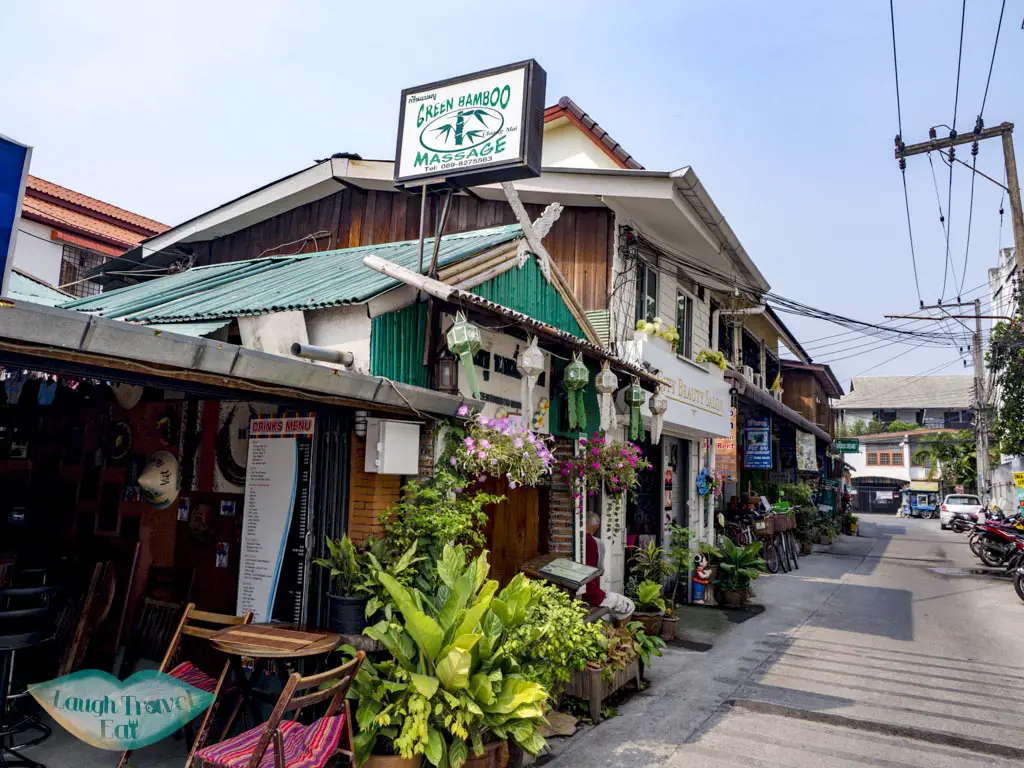 A highly rated massage and spa place, Green Bamboo's massages are still very affordable. It's in the southeast corner of the old town, with a little hut like entrance that matches its name.
The interior is made of bamboo and oozes relaxing vibes with a small seating area where you have tea after your massage. I also like their body scrub as well so be sure to check out their package deals. They are a popular place so it's best to email them a few days in advance.
Thai Massage: 250 Baht 60 minutes
You can check their pricing online here
Address: 1 ถนน มูลเมือง ซอย 1 Mueang Chiang Mai District, Chiang Mai 50200, Thailand
Opening times: Mon – Fri 10:00 – 21:00; Sat – Sun 23:00 – 21:00

Women's Massage Center by Ex-Prisoner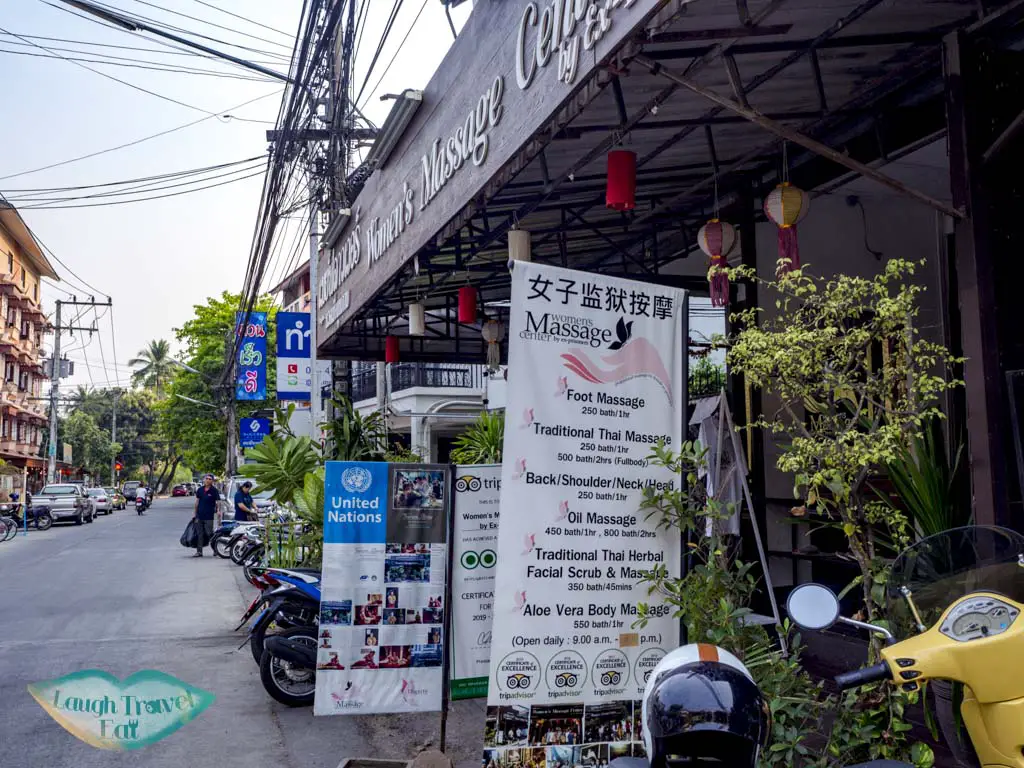 Another highly rated massage place that hires former inmates, I tried the best-reviewed Women's Massage Center Chiang Mai location for a 250 baht foot massage (same price for Thai massage). The decor was nice, but everyone gets their massage in a big room so there's little privacy, hence I would recommend only getting foot massage if you are self-conscious about being wrangled into different positions in public.
It wasn't the best massage I've had in my life, and I did have to tell the masseuse to use more force as with the oil, pressure was a bit lacking. Overall, she hit the right points most of the time and it rejuvenated my feet.
Address: 35/1 ถนน จาบัลย์ Tambon Si Phum, Mueang Chiang Mai District, Chiang Mai 50200
Opening times: 9:00 – 21:00

Thai Massage Conservation Club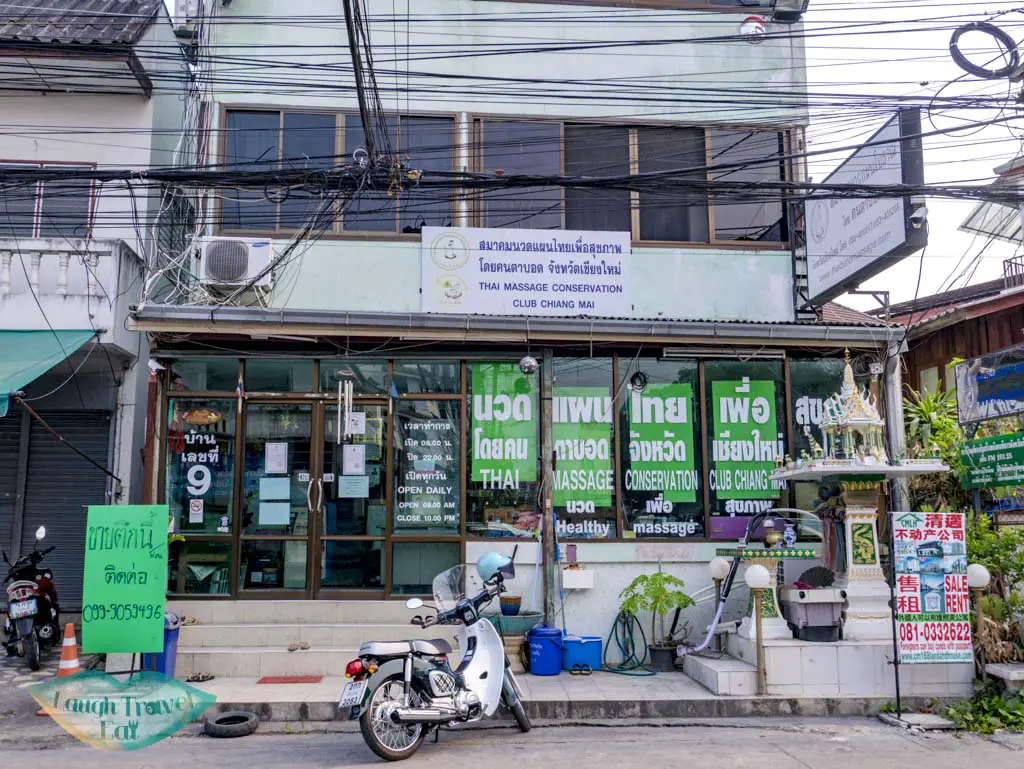 Want to find the cheapest Thai massage? The Thai Massage Conservation Club is a little far from the city center in the north. The masseuses are all blind and work here as part of the conservation club's effort to find them work. It's not very clean, granted, and it's best to bring your own clothes. But at 150 Baht, you can't really ask for more and you'll be helping a good cause.
Address: 99 Ratchamanka Rd, Phra Sing, Mueang Chiang Mai District, Chiang Mai 50200, Thailand
Opening times: 8:00 – 22:00

Spa in Chiang Mai
There are also some spas in Chiang Mai if you want to opt for a more indulgent experience. The prices in the north are comparatively cheaper, so you should not miss the opportunity to pamper yourself.
Fah Lanna Spa Chiang Mai
Are you looking for a massage experience that you can 'gram? Fah Lanna Spa is a little oasis inside the Chiang Mai Old Town with a lush, minimalistic jungle vibe. It's also one of the more affordable spas with great packages from two to four hours. 
Their spa rooms are well-appointed with showers and bathroom, and it's a wonderful experience with a drink and snack before and after the spa.
Address: 7, 57/1 Wiang Kaew Rd, Tambon Si Phum, Mueang Chiang Mai District, Chang Wat Chiang Mai 50200, Thailand
Opening times: 12:00 – 21:00
Let's Relax Spa Chiang Mai
Let's Relax Spa is a trusted brand and is now SHA (the Thailand standard for COVID cleanliness) certified, making this an even more comforting experience. You have a variety of options from Thai speciality like Thai Massage, Herbal Compress Thai Message, and Thai 4 hands Massage, and also oil massage and body scrub.
Like most massage places, you are served with a snack and tea at the end of your treatment and it's mango sticky rice!
Address: Address: 97/2 Rachadamnoen Rd Soi 5, Phra Sing, Mueang Chiang Mai District, Chang Wat Chiang Mai 50200, Thailand
Zira Spa Chiang Mai
For a boutique spa experience, Zira Spa is located in a heritage hotel in Chiang Mai Old Town with curated packages on offer. Whether you need a Jet Lag Relief or Lana Bliss, their experiences are great value for money and highly rated.
Address: 8 Ratvithi Lane 1 Alley, Tambon Si Phum, Mueang Chiang Mai District, Chiang Mai 50200, Thailand
Opening times: 10:00 – 21:30
RarinJinda Wellness Spa Chiang Mai
For a true pampering session, one can't go wrong with the RarinJinda Wellness Spa east of the Chiang Mai Old Town by the Ping River. It is one of the best luxury destination spa according to World Luxury Spa Awards with facials, personalised massage, scrub, and even hydro pool therapy.
So if you're planning a zen escape, definitely keep this place in mind.
Address:  1 ถนน เจริญรัตน์ 14 Tambon Chang Moi, Mueang Chiang Mai District, Chiang Mai 50000, Thailand
Opening times: 10:00 – 22:00