Known as the party island, Koh Pha-Ngan is somewhere that I wasn't sure I would like. While it's full of beautiful beaches and vista, it is more suited to people who can ride a motorbike and like to party. That said, if you – like me – want to visit the island on your trip, here's how I made the best of the 36 hours I had:

Getting to Koh Phangan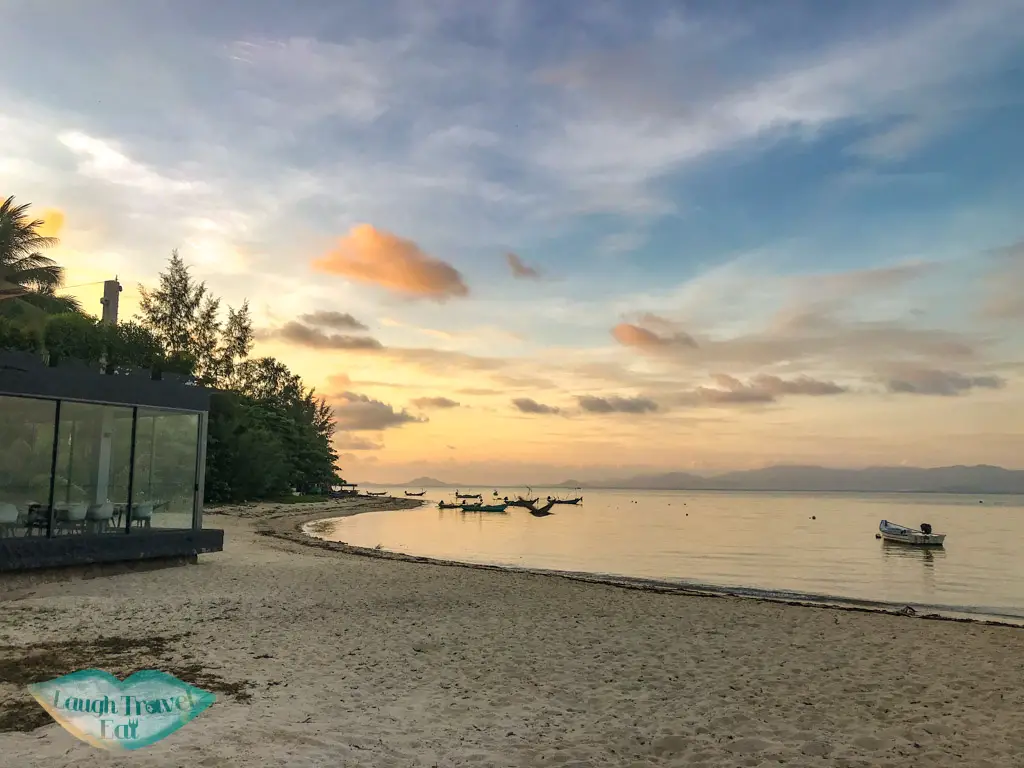 I went from Hua Hin to Koh Phangan with LOMPRAYAH, who organised a bus and ferry transport that takes about 6-7 hours in total. The ferry departs at their office in Hua Hin which you can find by typing the company name, and I booked the tickets online to save cash.
It took us to the pier at Chumphon where there's a beautiful beach and we walked out a long pier to the waiting boats.
The ferry docks at the main pier after stopping by several other islands. I ended up walking to my hostel as the songthaew costs 200 baht for a 5 minutes journey. That said, Koh Phangan has no pavement so you'd be walking on the road.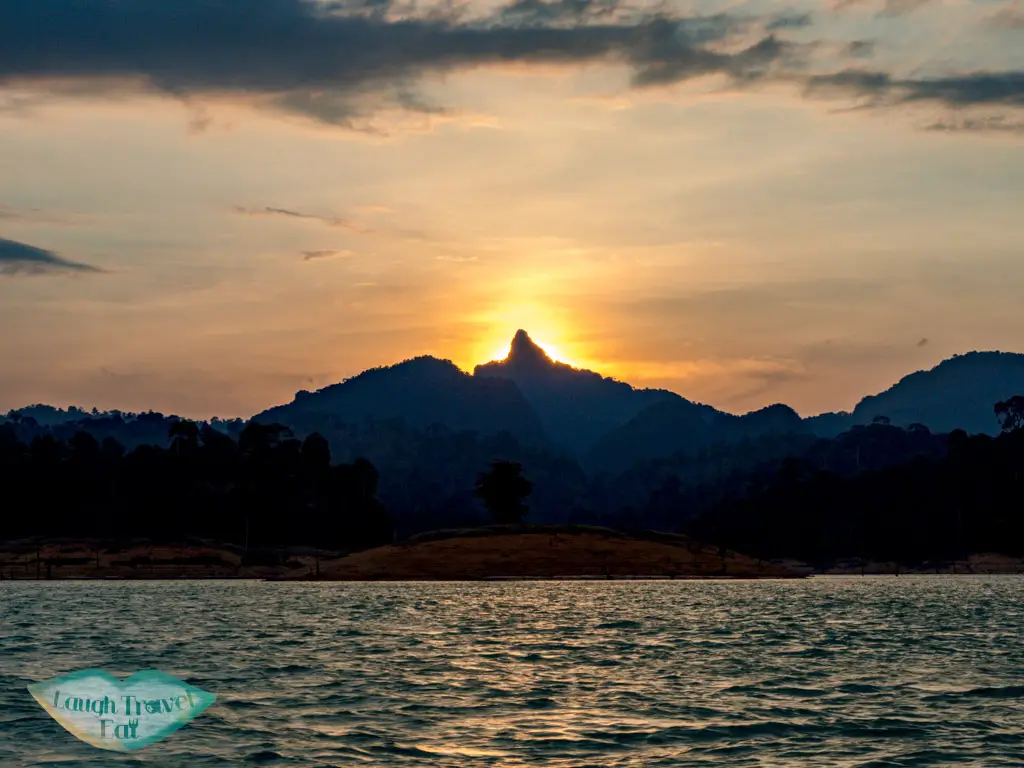 My outbound journey was to Khao Sok National Park and worked pretty much the same way. I went to the ticket office one block in from the main pier where I was given a bracelet and waited for transfer.
Nearest Airport to Koh Phangan
The nearest airport to Koh Phangan is Surat Thani or Koh Samui, and you can get between that and the other islands by ferry. For more transport options and booking online, see here.

Getting around Koh Phangan
Unlike in big cities, there's no Grab available on the islands and Koh Phangan is no exception. It's shockingly expensive to get around on motorbike taxis and songthaew compared to the other places I've been, with the average price for 2-3km already costing 100 baht.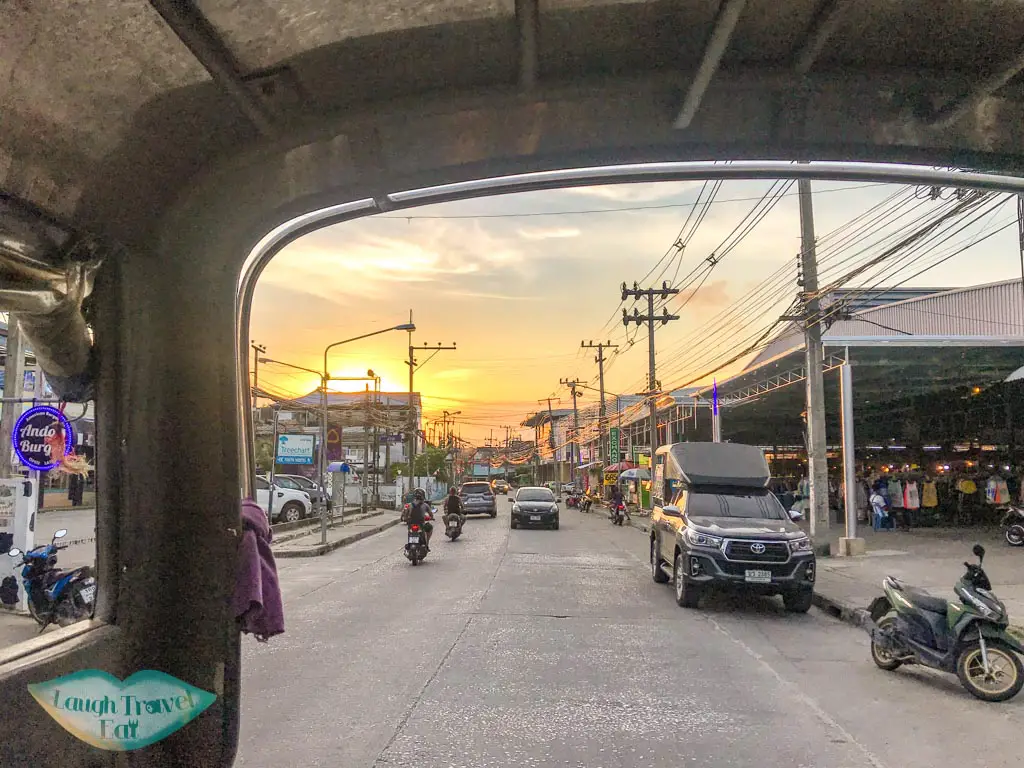 If possible, it's best to rent a motorbike or join day tours that can take you around the islands. If you don't like the drive, like me, stay at a central hostel near Thong Sala to minimise cost. I ended up dragging my suitcase 20 minutes on the road so I don't have to pay 200 baht for it.

Day 1 – afternoon arrival and sunset
Amsterdam sunset bar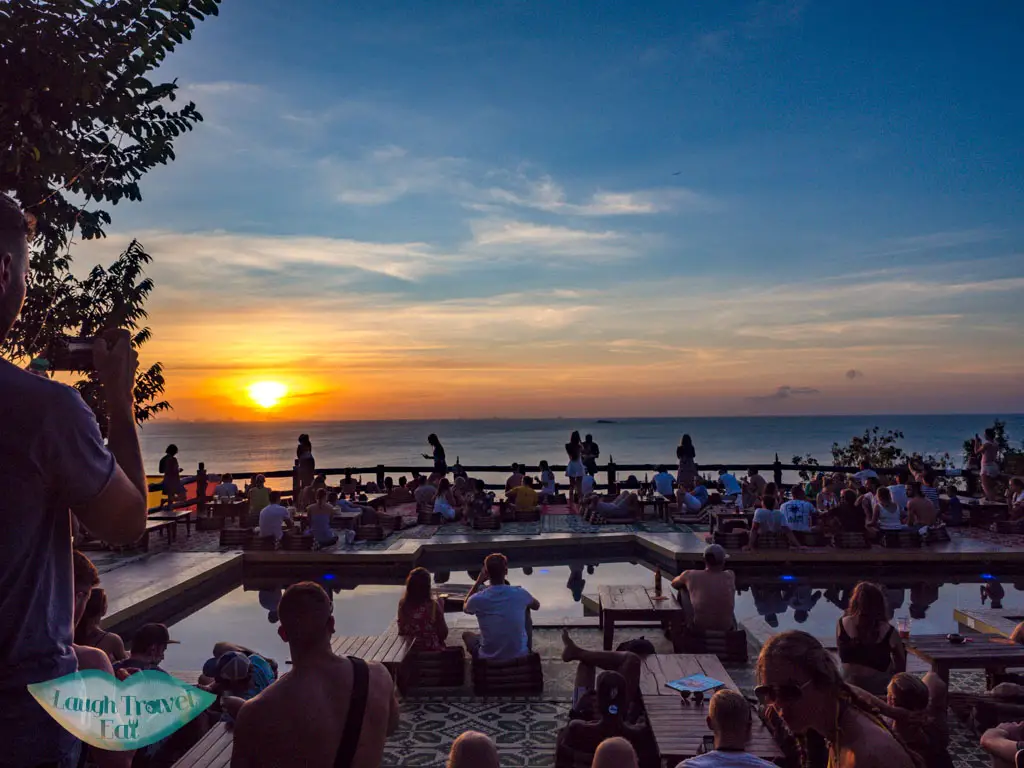 One of the most famous sunset spots in town, Amsterdam Sunset Bar is the place to kick back a beer or coconut and enjoy the view. It's located about 2.7km north of Thong Sala and unfortunately not very walkable (though you can definitely make it if you try).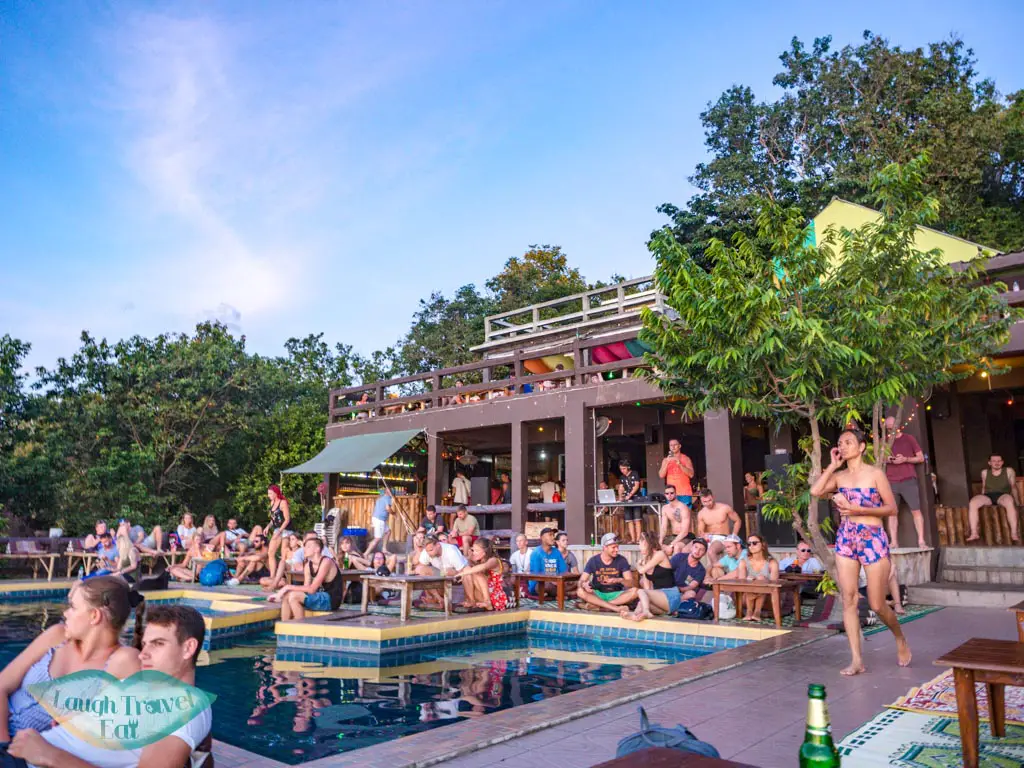 I ended up haggling with a motorbike taxi from 200 baht down to 130 baht to go up from Thong Sala, and luckily there were plenty of songthaew waiting to take people back at the bottom of the bar for 100 baht to Thong Sala.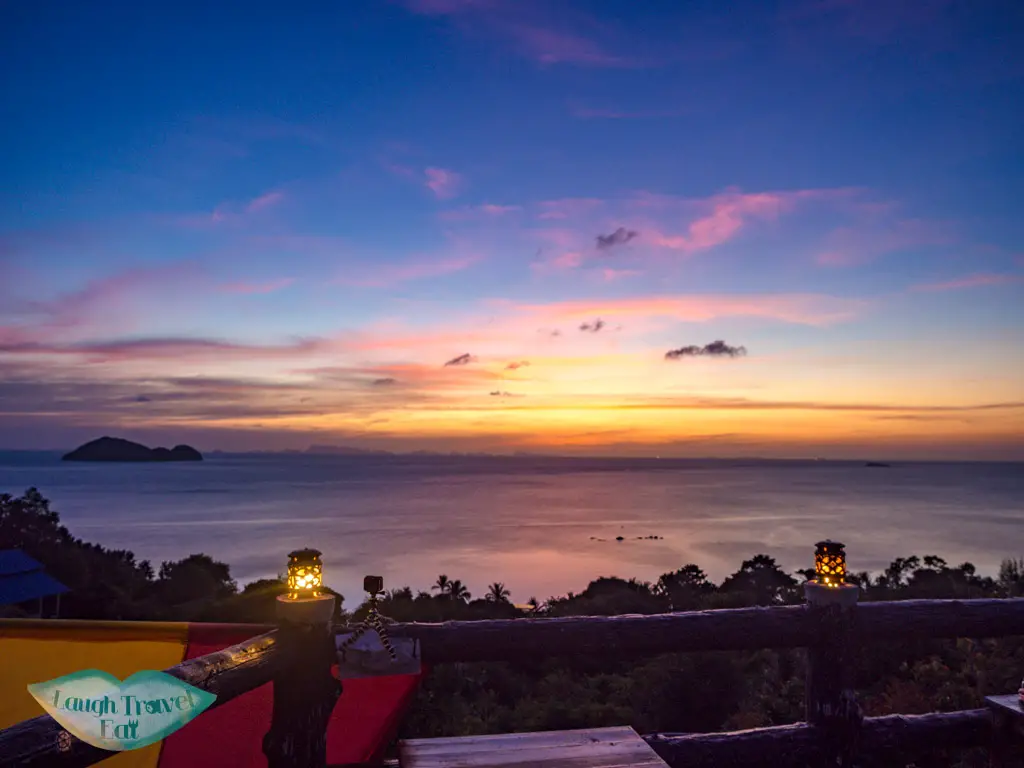 The view from the bar is, indeed, glorious, though you should arrive earlier than 6pm to snag a good seat by the front. There's a small pool that no one swum in and an upper floor, with a DJ playing in the background.
Prices for drinks are definitely on the high end but you know what you're paying for. Juices and coconuts are 100 baht and then beer and cocktails costs higher, so I opted for a coconut, settled in to watch the sunset, then headed back down.

Vintage Burger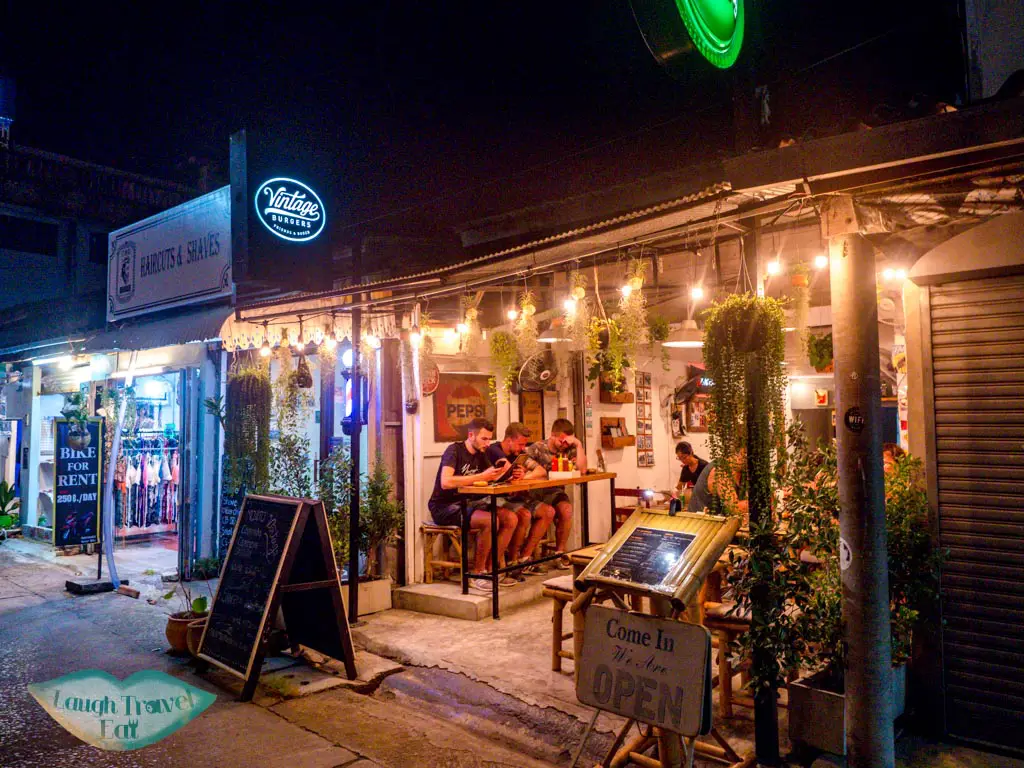 I had originally planned to eat at the night market but my burger craving got the best of me. The nearest is Vintage Burger – a little pricey for Thailand but it was a cute place.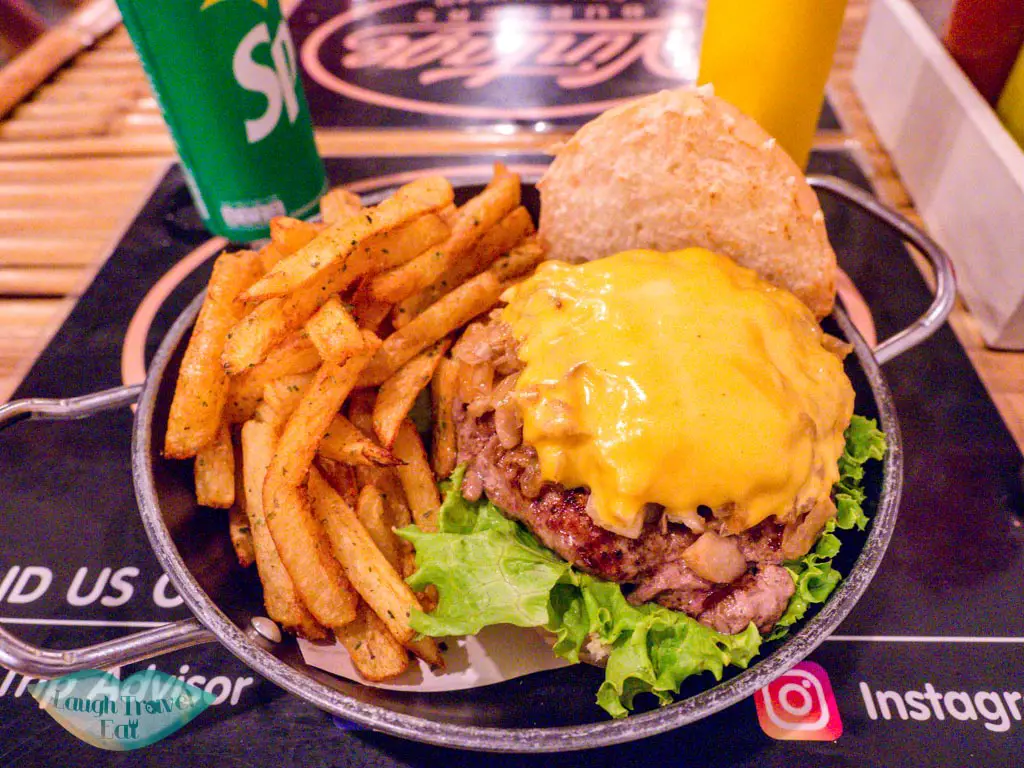 It costs 240 baht for a burger but the portion was big with fries and mayonnaise, not bad value but drinks are kind of pricey with sprite at 40 baht and it's a small can.
Opening times: 17:00 – 22:00

Night Market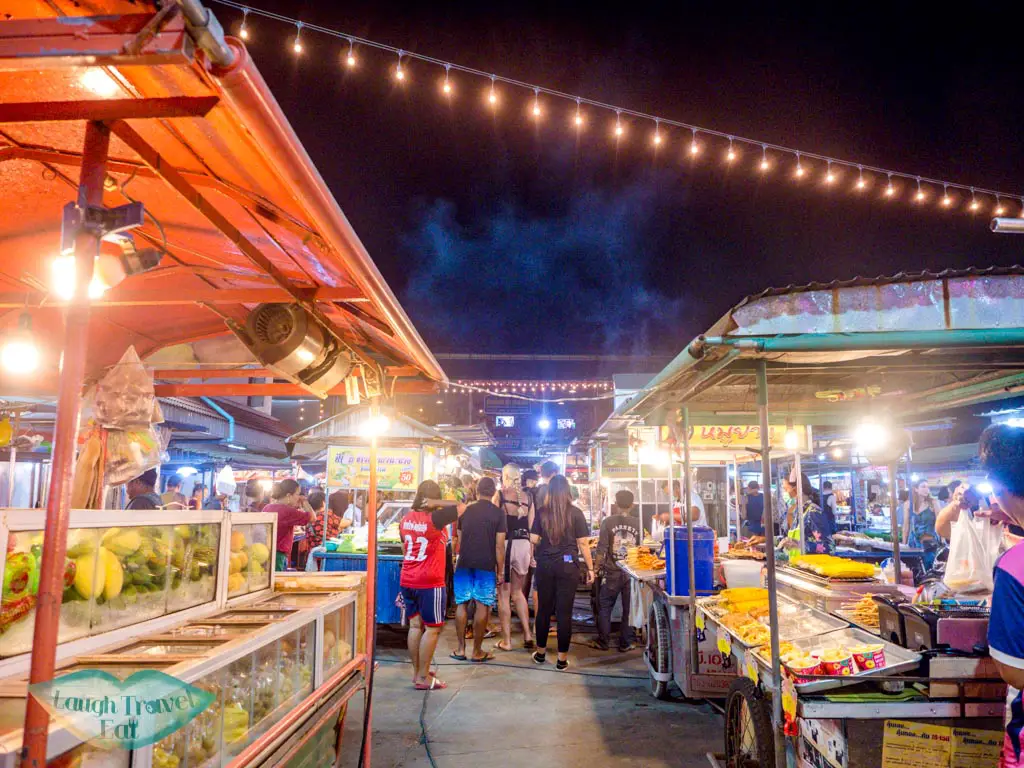 The night market is in the Thong Sala area by the pier. It's much smaller than most night markets I've been to, but if you are looking for a cheap and quick bite there's no better place. A few restaurants can be found around the market serving thai seafood and what not. A few classic souvenirs from Thailand can be found, too.

Day 2: Koh Pha Ngan Mingalaba Road Trip 
If you can't drive a motorbike like me, the best way to see the island is to join the Mingalaba Road Trip. it costs 500 baht or 123 HKD as I booked it on Klook. It also starts later than the usual day trip, which means you get to sleep in.

10:30 hotel pick up
There is a long window for pick up from 10:30, mine was a little later than usual as the driver was lost picking up the other guests. It turns out that on the day of my trip there were two other songthaews out. Luckily, ours were more spacious with me, a group of ladies from a yoga retreat, and a Hungarian couple.

11:00 Thong Nai Pan Beach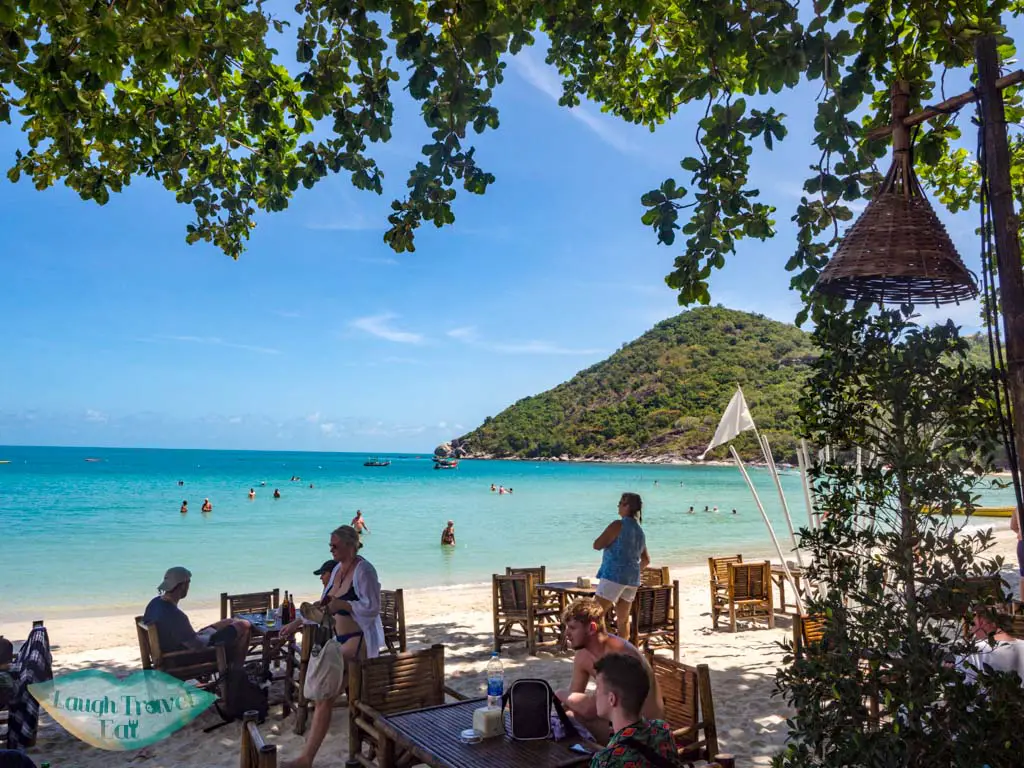 Our first stop is this lovely beach on the northeastern corner of the island. We had just under an hour of free time to swim, sunbath, or enjoy food/drink at the cafe onsite. This is actually the nicest beach to relax on the trip, albeit not the prettiest.
The cafe is a little pricey with a thai milk tea costing 80 baht. But it does give you free access to the bathroom which would cost 20 baht otherwise.

11:45 Than Sadet Waterfall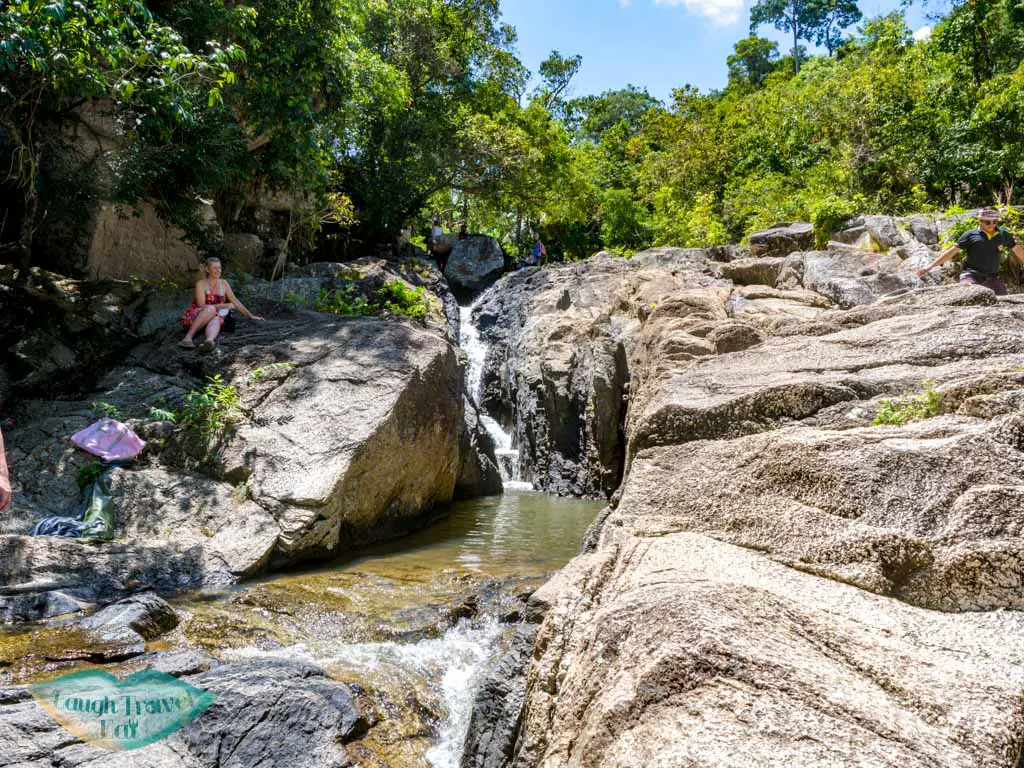 The entrance fee for the waterfall is not included in the price of the tour, which costs 200 baht. The driver parked at a space across from the entrance and we paid the ticket to go to the waterfall. It's not a difficult walk but it is on slippery and rock terrain, so watch your footing.
The waterfall itself isn't too spectacular, but the water is cool and nice to dig your feet in. We spend about half an hour there before we leave for the next spot.

13:00 Yao Beach and Rin Beach for lunch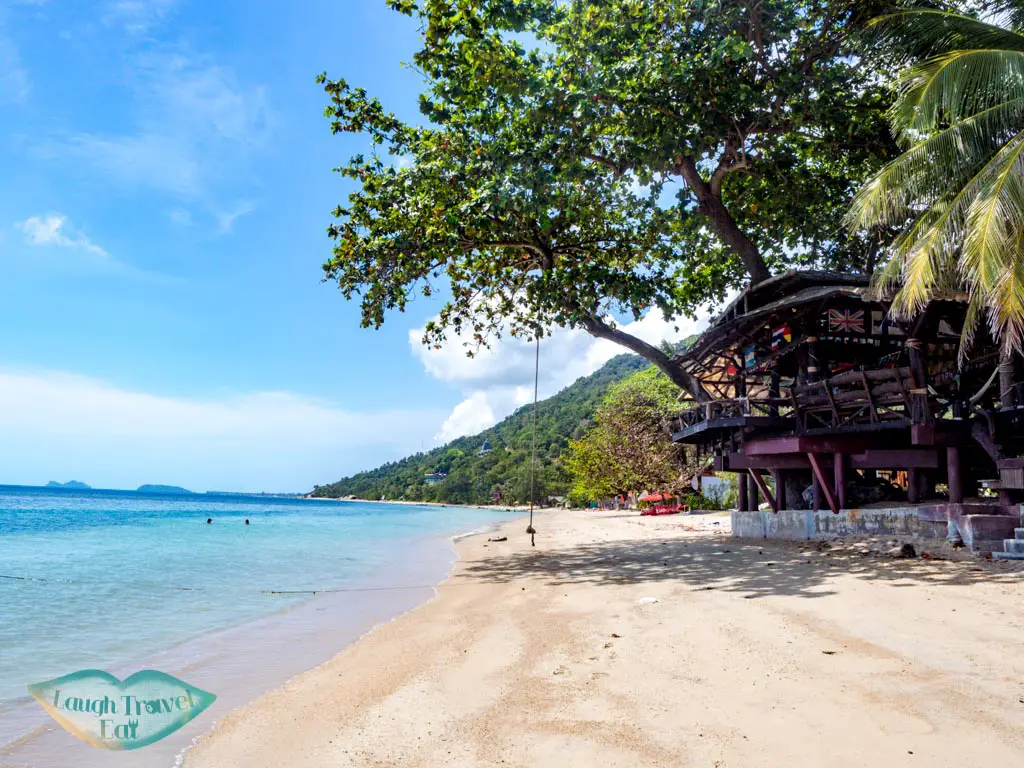 We ended up at the road trip company's headquarter near Rin Beach for lunch. Food is not included in the tour but it was inexpensive in the restaurant. Since we were already given cold water, I ordered a fried rice with chicken for 70 baht. There is a beach right outside and we had just over an hour to eat and chill.
I wouldn't necessarily swim on the beach since there are boats going in and out of the beach. But the restaurant has a pool that we can take a dip in.

15:00 Snorkelling at Mae Haad Beach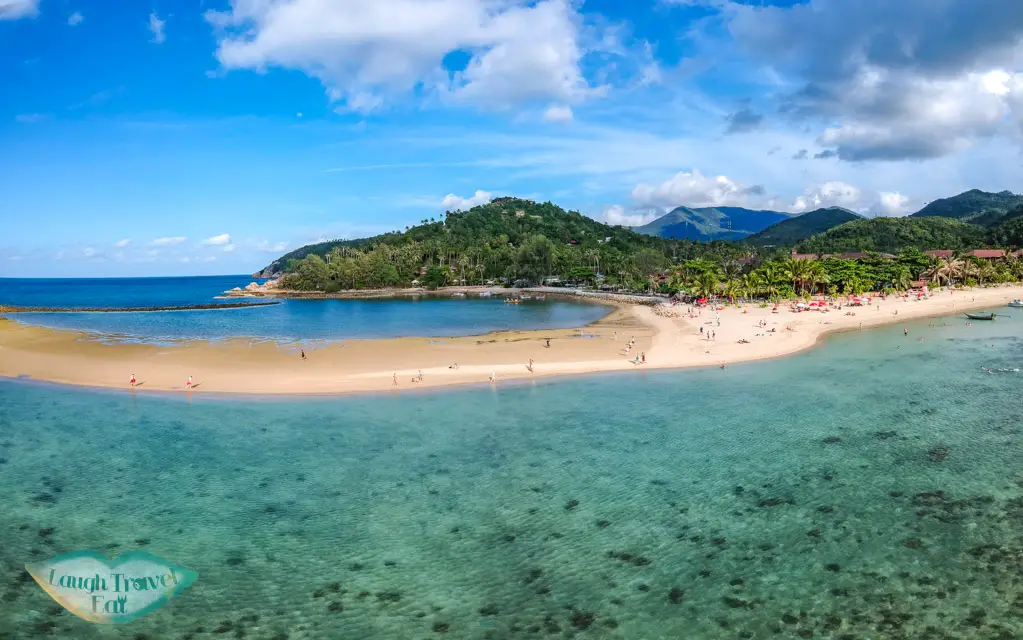 The most iconic and prettiest spot on the trip is Mae Haad Beach. Our driver gave us some snorkeling gears and pointed us towards the best spot. The water was teeming with sealife and I saw so many fishes, corals, and sea urchins. Unfortunately, it was low tide and heading out from the beach and swimming was so close to the bottom of the ocean.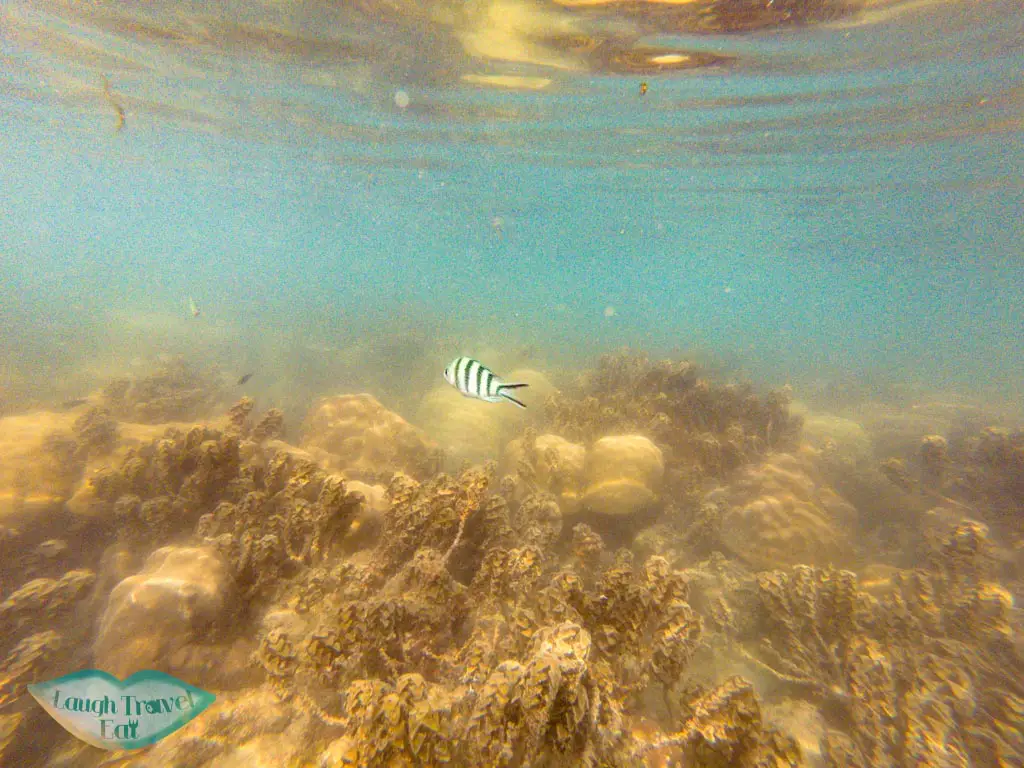 That said, the sankbank that links to the island wouldn't be out if it's high tide. There's a few restaurant cafes by the edge of the beach and plenty of spots to sunbathe.

17:00 return to hotel or sunset at Three Sixty Bar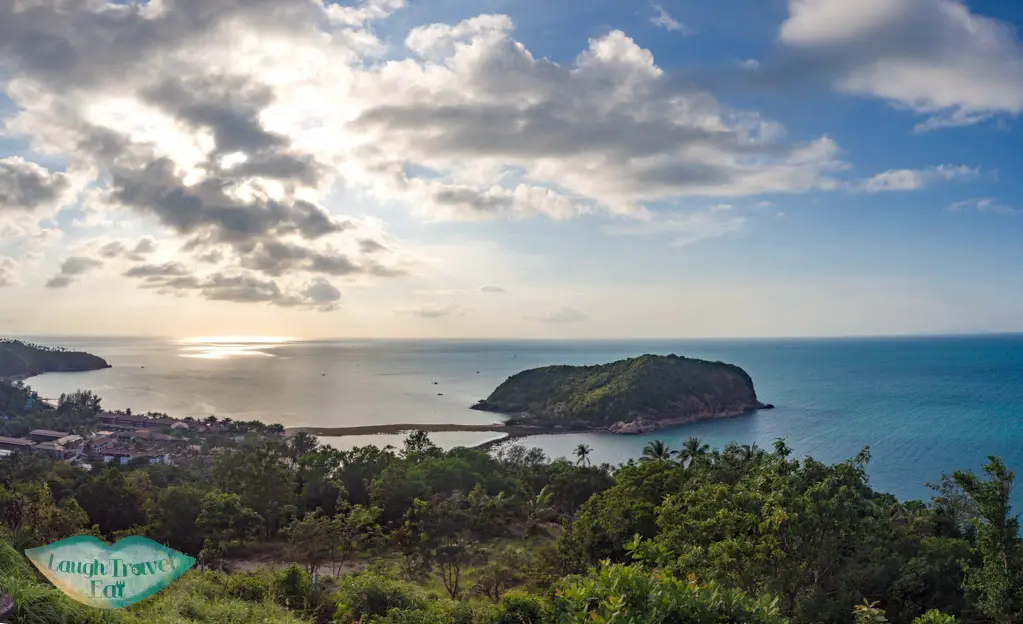 Our last stop is the Three Sixty Bar up on the hill. It looks back down on the Mae Haad Beach and is another great sunset spot.
But our tour isn't meant to end after sunset, so we only stayed there a little before getting back out. You can ask the driver to drop you somewhere (within reason) or stay. But a songthaew/transport out can cost 300 baht upwards so we all ended up leaving.

Dinner at the restaurant next to hostel
I got back to my hostel and cleaned myself up before getting dinner at the restaurant next door.

Day 3 early departure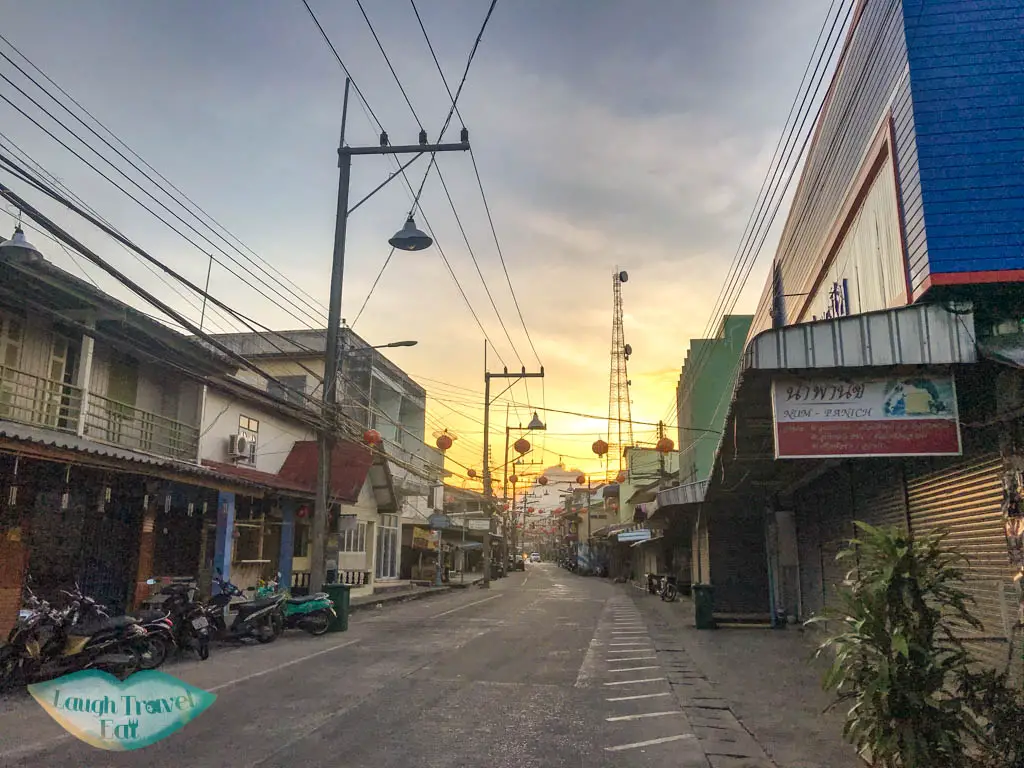 I left for Khao Sok in the early morning since that'd get me there by the early afternoon. It was a lot easier to walk to the pier without the traffic and heat – I even saw the sunrise!

Where to stay in Koh Phangan
For those who only have a limited time like me, it's best to stick close to Thong Sala within 20 minutes' walk to the pier. If you are planning on renting a bike then you can stay anywhere.

Budget: Anya House is by the pier and great for budget travellers, although it is not the most social place. Prachan House is a good alternative and looks quite new by the pier.

Mid-range: Looking for something more private and romantic? Nibbana Bungalows has a perfect view to the sunset by the beach north of Thong Sala. 

Splurge: Loyfa Natural Resort is near Nibbana Bungalows with equally stunning views and a pool that faces the sea. They offer cottages as well as a budget dorm options with yoga packages.