Chiang Mai is the jewel of northern Thailand and the restaurant choices are top notch. As a favourite hangout of digital nomads, you are spoiled for choices from Thai food to the best vegan restaurants. I have visited Chiang Mai as a tourist and lived there as a DN, so I thought it's high time I write down a list of all my favourite eateries so I can compile my recommendations in one place.

Street Food Chiang Mai
Chiang Mai's street food is a melting pot of Thai, Chinese, and Burmese culture along with its own Lanna heritage. While the Chinese influence is not as heavy as food you'll find in Bangkok's Chinatown, it certainly is not the same as the southern flavours of Phuket.
Expect less coconut milk, delicious spices, and lots of rice noodles!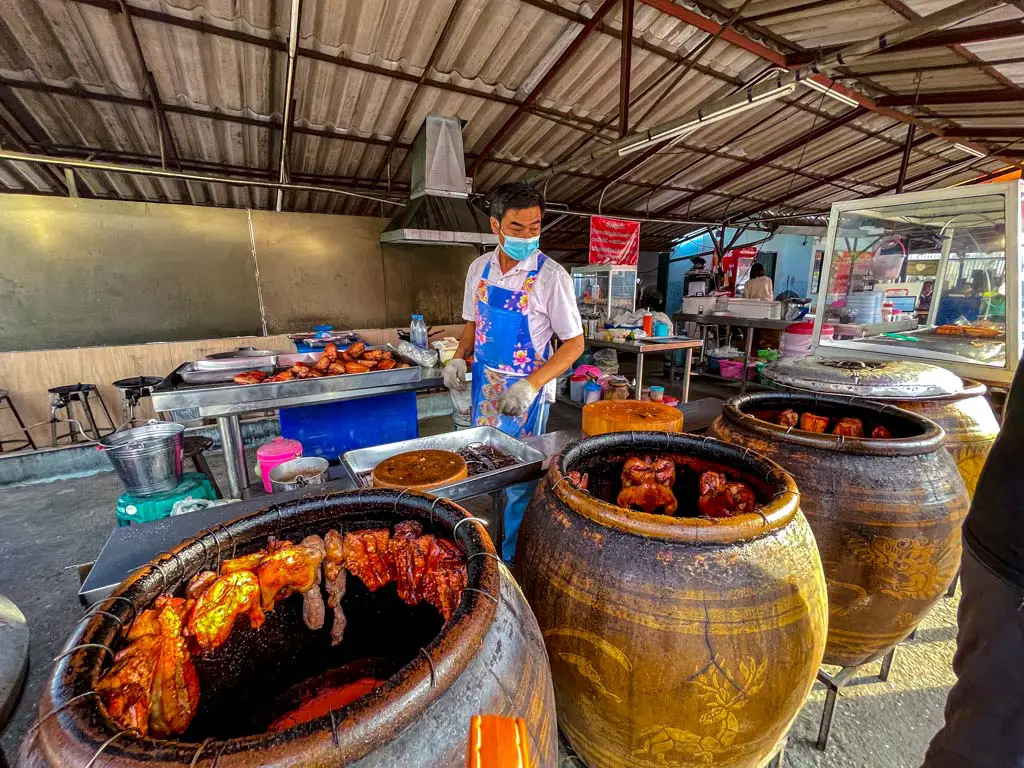 As usual, the best way to get to know a city is by taking a food tour. The Northern Flavours Food Tour runs in the evening and showcases the best of Chiang Mai's street food. It takes us around the city on a songtheaw to local markets, hidden restaurants, and late-night street food vendors.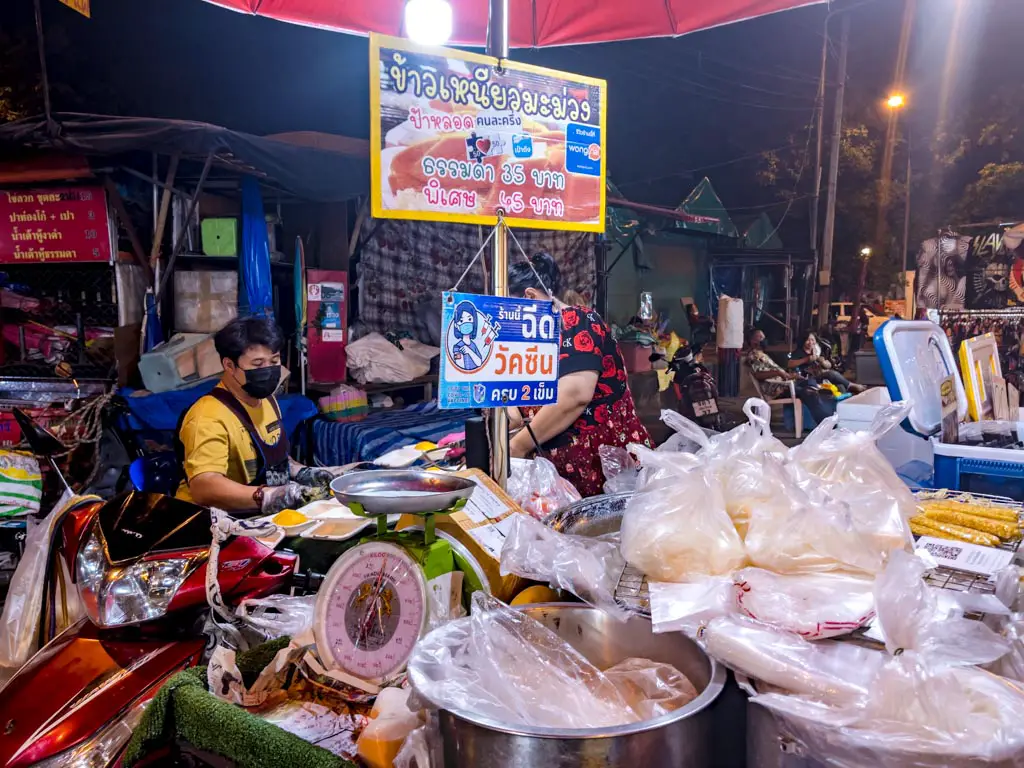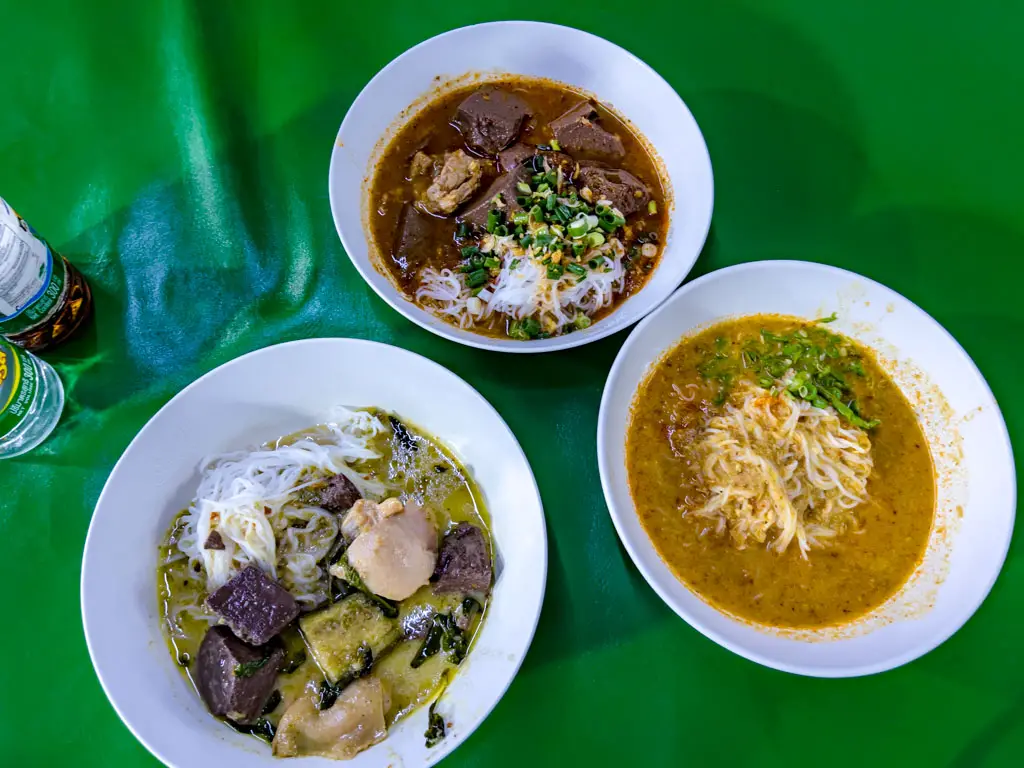 It was a filling trip that is difficult to forget, and here are some of my favourite highlights:
Market visit and learning about the local spices and flavourings
Eating fried insects for the first time!
Khanom Jeen – the delicious rice noodles
Best roast pork bellies and chicken I've ever had
Best mango sticky rice from a roadside vendor
It's a must-do for any foodie and people who are staying longer in Chiang Mai as well to get to know the local spots to buy food and for their food roster.
Times: 17:00 – 21:00
Cost: 59 USD for adult, 29.5 USD for children under 13, under 3 goes free
Best restaurants in Chiang Mai Old City
Kati Creative & Local Food
The Kati Creative & Local Food is in the heart of Old Town Chiang Mai housed in a modern colonial style white building. The interior is in shades of green and their menu covers western breakfast and Thai food. It's pricier than the local eateries, but the food is delicious and beautifully presented.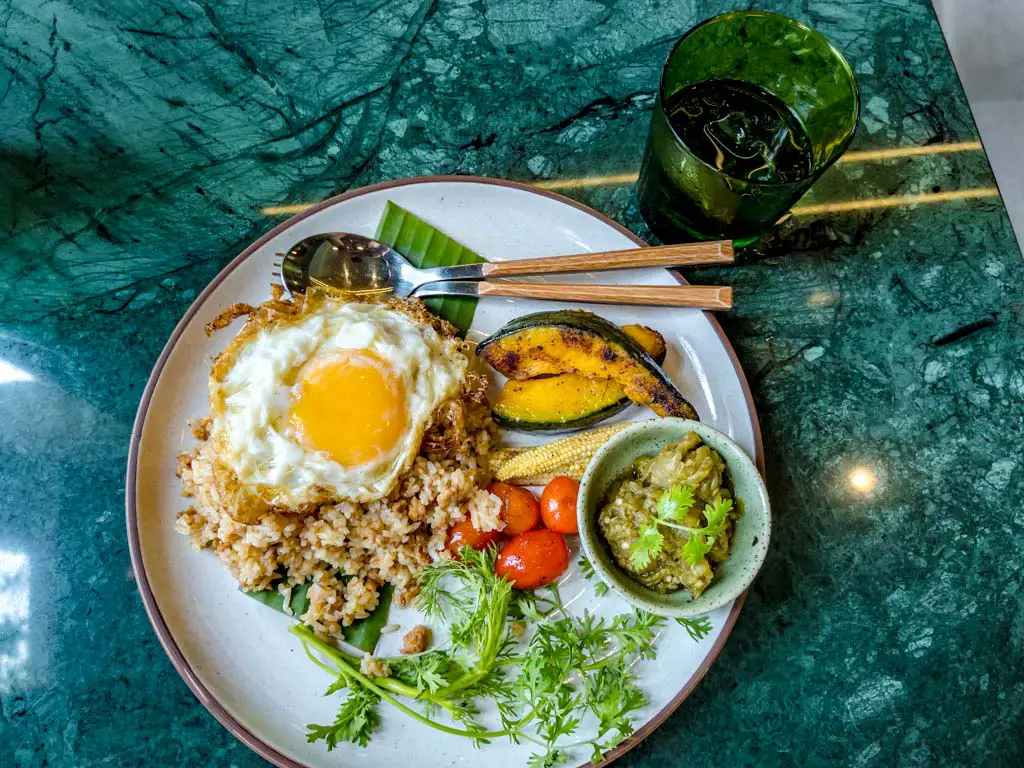 They also have a range of mocktails that looks delicious. One hiccup was that I encountered very slow service but they gave me a discount because of it.
Address: 115 115/1-5 Rachadamnoen Rd, Si Phum Sub-district, Mueang Chiang Mai District, Chiang Mai 50200, Thailand
Opening times: Fri – Weds 7:30 – 21:00; Thurs 7:00 – 21:00
Khao Soy Maesai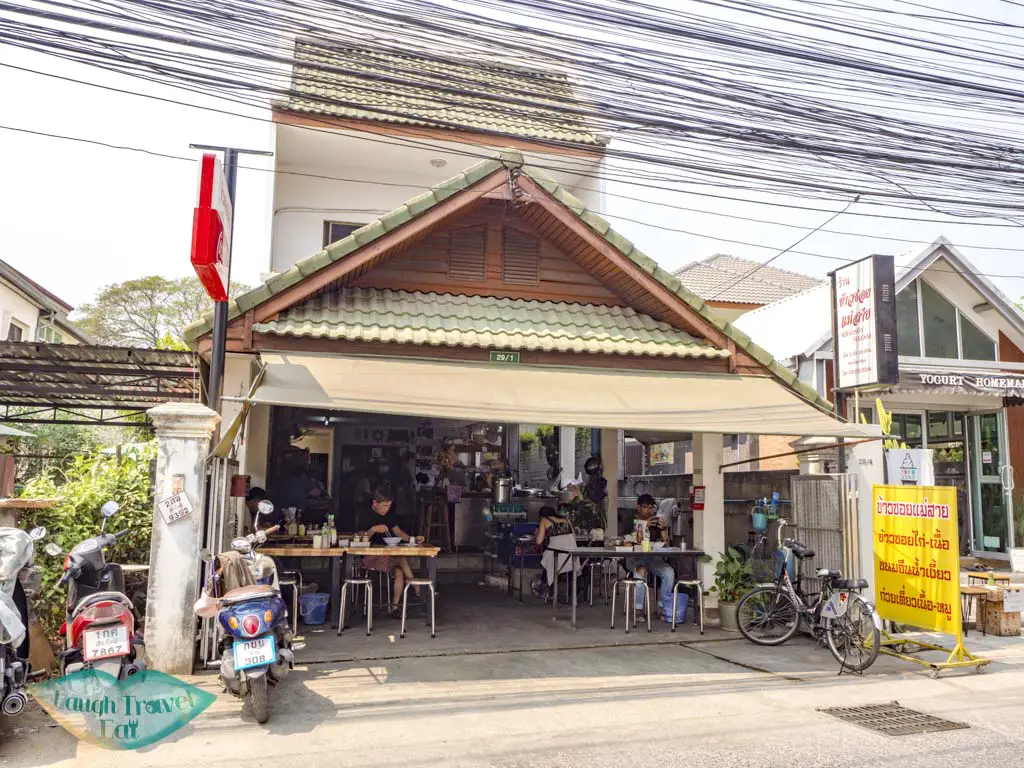 Between the old town and the Maya Mall is this small local joint that has become famous for its Khao Soi. Locals and tourists alike flood to this restaurant for its delicious food and affordability.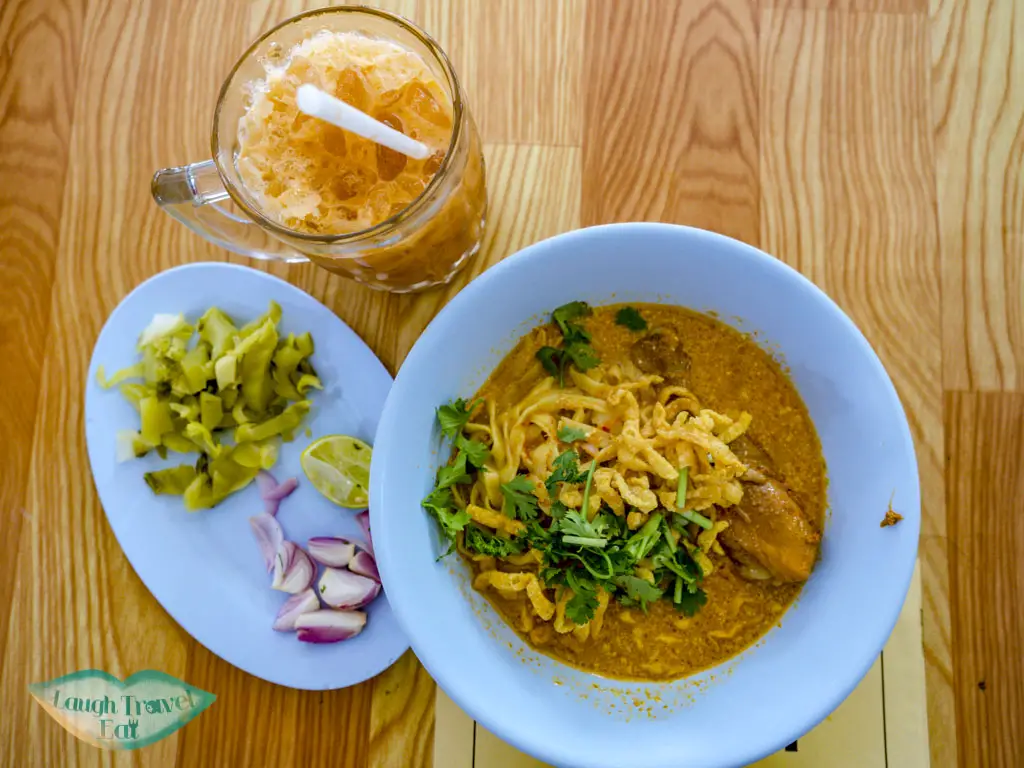 The menu is fairly simple, and it makes no sense to order anything other than Khao Soi when you are here. It only costs me 60 Baht for Khao Soi with chicken leg and a small Thai Milk Tea. What more do you want in life?
Usually, I'm not a fan of chicken drumsticks because it can be difficult to eat. 
Address: 29/1 Ratchaphuek Alley, Tambon Chang Phueak, Mueang Chiang Mai District, Chiang Mai 50300
Opening times: Closes Sunday, 8:00 – 16:00

Aroy Dee Restaurant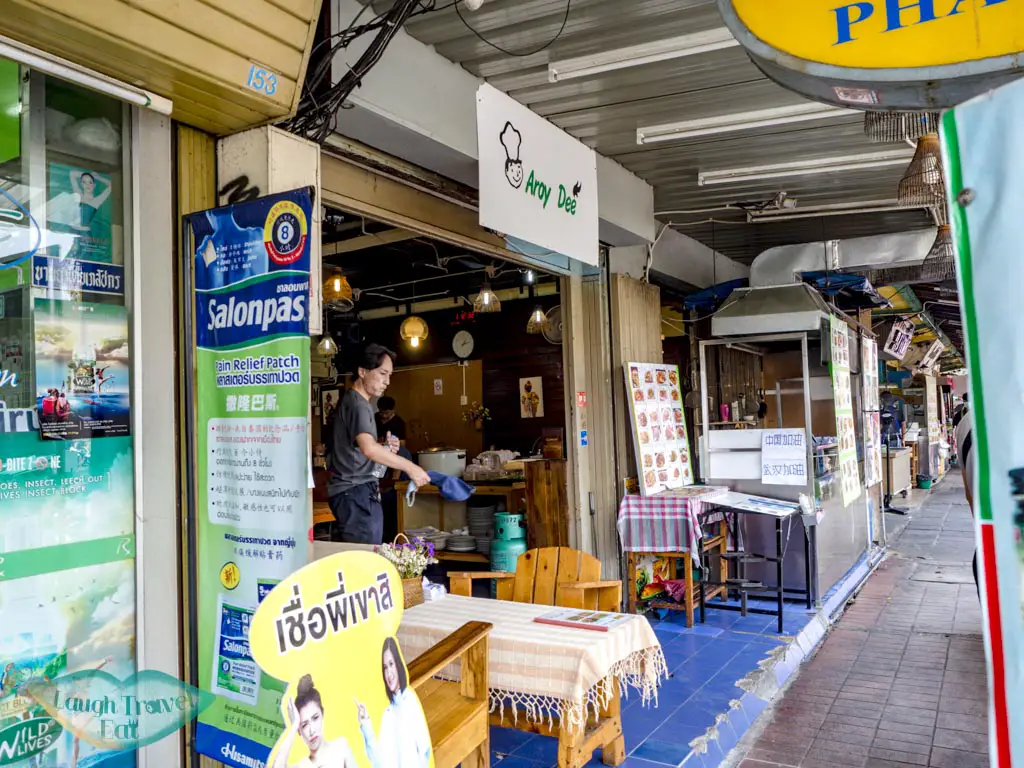 For good service, good price, and good food, Aroy Dee is a safe bet with fuss free dishes for individuals or groups. Pad thai, fried rice of every kind, a plethora of curries and fish dishes, it's a collection of everyone's favourite thai dishes. The cooking station is right by the street front, treating you to a good show, too.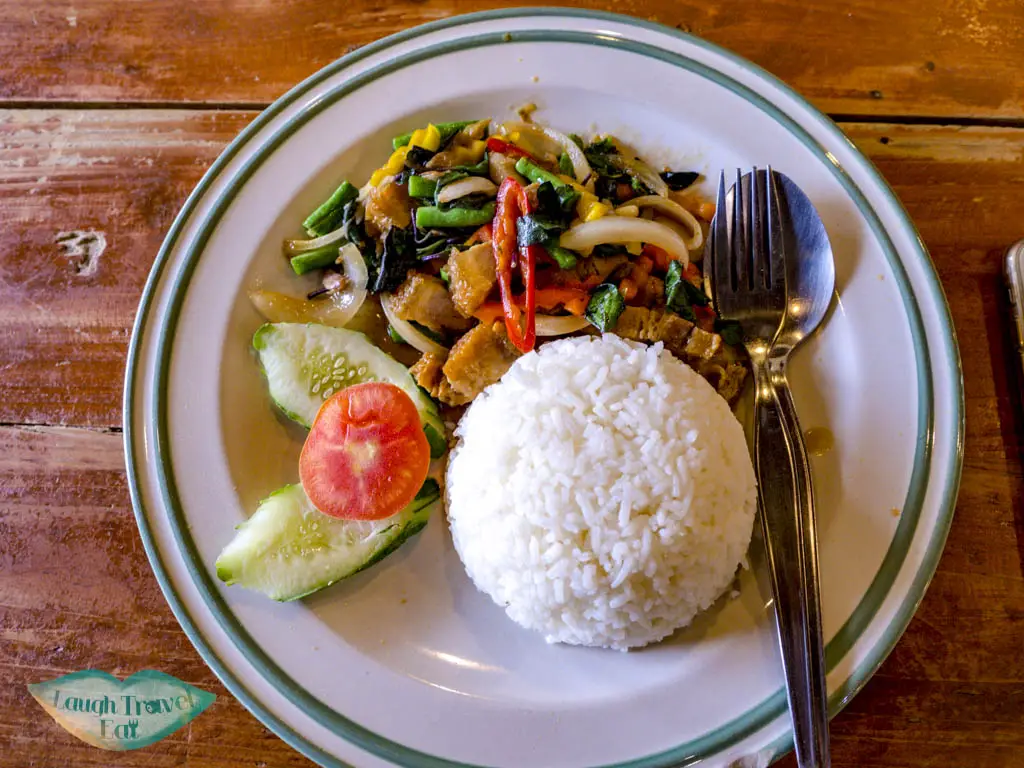 I had a fried basil with crispy pork belly with a thai milk tea – which set me back 120 baht. It is pricier than street stalls but you get to sit comfortably with a clean bathroom. And WiFi!
Address: 157 Mun Mueang Rd, Si Phum Sub-district, Mueang Chiang Mai District, Chiang Mai 50300
Opening times: Close Sunday, 9:00 – 23:00

Kiet Ocha Khao Man Gai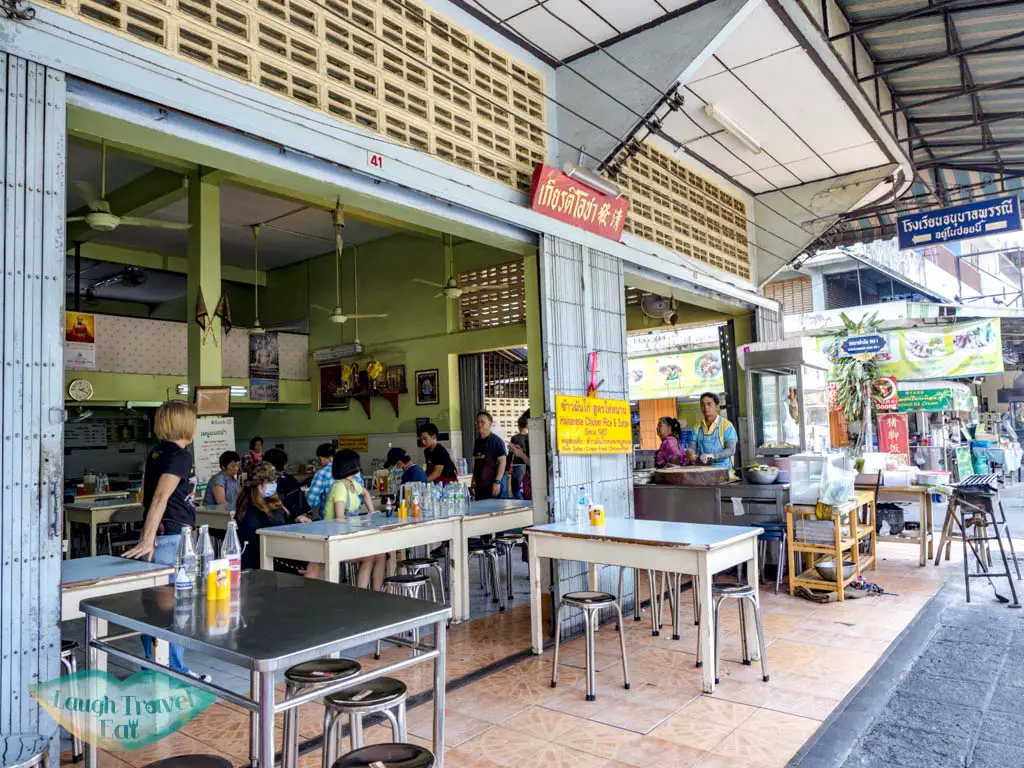 Seeking the best chicken rice? Even the Chinese come to Kiet Ocha Khao Man Gai. It's around the corner from the Three King's Monument, another fuss free dining spot where you can see the chicken being prepped. I love that they have a variety of portion sizes available – small, medium, and large. The rice, interestingly, is ordered separately but will come with soup.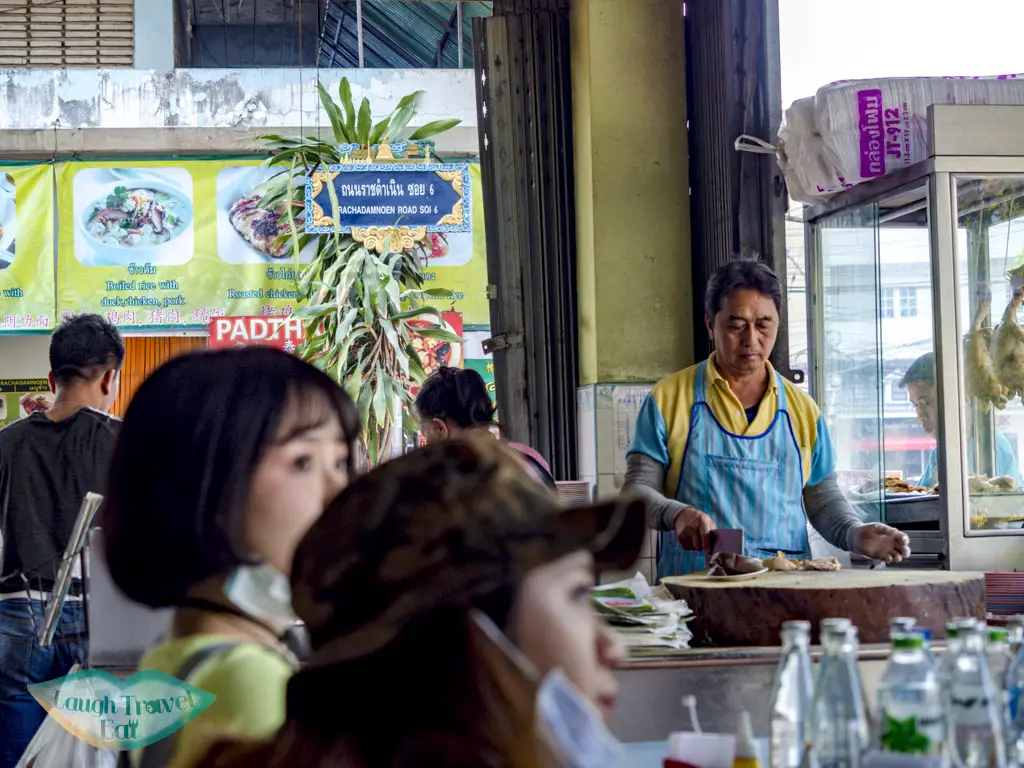 I got a small chicken with rice and that's 60 baht.
Address: 41-43 Intrawarorot Rd, Tambon Si Phum, Mueang Chiang Mai District, Chiang Mai 50200
Opening times: 6:00 – 15:00

Farm House Story
Note: they have rebranded to Farm Story House and relocated to the outskirts of town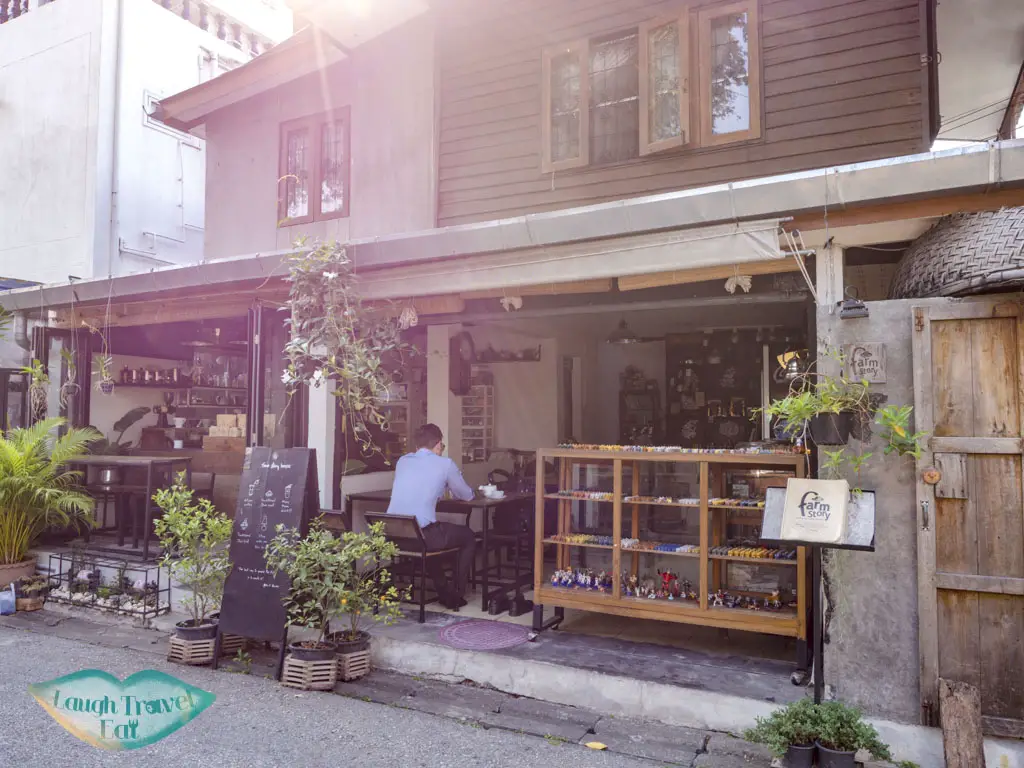 Farm House Story is a cute farm themed restaurant along a quiet lane in the central east part of Chiang Mai old town. The restaurant is open air style with a raised platform floor seating as well as regular seats, serving wholesome, organic thai style food and drinks.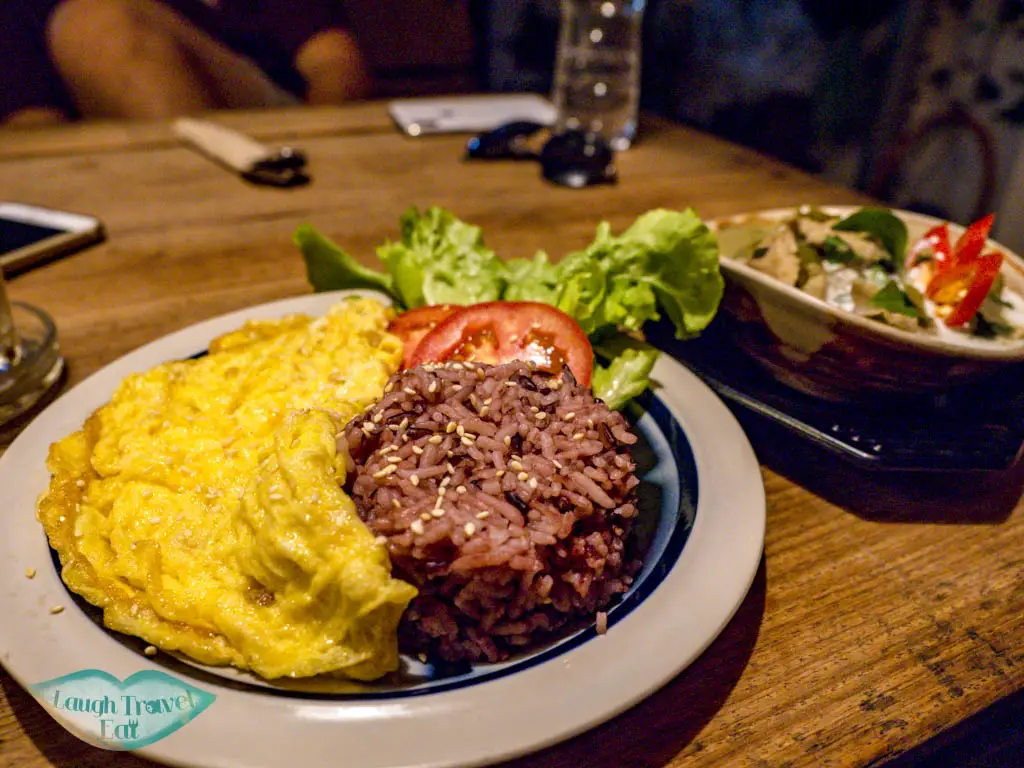 A meal costs around 100 Baht depending on what you order. I've had both their signature farm house story set as well as the thai green curry set and can vouch for both! The staff are all very nice and it's a great place to chill with a book or chat with friends.
Address: 126 7 หมู่2 Soi Mu Ban Wang Tan Villa, Pa Daet Sub-district, Mueang Chiang Mai District, Chiang Mai 50100, Thailand
(no longer inside old town)
Opening times: closed Wednesday, 10:00 – 19:00

Beast Burger Chiang Mai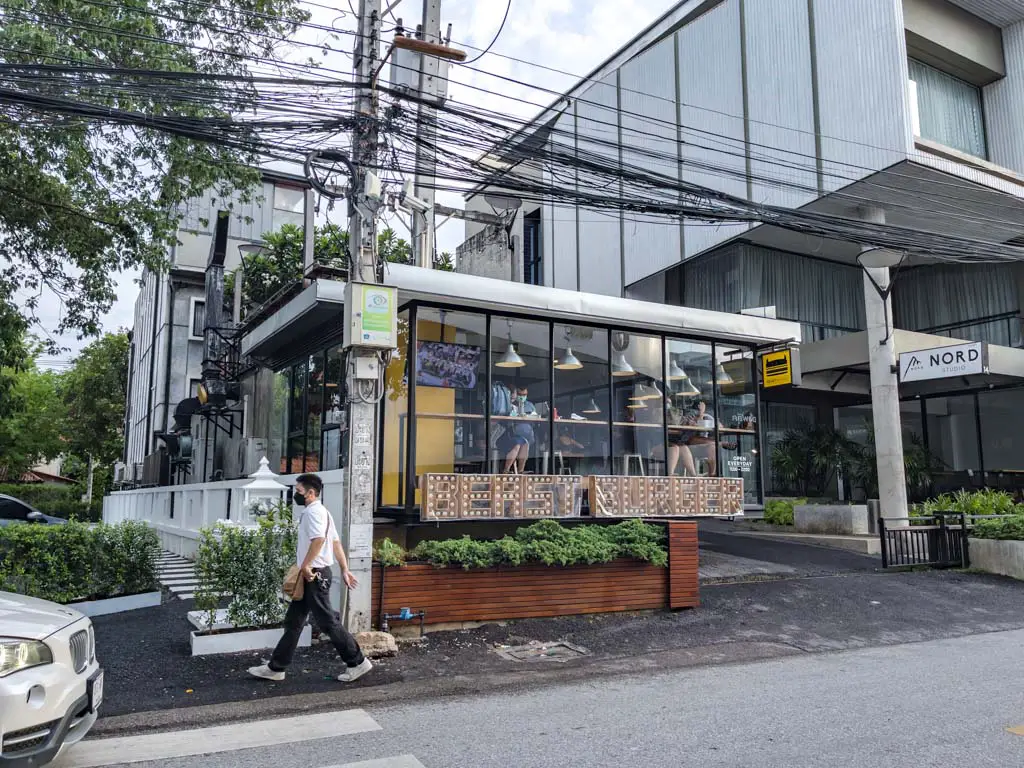 As much as I love Thai food, I have to admit that I have a weakness for burgers. The Beast Burger Chiang Mai is on the south side of Ninnman across from the minimalist G Nimman Hotel and serves up some quality burgers.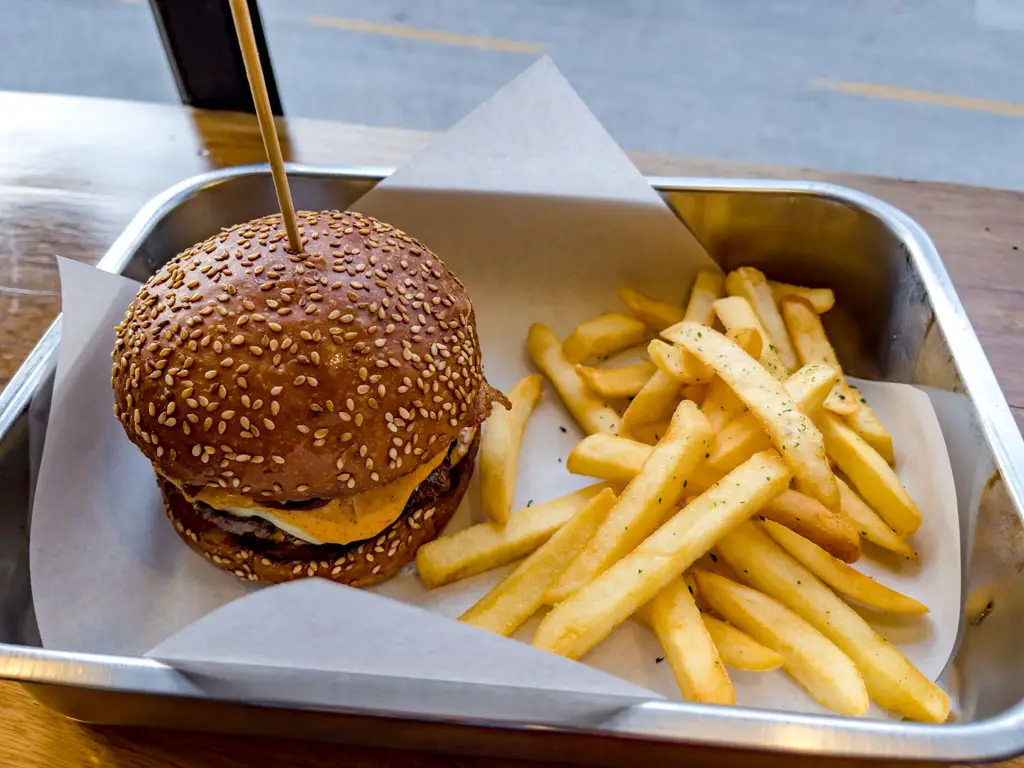 Prices start at 200 baht upwards with a bacon cheeseburger and come with fries, and you have the option to upgrade to sweet potato or tater tots for an extra 50 baht. They have a little rooftop for diners to sit and it's a self-service joint.
Address: Nimmanhemin Soi 17 Suthep, Mueang Chiang Mai District, Chiang Mai 50200, Thailand
Opening times: 11:00 – 22:00
Vegan Restaurant Chiang Mai
Salad Concept Chiang Mai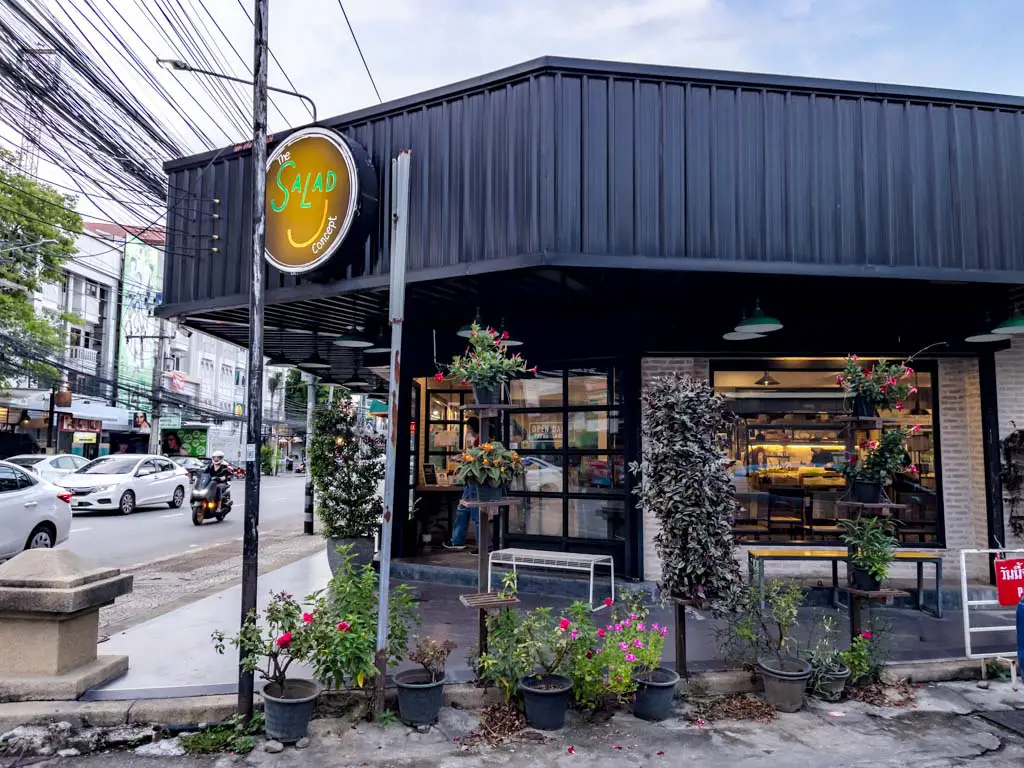 Although there's nothing particularly special about Salad Concept, I like the sprawling restaurant and its location in Ninnman. They have a good variety of vegetarian and vegan food to choose from, in particular the surprisingly good recreation of mac and cheese with vegan cheese. It's a failsafe choice that I want to put in here in case you're in Ninnman and looking for a bite.
Address: 49/9-10 ถนน นิมมานเหมินทร์ Suthep, Mueang Chiang Mai District, Chiang Mai 50200, Thailand
Opening times: 9:00 – 22:00

Goodsouls Kitchen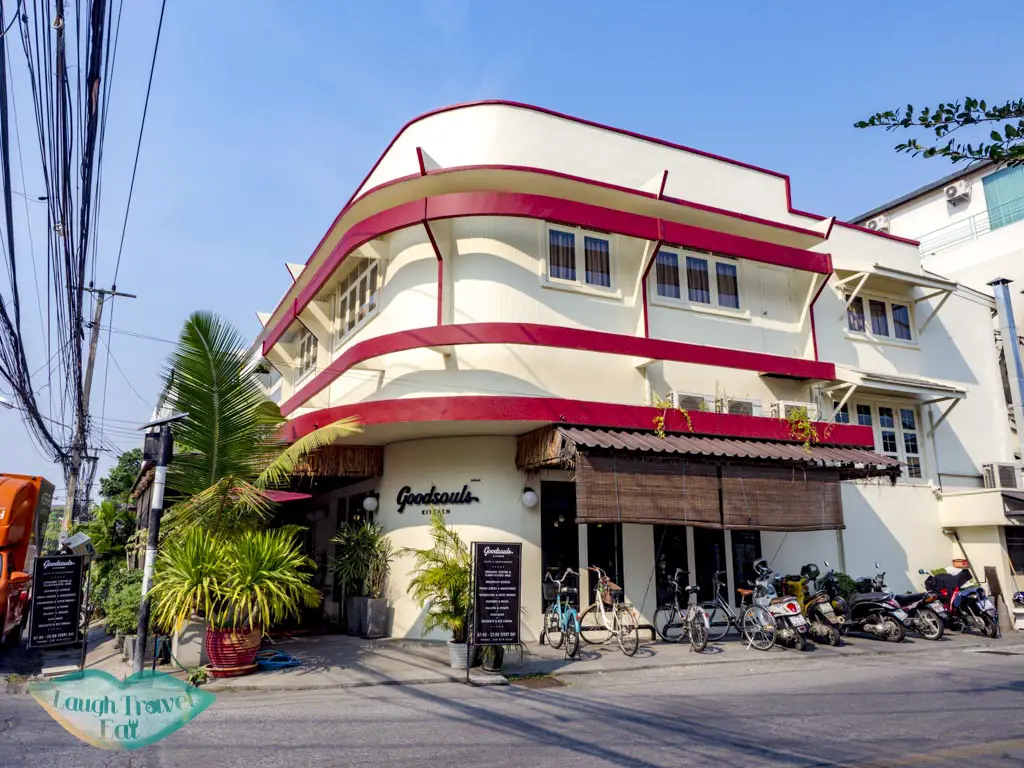 With its retro decor and high ceiling, Goodsouls Kitchen is a mix of old New York and Thai style. The seatings are spacious with a mostly western vegan menu. The best part is their amazing brunches – I particularly love their pancake. While it is more expensive than local eateries, it's still great value for money.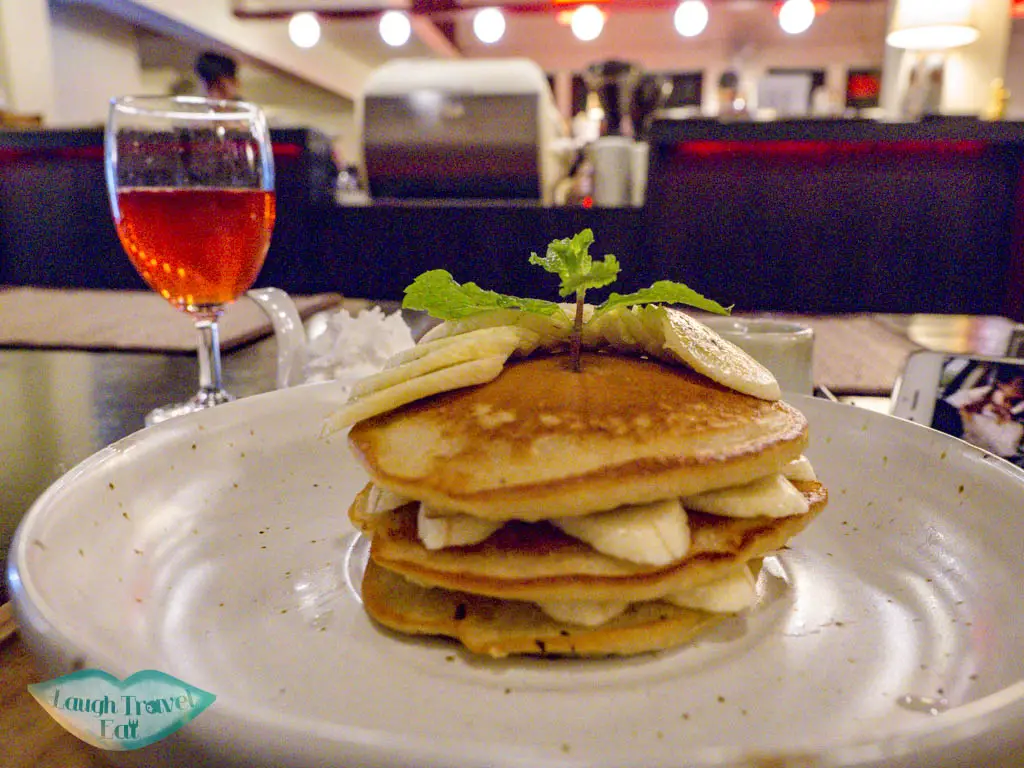 They have Wi-Fi and outlets, so for any DN you can totally work here for the whole day and enjoy their delicious and healthy food.
Address: 52/3 Singharat Rd, Si Phum Sub-district, Mueang Chiang Mai District, Chiang Mai 50200, Thailand
Opening times: 7:00 – 22:00

Khunkae's Juice Bar / Healthy Juice By Khunkae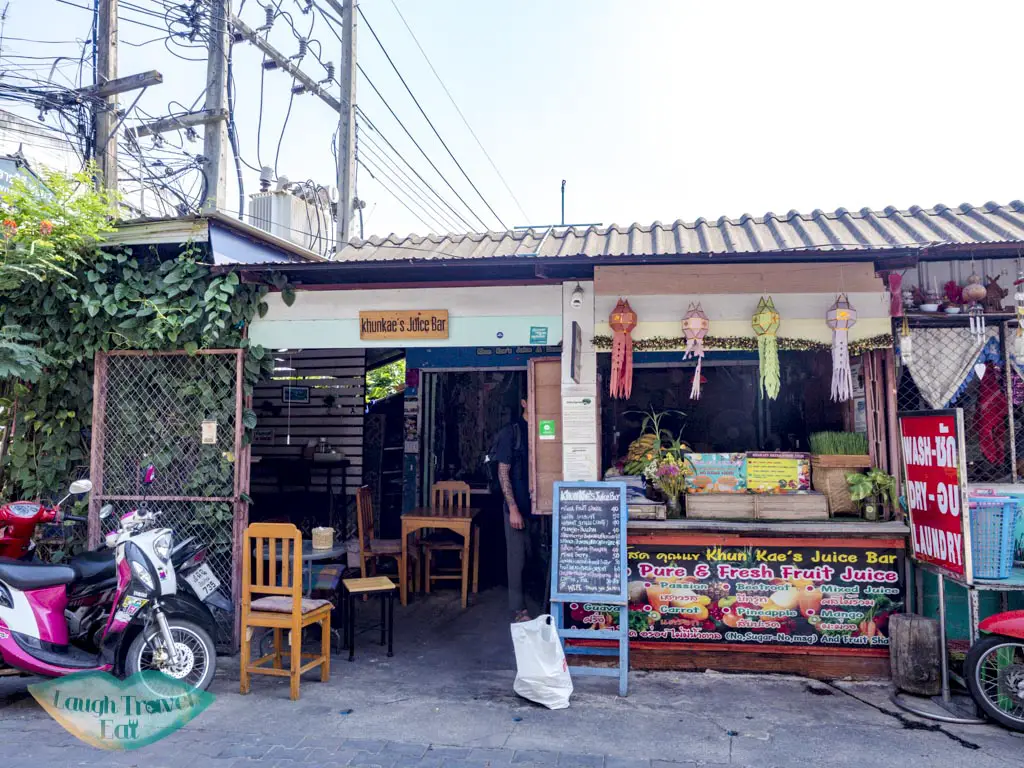 Craving something healthy and fruity? This little shack is a smoothie bowl lover's dream come true. It resembles a colourful beach shack decorated with charms and mismatched furniture. They have Wi-Fi as well! A full smoothie bowl is a little too big even for me, so if you don't normally have a big appetite, you might want to share.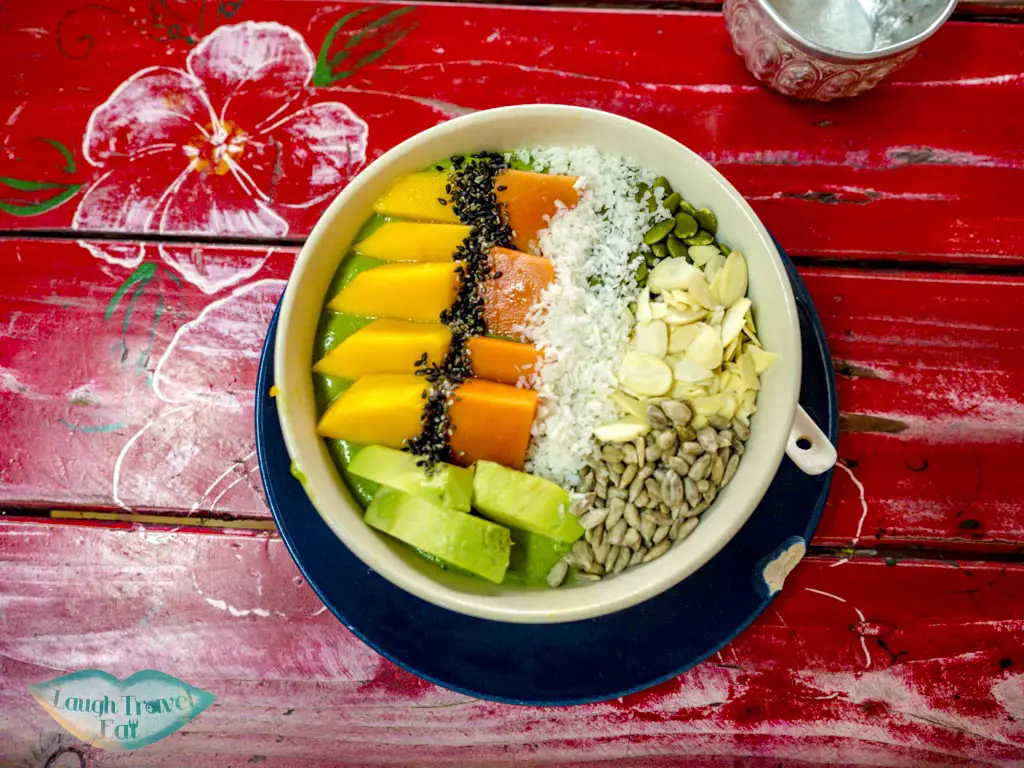 Cost: juices are about 50 baht, a smoothie bowl 90 baht.
Address: Si Phum Sub-district, Mueang Chiang Mai District, Chiang Mai 50200, Thailand
Opening times: 9:00 – 19:30

Blue Diamond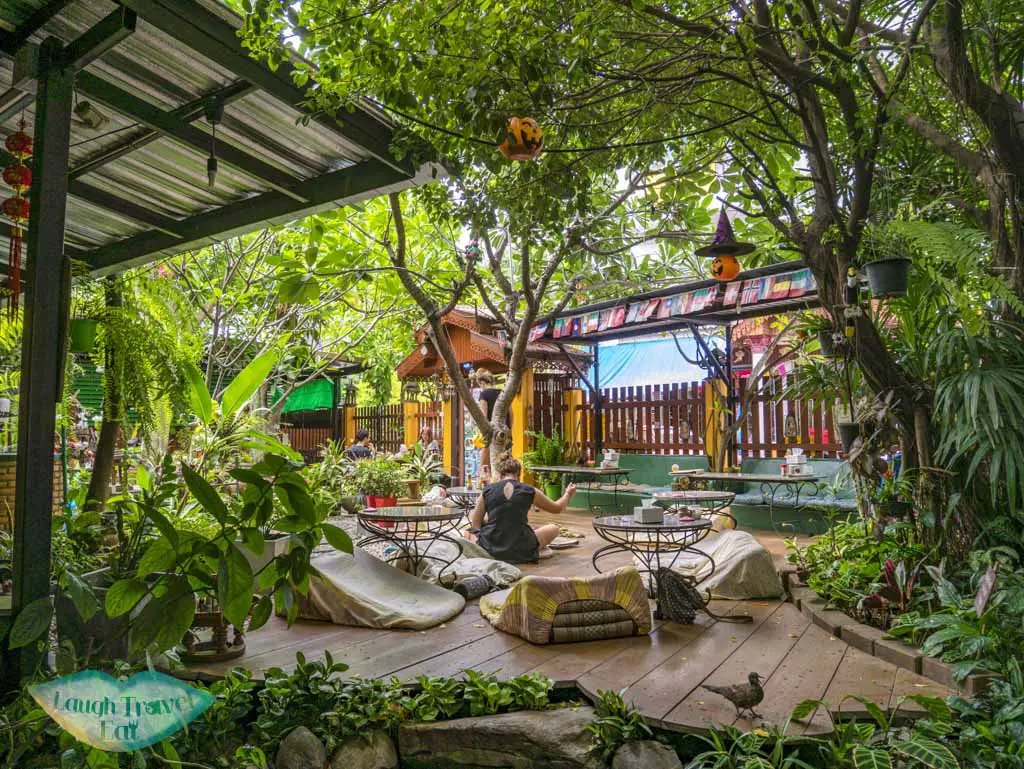 A serene restaurant with ponds and a courtyard, the Blue Diamond has both meat and veggie options. You can choose to sit on the floor between the water or on the table in the courtyard or inside. Their fried rice is delicious and there's even a small grocery stall attached/next to it selling fresh vegetables and fruits.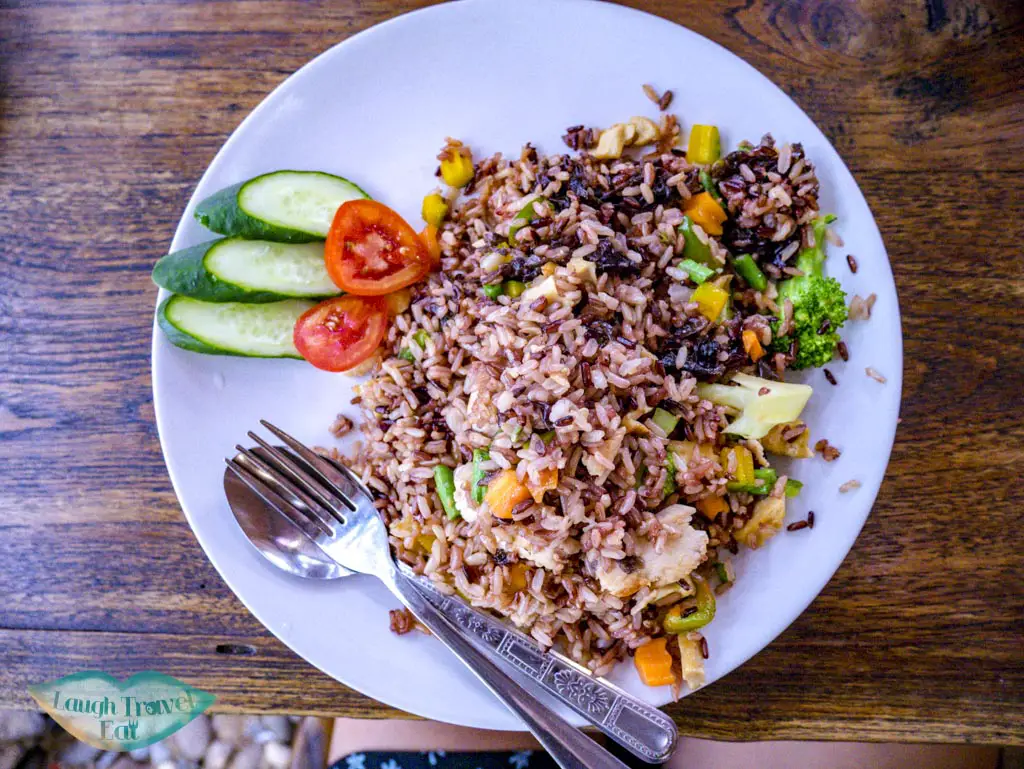 It's another good spot for working, but interestingly they do charge you for using their outlets to charge your laptop.
Address: 35/1 Moon Muang Rd Soi 9, ตำบล ศรีภูมิ Mueang Chiang Mai District, Chiang Mai 50200, Thailand
Opening times: Closed Sunday; 7:00 – 21:00
Free Bird Cafe
Owned by a social enterprise, the Free Bird Cafe supports Burmese has relocated to Ninnman, and hosts Wednesday lunches for female digital nomads. They serve a great range of Burmese, Thai, and western cuisine with a wide selection of smoothies and juices.
They also have a thrift store and a great place to find vegan Khao Soi.
Address: 14 ถนนศิริมังมังคลาจารย์ Mueang Chiang Mai District, 50200, Thailand
Opening times: closed Monday, 9:00 – 17:00 
Grab Food Chiang Mai
Grab is arguably the most useful app when traveling in Southeast Asia. It's a transport, food delivery, and even shopping delivery app that saves you from the hassle of calling stalls and haggling with taxis.
If you're feeling lazy or it's pouring outside, Grab food is a great option to use. Especially for those who want to try something from far away but don't want to Grab there and back. Here are some tips and also some of my favourite places available on Grab food in Chiang Mai:
Download the app and link your card on Grab before you arrive
Check for promotion – I got 60 baht off my food and only paid for delivery one time when I checked promo options I'm eligible for
Order earlier than you want to eat – it takes time for the kitchen to prepare it, then for a rider to accept the order and deliver your food
It's easier to go cashless
Know that things will take longer in rainy weather
Most things will rain in Thai, so be prepared to look at photos only or try to google translate
Now some of my favourite places are:
Khao Soy Maesai
Looking for anything that has a michelin recommended sign next to it