There's nothing I love more in this world than markets and Chiang Mai is full of them. There is just something about the arrays of dizzying stalls stacked with goods of all kinds that send my heart pounding and feet racing, but I am getting ahead of myself. Let's get back to the topic at hand: markets in Chiang Mai. Most famous for its Night Market and Sunday Night Market, I first visited them in 2016 on my 4-day trip there, then again when I lived in Chiang Mai for a month with a digital nomad retreat and have been back every year. Here is a short guide to Chiang Mai's markets!
Don't forget my price guide so you won't get scammed!
Night Bazaar Market Chiang Mai
A few kilometers east of the city, the nightly Night Bazaar is mostly catered to tourists. However, that doesn't really stop me from liking it. While the entire market stretch from the Th Tha Phae to Th Loi Kroh, many of the shops sell essentially the same thing. So before you buy something, unless you are in a particular hurry, you should browse all the stores and haggle your way through. In fact, to help you avoid getting scammed, we have written up a price guide for you. If you keep your eyes peeled and haggle well, it's a great place to buy souvenir and just enjoy the atmosphere.
There are many offshoots from the main road itself that's worth investigating, and the one that has captured my heart is the Ploen Ruedee Night Market – a street food market that's characterized by the mismatched seatings in front of a small stage. The set up in 2016 involved haystacks, while in 2018 there are airplane seats and hanging buckets. A live band plays there every night and there was a dizzying array of street food trucks and vans scattered around the rectangular courtyard vying for attention.
I quite enjoyed the grilled cheese and the mango sticky rice there. Note: there is another offshoot kind of opposite the Ploen Ruedee Night Market there's bigger than in looks and sell a ton of stuff, too.
Night Bazaar: Address: 104-1 Chang Klan Road, Chiang Mai, Thailand Opening times: daily 19:00 – 0:00
Ploen Ruedee Night Market: Address: Chang Klan Road, Amphoe Muang, Chiang Mai Opening times: Mon – Sat 17:30 – 0:00
Warorot Market Chiang Mai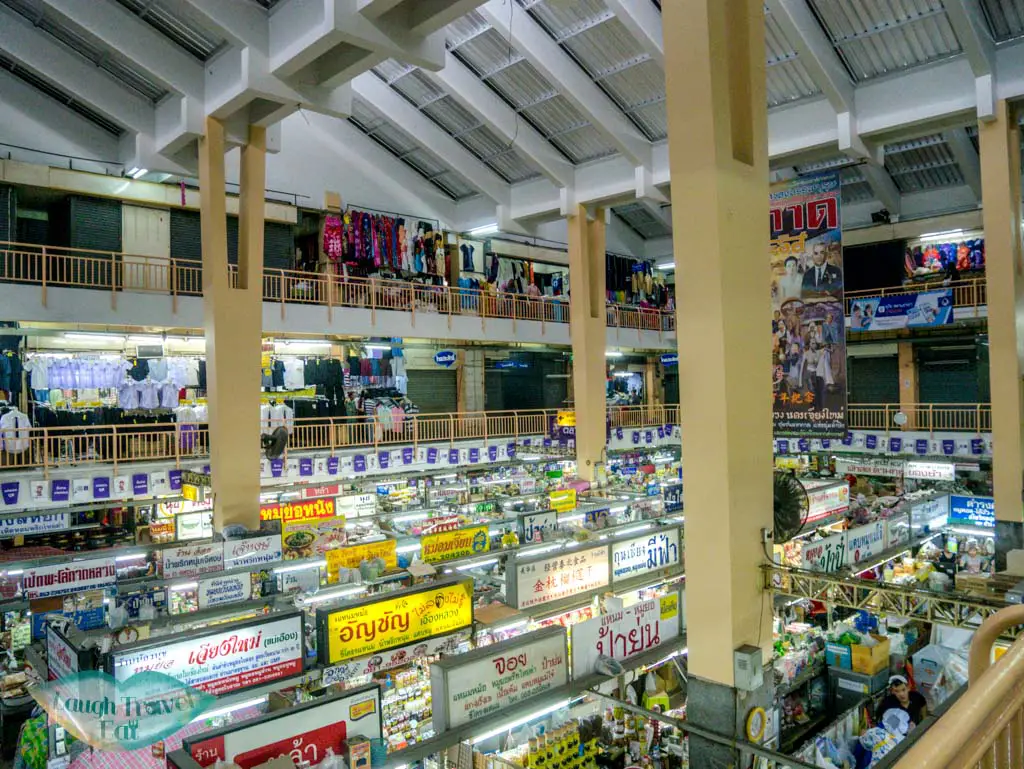 North of the Night Bazaar, Warorot Market is the opposite of its neighbor. Mostly catered to the locals, it opens in the morning and sells dry goods that populate most Asian markets.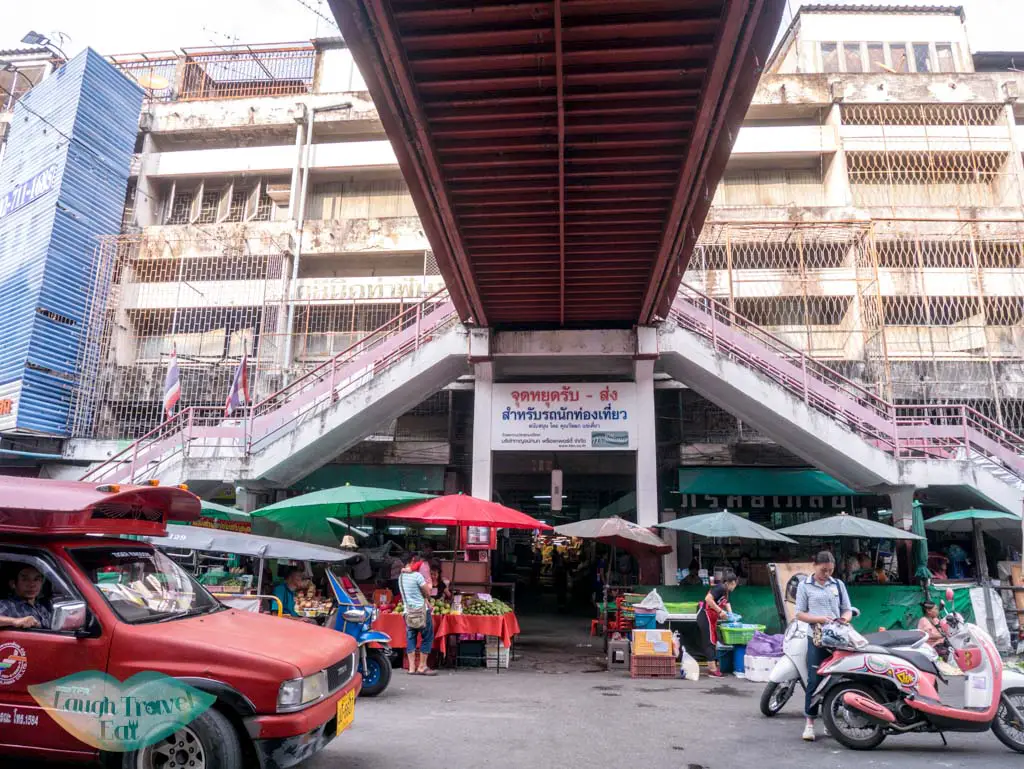 From fruits to fishing nets, it was a sight to behold as you wandered along the jam-packed streets and skywalks, meandering through the mazes. In fact, Warorot Market, an indoor covered area that's the most touristy part of the whole affair, is surrounded by markets, and it was hard to tell where anything begins or ends.
The ground floor has a lot of souvenir food stuff that's perfect to bring home, though definitely check out a few stores, as we find the prices fluctuate greatly. We stumbled across a fabric store in front of a Man Mo Temple. We found some lovely elephant print fabric as well as some others selling for only 40 Baht a meter. These are absolutely perfect for making an easy summer DIY outfit such as a kimono!
Address: between Thapae Road and Chang Moi Road |In the north of Nawarat Bridge and the west side of Ping River, Chiang Mai, Thailand Opening Times: Unsure, though we went at around 9am in the morning and it was open
Saturday Walking Market Chiang Mai
South of the Chiang Mai Gate, it is a grand affair that draws people to it like moths to flames. As soon as we got to Chiang Mai Gate, the rows after rows of motorcycles and noise hit us in the face. At the northernmost point of the market is the nightly food market and you might want to pick up a snack or two that would keep you going for the rest of the way. Because it's hard to show you the vibe of the market with just photos! Here's a video of the night:
One of the snacks you should try is the huge sausages on a stick – which is stuffed with glutinous rice as well as meat. The Market sprawl across the entire Wua Lai Rd, which extended from the Chiang Mai Gate in a southwest direction, going past the Silver Temple; if you are unsure of whether you reach the end, and believe me I was too, there will be a congregation of tuk tuk at the end so don't worry.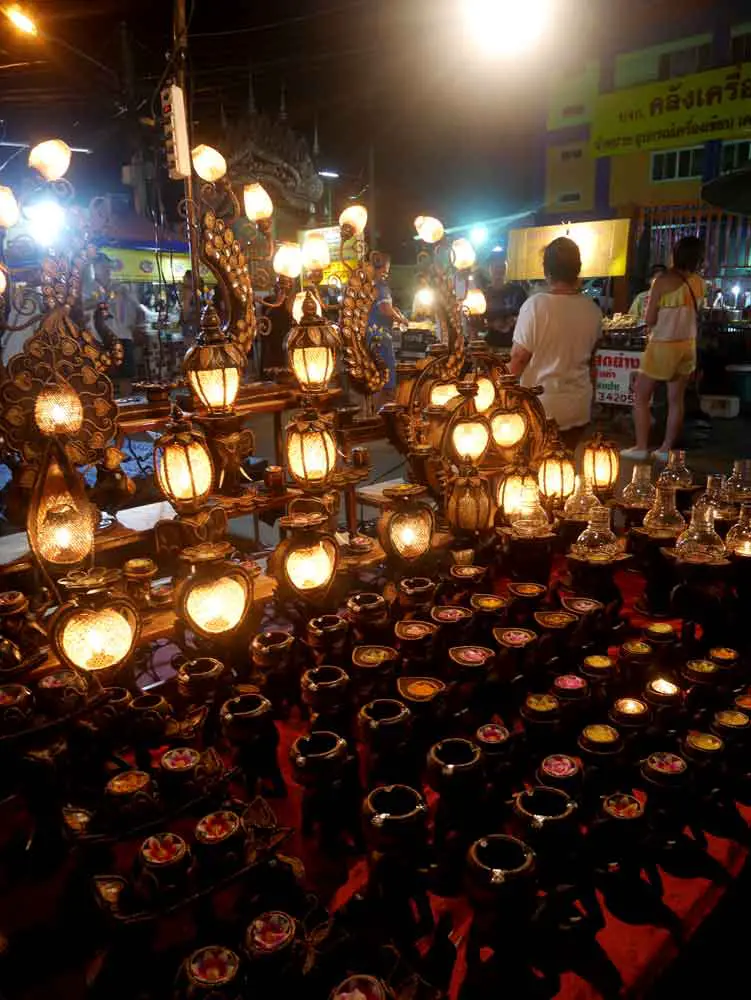 From the typical trousers in elephant prints to silver wear to shoes and trinkets of all kind, it has more going on than the Night Bazaar and it was hard to keep my eyes from darting all over the place, trying to take it all in. The crowd is unbelievable, and it's a constant battle between looking at the merchandise and watching out for people as you cross from one side of the street to the other. There are various street performers that set up in the middle of the wide road, and a lot of them are young children. The performances are mostly un-noteworthy, though there were one or two that caught my eyes. Like the Night Bazaar, there are plenty of offshoots as well, mostly a tiny food court area with some trinket stalls. Some of my favourite moments are:
Buying Thai Milk Tea from a sweet old lady by the roadside
Seeing Glass bottled Thai Milk Tea as well as various other flavours, though they were too heavy.
Finding this pretty little white top and a variety of white cotton clothing in this stand.<
Stuffing my face with Mango Sticky Rice.
And basically being in a market. If you are looking to buy some souvenir or trinkets, don't forget to haggle and check out our price guide to make sure you don't get ripped off!
Address: Wua Lai Road, Chiang Mai Opening times: unsure – around sundown to midnight
Sunday Night Market Chiang Mai
The Saturday Night Market might be situated out of town, but the Sunday Night one spreads out across the old city with the Three Kings Monument as its center point. While it sells chiefly the same thing as Saturday Night Market, it's still fun to walk around and see how the old town transfer into a lively night market. One of the most bizarre yet strangely harmonic things to see is that many temples become part of the market with food stalls set up inside. The biggest one is Wat Phan On close to Tha Pae Gate, where I was able to buy a delicious Mac N Cheese. It would take the whole night if you are to walk through the whole market properly. If you are there for both weekends, I would say spend a little time in both or spend a lot of time in one of the weekend markets.
Address: Around Three Kings Monument Opening times: set up starts around 16:00 but nothing really opens officially until after 18:00