Are you trying to enter Thailand through Test & Go and then apply for a Thailand Pass? Well, same here! With the pre-departure PCR test scrapped from 1st April 2022, I'm more than excited to go back to a country that I love visiting through the scheme. That said, the process was still a little confusing and it took me a lot of googling and some research to get right. Which is why I've decided to write this post.
Frequently asked questions about Thailand Pass and Test & Go
What is the Test & Go system?
The Test & Go system is one of the ways to enter Thailand and the least restrictive, with only:
A PCR test on arrival
One-night quarantine in a SHA+ (the health and safety measure certificate for hotels in Thailand) that usually would include a light meal
Airport transport
An antigen rapid test to take on your 5th day.
If you are wondering how to book the hotel – jump ahead to here or read through the article
What is the Thailand Pass?
The Thailand Pass is essentially the COVID visa in addition to the normal way you enter Thailand. It doesn't matter if you are entering through Test & Go, ASQ, or the sandbox program.
More on Thailand Pass below.
How much does Test & Go cost?
The Test & Go package includes one night at an SHA hotel, airport transfer, PCR test on arrival, and 1 antigen test. The rate starts at around 4000 Baht, I think the cheapest is just below that but in a less central location.
My opinion is that if an airport transfer is included, you might as well get to the city center! I picked Lemontea Hotel because I love the Ratchdewi location and it's one of the cheapest.
When will Test & Go go away?
This is a question only the official authorities can answer. You can keep an eye out here for new information.
Here's a step by step guide to how to get into Thailand using the Test & Go scheme:
Applying for Thailand Pass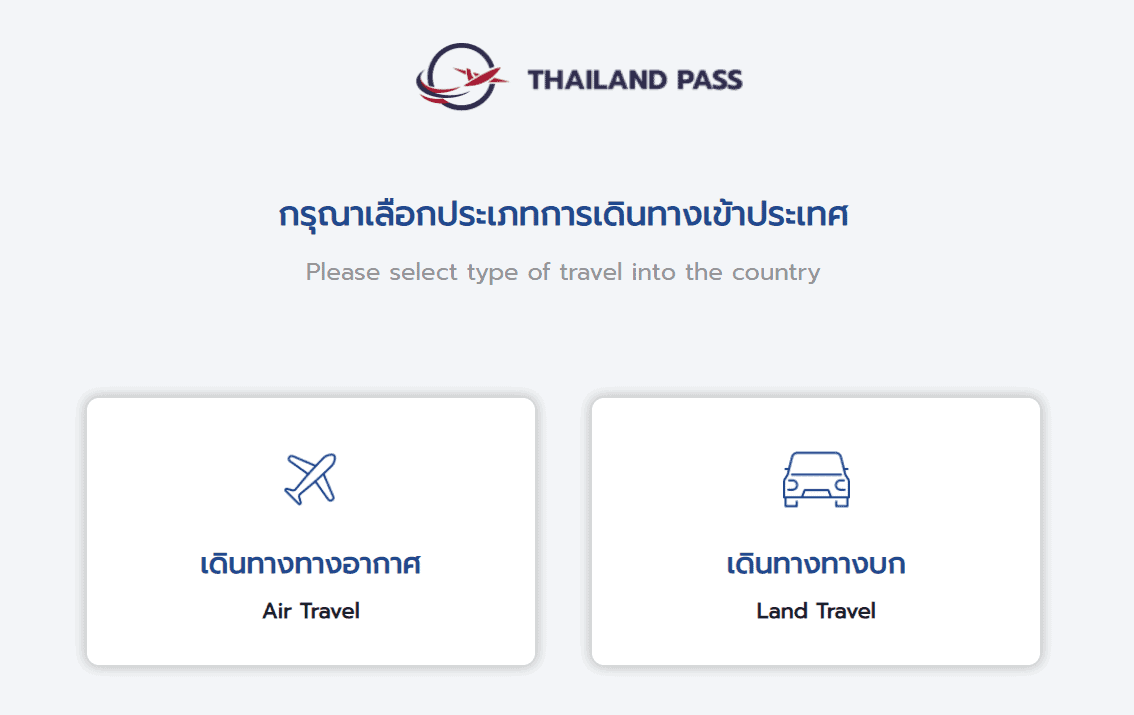 The Thailand Pass is the system that approves your visit and the last thing you need to do once you've got your flight, accommodation, and insurance. People can also apply for Alternative Quarantine and Sandbox schemes on the same website.

It is used for Air Travel only, and once you click that, select non-Thai Nationals and click on the pop up 'English Language', which will take you to the Choose a Plan Page.
Once you choose Test & Go, you need to confirm the list of rules and move on to the page for Purpose of Arrival – where you fill in your trip purpose and flight details. You don't have to give a departure date, only an estimated date of departure is sufficient.
The next page is for personal information along with uploading a passport scan. After that, you need to fill in your SHA+ Hotel information – you can select the check in date one day in advance e.g. I arrive on the 20th, and the check in date can be 19th or 20th – which freaked me out a little but just select the date of your arrival.
You need to already have booked your flights and accommodation.
SHA+ accommodations
In order to apply for the Thailand Pass, you need to have the SHA+ hotel booked and the easiest way to do that is on Agoda.
Select Thailand Pass and choose 1 night only, otherwise, it'll not give you the Test & Go package which includes a PCR test, pick up from the airport, and the ATK test for Day 5.
The price starts at 4000 baht+ (1,000 HKD/ 119 USD) – with a lot of hotels up on offers. I decided on Lemontea Hotel, which was very prompt in responding.
Once you have submitted your Thailand Pass application (or book the hotel), they'll send you an email requesting the following information (which is pretty much the same as Thailand Pass):

Copy of Passport
Flight ticket details
COVID-19 Vaccine Documentation
COVID-19 Insurance
Certificate of Recovery from Covid [ In Case you had COVID and recovered already ]
Thailand Pass insurance
In the end, I purchased FWD insurance plan A as recommended by the Thailand Pass, which covers the 20,000 USD COVID hospitalization and costs 650 baht.
Here is the link that will pop up as you apply for the Thailand Pass.
Things to print for heading to Thailand under Thailand Pass
Passport copy
Visa (if needed)
Vaccine passport/vaccination card
Thailand Pass*
Booking confirmation*
Insurance for Thailand
Boarding pass (keeping it)
I forgot to print my insurance and they accepted the pdf on my phone. The ones with * on it are the ones that I ended up actually using, but I think it's worth printing all of them out just in case.
Flying into Bangkok under Thailand Pass
Leaving Hong Kong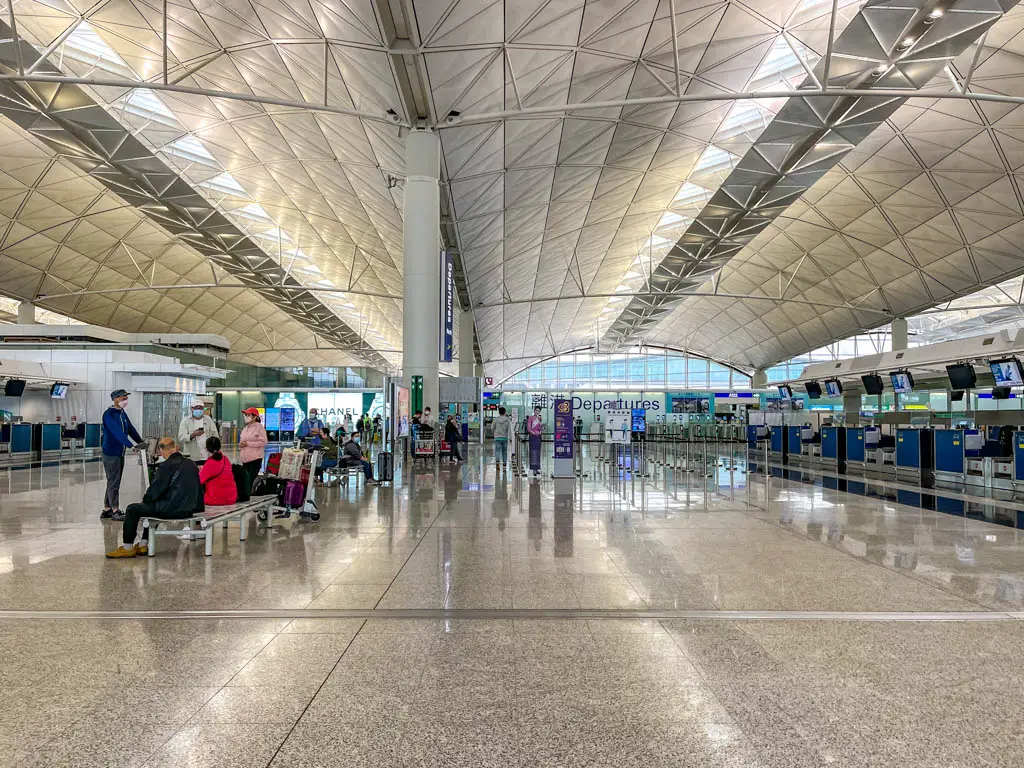 I arrived fairly early for my flight mostly because the airport bus schedule was a lot more sparse than it used to be, so I left home early just to be safe. The counter open 3 hours before departure.
The check in took longer than before with the staff checking for Thailand pass, insurance, hotel, and return ticket.
But once I got past that, it was very easy and no queue through hand luggage check. There's now a zone for passengers inside the terminal by the gate that checks your passport and won't let you out after you're inside
Bathrooms marked passengers only as well. 
Flying with Thai Airway
My flight was operated by Thai Airways and it was pretty empty although most economy passengers are stuffed at the end.
I got a row to myself, mostly because I was traveling solo. There were a few rows reserved for quarantine but they were taken down after we took off.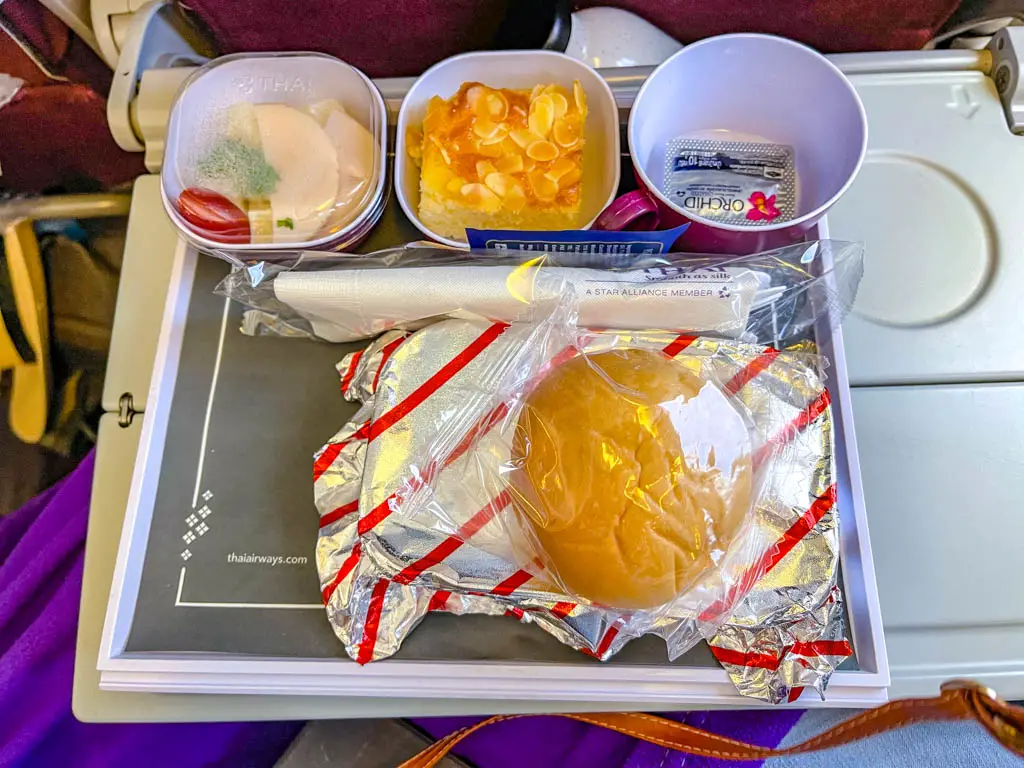 An inflight meal was still served and everyone I saw still ate. I was pretty hungry so I ended up eating, too.
Masks are mandatory and no one seems to be using headphones to watch movies. The flight attendants gave out landing forms, don't forget to get the landing form and fill it in.
Arriving in Bangkok under Test & Go
On arrival, we exited the gate as usual and there was an extra stop for checking Thailand Pass.
They require your Thailand Pass, boarding pass, landing form, and passport – so remember to print your Thailand Pass.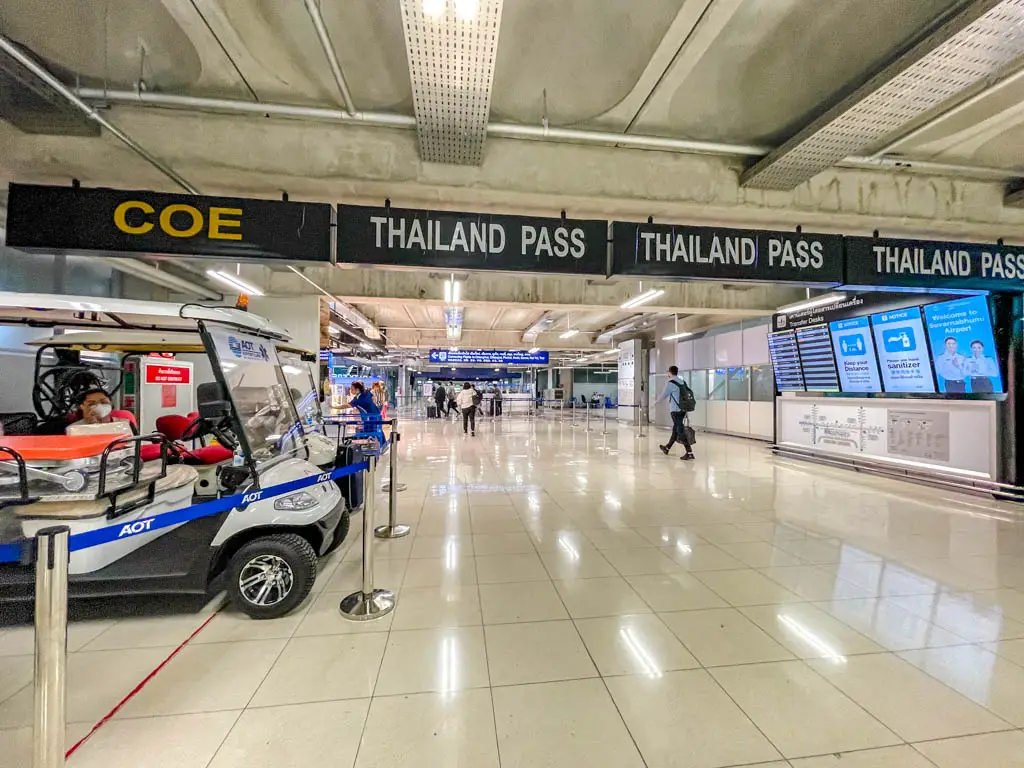 It was a quick check and then the usual route to get to the immigration, which was business as usual, and they didn't check my Thailand Pass again.

After that, baggage claim was standard as well and I got my SIM card at the AIS counter there to save time.
Getting picked up by Test & Go hotel
My hotel had already emailed me the counter they are at which is by gate 10. On exit, there was already a row of counters set up with letters, each one for several hotels. People are still free to roam at the terminal to buy SIM cards, exchange currency or rent a car.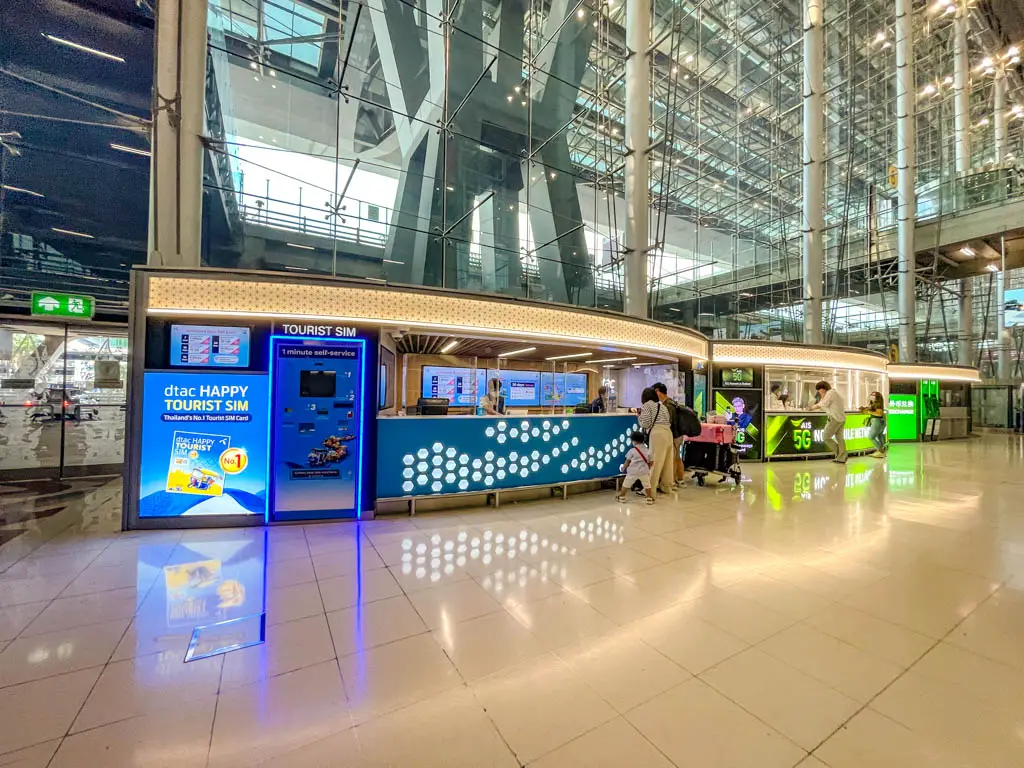 If you're unsure, ask the staff in yellow hotel armbands who will help you.
I head over to the blue counter of my hotel which was by gate 10, and the man took a photo of me and my confirmation. I then waited for 5-10 minutes by the seating area before he came and escort me to a minivan.
PCR Test under Test & Go scheme
I was the only one in my minivan and they took me to the Hospital for the PCR test.
We were at Piyavate Hospital and it was a drive through experience. A man gave me my PCR test tube and confirmed my name, then we drive on and a nurse came and did the swap and took the test tube and off we go.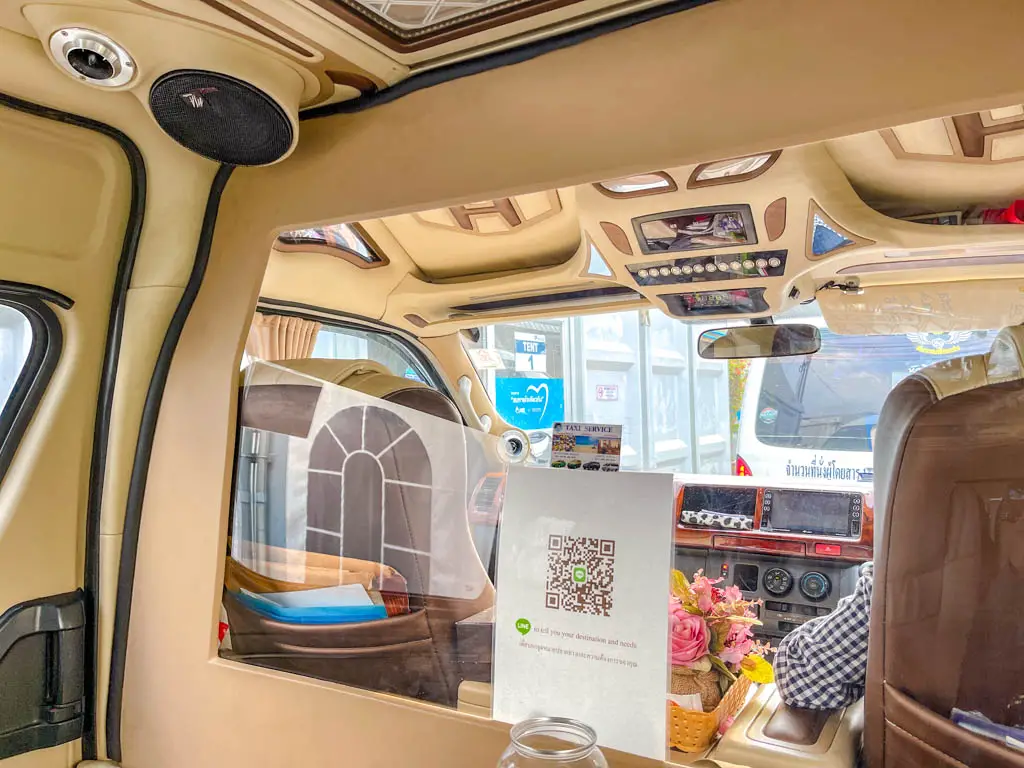 I'd recommend getting a SIM card at the airport if you're alone so you have something to do while waiting.
Test & Go Hotel Waiting
I arrived at my Test & Go hotel a short ride after and they quickly checked me in and ushered me to my room. They delivered dinner to me, which was a Japanese lunch box with miso soup with a bottle of water.
I would bring or buy some snacks if you think you'd be hungry!
Getting your PCR Result
Your PCR results should come in an envelope – do not throw it away as you'd need the number at the top left for future travel. I'd keep it with you just in case when you are out and about, along with a passport photocopy if you're not carrying your passport with you.
Timeline for my Test & Go
My flight landed at 3:10 pm
Got to luggage claim at 3:40pm
Got on my shuttle at 4pm
Got to the hospital for my PCR test at 4:22pm
Arrive at my hotel and checked in at 4:53pm
Got my dinner at 6:16pm
Got my result at 11:00pm – although when I called they told me my results should be out by 10:30pm