Phuket Old Town might not be the first choice for most people visiting Phuket, which is known for its beaches. But those who skip it miss out on the history, culture, and colourful Sino-European houses of Old Phuket Town. So if you are a history lover and a foodie, then you can't miss Phuket Old Town. From the most filling and varied food tour to Instagram ready streets, here is a guide to the heart of Phuket:
Note: if you want a seaside vacation, I don't blame you, and here's an eco-resort recommendation. Or see my Thailand series.
Phuket Old Town History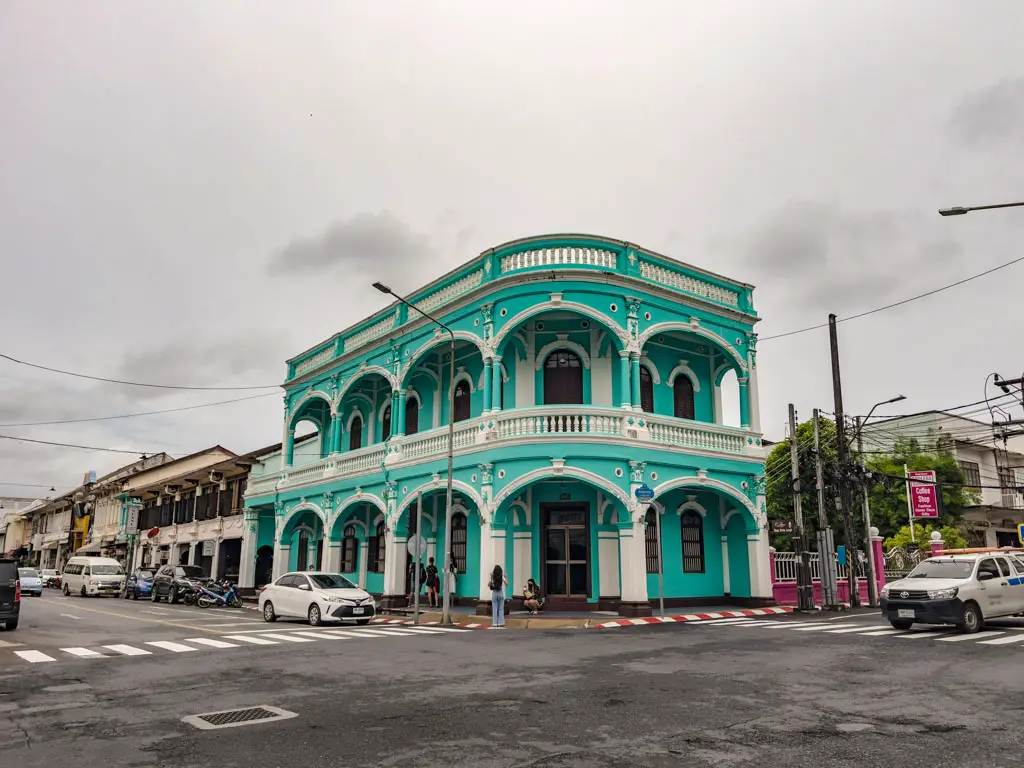 Before Phuket is the tourist island of Thailand, it was the mining capital of the country. The majority of the mines are tin with some silver, with excavation starting in the 17th century. This attracts a lot of labourers over, with the Chinese coming over under the of King Rama in 1824, as well as Malays.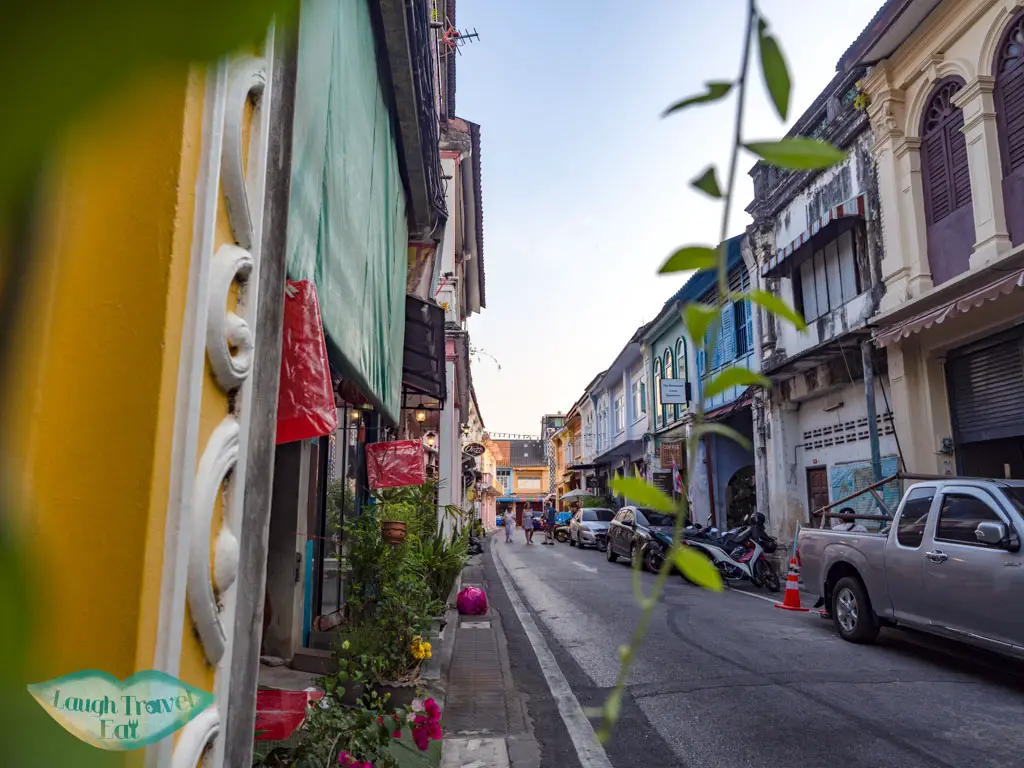 Not all the immigrants who came ended up in the mines, some of them took up trades they did back in their homeland including running restaurants, banks, etc. 
Phuket Old Town Attractions
The center of Phuket Town is small with neat streets lined with beautiful houses. Although it might seem like a few hours is enough to see everything, there are so many little nooks and amazing places just hiding in plain sight. 
Phuket Thai Hua Museum
The Thai Hua Museum is set back from the street, standing out with its larger-than-usual size and pastel yellow colour. The name Thai means Thai in Chinese, Hua means Chinese, and it was originally a Chinese school funded by local Chinese.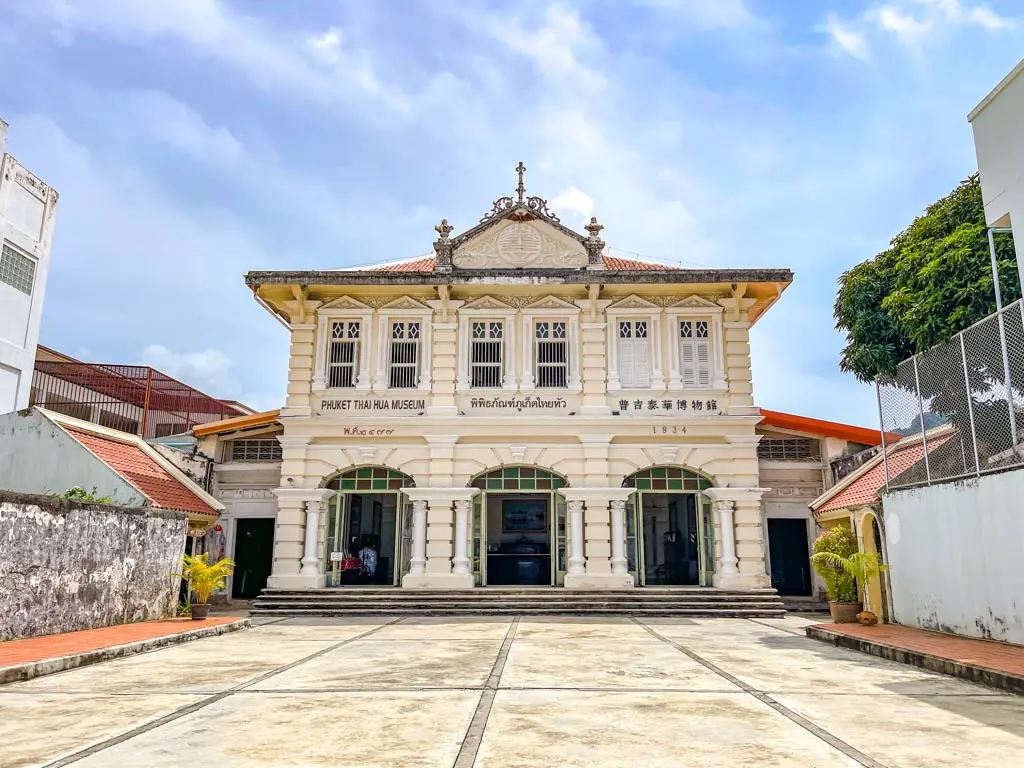 The building was built in 1934 and incorporated both Singapore, Penang, Chinese, and European architecture. It was abandoned in 1941 for 6 years due to political reasons, then reopen. Eventually, the school moved in 1964 and this became a museum in 2006.
Although it's a small museum, it covers a lot about the history of Chinese in Phuket, starting with the mining history and all the way to how they assimilated into the community. Admittedly, it is much more interesting if you also read Chinese.
Address: 28 Krabi, Tambon Talat Nuea, Mueang Phuket District, Phuket 83000, Thailand
Opening times: 9:00 – 17:00
Admission fee: 200 baht
Sino-Portuguese architecture
Sometimes also known as Sino-European architecture or Peranakan architecture, these colourful three-storey narrow shop-houses are characteristic of the amalgamation of culture in the early 20th century.
You'll also find these houses in Penang and Singapore, which shared a close tie with Phuket in terms of the oversea Chinese community. You can find them all over Vietnam and Malaysia, most notably Hoi An, Vietnam, and also Macau.
The main road to spot them is Thalang Road, but the nearby streets and around town are full of beautiful ones, too. 
Soi Romanee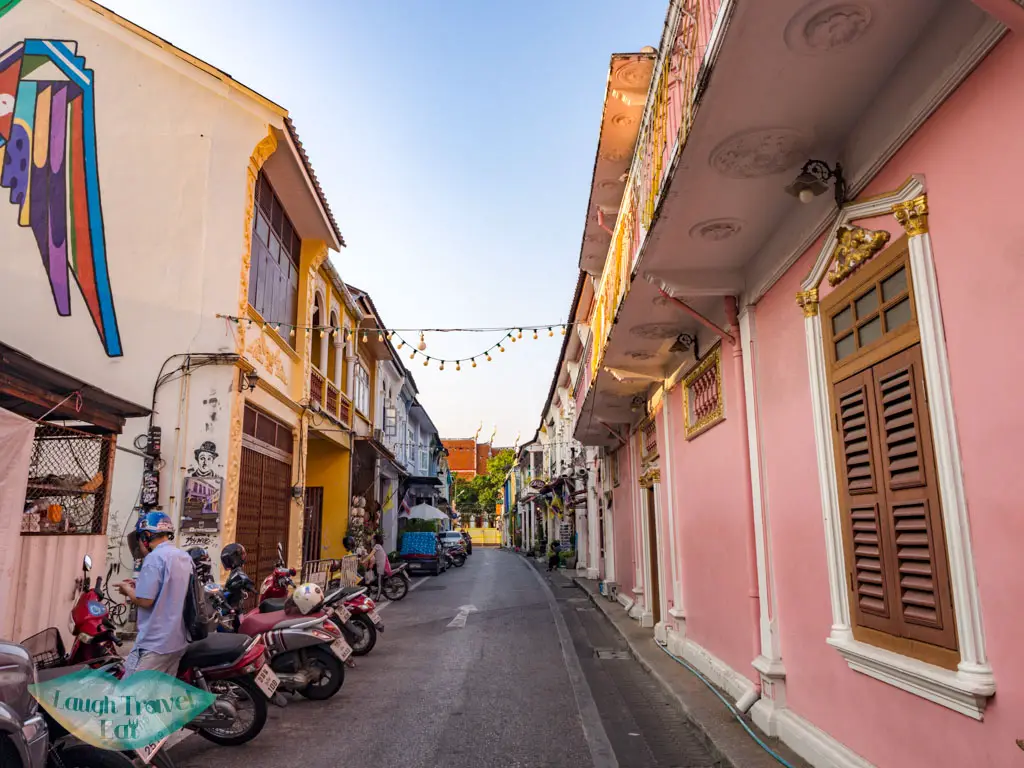 Dubbed the most beautiful street in Phuket Old Town, Soi Romanee is indeed a romantic street in shades of pink. There is a new cafe on the Thalang Road side that has a line of mirrors on the Soi Romanee corner next to the Alex Face mural graffiti.
There are quite a few cafes and cute buildings on Soi Romanee, too. I recommend going early or on a weekday to avoid the crowd.
Promthep Clock Tower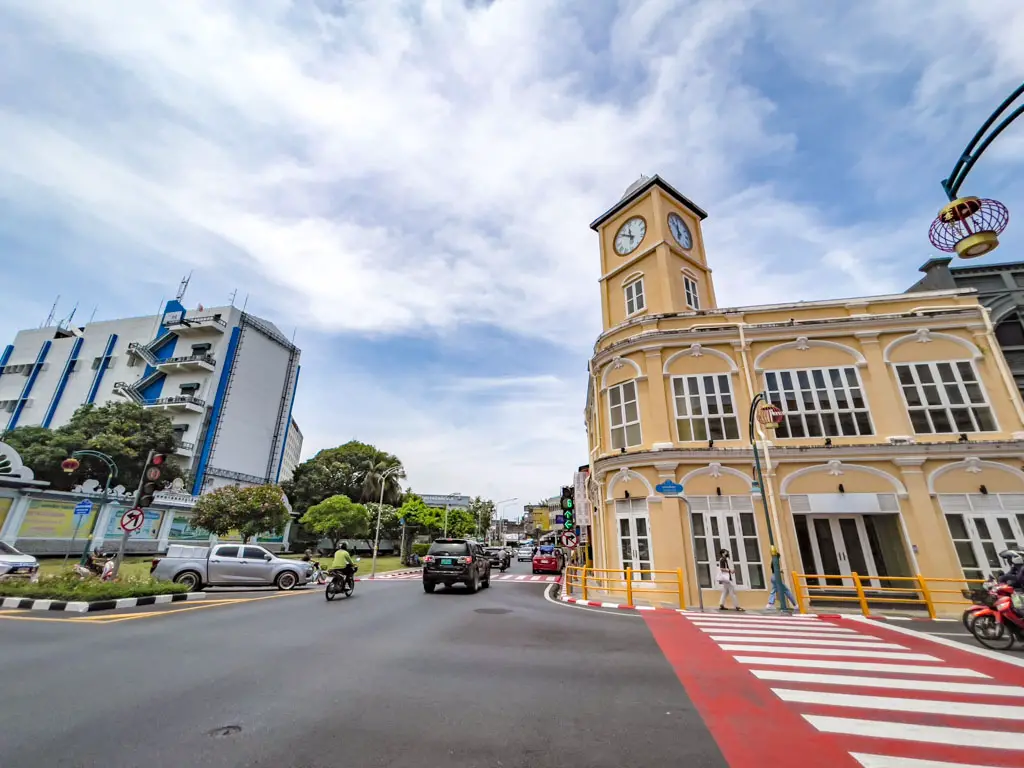 The Promthep Clock Tower is Phuket Old Town's famous clock tower that was once part of the police station. It's in an eye-catching shade of pastel yellow. It's particularly popular with Thai tourists.
Fun fact: while the clock tower was built in the early 20th century, there was no clock on it until over 50 years later. First, there was no money to buy it, then the ship carrying it from Penang sank, and finally, it was donated by The Phuket Lion's Club.
Phuket Town Central Market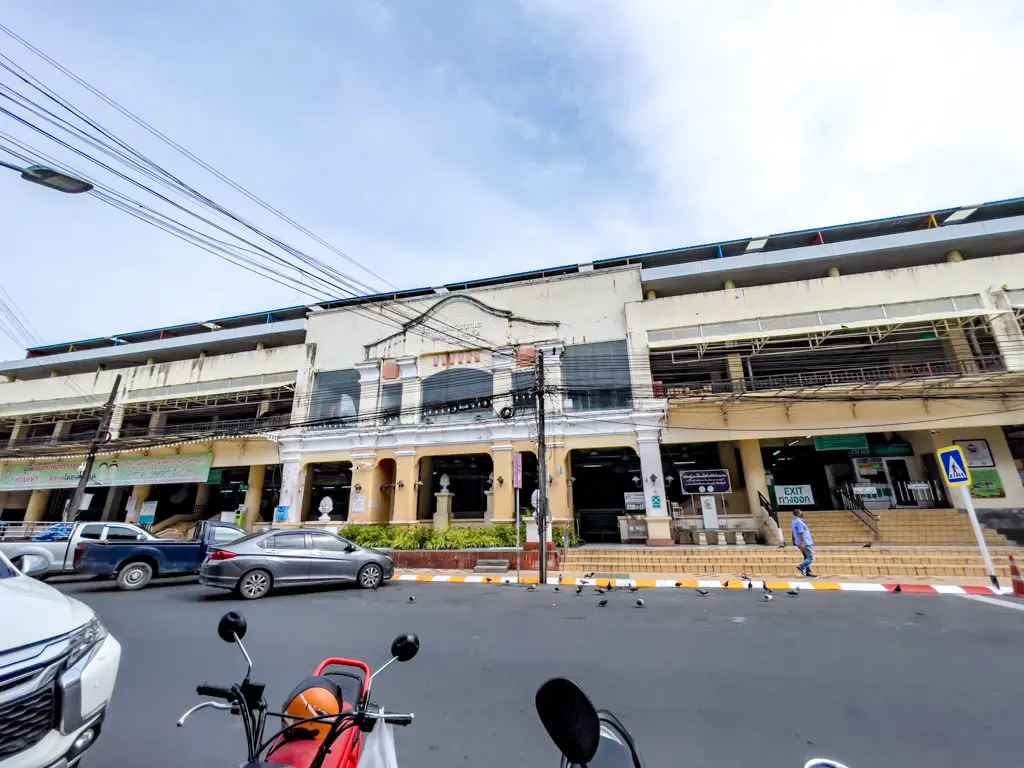 The Phuket Town Central Market is worth a visit for foodies or those who are interested in the local way of life. The market opens early in the morning and closes by the afternoon, with vendors selling everything from dried herbs and sauce sachets to fresh vegetables and meat.
You'll also find some food stalls and I visited the market with A Chef's Tour Southern Flavours tour. It's definitely more interesting and informative than walking around by yourself.
Kuan Im Teng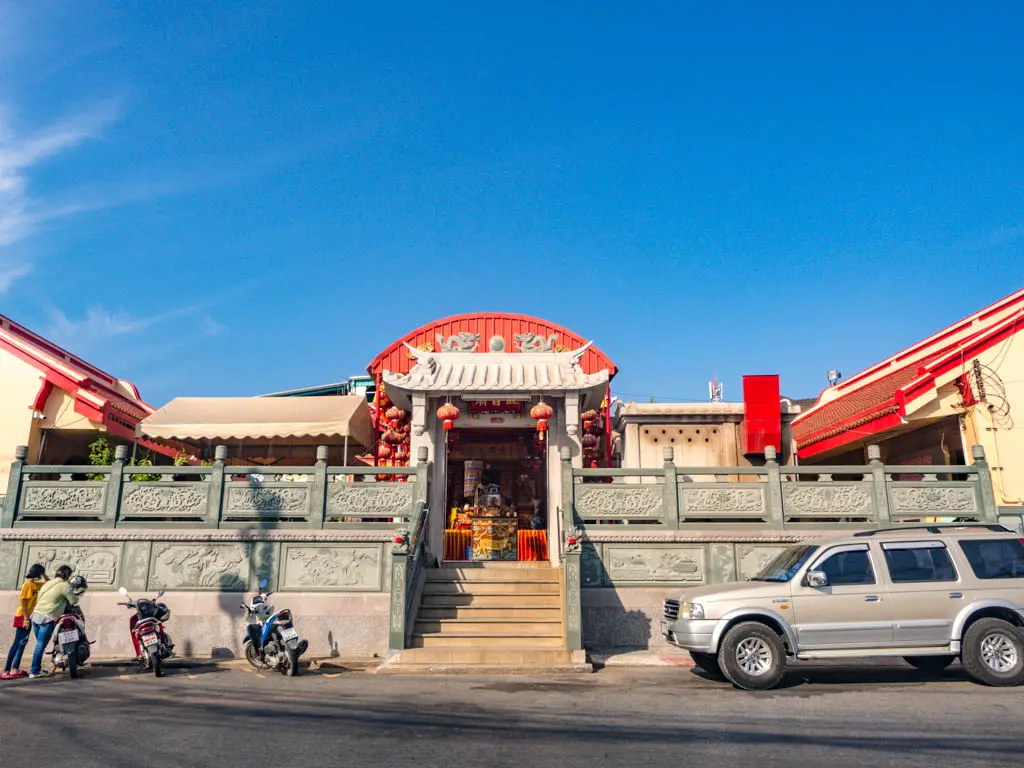 Kuan Im, or Kwan Yum, is the goddess of Mercy in the Taoist religion and a popular goddess among the Chinese. The Kuan Im Teng in Phuket Old Town is the oldest in the area despite being a smaller temple.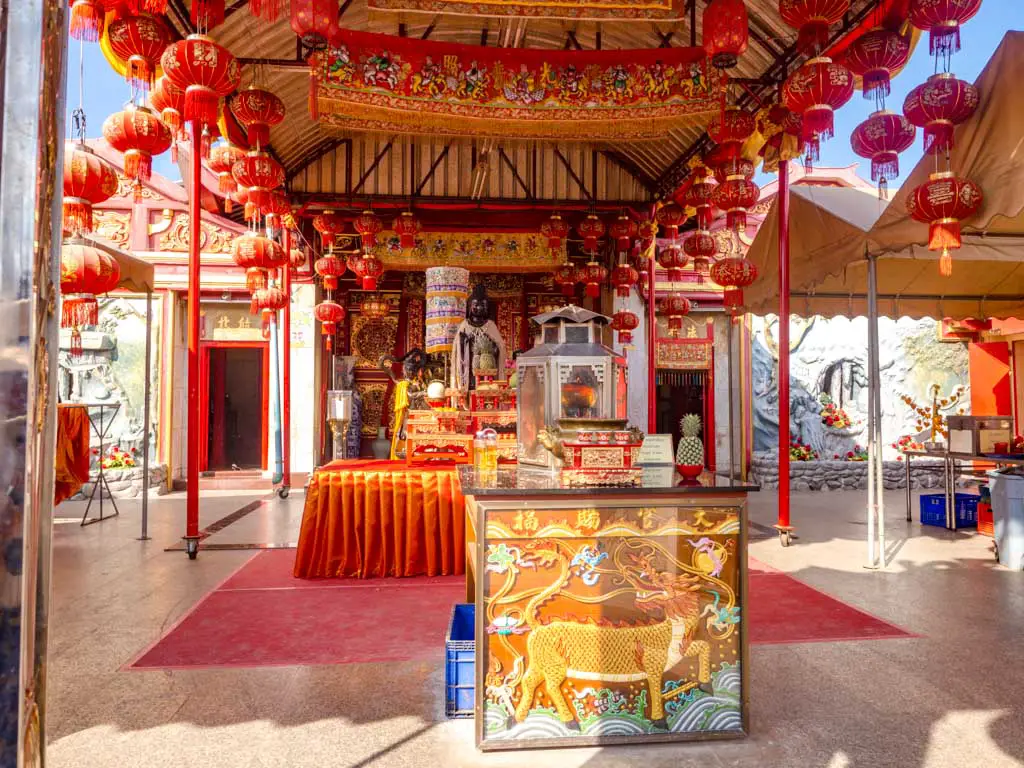 It's free to enter but do remember to take your shoes off when entering the main temple.
Address: 289 Soi Phutorn, Talat Nuea, Mueang Phuket District, Phuket 83000, Thailand
Opening times: 6:30 – 19:00
Free entry
Jui Tui Shrine
The Jui Tui Shrine is attached to the Kuan Im Teng and a shrine that was built in 1911. The name means 'water' and 'mud-earth/mortar' in Chinese, and referred to a canal that once sits next to the temple.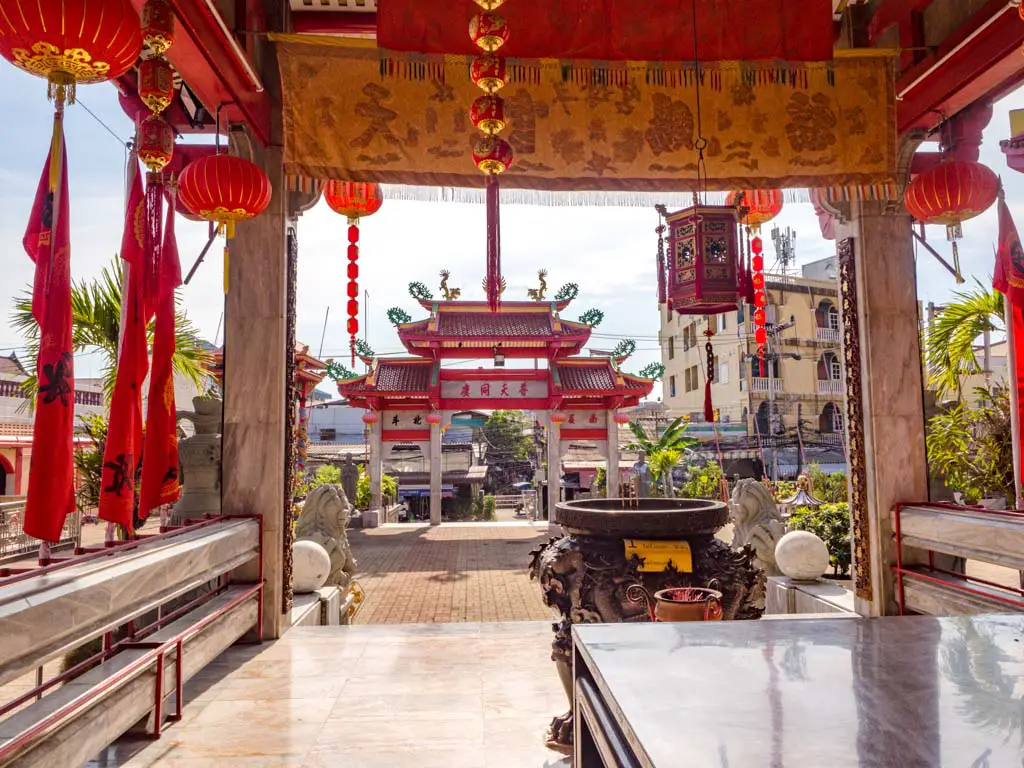 But it's most notable for being the site where the Phuket Vegetarian Festival takes place. It's a 9-day celebration with many local Chinese and Thais participate in.
Shrine of the Serene Light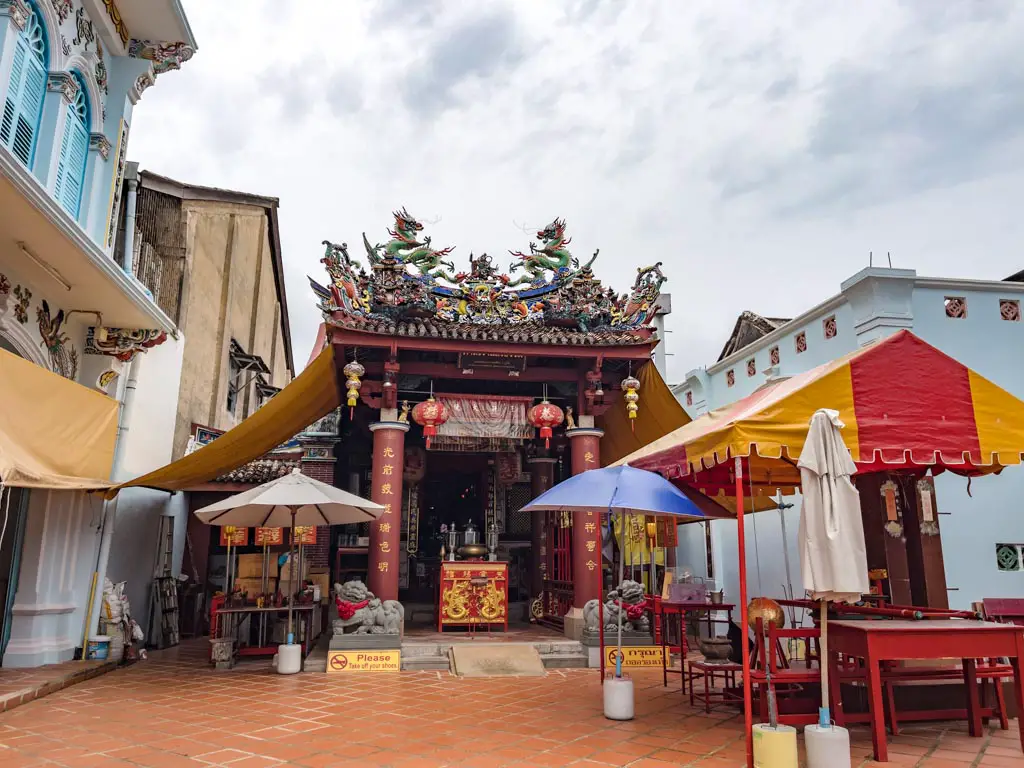 The Shrine of the Serene Light is a Chinese temple hidden between the buildings. The alley leading up to it is covered with a graffiti scene of Chinese celebrations, and the temple itself was built by a Chinese family in 1889.
It used to have two entrances, the other one through the toilet of a restaurant and the alleyway that has now been widened.
Address: 72/1 Yaowarat Rd, Talat Yai, Muang, Phuket 83000, Thailand
Entry free
Central Festival Phuket Town
It feels odd to add a mall to the list but Central Phuket Festival is a pleasant mall to shop and chill for anyone who wants some air-con and modern vibes. It's connected to a more high-end mall that has more luxury brand name items. There is also a cinema and movie tickets in Thailand are generally cheaper than others.
The mall is about a 10-15 minutes drive from Phuket Town and easy to reach via Grab or Grab bike.
Address: V9R9+Q78, Wichit, Mueang Phuket District, Phuket 83000, Thailand
Opening times: 10:30 – 22:00
Food in Phuket Town
As pretty as Old Phuket Town is, the main focus of a trip there is to eat. As a self-confessed foodie, finding the best street food, yummy restaurants, and cute cafes is my mission. But the fastest way to get to know a city and its food is through a food tour!
So here are not one food tour, but two food tours review as well as some of my favourite dining spot in Phuket Town:
The Southern Flavours is the counterpart to Chiang Mai's Northern Flavour evening tour, which covers the delicious multiethnic cuisine of Phuket Town.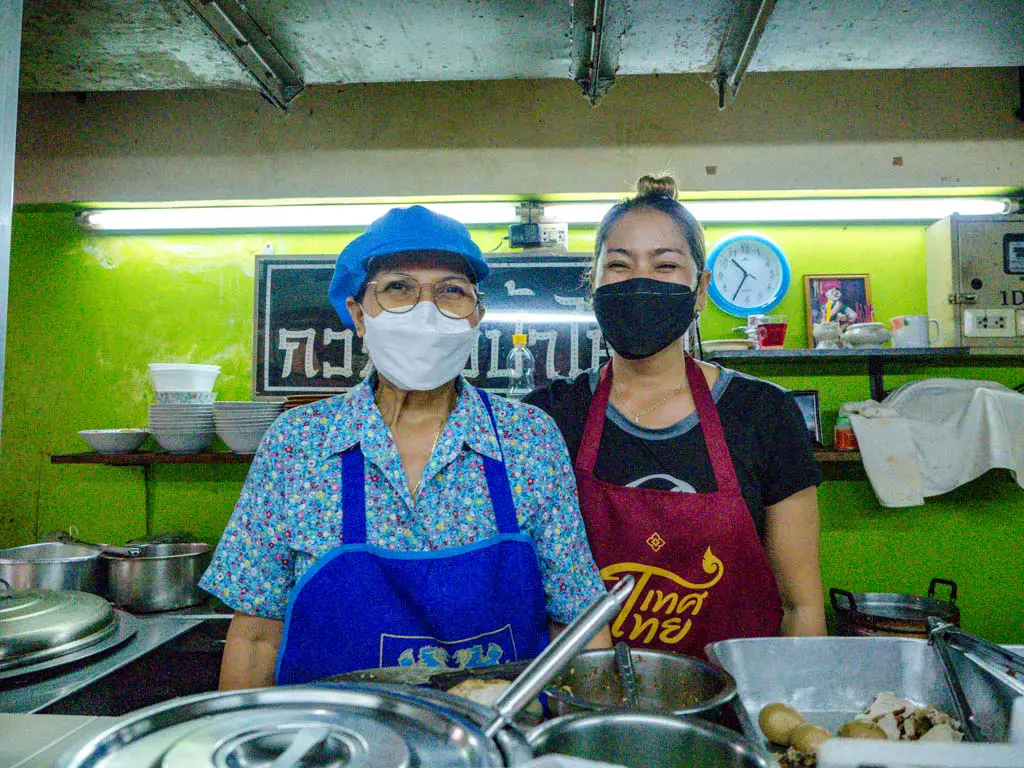 There are a total of 14 tastings starting with a market visit.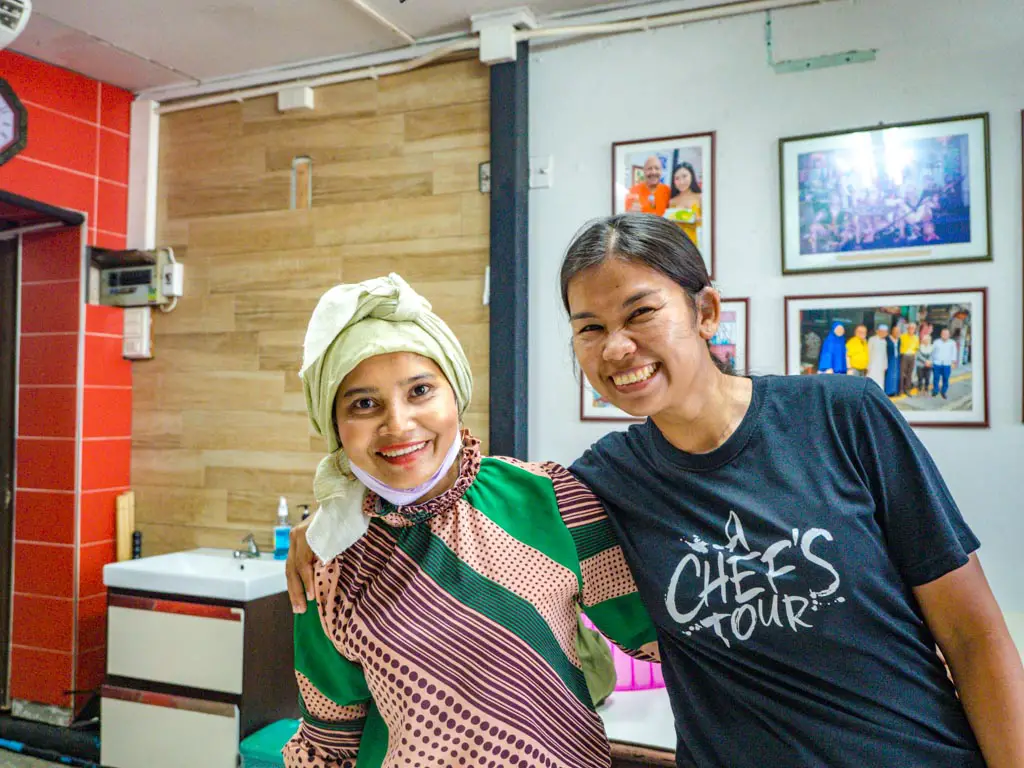 Our guide Nam (not me ha!) is ever so knowledgeable. All of A Chef's Tour's food tours are designed by their locals who handpick their favourite. They also know a lot about the local customs and history and are an invaluable resource.
I don't want to spoil the food tour for you, so here's a quick highlight reel of what we are: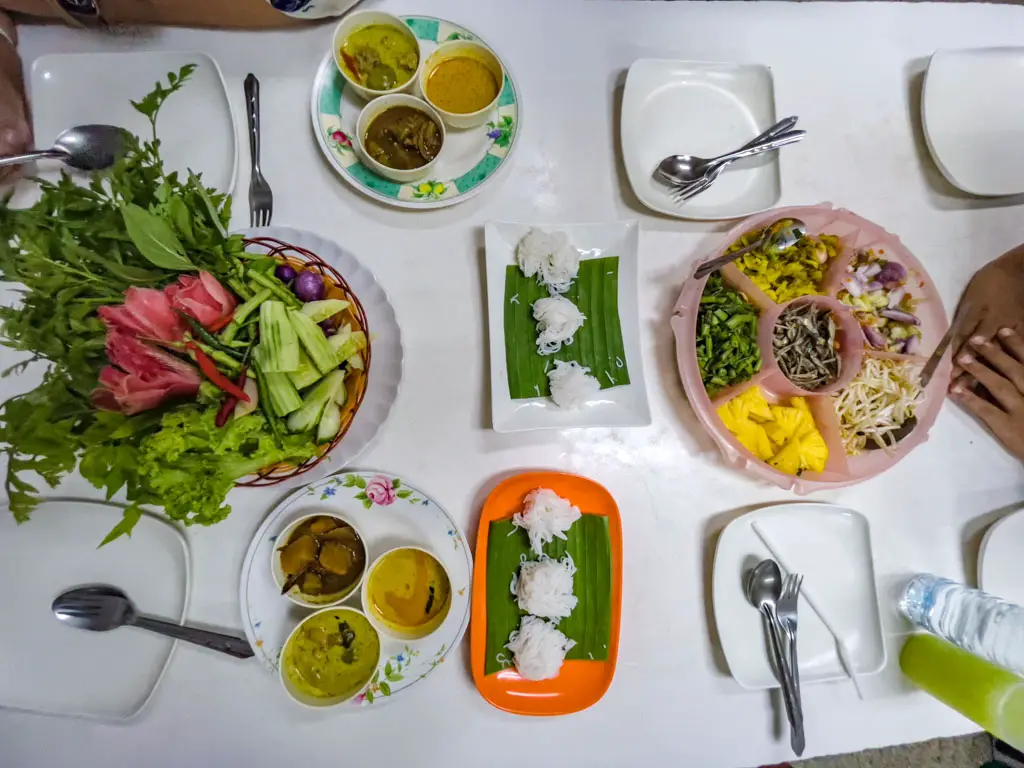 Some of my favourite are:
Kwai jab – which means rice noodles – which was one of the first stops
A Pong – a coconut crepe wrap that is crunchy and soft
Fujian noodles – honestly the best I've ever had
Malaysia curry breakfast with tea tarik, roti, and rice noodles
Time: 10:00 – 14:00 
Cost: 59 USD for adult, 29.5 USD for children under 13, under 3 goes free
A Chef's Tour Evening Tour: Baba Taste
If your timing doesn't allow for a lunch tour, fear not, there's an evening tour as well!
There's no overlap except for the Fujian noodles which honestly I'd be happy to eat twice except I was so full. It's hard for me to pick a favourite tour as both have their uniqueness.
So I'll let you decide for yourself with this photo diary and my highlights: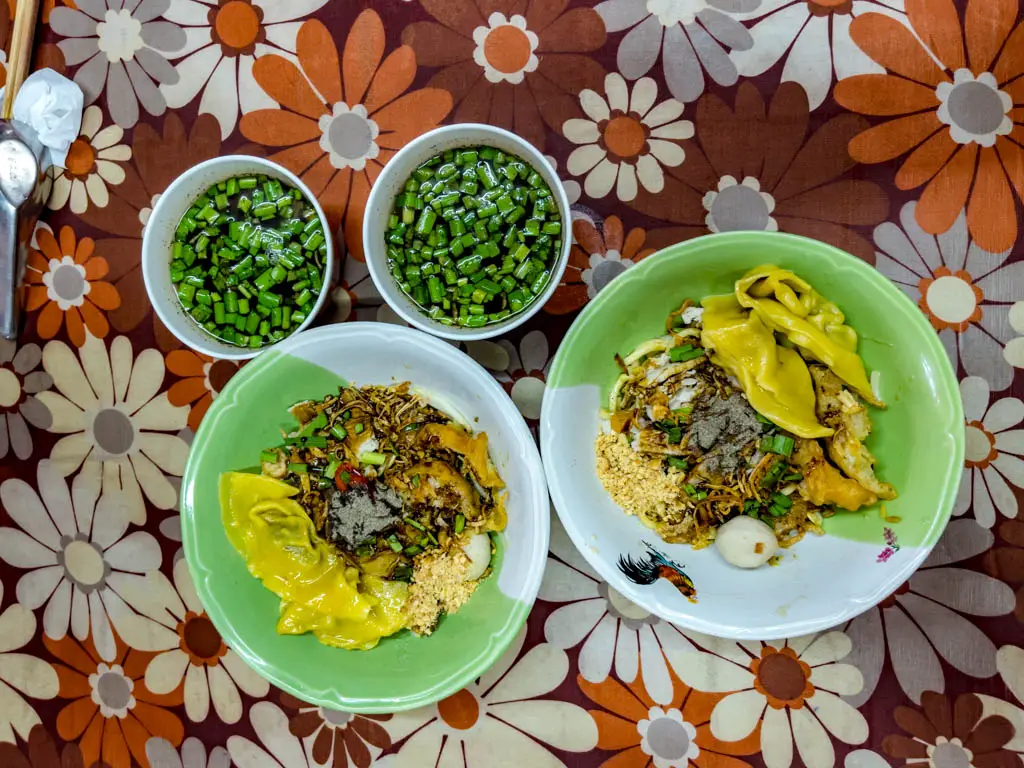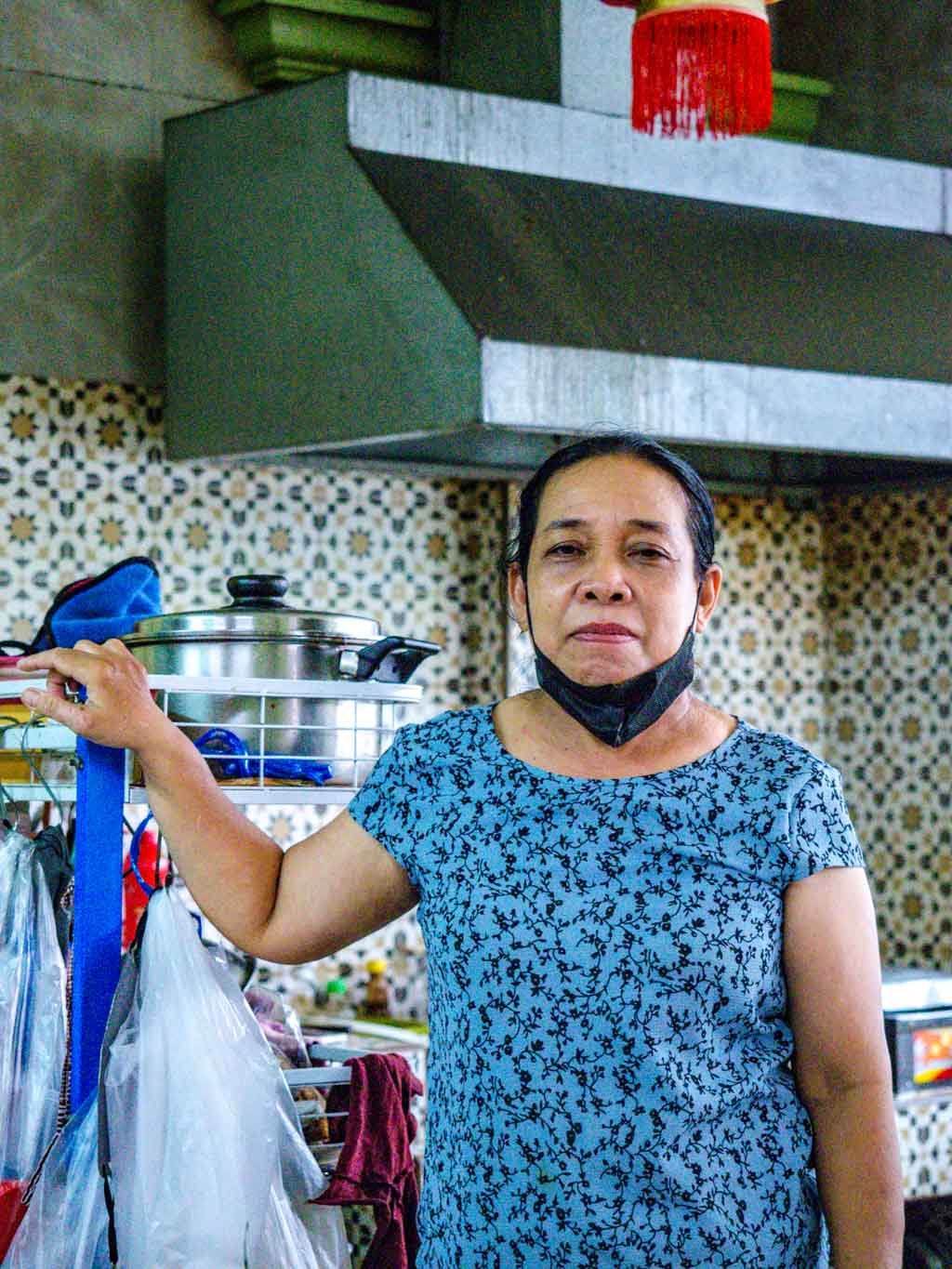 Fancy Thai dessert afternoon tea
70-year-old recipe curry puff
Late night dim sums
Homemade sticky rice dessert 
We also learned a lot about the local life and history of the town, and this might be more suited for the history buff.
Time: 15:00 – 19:00
Cost: 59 USD for adults, 29.5 USD for children under 13, under 3 goes free
Torry's Ice Cream
One of the most popular places on Soi Romanee, Torry's Ice Cream is an ice cream joint that fuses traditional Thai culture desserts into ice cream. It spans over two pink shopfronts and is very photogenic. Their top seller is a coconut ice cream with sticky rice called Bi-co-moi, and also plenty of tasty sorbets and ice cream.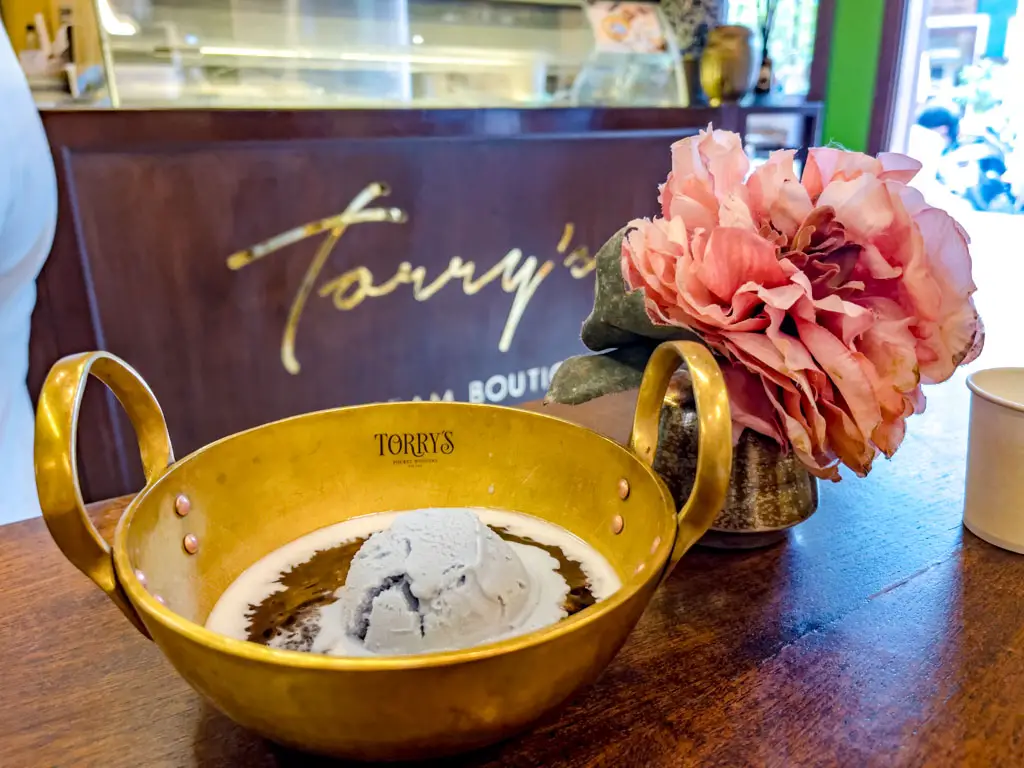 Be prepared to queue for a little if you come in the afternoon, but it's a fast process and you can admire Soi Romanee meanwhile.
Address: 16 Soi Rommani, Tumbon Talad Yai, Mueang Phuket District, Phuket 83000, Thailand
Opening times: 10:00 – 18:00
Tu Kab Khao Restaurant Phuket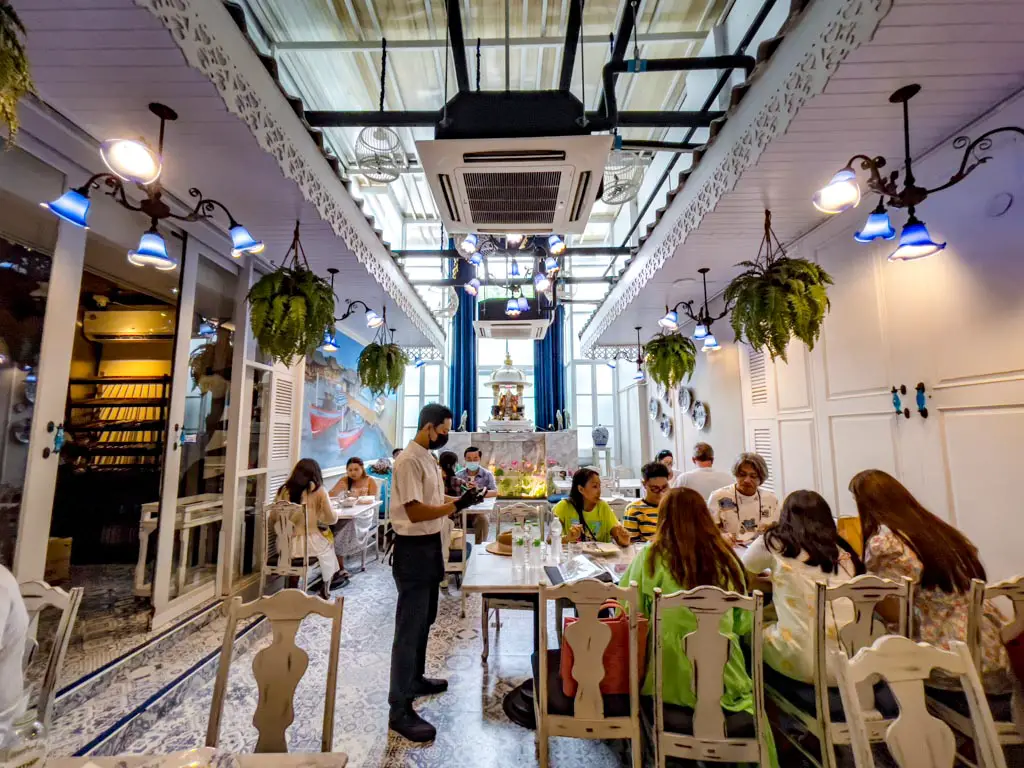 This restaurant was recommended by my Bangkok friend that serves up southern Thai cuisine in a picturesque Sino-Portuguese house. Their signature dish is the crab curry with rice vermicelli and we also tried the stir fried Bai Liang with eggs and deep-fried prawn cakes.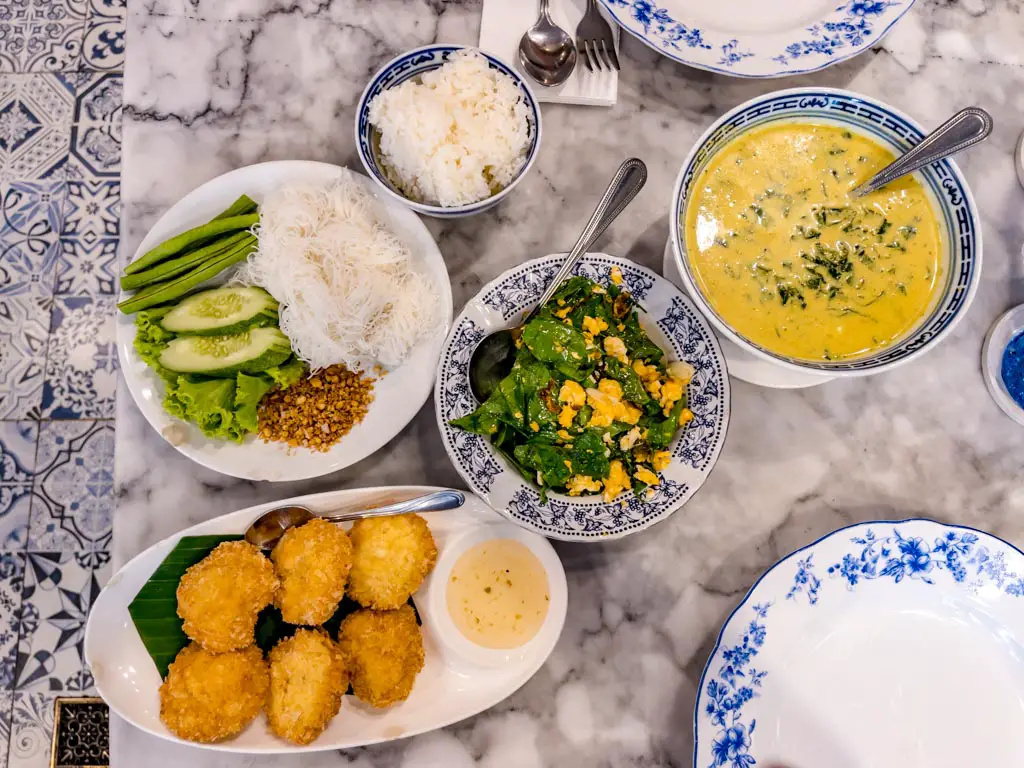 The total was still under 900 baht and we were quite full.
Address: 8 Phangnga Rd, Tambon Talat Yai, Mueang Phuket District, Phuket 83000, Thailand
Opening times: 11:30 – 21:45
Dibuk Restaurant
If you want to have lunch or dinner in beautiful surroundings without spending too much, Dibuk Restaurant is great. It's one street north of Thalang road and their duck dishes are particularly good. If the weather is good, I recommend sitting outdoor to enjoy the vibe.
Address: 69 Dibuk Rd, Tambon Talat Nuea, Mueang Phuket District, Phuket 83000, Thailand
Opening times: 11:00 – 23:30
Kopitiam by Wilai
I stumbled upon Kopitiam by Wilai when looking for dinner on Thalang Road. It retains the shophouse-style from the early 20th century and serves a variety of southern Thai food along with fresh fruit shakes.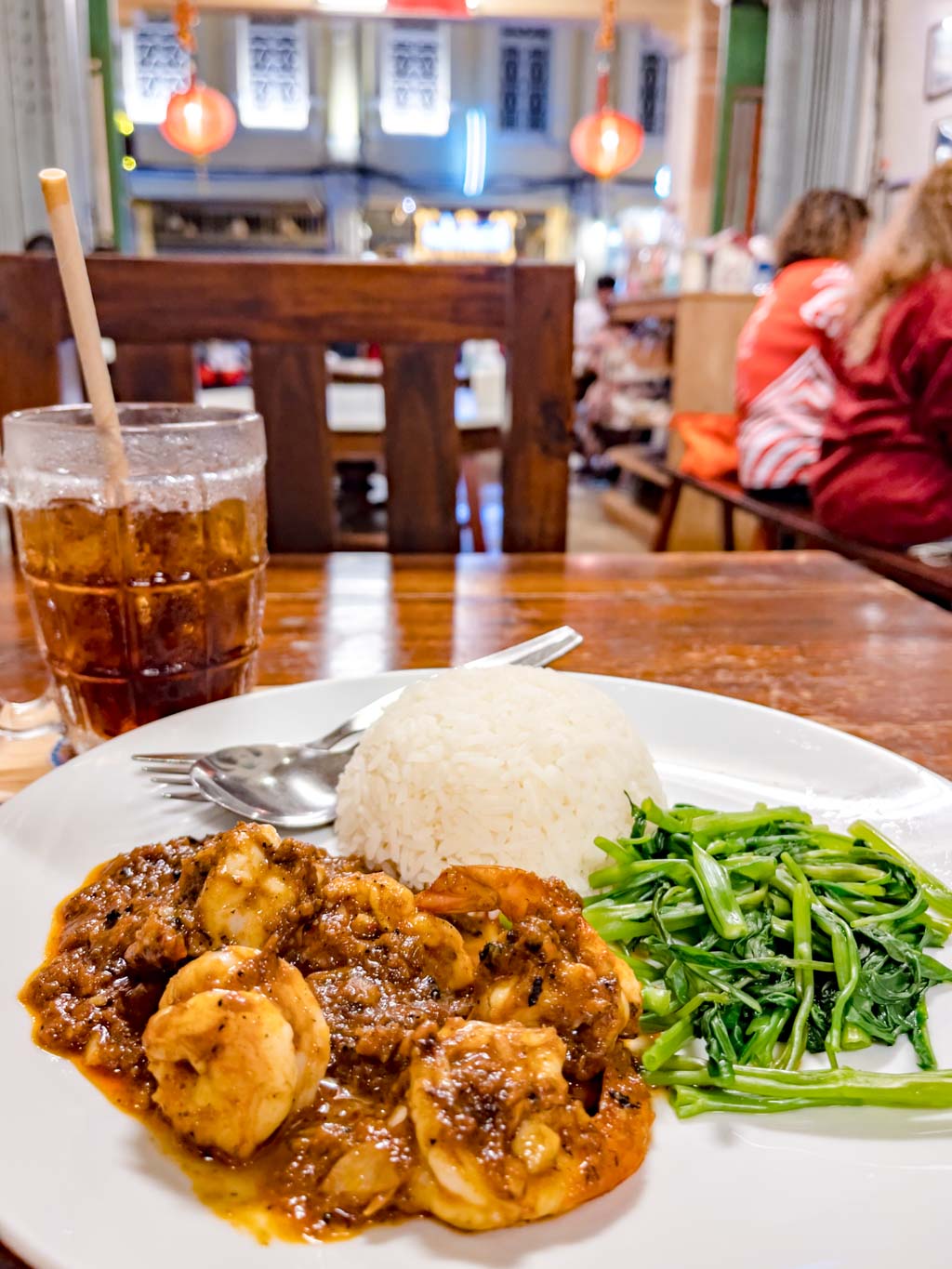 I had the shrimp with a local southern sauce and it was spicy and delicious.
Address: 18 Thalang Rd, Tambon Talat Yai, Mueang Phuket District, Phuket 83000, Thailand
Opening times: Closed Wednesday, 11:00 – 20:00
China Inn Café & Restaurant
Another cute cafe and restaurant is the China Inn. It's also along Thalang Road and I remember the friendly owner fondly. The menu is similar to Kopitiam and it's a good alternative if one of the restaurants is busier.
Address: 20 Thalang Rd, Tambon Talat Yai, Mueang Phuket District, Phuket 83000, Thailand
Opening times: closed Monday, 10:30 – 21:00
Phuket Old Town Hotels
Phuket Old Town is not a very large place and there are plenty of heritage hotels to choose from and more modern ones on the outskirts of the old town center. Here are some of my top picks: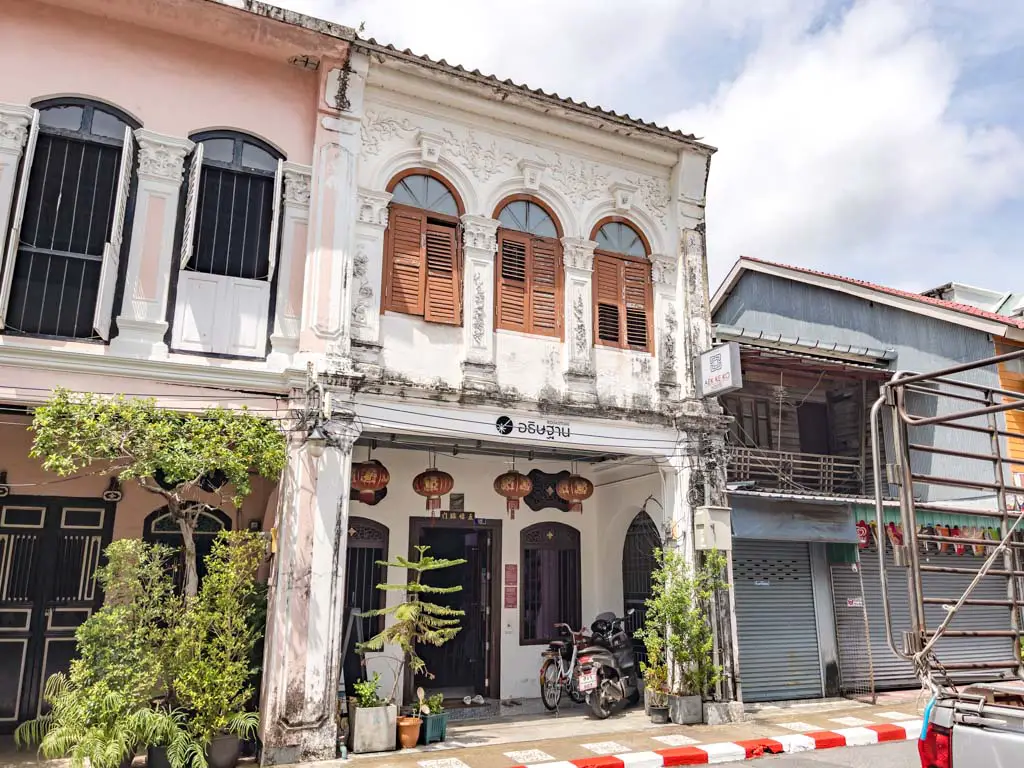 Budget: stay in a Sino-Portuguese house at Aekkeko Hostel which has a beautiful open courtyard in the middle and comfortable rooms. If you're travelling with friends, Ritsurin Hotel is a great choice on the edge of the old town and only a 5 minutes walk away only.
Midrange: The Rommanee Boutique Guesthouse is right on Soi Rommanee with a beautiful view but can get a bit noisy. An alternative is Casa Blanca Boutique Hotel which has a pool.
Splurge: BAAN125 Stay is a modern heritage stay with spacious studio rooms. For fans of the movie The Beach, don't miss the opportunity to stay at the Memory at On On Hotel.