Looking for the best Bangkok food? Thai food is among my most favourite in the world. From authentic Bangkok street food to nice sit-down restaurants for a good catch up or date, there is something for everyone.
That said, finding the best place to eat can be a lot harder, especially since the city is such a big place! Having visited Bangkok a few times and lived in different parts of the city, here are some of my favourite dining options across the board:
Essential information on Bangkok Food
Food prices in Bangkok
Bangkok street food is very affordable, with prices for snacks starting at 10 baht and going up to 50-100 baht for full-fledged meals. If you're on a budget, there's no better place to be than a night market.
There are also one or two street food carts popping up outside of convenience stores at night, so be sure to check the ones near you if you're feeling lazy.
For sit-down restaurants, prices are going to be more expensive. A budget to midrange restaurant would probably have dishes at 100-300 baht upwards. And fine dining will always be more expensive.
What is Bangkok famous food?
Bangkok itself doesn't particularly have a famous dish. But if you're really pushing to look, take a trip to the Kudejeen district next to Wat Arun and try the Khanom Kudeejeen, a cupcake that dates back to the Ayuttaya period.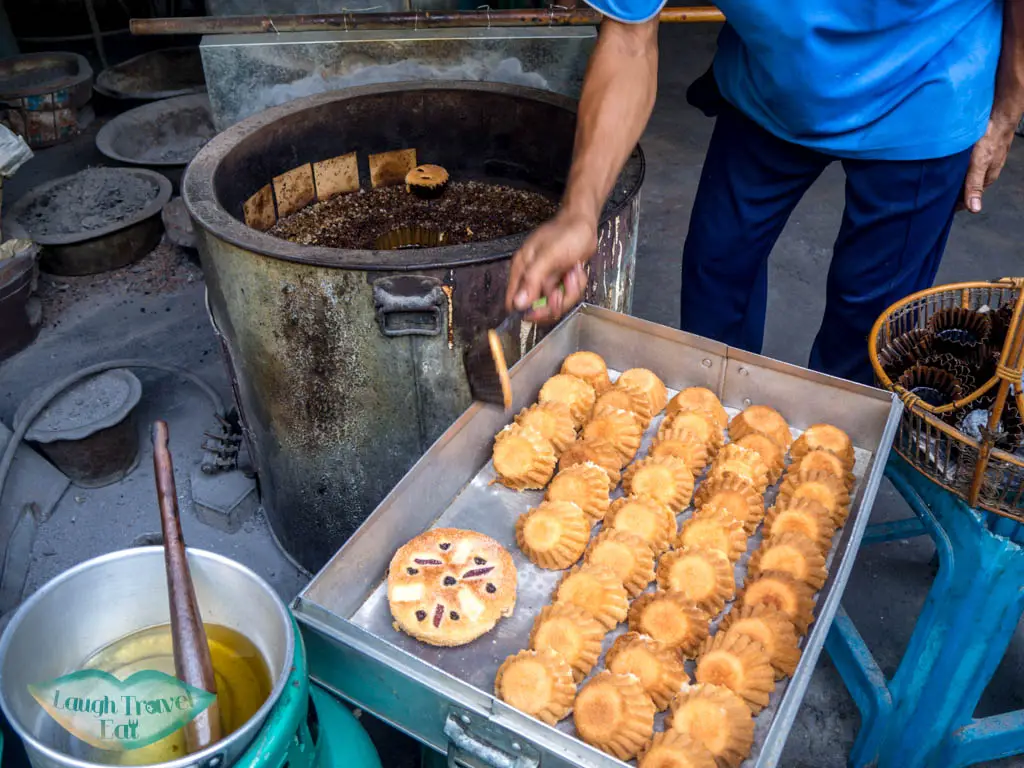 However, those who have watched Netflix's Street Food show would be queuing diligently outside Jay Fai's for a taste of her crab omelet, hopping to Chinatown to try the yellow and green curries, and trying to find the best pad thai.
How is the food in Bangkok?
The food in Bangkok is amazing. But if you stumble across a restaurant, I'll definitely check the reviews on google map and maybe even TripAdvisor before going in.
This is a lot harder to do for street food carts, so the safest way to find the best street food tours to take you on a food adventure that has been tested by other stomachs.
What is typical Thai food?
It is difficult to answer this question as there are a variety of Thai food. But in general, rice, rice noodles, curries, and fish sauce are an important part of most food. 
What cuisine is Bangkok?
Bangkok cuisine is representative more of the central Thailand region, which is different to those from the north and south. Most of the typical Thai food we like such as the red and green curries, pad thai, and papaya salad.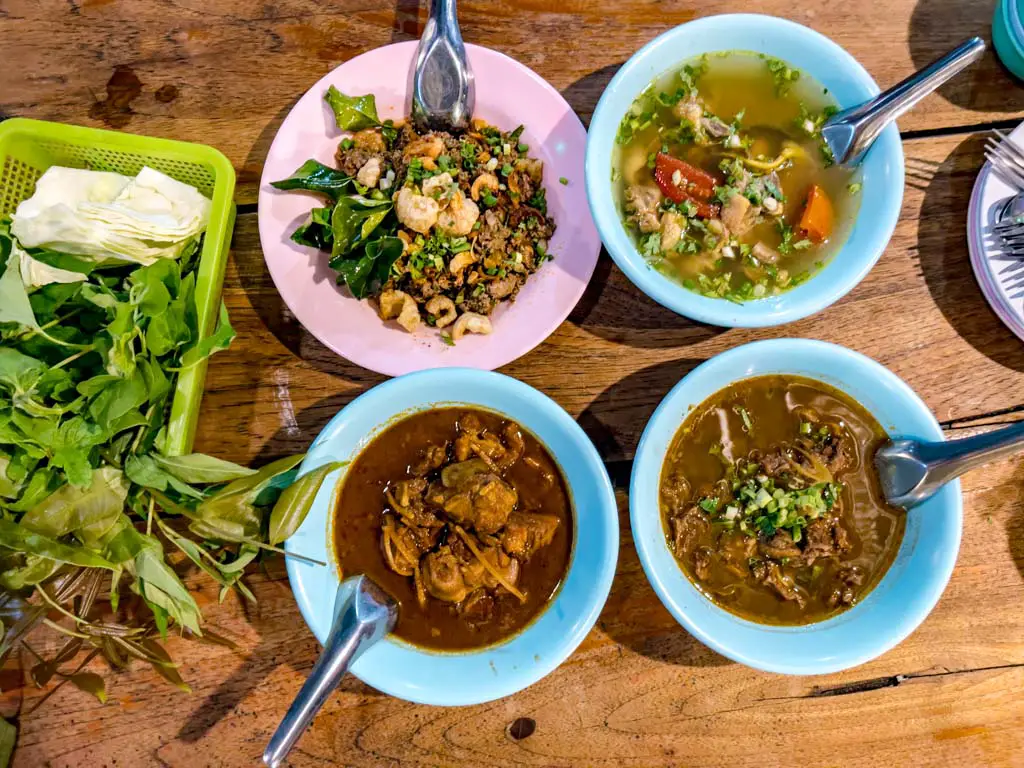 Chiang Mai food has more Lanna influence as it was once a separate country with less coconut milk-based curries. While Phuket cuisine is more spicy and incorporates Chinese and Malay elements. 
That said, as the capital of Thailand, Bangkok has plenty of different type of Thai cuisine restaurants on top of international dining options.
Bangkok Food Tours
The best way to experience Bangkok's food scene is by taking a food tour in Bangkok. Even then, there are so many facets to food in Bangkok that you won't even be able to cover it with just one Bangkok street food tour. Here are the ones that I've experienced myself:
Note: all tours are subject to change as food stalls open and close at different times but these are my personal experience!
A Chef's Tour Old Siam Street Food Tour
I was hosted for the tour but all opinions are my own

Nam
The perfect food tour for those who want to go off the beaten path, a Chef's Tour's Bangkok lunch tour takes you into a local market and its surroundings north of the heart of the old town. Not only do you get to sample delicious food that you otherwise won't try or encounter, it's also a great insight into the local transport and life.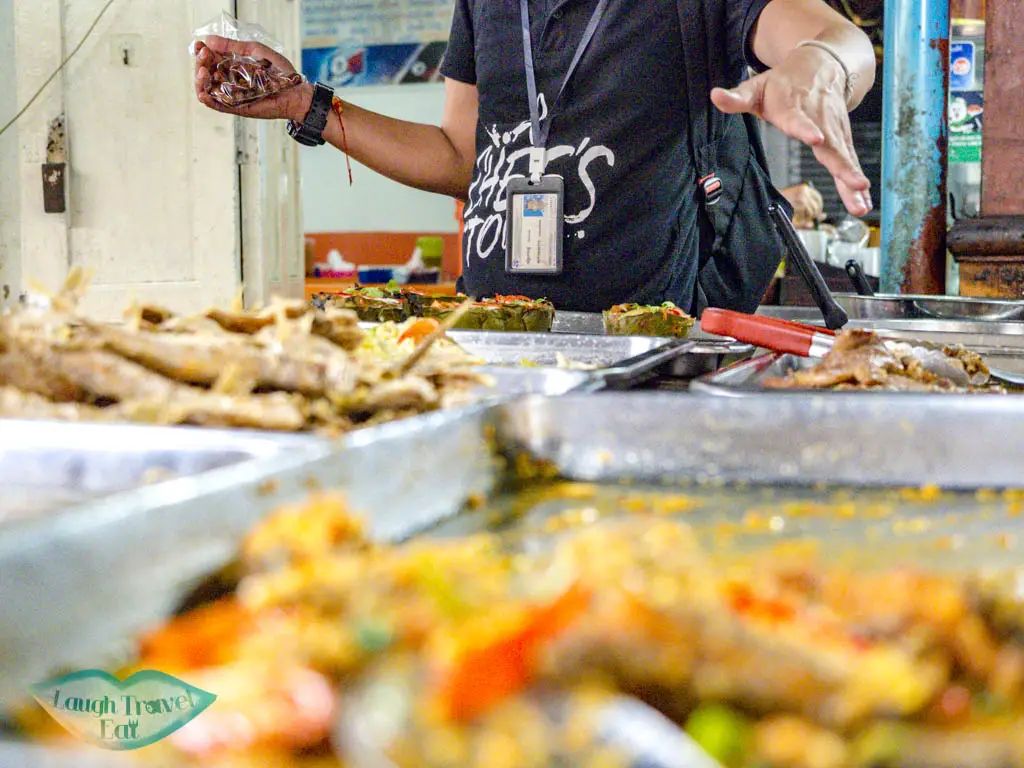 The tour starts at 10 am at the Platinum Mall in Pratunam, easy to reach and locate. We were greeted by our friendly guide Nutt and his nephew, who acts as helper to the tour at the counter right by McDonalds. There were only 5 of us, a perfect size for a food tour! We were ushered to the Pratunam Pier where we boarded the local ferry towards the old town.
Nutt led us through the market right at the pier we got off expertly, chatting to a vendor by the canal who sold tiny banana leaf wrapped snacks. They are sticky rice snacks with taro jam – cooked over a grill and surprisingly tasty. We also got to sample some jackfruit on our way to take the bus – which some can mistake for durian!
The bus took us to a bustling local market and we ducked into the first shop that Nutt frequented since he was a boy. It's a Cantonese style roast meat joint and I was curious to try it coming from Hong Kong.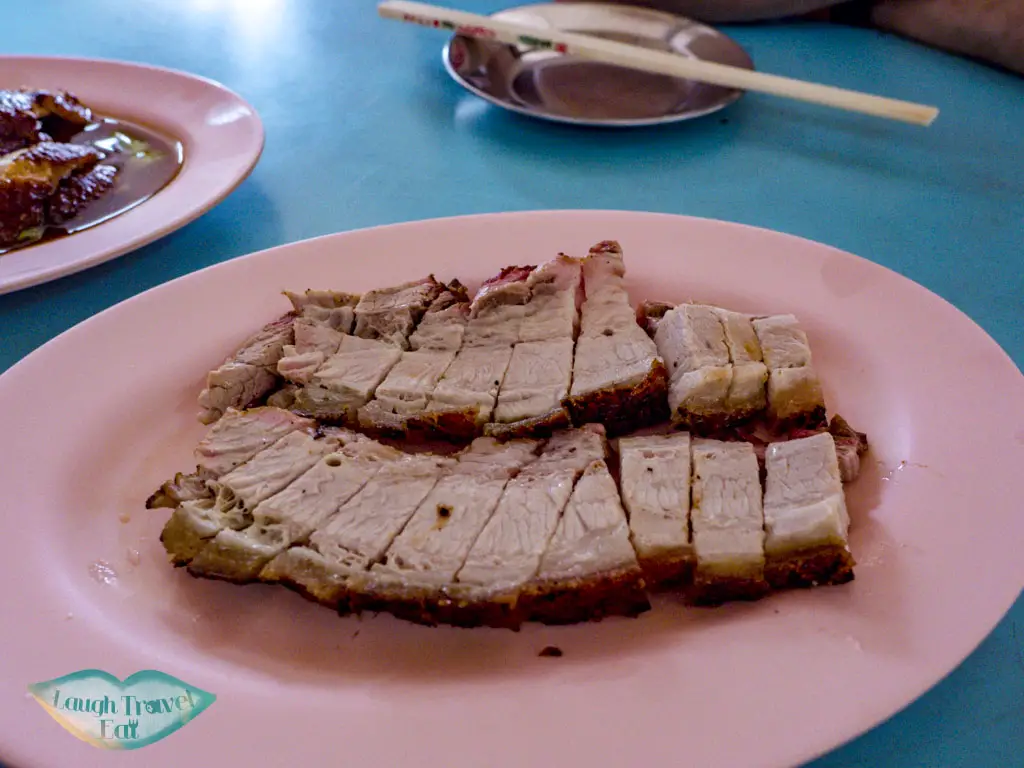 A plate of roast duck (pun intended) and the pork belly was served with green peppers in sweet soy sauce, the latter I had definitely never seen before. Both are very tasty and different with the dip.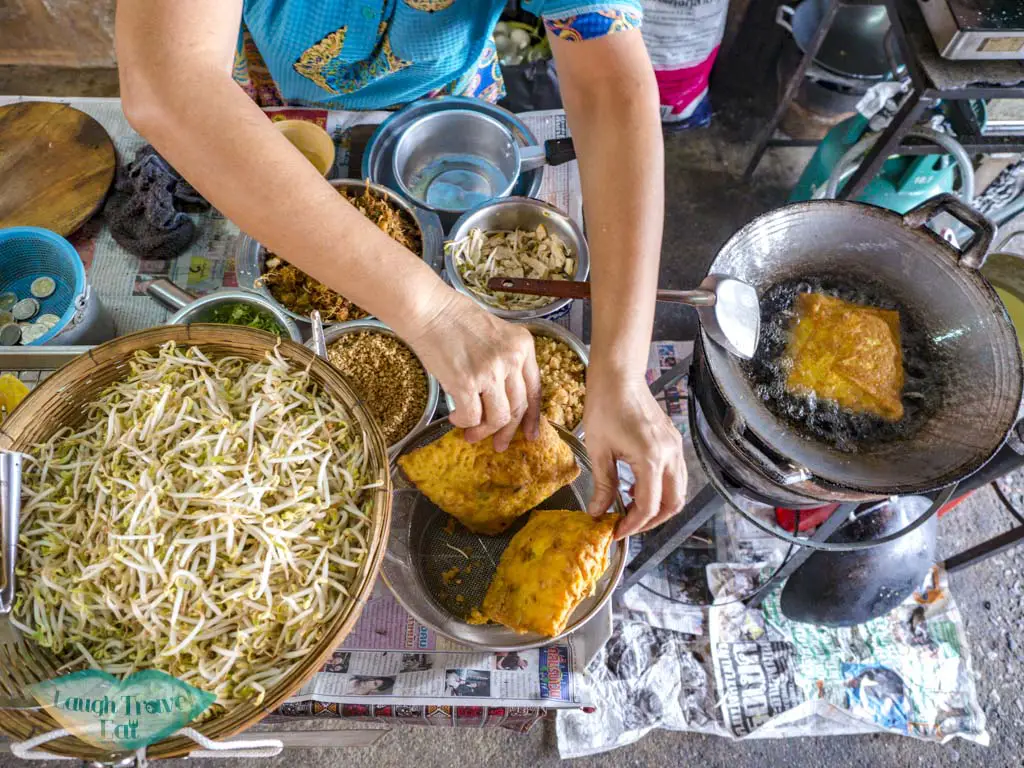 We then hopped across the road to a small street food stand that serves a Vietnamese-Thai snack: Kanom Bueang Yuan. It's akin to Bahn Xeo being a mung bean fried pancake and surprisingly sweet with stir-fried fillings like tofu, bean sprouts, and ginger. It has a with and without egg version, and personally, I prefer it with an egg.
Next up is a small eatery just down the street where we were served pork stir-fried in red curry paste and Thai fried radish cake. It's interesting to try the dry curry stir-fried with pork and long beans. I'm no stranger to radish cake as it's a Chinese New Year and dim sum staple, but having it fried in cubes is new and I like the mix of texture.
Nutt then took us into the market food court. He weaved through the different stores and vendors, pointing out the sweet treats seller and ordering us some Thai Chinese-style spring rolls.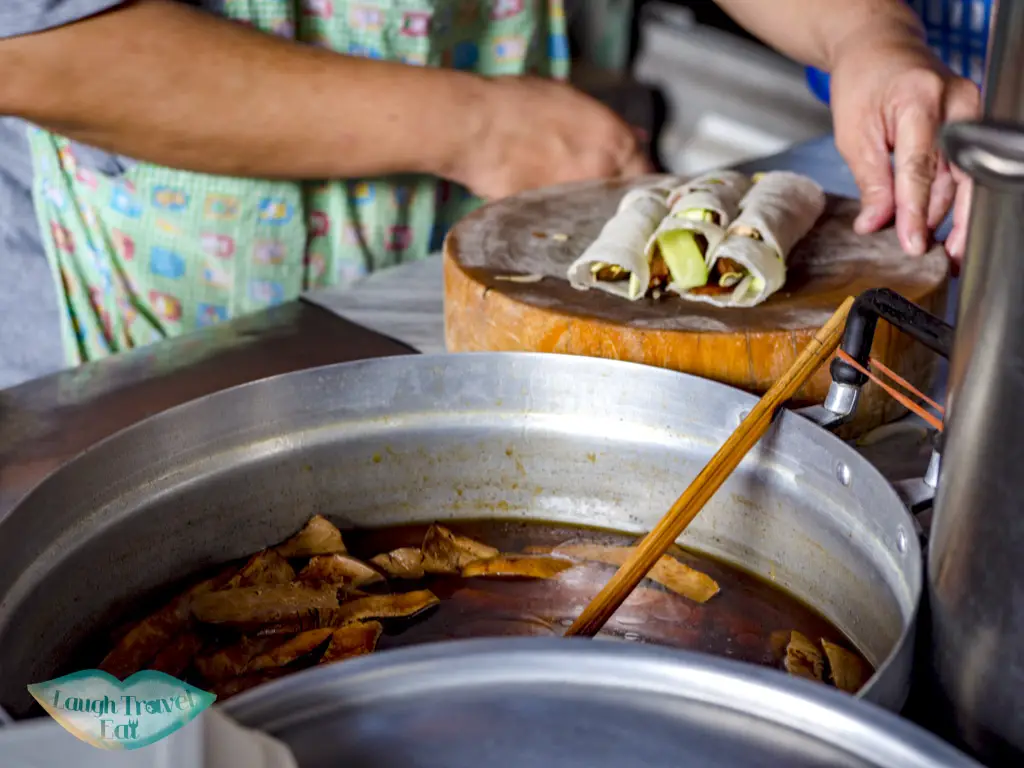 His nephew also managed to find a seat for all of us (no easy feat!) and we settled down and got a flurry of food. I got a Thai milk tea while the others got longan or roselike tea, and a dish of shrimp paste fried rice and sticky rice noodles with pork sausage also arrived. 
We then hit the road again and tried some interesting rice flakes and two types of fried bananas before finishing it all off with four different types of curry!
So don't forget to turn up to the tour hungry!

Cost: 59 USD
Duration: 4 hours, meeting at 10am
Food to eat in Bangkok
Thai food might be very popular worldwide, but there is more to it than Pad Thai and Mango Sticky Rice. If you're wondering about what to eat in Bangkok, I'm here to help. Below, I'll skip the obvious and list out some lesser-known food that you should try:
Bangkok Street Food
If you are wandering around a night market in Bangkok, or any market for that matter, there will always be a food area. Although the quality of food varies, you cannot miss the opportunity to try some of the common street eats that both locals and foreigners love:
Thai Roti
The Thai Roti is one of my favourite things in the world, and I have been known to just eat it for dinner. There are many iterations of roti and the Thai street food version is akin to a fried thin bread crepe with toppings or fillings. The original version is dosed with condensed milk, and the most popular one is probably Nutella with banana.

They can go for as little as 15 baht for the plain one to 40 baht with fancy toppings. Nowadays, they go as high as 80 baht in touristy places or night market. I am never tired of watching them take the pre-made dough out and flatten it on the round metal table.
Thai Tea (Cha Thai)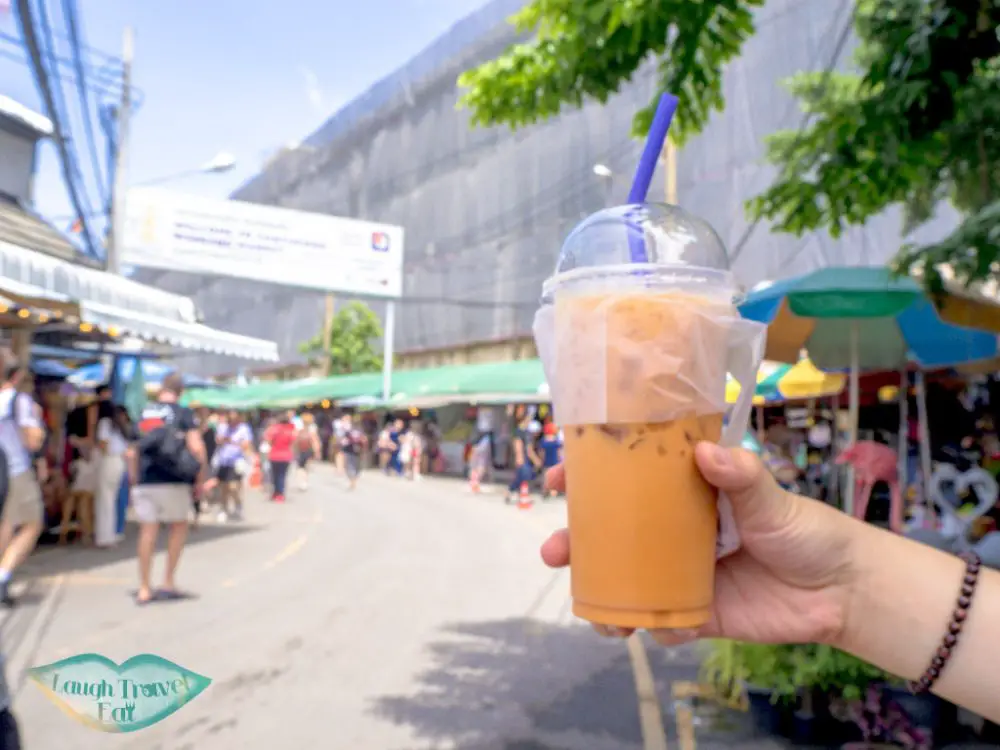 Tea lovers or not, Thai tea is another one of my favourite thing in Thailand. They're known for their distinctive orange colour and are a strong red tea brew that is guaranteed to keep those who are sensitive to caffeine up all night. But guess what? It's totally worth it!
There is just something addictive about this sweet drink. It is made with condensed milk, so it's not the healthiest choice in the world, but it's a must-try for everyone. 
Khanom bueang – Thai Crepes
Khanom bueang is sometimes referred to as Thai crepe, but they're more of a mini-taco in terms of shape and size. There are various iterations in terms of size but are commonly filled with a hearty dollop of meringue and a salty filling. Usually, it's either shredded coconut or Foi Thong, a salted egg yolk strand.
Thai basil fried minced pork (or chicken)
This is a classic dish that should not be skipped! If you are in the south where there is a larger Muslim population, then minced chicken would be used instead. The quality does vary but it's something that you must try. Most Thai restaurants would offer this dish as well.
What NOT to eat Bangkok Street Food
This is personal advice, but given that Bangkok street food has all been sitting in a warm and humid environment for a while, there are some things that you should not eat:
Sushi 
Dancing shrimp
Anything raw
You know your own body best, but it's good to avoid raw things. Some people also react badly to some of the street stand drinks, as the ice might not be the cleanest. I have known of people who've had food poisoning from the three things mentioned!
Best local Thai restaurant in Bangkok
One of the biggest struggles for me in Bangkok is finding a good restaurant close to where I was at the time. The city is pretty spread out and going out of the way to eat before returning back to the schedule at hand isn't convenient. On my first trip, we did end up eating at random places here and there. Now that I've visited again, I'm happy to say that I've a few good places to recommend in most major areas:
Around Nana BTS
Prai Raya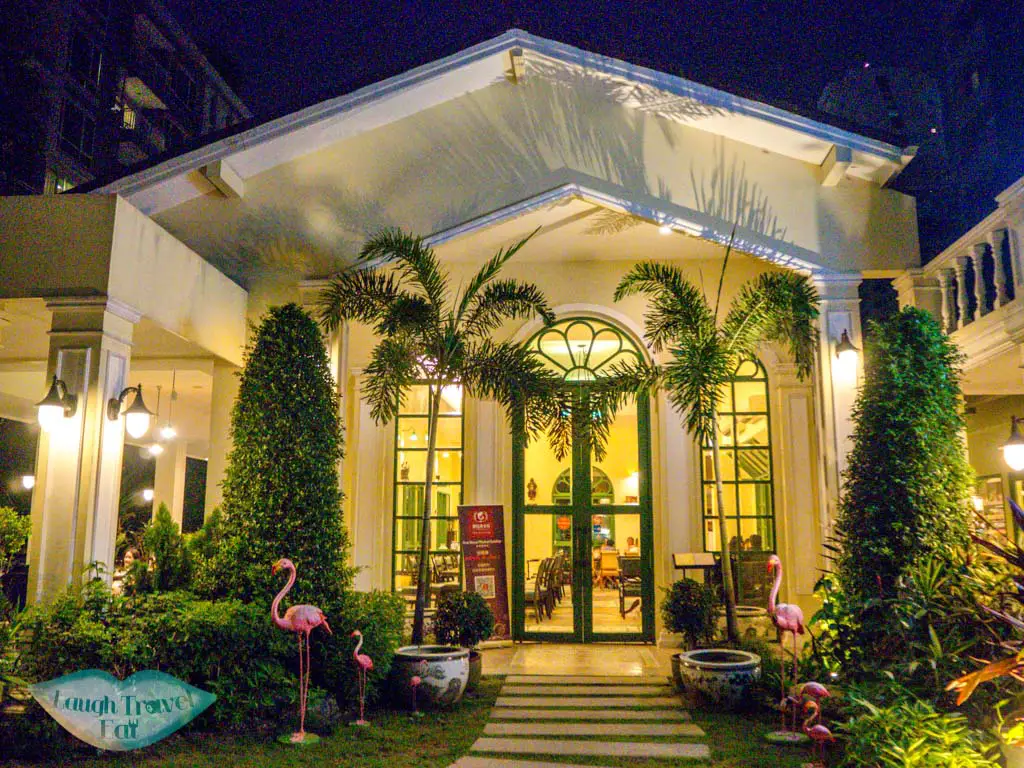 I discovered this gem via googling restaurants in the area and was pleasantly surprised at how delicious the meal was. Prai Raya is a famous small chain in Phuket that has expanded to Bangkok, and I'm super glad they did. The restaurant itself looks like a colonial villa with Portuguese tiles.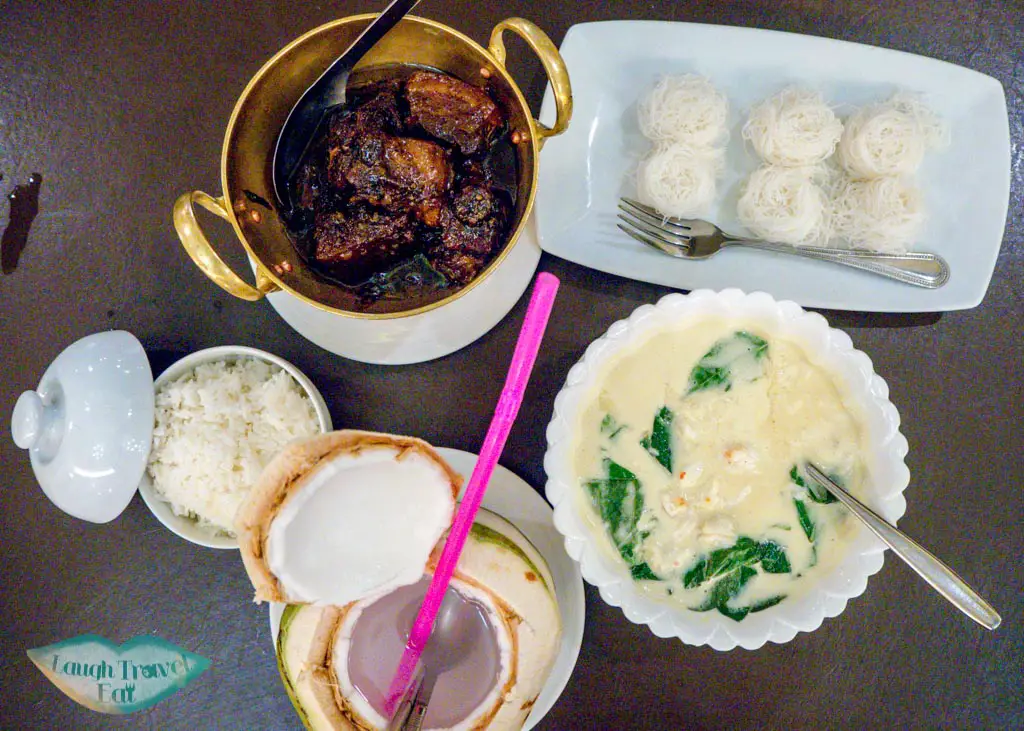 We ordered their signature crab meat yellow coconut curry noodle, a pepper sauce slow cook ribs and rice, and a coconut to share. The portion sizes are very generous, with big chunks of crab meat in the curry and crispy pork ribs. The total came to 883 baht for 2, all in all not bad for a meal.

Address: 59 Soi Sukhumvit 8, Khwaeng Khlong Toei, Khet Khlong Toei, Krung Thep Maha Nakhon 10110
Opening times: 10:30 – 22:30
Terminal 21 Food Court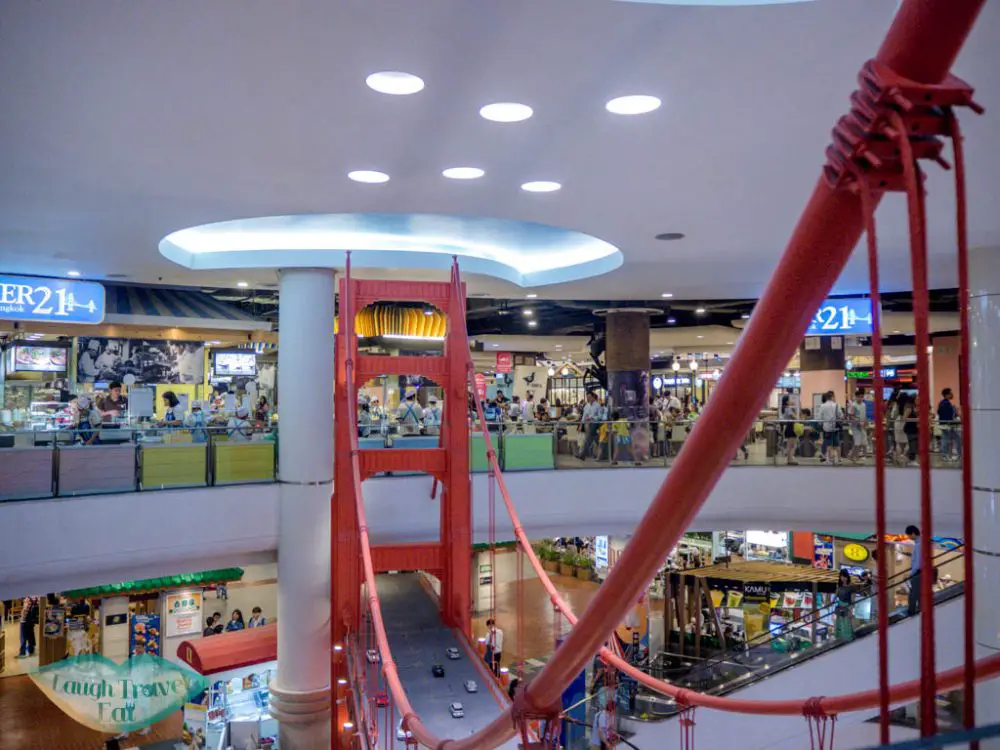 If you are stuck on what to eat, Terminal 21 might or might not be the answer since you will have a million choices, but you'd still have to make a choice. The food court in the airport-themed shopping mall is legendary for its affordable prices and variety, with crowd favourites like chicken rice, mango sticky rice, and pork knuckles.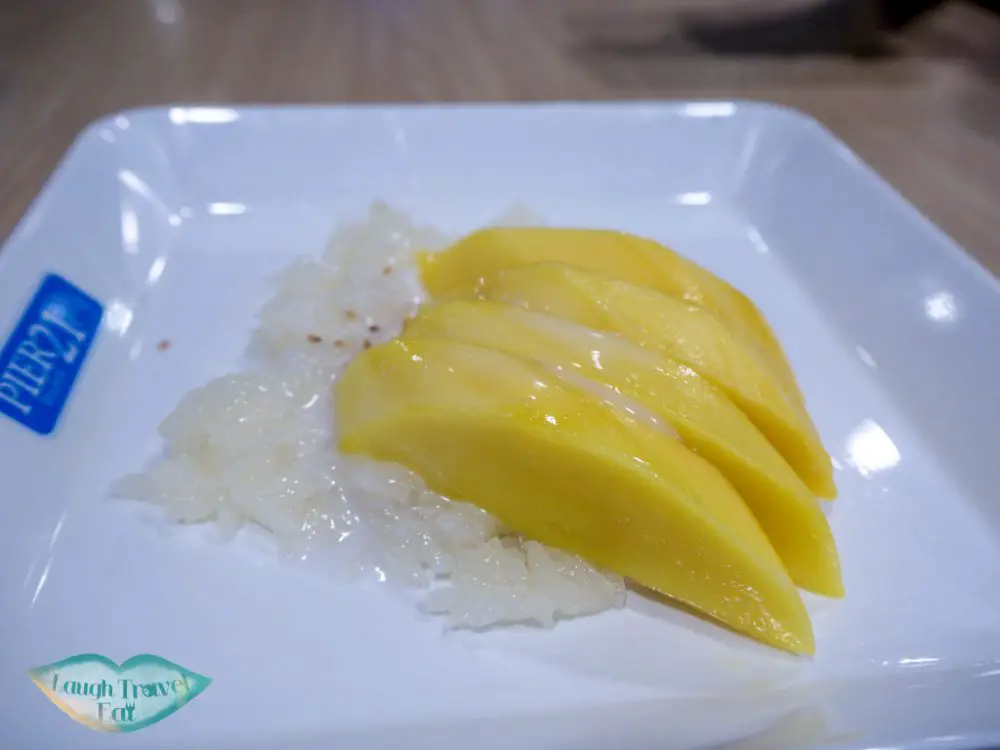 I had ended up there more often than not if I'm in the urban downtown, because who can say no to mango sticky rice? They do have a system to order, with patrons paying for credits in a card and using it for purchases. Once you are done, simply go back to the counter to get the remainder.
Address: next to Asok BTS
Opening times: unsure of the exact time but likely 10:00 – 22:00
Around Ekkamai and Thong Lor
Wattana Panich Beef Broth*
Nestled between the Ekkamoi Station and the canal, Wattana Panee is housed in a row of old Chinese shophouse with a traditional neon sign of its Chinese and Thai name by the front.
The little restaurant is seemingly indistinguishable from other tiny eateries around Bangkok until you get closer. If the shimmering bowl of beef stew at the front of the shop doesn't grab your attention, then I'm not sure what will.
The bowl of delicious beef swimming in broth has been continually cooking for over four decades and serves up the most tender meat I've ever tasted. The borth itself is heavenly and not laden with herbs like some of the other Chinese noodle soups of its peers. Its own richness was already enough.
Next to the beef stew are the goat stew, which are said to be even more tender. But since neither my companion nor me eat goat, we skipped the taste test for it. We ordered a bowl of noodle each with medium-sized noodles. It is pricier than some at 100 baht per bowl, but it is quite an experience to eat from a 50 year-old simmering broth.
PS portions are on the smaller side, so order extra if you're hungry
Address: 336 338 Ekkamai Rd, Khlong Tan Nuea, Watthana, Bangkok 10110, Thailand
Opening times: 9:00 – 19:30
Here Hai*
Here Hai is not too far from Wattana Panich and it's known for its crab meat dishes. It's been recommended by Michelin Guide for 3 years in a roll and there is always a queue in front of the small shop front. Their signature is the crab meat fried rice, but they also have various other crab meat and shrimp dishes, and some vegetable dishes, too.
As a solo diner, I ordered the small size of their signature fried rice and a thai tea, and both are absolutely divine. The portion is very generous, and it took me longer than expected to finish it. But although the restaurant is packed, it is air-conditioned and quite clean, so the dining environment is also quite pleasant.
You can reserve a table on Line and also order Grab food!
Address: 112, 1 Ekkamai Rd, Khwaeng Khlong Tan Nuea, Watthana, Bangkok 10110
Opening times: Tues – Sun 10:00 – 14:30; 15:30 – 17:00
Phed Mark*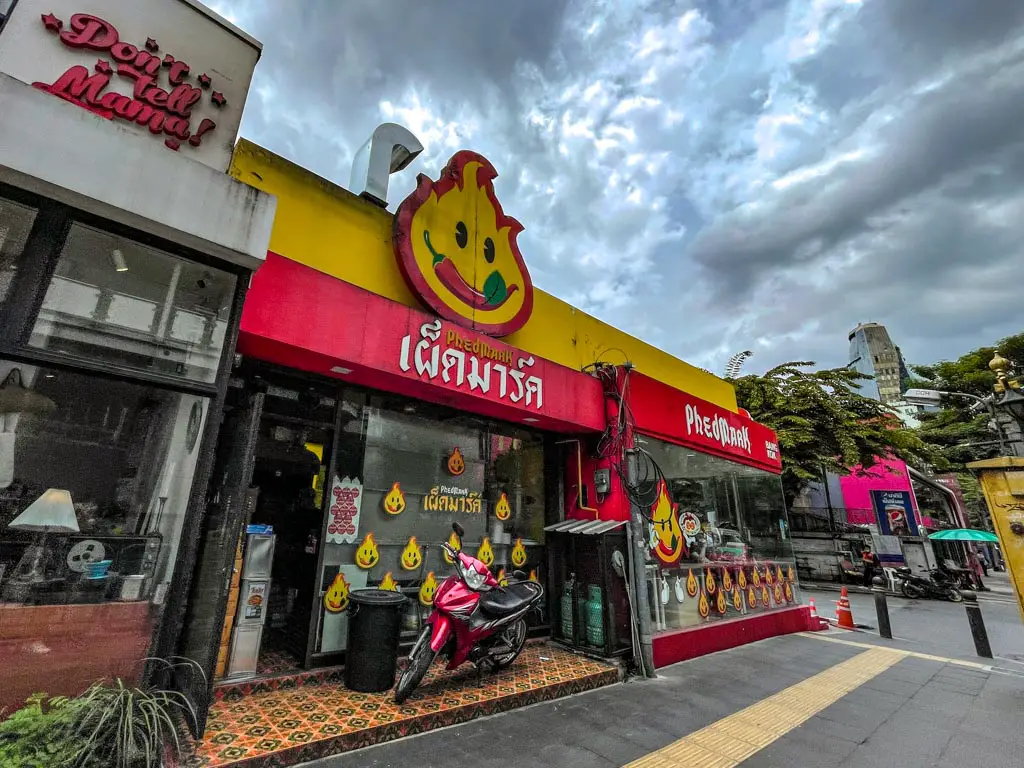 Phed Mark is an eatery that specialise in one dish: Pad Khaprao. It's a minced meat fried with chilli and holy basil dish with rice, usually topped with an egg . It almost resemble a gas station and is immediately recognisable by the fiery fire logo with a chilli as a mouth. They have five different spice level and a choice between pork, beef, chicken, vegetarian, and even wagyu beef.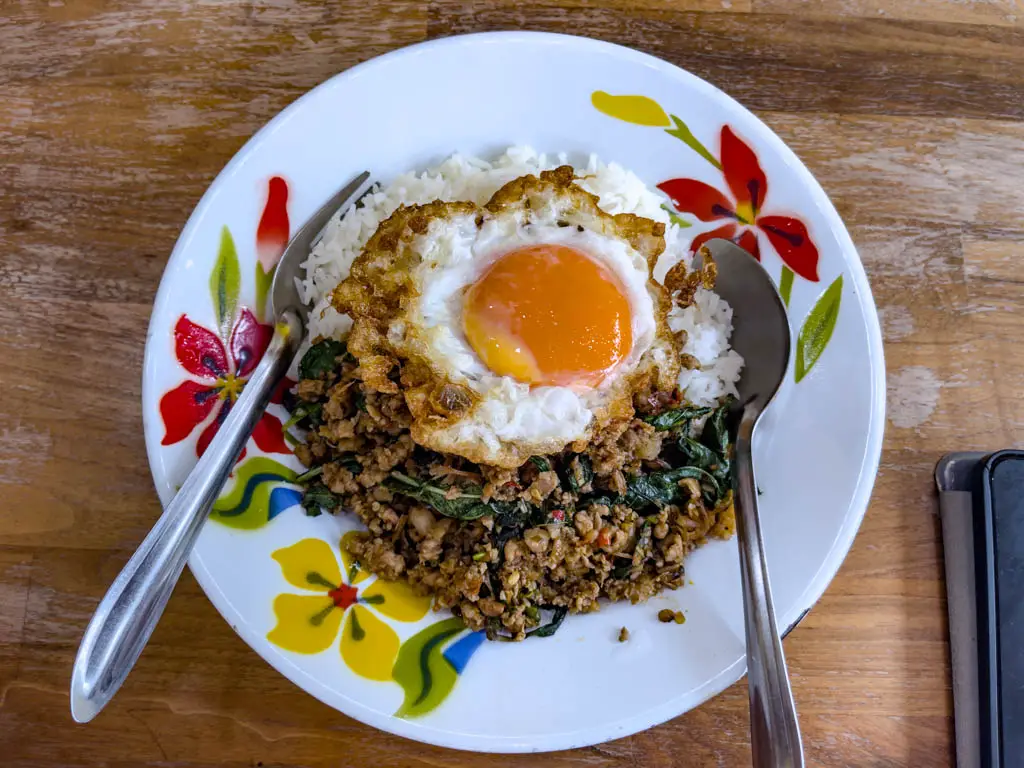 There isn't a lot of seating available, with one table along the window and one big communal table. Most of their order seems to be for takeaway on Grab food, which might also be an option for you to try.
A generous-sized plate will set you back around 110baht upwards, depending on your choice of meat. I couldn't finish mine and kind of struggled with level 1 spice, but then again, I had terrible spice tolerance!
Address: 300 Sukhumvit Rd, Phra Khanong, Khlong Toei, Bangkok 10110
Opening times: 10:00 – 19:30
Mae Varee Mango Sticky Rice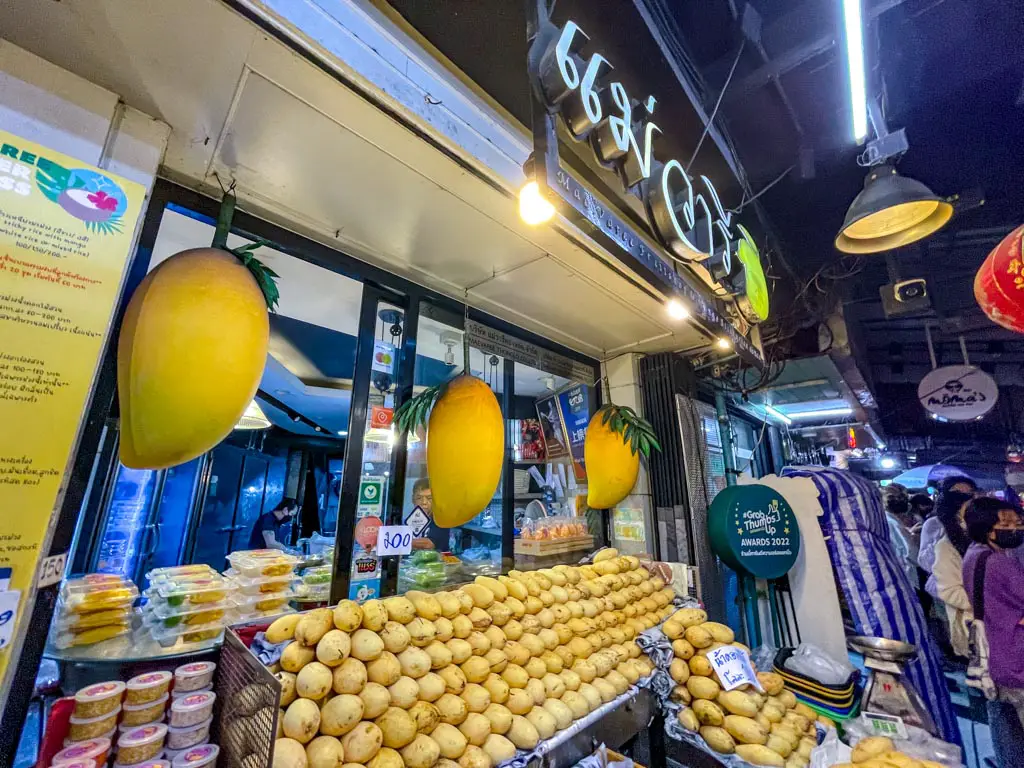 When you get off the Thong Lor BTS Station and headed up the main street, you'll see a huge shop selling mango sticky rice. And that's Mae Varee Mango Sticky Rice! They sell mango sticky rice in three different sizes as well as mangos on their own, and the prices are actually quite reasonable despite their fame.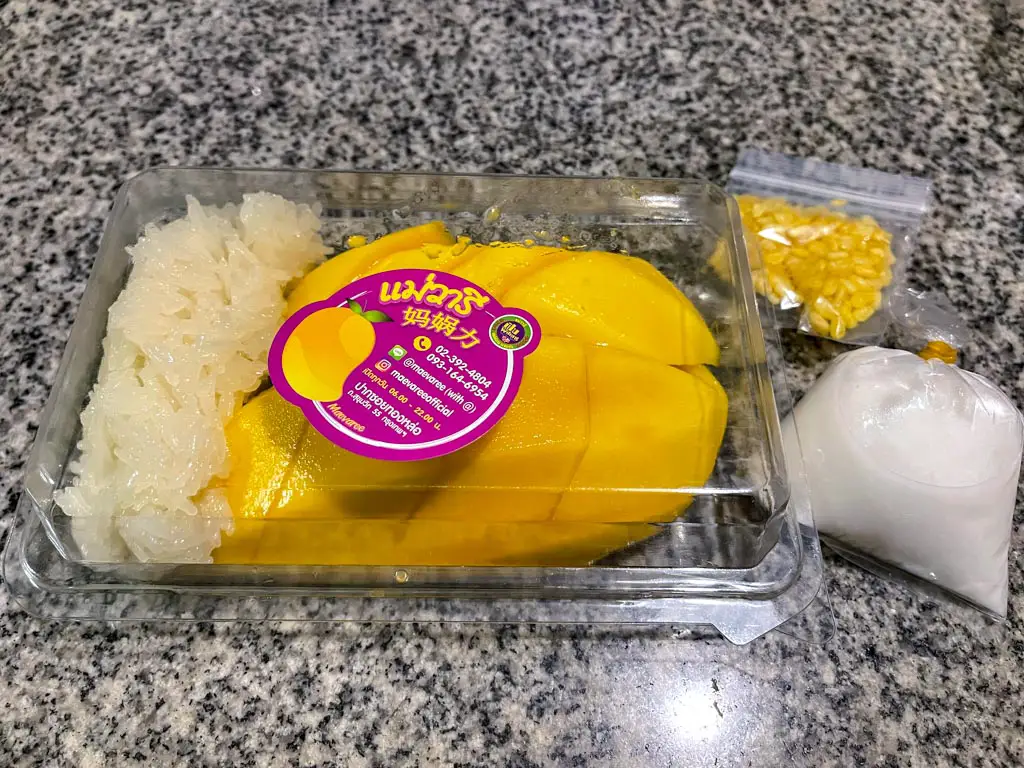 I had the smallest size one for 100 baht, which has half a mango with sticky rice, with the coconut milk and fried monk beans coming in separate sachet. The mango are sweet and fresh, and the portions are rather generous. Overall, if you pass by it, I'll recommend you getting it to try.
Address: 1 Thong Lo Rd, Khlong Tan Nuea, Watthana, Bangkok 10110
Opening times: 6:00 – 22:00
Nhong Rim Khlong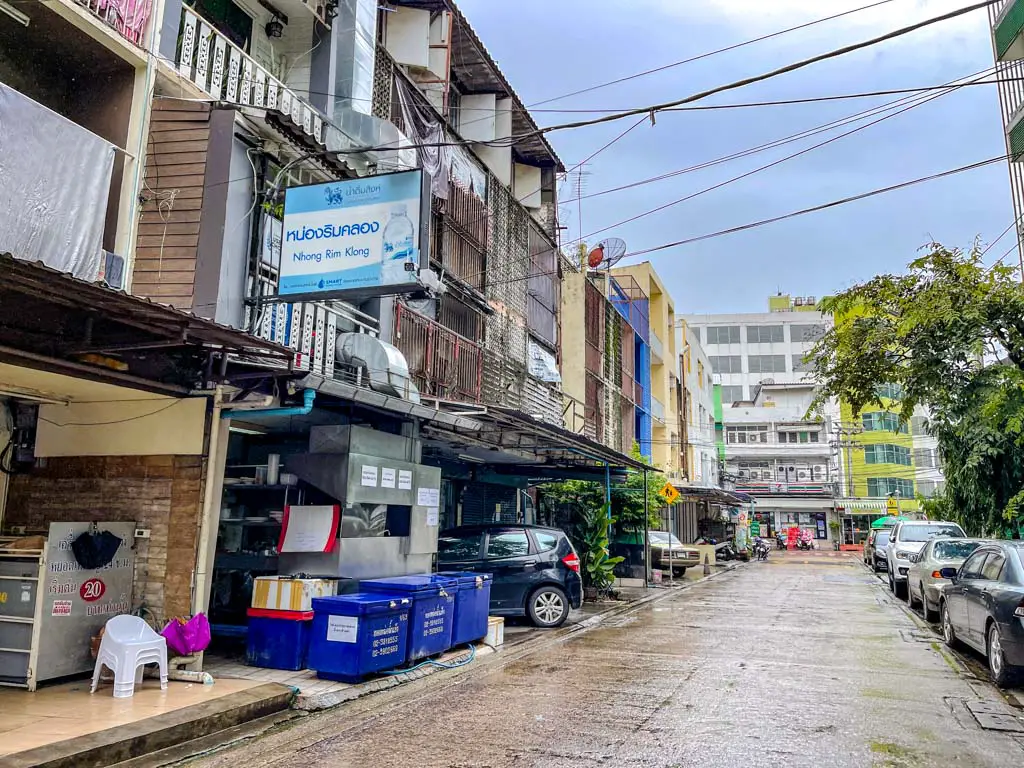 Nhong Rim Khlong is on the canal side of Ekkamai and Thong Lor and a good place to dine for groups. They serve some classic Thai dishes like stir fried morning glory, garlic shrimps, and other seafood favourites.
The dishes are meant to share, so as a solo diner, it was a bit weird for me to eat a whole plate of garlic shrimp with rice. But it was good!
Address: 51 Ekkamai 23 Alley, Khlong Tan Nuea, Watthana, Bangkok 10110
Opening times: Mon – Sat: 8:30 – 16:00
Sit and Wonder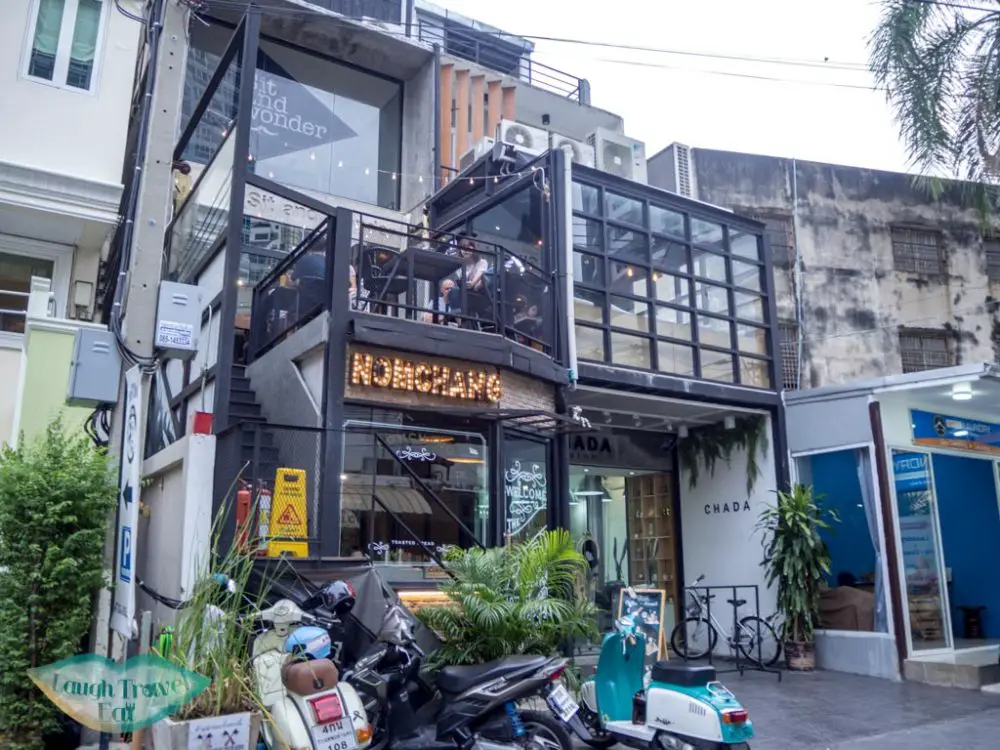 We found this restaurant when we were staying at Ekkamai. It's a great affordable and atmospheric choice, with a Thai and western menu. I ordered a Thai sausage fried rice and lemongrass drink and they are both delicious.

Address: 119 ถนน สุขุมวิท 57 Khwaeng Khlong Tan Nuea, Khet Watthana, Krung Thep Maha Nakhon 10110泰國
Opening times: 11:00 – 23:00
Nearest station: Thong Lo BTS

Around Pratunam
Kaiton Pratunam 紅大哥水門雞飯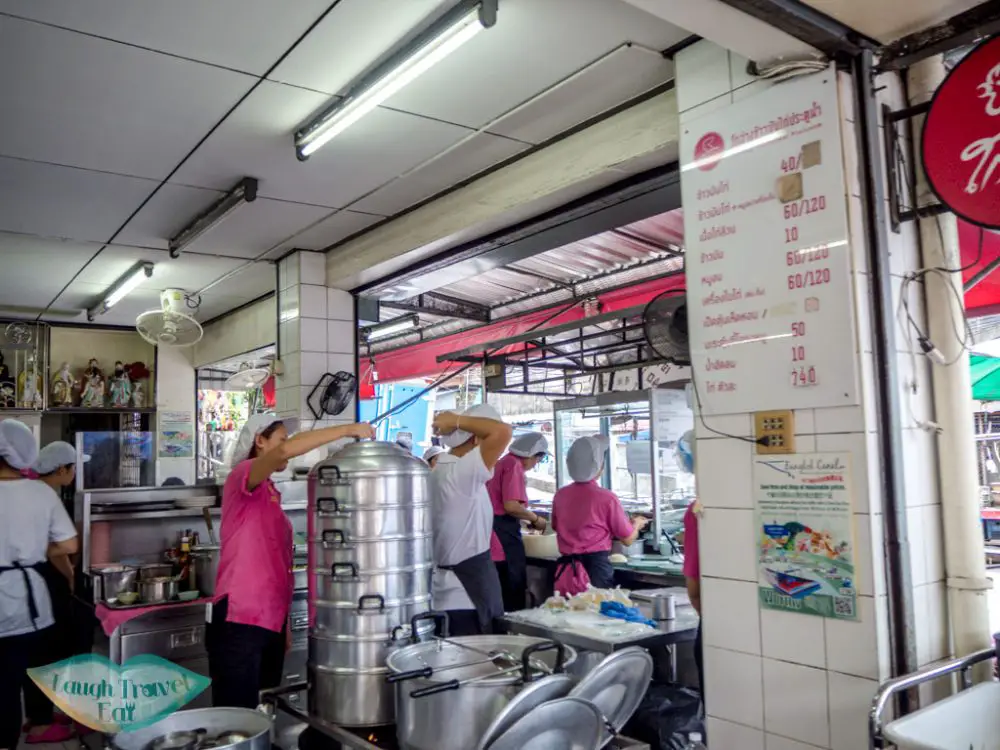 One of the most famous places for chicken rice is Kaiton Pratunam. Expect to be queueing for a while because it is a popular spot for locals and tourists alike. However, the restaurant has kept the price of chicken rice at 40 baht, which is extremely affordable.

Opening times:Mon – Sat 05:30-14:00, 17:00-02:00

Bamee Sawang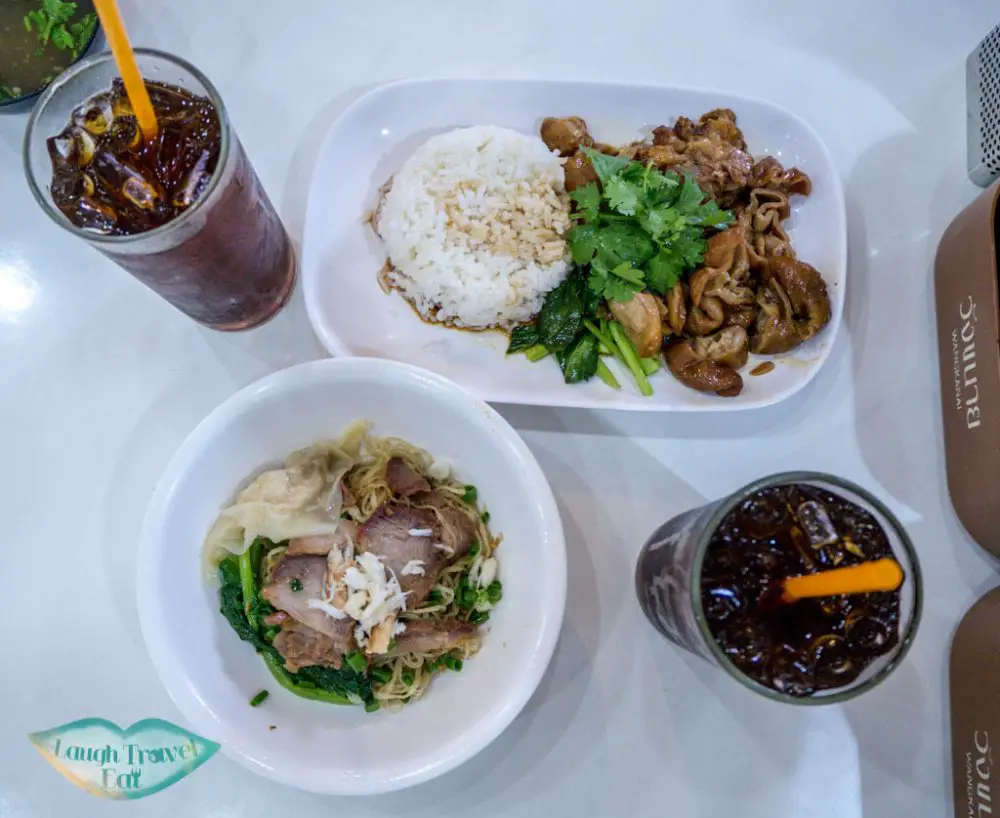 Only a few shops down from Kaiton Pratunam (and less if you are standing in the queue), Bamee Sawang is equally affordable. Although the portion size is on the small side, the food is delicious. I had a wonton dry noodle and my friend had a pork knuckle rice at 120 Baht altogether. It is also air-coned, unlike Kaiton Pratunam.

Address: 982 Phetchaburi Rd, Khwaeng Makkasan, Khet Ratchathewi, Krung Thep Maha Nakhon 10400泰國
Opening times: 11:00 – 23:00

Around Old Bangkok

Krua Apsorn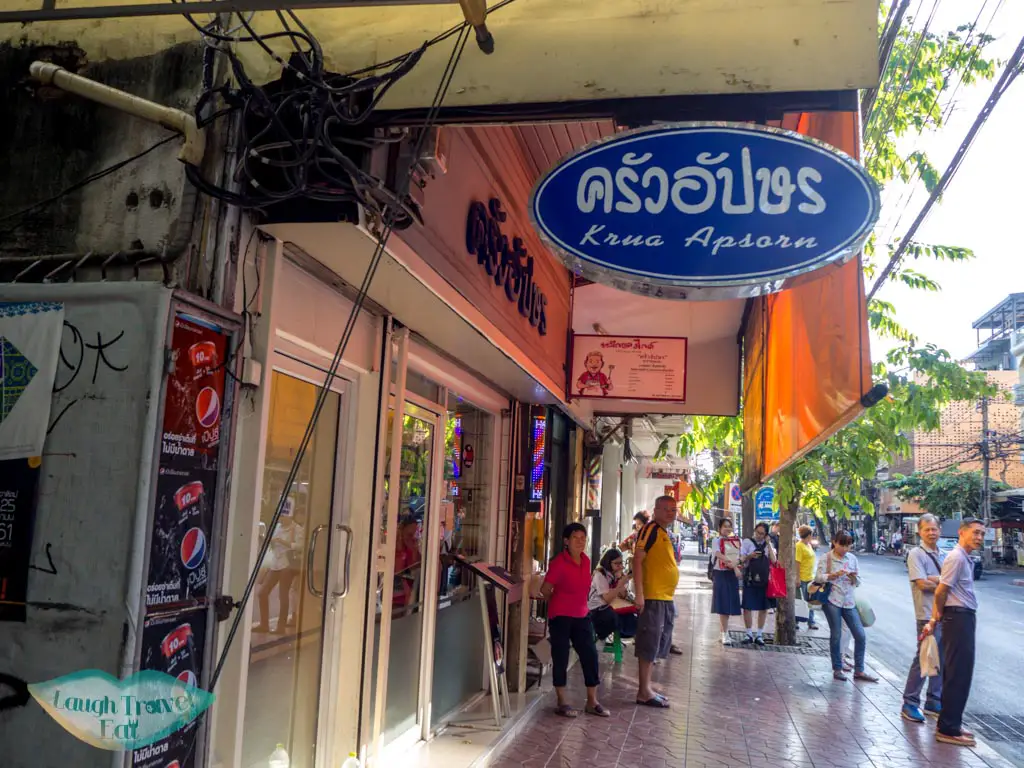 For a comprehensive Thai menu and dishes of all budgets, Krua Apsorn near the Democracy Monument is perfect. The air-conditioned interior is a reprieve from the heat outside and was a great rest point between temple hopping.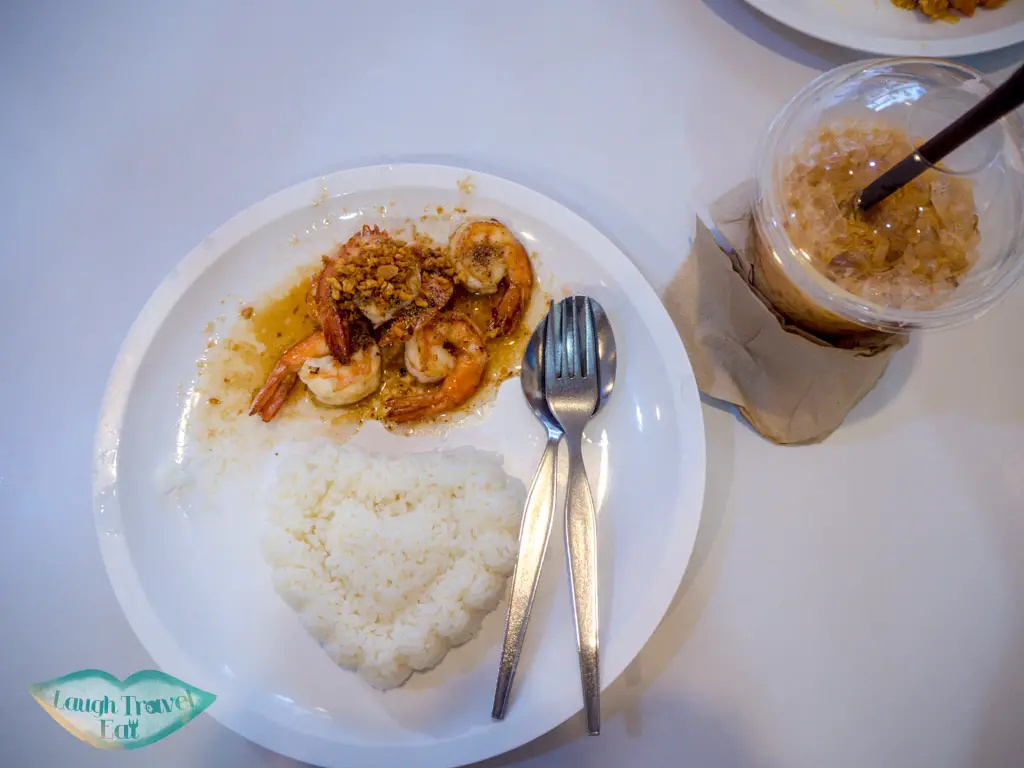 I ordered garlic shrimp with rice, while my mum ordered pad thai and they are both delicious. They also have curry dishes and other Thai fare, they are more pricey and suited for sharing.
Address: 169 Dinso Rd, บวรนิเวศ, Khet Phra Nakhon, Krung Thep Maha Nakhon 10200, Thailand
Opening times: 10:30 – 20:00

Thipsamai Pad Thai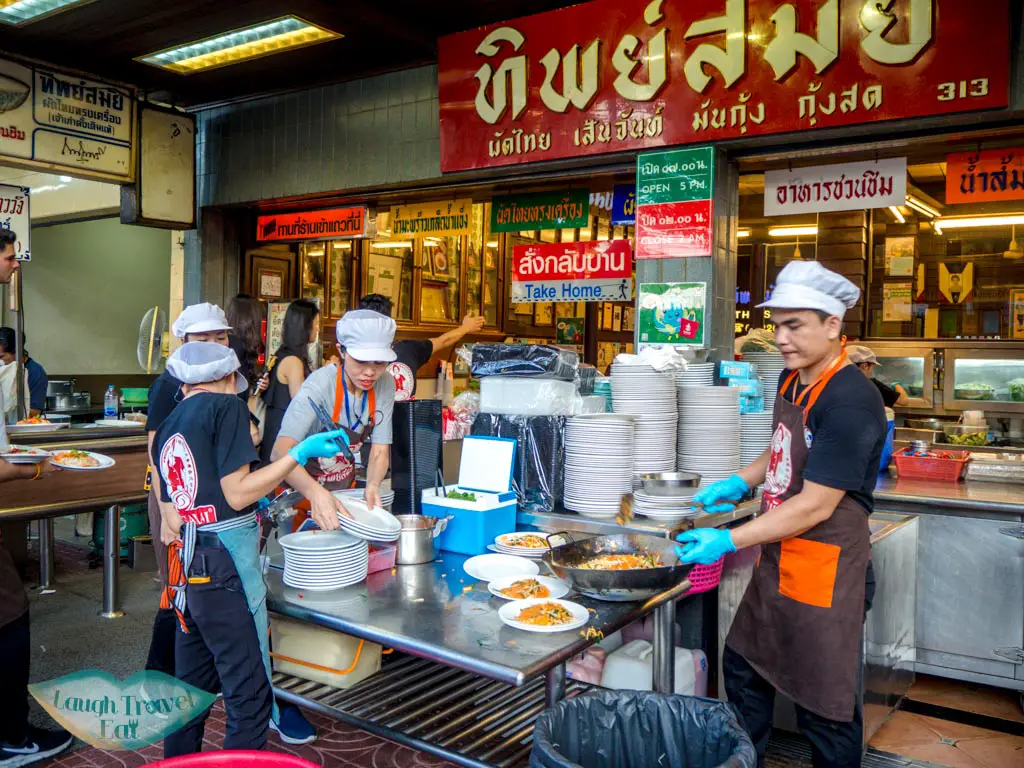 The Pad Thai place to visit, Thipsamai Pad Thai spots a long queue just like Kaiton Chicken Rice. With cooking stations placed outside, diners can take in the mouth-watering scent of Pad Thai and watch the skillful chefs work the wok to dish up the food. The restaurant only opens during the night from 5pm, so make sure you plan your visit and budget in some time to queue.
Address: 313 315 Maha Chai Rd, Khwaeng Samran Rat, Khet Phra Nakhon, Krung Thep Maha Nakhon 10200, Thailand
Opening times: 17:00 – 02:00

In Chatuchak
345 By Yorwor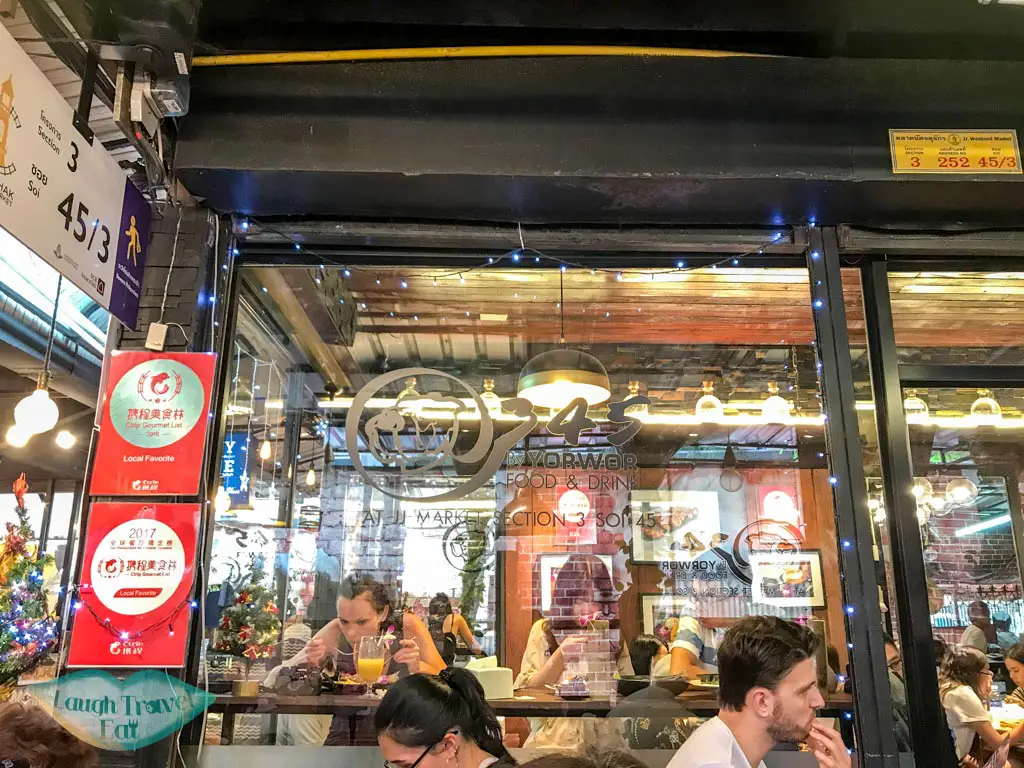 On my first visit to Chatuchak, we ended up eating at a random vendor and my fried rice was kind of meh. On my second visit, we opted for 345 by Yorwor at section 3 for some quality food. It is, however, more expensive.
We ordered their Pad Thai which was amazing, but their other signature of pork with rice wasn't very good. But there is a good seating area and the indoor portion has air-condition too.

Address: Section 3 Soi 45 in Chatuchak Market
Opening times: unclear
Around Victoria Monument
Boat Noodles Doy Kuay Teow Reua*
Boat noodles are meant to be cheap, tasty, and flavourful. Boat Noodles Doy Kuay Teow Reua hit all 3 spots. It's located along a small canal about 10 minutes walk from the Victoria Monument BTS. The restaurant is bigger than I expected, with tables of various sizes under a patchwork of metal roof.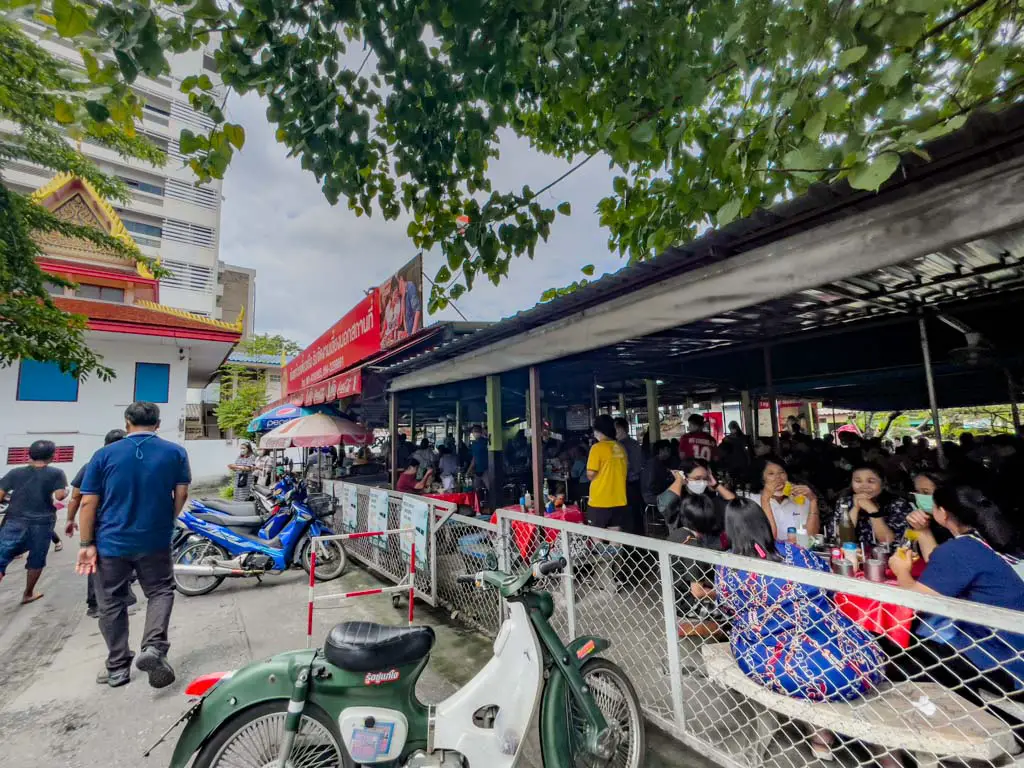 There are plenty of locals and I joined the queue and was directed to a seat in 5-10 minutes. You need to order on a little slip of paper and I asked a waitress to help me. Although I did end up with 3 bowls of noodles instead of 2, but it's overall not that bad.
I had their tom yum beef, tom yum pork, and regular pork. These small-size boat noodles are good for 4-5 generous chopstick-fuls, and given my lack of spice tolerance, I barely lasted through both tom yum.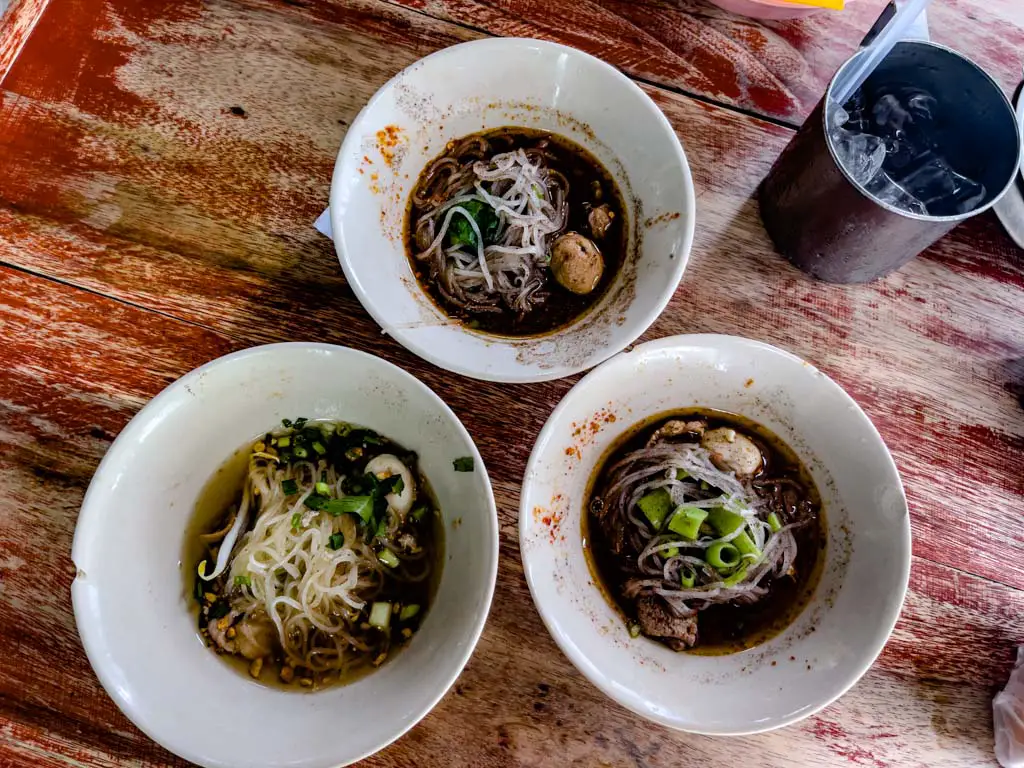 To pay, you wave at a waiter or waitress, who will count the bowls and drinks/cups on the table and give you a written note. You just have to take that and pay at the cashier!
Address: Ratchawithi 18 Alley, Thung Phaya Thai, Ratchathewi, Bangkok 10400
Opening times: 8:00 – 17:00