Sakon Nakhon in northern Thailand is still relatively unknown, a province near the border of Laos near the bigger Nakhon Phanom. Only an hour's flight from Bangkok, it's an alternative destination for those interested in ethnic culture, indigo dyeing, and farm experiences. Whether you are looking for a quick escape from Bangkok a short flight away or a stop on your northern Thailand road trip, here's a look at Sakon Nakhon.

Note: my trip to Sakhon Nakhon was hosted by Thailand Tourism Board, Take Me Tour Thailand and AirAsia but all opinions are my own

Sakon Nakhon to Bangkok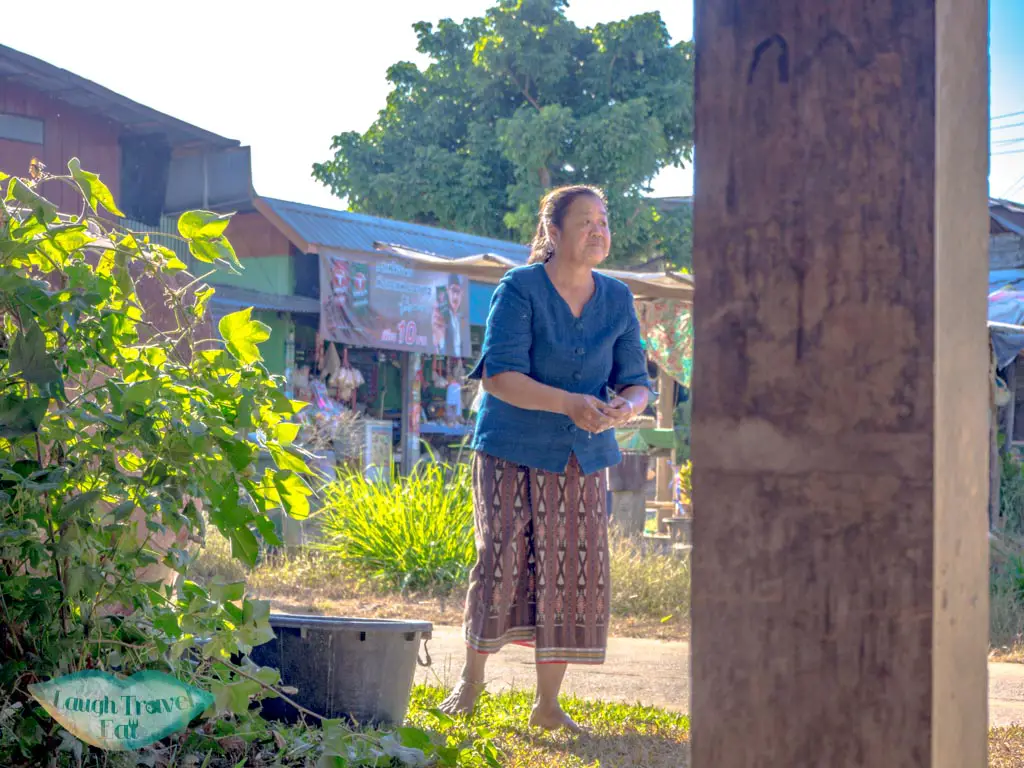 AirAsia has one daily flight from Bangkok to Sakon Nakhon (vice versa) from Don Mueang Airport. It is an early flight, so to make sure we will make it for the 7am flight, we booked a transfer shuttle to the airport with TakeMeTour.

Our hotel had kindly packed us takeaway breakfast for the early checkout (most hotel should do this so make sure you ask), and our driver was already waiting for us for the 5am pick up. We had the minivan to ourselves and it only took half an hour to reach the airport from around Nana BTS.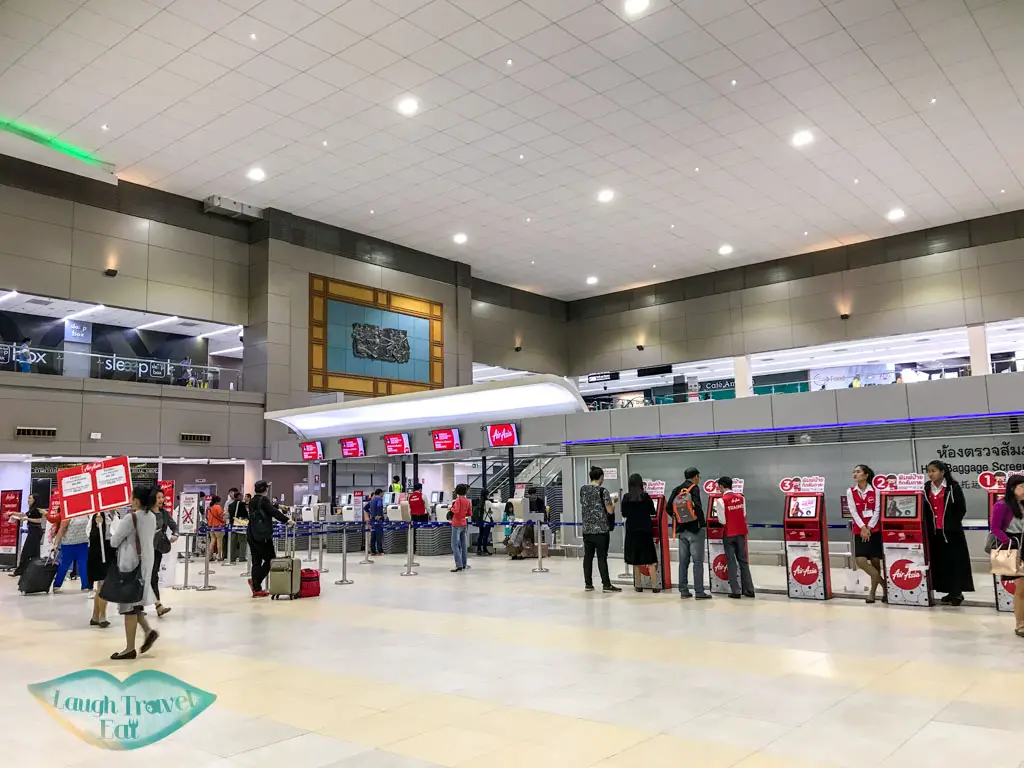 The domestic flights for AirAsia is located at terminal 2 at the Don Mueang Airport, with easy self check in facilities. The whole check in process was smooth and we ended up with an extra hour to spare.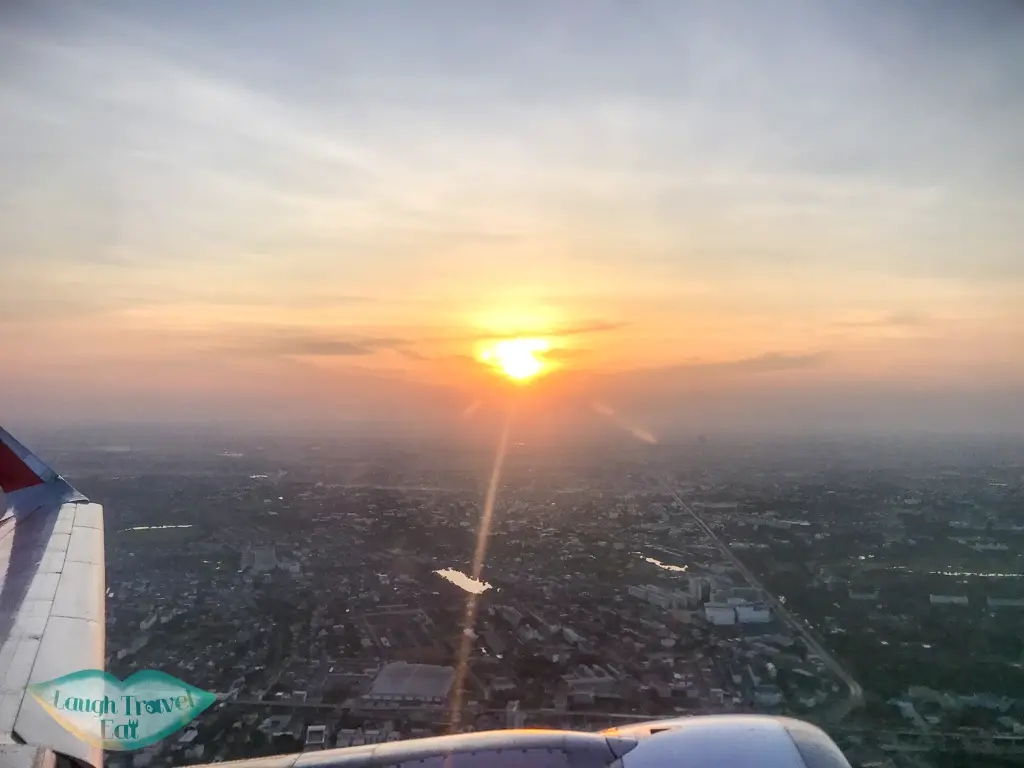 Once landed, the flight will return to Bangkok so there is only one flight from Sakon Nakhon to Bangkok to and in the morning. The airport at Sakon Nakhon is fairly small but still functional.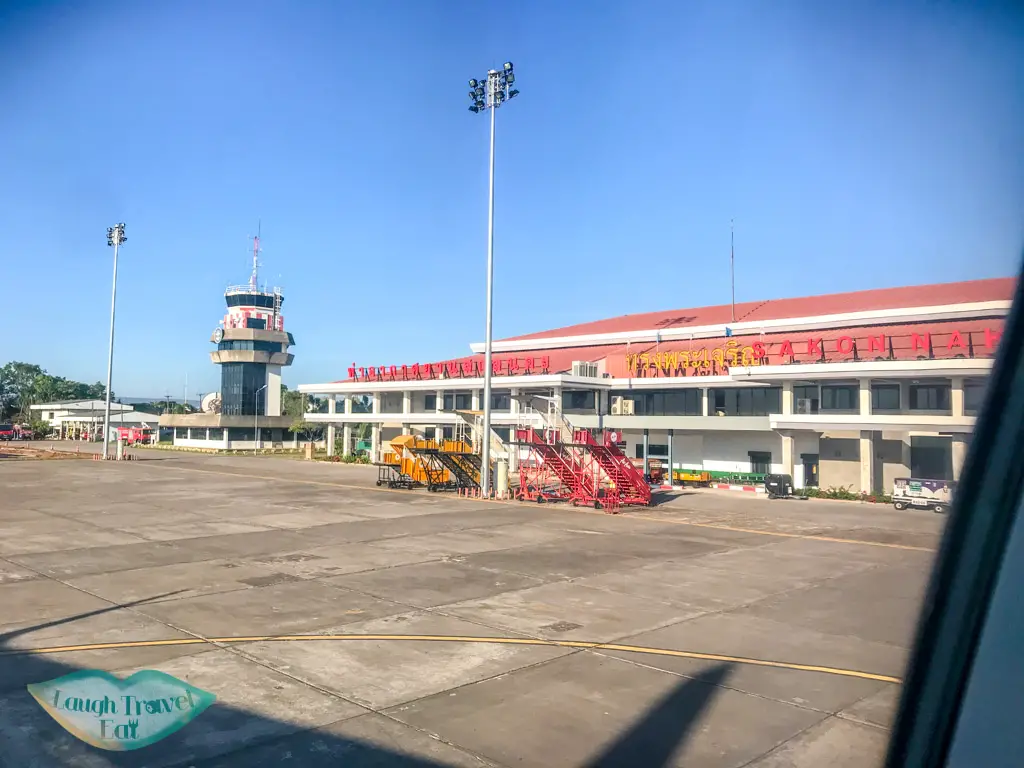 Since our flights were basically within a day of each others, we were able to check in for both when we were at Don Mueang.

Sakon Nakhon attractions
Sakon Nakhon province's capital is a city of the same name. Still relatively devoid of international visitors, its temples are popular for Malaysian tourists and domestic travellers enjoy spending some time here to enjoy the countryside. As a none-thai speaker who also didn't want to rent a car, we joined a tour to explore Sakon Nahkon in one day:

Things to do in Sakon Nakhon
The best thing about the tour for us is that we were picked up at the airport by our host, who then drove us back to the hotel to check in and refresh. Traffic is completely non-existent in Sakon Nakhon, and it was a dream to get around.

Breakfast at Lert Rot Fried Egg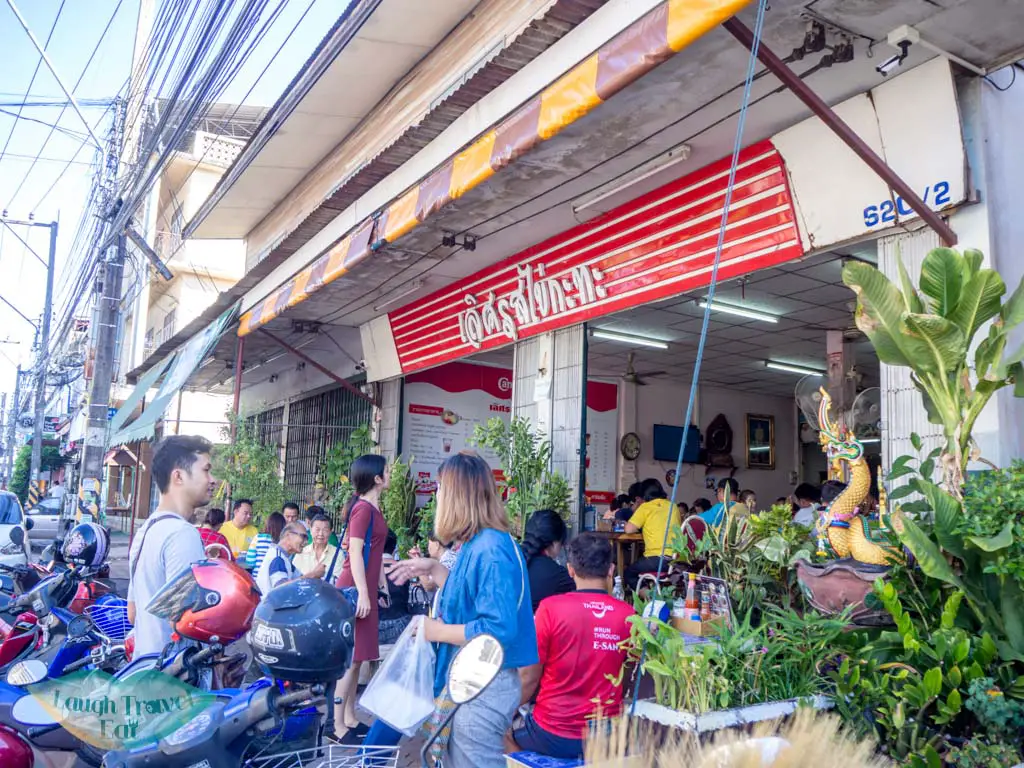 A popular breakfast spot in the center of town, it's obvious from the name that it specialises in fried eggs. Our guide told us that they have a large Vietnamese community here and the restaurant is operated by a Vietnamese family.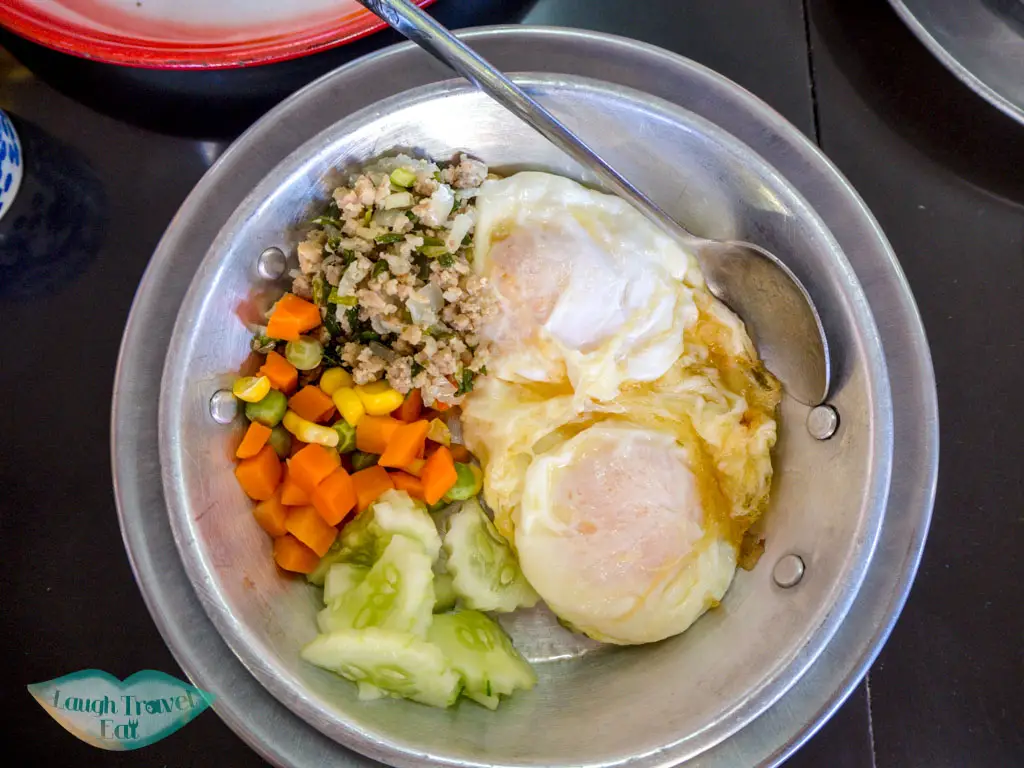 The famous eggy breakfast dish involves fried eggs, sausage slices, fried veggies with minced pork. It is usually eaten with a side of Banh Mi. Their signature drink is the orange juice, but tea is already provided. Noodle dishes are also available, my mum had a fish cake noodle dish that she raved about for the rest of the day.
Note that they like to add plum to the orange juice (common in Vietnam, too) which some people don't like.

Ban Nong San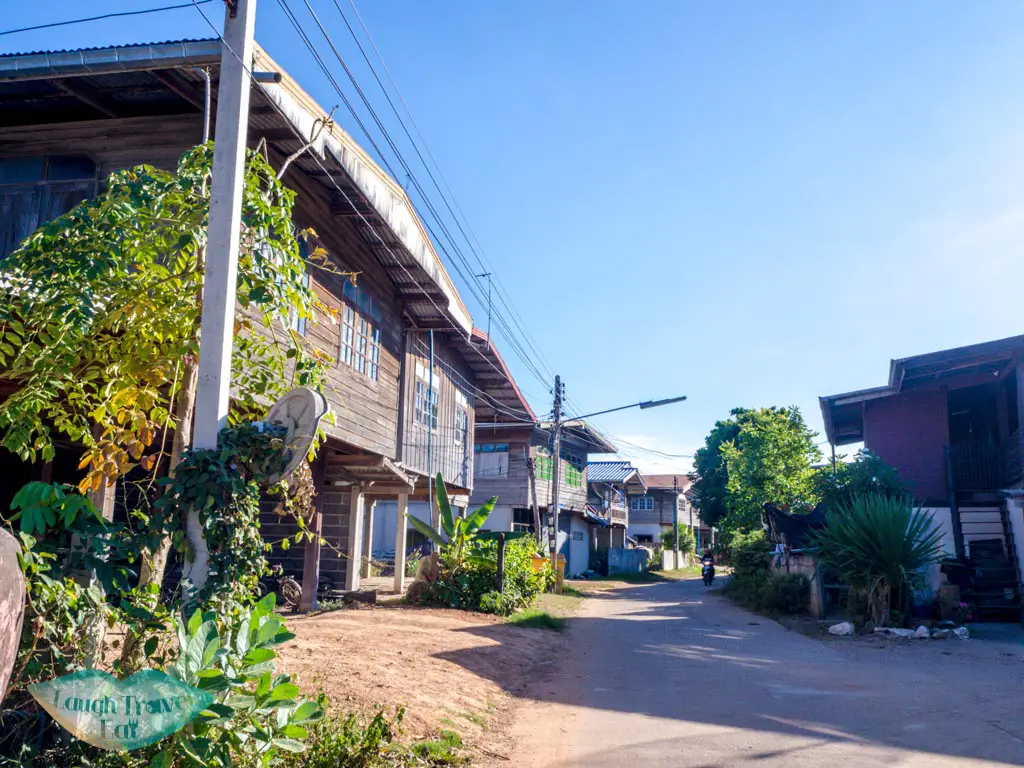 Our next stop is to the village of Ban Nong San, about an hour or so south of the main town. It is an Isan village, whose culture are similar to Lao and Khmer due to its geographic history, and where our little day tour take place.

Isan offering making

In the Isan culture, they hold ceremonies four times a month during full moon and half moon, and the offerings are made using banana leaves and small flowers.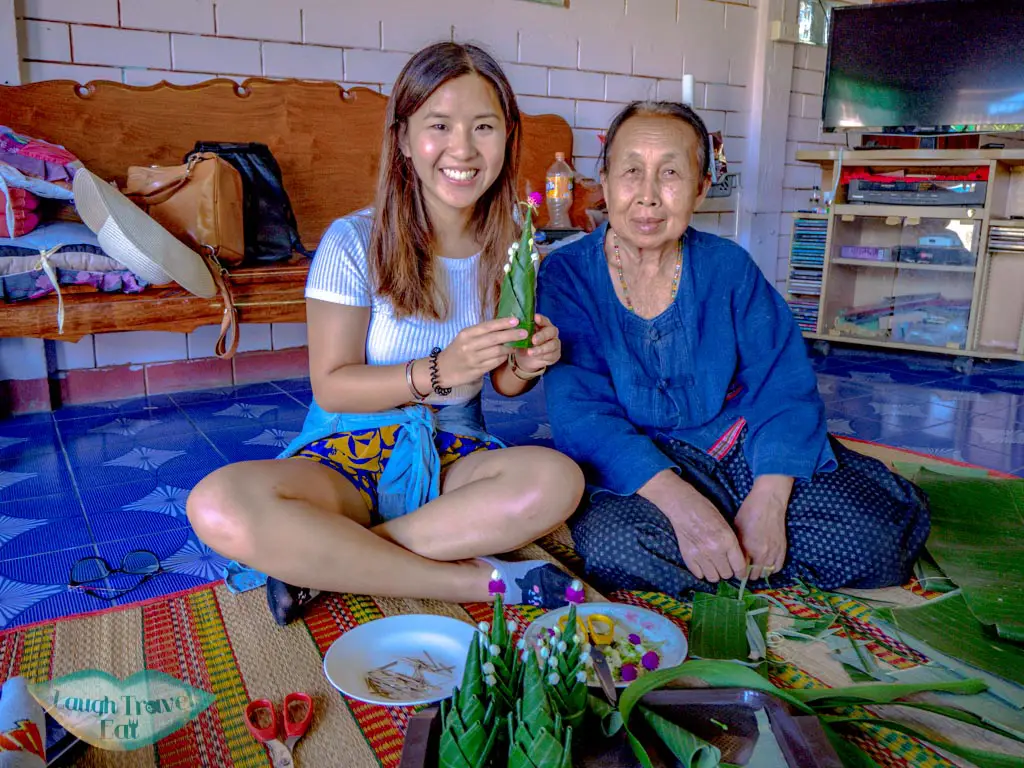 We visited a local lady's home where she taught us how to make the offerings. It involves making a cone and adding triangle of leaves on top, pinning time using thin bamboo sticks. Tiny flowers are added at the tip and it definitely takes a lot of skills!

Sommanus Farm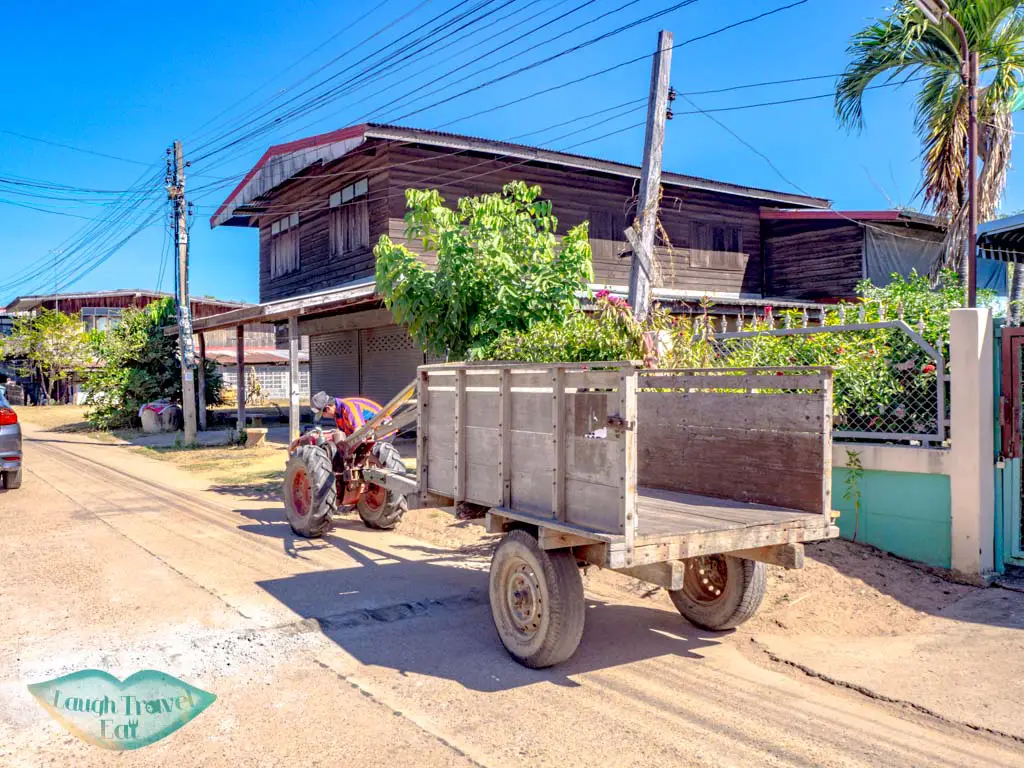 Up next, a local cart they dubbed EZ Cart, which is basically a wagon pulled by a machine with an engine. We piled onto the wagon and the farmer expertly navigate the country roads, then main road, using a long steer. Our destination is the Sommanus Farm, which means happy farm. It is an organic farm run by two local ladies.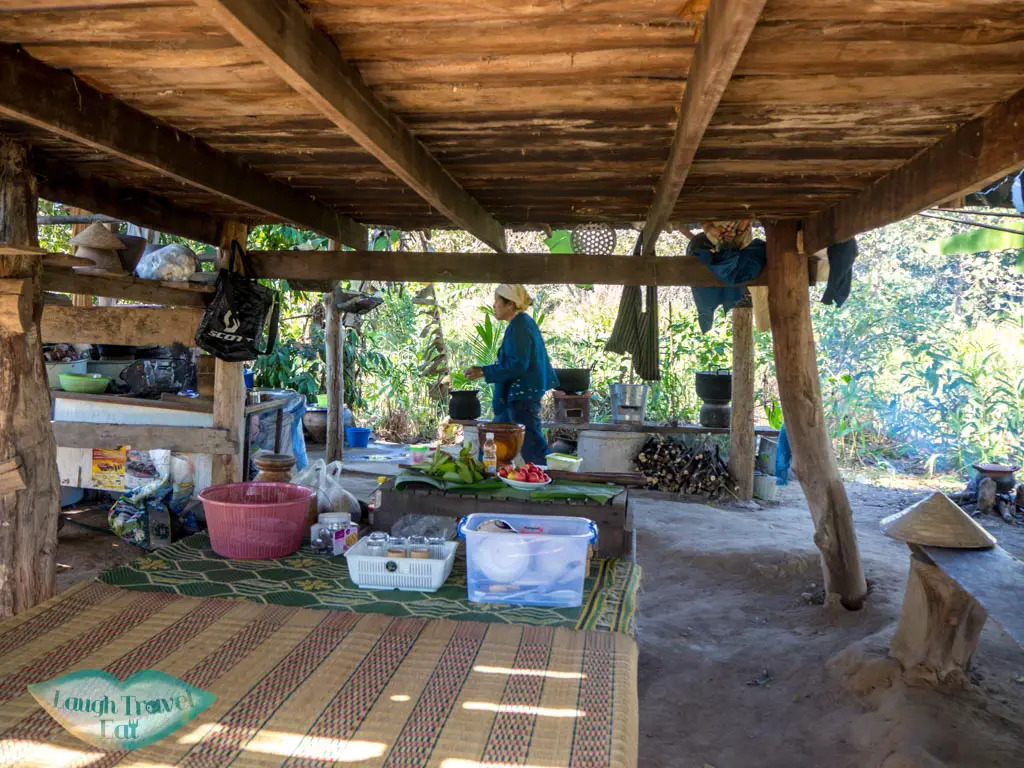 After a warm welcome, they showed us around their farm hut. This is their base and rest point during the work day, an airy, two storey building with an open structure. We got a huge tub of Mon – a mulberry and sugar cane juice with a beautiful purple colour – to cool down.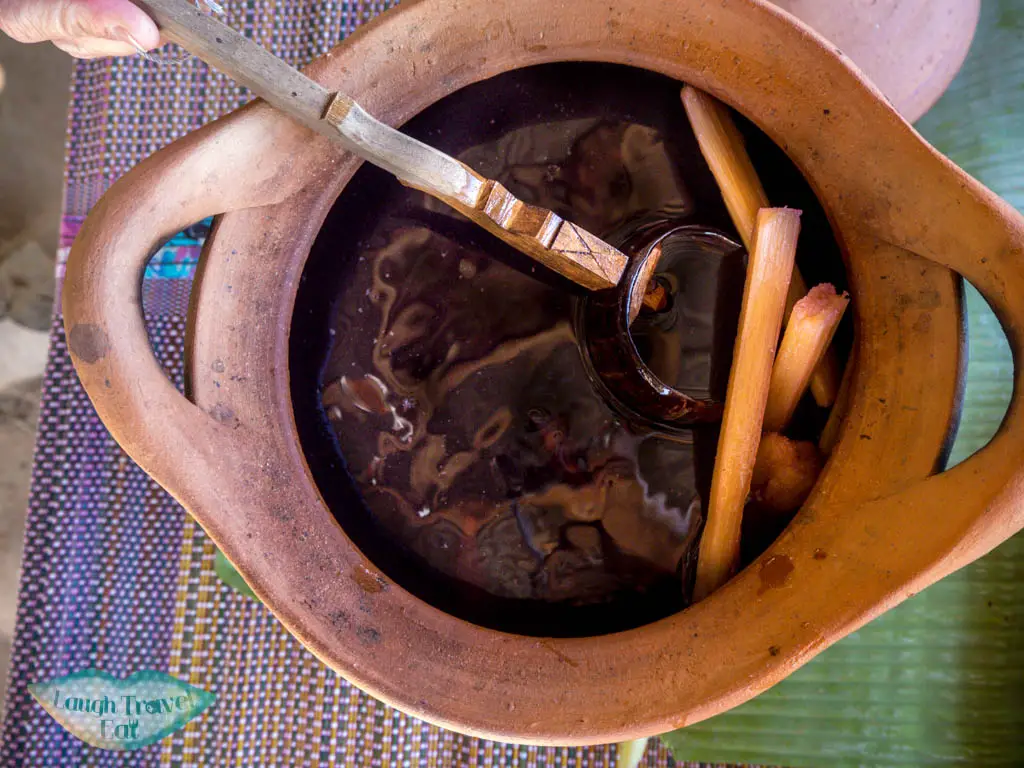 They showed us to the rice paddies, which are now golden and ready to harvest. We tried our hands on harvesting, and they walked us through the process of how they prepare the rice.
The grains are first left to dry, before the shells are removed using a spoon. The lot is then put in a pewter to smash off the shells, then throw on a woven bamboo tray, ga Dipt, to let the wind blow the lighter shells away.
When I tried to do that, I almost lost all the rice…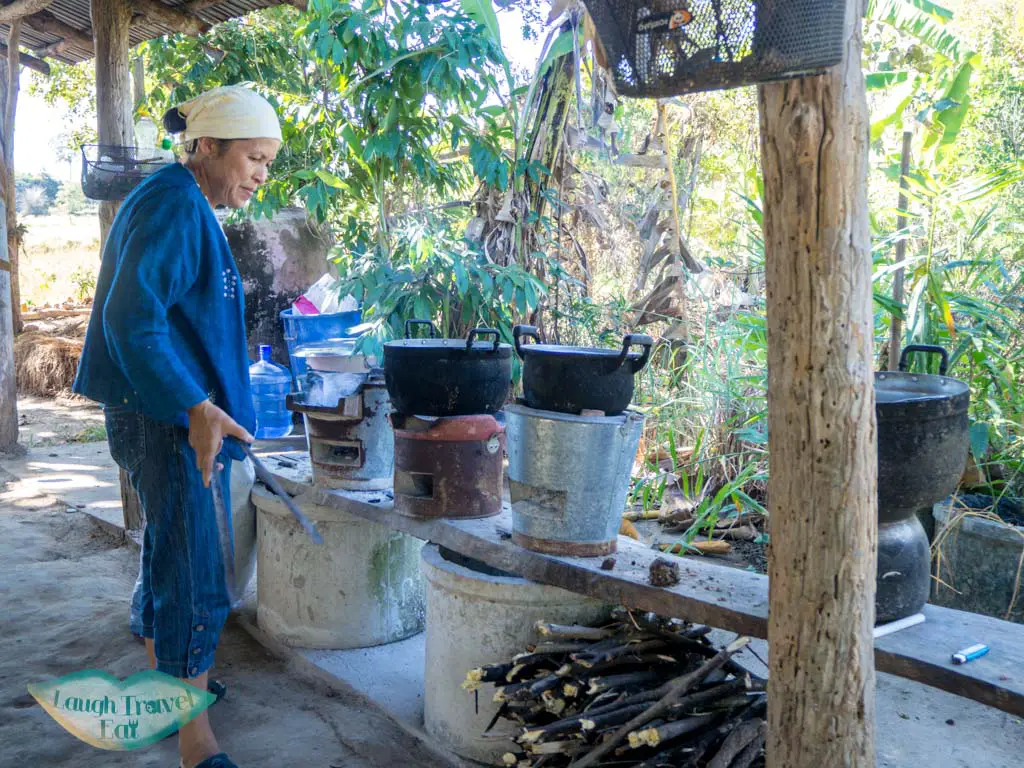 Sommanus Farm produces a local specialty rice, the Khawhang. It's a yellowish sticky rice that is a favourite among the local, and retain more nutrients than white rice.
Our lovely hosts also cooked up an amazing lunch for us: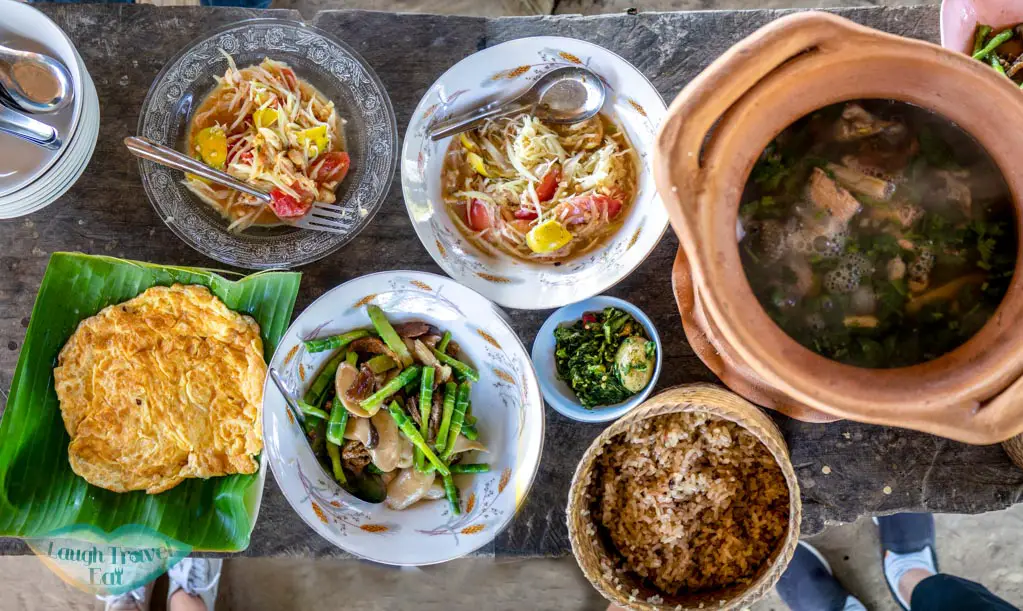 Omelette
Some kind of veggie shoot stir fry with sausage and mushroom
Papaya salad
Black chicken soup
Sticky Rice
It was fun cooking with the ladies from the farm. Our guide's sister and cousin had come along, too, and it was a lively affair.

Indigo dyeing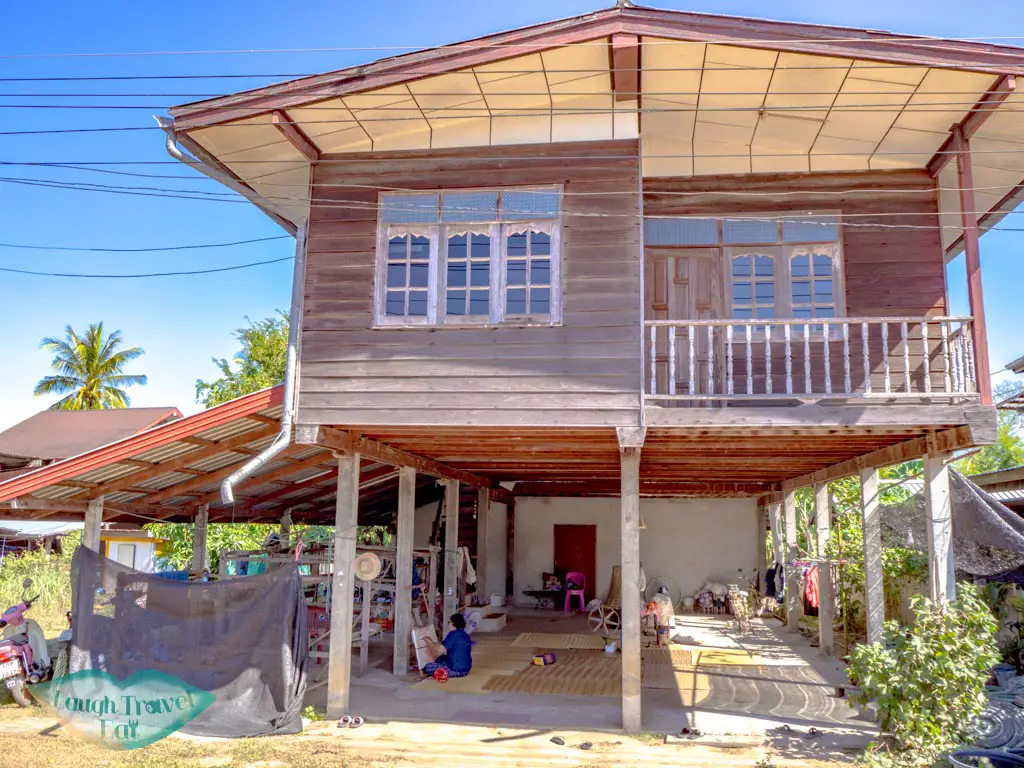 After our lunch, we got back on the Easy Cart to go back to the village for some indigo dyeing! This reminds me a little of my time in Nong Khiaw, with the local ladies there working on their indigo dye. They first taught us how they transform cotton into threads, a three stage process that I absolutely did not excel at.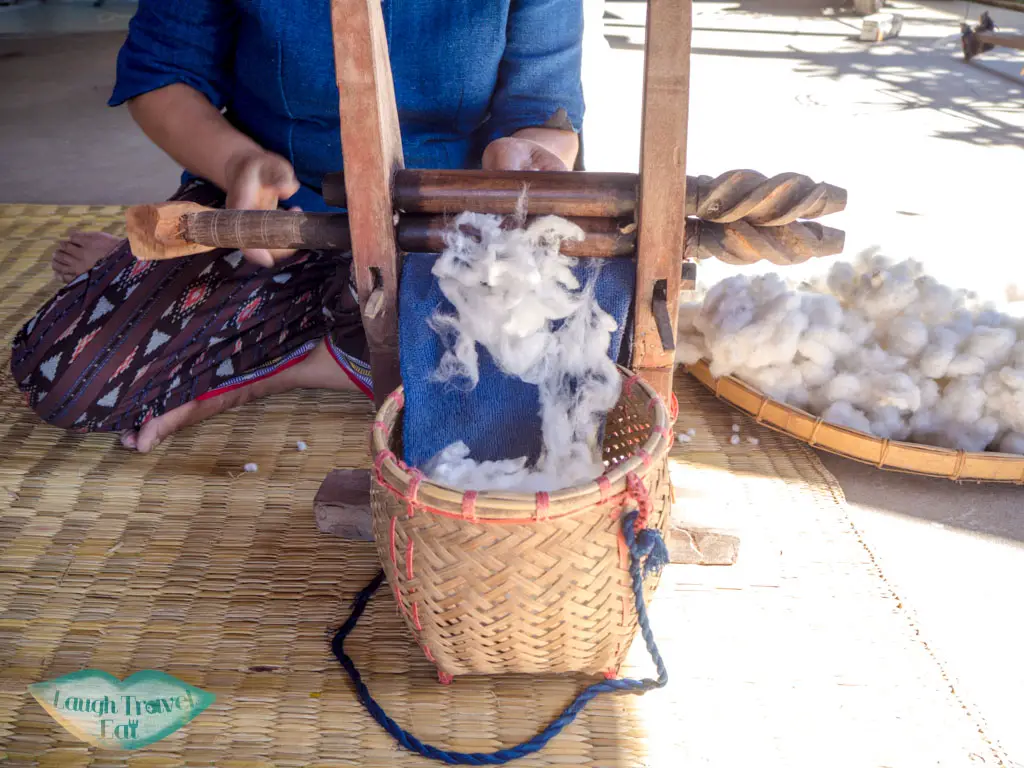 Roll them over a machine to remove the buds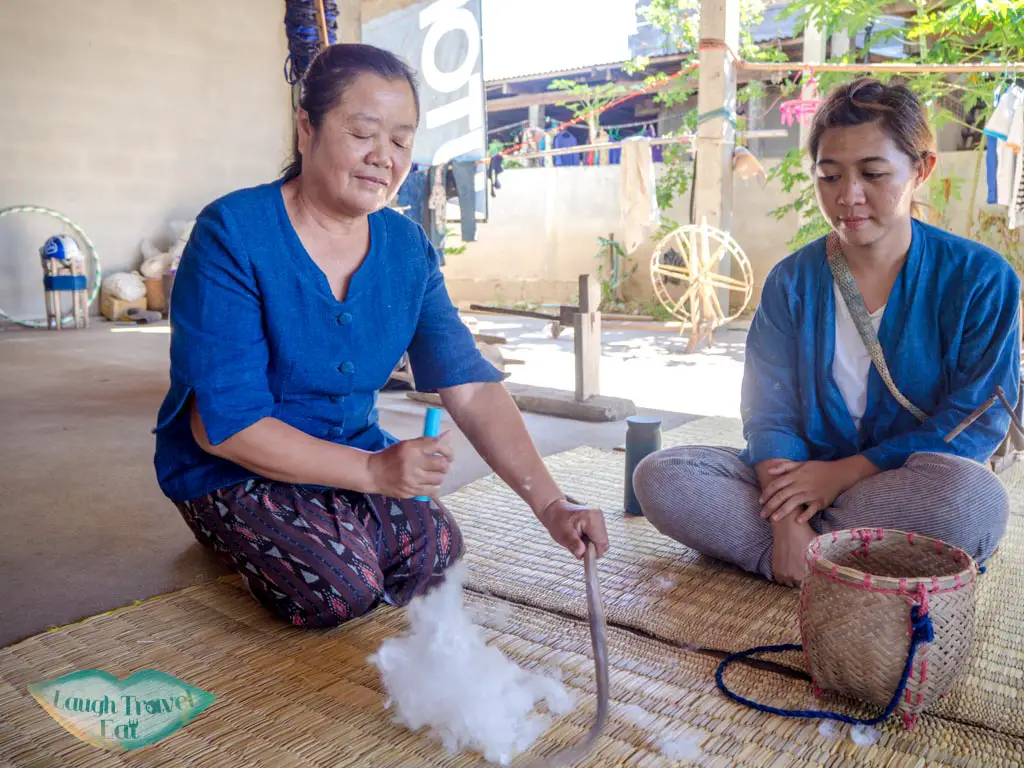 Use something that looks similar to a bow to fluff it out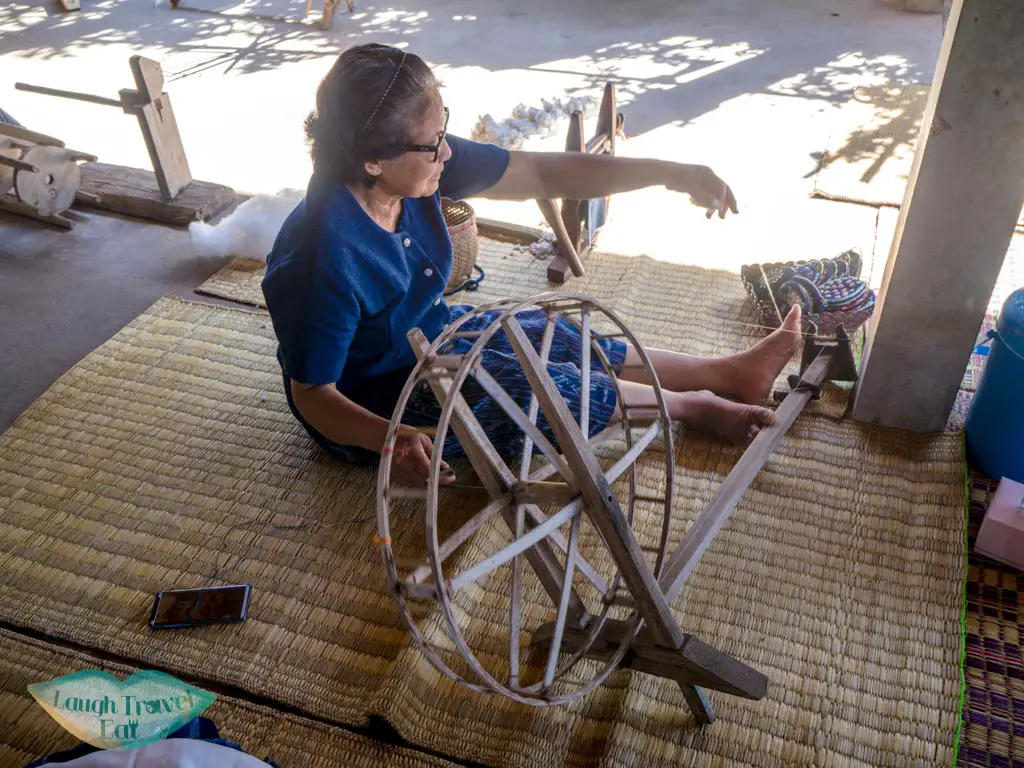 Wind it into thread using a spinning wheel
To experience the indigo dyeing, we decided to use a t-shirt, but scarves are also available. I would recommend you to research what kind of tie dye you want before the trip, but we are able to find some on Pinterest and the ladies there have some suggestions for us, too.
The tie dye process takes longer than expected, with us using elastic bands, cotton seeds, and even sticks. I ended up going for a symmetrical circle look just at the front to save time!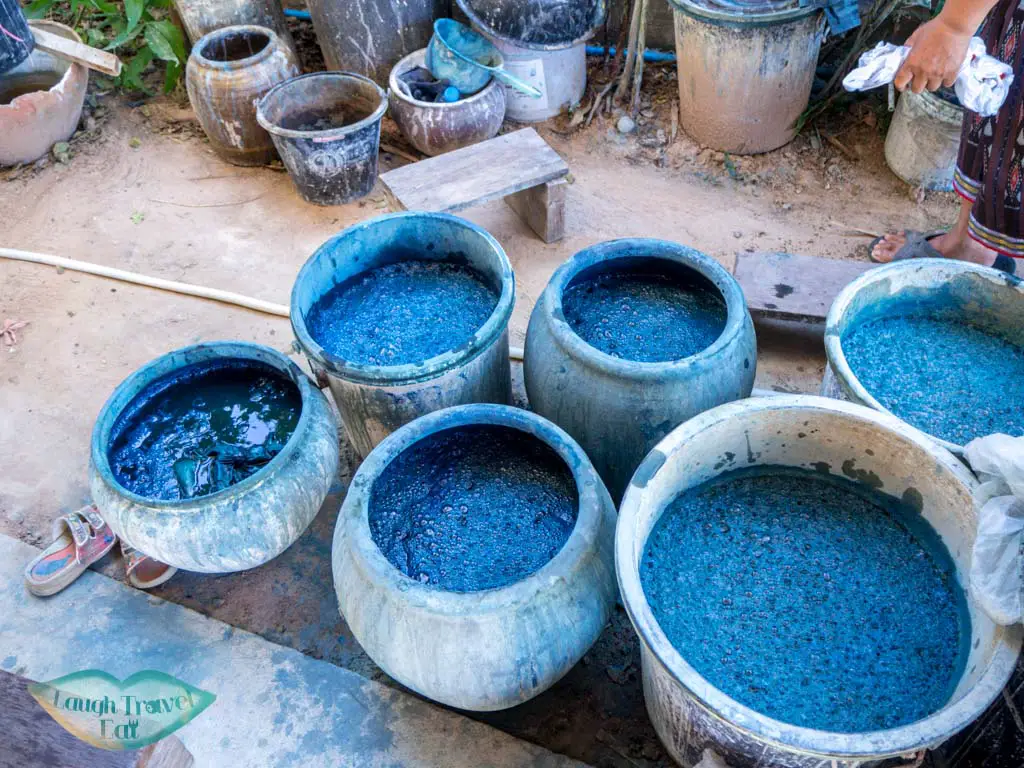 Next, we move onto actually dyeing the t-shirt. Indigo dye is expensive, and the pots are kept at the side of the street. The colour of the dye, contrary to what I think, isn't dark blue but with a yellowish tint.

The colour is first green yellow and then turn indigo as you wrench it dry multiply times. Indigo dye pot is added with banana and turmeric juice to help, but honestly as a lay person I'm not sure about the science behind that!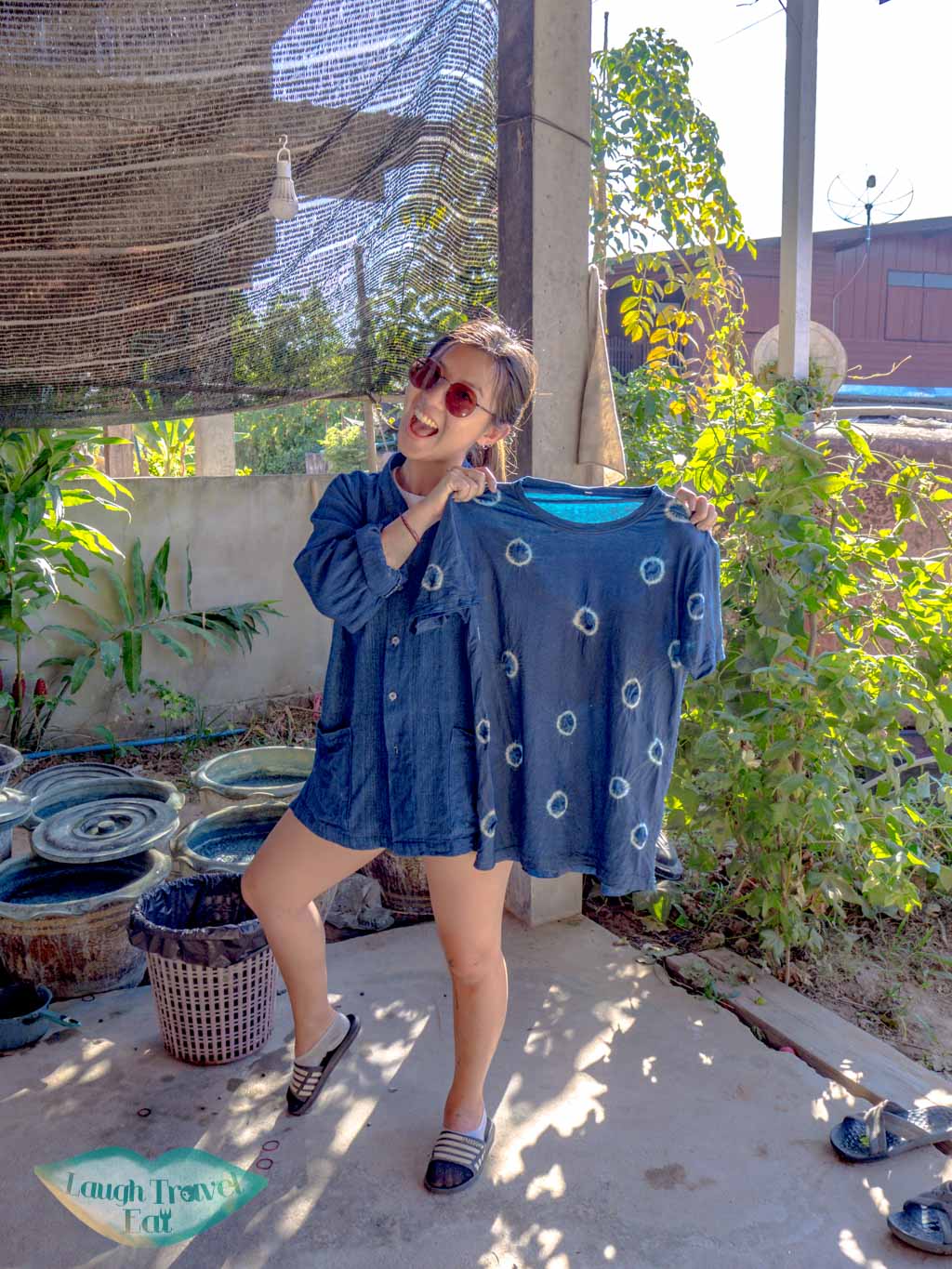 The t-shirt is dye for a prolonged period in the pot, we had to use gloves to avoid staining our clothes but of course I managed to spray a lot all over myself. We then had to rinse them off before the letting them dry.

Then it was time to return to our hotel! The car ride back to Sakon Nakhon is just over an hour and we got back around 4pm. As I've said before, there is absolutely no traffic so it was a smooth journey.

We had originally wanted to visit the temples in town, however it is impossible to get around in Sakon Nakhon without a car. Our hotel informed us that there isn't any taxi (yet), and they kindly drove us to town to get some dinner!