Wouldn't it make our lives so much easier if we have a price guide to where we travel? How much the transport should be, what is the average price for meals etc. That way, we don't have to worry about getting into a tourist trap and get ripped off.
While most of the temples in Chiang Mai ars free to visit, other things are not. Since we've got a grip of the general prices in Chiang Mai, we thought it'd be useful to share them!
In this guide, I will talk about the general price of things in Chiang Mai, in particular the ones you'll encounter in markets. I will touch on 5 categories:
If you are only interested in one category, feel free to skip ahead down the article! If you want something more comprehensive, check out my friend Emily's overall price guide.
Chiang Mai Budget: let's talk about the price
One thing I love about South-East Asia is how cheap things are due to the lower cost of living. Travelers are well aware of that and unfortunately, so do the locals; and there's always someone or some company looking to rip you off. Most of the vendors in the markets I interacted with are generally okay, looking to make at most 100 Baht off those who just accept the price they offered. However, there's one we met on this trip that 'inspired' me to write this piece.
My friends and I were at the Night Bazaar when a cute, patterned shorts caught my sister's eye. I just bought one this morning at the price of 80Baht, and we knew the general price lies between 80 to 150 Baht. We inquired about the price which was 180 Baht, and was about to enter the process of haggling when the owner stepped forward to chat to us, claiming that the shorts are 350 Baht. That's twice the amount before and my sister was outraged. So this guide aims to provide you with the knowledge of how much things are, so when you encountered people such as the vendor in our story, you can call them out and either haggle or look for a vendor that's fairer.
Shopping in Chiang Mai
Haggling is a must whilst shopping, especially in Night Markets. A few general rules to keep in mind:
Things are cheaper at the Saturday and Sunday Night Market compared to the Night Bazaar. This is because the Night Bazaar vendors are middle person, whereas the vendors at the weekend night markets made the things they sell.
 ALWAYS ask if they can lower the price, a simple 'cheaper?' will usually do. The worst that could happen is that they say no and you buy it at the price they offered, but generally you get 10-20 Baht off just by asking this simple question.
Some usual items to shop for:
Dried Mango
(70-100 Baht)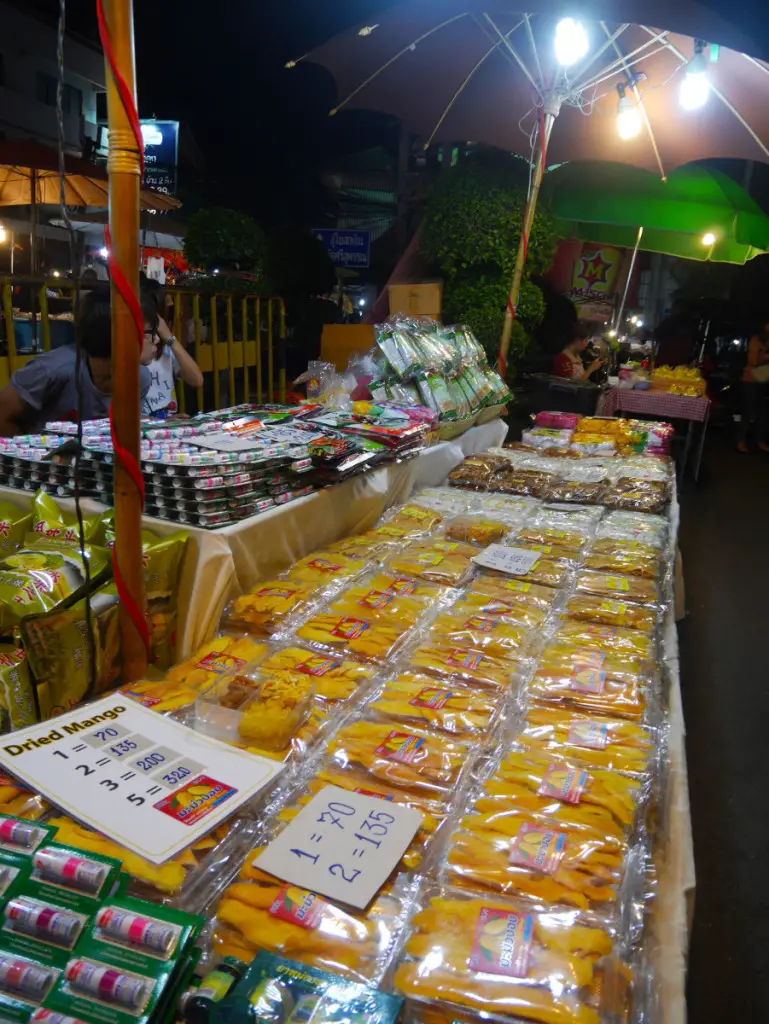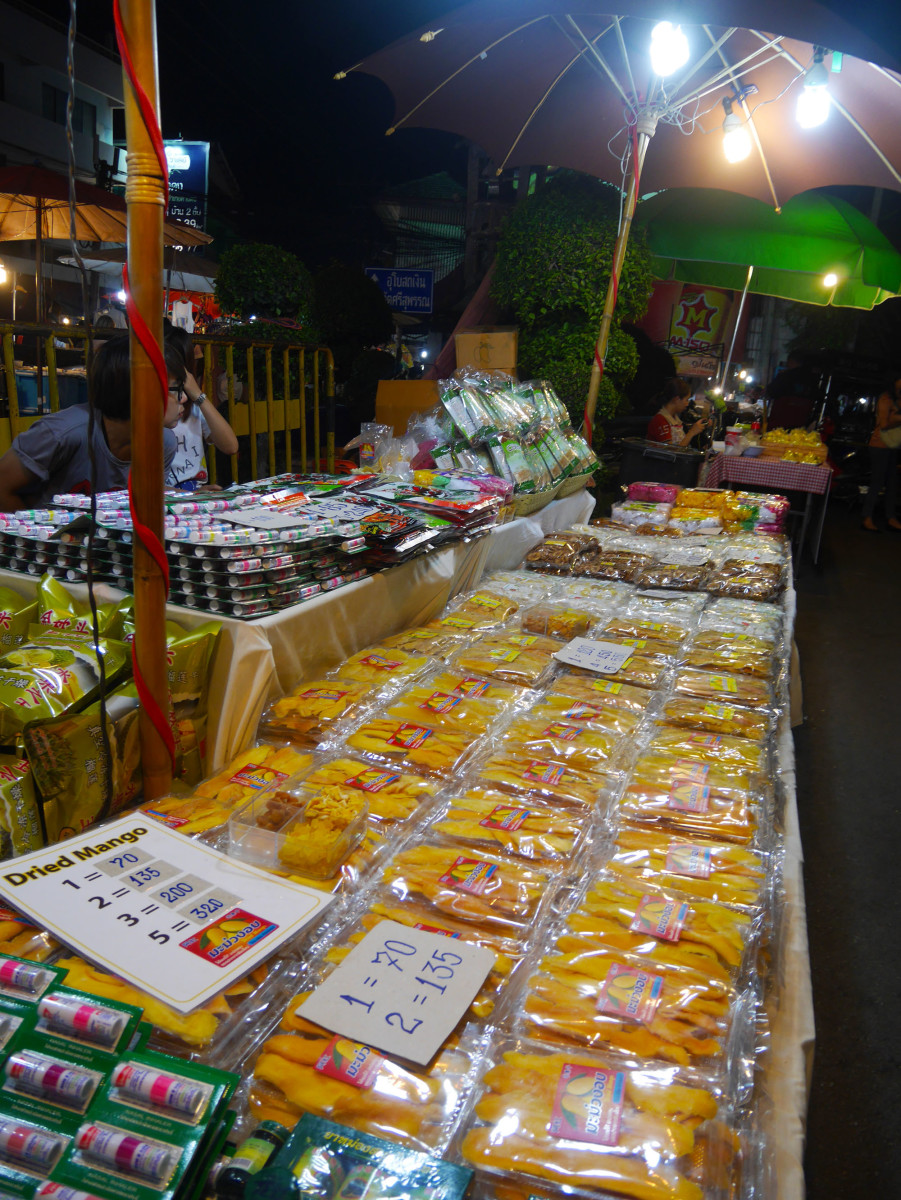 Thailand's mango is great, and I myself got several packs of dried mango as souvenirs
The cheapest deal I got is at the Warorot Market at 200 Baht for 3 packs, but personally, I found the one I got at the Saturday Night Market (80 Baht) better.
Recommend to get: Saturday Night Market
Printed Shorts/Trousers
(100-150 Baht)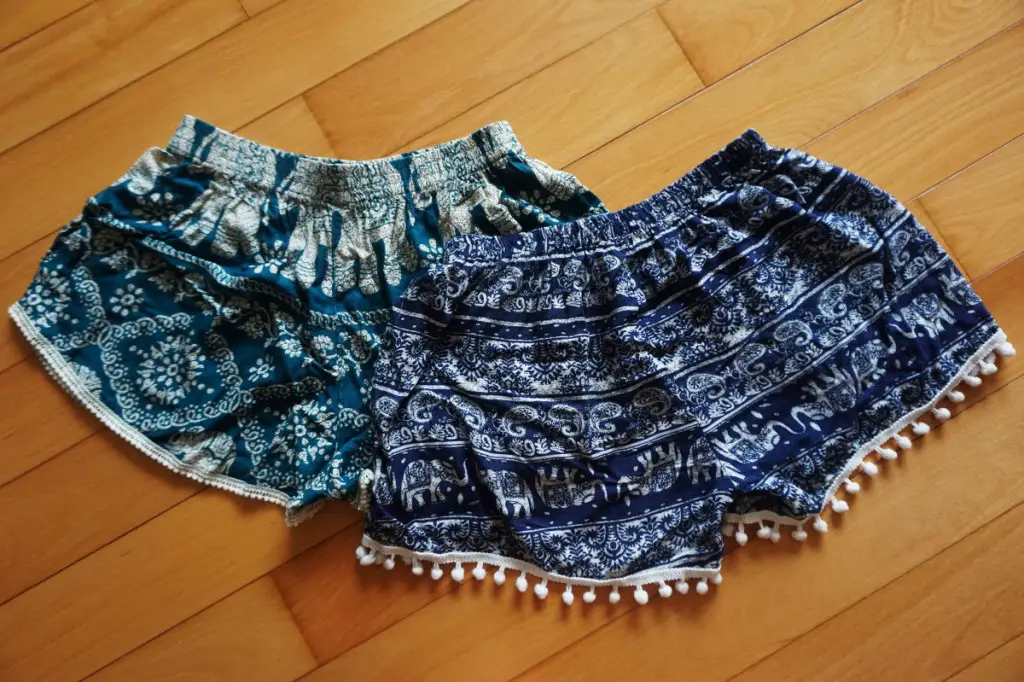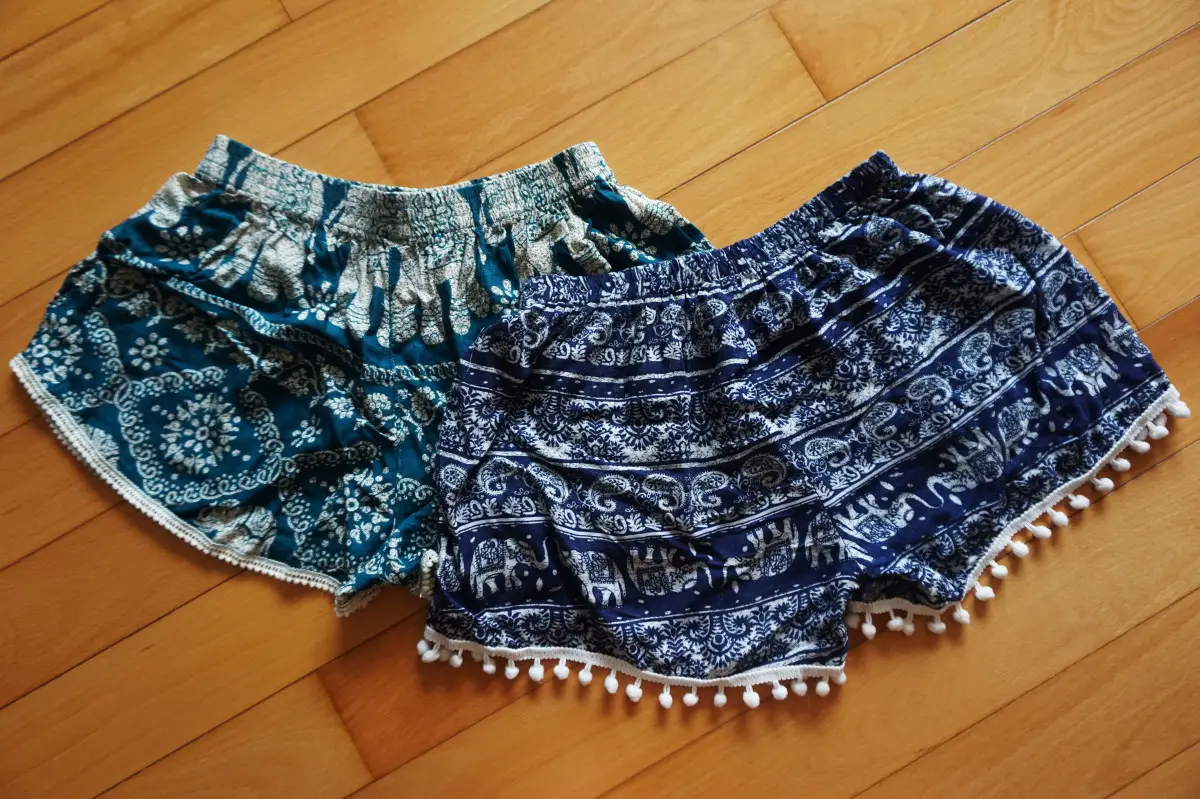 It's quite standard, and you can haggle when you see a pattern you like, however, there is a store that's particularly cheap:
Recommend to get: at the store next to Wat Lamchang (cheapest and no need for haggling!)
Tops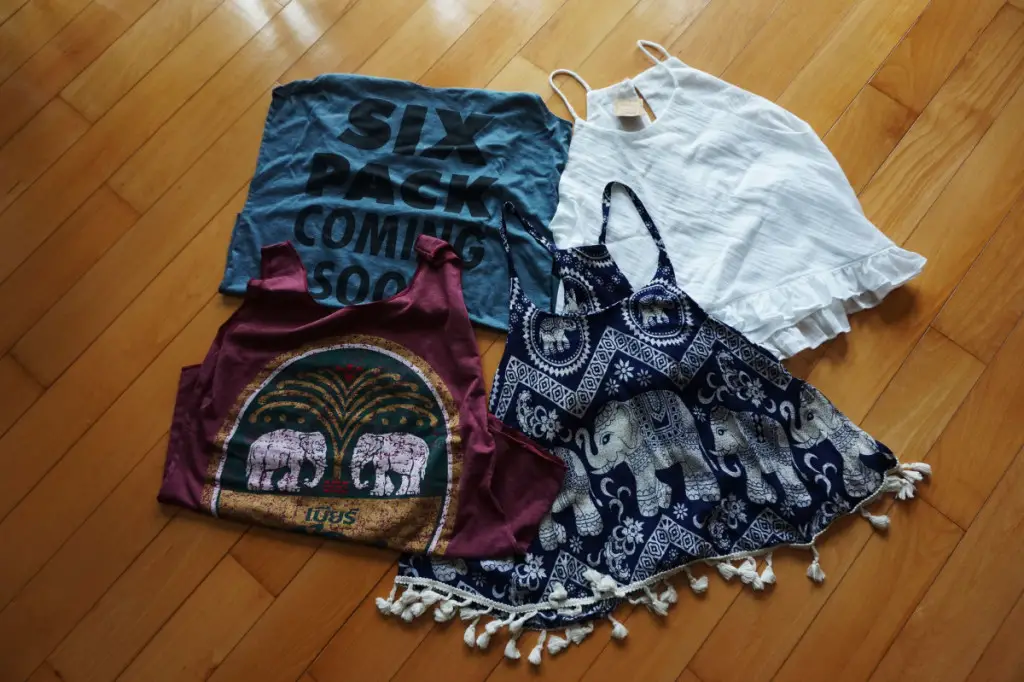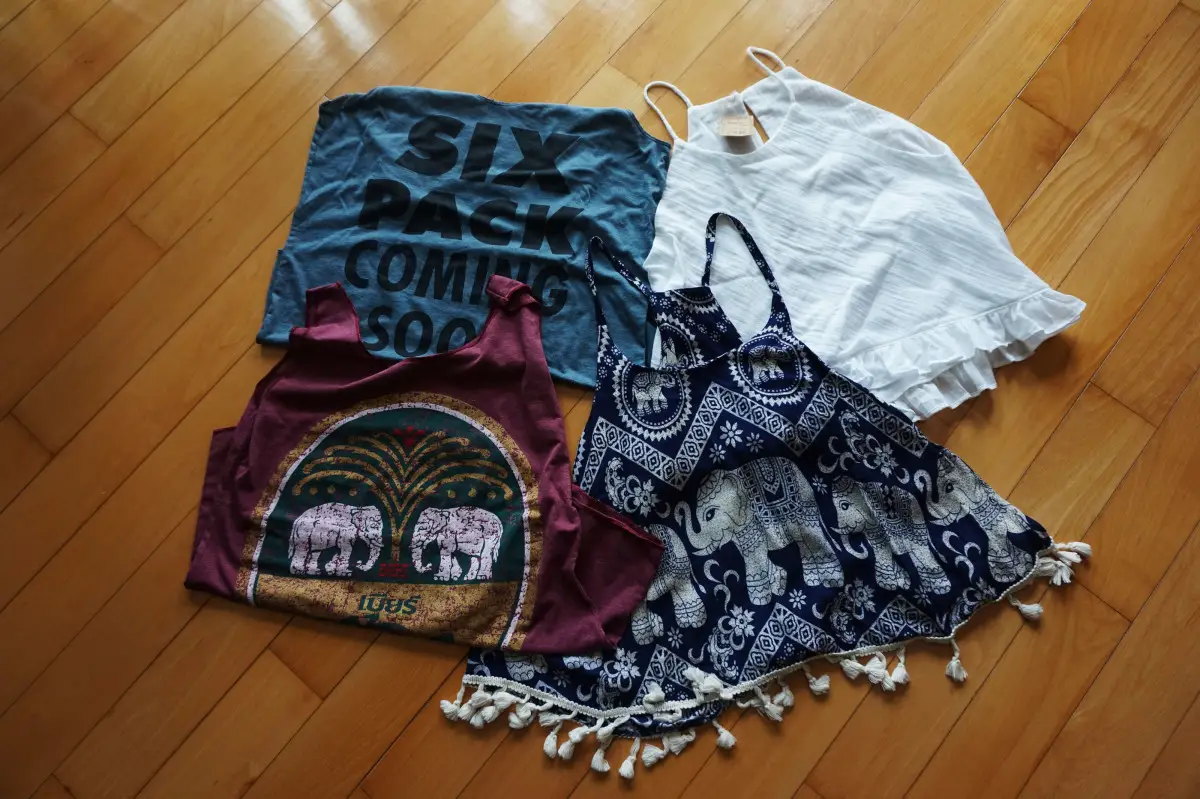 Patterned: 130-200 depending on cutting
Printed logo tank and shirt: 100-150
Recommend to get at: anywhere really
Decorated Notebook
(100 Baht each)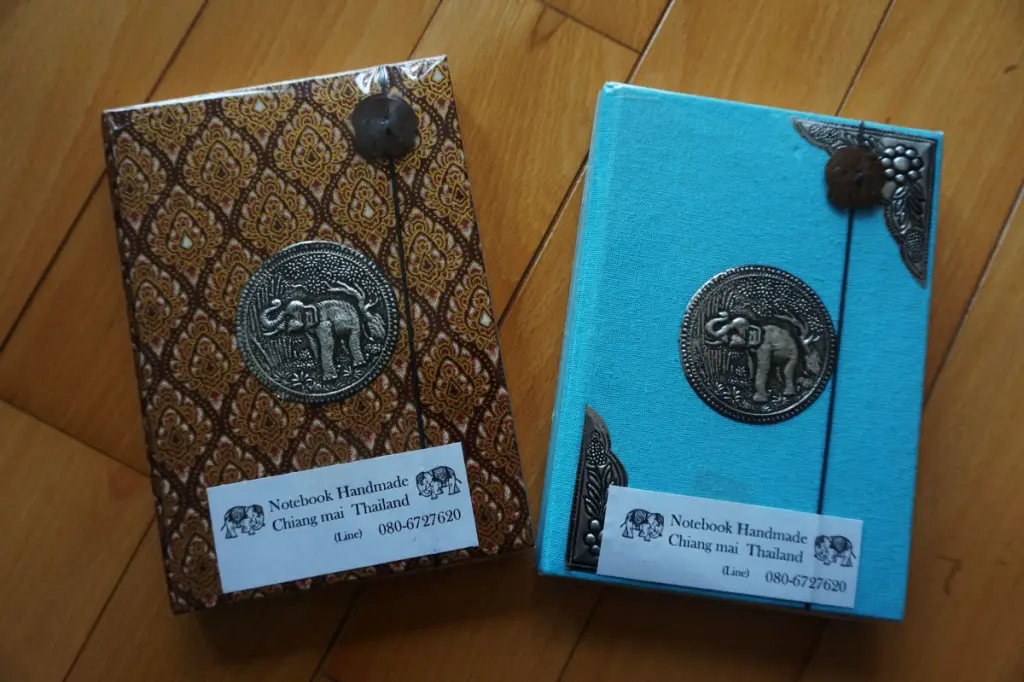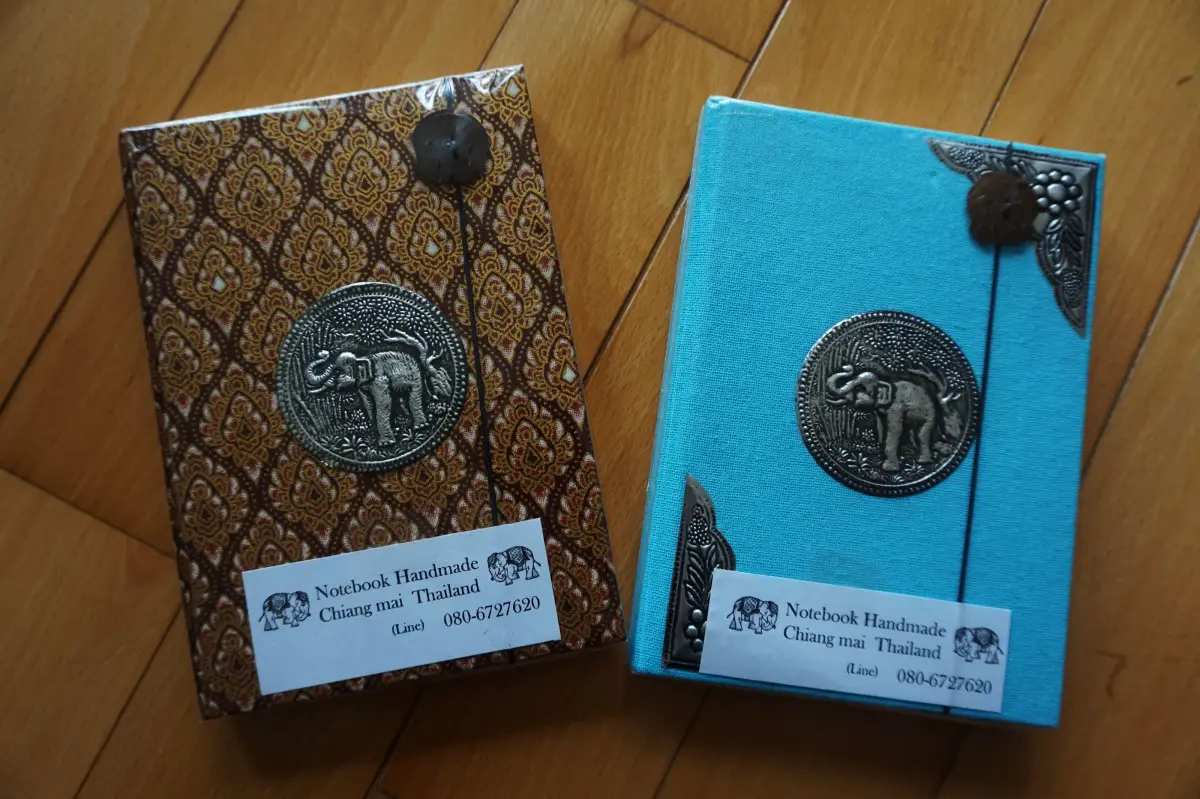 Now the price for these notebooks is pretty standard: although most vendor asks for a higher price of 120 Baht if you are only getting one.
Recommend to get at: anywhere
Chiang Mai Massage Prices
Most massage places charged by the hour: whether you are opting for feet or neck, shoulder, and back.
Prices are generally 250 Baht
At the weekend night markets, you often see temporary store set up with rates from 80Baht/hour an hour (pretty standard all the way down the street)
There are a million an one massage place in Chiang Mai, you can find my favourites here.
Chiang Mai Transport Cost
Airport to Chiang Mai city centre
Taxi: ~200 Baht, Bus 30 Baht
The airport is actually less than 3 km from the city, and a taxi (for up to 4 people with 4 small pieces of luggage) only cost around 200 Baht. There's no need to book in advance: there's several booths at the airport so just ask around.
Alternatively, there's now a bus that can take you to the center for 30 baht. It's by the exit 1 all the way to one end of the airport and do a loop around Ninman and then old town. You can find the timetable here.
Tuk Tuk Chiang Mai Price
There are several different ones:
a red one that can hold up to 10 people called Songthaew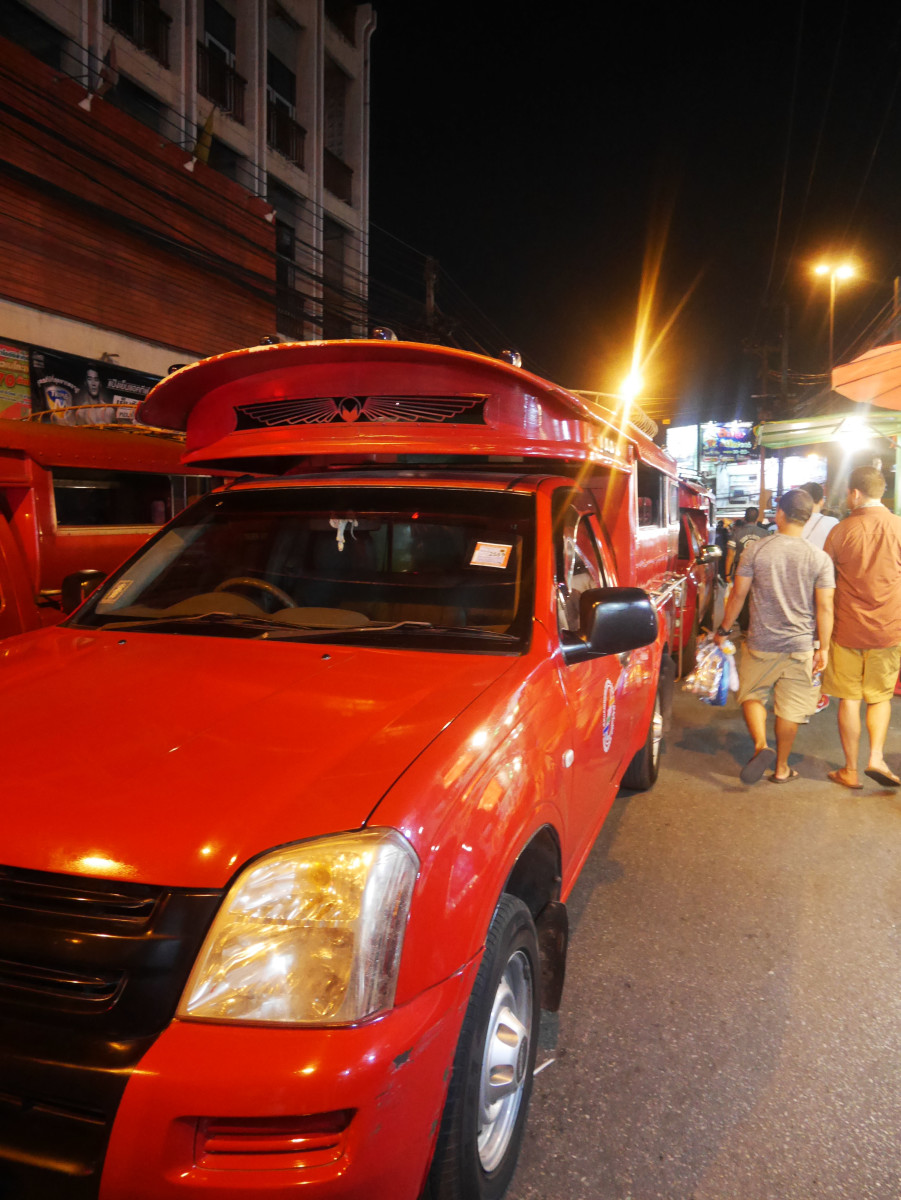 Going around the city should just be 20-25 baht per person
A smaller one that can hold 3 seats
Need to negotiate the price: if your accommodation is not that far from the city wall then it's probably cheaper to go with the Red ones.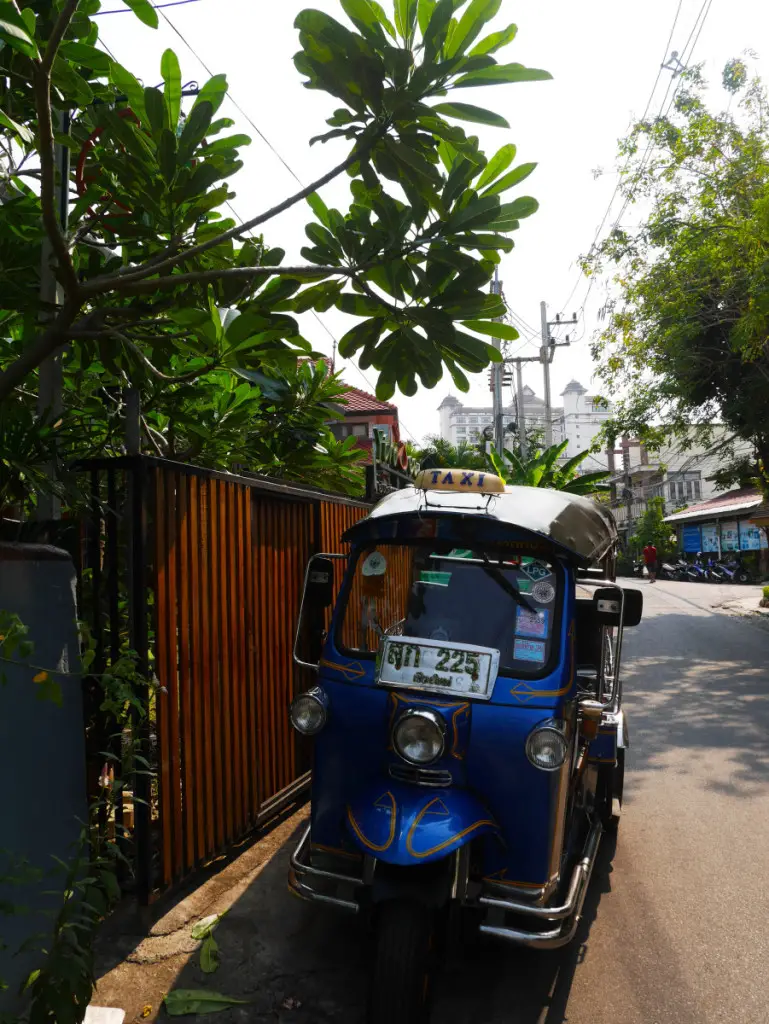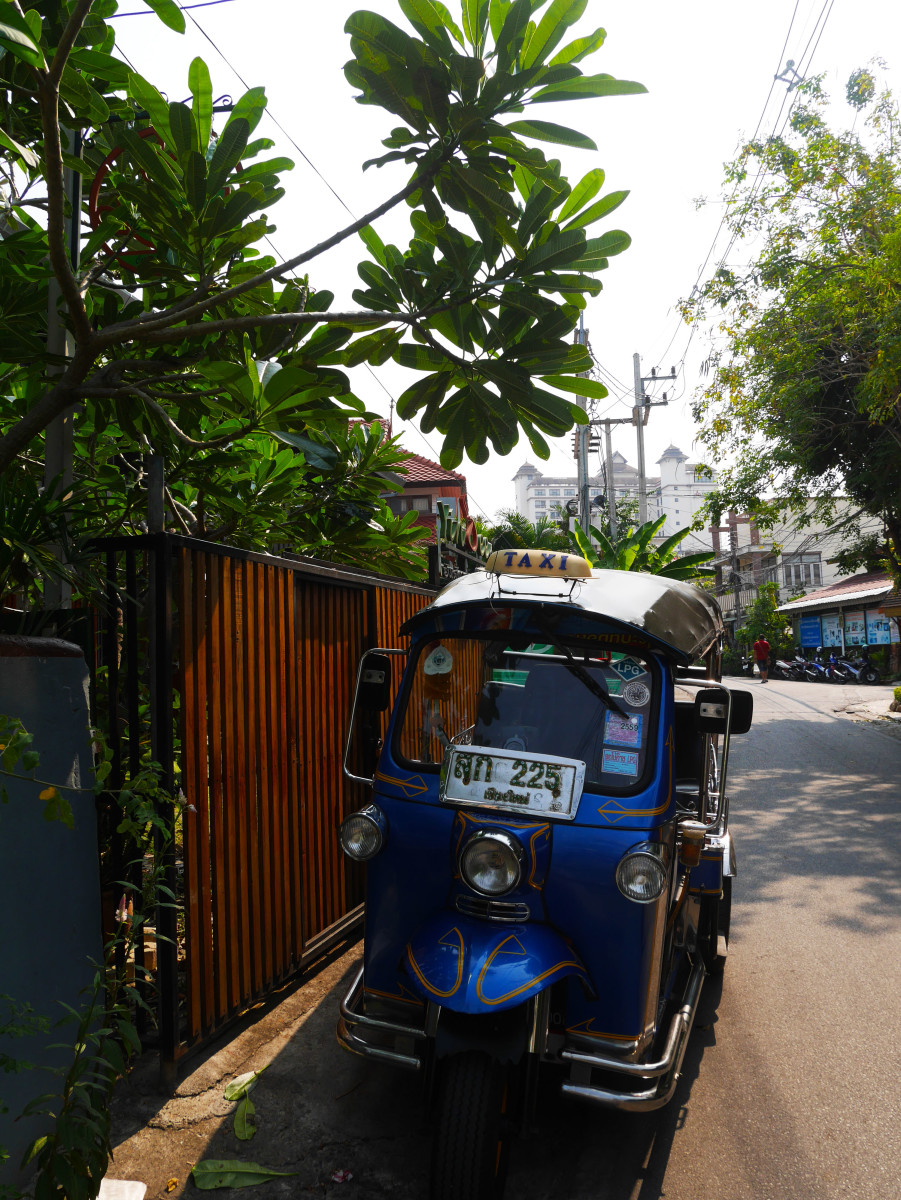 We have only taken the small ones once and we haggle down to 90 baht from the night bazzar back to our accommodation (which is 2 blocks from the city wall)
Hiring a taxi/tuk tuk for a trip out of the city

The price is the same for a modern taxi and a tuk tuk

1000 Baht for a round trip

3500 Baht for a trip to the mountains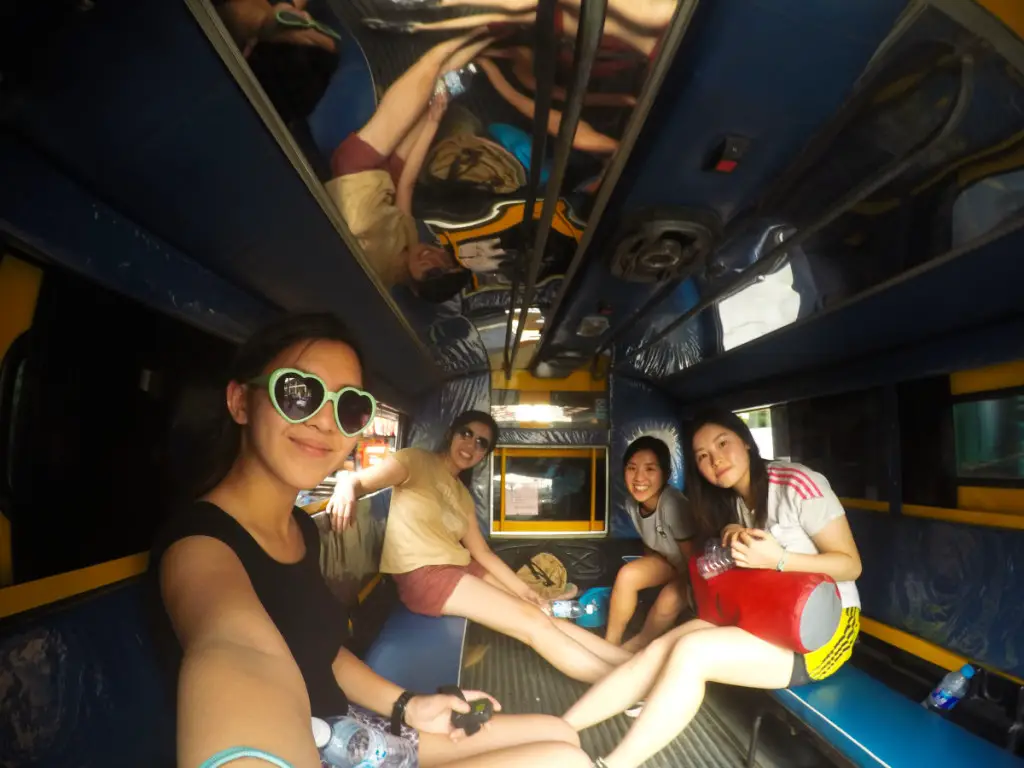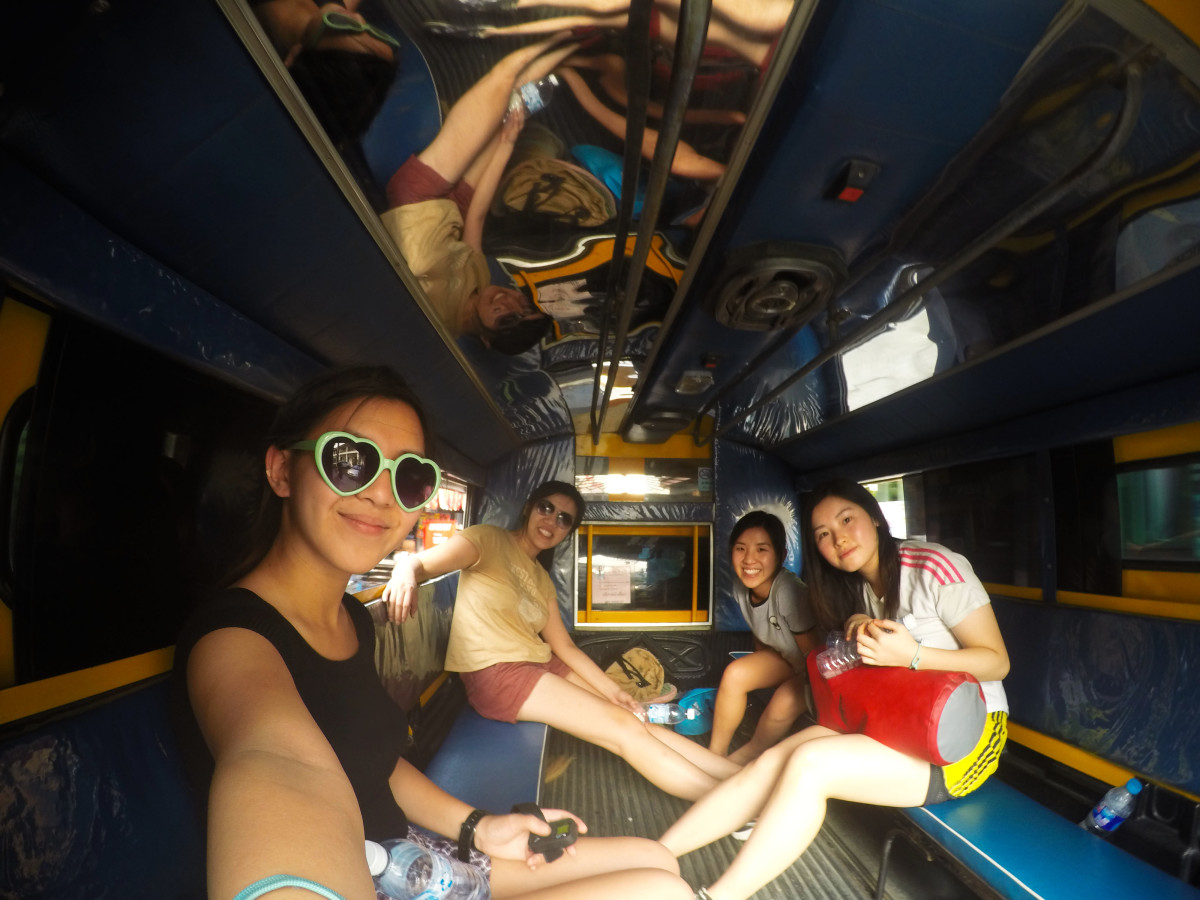 Grab
Grab is now widely used and available, and definitely one of the best way to get around the city. A trip around the city should cost about 60 Baht, so it's affordable if there's more than one of you. The app is straightforward and easy to use, the key point is to pick somewhere the driver can easily stop and pick you up.
More on using Grab in Southeast Asia here.
Cycling
With sharebikes such as MoBike, it's easy to rent a bicycle and go around the city. It's best to do it within the old city unless you are a seasoned cyclist, though most drivers are accustomed to cyclists being on the road. The one place I would advice to avoid is the ring roads around the old city are it's difficult to switch lanes and turn.
Day Trips
There's A LOT to do in Chiang Mai, due to time constrained we only went on two: to see the elephants and zip lining on my first trip. To see 5 other amazing day trips, click here.
Elephants Sanctuary
We researched via TripAdvisor, and the price ranges from 2400 to 4000 Baht
         *Note these are the ethical ones, without elephants playing tricks
     At the end, we choose the Elephant Jungle Sanctuary (2400 Baht)
Zip lining
The most advertised is Flight of the Gibbon, which is 3999 Baht. The cheapest one we found was 2000 Baht
Full review on ziplining with Skyline Adventure
For those who are looking for more off the beaten paths things to do, there are some amazing tours lead by locals in Chiang Mai – from Lanna cooking class, ethical elephant encounters, to trekking in the mountains, you are spoiled for choice and be sure to make a local connection.
Food and Drinks prices in Chiang Mai
Mango Sticky Rice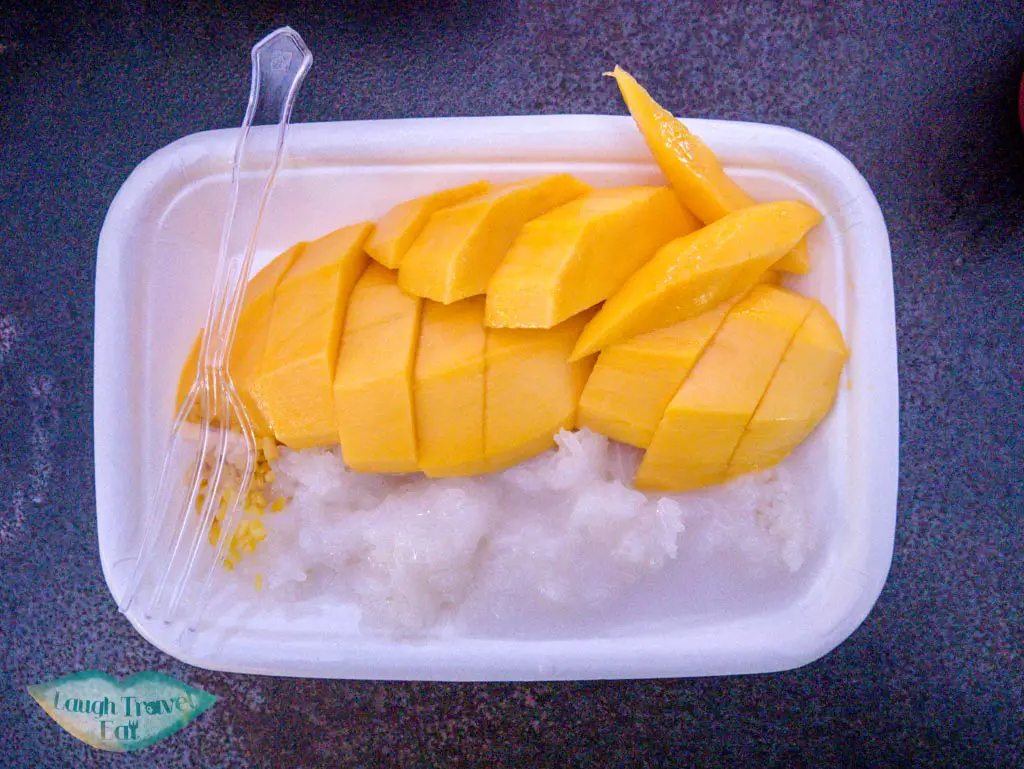 Sold everywhere at the night market, and the price is generally 40-50 Baht (portion tends to be smaller than if you just buy them somewhere in the city)
Fruit Shake
20-50 Baht depending on the size, how many fruits are mixed in etc.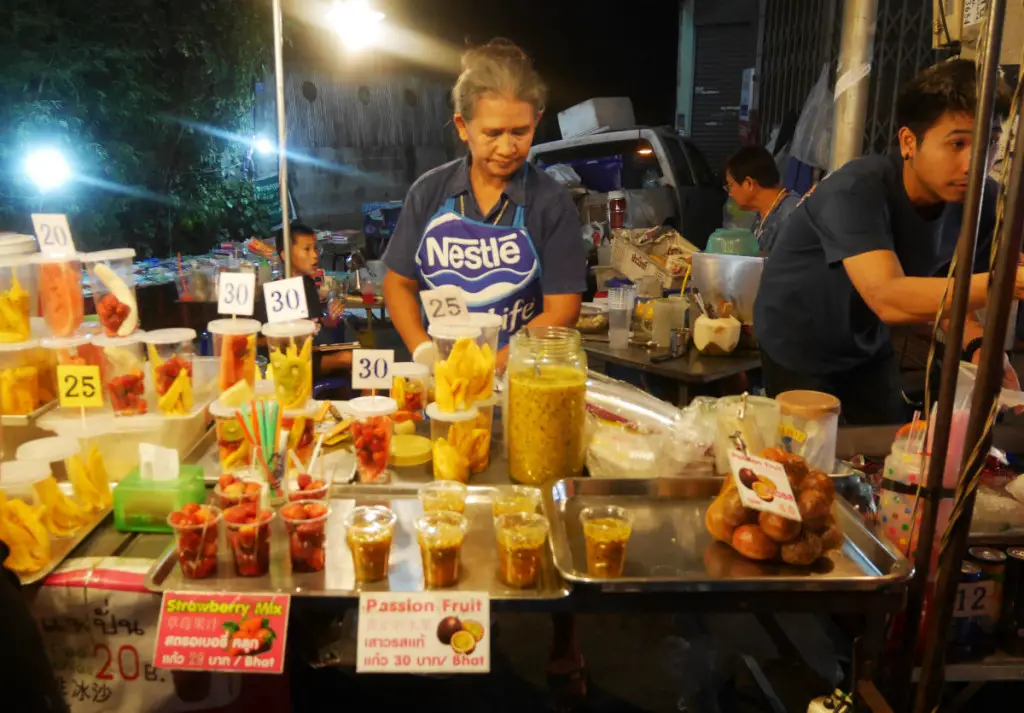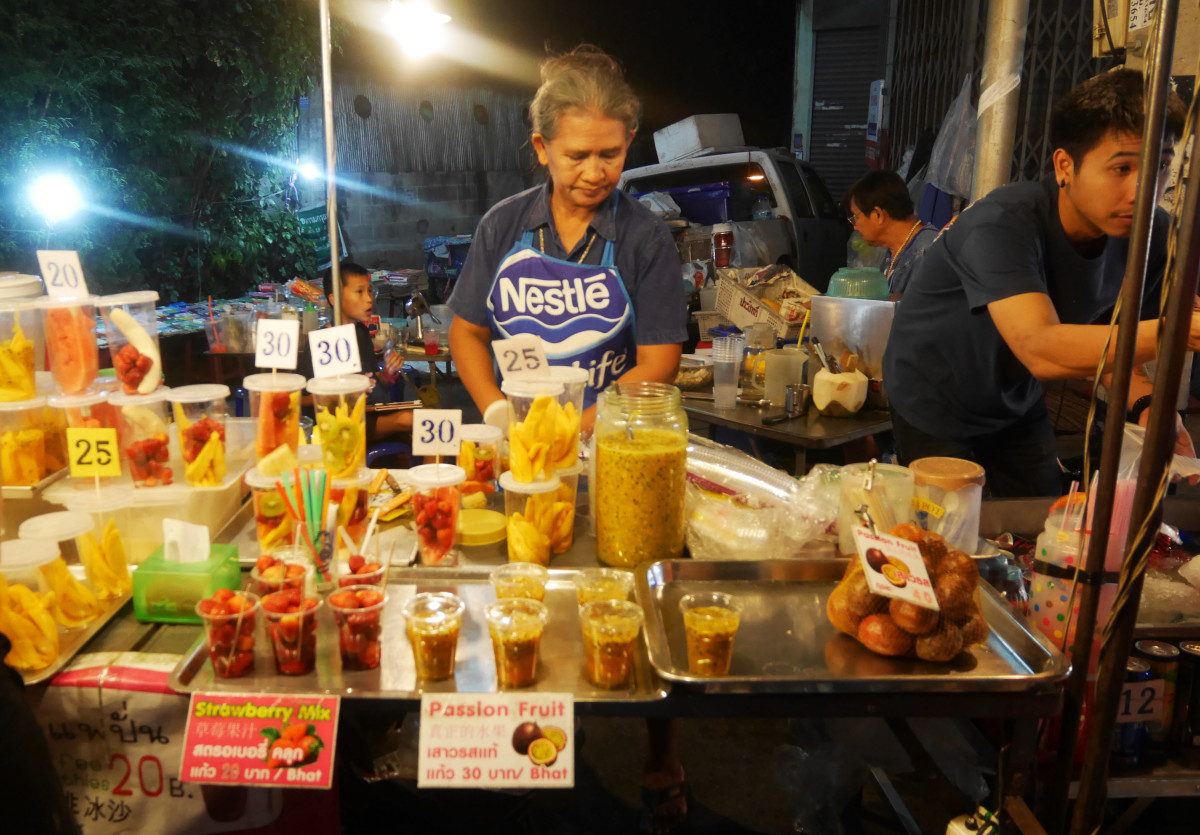 Restaurants prices in Chiang Mai
Dishes price typically fluctuate around 100 Baht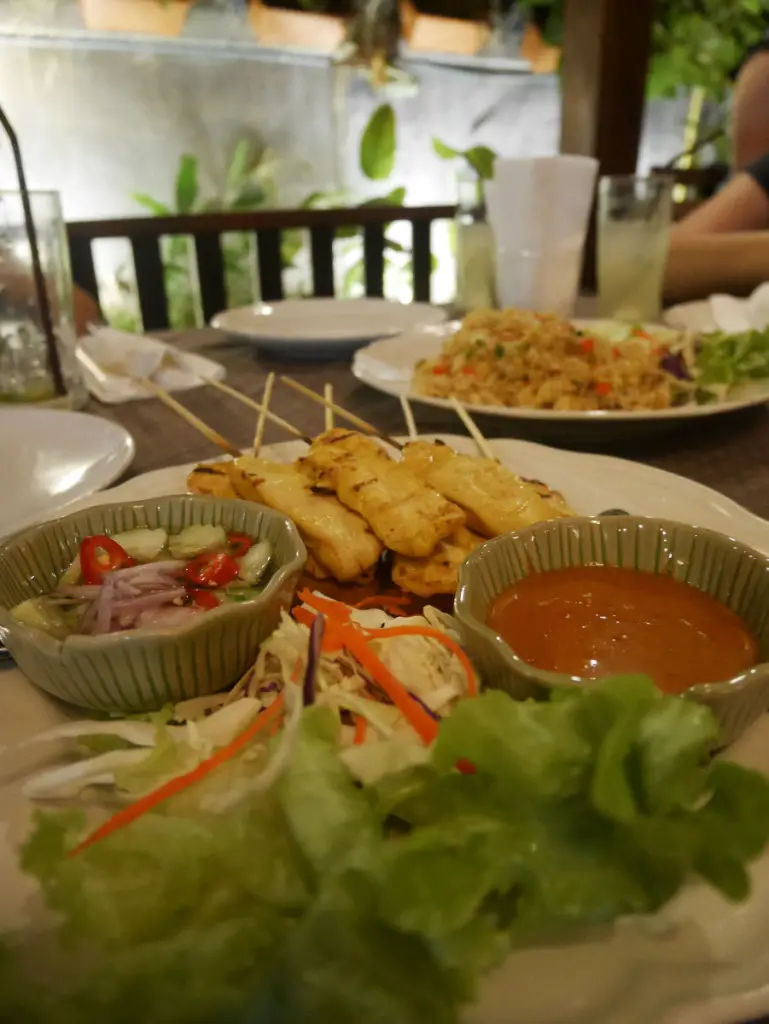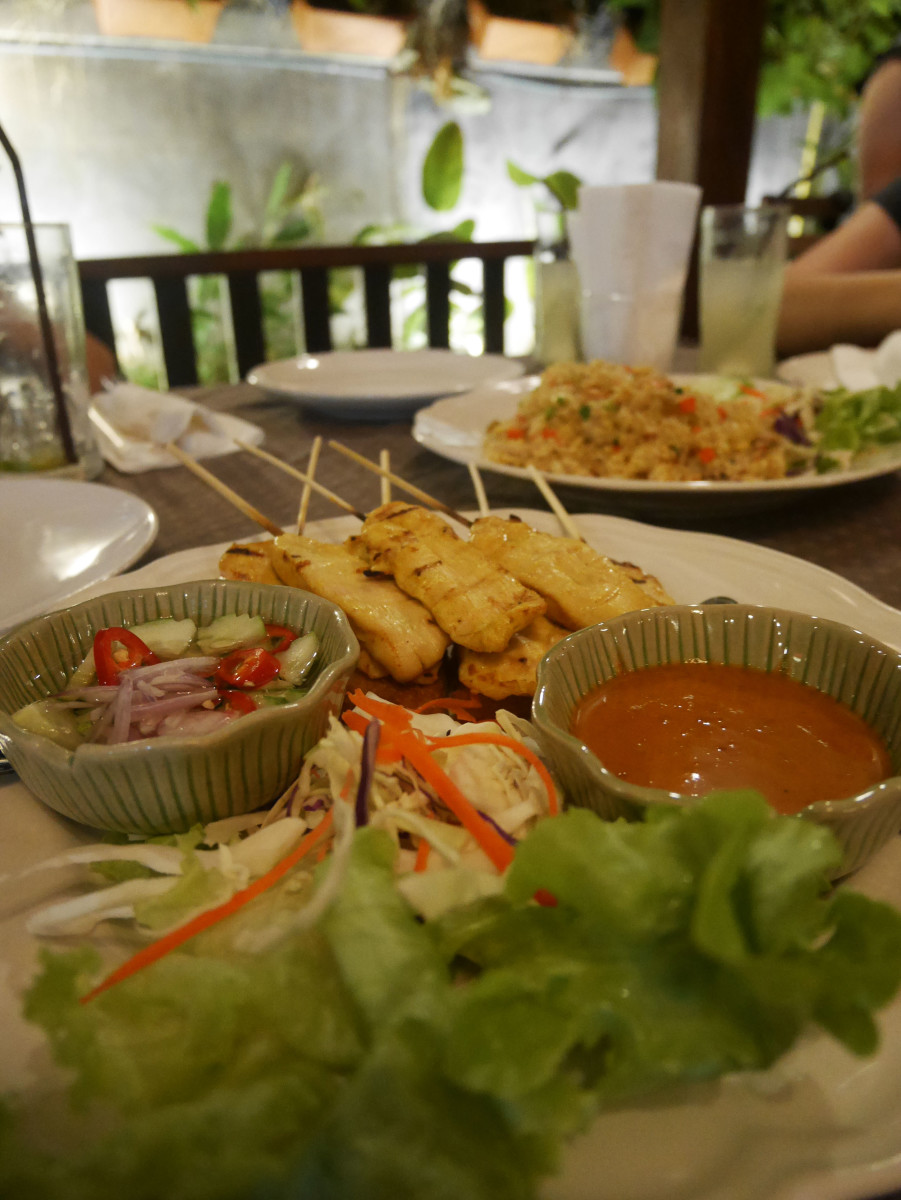 And that's it, folks. Hope this price guide will be useful to you, and definitely apply the knowledge you have at the night market for higher bargaining power!
Where to stay in Chiang Mai
There are so many amazing options as to where to stay in Chiang Mai. If it's your first time, I thoroughly recommend staying in the Old Town so you can be close to everything. However, if you aren't fussed about being a little further, there are some beautiful places in the hip Nimman area as well as near the night bazzar. Beyond that, there are so many gorgeous resorts dotted around the area, so here's a quick oveview:
Chiang Mai Old City
Budget: just outside the north gate, @Box Hostel does not only offer modern dorms at great prices but also free bicycle rental. Me U2 Hostel is a great alternative around the same area and also offer double rooms. If you prefer to be inside the walls and looking for female only dorms as well, Green Sleep Hostel is the one to look at.
Mid-range: For a mix of traditional Thai and modern design, Floral Hotel Thapae Gate Chiangmai near ThaPae gate is a good pick (but no lift). Phra Singh Village is also a great mix, plus it's pretty new! Prefer somewhere modern? Then check out The Rodman Hotel.
Splurge: right in the heart of Old City with traditional design and architecture, Baan Boo Loo Village offers gorgeous villas that make you feel relaxed and immersed in Thai culture. However, it doesn't have a pool – but Chala Number6 does! With equally charming decor and central pool, it's a perfect escape in the heart of the city.
Nimman
Budget: located between Nimman and old city, Stranger House is another great modern choice for hostel lovers. For artsy people and hipsters, stay right on the main road in Nimman across from Maya mall at Bed Addict Hostel X Cafe.
Mid-range: Want to feel a homey, rustic vibe? Sanae' Townhouse Chiang Mai takes you right back into the country with wood and brick decor. If you are more of a sleek marble kind of person, then Zivi Nimman 15 is for you.
Splurge: Ultra modern, sleek and with a rooftop pool, Akyra Manor Chiang Mai is the epitome of urban stays!
Around Chiang Mai
There are some gorgeous stays around Chiang Mai such as the Panviman Resort and Spa. It's a perfect getaway for those who are looking to relax at a lovely resort (or those with kids).