Bangkok is one of the most popular cities in Southeast Asia for tourists. While I had visited the city numerous times as a child, most of the time we only end up going shopping and getting massages or venturing out to Pattaya. What is there to do in 4 days? Some might ask. I can tell you that there is plenty to do whether you are a first-time visitor or not. Here's my 4-day itinerary that includes shopping, eating, and a heavy dose of culture and even nature!
(Depending on when you arrive in Bangkok, go ahead and mix and match the days)
Bangkok Travel Tips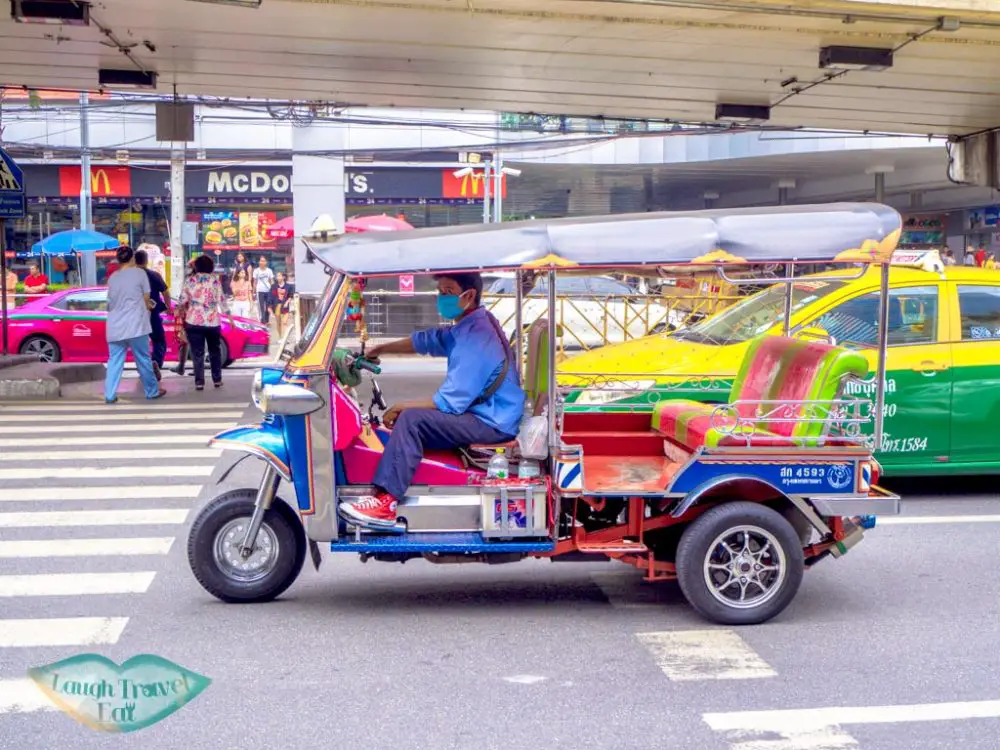 As a big modern city, amenities are abundant in Bangkok but there is always something you can do to make your trip easier. Here are some of my tips:
Currency in Thailand
Thailand uses Baht, and there are plenty of ATM around the city that's safe to use. For currency exchange, Super Rich is a trusted chain that many exchanges with. Thailand is mostly a cash-based country, so you best have some money on you when you arrive for transport and food.
Sim card for Bangkok
You can pre-purchase your sim card or WiFi device for Bangkok easily, and there are plenty of counters in airport that sells them. Personally, I like to prebook the package to reduce using the local currency.
Alternatively, you can get them on the grounds when you land. AIS and True are both great brands, with the former being better in the countryside. Remember to have your passport with you when you get it!
Transport in Bangkok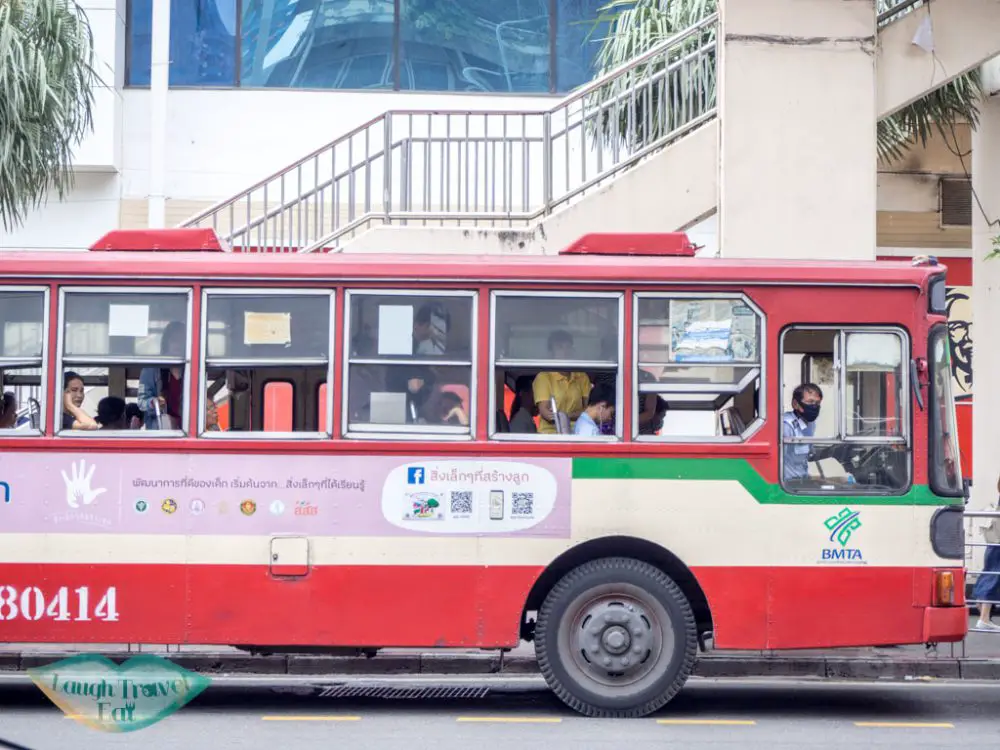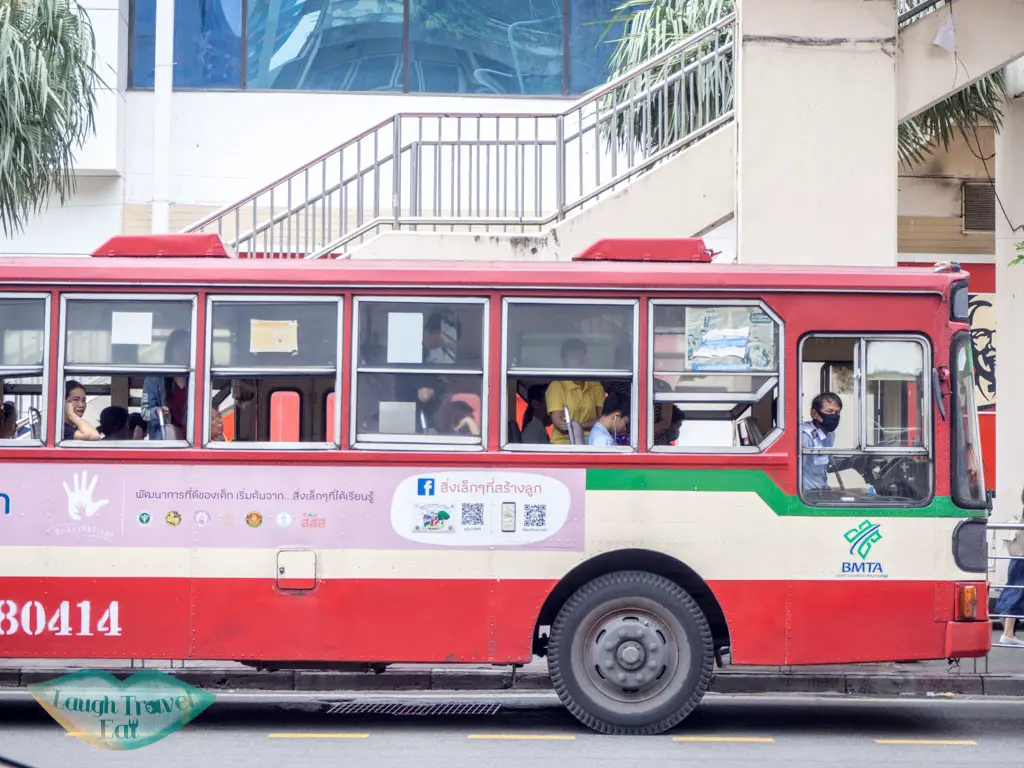 There are a few key transport services in Bangkok, most common for tourists are:
Bangkok BTS Skytrain
The BTS (not to be confused with the boy band) has a transport card called the Rabbit card. To save time, I booked through Klook and collected it by Klook counter by the airport Skytrain terminal.
You can also purchase a ticket on Klook for skytrain to the city center. Though often times it might be faster and not too much more expensive to call a taxi on Grab.
Bangkok MRT
The Bangkok MRT is the underground system and the dark blue line. It is not directly connected with the BTS and the two use a different payment system. But you can change between them at Asok.
The good news is that you can now pay by your credit card! They also have a metro pass which I had never gotten or use, and the single tickets are in the form of a coin which can be hard to keep track of.
While it doesn't go to the fashionable districts, it has a direct link to Chinatown and takes you close to the Grand Palace and Chatuchak, too.
Canal Ferries
Canal ferries are actually my favourite way to get around Bangkok because it's cheap and extremely cool. The main station is Pratunam, with ferries running west to Sri Wat temple and east to the old town.
You can check the schedule on google map which are fairly accurate, as they run around 15-20 minutes apart so can result in a long wait.
The ticket operator will come and ask you where you are getting off, and your fare is between 11-20 baht. The price will be on the ticket, so you don't have to be scared of getting rip off.
Grab in Bangkok
Grab is used extensively in Thailand. While metered taxi might end up being cheaper, the fixed price and being able to select the destination on GPS makes it a preferred platform for many. There are often promotions, too, making it more affordable. Do note that toll fees are not included in the car fare, so communicate with your Grab driver about it when you get on, especially from the airport.
Note: you can now also use Bolt in Bangkok. It's still cash only but the prices run cheaper than Grab. I still mostly use Grab except for getting to the airport! It's a lot cheaper with Bolt.
Day 1 Weekender: Full day at Chatuchak
My first day in Bangkok was a Sunday, which was also the most anticipated day in Bangkok for me as I got to go to Chatuchak.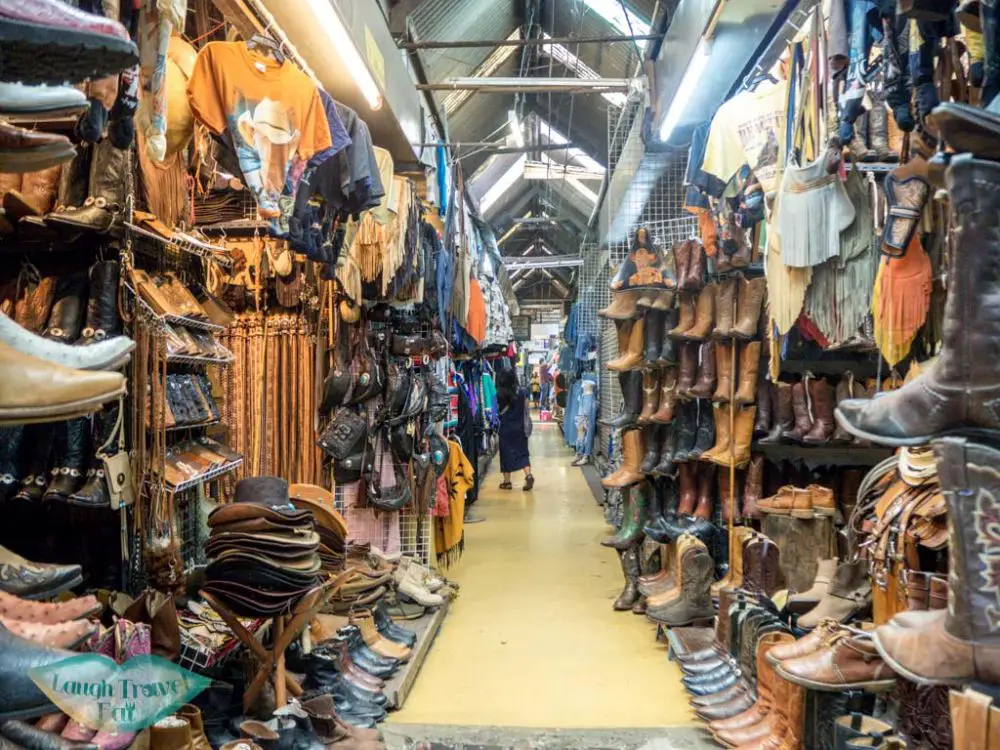 Known as the biggest weekend market in Thailand, it's a place that would seriously test your self-control. The market started out as Bangkok's local market, but eventually moved to this location in the 70s and grew to its current size. With over 1,500 stalls and 27 section, you might just want to do some prep work before your visit if you want to make the most of it. While I had only visited once, here are some advice:
If there's room to spare on your phone, there is actually an official app you can download to aid your visit. Maps are readily searchable online, and it's best to use the central clock tower, built in 1897, as a reference point. Here are some quick tips: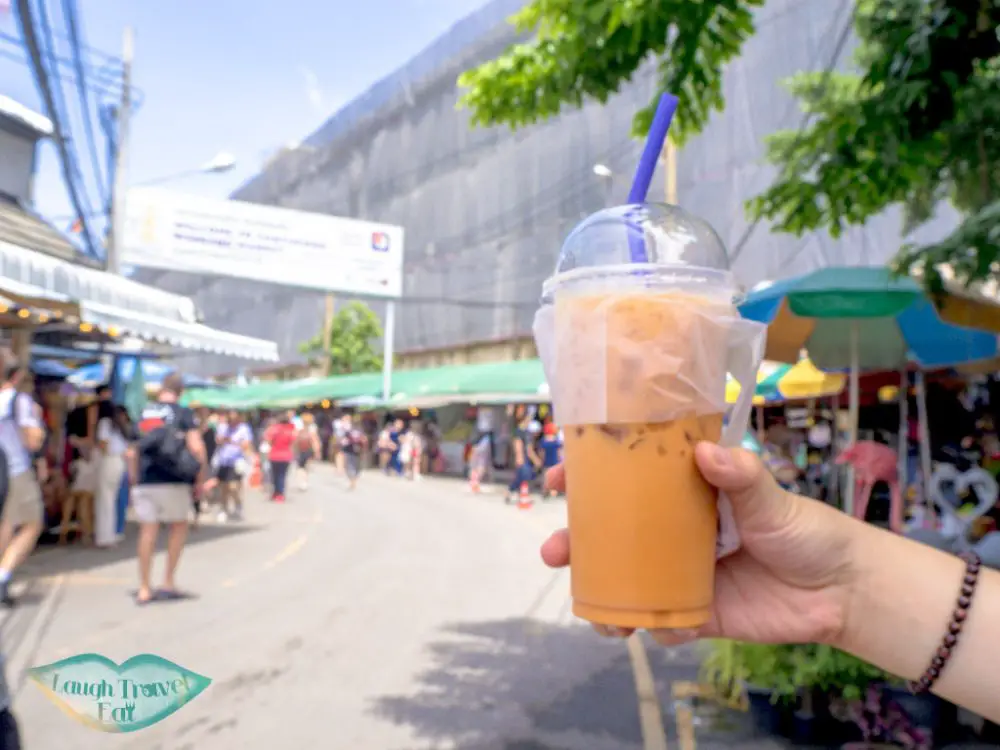 Food stalls are mostly clustered around section 23-27, we ate at a little place there which is okay – it's cheap anyway!
The market is very hot, so bring a fan if you get hot quickly
Note: the market is technically open week-long, but most stalls don't open until the weekend
Nearest station: Kamphaeng Phet Metro and Mo Chit BTS
For those who want to get a taxi, best to book your Grab away from the main entrance, which is very congested. We got on across the road from the Camp Village Flea Market near one of Kamphaeng Phet's exits, since it's the right direction. If you are still itching to buy more, here are more ideas on what to buy in Bangkok.
Dinner near Chatuchak Market or anywhere
Depending on what you want to eat, there are plenty of places to dine at in Bangkok from mall food courts to street side stores. I have a comprehensive guide on the best places to eat in Bangkok, but here are a few top suggestions:
Cocktails at Mojjo Rooftop Lounge Bar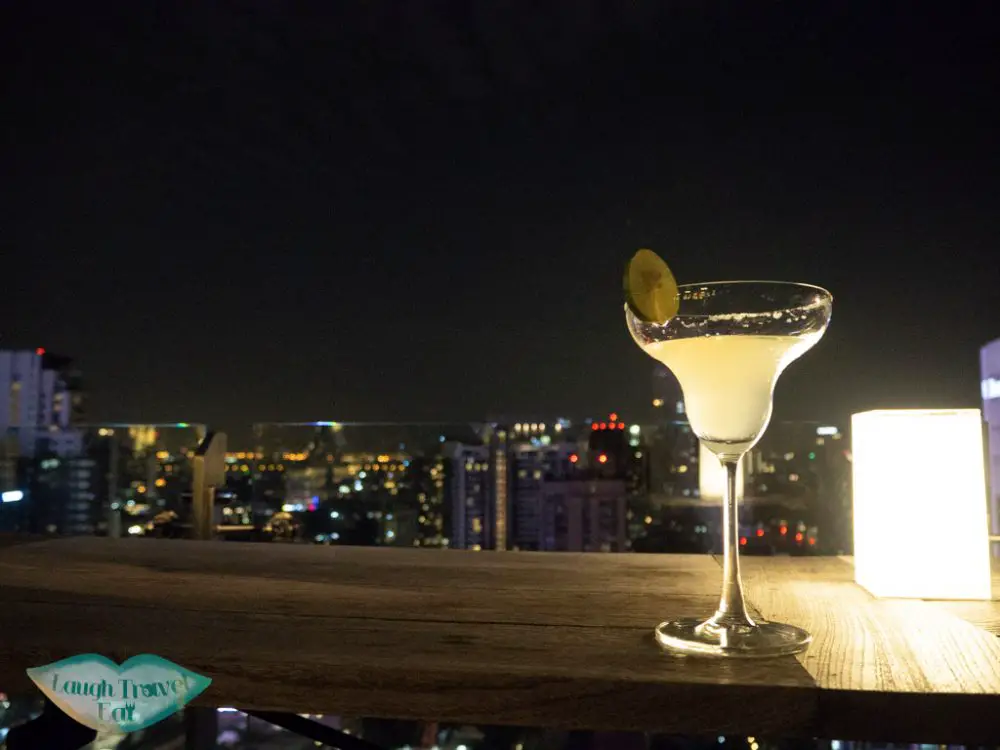 After dinner, I met up with some friends at the Mojjo on the rooftop of Compass SkyView Hotel. It's only one station up from Sit and Wonder and has the cutest black and white tiles. The drinks here are much more affordable compare to the one closer to the riverside. While the view isn't as glorious, it's great to be high up with the Bangkok Skyline. Cocktail was about 300 baht and beer a little cheaper, and did I mention they give you snacks?

Address: 12 Sukhumvit 24 Alley, Khwaeng Khlong Tan, Khet Khlong Toei, Krung Thep Maha Nakhon 10110泰國
Opening times: 17:00 – 1:00
Nearest Station: Phrom Phong

Day 2: Siam and Chit Lom + Asiatique
Originally, we wanted to go to the rail and floating market, but it seems that's more of a weekend thing. Instead, we slept in a little before heading to Siam to do some shopping (note that most malls don't open their doors until 10am!).

Siam and Chit Lom
There is plenty to do around the two stations, and you can easily walk around with many skywalks connecting it to malls. Here are some of the best places to shop or see in the area:

Siam Center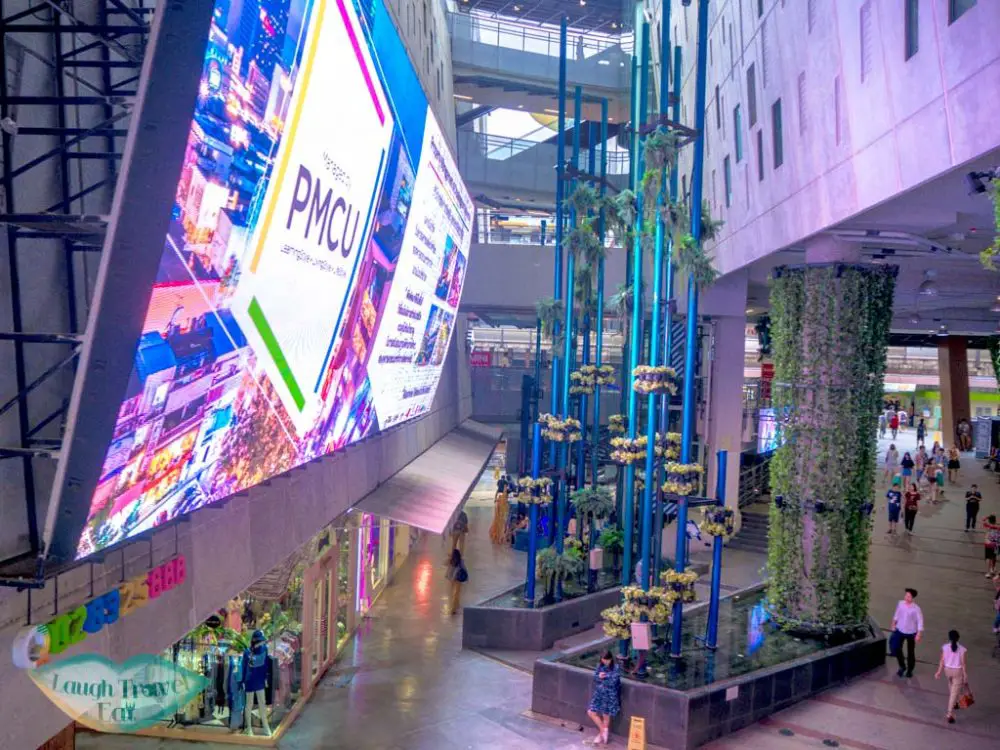 Catered towards the younger crowd, Siam Center is where you find local and boutique brands. Although there really isn't as much to see as I expected, the design of the mall is interesting on its own. With semi-outdoor structure and vines hanging down, the higher floors that link to the BTS is futuristic and cool. It even reminds me a bit of Japan!

Siam Paragon
One of the poshest shopping malls in Bangkok, Siam Paragon is worth a stroll even if you are not planning to buy anything. In fact, its ground floor is full of amazing restaurants featuring cuisine from all over the world and for all budgets, too. My friend and I ended up there in the afternoon and had a lovely afternoon tea!

Wat Pathum Wanaram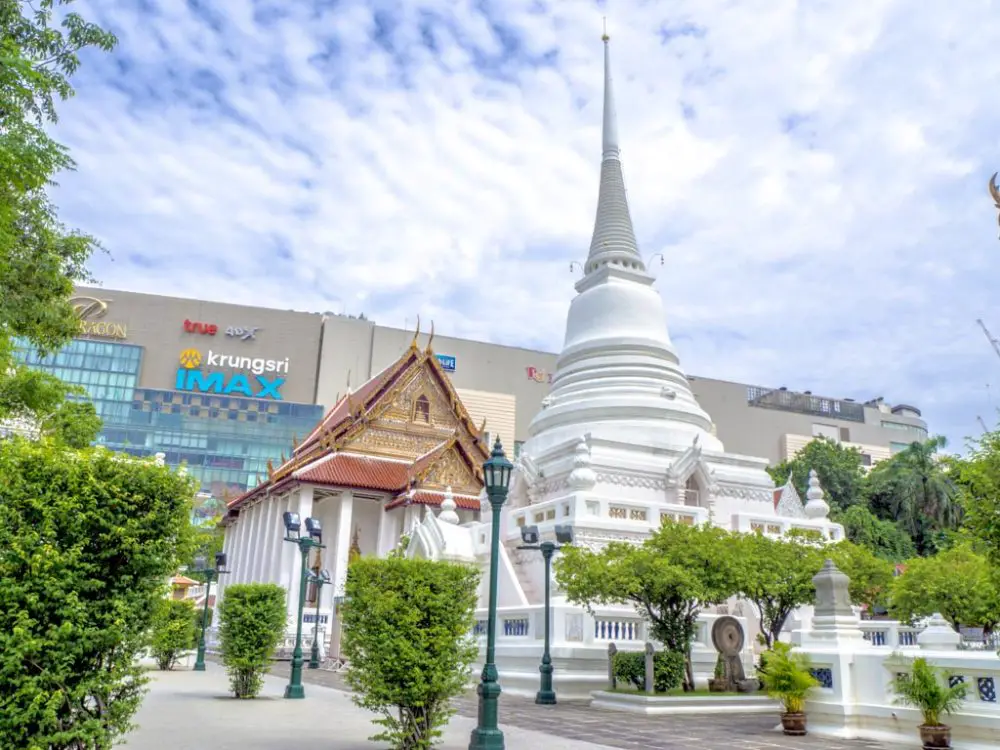 A temple complex that is situated smack in the middle of all the high rise, we ended up paying a quick visit to this temple because none of the malls were opened when we arrive. It is actually a royal temple built in mid-19th century by the king, back when the area was nothing but rice paddies. Some members of the royal family has their ashes placed in the temple, and you can find people paying their respect here.

Central World
On the other side of the temple, we walked through Central World on our way to the Pratunam Market. There's nothing particularly interesting about the mall itself, though it makes for a good air-con passage en-route. On the northeastern side, it has a small food market good for snacking.

Erawan Shrine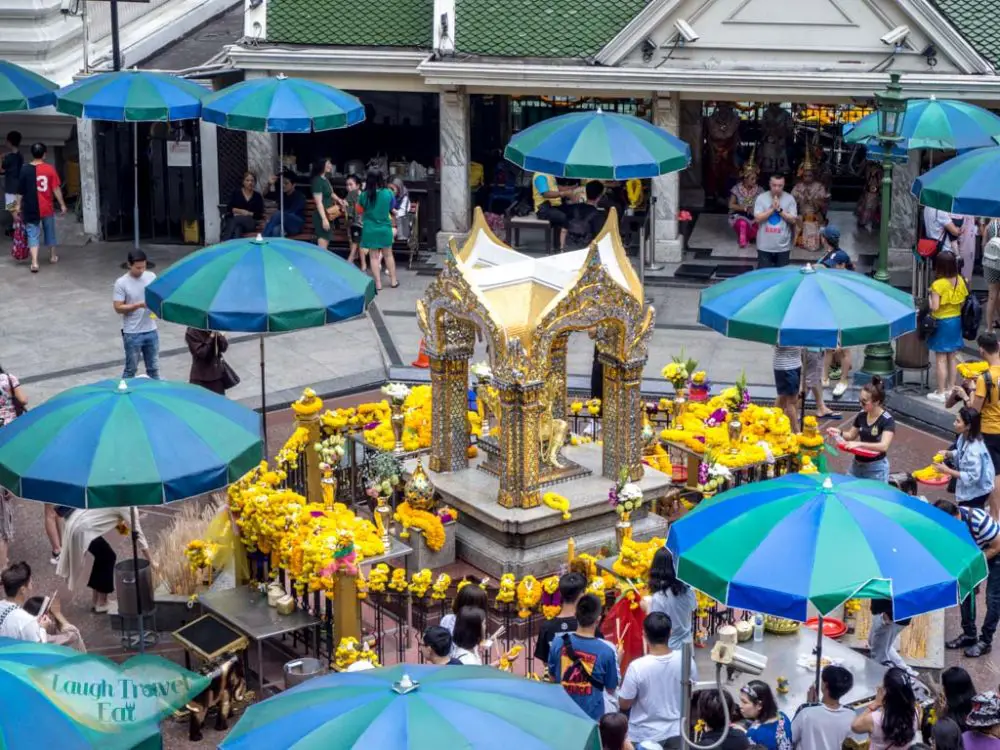 On the other side of Central World is the Erawan Shrine. Dedicated to Phra Phrom, the Buddhist version of Lord Brahma, it is also referred to as the four-face Buddha shrine. Much smaller than I had expected, it's right opposite Gaysorn Village and next to the Erawan Shrine. The best angle to view it is from the skywalk above the mainroad. It was built by Grand Hyatt Erawan in the 50s for good karma, and had since garnered a reputation for granting wishes.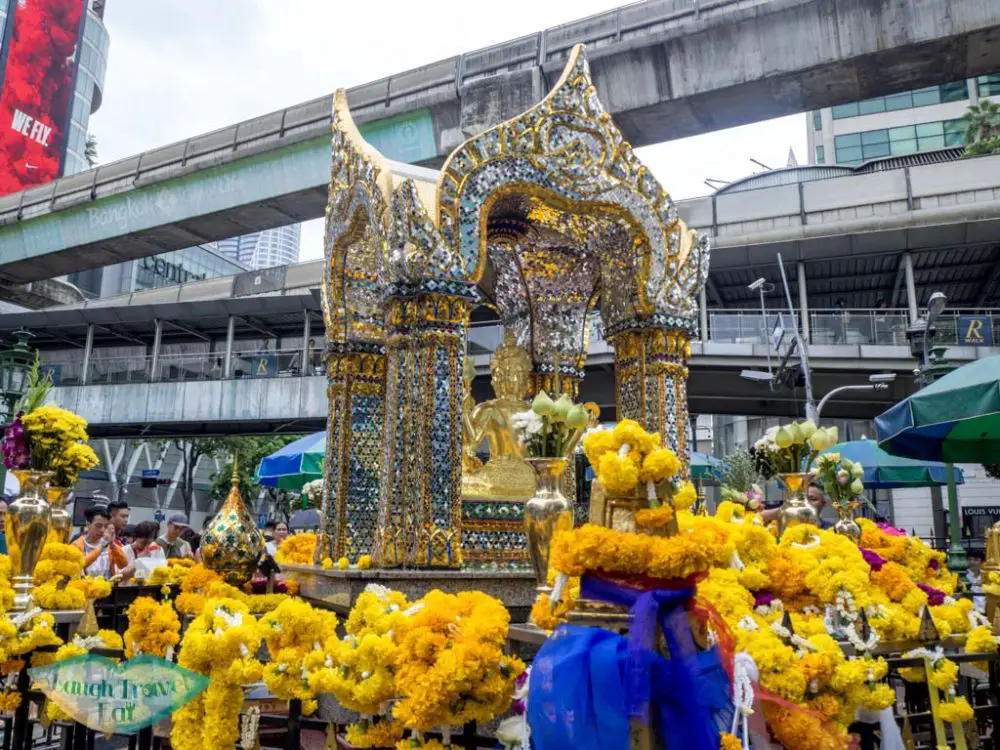 However, be careful what you wish for, as a wish granted by Phra Phrom require a gift back shall the wish comes true, which means you must be prepared to return to Bangkok!

Gaysorn Village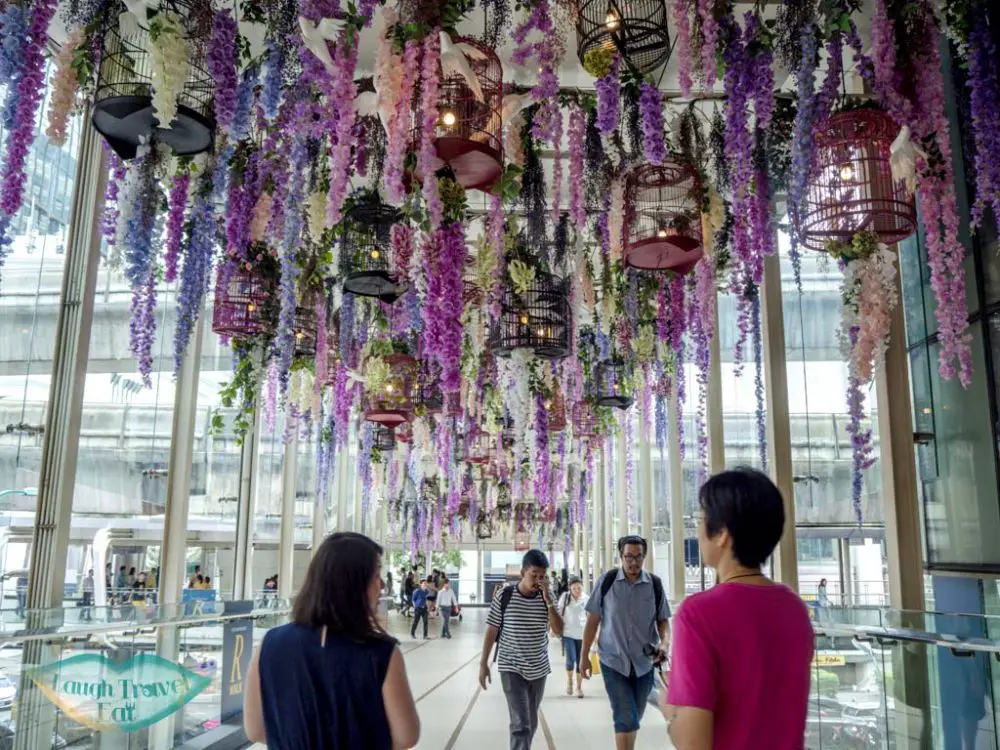 Another beautiful mall to walk through, the highlight to Gaysorn Village would be the part of skywalk that leads out to the main road. On my visit, it was adorned with flowers and garlands dangling from the ceiling! It's another great mall to walk through enroute to Pratunam Market!

Pratunam Market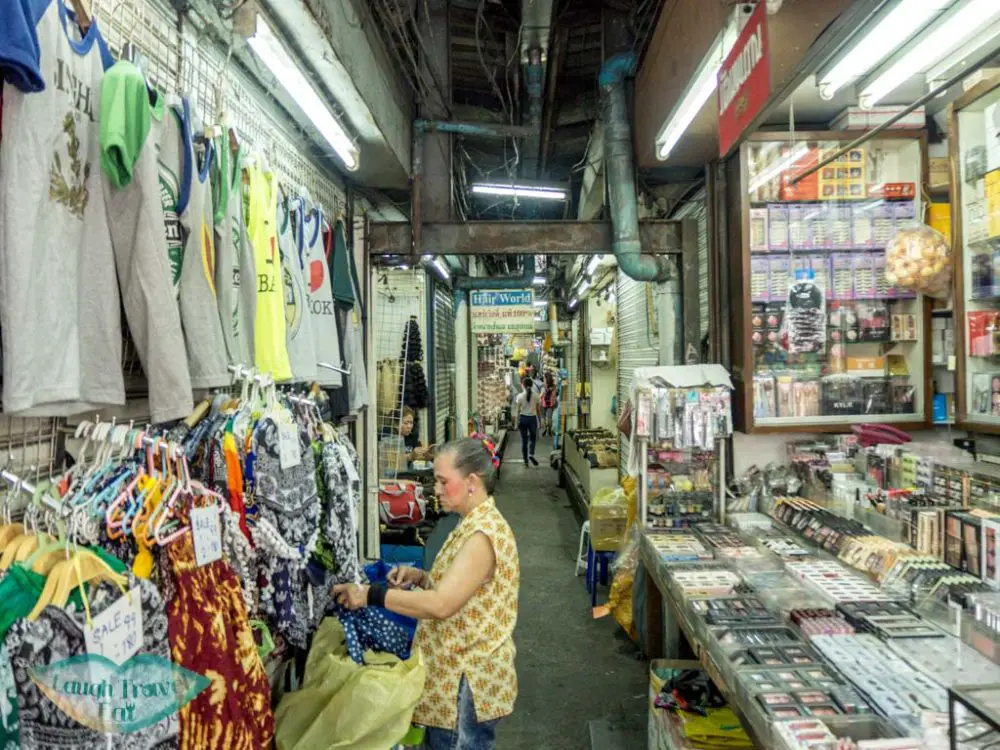 With a name that translates to Water Gate, the Pratunam Market is located near the canal and emits an older vibe. Mostly indoor, it is surrounded by a ring of shops that faces the main road with narrow alleys that leads inside. While I've read many records of it being busy, I was there just before noon and it was fairly quiet, with most shops still closed.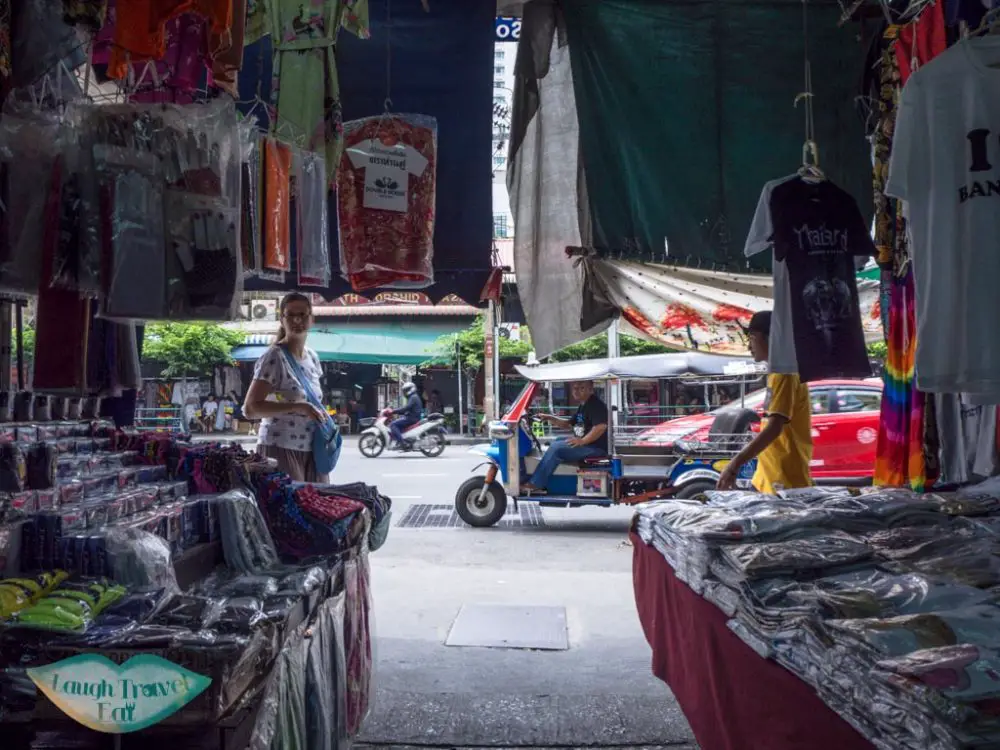 There isn't a lot there of interest to tourists, at least, nothing that you can't find somewhere else. It's worth a walk by to feel the charm though.
Platinum Fashion Mall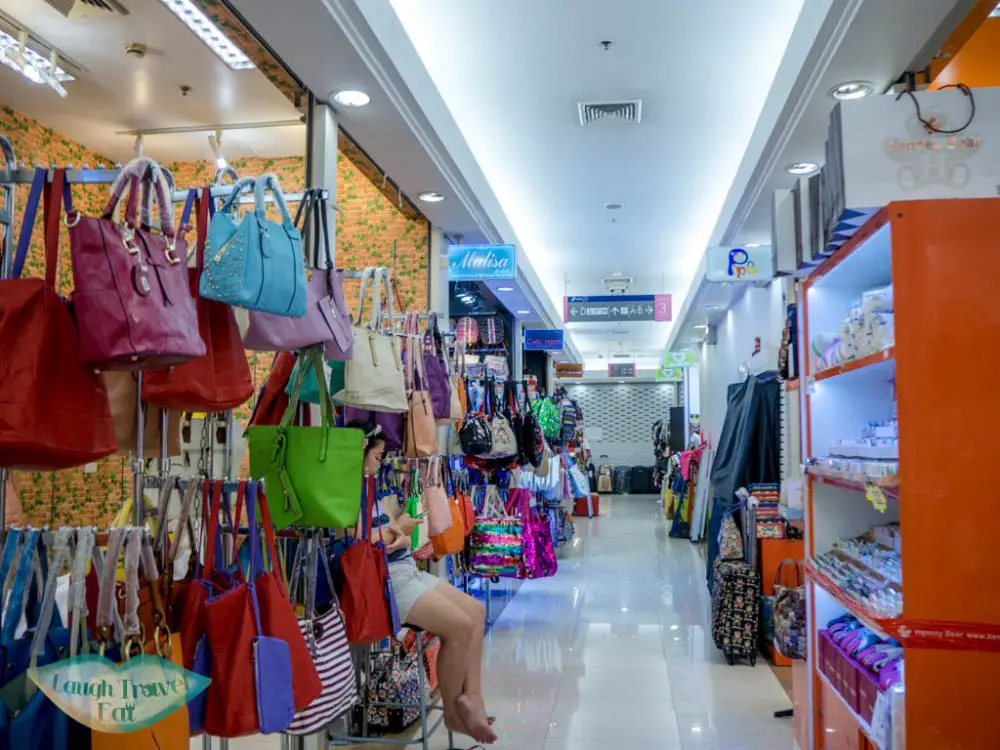 If you haven't got the chance to visit Chatuchak, then Platinum Fashion Mall is a good second choice. A huge complex of malls with three floors of fashion, it's air conditioned and easy to lose a few hours inside. Prices are pretty decent, though if you are from China/Hong Kong, everything is basically from Taobao.

Kaiton Pratunam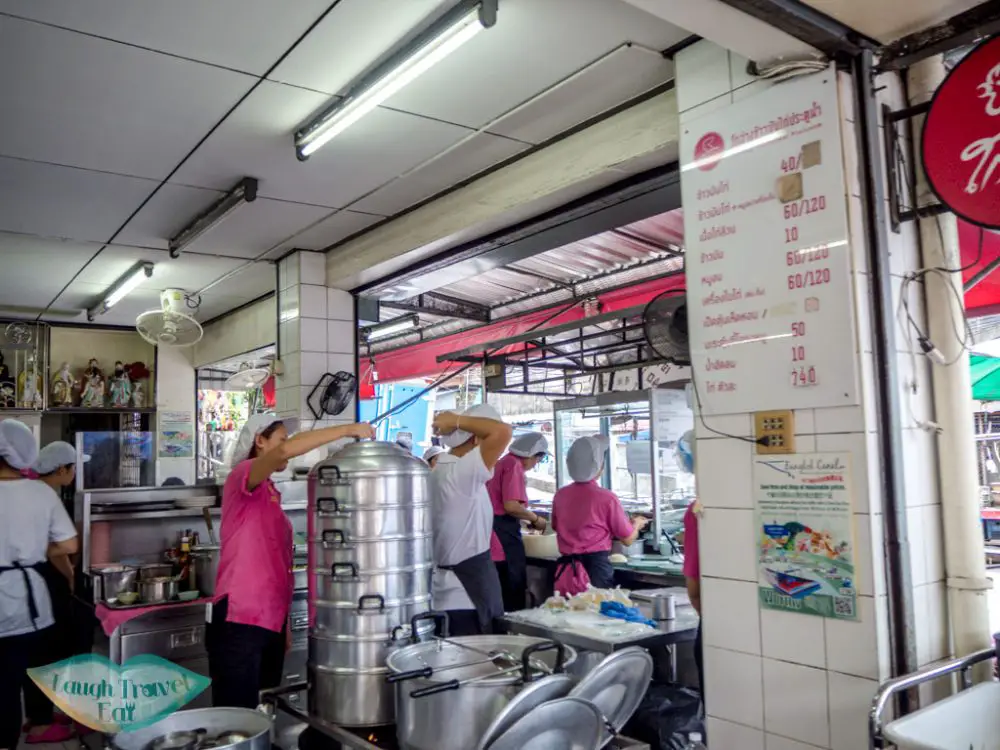 Our original lunch spot, the queue for Kaiton Pratunam is unbelievable seeing as it's one of the most famous chicken rice places in Bangkok. Especially busy during lunch time, it's most easily recognised by the red uniform aside from the queue. At 40 baht, their chicken rice is definitely value for money. But we were so hungry that we went somewhere else instead!

Opening times:05:30-14:00 17:00-02:00(周日公休)

Bamee Sawang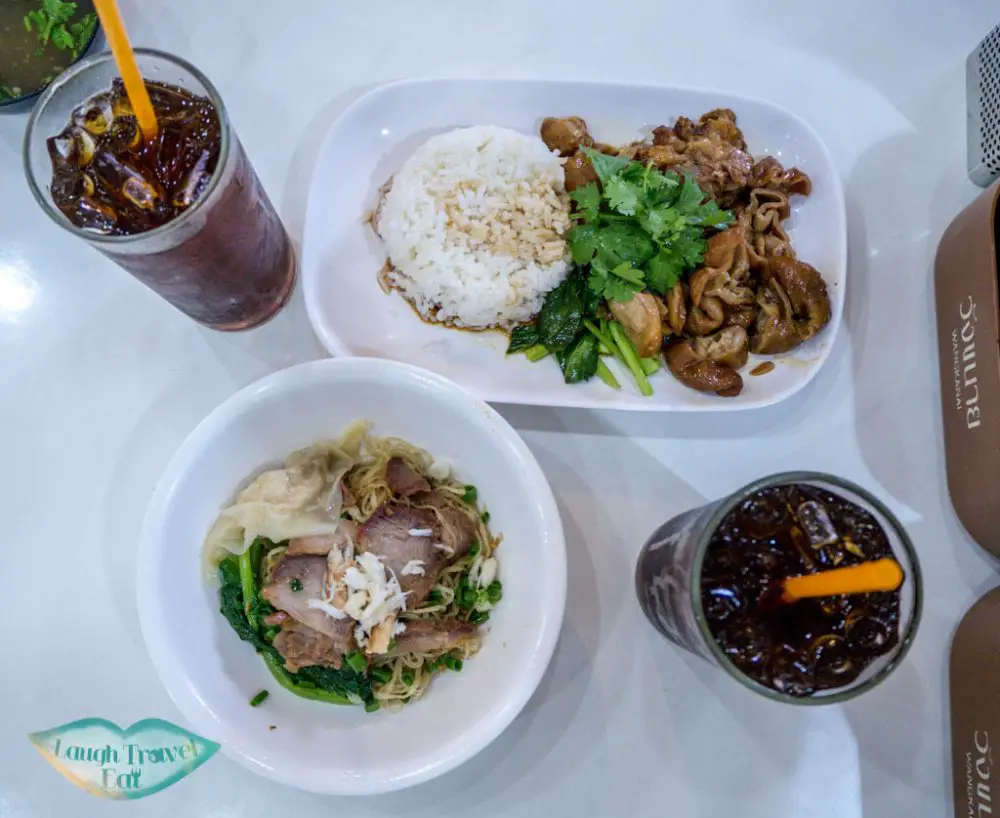 Only a few shops down from Kaiton Pratunam (and less if you are standing in the queue), Bamee Sawang is equally affordable. Although the portion size is on the small side, the food is delicious. I had a wonton dry noodle and my friend had a pork knuckle rice at 120 Baht altogether. It is also air-coned, unlike Kaiton Pratunam.

Address: 982 Phetchaburi Rd, Khwaeng Makkasan, Khet Ratchathewi, Krung Thep Maha Nakhon 10400泰國
Opening times: 11:00 – 23:00

Get a Massage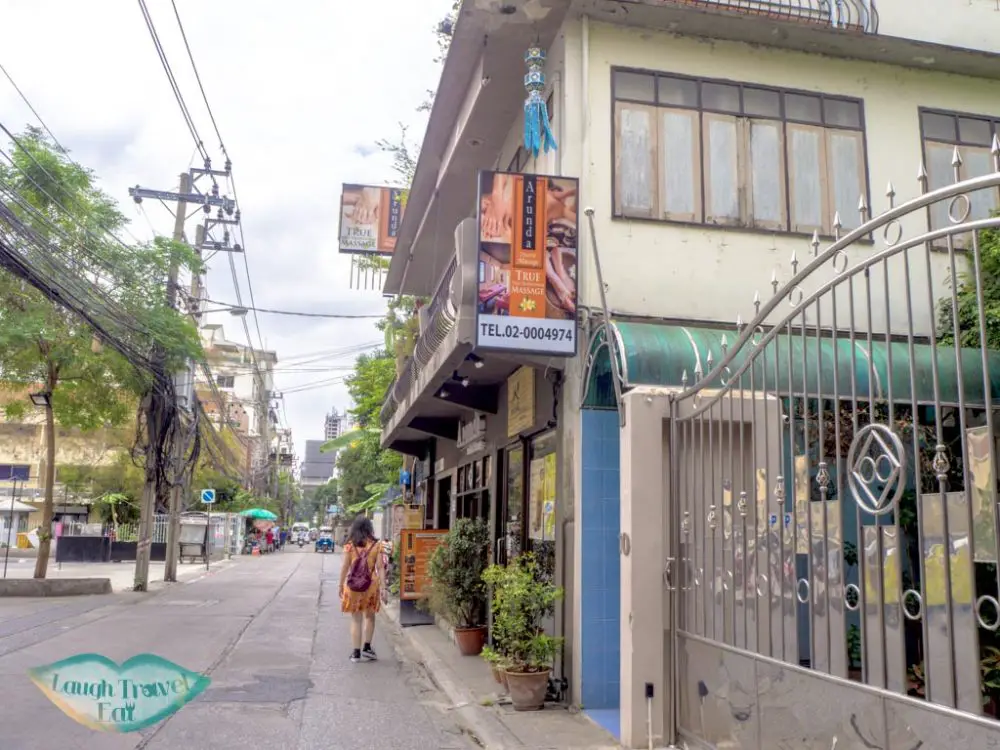 With a day walking around, it was high time to get a massage. We wanted to find somewhere close by and ended up at Arunda Oriental Massage, who has decent online reviews. It's some distance away from the canal and mainstreet, which also means it's more likely to have availability.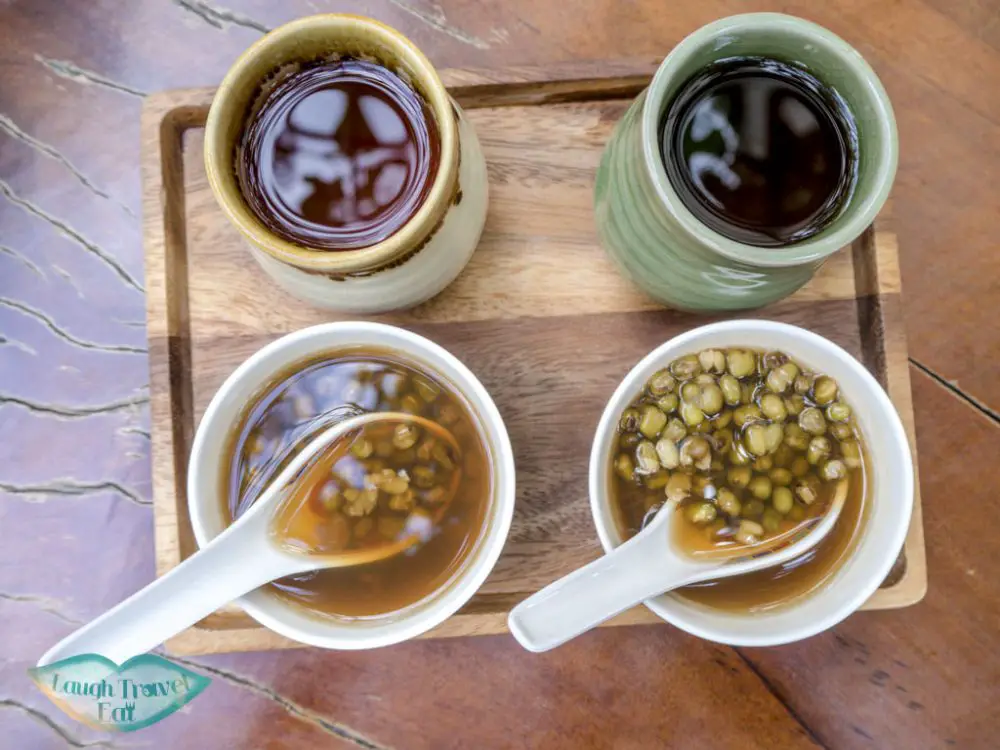 They offer a good range of massages at a reasonable price – I got a herbal compress for 90 minutes for 800 baht.

Address: 14 Soi Phetchaburi 15, Phetchaburi Rd., Thanon Phayathai Ratchathewi Krung Thep Maha Nakhon 10400泰國
Opening times: 10:00 – 01:00

Bangkok ChinaTown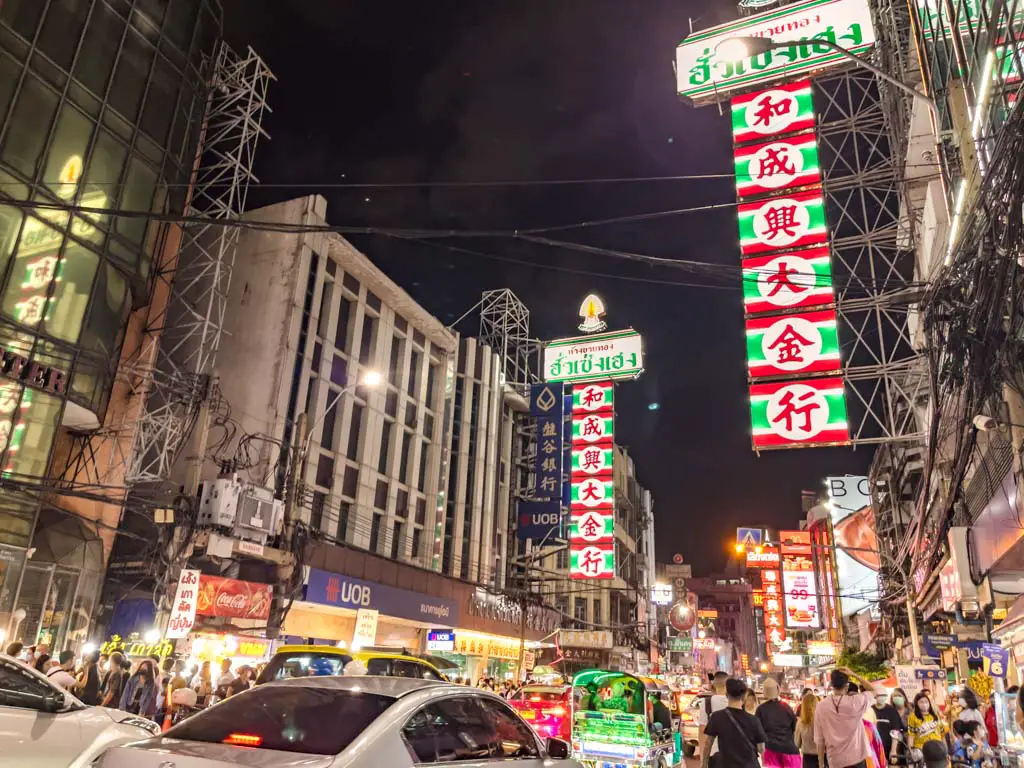 Bangkok's China Town is among the oldest China Town in the world and its many neo-signs along the Yaowarat Road is an iconic sight themselves. One of the favourite things that I did in Bangkok was taking a food tour that took me around China Town trying its best food. For more information, see my full review here.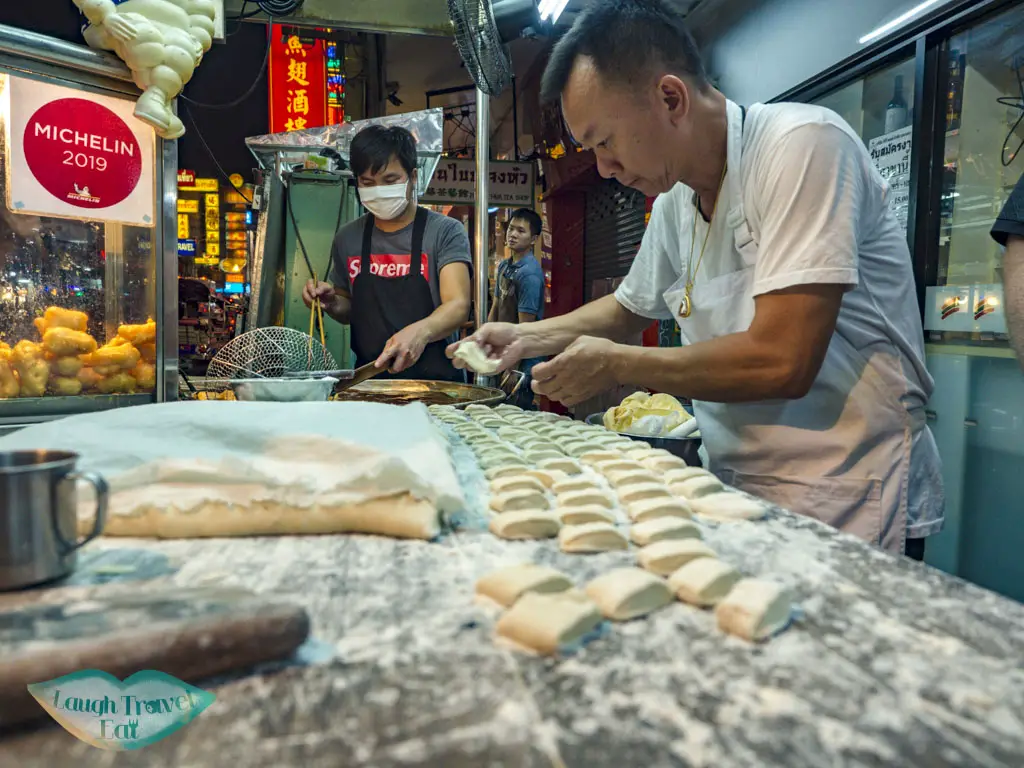 If not, you can just roam around and admire the bright signs and grab a bowl of duck noodles and the best yaotiu I've ever had, accompanied by Thai pandan custard.
Asiatique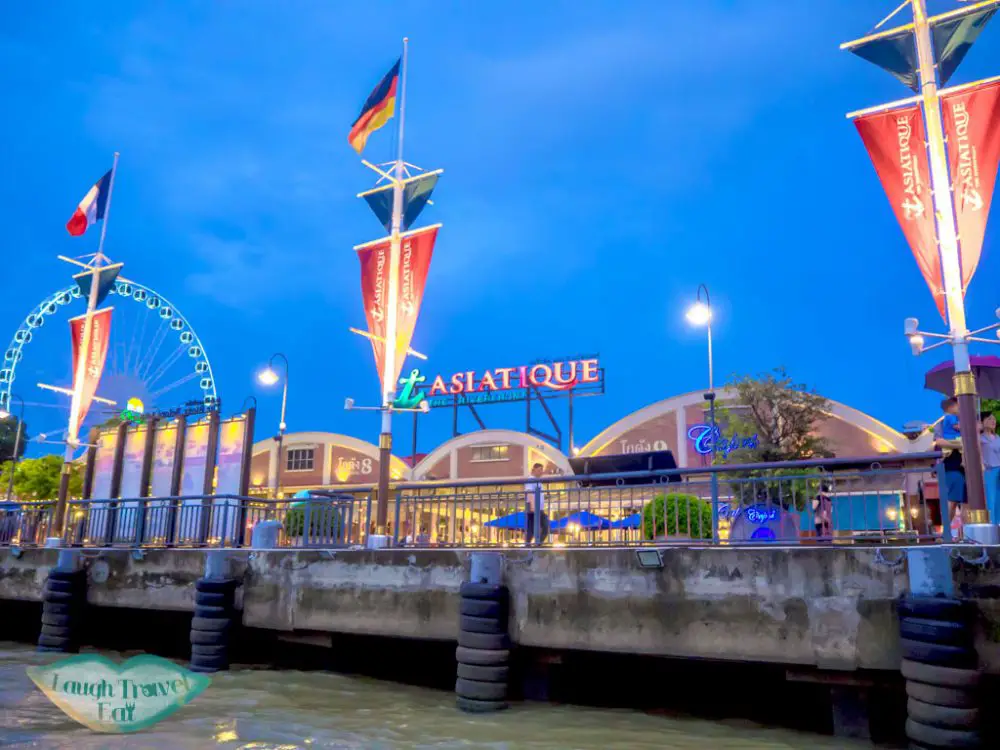 One of the most famous night market in Bangkok, Asiatique is right by the river and consists of 10 warehouses. Opened in 2012, it's an innovative use of space that quickly catapult it to popularity. Beautifully designed, Asiatique combines sightseeing, shopping, and dining, with famous restaurants such as Mango Tango on site. We had a great time browsing and shopping, even in the rain. There is also an amusement park attached for those who are with kids.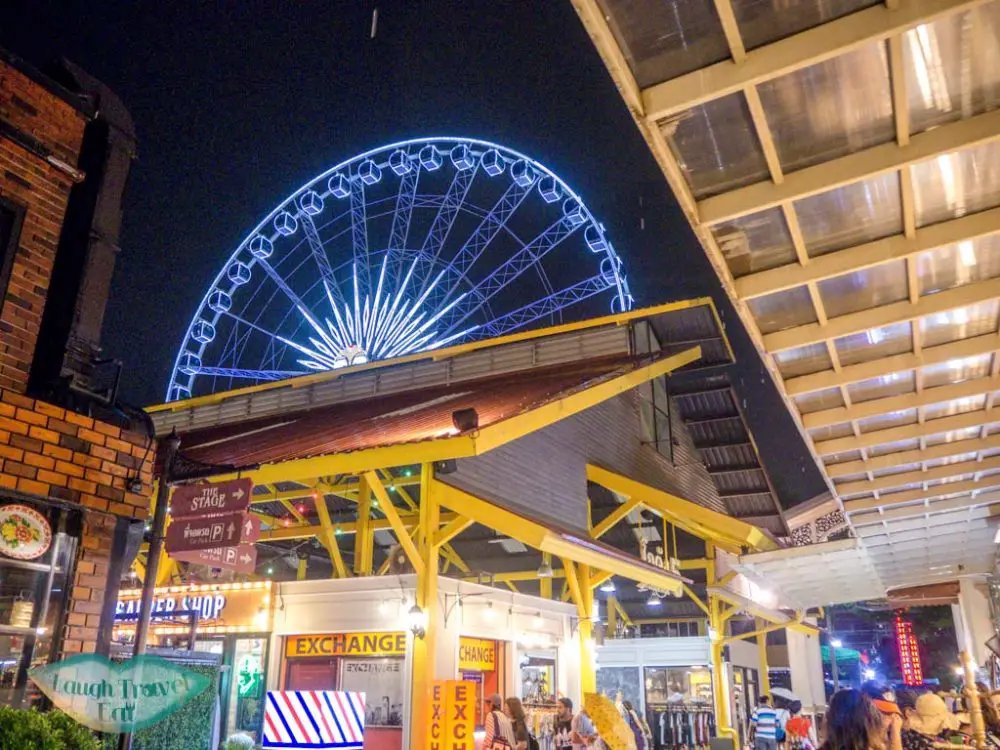 How to get there: there is a FREE shuttle to Asiatique from the pier by the Saphan Taksin BTS Station. Simply exit towards the river, keep going left once you reach the pier and you'll see this: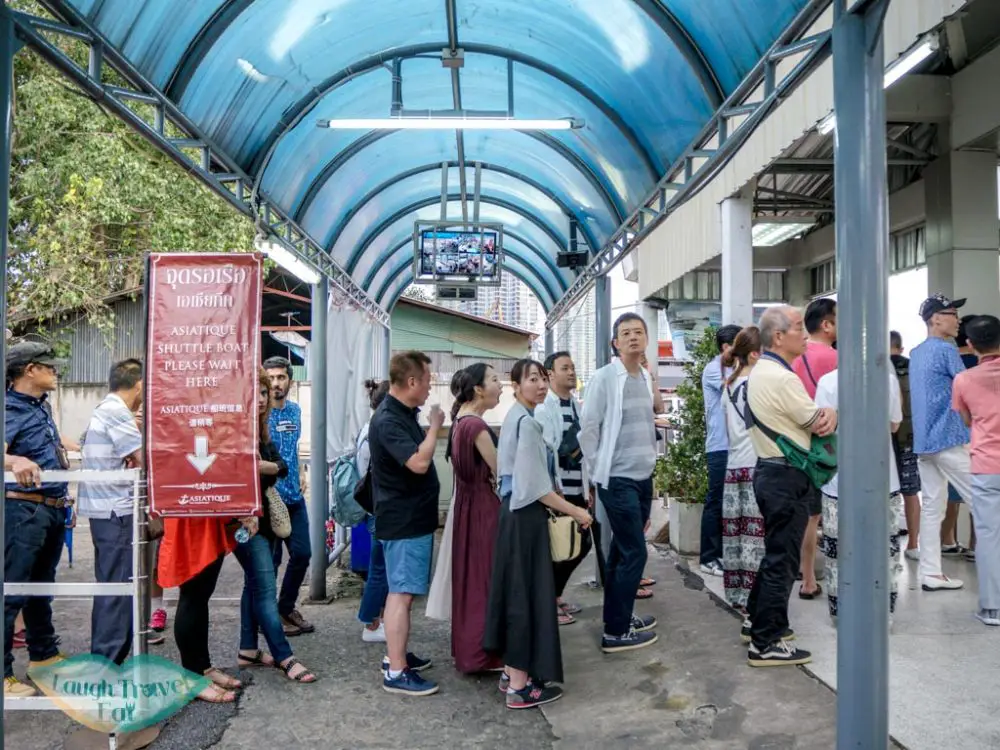 Ferries run until 23:45 at 15 minutes frequency
Alternately, head to the exit across from the river for taxi stand. We end up getting a Grab home as it was pouring.
Address: 2194 Charoen Krung Rd, Khwaeng Wat Phraya Krai, Khet Bang Kho Laem, Krung Thep Maha Nakhon 10120泰國
Opening times: 16:00 – 0:00
Day 3 Old city highlight
Venturing out of the BTS zone, we set off to the old city center of Bangkok to visit the three biggest attraction: Grand Palace, Wat Pho, and Wat Arun. There's no quick or easy public transport to the area, so we ended up getting a Grab from our hotel to the Grand Palace to start the day.

Grand Palace
As the name suggests, this is the royal palace in Bangkok! Built in the 18th century by King Rama I, who moved his court from the old complex west of Chao Phraya River. With 218,000 square metres of ground, this walled complex consists of government buildings, temples, halls, and belfries.

As a visitor, the grounds can be split into three sections:
Viseschaisri Gate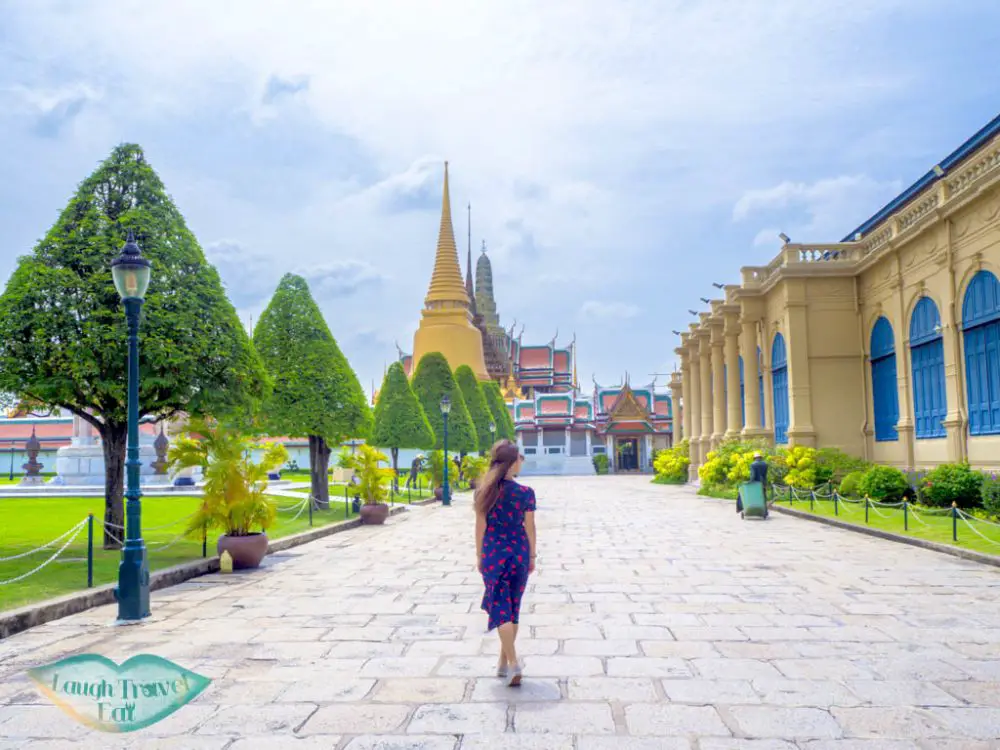 This is the gate where you enter the complex. This area is free to visit, with a neat square and European-like building where the ticket office and shop are located. It's often crowded, but not overly so as tour groups jostled for space to gather up in the shaded area.

Chapel of the Emerald Buddha
Prepare to spend the majority of your visit in this area and be a bit confused and overwhelmed about what you are seeing. Dotted with dozens of halls and buildings, it's best to orientate yourself with the golden Phra Siratana Chedi and the blue-tile roof Chapel of Emerald Buddha, which is also the biggest building.

Here is a quick summary of the buildings to look out for and their history (and the order I saw them in):

Phra Siratana Chedi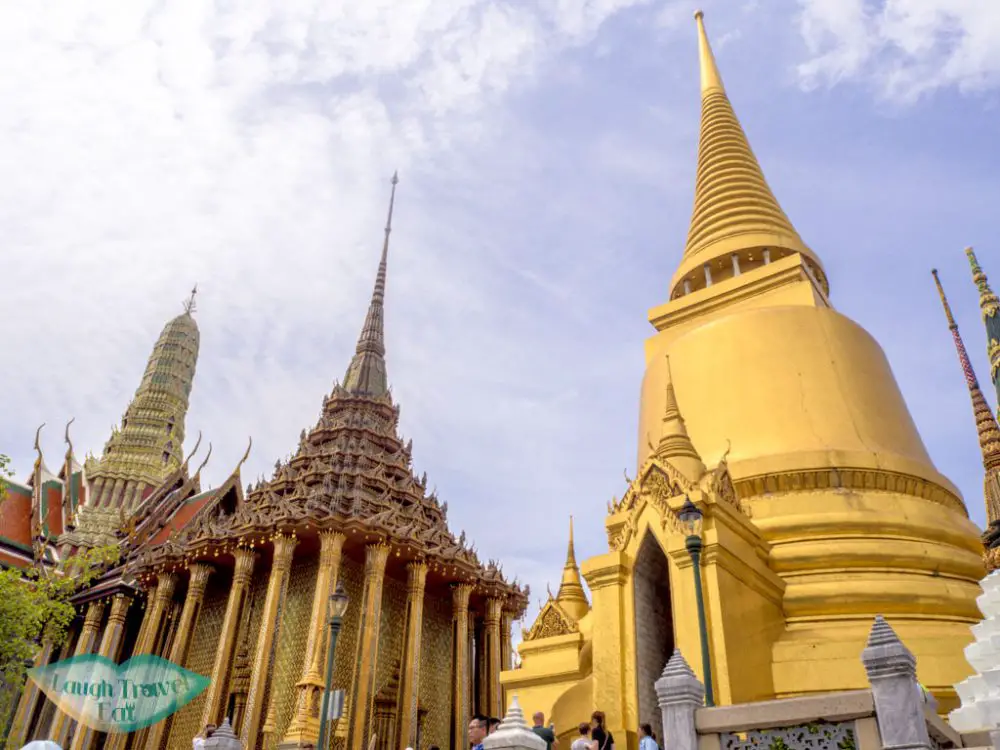 The most prominent structure among the tiled roofs and smaller buildings, the golden chedi on the elevated platform is a latter edition by King Rama IV in 1855. With a circular base, the stupa was painted gold during the reign of King Rama V.

Phra Mondop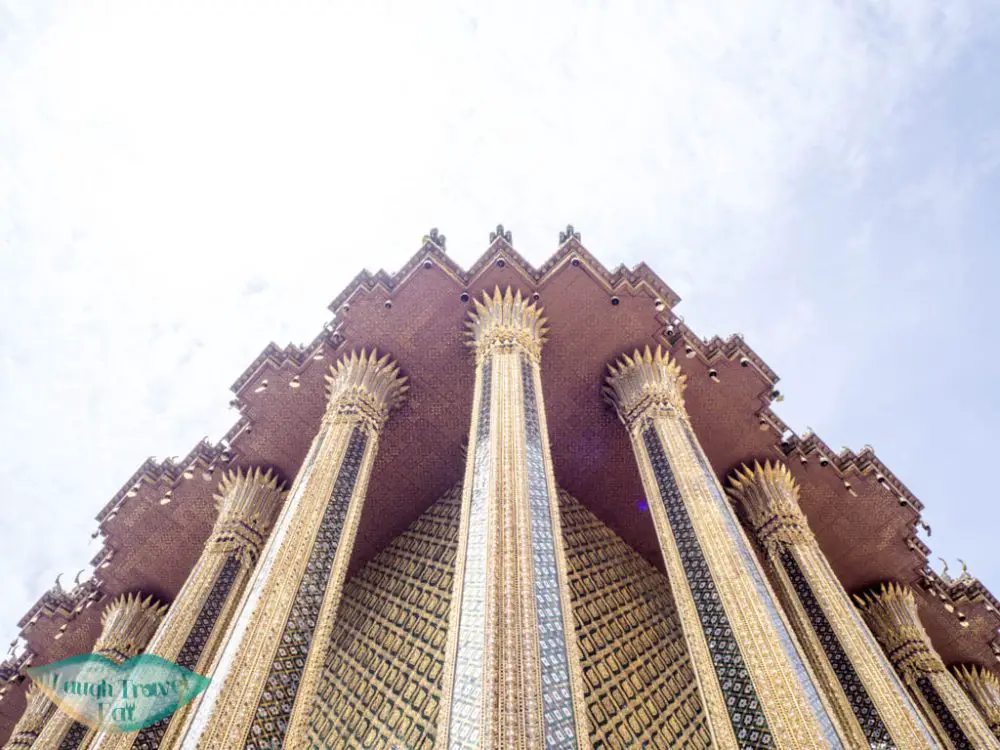 On the left of the chedi, Phra Mondop with its impossibly high golden pillars and the pointy roof was built by King Rama I to house Buddhist scripture.

The Royal Pantheon (Prasat Phra Dhepbidorn)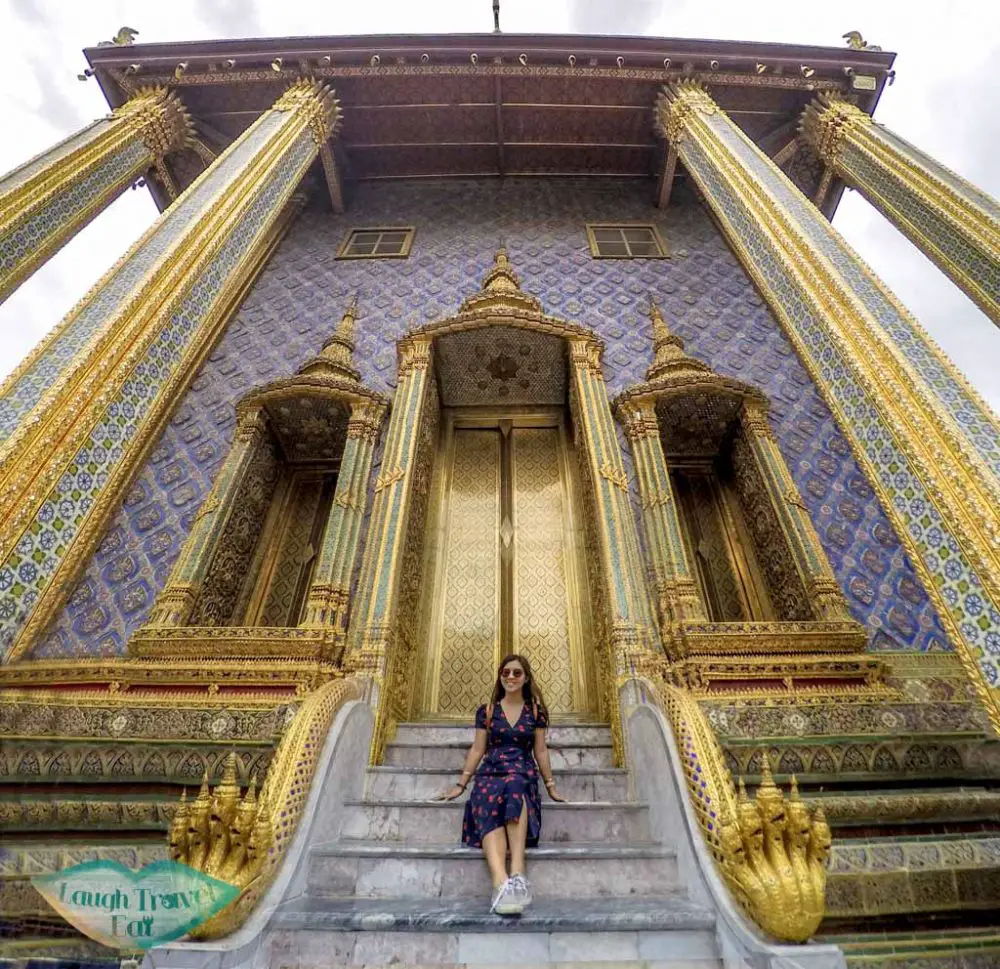 At the end of the platform is Prasat Phra Dhepbidorn, a Thai-Khmer style hall with an orange and green tilted roof and beautiful tiled sides. Surrounded by people taking photos, the hall houses statues of eight Thai Kings, though it was originally built in the 19th century to house the Jade Buddha.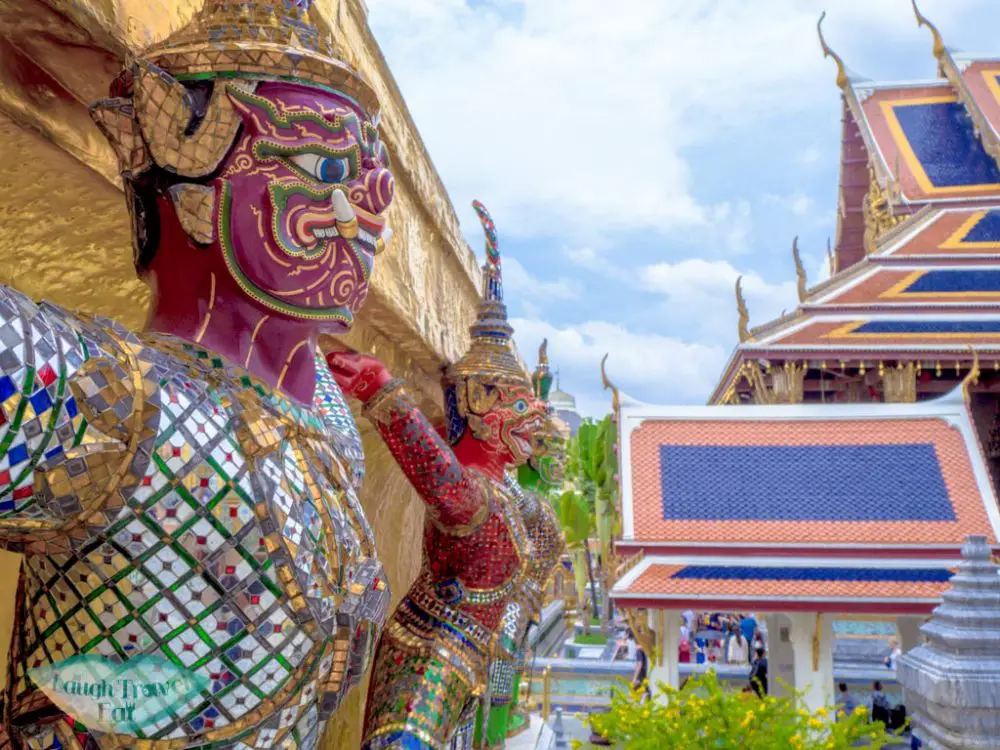 Don't miss the two stupas held up by demons and monkeys on either side, a dedication to his parents by King Rama I.

Temple of Emerald Buddha (Wat Phra Sri RattanaSatsadaram)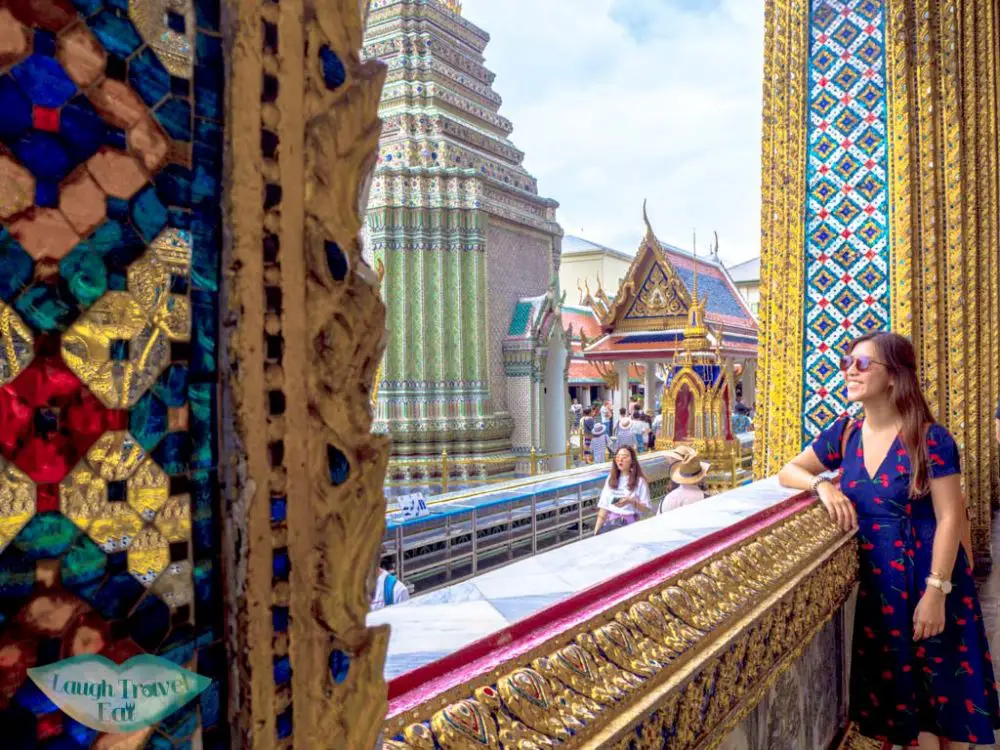 Built by King Rama I as the ordination hall, the Temple of Emerald Buddha is the most sacred Buddhist Temple in Thailand. Housing the Emerald Buddha statue brought here by King Rama I, it was believed to be from India and would bring prosperity to wherever it resides. The style of the temple is 'Rattanakosin', the old Bangkok style similar to Ayudhya, the old capital.

Ho Phra Gandhararat
The gorgeous mosaic chapel was built by King Rama IV on the outskirt of the complex.

Once you exit the area, you can't go back in so spend as much time as you want in here!

Chakri Maha Prasat Hall
It's a one way walk through towards the exit once you get to this part. At least, that's what it was like for us – if you are able to go to other parts, let me know and I'll amend the post! As none of the buildings are open for us to walk in, and we just walk towards the Chakri Maha Prasat Hall.

Chakri Maha Prasat Hall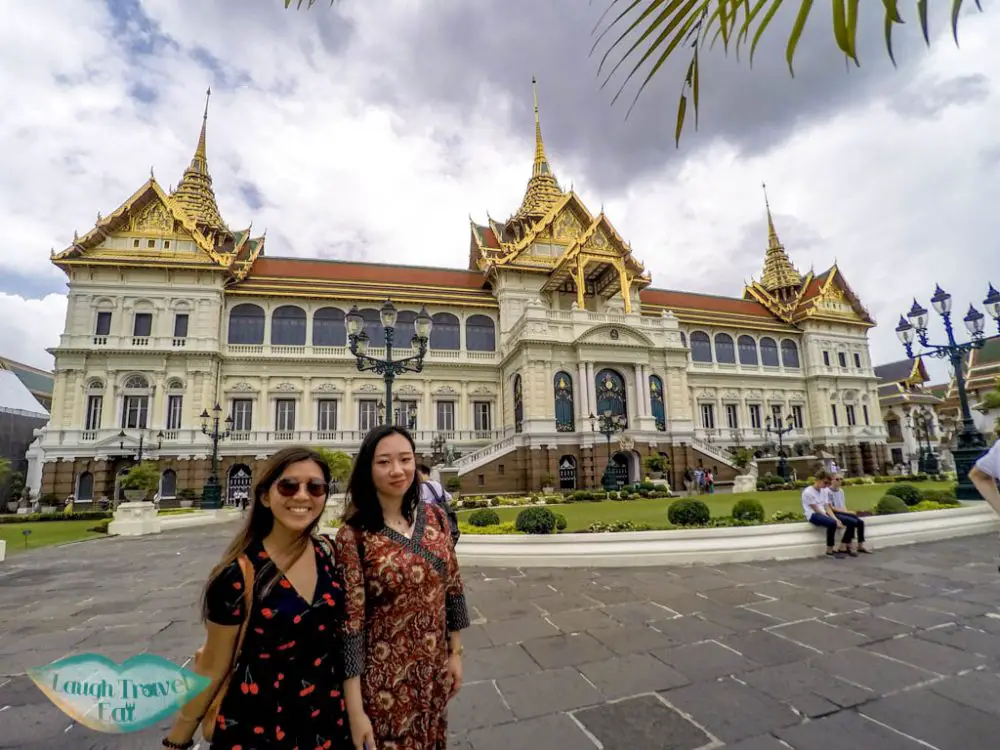 The largest building we saw in the Grand Palace, the hall was designed by a British architect and combines European and Thai style in lower and upper part respectively. It was meant as the royal residence and ceremonies, but now it's only used for state banquets. You can't enter the building, which is guarded, but you can take a photo at the gardens.

Rajkaranyasapha Hall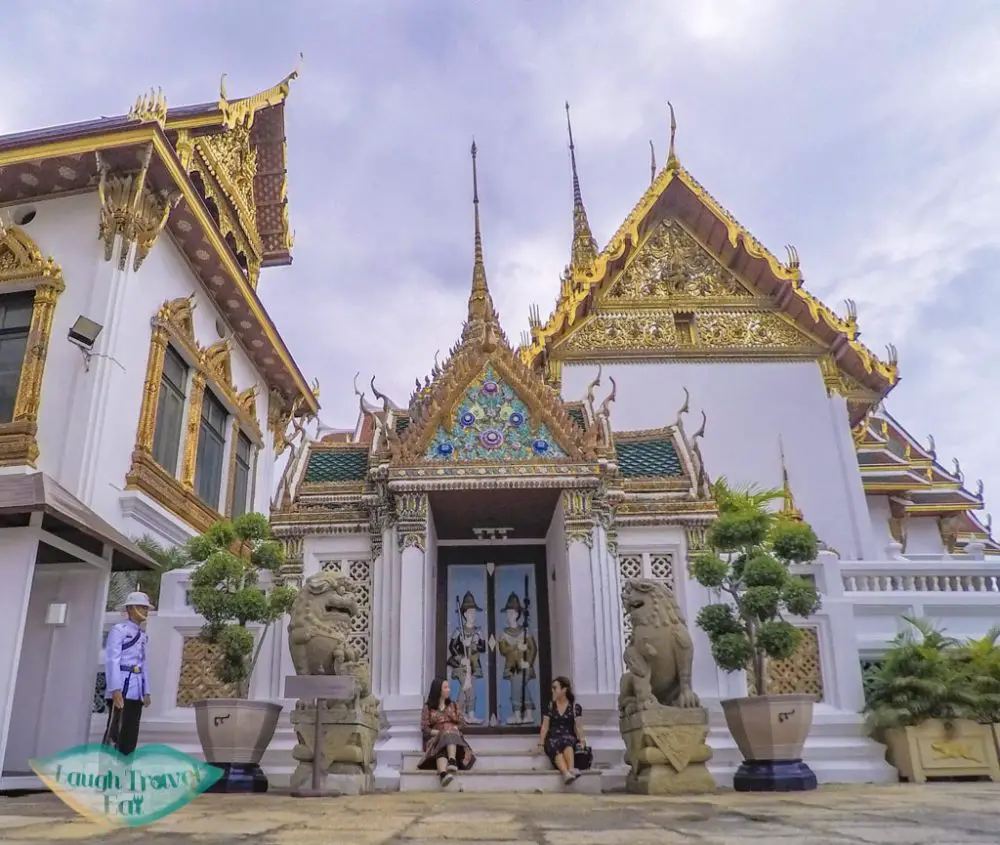 At the end of the Chakri Maha Prasat Hall is the edge of Rajkaranyasapha Hall. it was built by King Rama V as a meeting hall. It is also guarded, but the beautifully painted door is perfect for photos if you don't feel too awkward!

Dusit Maha Prasat Hall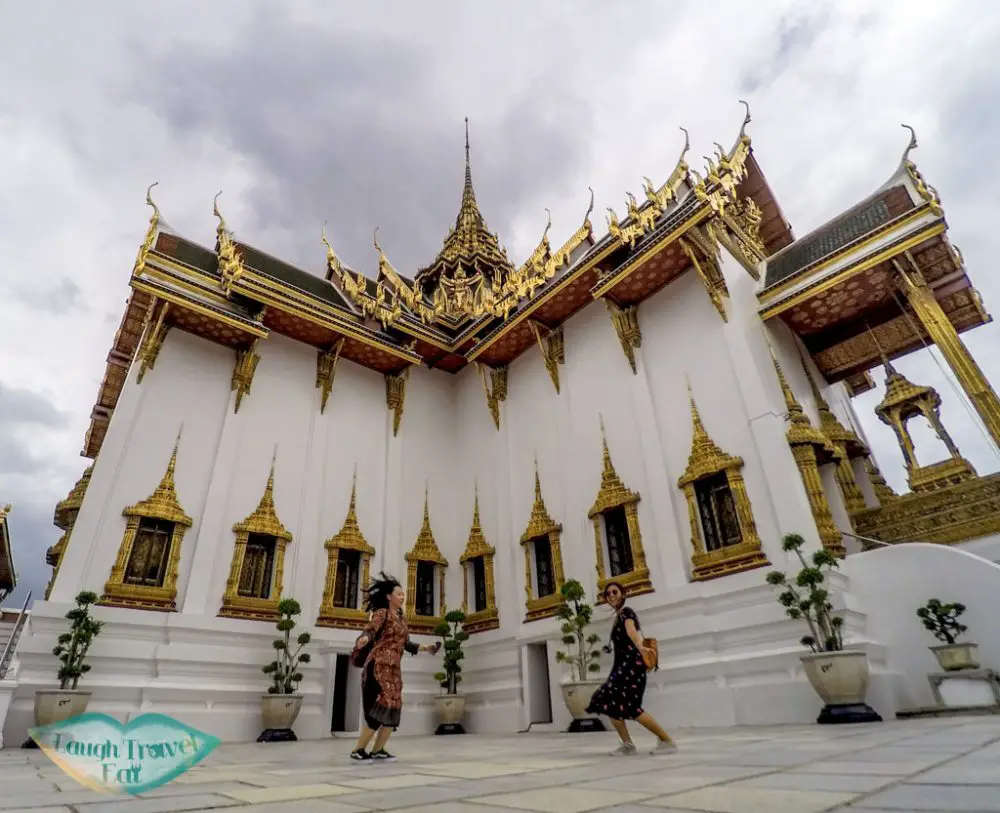 With a mostly white wall and green spired roof, Dusit Maha Prasat is the grand spired hall for lying-in-state royals. Nowadays, it's used for the annual Consecration Day Ceremony.

After that, you'd exit the inner compound.

Quick tips:
The area around Grand Palace is riddled with police and traffic control. To enter, follow where the crowd is going along the road blocks. There isn't really a queue so much as there is a lot of people.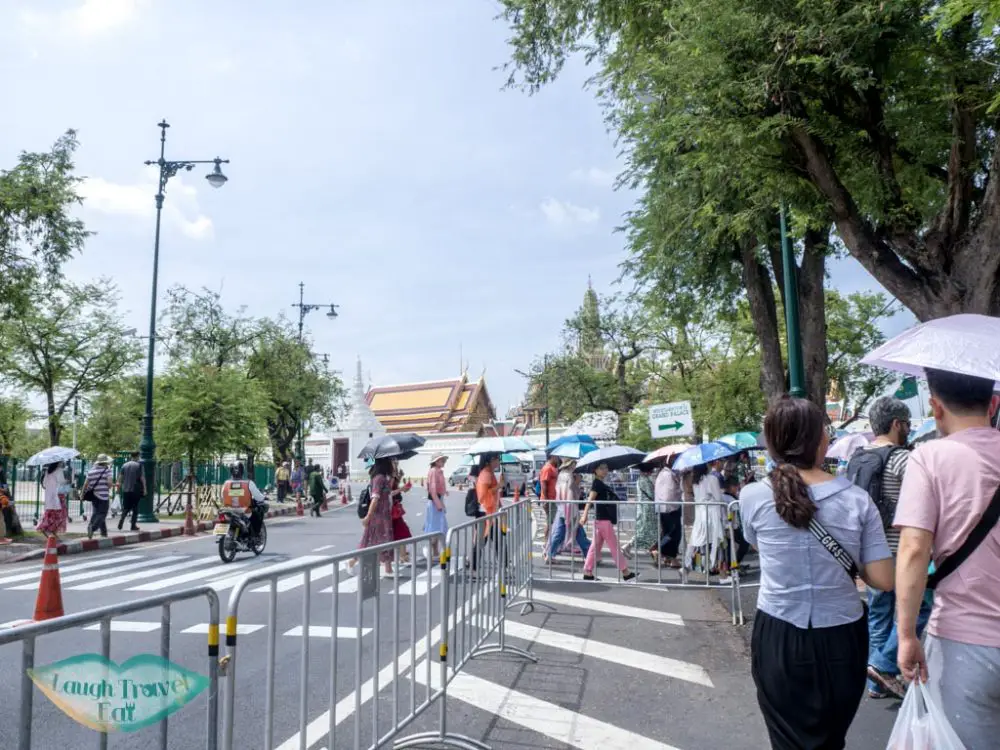 Cover shoulders and knees for both male and female, leggings are not acceptable. There are many shops that sell long elephant pants for 100-200 bahts if you don't have anything.
Pick up a free map if you are not planning on getting an audio guide to orientate yourself.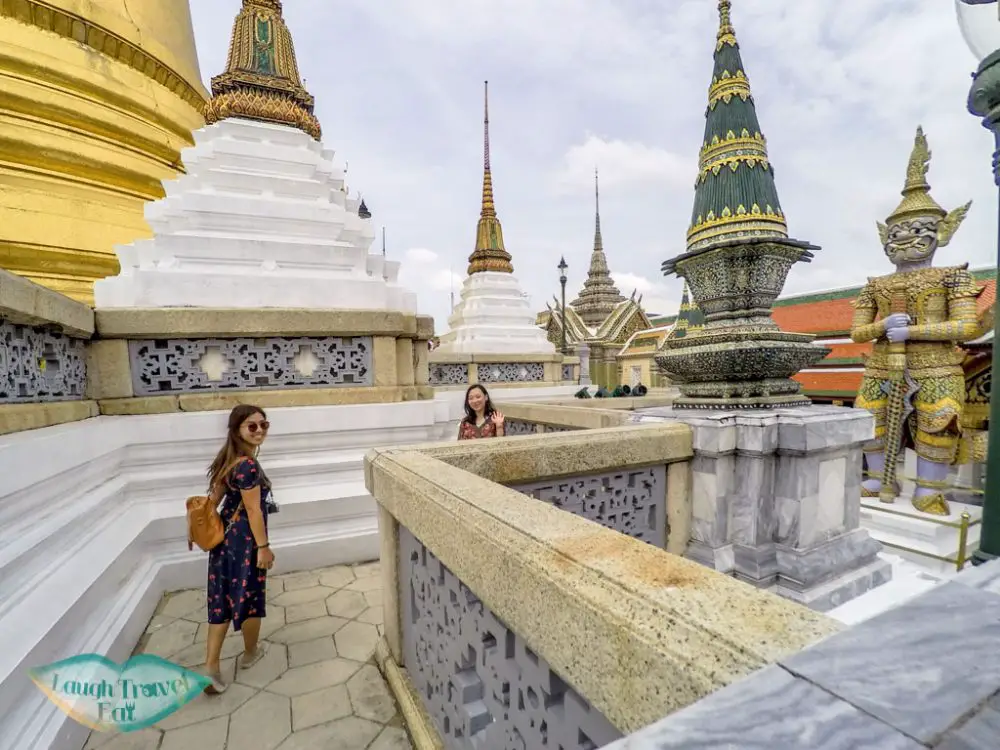 For the best photos without the crowd, go to the outer ring of the temples and stupa and you'll be able to get some shots.
Entrance fee: 1000 baht, audio guide also available for 200 baht.
Opening times: 8:30 – 15:30

Wat Pho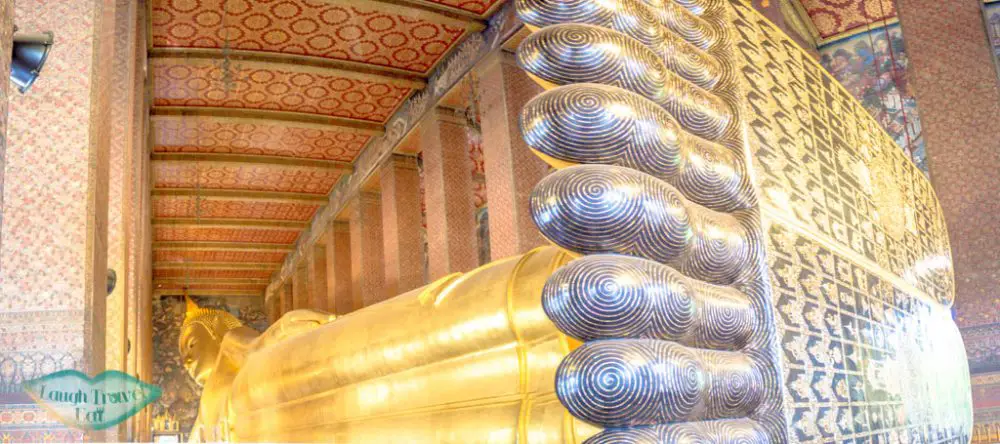 From the Grand Palace, it's a short walk to Wat Pho. If you are hungry, which we were, there are plenty of small eateries near the pier or on the road parallel to the river.

South of the Grand Palace, Wat Pho is the temple of reclining buddha. It was also built by King Rama I and is most famous for the 46m long reclining Buddha statue. Wat Pho is also known to have the largest collection of Buddha images, scattered around the entire temple area.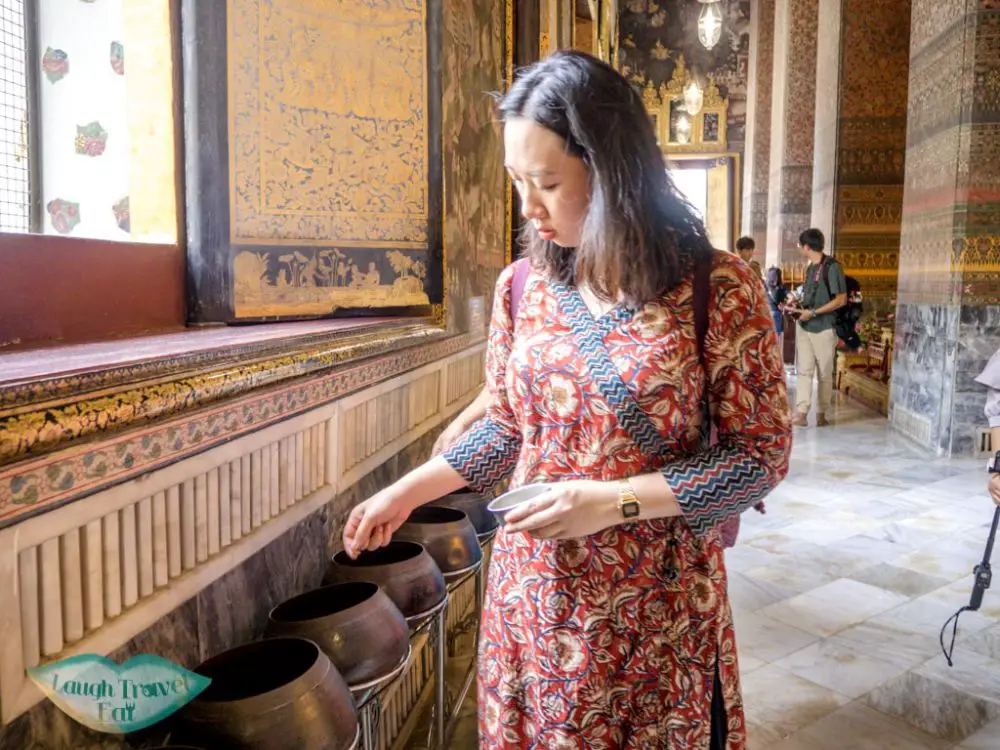 To visit the main temple where the statue resides, you must take off your shoes and put in a red plastic bag provided, entering on the right. You can pay 20 baht for a bowl of 0.5 baht to donate in the bowls, but there are more coins than bowls so the last few are always more full.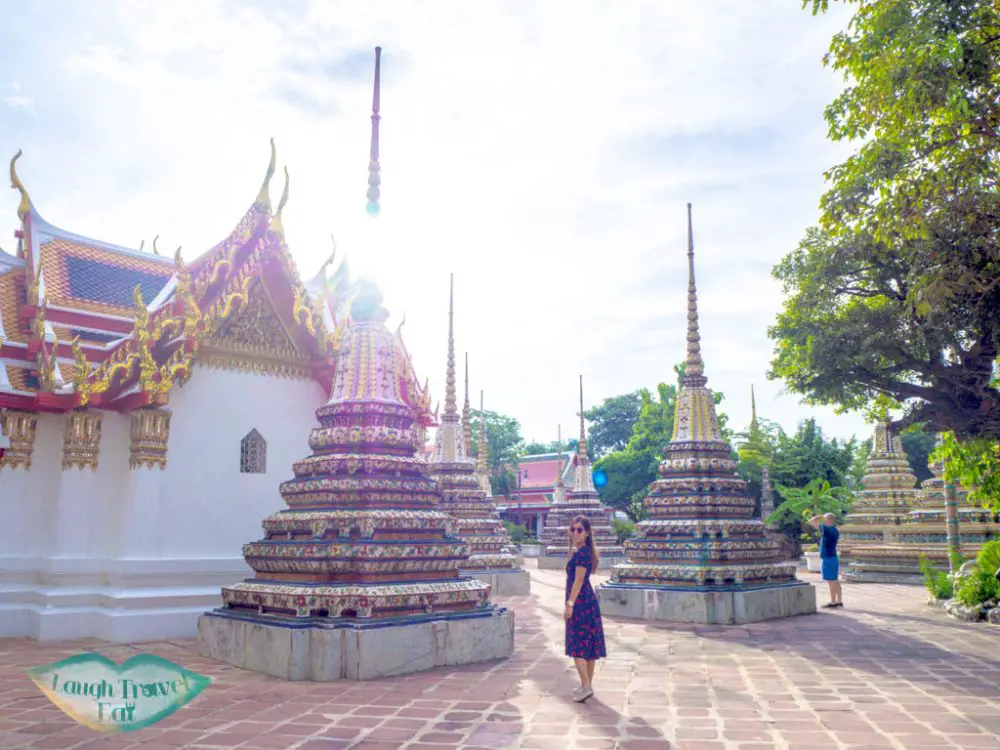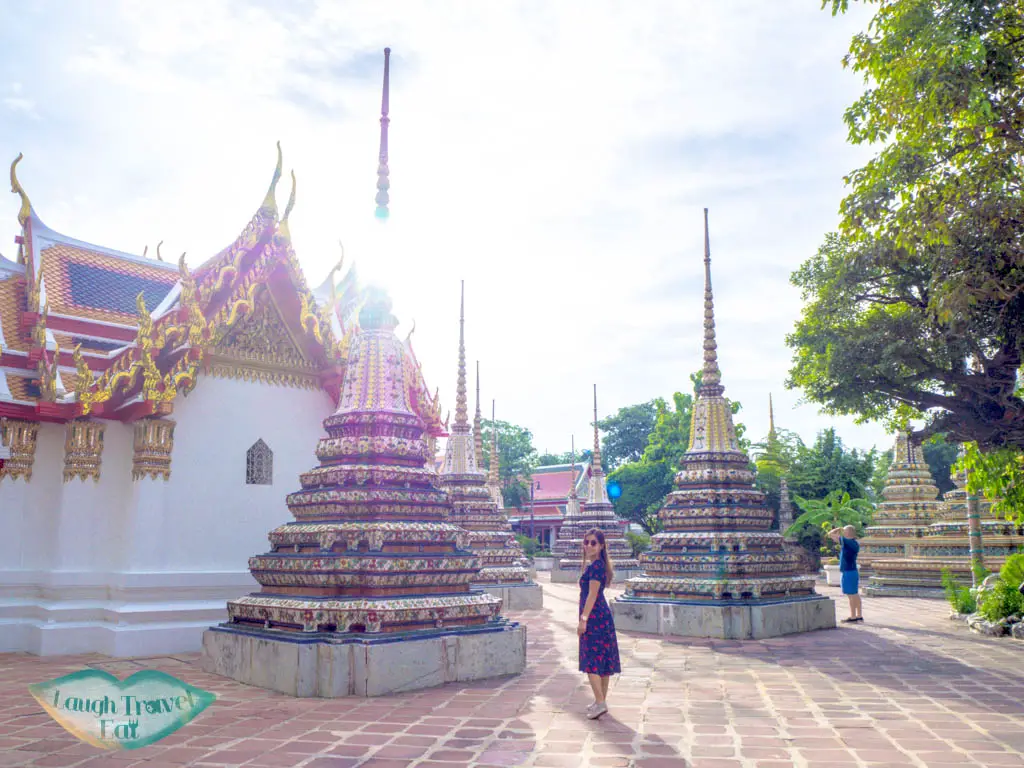 There is more stupa around that are very pretty as well as ordinance hall. The massage place is also there. There are a couple more viharns, pavilions in the complex. The chedi holds ashes of royal families, with 5 bigger ones containing relics of Buddha.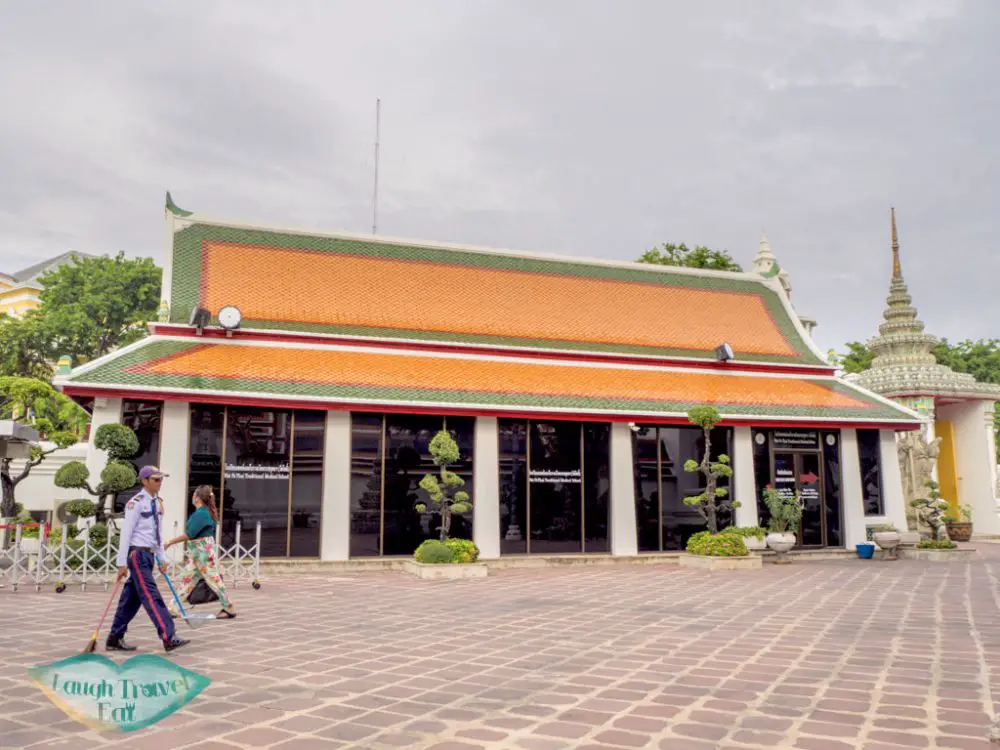 The thai massage place at Wat Pho is another highlight for visitors. Where the first school for massage was established, you can even take massage courses there when time permits.There is no booking for the massage place on site, and walk in usually requires a wait of around 30-40 minutes. But it's quite busy and noisy, body will be wearing your own clothes but they will provide trousers if you are in a skirt or dress.

Quick tip:
Ticket includes free (cold) water which you can get at a corner of the main temple area
We were able to go back into temple with ticket from the same day for a massage
Entrance: 100 baht

Wat Arun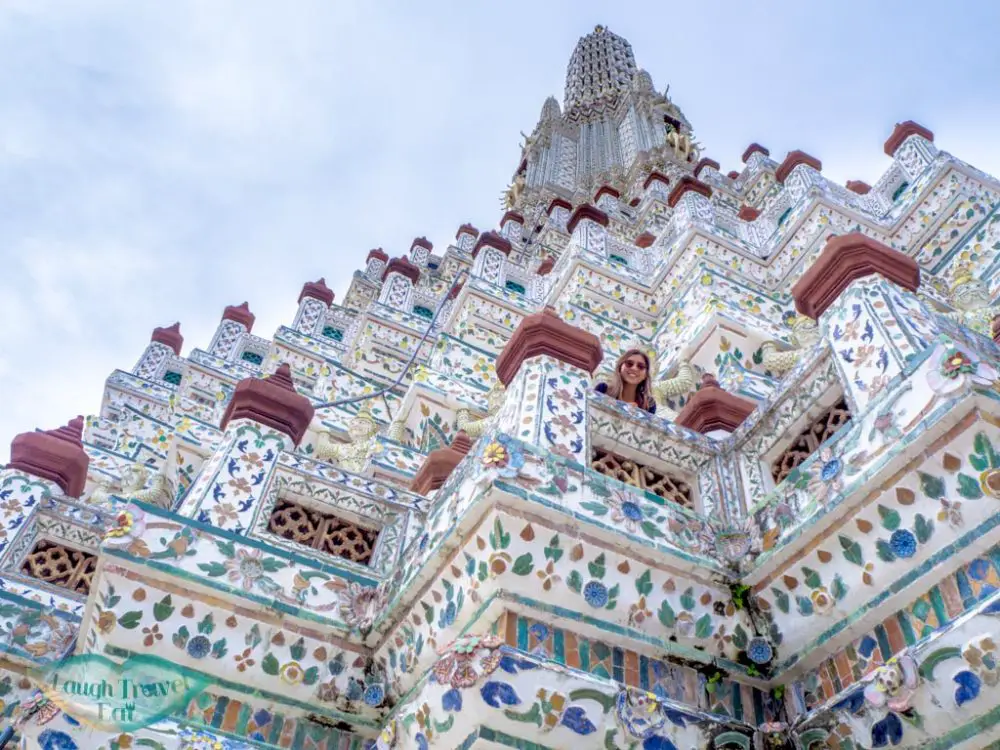 Across the river from Wat Pho, Wat Arun is one of the most photogenic temples I've ever seen. Known as the temple of dawn, it is a Buddhist temple but the name derives from Aruna, the Hindu god of the rising sun. This was where the Emerald Buddha was held before it was moved to the Grand Palace by King Rama I.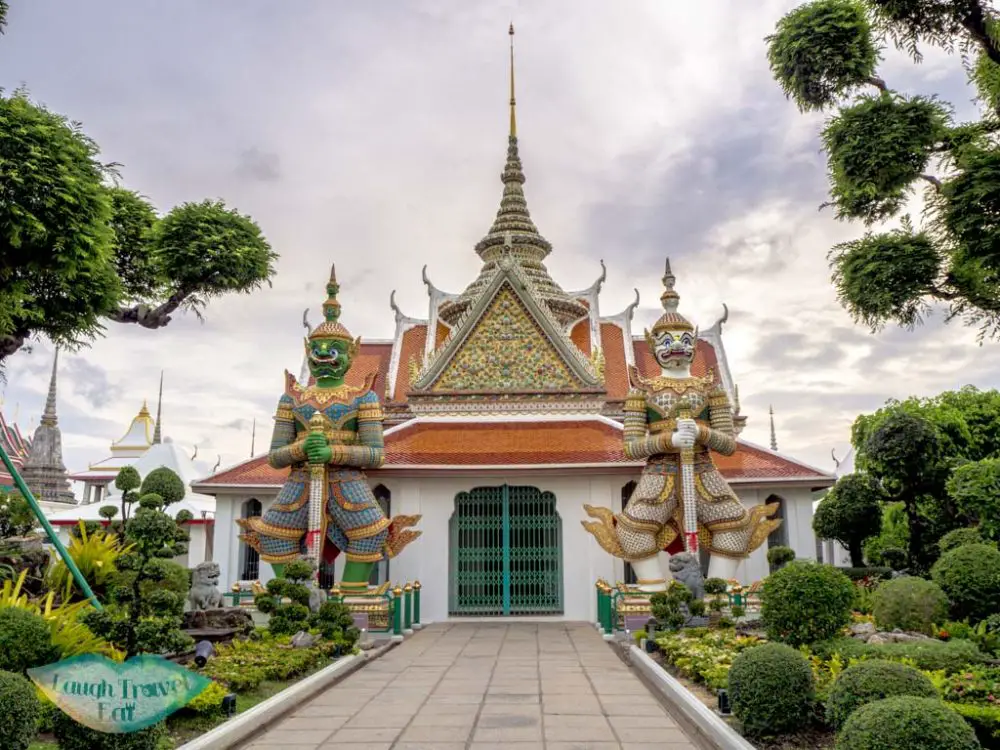 With three distinctive white Khmer-styled towers known as Prang, it is not as big as the other two but very distinctive with its white exterior with colourful porcelain plate.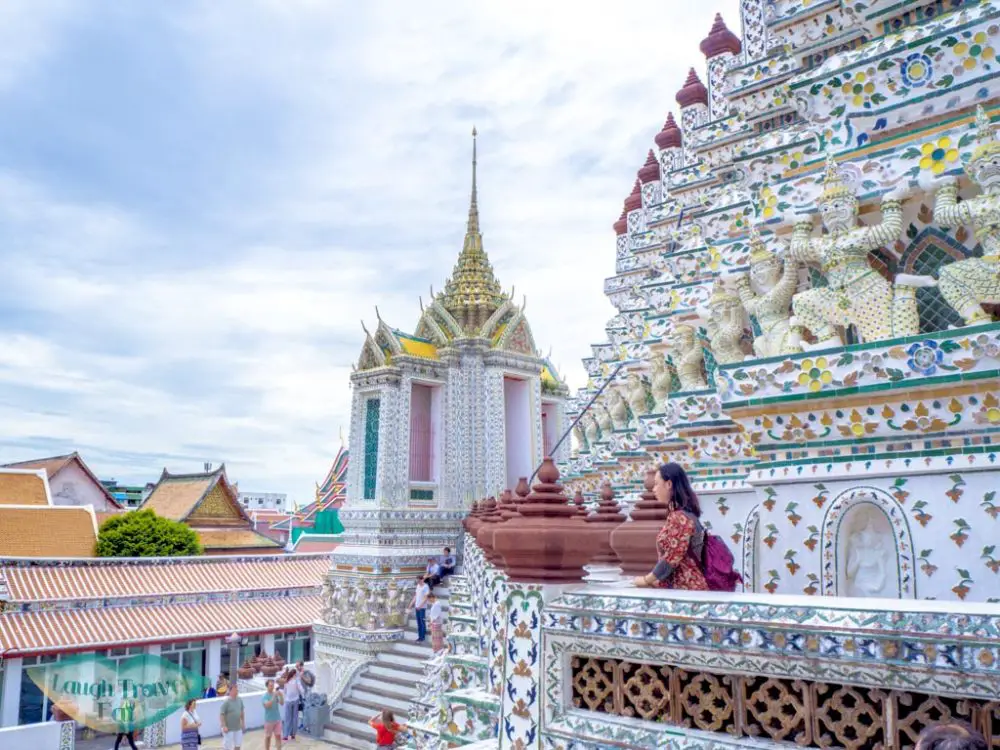 The current temple we see was built in the mid-19th century by King Rama II, with the central tower reaching 79m tall. The stairs are fairly steep and you can only go up to the first level and not higher in the main stupa.

To get from Wat Pho to Wat Arun, exit towards the northeastern corner and head towards the river. You'll find the pier there and to cross it's 4 baht per person. It's super easy to find and they run frequently – around 5 minutes each.

Entrance: 50 baht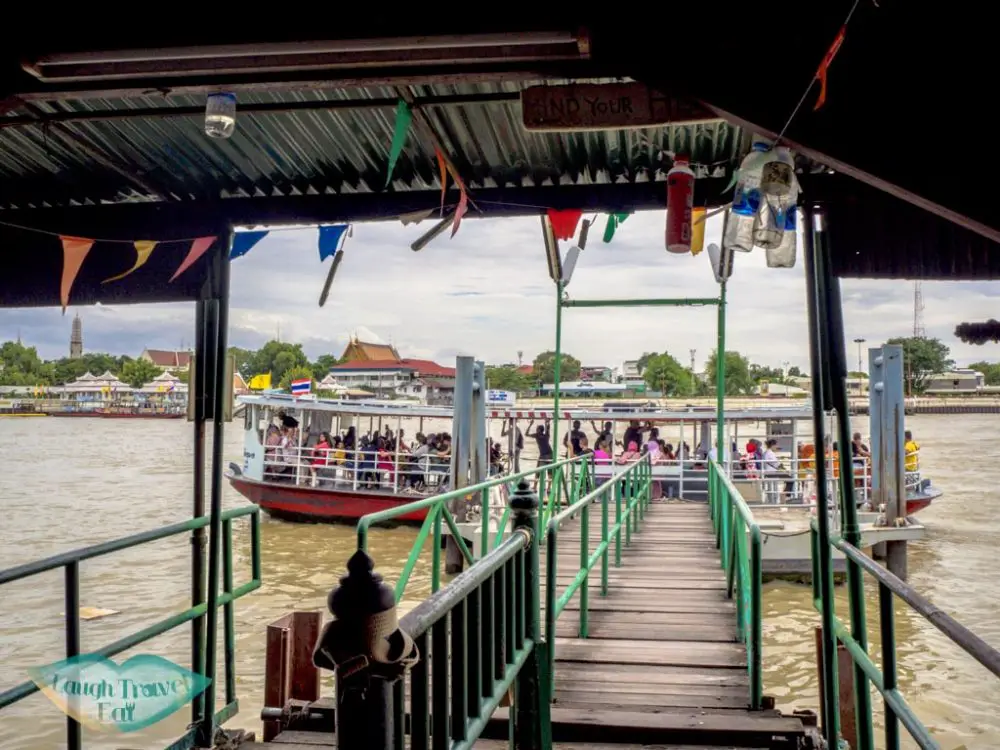 How to get there: from Wat Pho, get out and head towards the pier nearby (use google map). From there, take the cross river ferry for 5 Baht (no longer 4 baht!). Return is at the same pier or you can take another ferry to the BTS or up and down. We ended up getting a ferry from Wat Arun back to Saphan Taksin and then getting on the public transport system.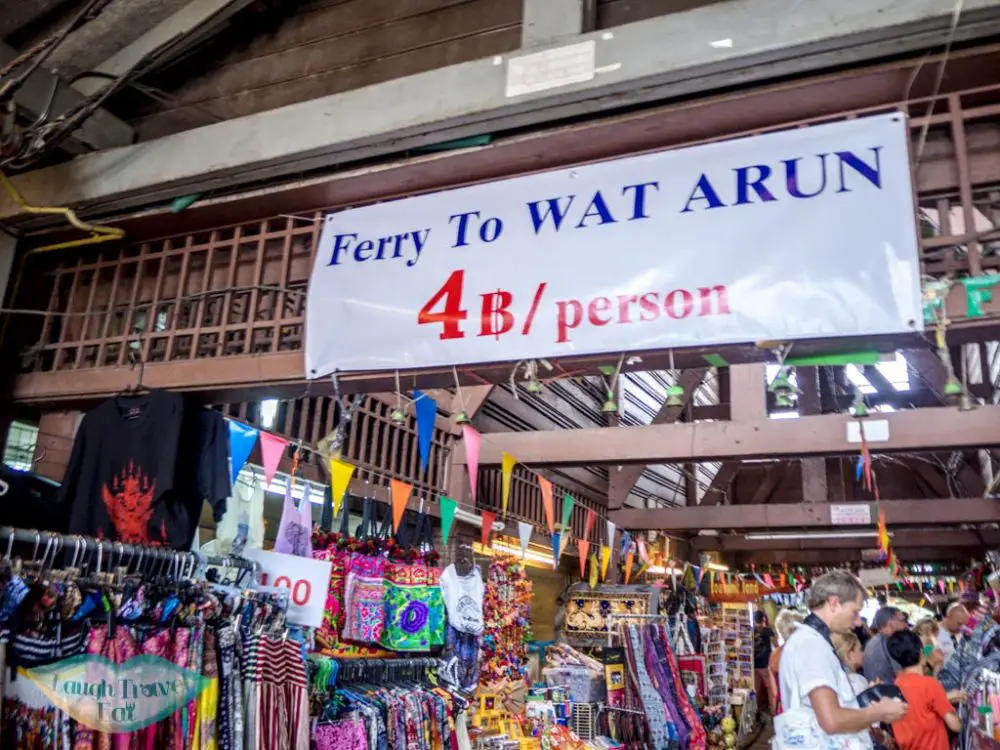 Ratchada Night Market (now closed)


A good alternative if you are not here on a weekend, this daily night market is close to the Metro Station with its famous tents viewed from above. While it is a train night market – I must admit I didn't see any trains at all, but it's probably just me missing it.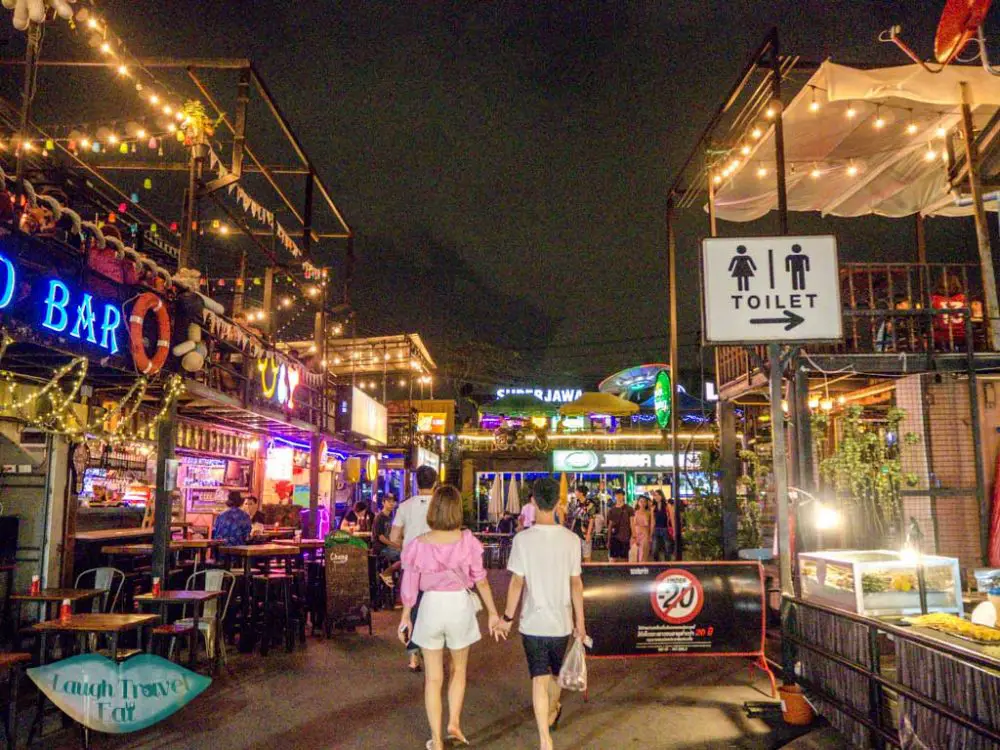 The vibe at Ratchada reminds me of Shoreditch in London, with an area of bars with fairy lights in a corner, as well as several rows of food stalls at the back near the shopping mall. We had a seafood platter which was pretty good and only 450!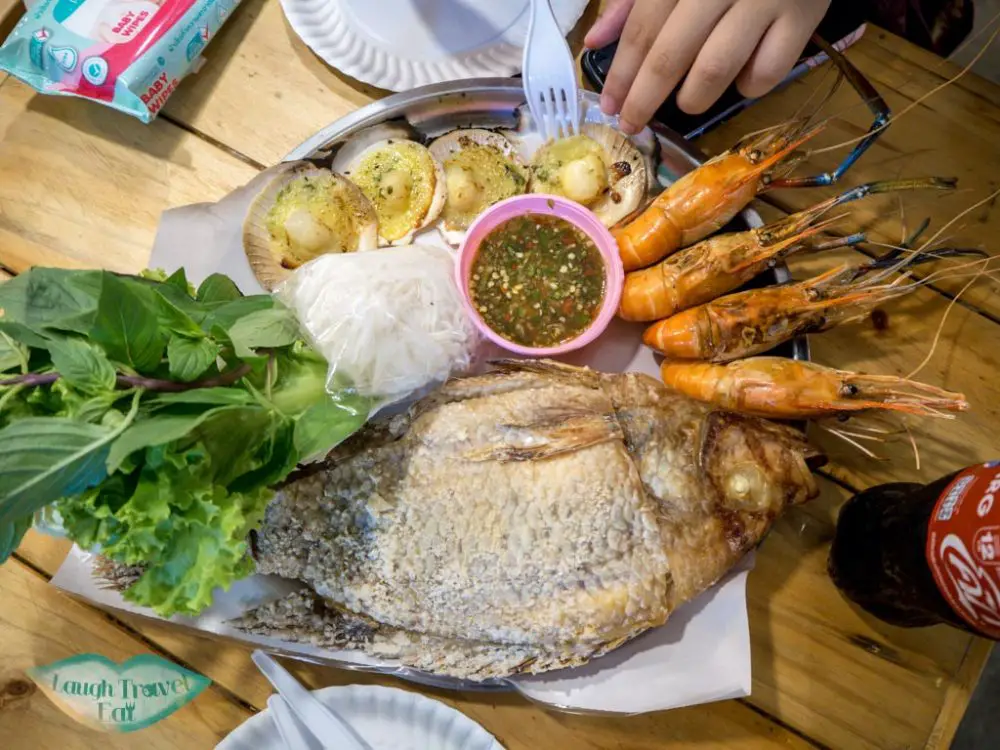 The viewpoint is on the car park of Esplanade, which is accessible from the food stall row and also where the nearest bathroom is. I ended up on 2C floor but many go higher for the perfect shot.

Address: 55/9 Ratchadaphisek Rd, Khwaeng Din Daeng, Khet Din Daeng, Krung Thep Maha Nakhon 10400泰國
Opening times: 17:00 – 1:00
Nearest station: Thailand Cultural Centre Metro – follow the crowd through the mall and you'll get there
Day 4: Take a day trip from Bangkok!
There are so many great day trip options from Bangkok, aside from what we did originally on this 5 day trip (details below), here are some other options:
Spend a day with locals from Take Me Tour!
We decided to do something a little different and get a dose of nature on our last day – so we booked a tour to see the coastline of Bangkok with a local from Take Me Tour!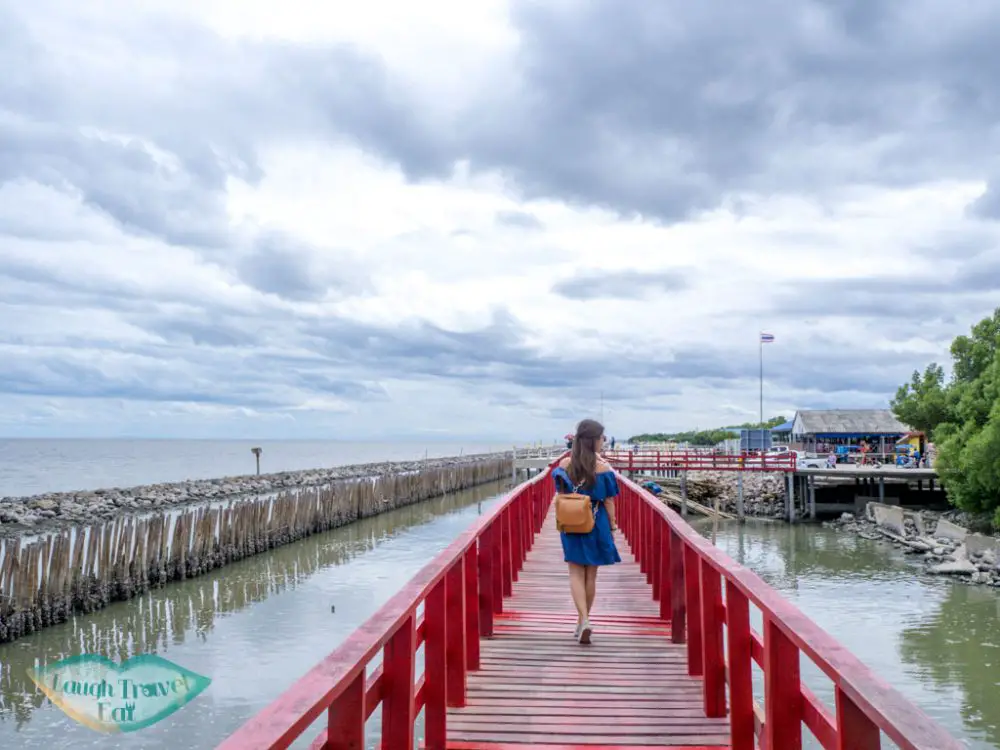 We were originally meant to go on a mangrove and salt farm tour, but there was a schedule conflict so we ended up going on a seafood tour to the 5 km stretch of coastline that belongs to Bangkok, as well as the Samut Sakhon region. It's about an hour from the city center, and we were picked up by our guide at the meeting point (who unfortunately was late due to the traffic) and went on our way.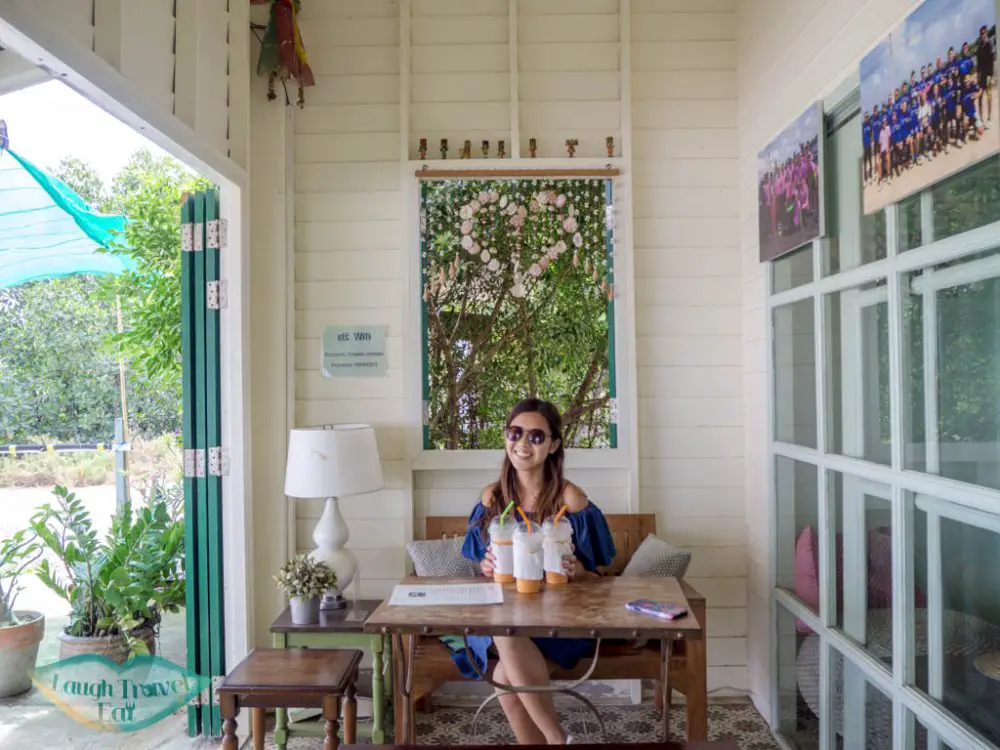 The area is quiet during the week but popular for locals as a weekend getaway. It is actually one of the biggest seafood export in the country and even exported internationally. Naturally, you'll also find many seafood restaurants here, and that's exactly what we wanted! We made a quick pit stop at a little cute cafe for Thai Milk Tea before arriving at our seafood restaurant.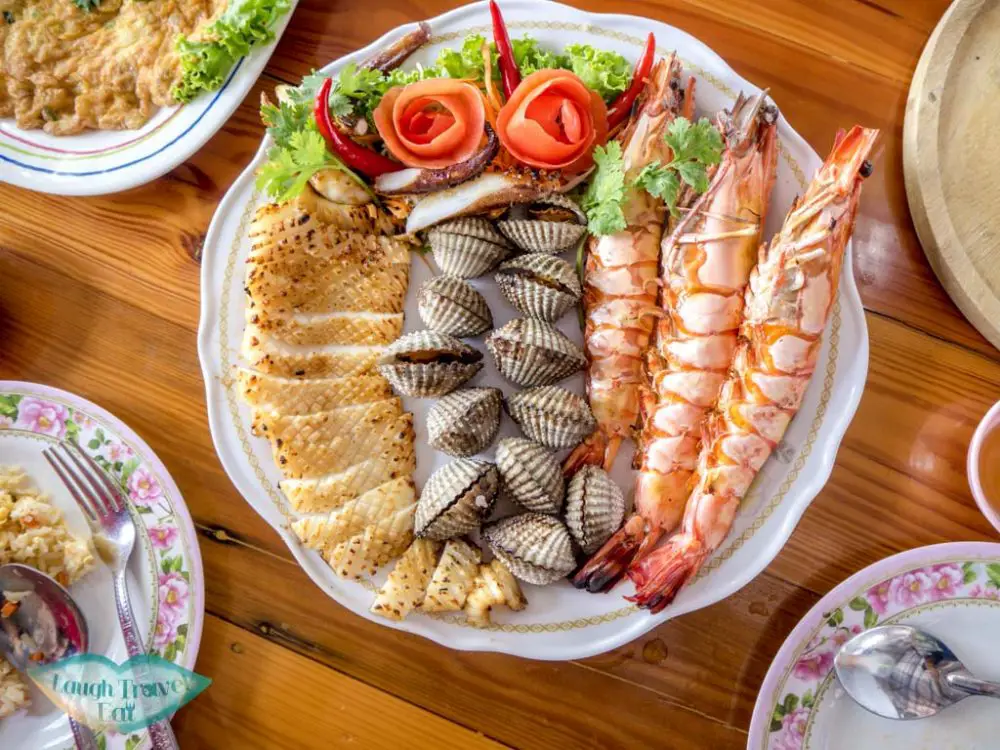 Tik ordered a feast for us, and they were able to get me a non-spicy Tom Yum. there's a seafood platter but our favourite is the fish!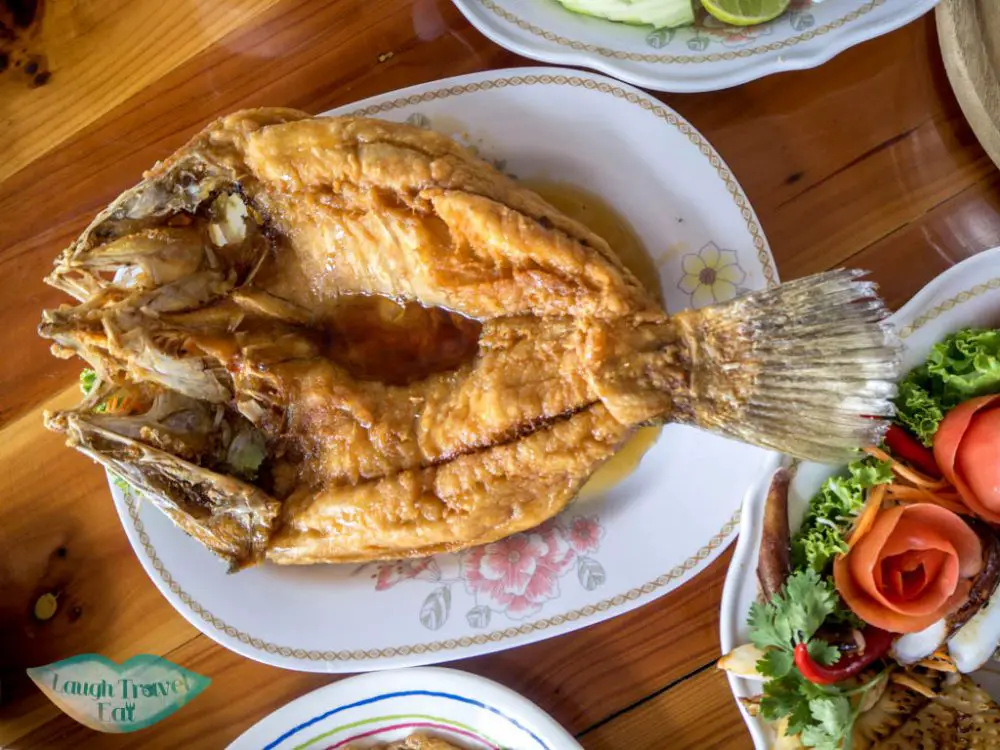 After lunch, the river level had gone up and it's time for a quick trip down to the open water. We passed by many little huts where fishermen rests and set camp during their day out, and also the fence that the authority has built to stop the erosion. The most interesting part is the temple-like structure in the ocean that marked the last point of Bangkok, which used to be onland. So yes, sea level rising is real.


We returned to the seafood restaurant and set off to our next destination: the red bridge. It's a popular viewpoint where you can see to the south of Thailand and a nearby island. However, it is a bit rickety so if you are uncomfortable, best be careful and not venture too far.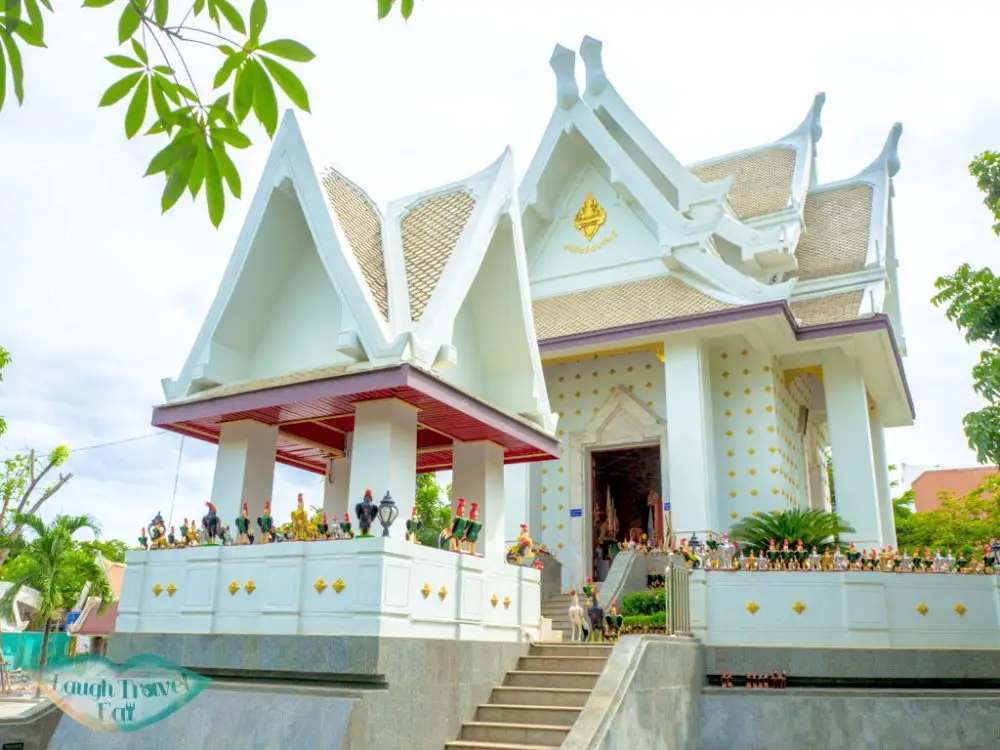 It was built to honour a man of the same name, who was best friend to the King Sanphet the 8th. He honoured the law and asked to be beheaded (!) as he was navigating the royal barge and caused damage despite the king pardoning him. Since then, the temple is said to grant wishes and a chicken statue is bought in return when the wish comes true – hence all the chicken around!⠀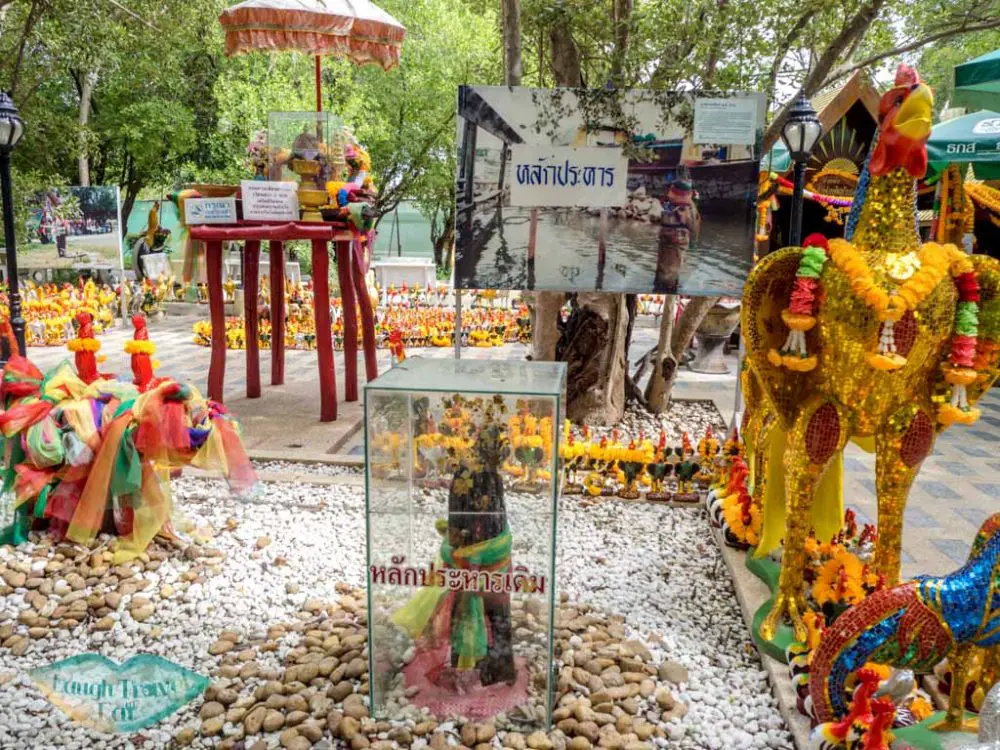 You can still see the log Pan Tai Norasigh leaned against for his beheading 300 years ago!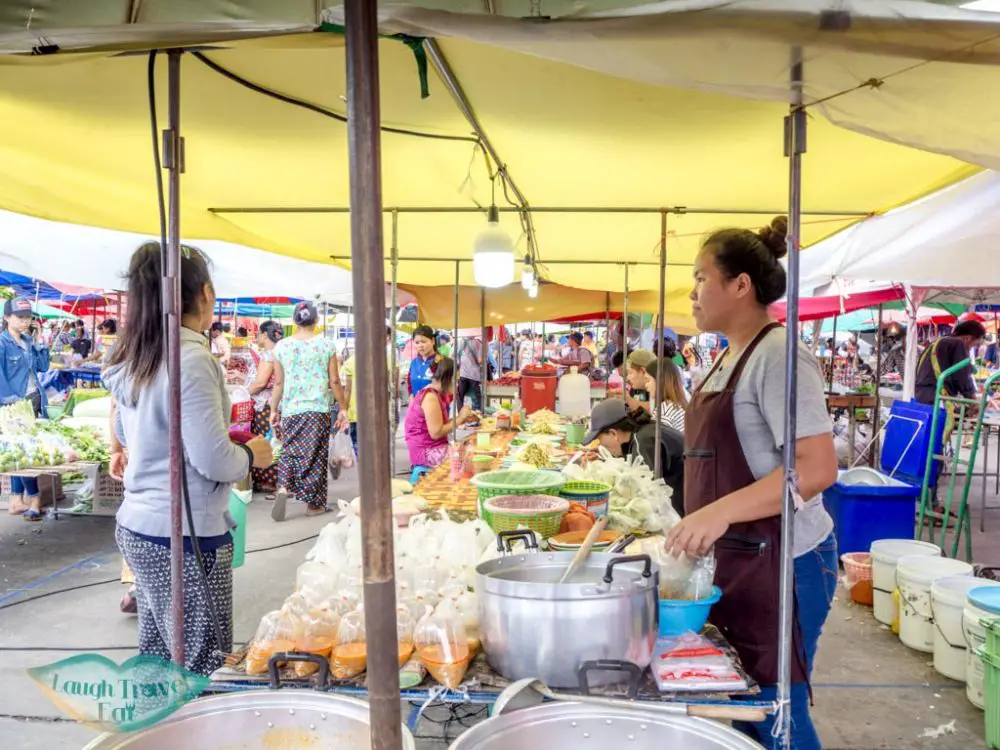 Our last stop is a local market which is known as the Myanmar Market due to the high volume of Burmese people there. If you want to buy some fruits then this is the best place to do it, and it's interesting to see what a market far removed from tourists' path is like. Af that, it was time to drop us back off. We kind of hit rush hour so it took longer than expected, but it was comfortable at least!

If you are more adventurous, I recommend going for the Sea to Table tour we originally intended to go!
Terminal 21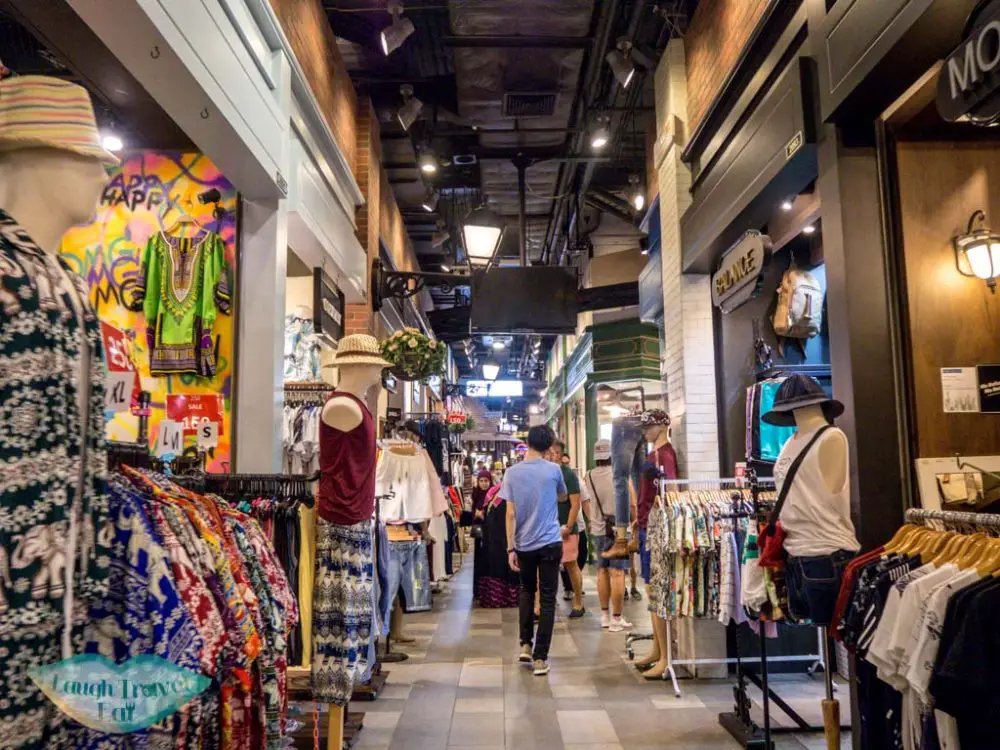 We made our way onto the BTS and straight to Terminal 21. By far my favourite shopping mall, it has an airport theme where each level is a different destination. It is also decorated accordingly, featuring Istanbul, London, and San Francisco.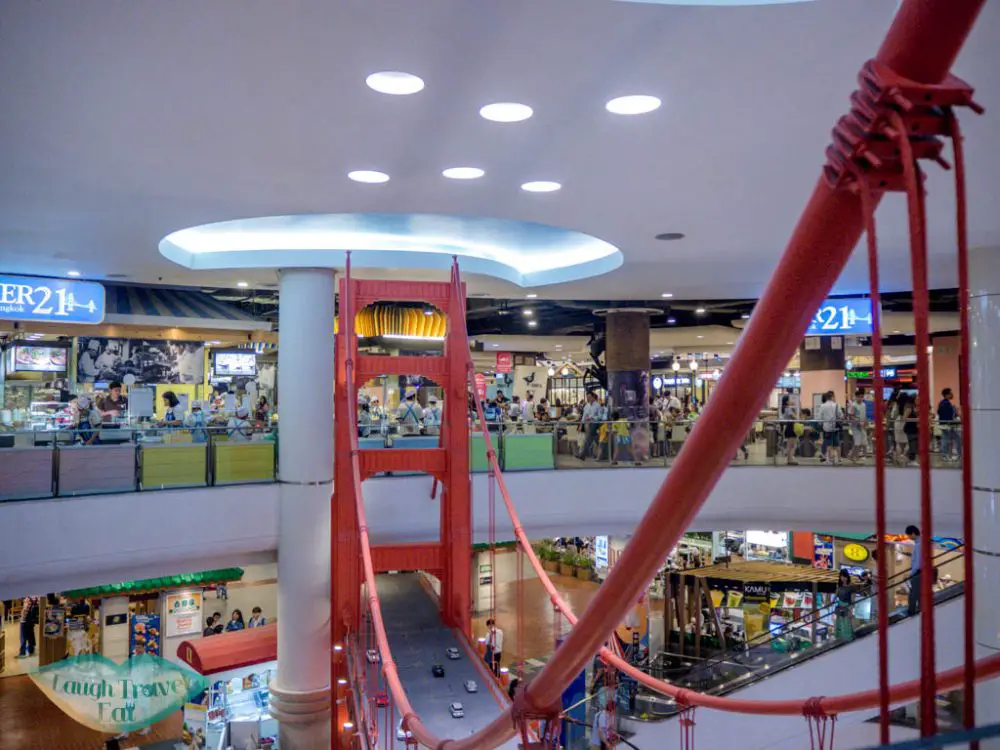 We had the best time looking at vintage stores at Tokyo and cute accessories at Istanbul. But the best part is the food court on top, with extremely affordably prices starting at as low as 32 baht for a chicken rice. You'd have to first get a prepaid card at the counter which is used to pay for your food.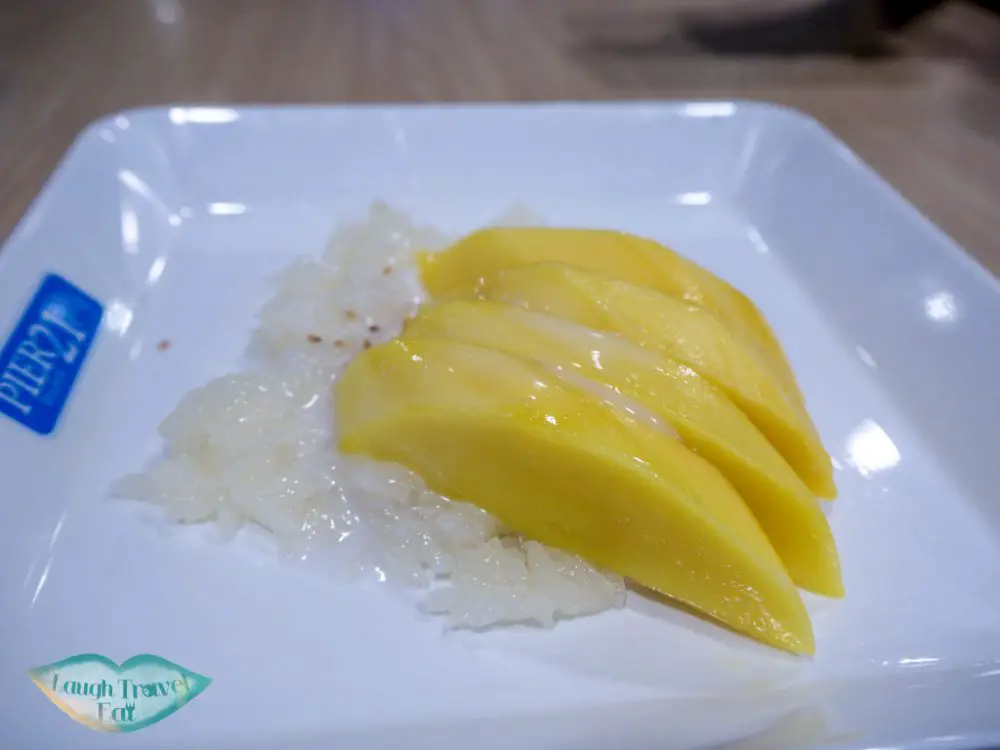 At the end, simply return it to get the remainder of your balance. Also, you can get a small portion of Mango Sticky Rice for real cheap.
Address: right by Asok BTS

Best area to stay in Bangkok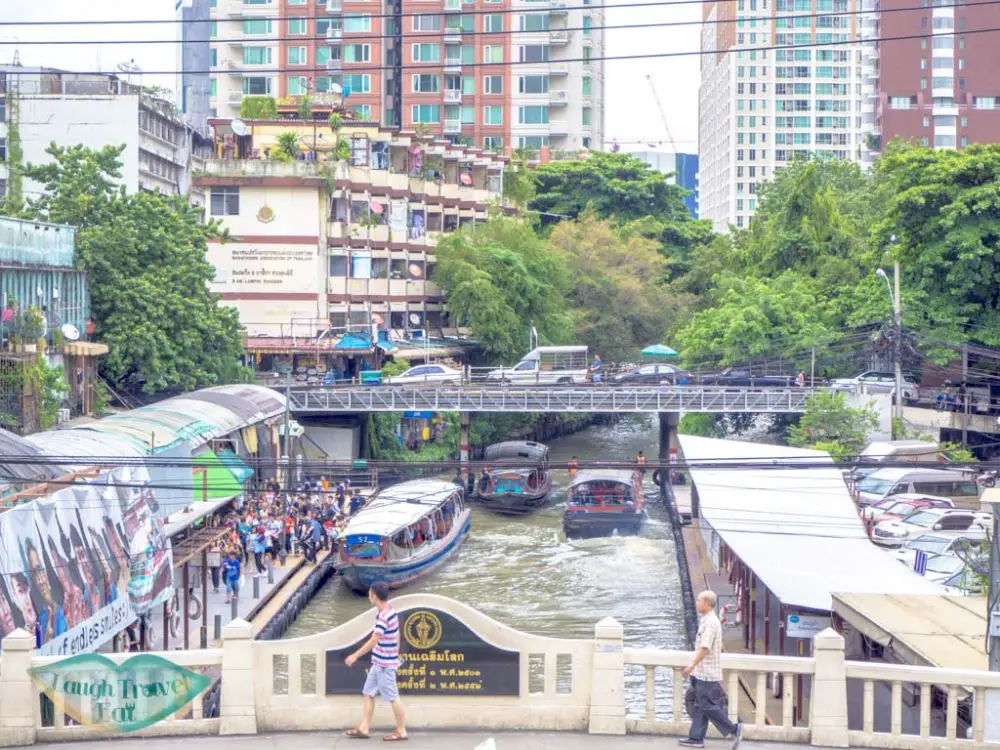 With Grab and uber super convenient to use, you can virtually stay anywhere depending on your preference and budget. If I can visit again, I would probably stay 1-2 nights by the old town and then somewhere near the BTS after to make it easier to sight see. Here are some picks depending on your preference:

Editor's Choice
Ibis Styles Bangkok Sukhumvit 4 Hotel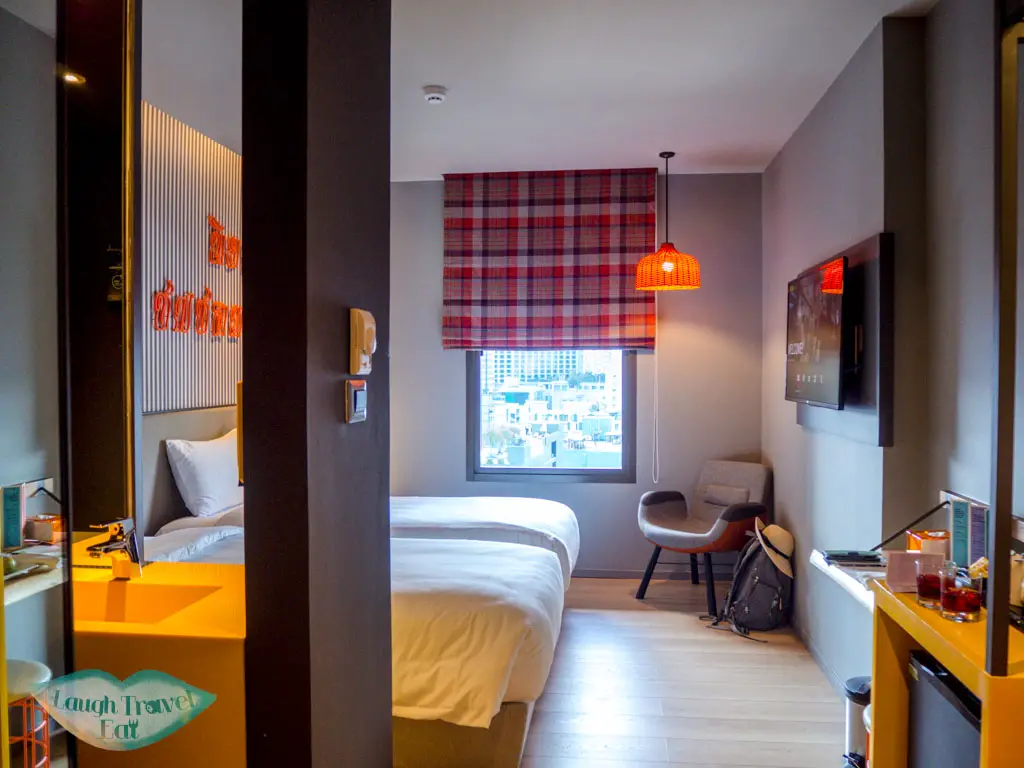 Located 5 minutes from Nana BTS Station, the Ibis Styles Bangkok Sukhumvit 4 Hotel is a great mid-range option that combines great decor, service, ambiance in Bangkok's city center. The rooms are bright and cheerful, with bright colours and all the basic amenities you'll need.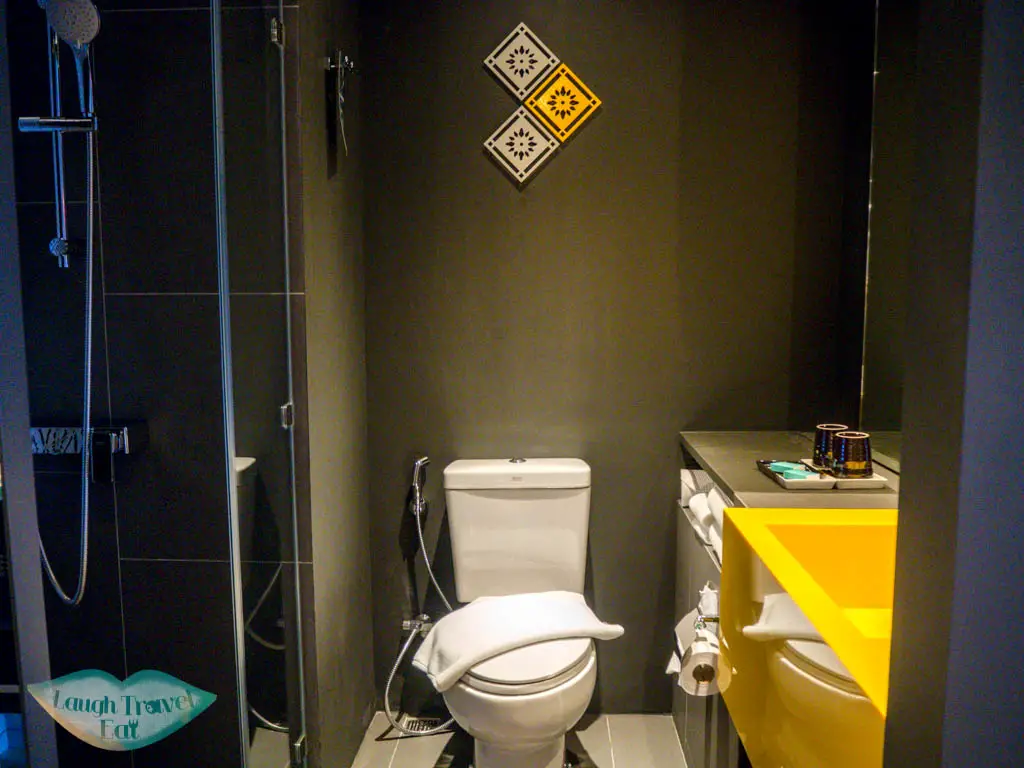 With a 24 hour reception, checking in and out was a breeze and we were able to request takeaway breakfast since we were leaving on an early flight out.
The buffet breakfast is comprehensive, with western choices, bakery, and cereal range.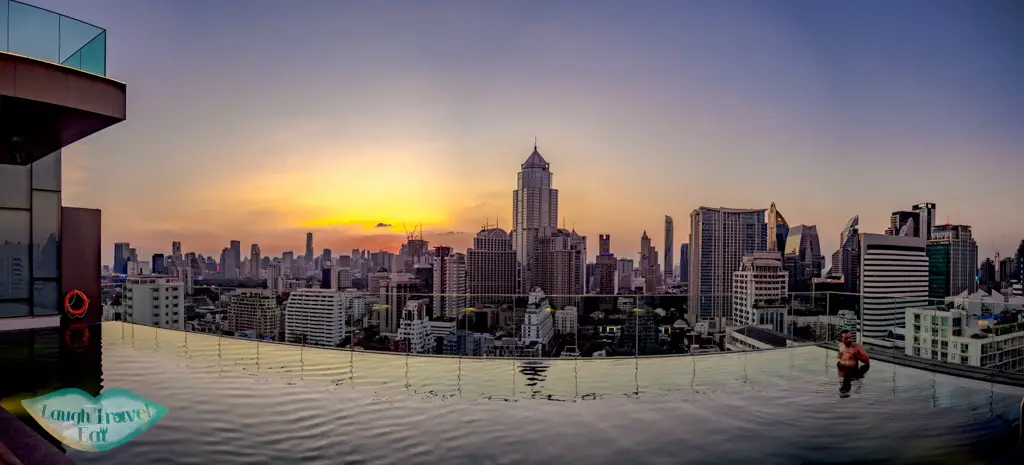 The best part is the rooftop pool, which is a great place to catch the sunset and enjoy the view.
Zazz Urban Bangkok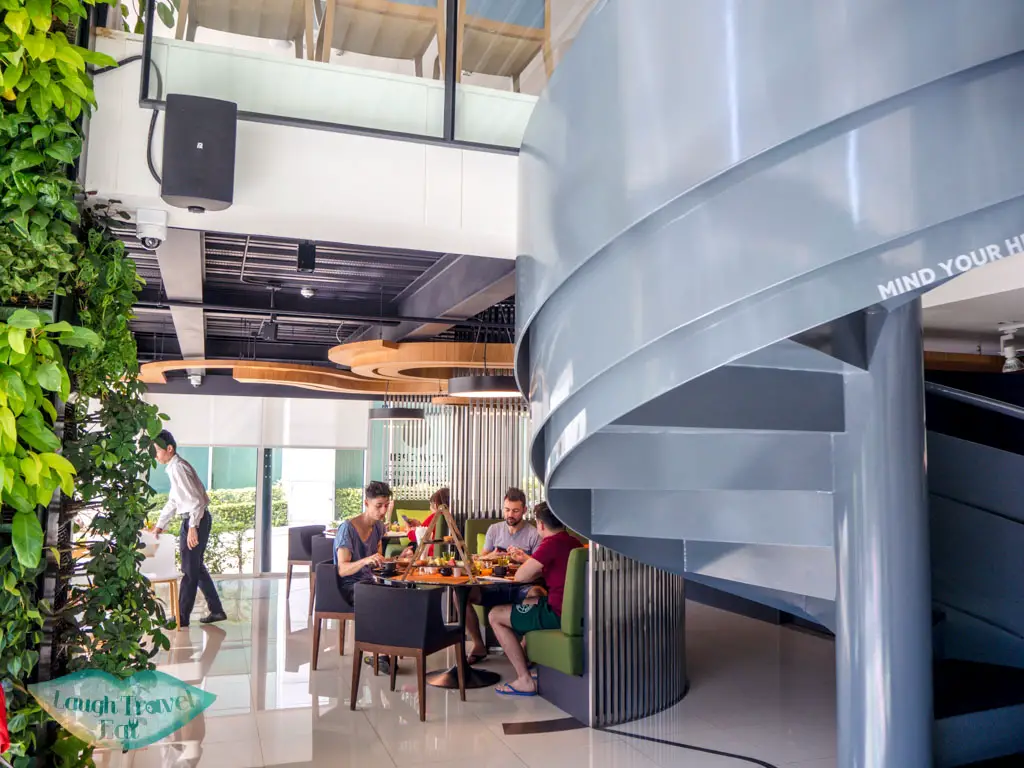 If you want to stay somewhere nice and quiet but still remain within easy reach to everywhere else in Bangkok, then Zazz Urban Bangkok might be just your thing.
With top-notch breakfast, amazing bathroom, and location by the main road (easy to call a Grab), it's a nice alternative that's off the beaten path.
Ekkamai and Thong Lo
We opted to stay at Ekkamai as it's an up-and-coming hip neighbourhood with many cute cafes, restaurants, and vintage shops.
Budget: Goodfellas Thong lo Hostel is one station up fro Ekkamai with a chic and modern design. I stayed at the Tha City Loft Hotel, which is close to the Big C supermarket and a massage place
Mid-range: Civic Horizon Hotel & Residence is right by Ekkamai with spacious rooms and a beautiful pool.
Splurge: Somerset Sukhumvit Thonglor a little further from the station, but it's a beautiful hotel with a stunning rooftop pool and close to some cool restaurants.

Old City
Budget: for hostels lovers, you'll be spoiled for choice. For somewhere nice, quiet, and still central, the Printing House Poshtel is a great choice. If you want to be closer to the Grand Palace, Issara by D Hostel is a stone throw away
Mid-range: stay in a beautiful colonial house in the old city at Baan Noppawong
Splurge: Enjoy a stay in the serene 1905 Heritage Corner right in the heart of Bangkok's old town. You can also stay at a former royal residence with a stunning view of Wat Arun at Chakrabongse Villas.

City centre
Stay by the modern shopping malls and public transport in Bangkok's city center. Honestly, it's so much easier to get around with the BTS.
Budget: LiveItUp Central is a quaint hostel hidden in a quiet corner close to Chit Lom BTS.
Mid-range: Kritthai Residence at National Stadium BTS is close to the Bangkok Art Center and BTS station!
Splurge: Novotel Bangkok on Siam Square is right by the Siam BTS station, which is super convenient.
Ratchathewi
A best of both worlds between the city center and the old town is Rachathewi since it's close to the canal ferry, BTS station, and also the sky train. Plus, it's close to the Chatuchak weekend market as well! It's my top area to stay in if I'm stopping by.
Budget: Siam Eco Hostel is on the corner of the two main roads in Ratchathewi with a great setup. While there is no lift, there are plenty of bathrooms per floor and a common room.
Mid-range: Evergreen Place Siam by UHG is a great hotel close to the BTS station but set back from the busy main road. The rooms have all the amenities and they also have apartments. For a more Thai-themed hotel, the Siam Nitra Boutique Hotel is a great alternative.
Splurge: for nicer hotels near the area, I'd go for The Quarter Ari in Phaya Thai (one station north) or Amari Watergate in Pratuman a few stations east on the canal ferry.