Note: I have received many messages and comments about concern on the elephant welfare at Elephant Jungle Sanctary. I only visited during the day and can only speak from my experience. It's worth noting for you that others who had stayed overnight etc reported less favourable experience
When people think of Northern Thailand, one of the things that pops out the most, apart from cooking classes, local markets, there are the choices too. Such as zip lining. You can frolic with Elephants in the river or trek along the countryside with them as well.
Choosing Elephant Sanctuary
Since my first visit to Chiang Mai, I've learned a lot about the elephant 'business' in Thailand. Below will be my original review for Elephant Jungle Sanctuary but please note that Elephant Nature Park is the only certified ethical place to visit and interact responsibly with Elephants

Nam
With the abundance of elephant tours to choose from, my friends and us ultimately decided to join the Elephant Jungle Sanctuary based on 2 reasons:
Welfare of the elephants, our objective is to interact with these lovely animals, hence finding an ethical tour that cares for their elephant it's essential to us. The matter of fact is that

elephants are not anatomically suited to by ridden by human, and will only allow riders if they had been tortured and primed for a long time.

Price, there's no denying that cost is a huge factor to consider when choosing a trip on holiday.
Based on the information and review we have of Elephant Jungle, their operation is centered on the well-being of their elephant; as for the price, 2400 Baht including lunch and transport is the cheapest deal we can find out of all the ethical tours available.
>If you are looking for longer elephant homestay experience, here are some ethical choices.
Booking the Elephant tour
Elephant Jungle Sanctuary has leaflets in most accommodations in Chiang Mai. If there isn't one, simply google their number and asked the staff at your accommodation to book it for you. We tried booking it online but didn't get a respond whereas via telephone booking, you get a confirmed booking immediately.
Another note is that booking via your accommodation would requires full payment up front. Your receipt upon payment will be the confirmation checked upon pick-up.
Elephant Jungle Sanctuary day trip
Pick up for the full day tour is between 8:00-8:30am. Our picked up arrived before 8am but the driver was kind enough to wait for us to quickly finish breakfast. Upon checking our receipt, we were ushered in and off we go to pick up other travelers.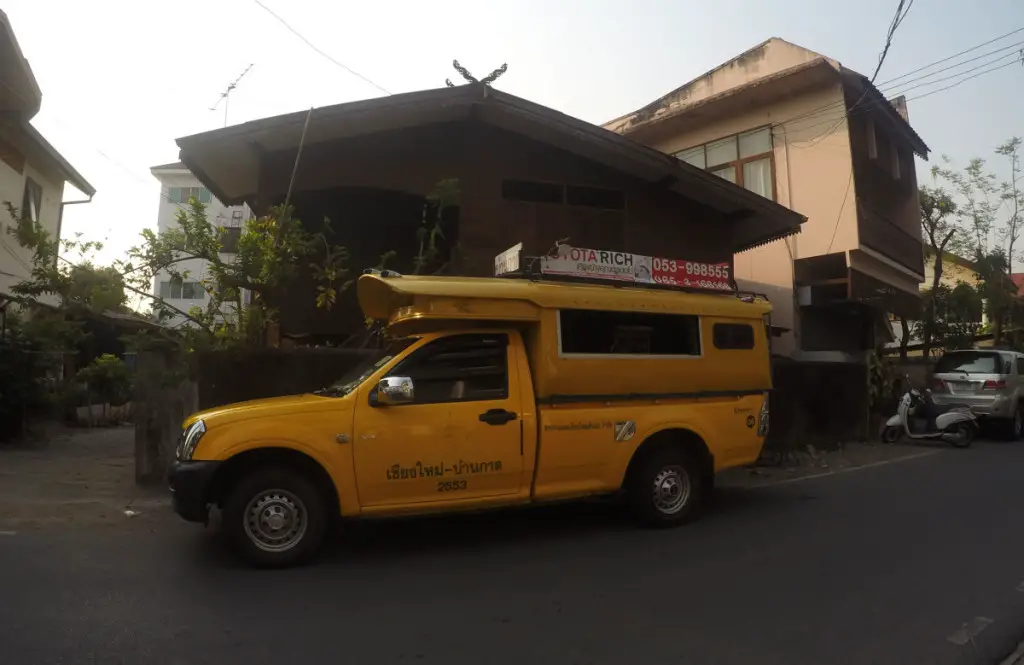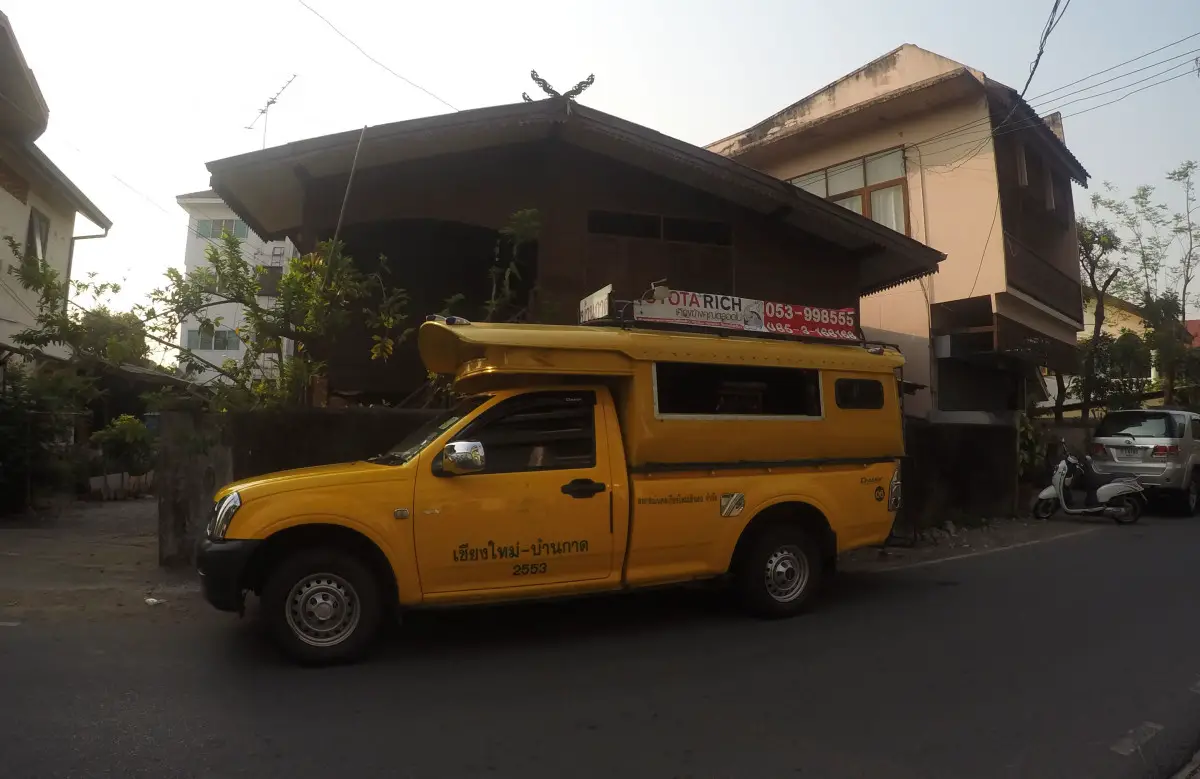 Our transportation was a tuk-tuk, which was cool at first until they crammed 11 of us inside. This coupled with the high temperature, dusty road and the last stretch of bumpy trail did not make for a good 2 hours' journey (yes it was that long). There's a toilet break in during which the driver purchased food for the elephants feeding section.
Note: we recommend you to ask during booking what type of transport is provided, and how many people will be sharing to see if you can avoid our unpleasant experience.
Arrival at the Elephant Jungle Sanctuary
Upon arrival, there's a short trek across a valley to the village itself. The driver would ask us to help carry the bamboos and bananas for the elephants up (it's more of a volunteer basis, and the trek isn't really that long nor the fruits that heavy).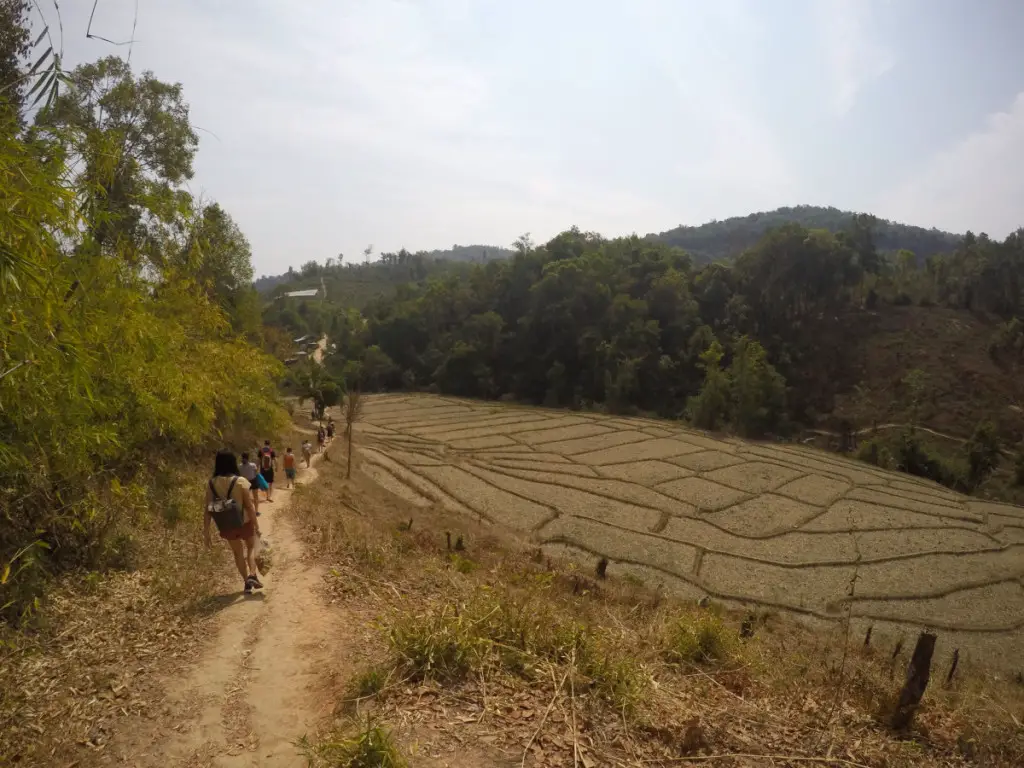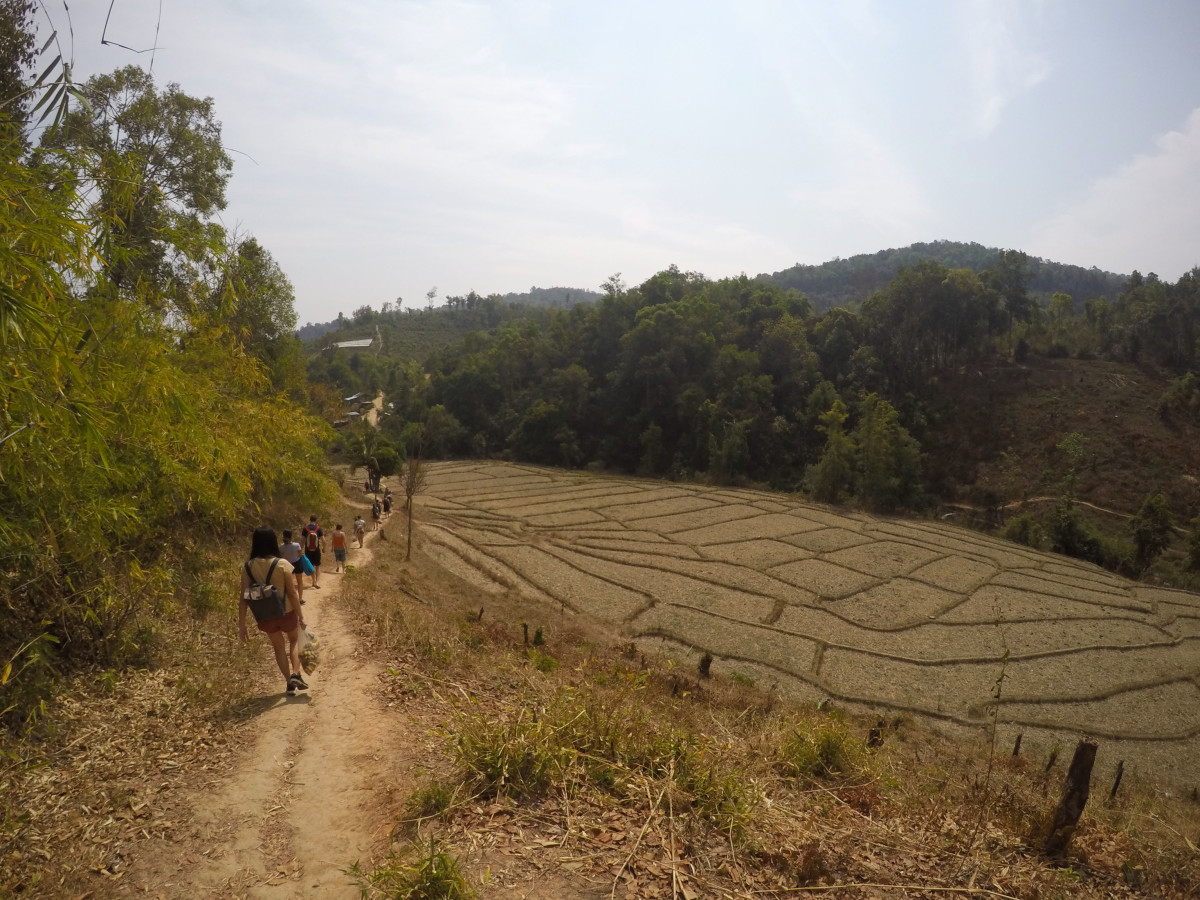 After we arrived and deposited our stuff, we were greeted by the host for our group. We were then given tribal top to wear for feeding the elephants and bottles of water. There were some raised eye brows and back and forth as people try to choose which top they get, and I sure was glad that I didn't end up in one of those pink one, although it did look quite cute on our friend Christie. Meanwhile, Richard, our host and the owner of the sanctuary gave us some background information on the rescue center and the elephant, though admittedly I missed half of that because we were at the far end of the table and his English wasn't particularly good.
After that we went to a small hut up by the side to make rice ball for the elephants. The reason why I bolded 'for the elephant' is because quite a few people thought it was for us and ate them. These are vitamin balls for the elephants!!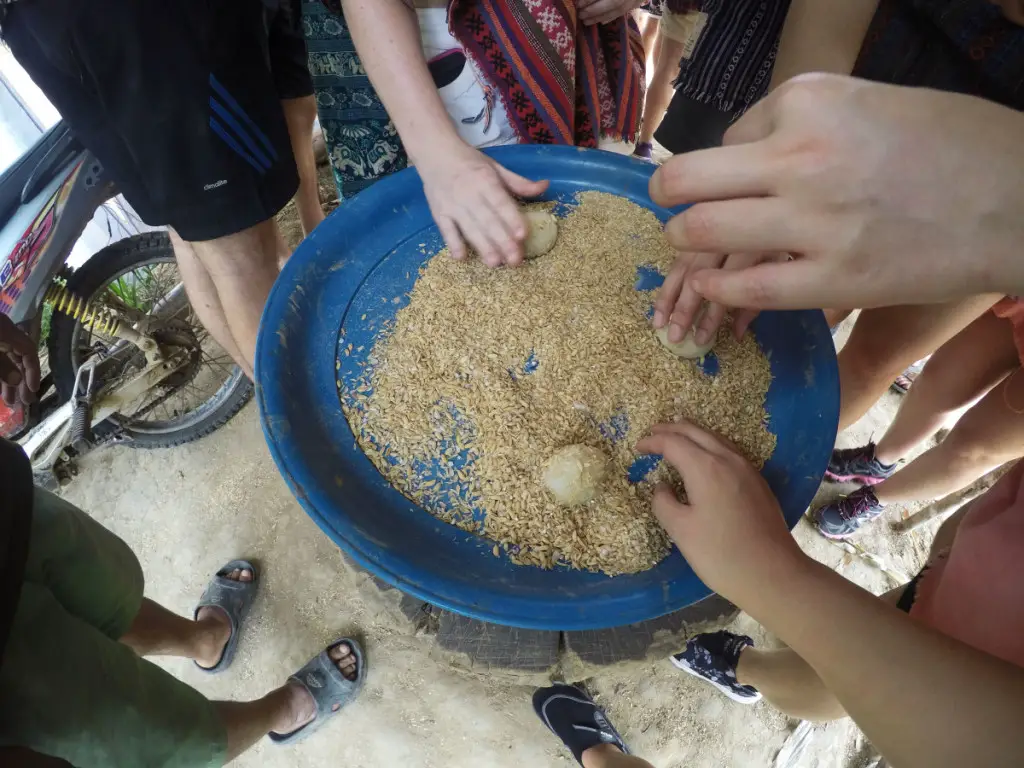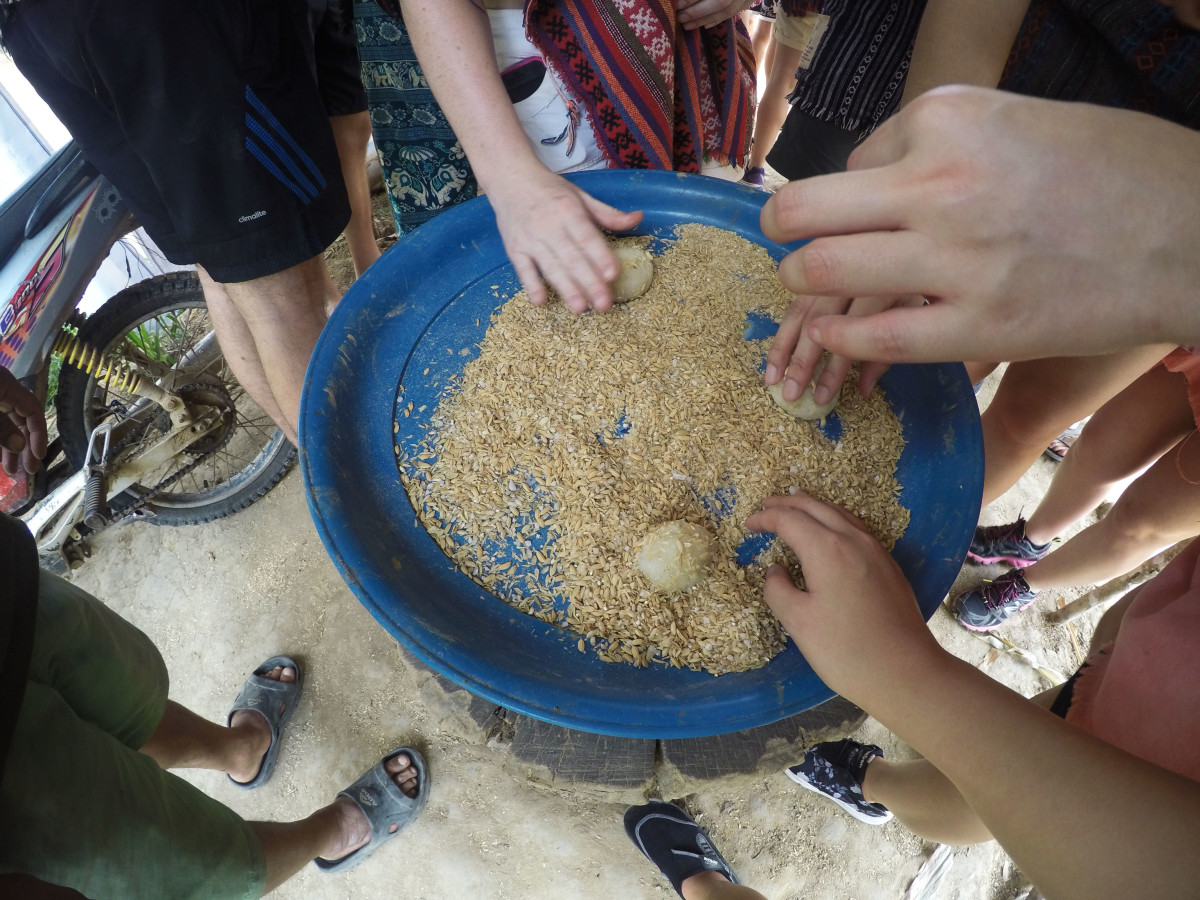 Elephant Feeding
 It's another small trek uphill to get to where the elephants are hanging out. Our group got to meet with a family of three consisting of grandma, daughter and grandson.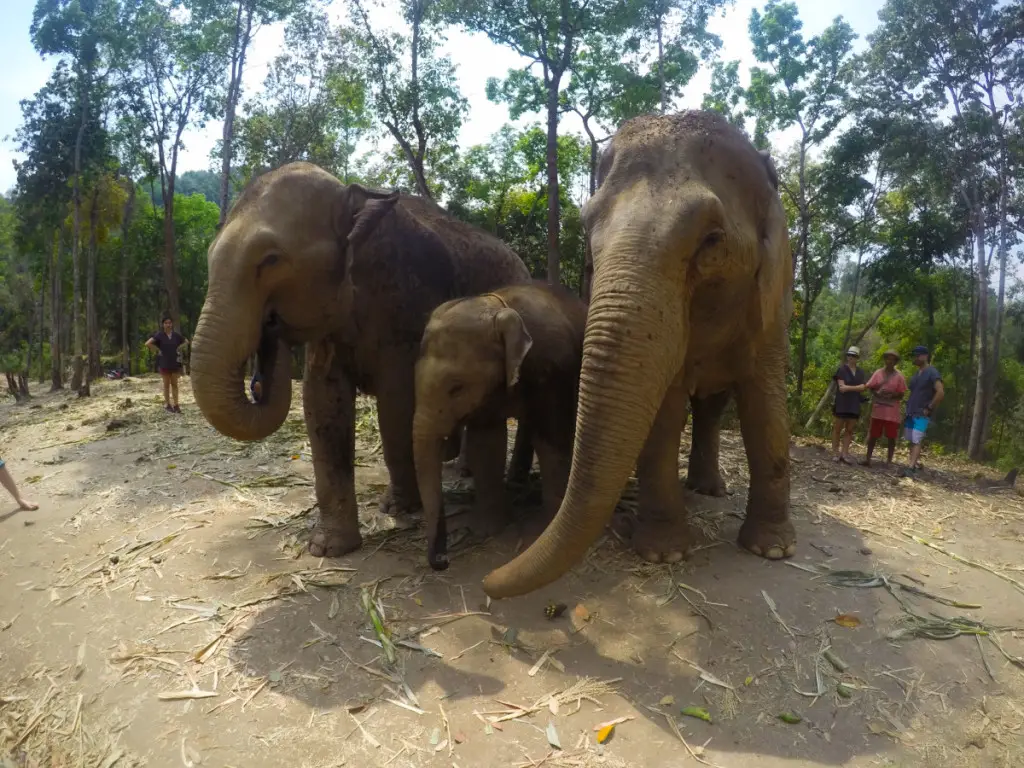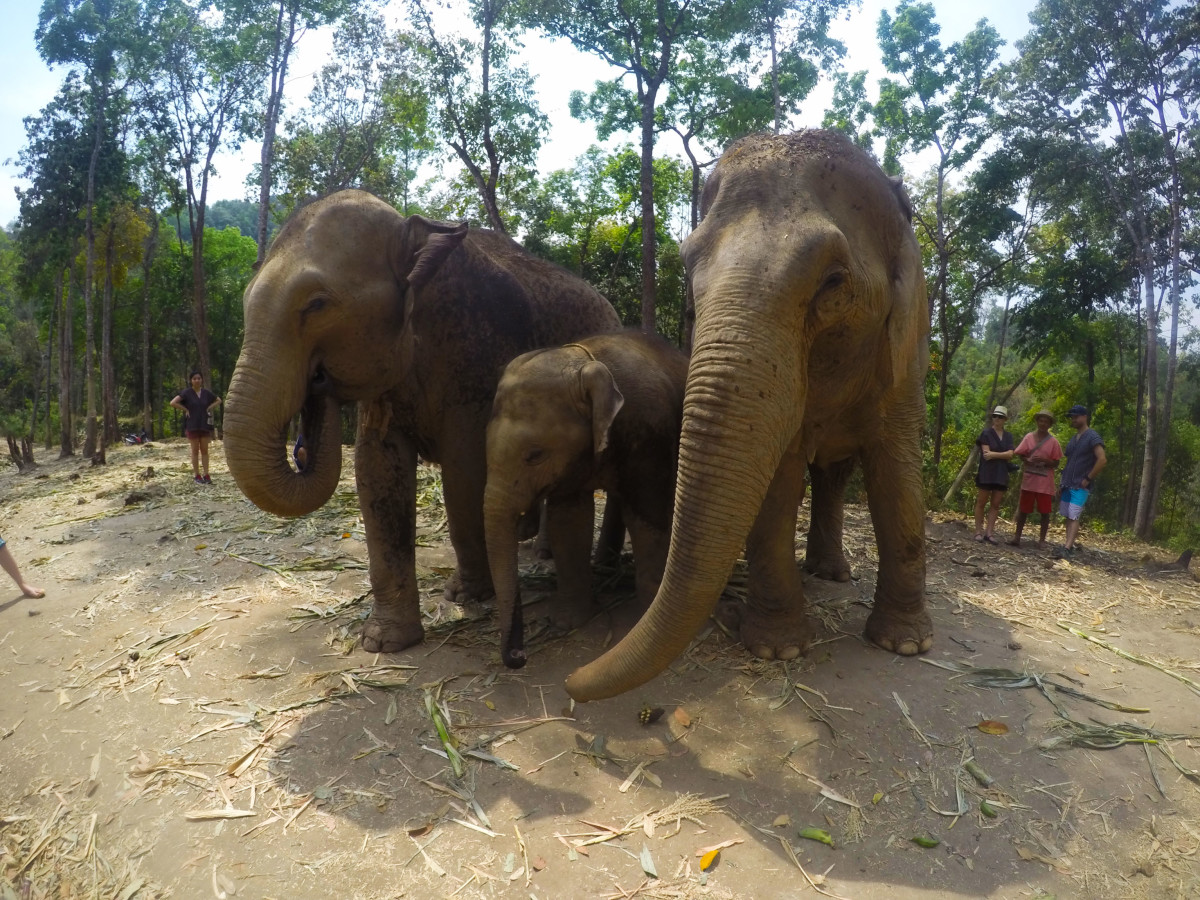 We spent a long time feeding the elephants, hence there's a chance to talk to the staff and get to know more about the elephants. A few fun facts we learned:
Elephants' pregnancy lasts for 2 years and they can get pregnant into their 50s.
The grandma is expecting a baby in a year and is currently half way through her pregnancy.
The father of the baby is only 25 years old
The male elephants will leave the females once they reach adolescence into the jungle (don't worry they visit every few years!)
There's also plenty of time take selfies. As well as some hugs and kisses with the elephants.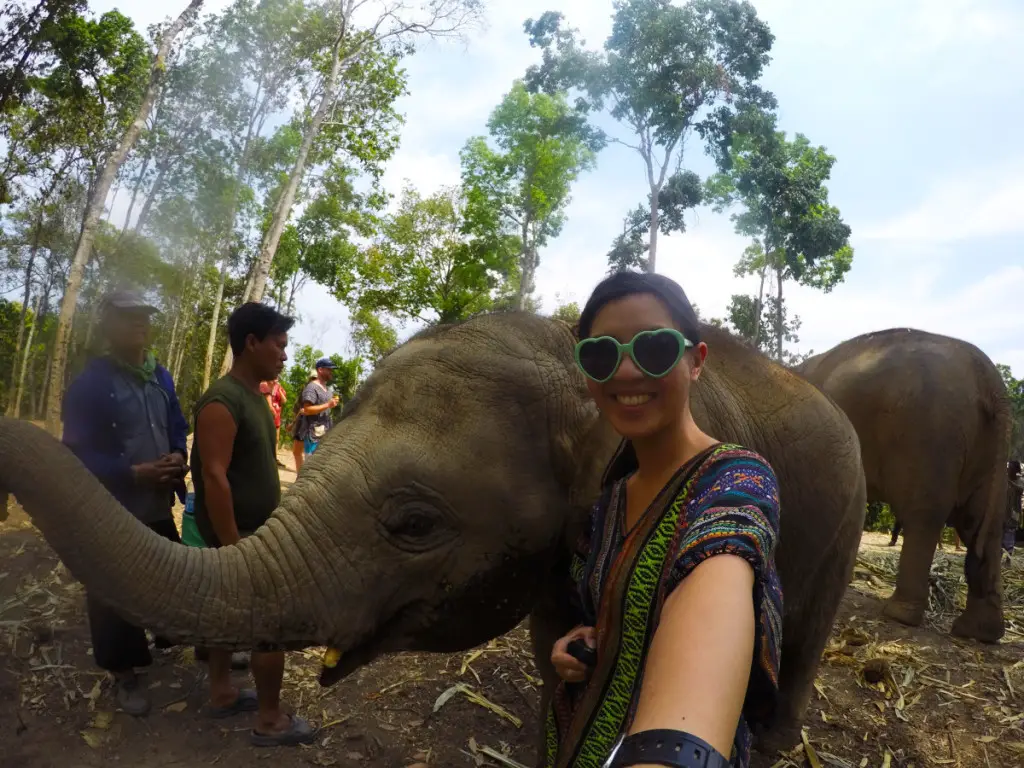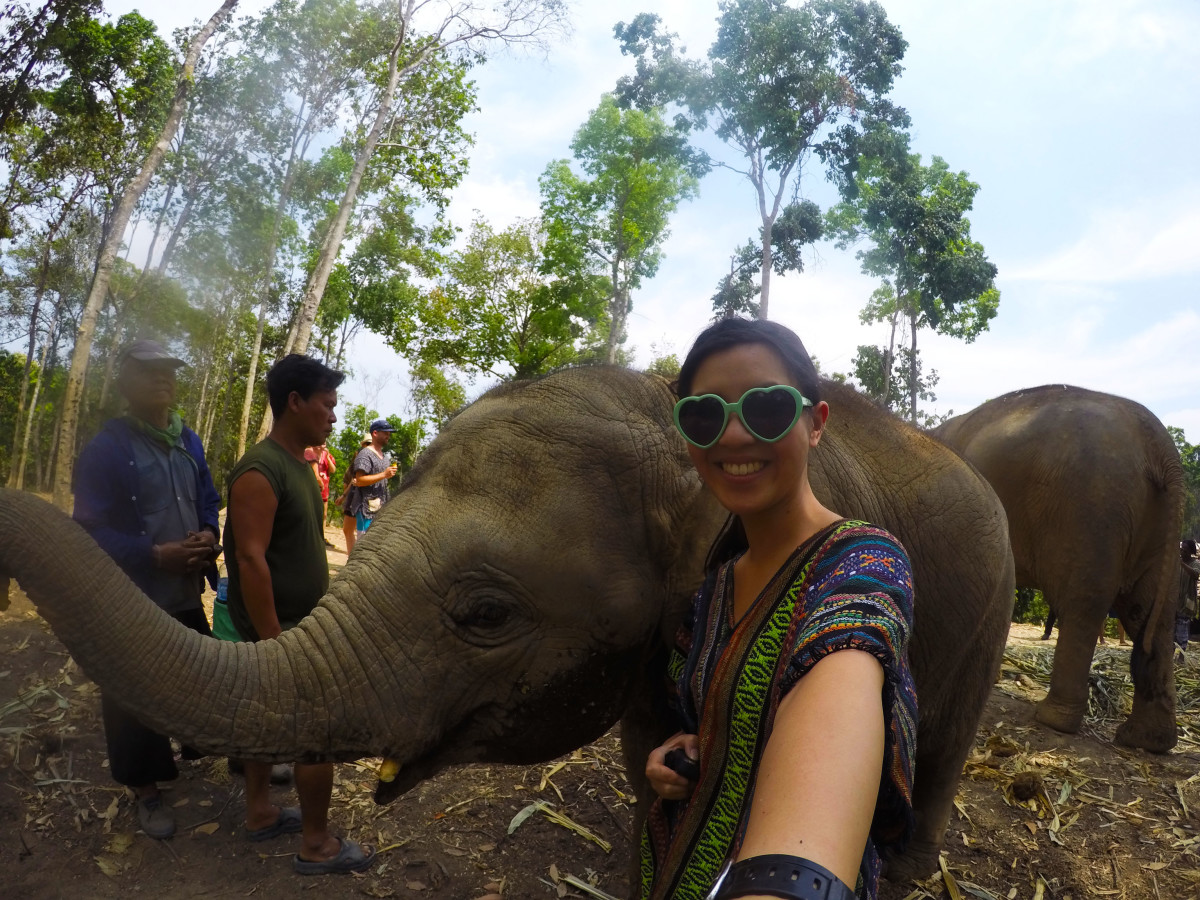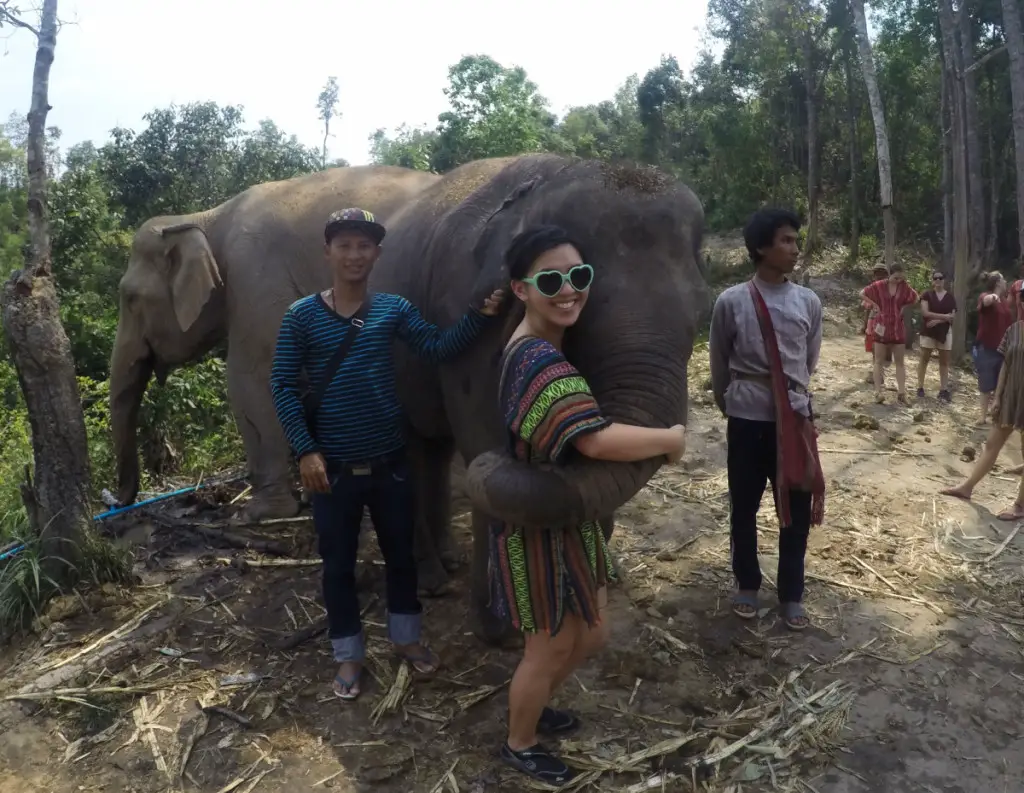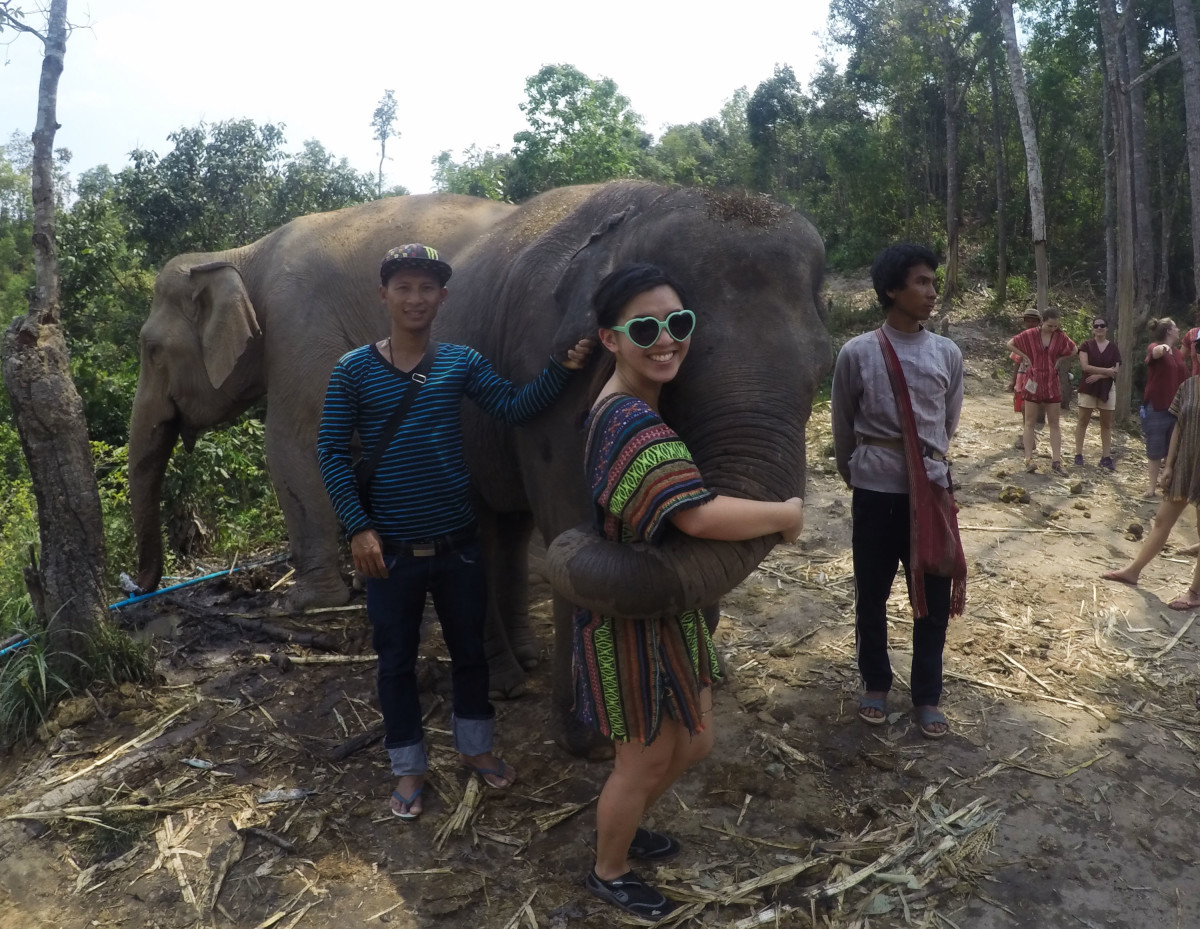 Lunchtime
Lunch is buffet style with a choice of rice, noodles, chicken, eggs, vegetables and watermelon.
The seating area is nice and spacious, facing the river that flows to the side of the camp. As soon as you finish, the dogs (not sure if they are stray or not) will come and lick your plate clean. While I find that hilarious, this might not be everyone's favourite thing.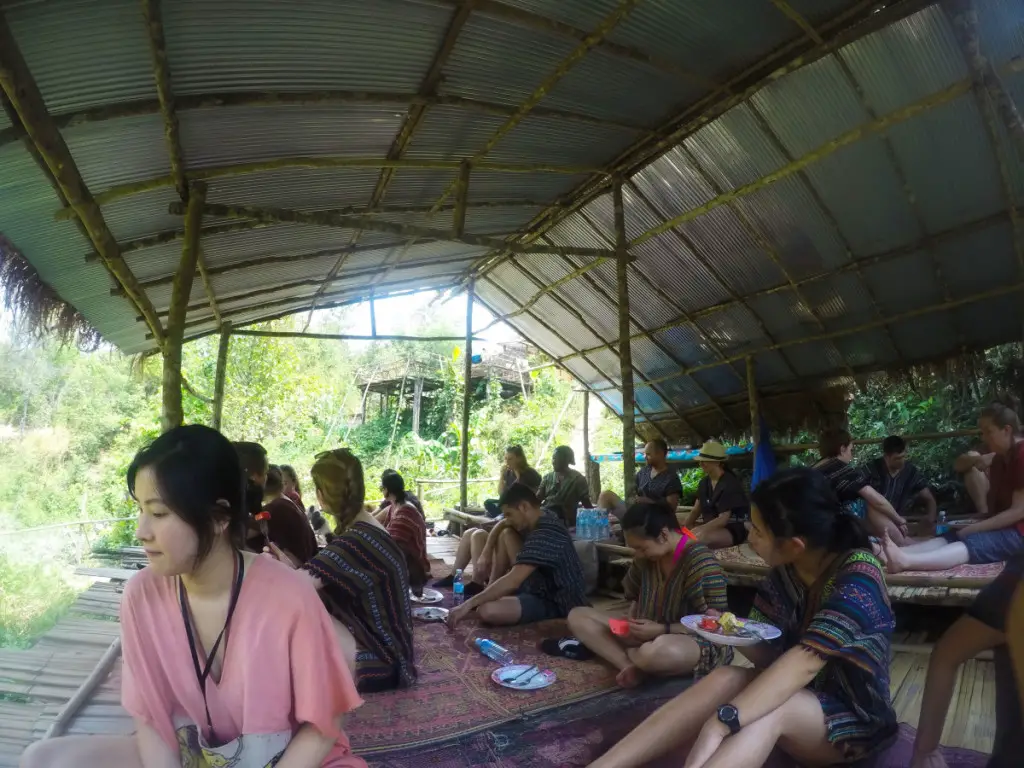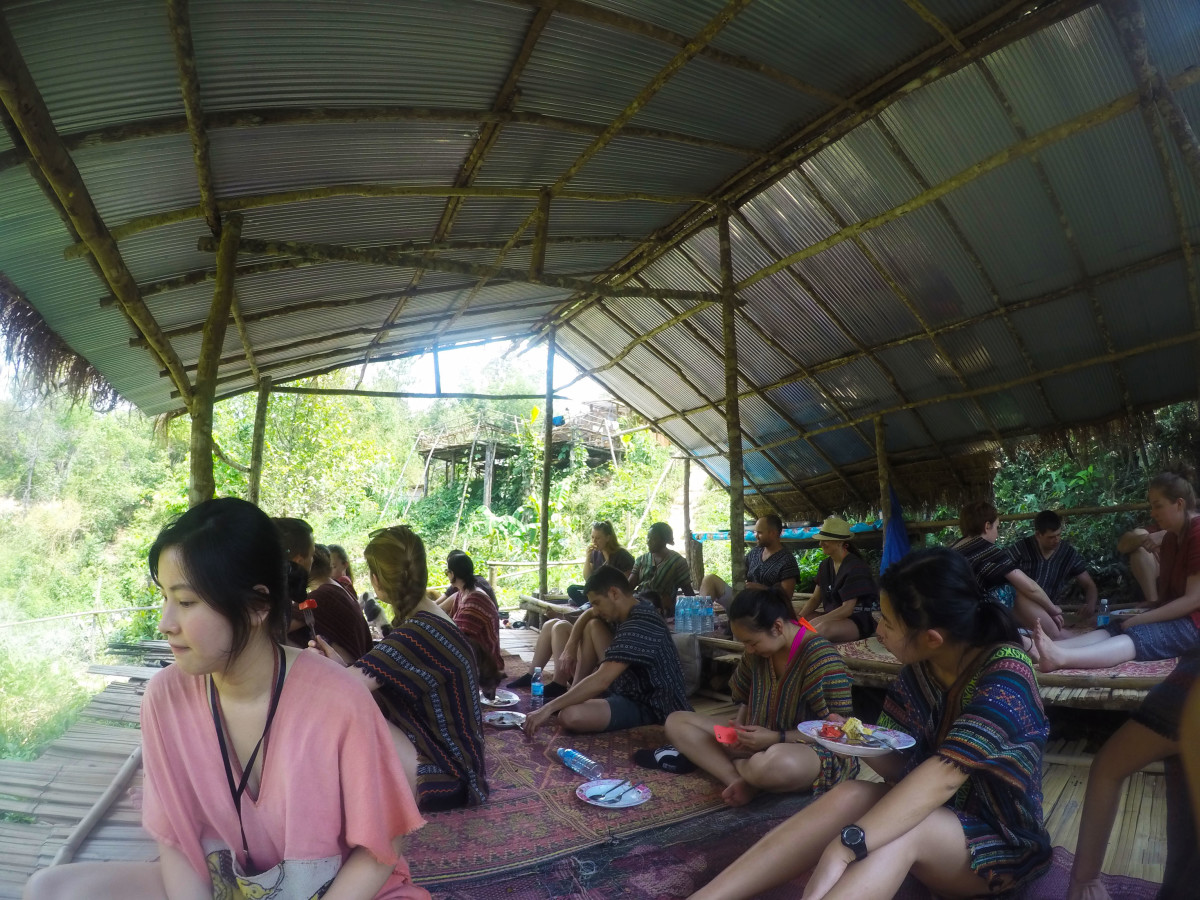 River bathing
 After lunch, we returned the tribal cloth and got ready for river bathing with the elephants.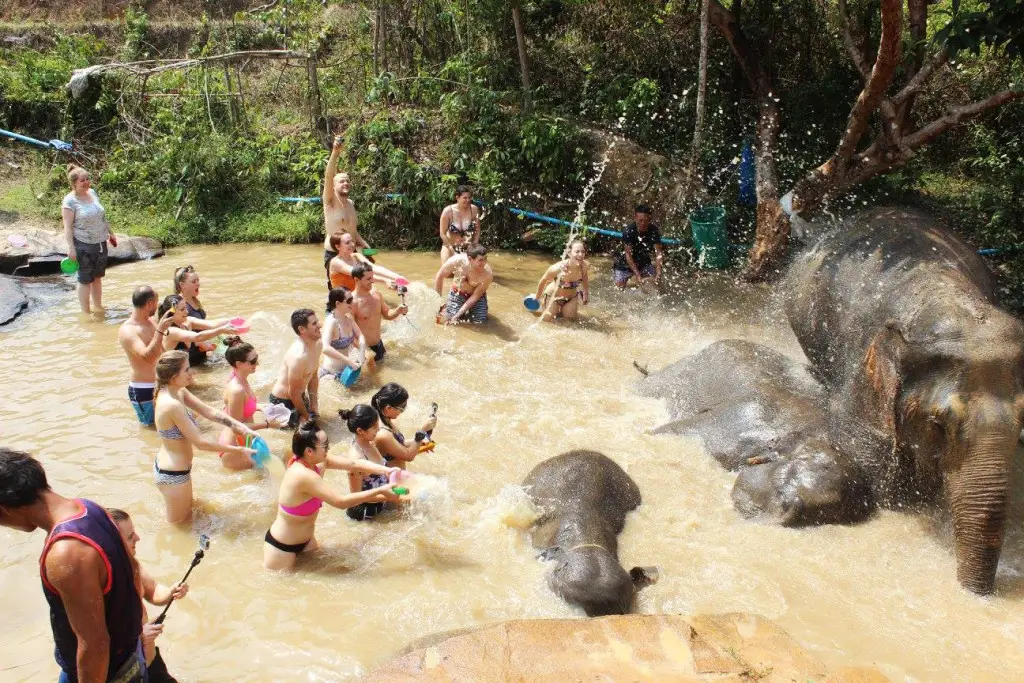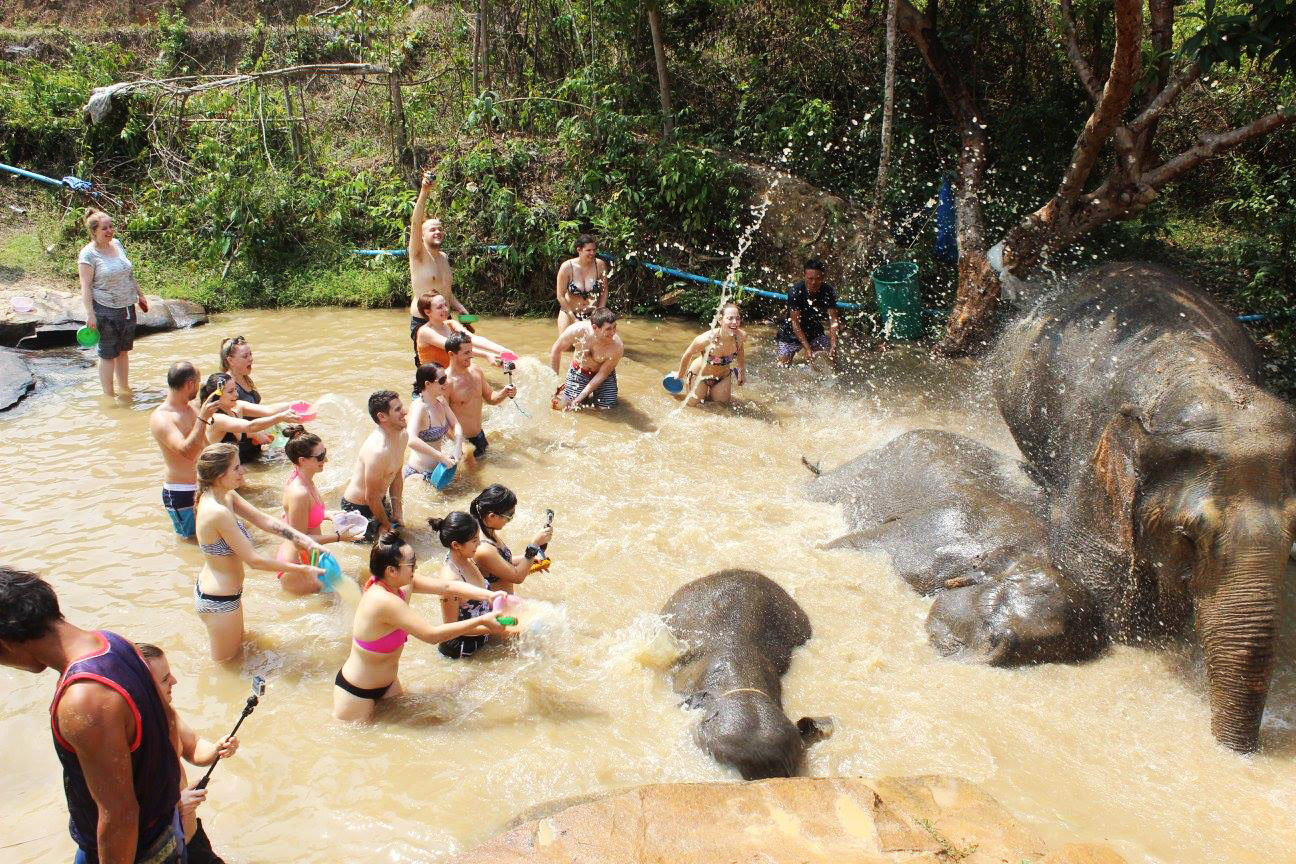 It was more chaotic than fun, but seeing how happy the baby elephant is to play in the water was well worth it. Be aware that the elephants like to lay on their side and roll around in the river, and may kick you (though gently!) a bit.
Side note: if you wear contact lenses, do wear your sunglasses to try and shield your eyes from the muddy river water as much as possible – it doesn't look clean.
Mud bath
 Now if I can be completely honest: SIT THIS ONE OUT. I for one will definitely sit it out given the choice again. I was surprised to see the lack of review on the smell that associated with the mud bath.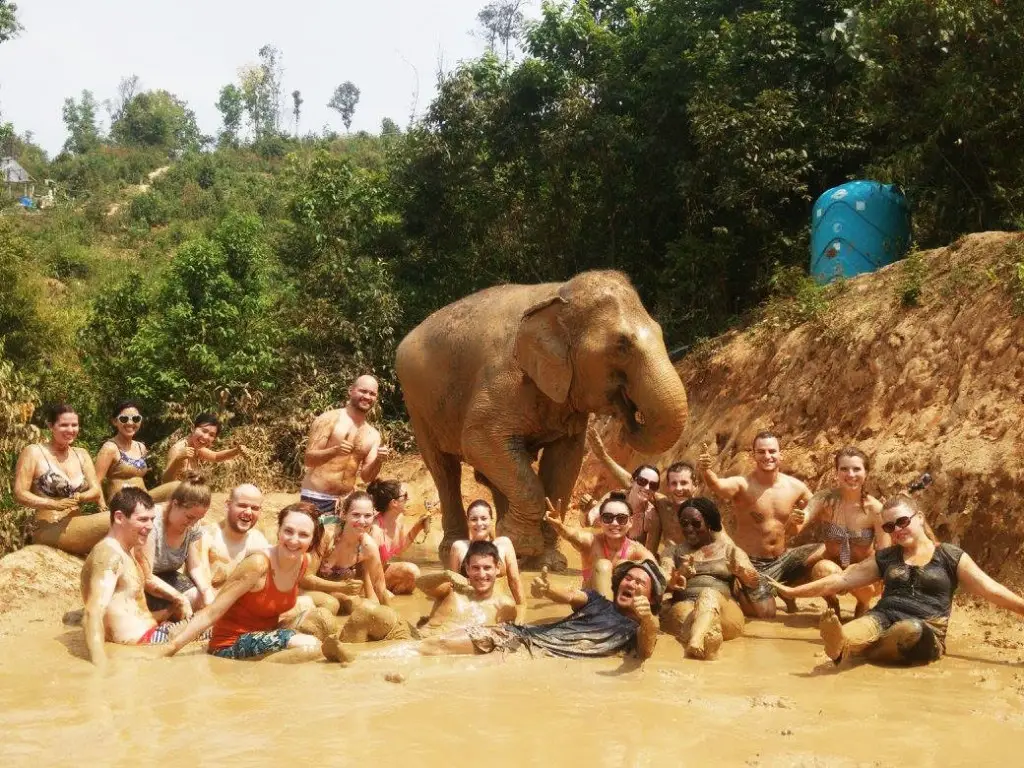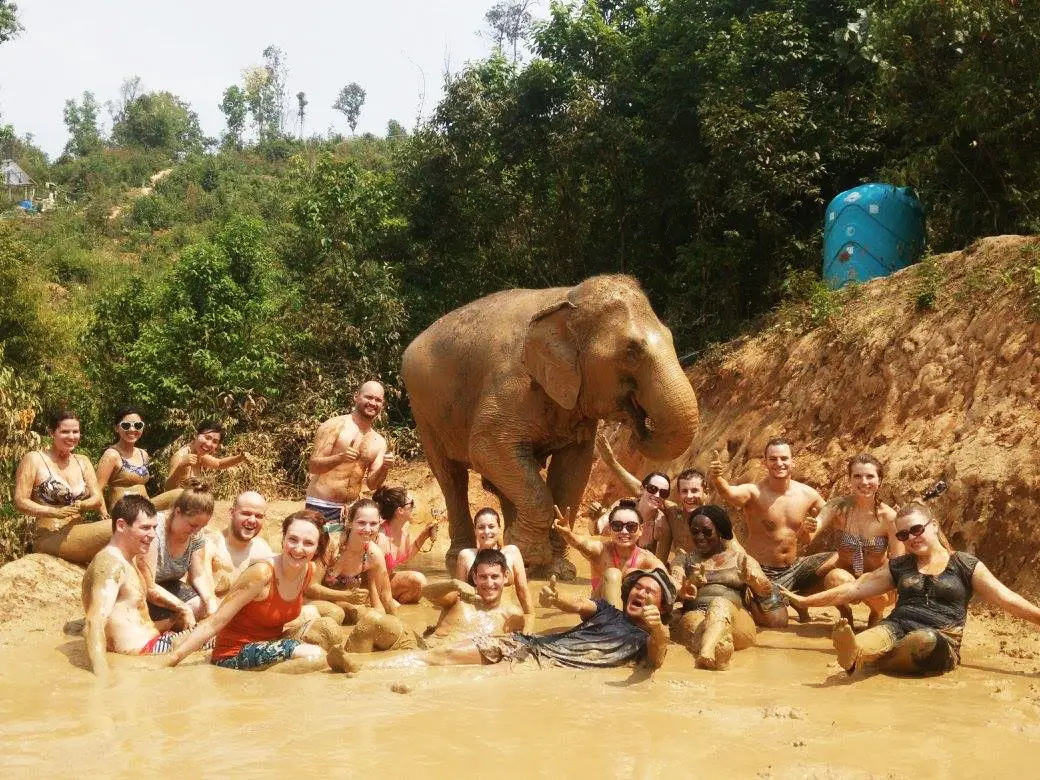 Another factor against going in: the mud stain is very hard to wash off. I threw my beach shorts away because the elastic band was stained beyond wash off, but my bikini top was thankfully salvageable.
And though it is funny that the staff would sometimes chuck mud at you – it can get on some people's nerve, especially if it is smelly mud.
End of Tour
 After the mud bath we washed off again in the river, although that was a hard task as there isn't anywhere near deep nor big enough to fit all of us (there are a few spots you can have a good rinse though, check the photo below!), and after we got changed hot drinks and biscuits were served. There's also a small booth set up selling souvenirs from the tribe as well if you want to get some shopping done.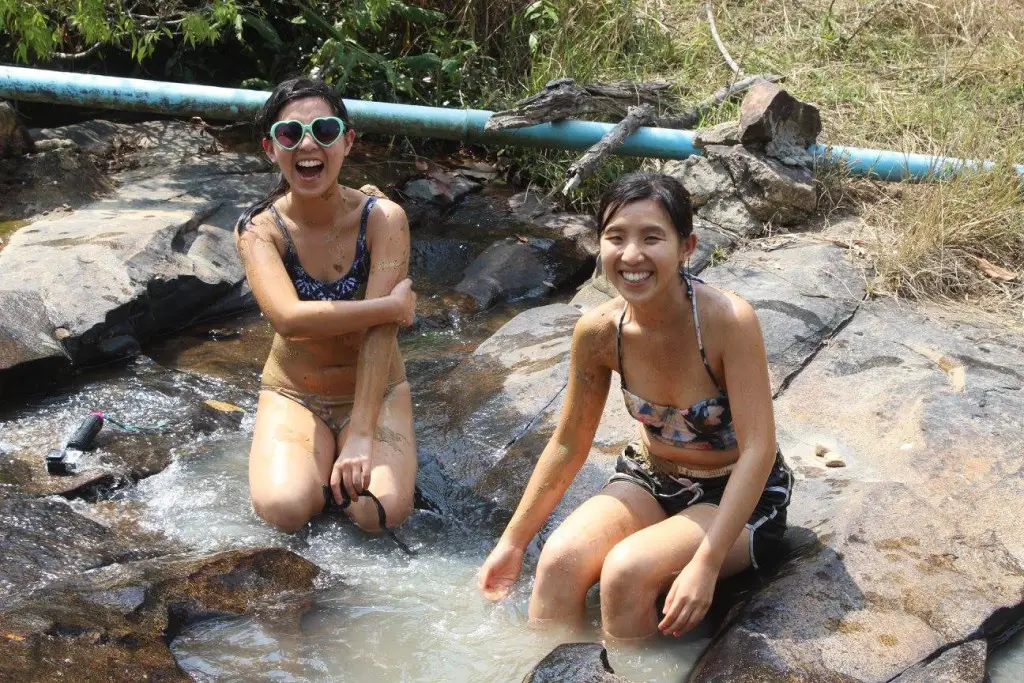 The ride home took 2.5 hours, as we were the last to get dropped off and the traffic around Chiang Mai was more congested.
Overall verdict
 The transportation is the worst part of the trip: the length of the journey is unavoidable, as most of the tours are a fair distance away from Chiang Mai center. But the mode of transportation can definitely be better.
The treatment of the elephant is exactly as they say. No whips or chains were in sight, and the knowledge the host had on the elephants show a genuine interest and care for them.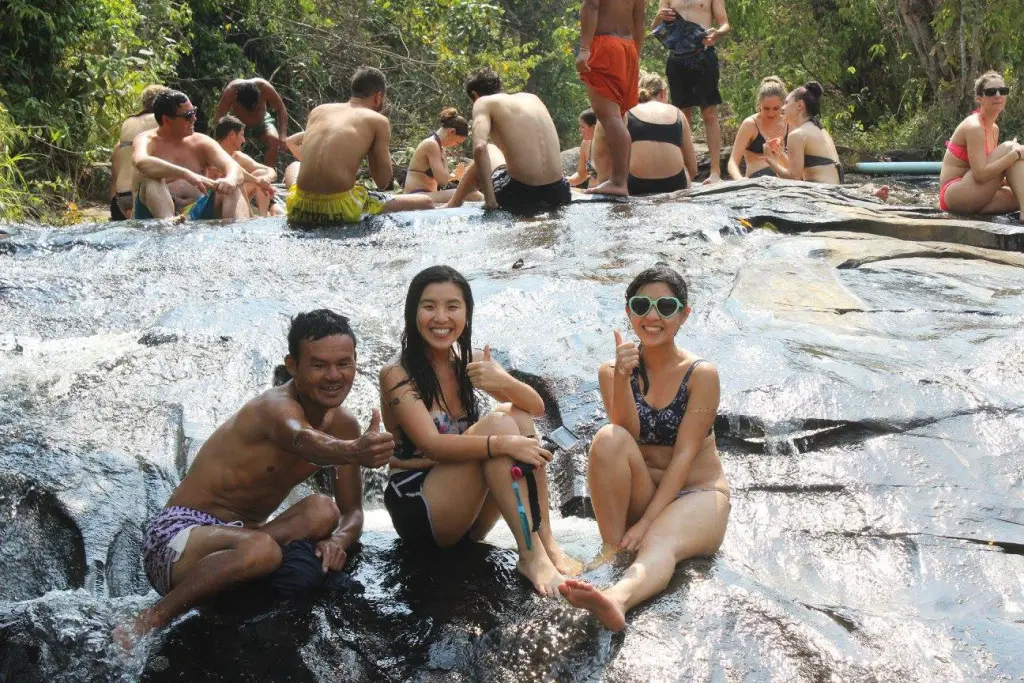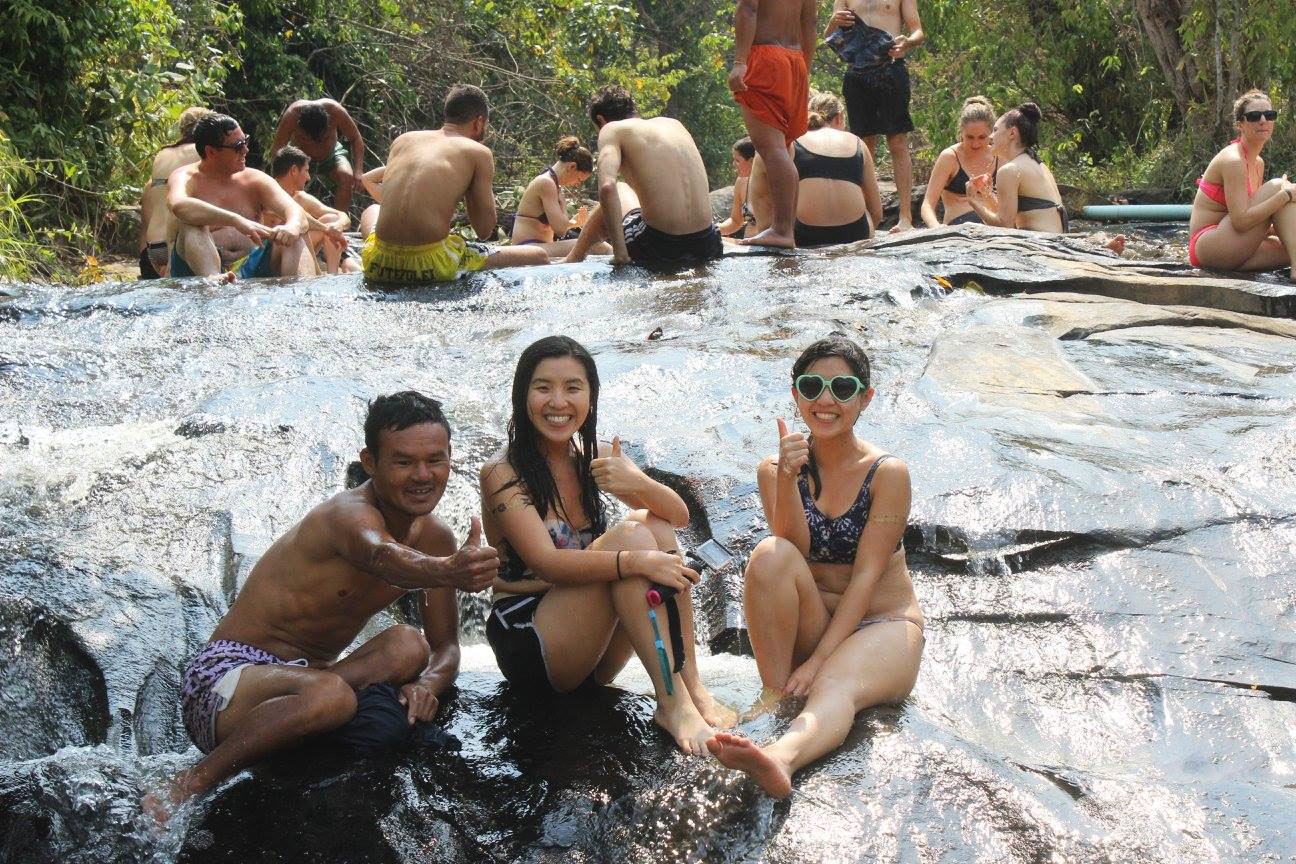 But honestly: avoid the mud bath.