Last updated on May 14th, 2020 at 10:33 am
Khao Sok National Park is one of my most anticipated stops on my month-long trip across Thailand. Arguably famous in the backpacker circles, I hadn't heard of it until I dug deeper into my research. The small town of Khao Sok is the base for all those who want to explore the area, most notably the Cheow Lan Lake.
It wasn't that easy to find information on tours available and the surrounding, and to be fair I was still half confused when I was there. It took me four days but I'm excited to share this comprehensive guide to Khao Sok:

Getting to Khao Sok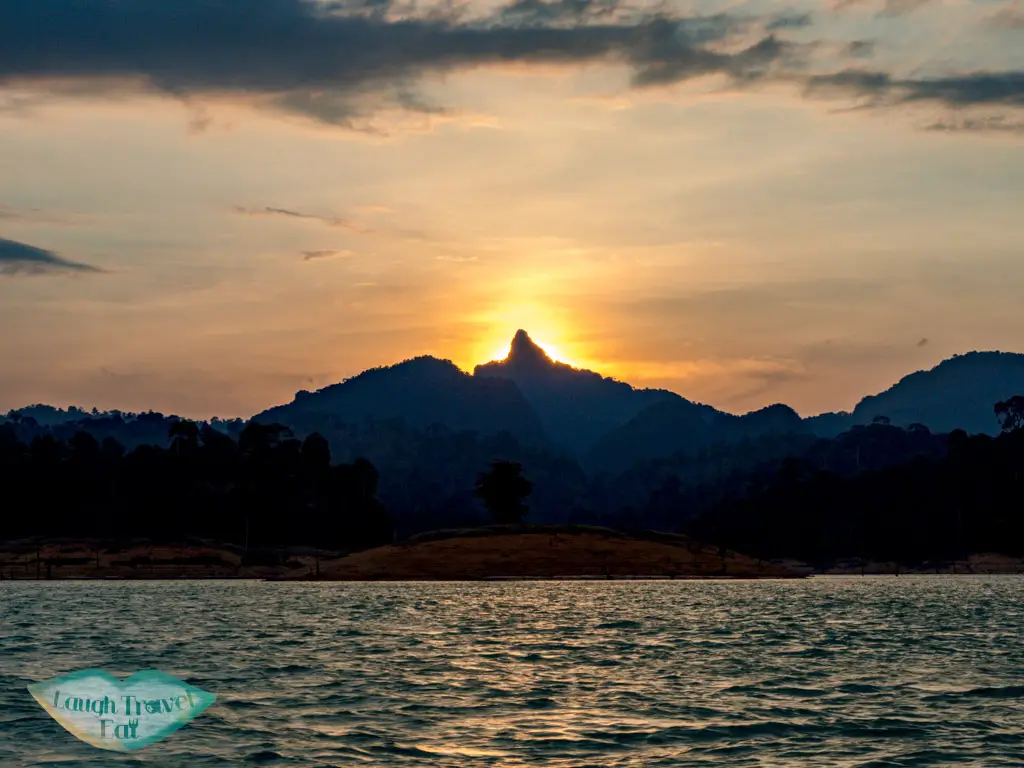 Khao Sok is about an hour from Surat Thani, which services flights from Bangkok as well as the rest of Thailand. It's the fastest way to get to Khao Sok. I was coming down from the islands (Koh Phangan) and got a ferry and bus combo to Khao Sok, which took about 6 hours.
There are also several minibuses daily to and from Phuket and Krabi, both within 2-3 hours away.
I've booked online for most of my transfer around Thailand to save cash, since prices are similar. But I recommend having a Thai number that can make calls, luckily both of my transfers are smooth to and from Khao Sok.

Khao Sok essential info
Khao Sok National Park is a large area but the town itself is small with a main road. Unless you are staying at a resort or accommodation with a package for tours and food, I would not venture far from the main road. Unless you plan to rent a scooter, otherwise getting around is on foot only.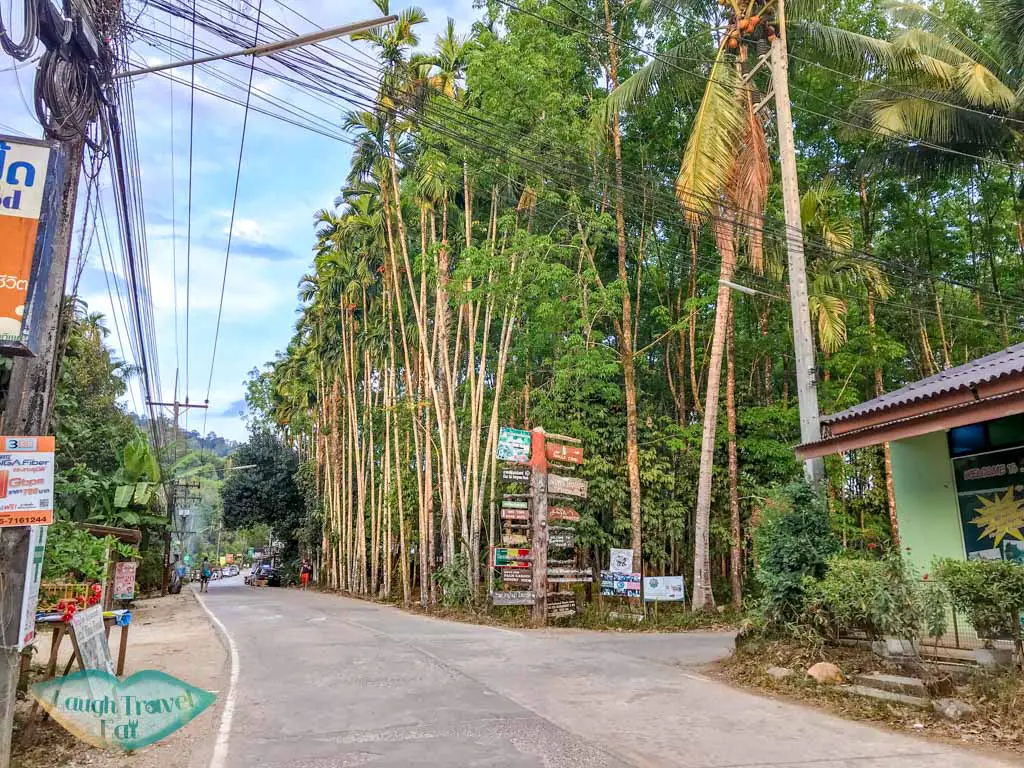 Transfers to Khao Sok are usually dropped by at the junction with the main road. If you arrive in the early morning, walking 10-20 minutes into town is possible but it's too hot during the day. Some accommodations provide free pick up, it's best to check before arrival as many accommodation names are similar.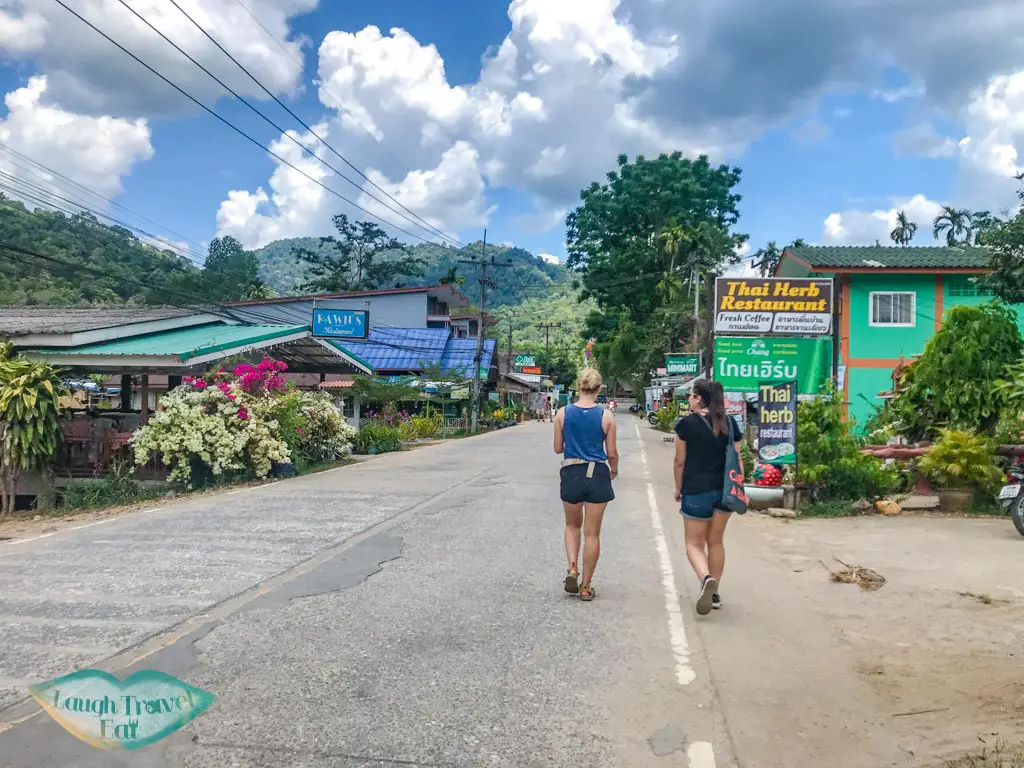 The few minimarts along the main road closes at 10:30 and everything shuts by midnight, so it's not a party destination at all. But it's perfect if you like nature and want to have a more quiet time.

There are songthaew waiting to transport you, and from there to my hostel in the center cost me 50 baht.

For any tours you do or if you want to do the one hike that you can do by yourself, the national park fee applies. It's 300 baht per day (except for the overnight lake tour, which you only have to pay once for) is mandatory and not included

Khao Sok Trekking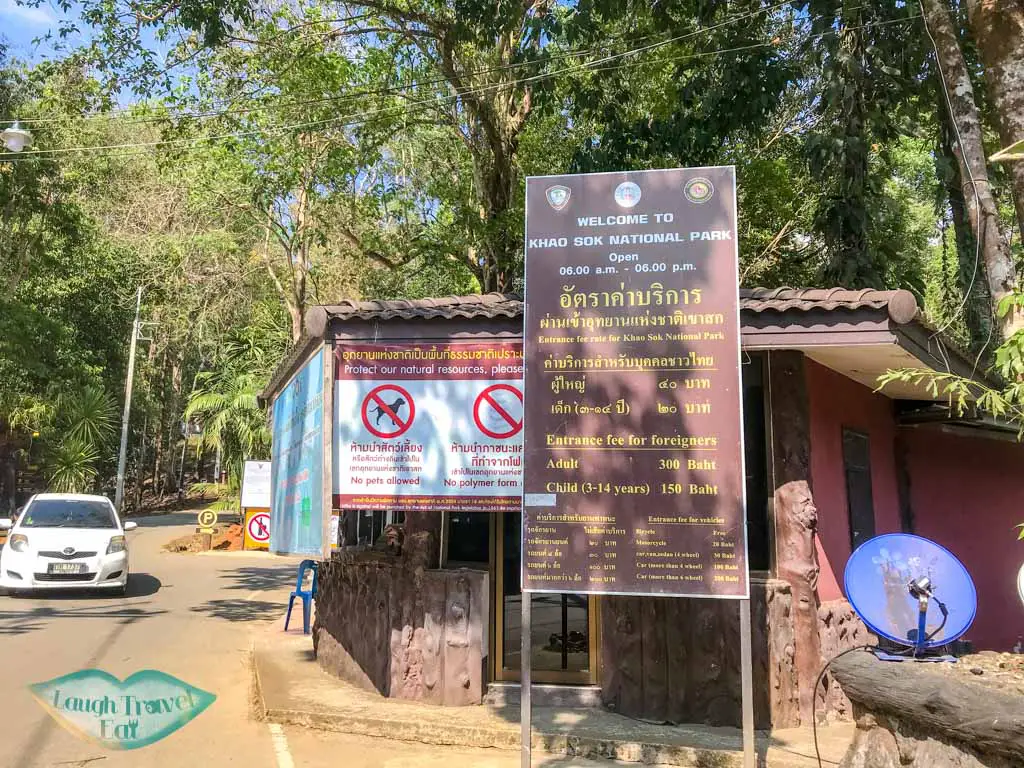 All of the hikes in Khao Sok National Park require a guide except for one. If you are a solo traveller, it is not the easiest thing to do as it relies on your hostel/tour operator to get a group together otherwise you might end up paying for your own guide. Which happened to me.
In general, hikes are either morning, afternoon, full day, or at night. If hiking in Khao Sok is high on your list, try to get a group together yourself is the best thing to do. Cost does NOT include national park fee.

Bang Hau Rad Nature Trail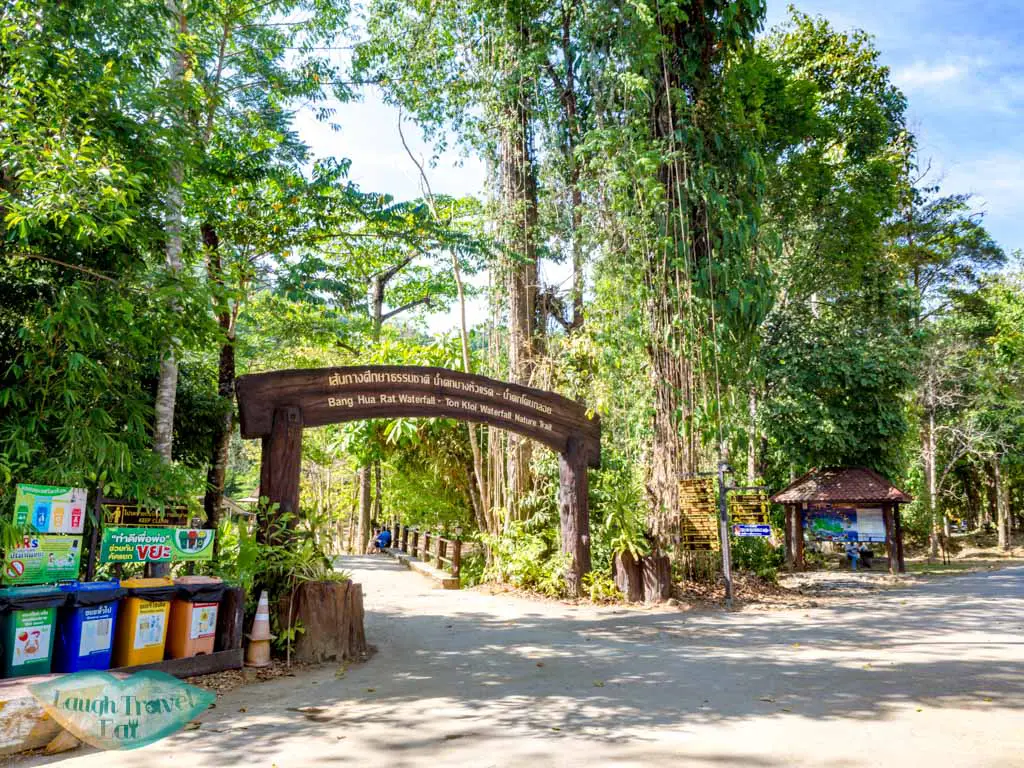 The only trail in the national park that allows visitors without a guide, it's a 5km trek parallel to a river where you can find some rapids and swimming spots.
It's not a difficult hike at all and the path is wide and straightforward, ending at a restaurant where you can find refreshment.
You'd need to have a guide if you want to continue up to the waterfalls higher up, and if I'm being completely honest the ones I saw on the way aren't really that special.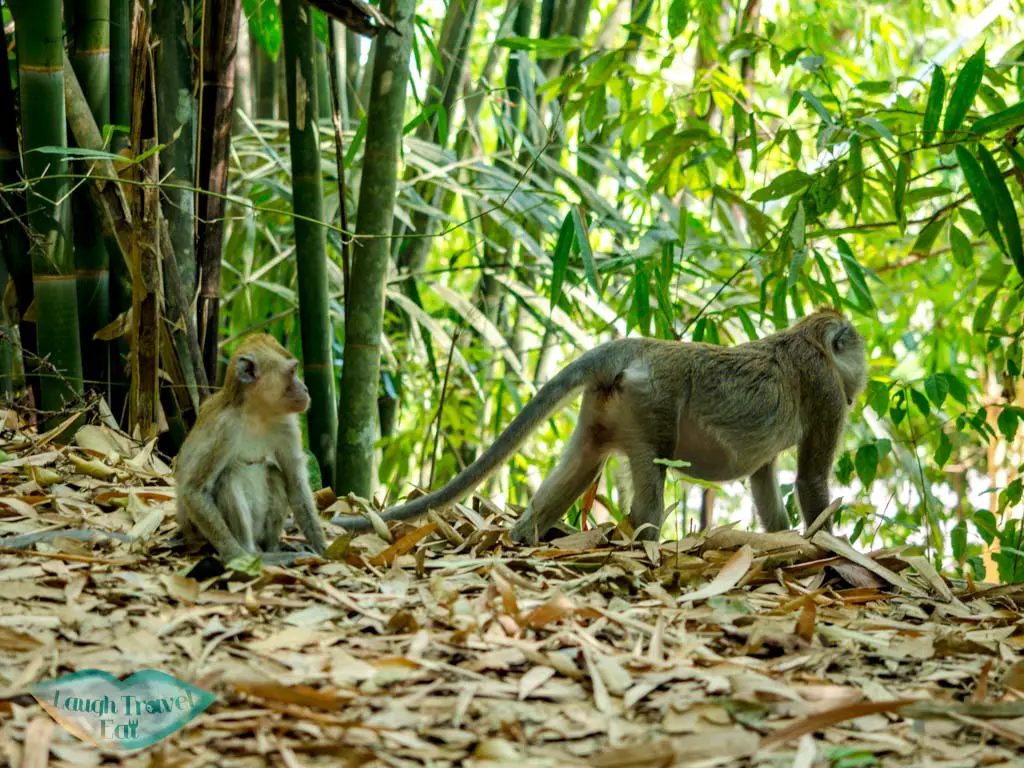 There is a chance you'll run into a few monkeys and it's a good 2 hours trek if you already did a half day hike in the morning.
Cost: free

Tip: the park closes at 6 pm but tickets purchased after 4 pm are valid for the next day, so it might be a good walk if you need a ticket the next day.

Waterfall hike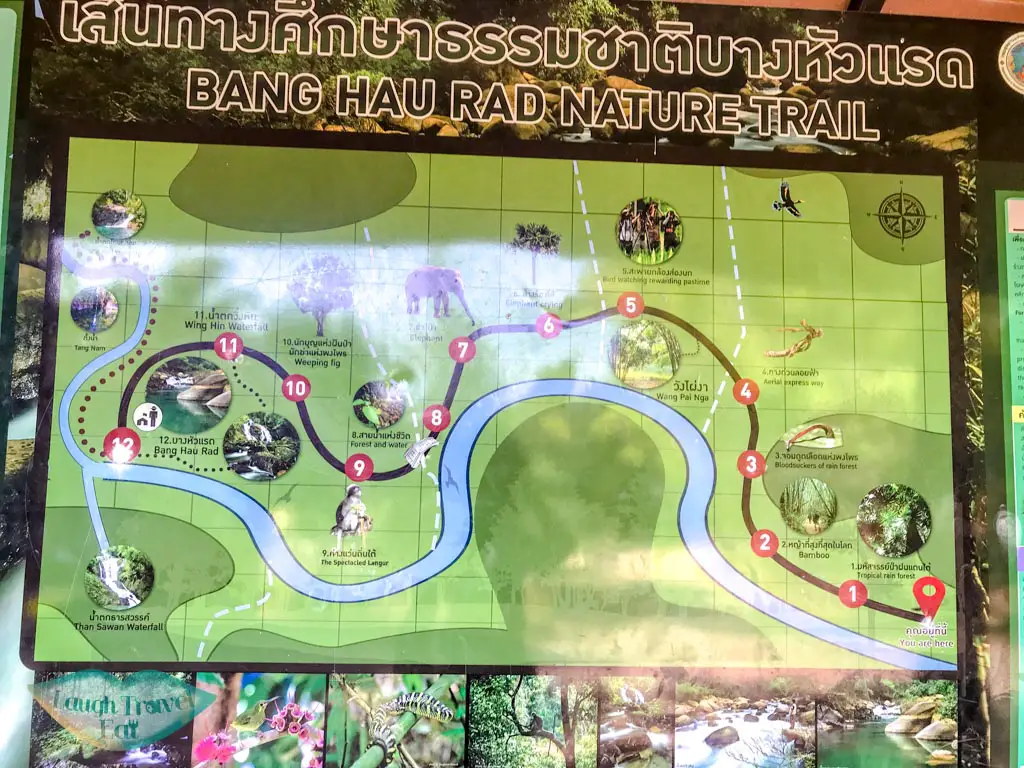 If you want to go up to the waterfalls, you'll need a guide. It's a half day trek as well, lasting 4-5 hours. You can actually combine this hike with the rafflesia hike into a whole day trek that I think would be worth it. Unfortunately, since I was solo, it wasn't an option.

Rafflesia Hike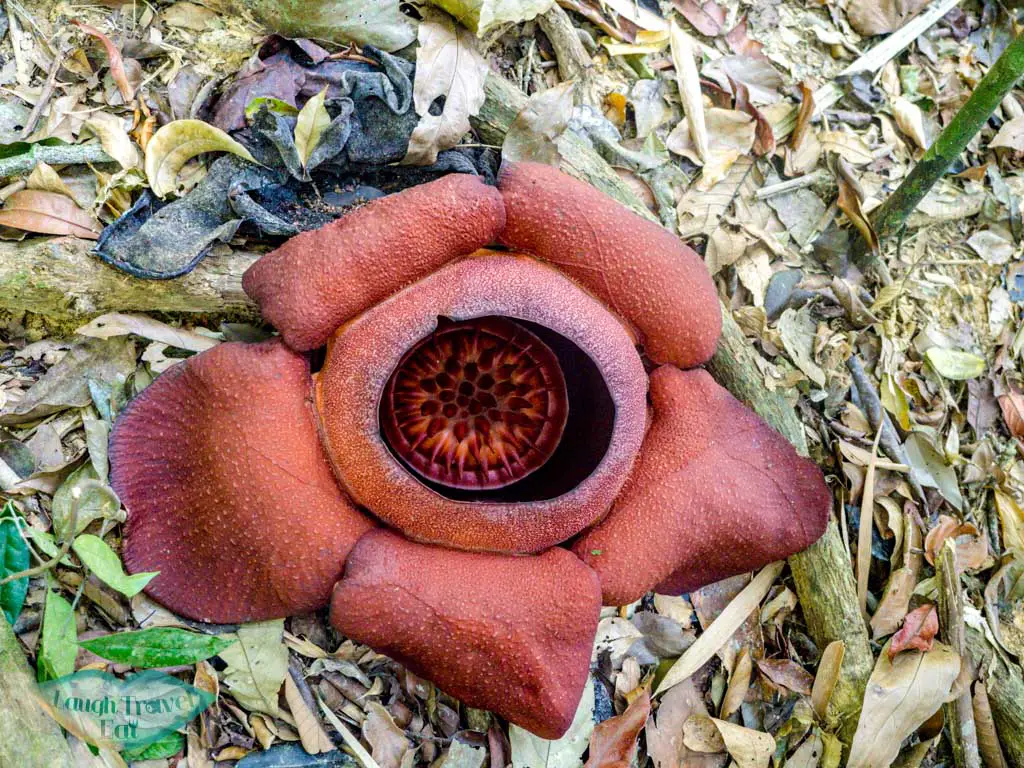 The trail for the rafflesia hike is not at the national park office but along the main road out of the town. You do need to get a ticket first before setting off. I opted to go in the morning when it's less hot and met my guide at 8am at my hostel.
Usually, you do need to arrange and pay (sometimes extra, sometimes included) for pick up and drop off. But since I was solo, I hopped on my guide's motorbike for the short drive over to the starting point.
Cost: 1000 to 600 baht per person depending on how many in the group. Can go higher depends on your tour operator

KM.99 Khlong Pae Nature Trail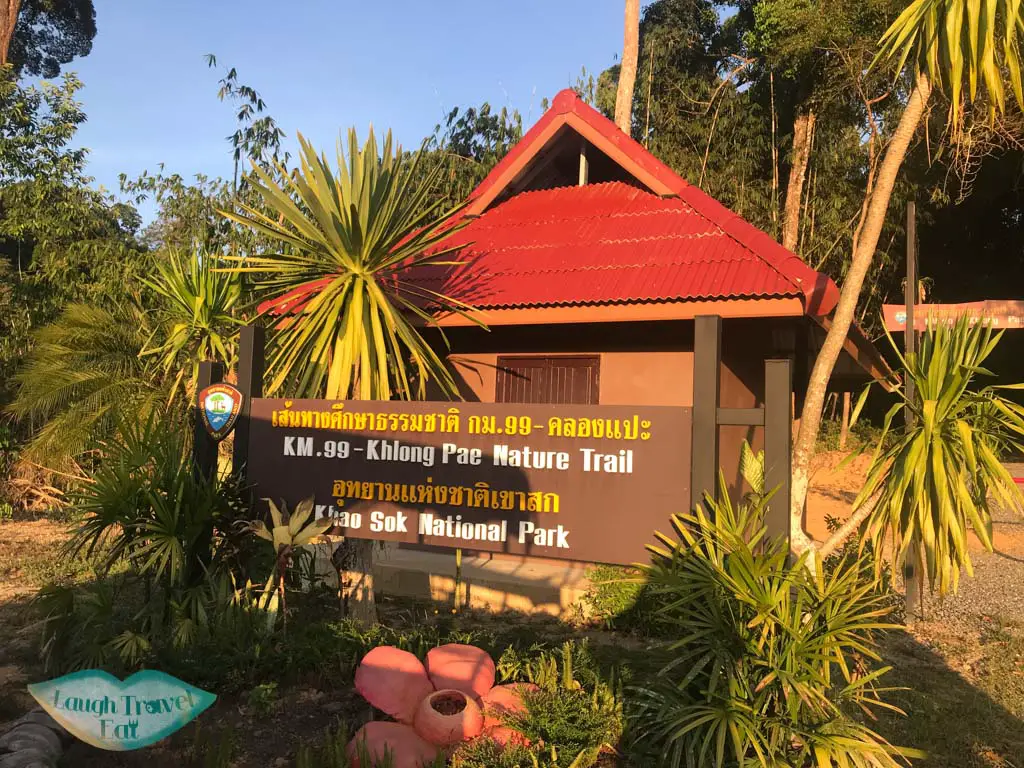 This is a new trail that opened recently according to my hostel owner. It's also some distance from the Khao Sok town but ends at Cheow Lan Lake. Elephant spotting is possible on the trail but it's not advertised as far as I can see. Likely you'll need to be a group and hire a guide to visit.

Night safari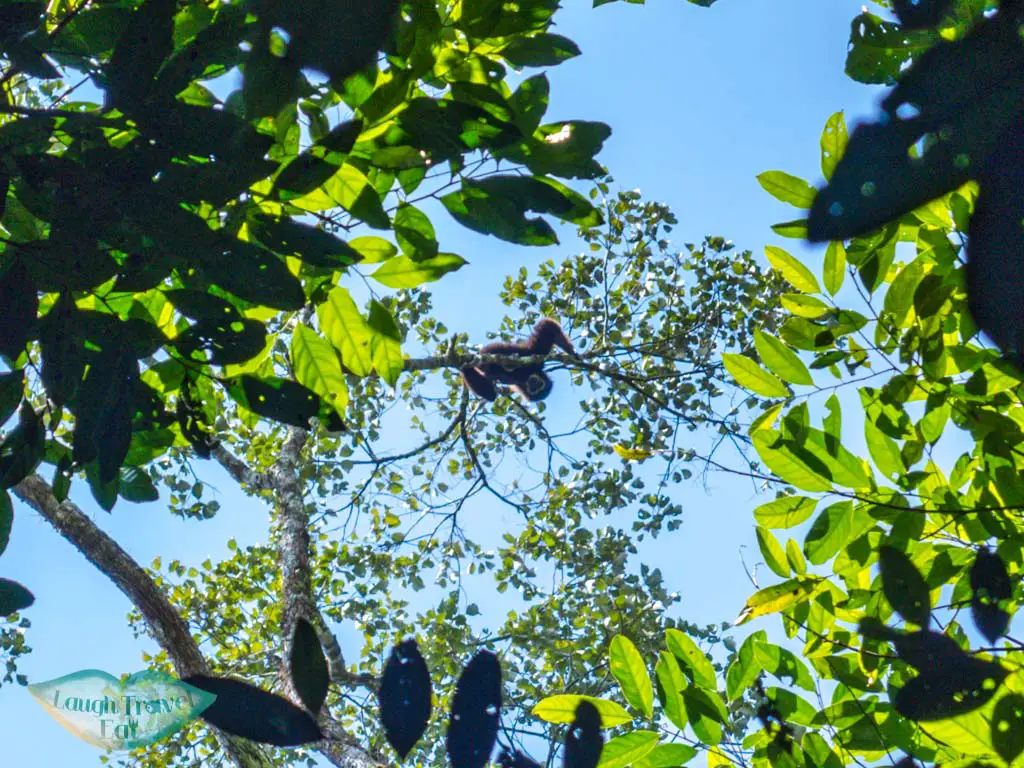 If spotting animals is more your thing, night safari is the activity to go for. That said, be aware that it's unlikely you'll get good photos because it is at night. You'll spend about 2-3 hours trekking through the national park in the dark in a quest to spot its many nautical residents. I actually didn't meet anyone who had done this and opted not to do it just because I was tired of getting bitten by mosquitoes at that point.
Cost: ~600 baht

Khao Sok Lake tour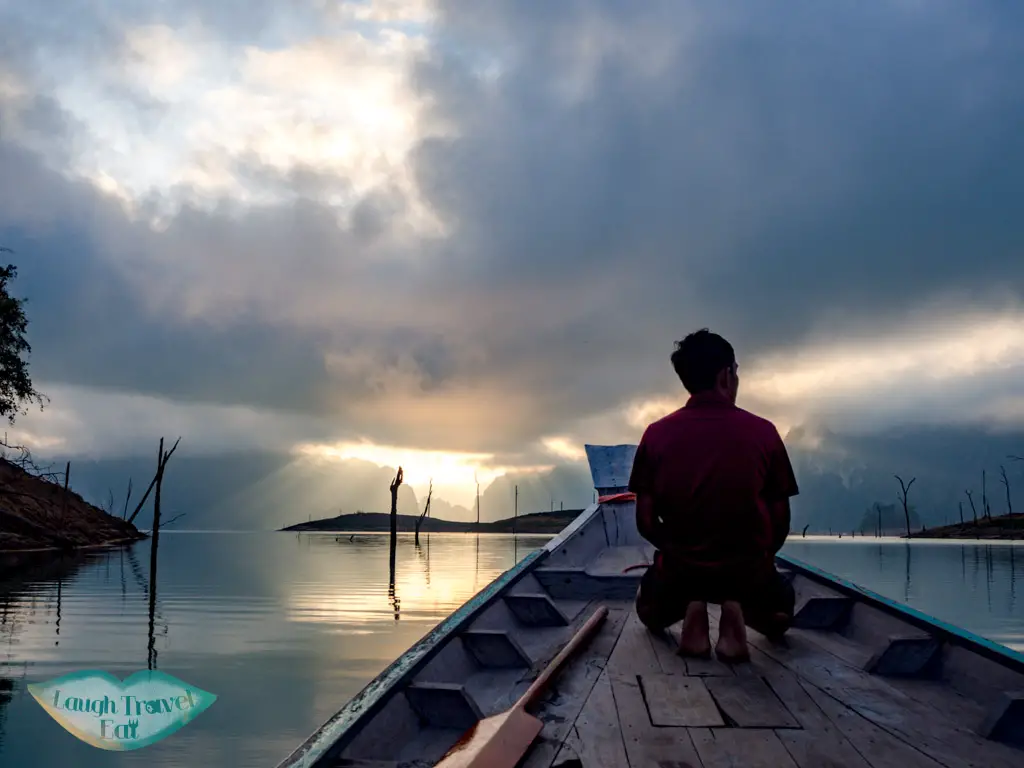 The most popular and must-do tour in Khao Sok is the lake tour. You can do either a day trip or an overnight tour, and I highly recommend the latter. Here is an in depth review of the overnight tour – which I have booked with my hostel.
Cost: 2500 baht

Massages in Khao Sok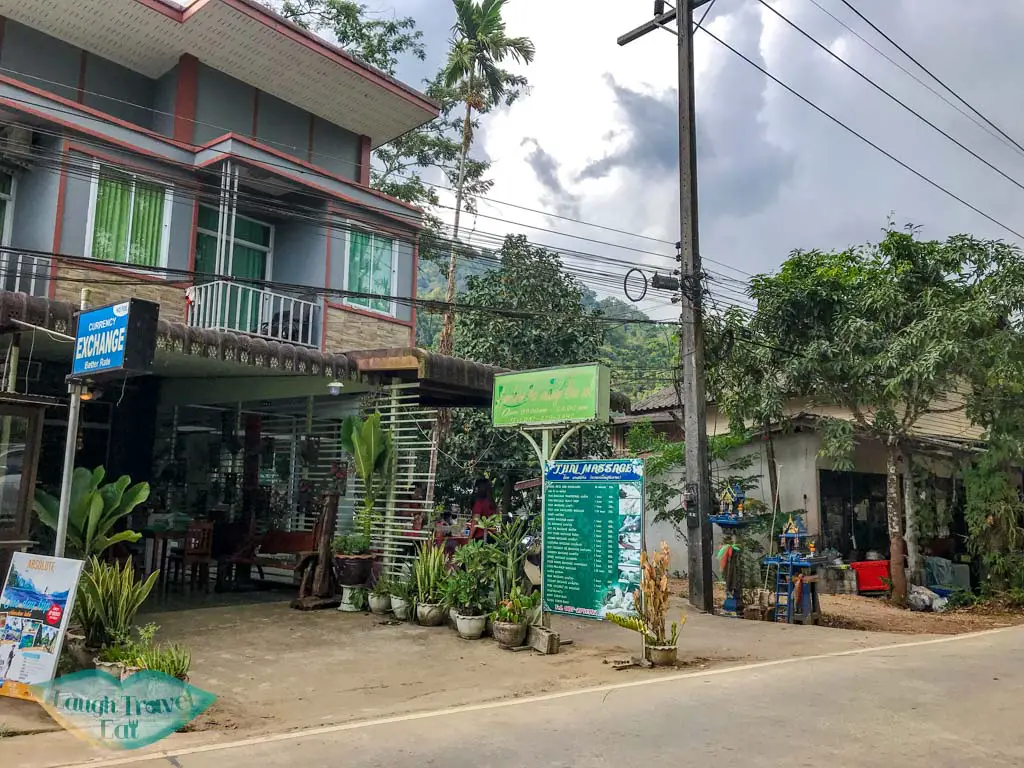 The general price point for an one hour Thai Massage in Khao Sok is 300 baht and upwards, which is more than the usual 250 baht around Thailand. I went to Aunchalee Thai Massage and had an okay experience. The massage itself was decent but the staff kept talking to each other so it wasn't very relaxing.

Restaurants in Khao Sok
There isn't a lot of choice in Khao Sok and I ended up eating only at a few places near my hostel. Prices are on the higher end compared to other cities, but it is in a remote location. These are the two that I like:
Pawn's Restaurant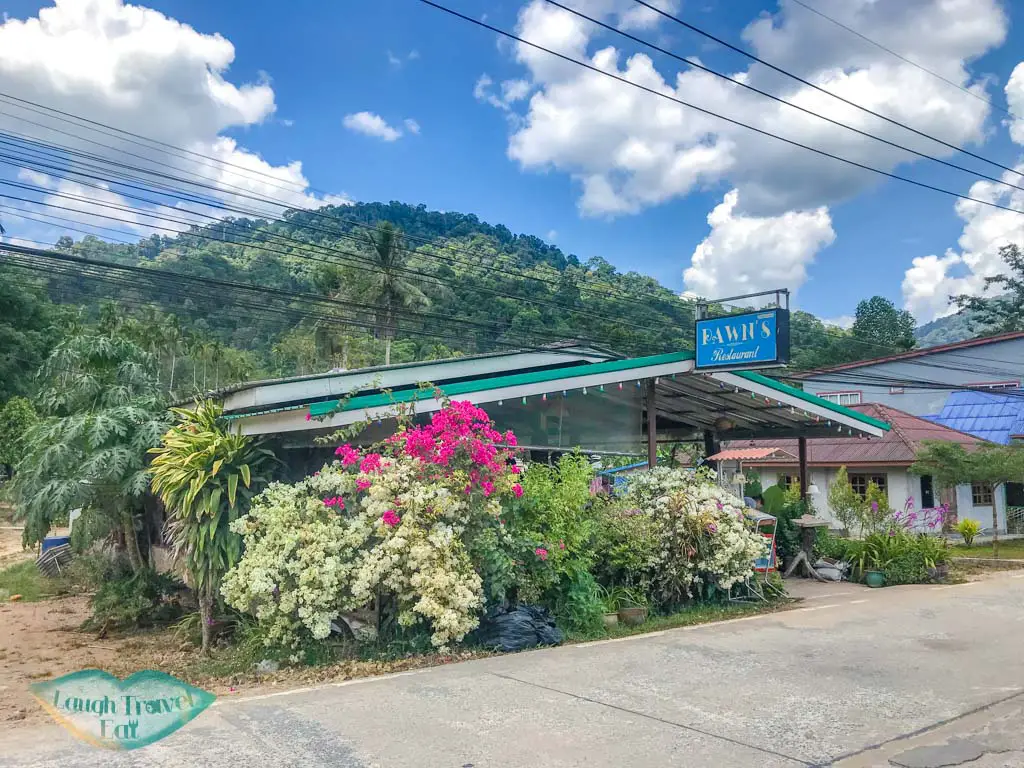 Recommended by my hostel owner, Pawn's Restaurant is one of the most highly rated restaurants in Khao Sok that serves traditional Thai food but also some western dishes.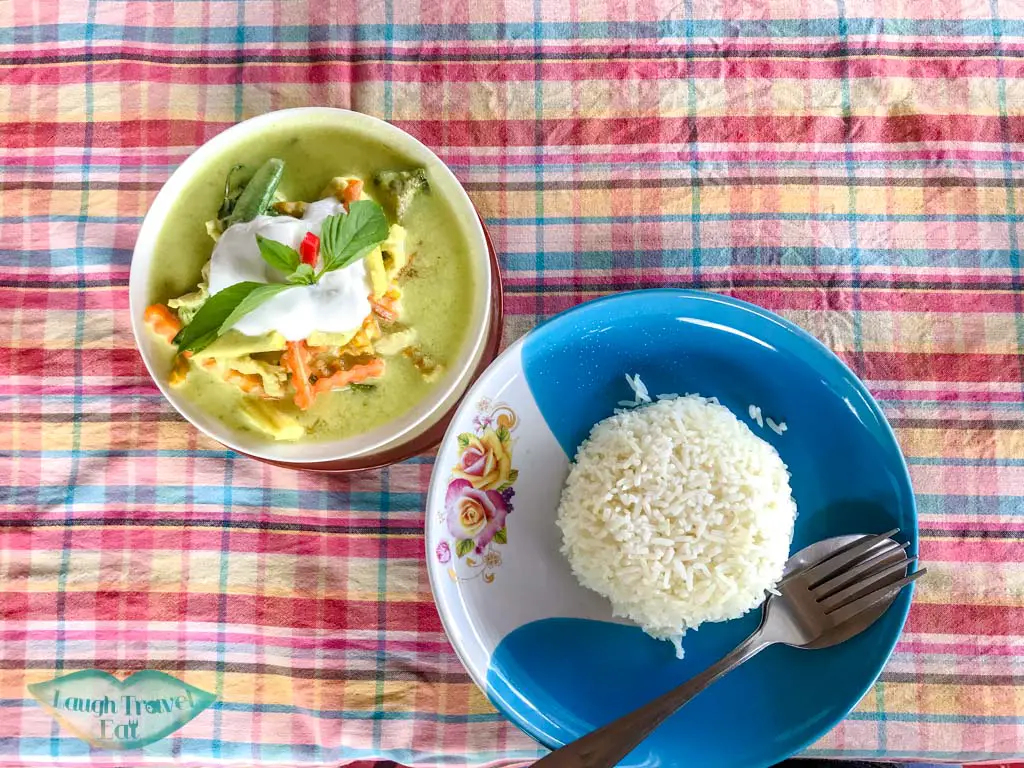 It's a little pricey even for Khao Sok, but the green curry I had there is pretty good and the portion runs on the larger size.
Opening times: Thurs – Tues 9:00 – 21:00; Weds 10:00 – 21:00
PizzaZo Khao Sok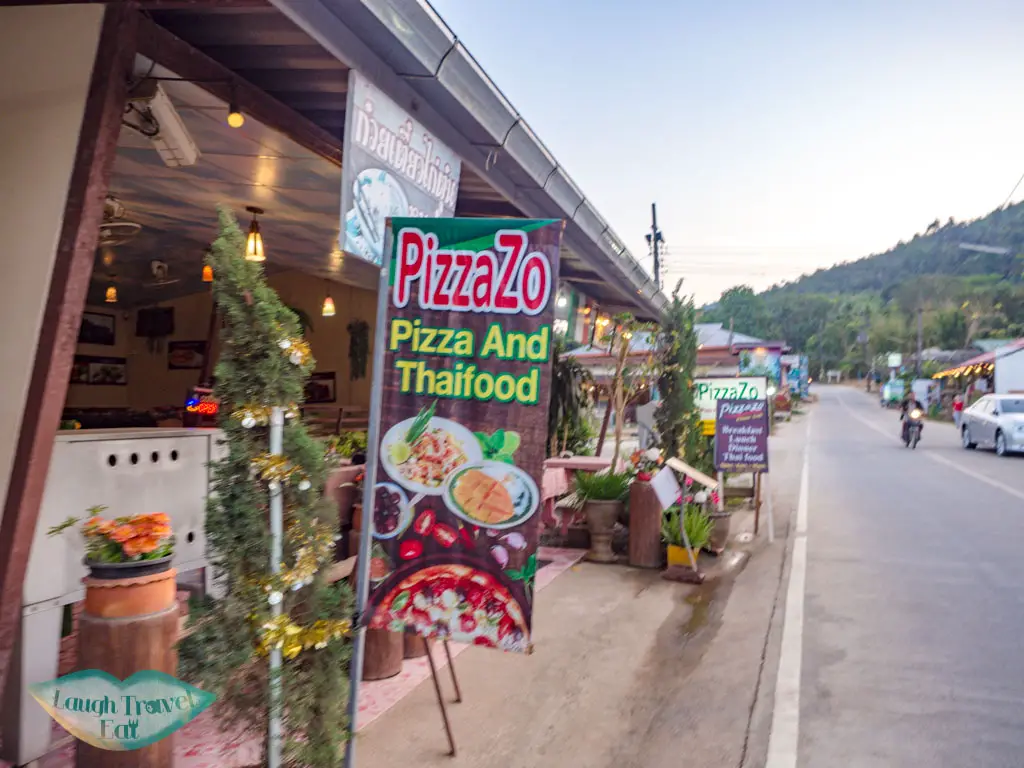 Compared to Pawn's, I prefer PizzaZo since it is cheaper hence value for money and also tastes good. It doesn't hurt that it's closer to my hostel even by just a little.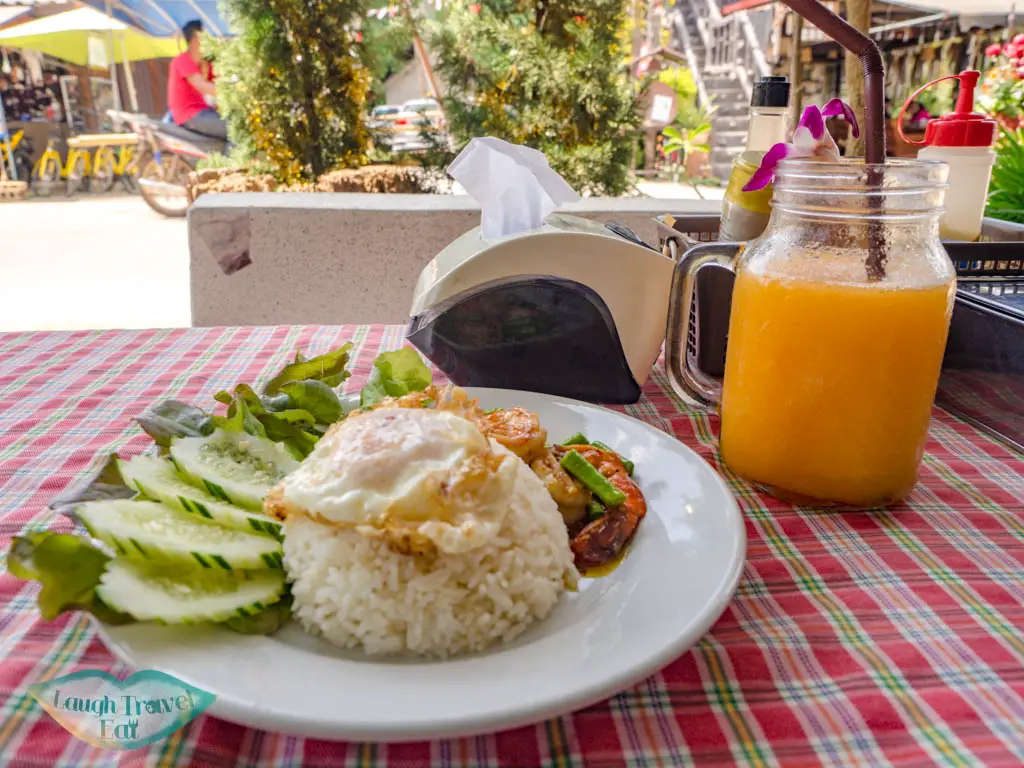 I ended up eating here twice since it's convenient and I enjoy all of their fuss-free thai dishes with rice. A rice dish with fruit smoothie costs around 120 baht, which is pretty decent in this part of Thailand.
Address: two shops down from Jungle Hostel
Opening times: 6:00 – 22:00

Where to stay in Khao Sok
Budget: Jungle Hostel is a tiny hostel with only 6 beds – all of them single beds, with shelves in between for privacy. Sunny keeps the place very clean, and there's enough bathrooms for all of us without queuing. He also lends us all the equipment for free, which is a bonus since as backpackers most of us don't have a wet bag, wet shoes etc.
I did get bitten by bed bugs but it was an isolated incident as no one else had issues. It also takes a while to book the tour and get all the information from Sunny, but I don't speak Thai and that's my problem 🙂 He's not always at the reception either, but just call his name or wait around a little. It's not as social as other hostels, since most people only stay 1 night and leave for the overnight lake tour. But I like it since you come back every day tired, but that could be a deciding factor for some.

For non-solo travelers, Khao Sok Jungle Huts Resort up the road is affiliated and a good choice. I can vouch for their good breakfast and staff are helpful.

Mid-range: The Bliss Khao Sok Boutique Lodge is on a small road 10 minutes from the mainstreet which means it's quieter. Guests love the clean and modern room as well as the surrounding.

Splurge: it can be tough to be out in the heat all day (or overnight) so if you want to treat yourself, look no further than Montania Lifestyle Hotel. It occupies a space by the main road in the southern section so it's convenient to reach but still secluded. Did I mention they have a pool?