Koh Phi Phi is an island between Krabi and Phuket in the Andaman Sea, famed for its crystal clear water. It has a bit of a reputation for being a party island with backpackers, but there's also a quieter, serene side. Whether you are looking for a quick itinerary to see the best of Koh Phi Phi on a budget or want to find barefoot luxury, here's a guide for you.

Getting to Koh Phi Phi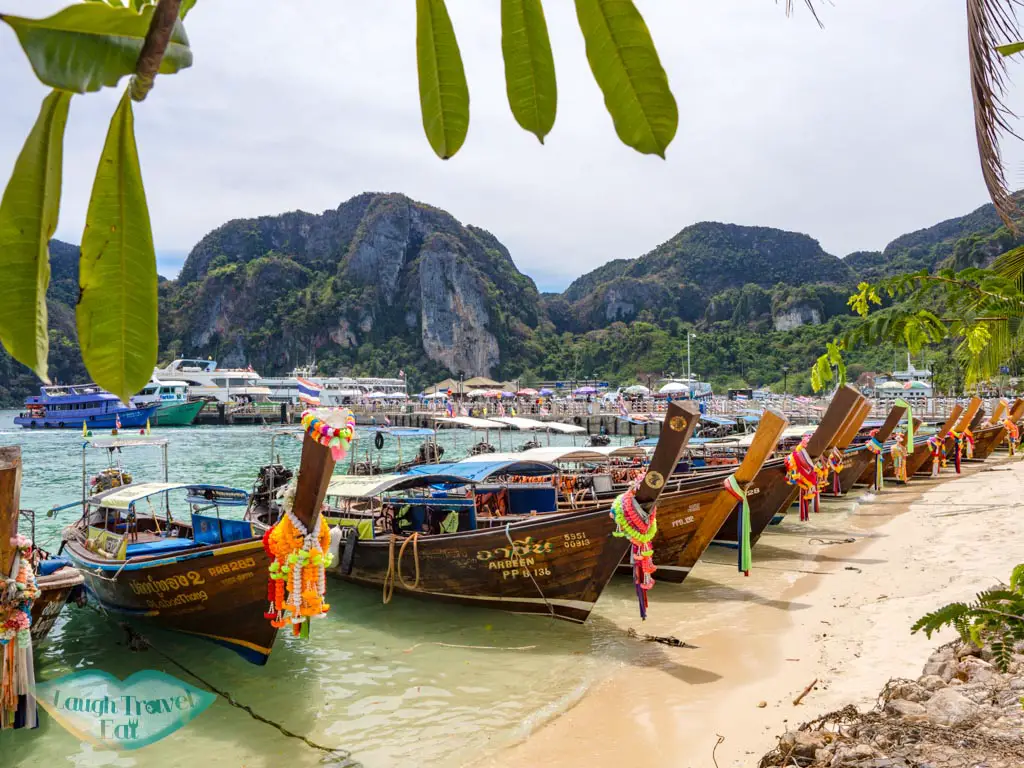 Koh Phi Phi is a popular island and there are plenty of ferry services from other top destinations such as Phuket, Railay, Ao Nang (both are in Krabi), and nearby islands like Koh Yang Noi. your hostel should be able to arrange a transfer for you.

Koh phi phi to krabi
I departed to Koh Phi Phi from Ao Nang and booked a fast speed ferry online. I called the tour company who arranged for me to be picked up to the pier and got on the speedboat at the scheduled time. This took about 2-3 hours.
An overview of Koh Phi Phi
Koh Phi Phi consists of two islands: Koh Phi Phi Don and Koh Phi Phi Lei. The latter is where Maya Bay, the filming location for the Beach, is, but it's not inhabited. Koh Phi Phi Don is where everyone will stay and can be roughly split into Tonsai Main Town and the Laem Tong Beach area.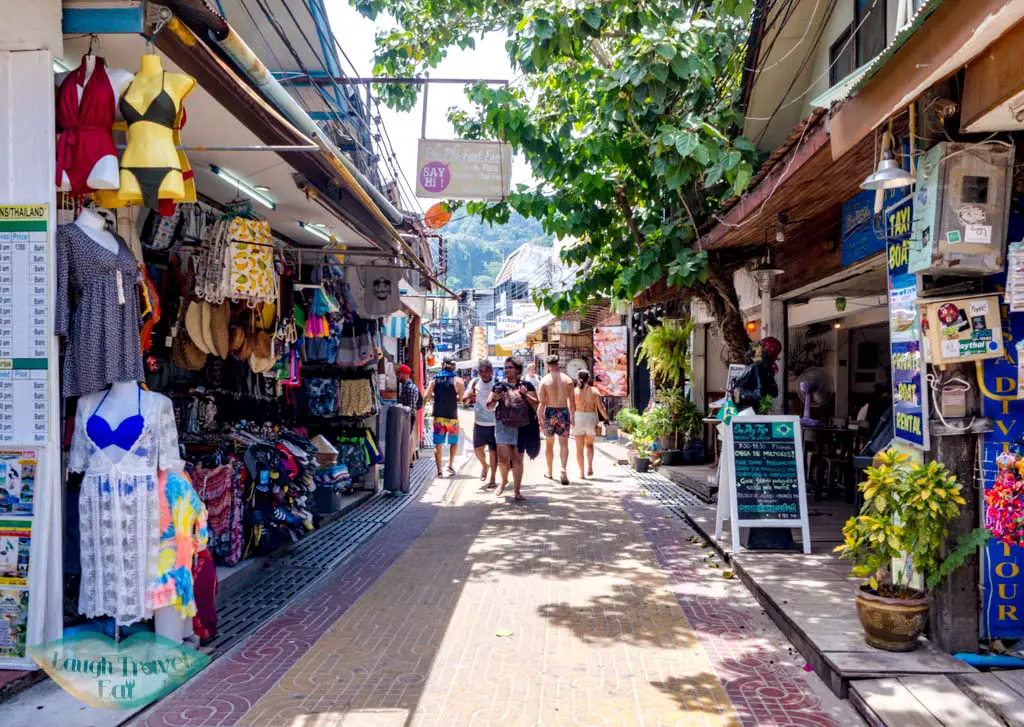 Tonsai is where most of the restaurants and all of the hostels in Koh Phi Phi are. It's more noisy but central. Laemtong is about 30-40 minutes walk from Tonsai to the north with only a handful of hotels and resorts.

Koh Phi Phi beach
When on a tropical island, spending as much time on the beach as possible is the goals of many people. Koh Phi Phi definitely has some great beaches given that it's not very big. Here are the ones you can reach on foot:

Note: you have to swim inside designated areas inside safety nets as longtail boats come in and out of beaches all the time.

Loh Dalum Beach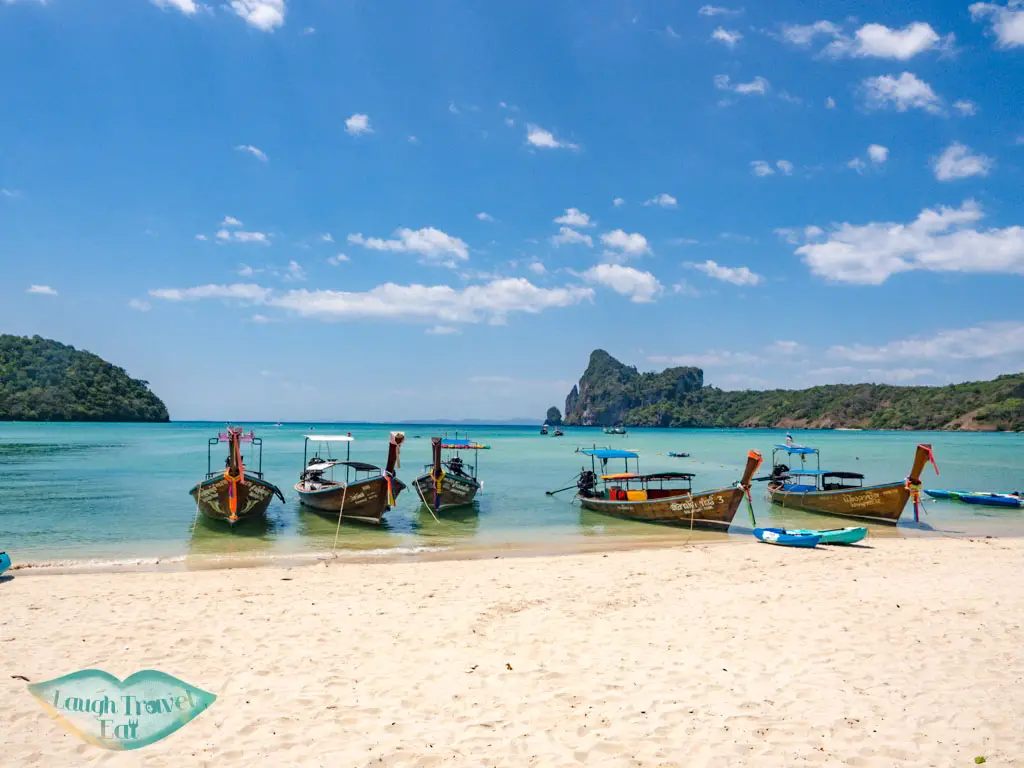 On the other side of Tonsai from the pier, Loh Dalum Beach is literally minutes' walk from Tonsai. It has less boat traffic with plenty of space for sunbathers, with trees for shades by edge. But it does have a fair bit of foot traffic and various kayak rental vendors.

Viking Beach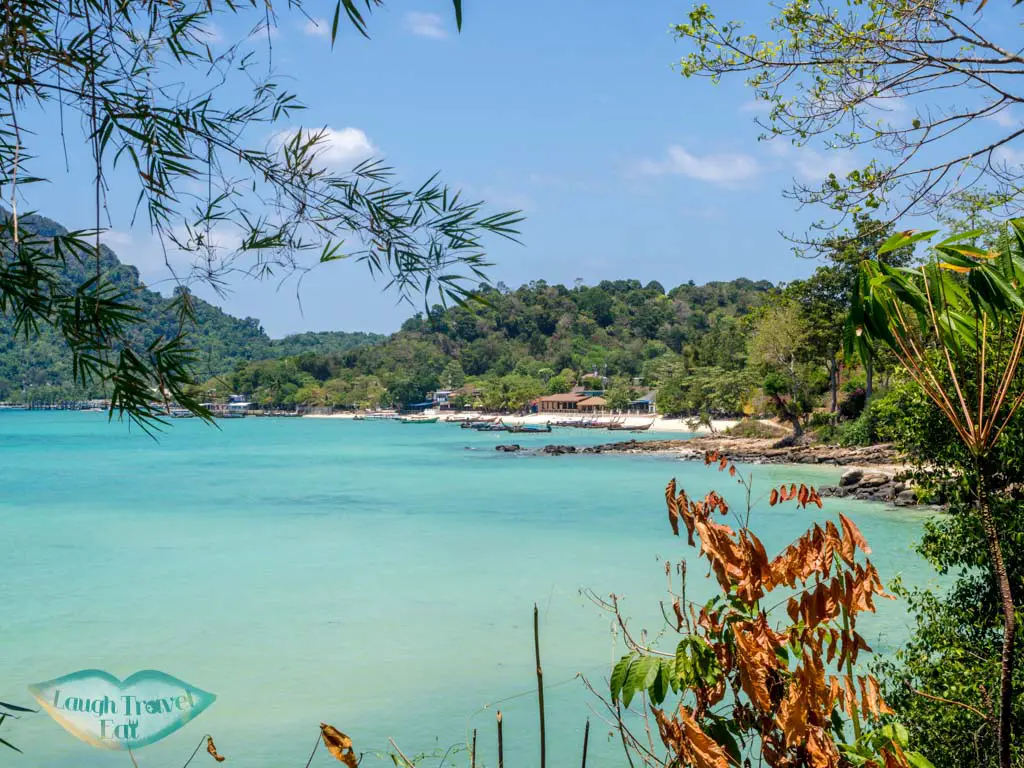 Head east from Tonsai and you'll find yourself meandering through resorts towards a quieter side of Koh Phi Phi.
Viking Beach is not a big stretch, but definitely relatively secluded but much smaller. But some don't have a designated swimming area so be careful.

Long Beach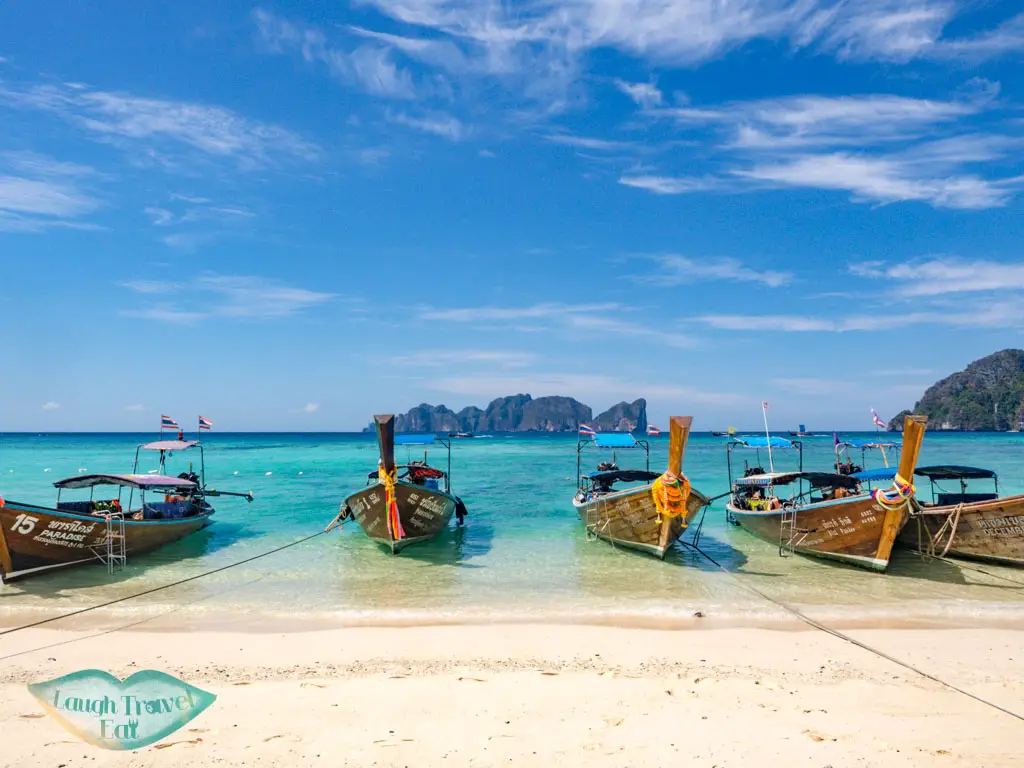 Rated one of the best beaches on Koh Phi Phi, Long Beach is on the southeastern end of Koh Phi Phi Long with a great view of Koh Phi Phi Lei. It's about another 15-20 minutes further from Viking Beach. There is a steeper descent to the beach, so make sure you have footwear on (flip flops are fine).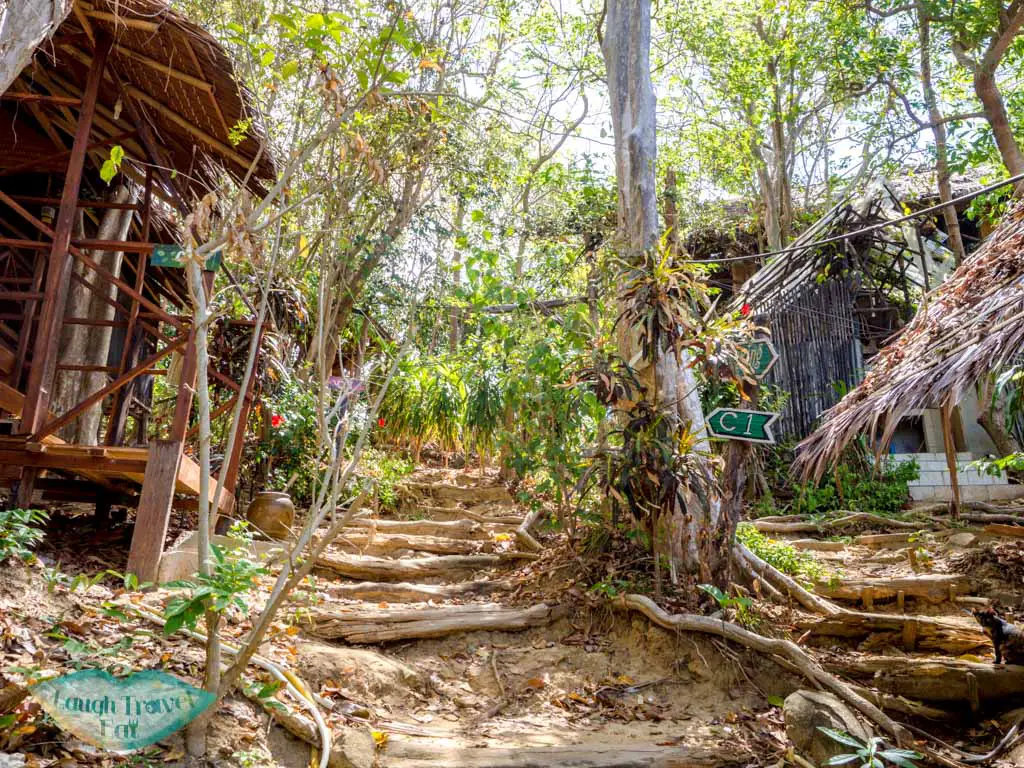 It's a fairly long beach with a few restaurants and hotels running along it with the famed snorkeling spot Shark Point at the end. However, there is no snorkeling gear rental here and the short distance to Shark Point is also frequented by longtail boats. I won't recommend veering outside the swimming areas there.

Laemtong Beach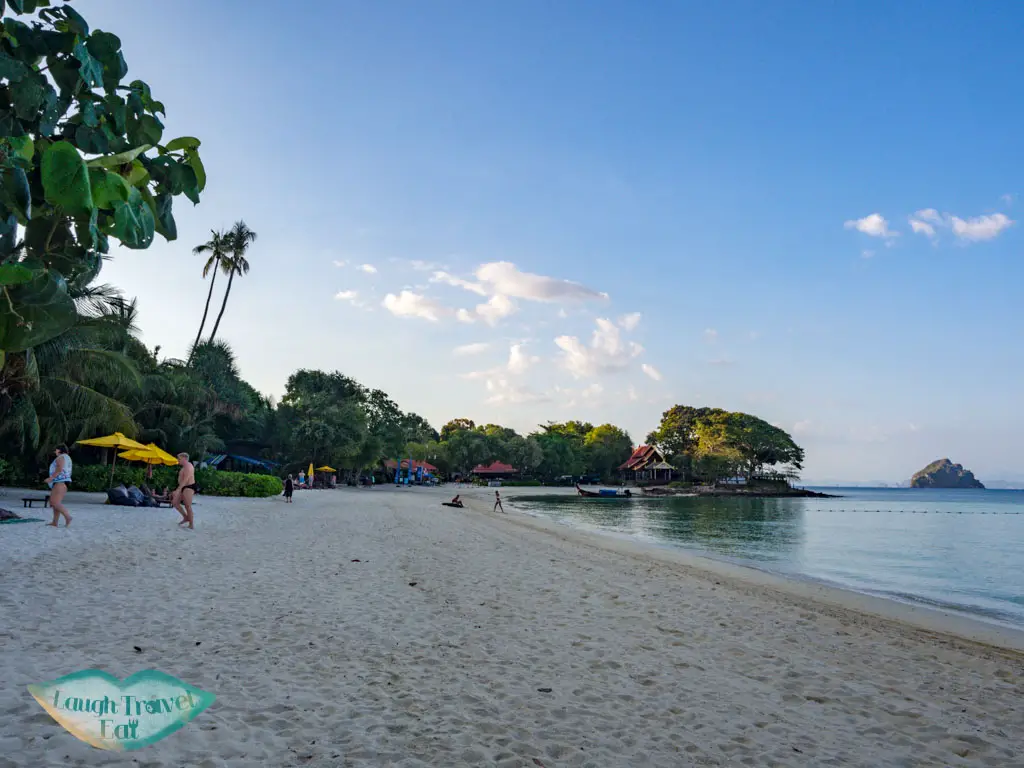 To the north of Tonsai, Laemtong Beach fronts only a few hotels and resorts. It's not as long as Long Beach or as wide, with most hotels occupying the stretch in front of it. But it is the quietest of all the beaches as some hotels have their loungers set back from the sand.

Koh Phi Phi tours
The best way to see Koh Phi Phi is to join a boat tour, since walking doesn't get you anywhere. It can be easily booked with your hostel or online. There isn't a big price difference so if you want to save cash, booking online is a good option. Most of the tour just gets you to meet at the McDonalds by the main pier which is walking distance for all around Tonsai.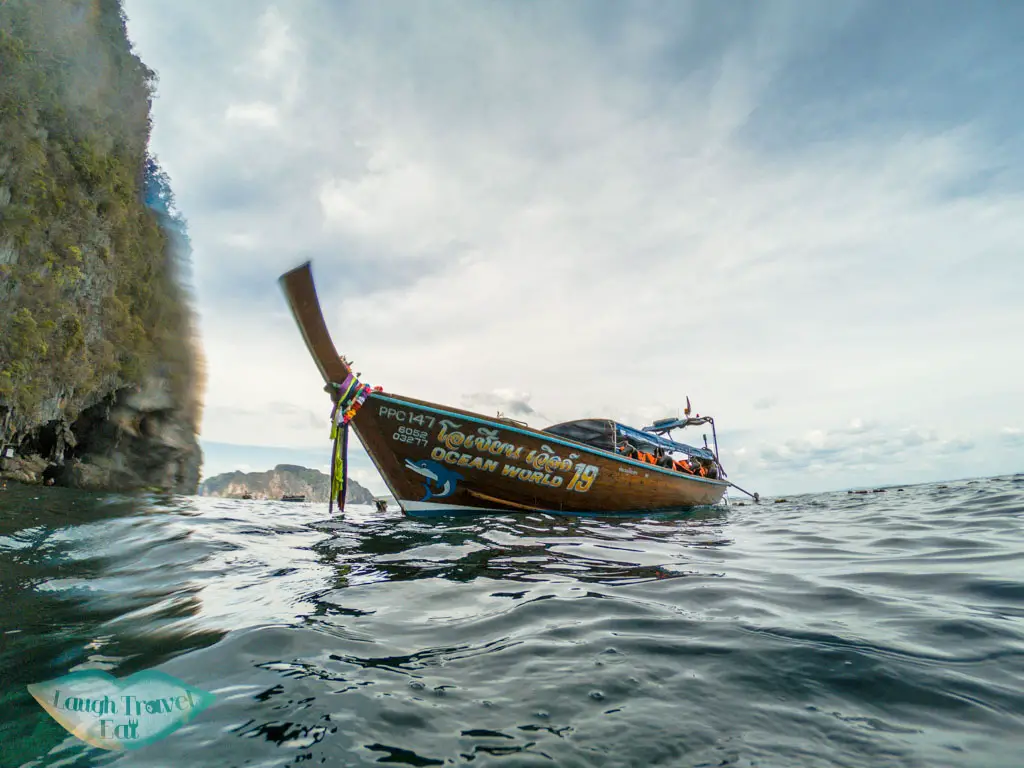 If you are not staying by Tonsai, then it's best to book with your hotel/hostel/nearest tour operators as boats depart from all over the island. In general, there are 3 types of tours you can do: morning, afternoon, or full day. I ended up on an afternoon tour because of the time + money, but here's an overview:

Afternoon tour
Booked for 500 Baht through my hostel, the afternoon tour is perfect if you worry you might get a sunburn and don't want to spend all day in the sea. We were on the east side of islands for the most part which shielded us from the sun. The tour sets off at 2pm but it ended up being more like 2:20 as they collected different groups from different locations. While I didn't like the staff on the boat, there's nothing else to fault for 500 baht. Here's where we went:

Monkey Beach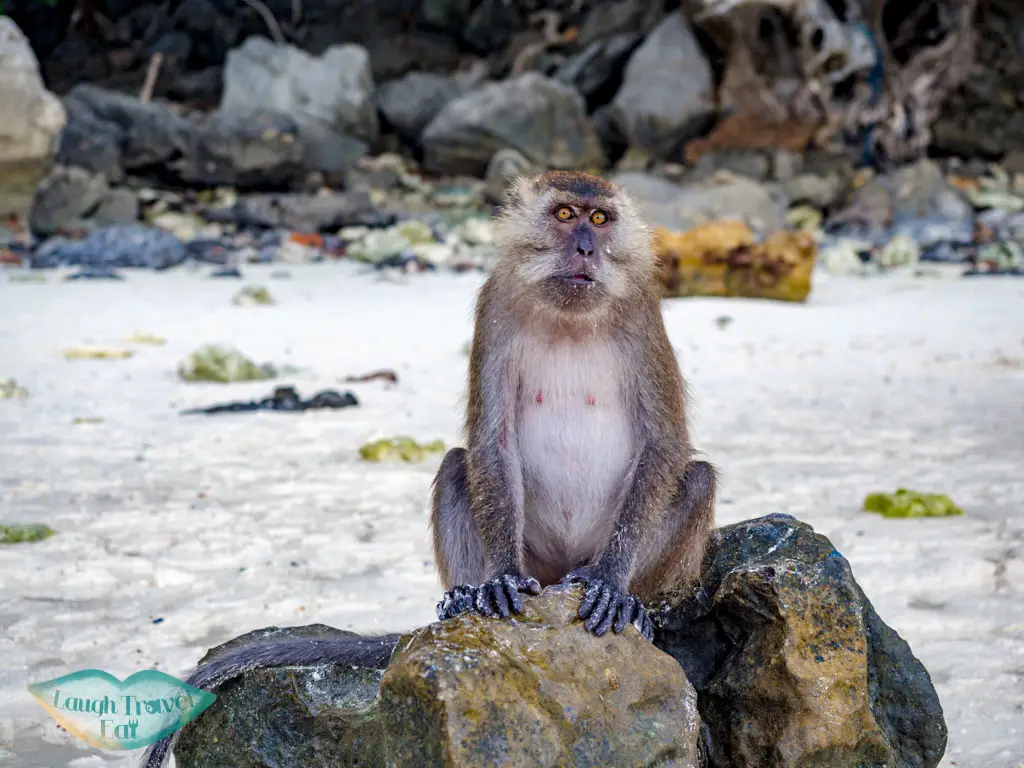 On the southwestern peninsular of Koh Phi Phi Don, Monkey Beach is known for, you guessed it, its monkeys. It was the first stop but we didn't see any monkey and ended up looping back – but I had to say I was very put off by the tourists feeding monkeys and there's no one there to stop them.

Viking cave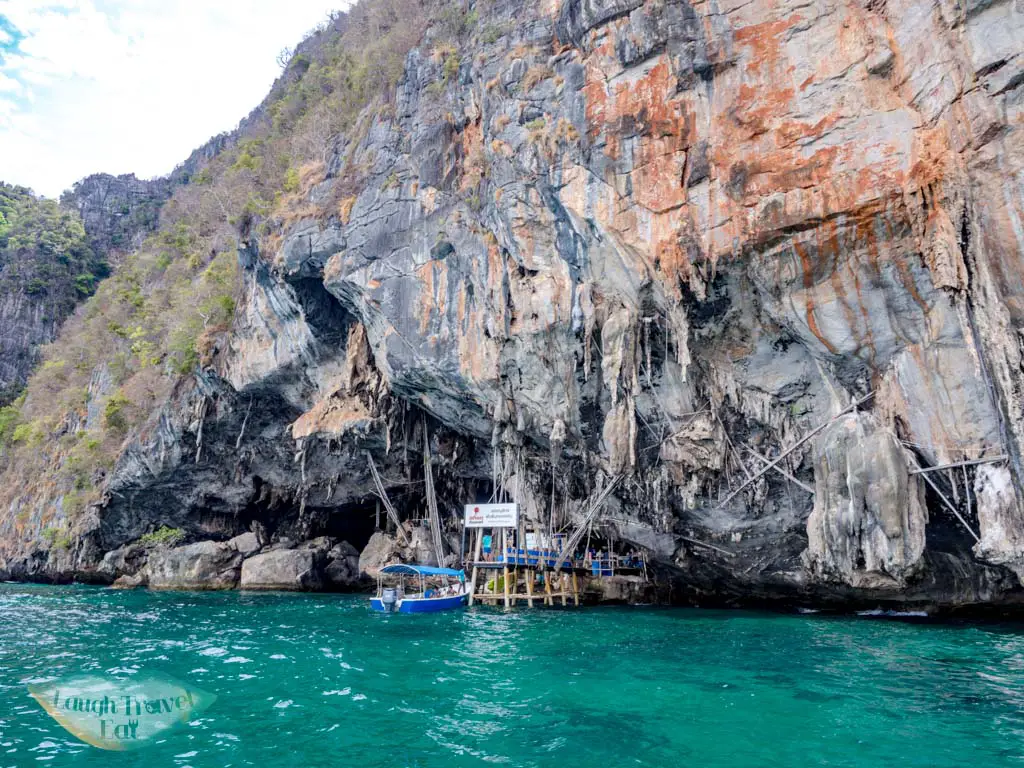 Named after the cave painting of various boats inside, you can't set foot in the cave as it is a protected area with many swallows nesting there. The cave is on the eastern side of Koh Phi Phi Lei, and we stopped nearby to snorkel and the sea was teeming with life. We spent about an hour here before setting off.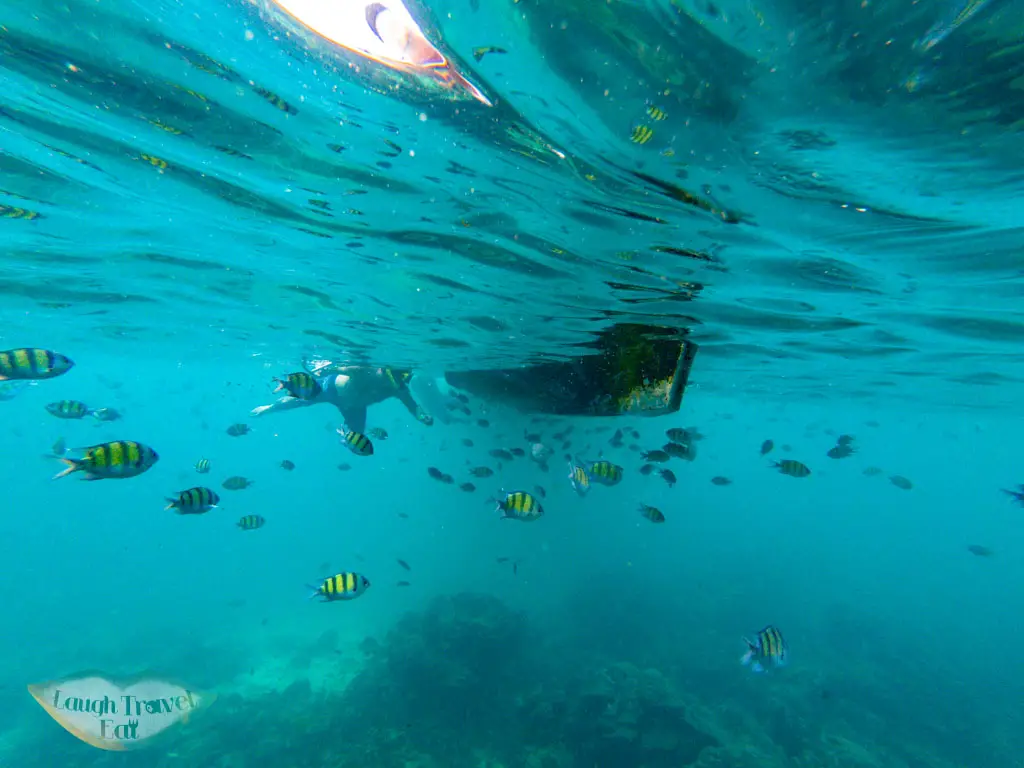 We were given a small box of average vegetable fried rice for a quick snack before moving onto the next spot.

Phileh Lagoon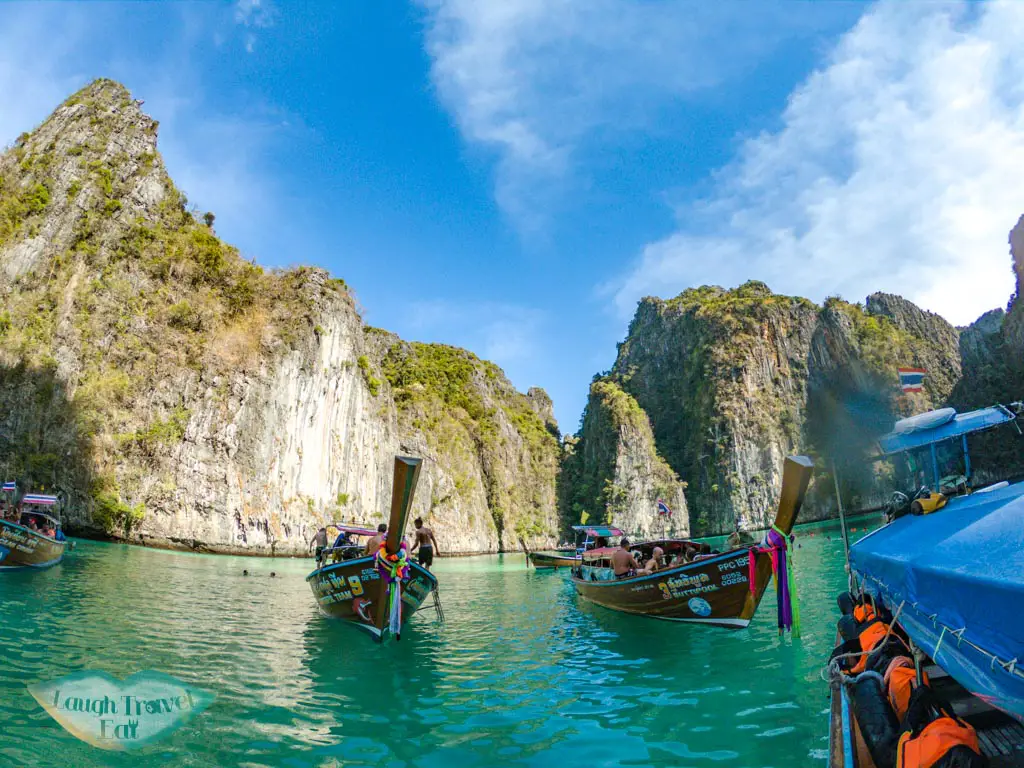 A sandy bottom lagoon on the eastern side of Koh Phi Phi Leh, it's a beautiful lagoon but even in the afternoon there are many longtail boats going in and out. We also stopped here for a while but caution is needed if you are to swim around. In comparison to the Viking Cave, there's not as much sea life here.

Loh Samah Bay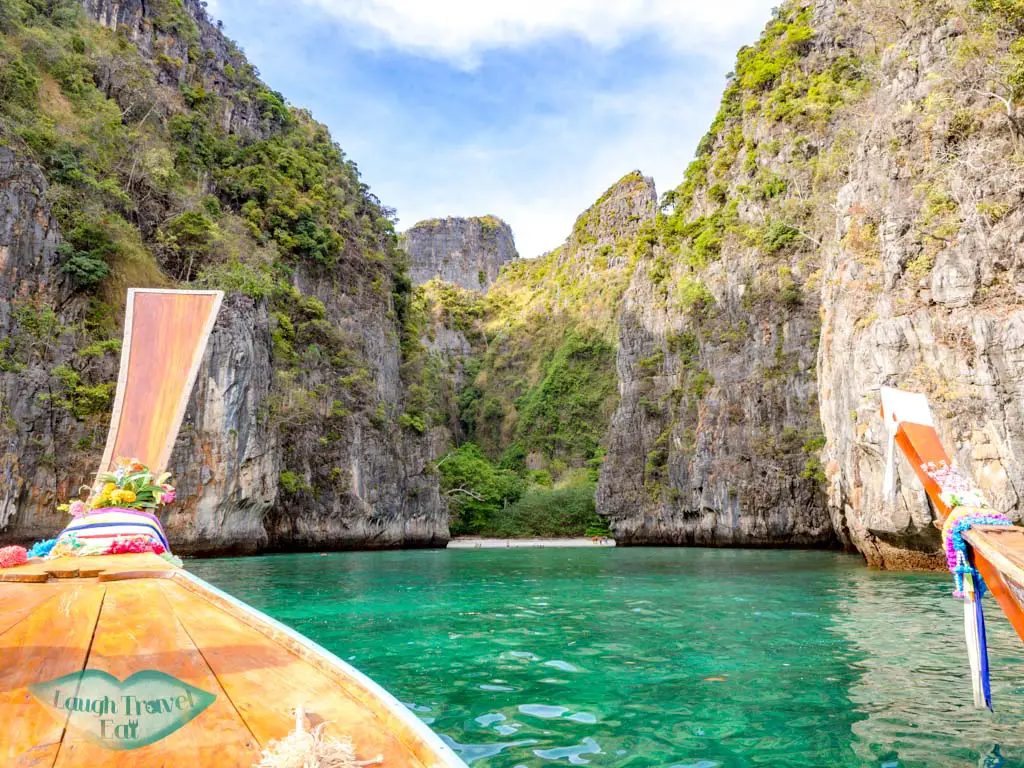 Another gorgeous Koh Phi Phi Lei spot, Loh Samah Bay is actually my favourite spot. We stopped at the mouth of the narrow bay where we could go snorkeling and or swim up to the beach.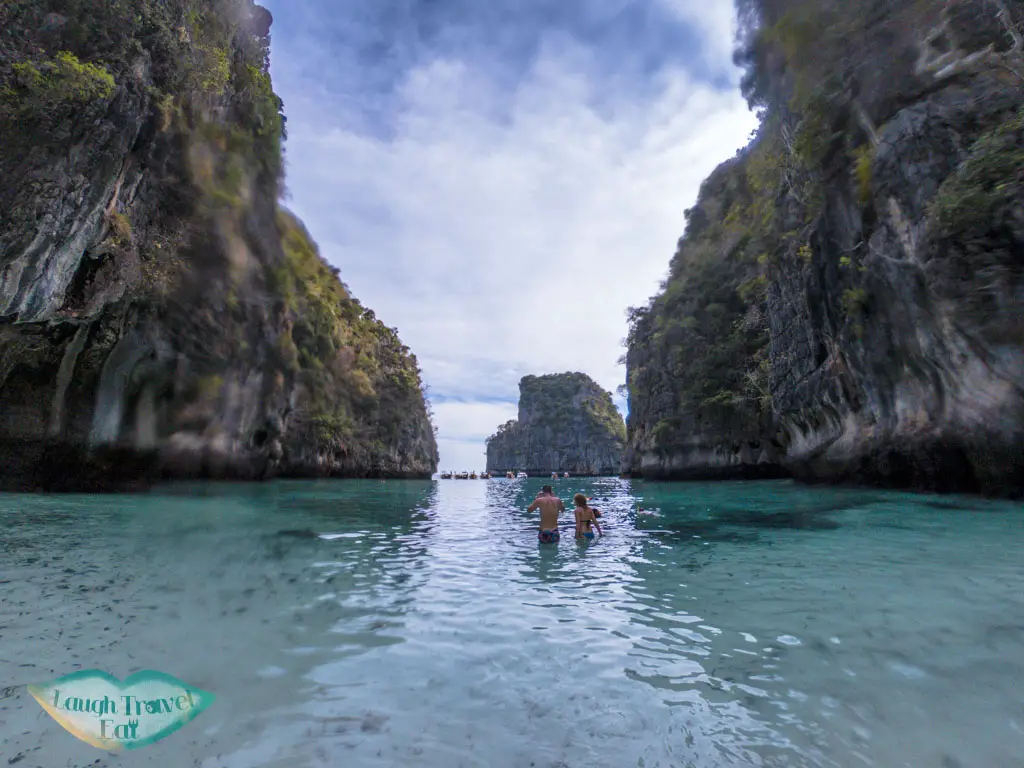 Our guide said that there's a possibility of seeing sharks on the other side, the water is a bit cloudy but I swam up to the beach and it was beautiful. The blue is a little different than the other blue, more clear powdered blue than teal.

Maya Bay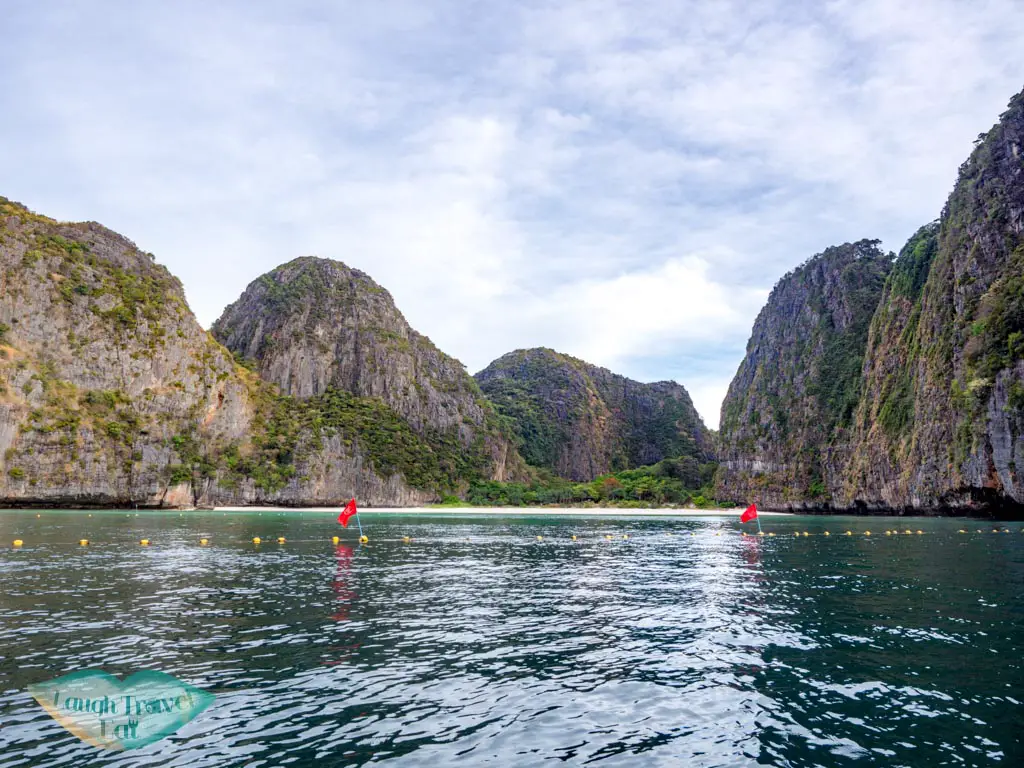 Next up is the famed Maya Bay. It is still closed for preservation (March 2020) but we can still see the bay from afar. I personally don't think it's that pretty in comparison with the previous two locales. You can actually get reasonably close and we stopped for snorkelling in the small bay across from it. But the water was not clear and the water was quite deep to see much.

Sunset point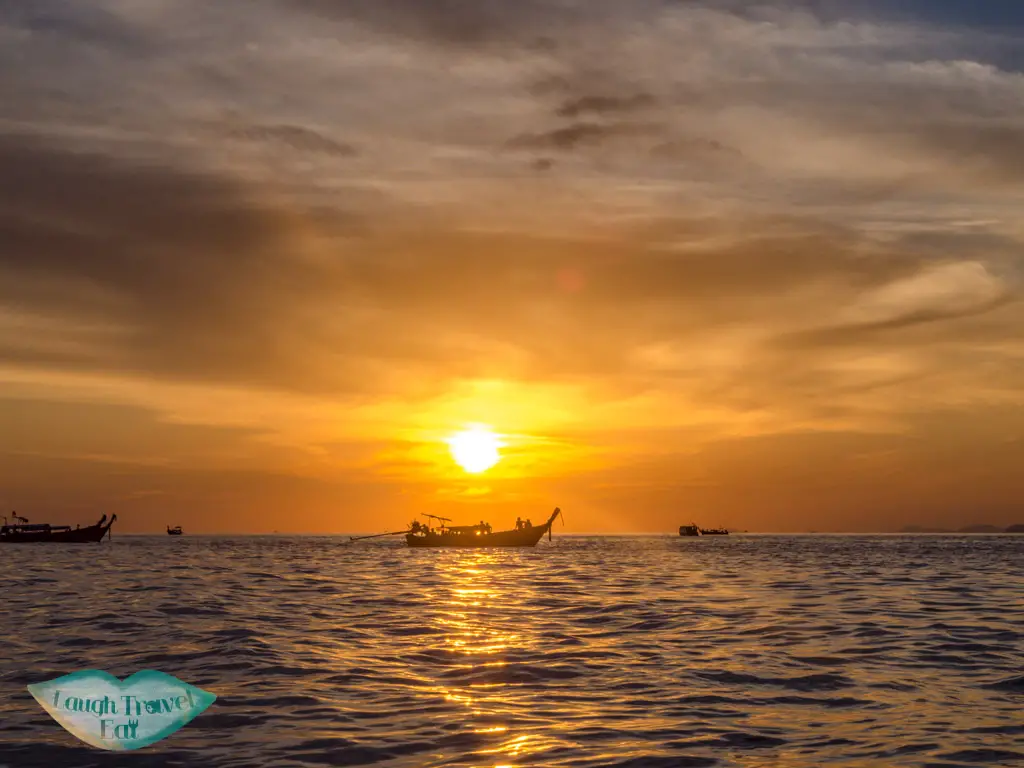 I didn't hold much hope for the sunset point but I was wrong. A smattering of boats gathered in the strait between the two Koh Phi Phi islands as the sun set and the sky was on fire. It's a little hard to get a timelapse as the boat drifts around, but photos are easy.

Bioluminescent plankton
We were faced with a choice to either go back or stay for around 45 minutes to see bioluminescent plankton. I was the only person on my boat who opted to stay and I hopped over to the neighbouring one to wait. As soon as it got dark, we were able to don our snorkel on and dive in. You can't really film or photographed it and they are 'activated' by moving the water. A girl splashed water up and created a wave of sparkling lights that would imprint on my memory, even if the camera can't capture it.

We were finally back by 7:45-8 to the pier, so this tour does run late.

Full day tour
The full day tour includes everything from the afternoon tour. But in the morning, it also visits two more offshore islands: Bamboo Island and Mosquito Island northeast of Koh Phi Phi Don, as well as the Long beach and Shark Point, too.

Morning tour
The other tour I considered is the early bird tour special that starts at 6:30 and lasts until 14:30. It costs 1500 and you see everything without the crowds, but no plankton since you'll be back in the afternoon. There is a regular morning tour that does the same route as the afternoon tour for cheaper, but that also coincides with the timing of everyone who is on a tour from Phuket and Krabi.

Koh Phi Phi Viewpoint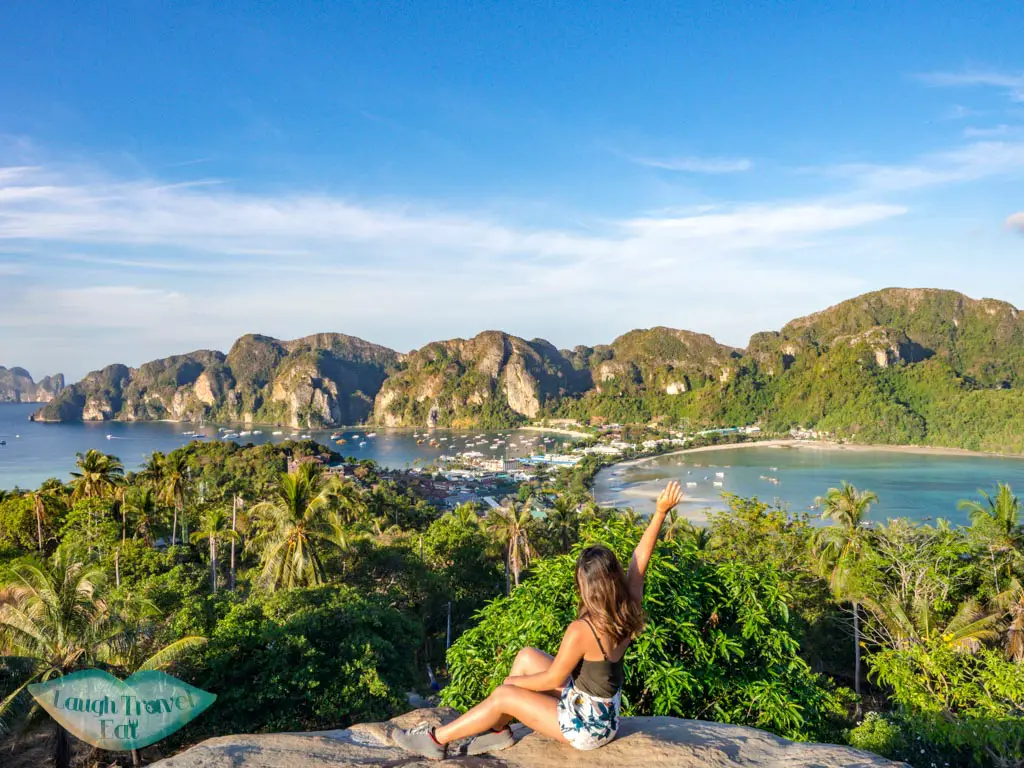 I must admit that I stayed one night at Tonsai to go up to the Koh Phi Phi Viewpoints. There are three on the maps, but actually only 1 and 2 are distinct as the third one is a cafe behind viewpoint 2.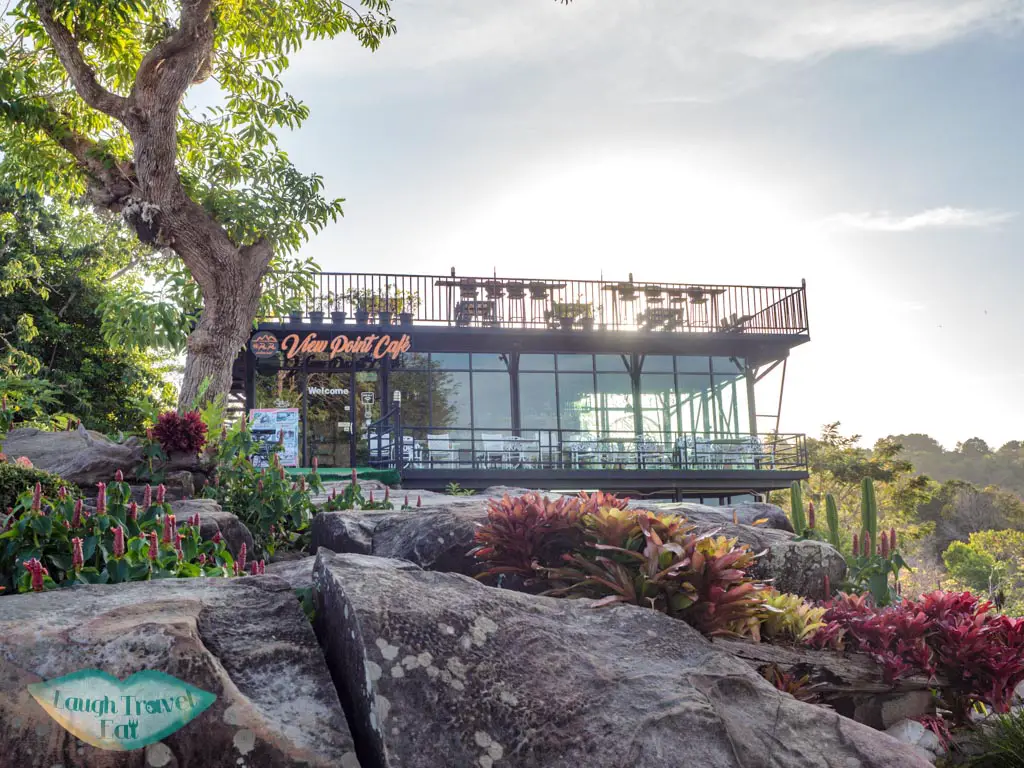 First, you have to follow the signs and go up steep stairs and pass a guest house to the first viewpoint. The ticket office is right by the gate and costs 30 baht to go up.
Viewpoint 1 has many decorative lawn things like giant coconuts and your quintessential giant letters proclaiming what it is. It's not my thing so I made my way quickly up.
Viewpoint 2 is higher and along a flatter but uphill. I recommend going in early morning or for sunset to avoid the hottest part of the day; though sunset will probably be crowded.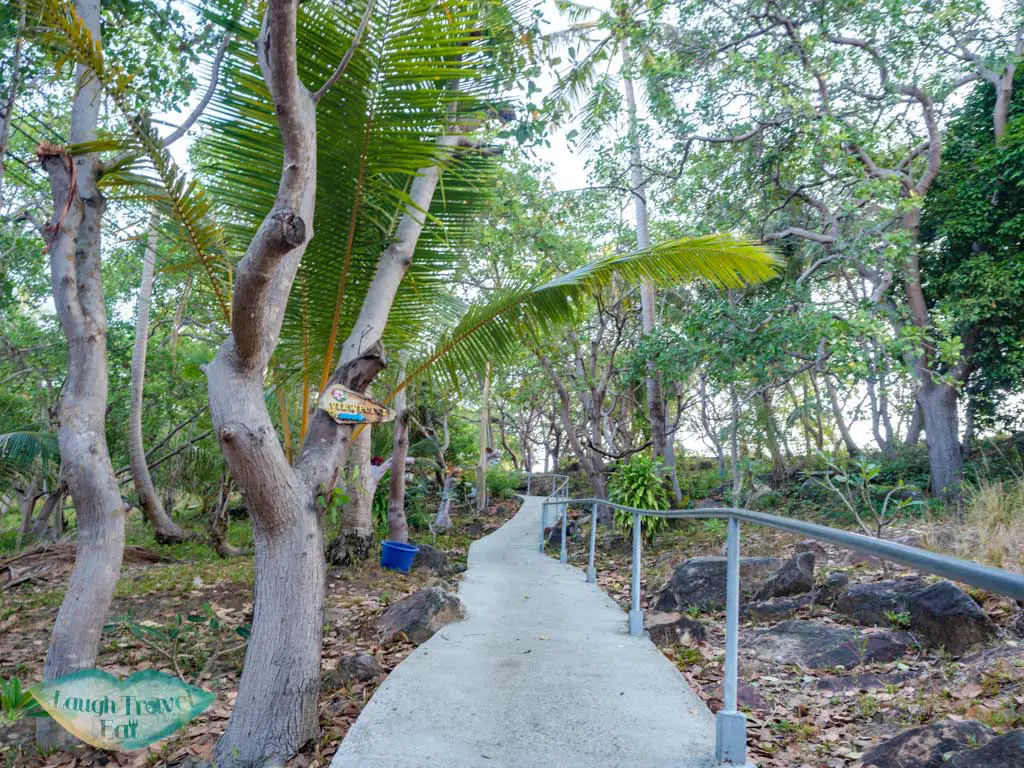 Instead of the platform, I find the giant boulders a much better background for photos.

Where to eat on Koh Phi Phi
As an island, prices are higher than other places on Koh Phi Phi. If you are staying in Tonsai, here are some good places to eat:

Pa-Noi Thai Food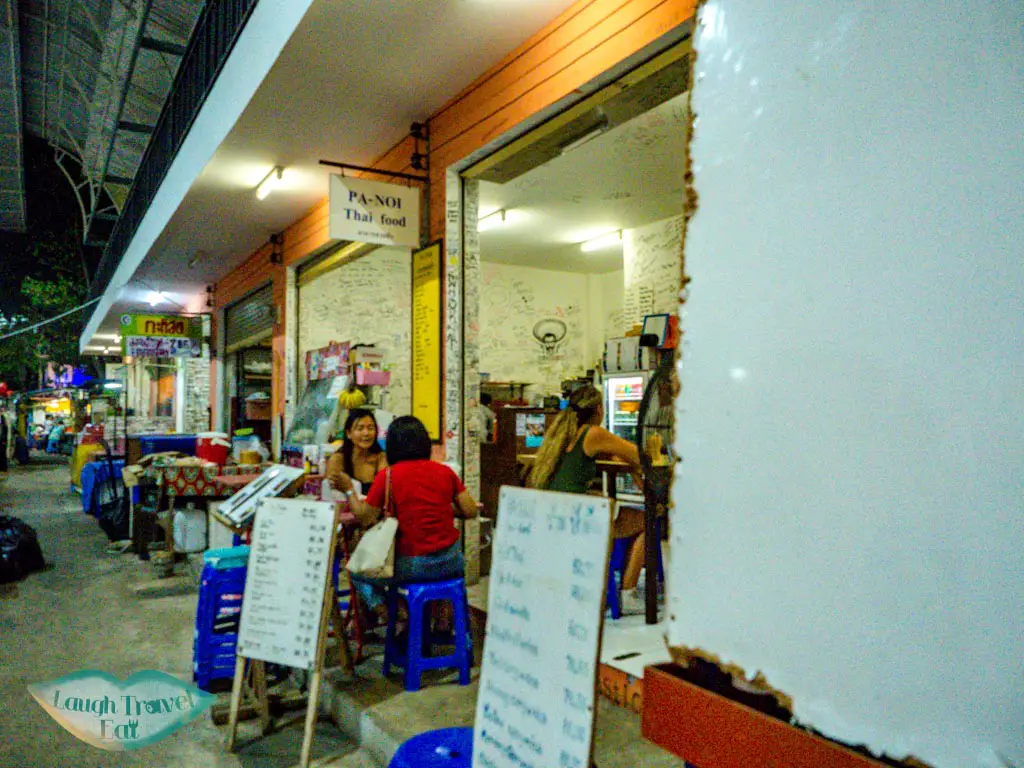 A popular restaurant in the central market of Tonsai, it serves up cheap and good Thai food. It's a safe choice for a budget dining option in Koh Phi Phi.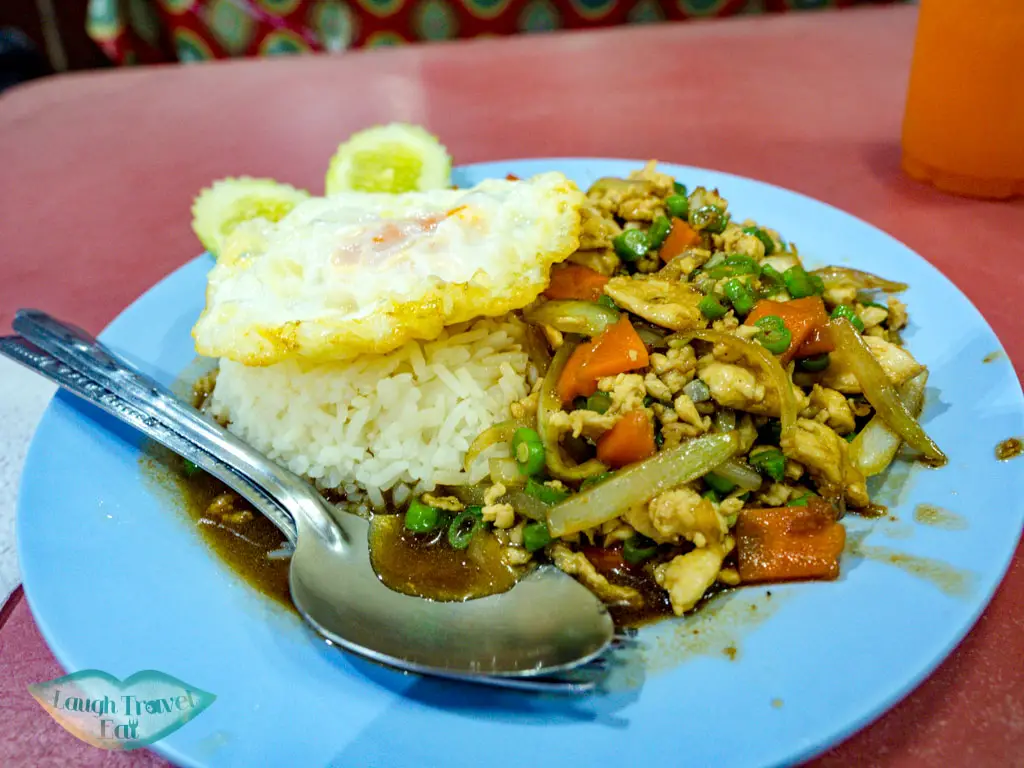 I had a simple thai basil fried minced meat with rice and it was good value for money with a big portion size.
Opening times: 10:00 – 22:00

Hello My Mom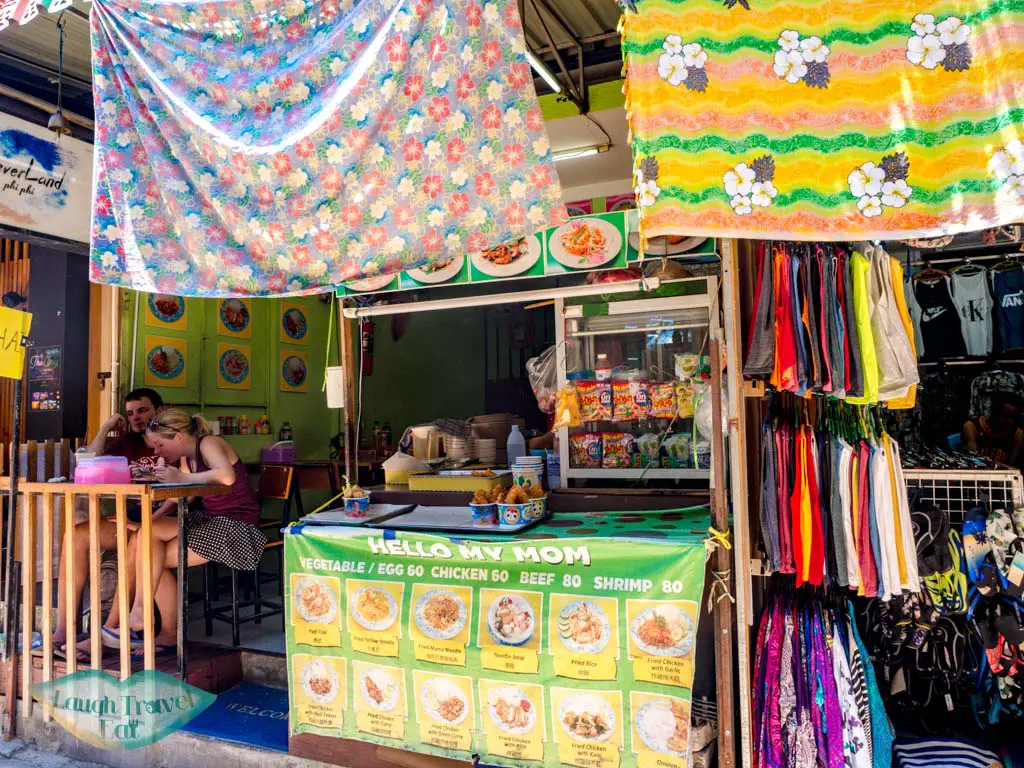 For an even cheaper option, this quirkily named hole-in-the-wall restaurant is along one of the main streets in Tonsai.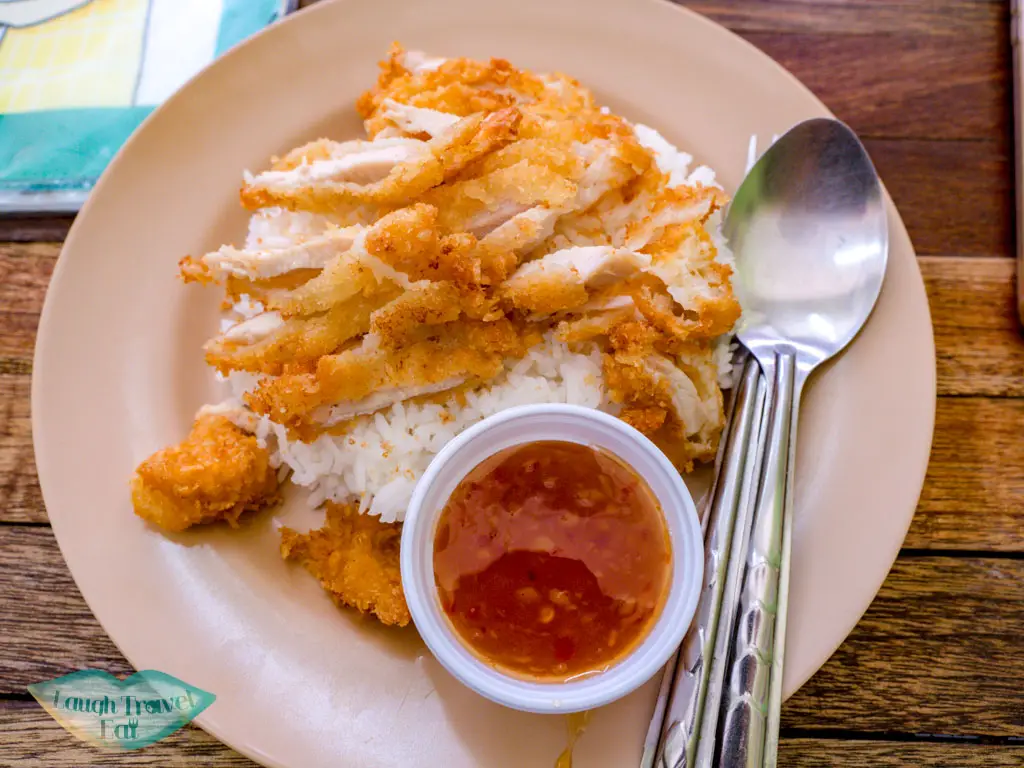 A simple dish is only 60 baht so I ordered a fresh juice shake as well. Interestingly, it was made across the street.
Opening times is unclear

Koh Phi Phi hostels and hotels
Budget: I stayed at the Pier 519 Hostel which is two turns from the main pier that everyone arrived at. They have several huge dorm rooms. It's reasonably clean but still sandy, good for one night or two if you have limited time. Do note that the showers are outdoor on the balcony and it is a bit stuffy with so many people.
If you are two people, P2 Wood Loft is a great clean and budget stay but perhaps not as social a space.

Mid-range: Paradise Resort Phi Phi is a great mid-range resort by Long Beach. If you don't want to be so far from Tonsai,  JJ Bungalow is a good choice.

Zeavola Resort Koh Phi Phi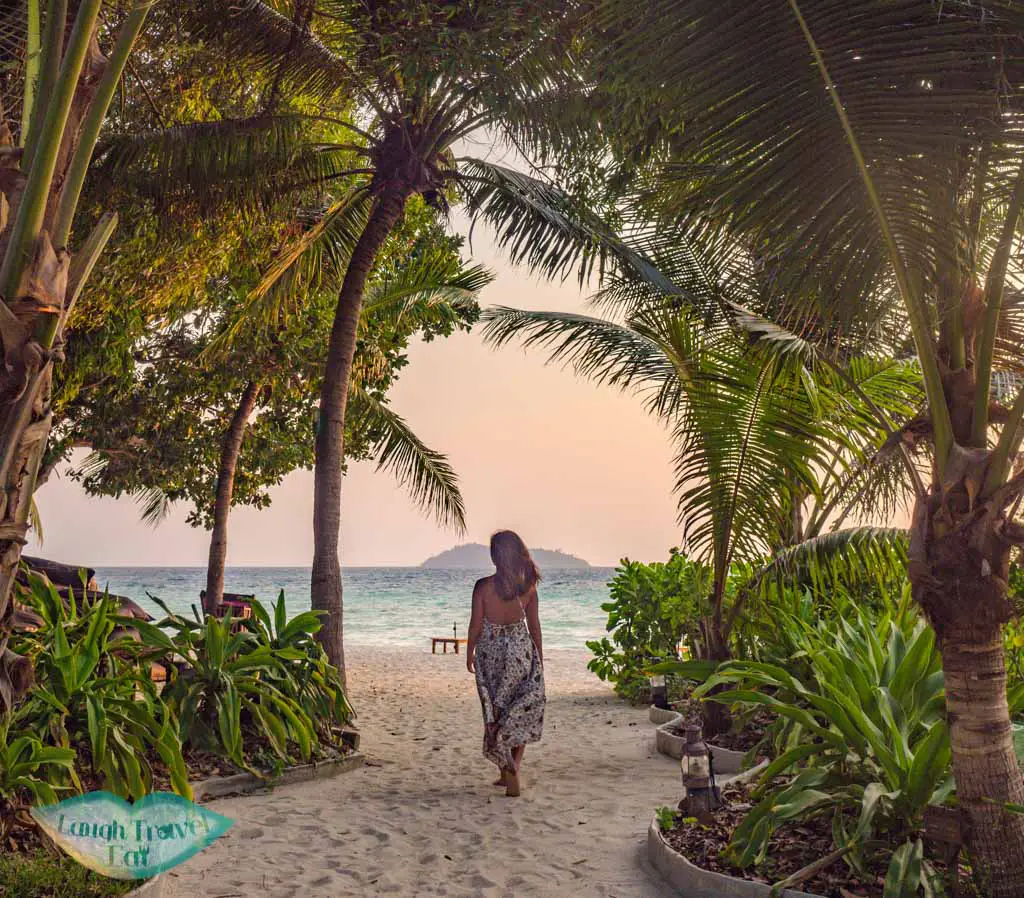 Splurge: If you want to be by the main town but also has a pool to dive in and rustic charm, Phi Phi CoCo Beach Resort is perfect. I also stayed at Zeavola Resort on Laemtong Beach which is the best barefoot luxury with a slice of eco-friendliness. If you want to be by Long Beach,