Most people head to the Lion Rock or Suicide Cliff when they hike the peaks between New Territories and Kowloon, but there are many more peaks in between that boasts a wonderful view with less crowd. One of such is Tsz Wan Shan, also called Temple Hill.
Hilariously, we aimed to hike to Tate's Cairn on the day (which is the peak to the west of it) as well but failed as we ended up running out of times. It had a lot to do with how we chose to get to the trail start, but more on that below.
Tsz Wan Shan Hike Summary
Difficulty: 3.5/5 – the roads are mostly paved, but parts of the trail are confusing and there are a lot of stairs.
View: 10/10
Photo opportunity: 8/10 (the platform on top isn't that optimal for posing but the sceneries are spectacular)
Getting to Tsz Wan Shan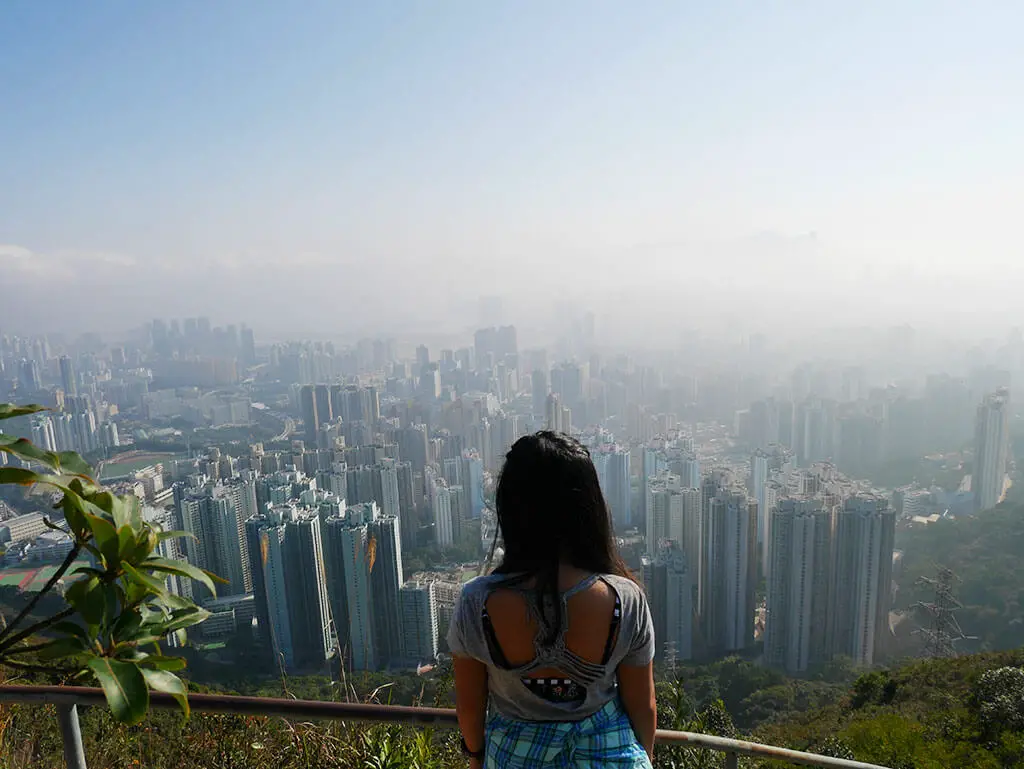 Tsz Wan Shan trail start is at the intersection of Wilson Trail part 4 and 5, where the Shatin Pass Road also cross the two – also known as Shatin Pass. There is a public toilet (the Shap Yi Watt Village Public Toilet) as well as a grocery/Hong Kong style fast food store there for those who might need food before hike. A lot of people go up (or down) Lion Rock here as well.
There is no direct public transport to get there and below are your options:
T

axi
You can get a taxi up to the proper trail start at Shatin Pass Road. If there are about 3-4 of you and you aren't a keen hiker, then I totally recommend this.
It's best to take the taxi from Wong Tai Sin or Diamond Hill MTR station as they are closest to the road.
Walking up from Wong Tai Sin Station
We walked up from Wong Tai Sin station which also contributed to why we ran out of time. Head out from E then head north (we took the wrong long way…).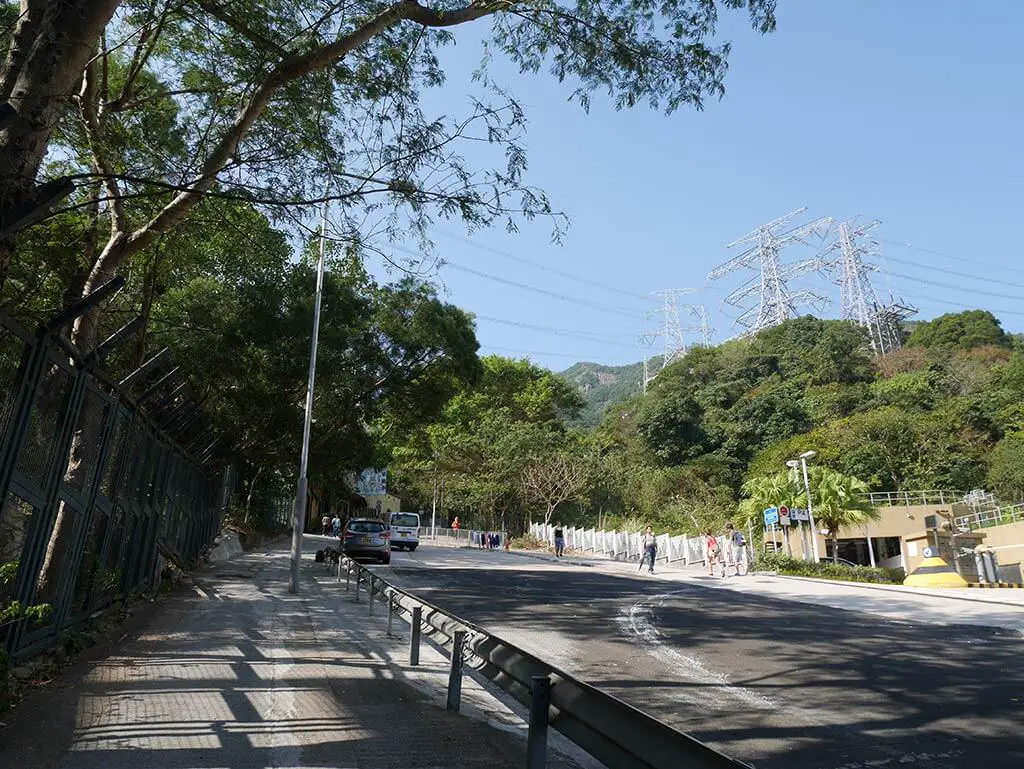 However, it ended up taking us over an hour to get to the trail start as we had to go up Chuk Yuen Road then Shatin Pass Road. The latter is steeper and longer than expected. All in all, it'd be a strenuous hike to get to the hike itself.
Minibus 73
You can get the minibus 73, which starts near the Baptist University and go pass the start of Shatin Pass Road. However, the minibus route doesn't connect well with the other transport option, so there will be walking to and from and finding the right stop involved.
Bus 116 from Hong Kong Island
If you are coming from Hong Kong Island, then minibus route doesn't connect well It stops by the Ching Fai Estate, then you'll have to walk west to then up the Shatin Pass Road as well.
If you take either mode of transportation or hike, then you'll be going pass this temple on your way up: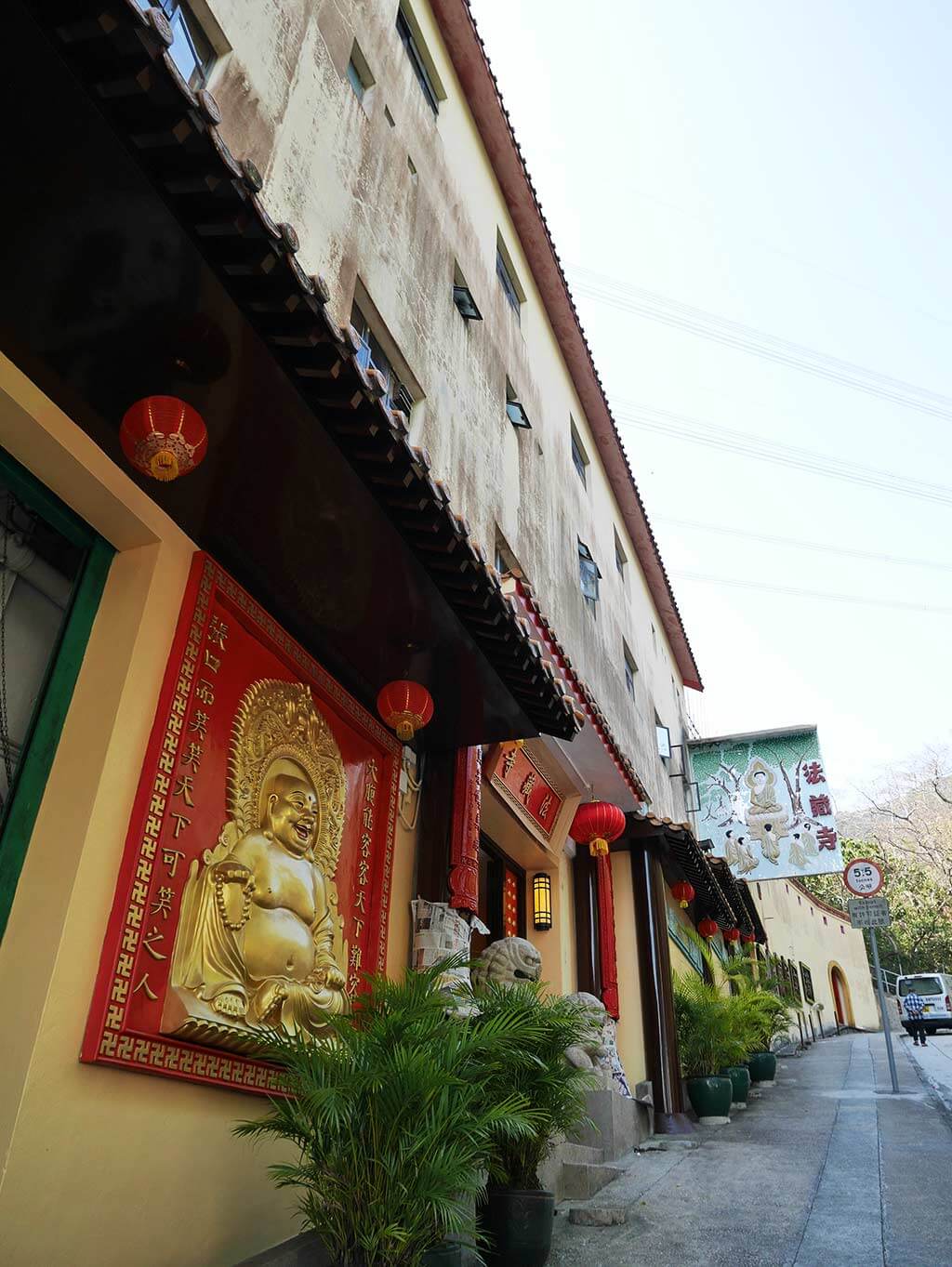 From the Shatin Pass up
It's not a short hike up along the Shatin Pass Road to Shatin Pass, and it is along a main road with no pavement, so be careful as you go up.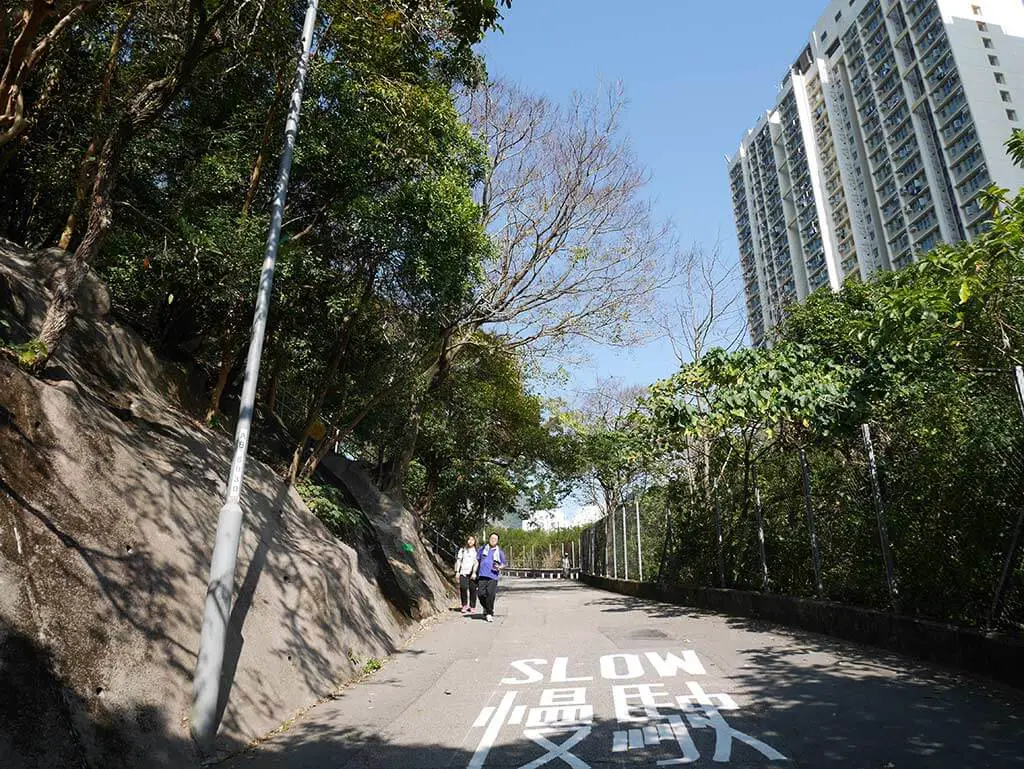 You will, of course, go pass the Lion Rock Pavillion, too.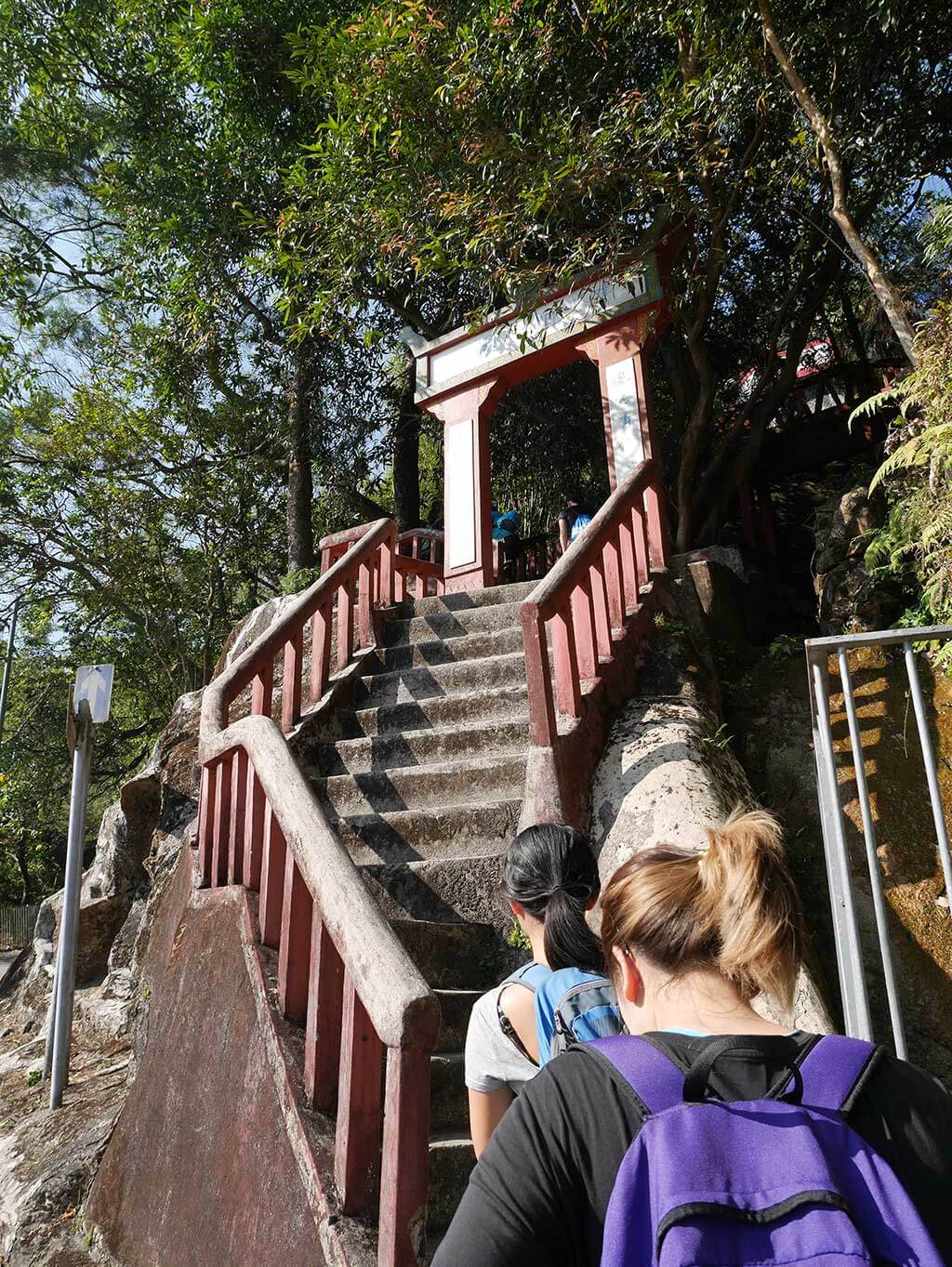 Shatin Pass is at the intersection of many roads, however, the path that leads to Tsz Wan Shan isn't immediately visible. It also doesn't look very legit as well.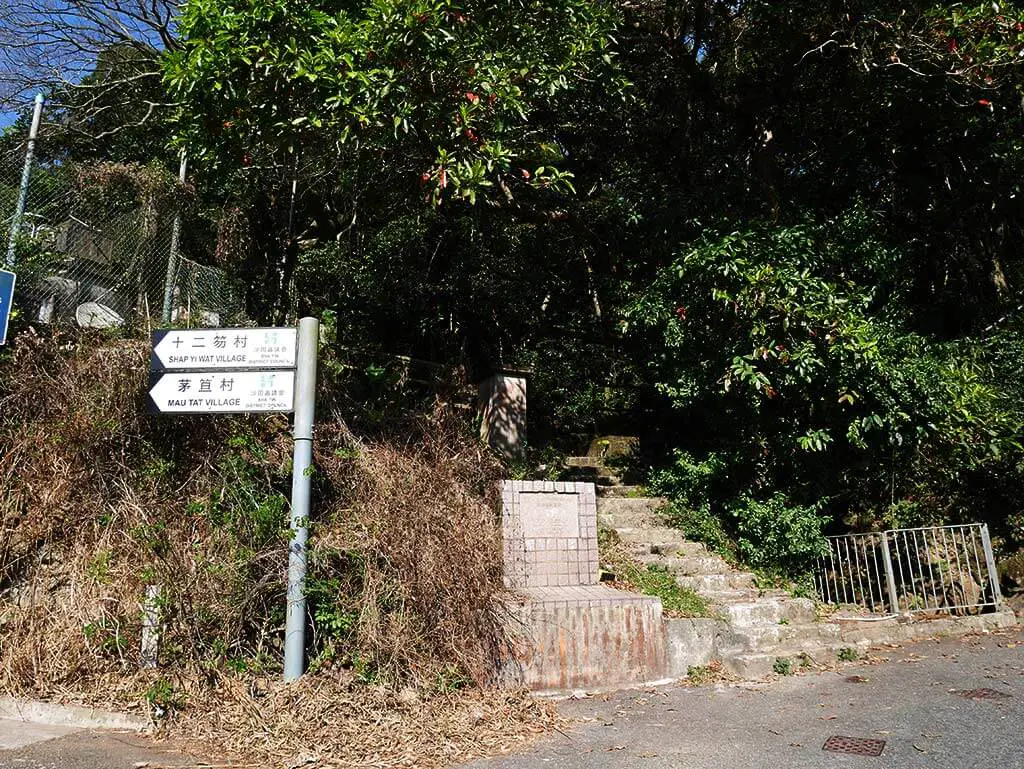 It isn't right at the intersection of the other main roads, but rather slightly to the east between the vegetation. Here are some photos to help you find the right path: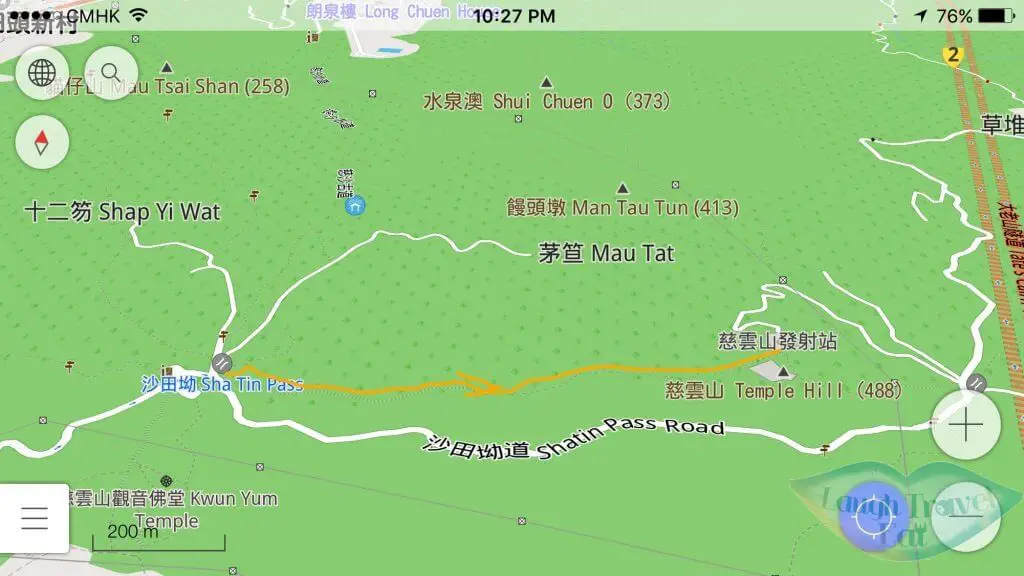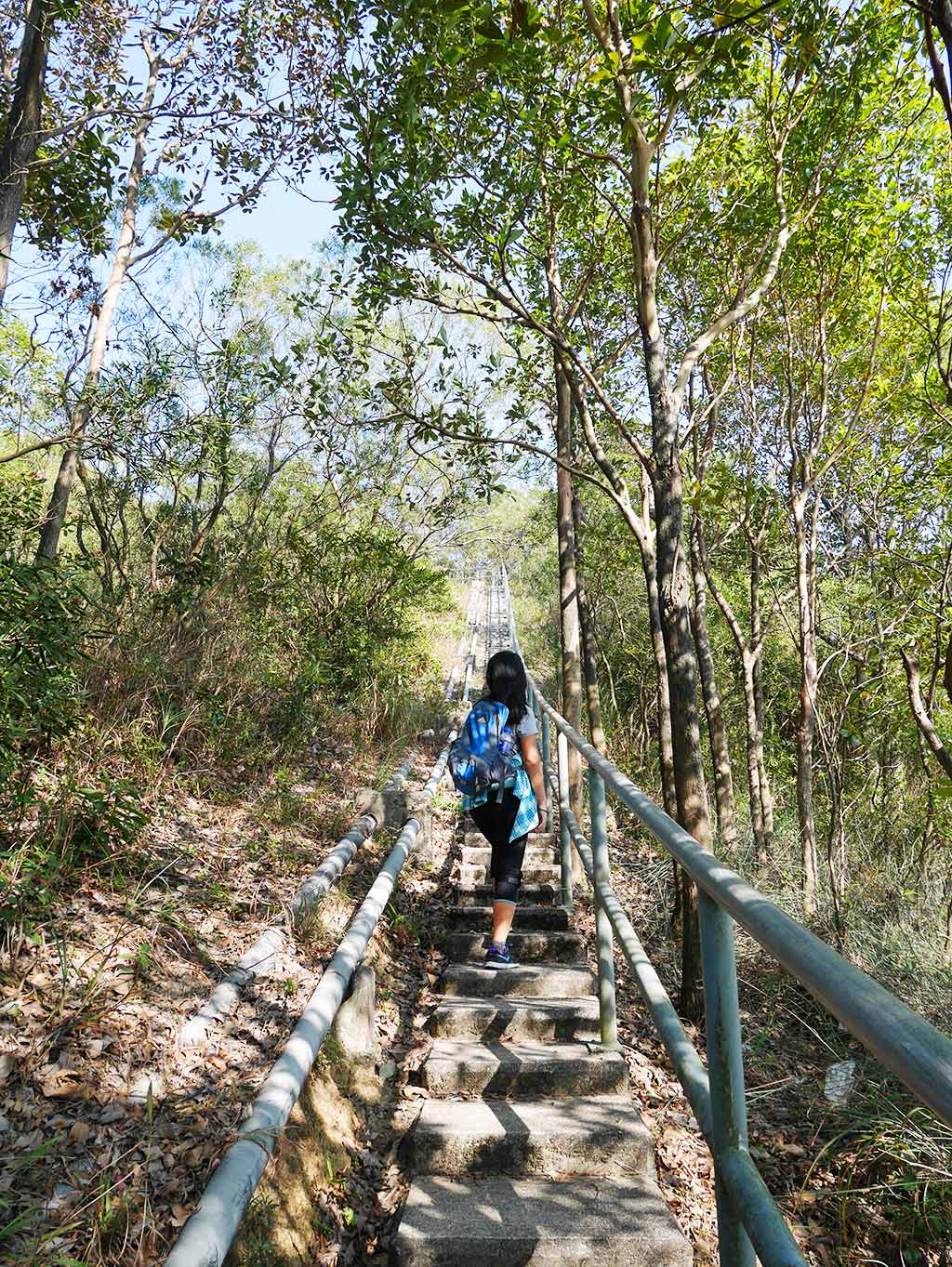 From there, it's pretty much all stairs until you reach the top of Tsz Wan Shan, which peaks in front of the Radio Center. There is a small balcony area where you can get a spectacular view.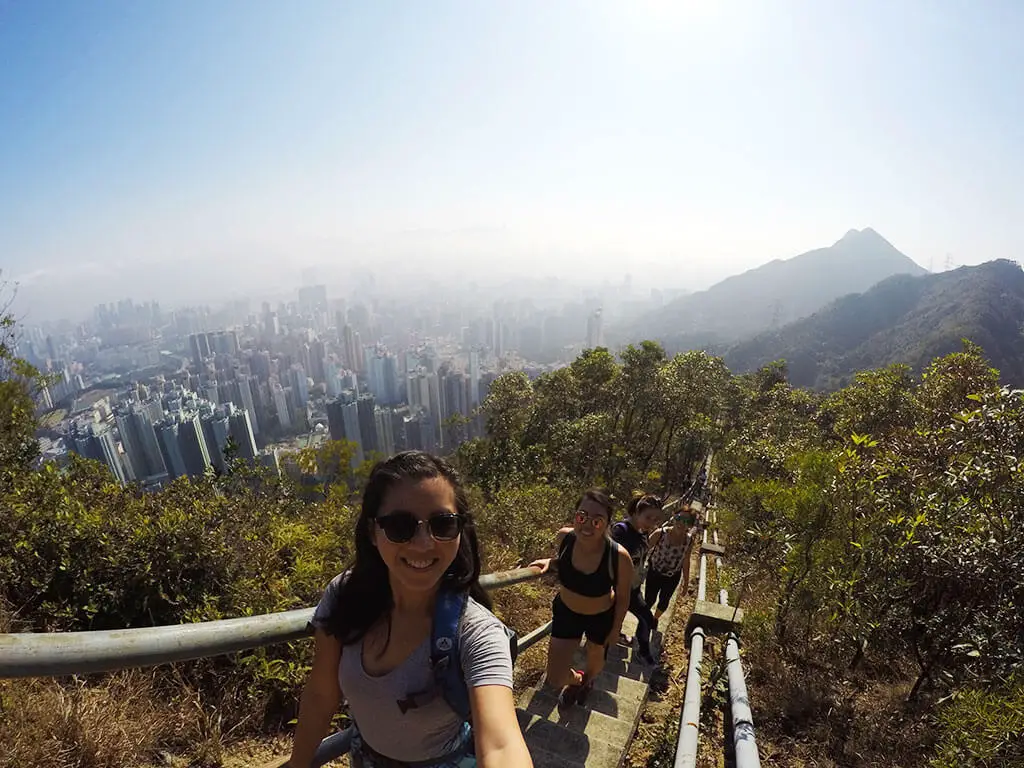 First View Point on Tsz Wan Shan

You'll arrive at the Tsz Wan Shan Radio Station first, or more correctly, the little terrace in front of it. This isn't the easiest place to get a photo of you with the view, but it does offer you a spectacular panorama of the Tsz Wan Shan district and beyond.
Tsz Wan Shan Radio Station to the top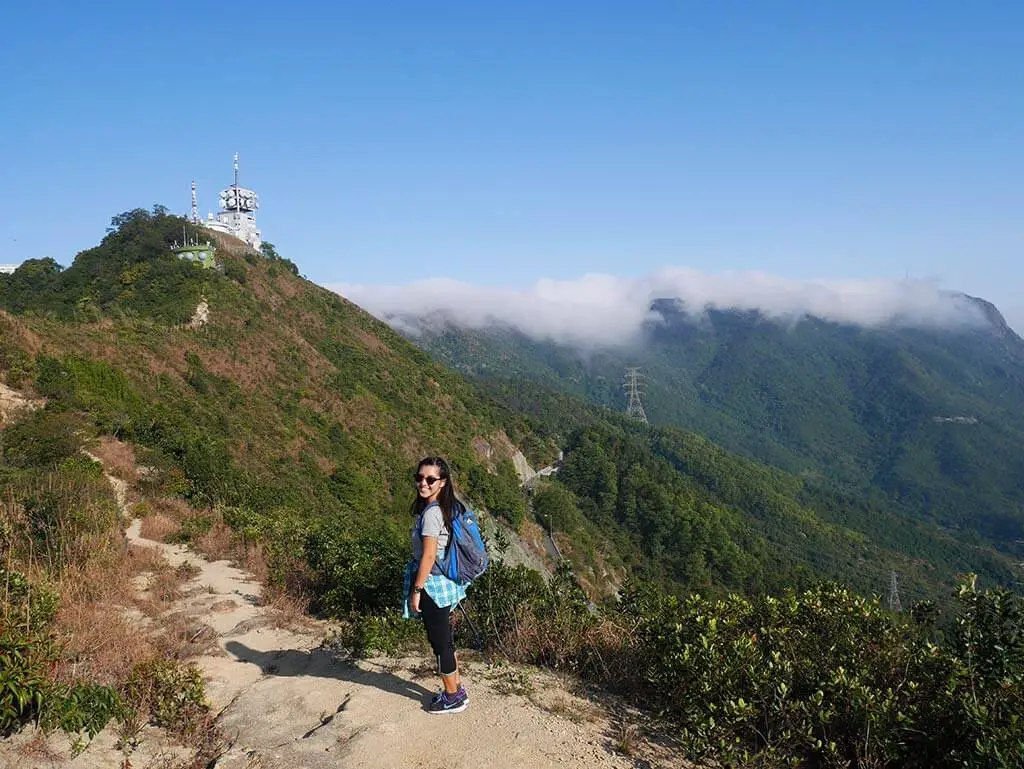 From the radio station, it's a more scenic walk towards the top of Tsz Wan Shan. We were blessed with a unique weather phenomenon – a rolling cloud over the Tate's Cairn!
From Temple Hill back to Shatin Pass Road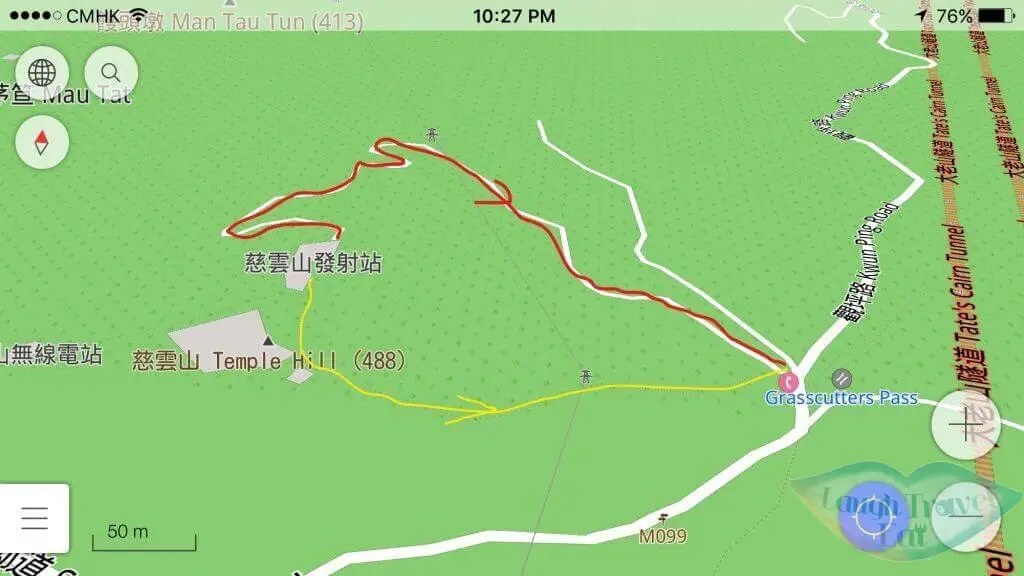 From the top, you can go back via two ways, one through an obvious, paved concrete path, another is a short cut that we took. If you are unsure of the way or not comfortable with steep slopes, then I suggest you take the concrete path down. But be careful of traffic as that is a road for cars.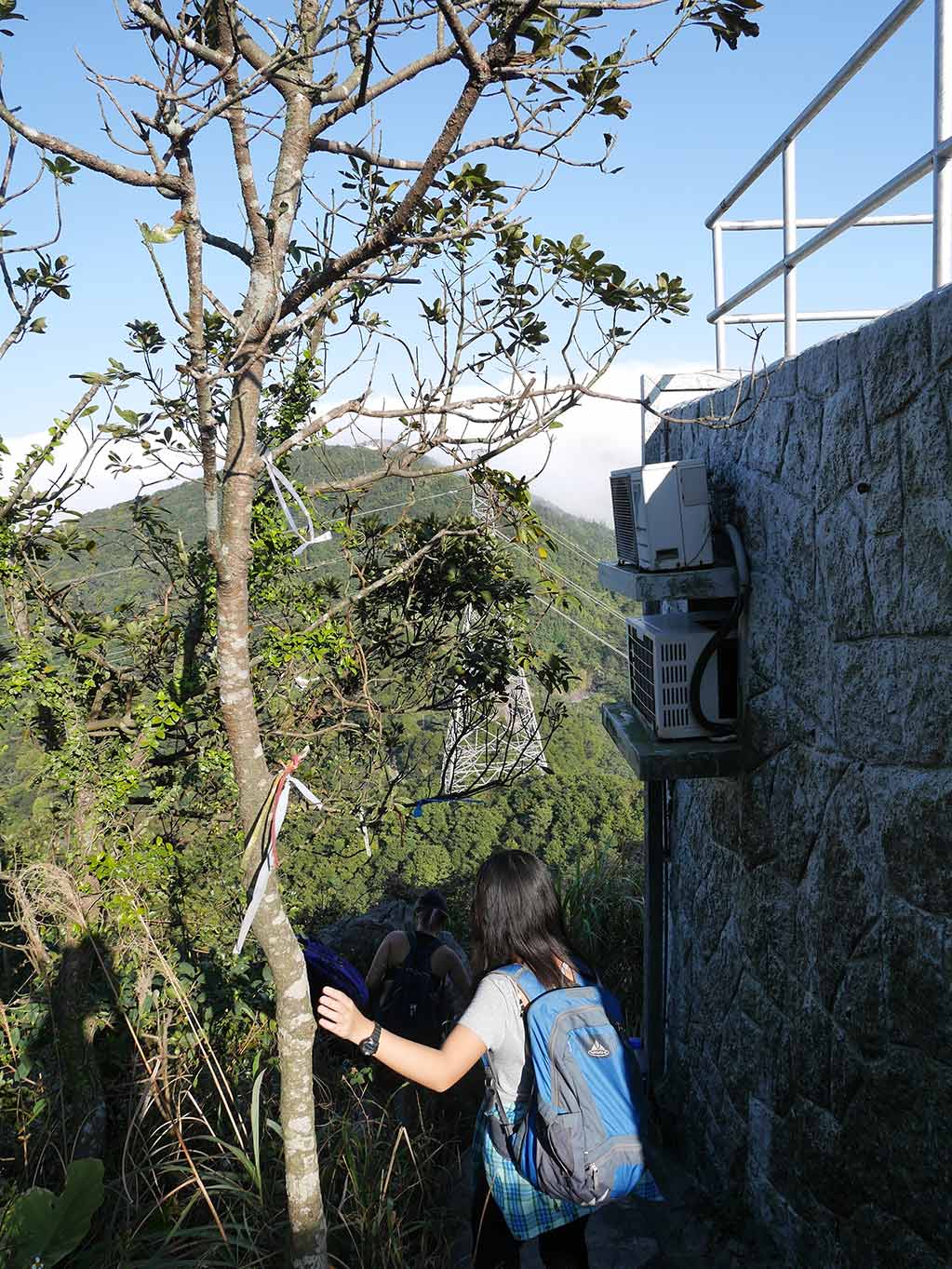 The paved option is clear and easy to follow, but luckily for you, we went down the shortcut (which you can trace through my vlog). You have to cut across the front lawn of the radio center, but it's unclear whether you are allowed to. The path starts next to a small, white concrete structure (pictured above).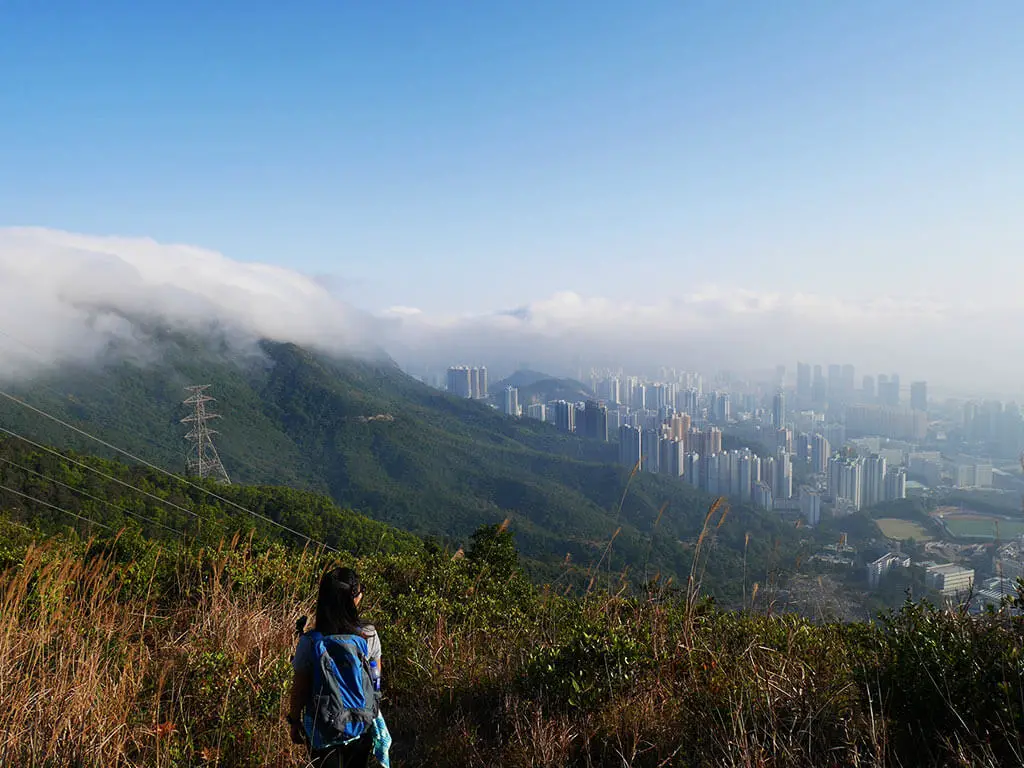 You will then end at Grasscutter Pass on the Shatin Pass Road, and from there, you can consider how you want to get back down.
Getting back to civilisation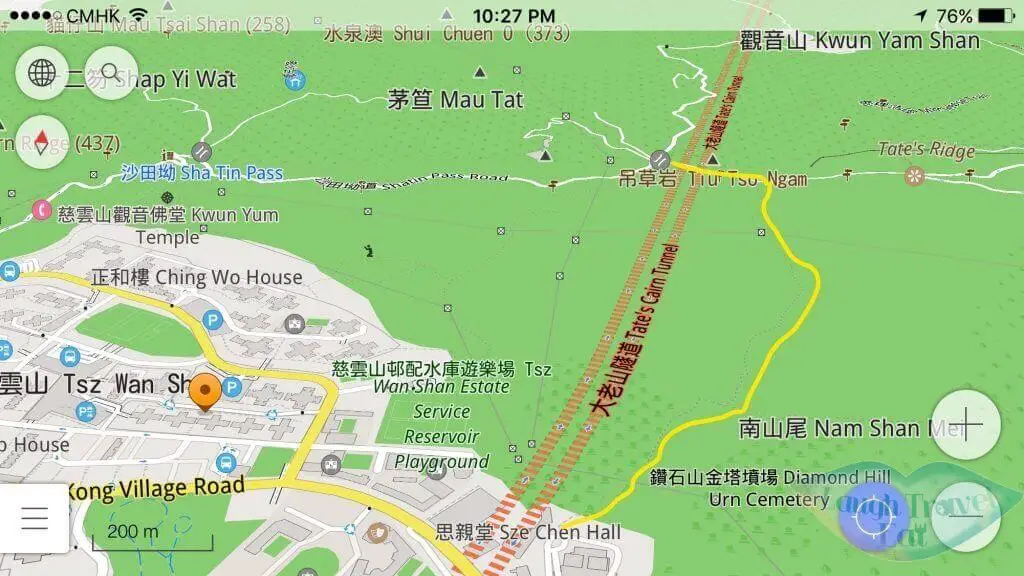 If you want to go back to town as quickly as possible, then you can head south from the intersection which will bring you to the housing estates in Tsz Wan Shan. There is also another route that heads to similar location further west, but both route isn't easy to navigate without GPS and you'd end up in a housing estate that is confusing to navigate as well.
We took the path west of the intersection and got a bit stuck on the way down even with GPS and an offline map. The key is to try and head in the right direction.