London has a million markets, from your average small farmers market in your neighbourhood to the world famous Portobello Market you are spoilt for choice. I had made it no secret that I am a huge fan of markets, my boarding house used to take us to Camden Market frequently (that was way back in the age when I was an 11 year old) and since I had been enamoured by the atmosphere and variety of markets. Now I can't say that I have been to every single market there is in London, but I had visited a fair few and I wanted to share my top 5 with you!
>If you haven't been to London before, check out the transport guide
Portobello Road
Made famous by the movie Notting Hill, this West London market has become a hot spot for tourists from all around the world, and coincidentally one of my favourite Saturday hangouts. Spanning all the way from Notting Hill Station to Golborne road, the market can be a bit confusing to new comers and here's where this post comes in. Having visited it many times, I have, myself classified it into three different sections.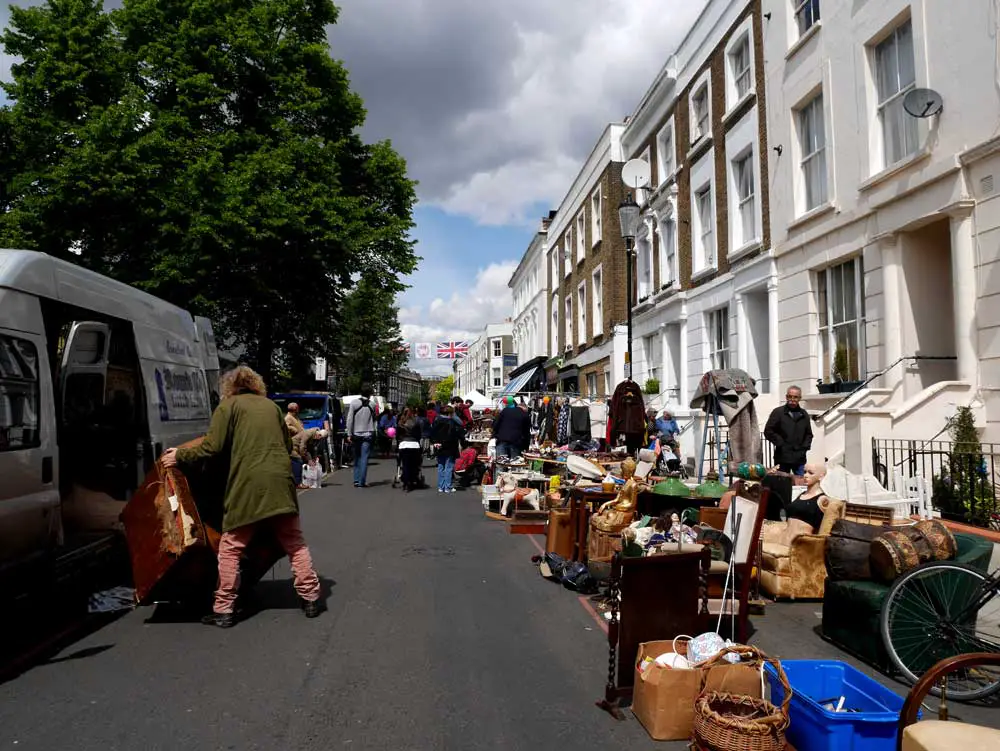 In the north from Golborne Road to Ladbroke Groove consist of many bric-a-brac sellers, which I usually skip unless I felt like embarking on a treasure hunt. Further along is the area next to Ladbroke Groove Station, where the Portobello Green Market extends along the Cambridge Gardens, spilling onto Portobello Road.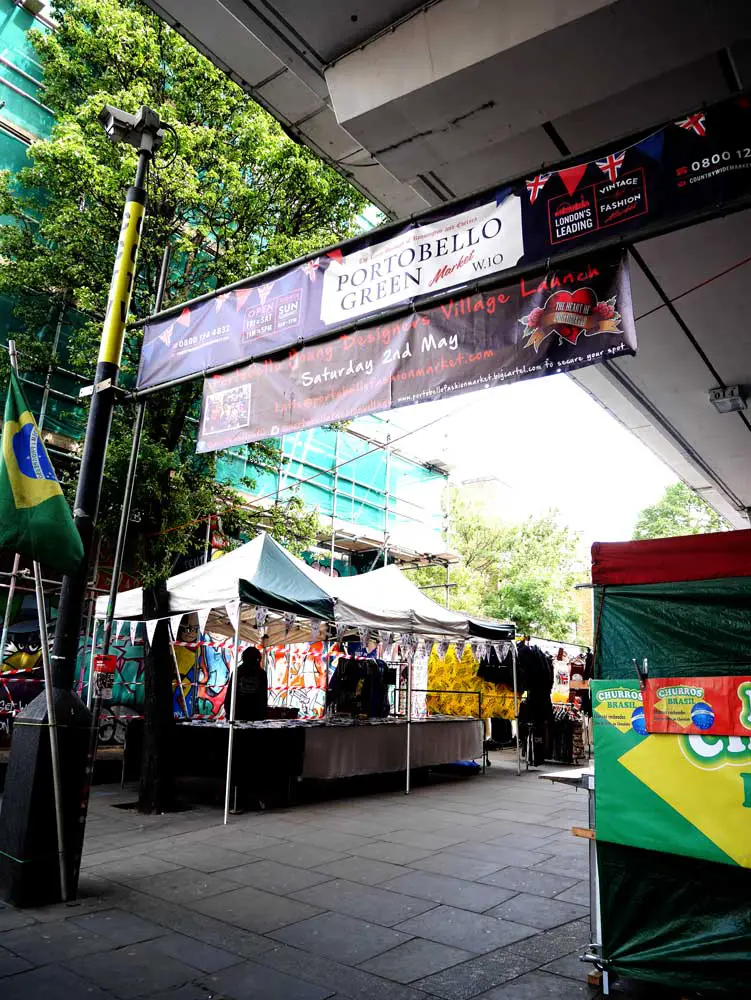 Boosting many vintage clothing and jewelleries stores as well as quirky headwear and sunglasses by up and coming artists and designers, this market is an independent corner that also opens on Friday and Sunday.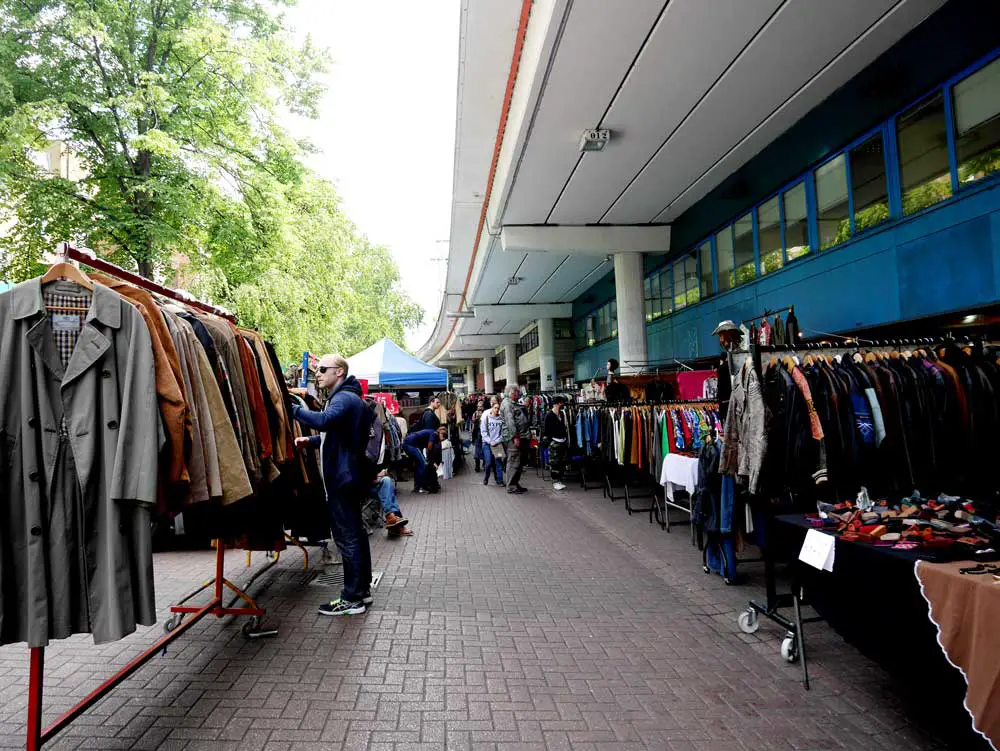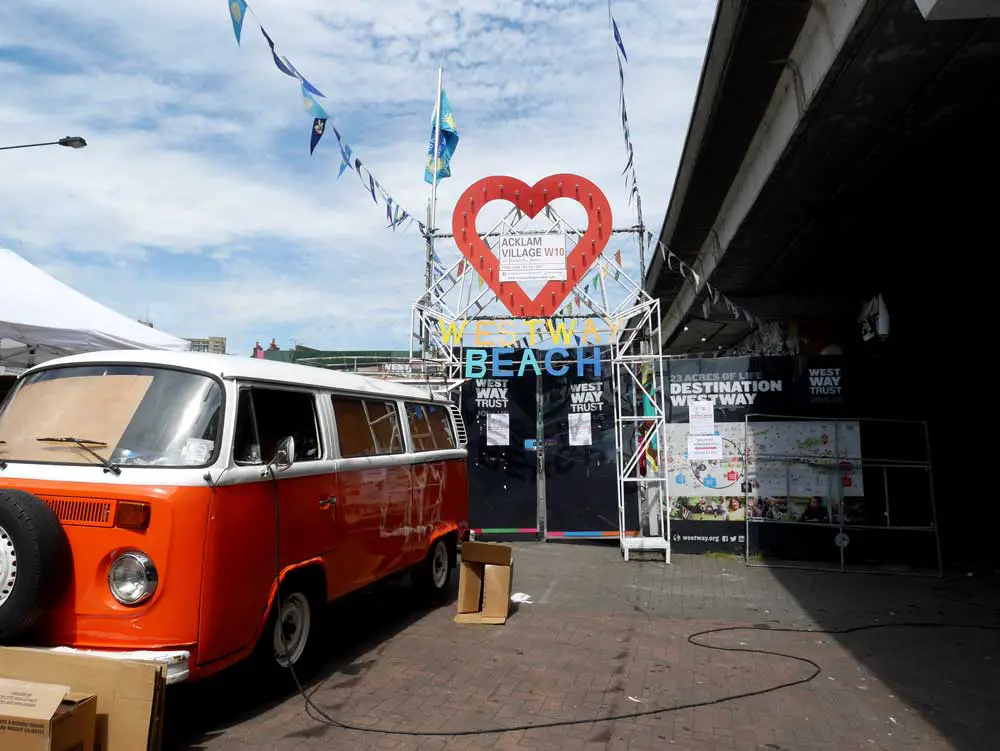 Across the road from it is the Ackram Village, where a large variety of mouth-watering street food stalls are set up and waiting to be savoured; whilst there are more stores down the road, the best of the best are gathered here from a Doner Kebab to prawn tempura.

Lastly is the part that most had come to see: the antique market. As soon as you cross Westbrone Road, the colourful rectangular houses and stalls full of antique bronze and silver combined with a waft of crepes will match all your expectations from googling or pinterest searching Notting Hill. Here you will be scoring for space to move amidst the hoard of tourists streaming pass, clutching your snack of choice, dodging street promoters vying for anyone's attention and listening to music by street performers dotted along the way.

With the dizzying market going on sometimes it's easy to overlook the abundant restaurants and cafes around the area. Though not known for being cheap, their ambience setting looks like it came straight out of a movie set. From bookshop cafes to decadent diners, your choices are not limited to street foods.
Pro tip: starts from Ladbroke Grove, it makes for an easier time and that's where the street food are at. Best time to visit is Saturday
Address: Portobello Road, Notting Hill, London
Opening times: Mon – Weds 9:00 – 18:00, Thurs 9:00 – 13:00, Fri – Sat 9:00 – 19:00
Nearest station: Ladbroke Grove from the northern end, Notting Hill from the southern end
Brick Lane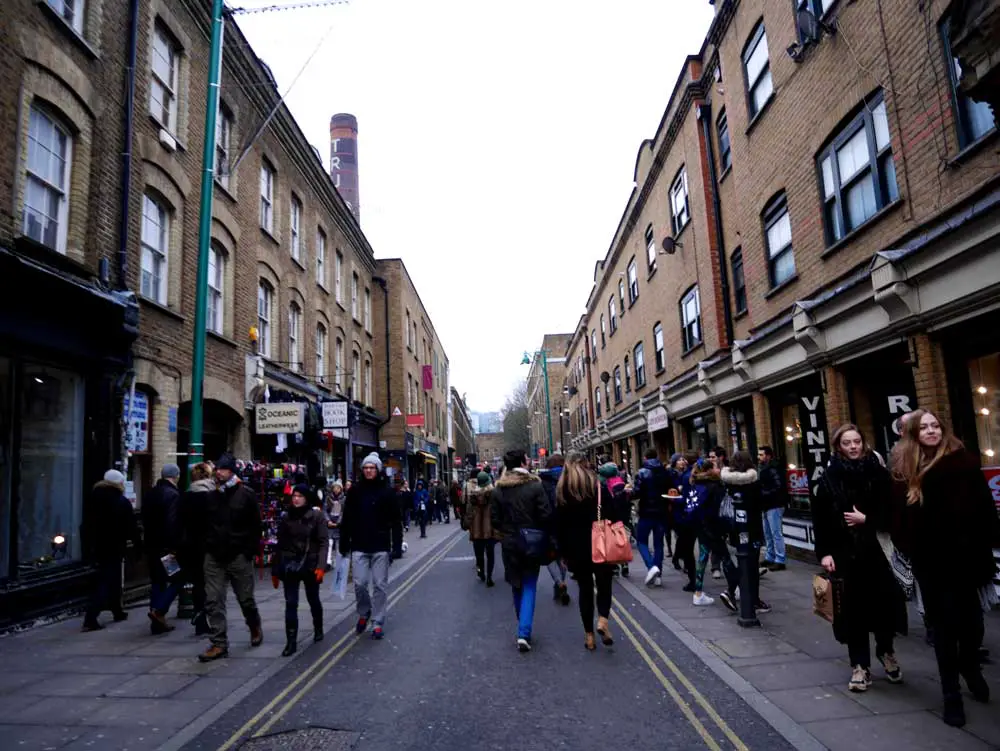 Arguably the most famous vintage market in London, Brick Lane's Sunday Upmarket draws large crowds to east central London every Sunday. It is worth noting that the main part of the market begins closer to Liverpool Street Station, and the southern part close to Aldgate East consists mostly Indian restaurants and fabric stores. The area is full of boutiques, vintage stores and galleries such as Beyond Retro and Rockit.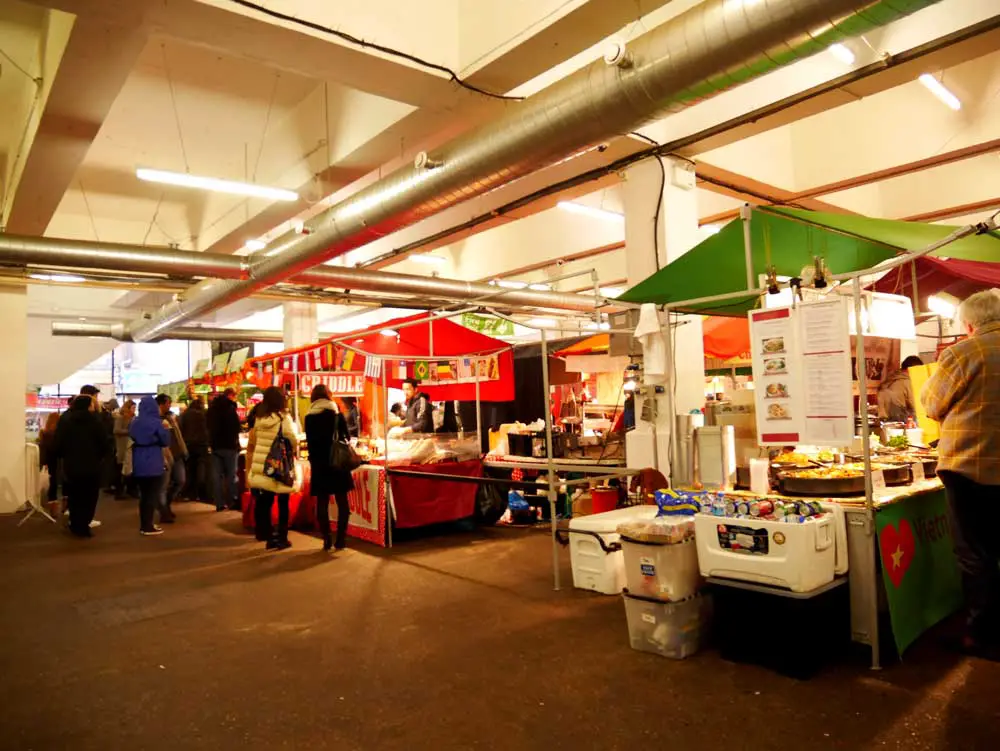 The area used to draw many bric-a-brac sellers, but in recent years it has become more commercialised. With vintage, antique and street food stalls spilling across a maze of warehouse and outdoor markets branching from the street, it is a dream to explore, but confusing to navigate.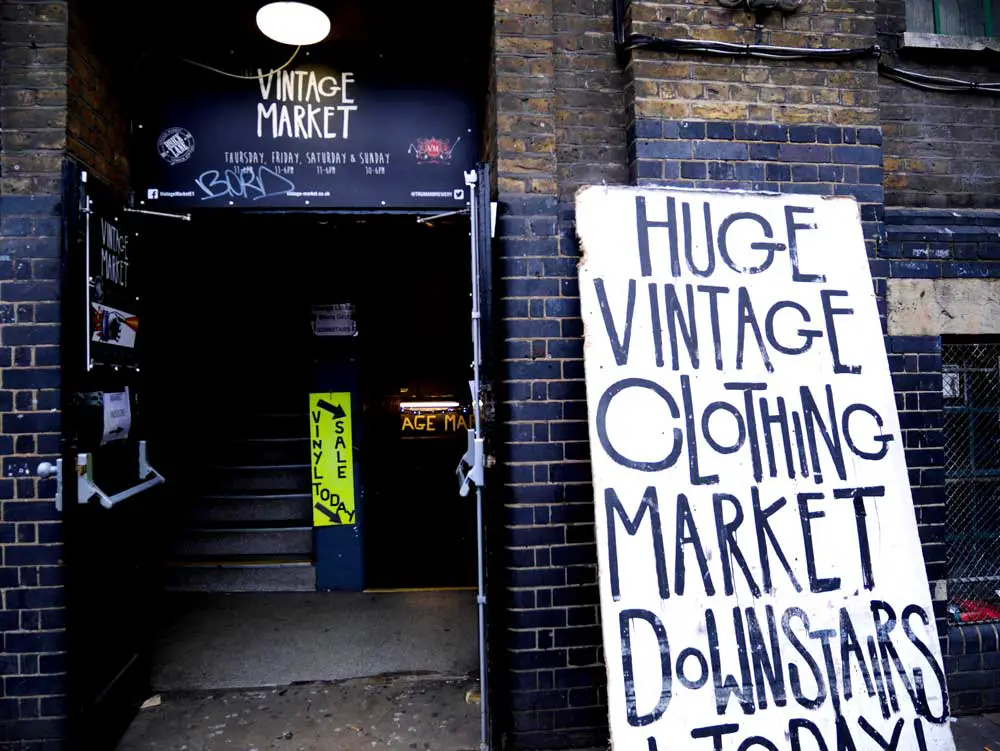 If you are looking for vintage, then the vintage market is for you. It is situated at a basement with an entrance in front of the Trumen Bridge. Open Thursday to Sunday from 11- 6pm.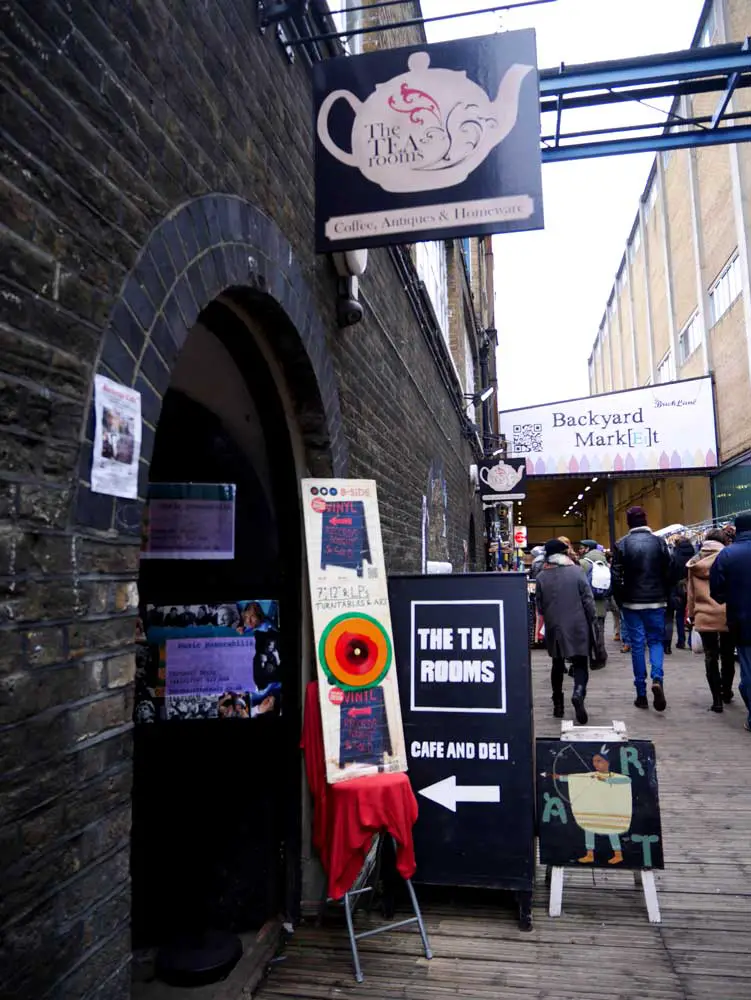 If you are looking for food, then Sunday upmarket is the place to go. If you didn't find anything you like (which isn't likely)
If you are looking for quirky, unique designs, then walk on and you will find plenty of smaller markets along the way that sells everything from handmade crafts to made in china goods. The stalls numbers will decrease as you head north towards Shoreditch High Street, but there are a couple of stores down there including Rockit Vintage Sotres.
Pro tip: The actual market is situated to the northern end of Brick Lane, so visit via Shoreditch High Street station or Liverpool street station to avoid a lengthy walk
Address: 91 Brick Lane, London E1 6QR
Opening times: Sat 11:00 – 18:00, Sun 10:00 – 17:00
Closest station: Liverpool Street Station (10 minutes walk), Shoreditch High Street (the other end)
Broadway Market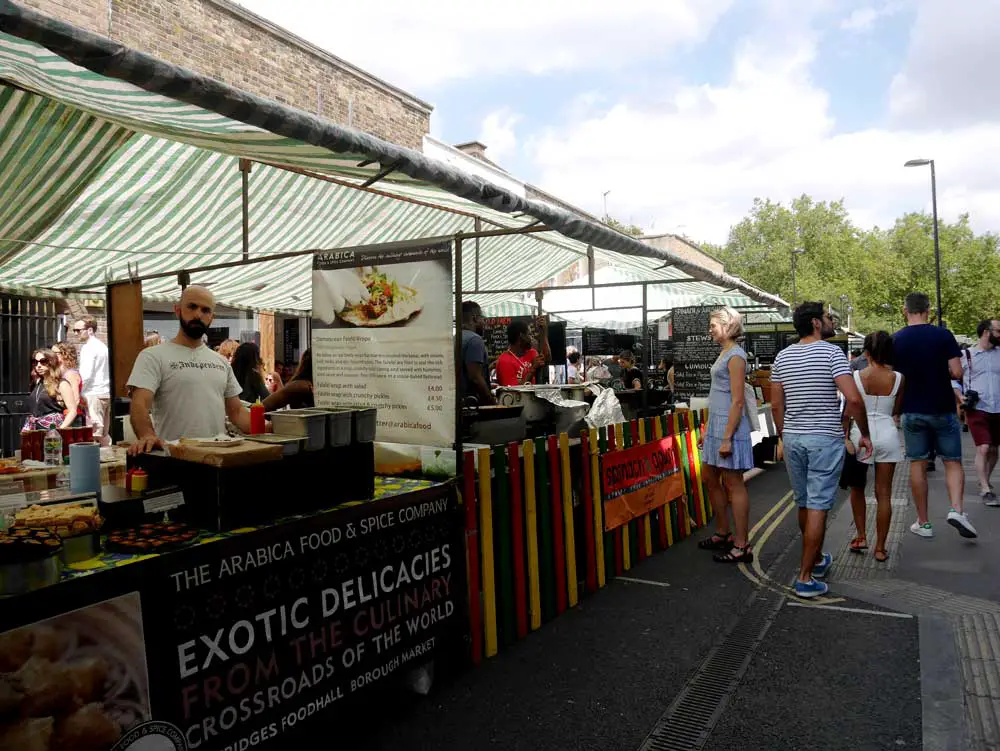 Wedged between London Fields and Regent Canal in the hip district of Hackney in north east London, Broadway Market has a history dating back to 1890s. Originally a local trading market, it now welcomes a plethora of mouth-watering street food, baked goods, clothing and grocers' stalls from all over London on a Saturday.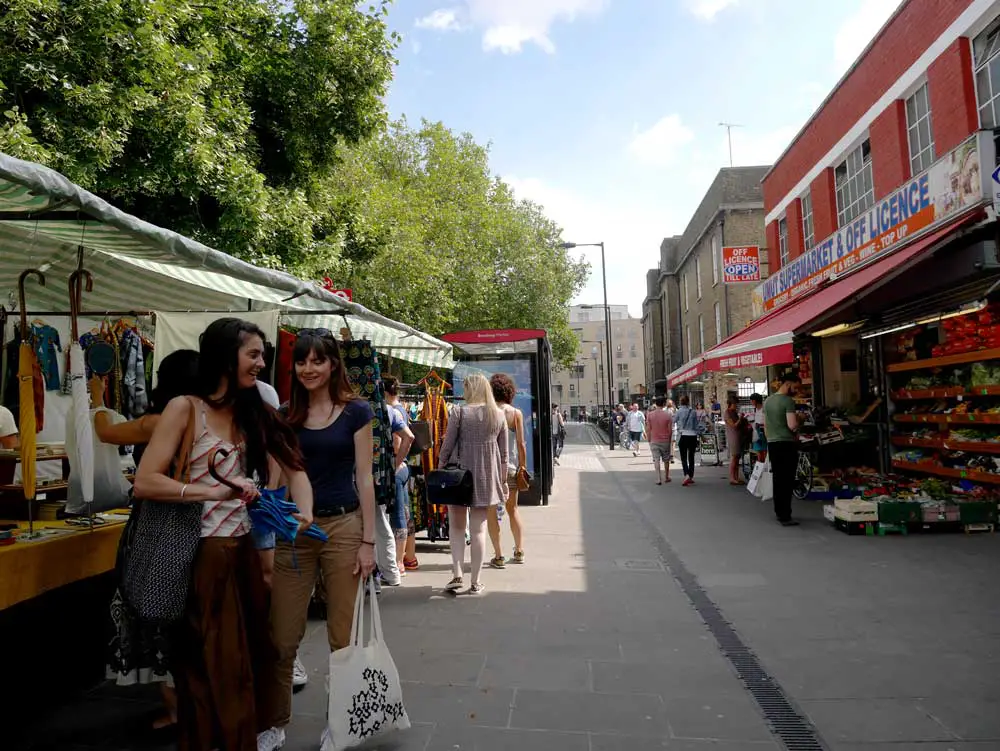 With numerous quaint restaurant and cafes of its own as well, you can indulge in a pulled pork Taiwanese bun, heart-shaped pizza, French Caribbean pork ragout, salmon tapas, chorizo scotch egg… the choice is endless. If street food isn't your thing (though I can't imagine why), there are plenty of shopping to do too. Be it vintage one-offs or handmade kimonos, or fresh local produces and baked goods or flowers, you will be hard-pressed to leave without spending your dosh on at least one thing in this market. On my short wonder there last time I managed to buy a lovely bouquet of orchids for £3.50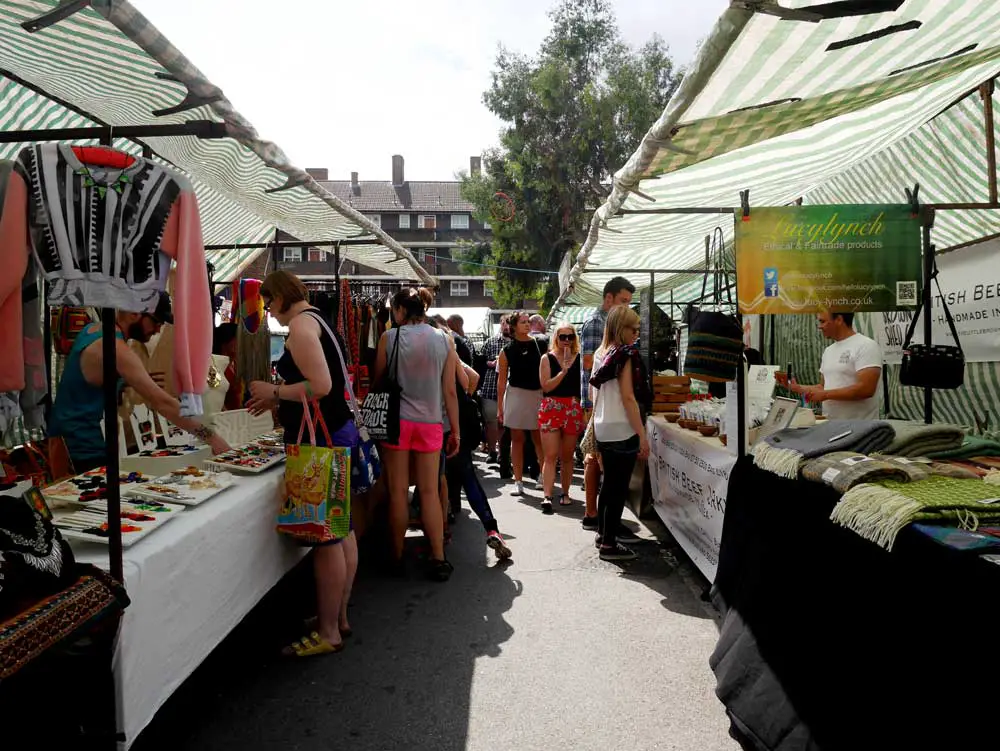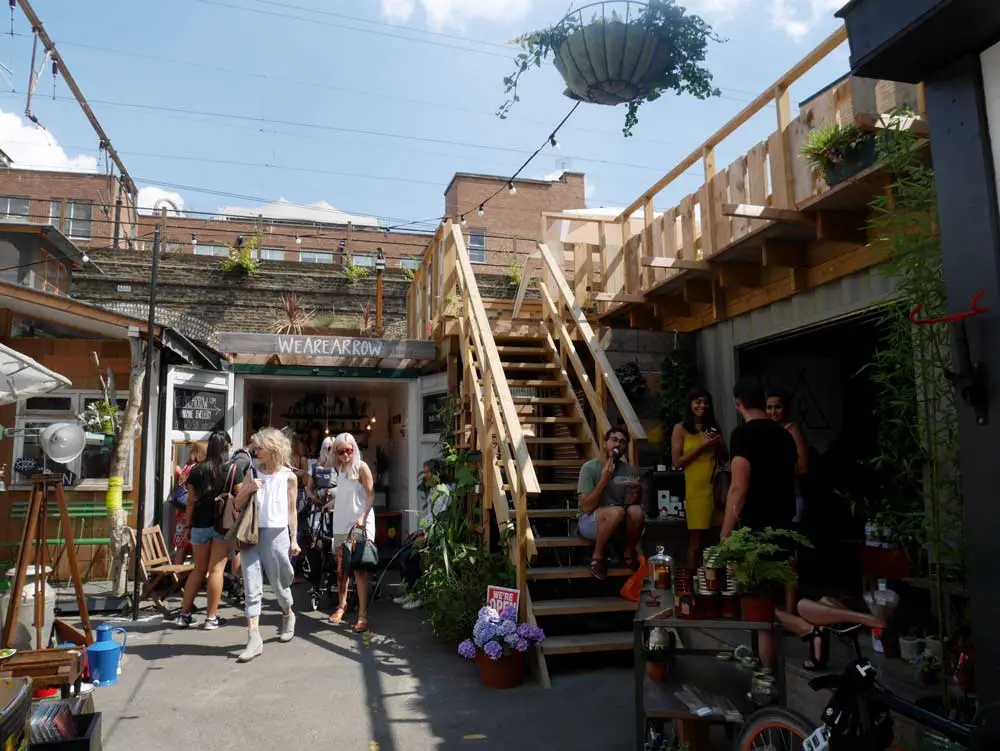 There are plenty of smaller markets dotted around as well, taking place in school yards and many more are bike friendly.
Pro tip: You can grab some food and relax at the London Fields
Address: East London, Hackney, London E8 4PH
Opening times: Saturday 9:00 – 16:00
Closest station: Bethnal Green tube (14 minutes), several buses stop nearby (King Edward's Road LP stop with number 55 that runs from Oxford Circus)
Camden Lock Market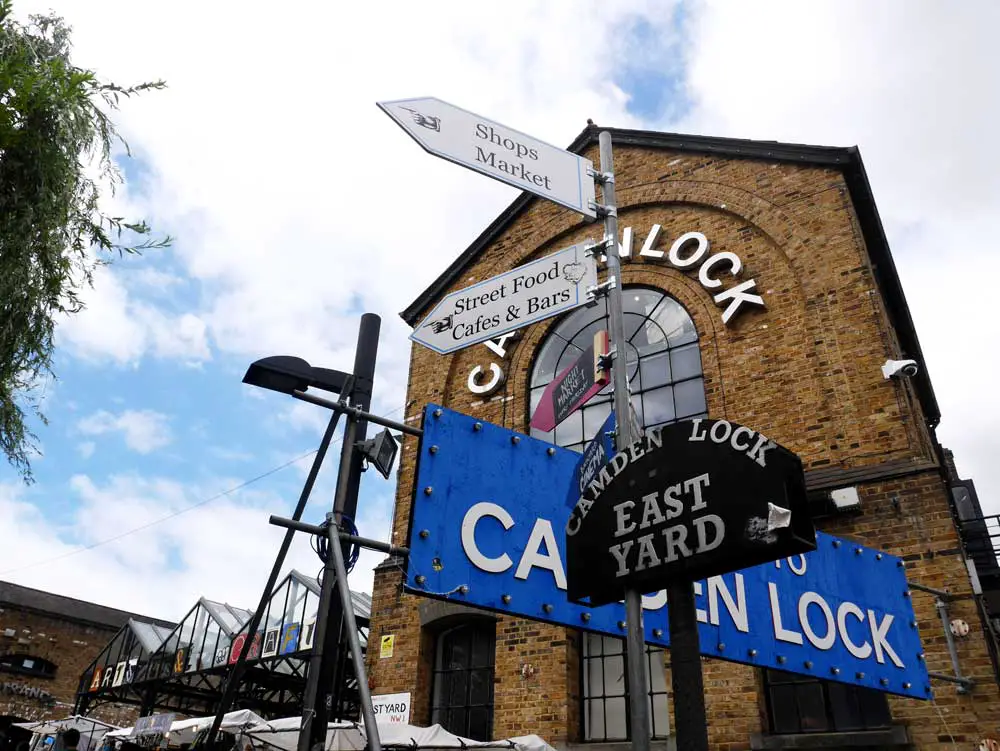 Opened in 1972, the Camden Lock Market perched next to the river was once a timber's yard, and not to be confused with the Camden Market right by the underground station (which frankly isn't half as interesting).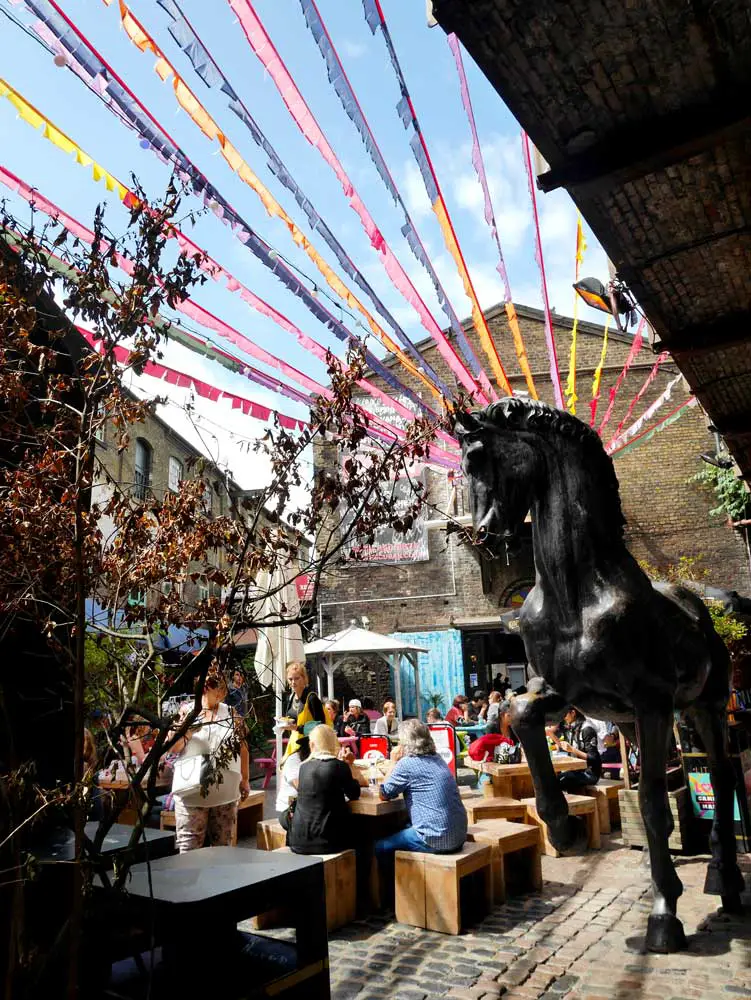 Also known as the Horse Stable Market, it was the original arts and crafts market in London that open seven days a week. Refurbished throughout the years, it has gained a Market Hall, walkway and a stable theme.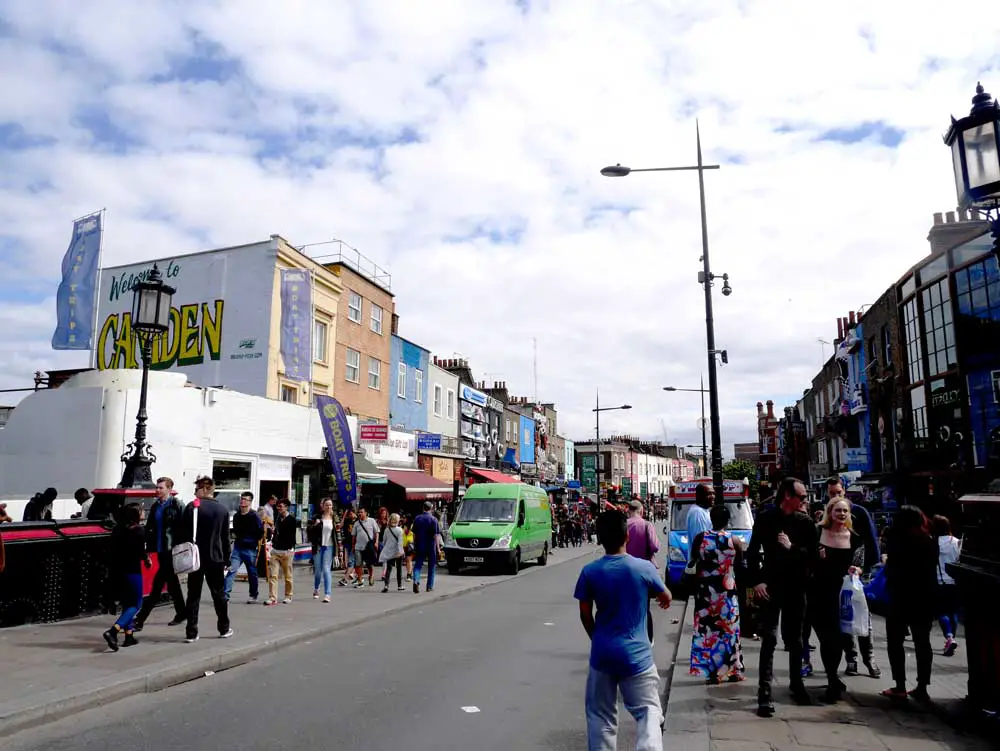 While the Camden Lock Market is more touristy than others, it still doesn't take away it charm with the canal and plethora of shops. You have street food stands of all kinds stretched across the entire market and quirky seating areas – from wooden picnic benches to metal wrought chairs; though it will serve you best if you stay by the canal.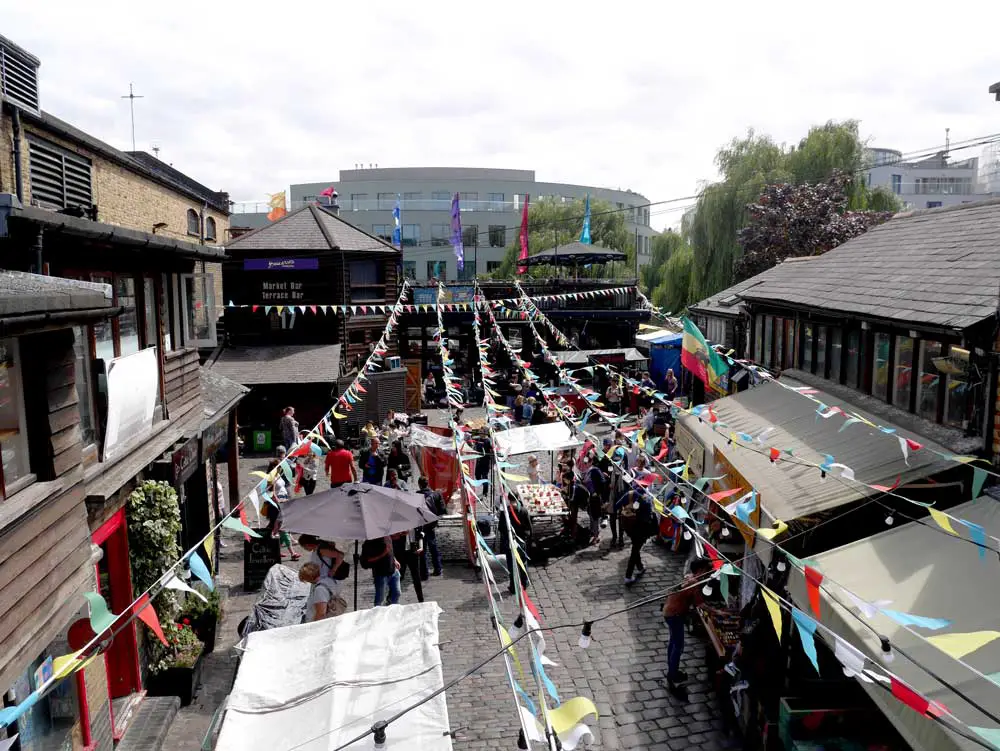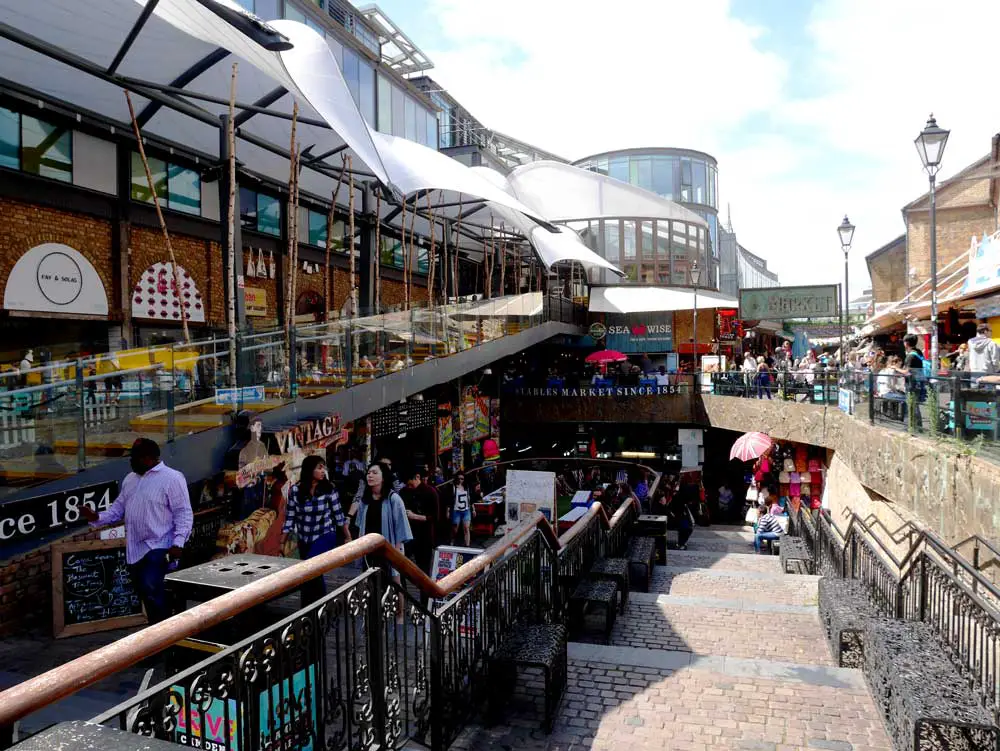 The blacksmith stable theme with its brick work and horse statues are a great photo spot as well. And if you go all the way to the back of the market, you can chill at Proud Camden's terrace bar. They even have a hot tub in the summer months.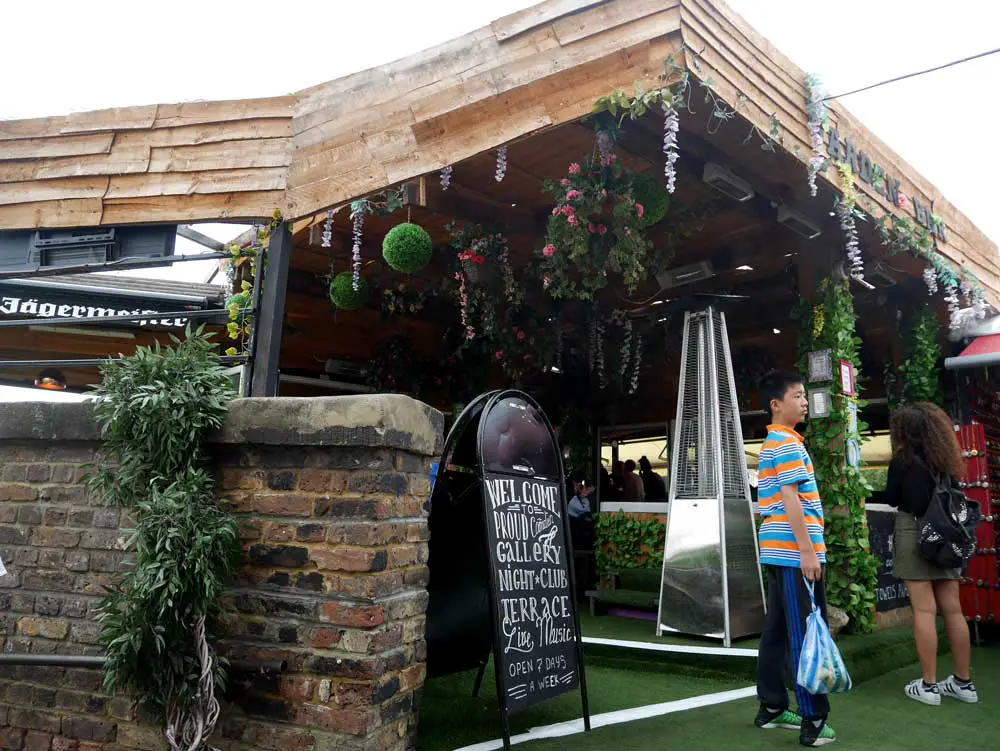 Pro tip: if you go later in the evening, many of the street food stores will be selling their food at a discounted price.
Address: Chalk Farm Road, London NW1 8AH
Opening times Mon – Sat 10:00 – 19:00, Sun 11:00 – 18:00
Nearest station: Camden Town (Northern line)
Spitafield Market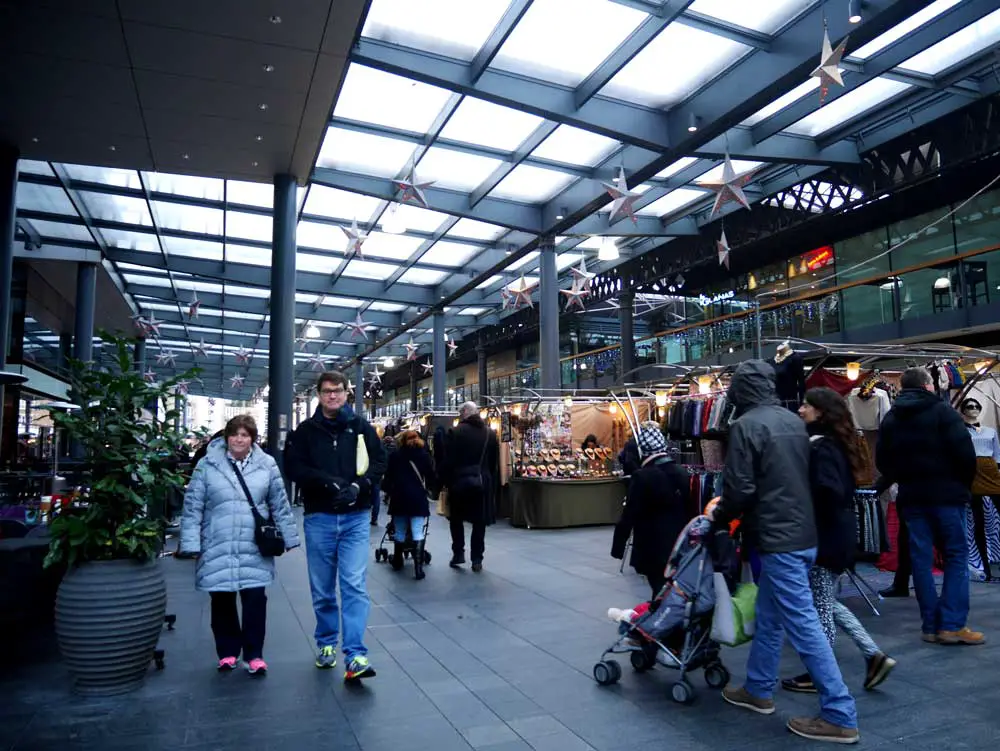 A short walk from Brick Lane is the beautiful Spitalfield Market, which is housed within a Victorian courtyard full of modern shops as well as some quaint fashion boutiques. There are plenty of restaurants as well as street food vendors for those who are hungry.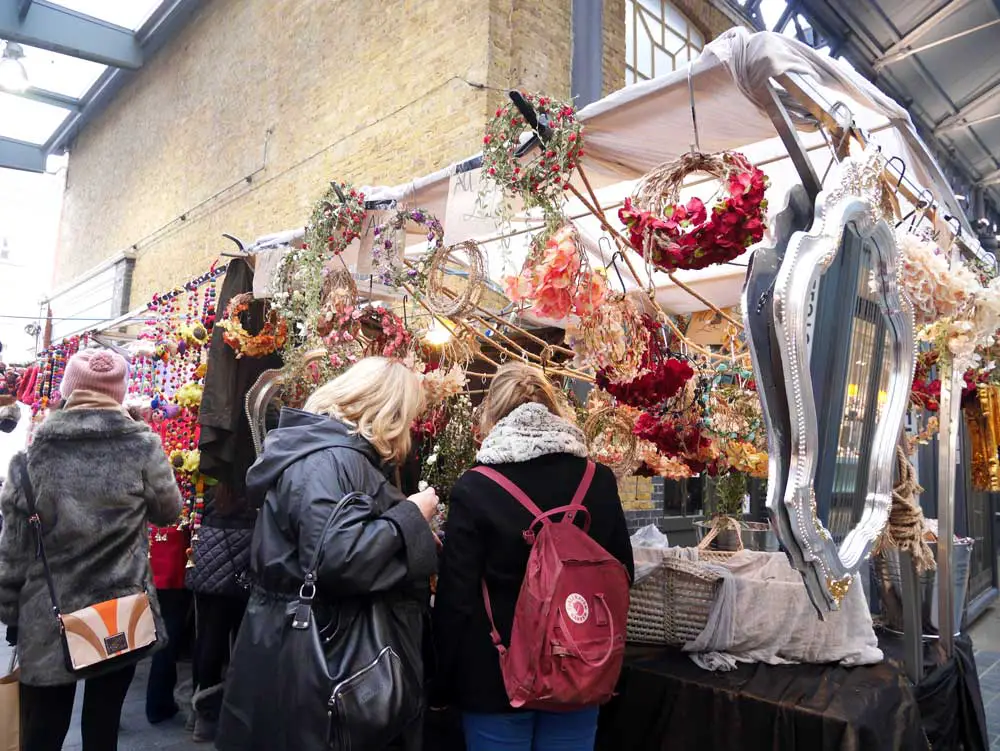 While it might not be as quirky as the other markets on the list, there are still plenty to browse around and the vibe in Spitalfield somehow just draws me back again and again. My personal favourite is the floral headband stalls that sell cheap (you guessed it) floral headbands for 1 quid, the airport themed nail bar and a concept store that sells the niftiest life hack items.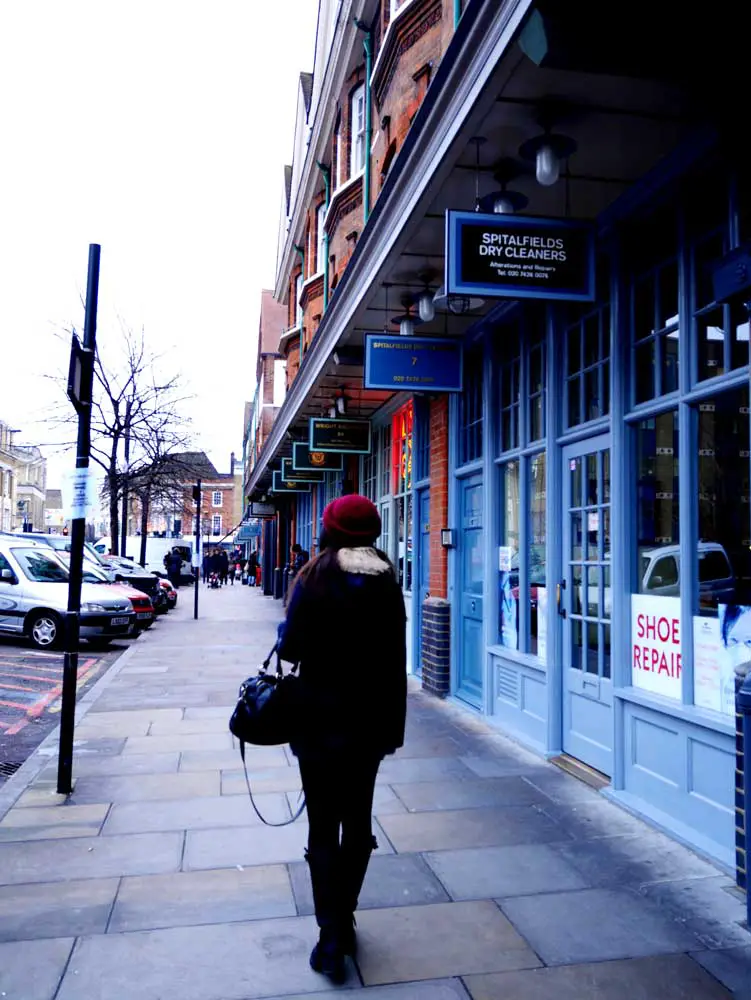 There are also second hand and antique books and jewellery,  handmade craft stands and your quintessential cheap clothing stalls.
Address: Homer Square, Spitalfields, London E1 6 EW
Opening times: Sun – Fri 10:00 – 17:00, Sat 11:00 – 17:00
Nearest station: Liverpool Street Station (Central Line)
Pin me!

Pin me!