Po Toi Island is the southernmost island of Hong Kong and is known for its strange rocky landscape. While it is also one of the smaller islands covering 3.69 km2, it is an inhabited island and popular for camping and hiking.
While it's sort of similar to Tap Mun, the Grass Island, Po Toi is more hike orientated with fewer dining options. But it's a solid choice for anyone who delights in finding strangely shaped rocks.
Po Toi Islands overview
Po Toi Island is the part of the Po To Islands that also includes Beaufort Island, Lo Chau Pak Pai, Mat Chau, Mat Chau Pai, Sai Pai, San Pai, Sung Kong, Tai Pai, and Waglan Island.
Given that only Po Toi is serviced by public ferry and is inhabited, it's the only island that's regularly visited.
A Short History of Po Toi Island
Po Toi Island has been a fishing island historically and is still known for its seaweed and dried seafood goods. It is the only inhabited island that's off-grid in Hong Kong with no running water as well. The electricity comes from a generator and it only provides them at night.
There were up to a thousand or so inhabitants in the 70s but given its remoteness and lack of resources, there are only less than a hundred people living there.
Po Toi Island Geology
Po Toi Island is almost completely made of granite, which is also the predominant rock type in Hong Kong. This means that there isn't a lot of beaches on the island and that is also what draws a lot of people.
The granite that forms Po Toi intruded around 140 million years ago and is considered to be a younger group.  The same rock group outcrops in Stanley and Shek O, and you can see the similar quality.
How to get to Po Toi Island
The only way to get to Po Toi Island is by ferry, and there are only schedules running on Tuesdays, Thursdays, and the weekends. The ferry takes off from Aberdeen and sometimes go by Stanley – which is a shorter journey.
It's worth getting to the pier about 15 minutes early from Po Toi Island back (or even half an hour) as the ferry tends to fill quite fast. It's essential if you want to get a good seat.
Aberdeen to Po Toi Island Ferry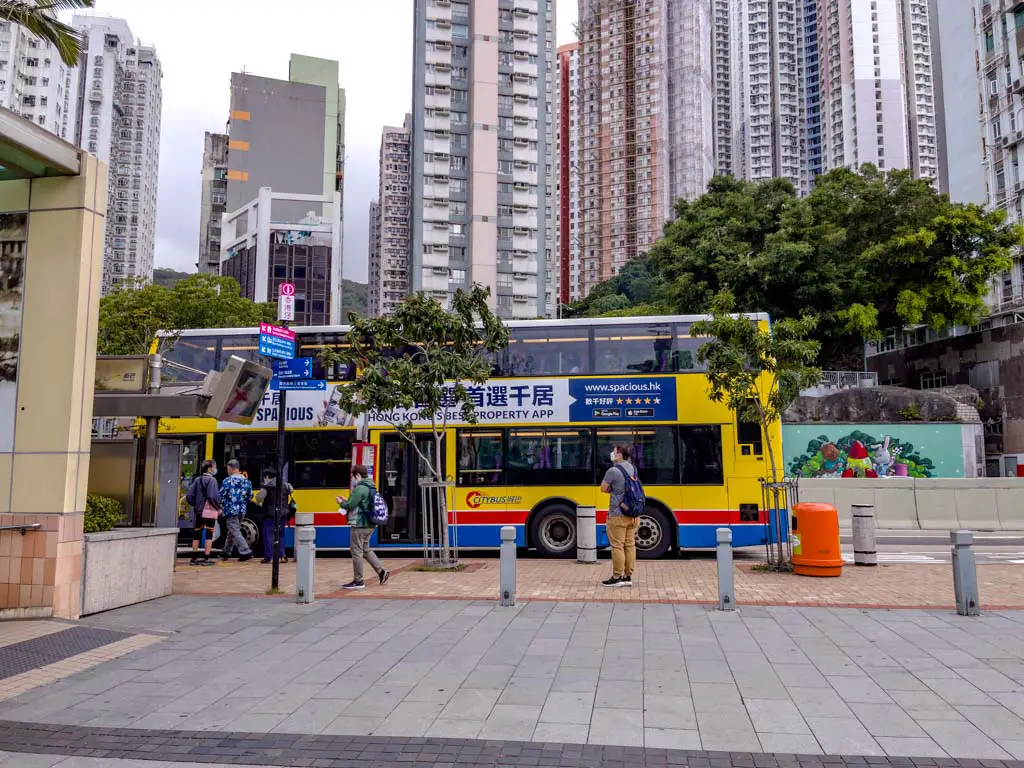 The Aberdeen Ferry Pier is located along the Aberdeen Promenade, and there is no nearby MTR stations.
To get there, it's best to go via bus. We took the MTR to Hung Hom and then the 107 bus that stops right by the promenade and an easy walk over.
Here are other bus options:
69 Cyberport
91 Central Ferry Pier
77 Tin Wan Estate
Aberdeen-Po Toi Ferry Schedule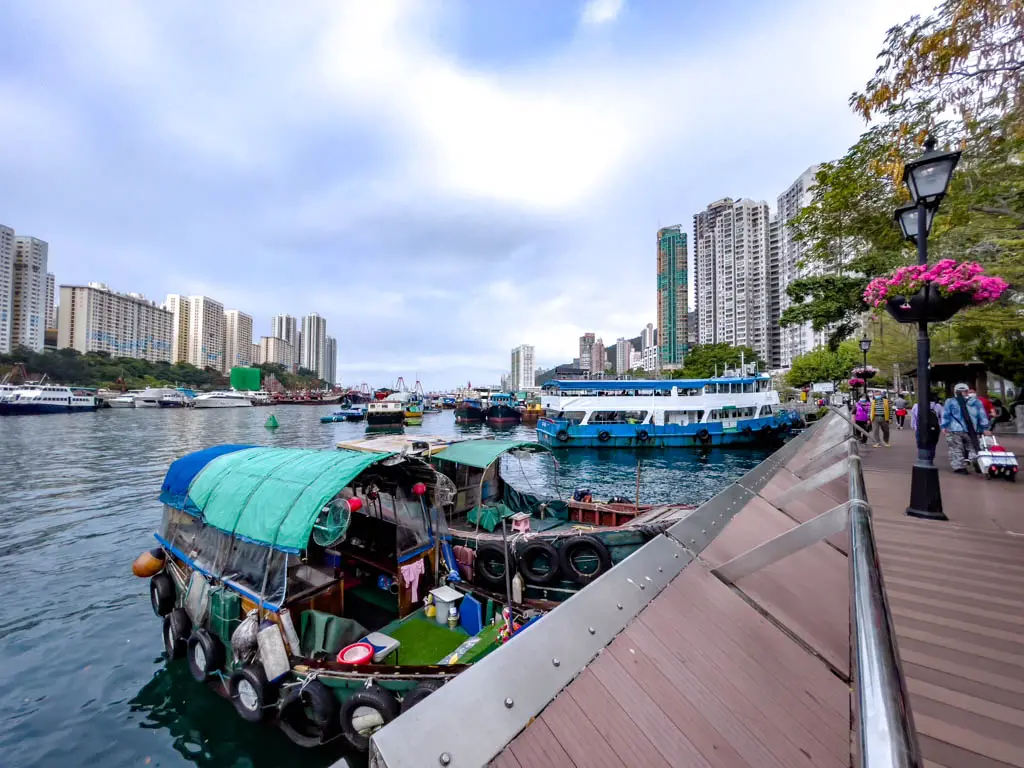 The Traway pier also runs the Aberdeen-Yung Shue O ferry to Lamma Island. It's the eastern pier near the roundabout wraparound, so don't go to the one by Jumbo Pier instead.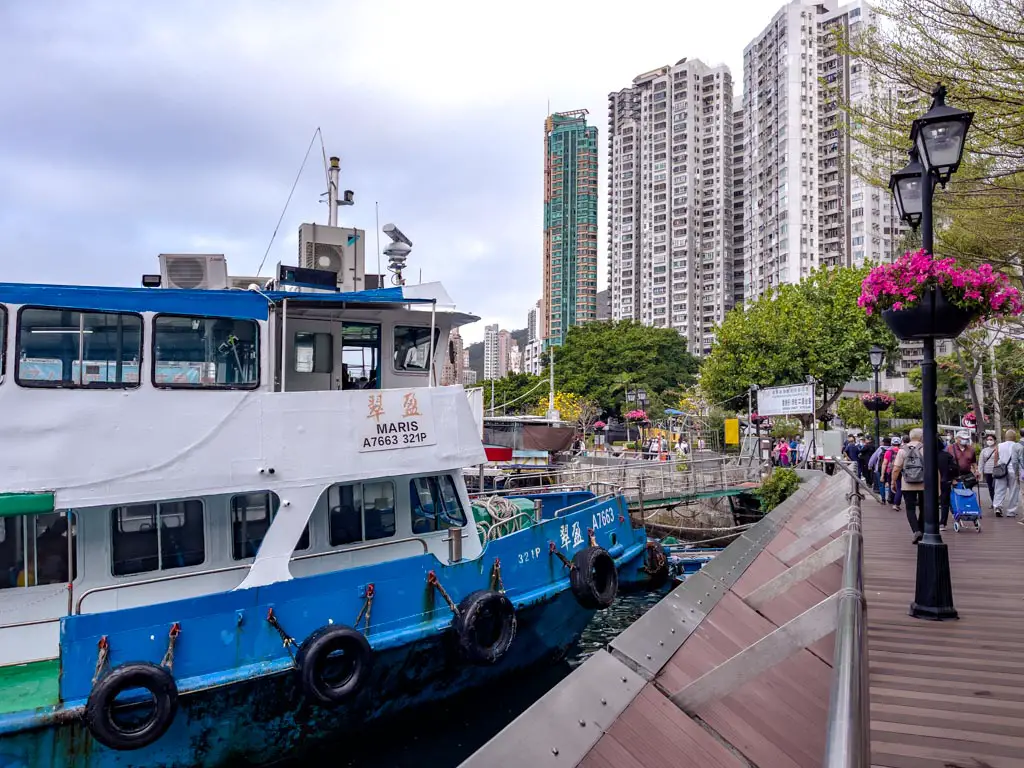 Tuesday and Thursday Aberdeen to Po Toi: 10 am  
Tuesday and Thursday Po Toi to Aberdeen: 3:30 pm
Saturday departure: 10 am, 3 pm
Saturday return to Aberdeen: 2 pm, 4 pm
Sunday departure: 8:15 am
Sunday return: 6 pm
Stanley to Po Toi Island Ferry
Only the weekend ferries pass by Stanely pier by Murray House:
Saturday from Po Toi to Stanely: 2 pm, 4 pm
Sunday to Stanley to Po Toi: 10 am, 11:30 am, 3:30 pm, 5:00 pm
Sunday from Po Toi to Stanley:  9:15 am, 10:45 am, 3 pm, 4:30 pm, 6 pm
Po Toi Island Hike
Although it's a small island, there are 3 hiking routes on Po Toi Island that are named Route 1, Route 2, and Route 3. Most people tend to only do Route 1, which is the shortest and highlights all the top attractions.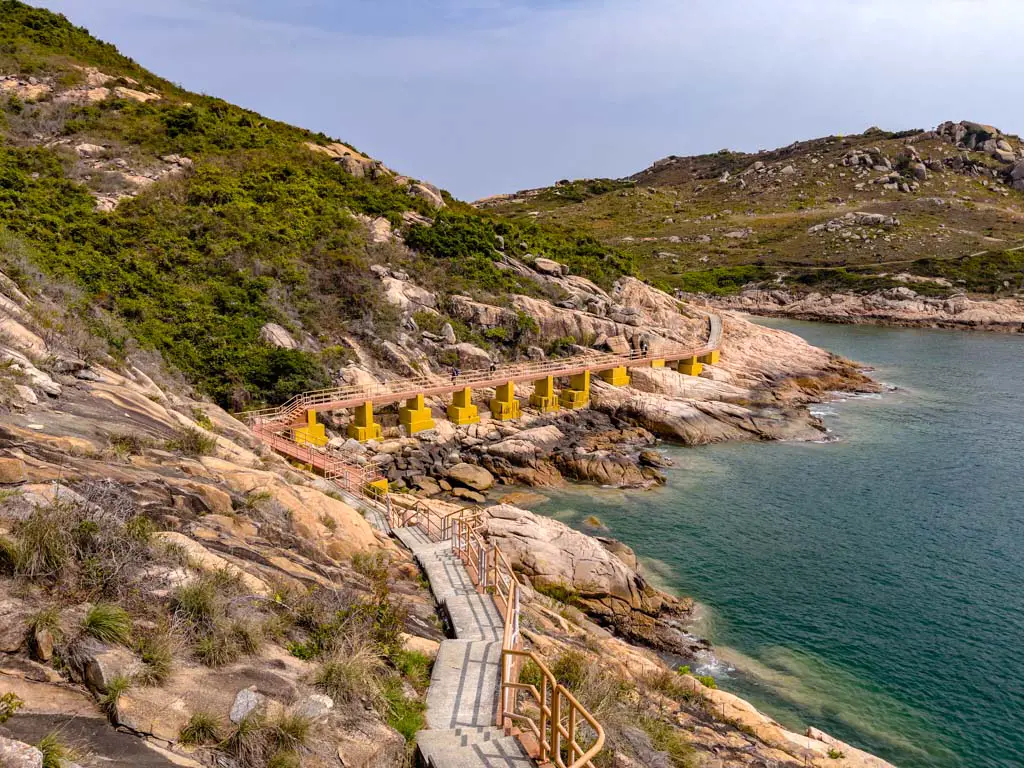 The best route is to go towards Tai Wan in the southwest first, then go up Route 2 and join Route 1 – which is going to be the order I write this in. Route 3 is the longest and hardest route so I've put it towards the end.
Po Toi Island Tai Wan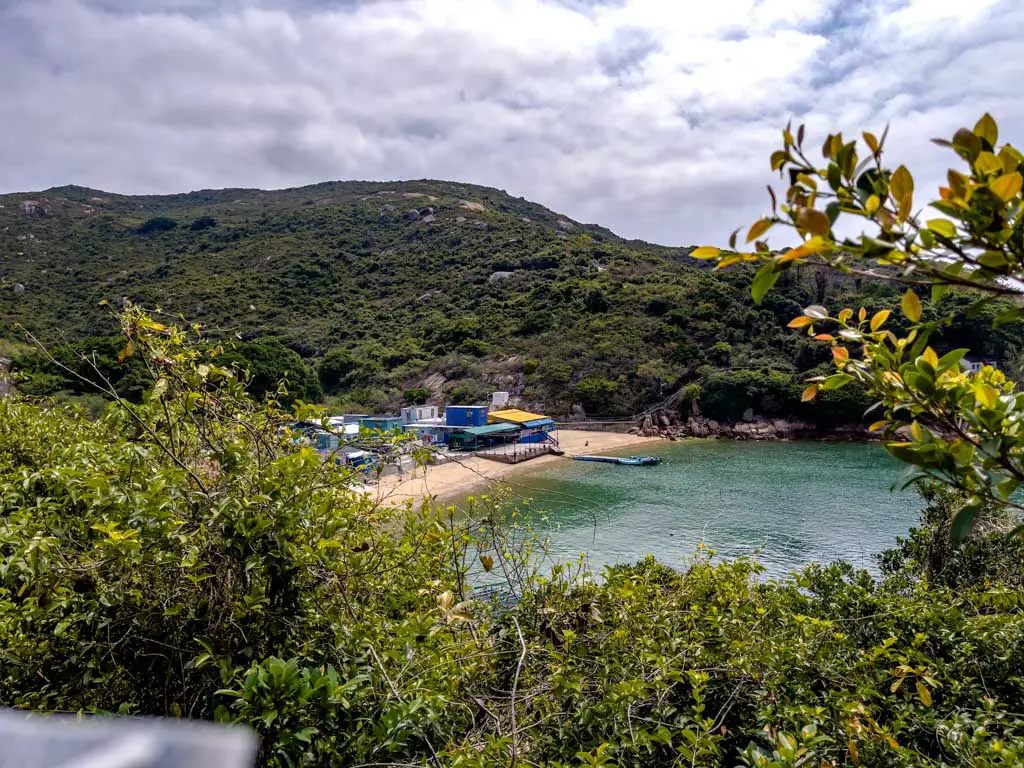 There are a dozen places in Hong Kong called Tai Wan, and the Tai Wan in Po Toi Island refers to the bay east of the pier.
It's not officially part of the three hiking routes but it's near the trail start for Route 3 – the longest and hardest trail. Because it's where the only public (dry) bathroom is and off route from the others, we made it our first stop.
From the pier, head in towards the pink building and turn left until you get to the small village – the bathroom is towards the right and signposted.
Po Toi Island Tin Hau Temple
The Po Toi Island Tin Hau Temple can be spotted on the ferry in and the ferry out. The Tin Hau Temple was built in the 19th century and was refurbished six times, most recently in 2015.
They used to host Tin Hau Birthday celebration which falls on 23rd March in the lunar calendar. The celebration involves building of the theater scaffolding (in bamboo) that extends to the sea, making for an intriguing sight.
Conch Rock
The Conch Rock is not far from the Tin Hau Temple, about 3-4 meters high and shaped like the conch shell. You can walk down to get close to it but it's best to just take a photo from the rock outcrop.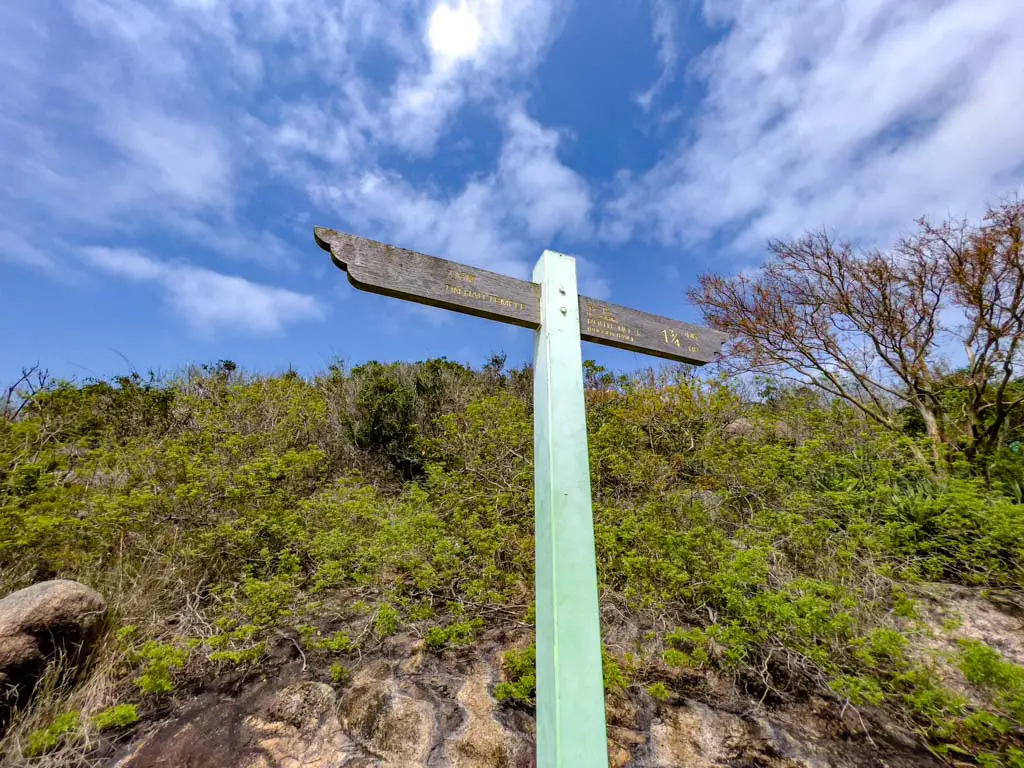 To continue your tour around the island, go back the way we came. If you want to take Route 3, this is the sign to look for. 
Po Toi Island Route 2 – Po Toi Country Trail
Route 2 is longer and also known as the Po Toi Country Trail, going up to the central hills of the mountain and back down to join Route 1.
The trail start for Route 2 is in front of the pier, higher up in the small village. It's marked by a signpost and a big cobble-stone plaque.
Difficulty: 1.5/5 – it is paved but it is also pretty exposed under the sun
Time taken: 1 hour
The Po Toi Country Trail is mostly stairs on the way up, then becomes an inclined path as we emerged into the open.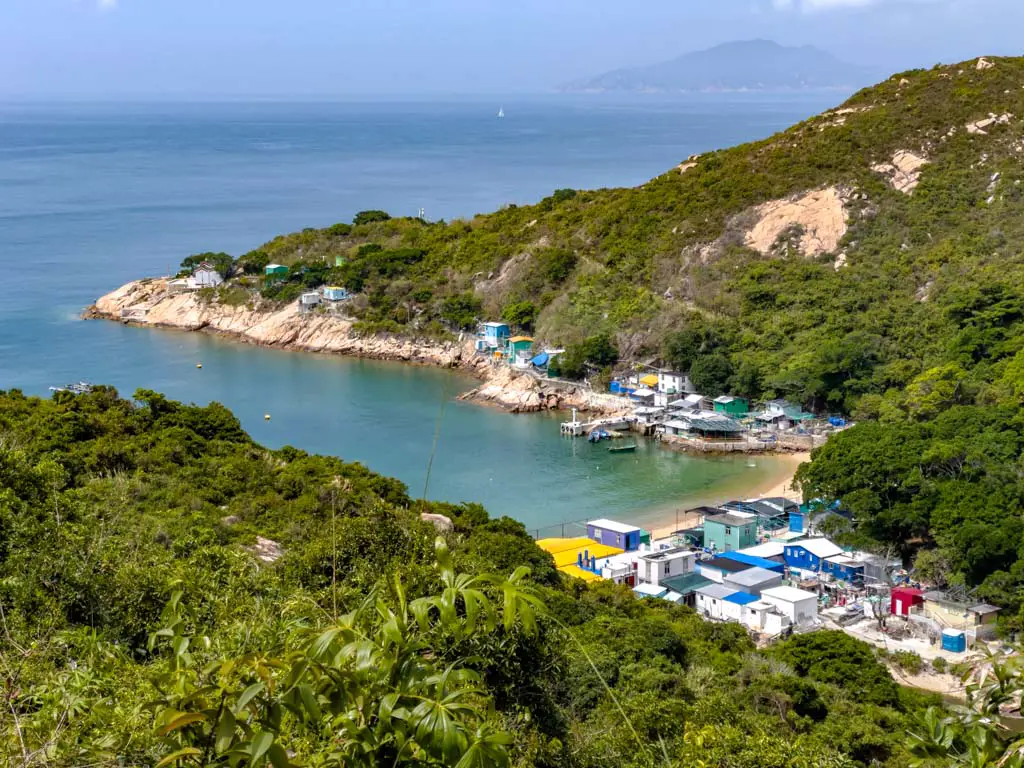 There's a pretty good view of Tai Wan and the Tin Hau Temple when we look back. 
Mo's Old House
The Mo's Old House is the first attraction on Route 2 and it's not well marked. When you see a perpendicular bend of the road, there should be a weathered sign further in and this is the trail that goes in.
Mo's Old House is exactly what it sounds like: the old house of Mo's. Mo was a businessman who built this stone mansion for his family in the 1930s.see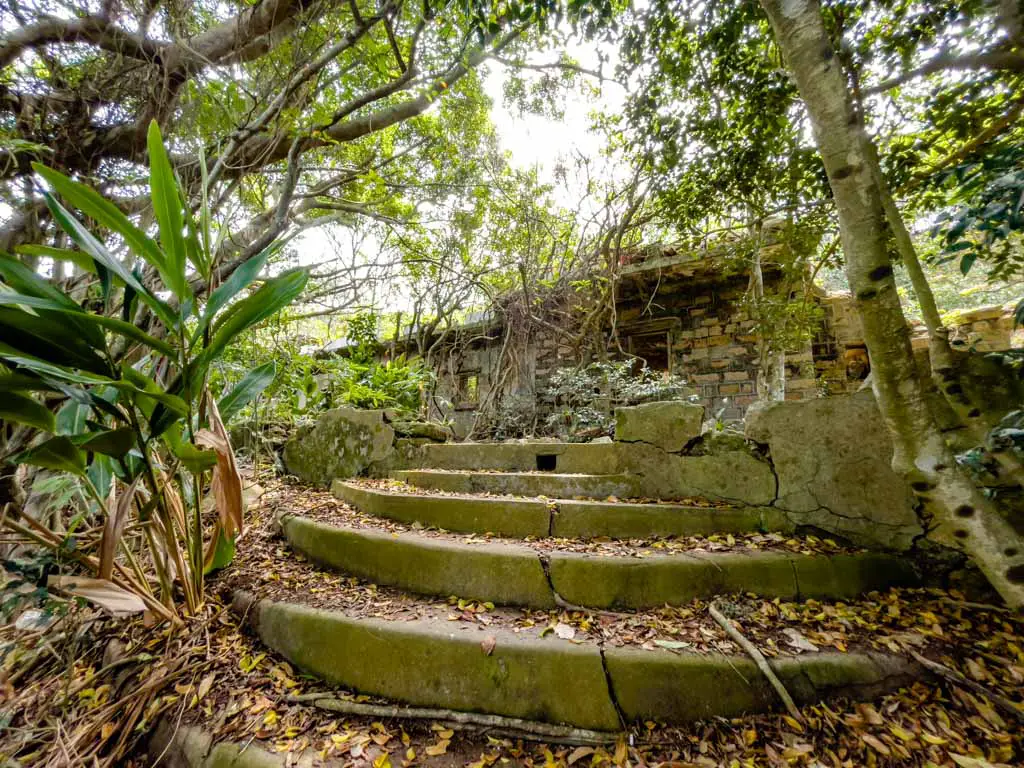 The family moved away after the pirates attempted to break in and kidnap them for ransom during the Japanese occupation, and there's no ghost story officially, it is known as the haunted mansion.
It's quite interesting to see but since it's both falling apart and private property, I'd advise against going in. You can take the stairs down and follow the path that would take you back to Route 2.
Coffin Rock
The Coffin Rock is just further up the Po Toi Country Trail and you need to keep an eye out to your right to spot it.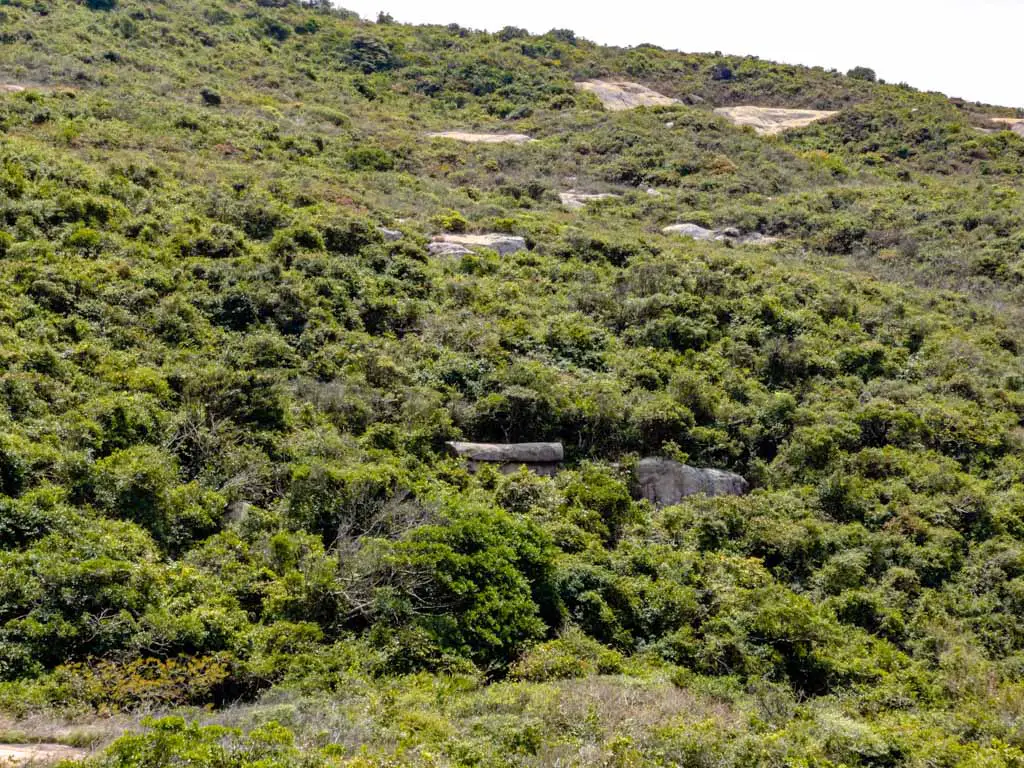 It's on the hill across and can be seen better at the end of the stairs. It's roughly cylindrical with some sort of a lid, resembling a coffin. Since it's quite far away, you probably need a few seconds to spot it.
The trail continues on a huge granite outcrop then gets back on concrete. When you see a signpost at a bend to the right, it's close to the junction where Route 3 was.
Then it's a mostly flat trail towards the pavilion that is somehow called Kwoon Yat Pagoda.
Kwoon Yat Pagoda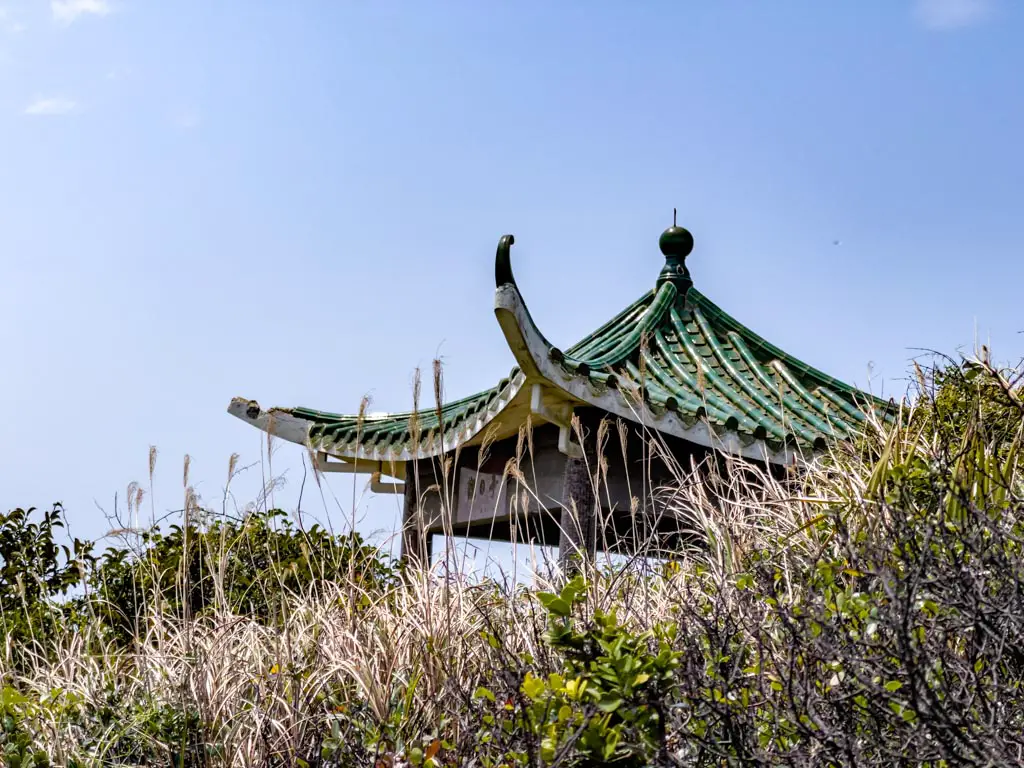 The Kwoon Yat Pagoda is actually a pavilion, and the Chinese translation means looking at the sun. We didn't end up stopping there because quite a few people were already inside, but it's a good place to take a break.
The hike then continues with a whopping 900 stairs down – but you get an epic view of Route 1.
Po Toi Island Route 1
The Po Toi Island Route 1 starts from the ferry pier and goes southeast to the Ngong Chong Peninsula, the southernmost part of this southernmost island. It's also the most popular place for camping given it's mostly flat with gentle slopes.
Difficulty: 1/5 
Time taken: 1 hour – mostly because you'll want to take photos
Note: it's much better to do Route 2 and then joins Route 1 to avoid the steep stairs up in the reverse route.
Ngau Wu Teng Pavilion (188m)
Since we come down from Route 2, the trail leads us straight to the Ngau Wu Teng Pavilion, which is the eastern route.
You can take a break at the pavilion or carry on up.
Monk Rock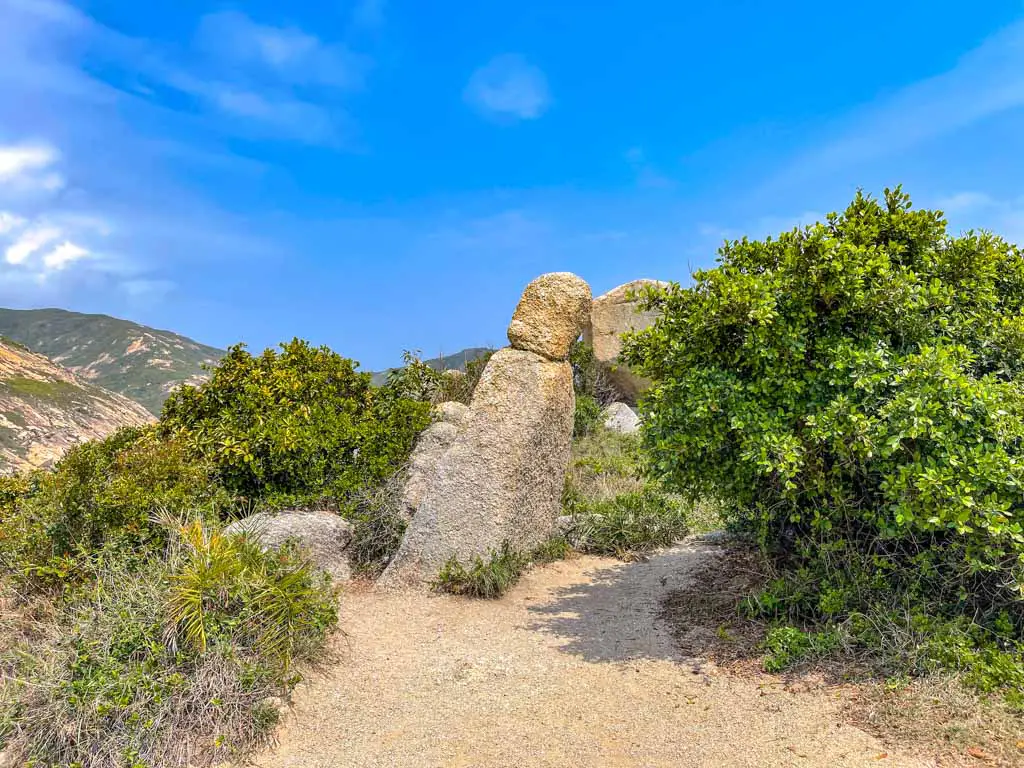 The Monk Rock and the Tortoise Rock are just next to one another. The Monk Rock is actually a simple pillar with a round head on top. It's just to the left of the trail and a fun photo op.
Tortoise Rock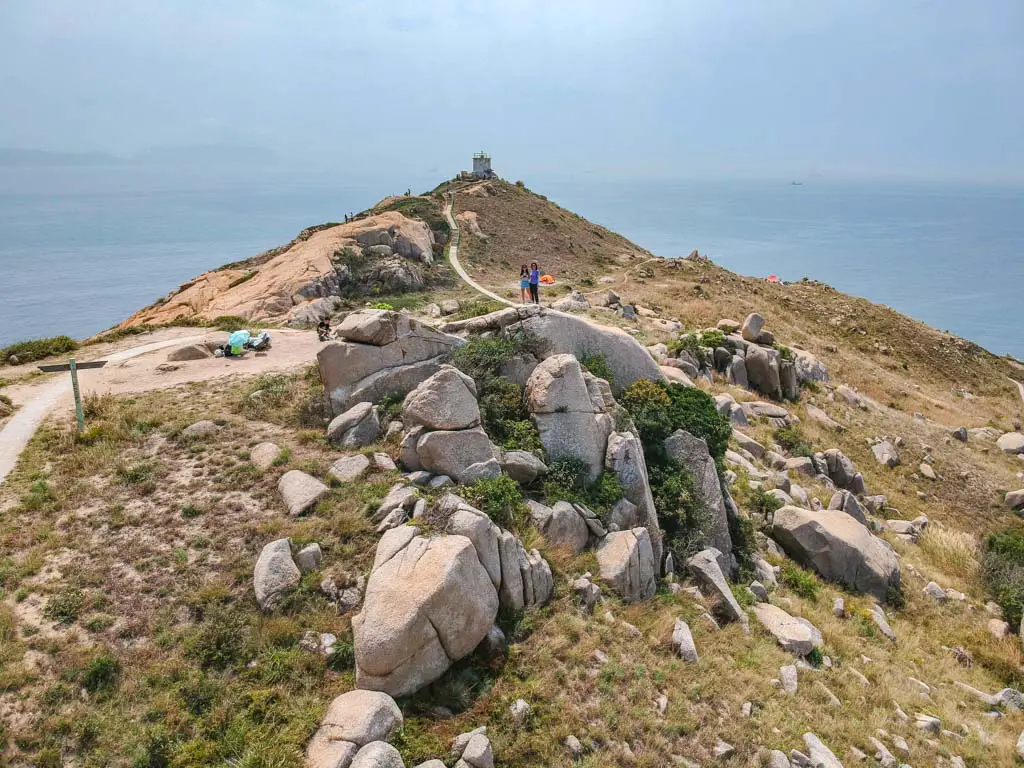 The Tortoise Rock is bigger than the Monk Rock and might be more difficult to spot. When you're hiking up, it might be easier to see that a giant tortoise climbing up to the peak where the trail is.
Nam Kok Tsui Lighthouse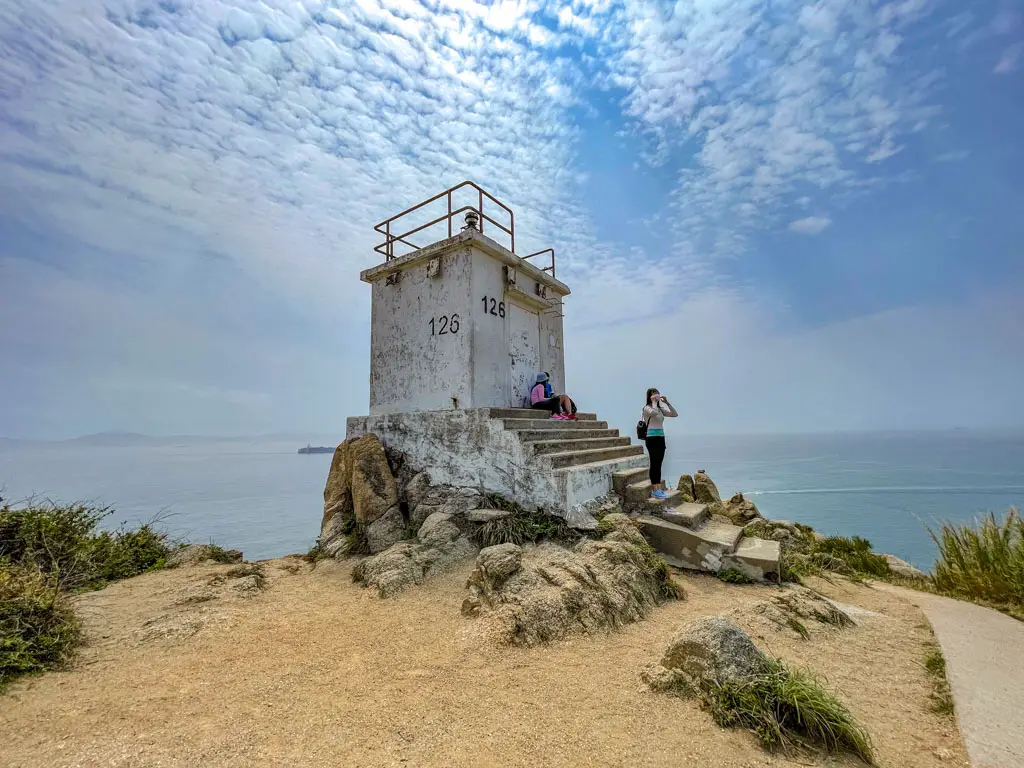 The southernmost lighthouse of Hong Kong, the Nam Kok Tsui Lighthouse on Po Toi Island is one of the few ones you can walk right up to.
Admittedly, I think it look much better from afar.
To get to the remaining view point, you should take the stairs down that loop back to the route 1 route 2 junction on a lower level.
Buddha's Hand Rock / Palm Rock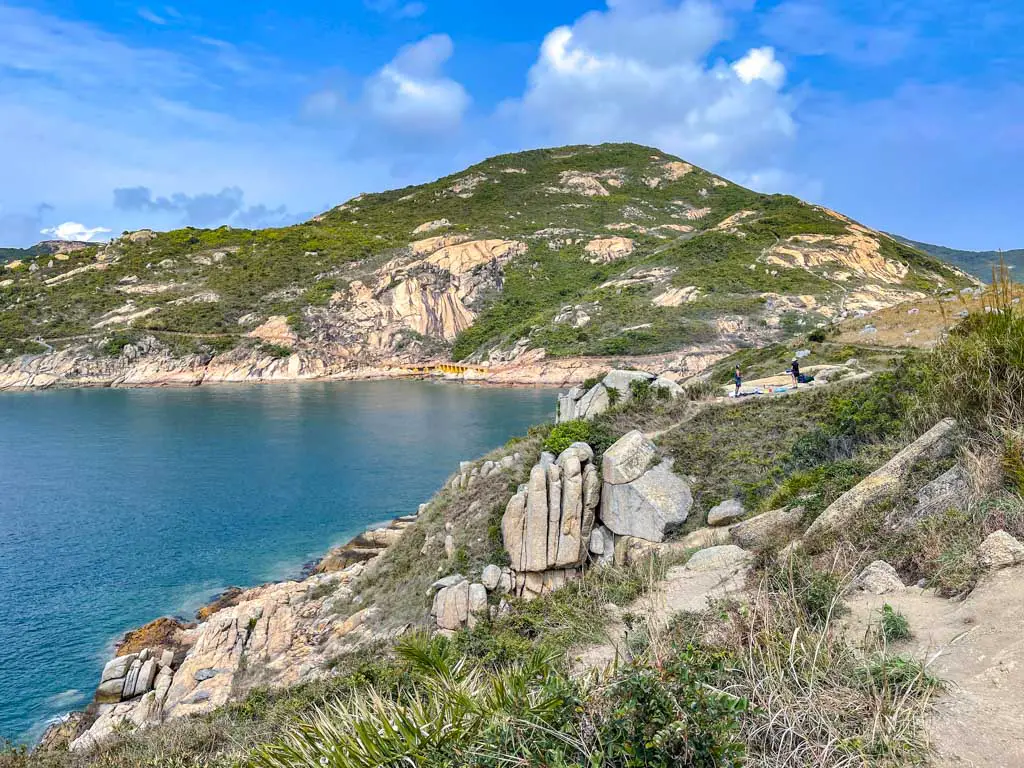 The most popular rock photographed on Po Toi Island is the Palm Rock, also known as Buddha's Hand Rock. It's also one that you can't walk up to, with the boulder splitting into fingers-like ridges.
You can walk down from the path near it and get a good photo.
The hike back to Route 1 is along a fenced trail with a pretty bridge portion – which is one of my favourite part.
Rock Carvings Po Toi Island
One of the prehistoric rock carvings in Hong Kong (one of the others is along Lung Ha Wan Country Trail), this one on Po Toi Island dates back 3000 years.
Po Toi Island Route 3
They were discovered in the 60s and consisted of two groups next to each other. There are some more information of various other rock carvings around Hong Kong there, too.
Route 3 is the longest and the hardest, starting from the southeast side of the island and joining up with Route 2 at the top. 
Difficulty: 2/5 – a longer, exposed route
Time taken: 2 hours
It starts by the Tin Hau Temple and head up, meeting the Route 2 at the highest point.
Route 3 takes an extra 30-40 minutes but also goes past some other famous rocks such as the foot and the monk chair rock on the island.
Po Toi Island Restaurants
There isn't a lot of options on Po Toi Island, especially if you go on a weekday. There is one seafood restaurant and several other 'store' – which are just what we call a local cafe-restaurant that serves simple food.
They are all clustered around the pier or at Tai Wan bay.
Ming Kee Seafood Restaurant
The only proper restaurant on Po Toi Island, Ming Kee Seafood Restaurant is the only choice if you want anything other than instant noodles.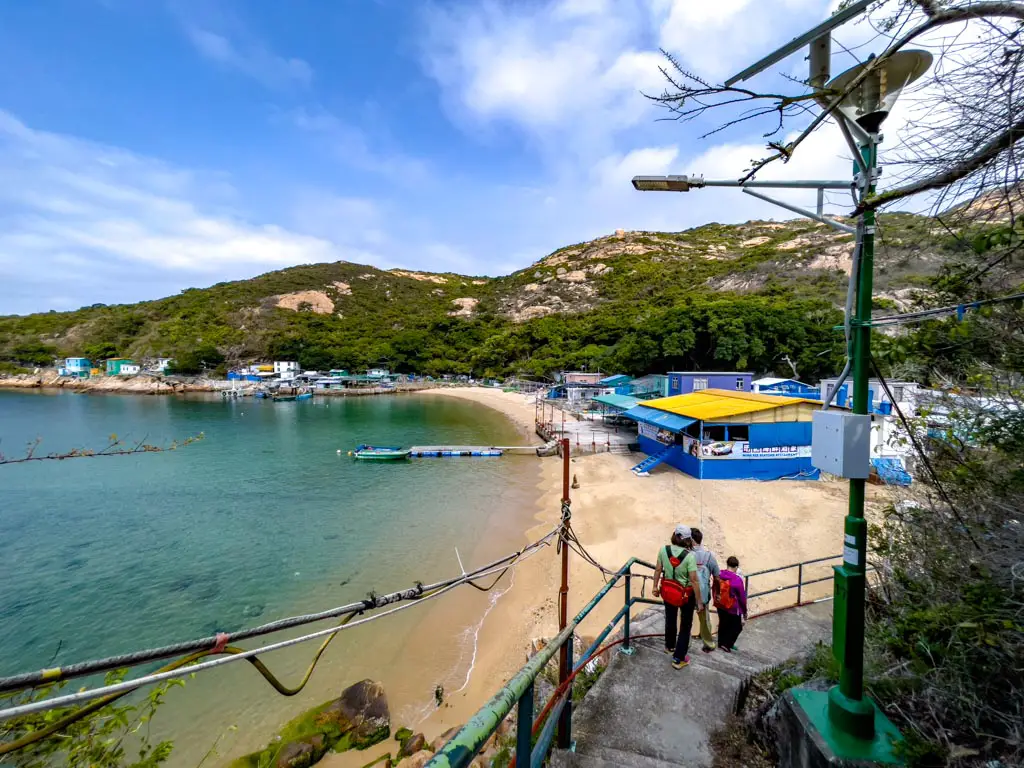 It has opened for 30 years and is right by the ocean, giving an excellent view. All the seafood is from local fishermen and the most tried is the seaweed soup and fried squid.
Opening times: 11:00 – 18:00
Kwan Kee Store
The Kwan Kee Store is along the Route 1 trail near the pier that everyone on the way will pass through. They only serve basic dishes but are a great stop if you need a cool drink.
Their specialty is the seaweed green beans dessert soup, and also have the seaweed luncheon meat egg instant noodles. The prices are on the higher side given that it's an island, with the drinks costing 15 hkd and the noodles for 40 HKD.
Wan Tsai Store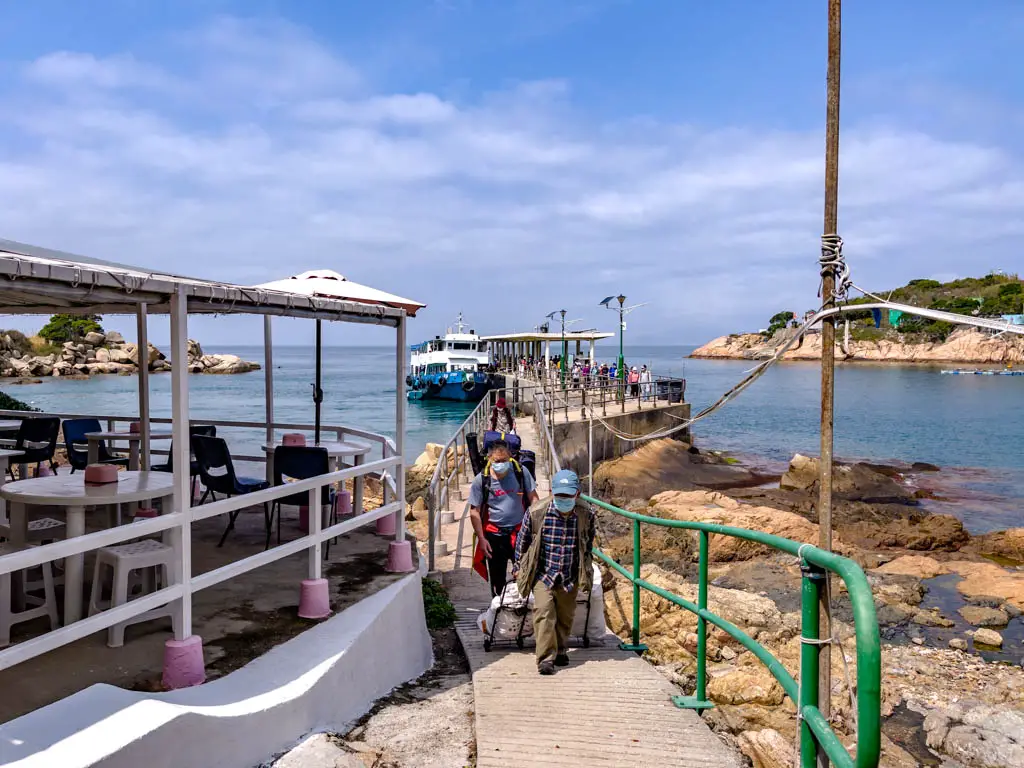 The pink building right by the pier is the Wan Tsai Store, and it serves pretty much the same food as Kwan Kee Store. The price runs about 5 HKD higher than Kwan Kee Store but they also sell some snacks.
There are a few other places to eat but they are not on the map.
Po Toi Island what to buy
The local souvenir to get are all seafood related, which comes as no surprise since Po Toi Island is historically and currently a fishing island.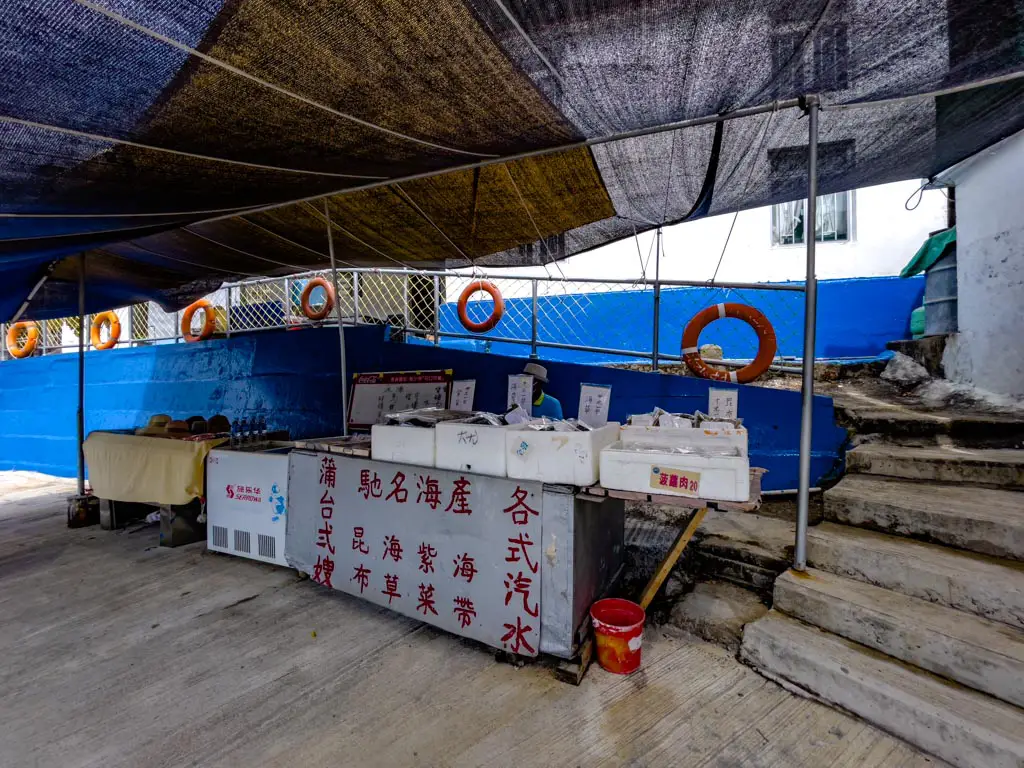 There are quite a few little stores dotted around the island, mostly between Tin Hau Temple and Kwan Kee Store that sells them. So you can grab what you want on your way to the pier.
Seaweed
Po Toi Island is most famous for their seaweed and kelp. Do note that these are not the kind you get at the snack store. You have to cook them which goes great with noodles.
They should cost 10-15 HKD for a big pack.
Dried Seafood goods
There are also little dried fishes and various other dried seafood goods on sale. They aren't as cheap as the seaweed and makes for good souvenir.