High Junk Peak is one of the three sharpest peaks in Hong Kong but surprisingly the easiest (relative) to hike. Hence it is ranked third with Sharp Peak as the sharpest and Needle Hill as second.
High Junk Peak in Chinese means Fishing Old Man, which mostly reflects its coastal location. With weirdly photogenic boulders to perch on along the way as well as the scenic Clear Water Bay, you can even just hike along its middle to lower difficulty. While it is still within Sai Kung, High Junk Peak is closer to Tseung Kwan O.
High Junk Peak hike summary
Hike Junk Peak Difficulty Level: 3/5
Time taken: 4 hours
How long is High Junk Peak hike: 8.5 km
Pro: easiest of the three sharpest peaks in Hong Kong, great view, and the option to loop around instead of hiking the peak if needed.
Con: it's a relatively popular trail and getting out often takes a while since there is only one minibus
Is High Junk Peak hard? Then answer is it depends! Below, I have the classic way of hiking the High Junk Peak from Ng Fai Tin to Clear Water Bay Road, as well as a shortcut option.
How to get to High Junk Peak Hike
The High Junk Peak Starting point is Ng Fai Tin, where the High Junk Peak Country Trail begins.
From Tseung Kwan O to High Junk Peak Trail Start
Tseung Kwan O MTR station, exit to Popcorn mall and veer right across, where there is a door leading to the bus and minibus terminal. Take the second stop to the right and wait for the minibus 103 M and get off at Ng Fai Tin.
From Kowloon to High Junk Peak Trail Start
You can also get bus 91 from Diamond Hill, but it will be slower. Here's a photo for reference:
From there, you go up and this is where the trail starts!
High Junk Peak Country Trail (full)
The full High Junk Peak Country Trail starting point and ending point is below. Google Map estimate time is not accurate, and the trail outline is also a bit off. I recommend using an Offline GPS Map like OSMAnd.
Ng Fai Tin to Miu Tsai Tun
The road up to High Junk Peak from here is relatively short. Though the hike is going uphill, it is relatively well-shaded with flatter stretches that let you catch your breath. You need to look out for this junction to make sure you don't miss the path up (note: if you do, there is still a side track up later but that one will be even harder to find).
From there, we will ascend Miu Tsai Tun which is just 9m shorter than High Junk Peak. Which means that you will go up then down again.
You will see the small path that leads up to the High Junk Peak road here – if you are hiking in reverse, it's a good choice to go down without climbing up again.
Note: if you feel like the route is challenging enough already, you can skip hiking up to the summit and simply carry on.
Summiting High Junk Peak (344m)
The hike up to High Junk Peak is a steep but short one. While the initial vista of the peak isn't the most impressive, the giant boulders that scattered over the other end of the peak are the main attraction: they are perfect photo spots!
The hike continues on the path to the right, though you can also descend back down to Tai Au Mun – a major transport crossroads – via a path to the left, though I had never done it before and it looks steep!
To really mentally prepare you, there are still 2/3 of the hike to go from here!
High Junk Peak to Tin Ha Shan
The path mostly goes up and down slightly, with the view of the Tseung Kwan O Stage II/III Landfill. Once you start leaving it behind and take the junction to the left, you'll begin to climb up Tin Ha Shan.
We are not reaching the summit this time, but it's still a bit of a trek up before you go down again.
High Junk Peak Trail end: Po Toi O Village
The trail ends at the entrance to the country park and if you are interested, you can go down to the seafront to visit the oldest Tin Hau Temple in Hong Kong. To get out, you need to go left and follow the main road, then right along Po Toi O Cheung Road to the village of the same name.
Po Toi O Cheung is also a great place to stop for refreshment and see what a fishing village is like, though if you are hiking during the quiet season, not a lot of places will be open.
You can catch the minibus 16 at the front of the village, which stops at both Hang Hau MTR and ends at Po Lam. It would be more convenient to get off at Hang Hau.
High Junk Peak hike short cut
There is a shortcut to go up to (or down from) High Junk Peak by the big roundabout known as Tai Au Mun.
The exact stop is Sheung Sze Wan, where there's a nice little trail that links up to the High Junk Peak Country Trail near the peak. This lowers the overall High Junk Peak hike difficulty purely because it's much shorter this way.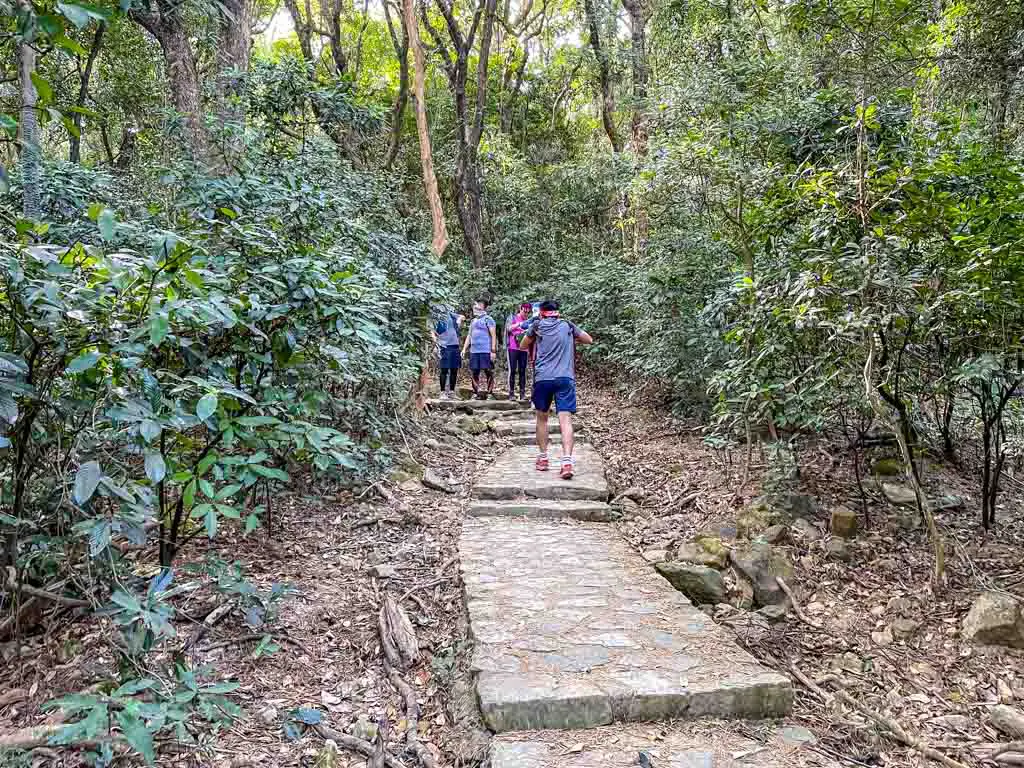 This shortcut even has a shortcut to the peak, but it's a lot harder with a steep narrow trail that goes directly to the peak.
I would not recommend this to beginner hikers and it honestly makes the entire hike a lot shorter.
Once at the top, you can decide if you want to go out by hiking north to Ng Fai Tin or hiking south to Po Toi O.